Kauai – Welcome to the Garden Isle
Hanalei Bay Resort, Kauai - Saturday, May 25th, 2013
The next morning we headed to the inter-island terminal of Hawaiian Airlines for a 30 minute flight to Lihue the only regularly serviced airport on Kauai. I was surprised by how busy the terminal was and the fact that the flight was packed – a B 717 that held well over a hundred passengers. On reflection it made perfect sense – this is the only way to get from island to island. There is no ferry service between the major islands and last time I checked, no bridges.
I'm not usually a big fan of convertibles, but knowing that this would be the only week on the trip we would be by ourselves I got all romantic and sucked in by a very good rate Alamo was offering on what the website showed were new Camaros. Arriving to pick up the car the clerk wanted to know if I wanted to pay the upgrade fee for a new Camaro or take what he essentially described as a beat- up-piece-of-shit Sebring. If I had paid the upgrade it would have brought the cost to more than if I had just gone for a Camaro in the first place with other rental companies. I declined and true to the clerk's word received a beat-up-piece-of-shit Sebring. I spent more time circling the dented areas of the car on the usual form than I did filling out the rental papers. The only thing I can say is that it did the job and we did enjoy driving with the top down.Actually it looks better in the picture than I remember.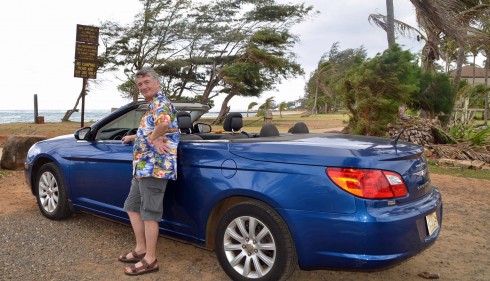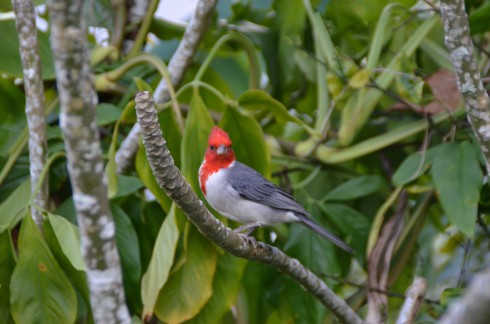 In planning the trip I took a lot of time trying to decide which part of the island to stay and whether or not we should spend it all in one place. The choices were Princeville,  Poipu Bay and Waimea. Poipu Bai is centrally located and from there both Waimea canyon and the Ne Pali coast are doable in a day. Waimea's attraction is its close proximity to the canyon and the many hiking trails in the area. In the end I decided on Princeville for the entire duration.This was based on the fact that two of the three golf course we wanted to play are there, the Ne Pali coast hiking trailhead, the helicopter rides out of Lihue and the other golf course we wanted to play at Poipu Bay, are all within reasonable distances. Also, my research showed Princeville to be a more active community likely to appeal to fit boomers than Poipu Bay which is generally described as a family resort. The one downside to staying in Princeville was that hiking in Waimea canyon was not really practicable, although you can do it if you put in a long day.
Once I opted for Princeville I used Trip Advisor and other sites to look for rental condos and ultimately chose a one bedroom unit in Hanalei Bay Resort. Before opting on a condo or villa in Princeville you need to know that the vast majority of what is being offered are really homes in residential areas – they are not part of a resort. Access to the ocean and resort amenities will be problematic. One example is the Wyndham properties which fronted on the busy entrance road and were well away from the ocean. Your accomodation in Princeville should have fantastic views of the mountains or the ocean and if your lucky both. When booking make sure you know exactly what you are getting.
That brings me to Hanalei Bay Resort which has everything you want in a resort if you are staying in a condo. To be honest I was more than a bit lucky in settling on Hanalei Bay Resort – it was the only one I could find offering accomodations for two, which is all we wanted. Obviously the villas and townhouses in the residential developments have at least two bedrooms. Ours was a one bedroom – really more a big bachelor dominated by a king bed, that came with a very good price – $135 a night plus taxes and cleaning fee (which is standard in Hawaii). Unit 1305 at HBR was one of the best deals we have come across in some time. I have read other people's complaints about the condition of the units at HBR, but there seems to a common thread – time shares. My advice is book through an owner such as Ginny Richards who owns 1305 and you are far more likely to find a unit that is treated with a little TLC than a time-share which is really a condo without an owner.
The unit was right beside the reception area and overlooked the large pool complex, but it also had a terrific view of the Kauai mountains which changed constantly with the angle of the sun, cloud cover and time of day. Check in was a breeze with no unexpected charges or screwups. The unit was clean, well equipped and although it had no standard stove it had a microwave, a portable convection unit and a large George Foreman so cooking wasn't a problem. No dishwasher was no big deal and a laundry room was a minute away. The one thing I did not like seeing was that the internet connection was a dsl connection which you had to pay for – at least that's what the notice in the unit said. However, firing up the laptop it turned out there were multiple Hanalei Bay Resort wireless hotspots that you could connect to for free. I assume this is a service that is fairly recent.
After settling in we took a walk around the resort. It has a terrific pool which is not only large, but designed to blend in with the surroundings. It has waterfalls, a small almost hidden beach area where two people can pretend they are at the real thing and a hot tub which was well used during our stay. We found a path that wound its way past several tennis courts (tennis seems to be big here) and then steeply down to a beach that is shared with the gigantic and majestic St. Regis Princeville. We noticed a call button at the bottom of path where you could get staff to drive you back up in a golf cart, but we found the walk back good exercise.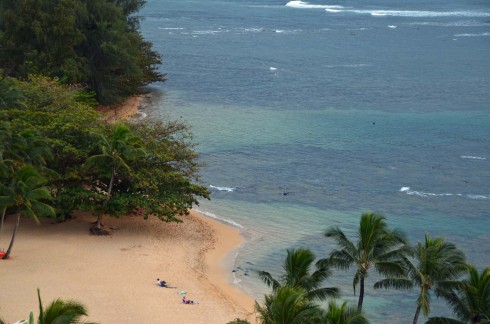 The St. Regis Princeville is the ritiziest hotel by far on Kauai. It is a massive structure built right into the side of the cliffs overlooking Hanalei Bay and Bali Hai. Bali Hai is a mountain ridge that drops off into the ocean marking the beginning of the Ne Pali coast. It was named for the legendary place in the musical South Pacific – sort of a polynesian Camelot. The movie was filmed on Kauai using Bali Hai as a backdrop and the name has stuck. It truly is one of the most gorgeeous sites you could possibly want from a hotel balcony.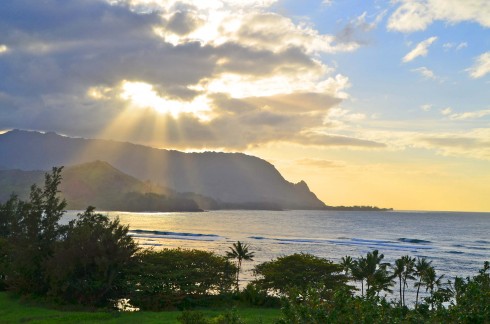 We wandered onto the hotel ground and eventually made our way up to the eighth floor where the views from the outside terrace are amazing. I think the photos say it all.It was a great way to end the our first day on the Garden Island. Aloha.
---
The Maritime Explorer Score:
"This is next on your list!"
Comments:
---
---
Did you enjoy this article? Please share it!:
---
More explorations: