Getting it Right at Alan Wong's
Alan Wong's Restataurant, Honolulu, Honolulu - Thursday, August 1st, 2013
We arrived back in Honolulu on a mid-morning flight, picked up our rental van and drove to the condo we had rented at 12 B Aloha Towers on Lewers Street, just a few minutes walk from Waikiki. Our friends Robert and Janet Purdy had arrived the day before and so all we had to do was call them and they met us at the parking space that came with the condo. BTW driving in Honolulu is a bit of a pain because there is only one real freeway and it always seems to be grid-locked. Certainly anyone arriving in Honolulu for the first time and expecting to see a tropical paradise will quickly be disabused of that notion the moment they encounter the traffic.Things are a bit better once you get onto the side streets, even in Waikiki. If you are nervous about driving in a big city you might want to pass on a car rental, but once outside Honolulu there is absolutely no problem with traffic unless you run into one of the continuous construction projects that seem to be ubiquitous around the state. Hawaiian drivers outside Honolulu are courteous, drive the speed limit or less and just don't seem to be in a big hurry to get anywhere.
And now a word about picking out a condo or apartment in a place you've never been. Getting the right place to stay for the right price is not always an easy accomplishment, especially if you have to satisfy the requirements of more than one couple. We have been travelling with Rob and Janet on extensive vacations for almost 20 years and have found that it is much cheaper to rent a two bedroom unit than for each couple to get a hotel room – this is doubly the case in the Waikiki area where the hotels are pretty expensive. The chance to have some non-restaurant meals also cuts on costs and home cooking with local ingredients can be a real highlight of any trip. The key is to do your research. I generally start with a general google search and follow it up with Trip Advisor or Flip Key. It is important to read the comments made by previous renters – this tells you everything. For that reason it's a good idea to find a place that has at least a dozen reviews of which almost all should be very positive. The internet has become a great equalizer in terms of being able to get past advertising hype and finding out what real people think.
A couple of other points in choosing a condo. First, you usually get what you pay for. If you are continually looking for a steal, chances are you'll get burned. However, once you've decided on a particular complex by all means look for the best price for similar units. Second, if you are traveling with another couple you absolutely need two bedrooms and two bathrooms. Try to get bedrooms that are reasonably equivalent and if you can't, expect to switch places mid-week. That's the only fair way.
After the action packed week in Kauai we were content to just kick back and relax for the rest of the afternoon. We had a reservation that night at one of Honolulu's best restaurants and a full day planned for tomorrow.
Alison and I are unabashed and unrepentant 'foodies'. We love a great meal in a good restaurant and are not afraid to splurge; so are Rob and Janet. Whenever we travel together we make a point of trying to have a memorable meal at a highly regarded restaurant at least once every three or four days. Deciding on the choice for a great restaurant meal in Honolulu was a no brainer.
Getting a table at Alan Wong's signature restaurant in Honolulu was not easy, but then again who expects easy when you are looking to eat at Hawaii's top rated restaurant and one of the best in the USA. I tried to get a reservation on line during the dates we were in Honolulu and while it was possible, the times were very late and already dealing with a six hour time difference, I decided to try another way. I got in touch with Oahu tourism and got the email address for the contact person at the restaurant who I contacted, explained the difficulty with late hours and viola a table for four at 7:30 on Saturday night. I'm not saying this will always work, but it was worth trying and boy am I glad I did.
Walking to the restaurant from Waikiki took about half an hour. It's not in any particularly scenic area and you are not going for the view. Taking the elevator to the third floor of a building with decidedly commercial exterior, the door opened to reveal what almost seemed like a secret club – the place was vibrant and there was a genuine sense of expectancy in the air – people were here for a food experience.
Every staff member we had any interaction with at Alan Wong's was more than helpful. They were courteous without being obsequious and our enjoyment was their top priority. It reminded me of a popular advertising jingle where I come from – "I'm so happy your so happy".
Our table was not quite ready and we were escorted to a glistening marble bar and each couple was handed an iPad with not only the menu, wine and drink list, but lots of other options, including pictures of the various entrees and appetizers, some history etc. It was fun just exploring what we could look forward to. This is the first time I had encountered these at a restaurant and I am sure they will become standard in time, but kudos to Alan Wong's for being a leader in this regard. After a few minutes were we taken to our table which was one of only about five in the restaurant by the windows – it provided a catbird seat for viewing the rest off the open concept, open kitchen idea. When our written menus were distributed, mine had my name inscribed on it along with the signatures of all the staff. Ohana is a big concept at Alan Wong's and elsewhere in Hawaii where everyone realizes that it takes a team to get results and no one person is responsible for the outcome. It was a nice touch and at the end of the meal was rolled into a scroll – a great souvenir.
It would take much too long to describe all the great food and drink we had at Alan Wong's. I'll hit the highlights – 1. soup and sandwich – sounds pretty ordinary, anything but, an ingenious take on the usually banal 2. nori wrapped tempura ahi – melt in your mouth – sauce probably too hot for some 3. pan steamed opakapaka – the best fish dish my wife has ever had – umami comes to fish 4. lilikoi brulee – flavours combine to make this much more than your French chef's creme brulee. Unfortunately you'll have to take my word because I somehow buggered up the pictures I took of these exquisite dishes. However, here's a picture of how we felt after the meal.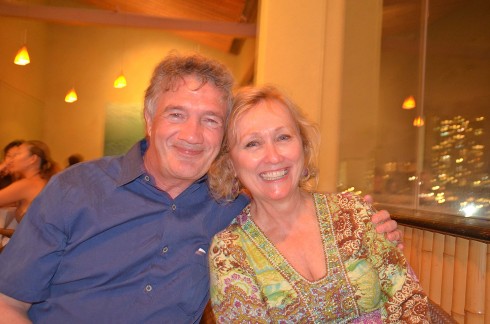 The wine list is not extensive but runs the gamut from the out of this world to very reasonable, with the emphasis on the latter.
This is a restaurant that people fight to get into because you can't get what Alan Wong's has anywhere else in Hawaii, either for food or atmosphere. Well worth the splurge and a great re-introduction to Honolulu.
---
The Maritime Explorer Score:
"Go NOW!"
Comments:
---
---
Did you enjoy this article? Please share it!:
---
More explorations: