Molokini and Mai Tais
Molokini, Maui, Maui - Friday, January 3rd, 2014
Two of the things that all visitors to Hawaii put at the top of their to do lists are snorkeling the coral reefs and going to a luau. We had been in Hawaii for almost twenty days and had done neither; today we were going to remedy that glaring oversight.
Picking a spot to snorkel was very easy. Check out this aerial shot of  Molokini which is a crescent shaped collapsed volcanic crater that lies just off Maui and is famous worldwide for its snorkeling. It is purported to have some of the clearest waters in Hawaii and a great variety of marine life. There was never any doubt that Molokini would be the place, but which outfit should we choose to take us there? If you type in Molokini on your search engine you will come up with over three pages of companies offering trips to the islet, all of course claiming to be the best choice. Although tourism reps are notoriously tight lipped when it comes to making outright recommendations I was able to determine that the Pacific Whale Foundation was a not for profit group that directed all monies earned from their endeavors into marine conservation so that seemed a logical choice. The website offered a number of alternatives and we chose the Molokini and Turtle Arches snorkel trip.
The departure time was 7:00 AM so we had gone to bed early the night before and left around 6:00AM. We arrived in the tiny village of  Maalaea, the point of departure for many of the outfits taking people to Molokini, in plenty of time to pick up our tickets and some souvenirs in the attractive headquarters of the Pacific Whale Foundation. I also bought a small waterproof one time use camera. Then it was a short walk down to the waterfront where the Ocean Voyager was waiting for us and I would estimate the eighty or so other guests. The site lists the snorkeling capacity as one hundred and thirty-five, but I'm pretty sure there was no where near that many.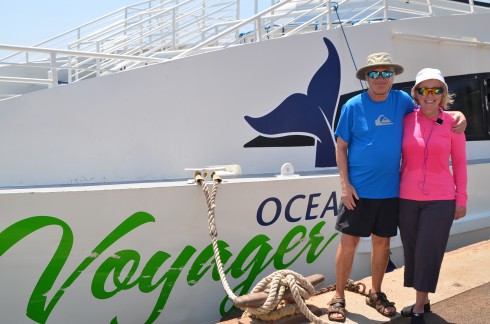 I'm adding this picture not just to show the name of the boat, but to show the last evidence of that damned Tilley hat. If you read my account of our time on Kauai you'll know that the hat tried to escape there, but was recovered thanks to the efforts of a retired teacher. No such luck this time. When, where and how it got away I'll never know, but can only hope that it has a new owner appreciative of its many fine qualities. With a little help from Alison we shoved off exactly on time.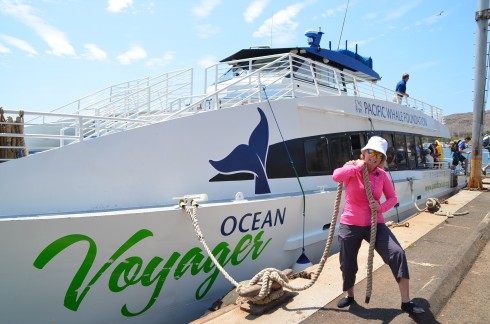 The Ocean Voyager (what a great name for a boat), was a clean ship with lots of room for everybody to get a good seat to watch for whales and other marine mammals on the way out to Molokini. Sure enough, the humpbacks were everywhere and we even got close enough to take some good shots. Included in the price was a continental breakfast which the crew brought around. It was pretty bare-bones, but the coffee was good.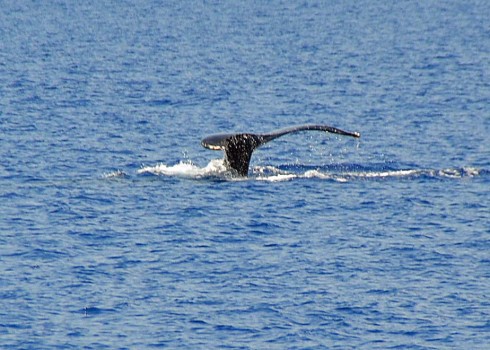 We were briefed on the dos and don't of snorkeling – do remember to breathe, don't touch the coral or try to crawl onto Molokini as it's a protected seabird sanctuary. Then we were issued fins, mask and snorkel. On the recommendation of the crew we also rented a wet-suit for $5.00. The excitement of the group was palpable as Molokini grew from a low crescent on the water to an enchanting semi-circular cove right out of Into the Blue.

With all companies offering trips to Molokini I was under no illusion that we would have this idyllic spot to ourselves or at least us and the eighty others on board. By the time the Ocean Voyageur was moored to what I presume is a permanently allotted spot there were already a half dozen or so small vessels moored. Over the morning that number increased, but a lot were not snorkeling boats and just did a quick look around and headed off to whatever the next attraction on the tour was.
Alison and I are reasonably experienced snorkelers and decent swimmers, but the crew recommended wearing a small flotation belt that would make it easier to maintain a horizontal position in the water instead of constantly using the fins to stop from sinking. It was a great tip as you can see from this picture.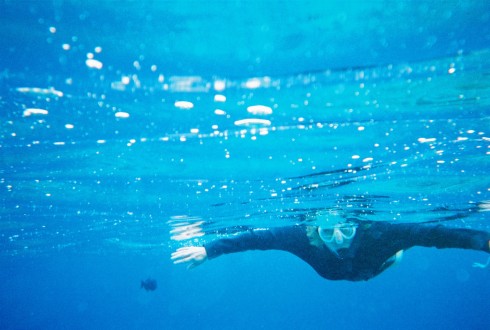 Here's what happened to the people who didn't take these devices – they spent more time kicking than watching. It was somewhat surprising how many of those on this trip had never snorkeled before, probably up to half.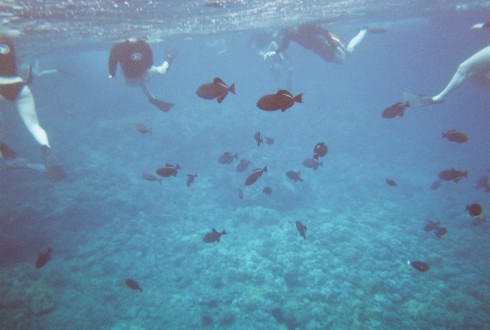 The water was amazingly clear. We were in about thirty feet of it and the bottom was clearly visible, although I didn't see many fish. We were told that we should swim away from the boat toward Molokini which was about 100 yards away. Entering the water was as simple as just jumping in. After adjusting the mask it was a bit a free-for-all to get far enough away from what was rapidly becoming a mob of thrashing snorkelers. However, once away I started to concentrate on looking for fish and the closer I got to land the more of them there were.
I don't have the talent to properly describe my experience snorkeling Molokini other than to say I saw more varieties of fish than on any other trip and that includes the Florida Keys, Cozumel and the Aegean Sea. The little camera I bought hardly does justice to what I saw, but here's an effort.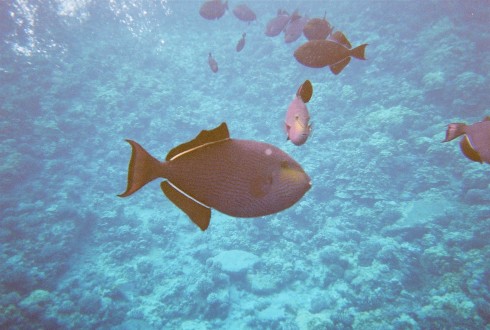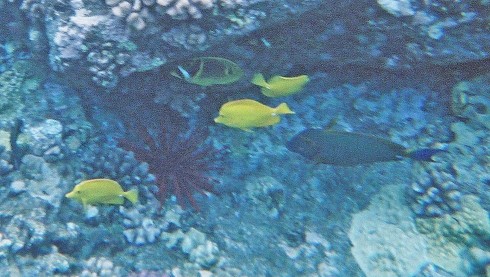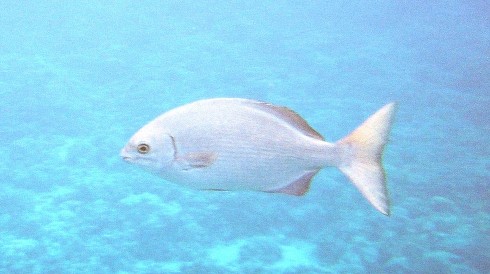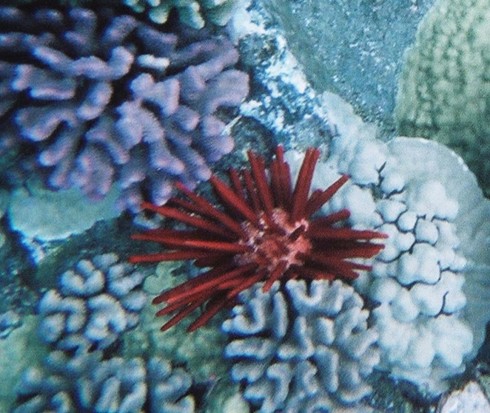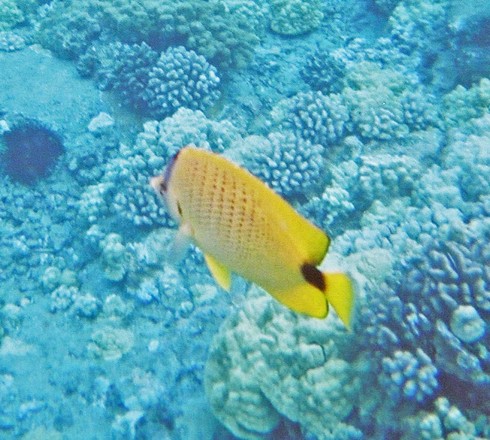 We were at Molokini for at least two hours and we stayed in the entire time, thanks in part to the wet-suit. It was two of the best hours of my life. Finally we heard the call to return and I took this photo of the boat. I couldn't help but think of the couple that got left behind on a snorkeling trip to the Great Barrier Reef and were never seen again. It helped put a little extra oomph in my effort to return.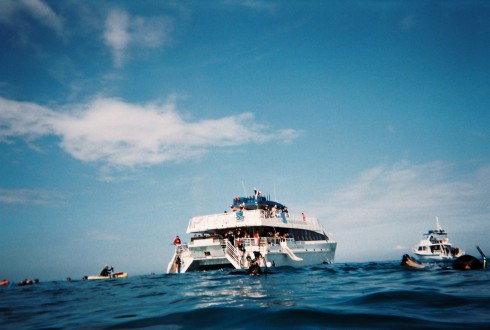 The next stop was to be the Turtle Arches, more informally called Turtle Town, which was just off Maluaka Beach near the resort area of Wailea which we were scheduled to visit the next day. On the way we had a really good view of Kahoolawe which is an uninhabited island with a fascinating history as you will read if you click on the link. It shared the same fate as Molokini in being used as a bombing range for many years before being declared off limits.

We arrived at Turtle Town and I was surprised to see that there were as many people heading into the water from the beach as entering by boat. True to its name Turtle Town delivered and it was another priceless moment to come face to face with a Green Sea Turtle in its own environment.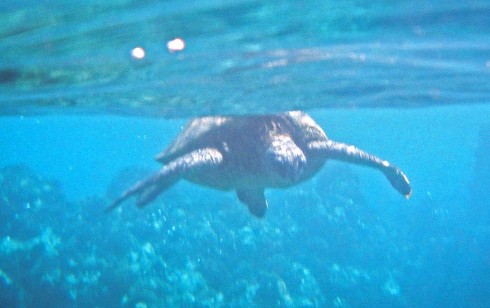 We also saw a number of other strange sea creatures at Turtle Town. At first I thought they might be seals or mermaids, but it was a troop of scuba divers gliding by below us.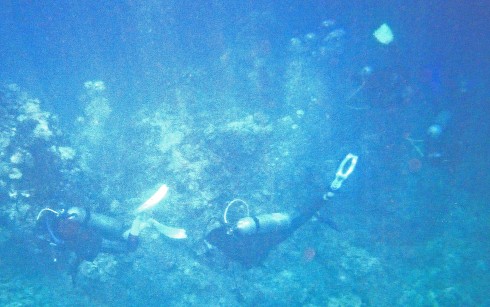 All too soon we headed back to Maalaea. There was a great view of the Maui wind farm spread out over the flanks of the hills above the town.
After disembarking we headed for the main street of Maalaea and had a great lunch at the Maalawaea General Store. They have a very good sandwich selection and we can vouch for the cranberry and walnut chicken salad and the albacore tuna.
Having conquered Molokini our next duty was to attend a luau. I had done a lot of research on luaus and based on the various comments on places like Trip Advisor decided that Maui was the place to do it. Then I used Maui Luau Guide to narrow the choice down to Old Lahaina Luau which seemed to be the most popular and most authentic. I ordered tickets on line or at least I thought I did, but when we gave the taxi driver the address he did not head to Lahaina. Instead we ended up at the Kaanapali Beach luau which as far as I can tell does not even have its own website. The Maui Luau Guide described it as the best valure and great for large families i.e. real cheap. I asked the taxi driver to wait as I went to the ticket office and , but the tickets were in fact there. To this day I have no idea how this mix up happened. Sometimes serendipity makes these unexpected surprises turn out to be a good thing, but not in this case.
Sure enough there were lots of families with screaming brats and we were all jammed together on picnic tables like sardines. This picture does not show the unease I was feeling at having screwed up on the proper luau.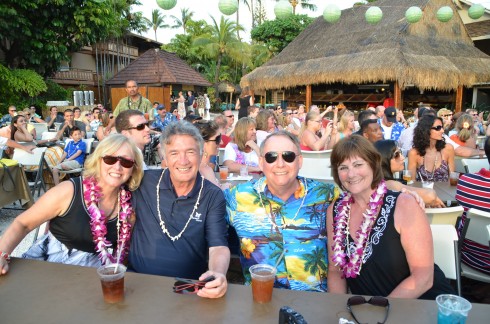 As you can see from the photo the drinks, which were pretty watery, were served in plastic cups. Note the blue one on the far right – it was a good imitation of windshield washer fluid. Next an announcement came on that the roasted pig was going to be carried from the fire pit to the carving room. We dutifully went to the firepit where two traditionally dressed Hawaiians were lifting what I quickly realized was a fake pig on a stake and carrying it behind the stage to be carved. After that we were called to the buffet which frankly was awful, but just when I least expected it things took a turn for the better. The sun had set and it was time for the entertainment to begin.
The hostess was a large lady who reminded me of Sophie Tucker – she had a lot of energy for her size. After some introductory songs and banter the lights were turned off and suddenly in the distance by the water's edge there appeared a vision of a Tahitian princess – honestly this was one of the most beautiful and graceful women I have laid eyes upon. She swayed seductively in the dark in a manner that made me realize why the crew of the Bounty mutinied so they could be with these women.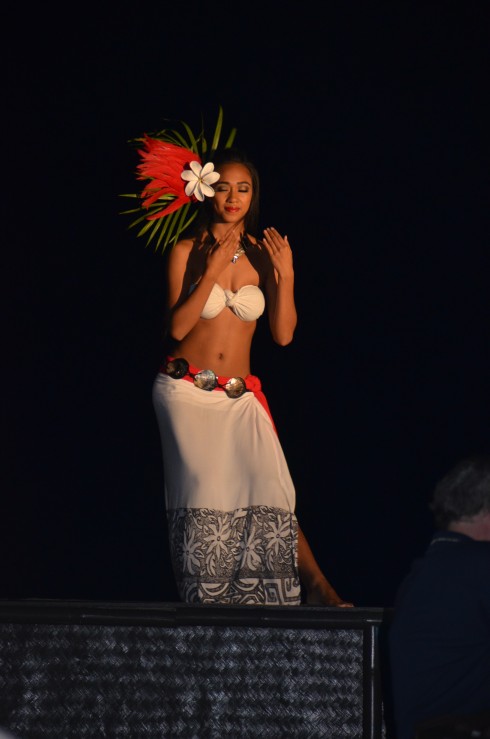 Next up was a demonstration of Hawaiian hula dancing that ended up in a hip shaking frenzy that was both sensuous and exhilarating to watch. Even at the fastest setting my camera could not freeze the hips of this hula dancer. It gave a whole new meaning to 'Shake your booty'.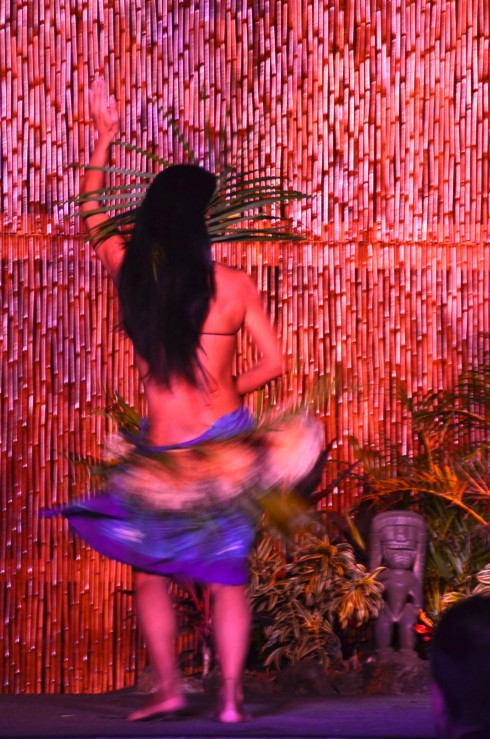 The show went on for about an hour and it was genuinely entertaining. Both the male and female performers were in tremendous physical shape and put on a great show ending with the Samoan fire dance.

What had started out as a disaster ended up on a very high note as Alison and I checked out our own potential Polynesian mates. What do you think? Aloha.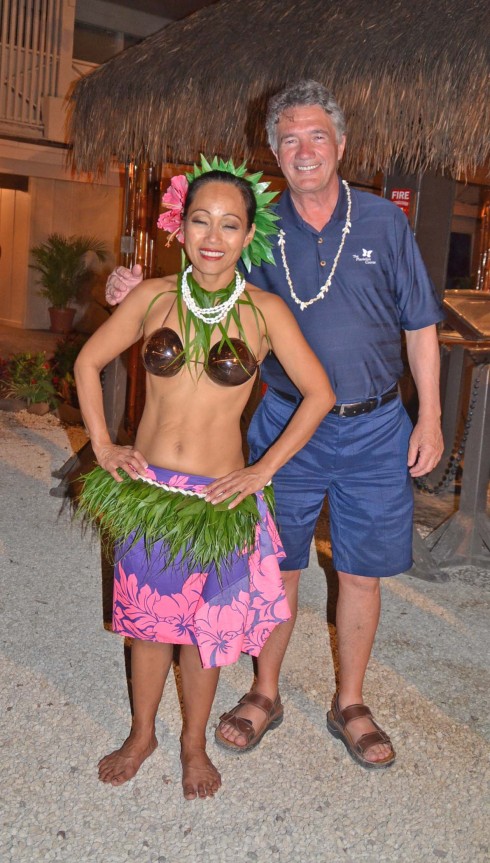 ---
The Maritime Explorer Score:
"See it before you die!"
Comments:
---
---
Did you enjoy this article? Please share it!:
---
More explorations: