Domain St. Bernard
Domain St. Bernard, Mont Tremblant, Quebec, Quebec - Monday, January 20th, 2014
Mont Tremblant is far more than just about downhill skiing. The resort has facilities for just about every type of winter activity that you can imagine. One of these is cross-country skiing. Quebec is a cross-country skier's paradise with dozens of venues offering thousands of kilometres of groomed and ungroomed trails in settings that are often the epitome of winter. Our purpose in coming to Mont Tremblant was principally to cross-country and today we started with Domain St. Bernard the number one spot in the area.
Unfortunately it was a gray morning and none too warm. The temperature was not a surprise as statistically January 19 is the coldest day of the year in the Northern Hemisphere. However, we have skied in very cold temperatures many times before and if you are dressed properly it's usually not a problem. Besides, in Quebec there are almost always warming huts along the trails at junctions where they are most welcome.
Getting to Domain St. Bernard was a little trickier than expected – the entire area is a rabbit warren of roads going everywhere, but with the help of a vastly out of scale map I eventually found Rue St. Bernard and the ski centre a further three kilometres down a very narrow and icy road. Despite being there at the opening hour of 9:00 AM there were already a considerable number of cars in the parking lot. We found a spot, walked the short distance to the lodge, bought tickets, some hand warmers and were all set.
As is usually the case at Quebec cross-country ski domains there were a lot of very fit looking people dressed in the colours of various ski clubs. They love to ski in big groups and there was a sense of excitement in the air and they were off in a flash of scissoring skis as they almost always like to skate ski. We encountered a steady stream  of these very skilled athletes throughout the day. We also encountered a lot of people our age or older who were also very proficient in both styles of skiing.
For us choosing a route was not that simple – the trail map was not the easiest to comprehend and I gathered from the information I gleaned in the lodge that a number of trails were closed. What I was looking for was a series of loops that would give us the option of deciding how far we wanted to go. This is the common practice at most of the larger domains. This did not appear to be the case at Domain St. Bernard so I chose the A1 route that was mostly a green route with some blue sections that appeared to do a circuit around Mount St. Bernard. That shouldn't be a problem.
Things started off well. We are classic skiers and like the fact the in Quebec almost all of the trails have tracks laid out which makes the exercise easier, safer and a lot more fun. The green trail, Grand Allee, passed though a lovely pine plantation for the first little while until we came to a junction where the A1 became a blue trail. I knew from the map that this would be a descent to the La Diable river valley below. No big deal as we could keep one foot in the track and use the other as a brake if things got too hairy.
The only problem was that there were no tracks – why I have no idea. It was groomed for skate skiers so it was very fast. After a few attempts I realized there was no way I could ski this long descent with quite a few turns without picking up so much speed I would eventually go into the woods. Discretion is the better part of valour so somewhat sheepishly I took off the skis and walked down the hill. Great start. If this was their idea of a blue trail what the hell would a black be! Alison to her credit snowplowed most of the way.
Things improved at the river where we had a choice of continuing on the A1 as planned or take a diversion up the river to a bridge we could cross and make a good loop on the other side before returning to this point. Since the A1 was only 7.5 kms. in total, we opted to to take the diversion. A16 was a lovely trail with gentle up and downs that followed the course of the river for several kilometres to a warming hut beside the bridge crossing the river. As we were still getting warmed up we didn't stop and crossed the bridge to start a loop that was green on three sides connected by a blue. Worst case scenario was that if this blue was like the first we encountered we could walk it.
The trail continued along the other side of the river and then turned inland. When we reached the blue connector it was closed. No choice but to back track to the bridge. Arriving there I definitely noticed that my groin was aching more than a bit, but surprisingly the wonky left knee was fine. We did stop at the warming hut this time for a quick snack and while there a huge group of little skiers all dressed the same arrived with their teachers/chaperones.  Some seemed to be as young as three or four. Not one was complaining or seemed ready to quit. This was amazing considering that the only way to get to this point was either go down the steep trail that had humiliated us or come around the long way which was probably eight or nine kms.
You would never see this In Nova Scotia. Parents there would think it was criminal to expose a young child to hours of sub-zero temperatures in the name of communing with nature. Much better to play it safe and let them commune with the XBox while noshing on soda and potato chips – what harm could come from that?
By now I was starting to get a little worried. As we made our way back along A16 to where we had first joined it the groin ache was intensifying. From the map I knew that almost all the rest of the way was going to be on blue trails and they would be uphill. I prayed (metaphorically at least) that these upcoming blues would not be like the first one – please have tracks. Thank God, they did and were much closer to my idea of a blue trail. It was mostly uphill, but quite gently. By now the snow flurries that had been in the air all day had turned into an outright heavy snowfall, but with no wind.
When we finally arrived at the top of the ridge and the Grand Allee we stopped for photos. There was a man with a young son who was laying on the snow feeding the chickadees which were landing right on his jacket.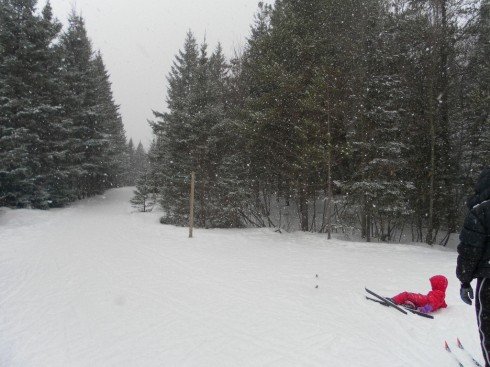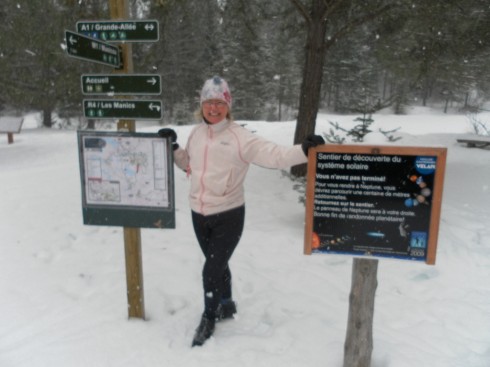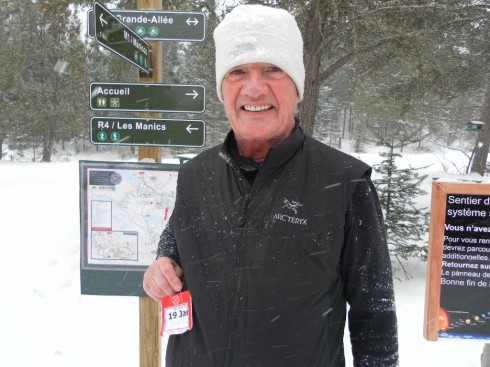 It wasn't far back to the lodge. We had been out almost four hours and my body knew it. I expect to pay tomorrow.
Overall our experience at Domain St. Bernard was good, but not up to the best of other Quebec domains. For one thing there were virtually no signs of wildlife (other than the chickadees). One of the reasons we like Quebec is that you usually get to see things like grosbeaks, crossbills, redpolls and other finches that are rare back home. Another reason is that while the scenery was nice, especially along the river, it was not outstanding. Maybe my thoughts are coloured by the weather, but there are many other places I would return to before Domain St. Bernard.
Back at the hotel I took the opportunity to treat my aches and pains by going to the very large outdoor hot tub I noticed on a reconnaissance of the hotel the day before. There was only one other couple and the jets were great. The only problem was that it was still snowing and although it was pretty, the snowflakes instantly evaporated on hitting the skin. It felt like a thousand tiny pin pricks. Getting out was no delight. I just don't know how polar bear swimmers can go into freezing waters in these temperatures.
We had a very forgettable dinner that night at the loud and overpriced Le Shack which I thought was Le SH*t, but hey, everything about this place can't be great.
---
The Maritime Explorer Score:
"See it before you die!"
Comments:
---
---
Did you enjoy this article? Please share it!:
---
More explorations: