Mont Tremblant Village
Mont Tremblant Village, Quebec, Quebec - Thursday, January 23rd, 2014
I had skied at Mont Tremblant many years before the place underwent the gigantic facelift by IntraWest and did not have particularly fond memories of the place. The hill itself was pretty good, buy certainly not as good as others in the east; Sugarloaf, Stowe and Le Massif right in Quebec are better. What I cannot recall some twenty-five years later is anything that stood out at all about the place. Not where we stayed, where we ate or where we partied – that's a pretty grim assessment.
However, I had skied Whistler/Blackcomb a number of times and with each visit was more and more impressed with the village that had sprung up at the base of the two mountains.  Whistler/Blackcomb has consistently rated as the number one or two ski resort in North America for at least twenty years and I am convinced that the village has a lot to do with it. There are a lot of bad skiing days there because of rain or fog so it must be the myriad of things to do in and around the village that keeps the place so popular. That is why I wanted to give Mont Tremblant a second chance. My understanding was that IntraWest, with a hell of a lot of government funding, had created a Whistler of the east out of what was a moribund resort living off faded glory days.
I have been fortunate enough to ski at many places around the world and my favourite experiences were almost always at those places where your skiing starts out within walking distance of where you are staying. Ski in – ski out has it all over those places where you have to find a place to park your car and take a shuttle or walk for ages to get to the lifts. I'm talking about places like Zermatt, Switzerland, Courmayeur, Italy, Park City, Utah and of course Whistler. It's all about the ambiance.
Most of my skiing has been done in the east and I knew that no such place existed here. Yes Stowe is a beautiful New England town, but it's seven miles from the hill. Sugarloaf has great skiing and a so-called village, but it's pretty lame compared to the real deal. Likewise, of the many fine hills in the Mount Washington area of New Hampshire, none of them starts out in a real village. So I was anxious to see if IntraWest had created a real ski village at the base of Mont Tremblant. In a word the answer is yes, in spades.
The village immediately struck me as a really good attempt to recreate the ambiance of old Quebec and in particular the Petit Champlain area. It is designed in such a way that the main street Rue des Remparts is completely pedestrian. The lifts start out directly from the mountain base which is the top of the village and only a few minutes walk from the Fairmont, Westin, Homewood Suites or Residence Inn and a number of condo complexes. There is every type of restaurant you could want in the village as well as specialty shops for just about every outdoor equipment supplier you can name. Le cabriolet carries pedestrians rapidly from the bottom of the village to the top.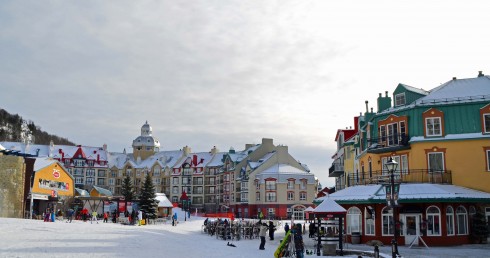 The number of activities you can do at Mont Tremblant is really quite amazing – think of a winter sport and they have it. I came to Mont Tremblant not to downhill ski, but to cross-country and I did so a Domain St. Bernard and on Le Petit Train du Nord and have written posts about the experience. My wife and I also enjoyed the outdoor skating rink at the base of the village. It is not a traditional oval rink, but an irregularly shaped sheet of ice that has trees growing in it, a small church on one side and a blazing fire on the other.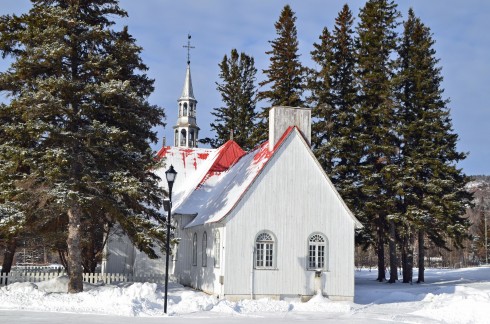 So what about the Disneyland effect – is it obviously fake? That was what I was most worried about, but the Mont Tremblant village is, I think, a successful attempt to recreate the feel of Quebec City and not a European ski town or a Whistler clone. I will definitely be back to play the famous golf courses that help make this a four seasons resort.
---
The Maritime Explorer Score:
"This is next on your list!"
Comments:
---
---
Did you enjoy this article? Please share it!:
---
More explorations: