PEI's Finest Golf
Prince Edward Island, Prince Edward Island - Wednesday, July 30th, 2014
If you aren't interested in golf then wait for my next post which will be a report on a planned expedition to mysterious Isle Haute.
The Rodd Resorts people operate four of the finest golf courses in Prince Edward Island and have come up with the slogan 'PEI's Finest Golf' and just having had a chance to play three of them, I have to agree. Last week a group of sixteen friends and most of their wives descended on the Brudenell River Resort for our annual Olympics. This is an event that started over thirty years ago and has become a four day event in July that we all look forward to. At one time some of us were decent athletes so it started out as an individual contest with over a dozen events including 100 yard dash, mile run, 5 mile bike race, high jump, broad jump, swimming and pistol shooting. Tragically the winner for the first two years, Mark George, died suddenly last week after a fall at his home in Vancouver. He had not attended for many years, but becomes the third fallen Olympian. The other two were former quarterback for our outstanding touch football team, the Canam Oilers, Ross Stinson and the other was my former partner Don ' The Senator' Peverill for whom the Olympic trophy is named. Enough sadness. Here's a photo of the three Olympic founders taken last week – yours truly, Mike Perry and Brian MacLellan or Gumby, The Drover and Rocky as we call each other for reasons I'm sworn not to reveal.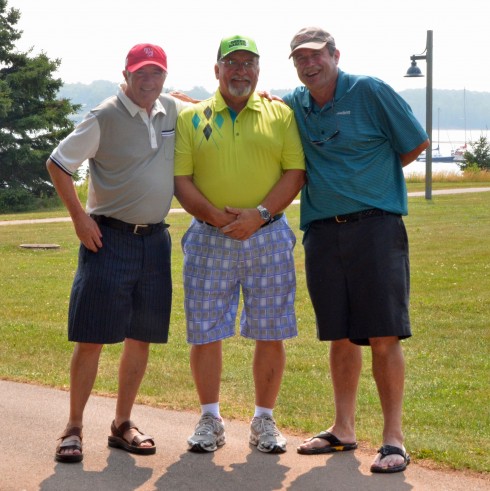 For some reason after yours truly inexplicably emerged as the overall winner in, I think, the fourth year, the rest of them voted to make it a team event. The events included soccer, basketball, volleyball and softball, but as our bodies aged even these proved too much and I'm sad to say the events are now golf, pool, darts and washer toss. As the actual goings on at the Olympics are kept more secret than the Masonic handshake, the rest of this post will focus on the three golf courses we played and the Brudenell River resort.
The resort at Brudenell is in my opinion, the best in PEI for everything but the food which is pedestrian at best. There is a choice of accommodations between cottages and hotel suites. The former were the choice of the Olympians as they are quite large, modern and have gas barbecues which we used to great effect, avoiding the restaurant as much as possible. They also have great wooden patios with river views and to the delight of one old goat, views of the women as they walk or pedal between the campground and trail rides to the main hotel building. They can also double as a dance floor. And now for some golf.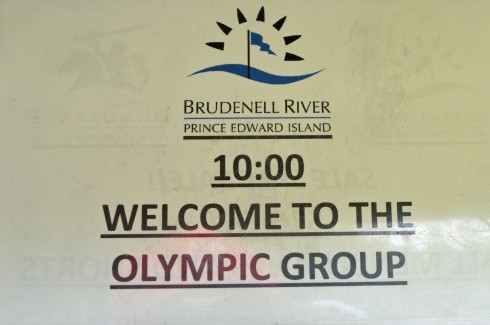 There are two golf courses at the resort, Brudenell River and Dundarave. They share a common practice facility and a large clubhouse with a really well stocked pro shop. Other than that they are as different as two  courses can be that are literally intertwined at some points.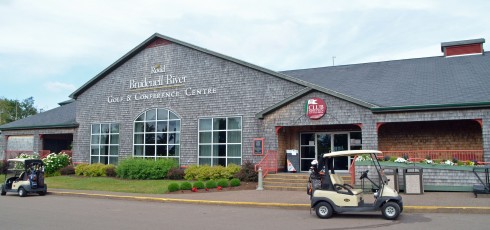 I first played the Brudenell River course over 30 years ago when it was the only course at the Brudenell resort and long before it became overshadowed by its next door neighbor Dundarave and down the road cousin Crowbush Cove. It was the first resort course in Eastern PEI and for many years the best, but enough about the past – what's it like to play today?

As a course Brudenell has changed little in the last three decades. It was then and is now a very good golf course with some absolutely terrific holes and a few not so great. Not surprisingly the really memorable holes all feature water, either as a hazard, as a scenic distraction or as in the case of # 11 Eagle's Eyrie, both. Unusually it has six each of par 3, 4 and 5 holes which I personally like because you can make up some scoring on the par 5's what you lose on the difficult par 4's. The first really great hole is the short par 3 #5 Ink Pot which does not allow you to bail out right or left. The views across the Brudenell River from this tee are great.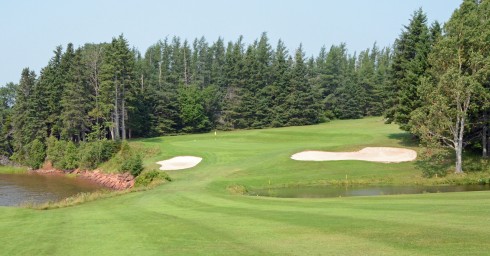 #10 Shimmering Water is an all water -carry par 3 that can require anything from a lob wedge to a five iron depending on the wind. It has great views of the resort hotel and marina.
#11 Eagle's Eyrie (that's how they spell it) is a wonderful par 5 that used to have a large tree dead in the middle of the fairway (presumably the eyrie), but it's long gone and now you don't have to worry about a good drive getting knocked down. After two good shots that avoid the woods and river you still have to clear the world's most malodorous pond (dead algae) to reach the green.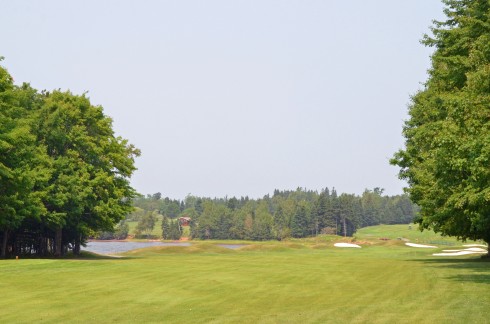 It's not unusual for large flocks of ring-billed gulls to lounge on the river side of the fairway.

#18 The Orchard is a great uphill finishing hole where an errant approach often ends up o.o.b. in the parking lot. Makes for great laughs for your playing partners.
Brudenell River does not have a cart girl, but rather a canteen that you come across after 2, 8, and 11 so you always know how far it is to get the next beer, but cruelly the selection is terrible. Mostly light beer crap or imported. No Keith's – that should be illegal in the Maritimes. Unlike the food at the restaurant, the sandwiches at the canteen are not bad. I can vouch for the chicken salad
The course was in great shape the two times we played it and the pace of play was good – under 4 and a half hours. This is a course you can walk, unlike Dundarave next door. 
Speaking of Dundarave, it was up next.

The team of Dr. Michael Hurdzan and Dana Fry have designed some of the best courses in the world including Erin Hills in Wisconsin where an upcoming US Open will be held. In Canada they are responsible for Devil's Pulpit and Devil's Paintbrush outside Toronto and Le Diable in Quebec, all ranked in Canada's top 100 courses. Dundarave is their only venture into Atlantic Canada and not surprisingly it also makes the top 100 coming in at #54 in the just released 2014 ScoreGolf rankings. Everyone who has $100.00 has a chance to this wonderful eighteen. You might see tee times available for $80.00 on line, but that does not include a cart and this is not a walking course so count on the extra $20.00 for a cart.
So what makes Dundarave a great course? First of all its look. PEI is famous for its green fields and red soil. This course emulates that look beautifully with immaculate green fairways and an abundance of traps which are filled with red sand. This is apparent from the very first hole Draw bridge. These traps drive some people nuts, but they are easy to avoid on most holes.

Secondly, the course has a number of short risk/reward par 4's that really make the golfer think about whether or not to take the risk and hope for a birdie (or even an eagle on #16) or risk a bogey or worse if you fail. #8 Emerald Altar has to be one of the best eighteen holes in Canada. The picture below does not come close to doing justice to the hole. This is where I ended up because I was too chicken to try to cut off more of the carry.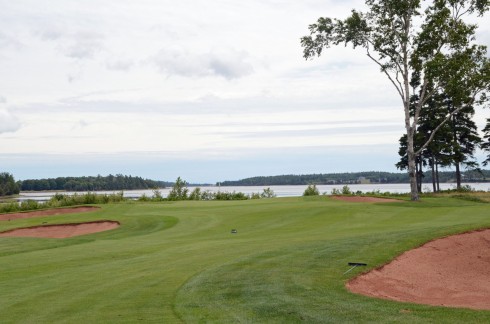 Thirdly, there are some great dogleg par 5's that require three good shots to reach from the average golfer. #15 Tradition is probably the best of these and sets up a great set of closing holes. #16 Executioner's Workshop is the best risk/reward hole on the course. It is a driveable par 4, but failure to make it will almost certainly find the ball in one of the eight bunkers that guard the green.

#17 Postmaster's Balcony is a long downhill par 3 where par is a great score.

#18 Victory Chimes will probably not what you will be hearing as your round ends at Dundarave, but I guarantee that it will have been a memorable round.
I used to despise the Links at Crowbush Cove. The carries were too long, the 11th hole ridiculous and the mosquitoes at times unbearable. While I can forgive Highlands Links for not being a true links course, I was not prepared to provide the same indulgence to Crowbush. Then a funny thing happened last week – despite playing in a mild drizzle most of the day, I saw the course for the first time as it was meant to be played – a very tough proposition under normal seaside conditions, but enjoyable if you don't expect to shoot your usual score. In other words – accept the inevitable – the course is going to win. For some reason, maturity or senility perhaps, I actually loved the course.
My original opinion of Crowbush is not shared by many. It currently ranks #14 in Canada on the recently released ScoreGolf top 100 rankings, up from #16 two years ago. This makes it the No. 1 course in PEI which has a lot of great courses. When first built Crowbush was pretty well in the middle of nowhere, Cavendish and Green Gables well to the west and the courses at Brudenell River well to the east. Now there is a resort on site, but frankly I think there is a lot more to do at Brudenell River resort than at Crowbush, so I would stay there and drive the 20-30 minutes to Crowbush. That being said I have not stayed on site and I do know that if you like beach walking then Crowbush has it all over Brudenell.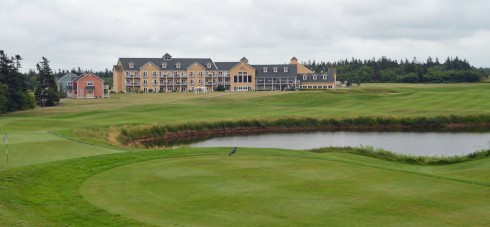 The clubhouse at Crowbush sits on the highest point of land on the front nine and is clearly visible from quite a few holes. The course itself starts out fairly benignly with three not too interesting holes. What you will notice are the undulating greens and excellent fairways. The trees surrounding most of the course are ugly black spruce that thrive in this part of coastal PEI – nothing like the lovely hardwoods found at Brudenell. However, they do add to the difficulty as finding a wayward ball is nigh impossible.
The course really begins at #5 Forerunner which is an incredibly tough, but fair par 5 that requires a great drive, a great second shot that, depending on the wind could be anything from a three wood to seven iron and a precise shot to the green over what seems like at least 100 yards of water. It is a memorable hole where six is a good score and a true forerunner of what is to come. Next up is one of the best par 3's you'll find anywhere. It's not long, but is all carry over a marsh full of cattails. #6 Cattails is the first of a series of long water carries off the tee, usually into the wind coming right at you off the Gulf of St. Lawrence. Make it over these carries on 7,8,14 and 16 and you will score well. These are really test your mettle holes.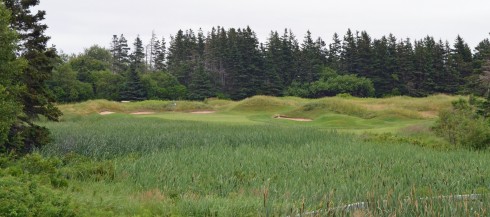 #7 Breakers is a great par 4 that requires a long carry into the oncoming wind. However, if you make it then par should be the reward.
Next up is Pinnacle Dune another par 3 with a long water carry. In the past I have gone through 5-8 losing balls in the water on every hole. Last week I lost only one (on 5) so that may explain my belated benevolence to the course.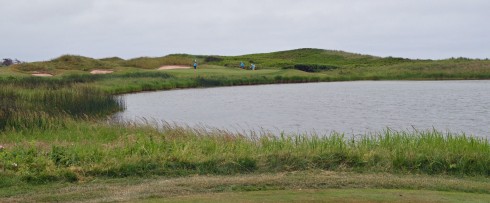 The view back along the famous PEI sand dunes from #9 tee is exceptional and the one most often seen in Crowbush ads and yes there is a real Crowbush Cove.

#11 Sully's Run is still a stupid hole, but if you play here make sure you walk up to the championship tee box high atop the dunes for an unbelievable panorama of the course in front and the ocean behind. You might as well hit from here because no matter how long you hit it, the only thing you can do is layup with your second – often just a wedge. The problem is the third shot which is an incredibly long carry to a small green. Just the look of it intimidates all but the longest hitters. If six is a good score on #5, then 7 is here, because you almost certainly will lose a ball or two.
The carry off the tee on #14 Seaward Bound is horrendous, but what a high if you make it. Here is Mike 'The King' Argand about to make the effort. My lips are sealed as to whether he made it or not.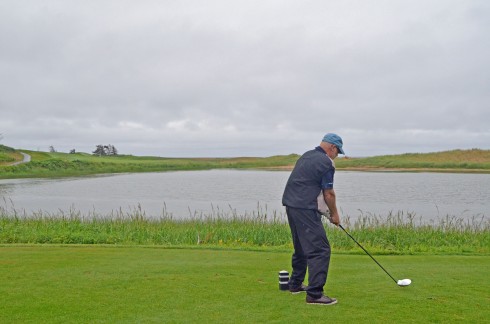 #17  Flying Jibis one of the toughest short par threes you'll find anywhere. Usually it's an uphill blind shot and guessing the right club is a chore. It may only be 97 yards, but I've seen lots of 5's or worse on this hole. #18 Crow's Nest is a welcome sight as you head for home and the second floor balcony of the clubhouse from where you can sip a beer and watch your other companions wrestle with this brute of a course.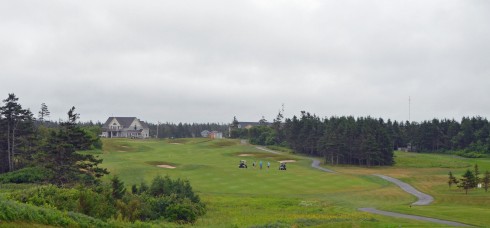 While Crowbush is not a true links course, it has a number of holes that definitely have the links look and is a dramatic change from most PEI courses. While PEI calls itself The Gentle Island, there is nothing gentle about Crowbush. This time I came prepared for a battle that I didn't expect to win, so losing was, to steal from Shakespeare, 'sweet sorrow'.
I can't finish this post without a picture of myself in finest athletic mode as I toss the washer in the finals which, alack, I came up on the short end of an 11-10 score. Still silver is a better colour than bronze or none. Cheers from PEI!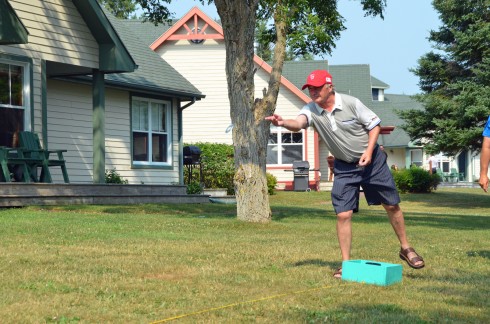 ---
Comments:
---
---
Did you enjoy this article? Please share it!:
---
More explorations: