Finally meeting my Waterloo
Waterloo, Ontario, Ontario - Sunday, August 31st, 2014
For the past three years I have going on an annual RV trip and writing about it for RV Gazette. The first year was totally insane as my son Dale Jr. and I drove 4000 kms. in a week over ridiculously bad roads in a crossing of the Trans-Labrador Highway. It was a hell of an introduction to RVing. Next we spent a week exploring Nova Scotia's Eastern Shore and last year after Dale returned out west, Alison and I toured New Brunswick's Bay of Fundy area.
These stories have turned out to be very popular and I looked forward to choosing a spot in Atlantic Canada for this year's tour – that is until Minto Schneider, a transplanted Nova Scotian now working with Waterloo Regional Tourism challenged me to think outside the box and come to Southern Ontario. This is something that frankly had not occurred to me as my goal had been to attract RVers from Ontario and elsewhere to experience the wonders of Canada's east coast provinces. Then I thought, "Why not?" It's only fair to try to give Ontario some pay back by telling Maritimers and others about why they should take their RVs to Canada's heartland. Maybe it will also convince some Ontario roamers to stay closer to home. So, to cut to the chase, I accepted Minto's challenge and am now writing this first post from Bingemans RV park in Waterloo, Ontario.
Alison had conflicts with her N.E.B. schedule so Dale Jr. is back as wingman. We both flew into Toronto a day early and put up at the  Eaton Chelsea where Tracy Ford kindly got us two rooms at a great media rate along with complimentary parking. The previous year Alison and I had taken along the Acura SUV to accompany the RV. I drove the RV and Alison the Acura. There were short distances between campsites so we would drive the RV to the site, hook up and then do our touring by car. This year I decided to do the same thing and had reserved a mid-size car from Alamo for Dale to drive. The trip got off to a great start when we were upgraded to a Hyundai Tucson SUV at no charge.
Our plan was to meet my daughter Lenore who lives in Toronto and then go out to dinner, but on checking the Jays schedule I saw that the Yankees were in town so our plans changed abruptly. This would be our last chance to see Derek Jeter play, one of the few great players of the last two decades to maintain his reputation as a decent person who didn't use steroids. I went to the box office and could only get three tickets in the first outfield deck, but so what – it was the Jays/Yankees man!
Friday was a beautiful day in Toronto and the lakefront was packed. Dale bought a Jays hat and we stopped at the Steam Whistle for one of their signature pilsners.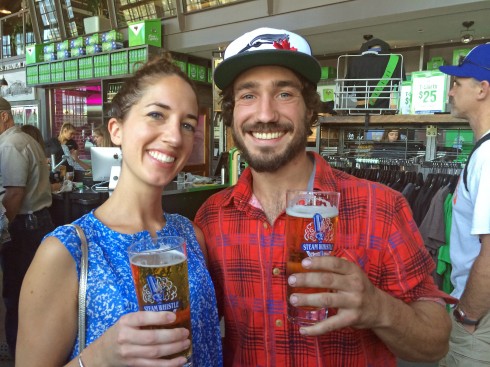 Next we headed to Amsterdam Brew House to try their offerings.
I've been going to the original Amsterdam brew pub for at least thirty years on my occasional visits to Toronto and always thought it was a great spot. Now that there is a location right on the lakefront it is an even better spot.  Even though the place is huge we had a fifteen minute wait for an outside table, but it was worth it. The waterfront was packed with Jays and Yankee fans, attendees at a TransCon comic book convention who were bizarrely dressed to say the least and a lot of couples just enjoying the romance of a beautiful evening on the water.
Service was quite prompt considering it was packed and the Natural Blonde Lager was absolutely fresh and delightful. If you prefer a true lager try this. I have to say we agreed that it was better than the Steam Whistle pilsner. Dale was very impressed with the Boneshaker IPA, but at 7.2% that's too much alcohol for me in a beer. Lenore who is a sort of a vegan had the kale salad which she said was really good – I wouldn't touch it for all the tea in China. Dale and I split an order of wings with Ghost chili suicide sauce. It was not too hot and for once the hotness really had a distinct flavour. These were close to the best wings I've had in a while. We also split an order of fish tacos which were good, but not up to California standards. The fish and toppings were great, but the tortillas were a bit too floury for my taste. We all shared an order of frites that were also very good. Overall a good place to prep for the game.
We took our seats in the semi-nosebleed outfield section with this view of home plate.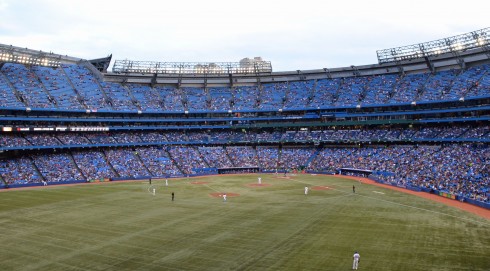 I've probably been to at least a dozen Jays games over the last twenty years and I don't remember them ever winning any, but being a Leafs fan, hope springs eternal and I'm sure this will be night. And it really does for six whole innings. Mark Buehrle looked almost unhitable, Jose Bautista hit a monster home run that landed not fifty feet from us and Kevin Pillar made a spectacular diving catch.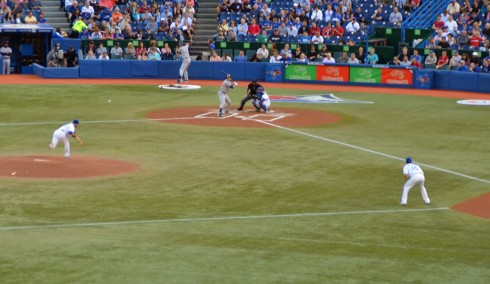 Buehrle dealt with Derek Jeter, Icharo Suzuki and Carlos Beltran like they were rookies, not future Hall of Famers.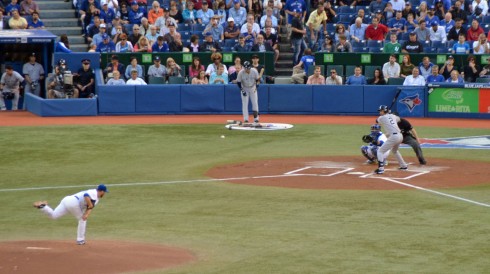 Then we went to get a last beer before the seventh inning stretch when the beer lines get crazy and I swear the same a**hole who was in front of me the first time I bought beer was in front of me again. He was one of those wannabe big shots there with a bunch of other mouth breathers who was trying to impress by ordering mixed drinks for them, wine, peanuts – you name it. What should have been a thirty second in and out turned into ten minutes. After about three I heard a groan from the crowd and checked the TV screen – 2-1 Yankees. Damn! After about eight minutes I heard a cry of despair from the crowd – 5-1 Yankees. Not again! By the time I got to the counter I wasn't thirsty anymore. At least the lout had saved me from watching it live.
We opted to grab a cab back to the hotel and watch the rest of the game at the hotel bar, Monarchs. The game was on but so was one of the worst bands I have ever heard. It was a group of aging yuppies who had a small crowd of adorers who were filming and photographing their performance. I gathered it was some type of reunion of the band from years ago – at least I hope it was because these guys were terrible. The lead sing was a woman with a voice so bad that when she sang Hit Me with Your Best Shot I was really tempted. The Jays didn't get any better and neither did the band so it was time to turn in. The real adventure begins tomorrow.
---
Comments:
---
---
Did you enjoy this article? Please share it!:
---
More explorations: