Blackwolf Run River Course – Wisconsin Day 3
Kohler, Wisconsin, Wisconsin - Thursday, October 23rd, 2014
I was in recovery from the trauma of last night's thrashing of the Vikes by the merciless Packers and had had nightmares of Christian Ponder starting every game for them for the next fifty years. The continental breakfast at the Microtel was one of those kinds that only added to the misery – orange juice so thin that you'd wish they'd bring back Tang, coffee so bland that instant would have tasted like Kona in comparison and things wrapped in plastic that passed for muffins and donuts, but I think in reality must have been salvaged from the Chernobyl reactor. To top it off a very cheery Oliver appeared still wearing that damn Packer's jersey he'd had on for the last 24 hours.
Then I thought, "Hey, except for Brian and me, the rest of these guys are going home! We've still got three games of golf and Chicago in store." That produced instant Vikings' amnesia and my mood changed for the much better. It was a bit sad to say goodbye to the rest of the guys, but life goes on. I'll see them all next year in Pittsburgh and Kiawah Island, if not sooner – actually much sooner for most as we are headed to Ireland together next August.
Originally I had scheduled a mid afternoon tee time for that day because I wasn't sure how long it would take to get from Appleton to Kohler, but once I knew it was less than ninety minutes I had changed the time to 11:00. Again a request for a change and again the same answer – no problem.
As the boys headed out in the Suburban headed for Chicago, Brian and I headed back to Kohler via county backroads that took us through typical Wisconsin dairyland and places with names like New Holstein and Kiel that clearly identified the original settlers as from north Germany. We got back to Kohler with half an hour to spare and headed directly to the resort where we were to play the Blackwolf Run River Course. I won't repeat what I've written in the previous post about the architect Pete Dye, but I will repeat that this course is rate #14 in Golf Digest's rankings of U.S. public courses.
Scott was waiting for us at the staging area and I gave him a glare to forestall any mention of last night's game. He gave a nod of his head with a big grin and then pointed to a short distance away where the same group of hackers who had plagued us yesterday were getting ready to go out. A doleful looking Pete was standing with his hands in his pockets as if waiting to be led into an execution chamber. Scott whispered that if we hurried we could get out in front of them which didn't take us more than thirty seconds to do as he hopped on the back of the cart and I drove as fast as it would go to the first tee.
Once again the weather was not great, but better than yesterday. It was still cart paths only so Scott's range finder proved invaluable.
Writing this after having played the course, I can honestly say that the River course is one of the prettiest courses I've ever played. While Pete Dye is known for moving a lot of earth, which we will really see in the next two days at Whistling Straits, he didn't have to here. The Sheboygan River, with a little help from the glaciers, has shaped a beautiful landscape of hardwood hills through which the river meanders on its way to Lake Michigan. This is a perfect time of year with the trees in multi-hued autumnal foliage, geese and ducks winging their way south and salmon fighting their way upstream.
Like most Pete Dye courses, this one is by no means easy; in fact, it is difficult enough to have hosted the U.S. Women's Open twice and the World Championship of Golf in the 1990's producing winners of the caliber of Greg Norman and Ernie Els. I do know that the guys who played this course the day I arrived could not believe the speed of the greens.
Alright, let's play some golf. We are joined on the first tee by a guy in his thirties from Chicago who is here with his wife who opted for the spa instead of the golf course and proves throughout the round to be a good sport who doesn't take the game or himself too seriously. Good thing, because if he did he would definitely have joined the wrong twosome.
The first hole is called Snake because it snakes alongside the river for its entire length. Once again, because the weather wasn't the best I'm going to intersperse my photos with some I have downloaded from the Kohler online media gallery.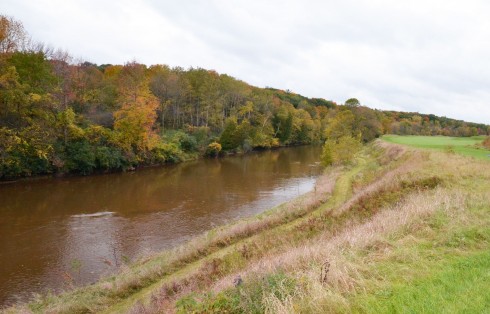 In this picture you can see a fly fisherman in the river. We did in fact see people fishing at a number of spots for the migrating salmon which I discussed in yesterday's post.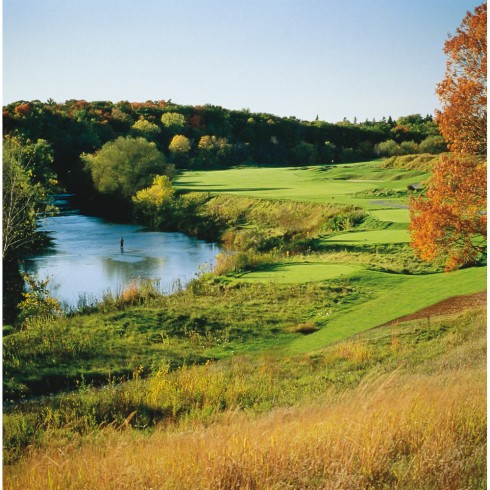 Luckily the rains of the past few days had slowed the greens down to the point where three putts weren't automatic, although I did have my share, even with Scott's accurate calls on the breaks.
Just past the second green Scott took us on a short stroll to where there was a dam which was obviously a serious obstacle for the salmon as the pool below it was loaded with fish and fishermen. It was a pretty sight, but somehow didn't seem quite fair to the fish.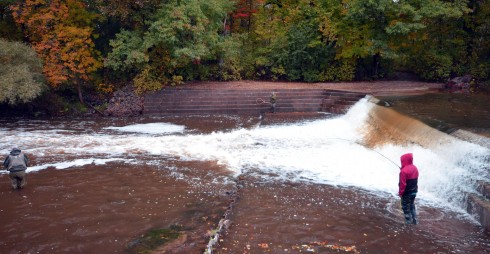 The first par three is a real beauty called Swan Lake because there are swans in what is really a large pond, but hey Swan Lake sounds a lot better than Swan Pond. If you look closely you can see a swan just beside the green. Naturally as a left hander I bailed out totally to the left which was better than going right – might kill a swan.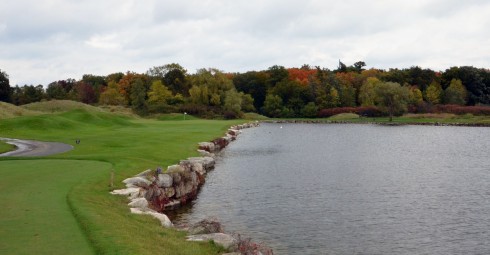 There is a great view back over the pond to #14 green and clubhouse.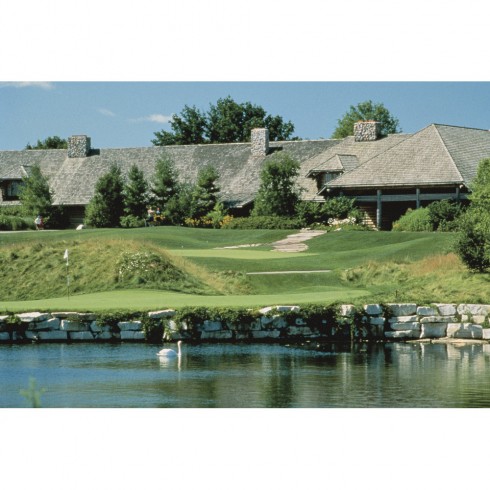 No 5 – Made in Heaven is an absolutely gorgeous golf hole with an elevated tee that features the river and a huge bunker on one side and just one damn clump of trees on the other, but guess where I ended up.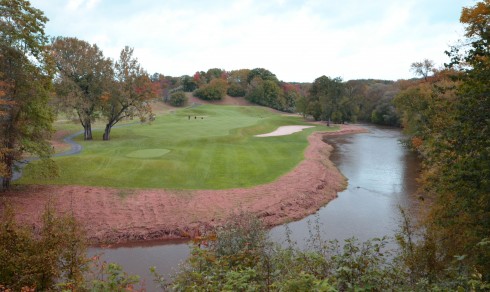 I would put the stretch of holes from 8 to 13 up against any six holes in a row anywhere. The river is in play on all but No. 8 and it has its own perils, including falling straight down fifty or so feet from the tee box if you get too caught up in admiring the view. The Kohler factory can be seen far in the distance – someone has to work.
---
Comments:
---
---
Did you enjoy this article? Please share it!:
---
More explorations: