Whistling Straits – Wisconsin Day 4
Kohler, Wisconsin, Wisconsin - Tuesday, October 28th, 2014
Whistling Straits first came onto my radar screen in 2004 when V.J.Singh won the P.G.A. there in a playoff over Justin Leonard and Chris DiMarco. To be clear, Whistling Straits is actually the home of two courses, the Straits of which I am writing today and the Irish course, but for all intents and purposes everybody just refers to the more famous of the two as Whistling Straits –  confusing for sure. I remember watching the tournament and being almost dumb struck by the difference between this course and pretty well any other course on which the P.G.A. had been played. Usually these tournaments are played at venerable old school courses that are inland and tree lined – the very opposite of the links courses on which the British Open takes place. What I saw on TV was a course that had almost half its holes right on the shores of Lake Michigan and the rest only a five iron away. There were no trees and the wind was merciless. In other words this was a modern attempt to create a links type course in middle America.
There was only one golf architect with the vision and the audacity to try to create a links course out of an abandoned airfield – Pete Dye. I've written of my love/hate relationship with Pete Dye courses in other posts and I won't repeat it here other than to say that I think this course might be his finest achievement.
By necessity airfields are dead flat. What you see at Whistling Straits is the antithesis of flat. There are elevation changes of up to eighty feet, all created by bulldozers and Pete's imagination. The only thing he was not allowed to do was alter the course of any of the streams  on the property or the lake on what is now the fifth hole. Other than that it was fill your boots Pete, with Herb Kohler writing the cheques. Maybe money can't buy you love, but it sure as hell can build you a phenomenal golf course.
Brian and I hopped on the shuttle for the fifteen minute ride from the Carriage House to the Whistling Straits clubhouse where our clubs had already been transported and caddy Scott Scheurell was awaiting us. The clubhouse at Whistling Straits is just as different from most clubhouses in North America as this course is – it would not look out of place in Scotland.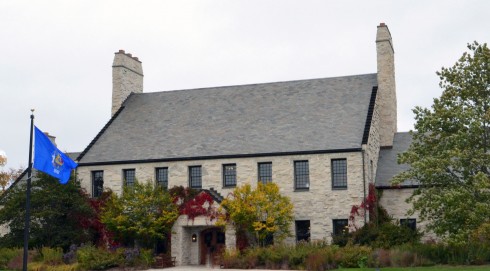 The weather had been predicted to be brutal the night before, so it was almost a pleasant surprise to find temperatures in the mid-forties with a pretty refreshing wind, to put it mildly. The Straits course at the American Club Resort is the only one of the four that requires golfers to walk and use a caddy. However, caddies can carry two bags providing the clubs are transferred to a light weight carrying bag. Scott had all this under control when we got there and we met up with the two guys we would be playing with today – except that they weren't. They were from Arkansas and thought we were nuts to be going out in these temperatures. The solution was to buy a toque, have a shot of schnapps and forget about the weather.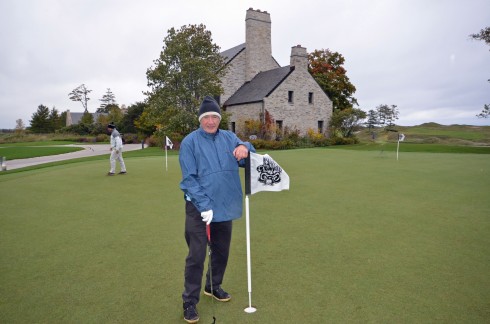 From the first tee box to the 18th green the Straits course is just simply amazing. This is one of the very few courses I have ever played where I think an almost hole by hole description is warranted.
#1 Outward Bound is where you first get a look at a couple dozen of the over 900 bunkers that are on this course. Others have complained that this is a ridiculous amount and maybe it is, but the reality is that 90% of them are there for visual appeal and don't present any real prospect of trouble unless you are so bad that you should be confined to miniature golf. Here is the view from the first tee. You can see quite clearly the walking path that leads from the tee box to the fairway. For someone used to seeing a cart path this is quite a change and a reminder of what golf was like before the advent of the modern monster courses with hundreds of yards between holes. Most of the holes do involve a decent carry from the tee box to the fairway, but if you play from the right tees that should not be a problem. Brian and I are playing from the whites which is 6360 yards – just about all the yardage we want at our age.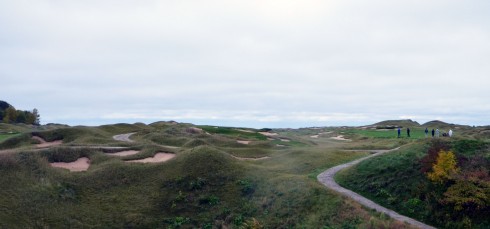 Unfortunately it started a pretty good drizzle for the next three holes so the camera wasn't much use, so I am using photos from the Kohler Online Press Gallery for these holes. #2 – Cross Country is the first of the eight holes that parallel Lake Michigan and it is a beauty of a par 5. Unlike the River course we played yesterday, much of the trouble on the Straits is on the left side which makes it tough on left handers. As well, the wind was from right to left so any slight fade quickly turned into a wild slice.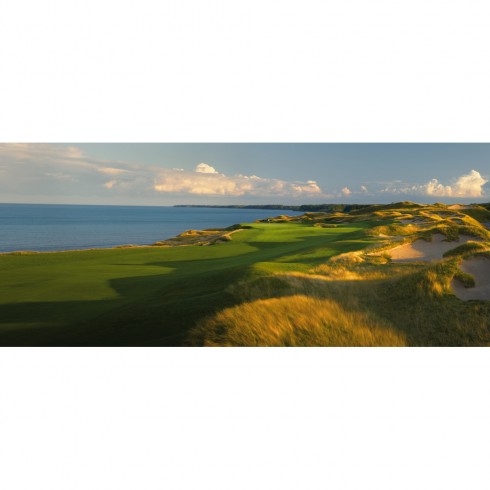 #3 – O'Man is the first of the par threes that are just gorgeous to look at and fun to play.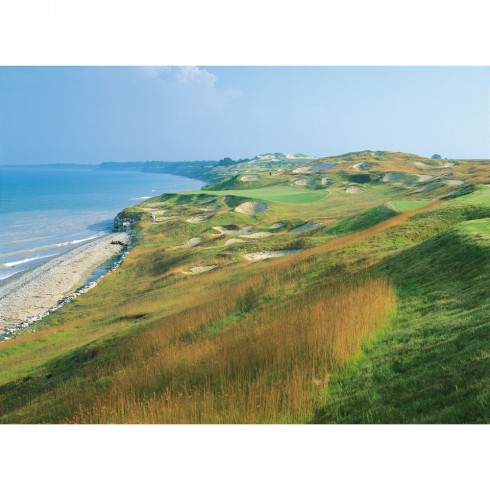 #4 Glory is the third straight hole along the water and again a toughie for left handers.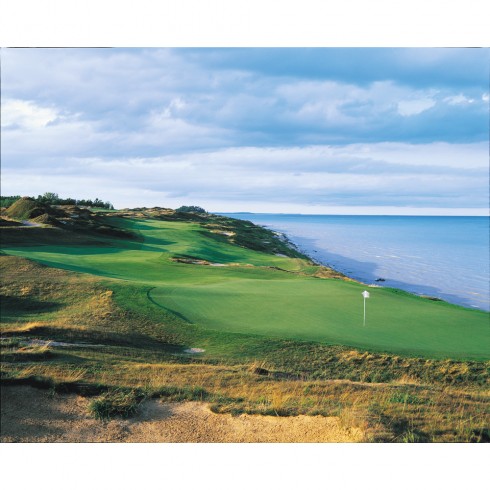 Especially if you happen to get into one of the many bunkers as Brian did here.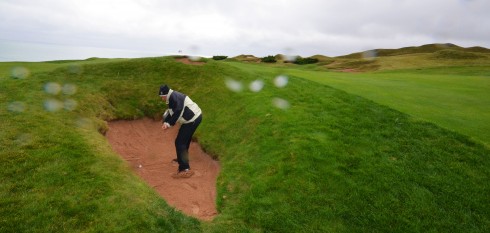 At #5 – Snake we turned away from the water for a long par 5 alongside the only large water hazards on the course. From the tee you must avoid water on the right and on the second and third shots water on the left. I succeeded on the first two, but not on the third and stupidly tried to play out of the water on my fourth. If I wasn't wet enough by now that sealed the deal, but hey 'We are playing Whistling Straits! Who gives a s*** about the weather'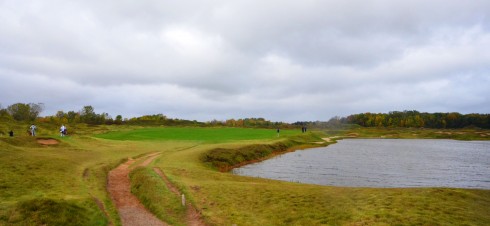 Scott tells us that this hole became quite controversial in the last P.G.A. played here in 2010 when Bubba Watson simply ignored all the trouble and bombed a drive right over the lake and hit a wedge into the green for an easy eagle. Apparently when the P.G.A. is held here in 2015 they will construct a mound in front of the tee box to make that type of drive next to impossible, but I wouldn't put it past Bubba to try.
#6 – Gremlin's Ear has a bunker so infamous that it has its own name – the Devil's Asshole. That's it just to the right of Brian.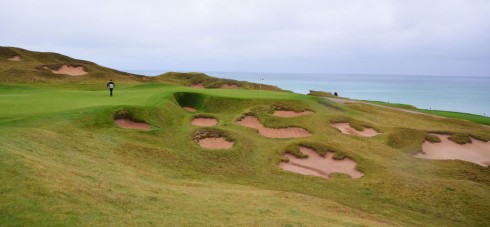 Although I managed to avoid it I could not resist taking a shot from it and with a lob wedge de-lofted as much as possible I got out and even stayed on the green.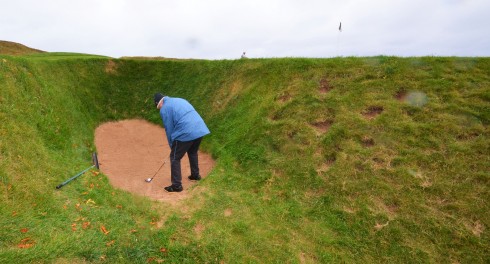 At #7 Shipwreck we were back to the lake and another stunning par three. As you can see from the lake the wind was dieing down and conditions were improving.
8 On the Rocks might describe the state of my game if I was caring about the score, but I was not; these waterside holes were just so much fun to play.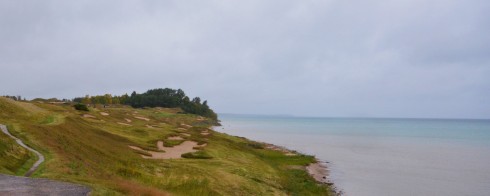 #9 Down and Dirty heads back inland to the clubhouse and is one of the very few holes on the course where trees can come into play.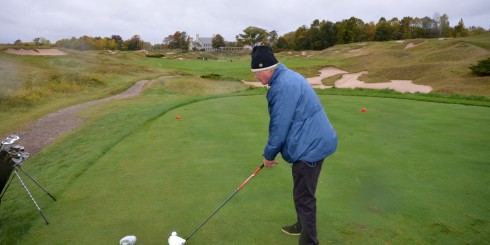 #10 Voyageur heads back toward Lake Michigan . The stone bridges over Seven Mile Creek are a nice touch.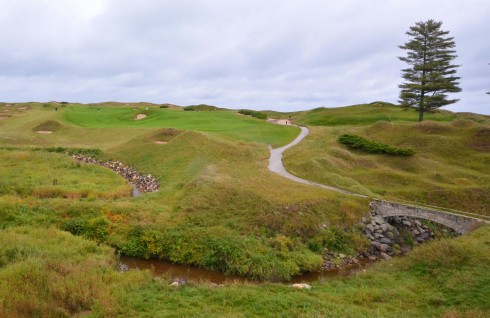 #11 Sandbox is exactly what it sounds like – a par 5 where avoiding the sand is a virtual impossibility.

Here's Brian actually in the Sand Box.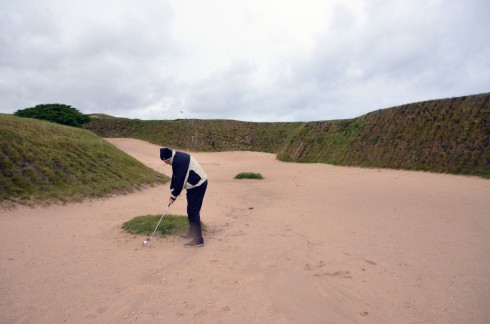 #12 Pop Up is yet another beautiful par 3 along the lake front. Now the water is on the right hand side.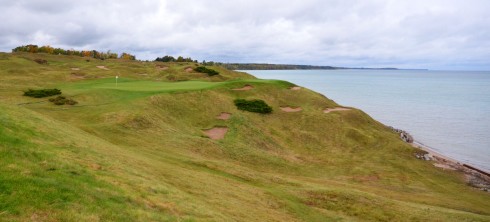 #13 Cliff Hanger is just that as the drop off to the right is pretty well game over if you miss to that side.

#14 Widow's Watch is well named because by this time if you were really caring about your score suicide might be a temptation, but we weren't so we both managed to par this one.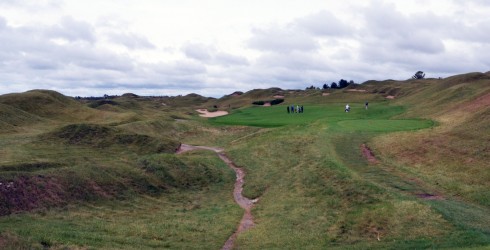 Just when you thought things couldn't get any harder they do with four consecutive monster holes including this little beauty #17 Pinched Nerve. It's nice to look at, but hitting that minuscule green is next to impossible.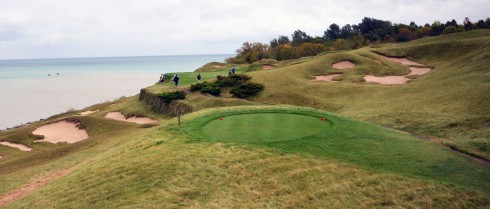 #18 Dyeabolical is one of the best finishing holes in golf as the course once again returns to the clubhouse where the green is protected by bunkers and Seven Mile Creek.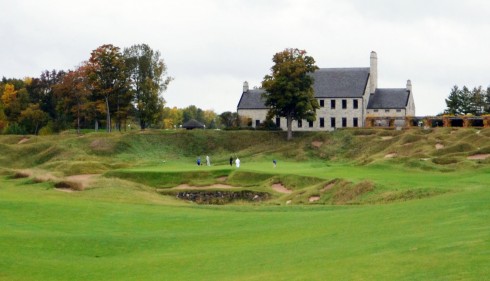 This hole was made famous in 2010 when Dustin Johnson all but had the P.G.A. sewn up when he grounded his club in a bunker that he claimed he didn't know was a hazard. It seemed plausible at the time, but actually being there and seeing the bunker it seems far less believable. Here's Brian in that same bunker – pretty obvious isn't it?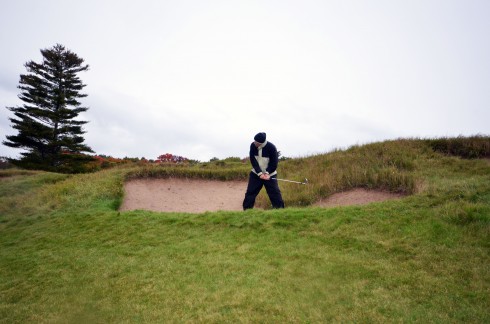 On the way up the 18th fairway we were joined by the two guys from Arkansas who had been in the bar the entire time we were on the course. They wanted a picture with us on 18 green to prove to their buds back home that they had played. Here's their proof.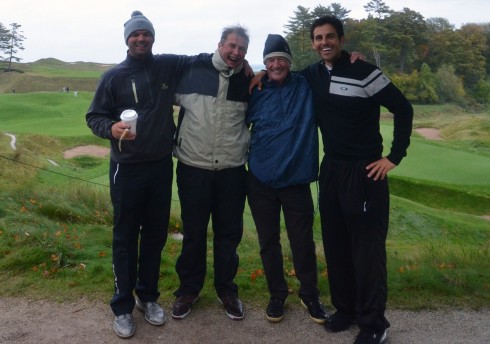 Here's what Brian, Scott and I looked like after our round at the Straits. It might not have been a war on the shore, but it was definitely a battle and one I'll definitely want to fight again.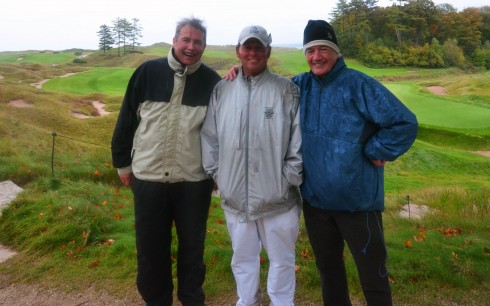 There was a wedding reception on in the clubhouse so we had a quick Jigger's and took the shuttle back to Kohler while Scott stored our clubs for tomorrow's game on the Irish course.
I had made reservations for dinner that night at River Wildlife which is technically a private club that is open for dinner only on Friday and Saturday. American Club guests can pay a one time $18 fee to dine there and as it turned out that's a bargain. You get there by taking a shuttle from wherever you are staying and then walking down a gravel path to what appears to be a log cabin in the woods and that's exactly what it is. The interior is bigger than you would expect from the outside with the walls decorated with various stuffed heads of deer, elk and caribou. Everything including the floors, walls, ceiling and furniture is made of wood. There are a number of small rooms including a couple on the second floor that make for an intimate dining atmosphere. Frankly,it's the type of place you either like or don't. Personally I found it charming because it is an authentic old style hunting lodge.
There is no set menu, but the fare is based on what you might expect at a hunting lodge – things you can shoot or catch.  Brian and I both had the asiago and almond crusted walleye which is my favourite freshwater fish and one you never see on the menu east of Montreal. It has a wonderful firm white texture that matches perfectly with sauces and crusts. If you see it on a menu don't pass it by.
After dinner we took the shuttle back to the Horse and Plow which is an English style pub in the middle of the accommodations complex in Kohler. It was packed, but we got a seat at the bar and I enjoyed sampling from the copious selections of American bourbon. I think I had three, maybe four as Brian and I went over Straits course hole by hole. It was truly one of those days I will always treasure.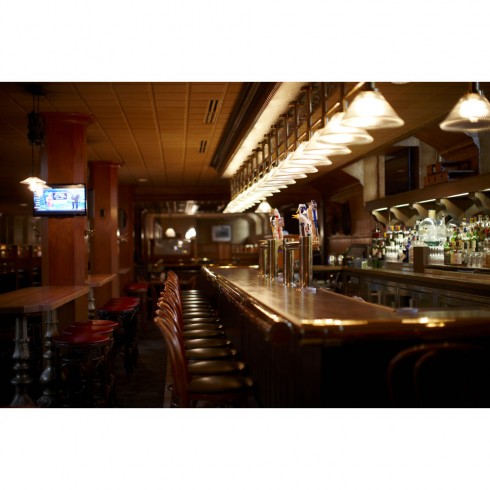 ---
Comments:
---
---
Did you enjoy this article? Please share it!:
---
More explorations: