AMEX Aeroplan Plus Reserve Card is a Ripoff
Worldwide - Friday, October 2nd, 2015
I don't usually do posts that aren't strictly travel related, but what happened yesterday at Toronto airport pissed me off enough to write this rant. By way of background I have been a civil litigator for close to 40 years and one of my specialties involves interpretation of contracts so I know whereof I speak.
A few months ago I succumbed to paying an embarrassingly high fee to get a specialized AMEX card that provided a number of benefits. It is an aeroplan plus reserve card and one of the specific benefits I wanted was access to the AMEX Priority Pass Lounges. If you are travelling on WestJet this is the only lounge you can use. Here is what the website says regarding access to these lounges.
Lounge Access
Relax before you fly with unlimited access to the Air Canada Maple Leaf LoungeTM*2 where available, and Priority Pass Lounges3
As a layman and a lawyer I would read this as saying the card gives me unlimited access to Priority Pass Lounges. aka Plaza Premium Lounge.
Yesterday I saw this on a post not fifty feet from the lounge in question. There's a picture of the aeroplan card second from the left.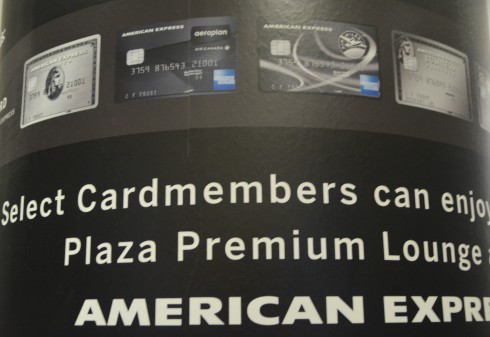 Here is a copy of my card sans #s. Looks identical to me. So let's go enjoy the lounge.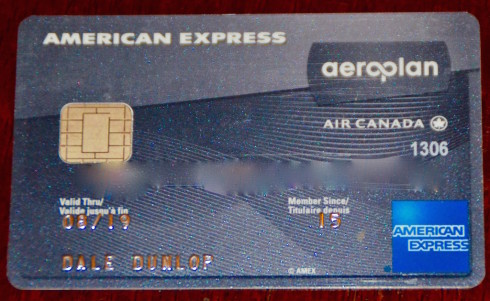 On entering I was told that I could get in, but for $27 USD. WTF! I brought the guy outside and showed him the sign, but he was unmoved. I called AMEX and was told the $27 USD charge was correct.
I then went back to look at the fine print. Yes, there is a #3 beside the lounge access come on. Here is what it says in print much, much smaller than this.
3. Priority Pass – Subject to space availability. Basic and Supplementary Cardmember(s) ("Cardmember") may apply for a Priority Pass membership ("PP membership"). PP membership is subject to approval by Priority Pass Limited ("PPL") and is not guaranteed. Unless cancelled, PP membership automatically renews on its anniversary date. PP membership may be cancelled by American Express if: (i) the Priority Pass benefit associated with the American Express AeroplanPlus Reserve Card is changed or terminated, or (ii) the Cardmember's American Express AeroplanPlus Reserve Card is cancelled. PP membership includes access to any airport lounge participating in the Priority Pass Program. Participating lounges are owned and operated by independent third parties and their participation and/or facilities can change from time to time. To access a lounge, the Cardmember will need to show his/her valid Priority Pass card and an airline ticket for travel on the same day for the Cardmember and each of his/her guests sole discretion, participating lounges may restrict entry of persons under 21 years old; please check restriction details for the individual lounges at www.prioritypass.com or your Priority Pass Directory provided by PPL. All Priority Pass lounge visits are complimentary for the enrolled Cardmember only. All guests are subject to a fee of $27 US per person per visit. Lounge access charges can be billed by PPL to the American Express AeroplanPlus Reserve Card connected to the Cardmember's PP membership upon PP's receipt of notification from the lounge visited. All Cardmembers are subject to PPL's terms and conditions for the Priority Pass Program and the individual lounge operators' terms of use for the participating lounges visited. For complete PPL terms and conditions and a directory of participating lounge locations, please visit:www.prioritypass.com.
I interpret this to mean that I, as a card holder would have complimentary access and I would have to pay $27 USD for my wife. But no, they interpret it as both of us having to pay. To make matters worse anyone can access these lounges for a fee that is about the same as the $27USD so paying extra for the card is just a waste of money.
To really top if off, when I did pay to get in the place was like a two star version of the Air Canada lounges. Sounds like sour grapes, but all this does is convince me to fly Air Canada all the time and avoid WestJet.
This is a class action waiting to happen.
---
Comments:
---
---
Did you enjoy this article? Please share it!:
---
More explorations: