Where is Game of Thrones Filmed? I'll Show You.
Dubrovnik, Croatia, Croatia - Monday, December 28th, 2015
This is the final post on what has been a fantastic trip to the Dalmatian coast of Croatia and I am going to end with a bang and not a whimper as Alison and I go on a guided tour in Dubrovnik to visit sites where Game of Thrones is filmed. For the very view readers who would not know, Game of Thrones is the most popular series ever produced by HBO with a worldwide following even greater than The Sopranos which hardly seemed possible a few years ago. It is based on the fantasy based fiction of George R.R. Martin, an American from New Jersey of all places, who has borrowed heavily from Norse, Greek and other mythologies to create a fantasy world only surpassed by Tolkien's Middle Earth. The TV series revolves around the continual struggle for power and domination among four families – the Lannister's of Casterly Rock, the Baratheon's of King's Landing, the Starks of Winterfell and the Targaryens who are fighting to regain ancestral lands lost to the Baratheons. Each family in turn has a number of vassals and underlings that make for a huge recurring cast that includes some of the best (or worst) villains, connivers, traitors, cut throats and double dealers ever to appear on the small screen – I can't get enough of it. While much filming takes place in a studio in Belfast, even more is shot on site in locations all over the world including Iceland, Malta, Northern Ireland, Morocco and most importantly for this post, Croatia and in particular, Dubrovnik. So join us while we answer the question – where is Game of Thrones filmed?
Where is Game of Thrones Filmed? – Northern Ireland
My first encounter with a site where Game of Thrones is filmed was earlier this year in Northern Ireland. The Mountains of Mourne loom over the resort town of Newcastle and the world famous Royal County Down golf course from where I took this shot of them. For some reason the tops of the relatively small peaks seem to be constantly shrouded in mist which made them perfect to fill in for the rather forlorn landscape of Winterfell. I'm still kicking my ass for not taking in the Belfast Game of Thrones studio tour when I had the opportunity.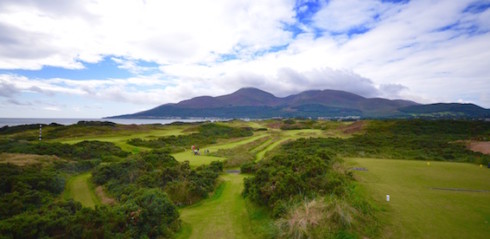 Where is Game of Thrones Filmed? – Split
The next encounter with a site where Game of Thrones is filmed was at the beginning of this trip in Split, where portions of Diocletian's Palace double for the city of Mereen, especially the underground caverns that serve as the holding places for Daenerys Targaryen's increasingly out of control dragons.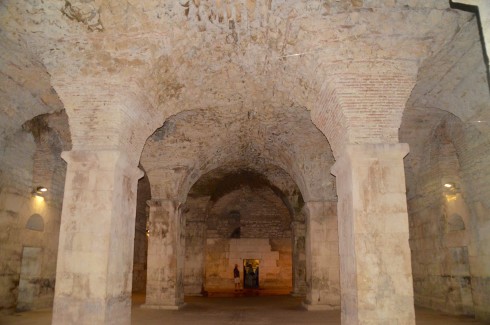 Recognize it?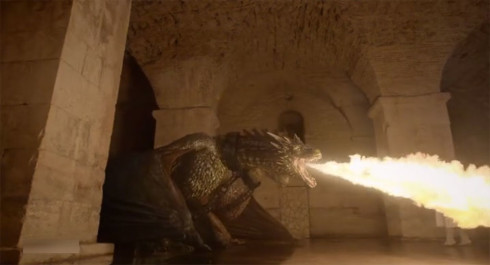 Another notable site is this small courtyard in the palace which in Game of Thrones Season 5 Episode 4 is where The Unsullied are ambushed by the Sons of the Harpy.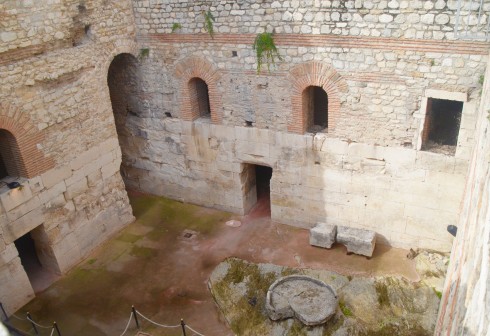 Here's what it looked like on the show.
Other parts of Diocletian's Palace appear in the last episode of Season 5 as Tyrion and Varys look down from the walls of what are in reality an unrestored part of the complex that has been in ruins since being bombed in WWII.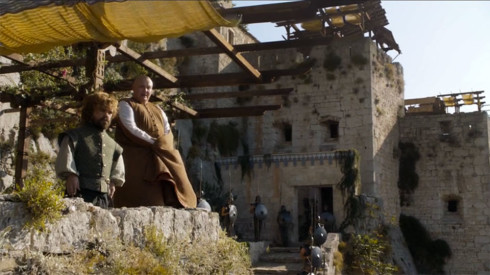 The Game of Thrones sites in Split were pointed out to us by our guide Dino Ivancic as part of an overall tour of ancient Split, but there are companies in Split that specialize in just GoT tours such as this one that also takes in the fortress of Klis that towers over the valley leading inland from Split.
Where is Game of Thrones Filmed? – Sibenik
In addition to Split, GoT is filmed in a number of other locations that we visited before getting to Dubrovnik, including the far less touristy city of Sibenik which doubles as Braavo where Arya Stark finds refuge in the House of Black and White. It is surely not coincidental that this temple dedicated to the Many-Faced God, is located in the real city of the many faces that adorn the outer walls of St. James cathedral, a World Heritage Site.

This guy looks like he'd fit right in as a GoT schemer.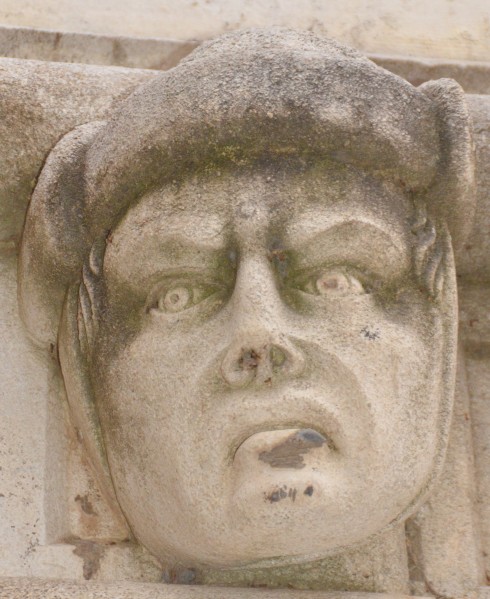 Where is Game of Thrones Filmed – Ston
One final GoT shooting location we visited on the way to Dubrovnik were the ancient walls of Ston which are actually over twice as long as Dubrovnik's more celebrated ones and have been used to fill in for Dubrovnik's when a scene required it.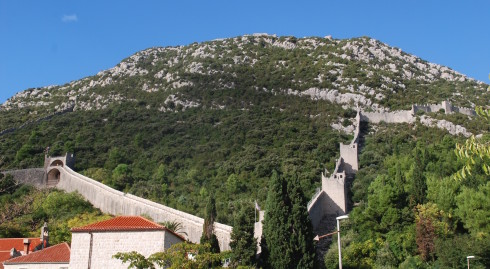 Where is Game of Thrones Filmed – Dubrovnik
But at last we get to Dubrovnik which is not only the Pearl of the Adriatic, but the real life King's Landing. It's the capital of the Seven Kingdoms and, in effect, the Big Apple of GoT – if you can make it there, you can make it anywhere. So much of the action in GoT takes place in and around King's Landing and so many fans want to visit these sites that Dubrovnik has almost taken on a second personality. There is an official GoT souvenir store selling only GoT related items including lifelike figurines of all the major characters, even bastards like Joffrey and Little Finger. Bars and restaurants proudly display pictures of various cast members who might or might not have patronized them. And of course there are GoT tours which I am about to describe.
Advertisements for GoT guided tours are everywhere in Dubrovnik and you can go anywhere from and hour and a half walking tour in the city to a full five day tour of all the Croatian sites. Pretty well all of the many types of Dubrovnik tours, including the GoT ones, start just outside Pile gate which is the main entrance to the city.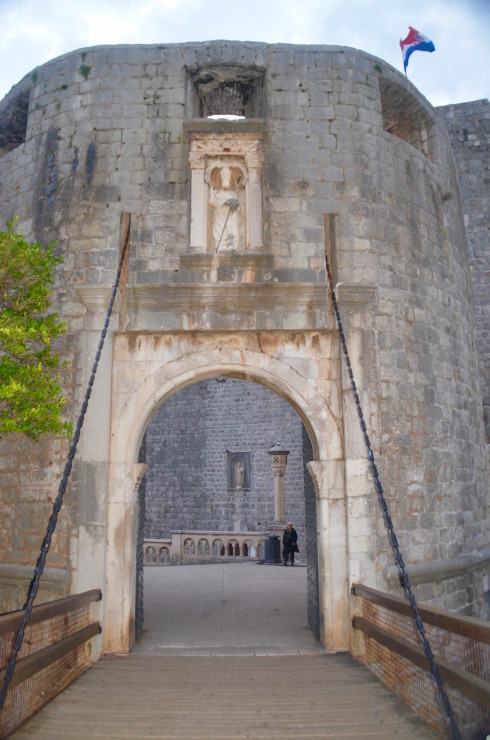 Through a little research I determined that Dubrovnik Walks was a reputable company that provided two hour GoT tours twice a day for a fair price – 150 kunas or about 20 euros. You don't need to reserve in advance, just show up at the Dubrovnik Walks booth just outside the gate and buy a ticket. However, there is one catch. The tour starts by going into St. Lawrence Fort which is technically part of the walls of Dubrovnik and requires a separate entrance fee. The good news is that if you have already bought a ticket to walk the walls then it is good for the fort as well. In the last post I described a trip around the walls and I still had the tickets, so no problem there. The tour requires a minimum of four participants and today we exceeded that by just one – us and three Brits, one of whom was a young woman who was so wound up about going on this tour that she was giggling hysterically. I was wondering if her companion was going to have to pull the old Cary Grant remedy and slap her in the face to calm her down. Luckily not; she gradually subsided into hiccuping titters and the occasional outburst at some particularly insightful revelation about one character or another.
Our guide was a striking young woman named Jadranka whose English, while not fluent, was more than adequate to the task at hand. She carried with her a large folio with dozens of photographs of various scenes from GoT which she used very effectively to identify the various places in Dubrovnik we would visit on the tour. The starting point was walking down to tiny Pile Harbour that doubles as Blackwater Bay in the series.
The Red Keep and Blackwater Bay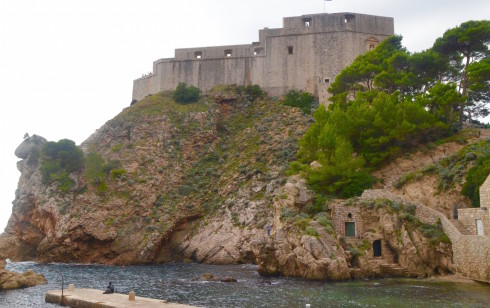 Notice the small jetty with the person on it looking out to sea. That is reminiscent of this scene from Season 3 Episode 1 where Sansa Stark and her handmaiden Shae look wistfully out to sea while Petyr Baelish aka Little Finger approaches in the background, intent no doubt on some type of nefarious scheming.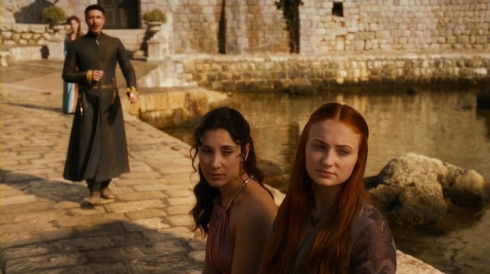 From Blackwater Bay we made out way up the steps to the entrance to Fort St. Lawrence which doubles as the Red Keep in GoT and is the site of many memorable scenes. Here is a view of Dubrovnik and Blackwater Bay from the entrance.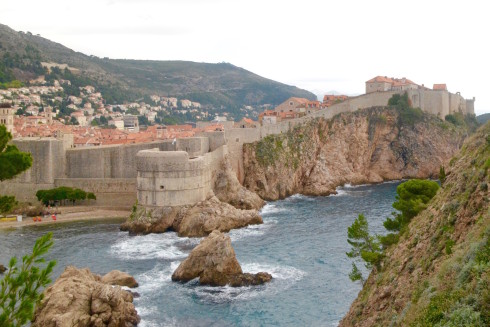 The entrance way has this rather fitting Latin inscription overhead, which translates into Liberty cannot be sold for all the gold in the world. Jadranka explains that Dubrovnik became the first place in the world to abolish slavery way back in 1416 and my subsequent research confirms that this is true and not just some empty claim without factual foundation.

Parts of seasons 2-5 of GoT were filmed in Dubrovnik and some of the most famous scenes took place in this hallowed building which sits atop "The Gibraltar of the Adriatic". This is the central courtyard. Notice the well.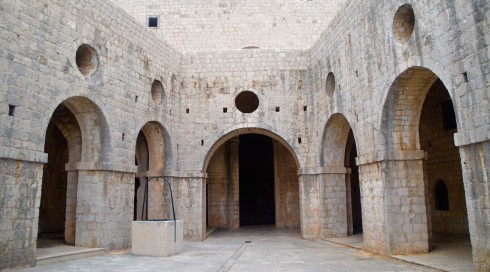 Here is Tyrion and Bronn the sellsword walking beside it in Season 3.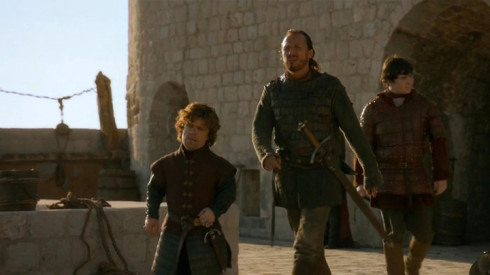 Here is another scene from this location in Season 3 Episode 5 where Cersei and Little Finger plot some mischief.
From the top of St. Lawrence Fort there is an amazing view of Dubrovnik.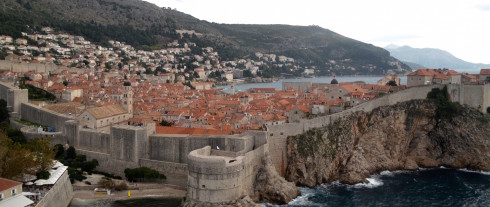 The prominent fort that juts out from the walls in the middle foreground is off limits to the public, but not to Tyrion and Varys who plan the defence of King's Landing from this post in Season 2, Episode 8. Note how the walls in the background have been transformed by modern special effects.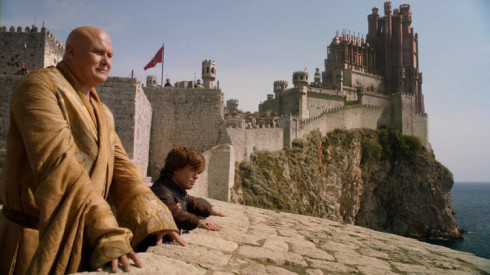 Jadranka scares the shit out of me by leaning backward over the wall while she explains the various scenes that have taken place on the top level. It's a straight drop to the rocks far below and the wall only comes up to her knees. To top it off there is a howling wind up here that is pushing against her, but as you can see, she is impervious to any danger.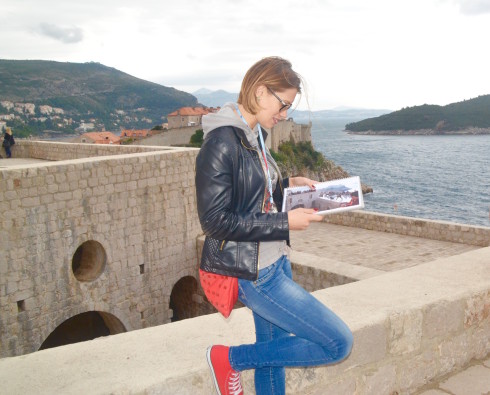 From up here Jadranka points out a park like area on the opposite side of the keep. This was the scene of Joffrey's wedding and his poisoning in Season four. One of the Brits, not the giggler, gazes with tears in his eyes at this place and says " I loved Joffrey". We all look at him like he is insane. He might as well have said, "I miss Hitler".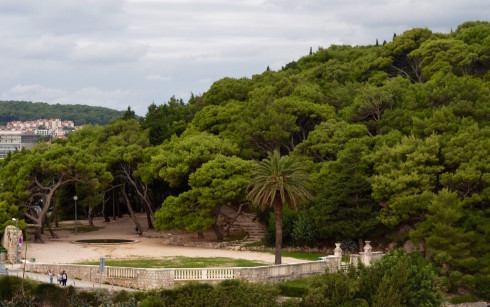 After about thirty minutes in various parts of St. Lawrence Fort we make our back down to Pile gate and into the city proper where Jadlanka takes through narrow lanes and points out many more places that appear as backdrop for King's Landing. She also tells us tales of the carrying on of Peter Dinklage who plays the roué Tyrion Lannister in the series. Apparently in the first few seasons here he acted the role in real life and was notorious for his riotous behaviour, but has since calmed down and drunken Dinklage sightings have severely abated. That's what marriage and a baby will do for you.
Here's an interesting bronze plaque at the base of a statue in the market square of Dubrovnik which looks like it could be a prop from GoT, but actually depicts a scene from the works of Ivan Gundulic, Croatia's greatest poet. If you look closely we have a queen with a dragon on the right and a griffin (not a lion) on her left. Seems that Dubrovnik was into works of fantasy centuries before GoT arrived on the scene.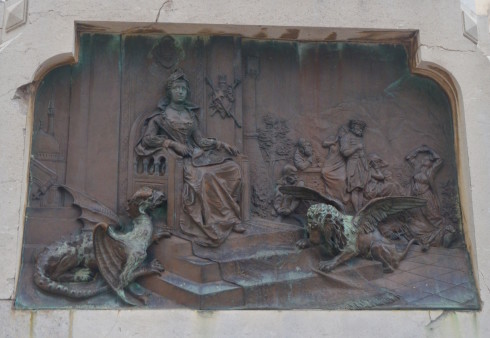 Where is Game of Thrones Filmed? – The Walk of Shame
By now we have been touring for almost two hours and the giggling Brit is getting increasingly pent up and asks for at least the tenth time, "When do we get to the walk of shame?" This is probably the most popular scene in the five seasons of GoT. The bitch to end all bitches, Cersei Lannister is shorn, stripped naked and forced to walk through King's Landing while being jeered and pelted with almost anything the mob can throw at her. It's a stunning comeuppance that is so effectual it actually makes you feel sorry for her. Here's a link to the scene which I am sure GoT aficionados will know by heart. And here is the actual stair way where it all starts and unfortunately where this tour and this post ends.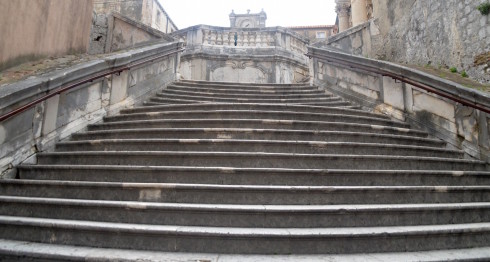 The Dalmatian Odyssey has been a wonderful journey by boat, bike, raft and automobile. I hope you have enjoyed it and will view the photo gallery. I don't have any definitive plans for the next trip, but I sense something is brewing. I'll keep you posted.
So long from Dubrovnik.
---
Visiting TV series filming sites
The Maritime Explorer Score:
"This is next on your list!"
Comments:
---
---
Did you enjoy this article? Please share it!:
---
More explorations: