Bird Islands Nova Scotia – Why You Must Visit
Bird Island Nova Scotia, Nova Scotia - Friday, June 17th, 2016
I was only about twelve years old when I was introduced to the late, great ornithologist Robie Tufts, author of the definitive Birds of Nova Scotia. He took me out to Evangeline Beach during the annual shorebird migration and I was hooked for life on this most genteel of pastimes. When I was a few years older I visited my first seabird colony in what is now Witless Bay Ecological Reserve. Back then you could get a permit to land on the largest island and I well remember my grandfather and I getting absolutely covered with bird droppings as we made our way up the steep banks with what seemed like millions of seabirds swirling overhead. It was thrilling. Today I am returning to Bird Islands Nova Scotia to revisit the largest seabird colony in the Maritimes. Won't you come along for the ride?
Bird Islands Nova Scotia are composed of two islands, Hereford and Ciboux that lie not that far off Cape Dauphin. That's them in the upper left corner of the map with Hereford being the closest to the mainland. The boat departs from the tiny community of Big Bras D'Or and will make its way up the channel to the open sea of Sydney Bight and then to the islands.

Bird Island Boat Tours
I've chosen Bird Island Boat Tours for this outing, or perhaps I should say they have chosen me as they are offering complimentary tours to all media journalists attending the Travel Media Association Of Canada conference that starts in Sydney in a few days. The boat is the Puffin Express which was built specifically for traversing these waters. It holds up to thirty people and I'm guessing as we board the boat there are probably about eighteen today. Surprisingly no children.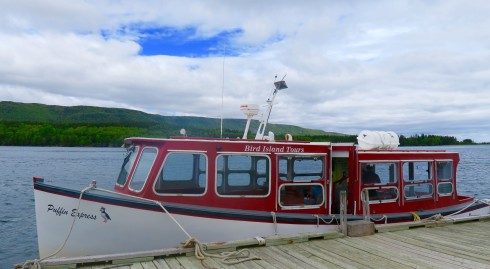 Our captain is Vincent Van Schaick who's been doing this for over forty years without a single mishap. OK so we're all onboard  – let's get going. There's puffins waiting to be shot – with a camera of course.
The first thing of note is rather sad. It's the abandoned Black Rock Point lighthouse that is clearly deteriorating fast.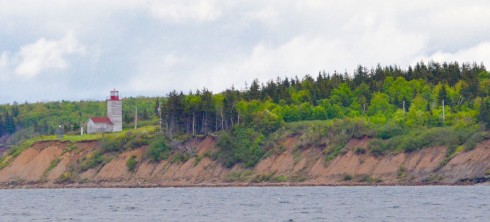 When the feds, in their wisdom (that's probably an oxymoron), decided to get rid of just about every lighthouse in Canada, the popular ones like Peggy's Cove and Louisbourg found societies that would look after them. Others like Cape D'Or found private owners who turned them into inns or restaurants, but most did not and have ended up like this one. These buildings saved so many countless lives that there's something just not right about casting them aside as if their heritage is worthless.
On the other side of the channel I fail to see two bald eagles sitting in a cluster of dead trees at the top of a cliff, but most others do. I'm not upset because we have a pair that nest across the water from our house so I see them everyday, but to many on the boat this is an exciting start. Captain Van Schaik explains that there are eighteen bald eagles nesting on Kelly's Mountain and many more in the immediate area. Bird Islands Nova Scotia has a lot to do with that as we are about to find out.
As we pass through the end of the channel the Puffin Express is rocked by some serious waves that are the result of the treacherous tidal currents in this area, but soon we are in Sydney Bight with the islands dead ahead. All around are brightly covered buoys marking lobster traps below and there are numerous fishermen out on their Cape Islanders hauling traps. I'm never failed to be impressed by seeing this up close because, while they are using modern equipment, there is just something ancient about the connection between a fisherman in a small boat and the challenges of making a living from the sea.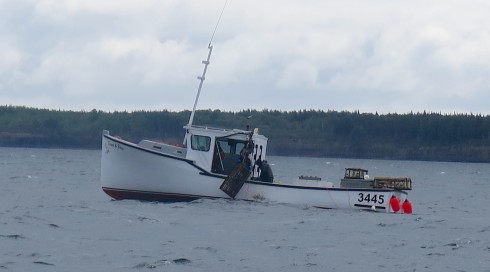 While I'm watching the Cape Islander I manage to miss the second big sighting of the trip. A minke whale has surfaced briefly not far from the boat, but now appears to have disappeared. The captain explains that whales are rare in the area because the water is not that deep and only an abundance of food would draw the whale into these waters. That is apparent as there are a number areas where the birds are in a frenzy on or just above the water. They are after capelin or sea smelts which is one of the principal foods of the birds we are hoping to see today. I'm not to worried about missing the minke as I've seen lots of them before, but it is starting to sound a bit like the fox and the grapes.
As we pass by Cape Dauphin Captain Van Schaik tells us the tales of the legendary ferrymen who allegedly once haunted these waters by posing as simple fishermen and then overwhelming and murdering the crews of passing ships. There is a real cave at the tip of Cape Dauphin (I've been there) that is said to hide their ill gotten gains. I've heard the story before and hope it is just a legend, because I find it hard to believe my Nova Scotia forebears could have been so blood thirsty and cruel. The tale certainly keeps the rest of the passengers rapt attention. But now we are approaching Hereford the largest of the Bird Islands Nova Scotia.
Bird Islands Nova Scotia – Hereford

A successful seabird colony needs two things – plenty of food i.e. the capelin and smelts and just as importantly a topography that allows the birds to nest in areas that can't be reached by predators, which in the case of Bird Islands Nova Scotia, are pretty well other birds. Like humans, there are birds that can get along and nest together, like the puffins, kittiwakes, razorbills and guillemots and the ones that can't and are just natural born shit disturbers. That would be your herring and black-backed gulls. Then there's others like the double crested cormorants that screw things up by just being who they are. All over North America they have destroyed countless small islands and bird colonies by their nasty habit of killing all vegetation with their deadly excrement. I'm about to find out how they get along here.
As we approach Hereford, named for the variety of cattle that were once pastured here, there are more and more seabirds flying around, including guillemots, razorbills and puffins. I'm now going to let the pictures do the talking as I concentrate on each of the species we found on the Bird Islands Nova Scotia.
Puffins on Bird Islands Nova Scotia
Ah the puffin, everybody's favourite little seabird. With their comical looks, multi-coloured beak and just plain nice demeanor, they are without doubt the main attraction on today's tour and they are here in abundance. The Atlantic puffin is the only puffin native to the North Atlantic and are doing quite well on Bird Islands Nova Scotia, if not necessarily elsewhere. With the rocking of the boat it was very difficult to get a good picture of one on the water. This is the best I could do despite dozens of attempts. That line is part of a lobster trap buoy.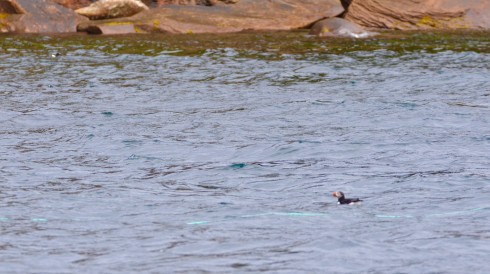 On land is a different story.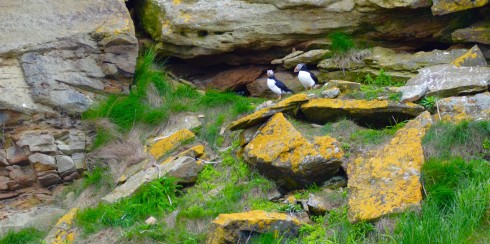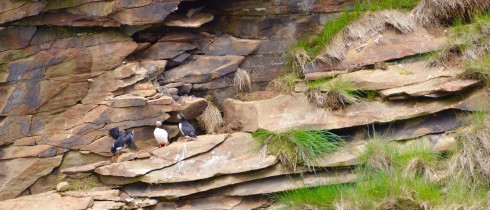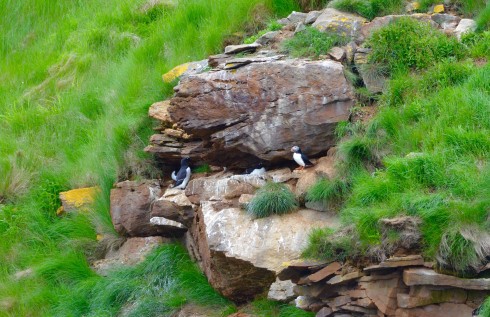 Razorbills on Bird Islands Nova Scotia
Razorbills were much easier to photograph than any of the other seabirds. They are closely related to the extinct Great Auk which, as a flightless bird, was a sitting duck (pardon the bad pun) for human beings and their hangers on like rats, cats and dogs.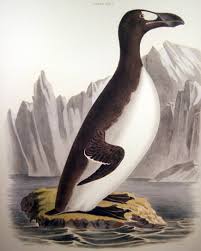 At one time razorbills were also endangered, but seemed to have made a comeback. They were very plentiful on Bird Islands Nova Scotia.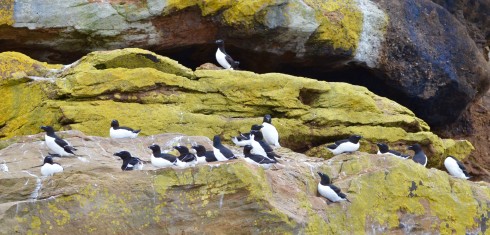 These photos shows one of the reasons they are successful here. There are rock crevices and holes that predators can't get to.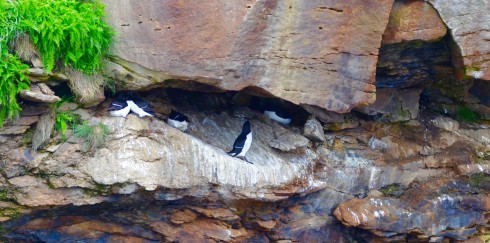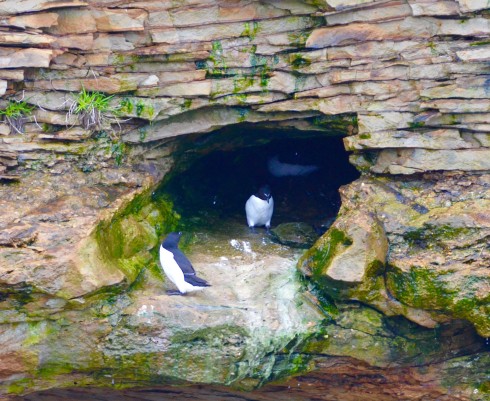 Kittiwakes on Bird Islands Nova Scotia
The kittiwake looks like a scaled down version of the herring gull, but they are anything but in terms of their habits. Kittiwakes are not predators on their neighbours and are not scavengers. They make their living as fishing birds and are as well known for their apparently loving nature as the cry for which they are named.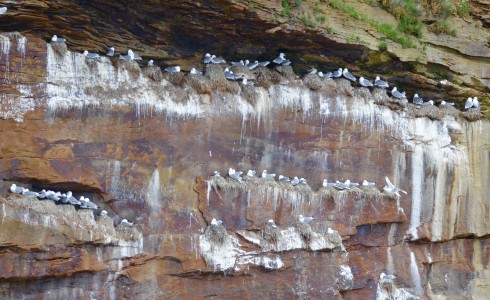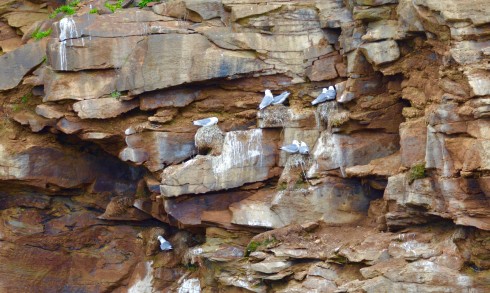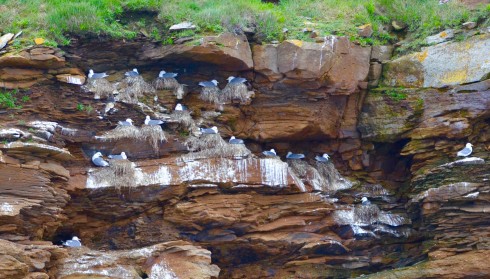 Other Good Guy Birds
The black guillemot is one of the most common birds on the islands, but it flies like a kamikaze pilot and seldom seems to sit still. I got one decent shot of this guy chilling out on a rock. Note his red feet.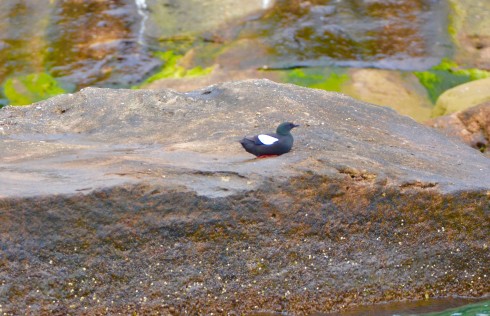 The common murre is anything but common on the Bird Islands. We saw only two and this one did cooperate while floating nearby.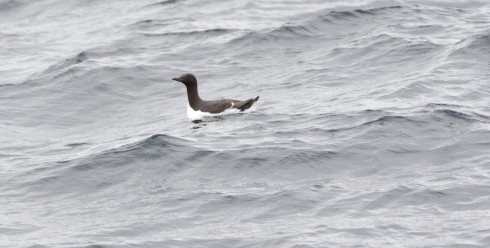 While I mentioned that double crested cormorants are a problem, the great cormorant is not. They nest on cliffs, not trees or grass and get along with others as evidenced by these pictures. Note the distinctive white face patch that distinguishes this species which is not that common in Nova Scotia.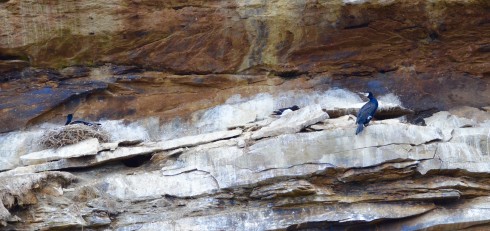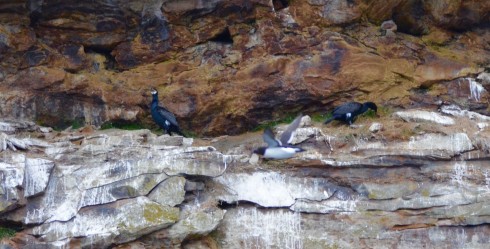 While they don't nest here, scoters are sea ducks that are most often seen well offshore and usually in large groups.

The Bad Guys of Bird Islands Nova Scotia
There aren't many, but herring gulls and black-backed gulls top the list. They eat the eggs, chicks and even the adult puffins and other smaller seabirds that nest here. They're such bastards they'll even eat a neighbour's chick. Here are two herring gull chicks with the protective parents nearby. They look cute, but so did Hitler as a baby.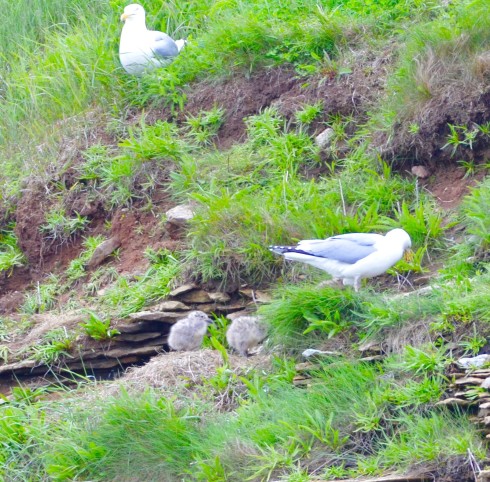 I mentioned earlier that bald eagles numbers in the area are so high because of the Bird Islands. While they are usually scavengers, they will grab an easy live meal and to them the birds on the Bird Islands Nova Scotia provide a virtual buffet of choices. The good news is that one of their favourite snacks are gull chicks.
The Ugly
First on the list are undoubtedly the double-crested cormorants that are exploding in numbers. Here they are brazenly flaunting themselves on a rock by the shore. They are easily identified by the red face patch.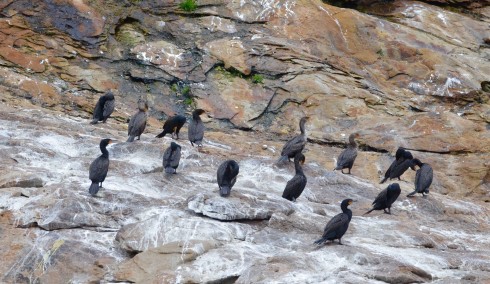 Here they are on their nests on the grass atop Hereford Island. In a few years they will have killed it all and then move on to another patch. Nothing will grow there for decades.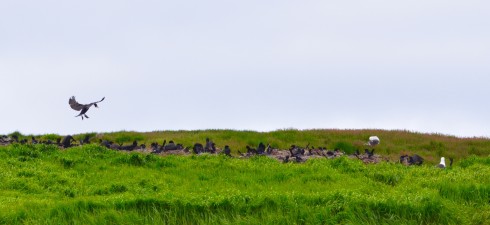 My last choice for ugly has the cutest babies in the world, but they grow up to be big fish killing machines. I'm talking about grey seals and they are everywhere on the Bird Islands Nova Scotia. Don't be deceived by her shy looks.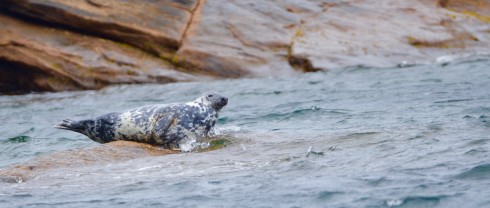 In a couple of years you'll have this.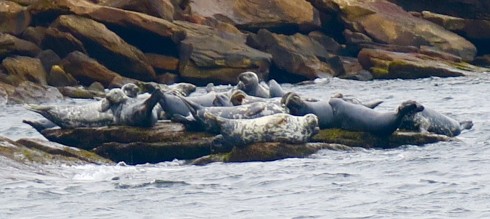 In fairness, the grey seals are probably right up there with the puffins in terms of what impressed most of the people on the boat. You can't help but like them until you realize that they eat so much fish a day that eventually it might upset this whole ecosystem. Being a human being, that's a pretty ballsy worry considering our track record.
Bird Islands of Nova Scotia is not just about the birds, mammals and fish. There are some very interesting rock formation including this flower pot between Hereford and Ciboux which the captain referred to as The Boot. Good Call.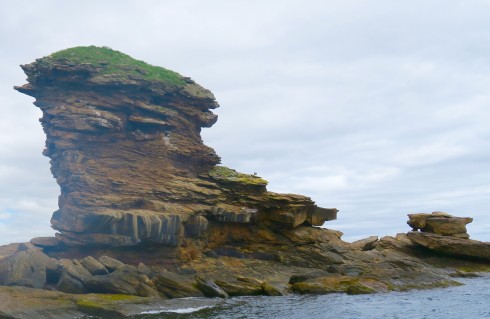 This small hole in the rock was quite unusual in that most of these are worn smooth and are circular. I have no idea how this one would have evolved.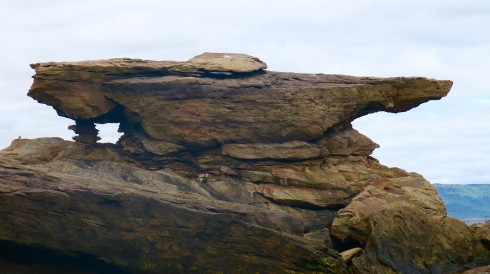 So that's my description of a visit to Bird Islands Nova Scotia. I hope you'll find that it inspires you to visit.
---
The Maritime Explorer Score:
"This is next on your list!"
Comments:
---
---
Did you enjoy this article? Please share it!:
---
More explorations: