Fortress Louisbourg – Soldier for a Day (and Ghostbuster too!)
Fortress Louisbourg, Nova Scotia, Nova Scotia - Friday, July 1st, 2016
As a proud Nova Scotian, I've been visiting and writing about Fortress Louisbourg for over thirty years. Why proud, a word I seldom use? Fortress Louisbourg is the largest historical recreation of a colonial settlement in all of North America, larger even than Williamsburg, Virginia. To use an overused phrase that for once is entirely appropriate; it is a place that you have to see to believe. Not only is the scale of the enterprise amazing, but the sheer number of re-enactors on site makes the visitor feel like they truly have stepped back in time. This was particularly true last week when I and a small group of friends were permitted to spend the night inside the walls of Fortress Louisbourg and really soak up the atmosphere of this storied place. Won't you join me for stay?
History of Fortress Louisbourg
In 1713 France ceded mainland Nova Scotia or Acadia as it was also known, to the English after coming out on the losing side of the War of Spanish Succession. Don't ask why a war over Spain would result in the English and French duking it out in North America. The end result was that France retained Cape Breton Island or Ile Royale as they called it. They also kept their huge holdings in New France that stretched from Quebec all the way to the Gulf of Mexico via the Mississippi River. In order to protect these holdings from future English attacks the French resolved to build an impregnable fortress at the entrance to the Gulf of St. Lawrence and thus Louisbourg, named for the recently deceased King Louis XIV, came to be. It also helped that the location was close to the richest fishing grounds in the world and would supply valuable dried and salted fish to Catholics in Europe who, by papal decree, were to eat fish every Friday and on other feast days.
Louisbourg was not built in a day, and in fact took decades to evolve into the massive fortress that enclosed a town of 4,000 people by 1752. It cost so much money that Louis XV is said to have remarked that he expected to see the walls of Fortress Louisbourg from his palace at Versailles. Here is a model of how Fortress Louisbourg looked at that time. BTW it's called a fortress and not a fort because it is an enclosed fortified town and not just a military installation. Quebec City is another example.
Despite all the money, thousands of inhabitants and a vast array of cannons the military planners of Louisbourg forgot one little detail. They had not prepared for a land based assault. They literally put all their eggs in the basket of defending an attack from the sea. Here are the cannons facing seaward.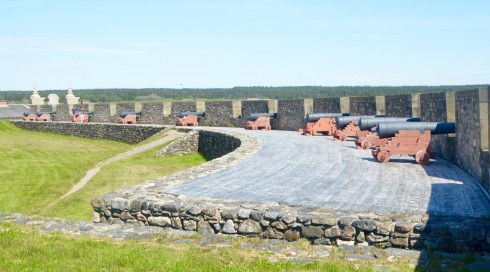 My apologies to the French, but they always assumed that the English couldn't do things that they ended up doing. The most famous example in Canadian history was climbing the cliffs of Quebec to confront the French on the Plains of Abraham.  However, before General Wolfe accomplished that feat, he did something similar at Louisbourg. He landed his troops miles away from the fortress and trudged them and his cannons miles through swampy ground that the French considered impassable. Here's the kicker – it wasn't the first time the fortress had been attacked from this side! A bunch of badly trained New Englanders under William Pepperell (there's a street named after him in Halifax) did the same damn thing in 1745 and the fortress endured a very embarrassing surrender.
Why the French didn't learn from that first land based attack is a mystery because this is what they had to face General Wolfe's dozens of cannons in 1758. Seriously. Homer Simpson could have done a better job. Doh!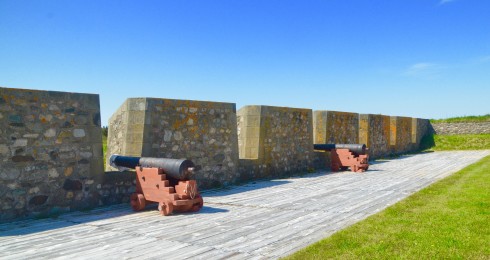 After the second fall of Louisbourg, Quebec City and Montreal followed in quick succession and at the end of the Seven Year's War France ceded all of its North American colonies, save St. Pierre and Miquelon, to England. The fortifications of Louisbourg were razed stone by stone and by 1770 was nothing was left but a massive pile of rubble with a few fisherman's huts here and there.
The Second Coming of Fortress Louisbourg
Louisbourg remained a pile of rubble for over 150 years until Parks Canada built a museum on site in the 1930's to display artifacts. Similarly designed museums can be found at Fort Anne in Annapolis Royal and at Fort Beausejour in New Brunswick. However, it was the decision made in 1960 that really made the difference. In today's world of annual budget deficits and ever increasing social programs, no one in their right mind would suggest spending millions on what was essentially one of the world's largest archaeological digs, but that's exactly what happened at Fortress Louisbourg. Hundreds of people, many newly unemployed coal miners, were put to work rebuilding one quarter of the original town, using the same methods the French used in the 1700's. I can only say thank you to the visionaries of those times, because what they have wrought is magnificent as we are about to find out.
Visiting Fortress Louisbourg
I am with a group of  Travel Media Association of Canada (TMAC) media members led by the inestimable Guy Thériault from Parks Canada who has made this overnight visit possible. We are met outside the fortress by Lester Marchand, the superintendent and sometimes governor of Fortress Louisbourg. Lester, with undisguised enthusiasm,  gives us a briefing on the activities to come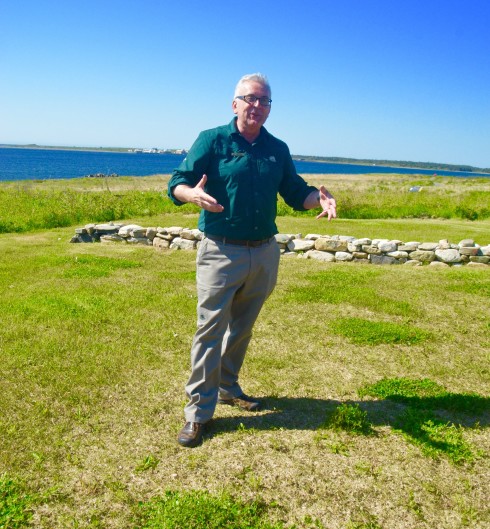 It's hard not to be psyched just looking at Fortress Louisbourg across the harbour on what has turned out to be a beautiful day. One of the downsides of visiting this place is that the weather is shitty more often than not (don't repeat that), so that we have really lucked out today.

Five of us pose in Parks Canada's famous red chairs that can be found at every national park and historic site in the country. If you see one, you know you will have a great view and in this case it's the one above.
Guy has given me a Parks Canada hat which matches the chairs quite nicely.
OK, after this lengthy introduction let's head towards Fortress Louisbourg and start exploring.
Most of the people at Louisbourg in 1744, which is the date the reconstruction is meant to recreate, are not soldiers, but rather fishermen who have their homes outside the walls. They are made out of simple wooden planks with sod roofs.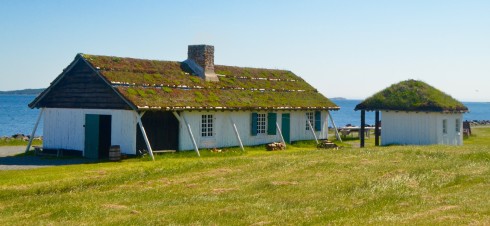 A simple abode, but more than enough to keep this fisherman and his wife, happy.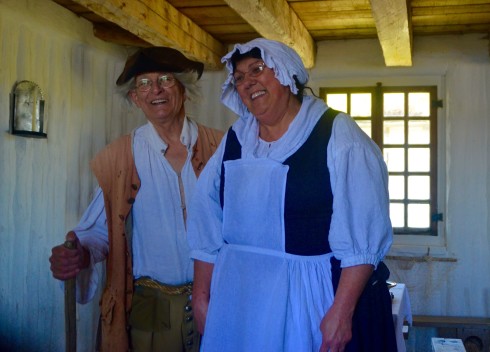 This is the first example of what makes a visit to Fortress Louisbourg so special. There are literally dozens and dozens of re-enactors who play the roles of real characters who were at the fortress in 1744. Many have been doing it for decades and readily adapt to the persona of their alter egos so convincingly that it doesn't take long to feel like you have actually stepped back in time. We will meet a lot more of them throughout the day.
Other than by sea, there is only way to enter Fortress Louisbourg and that's through a narrow entry way over a moat that is always guarded.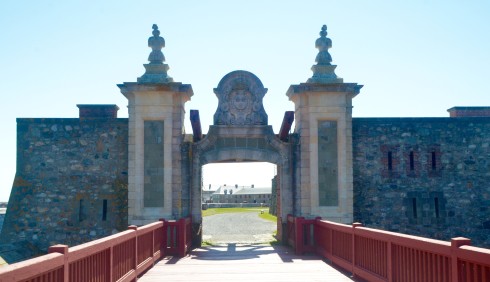 We are challenged in French by the sentry who suspects one of us may be an English spy. Fortunately George speaks French and assures her that we are here as peaceful observers and not for any nefarious business. That seems to satisfy her and we are admitted with a smile.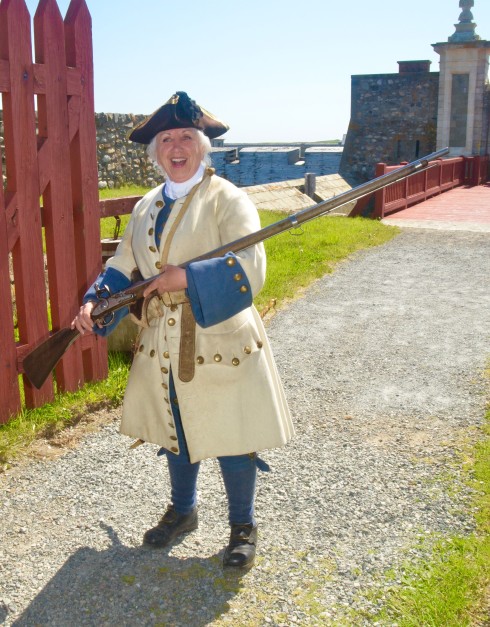 For the next few hours we are all free to roam at will, talking to the re-enactors, dropping into various homes and businesses and just soaking up the atmosphere. Here are samples of some of the things you might see on a typical visit to Fortress Louisbourg.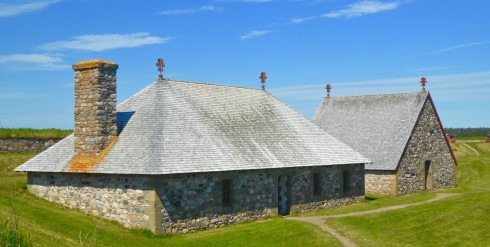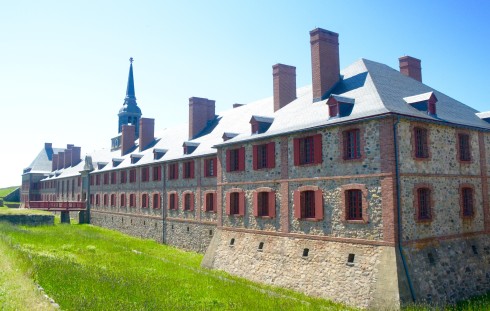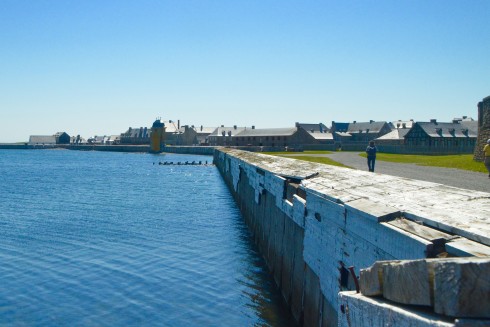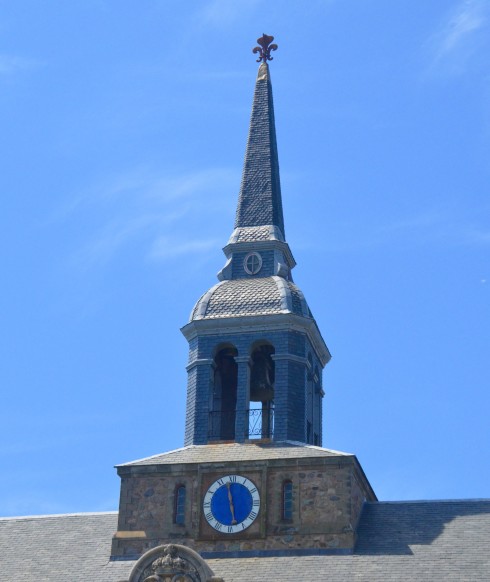 And here are some of the people you might meet.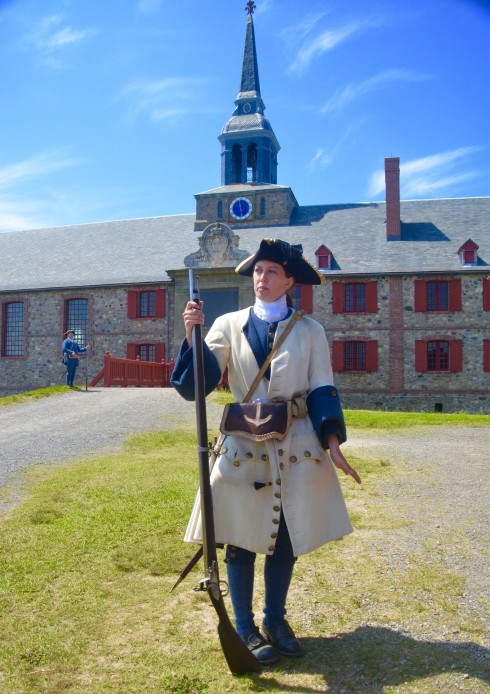 This comely musketeer gave us an example of how to load and fire a flintlock musket.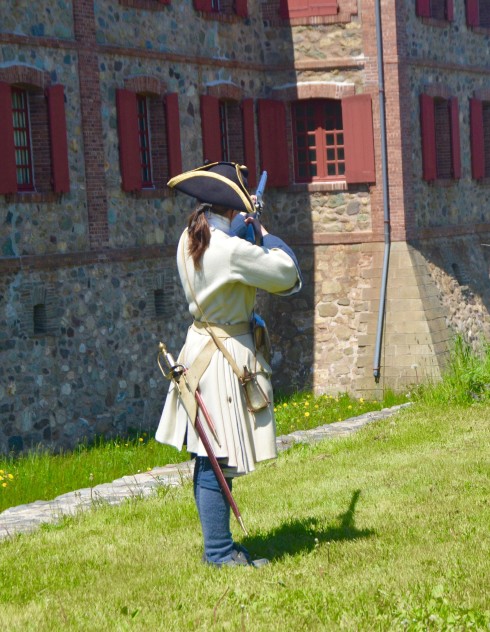 Conversations in French and English are often overheard, but not about what's happening today, but in their lives and community in 1744.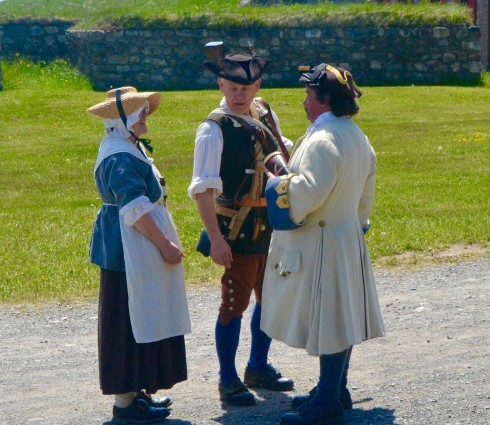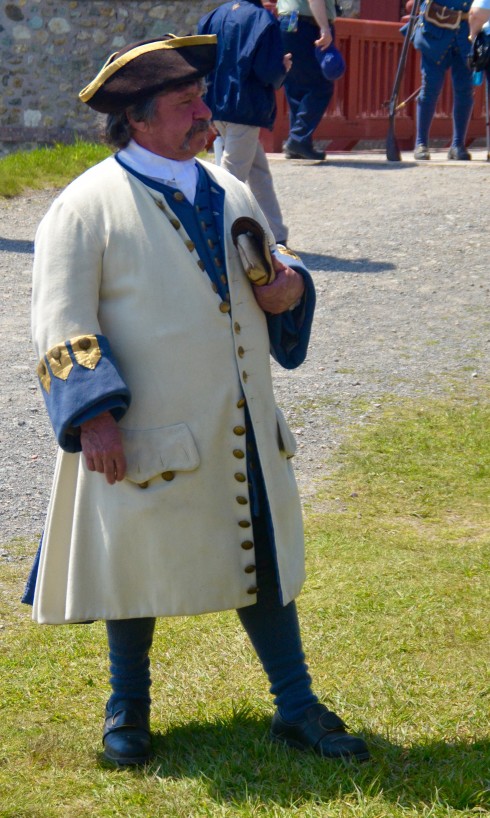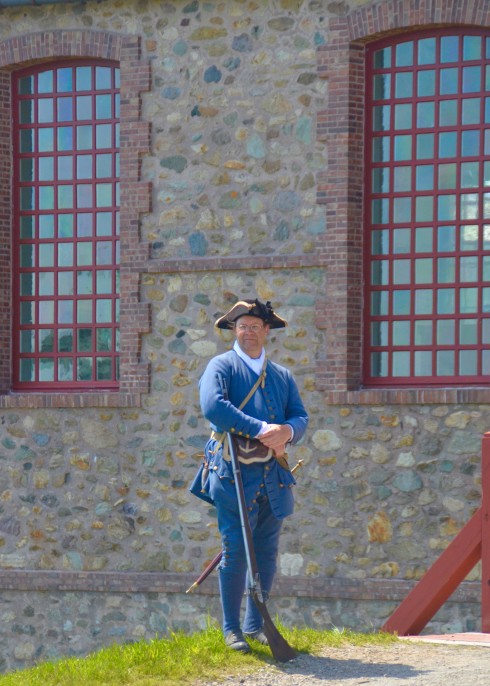 Many of the best stories come from the lips of the servants who worked for wealthy merchants. They also demonstrate some of the skills that are largely a lost art today, such as lace making.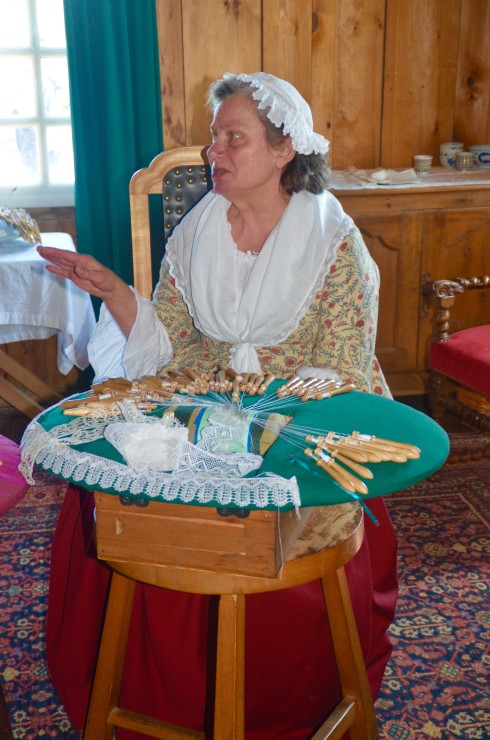 The interiors of all the buildings are furnished exactly as they would have been in 1744.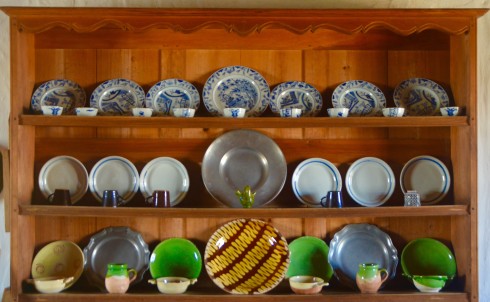 After enjoying the sites and sounds of Fortress Louisbourg for a few hours we all reconvened at Hotel de la Marine for a hearty meal of soup, stew and ale made from the same recipes used at the hotel two hundred and seventy years ago. Just as good today as it was then.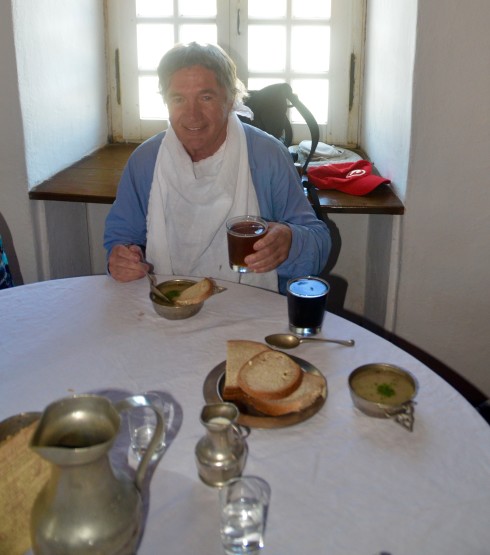 After lunch we were led upstairs for a special treat – a sampling of Fortress Rum. This is a relatively new product that is distilled in the Caribbean and then transported to Fortress Louisbourg where it is aged by way of a secret process. Now I have a confession to make – despite being a Bluenoser from head to toe, I don't like rum. However, I'm not about to admit that here and dutifully take a sip and to my surprise it's really good – very smooth with none of the harsh throat burning sensation I usually associate with rum. I have no trouble finishing my shot and Sandra's as well.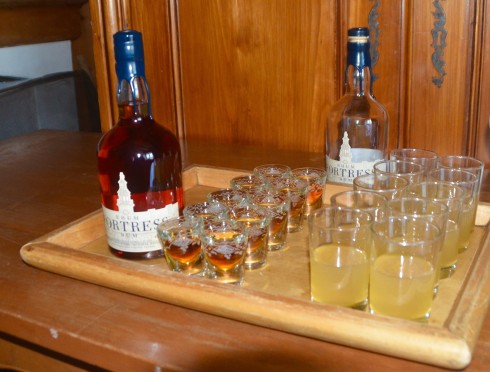 Firing the Cannons at Fortress Louisbourg
We had already done and seen more than enough to satisfy most people on a visit to Fortress Louisbourg, but the fun was just beginning. At the rum tasting it was announced that George and I would firing off the ceremonial cannons that afternoon. We were led to the soldier's costumery and fitted out with a long woollen coat and tricorn hat and taken through a practice session. I was dubbed "Le Terreur" by my commanding officer.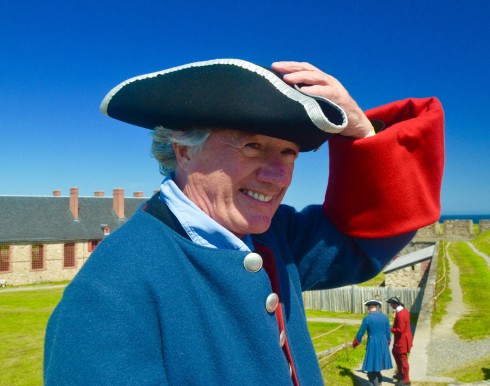 At the appropriate hour we were marched from the officer's quarters through the gates of the Governor's Palace and up onto the ramparts, accompanied by a battery crew and fife and drum.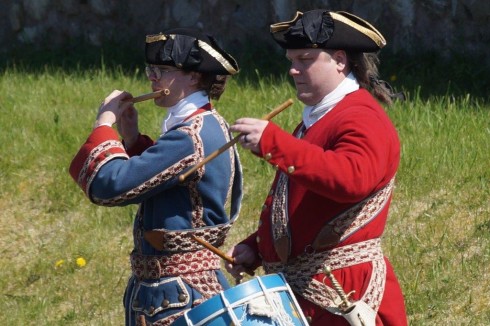 We actually became a tourist attraction.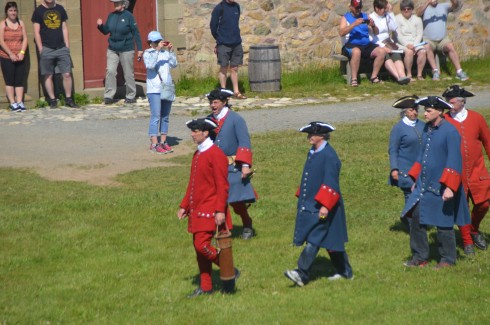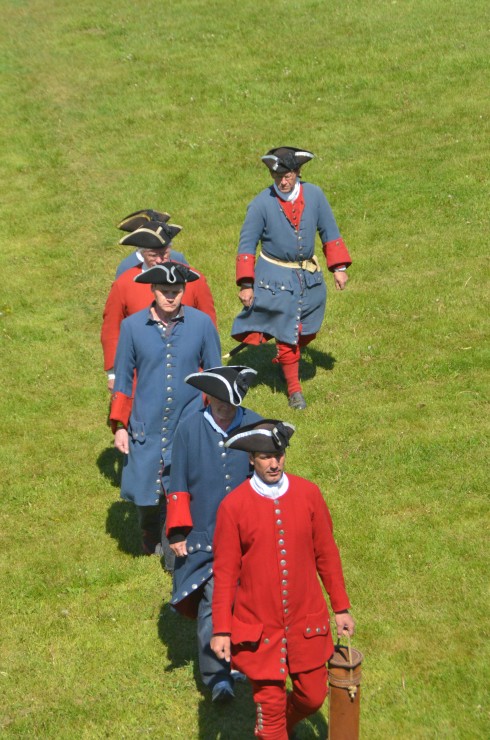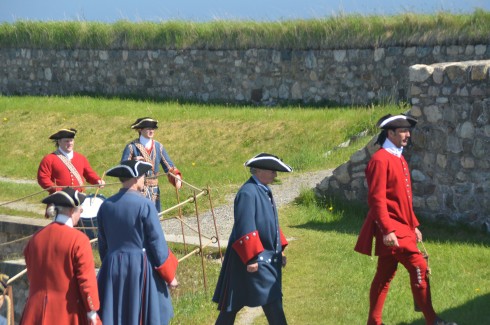 At last we were in position for the big bang.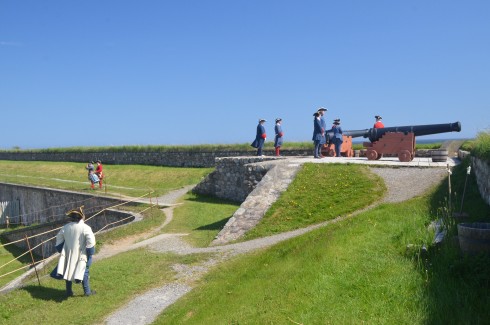 I placed the smouldering wick onto the fuse.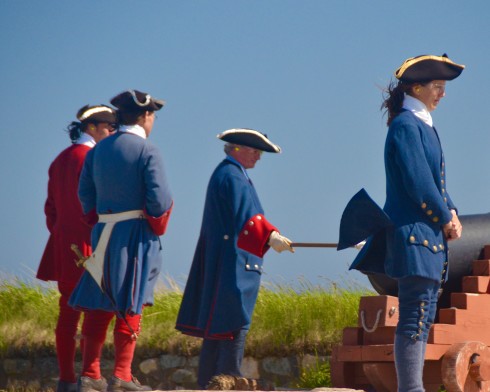 And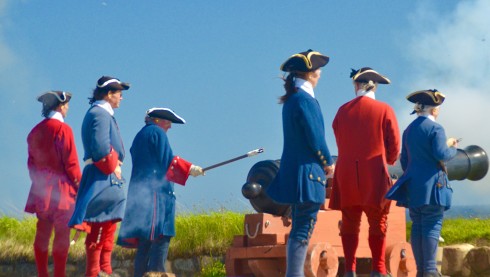 I tip my hat the the crowd below and we all shout "Vive le Roi!".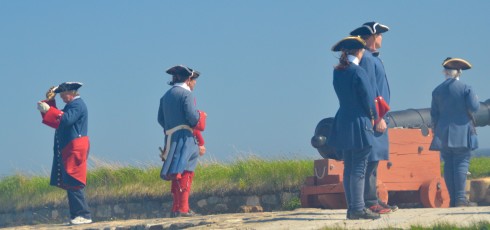 Afterwords George and I are emblazoned with the traditional artilleryman's badge of honour.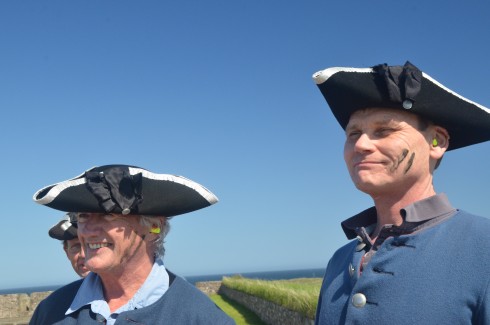 What a blast! But there's more come.
After returning to civilian clothes, we are escorted to our encampment for the night. By now the gates of Fortress Louisbourg have been closed, the other tourists departed along with the re-enactors. We have the entire place to ourselves. The only proviso is that we have to live like they did in 1744.
Here are our tents and our cooking tripods. Tell me that this isn't cool or what? Just us and the ghosts of Louisbourg.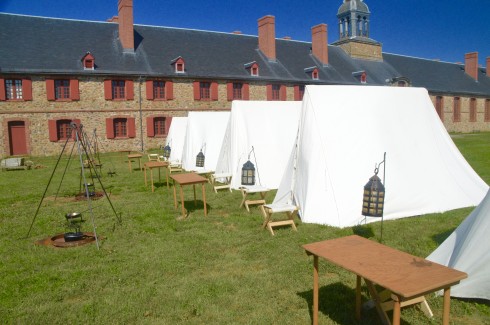 A lot of people who were teleported back to 1744 would probably starve to death. Why? Because in order to cook anything you've got to start a fire with this.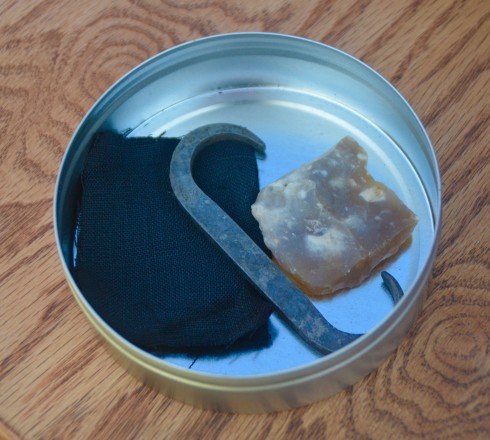 Yep, that's a flint kit and you've got to hold the iron band in one hand and try to create a spark by hitting it with the flint. Then if by some miracle you do get a spark it has to land on the black mesh and take hold. Even if that happens then you've got to get the mesh under some dry grass and birch bark and get those alight. Good luck with all that.
But, everything on this day has been perfect so far (did I mention it was my birthday?) and our lucks holds as we do get a fire going using only the flint. We then use the first fire to light all the others and soon it looks like this.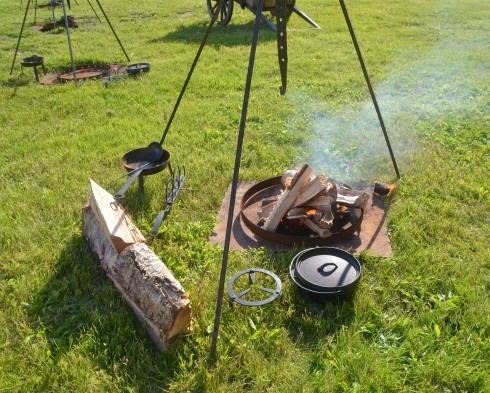 An hour later and violá, we have something resembling a beef stew that is pretty tough meat wise, but the vegetables and broth are excellent.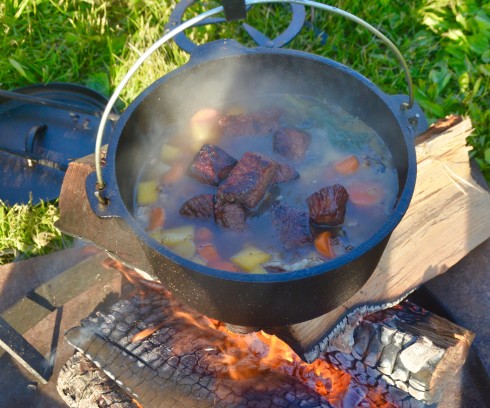 As I look up from my plate I see the ghostly figure of the governor standing, feet spread apart, on the ramparts just staring down at us. He stands this way for a good half an hour without moving, before the intoxicating smell of the cooking stew draws him into our camp.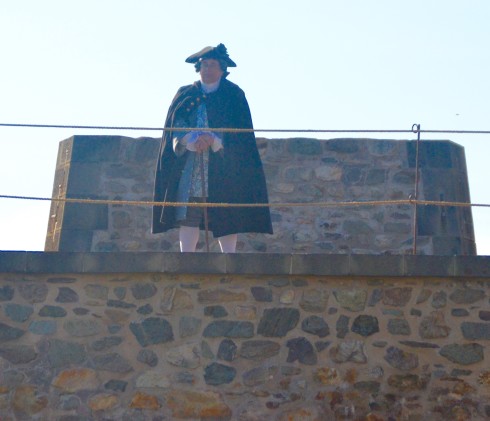 By now the shadows are getting long and the barracks building is bathed in a warm light.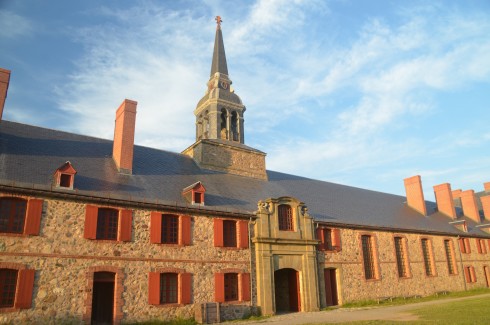 We all go into the beautiful chapel where the ill fated Duc d'Anville is buried. George, who's day job is as a family doctor, reads aloud from his book Amazing Medical Stories the chapter on the Duc and how his health problems may have determined the fate of the failed attempt to retake Louisbourg in 1746. When were emerge it's dark and time to go ghost hunting.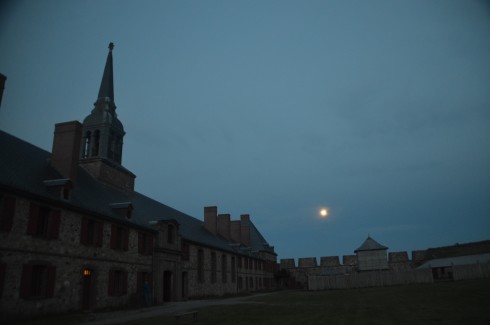 Ghostbusters at Fortress Louisbourg
The governor and others have regaled us throughout the day with tales of the many haunted buildings in Louisbourg and we are led to one house that allegedly has more than one. George has brought along a ghost detecting kit that consists of an Electro-Magnetic Field detector and an instrument that detects rapid changes in temperature in certain spots. Both are used by supposed ghost hunters. George tries out the equipment in the haunted house which is pretty creepy with all the lights out and detects nothing.
We then go on a tour of the various rooms in the Governor's Palace and still get nothing. We decide to try one more room – the Governor's bedroom. Still nothing until we get close to a chair beside the fireplace when the EMF goes crazy and there is a sharp drop in temperature. We are told that the chair is one of the few pieces of furniture that are known to be original to the fortress. Gary, who says he has psychic abilities, says that his hair is standing on end and he detects a definite presence. That in turn makes the hair stand on end for the rest of us. I'm not making this up or dramatizing it. This really happened.
So we've found our ghost, what do we do now? Nothing as it turns out. We are not ghost busters after all.
Anyway it's a great story to take back to the campfires where we talk about what a great day it's been and pass around a bottle of Fortress to fortify us from spirits.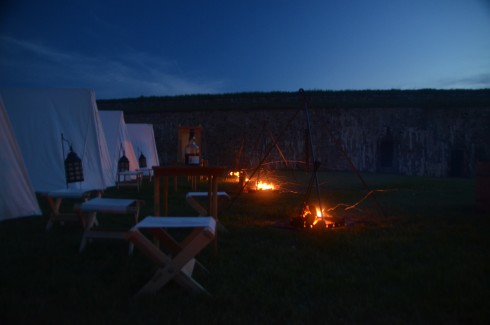 Next thing you know I can smell bacon cooking and emerge from my tent to see Guy frying up our breakfast. He's that kind of guy, no pun intended.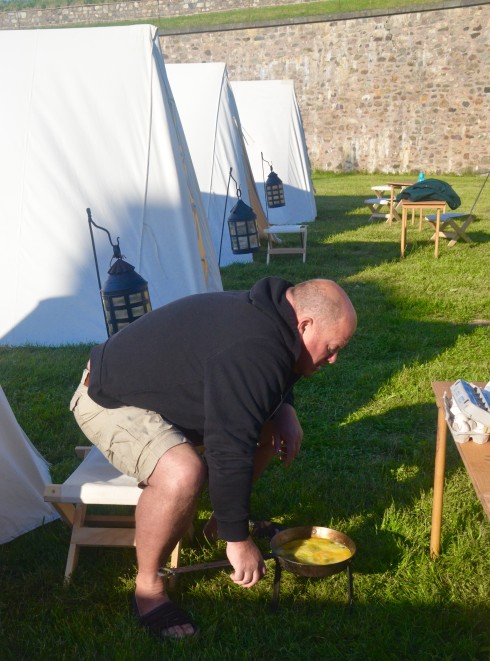 Time to pack up and head for our next Parks Canada adventure at the Bell Museum in Baddeck. I'll report on that next day.
Here's the good news for anybody who has read this post. There is not one thing we did, including firing the cannon, sipping the rum or camping overnight that is not available to the ordinary tourist. Check it out at the Parks Canada website.
But you will have to bring your own ghost detecting equipment.
---
The Maritime Explorer Score:
"Go NOW!"
Comments:
---
---
Did you enjoy this article? Please share it!:
---
More explorations: