Le Massif – Eight Reasons to Ski It and Love It
Le Massif, Charlevoix, Quebec, Quebec - Monday, March 30th, 2015
For decades I have made it a habit every winter to get my ass down to Quebec for some great skiing, Quebecois cuisine and share some of the joie de vivre that Quebecers have for winter. For the past twenty years or so it has been Alison and me, first skiing the better known hills like Mont Tremblant, Mont Sainte Anne and Stoneham and then seeking out some of the lesser known Quebec hills like Massif du Sud, Owl's Head and Le Relais. However, from the first time I skied it Le Massif has been my favourite. Last week, while Alison enjoyed the sun in Cuba,  I got a chance to return to Le Massif with two of my original ski buddies, Brian MacLellan and Peter Wedlake. We had a blast even if our legs were not anywhere near what they used to be and for some strange reason the skis seem to have gotten a lot heavier than I remember them being. Here's why I loved it.
 You can get to Le Massif  by train.
In Europe trains to ski resorts are common, but not so in North America. As far as I know Le Massif offers the only skiing where you can leave your car behind and take the train instead. There is no accommodation at the main lodge at Le Massif so almost everyone who stays more than a day stays in the lovely Quebecois town of Baie St. Paul. From there it is about thirty minutes to the hill by car. The train leaves from the Hotel La Ferme in Baie St. Paul and takes 40 minutes. Once at the hill you simply walk out of the station and get in a gondola that takes a short ride up to the main gondola which takes you to the top where the skiing actually begins. After a hard day of skiing it is great to relax in the train with a beer, wine or even a gin and tonic and watch the scenery go buy. You can store your gear in heated lockers at the station. Round trip ticket is $20.00.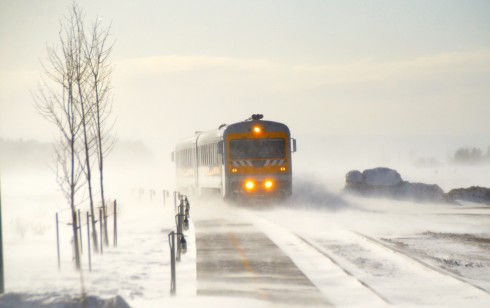 The scenery on the way to and from the hill is great.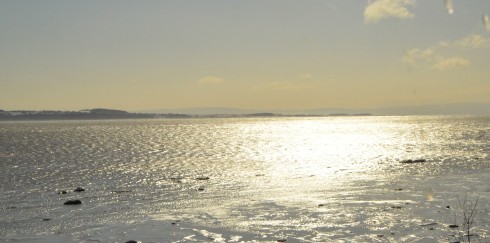 The Hotel La Ferme
The same company that owns Le Massif and the train also owns the hotel in Baie St. Paul from where the train departs to the hill. Hotel La Ferme is an outstanding modern hotel and I have written a comprehensive post here. The combination of staying at Hotel La Ferme and taking the train makes for a carless way to enjoy a ski vacation. 

 You start at the top!
When Le Massif first opened it was serviced by a lift from the bottom, but when it was redeveloped a connector road was built that comes in from the main highway and takes you to the top of the hill. Really Le Massif is part of a large plateau that is part of the Charlevoix hills. The ski hill takes advantage of this by cutting trails into the edge of the plateau as it plunges down to the St. Lawrence, so it's not as weird as it sounds, but it's pretty cool.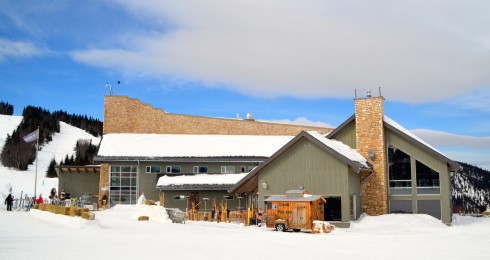 The views from Le Massif
The views from most of the trails at Le Massif are outstanding and unique. The St. Lawrence River is almost at the base of the hill and as others have commented you actually feel that you could ski right into it. The comparison to an infinity pool is apt. Even if everything else at this hill was average it would be worth skiing just for the views. You won't find anything like it anywhere else. To my mind they are the best in the east. Here's a few photos.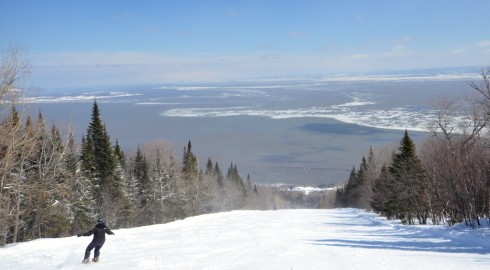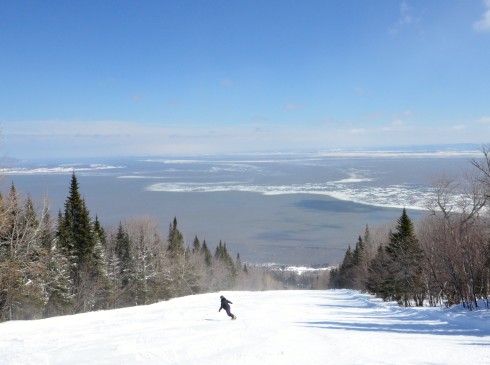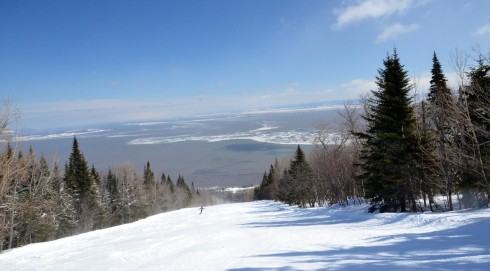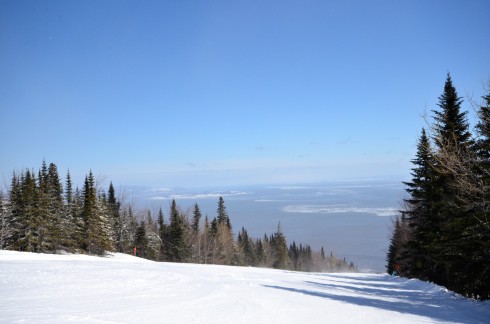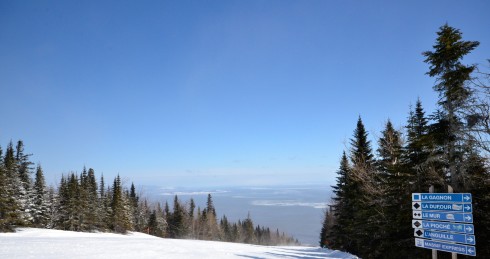 Le Massif faces south
Le Massif is a rarity – a south facing hill that gets a ton of snow. Of all the major hills in the east only Le Massif and its sister hill Mont Sainte Anne have more than half their trails facing south – 60% for both. The closest after that is Whiteface at 25%. Check this out at Your Guide to Snowfall.  This means you get more sun and way less wind which is primarily from the north in winter. Even on bitterly cold days skiing at Le Massif is tolerable because the wind is mostly blocked.
The snow
While Le Massif and Mont Sainte Anne both face south Le Massif gets an average of over 100 more inches of snow a year. Apparently this is due to the 'lake effect' caused by being so close to a huge body of water. Think Buffalo.
The vertical
Le Massif has the fourth highest vertical in the east and the highest in eastern Canada – 2220 feet. Check out the full list at Mountain Vertical.  You get lots of runs that are top to bottom and with the view the runs are simply the best. All of the runs shown above run top to bottom.
It's as hard as you want to make it
Le Massif is certainly not a beginner's hill, but it has plenty of intermediate trails that don't require expert skiing. When the conditions are right and these trails are freshly groomed you'll find some of the best corduroy anywhere. However, if you really are an expert skier then Le Massif is where you want to be. An astonishing 35% of the trails are listed as expert. Compare this to other resorts at On the Snow. I'm not talking about advanced here, but real expert double diamond trails. There's even a triple diamond, Charlevoix where the best skiers in Canada hone their skills. Quebecers in general are very good skiers and you'll see some really great ones here. I'm not going to pretend that I can ski these trails, but who knows? Maybe someday I'll wake up and my legs will be twenty years old again.
There's still plenty of snow at Le Massif, but unfortunately the train stopped running last weekend (March 22nd). It's not too soon to plan for next winter. Happy skiing!
---
The Maritime Explorer Score:
"This is next on your list!"
Comments:
---
---
Did you enjoy this article? Please share it!:
---
More explorations: