Saddleback Mountain – This Great Maine Mountain is Back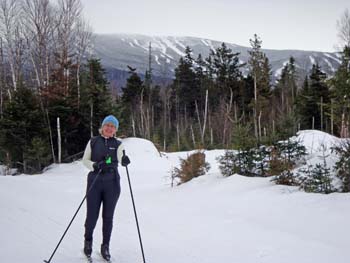 It had been more than 15 years since we had skied Saddleback Mountain and we were a bit leery of accepting an invitation to go back. This ski resort just outside the resort town of Rangeley in western Maine has been around for almost 50 years and at one time was a serious contender as best ski hill in the state. With an elevation of 4,120 feet and a vertical drop of over 2000 feet, Saddleback is a big mountain by eastern standards. It receives as much snow as Sugarloaf and Sunday River which are both nearby. The views from its summit are as nice as any in New England. Despite having all this going for it, things started to go seriously wrong at Saddleback in the 1980's. So what happened?
At that time snow making and good grooming became the key to attracting vacationing skiers. Eastern snow amounts were not such that fresh, natural snow could be relied upon by the resorts, so enhancements were necessary to prevent the slopes becoming an icy nightmare. Even with good snow, without daily grooming, moguls quickly build up and make the trails impossible for all but the best skiers. Sugarloaf got this and so did Sunday River which built its reputation on snowmaking. Saddleback didn't. The people who owned Saddleback at the time thought people wouldn't go for 'fake' snow and that if you didn't like moguls you were a sissy. With trail names like Gunslinger, Haymaker and Bronco Buster the hill gained a reputation as being too tough for most people and certainly not family friendly. That was our experience when we visited for a day with two youngsters who thought they were pretty good skiers. After a day on the hill we were all exhausted and not in good way – snowplowing through mogul fields and side stepping to avoid ice patches was not fun. We were happy to return to our condo in Sugarloaf and wondered why at one time Saddleback rivalled Sugarloaf as a ski destination.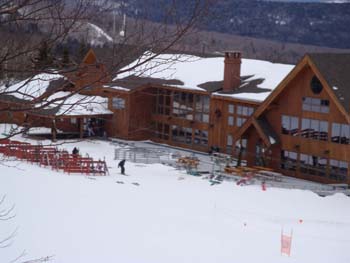 So with some trepidation, we returned early in February last year to find everything completely changed and skied a mountain that now really does rival Sugarloaf. The change began in 2003 when new ownership took over and decided to offer what most skiers want – good snow on groomed trails. As of today 85% of the 66 trails have snowmaking and because Saddleback waited so long to get into the snowmaking game, it has state of the art equipment that produces a much drier and fluffier snowflake than some of the older equipment. In addition to snowmaking, Saddleback junked the few old groomers it had and purchased all new equipment; on virtually every trail moguls are a thing of the past. At the time we visited there had been no significant snow in western Maine for over three weeks, which normally, even with grooming, would mean substandard conditions. By noon at most large resorts the corduroy produced by grooming is long gone with icy conditions setting in and that was our expectation of what we would find at Saddleback. Thankfully our expectations weren't met and we skied from opening to mid-afternoon on conditions that were excellent. There was no ice on even the most popular runs. The reason for this was twofold, the artificial snow did seem to be holding up better than what might be expected and, more importantly, there was nobody here. It takes a lot of skiers to turn a groomed trail into ice and there simply wasn't the numbers to do that at Saddleback – not even close. As a ski hill Saddleback now has something for all level of skiers. For beginners there is a secluded area with lots of trails that don't have high speed skiers flying through, for intermediates there a terrific selection of blue trails that are among the best we have skied and for experts there are lots of blacks and double diamonds, including Tight Line which must surely be the steepest groomed trail anywhere. Finally, for the purists there is plenty of glades skiing and some very steep trails with no snowmaking or grooming – you're welcome to them.
The run down base lodge we remembered from our first visit has been replaced with a large airy post and beam lodge that offers all the services skiers expect from a serious ski resort. In the pub you can see a few of the old trail markers which have now been replaced by trail names based on famous fish flies first tied in the area. Condominiums, once almost a cuss word at Saddleback, now make ski in-ski out possible for families and groups. The one thing that hasn't changed at Saddleback is the reasonably priced lift ticket. At $49 skiing at Saddleback is considerably cheaper than its neighbours. These prices, combined with the fact that changes at Saddleback remain undiscovered by most, mean that you will pay a lot less to ski a lot more.
Downhill is not the only proposition at Saddleback. The sixty-five miles of cross country trails accessible from the Rangeley Lakes Trail Center on the slopes of Saddleback Mountain provide a pleasant alternative. The center is relatively new but offers top notch groomed trails with lots of snow on them. The trails are rated green, blue and black to indicate the easier, more difficult and most difficult terrain. The loops range in length from a short easy jaunt to longer ascents that can take you into the mountains above areas served by the lower chairlifts for the Saddleback Mountain Ski Resort. Other trails take you by Saddleback Lake and there is an officially certified FIS kilometre loop used for races. While 90 per-cent of the trails are groomed, we did manage to find ourselves on some un-groomed wilderness trails that were a treat to ski. The snow was pristine, unmarked by another skier, tread upon only by small animals and birds. Ice bridges over streams made natural spans to cross to the other side.  Recently dog sledding was added to the options for outdoor activity from the Trail Center, every Friday and Saturday night. The Center offers rental snow shoes, and cross-country equipment. After trying all that the mountain has to offer we can say with enthusiasm that Saddleback is back.
Another tradition in Maine is to spend a night in Freeport in February when almost no one is around, prices are cheap and we get a chance to stay at the storied Harraseeket Inn.
For another great place to downhill consider Le Massif on the north shore of the St. Lawrence River in Quebec. For cross-country at some point in your life you have to ski Le P'Tit Train du Nord in the Quebec Laurentians.