Mena House – Why It's the Only Place to Stay on a Visit to the Pyramids
Giza, Egypt, Cairo, Egypt - Saturday, February 18th, 2017
Alison and I just finished up a two week vacation to Egypt with Adventures Abroad that will rank as one of the best we have ever taken. Over the next months I will be posting on the many highlights of the trip, but first I want to tell you why the trip got off to such a great start with our stay at the legendary Mena House in Giza, almost literally a stone's throw from the Pyramids. I don't think we could have made a better decision to start our trip.
Experienced travellers offer a plethora of reasons to visit Egypt and skeptics, usually not as well travelled, counter with at least an equal number of reasons not to visit, at least not right now. I'll go into the pros and cons of visiting Egypt sooner rather than later, in depth in another post, but many of the matters of debate will feature in this post as well. For the purposes of  recommending Mena House, I will assume the reader has decided to visit Egypt, either on your own or in a group. So here's why I think it's the only sensible choice in Giza and probably Cairo as well.
Current Hotel Situation in Egypt
It's no secret that Egypt's tourism industry has pretty well tanked over the last six years. It started with the violent demonstrations that led to the ouster of long time Egyptian strongman Hosni Mubarak in 2011, continued after the ouster of the Muslim Brotherhood by the military in 2013 and the coup de grace may have been delivered with the downing of the Russian Metrojet over Sinai in late 2015. The amount of tourism revenue dropped by 6o% between 2015 and 2016. So what's this got to do with picking a hotel? Everything.
Imagine you are the owners of a hotel that has no affiliation with a major chain and you have to deal with this type of occupancy drop, almost overnight. Are you going to have the ability to maintain staff and standards to the same level as before the cataclysms that have hit the industry? Not bloody likely. The sad reality is that many many formerly quite acceptable properties have simply not been able to keep up with the security, sanitation and ambience most tourists expect. Formerly four star properties are operating closer to two star levels. So, think long and hard before booking into that quaint little hotel with great reviews from years ago.
The situation with chain hotels, especially international chains, is different. Downturn or not, they need to maintain standards to the level their usual customers expect, even if it means running at a loss. For years the Mena House was associated with the Indian luxury hotel chain Oberoi and Indian influences are apparent throughout the hotel. Recently, it has changed affiliations and soon will appear under the Marriott banner, the largest hotel chain in the world. Hopefully that will not see any decline in the extremely high standards of Mena House, but it should guarantee the financial ability to weather the current tourism decline, regardless of occupancy rates.
The upside of all this, of course, is that room rates have declined significantly and so has the Egyptian currency. That double whammy means terrific deals for travellers. If you were ever considering splurging on a great hotel, but balked at the cost, then the Mena House just might be the place to overcome your financial fears. Here's a number of other reasons why I think Mena House is the best choice in Cairo.
Mena House – They'll Pick You Up
Like Enterprise, you can arrange for Mena House to not only pick you up at the Cairo airport, but far more important, usher you painlessly through Egyptian customs. Mena House has an onsite representative at the Cairo airport who meets you right after you get off the plane and takes care of getting the mandatory visa ($25 USD each) which took all of about 30 seconds. He then escorted us to the customs booth, where again, it took less than a minute to get clearance. After ensuring that our bags arrived safely he escorted us outside the terminal to a waiting vehicle and driver who then drove us the approximately 45 minutes to the hotel.
After a long overnight flight from North America and the prospect of clearing customs for the first time in a third world country and the worry of getting ripped off by unscrupulous taxi drivers, it is invaluable to have these things taken care of in advance. The two Mena House reps spoke decent English, were courteous and helpful and the vehicle was clean. Our driver even stopped on the bridge over the Nile for me to take this picture. The total cost of this service was $60 USD which was a bargain for the peace of mind it provided. I arranged for the pickup simply be emailing the hotel after the booking and received a confirmatory response along with the cost.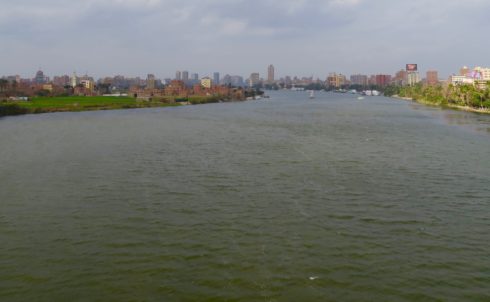 Mena House – An Oasis of Safety and Tranquility Amid a Sea of Chaos
The Egyptian government has responded quite effectively to the downturn in tourism due to safety concerns, by ramping up the level of security to levels I have not witnessed anywhere else in the world. For starters, no one but travellers and approved representatives are allowed inside airports. There are three security checkpoints with armed soldiers just to get into the airport area. As far as hotels go, the higher end ones require persons entering to put their bags through a scanner and to walk through a scanner as well. I speak from experience at the Ritz-Carlton, Meridien Pyramids and hotels in Aswan and Luxor.
The Mena House goes a step further. The entry to the hotel is protected by armed guards, a security bar and bollards that are not lowered until the vehicle is cleared. A sniffer dog is taken around the vehicle to check for bombs, I presume. After being deposited in front of the hotel, you still need to go through a scanner to get into the building. Admittedly all this was a bit daunting at first, but it was quickly replaced by the realization that this was for our safety and peace of mind. While some other hotels take the same precautions (the Meridien in Giza for example), here's where Mena House is different. The entire property is huge – 40 acres of gardens and fountains, numerous buildings and a large swimming pool area. All of it is walled in so that it really is an oasis of tranquility from the chaos that is Giza. None of the other Giza hotels have secure grounds anywhere near as large or as attractive as Mena House.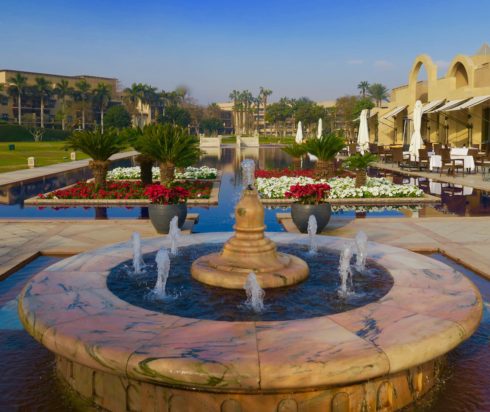 When I mention the chaos of Giza, I mean it. Outside the walls of Mena House the traffic leading to the Pyramids is not only chaotic with seemingly absolutely no rules of the road, but extremely noisy as well. Egyptians lean on their horns constantly despite the fact that it accomplishes nothing. Add to that the pollution coming from the endless motorbikes, tuk tuks and old Russian made trucks and you want to spend as little time as possible in traffic. Finally, while visiting the Pyramids and Sphinx is an absolute must for everyone, the experience is dampened by the aggressiveness of the souvenir hawkers, camel and donkey riders and the scam artists who prey on unsuspecting tourists. Believe me, after a day of Giza sight seeing, going through those gates at Mena House brings a sigh of relief and a feeling of peacefulness that is 100% opposite of what is going on outside the walls.
Mena House – A Storied History
If you like your hotel to have some history and enjoy walking in the footsteps of the great and near great, then Mena House is the place in Egypt. The original hotel dates back to a hunting lodge built by Khedive Ismail in 1869. The name Mena House was bestowed by the second owner, Englishman Frederick Head. Mena was the name of the very first king of Egypt listed on the Abydos King List found on the wall of a temple in Abydos. It opened as a hotel in 1886 and has been welcoming guests ever since. Some of the early illustrious patrons included Edward, Prince of Wales (later Edward VII) and Sir Arthur Conan Doyle who spent the winter of 1896 at Mena House and wrote the first stories using a mummy as an object of terror. During WWI Mena House was used as a hospital for the thousands of Australians who were preparing for the disastrous Gallipoli invasion, training literally in the shadows of the pyramids. After the campaign in Gallipoli stalled, wounded Australians were sent to Mena House for treatment. Here is a photo from that time.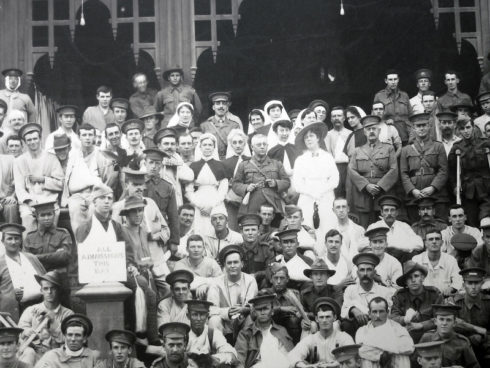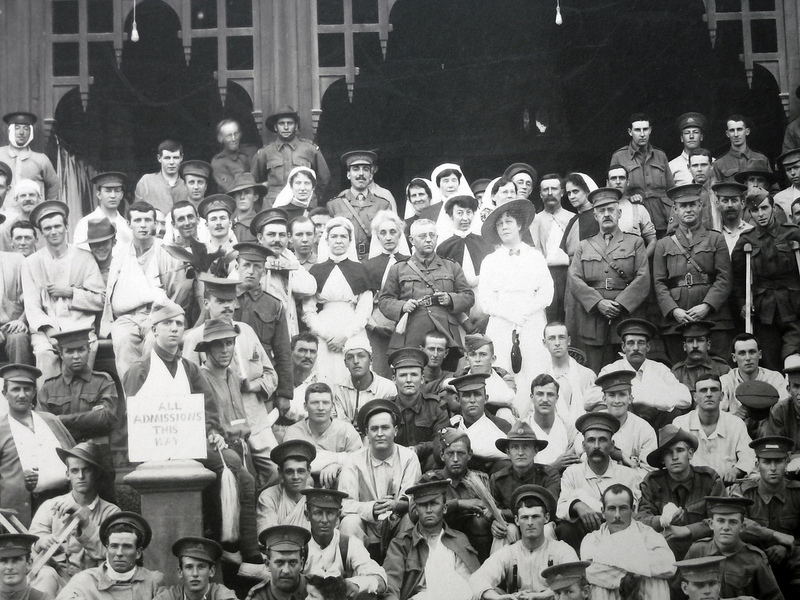 During WWII Mena House played host to Winston Churchill, Franklin Roosevelt and Chiang Kai-Shek at the famous Cairo Conference, where the plans for Operation Overlord and the defeat of Japan were formulated without Stalin's interference. Lastly, in 1979 President Jimmy Carter, Egyptian President Anwar Sadat and Israeli Prime Minister Menachum Began met at Mena House to set the framework for the ultimately successful Camp David accords that brought peace between Egypt and Israel. So not only famous people, but famous events add to Mena House's cachet as a significant historic hotel. On request, guests can be given a tour of the rooms and places where these events occurred. The hotel has been added onto many times, but this photo shows the original hotel where most of its history took place.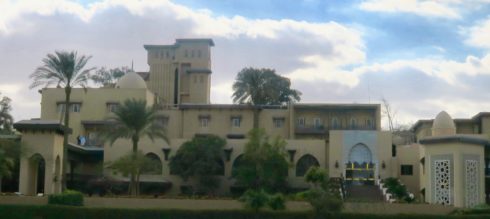 Mena House – Location, Location, Location
By far the majority of tourists coming to Cairo are there primarily to see the Pyramids and Sphinx. Unless you are going to Cairo on business, in which case I'd recommend staying at the Nile Ritz-Carlton, the only reason most visitors venture into Cairo proper is to visit the fabulous Egyptian Museum. Even that reason will disappear in the next few years when the new Egyptian Museum opens in Giza, not far from Mena House. You can see the construction cranes from the hotel. In terms of proximity to the Pyramids and Sphinx, Mena House is by far the closest. The entrance is literally just up the road. You could actually walk to it if so inclined, but I wouldn't recommend it.
Here is the view from the Mena House grounds.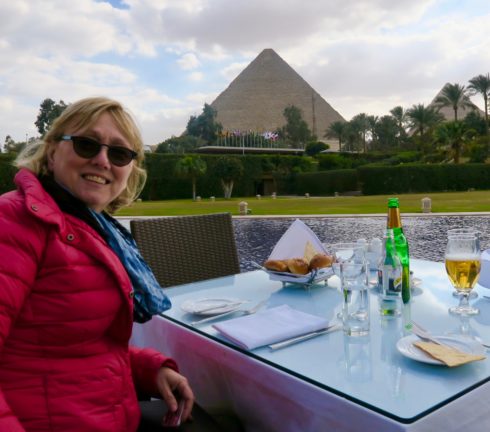 Here is the view from Room 420, one of many that directly face the Pyramids. You are simply not going to beat that at any other hotel in Giza and trust me, it's not a view you get tired of seeing. In fact, it's an amazing feeling to sit on the patio of your room, drink in hand and realize that, "Yes, those are the Pyramids." Everyone should have that view at least once in their lives.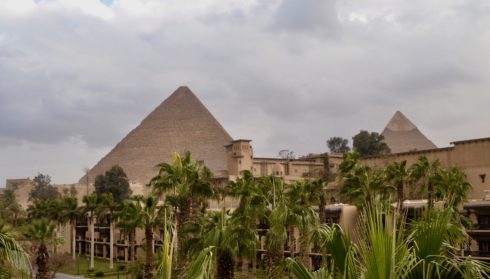 Another factor in Mena House's favour over downtown Cairo hotels is the relative absence of smog. This is a huge problem in Cairo and is just getting worse. While I've been told it can actually reach as far as Giza on occasion, it was not a problem during our stay.
Mena House – The Food is Great
If you don't like eating at buffets, then you better avoid Egypt. Pretty well every high end hotel and all of the Nile cruise ships, offer only buffet breakfasts and dinners. While some of these buffets are very good, they can get tiresome in their repetitiveness. Mena House actually has four restaurants, three of which serve a la carte meals.  The beautifully appointed Moghul Room specializes in Indian food which we found delicious. My wife was especially taken with the tomato soup, which she thought might be the best she had ever tried. I liked the variety of appetizers with various dipping sauces.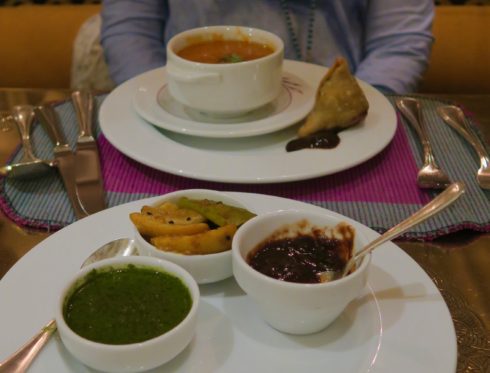 For a main the lamb chops with spinach and rice was very tasty.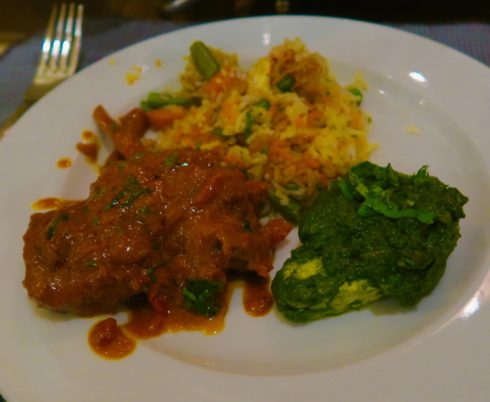 Another option is Khan El Khalili which specializes in Egyptian and other Mid-Eastern cuisine. While there's not a lot of meat on pigeon stuffed with rice, what there is, is considered so special that it's a traditional honeymoon night entree.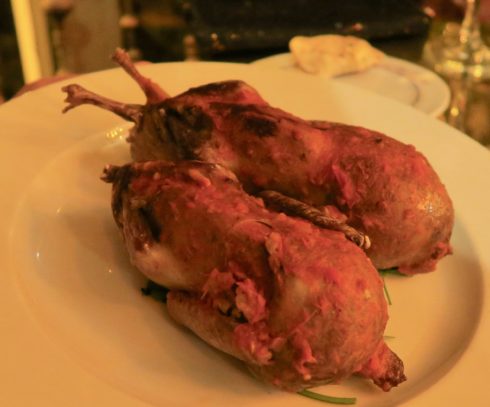 This is also a good place to try some real Egyptian kofkas, which can be made from a variety of meats and vegetables. Beef and lamb are my favourites, but vegans can try ones made chickpeas or sweet potatoes.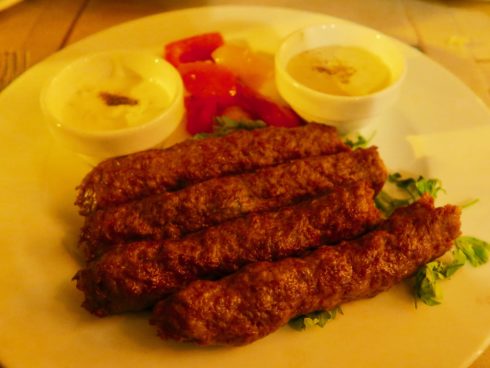 Also a traditional Egyptian dish that is excellent at Khan El Khaliki is the Umm Ali, a baked dessert made from phyllo, double cream and nuts that is to die for. I tried many versions in Egypt, but none lived up to my first one at Mena House.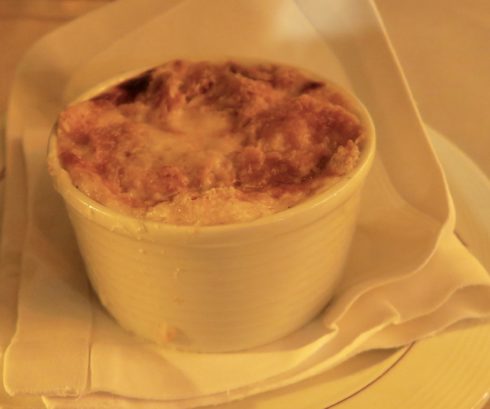 Those who are perhaps not as adventuresome with their dietary preferences might like Alfredo, Mena House's Italian restaurant on site. We didn't get a chance to eat there, but I'm sure it would live up to the usual Mena House standards.
Breakfast is served at Le Jardin, the fourth Mena House restaurant. Breakfast is a buffet, but with a huge variety of dishes. Only thing you won't find here or anywhere else in Egypt, is bacon. Also there is an omelet station. These photos will give you an idea of the size of the buffet.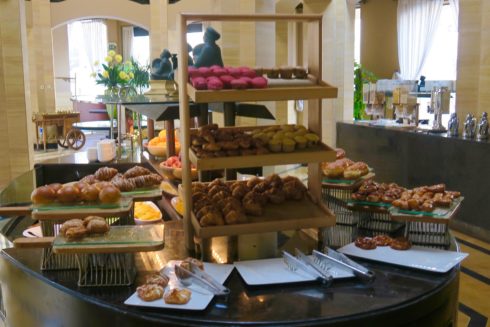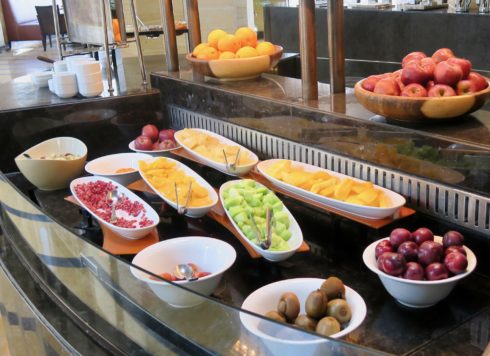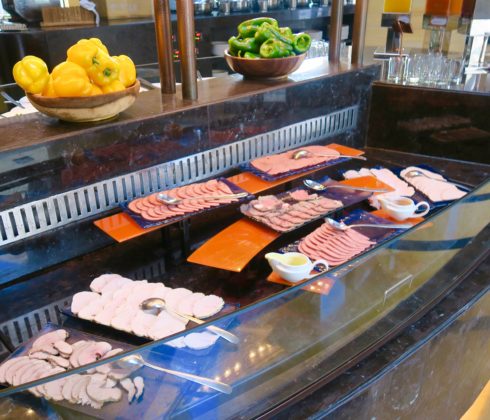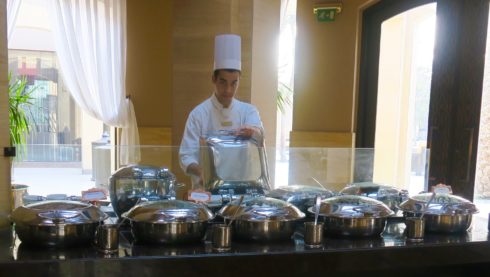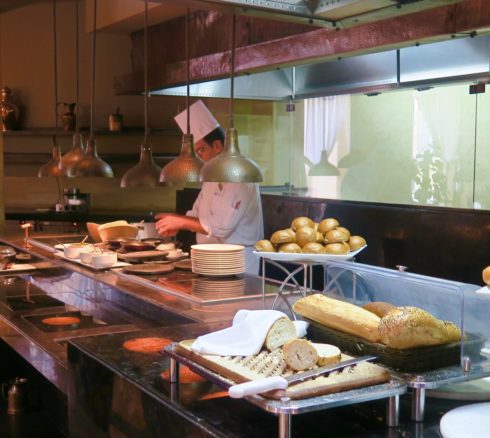 In preparing this post I came upon a review that claimed there wasn't a lot of variety at the breakfast buffet. If that was once the case it has now been remedied in spades.
Le Jardin is also a good spot for lunch with a variety of a la carte selections and of course that fabulous view of the pyramids.
Lastly, there is Le Sultan Bar which is just off the main lobby. It has a limited menu, but is a great place to sample Sakkara, the national beer of Egypt or one of a variety of Egyptian wines. They are not going to win any awards, but are quite drinkable and very reasonably priced. Unlike most Egyptian restaurants not associated with a large hotel, you can get alcohol at all of Mena House's restaurants or have it delivered to your room.
Mena House – A Few Other Factors
This review is already too long. If I haven't convinced you to stay at Mena House by now, then I probably won't with these last few thoughts.
Rooms are very clean. You expect this in a high end hotel in North America, but it doesn't necessarily apply in Egypt. By comparison, Mena House had much better housekeeping standards than all the other hotels we stayed in. Of particular note were the glasses, telephone and TV remote, which were spotless. I didn't feel like I needed to wash my hands after touching them which is more than I can say for some other places we stayed.
The staff is competent and professional. Again something you expect, but don't always get in an Egyptian hotel. Particularly annoying is the habit of obsequiousness to the point of becoming embarrassing and all for that almighty baksheesh. At Mena House you feel like the staff are doing it because they enjoy their work and not just for the tips.
Wifi is free and reasonably dependable. Wifi is real hit or miss in a lot of Egypt so Mena House stands out in this regard.
There's an in house travel service that can arrange for private guides at reasonable rates. We took a private tour of the Pyramids and Sphinx that included a driver and a guide. Don't even think of going w/o someone to drive off the hawkers and scammers. We got to see some very interesting places that were not included when we returned on a group tour a few days later.
Mena House is very affordable. As mentioned at the start of this review a number of factors have contributed to a sharp decline in occupancy rates in Egypt. This in turn has led to a drop in hotel prices across the spectrum. Check the hotel website and then a few sites like Trivago, Trip Advisor etc. to get the best rate.
Lastly, make sure you book a room with a view of the pyramids. There are some rooms that face away. It's more than worth the extra cost to get that once in a lifetime pyramids view
---
The Maritime Explorer Score:
"Go NOW!"
Comments:
---
---
Did you enjoy this article? Please share it!:
---
More explorations: