Le Germain Charlevoix, Baie St. Paul – Why You'll Love It
I usually would not do an entire post based around a hotel, but Le Germain Charlevoix in Baie St. Paul, Quebec is such a unique place to stay that it merits its own post. When I first wrote this post it was the Hotel Le Ferme, but since has become a property of the trendy Quebec based Le Germain group. While some things have undoubtedly changed since my visit, but others such as its location and the charm of Baie St. Paul have not.
The reasons for going there in late March, 2015 were also, I hope, going to be unique. The winter of 2015 was the worst in recorded history in terms of snowfall. I say the worst because in Nova Scotia most storms that hit us in winter have at least some element of rain mixed in. This is usually followed by freezing temperatures that create a hellish mixture of heavy snow, ice and absolutely treacherous driving and even walking conditions. At times it really feels as if Mother Nature has turned into Malificent and is out to kill us. It was especially so in March when we were hit by storm after storm and there was just no place to put the snow anymore. This is what it looked like in my backyard on the Ides of March.
And then we really got nailed.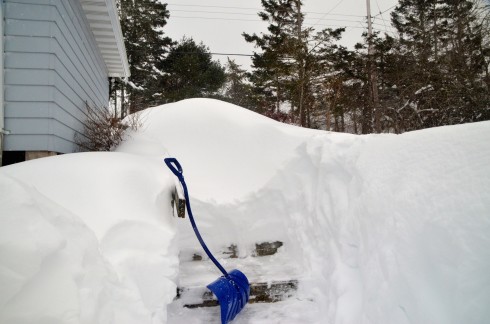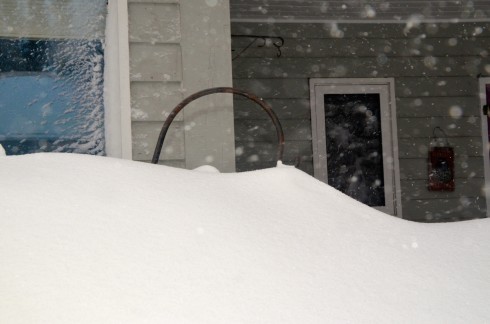 The second reason for wanting to get away was equally depressing. My good friend and fellow Olympian Dan Weir died from cancer in mid-March and although we knew it was coming it's never easy to accept once it does happen. At his memorial service I talked with my friends Brian MacLellan, who had lost his wife to cancer the year before, (Christ this is starting off as a downer!) and Peter Wedlake about getting away on a short road trip. We had started skiing together almost forty years before and an annual trip to Sugarloaf, Whistler or even Utah was always in the cards. Then we all got married (some of us more than a few times) and the trips became couples vacations including one memorable one to Italy. That was OK, but then along came the ankle biters and suddenly these became family affairs, so I stopped going. As the kids grew up and hopefully moved away, the wives for the most part lost interest in downhill skiing which meant that suddenly we could go on an old-fashioned road trip again. The timing was great because Alison was headed to Cuba for a week.
On the spot we agreed to head out asap. I suggested Le Massif in Quebec which I had visited a few times, but not since it had instituted a train service between the hill and Baie St. Paul which I was anxious to try. Peter and Brian had never been there, so readily agreed.
Searching the web it was soon apparent that Le Germain Charlevoix, was the place to stay so I went on line and booked each of us a single room at a rate of $209.00 a night. Next day we were off in Brian's Honda Pilot and after spending the first night in Quebec City and skiing at Mont. Sainte Anne the day after we were on our way to Baie St. Paul and Le Germain Charlevoix.
Once you leave the Quebec City area on the north side of the St. Lawrence you enter a region of rolling hills and farms, some of which are hundreds of years old, recognizable by their red roofs and fieldstone walls. This is Charlevoix , an area that has been a magnet for world class artists and their patrons for over a century. After passing the entrance to Le Massif about half an hour past Mont Sainte Anne we continued on to Baie St. Paul  the principal town in the area and Hotel La Ferme.
The hotel is actually right in Baie St. Paul although you wouldn't know that from the website or the signage in Baie St. Paul. I didn't bother to print off a map, assuming, wrongly of course, that there would be some sort of sign indicating where to turn. While all the other places I could have picked had signs indicating the way to them, not Le Germain Charlevoix. After three futile wrong attempts we had to ask a person who directed us to find the hospital and from there we could see it, which we did. Who says men refuse to ask for directions? At least we had a tour of all the Baie St. Paul highlights and found the SAQ to boot. Maybe the local Chamber of Commerce prefers that incoming tourists get lost for a little while.
Once we did find Le Germain Charlevoix we were rewarded with a place that scores top points in just about every category that counts in making for a great hotel stay. Here's my eight reasons why.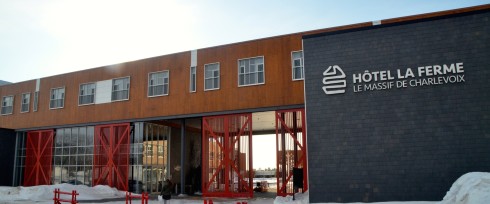 1.The location – To say the hotel is on the edge of town is correct, but that is deceptive. On the one side are open fields and views of the Charlevoix hills, but on the other side you are only a few minutes walk from the heart of the old town, including the cathedral, the seminary and Rue St. Jean Baptiste which is loaded with art galleries, interesting shops and great restaurants. This picture gives a better idea. You can see the church spires and the seminary roof in the background.

2. The history – Usually you wouldn't care what was on a hotel's site before the hotel was opened unless the hotel is actually in an historic building like a castle or the paradors in Spain. In the case of Le Germain Charlevoix the history explains both the original name and why it has such a great location. Up until 2007 this place was the site of the largest wooden farm structure in Canada when it was totally destroyed by fire except for one small outbuilding. The farm (ferme) was originally run by nuns of the order of the Little Franciscans of St. Mary, a somewhat obscure clerical group that traces its origins only to 1889 and whose headquarters are in Baie St. Paul. At one time there were up to 1500 hundred of them working on the farm. Today the last of them are living out their lives in the nearby seminary. There is a folk art model of La Ferme in the train station and it gives an idea of the massive scale of the place. This picture does not do it justice because it only shows about one fifth of the gigantic building.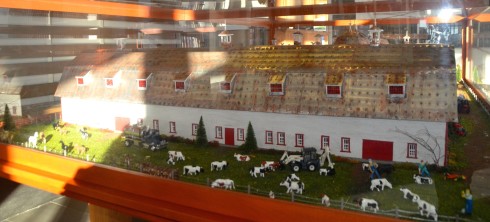 Aren't these little dolls with their flying nun outfits cute? Sally Field eat your heart out.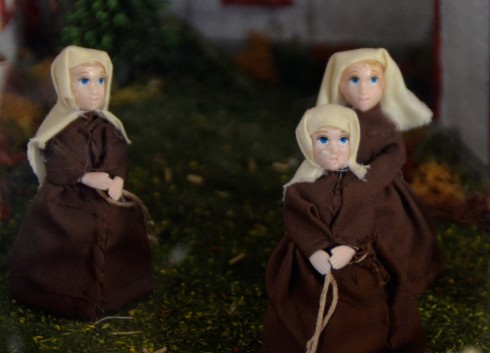 On a more sobering note just think, you are sleeping on the same spot that 1,500 single women, most presumably virgins, once cavorted. It would have been enough for any jihaadist to lay down his arms and believe that he had found heaven on earth.
3. The architecture – La Ferme is actually made up of five separate buildings that have a unifying architectural theme, but each is distinct. The style is hyper modern, but does not overwhelm the landcsape. Each building could substitute for an independent boutique hotel. This is the back of the U-shaped main building. On the left is the train station and in the middle of the U is an oval skating rink.

Other buildings are Le Clos which is a completely square two story building with a quadrangle in the middle, Le Moulin which has larger rooms with lofts and balconies, La Bergerie and the La Basse-Cour which holds the spa as well as studios.
4. The rooms – There are a variety of rooms that range from a dormitory over the train station for cheapskates to spacious suites suitable for families. We stayed in rooms in Le Clos that are not large, but contain everything a couple would need (not that we stayed as couples). Believe it or not there's a TV in the wall at the foot of the bed. It has a telescopic arm that allows you to pull it out and watch it from the somewhere other than the bed.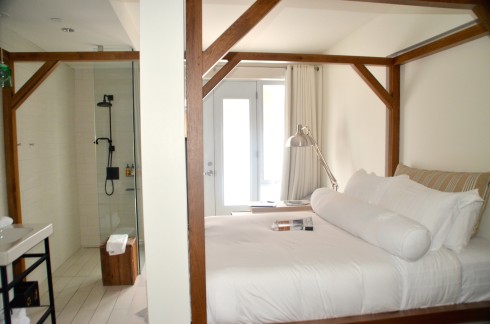 The showers in these rooms are great, especially if you are an exhibitionist.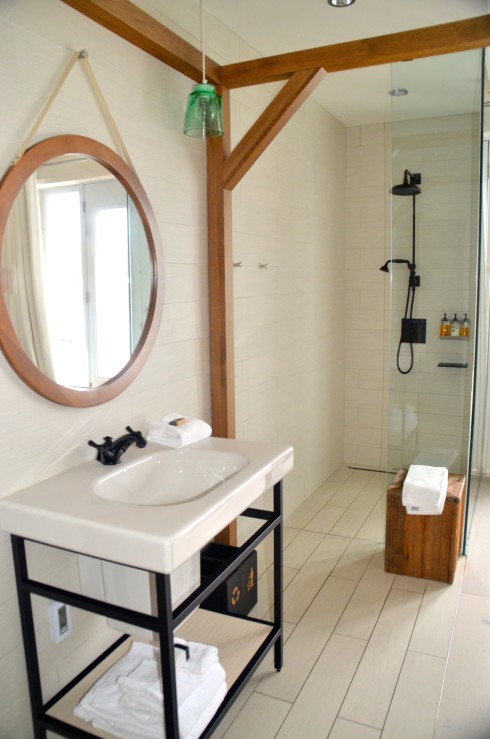 While it doesn't have a fridge you have a freezer just outside.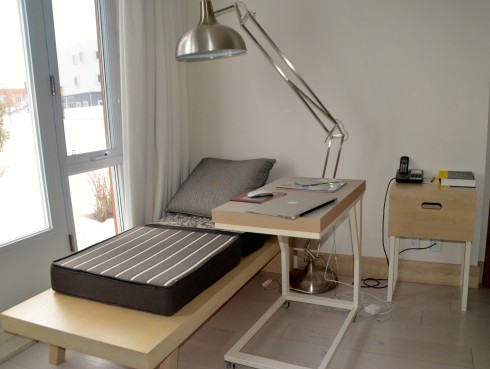 5. The art – Charlevoix has been attracting artists for over a century and some of Canada's most famous painters and sculptors have used Baie St. Paul as their base. Here's a painting that is in the lodge at Le Massif which I think best characterizes the Charlevoix style, if there is such a thing.  You can clearly see Group of Seven influences. The landscape dominates, but unlike most Group of Seven paintings there is a human and historical element as well. If this doesn't fairly come right off the canvas and holler "Quebec!" I don't know what would.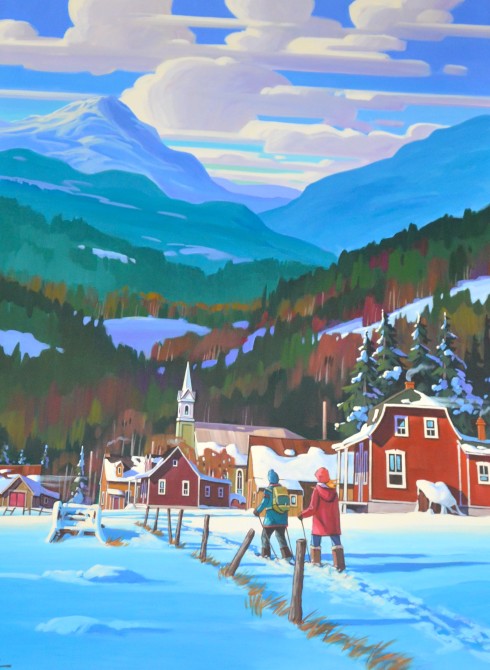 I always think a ratio of one good painting for every four bad ones in a hotel is about normal, but Le Germain Charlevoix recognizes the importance of art and throughout the common areas there are many more good paintings and works of folk art than obviously bad ones. Here's a few examples.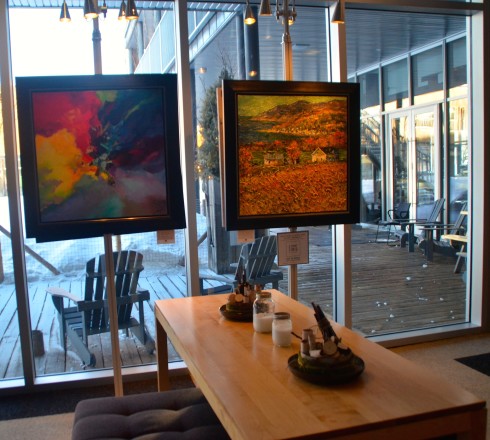 Here is the same Charlevoix view through the four seasons.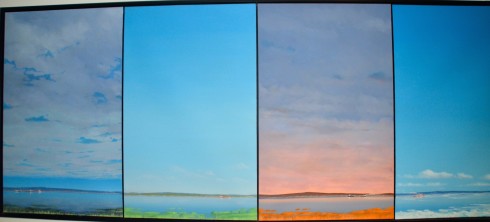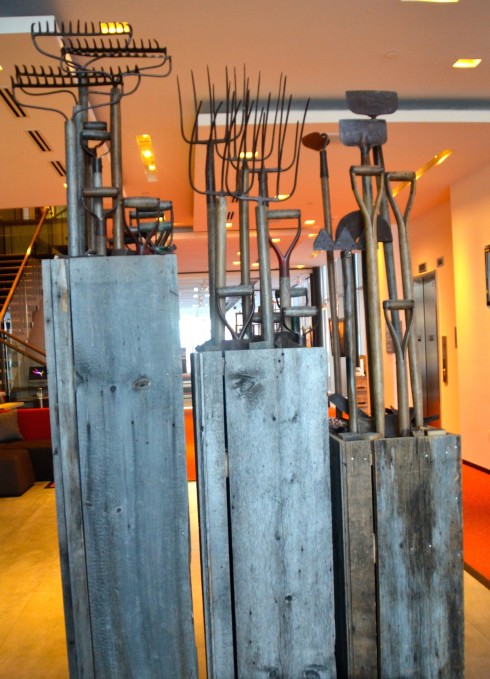 And here's a new use for old propane tanks.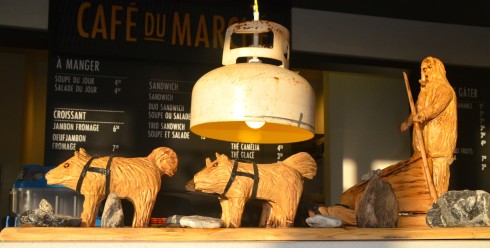 In addition to the art in the hotel proper the Iris Art Gallery on the premises has many more fine works on display. It's a great place to grab a cup of java and scrutinize the paintings while waiting for the train. The station is right next door.
Over the three days I stayed here I was continually noticing some new and interesting artwork that I had not noticed at first glance. 

6. The Charlevoix cuisine – One of the reasons I love coming to Charlevoix is for the food. The farms of Charlevoix are famous for their artisanal cheeses and organic meats which makes the restaurants in the area as good as any in Quebec. Le Bercail, pictured below, is just behind the hotel lobby and has outstanding thin crust wood fired pizzas as well as really great snacks. On our last night in Quebec, a Monday, we assumed there would be few people at the restaurant as in this picture, but arrived to find it packed. Apparently there was a small convention at the hotel. However, there was room at the bar and we had a great evening. When I ordered a gin martini and Peter a vodka martini the bartender took great care to get them both right and he sure did. We asked him to prove it a few more times. They went great with the house made pickles and olives followed by pizza. You've got to try the flammekueche, which is locally smoked ham on almost a bechamel base – not your average pizza.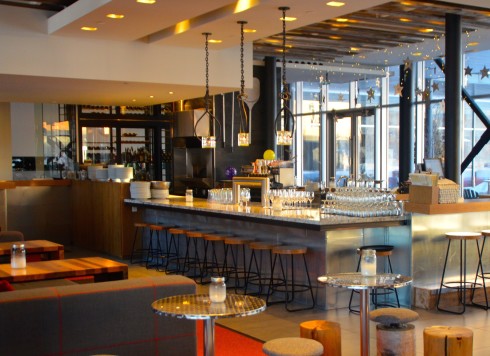 The night before we ate upstairs at the more upscale Les Labours which has a limited menu of Charlevoix raised products. It was good, but I enjoyed the experience at Le Bercail more.  The first night we went off reservation to find Le Saint Pub, an adjunct to La Microbrassiere Charlevoix which produces over a dozen micro brews that run in strength from 4% to a whopping 10%. This was a Saturday night and we did expect the place to be packed and it was, but there were seats at the bar. Between us we agreed to try all the beers on the board. Thank God, Brian volunteered to handle the 10%ers or else I might not have remembered how good the Montreal smoked meat sandwich was. Not much goes better with beer than smoked meat.  When we arrived they were kind enough to switch the TV to the March Madness games that were on, but at 7:30 an old-fashioned movie screen was lowered behind us and promptly at 8:00 everything was switched the Canadiens game. Brian, despite the 10% beers, had enough sense not to bring up the fact that the name of his fantasy football team is the HabHaters or we might not have gotten out of there. As it was, I think there was some singing on the way back to the hotel.
7. The train – During our visit they had a train service that ran directly between the station at the hotel and Le Massif. At that time both the ski hill and the hotel were owned by the guy who also owned Cirque du Soleil. The photos below were taken at that timre.
That service no longer appears to be an option and certainly is a loss for the hotel. However, from June through October you can take a train from Quebec City to Baie St. Paul. The Via Rail Train de Charlevoix literally pulls right up to the hotel. The views of the St. Lawrence are spectacular on this line and it is one of the great train rides in the world.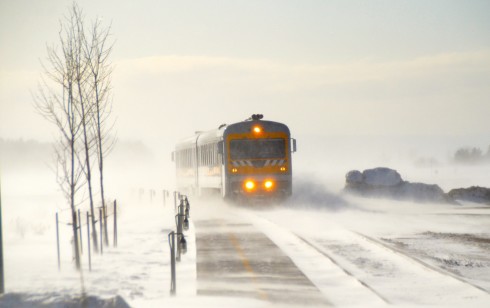 The views from the train of the St. Lawrence and Charlevoix hills are reason alone to forsake the car.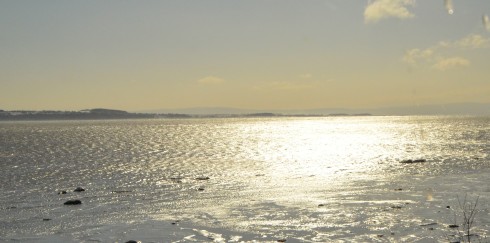 Given the fact that the St. Lawrence was completely frozen over at Quebec City I have no idea where this freighter was coming from as it headed towards the Gulf.

8. The circuite nordique – The spa at Le Germain Charlevoix has a really unique series of stops on the way to total relaxation after a day of skiing. It is called a circuite nordique and starts with the warmth of the large outdoor pool (really a square stone hot tub).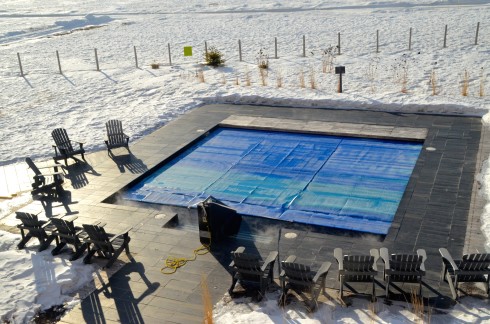 Despite being -22C the first day we were there, it was worth braving the cold and wind to hunker down in the hot water and just let go. The next stop gave a new meaning to chilling out. It might seem nuts to climb down into a barrel of ice water when its already freezing outside, but this is the second stop on the circuite and we dutifully climbed in and lasted all of about ten seconds before rushing back inside and the warm haven of the steam bath. However, after a few minutes in here you get so hot that you are glad to rub ice over your extremities to cool down before entering the dry and very hot sauna.
The circuite nordique cost $20.00 for guests and was definitely worth every cent, in fact after skiing on the second day when it was much milder we did two circuits and spent well over an hour at the spa.
So there you have it – eight great reasons to visit Le Germain Charlevoix. I know I'll be back.