How to Find A Great Apartment in Paris Without Breaking the Bank
In the previous post I gave my reasons for returning to Paris after a fifty year absence and the things I hoped to see and do before joining  the Liberation Tours journey from Paris to Amsterdam. In this post I'll describe how I found a great apartment in Paris at a cost that was reasonable. Paris is an expensive city, at least for accommodations. If you can cut down the costs on those you'll have more to spend at the bistros or given your pleasure, maybe haute couture – I know which one I would choose. If you are only here for a night or two then a hotel is fine (maybe it's time for that once in a lifetime splurge at Le Bristol or King George V), but if you are here for more then that then renting an apartment makes a lot of sense. And it's not just about the money you'll save. In my experience of renting apartments in many European cities there are a number of other benefits. These include the fact that you can get them for a group of almost any size, they are often in local neighbourhoods as opposed to tourist stricken areas and they usually offer more square footage per person than hotel rooms. One of my favourite reasons for preferring apartments over hotels for extended stays is that you can do your own cooking. Nothing better than finding a market, buying some locally grown or raised or caught stuff to cook up and washing it down with a cheap, but good wine. Hey, I just realized I'm saving on the bistros too! Maybe I will go for some of that haute couture after all.
OK, let me tell you about my apartment in Paris – #6, 34 rue Joseph de Maistre in the Montmartre district – how I found it, why I picked it and why I think you should know about it.
My starting point in looking for an apartment in Paris or anywhere for that matter almost always starts by looking for vacation rentals on Trip Advisor. I think there is a good reason why reviews of places by what they call 'readers like you', provides a better chance of scoring a hit than reviews by professional travel writers. That might not be true for hotels or restaurants, but the reality is that nobody except past users reviews apartments or condos. The next thing I do is add the filters for the type of place I'm looking for. The most important are price and the number of bedrooms and bathrooms – no point looking at great five bedroom houses if you only need two. At this stage I do not add a filter for neighbourhoods, because I don't want to make the mistake of eliminating what could be a great choice because I have a prejudice in mind for one area over another. Currently there are over 50 neighbourhood selections for Paris and since I don't know the city that well, why eliminate any choices? Next I look at the overall ratings and in particular only those in the excellent and very good categories. Then at how many ratings there are for that particular location. Anything less than five reviews is statistically useless, so the more reviews the better. Once I've identified the places that have enough reviews to be meaningful and are rated very highly I look for the number of bad reviews – these can tell you a lot. Usually it is some trivial thing that upset someone and you can ignore it, but sometimes you'll discover something that if it happened to you would ruin the stay – so I weed them out.
Now I'm armed with a bunch of places that a lot of people like and need to choose only one apartment in Paris. It's time to read the individual reviews – that is how I ended up staying in Montmartre when my original intention was to be much closer to Notre Dame and the Île de la cité. I kept an open mind and was convinced by the following:
1. The price was very good
2. It had a view of Montmartre Cemetery from a sixth story penthouse.
3. Really important after point 2 – it has an elevator. Lot's of places that are high up, don't.
4. Other reviewers not only liked the apartment, but also the guy who was running it. Nothing beats having someone take an interest in making sure you enjoy your stay and gives you inside dope on the best local cafes, bistros and wine shops. Also he speaks English.
So I booked my apartment in Paris after being put in touch with Chass Pineda, an ex New Yorker who's been living here for ages. One downside for some might be the fact that you need to pay the total in advance plus a deposit, however there is a very decent cancellation policy. Our total with refundable deposit of a couple hundred was $1,470.00 CDN which is about $1100.00 USD these days. That was for four nights and includes two bedroom and two baths. We needed two bedrooms because my sister Anne would be joining us and paying here share of the cost.
I communicated back and forth with Chass by email as the trip approached and he arranged for a driver to pick us up at Charles De Gaulle and take us to the apartment where Chass was waiting. Cost was a bit pricey at 85 euros, but it was good to know that you had someone who knew exactly where we were going.
The building is located on a one way street with the walls of Montmartre Cemetery  on the other side. It's not right in the touristy part of Montmartre, but in a true residential area. The apartment has a code to punch in and then you use a key. It is quite secure. I noticed that all the names on the mailbox were French and Chass confirmed that everyone who lived here was a resident except for our apartment. Here's the building and the top floor with the mansard roof is our apartment.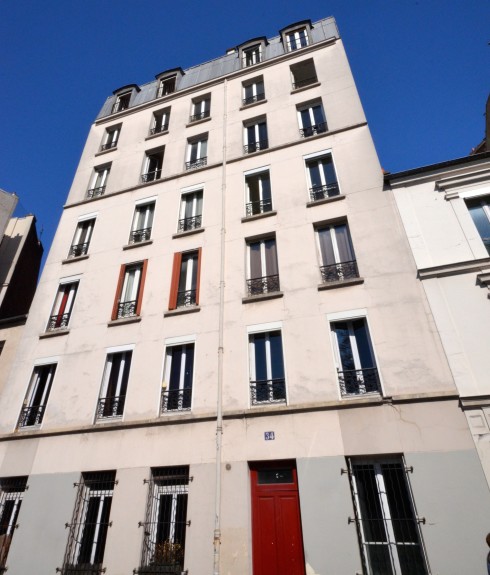 Chass helped get our luggage up to the sixth floor of our apartment in Paris – it took two trips as the elevator is tiny. The interior is quite roomy with a very nice looking living room with a very comfortable leather couch. Those high power binoculars are a nice touch.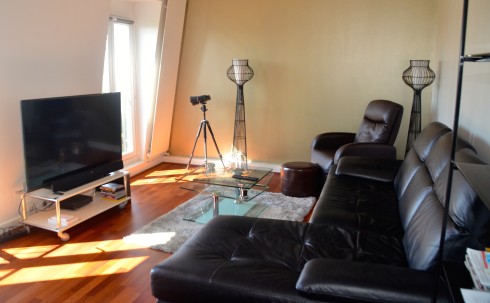 As you can also see the room is bright and airy with two modern windows that open to allow you to lean on the railing and enjoy the view, which as advertised, is of the Montmartre Cemetery with its many famous dead souls including Degas, Stendhal, Foucoult, Truffault, Nijinsky and famous chanteuse Dalida. An unexpected benefit was a distant view of the top of the Eiffel Tower which puts on a nice light show at night. That's it on the far left side and actually looks much closer than the picture indicates because I was using a wide angle lens.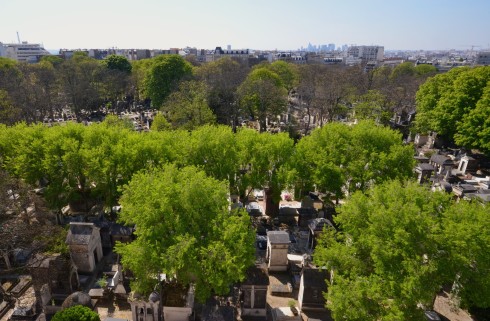 The view from the back bedroom is of a typical Parisienne neighbourhood.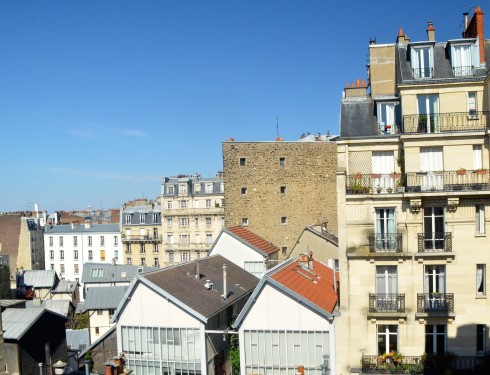 The kitchen is quite modern, very well stocked in terms of pots, pans, dishes, cutlery, appliances, but an unexpected bonus is the amount of  basic cooking supplies.  There are not only lots of herbs, spices, oils, vinegar, but someone here is a tea nut as I counted no less than ten varieties.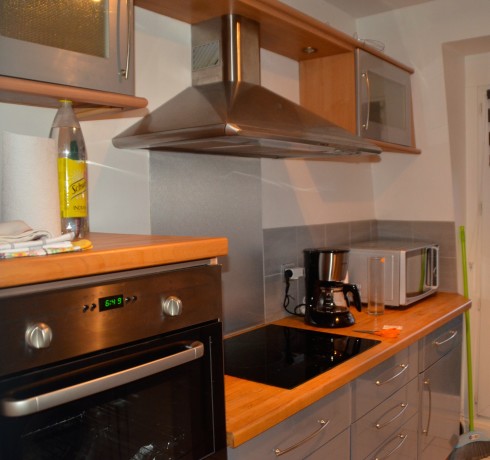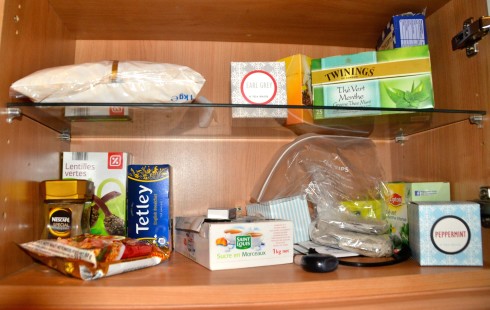 After settling in for a while and checking to make sure the wifi worked  (it did and was very fast) Chass offered to take us on a tour of the area to point out the best place to buy wine, which we did, get supplies for the fridge, which we did and showed us where to buy fresh baking and the cafe where to eat it, which we will. This was an invaluable service to us and we also learned where to catch the bus and the metro, how to get into the cemetery and numerous other useful things. We said goodbye to Chass, but not before he offered to make arrangements to have us taken to our next accommodations after we checked out in four days time.
I am writing this as dawn approaches on the second day and can confirm that this place is very quiet at night. So I think I made a good choice in picking an apartment in Paris. Tomorrow we'll start exploring the Montmartre area. Please join us.
One final note – I have absolutely no affiliation with this place or any others I recommend. I pay the same as you will. Bon voyage!