Oconee County, SC – 7 Great Reasons to Visit
At the 2017 Society of American Travel Writers conference in Portland, Oregon I had the pleasure of meeting with Ken Sloan, tourism rep for Oconee County, South Carolina. He showed me enough about the county and was so genuine in his belief about its rightful place as a top tourist destination, that I decided to pay a visit this past May. The result is that, I too have become a believer in Oconee County, and in this post will share seven reasons it should be on your list of one of the nicest unsung counties in the U.S. To build up the suspense, I'm going to do it in ascending order from the No.7 to the No.1 attraction in the county.
7. Ram Cat Alley, Seneca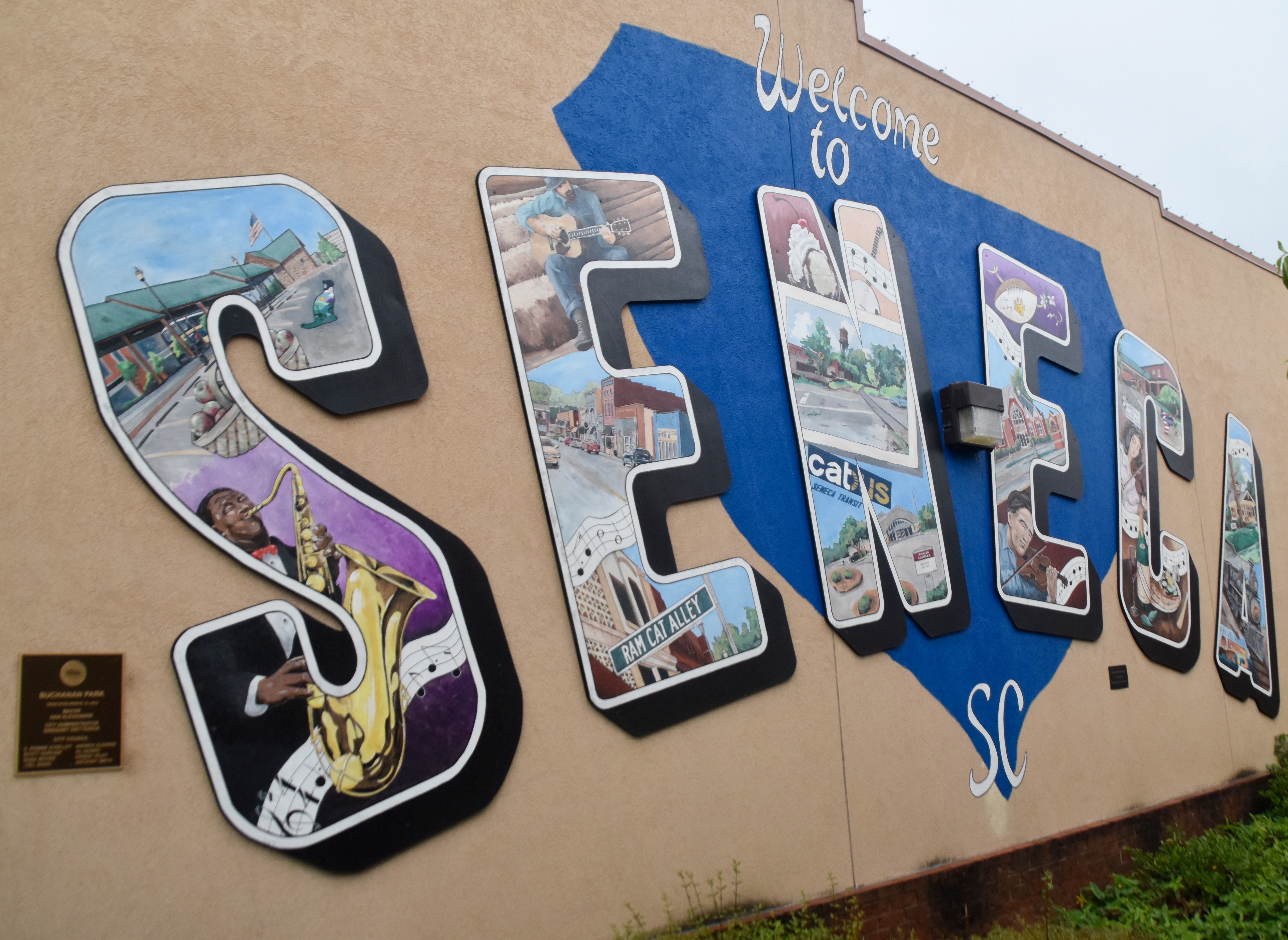 Seneca is the largest place in Oconoee County, but at just under 9,000 souls it's hardly a metropolis so you might not expect much more in the way of restaurants than the usual Hardee's, Bojangles and Chick-fil-A's you find in most southern U.S. towns. You would be wrong. Ram Cat Alley is a National Historic District where there are a number of great restaurants and specialty shops. I can vouch for Vangeli's Bistro where young chef Evangelos 'Evan' Dimas is serving up whatever is the freshest and best of local produce on a menu that changes daily. The restaurant is tiny – only about sixteen seats, but more than worth seeking out on a visit to Oconee County.
6. Stumphouse Mountain Tunnel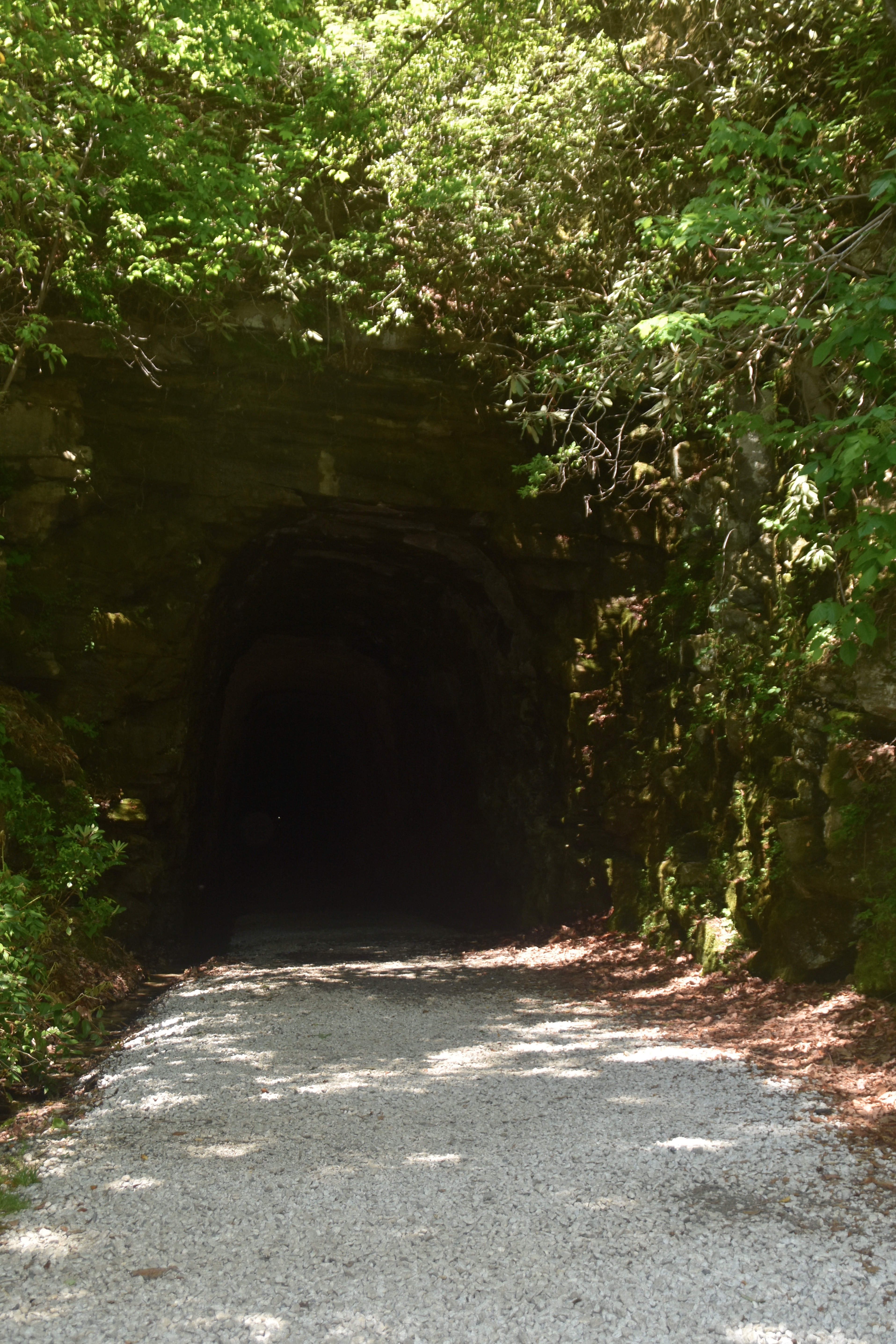 Whenever I plan to visit a place, I often take a quick look on Atlas Obscura an online encyclopedia of the obscure and exotic to find out if there is anything interesting or arcane in the area. Not expecting much, I was surprised to see an entry for the Stumphouse Mountain Tunnel which is actually not a tunnel, but a pre-Civil War era failed attempt to drive a tunnel through Stumphouse Mountain. Originally planned to run a distance of over a mile, the state of South Carolina gave up after spending over a million dollars ($2.6 billion in today's dollars) and only getting 1,617 feet into the mountain.
Today the entire area around Stumphouse Mountain is preserved by the Nature Conservancy and is a great place to hike and enjoy the natural beauty of the Blue Ridge Mountains. But, you definitely want to take a stroll into the tunnel which is open to the public for the first few hundred yards before a locked gate prevents you from getting to where the bats live. Take a flashlight and waterproof footwear and enjoy the eerie sensation of entering a tunnel to nowhere.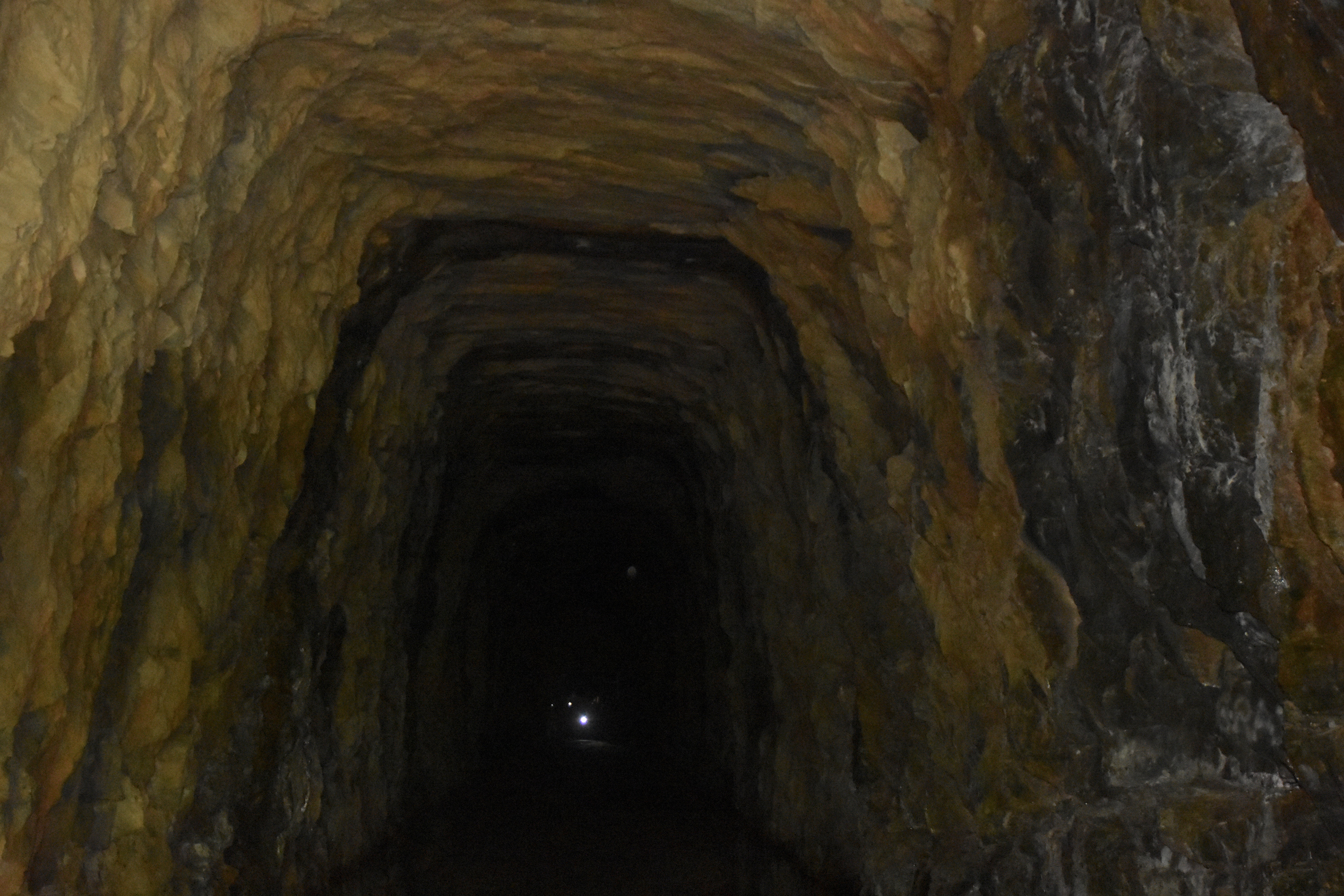 While this view looking into the tunnel might seems a bit scary, I found the one looking back toward the entrance even weirder. You always hear stories of people who have had near death experiences say that they were walking toward a bright light from the dark. Tell me that that is not exactly what this photo of Alison and Ken looks like. Cue the Twilight Zone theme.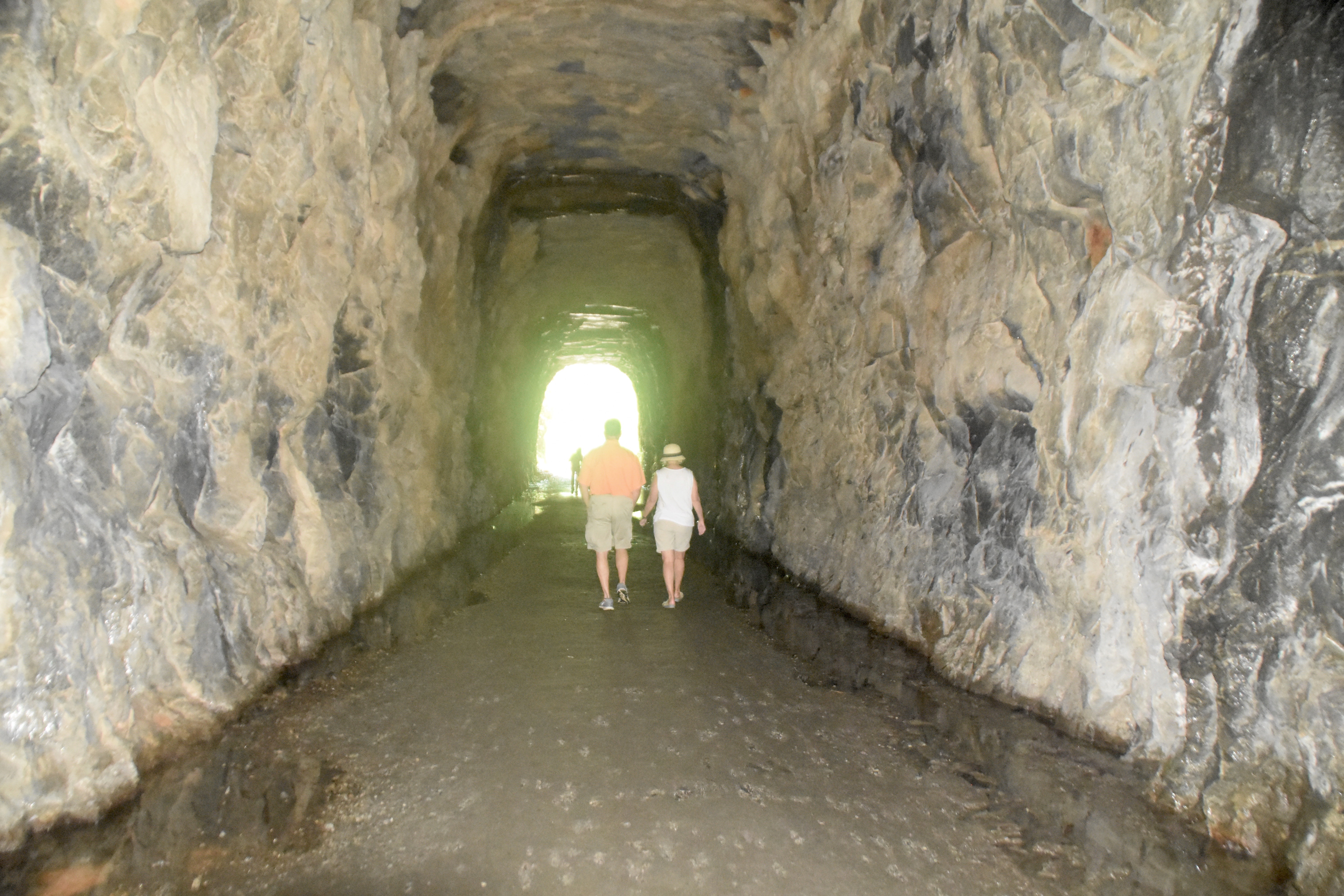 5. The Villas at Lake Jocassee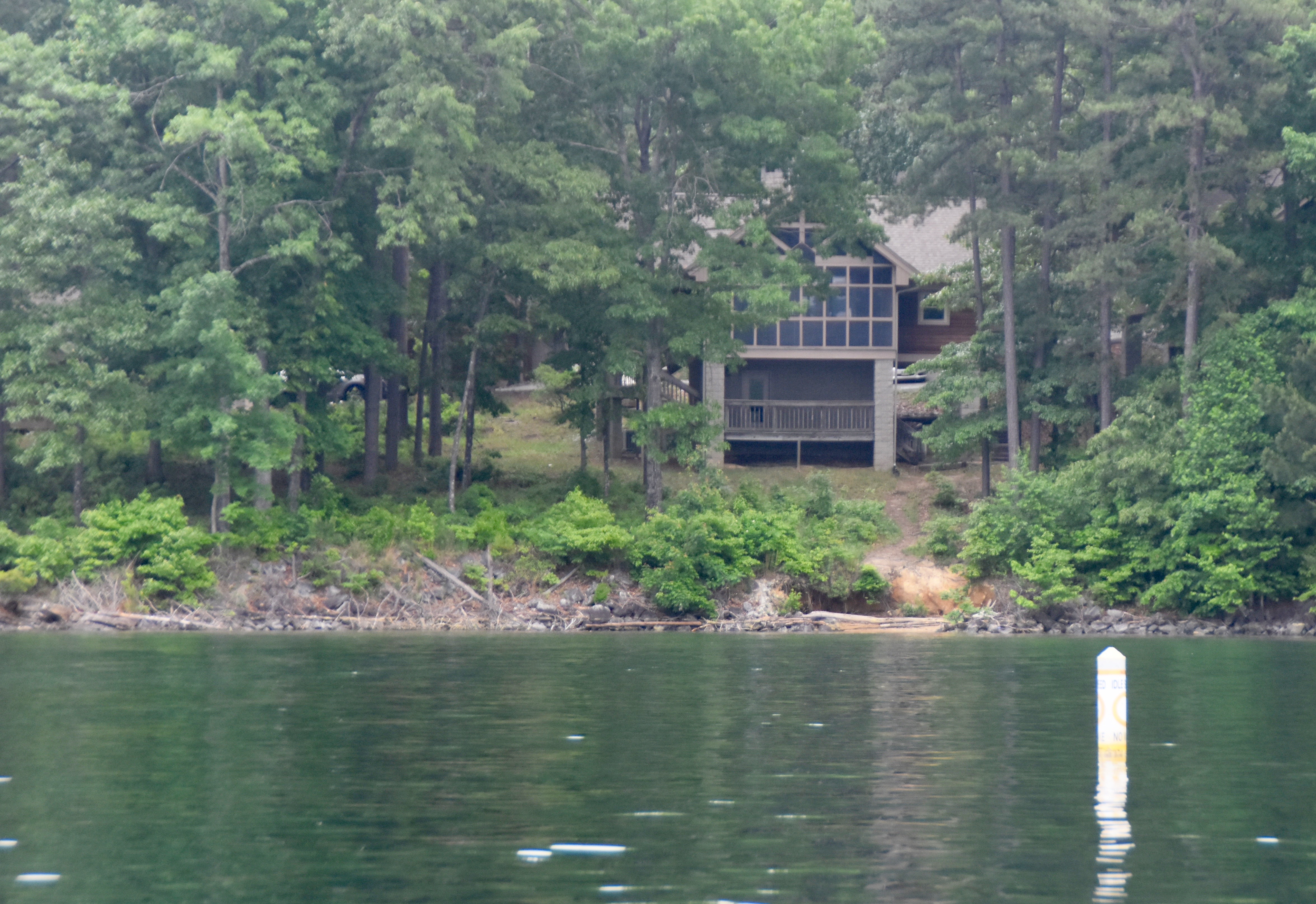 We visited Oconee County in mid-May which I would say was a perfect time of year. It's the shoulder season so you can get good deals on accommodation and in the case of the Villas at Devil's Fork State Park you can stay at one of the nicest places in the state without having to rent for a week. In summer these places are booked up a year in advance, but in mid-May only about five of the twenty villas on Lake Jocassee were rented.
Why stay in a place that is relatively off the beaten track instead of in Seneca or the county seat, Walhalla? Because it's on a lake that does not allow boats after dark – so it's quiet and all you can hear at night are the whip-or-wills, the lapping of the waves against the shore and the wind rustling in the leaves. You can take a stroll around the beautiful Oconee Bell trail which starts not far from the villas. Or you can go for a boat ride on Lake Jocassee, either just to sight see or to try to catch a record breaking Brown or Rainbow Trout – Lake Jocassee has the state record for both and three other species as well.
We spent three nights at a two room villa in Devil's Fork S.P. and I can't emphasize enough why this is the place to stay in Oconee County. Idiot that I am, I forgot to take pictures of the villa other than the one above which I took from a boat. Here are a few more I poached from the park's website.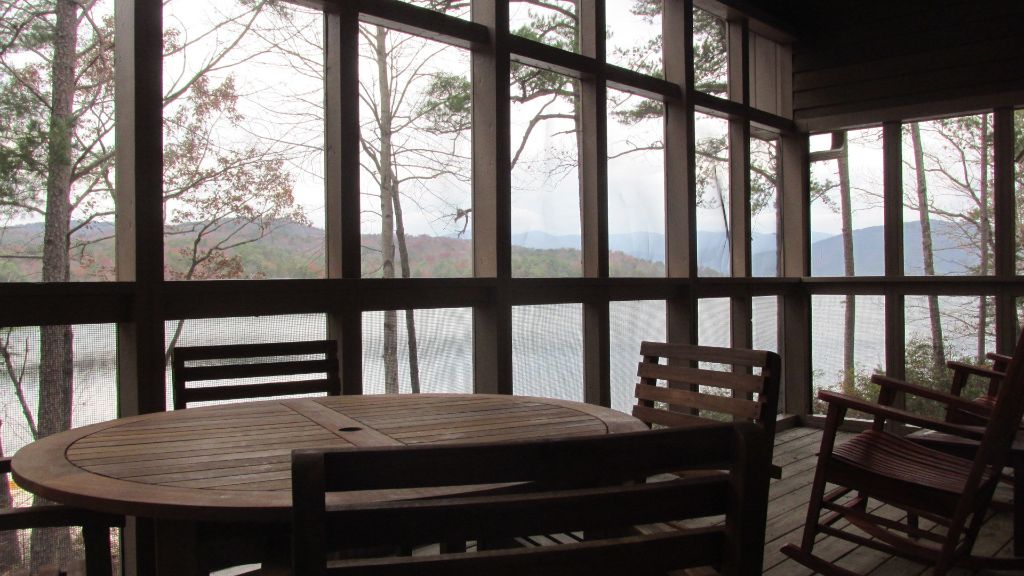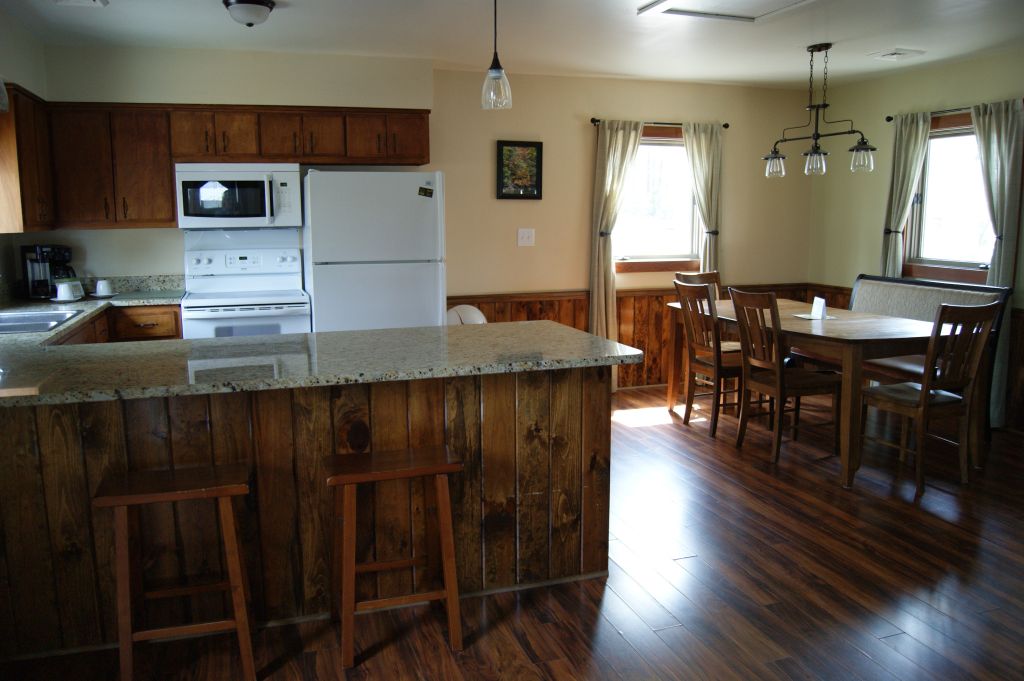 4. Chattooga Belle Farm, Oconee County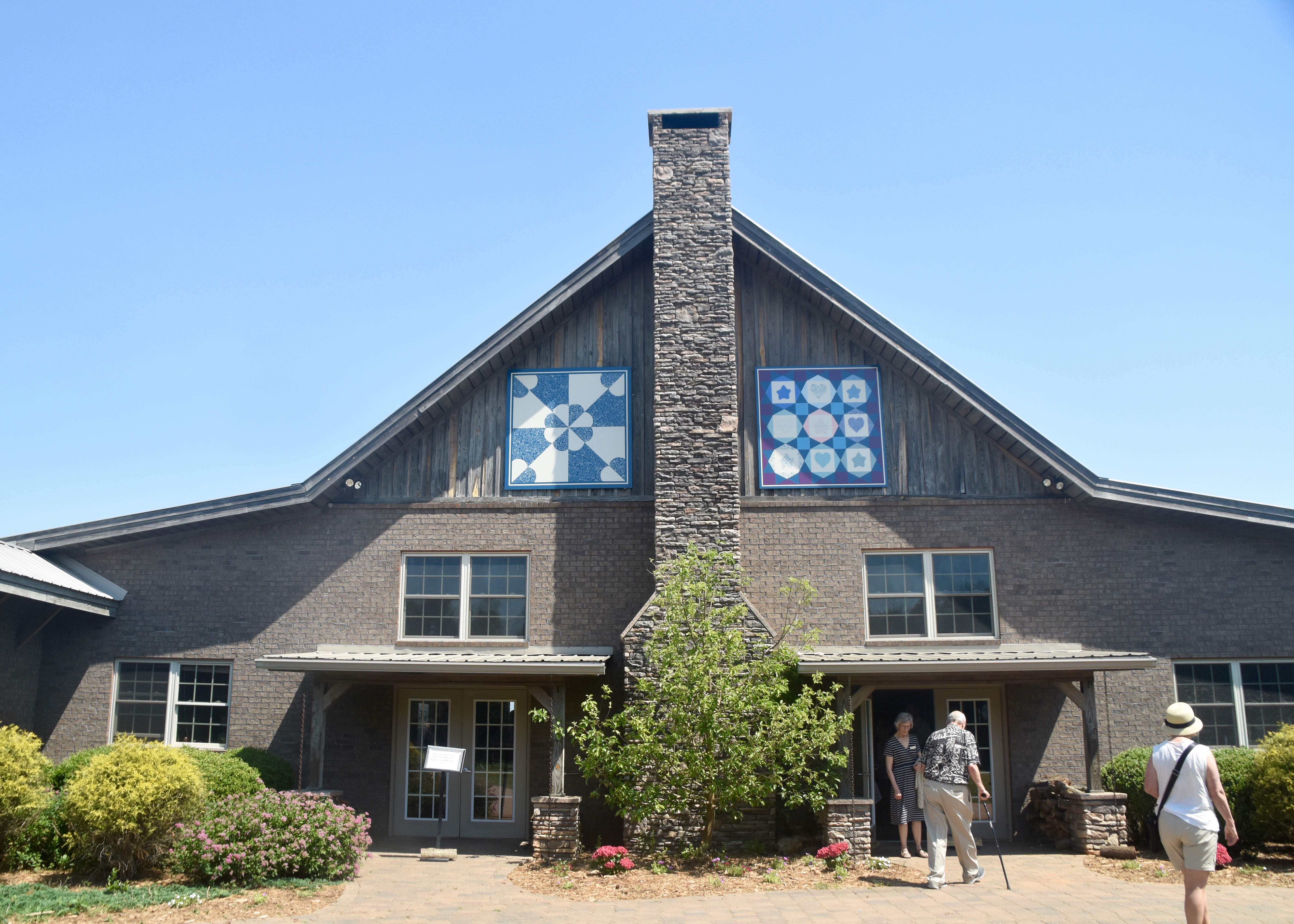 Every county should be so lucky as to have its own version of Chattooga Belle Farm, which is true gem in Long Creek, Oconee County. Overlooking the Blue Ridge Mountains it has a location that must be the envy of every orchard owner or grape grower in the south. If you were looking for a picture to describe the word 'bucolic', this would be it.
Chattooga Belle makes just about every product imaginable from the fruits and vegetables they raise on the farm plus grass fed Angus beef. This is Alison looking at just the vast number of jams and jellies for sale.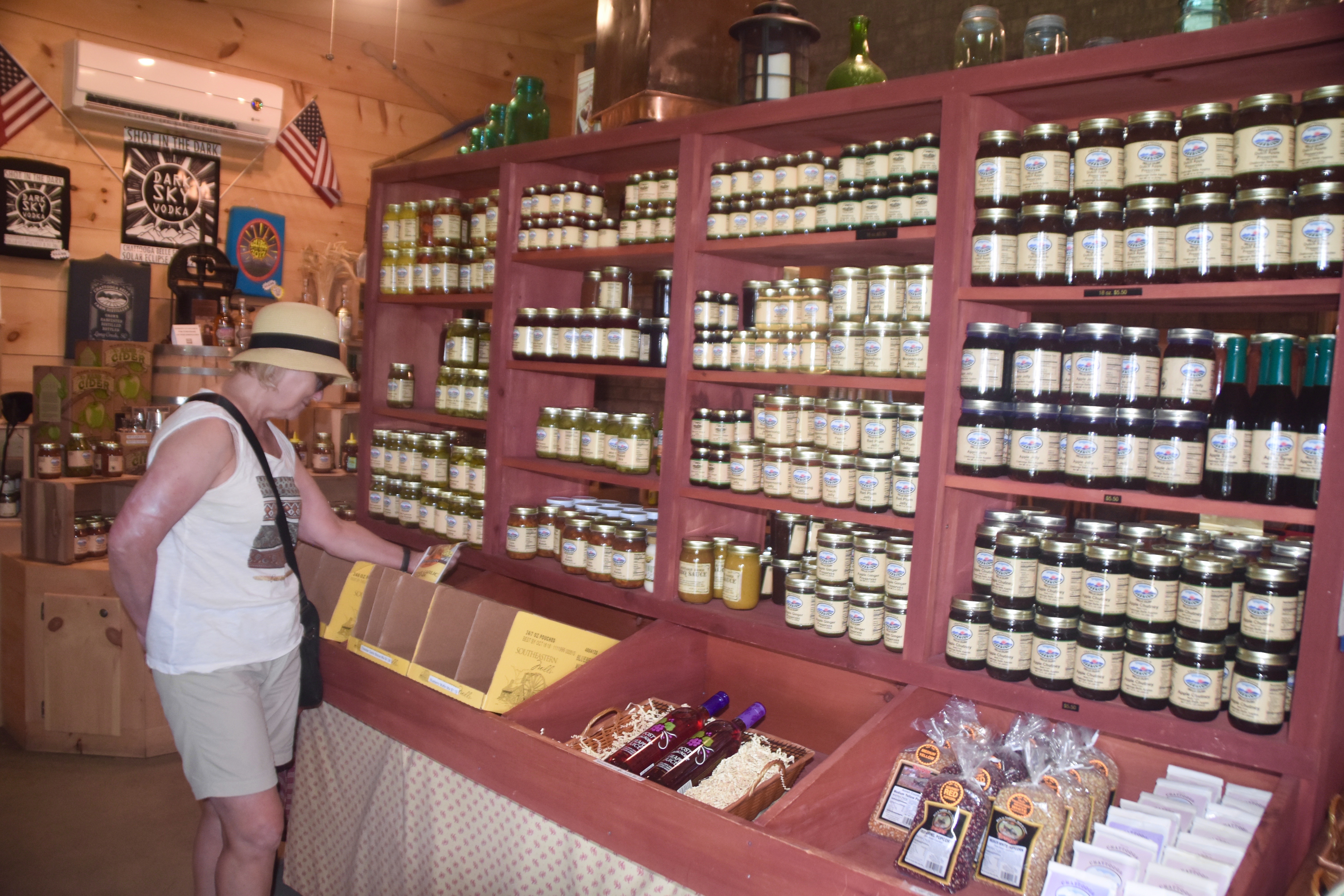 In addition to edibles, Chateau Belle Farm makes its own wines and has a distillery just down from the main building. On any day but Sunday you can sidle up to the tasting bar to sample their whiskey, gin, vodka, brandy and just plain moonshine. Just make sure you have someone else to drive.
We were here on Mother's Day and the place was packed with families out to enjoy the special buffet Chattooga Belle puts on for special occasions. It was a cornucopia of southern cooking and our host Ken introduced us to what seemed like half the people in Oconee County while we waited in line. It was a friendly and happening place and well worth the visit.
3. Lake Jocassee, Oconee County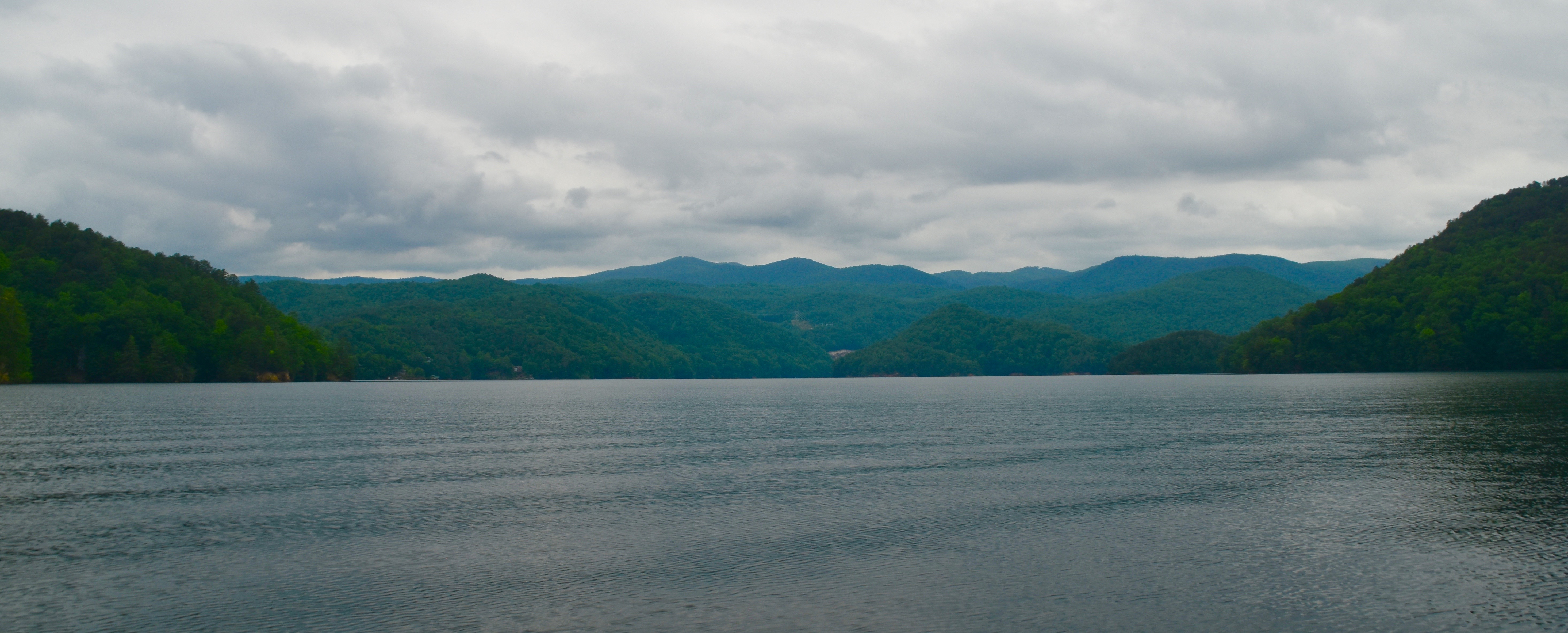 Oconee County, South Carolina is blessed with a number of mountain lakes, the most pristine of which is Lake Jocassee. Created as a reservoir in 1973 as part of a massive hydro/nuclear project by Duke Energy, Lake Jocassee, unlike its neighbours, Lake Keowee and Lake Hartwell, has seen only a tiny amount of development along its 7,500 acre shoreline. Most people access the lake via Devil's Fork State Park which has campgrounds, boat and kayak rentals, an interpretive center and the aforesaid Villas at Lake Jocassee.
If you don't have your own boat, the best way to enjoy Lake Jocassee is on a pontoon boat tour with Jocassee Lake Tours which leaves from the public dock only a minute away from the Villas. The boat tour takes you into the various small coves where a number of streams feed pure, cold mountain water into the lake which is why it is such a popular destination for trout fishermen. Usually when you think of the south you think bass, but in Lake Jocassee it is the trout that are the prized catch.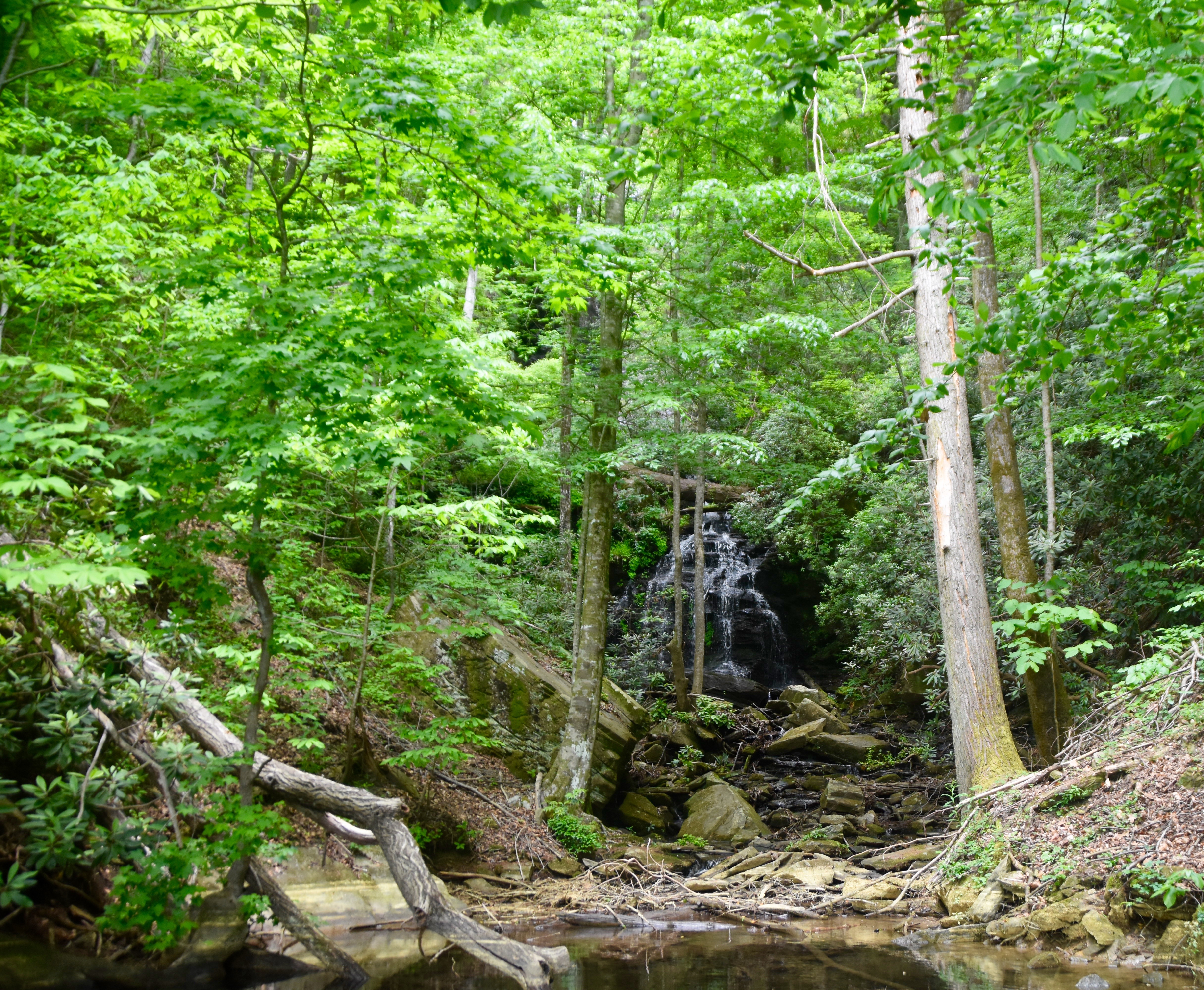 Lake Jocassee is also scary deep, over 300 feet in places. This buoy marks the spot where divers, if they have the experience, can go down over 130 feet to the site of an old church which was actually used in the filming of Deliverance.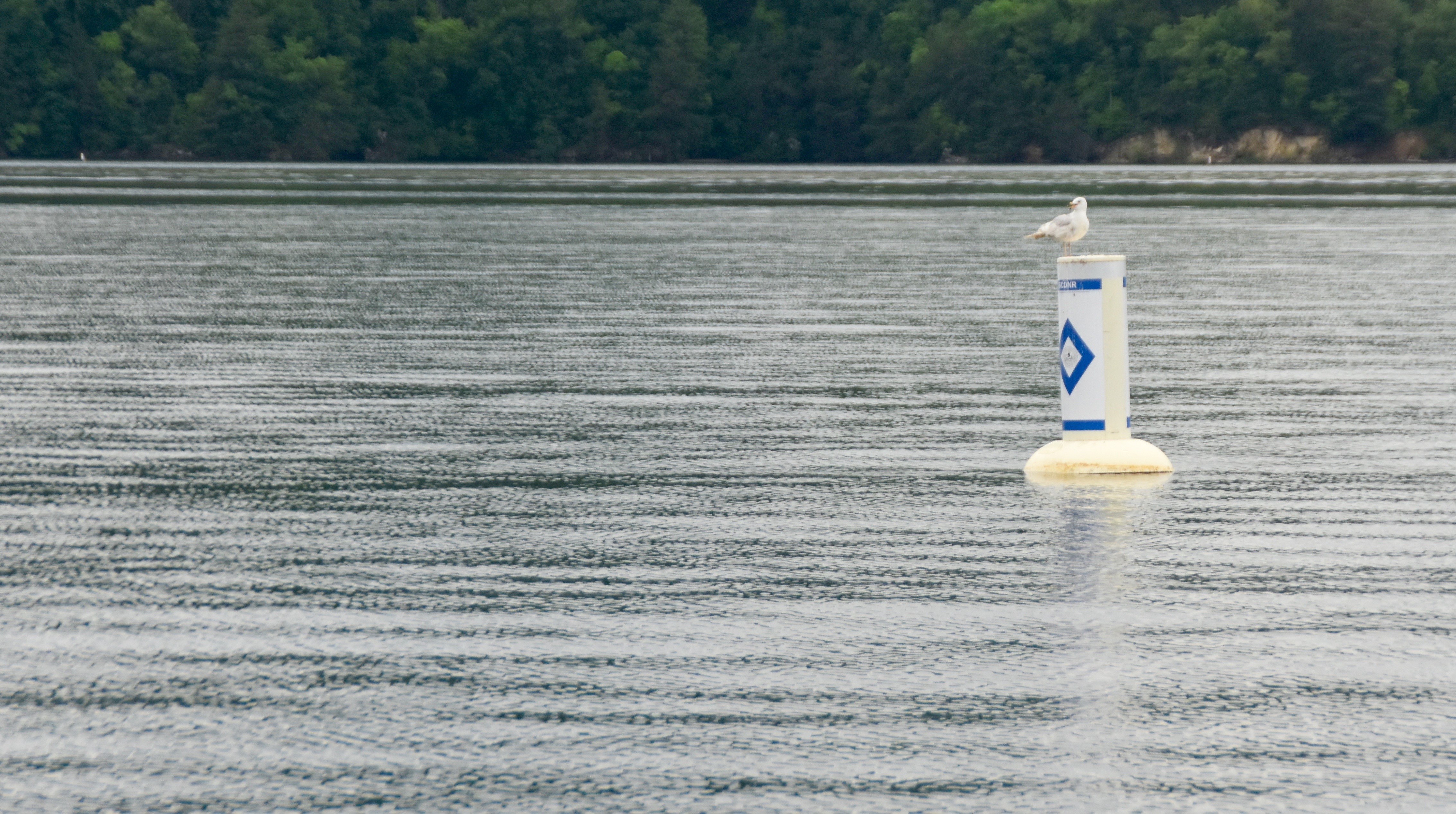 I'm not finished with Lake Jocassee, it features prominently in my #1 reason to visit Oconee County as it has a number of waterfalls that you will see on a tour of the lake. So, like General MacArthur, "I shall return", but until then, here's to beautiful Lake Jocassee.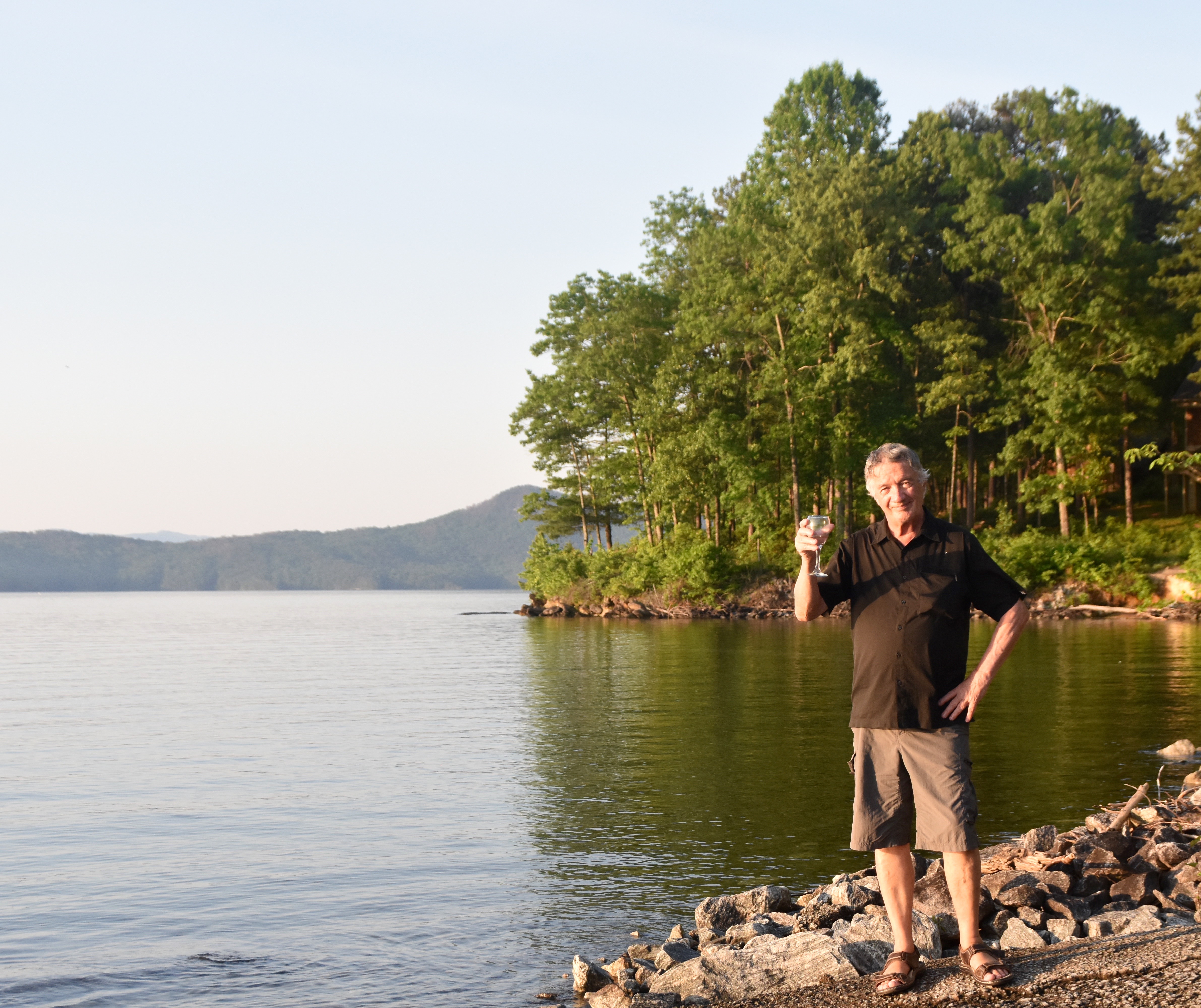 2. Whitewater Rafting on the Chattooga River
The Chattooga Wild and Scenic River is one of the last great untamed, i.e. undammed, rivers in the American southeast and, you guessed it, Oconee County is where you can access it for some absolutely mind-blowing whitewater rafting. I was so impressed with the rafting on the Chattooga that I wrote this post dedicated solely to a fantastic day we spent on the river with Wildwater Rafting  Have a look and you'll know why this is my second best reason to visit Oconee County. I'll add a few pictures as well.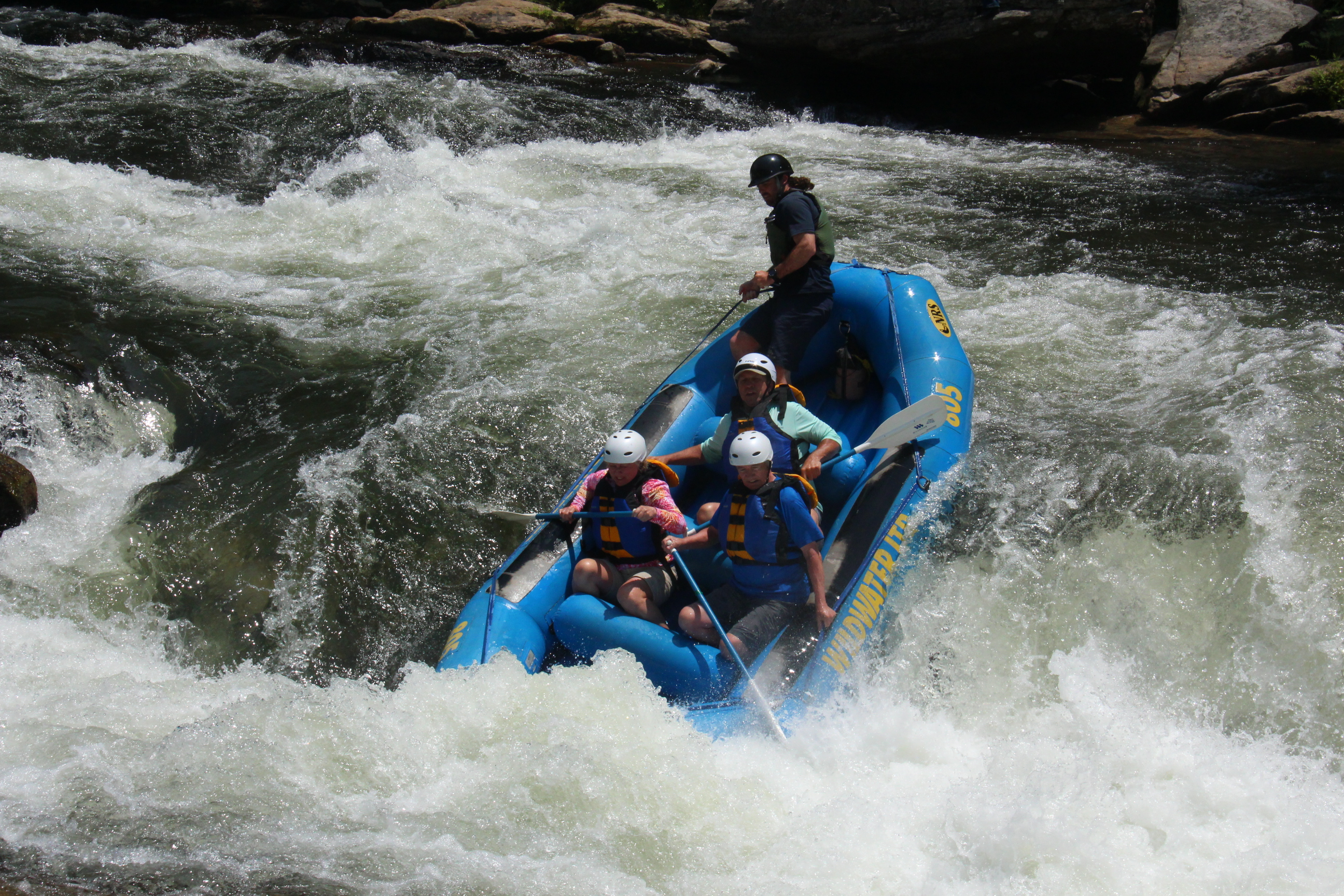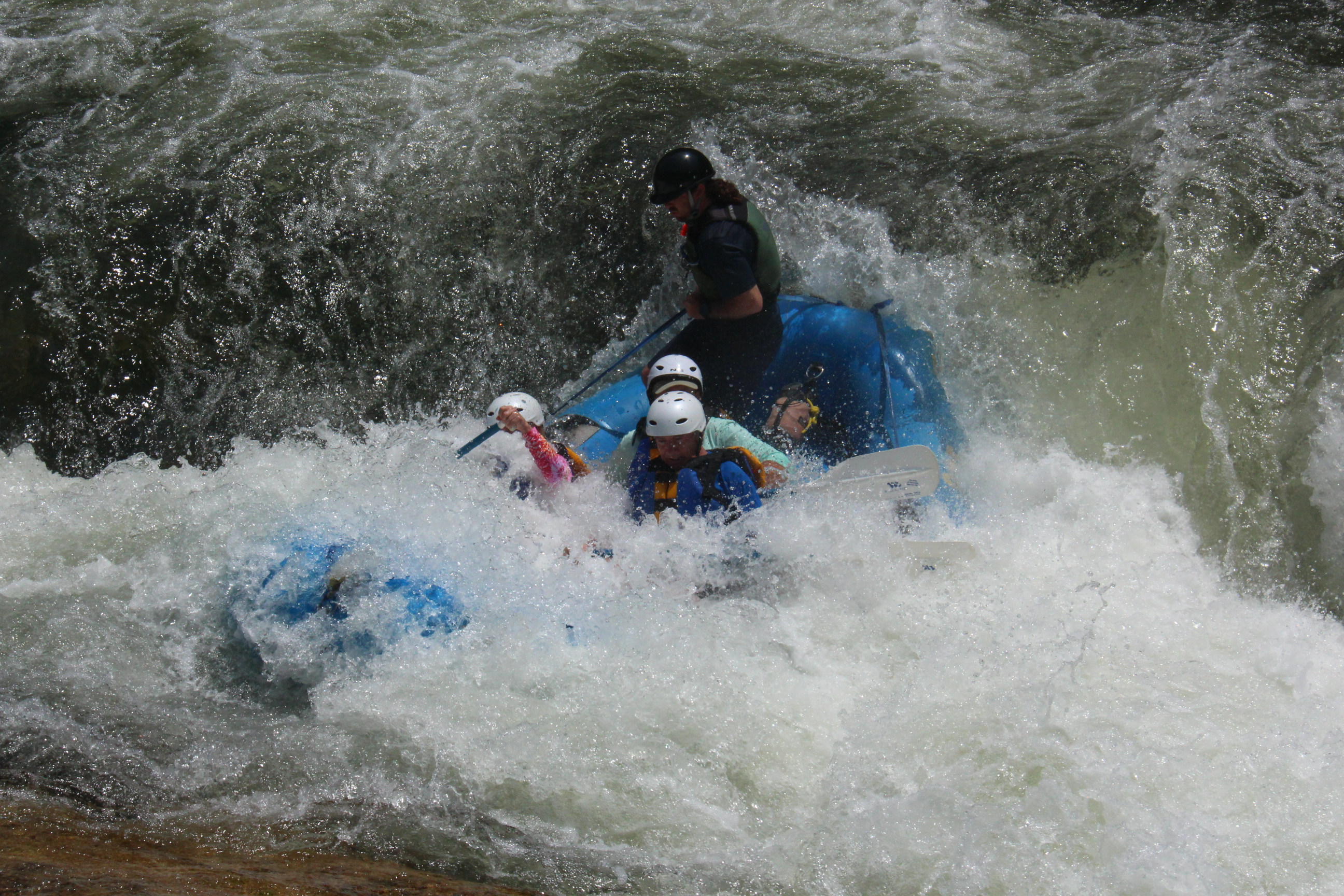 Oh, I almost forgot – it's where they filmed most of the river scenes in Deliverance so you can re-enact some of the most famous scenes in the movie, including Burt Reynolds swim through the rapids after breaking his leg.
1. The Waterfalls of Oconee County
If Madison County, Iowa is famous for its covered bridges, then Oconee County surely deserves to be know for its waterfalls. Click on this link to get more information on twenty-five waterfalls you can visit in the county. We were already familiar with one of them from our whitewater rafting adventure. Bull Sluice qualifies as something more akin to a waterfall than a big rapid, at least that's sure as hell the way it felt going over it.
During our three days in Oconee County we saw many waterfalls – some encountered after a short hike, others from a distant look off point and others on the shores of Lake Jocassee. Here are pictures and videos of just a few starting with one of the prettiest waterfalls I've ever seen. Issaqueena Falls is not the highest or largest in volume of the Oconee County waterfalls, but to to my mind it is hard to beat its sylvan beauty.
It is located almost adjacent to the Stumphouse Mountain Tunnel so after visiting there make sure to include Issaqueena Falls next. You can take an easy path to an overlook which looks down at the falls, but to really appreciate it you need to climb down a fairly slippery slope to get to the bottom where this picture was taken.
Here is a video which adds the sound of falling water to the portrait.

The next waterfall is definitely the most impressive and technically it's not in Oconee County, but just over the border in North Carolina, but since it drains into Lake Jocassee and is easier to get to from South Carolina than North Carolina, I'm including it as an Oconee attraction. This is Whitewater Falls, the highest waterfall on the eastern side of the Appalacians. If you click on the link you'll get a video of the waterfall. The viewing platform is reached by descending about 100 stairs on a path that starts in the parking lot and you can get pictures like this.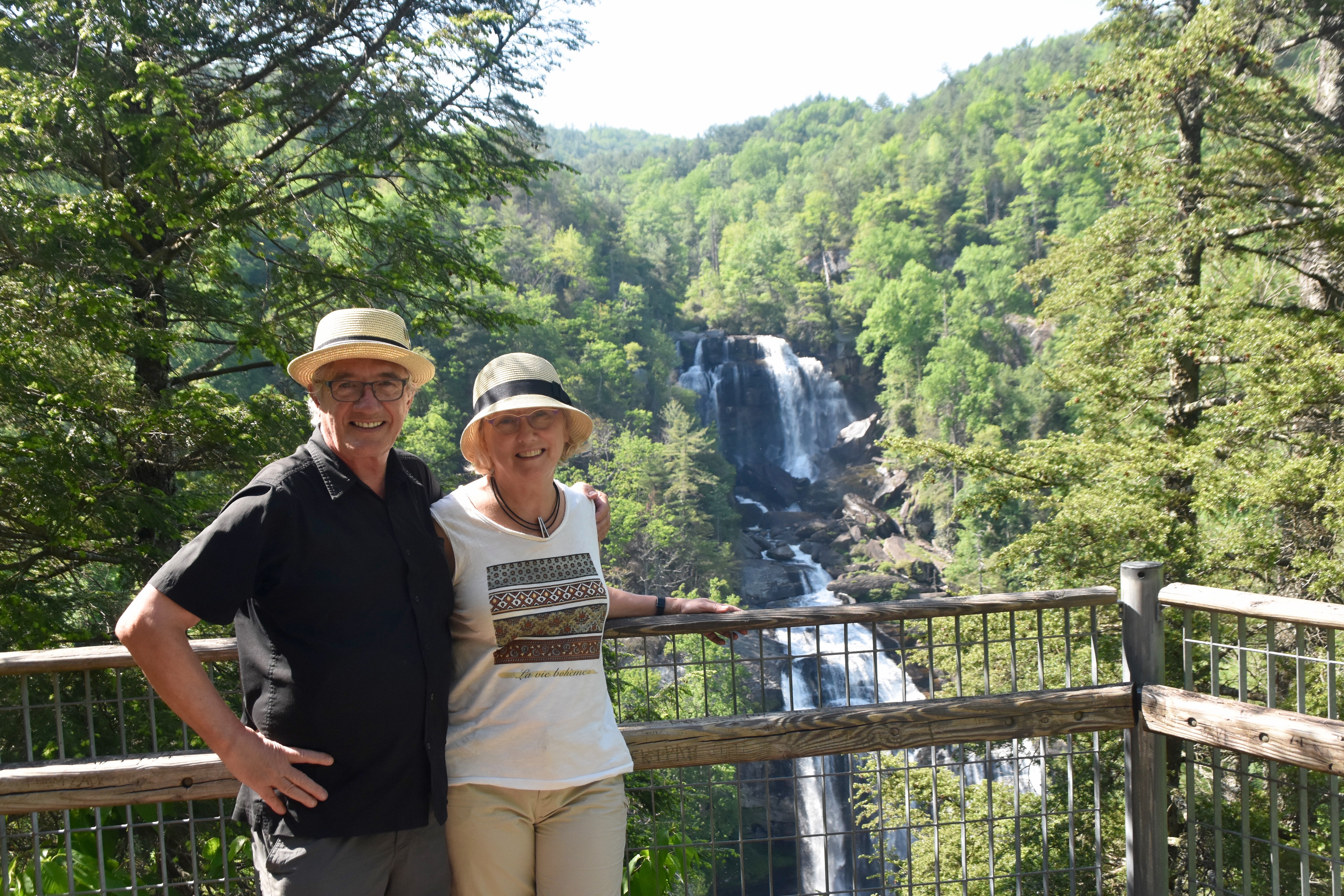 Or close up shots of Whitewater Falls.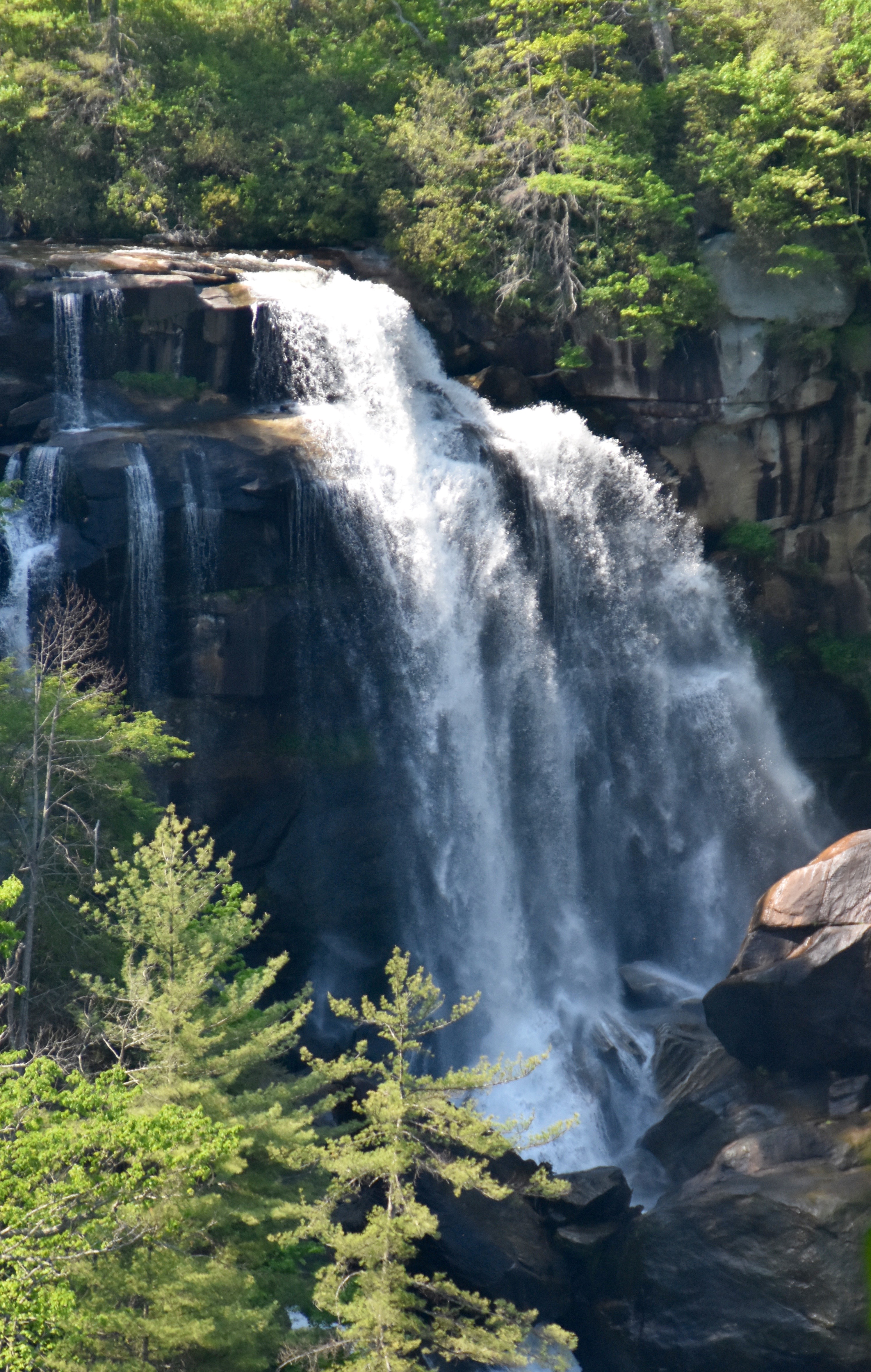 Or somewhere in between where you can appreciate the true size of these falls. Imagine how beautiful this would be in autumn.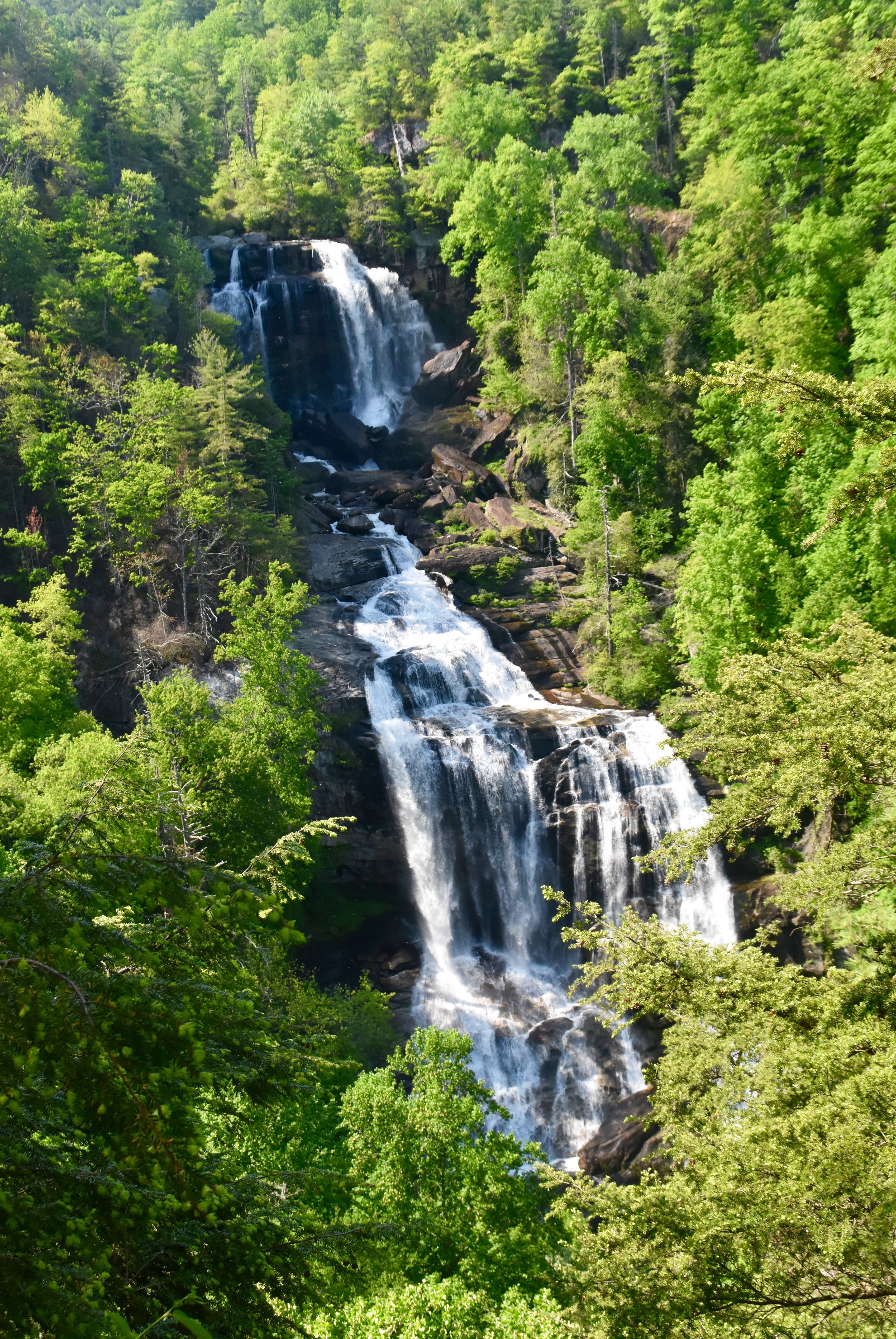 I could go on with more photos and videos, but I think if you look at the links above you can decide on your own which of the many Oconee County waterfalls you wish to visit. Just make sure you see at least a couple.
Well that rounds out my Oconee County top seven reasons to visit and I hope that I have convinced you to include it in your vacation plans in the near future.