Nine Mile River Trail – A Great Walk in the Woods
It's been a while since I've added a new hiking trail to my website, so today to mark yet another birthday, I'm glad to bring to you the Nine Mile River Trail in East Hants. This was a trail I knew nothing about until surfing the web looking for new places to hike. From the description on HalifaxTrails.ca it sounded like the perfect place to begin another year on earth – not too far from home (about 45 minutes) not too long or too short (10 kms. or 6 miles) and with lots of variety. However, the real selling point was the claim to have some old growth forest on part of its route. That turned out to be a bit of an exaggeration, although there were undoubtedly some very old hemlocks, certainly into their 200's. What was especially notable were the obvious signs that this trail is clearly beloved by the community. This was evidenced by the many small round painted stones placed at various places along the pathway. The fact that someone took the time to paint them in the first place and that no one has taken them proves that. We also met a three person work crew a good number of kilometres from the trailhead who had pushed a wheelbarrow full of gravel along the trail to get to their work spot. That's not something most people would opt to do on a beautiful Saturday morning.
Nine Mile River Trail – Getting There and What to Bring
While the web link I provided gives a good map of the three sections that make up the Nine Mile River Trail it does not provide directions as to how to get there. You can use this link to get directions from wherever you live. Suffice it to say that it is not far from the communities of Enfield and Elmsdale not far past the airport which means it is an easy to reach for anyone in the Halifax metro area.
The parking lot holds about twenty cars max and although there were a few there when we started out, by the time we returned, it was full. You definitely need hiking boots on the Nine Mile River Trail, especially if you are doing the entire length. There are a lot of tree roots to navigate and some muddy spots so flip flops are a definite non-starter. You should also bring lots of water, bug dope, sunscreen and a hat. Binoculars are a good idea as there are a lot of warblers, vireos and thrushes to be seen and identified. Count on spending about three hours on the trail as you will want to take pictures of the painted stones, the wildflowers and many other things.
The trail itself is shaped like a dumbell with a short loop on each end connected by the longest trail in between. The first loop on the Nine Mile River Trail is Pitcher Plant and if you only have a short time this is a great place to spend. This the most well maintained of the three sections and an easy walk for just about any age. Boardwalks cover any portions that are apt to be wet.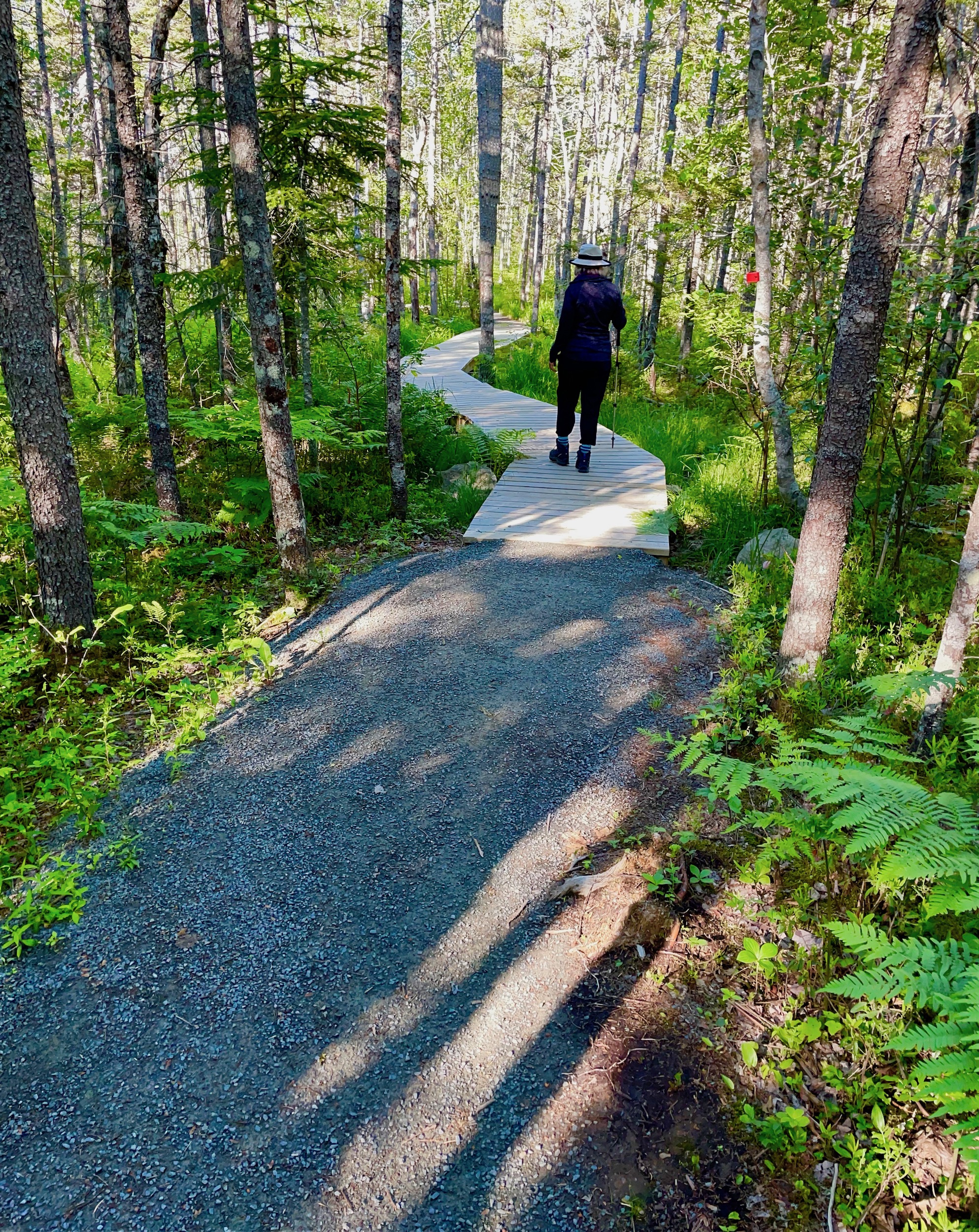 This is also the section where you will find most of the painted stones I mentioned earlier. I've created a gallery of the ones we saw today and I'm sure there will be more to come on future visits.
Another man made attraction are the wooden toadstools that you can literally use as a stool.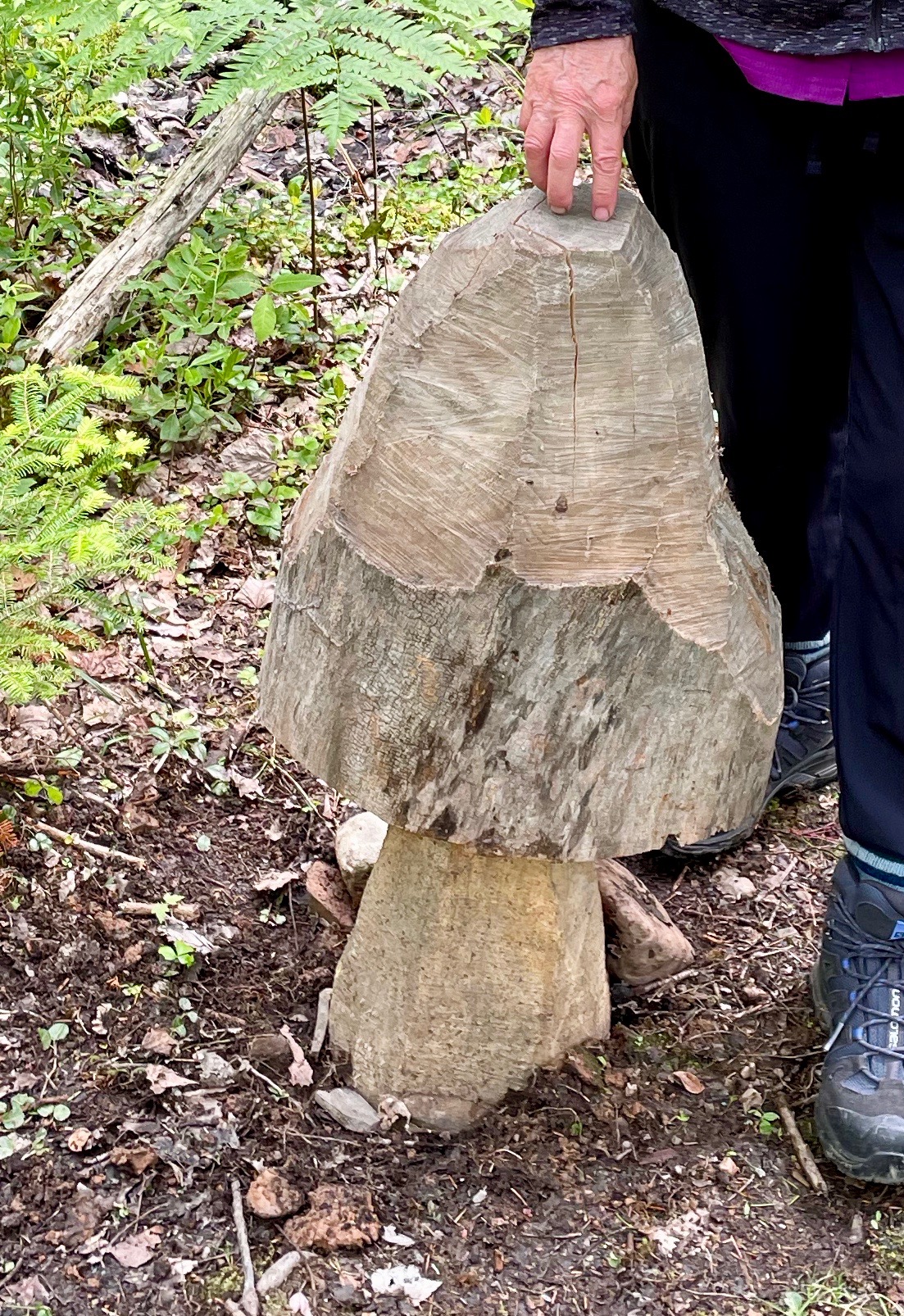 And this little Christmas tree at the entrance to the trail.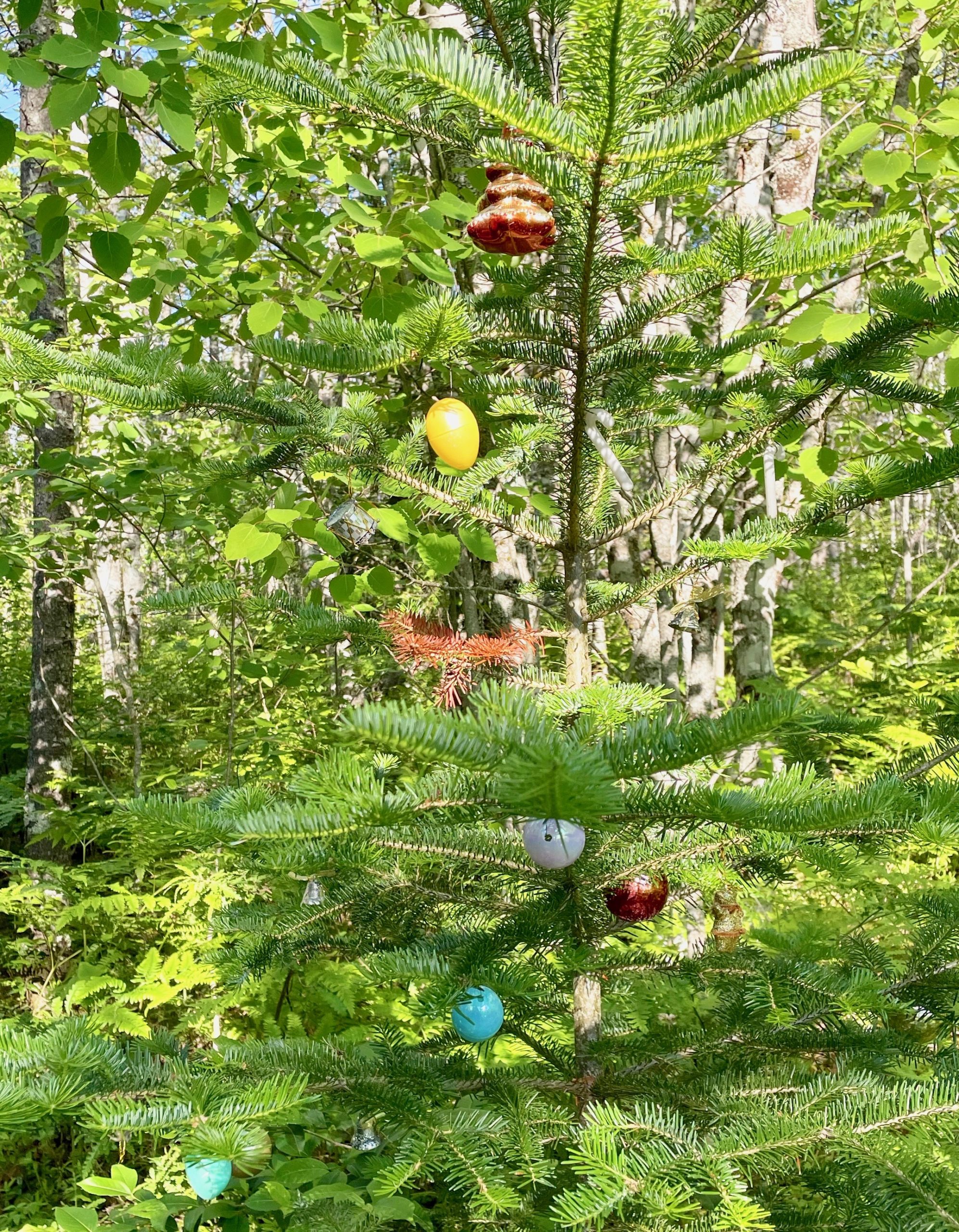 However, most people don't go on a nature walk to see man made creations, but to see what Mother Nature has produced. It is said that the colour green has a natural calming affect on most people and there is just about every shade of green imaginable on the Nine Mile River Trail. To appreciate them all you need to go farther afield than the Pitcher Plant section and head toward Comeau Lake on the section of the same name. This section is not as easy walking as Pitcher Plant with some muddy spots that are easily avoided and plenty of roots which are not. The rewards are worth it as this is what you'll see starting with a great variety of ferns.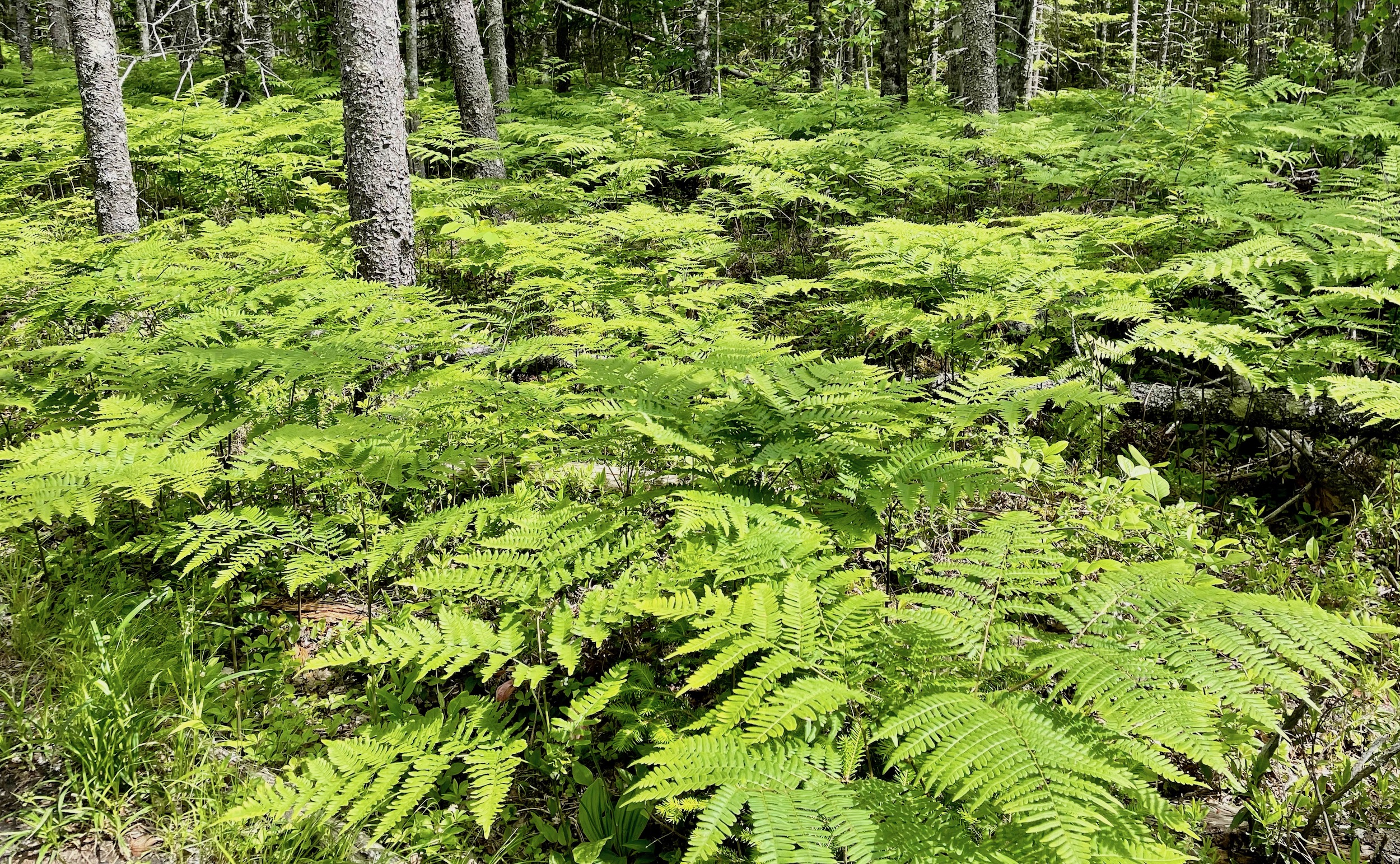 Then there are sections that are completely moss covered. You'll also note that the trees are well spaced so that this is not what you would call 'dense' bush, but rather a forest where you can see the trees (pun intended).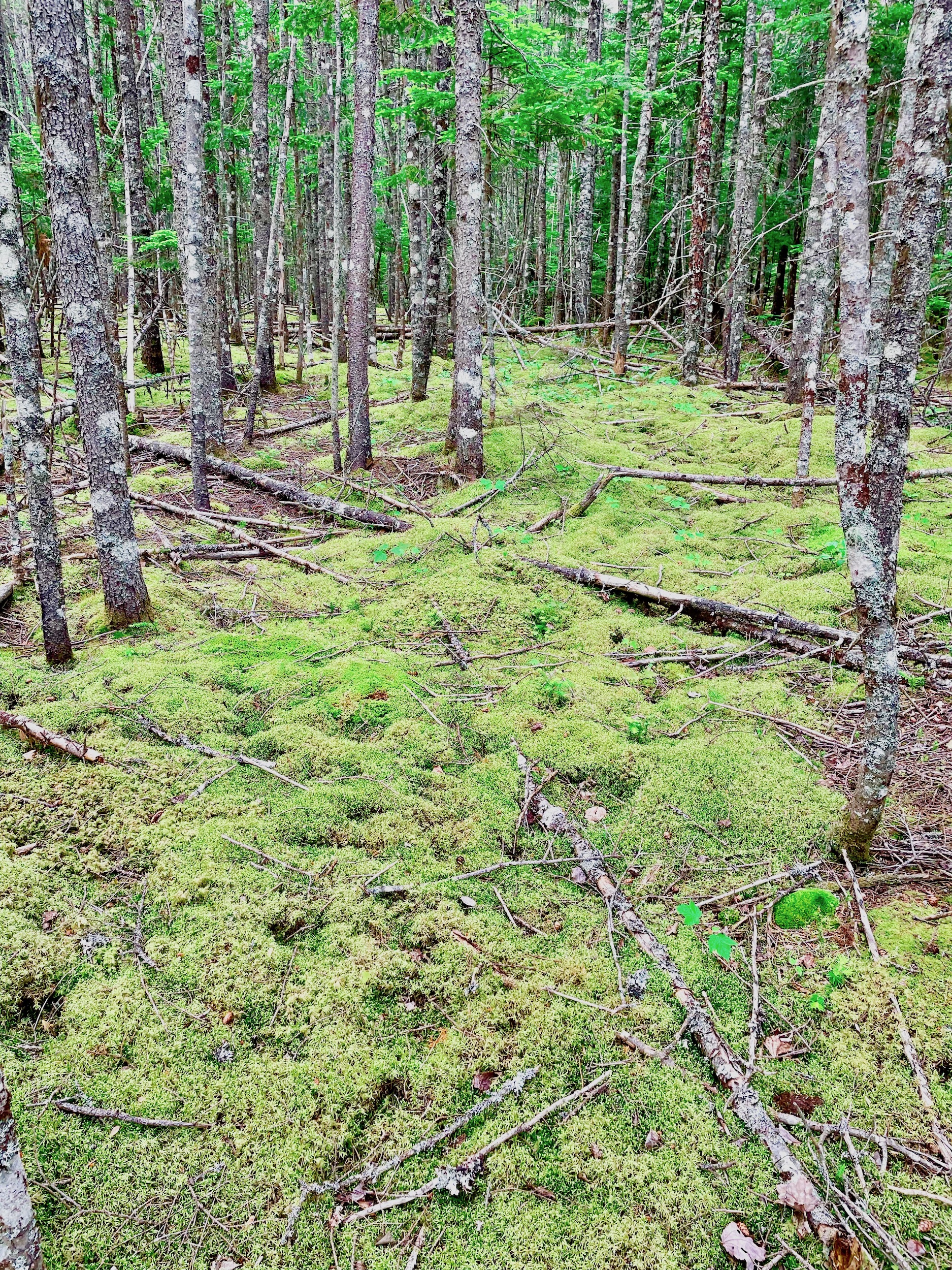 There is one section that is the epitome of what I think of as a bog. What's interesting is that each of these differing ecosystems has its own type of trees, shrubs, flowers and wildlife.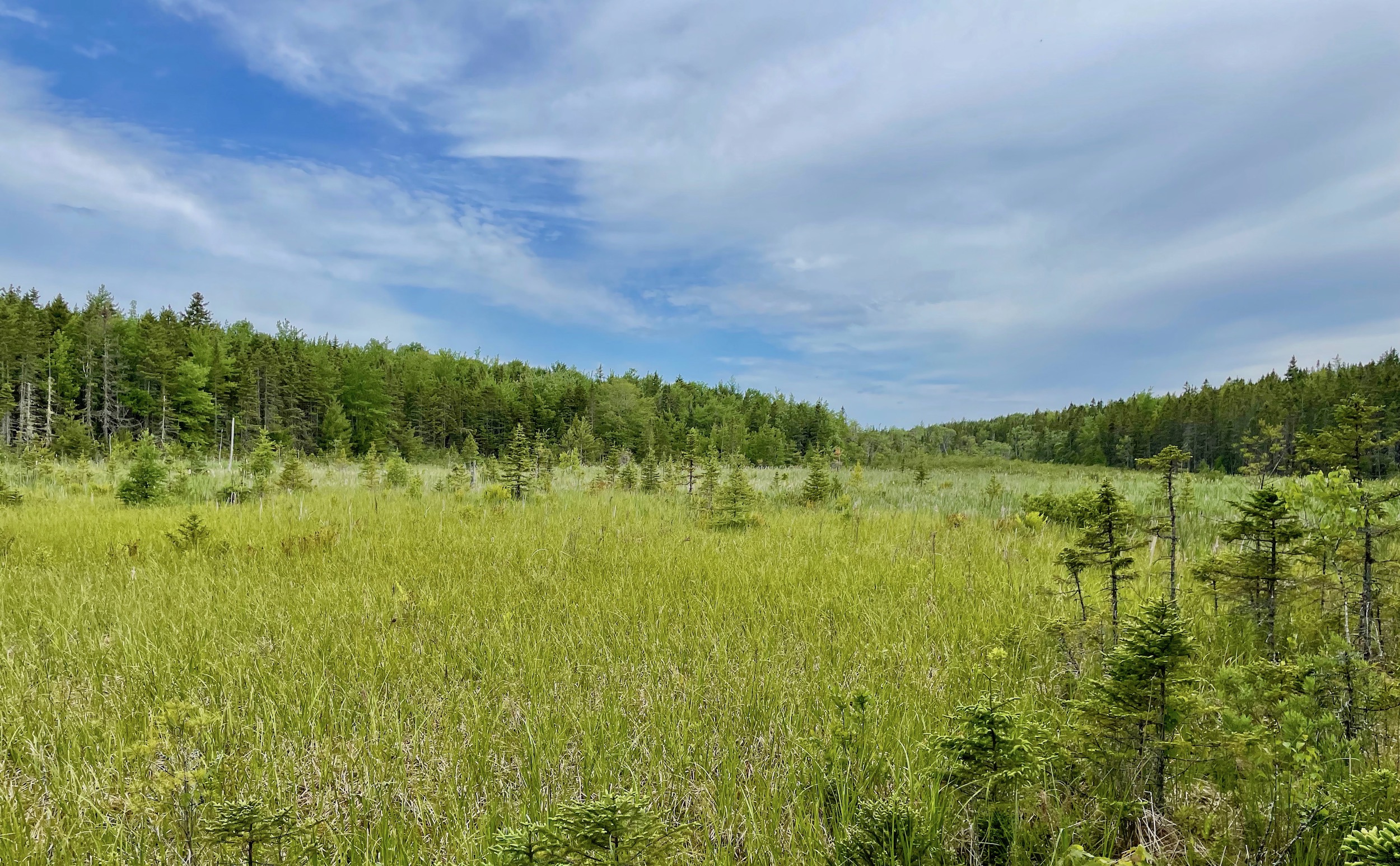 Once you get to the end of the Lake Comeau trail you do get a view of the lake. There is also a trail map here showing two additional sections that are planned for the Nine Mile River Trail.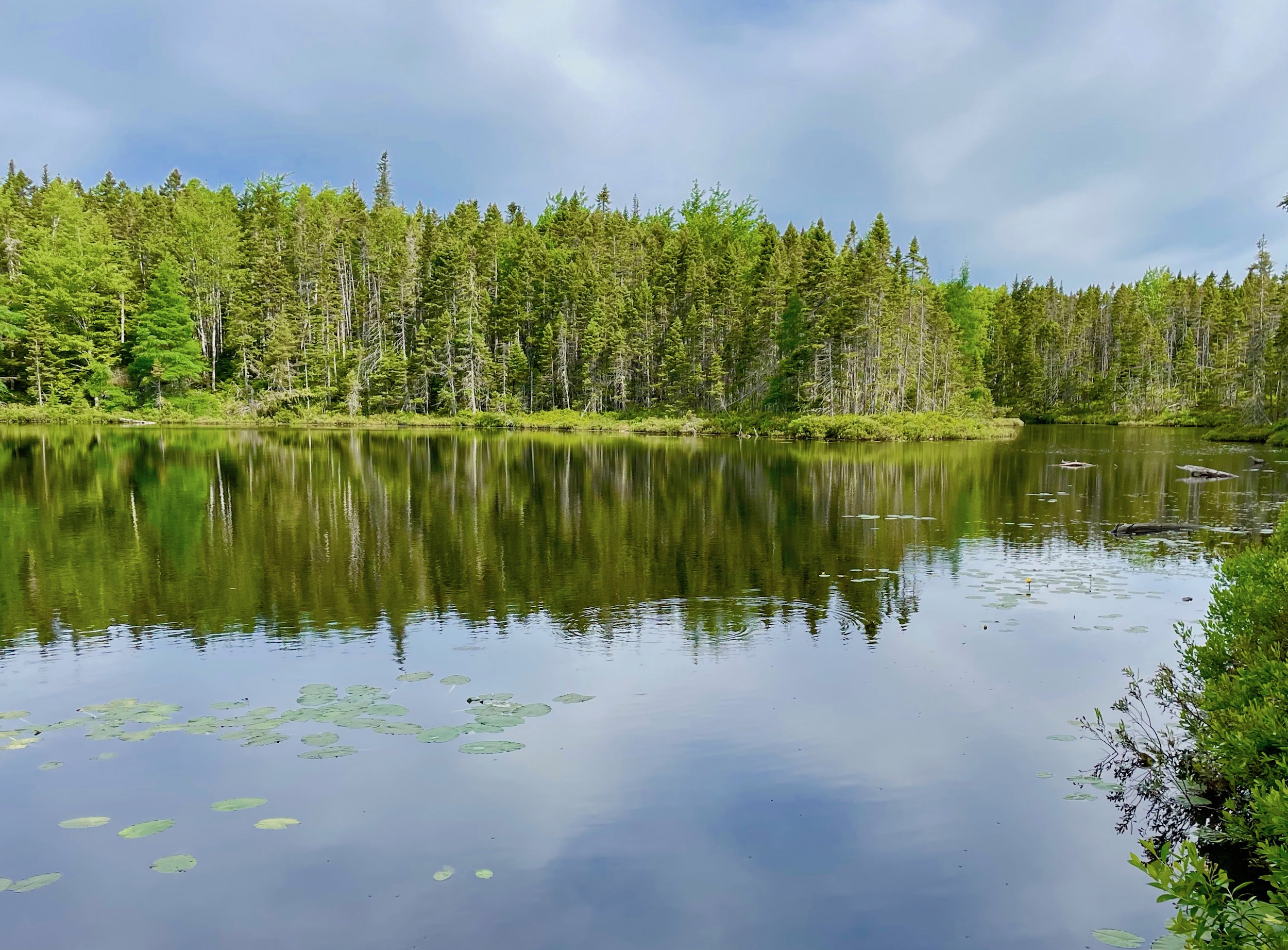 At this stage you can opt to return to the trailhead or continue on with the Hemlock Cathedral section which is the least maintained and offers the most challenge. This is where you will find the largest and oldest trees on the trail. However, if you have been on the Hemlocks and Hardwoods trail in Keji you might be a bit disappointed as the trees on the Nine Mile River Trail are nowhere near as grand as those in Keji. Mind you there are more than enough other features on this trail system to rate it as a must hike destination in Nova Scotia and I'm saving the best for last.
The wildflowers here in the late spring are magnificent. That most beautiful of all Maritime orchids, the pink lady slipper is found in abundance.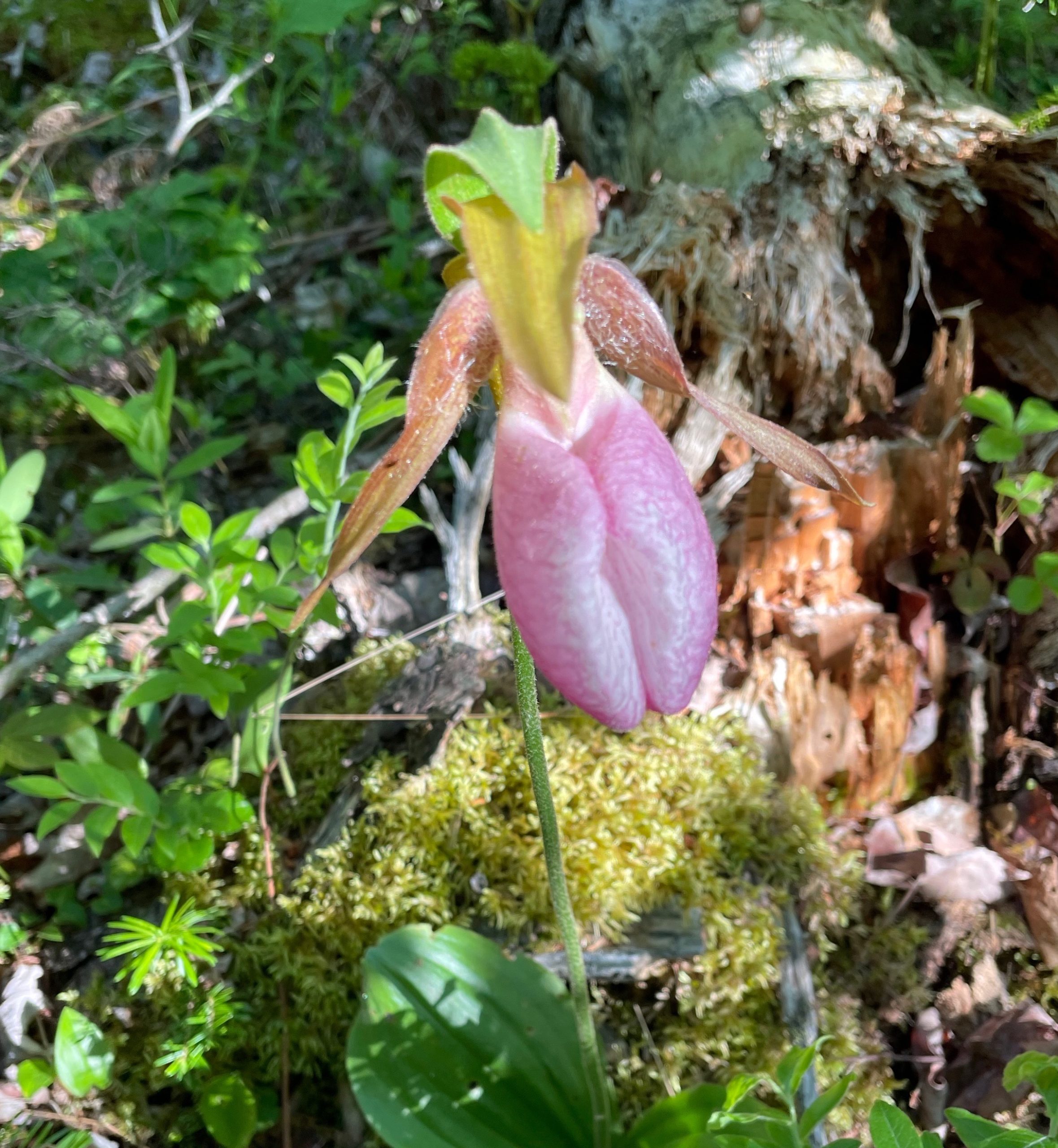 While there is purportedly no such thing as a white lady slipper, someone forgot to tell that to these two plants.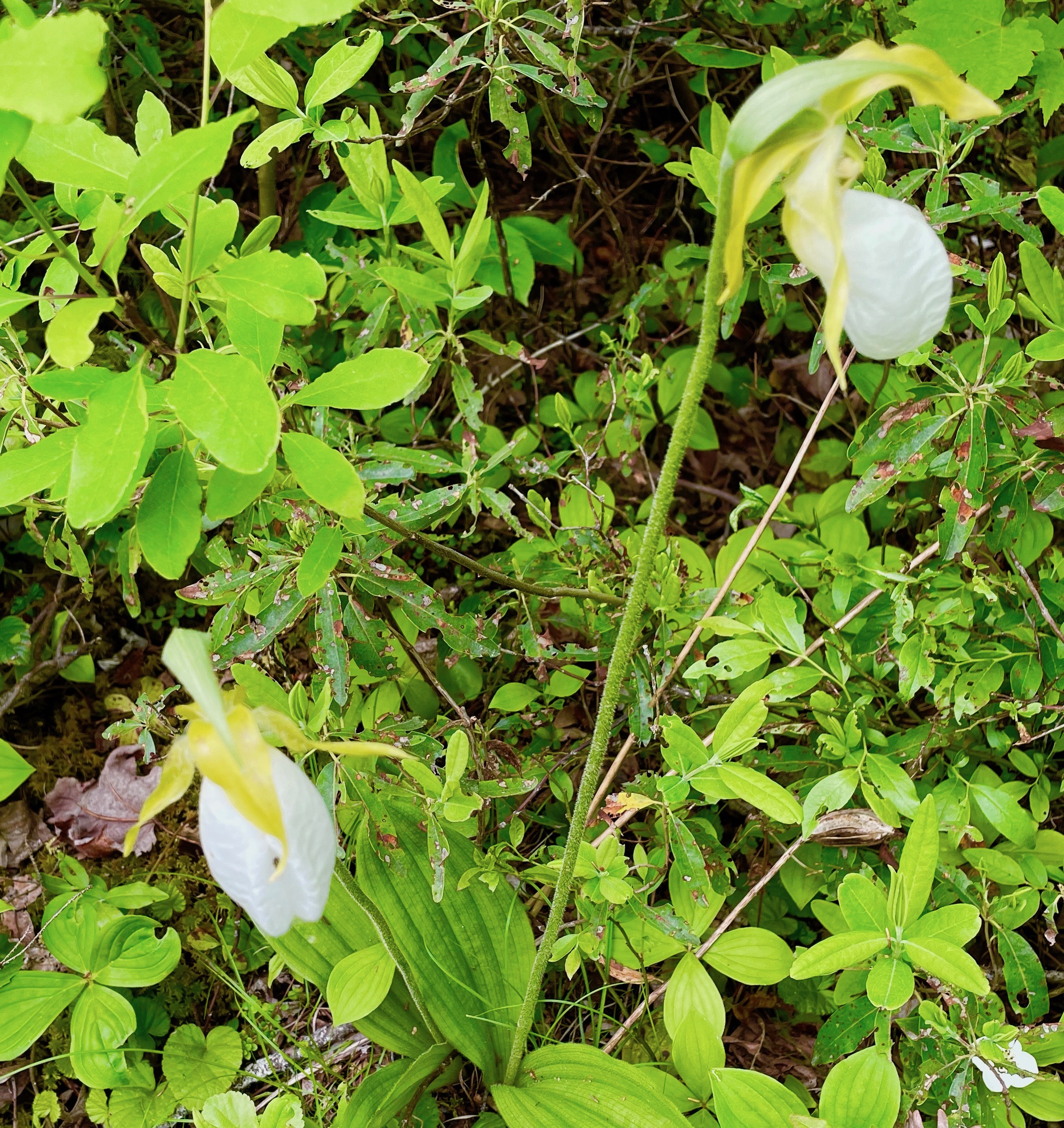 I've never seen white lady slippers before and suspect that these are albinos. Albinism does in fact occur in plants as well as animals and are caused by genetic mutation. Sometimes the natural chemicals in the soil can cause a flower to be much lighter coloured than usual, but looking at a close up, I think these ones were truly white and thus albino.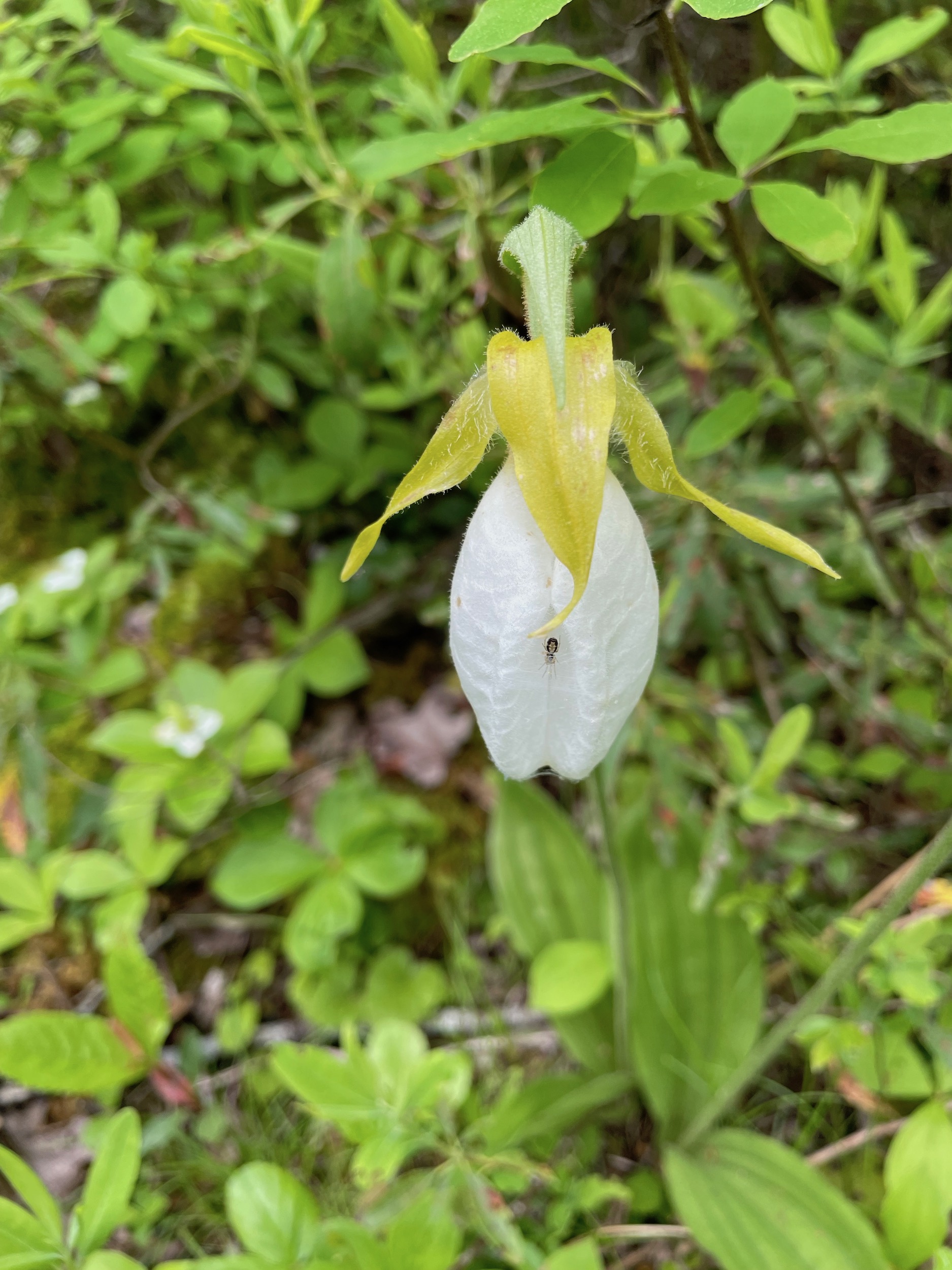 I won't dwell any longer on the flowers as you will want to see them in person, but will end with this lovely grass pink which is another of our native orchids. And you thought you had to go to the Amazon to see real orchids. We actually have forty species in Nova Scotia.
I hope this posts inspires you to get out to the Nine Mile River Trail on the next sunny day, but get there early as it's liable to be well trodden later in the day.
If you are looking for more outdoor adventure in the metro area consider visiting the Blue Mountain-Birch Cove Wilderness Area which is literally a stone's throw from Bayer's Lake.