Gros Morne Mountain – To Climb or Not to Climb
In the last post I described the reasons why the Tablelands is a must visit site in Gros Morne National Park. In this post I will discuss the pros and cons of tackling another famous landmark in the park, Gros Morne Mountain. However, before we leave the south side of Bonne Bay there are two more stops I highly recommend, the Eastern Point hiking trail in Trout River and having lunch or dinner at the Seaside Restaurant, also in Trout River. Please join Alison and I on another day of exploring western Newfoundland.
Eastern Point Hiking Trail
Aside from the Lookout Hills and Tablelands trails which I have already described, there are several other worthy hikes in this section of Gros Morne National Park. The Trout River Pond Trail follows the north shoreline of Trout River Pond and provides a back entrance to the Tablelands. The Green Gardens Trail follows a 4.5 km. (2.8 miles) path that descends almost 280 metres (918 feet) to the ocean in a beautiful part of the park where locals still keep livestock. Both of these trails should be hiked at some point if you are able to make multiple visits to Gros Morne, but each requires at least a half day commitment and in the case of Green Gardens, the ascent back up from the ocean can be very demanding. However, if you are intent on seeing the rugged coastline in this area there is an alternative.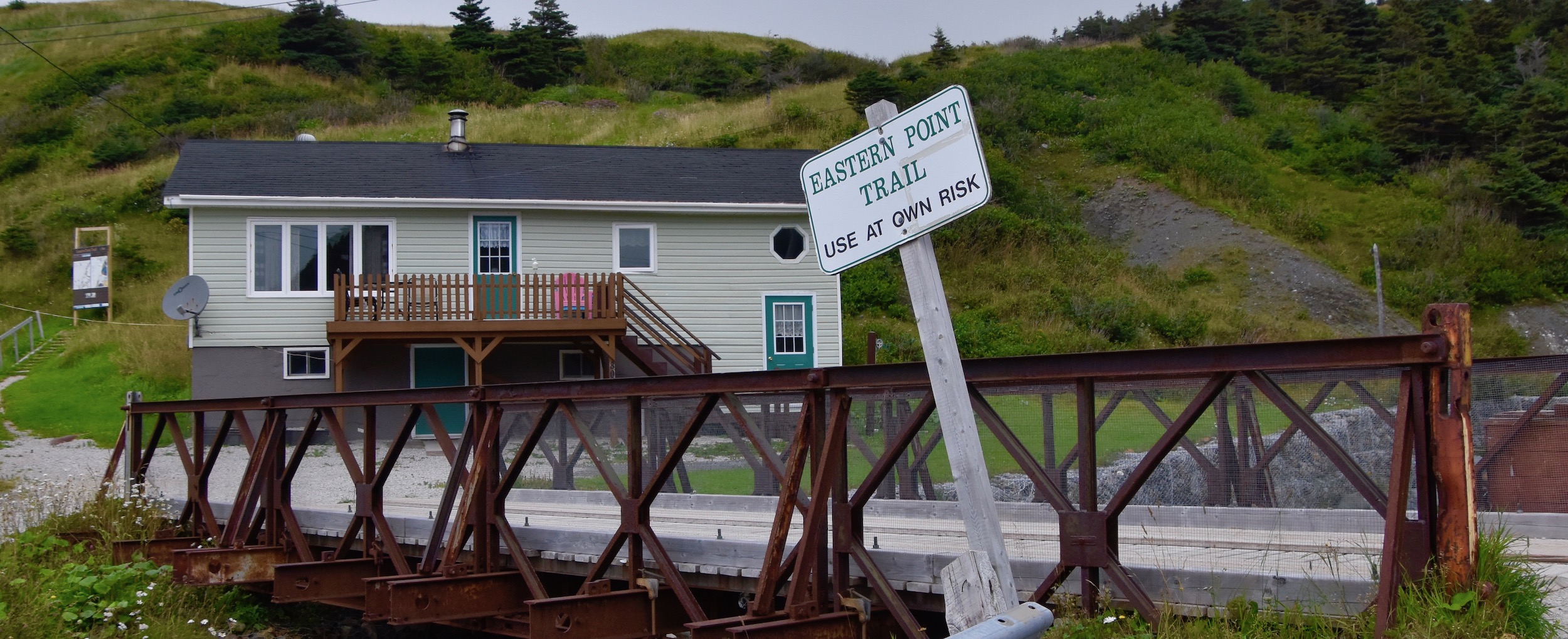 This trail was actually recommended to us by a Parks Canada employee in the Discovery Centre even though it is technically not inside the park boundaries. We thank her for that because it is a great, but not overly long or taxing hike through some dramatic landscape.
The Eastern Point trail starts right in the community of Trout River at this bridge which is just off Main Street. The difficult part is right off the bat as you need to climb a series of steps to get up to the top of the cliffs along which much of the trail follows. As you can see, once you get to the top the terrain is pretty gentle.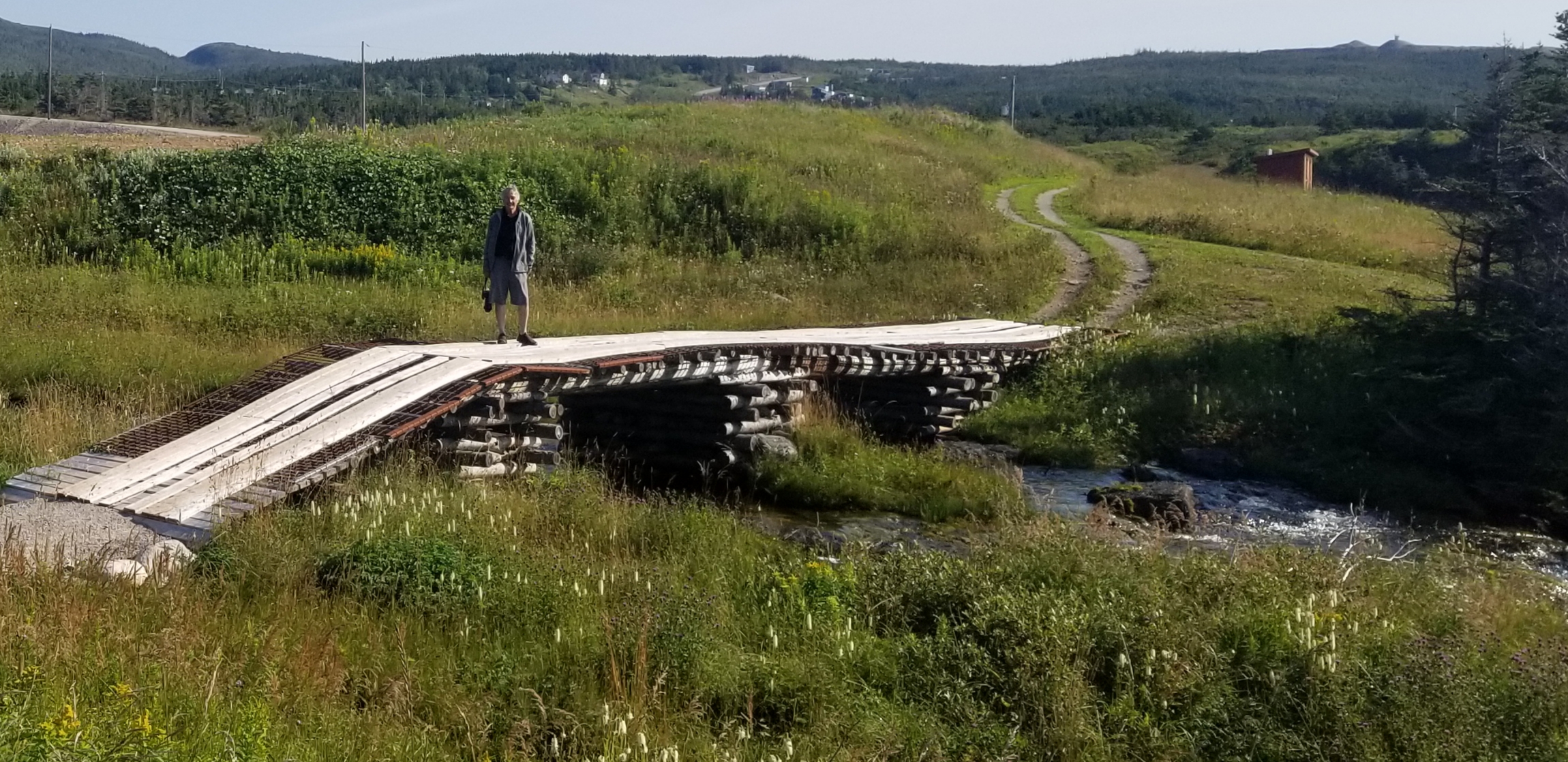 There are a couple of things that make this trail worth hiking. The first are a number of coastal formations like this sea stock.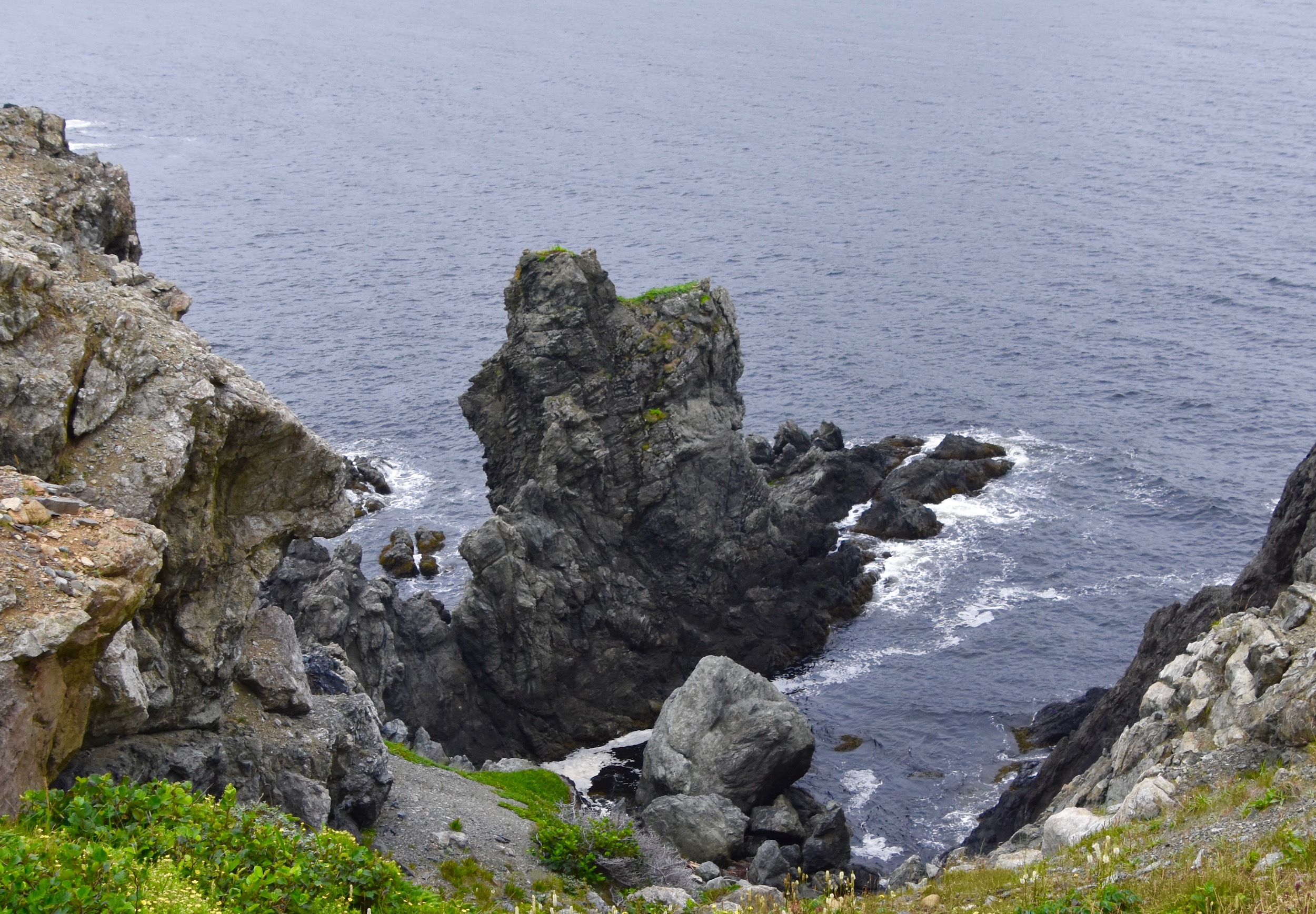 Or views like this. There are places where the trail comes quite close to the cliff edges like from where this photo was taken, that might bother some people, but there are detours to avoid the scariest sections.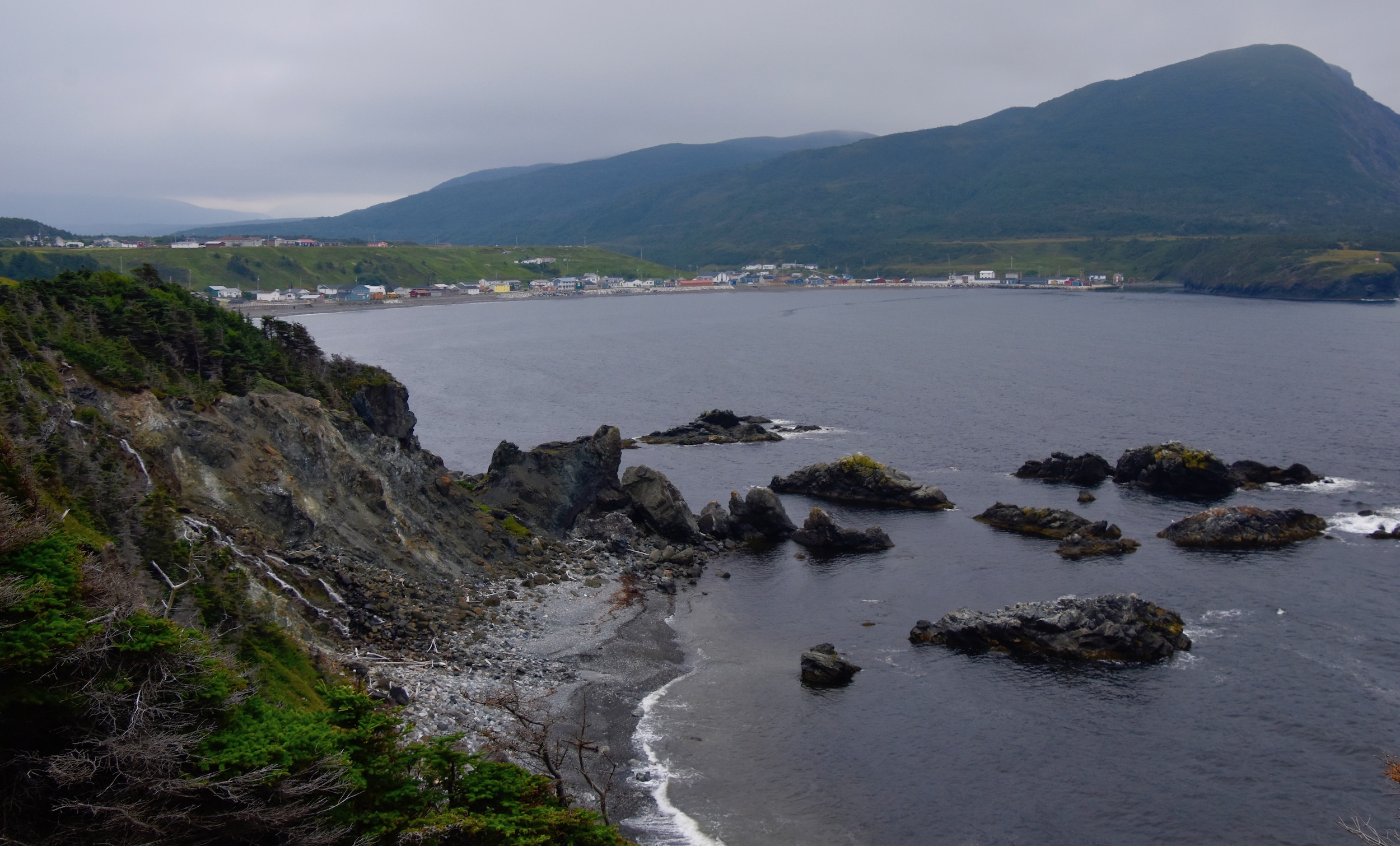 This is the view of Trout River from the top of the stairs.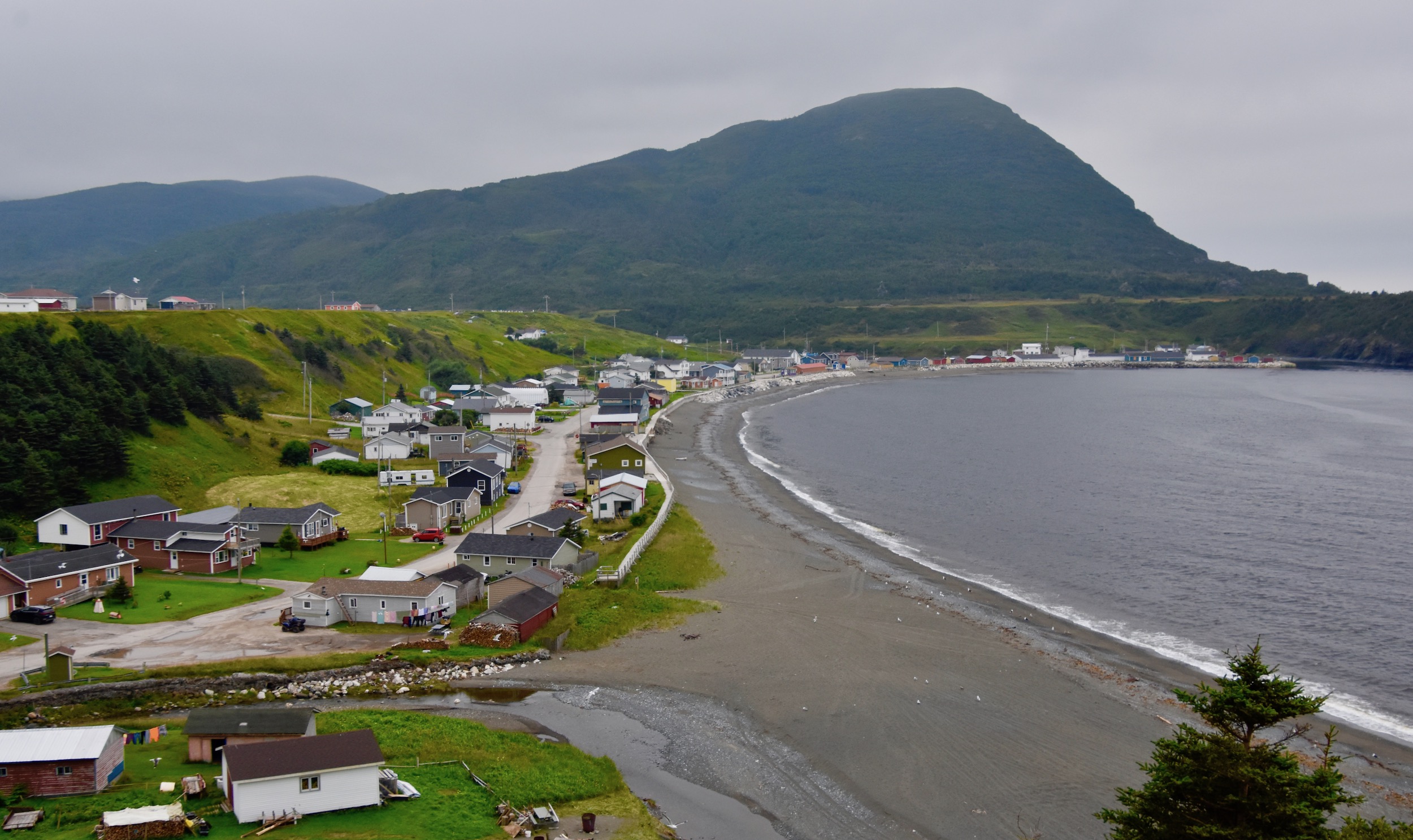 And from a bench a little further on.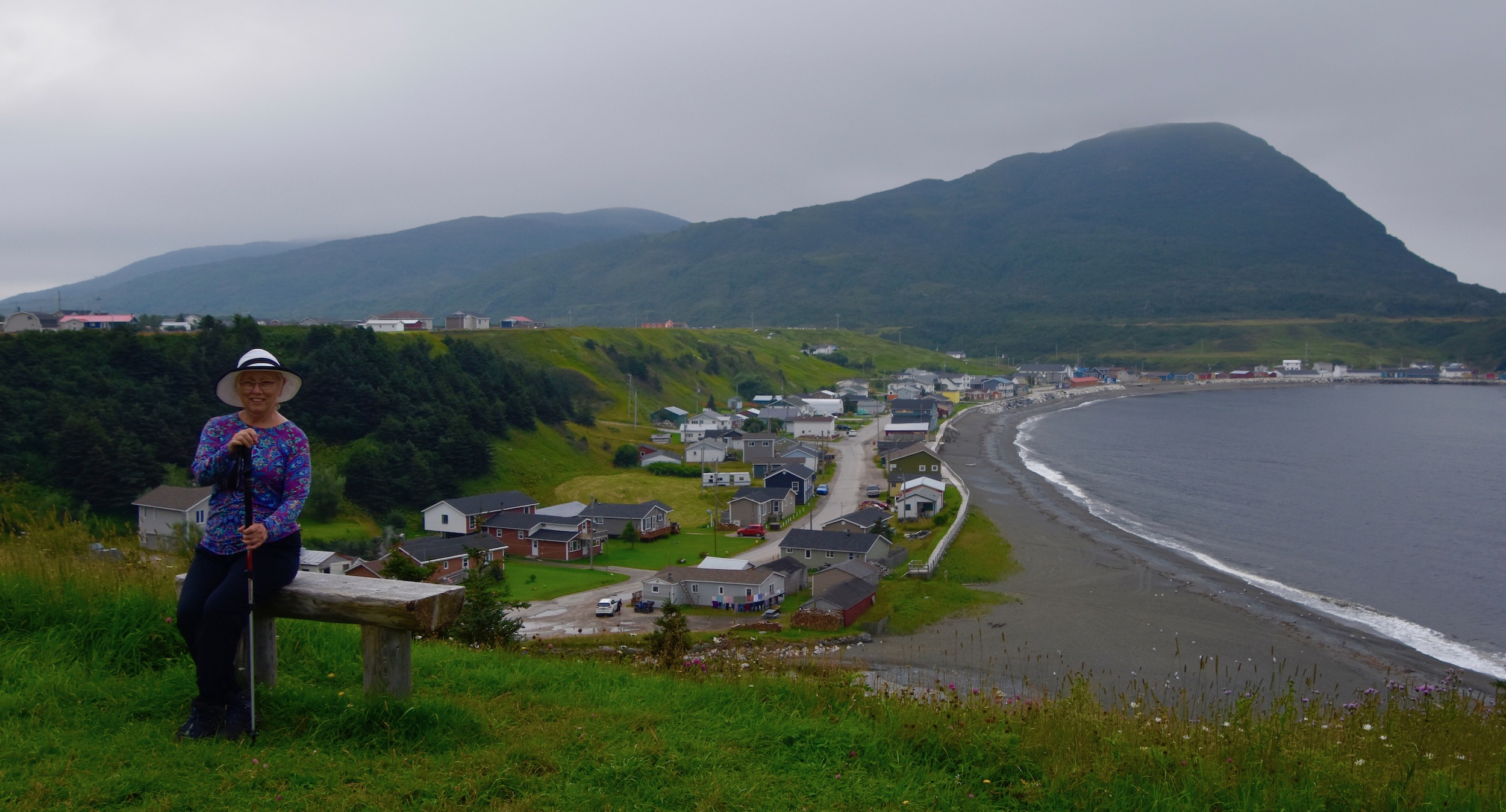 Finally, further along and much higher up is this grand view from what I assume is Eastern Point. This is a great vantage point from which to search for whales, seals and seabirds.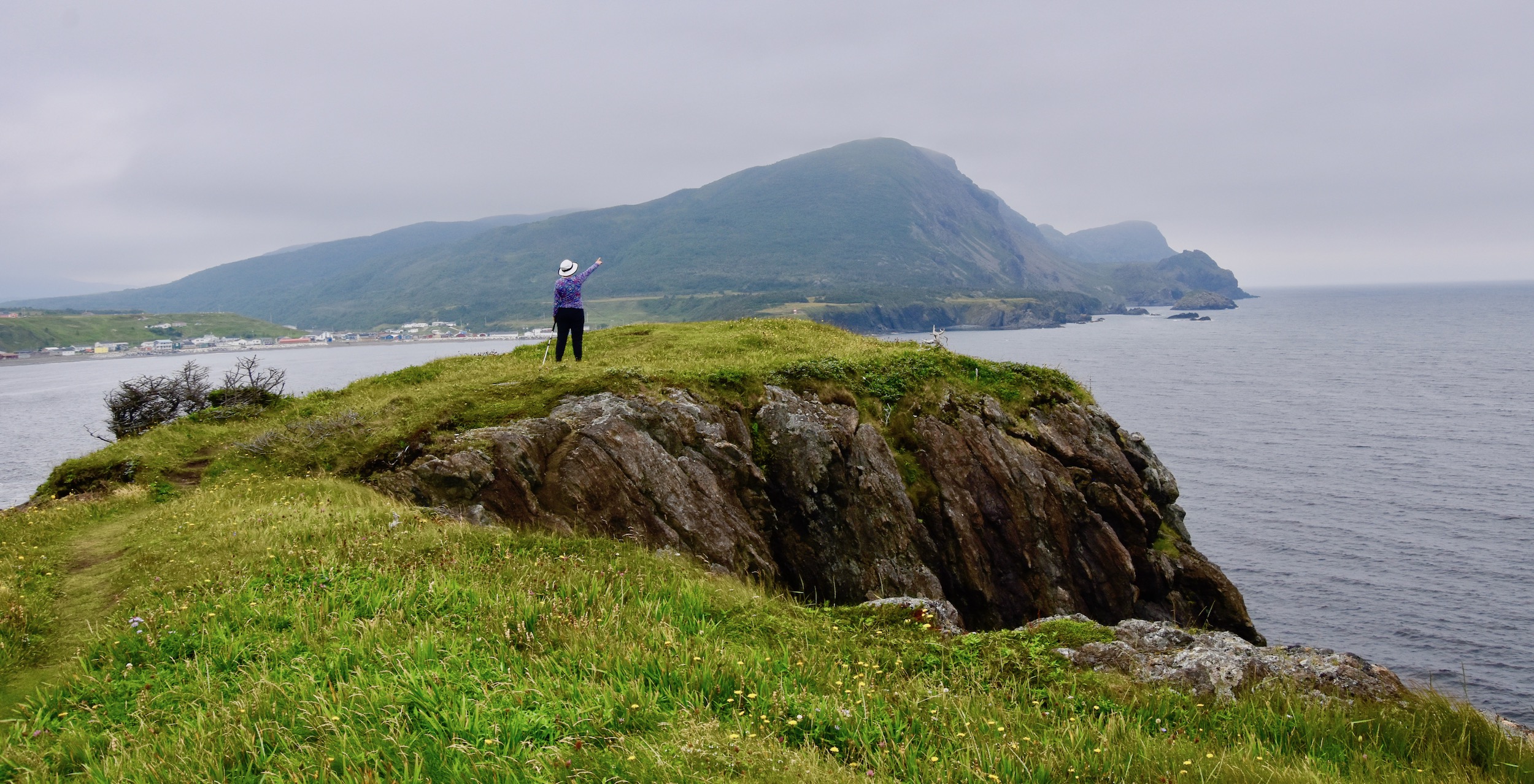 Seaside Restaurant
There's probably a thousand Seaside Restaurants around the world and the one in Trout River truly lives up to its name. It has a great location on Main Street with only the town boardwalk separating it from the sea. It may be as famous for its sunsets as its seafood. BTW after or before eating here be sure to walk the length of the boardwalk.
A family run operation since 1981 the Seaside Restaurant has garnered many accolades for both the quality and variety of its seafood offerings. Whenever we get to Gros Morne we make a point of eating here at least once.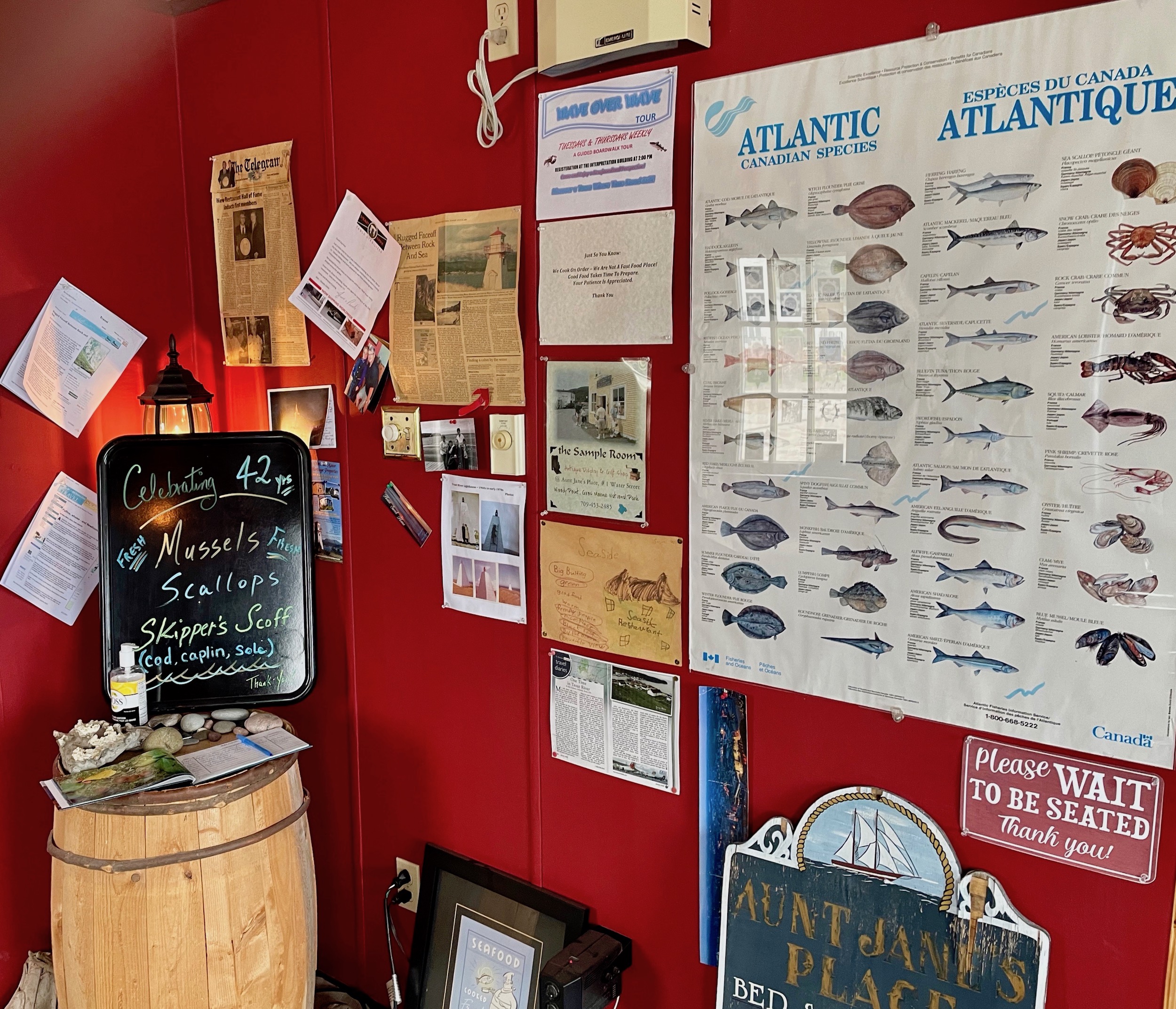 There are items on the menu here that you rarely see like caplin, turbot, sole and snow crab along with every variety of shellfish harvested in Newfoundland. Of course, cod, halibut and seafood chowder are always popular. Today I opted for solomon gundy which was a special appetizer and the fish burger which is always great. An Iceberg beer was the perfect Newfoundland beverage accompaniment.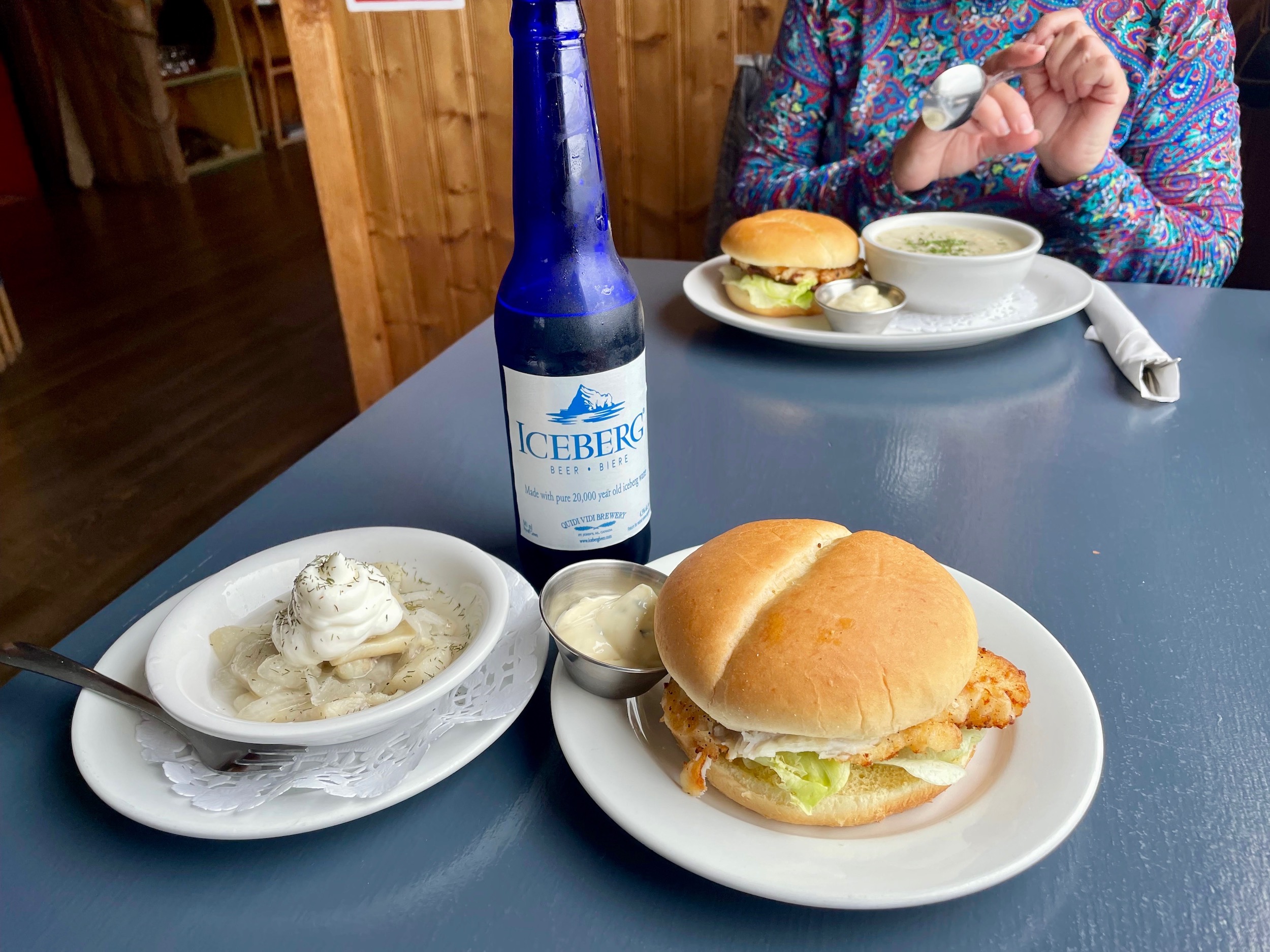 Alison also opted for a fish burger, but with the seafood chowder as the side.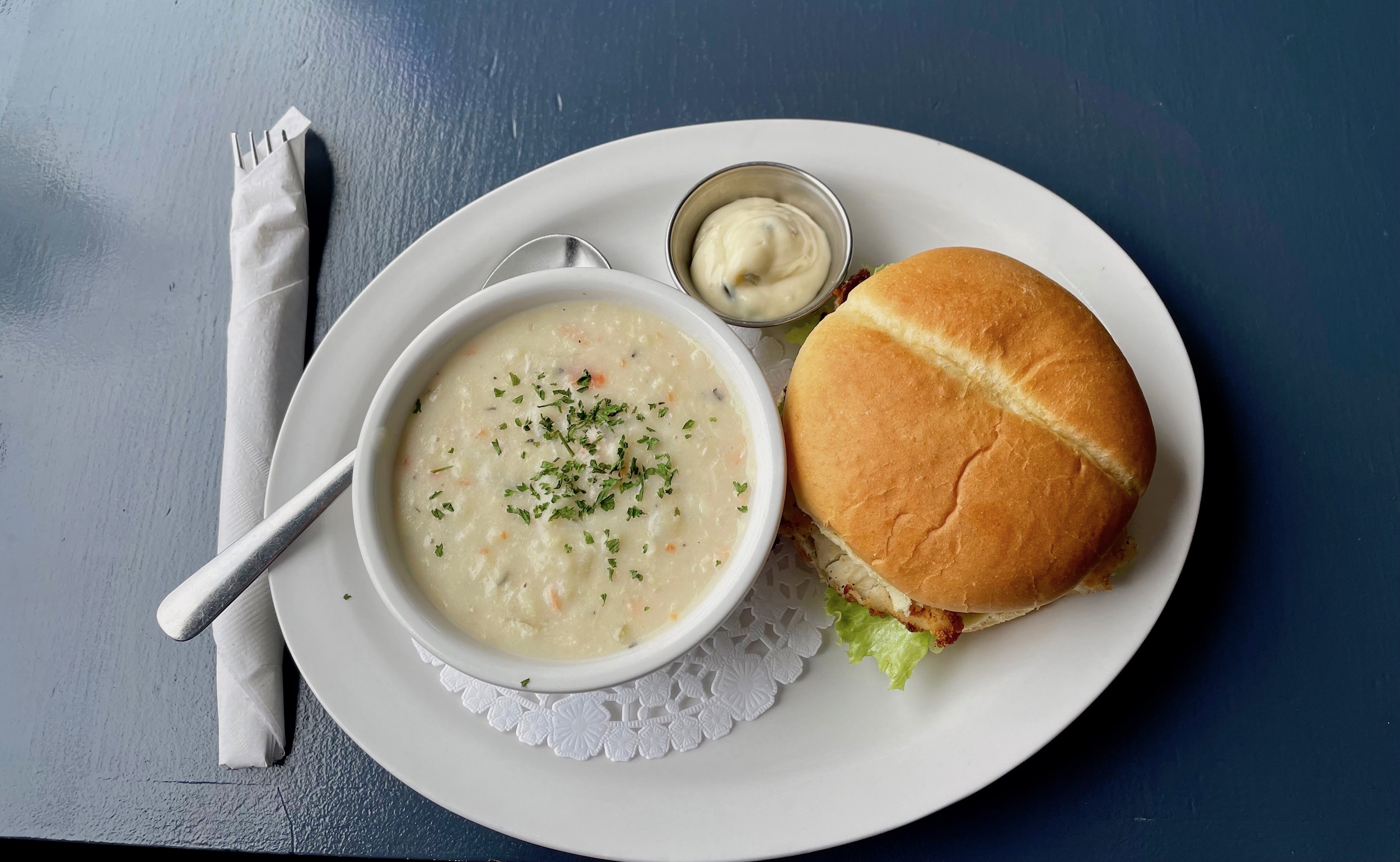 With our bellies full we walked back to the car and headed for Gros Morne Mountain.
To get to the north side of Bonne Bay and Gros Morne Mountain you need to retrace your route as far as Wiltondale and rejoin the Viking Trail which we will be following to its tip at St. Anthony. From Wiltondale the highway re-enters the park and traverses the Southeast Hills to the reach the farthest extent of Bonne Bay East Arm. This is one of the most spectacular portions of the park. We recommend one short stop just before you reach the sea again. The trail to Southeast Brook Falls is only 700 metres (.5 miles) return and comes out at the top of the waterfall. It is a mostly downhill ascent through this balsam forest.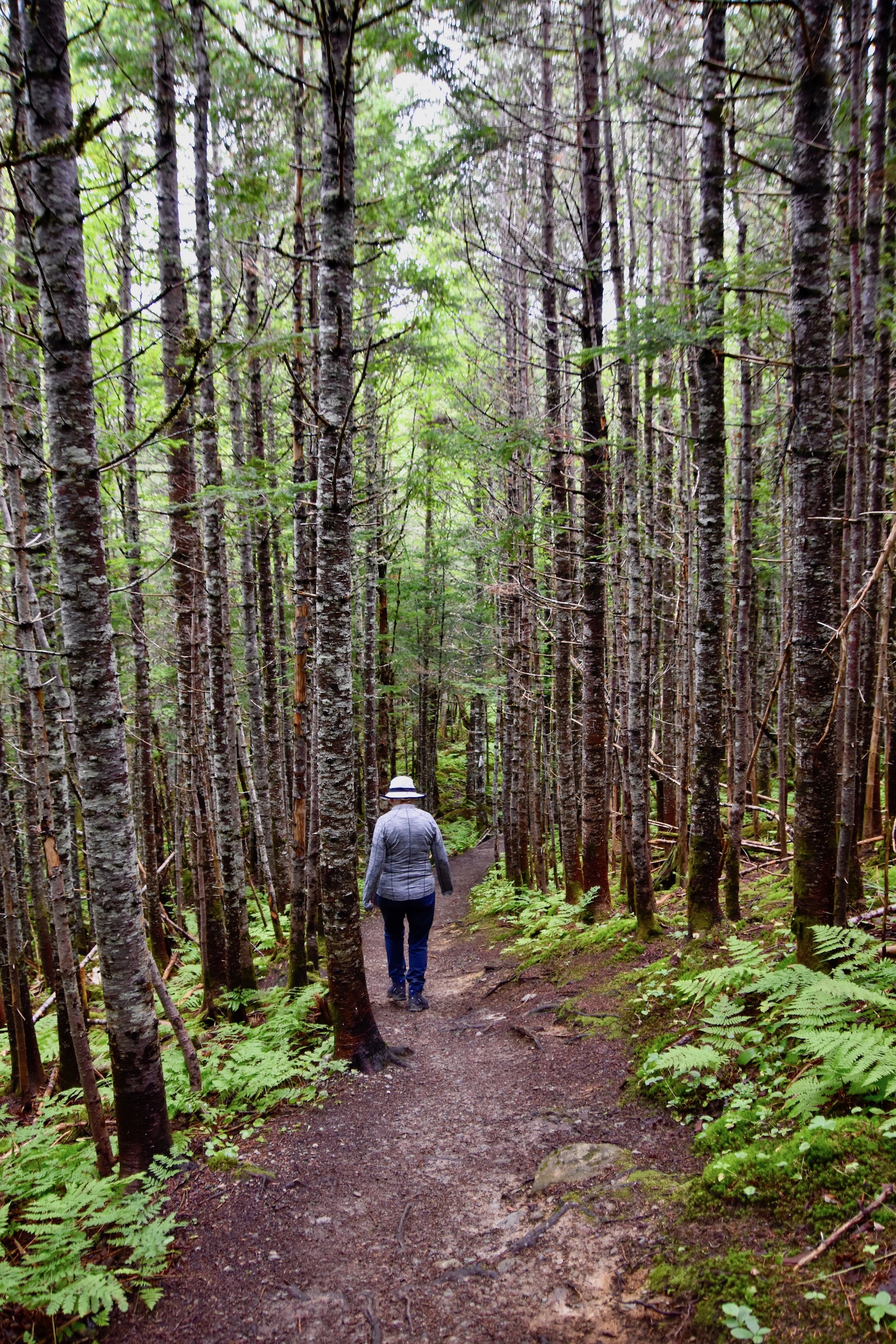 Although there are much higher and greater volume waterfalls in Gros Morne Southeast Brook is still worth seeing, especially as it is so easy to access.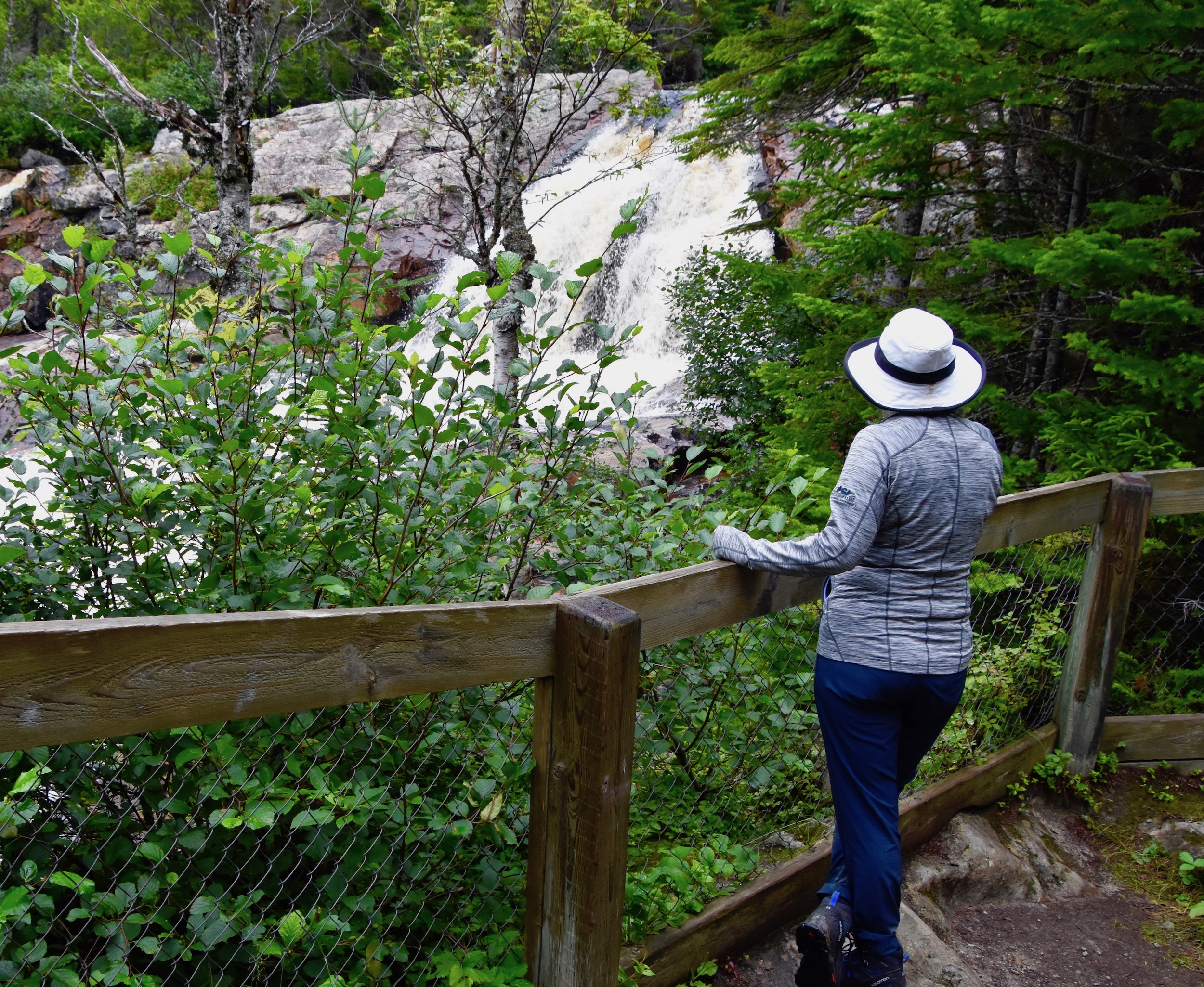 Gros Morne Mountain
Returning to the Viking Trail your route takes you along the shore of Bonne Bay East Arm and on your first time in the park you might think you are looking at Gros Morne Mountain when in fact it is a lesser one like Killdevil. However, once you do set eyes on Gros Morne Mountain there is no mistaking that you have found it.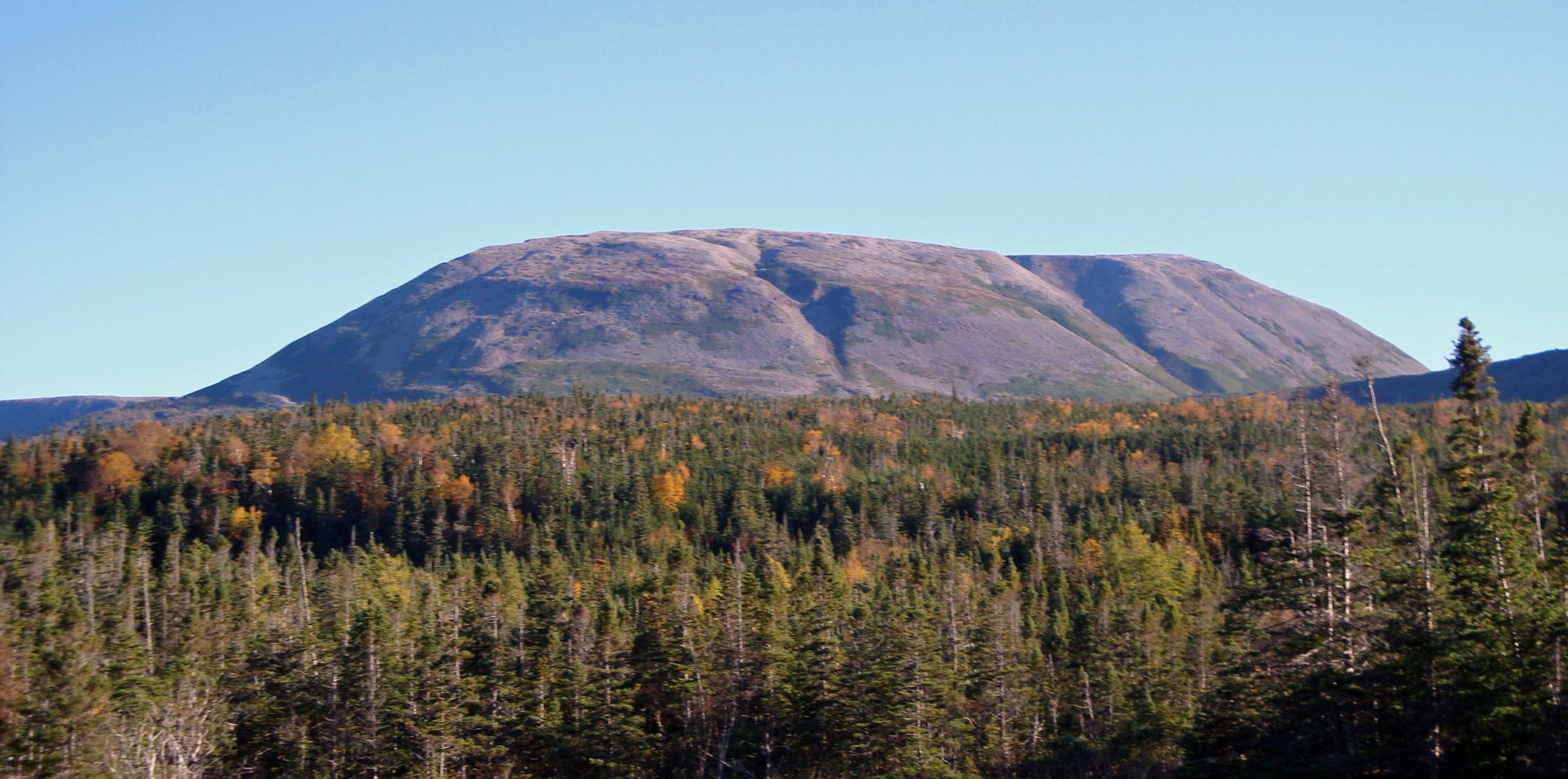 If you were paying attention to the Story in Stone at the Discovery Centre you will know that Gros Morne Mountain is a loner, differing geologically from the other peaks of the Long Range Mountains which are all pre-Cambrian and about one and a half billion years old. Gros Morne Mountain was once actually on the bed of an ancient sea before being thrust upward as an intruder among its fellow mountains. It also differs significantly in the types of species found here. Once you leave the boreal forest and start climbing you are also going north in terms of the environment surrounding you. The top of Gros Morne Mountain is a true arctic environment complete with arctic species like rock ptarmigans, snowshore hares and caribou. So clearly there's an allure to experiencing this type of environment without having to actually go to the arctic which is both remote and expensive to get to.
Even more alluring for most are the potential views from the top like this one of Ten Mile Pond far, far below.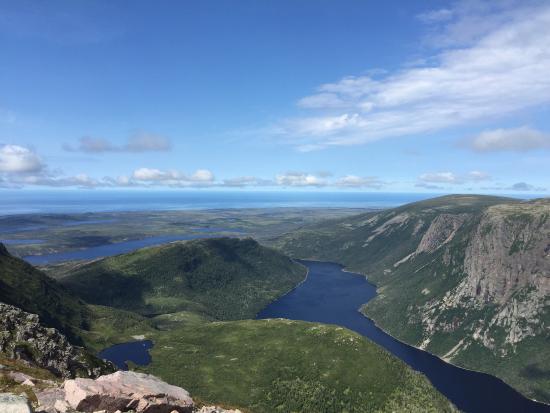 I had to get this photo from a public domain site because, as you will learn, there is no guarantee that when you get to the top it will be clear. That is one of the potential downsides of climbing Gros Morne Mountain. It may look perfect when starting out as it did in the first photo on the day that Alison and I climbed it a few years ago.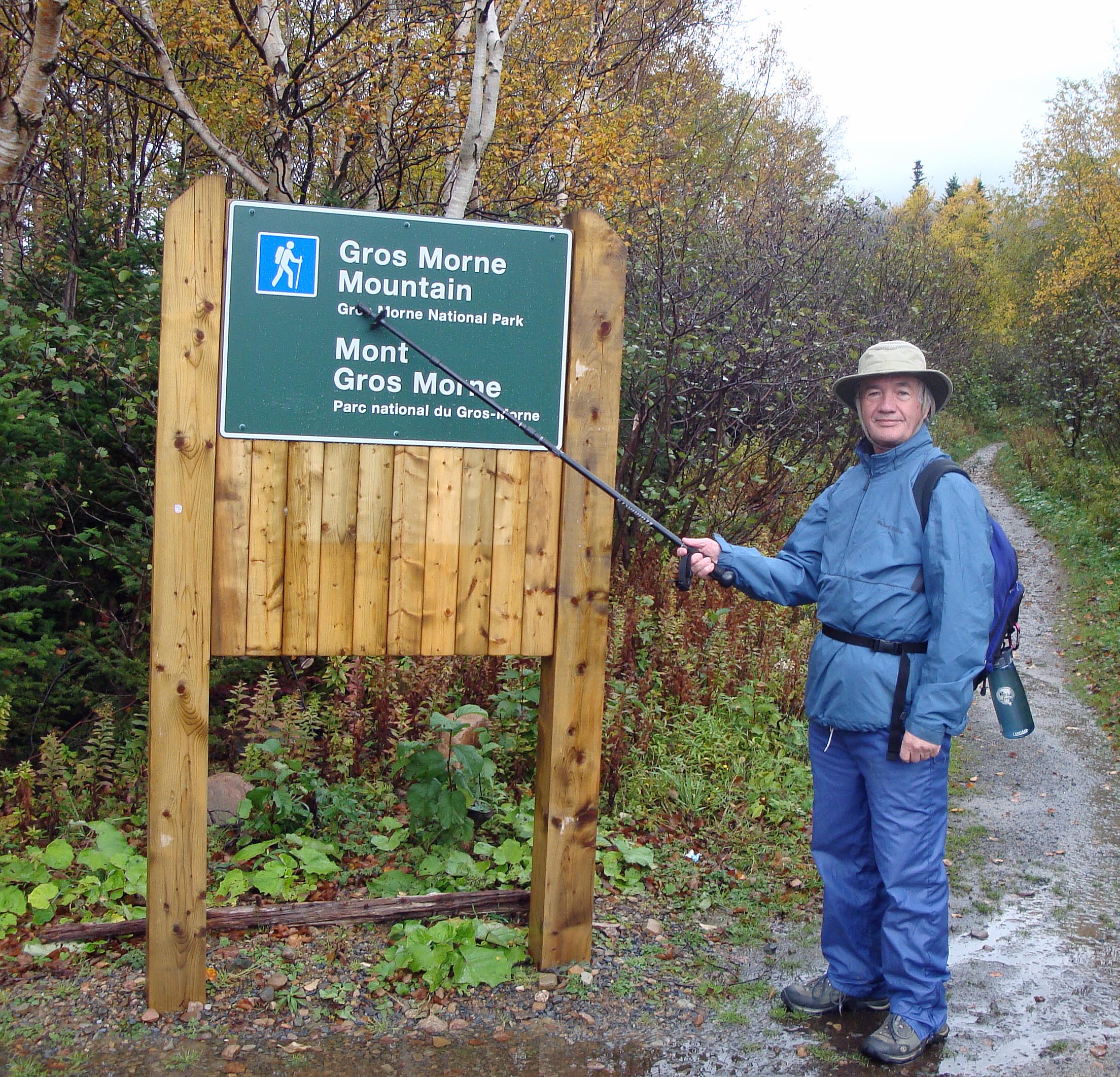 So the pros of climbing Gros Morne Mountain are threefold – hiking into an Arctic environment (we did see those rock ptarmigans), unparalleled views from the top and just the satisfaction of having done it. Here are the cons and they must be taken seriously.
It's bloody hard. Listed as 16 kms. (10 miles) it is also one of only three trails in Gros Morne that are categorized as black diamonds, which like ski runs, are the most difficult. The other two are much shorter which puts the Gros Morne Mountain Trail in a category of its own in terms of challenge. While the first four kms. (2.5 miles) to the base of the mountain are easy, what comes next is not. The ascent is through a v shaped alluvial valley that gets steeper and steeper so that near the top you are climbing and not hiking. The top is flat, but the descent was for me the worst part. Not only are you legs tired, but much of this part of the trail is through a talus slope which is terrible terrain to hike though. It threatens to sprain your ankle at every step if not worse. Unless you are in extremely good shape, your knees will not thank you on this descent.
You might not be able to see a bloody thing once you get to the top. This is what awaited Alison and I when we reached the summit. We we wanted to go into an arctic environment and that's what we got. Actually it got much worse than this pictures shows with driving snow making it almost impossible to see the markers that have been put up to guide you through the featureless flat top. Needless to say we got no pictures from the top. And this was in October on a day that looked perfect starting out.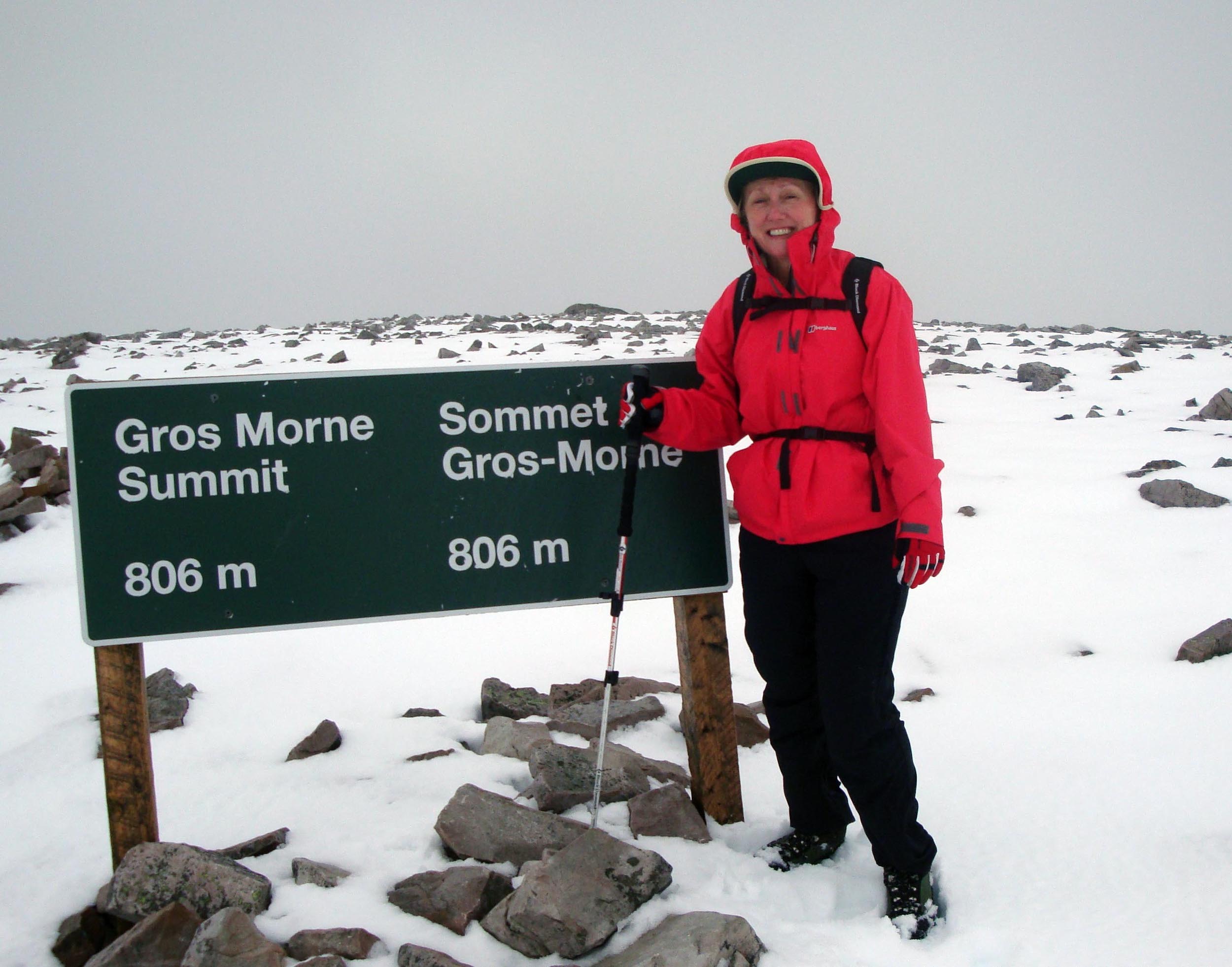 This post is not meant to scare people from tackling Gros Morne Mountain, but rather to be prepared physically, mentally and with the right equipment. If I was a few years younger I would do it again.
Now that we've exhausted ourselves on Gros Morne Mountain it's time to chill out at a great inn in Rocky Harbour and take a boat ride. We'll do that in the next post.