Muir – Halifax's Fabulous New Waterfront Hotel
I have to confess that when I first heard claims that Halifax's newest hotel Muir was going to be a game changer in terms of luxury, design and quality, I was a bit skeptical. These claims are easy to make and much harder to deliver on. However, just having completed a stay there and enjoying perhaps the best restaurant meal we've ever had in Nova Scotia, Alison and I both agree that the claims are well founded and that Muir is a substantial cut above any other hotel in Halifax. Over the past thirty years we have stayed at every major hotel in the city so our appraisal of Muir is not based on conjecture, but comparative analysis. As a travel writer I was offered a complimentary stay, but in keeping with my policy of not accepting comps, I paid for our accommodation and food which I believe gives me the liberty to express my opinion without compromise.
Given the people behind Muir (note that is not The Muir), I probably should not have been as suspect. Muir is part of the much larger waterfront development Queen's Marque that includes office space, leased residences, a spa and eventually up to nine restaurants. It's also a focal point for more of the great public art for which the Halifax Harbourwalk is rapidly becoming world famous. Queen's Marque is the brainchild of Scott Armour McCrea, CEO of Armour Group which has been at the forefront of out of the box thinking on architecture since his father Ben founded the company in 1972. Their Founder's Square development was the first to preserve and incorporate the facades of some of Halifax's oldest buildings into a modern office complex.
The architectural firm of Mackay-Lyons Sweetapple was hired to design Muir as well as all of Queen's Marque which pretty well guaranteed a structure that would get people talking. Brian MacKay-Lyons is probably Nova Scotia's most famous architect since Andrew Cobb with a worldwide reputation for innovative and high quality designs. This is a link to the Queen's Marque project on the firm's website which describes what they were striving to achieve with this project and what it will look like when completely finished in around June, 2022.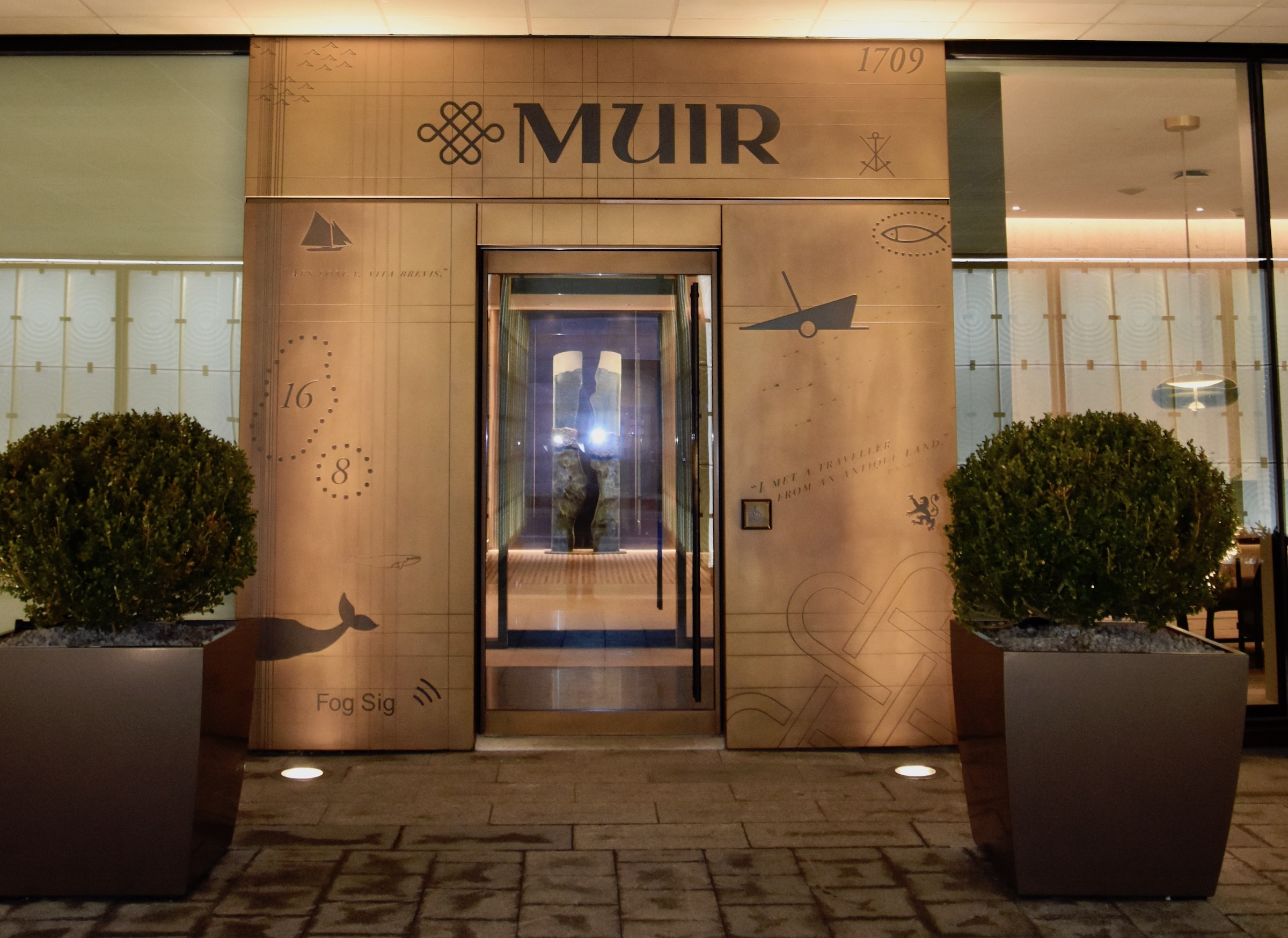 The entrance to Muir is under a canopy off Lower Water Street which ensures you won't get wet if it's raining. Interestingly there is no extra charge for valet parking so I just handed the keys over and we proceeded to check in. Looking at this entryway you get the first notion that Muir is different from other Halifax hotels. What you are looking at in the door frame is an alloy called Muntz metal which I had never heard of before this visit. It is a combination of copper, zinc and iron that was used on the hull of wooden sailing ships to curtail wood rot from shipworms. It is the first of many allusions to Halifax's nautical past that you will find throughout the hotel and the surrounding area. Opposite the entrance are these glass panels that are made to resemble the Fresnel lenses that once were the lamps in dozens of lighthouses along Nova Scotia's coastline. You can go next door to the Maritime Museum of the Atlantic to see one from the Sambro Island lighthouse.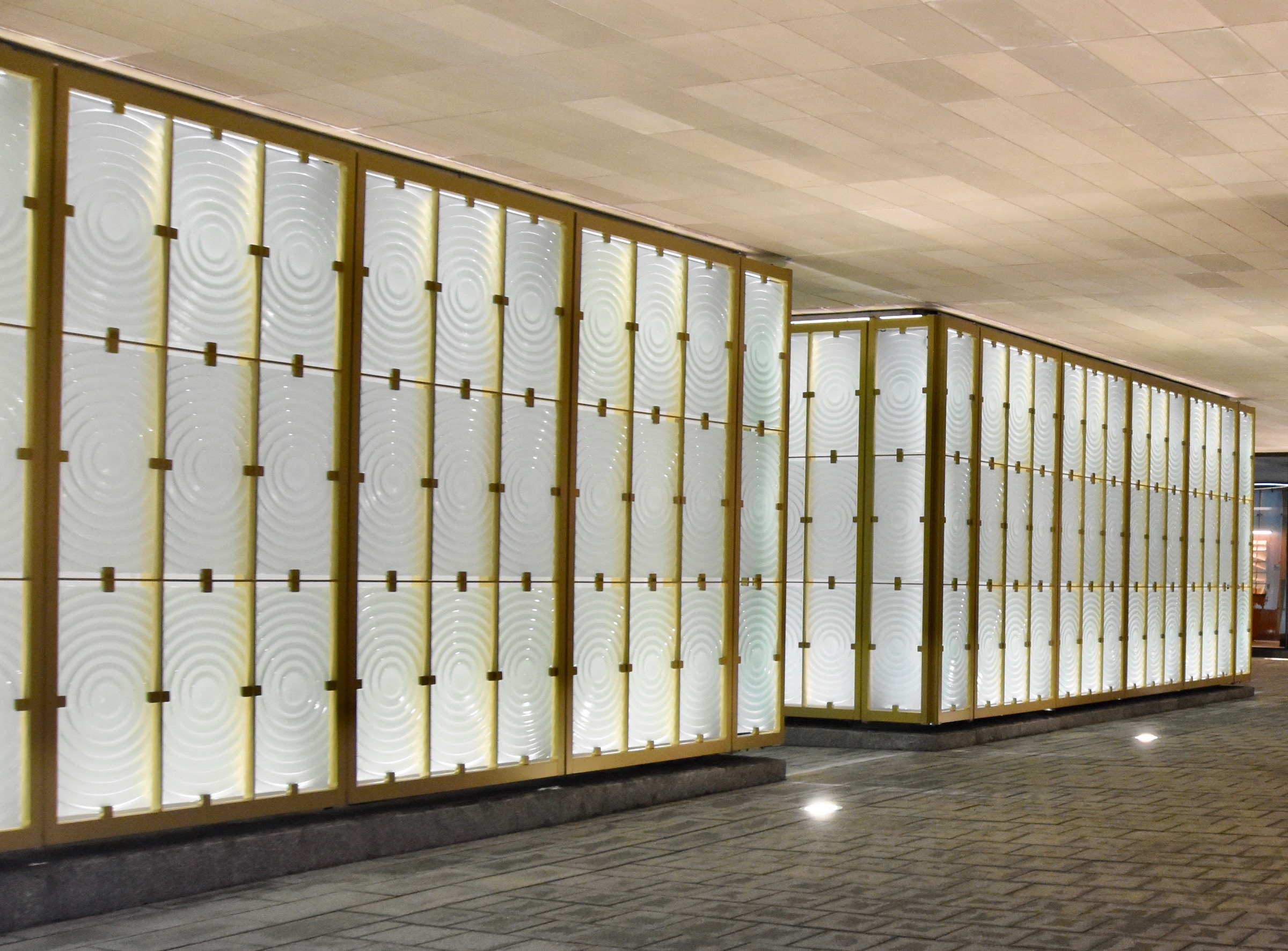 The first thing you see upon entering the lobby is this sculpture by New Brunswick artist Peter Powning titled Convergence.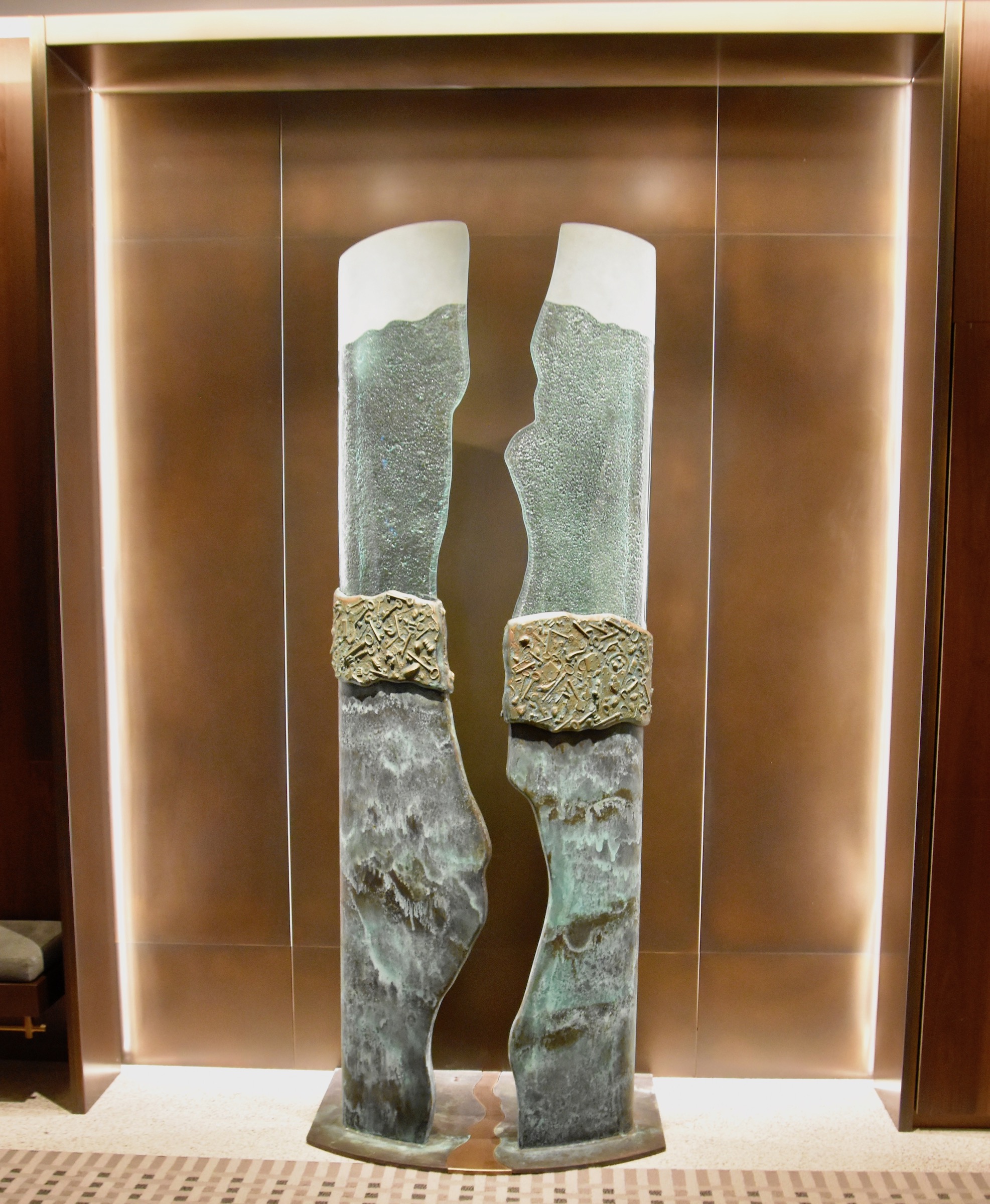 And then you check in at this quite modest front desk backed with this marvellous tapestry by Alison Pinsent Baker of Shad Bay Weaving.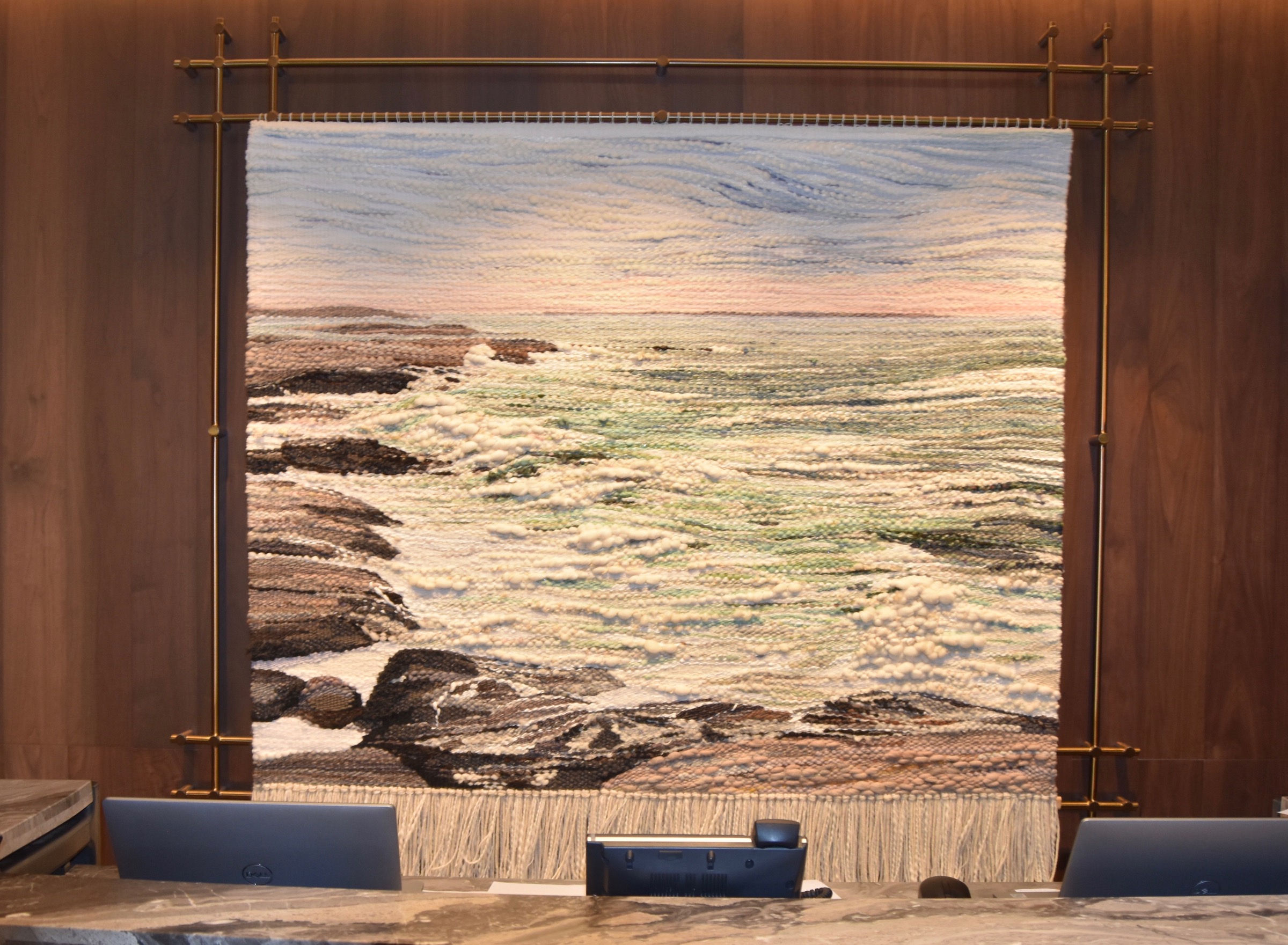 Muir is affiliated with the Marriot Bonvoy Autograph Collection of 200 hotels around the world. Unlike say a Marriott Courtyard or a Hilton Garden Inn which are pretty well all the same design, the Autograph Collection hotels are all completely unique and of uniformly high standards. The only other one in Atlantic Canada is the Algonquin in St. Andrews, New Brunswick which couldn't be more different from Muir than night and day. Muir is ultra modern chic, Algonquin is rustic and historic. We love them both.
Another thing that sets Muir apart from most other Halifax hotels is the great variety of room designs. We were given a tour of some of them and it gave us a reason to want to return again and again because they all have something special. A few have balconies and many have terrific views of George's Island and the entrance to the Halifax Harbour.
Stepping of the elevator on the fourth floor and looking down the hall you get the immediate sense that you could be on cruise liner during the golden age of these ships preceding WWI.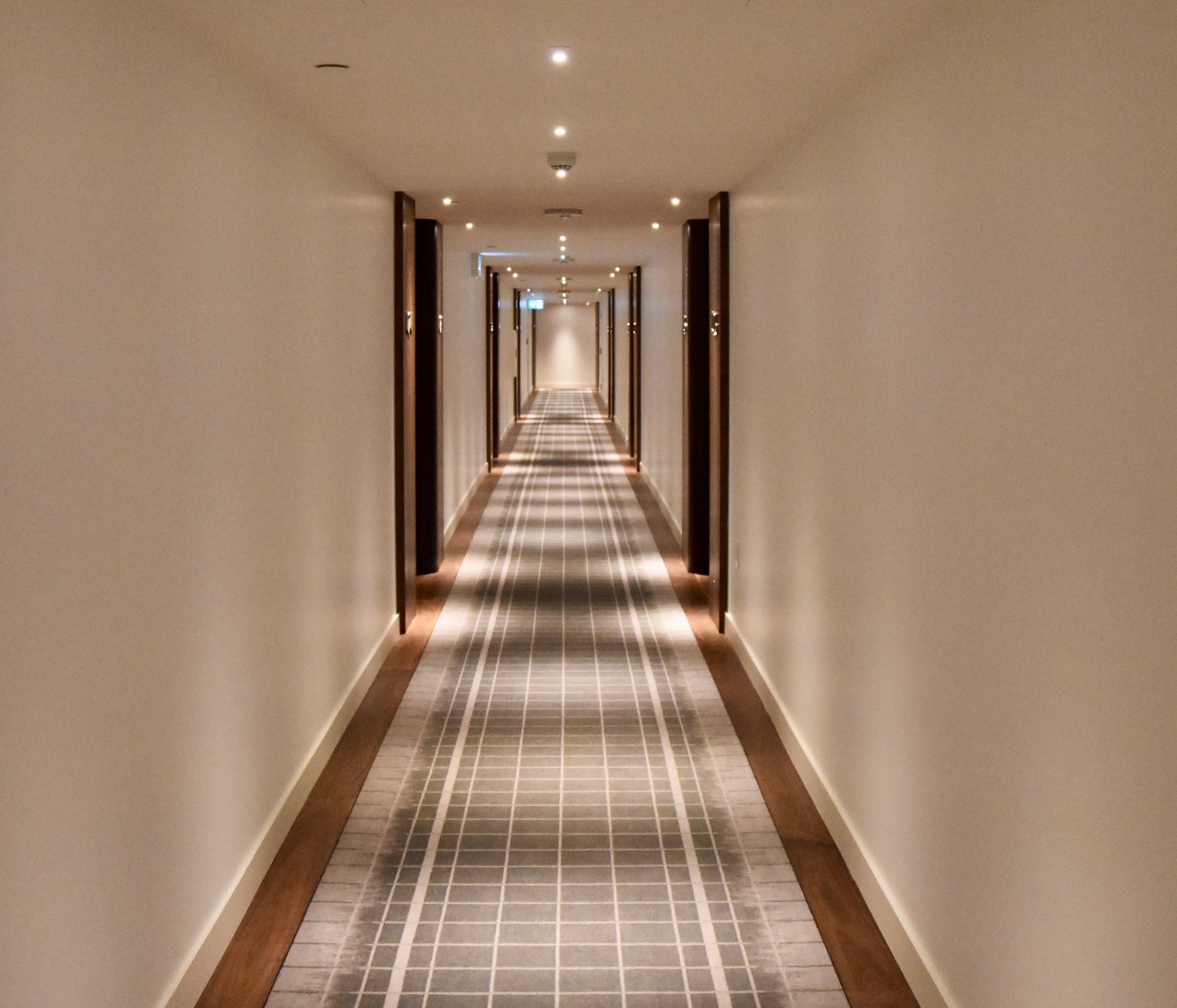 The doorway to each room is set back from the hall with two entrances that face each other with photographs by Nova Scotia artist Tim Forbes in a series specially created for Muir in between.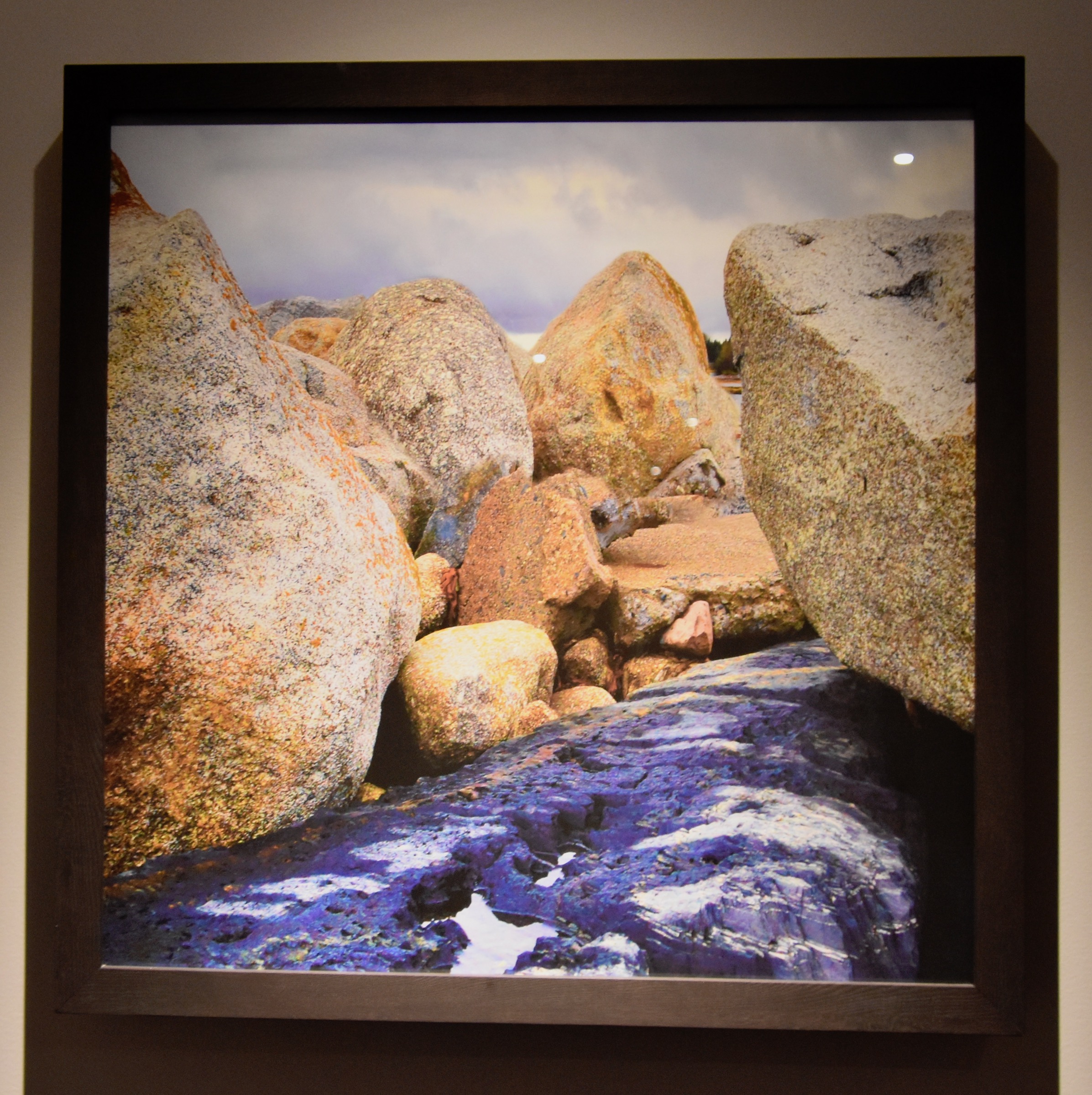 While Mackay-Lyons Sweetapple were the architects and responsible for the design and materials used in creating Muir, the interiors are the creation of Toronto based Alessandro Munge and his team at Studio Munge. Every single piece of furniture in Muir is an original creation designed specifically to enhance the overall theme of Muir – Born of This Place. The actual furniture designed by Studio Munge was created in the workshops of Quebec based Saint Damase. We've already been impressed by what we have seen in the lobby and hallway, now it's time to open the door.
We stayed in Room 420 which fronts on Rise Again square which is the space between the two wings of Queen's Marque. This is a standard King room.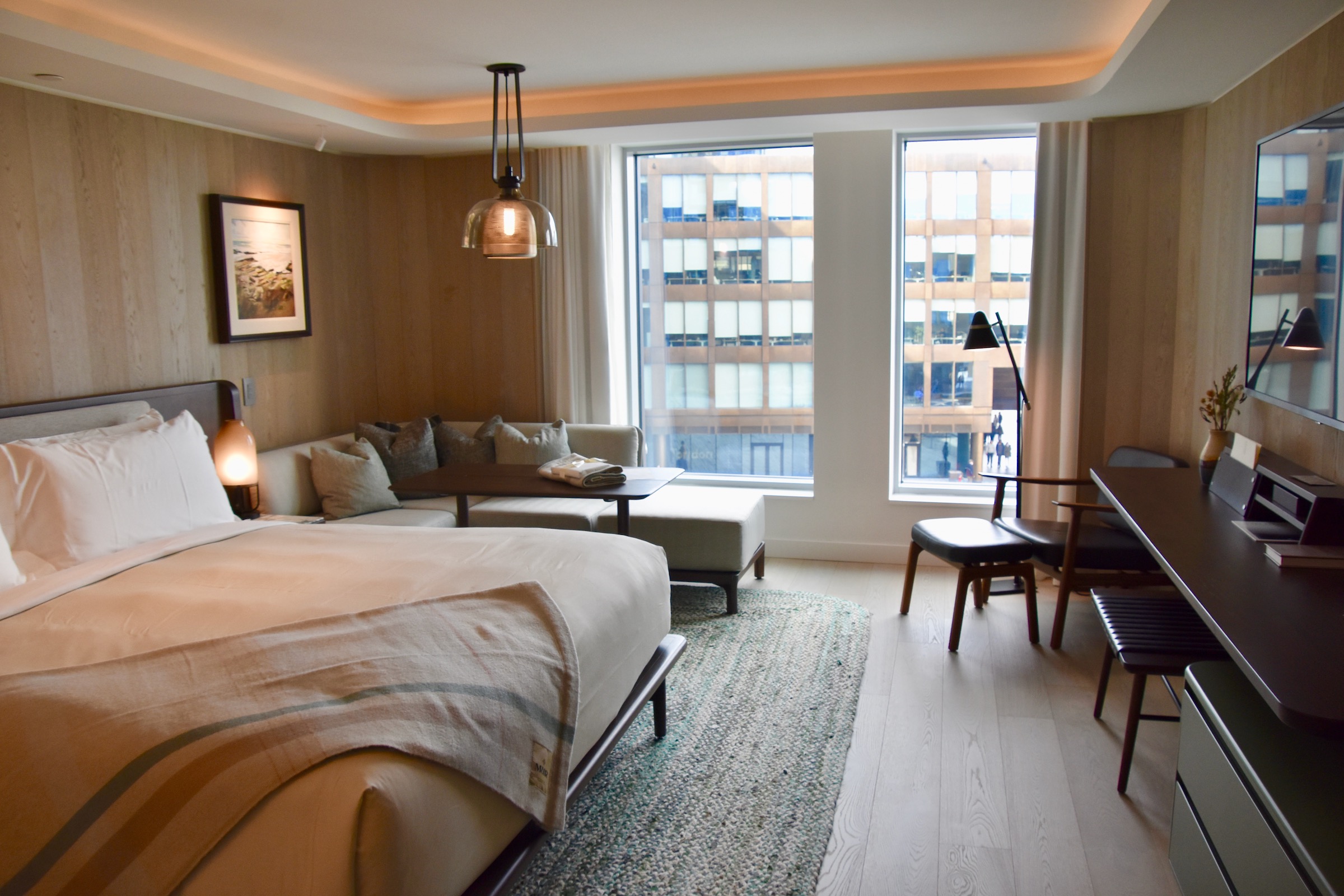 Notice that the floor is actual hardwood, not laminate. The braided rag rug is a nod to those found throughout the Maritimes and part of anyone's upbringing who grew up in a rural setting. A common theme throughout Muir is the very simple tartan which you can see on the knee blanket on the bed. The furniture is made of solid hardwoods including black walnut.
Our bathroom was a thing of marble and granite beauty featuring this port hole mirror which again alludes to the connection to the sea.
A number of rooms have a huge soaking tub and an overhead shower in a spacious area off the bathroom entrance. We were shown some rooms where the tub was beside a window and you could sit and relax while watching the ships come and go in the harbour.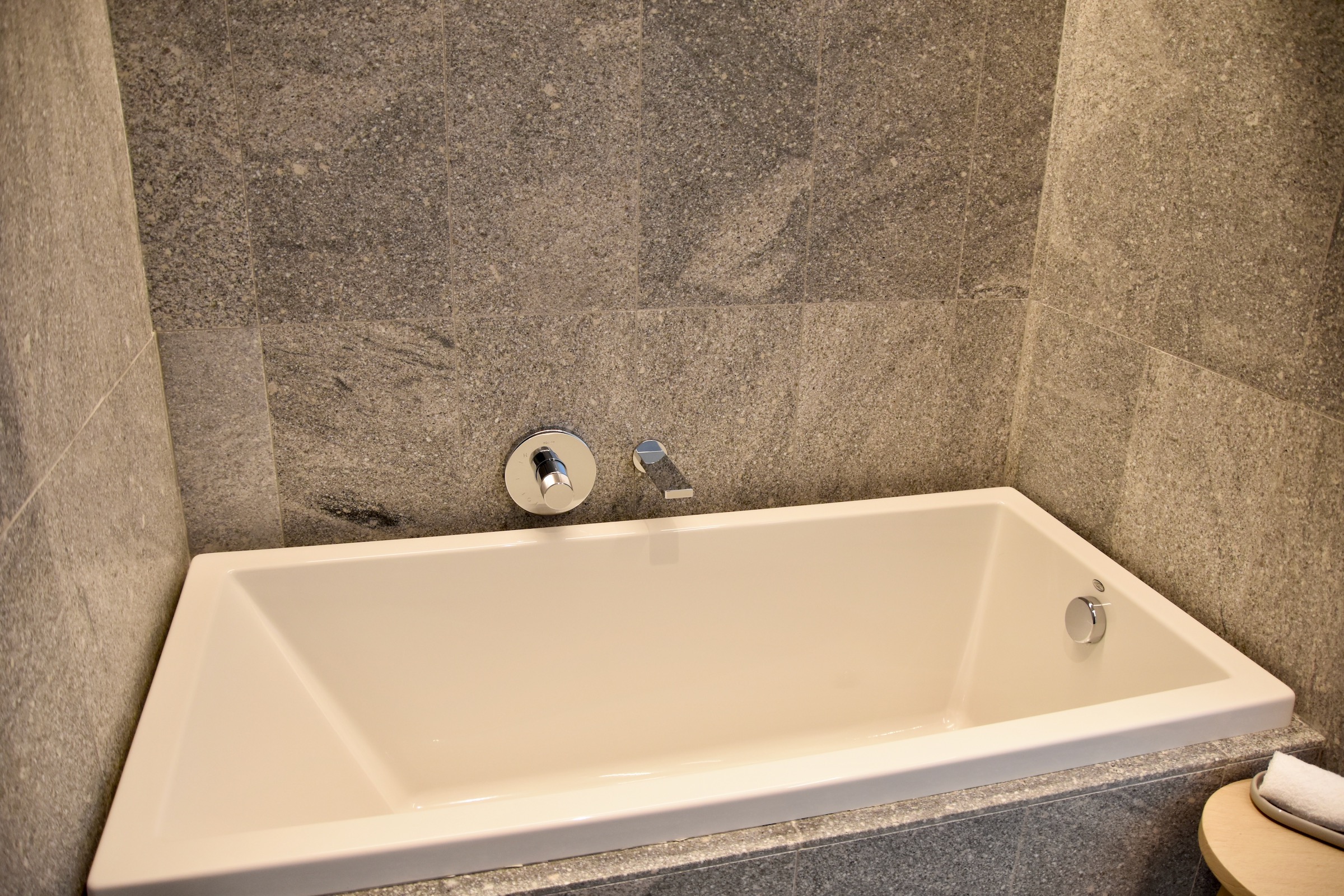 The effect of being in a stateroom on a luxury liner is maintained by the private bar.
Below this there are a number of drawers with pullouts like this one for a tea and coffee service.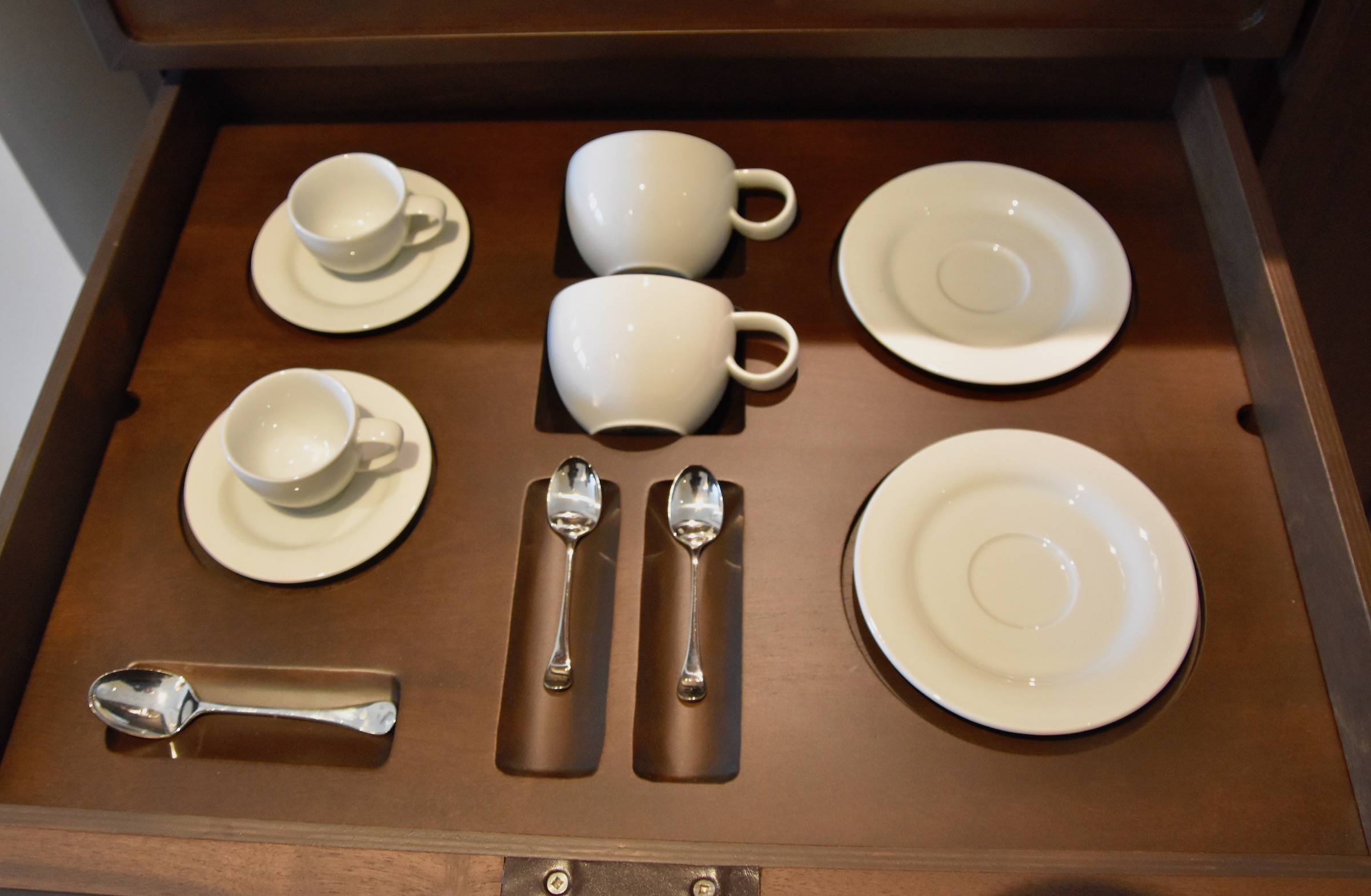 This is the view from Room 420. We were here on one of the first decently warm days of the year and hundreds of people were out enjoying the waterfront. Especially popular were the stairs leading directly into the water.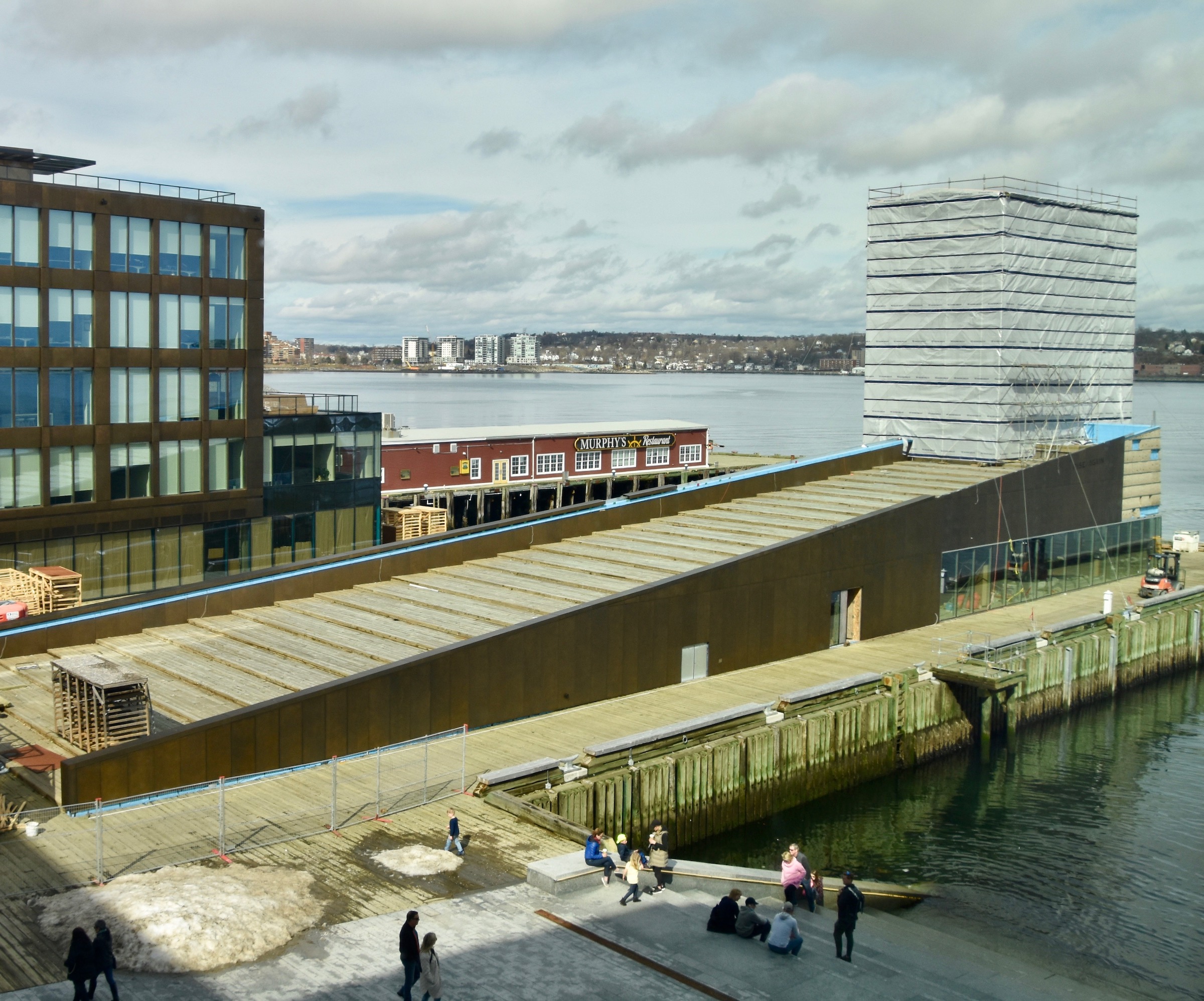 Later this year the scaffolding will be removed and the Tidal Beacon a creation of artist Ned Kahn will be revealed. This is what it is anticipated to look like as it changes with the changing tides. What an experience it will be to stay in this room when this work is completed.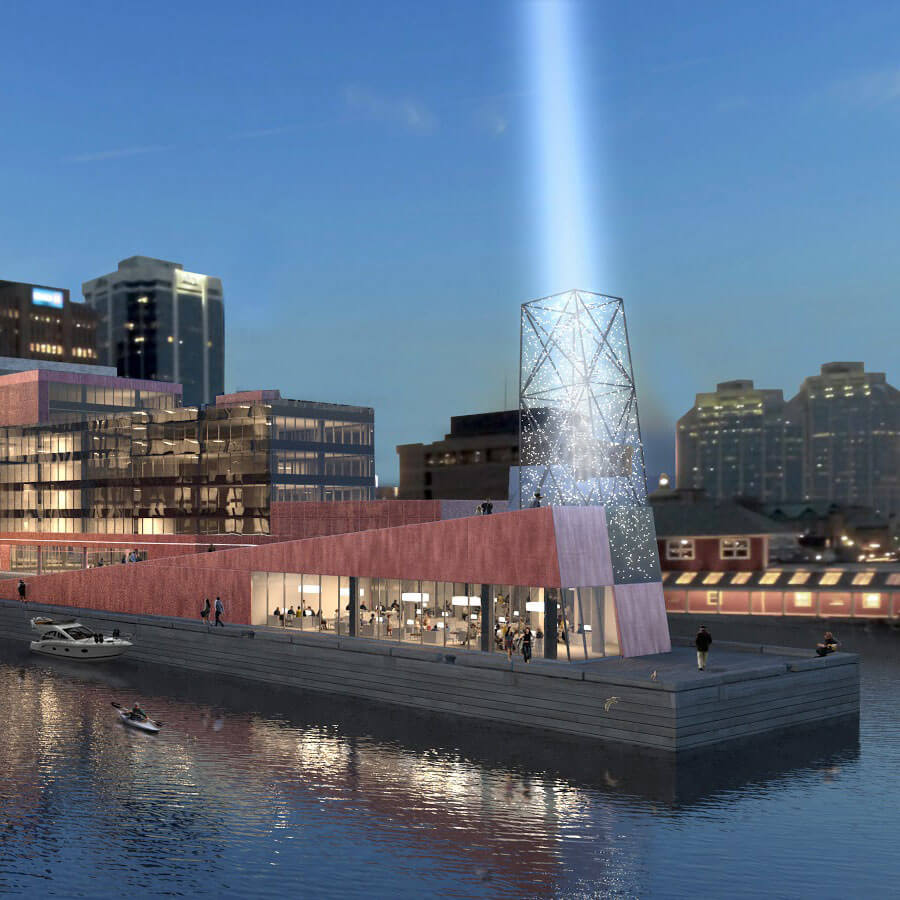 Each room at Muir also has a book on hand that has some connection between Nova Scotia and the sea. In room 420 it was Joshua Slocum's iconic Sailing Alone Around the World describing the world's first solo navigation of the planet by the Brier Island native.
There are many more details about the room I could go on about such as the wonderful velour bath robes, but then I'd never finish this post. Time now to explore more of Muir, both inside and outside.
The Windward Wellness centre at Muir has the best equipped workout area that I have ever seen in a hotel. At 5,000 square feet this photo shows only a fraction of the huge area which is equipped with every type of exercise equipment one could possibly want. On our visit one person had it all to herself.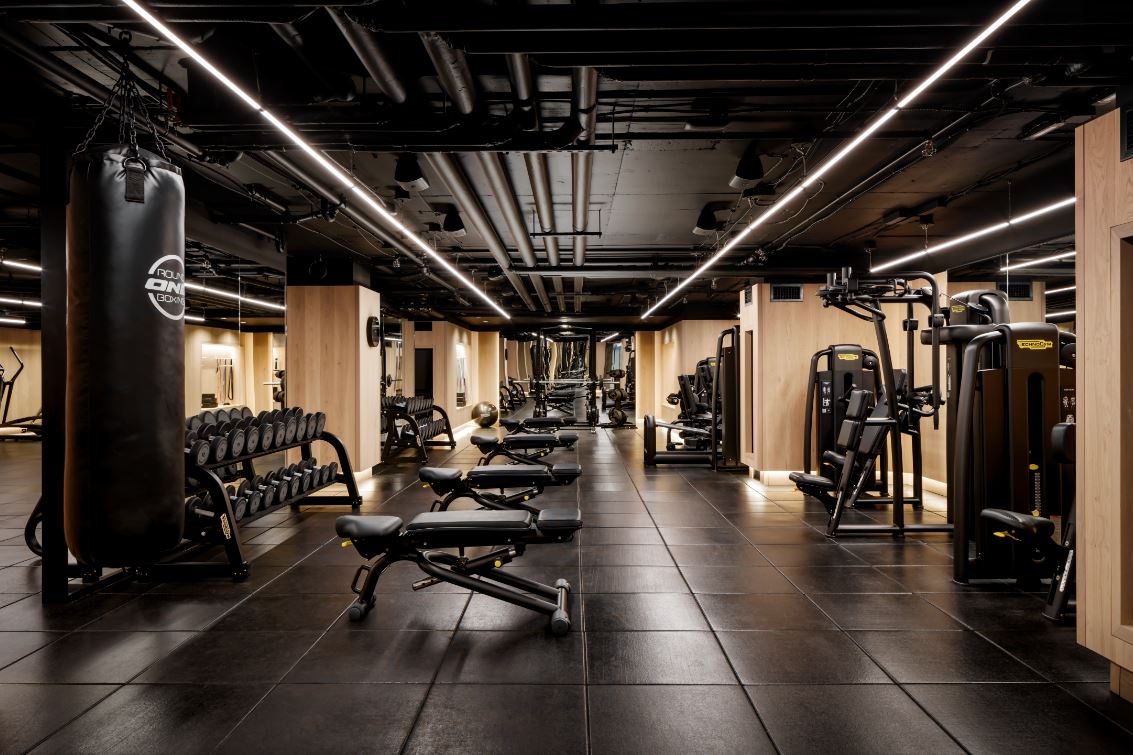 This is the elegant swimming pool with hot tub behind it.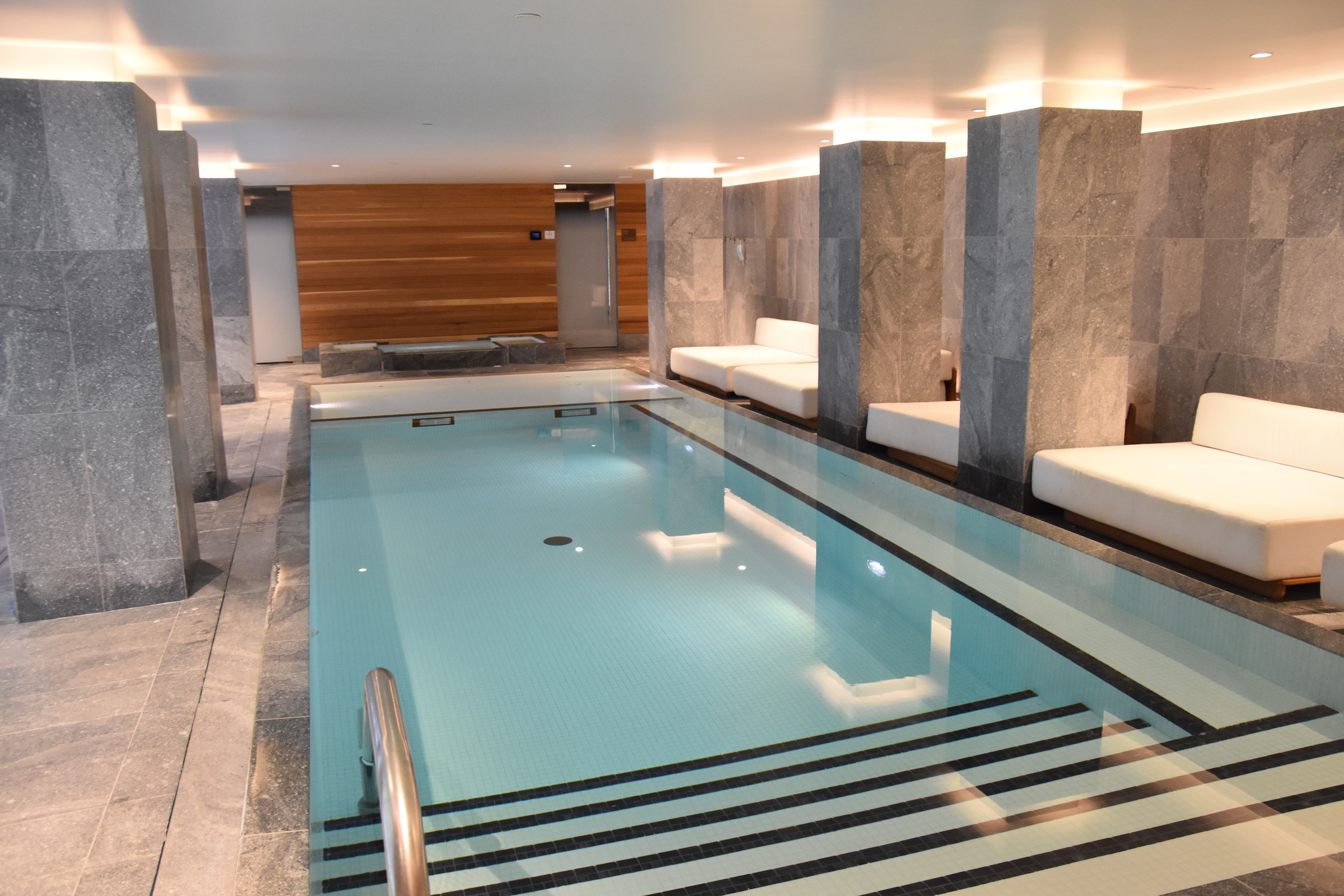 There is also a Halotherapy Room in which guests can partake of the benefits of breathing salt air and a steam room and sauna to get your pores open. Although there is no spa per se within Muir there is a direct connection from the Windward Wellness centre to Interlude Spa in Queen's Marque.
This is the entrance to one of the many things that set Muir apart from ordinary hotels. This is the entrance to BKS Speakeasy and like an old time speakeasy you need to be a member to get in. Being a guest at Muir makes you a member.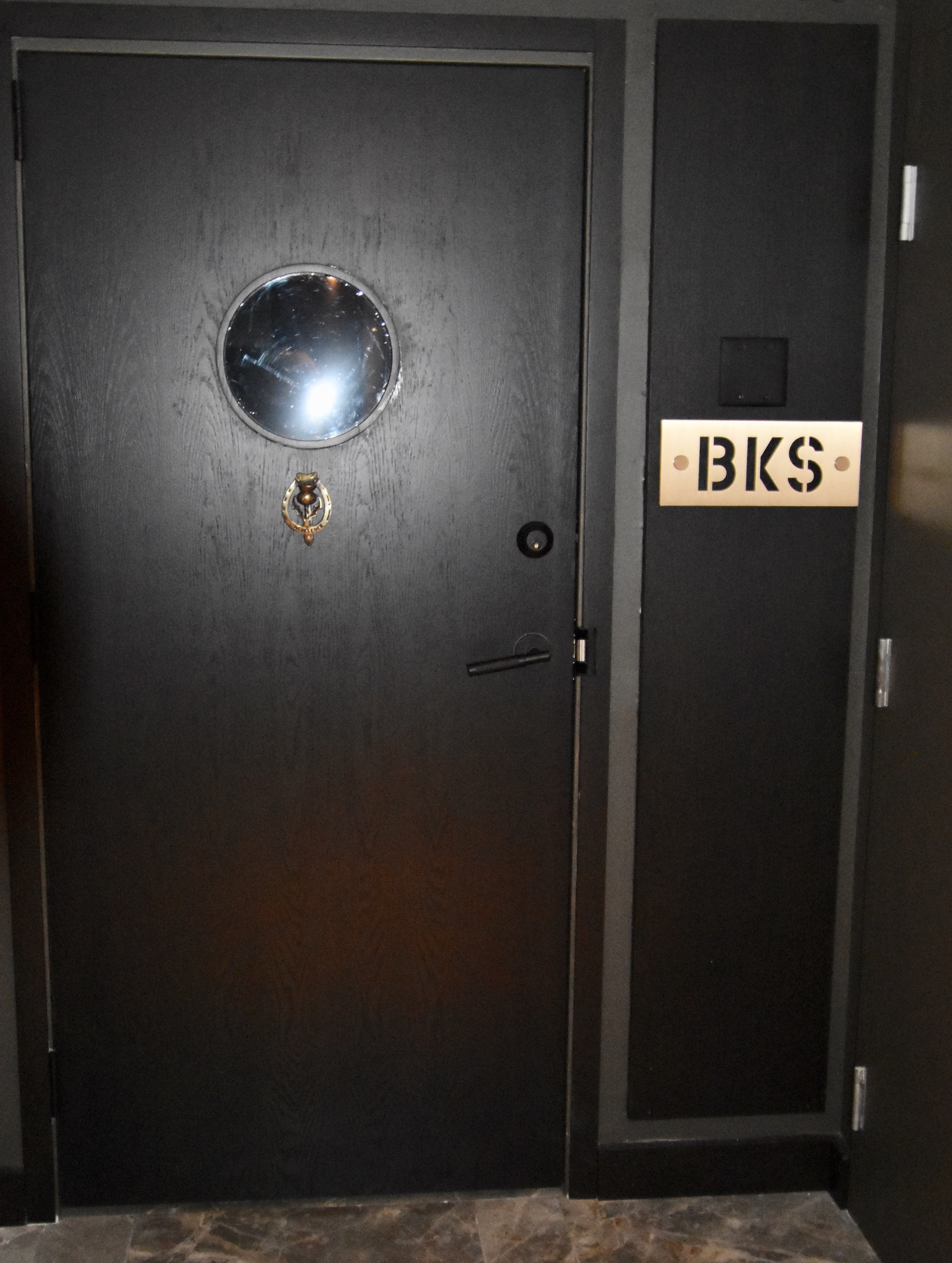 This is what you will see once the speakeasy doors are open.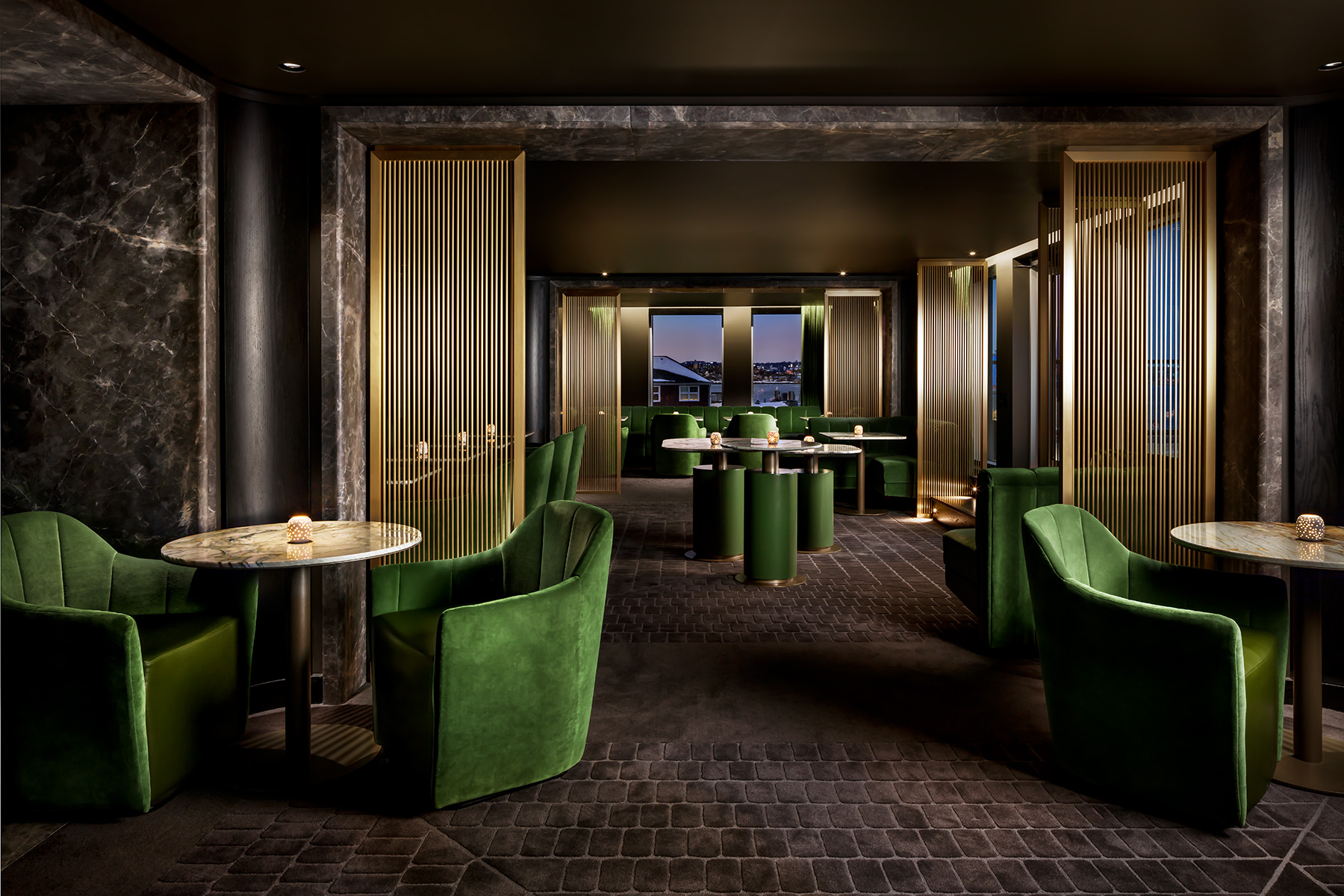 Our final stop inside Muir is the True Colours art gallery which features rotating collections that are only open to hotel guests.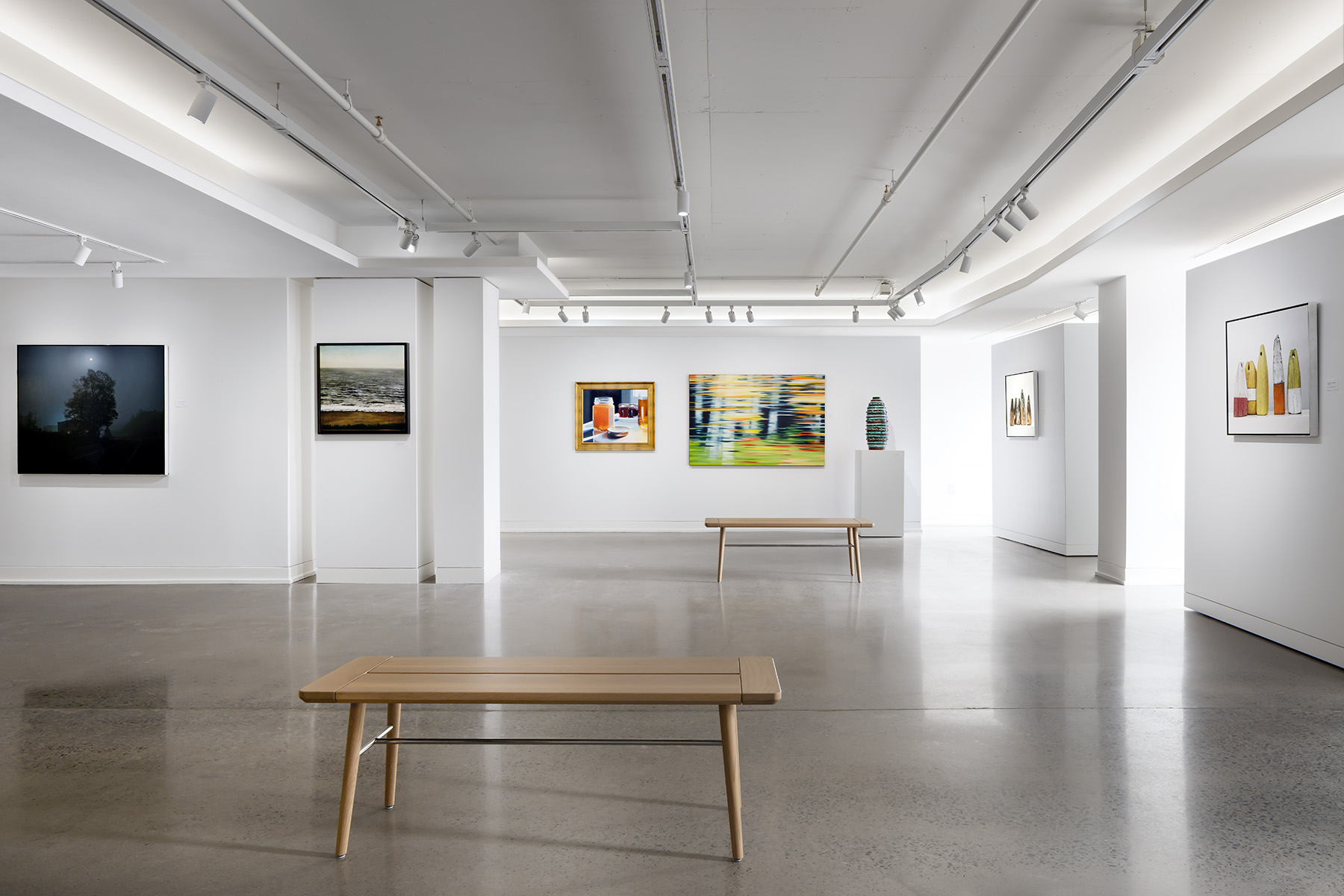 The current exhibit features the works of a number of high realist works by Richard Thomas Davis, Joanne Hunt and Stephen Hutchings among others including serigraphs by Alex Colville. This is a small gallery of some of my favourites. Can you believe those Davis' paintings are not photographs?
Okay let's take a look around outside before we head to Drift for dinner.
This is Sail by Milan based sculptor Edoardo Tresoldi who has a worldwide reputation for his wire mesh sculptures. It is just outside Muir and at night when it's lit up people refer to it as 'The Ghost Ship'.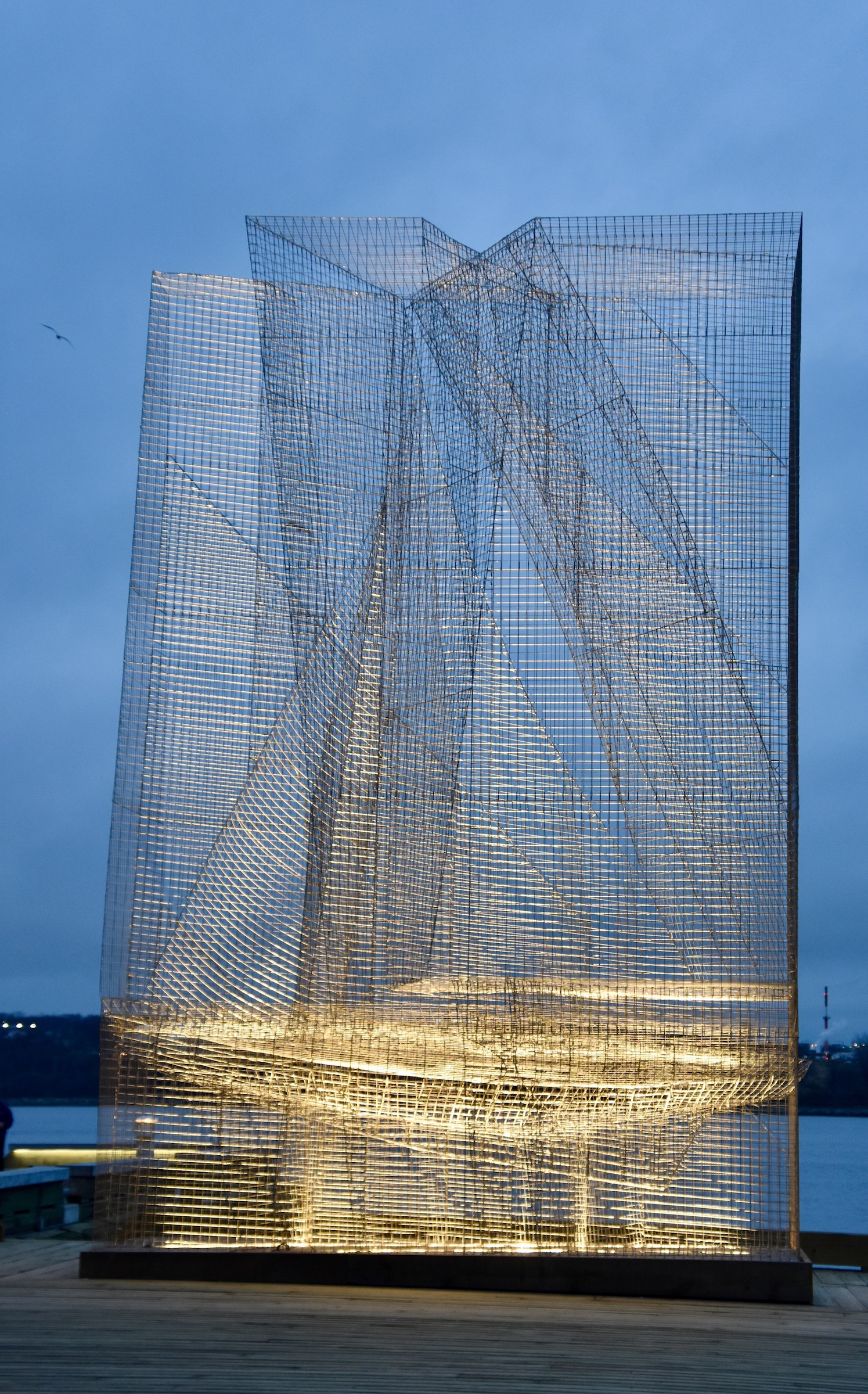 Closer to the ground you'll find all kinds of expressions commonly used by Maritimers that had their origins in nautical terms such as Three Sheets to the Wind which we think of as describing someone who's too plastered to walk. The actual meaning comes from sails that have come loose because the sheets or ropes that control them have come undone. If three sails ended up this way the ship could not be controlled. These are nice little whimsical touches that make exploring Queen's Marque an interesting foray.

Drift at Muir

With a few exceptions hotel restaurants do not have a great reputation. Too often they are catering to such a variety of patrons that the menus are dumbed down to the lowest common denominator. Not so at Muir where Drift, which describes itself as "A culinary ode to Nova Scotia's land, people and history.", is rapidly gaining attention as a must dine destination. The Armour Group managed to convince celebrity chef Anthony Walsh to create the menu. Here's a story by my friend Anna Hobbs on why the man behind the Oliver & Bonacini restaurant empire agreed to take on his first east coast enterprise. While you won't find chef Walsh in the kitchen at Drift every day as he still oversees a number of other restaurants, you will find the man he worked with to create the menu, long time Halifax chef Jamie MacAulay.
The first thing you will notice on entering Drift is that the nautical theme is very much in evidence, particularly at the really well stocked bar where I recommend having a drink before going to your table.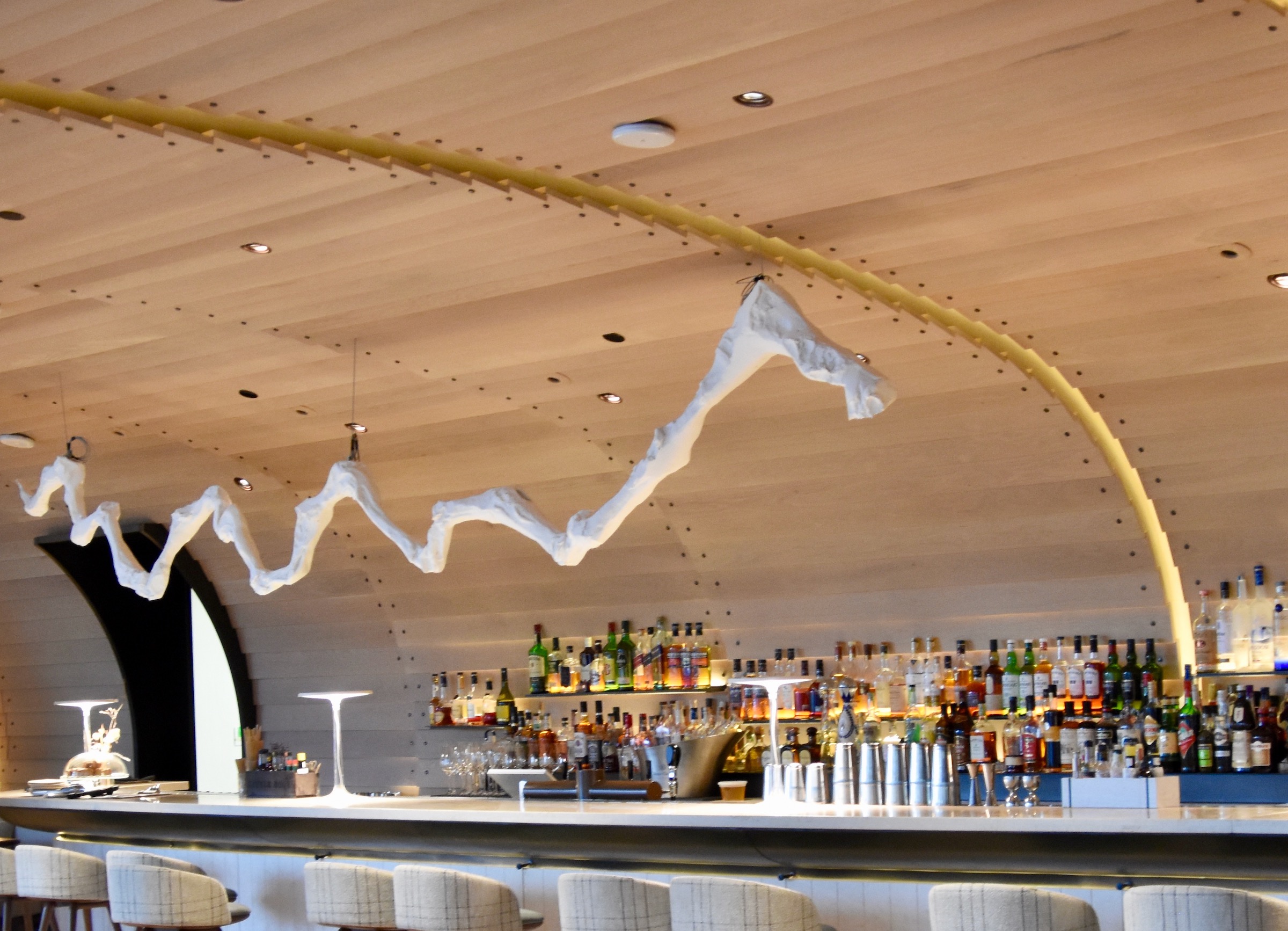 Drift is not large by hotel restaurant standards, but it is très chic. Alison and I were seated at a table by the glass siding that allows diners a good view of the people outside, but the outdoor canopy doesn't let them reciprocate. The waitstaff were uniformly young and eager to please.
We had been checking out the menu at Drift online for a week before our visit and there was not a single thing on the menu that I would not have ordered. However, the overall emphasis is definitely on seafood and that's what we settled on. Our choices were whittled down by questioning the young lady who was serving us. The one dish I had determined to have in advance, regardless of what she recommended, were the baked clams and that turned out to be the only dish that was not sensational.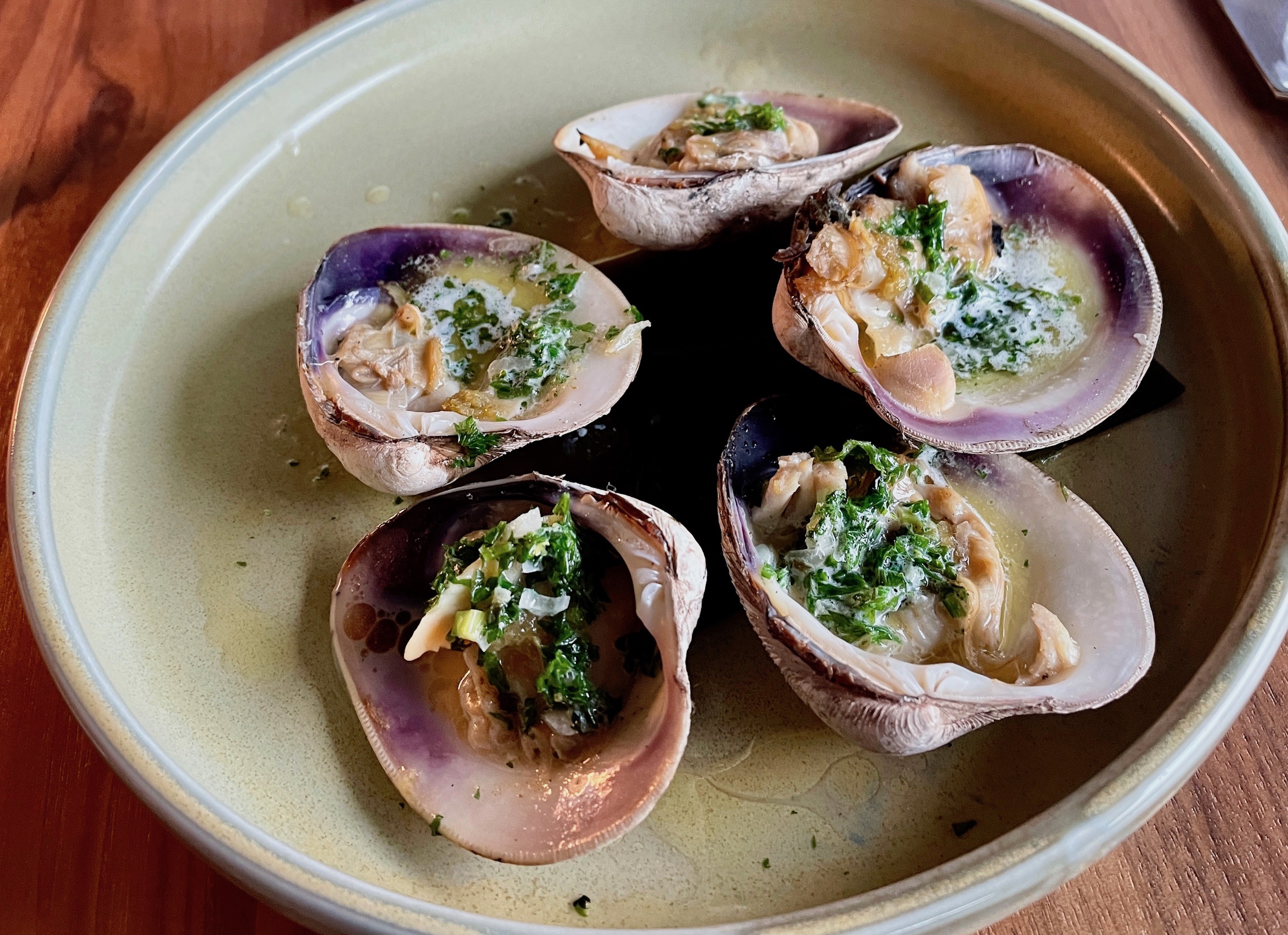 These were good for sure, but just a little chewy for my taste. OK, that's absolutely the last nit I have to pick with Drift. Next comes what I think might be the signature dish of Drift, the Iced Digby Scallop Crudo which Alison ordered for her appetizer.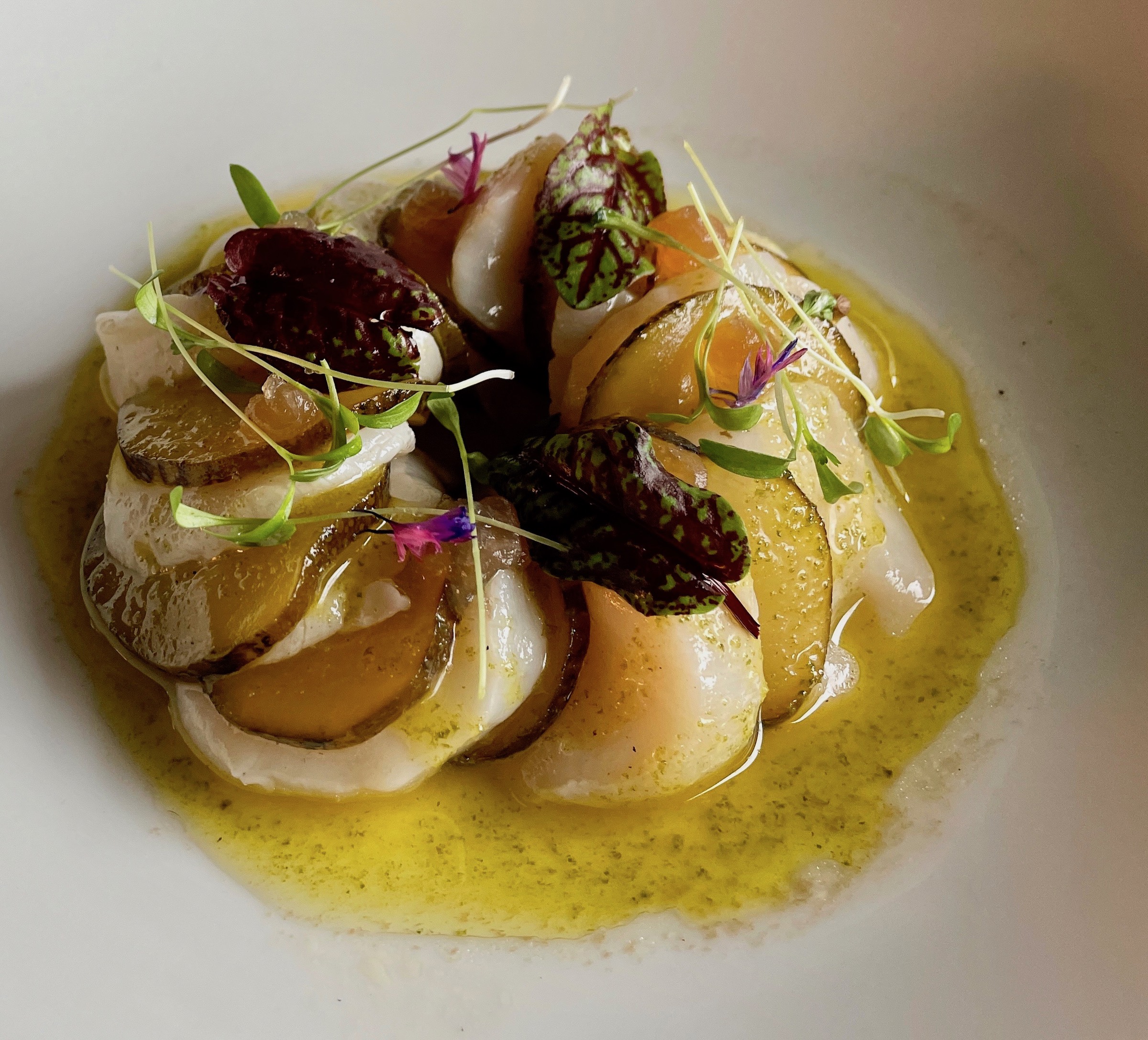 Believe it or not that is just one scallop. Even though Nova Scotia has the best scallops on earth it was not until fairly recently that we ever got to taste the really best of them in Nova Scotia restaurants. I learned from the captain of a scallop dragger I represented that the scallops caught on the first six days of a week long scallop trip were frozen and only those caught on the last day were never frozen. Of those caught on the last day the largest and sweetest were invariably shipped off to restaurants in New York, LA and elsewhere. I never knew just how big and juicy scallops could be until the captain bought a bag of them to the office one day.
Well this scallop you see above was simply the best either Alison or I have ever tasted. The crisp crunchy house made pickles and sherry effusion makes this dish heavenly. It is worth waiting a month to get into Drift just to try this. And thank you Alison for letting me share some of your great choice.
I did much better with my second choice with this Nova Scotia Lobster Cocktail. The spiced tomato and horseradish sauce was sublime as was the presentation.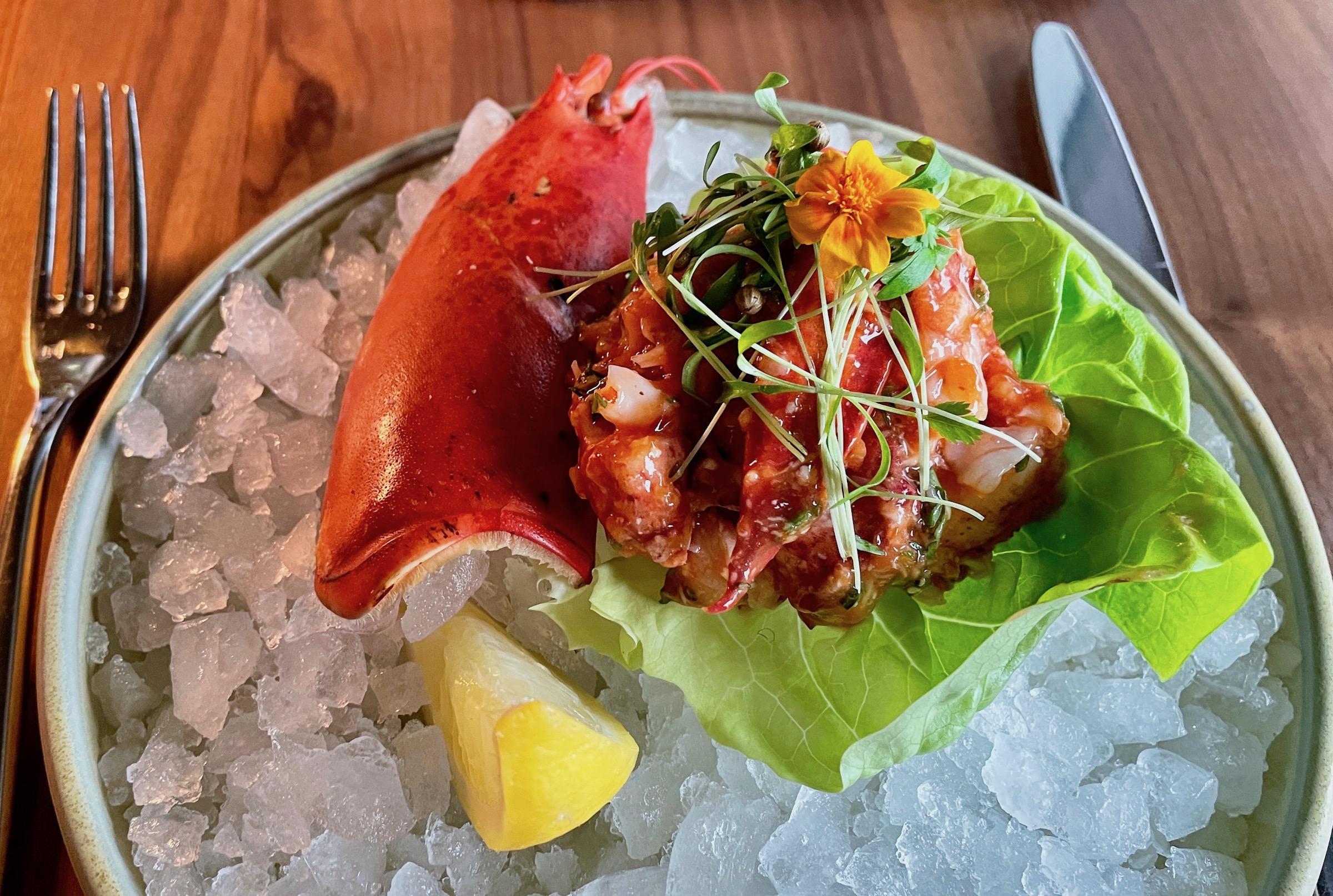 While I was opting for three apps and no entree, Alison went for the Slow-Cooked Sustainable Blue Salmon. We both long ago gave up eating for what passes as Atlantic salmon from the mass aquaculture farms that are eyesores polluting our coast. It was great news when we learned that Sustainable Blue in Hants County was growing salmon on land in self contained systems that did not require antibiotics or growth hormones. Atlantic salmon is now back on our menu and looks and tastes many times better than what the competitors are offering.
However, we have never been able to achieve anything close to the taste of the salmon presented to Alison at Drift. The smoky bacon and oyster dressing was so good you could put it in a cup and drink it straight. I'm not sure how you slow-cook a salmon, but however it's done the firmness of the flesh is preserved while getting that golden caramelized crust. This is another 'just WOW' dish.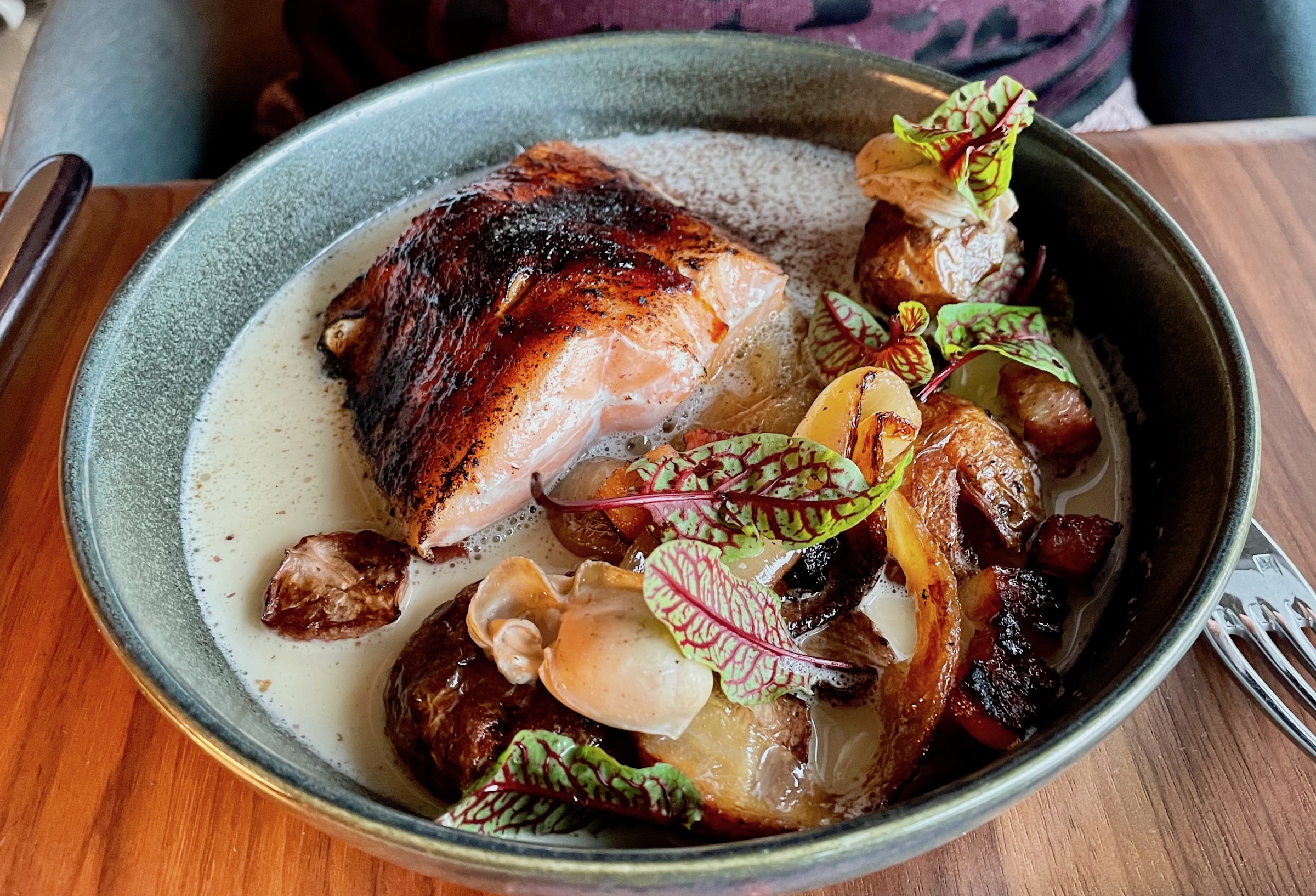 My third app gave the scallop app a real good run for its money as the best thing on the Drift menu. This is the Tuna Sashimi with sea buckthorn and charred jalapeno. Just as I really enjoyed the mild heat of the horseradish on the lobster cocktail so with the jalapenos in this dish. If you never thought fish could melt in your mouth then this will change your mind. Simply outstanding and apparently the most popular thing on the menu. Haligonians are certainly getting more sophisticated and worldly in their tastes as proven by the popularity of the items on the Raw Bar portion of the menu.
We barely had room for dessert, but couldn't pass up the Molasses Cake, one of only four desserts on offer, but all with deep Nova Scotian roots. And yes, it tasted as good as it looks.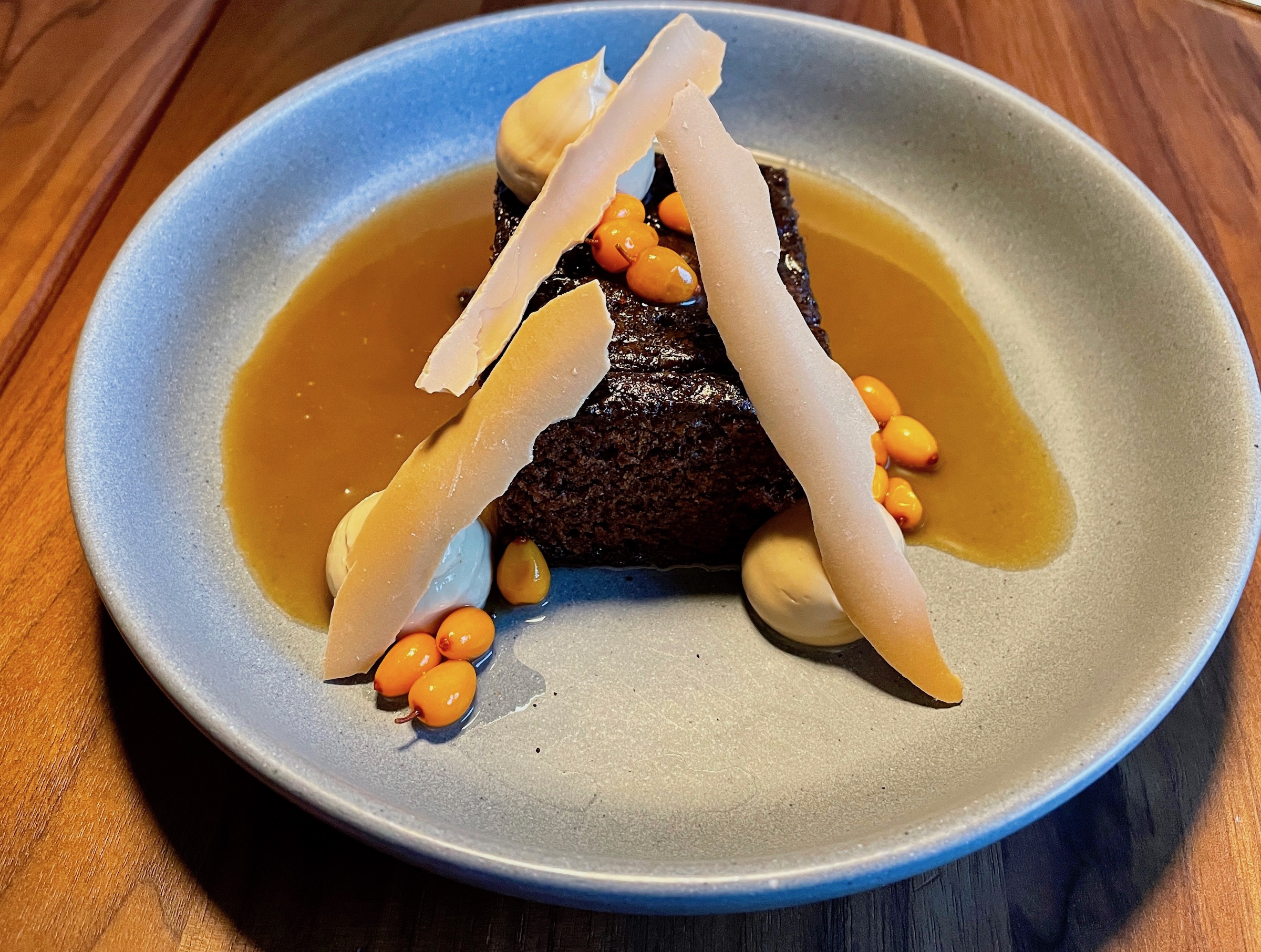 Drift has an affordable wine list with a really good selection by the glass.
We've eaten at a number of Oliver & Bonacini restaurants including the celebrated Canoe in Toronto, and while they were all very good, frankly none can touch the meal we had at Drift. I will be very surprised if Drift is not at or very near the top of En Route's Best New Restaurants in Canada listing for 2022.
After a great night's sleep (the windows are triple paned) we had breakfast in our room.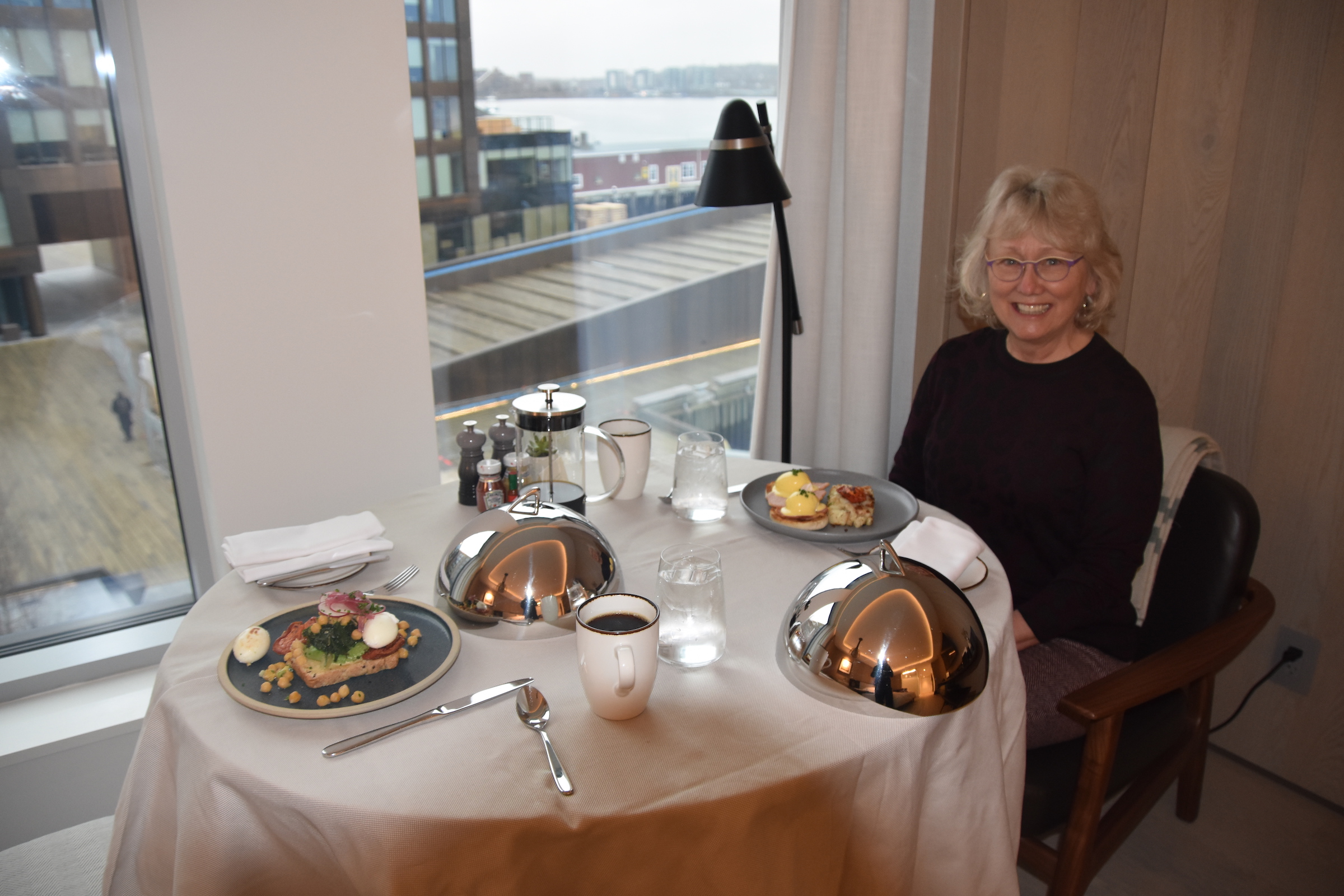 Our visit to Muir was short, but oh so sweet. We will be making this at least an annual event. And Scott, I'm sorry for ever doubting that you could bring the first five star hotel to Halifax. You have succeeded in spades.