Palm Course – Wyndham Palmas Beach Resort
In my first post from the Wyndham Palmas Beach and Golf Resort I reviewed the resort in general and provided a hole-by-hole analysis of the Flamboyan course designed by Rees Jones. In this post I'll do a hole-by-hole description of the Palm Course designed by the legendary Gary Player. However, before I hit the links I want to suggest two places you might consider going to for a hike before or after your golf game. In my case with afternoon tee times I had plenty of time between breakfast and noon to enjoy these natural places on Puerto Rico.
The Pterocarpus Forest at Las Palmas
If the word pterocarpus looks vaguely familiar it is because it shares its first part with pterodactyls, the famous flying dinosaurs of the Jurassic Age. Ptero is Greek for flying and carpus means fruit or seed, so it's not hard to guess that these trees have seeds that seem to fly as they fall off the trees. There are many species of pterocarpus trees around the world with the one in Puerto Rico being the pterocarpus officinalis. However, it is commonly known as the both the dragonsblood tree because of its red sap or the chicken foot tree because of the look of its roots. This is a public domain photo clearly showing the chicken foot roots.
Once common throughout coastal Puerto Rico these trees were relentlessly exploited for their lumber or exterminated when the freshwater swamps which are their habitat were drained by developers.
The Pterocarpus Forest Project protects just over 51 acres of pterocarpus forest right in the Palmas del Mar development. There is a ¾ mile raised boardwalk that has seventeen places to stop and listen to a description of the flora and fauna of this place on an app that you can download before arriving. I thoroughly enjoyed spending an hour looking for the various birds, insects and reptiles that are denizens of this forest.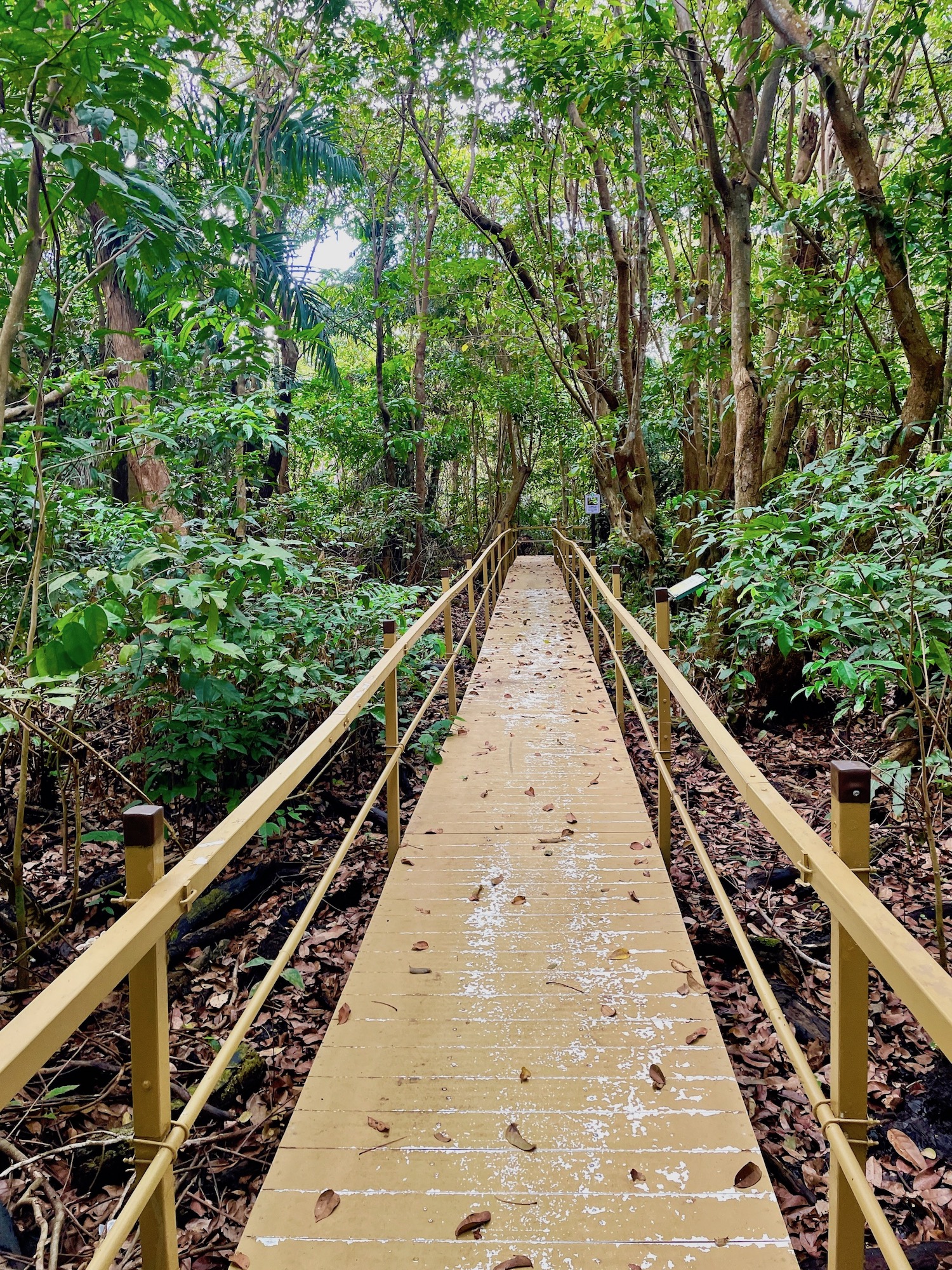 The parking lot for the pterocarpus forest is right behind the Catholic church which you pass on your way to the golf courses, so there is no excuse for not taking the time to visit this unique place.
Humacao Natural Reserve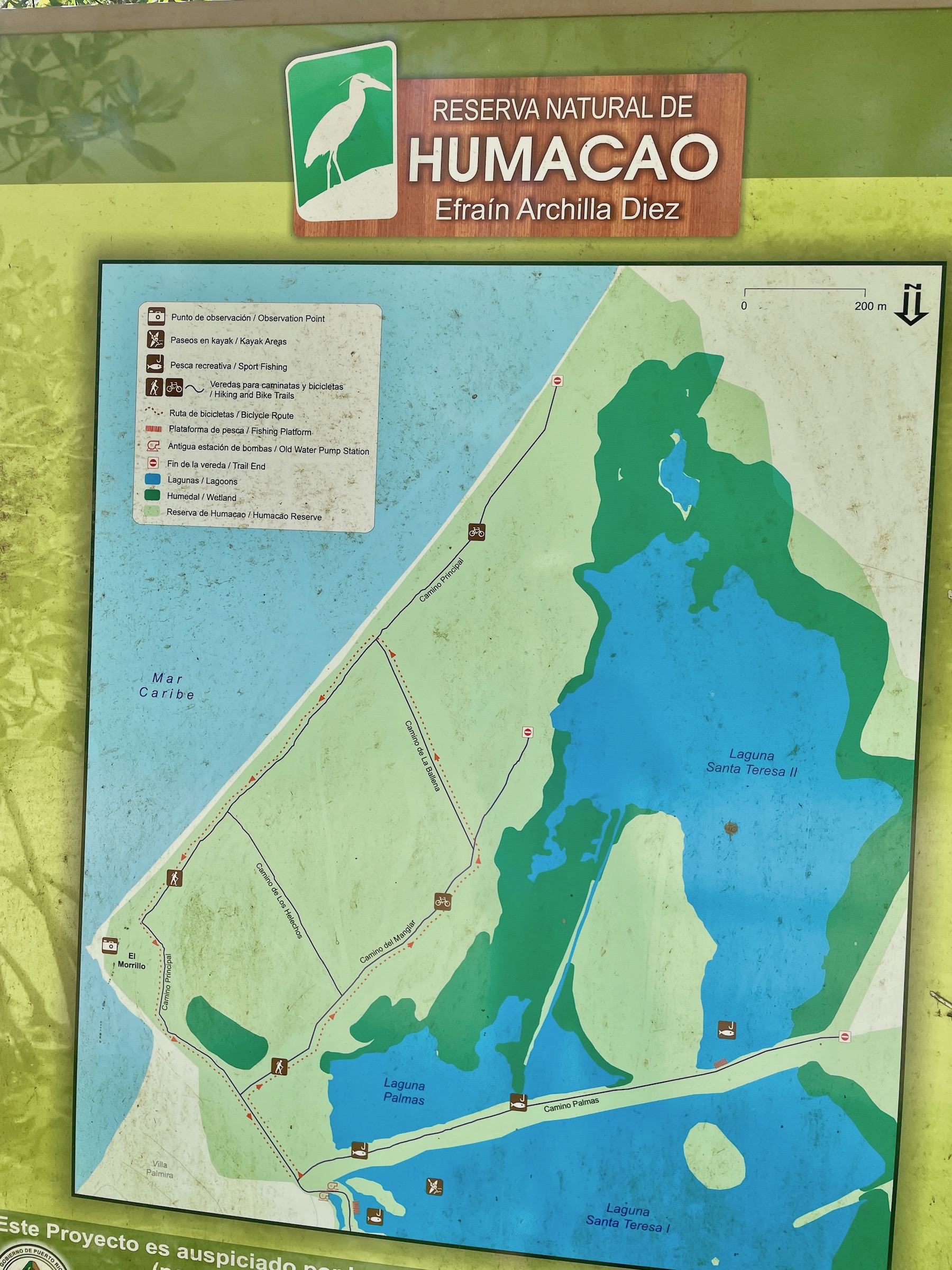 If you are a little more ambitious or want to bike or kayak instead of hiking, you should consider the Humacao Natural Reserve which is a short distance from Palmas del Mar. There are almost 10 miles of trails within the reserve and a variety of habitats. Entry is free if you just want to hike like I did or if you bring your own equipment, but you can rent bikes and kayaks at the entrance.
Some of the interesting things you can see in this reserve are the industrial detritus of a former pumping station when this was a sugar plantation.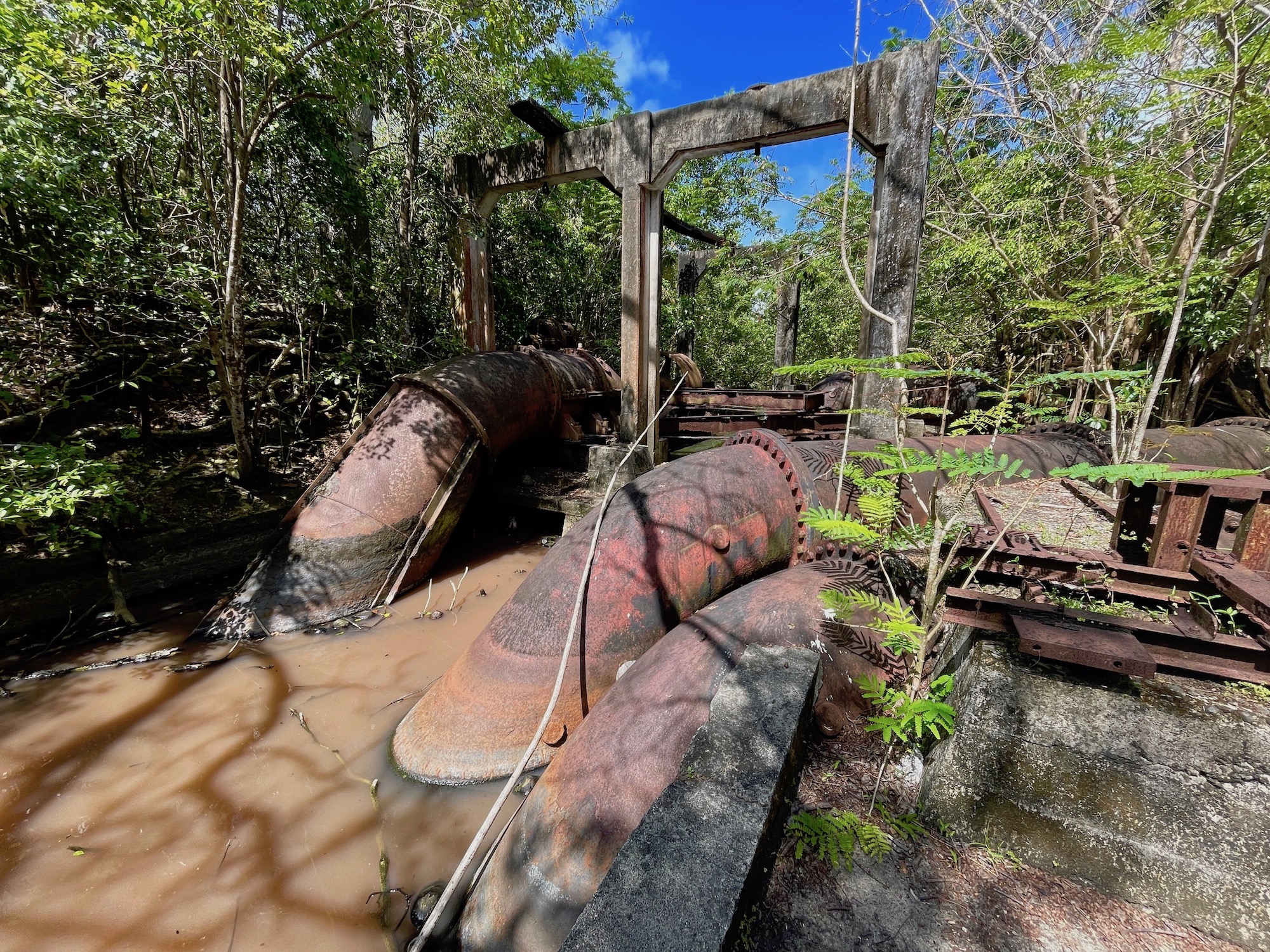 Or deserted beaches.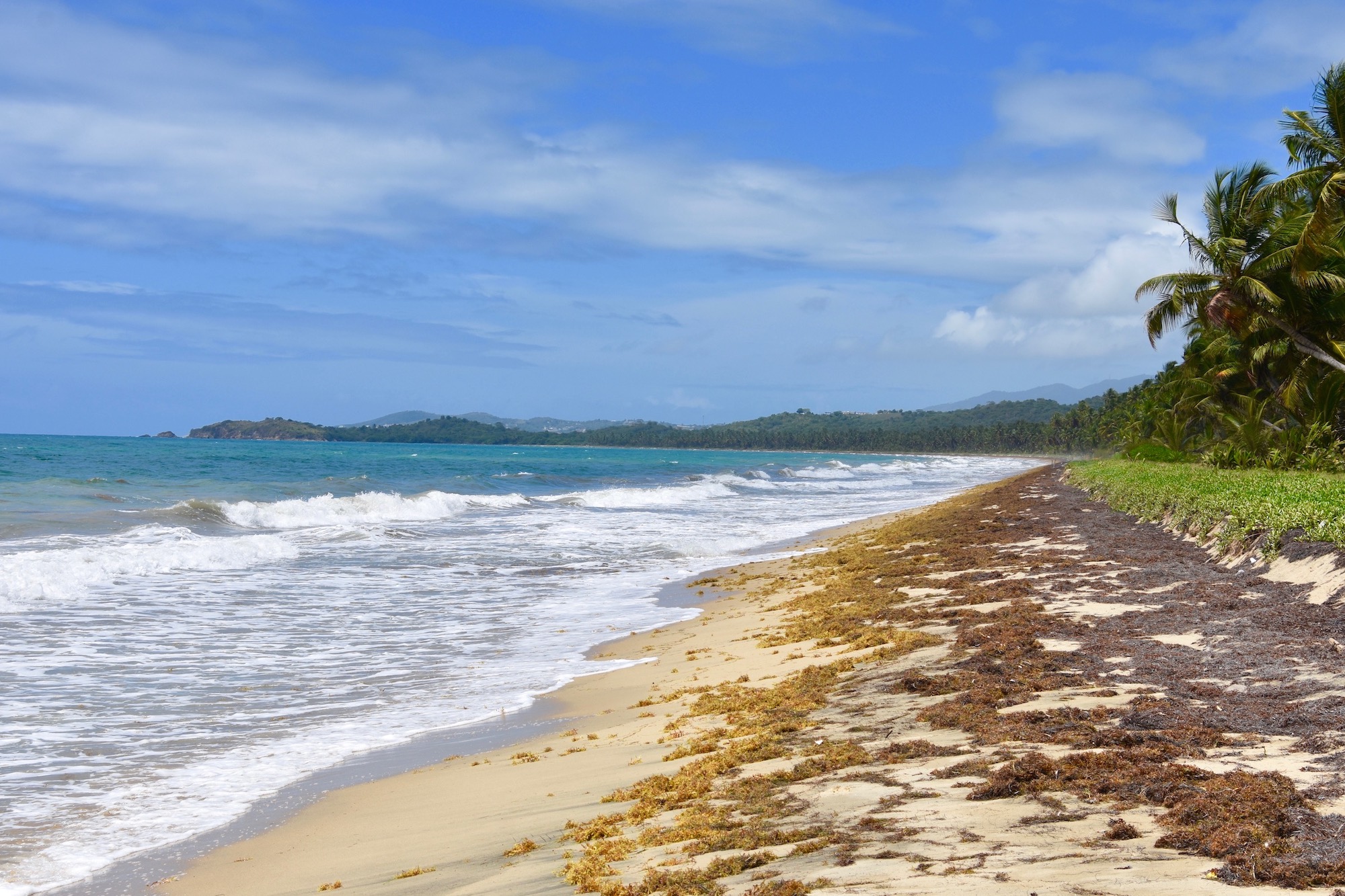 Many different species of birds and turtles.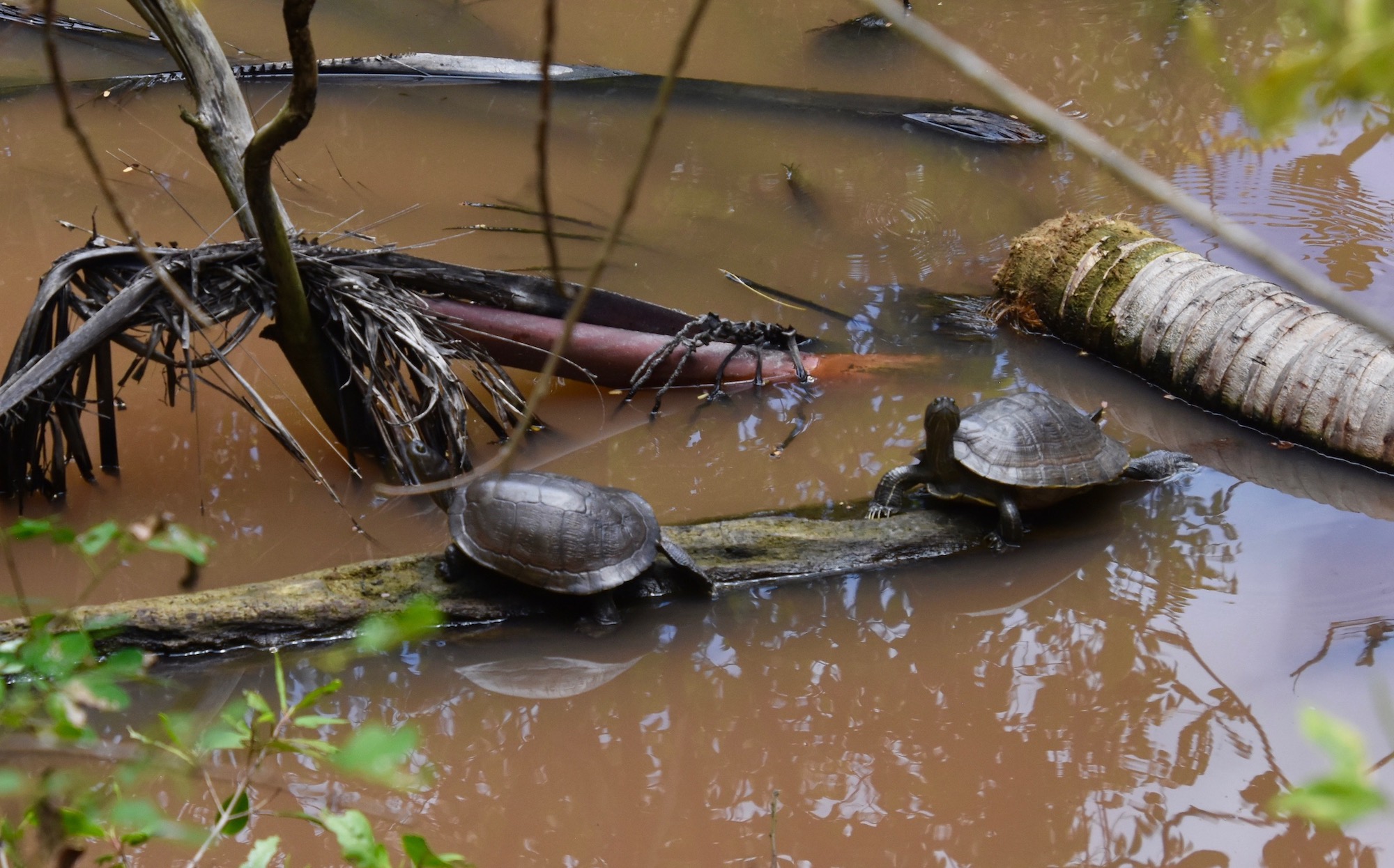 And even a WWII pillbox which provides a great view of the entire area.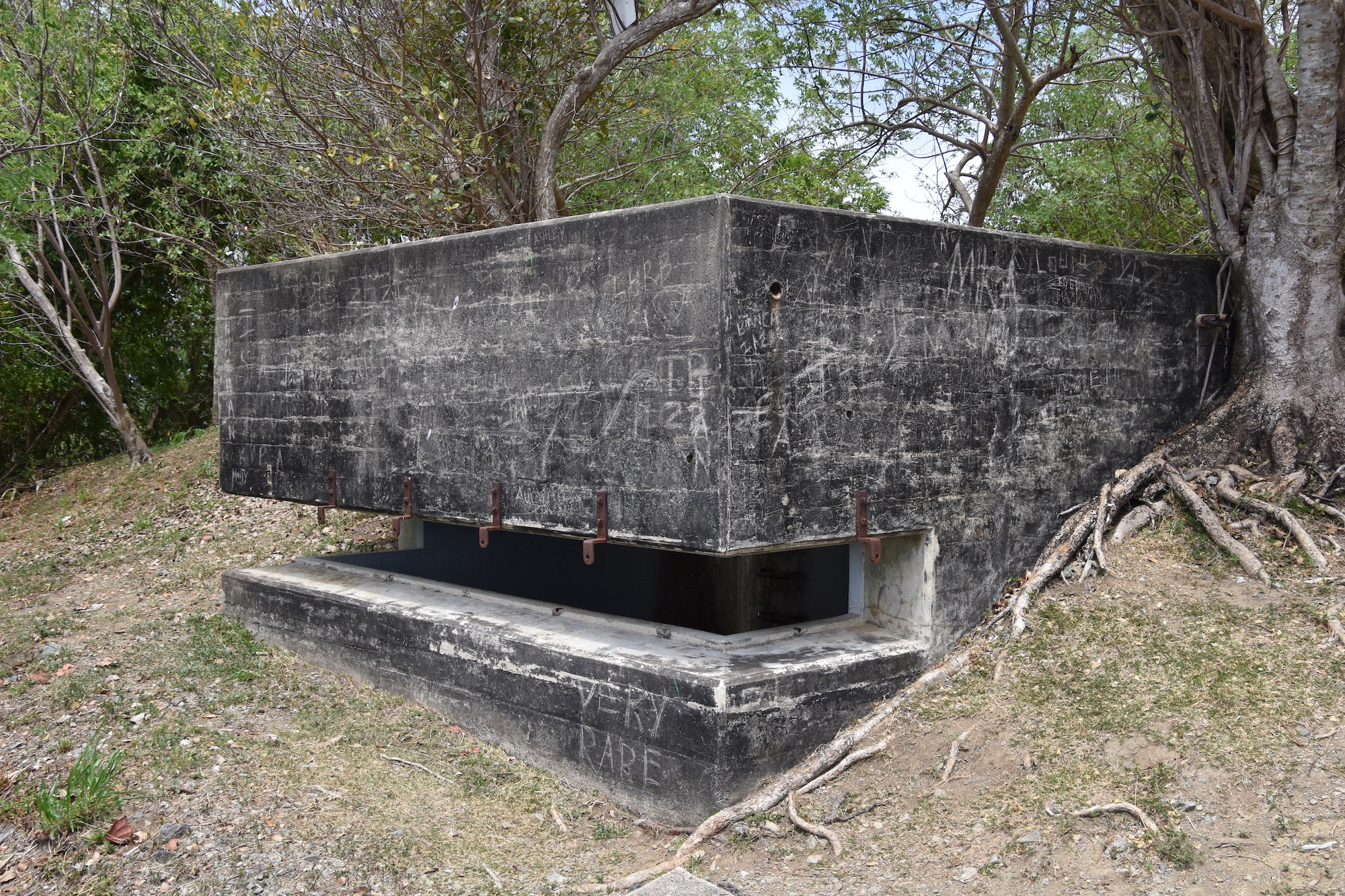 You can spend as little or a lot of time as you want at Humacao Natural Reserve, but if you want to hike all the trails it will be a full day excursion.
OK, time to play some golf.
The Palm Course
The Palm Course is the older of the two at Palmas Athletic club which partners with Wyndham Palmas to offer stay-and-play packages. It was originally laid out in 1974 by Gary Player the South African Grand Slam winner commonly nicknamed the Black Knight for his proclivity for wearing all black colors. Player has designed over 300 courses worldwide and has a number in the top 100 world rankings. This course is one of the few in the world to host a Shell's Wonderful World of Golf match when Puerto Rican golf legend Chi Chi Rodriguez hosted Lee Trevino in 1995.
The course was extensively redone by Rees Jones when he was designing the Flamboyan course so what I will be playing today is essentially a hybrid between the two golf architects.
This is a par 71 layout with five par threes instead of the usual four. It is also a bit different in that the front nine has three par fives and the back nine only one. In terms of yardage I have a bit of a quandary. From the tips it is only 6,675 yards which is short by today's standards, but still way too long for me. The next choice are the blue tees which are 6,126 yards which would be OK, but I have been told that this course is much tighter than the Flamboyan course so I'm going to pass on them and opt for the so-called middle tees at 5,654 yards which is pretty short.
As I noted in the post on the Flamboyan course, the rentals here are a good quality Titleist blade set and the electric carts are state of the art. Let's head to #1.
Palm Course #1 – 470 Yard Par 5 – #1 Handicap Hole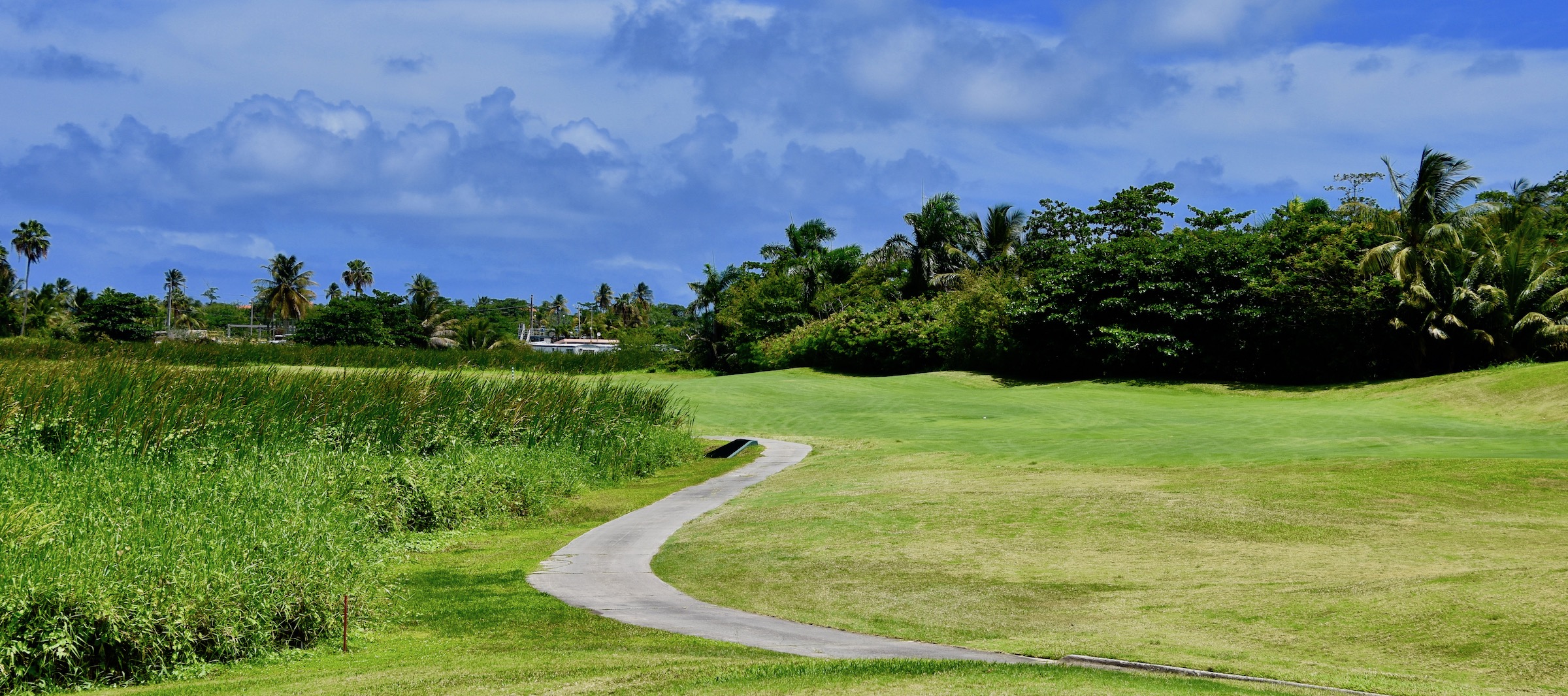 The first hole is also the hardest on the Palm Course and frankly, I much prefer the gentler opening at the Flamboyan hole. This hole is a bastard from beginning to end in terms of difficulty. It curves dramatically right to left around a wetland that extends down the entire left side, but the fairway is so narrow that using a driver invites problems. On the other hand you do need some distance from your first two shots or you will be faced with something like this for your third.

Assuming you do get this far without finding trouble left or right as the fairway virtually disappears about 130 yards from the green, you still need to stick it onto a narrow green with traps on both sides. This hole just made me nervous on every shot, not the way you want to start out.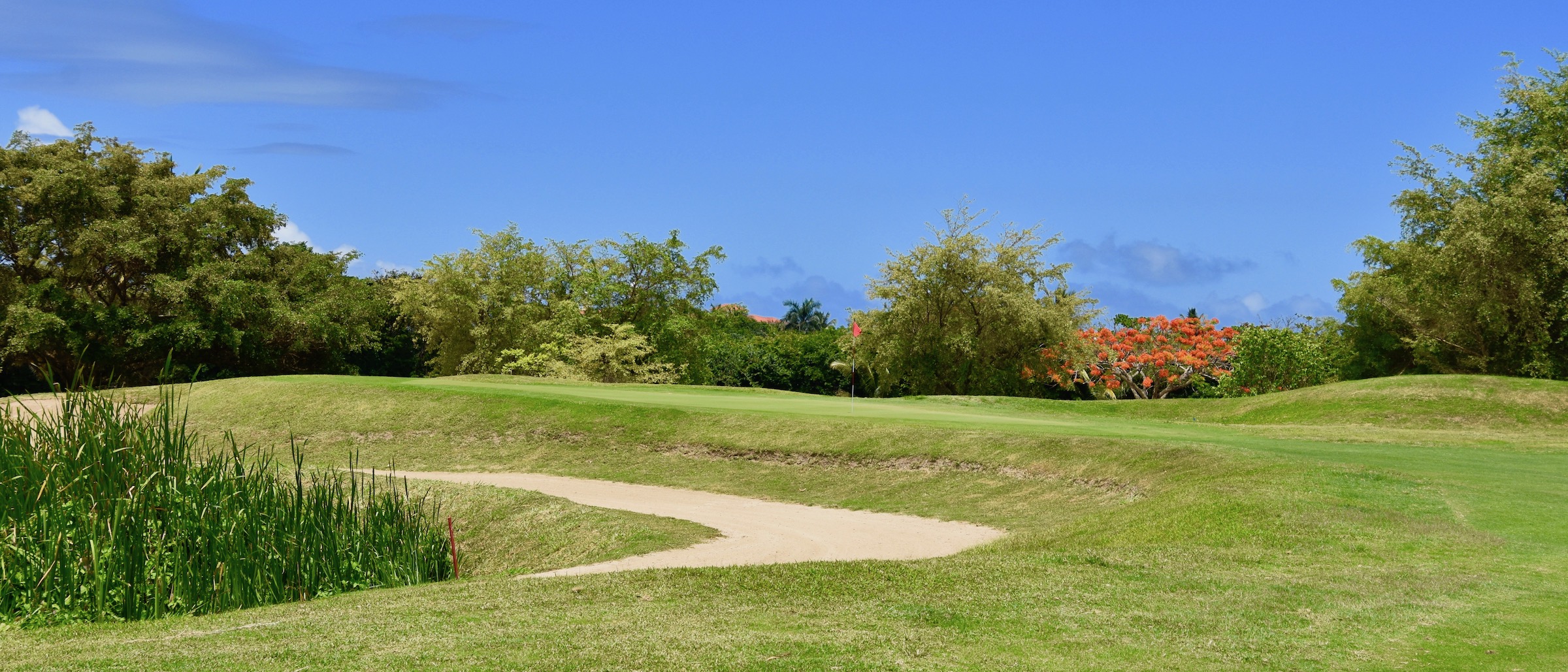 Playing as I am in mid-May, I was not expecting the greens to be in tip top condition after coming through the long dry season with a lot of rounds played on them. However, the greens on the Palm Course where in pretty good condition which actually made them harder than the greens on the Flamboyan course. Oh boy, just what I needed.
Let's just say I want to forget about my score on the first hole, knowing there can't be anything worse coming up. Seriously though, this was the hardest hole I played in Puerto Rico.
#2 280 Yard Par 4 – #11 Handicap Hole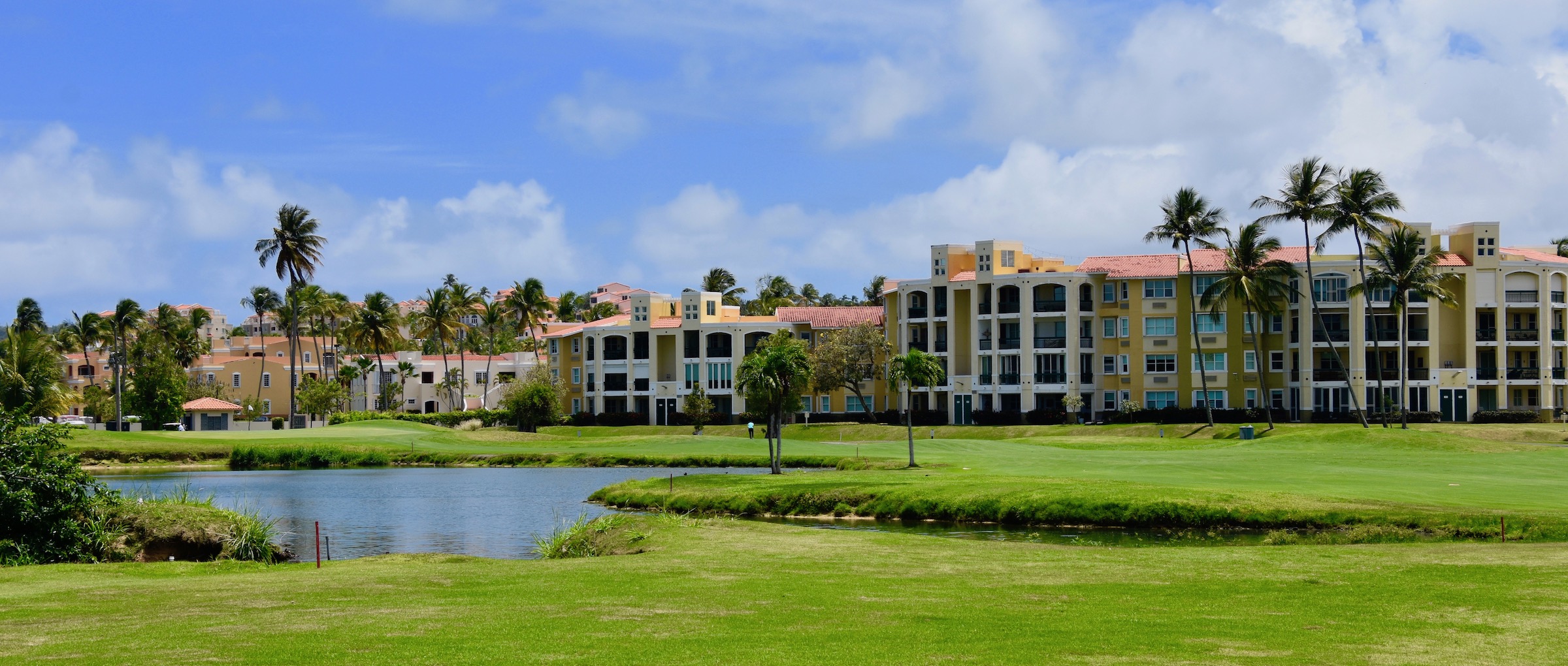 Even though there is water down the entire left side of this hole its short length makes avoiding trouble a lot easier. You can decide how much water you want to cross from all of it to just a small part. However, the hole goes so severely left that you almost certainly will have an approach shot like the one below to a slightly crowned green. Still it's only a wedge and par should be on the table. This hole was a welcome relief after #1.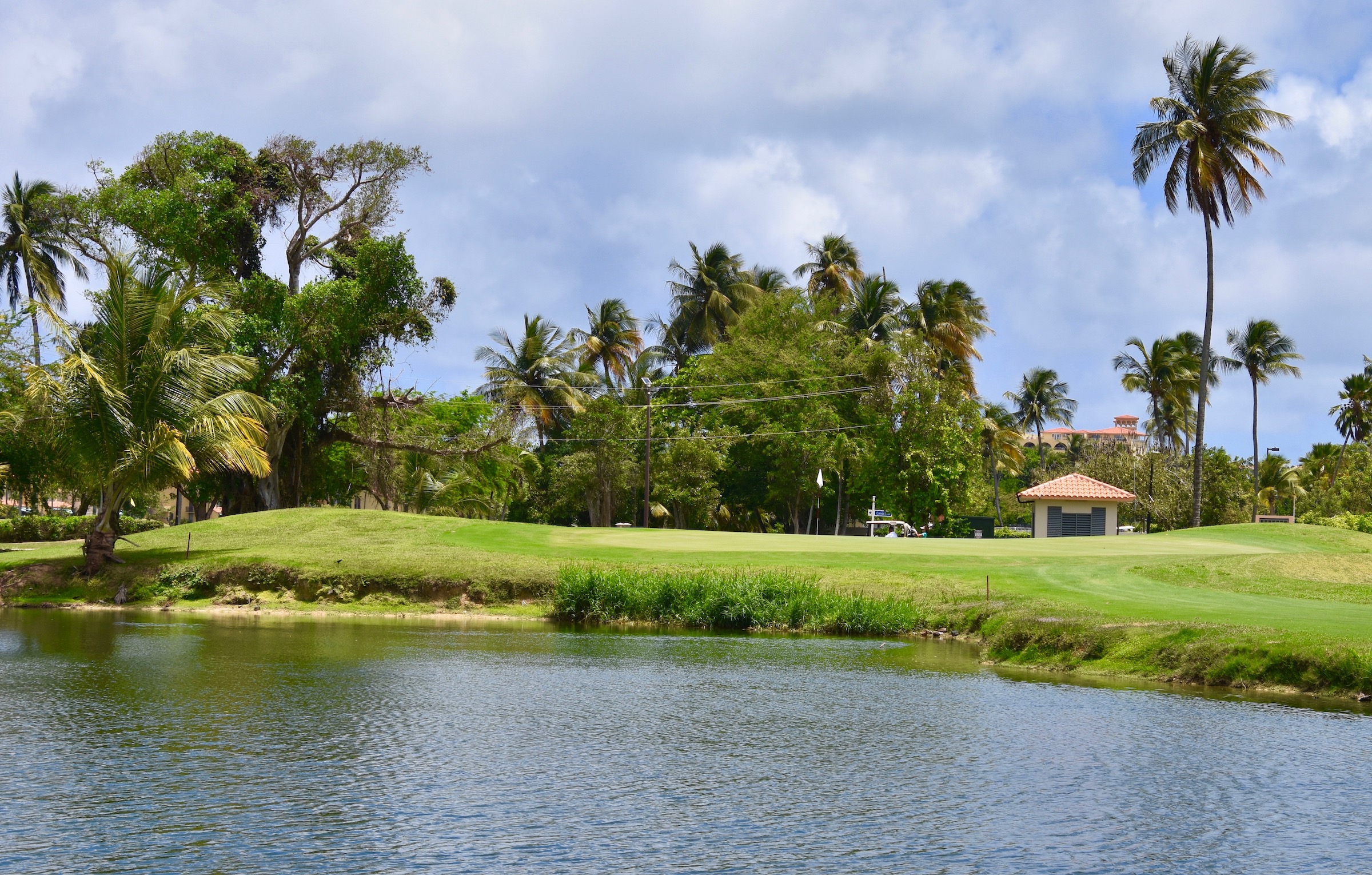 Palm Course #3 – 125 Yard Par Three – #17 Handicap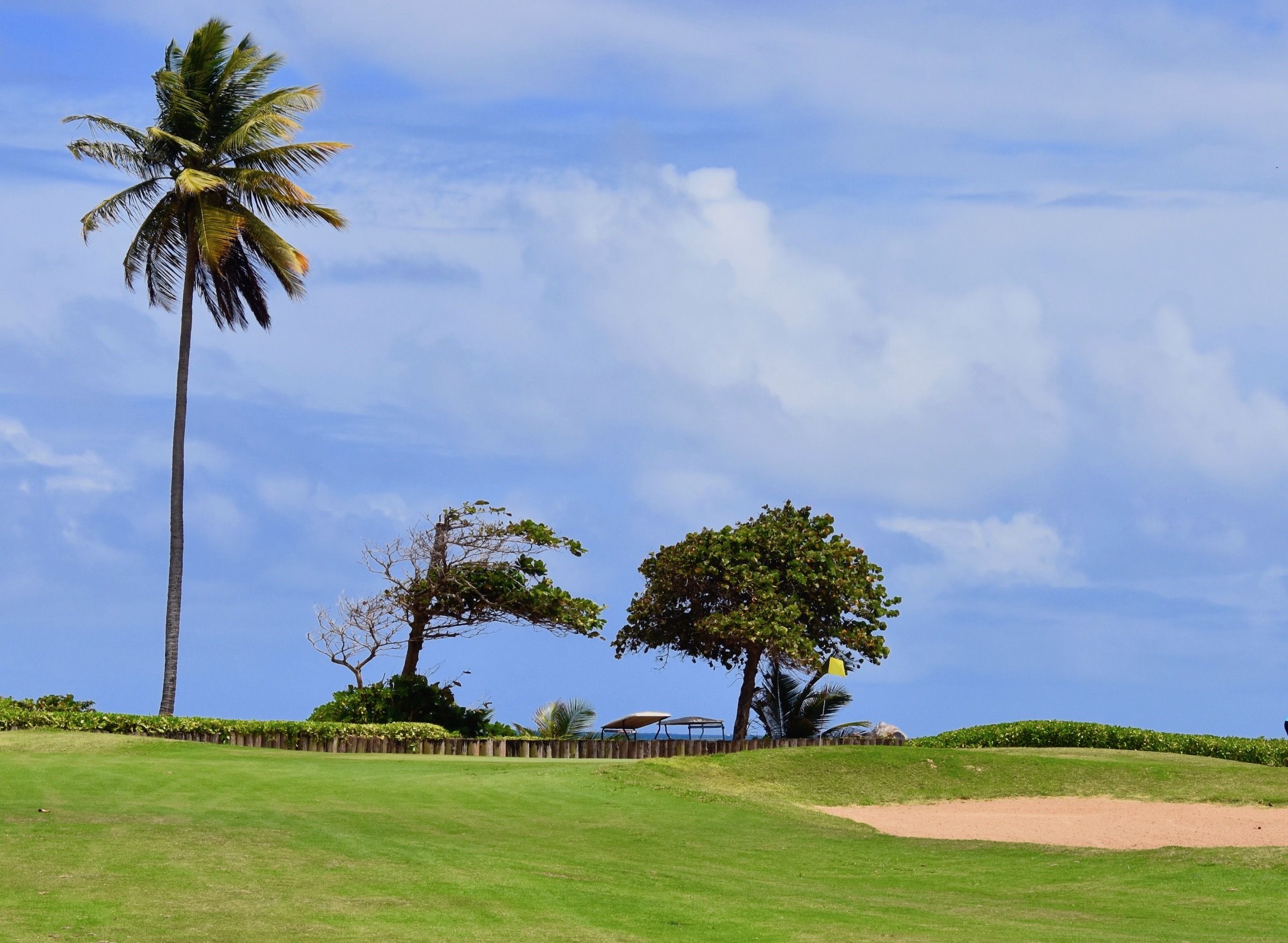 Player was given only a very small piece of land that directly abuts the ocean so he made the best of it by putting in two consecutive short par threes. This one plays a bit uphill and the wind is more noticeable than on most of the other holes on the Palm Course, but the green is fairly large and will hold a lofted tee shot.  Club selection is everything on this hole which has a classic Caribbean backdrop once you reach the putting surface.
 #4 – 110 Yard Par Three – #15 Handicap Hole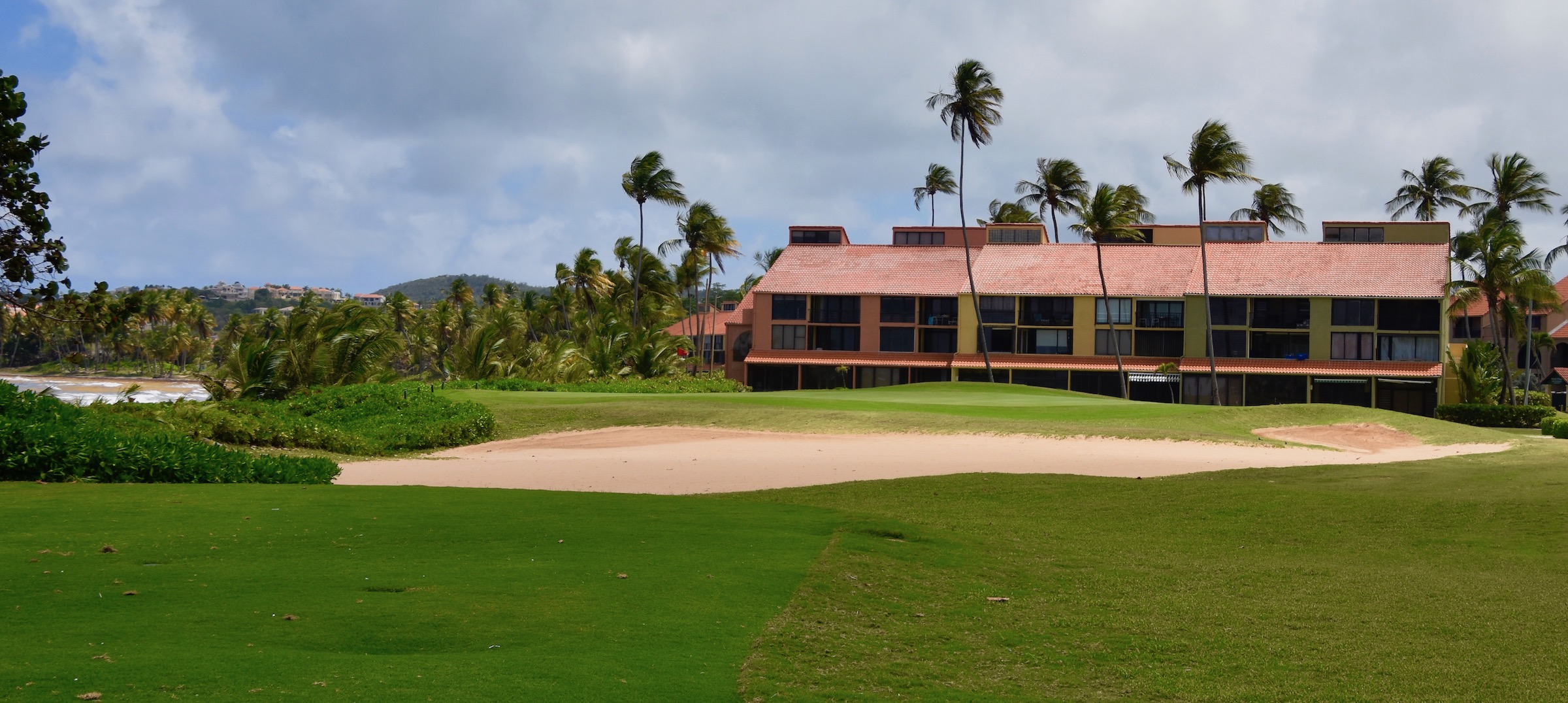 This is the only hole on the course that plays along the water although it's not really in play. There should be no problem clearing the extensive waste bunker given how short this hole plays. There are great views of the beach from the green. By now you will have noticed that the holes closer to the ocean are lined with condos which does detract a bit from the aesthetics of these holes.
After playing the last three holes I was able to forgive Player for what he did to me on the first.
Palm Course #5 – 330 Yard Par Four – #9 Handicap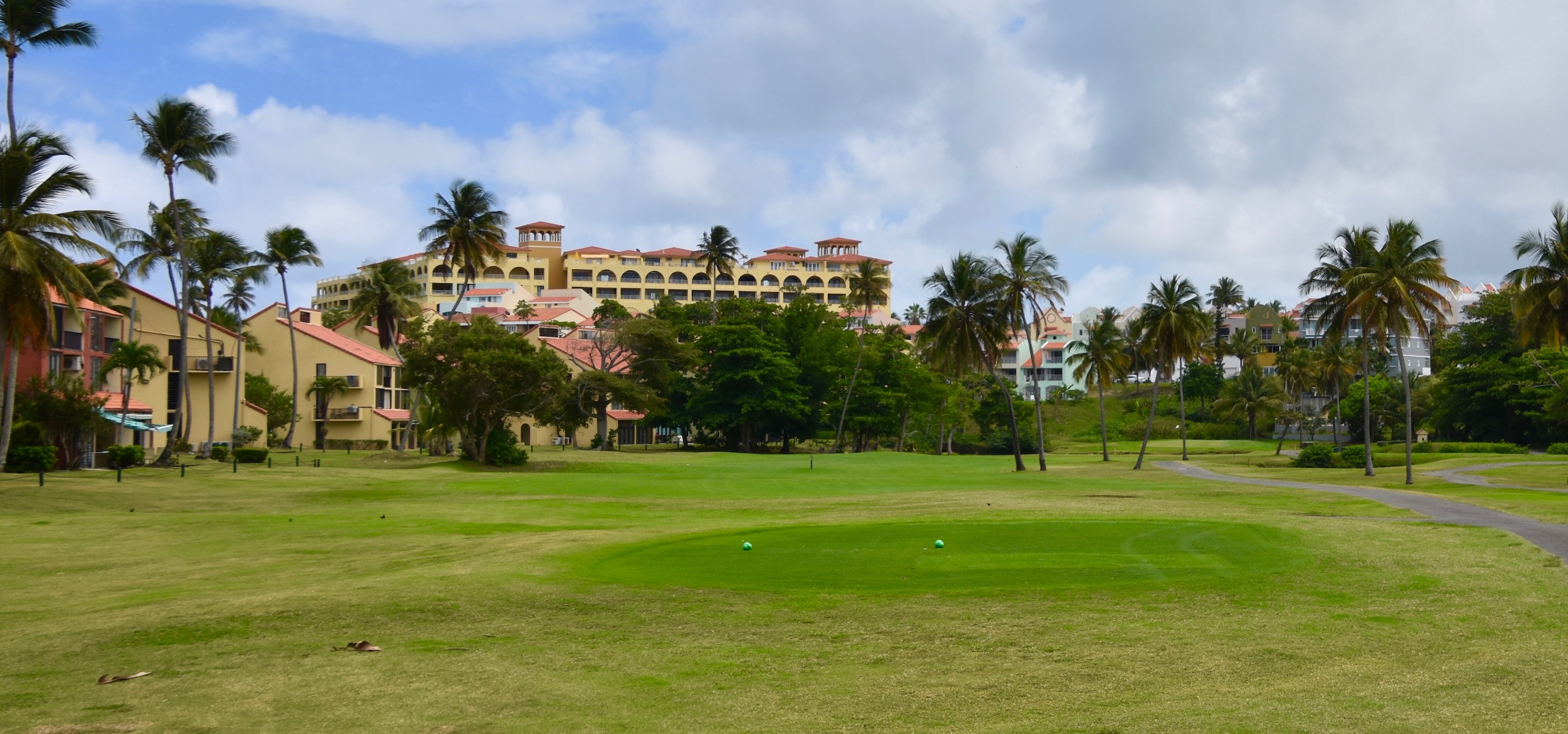 The fifth hole is a short dogleg right par four that requires a carry over water on the second shot. The palm trees down the right side challenge anyone to try to go through them to get a shorter second shot. There really is no need as a well placed drive with a wood will leave this straight shot to a small green. Failure to go straight will have consequences. Even with the condos this is a very pretty approach.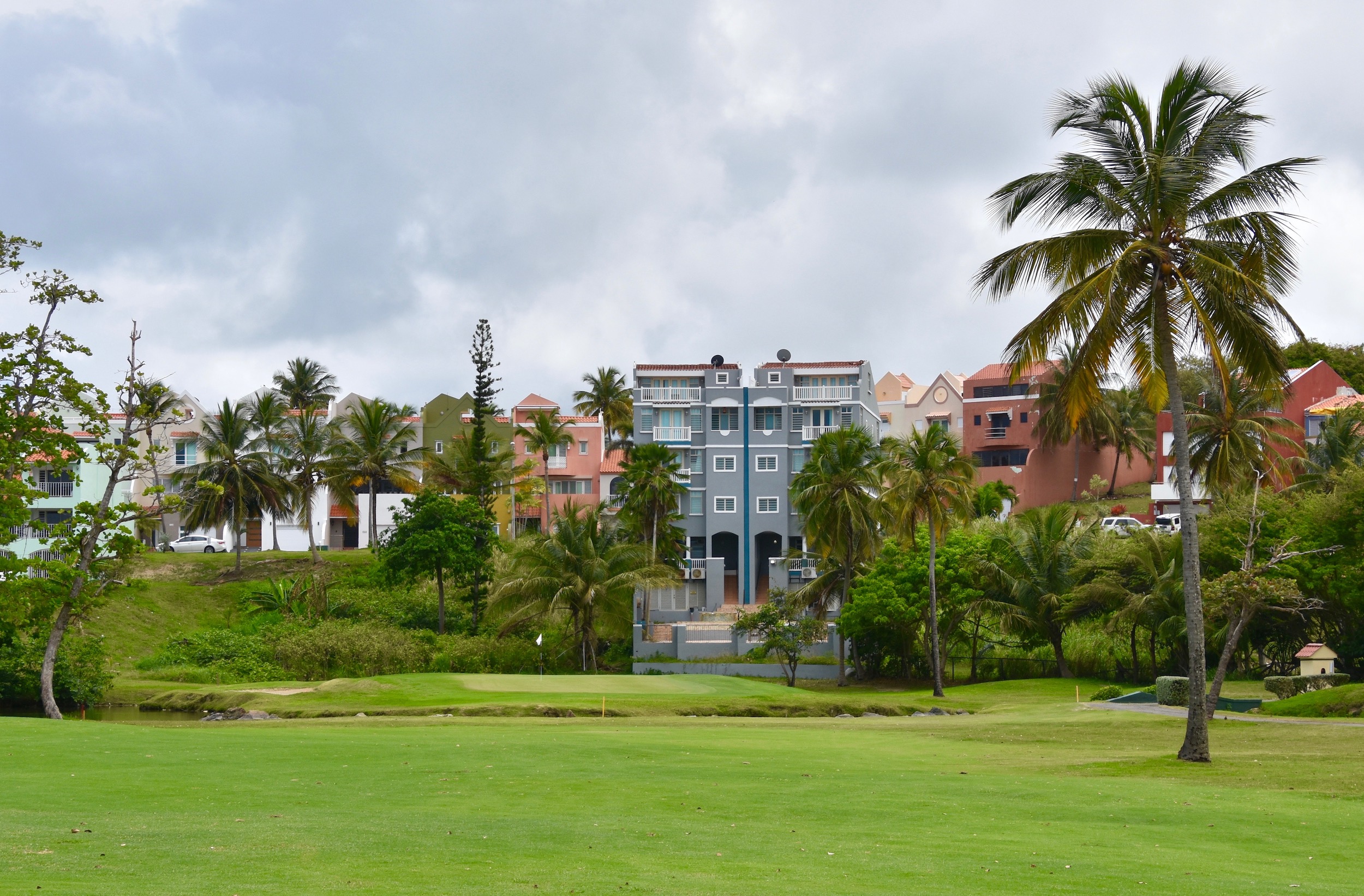 #6 – 460 Yard Par 5 – #3 Handicap Hole
Before teeing it up on the 6th I was obliged to shoo away a whole whack of iguanas who had snuck onto the course without paying their green fees. There must have been at least a dozen on this hole alone. However, they are vegetarians and despite their somewhat fearsome appearance, are completely harmless.
With the iguanas watching on, anyone should be able to keep the ball in play on yet another hole with trouble entirely down the left side. The fairway is so generous that there is no need to even think of going left. This hole just requires good hole management on the second and approach shot as the fairway gradually narrows. Rated as the second hardest hole on the front this is a paper tiger compared with #1.
Palm Course #7 – 280 Yard Par Four – #5 Handicap Hole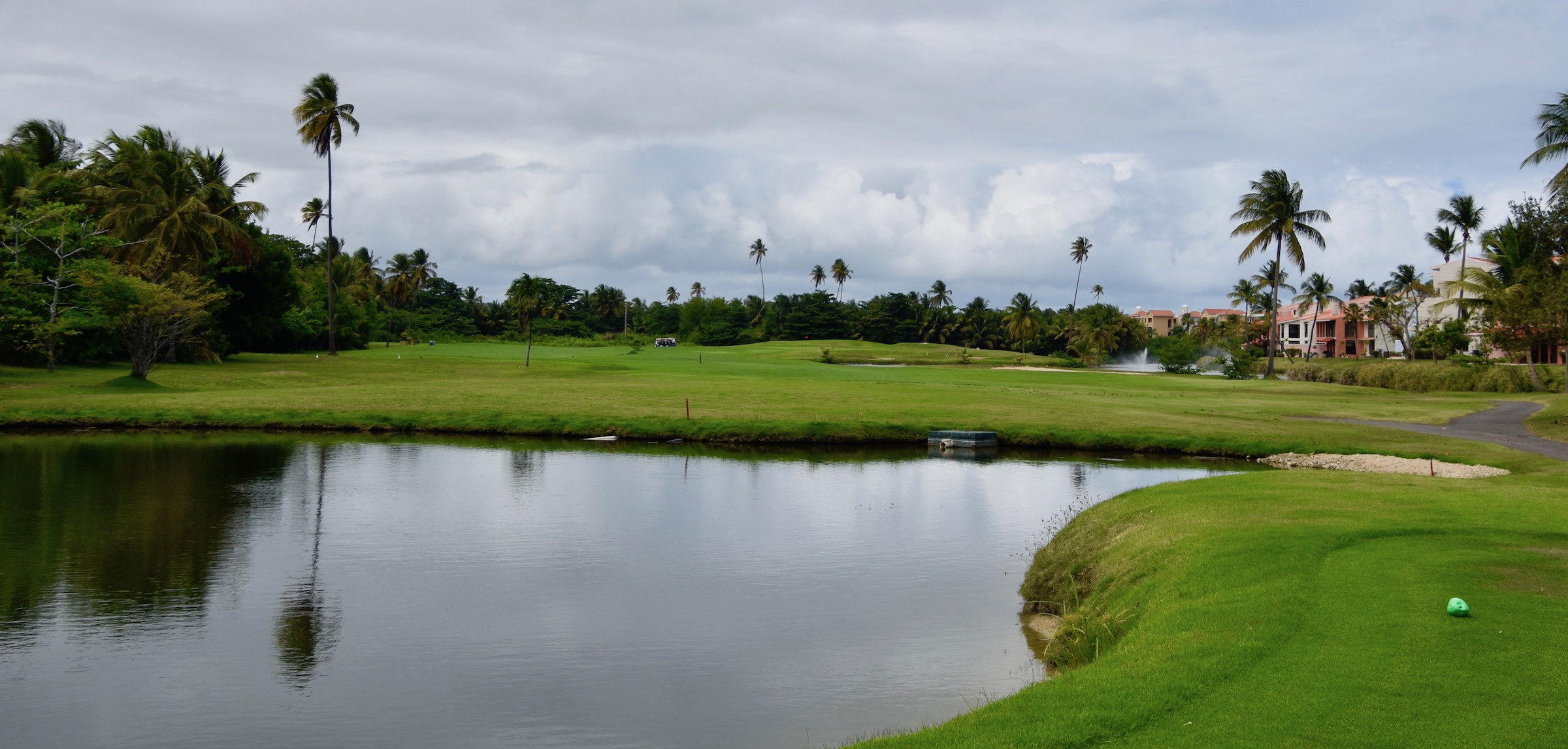 It is a truism that being short doesn't mean a hole is necessarily easy. While the water in front of the tee is not in play, the water on the right certainly is. You must be left with your drive which doesn't require length, but accuracy i.e. put away the driver.
Doing so should leave this very doable approach with tons of room to bail out on the left. Another nice baby par four.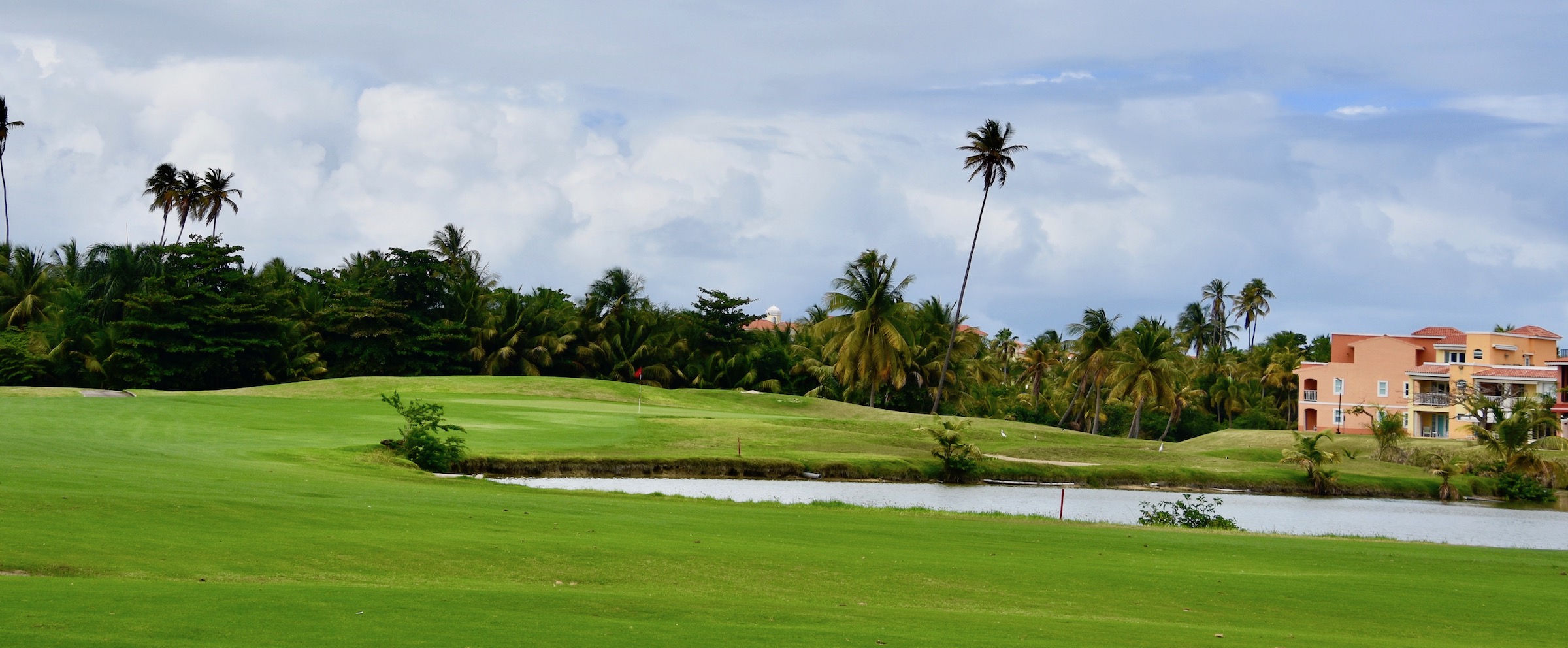 I was around here that I chanced upon this beautiful make Caribbean pintail who was minding his own business.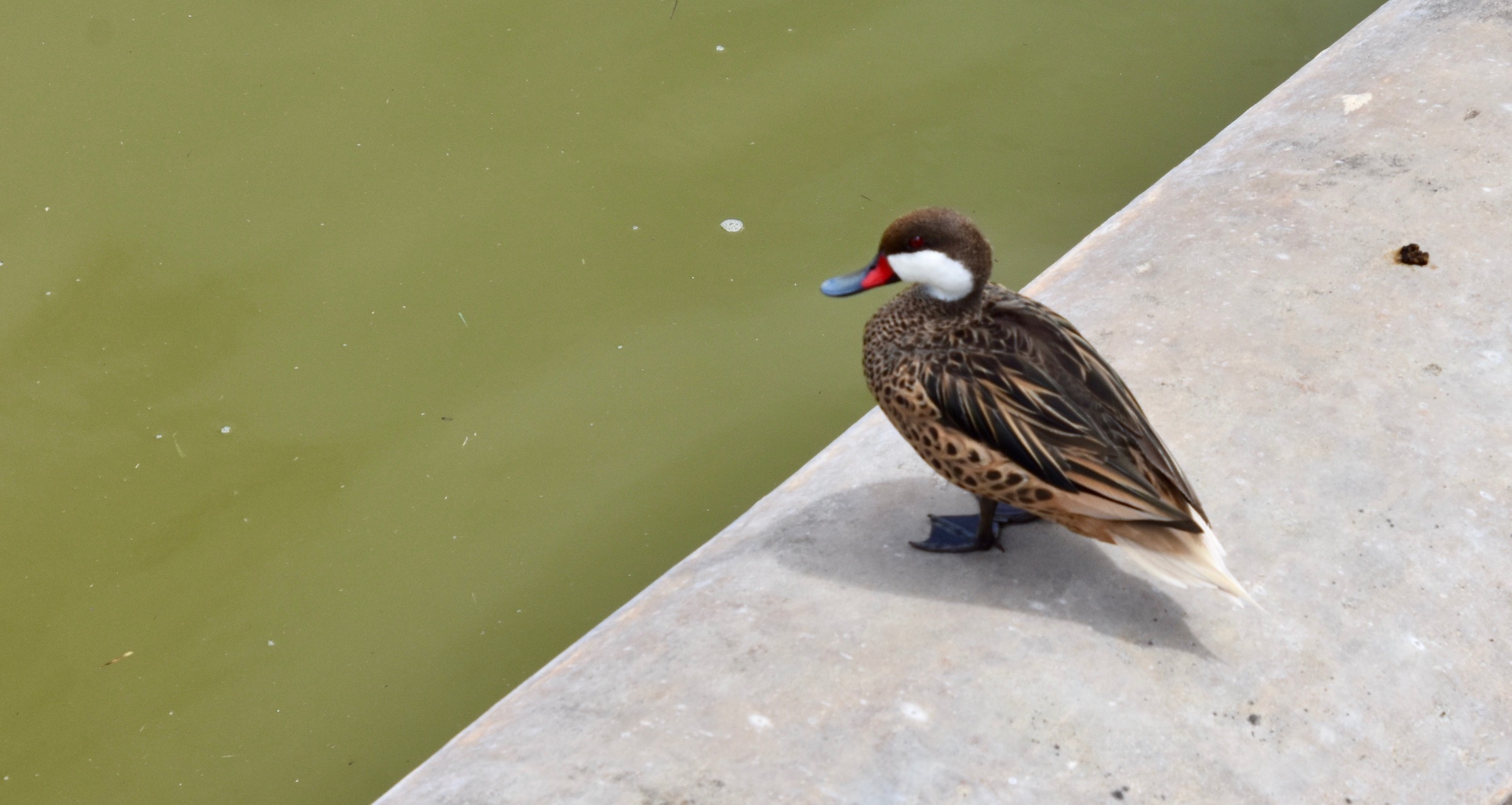 A few holes later I came across his wife with her brood of eleven ducklings in tow. It was Mother's Day, but dad was nowhere to be seen.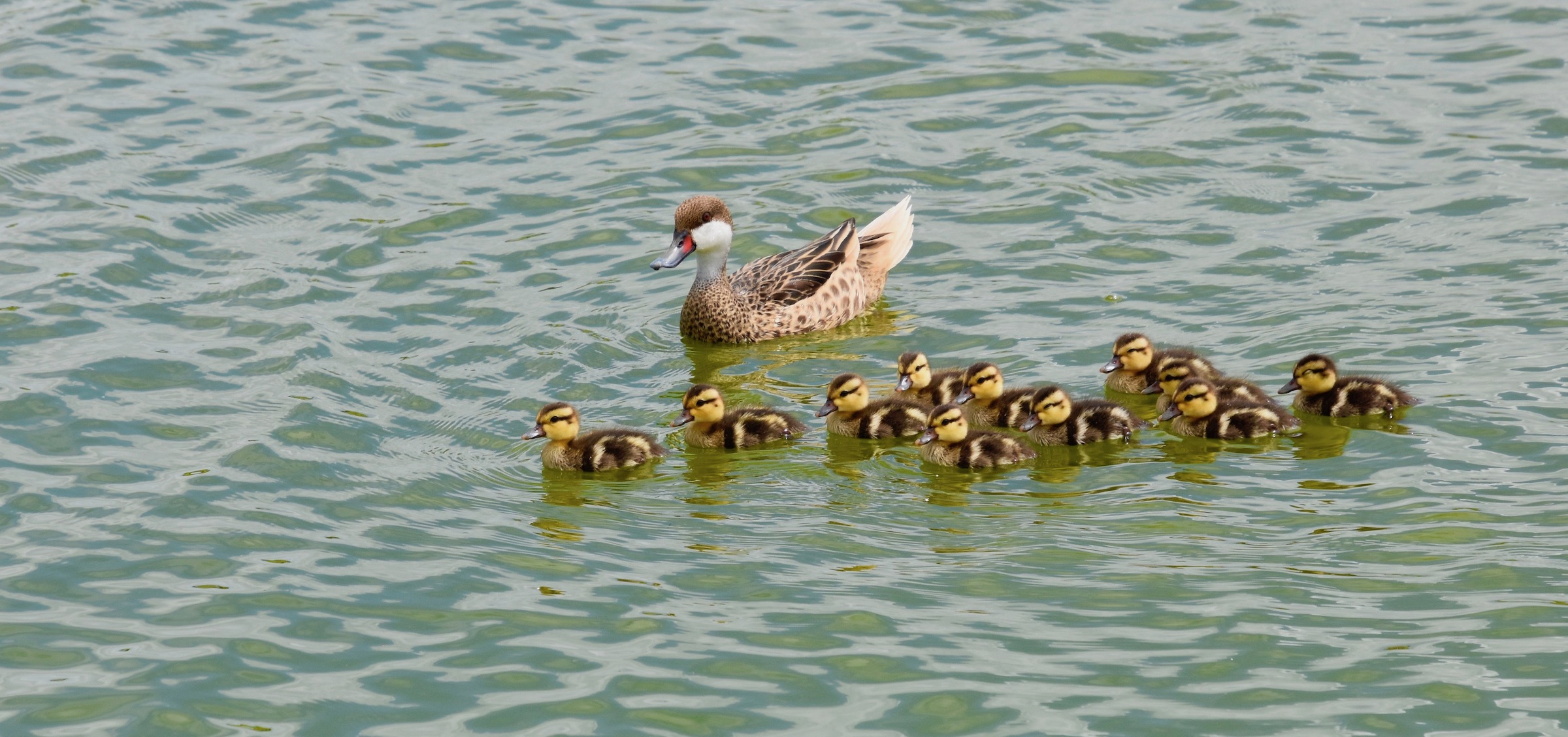 #8 135 Yard Par Thee – #13 Handicap Hole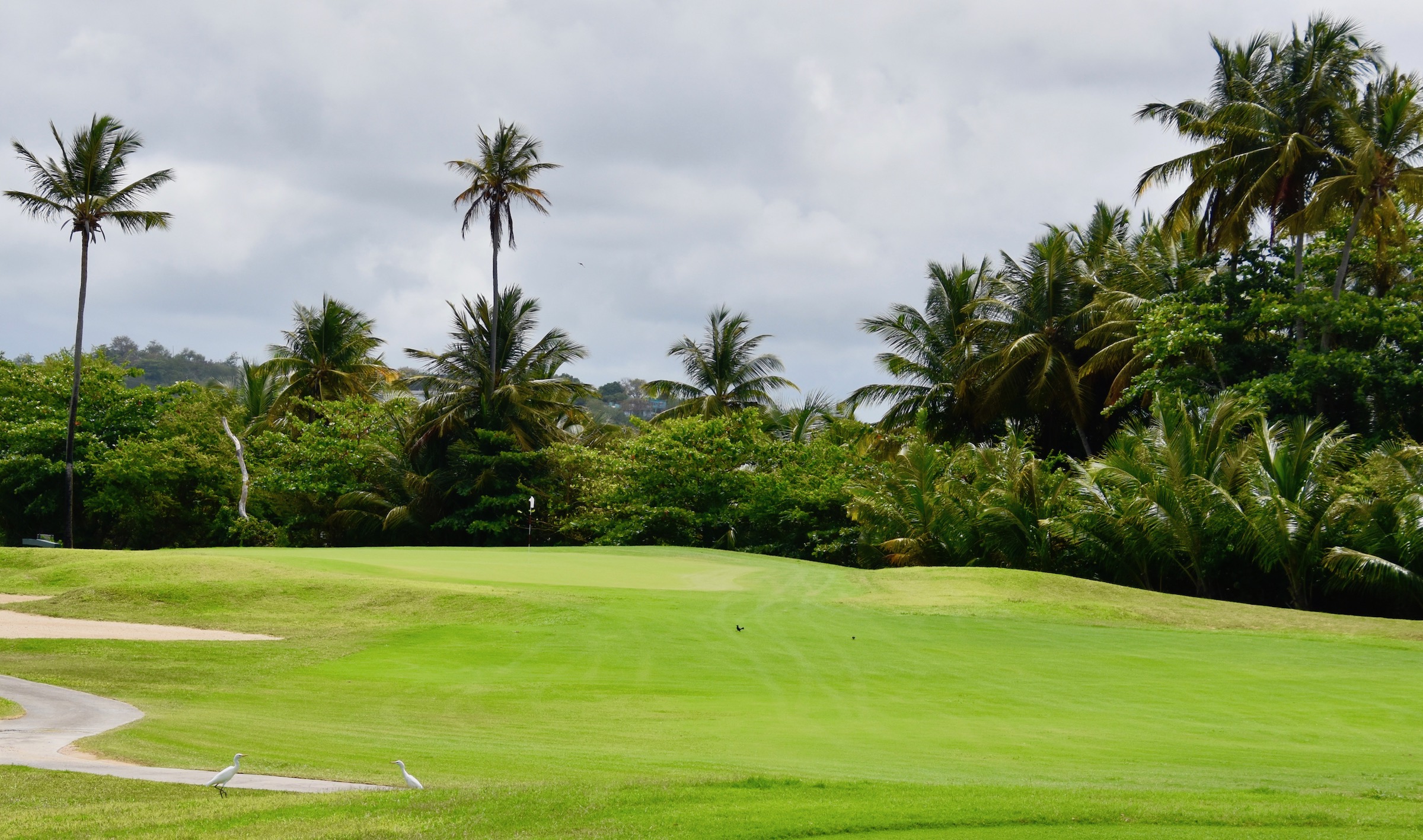 On #8 you say goodbye to the condos and from hereon in it is really a beauty to play with lots of wildlife and some elevation changes not seen up until now. This is a fairly straightforward par three with one of the larger greens on the course. Long is bad, short is OK so don't over club and par should be in the equation. After this hole you might be thinking that despite that triple on #1 you are going to have a decent score on the front nine.
Palm Course #9 – 460 Yard Par 5 – #7 Handicap Hole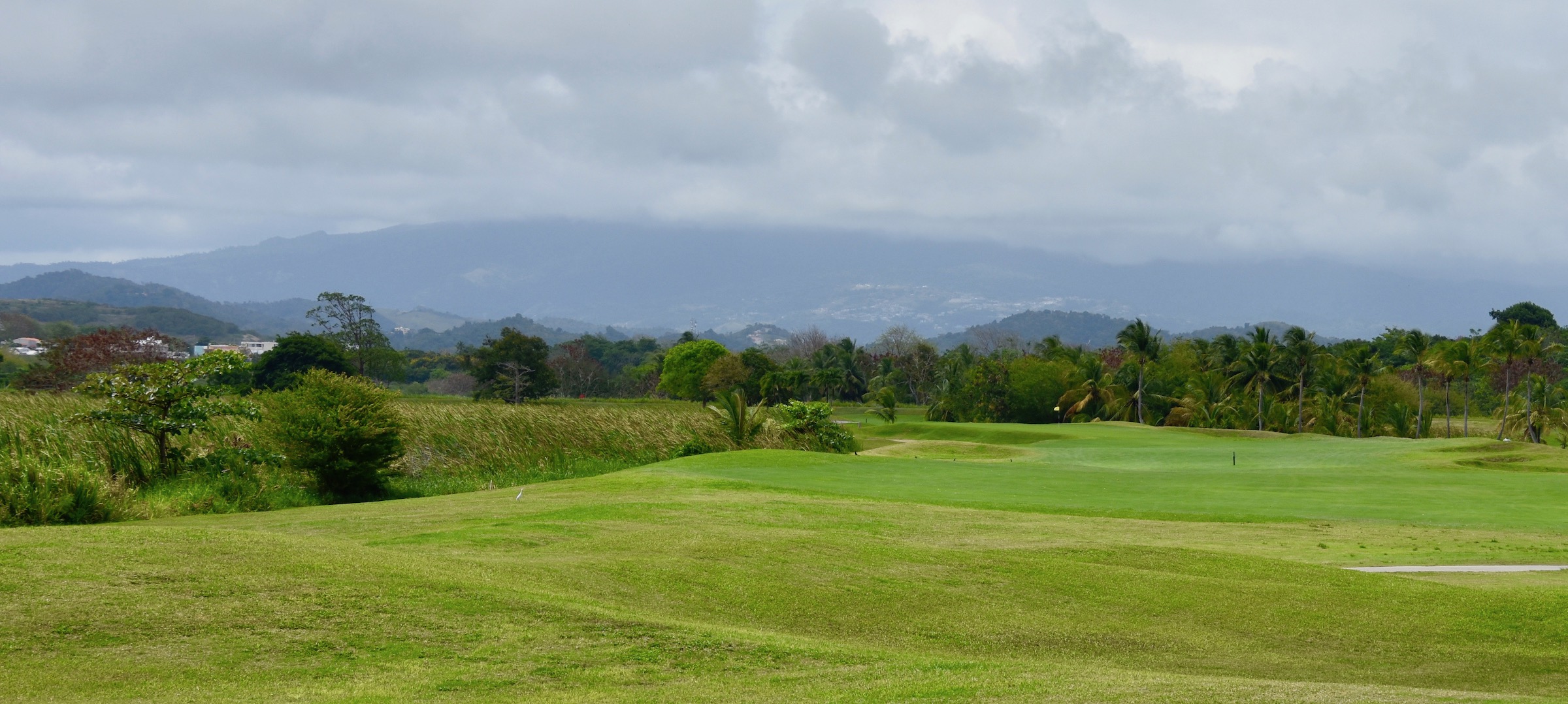 While there is trouble down the left side, the fairway on this hole remains quite wide for the entire hole rather than narrowing as has been the trend on the first two par fives. Play this as a three shot hole and it's not really a difficult par. For longer hitters this is probably the best chance you'll have for an eagle on the Palm Course.
The course does not return to the clubhouse after the front nine, but don't worry the beer cart makes very regular rounds.
#10 – 145 Yard Par Three – #14 Handicap Hole

It was on this hole that I caught up to a foursome that included a Puerto Rican golf legend, Eduardo Figueroa, usually just known as 'Eduardito'. He is the head pro at Palmas del Mar and he has a list of accomplishments in Puerto Rican golf as a player, a team coach and a teacher perhaps second only to Chi Chi Rodgriguez. He introduced himself and thanked me for coming to Palmas del Mar to play. Then he invited me to play through.
The only problem is that #10 is by far the toughest par three on the Palm Course with an elevated green that is exposed to the wind on all sides. Try making the shot with one of the great golfers in Puerto Rico watching you. Let's just say I failed the test, but it is a great golf hole.
Palm Course #11 – 375 Yard Par Four – #10 Handicap Hole
Even though #11 is longer than most of the par fours up until now, it is not that difficult; avoiding the fairway bunkers will almost certainly leave a shot like this to a reasonably large green.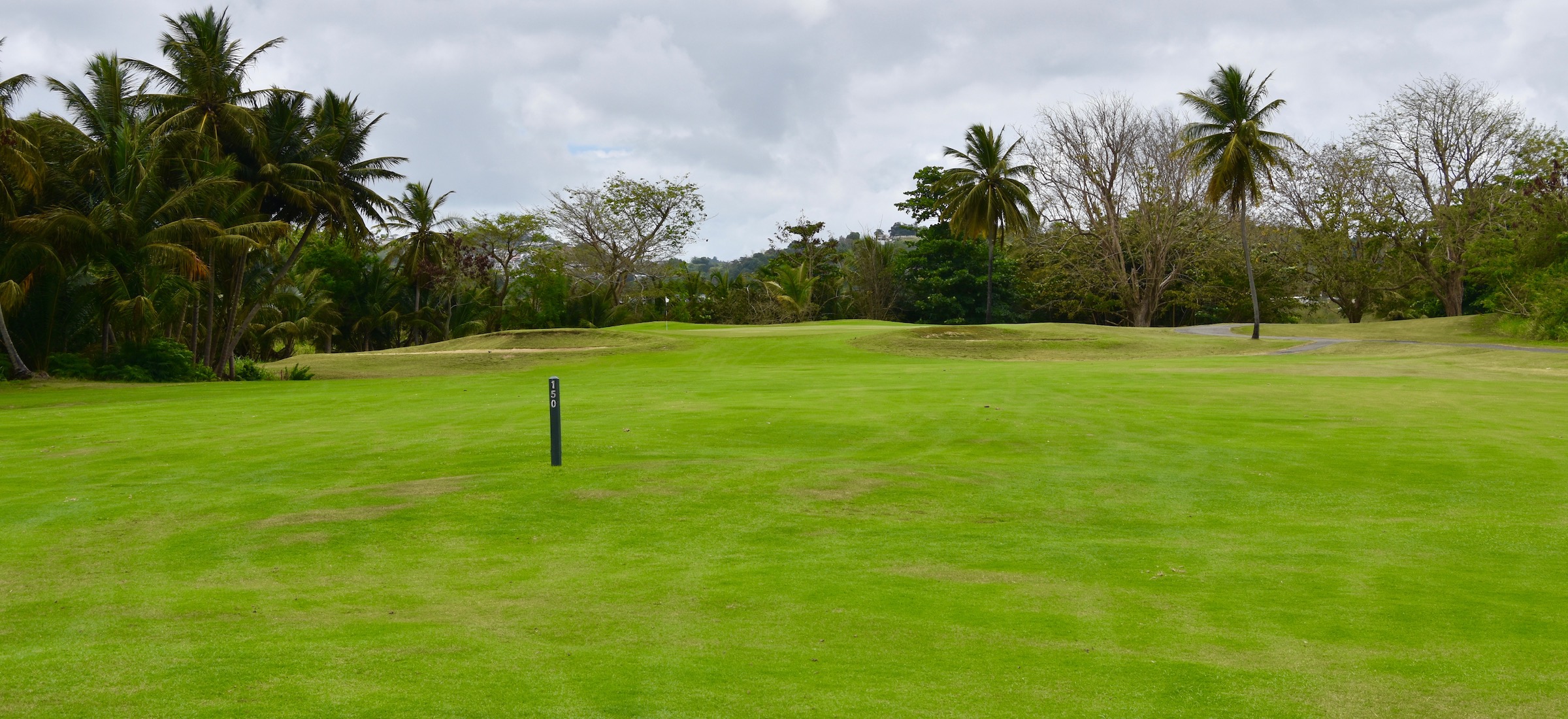 #12 – 350 Yard Par Four – #4 Handicap Hole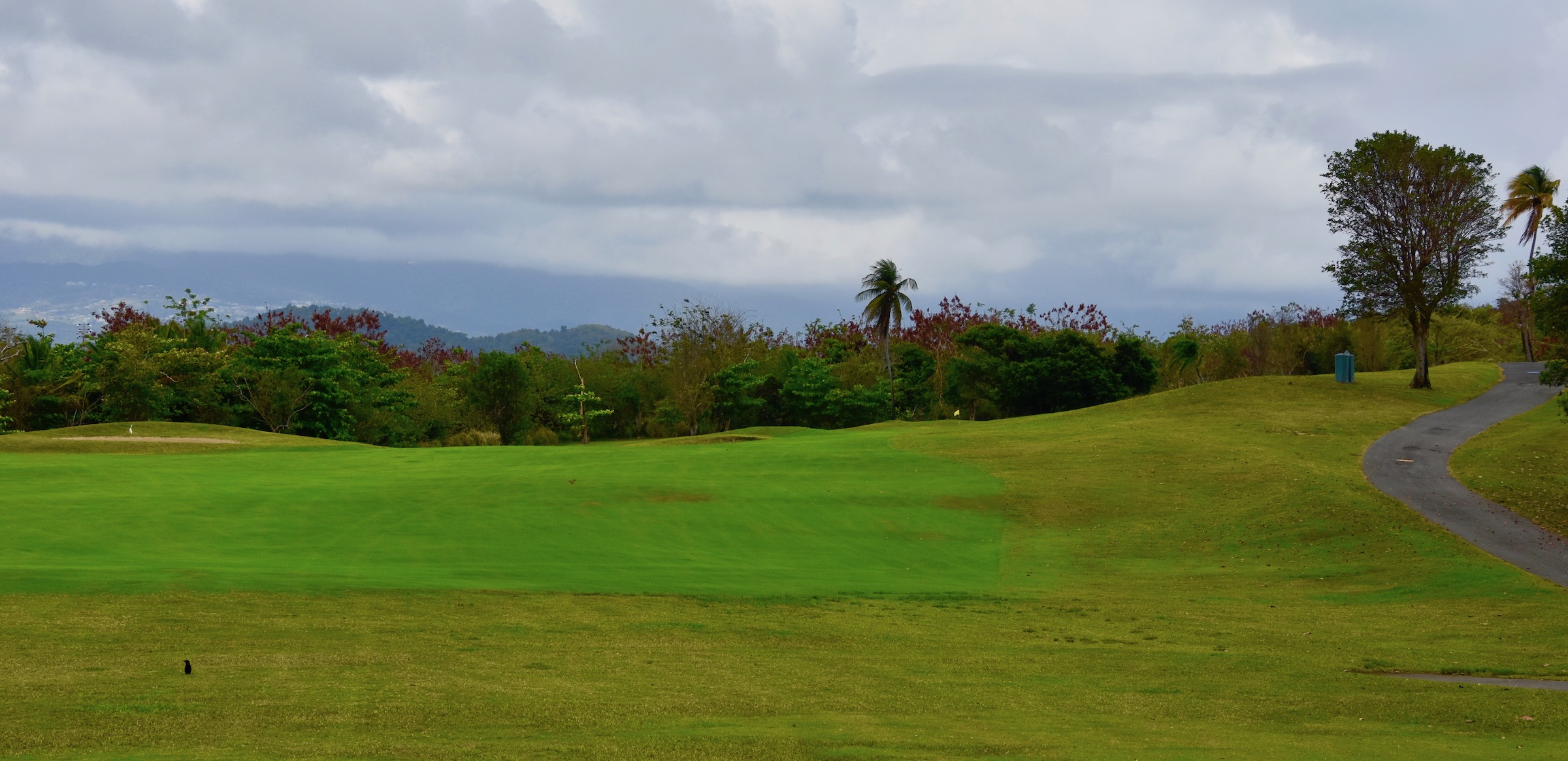 This dogleg right does offer the chance to cut off some distance by going over the mound on the right. There is a huge landing area that'll let you rip and end up with something like this for the approach shot. The severely sloped green challenges one to stay above the hole and let the ball drift to the pin after it lands.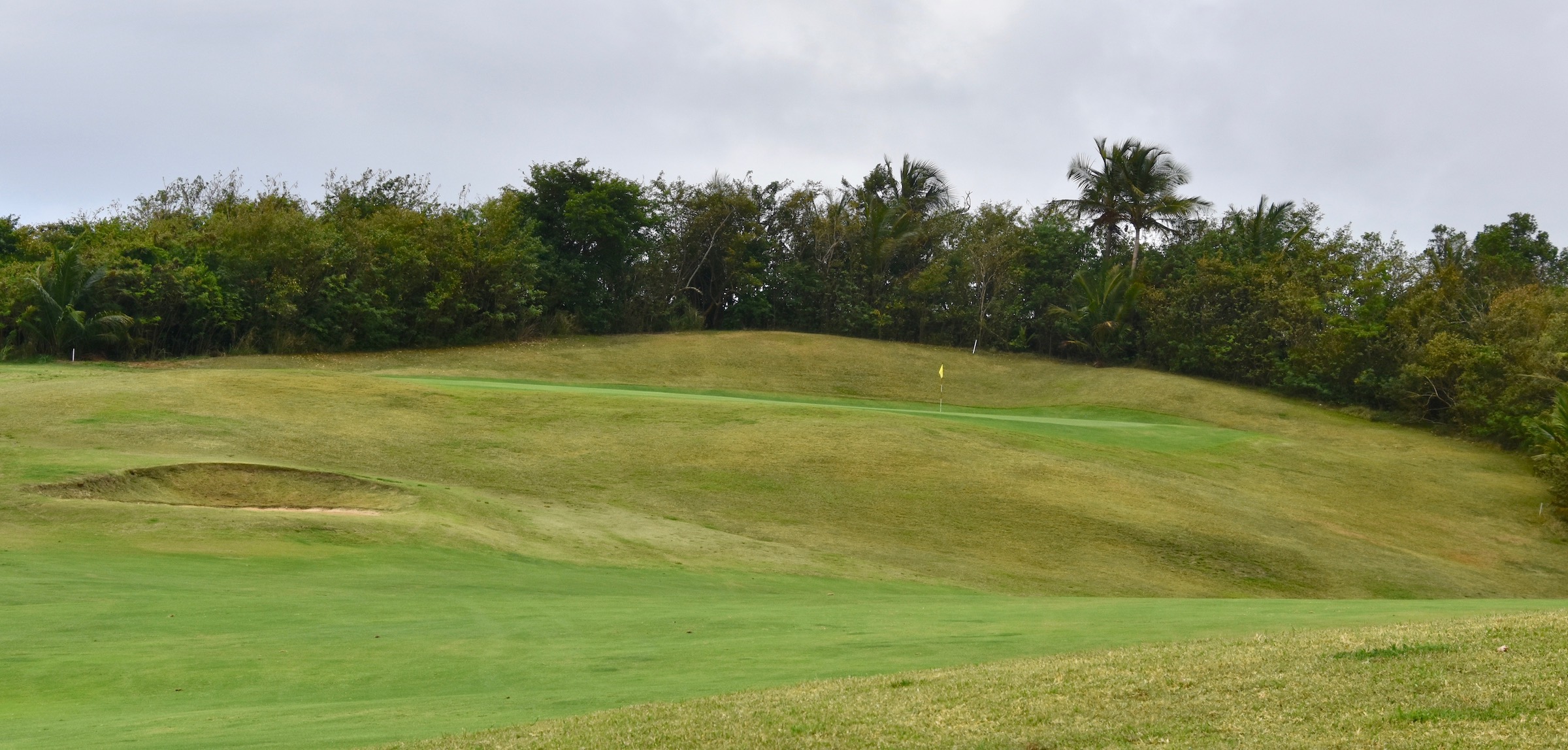 Palm Course #13 – 160 Yard Par Three – #8 Handicap Hole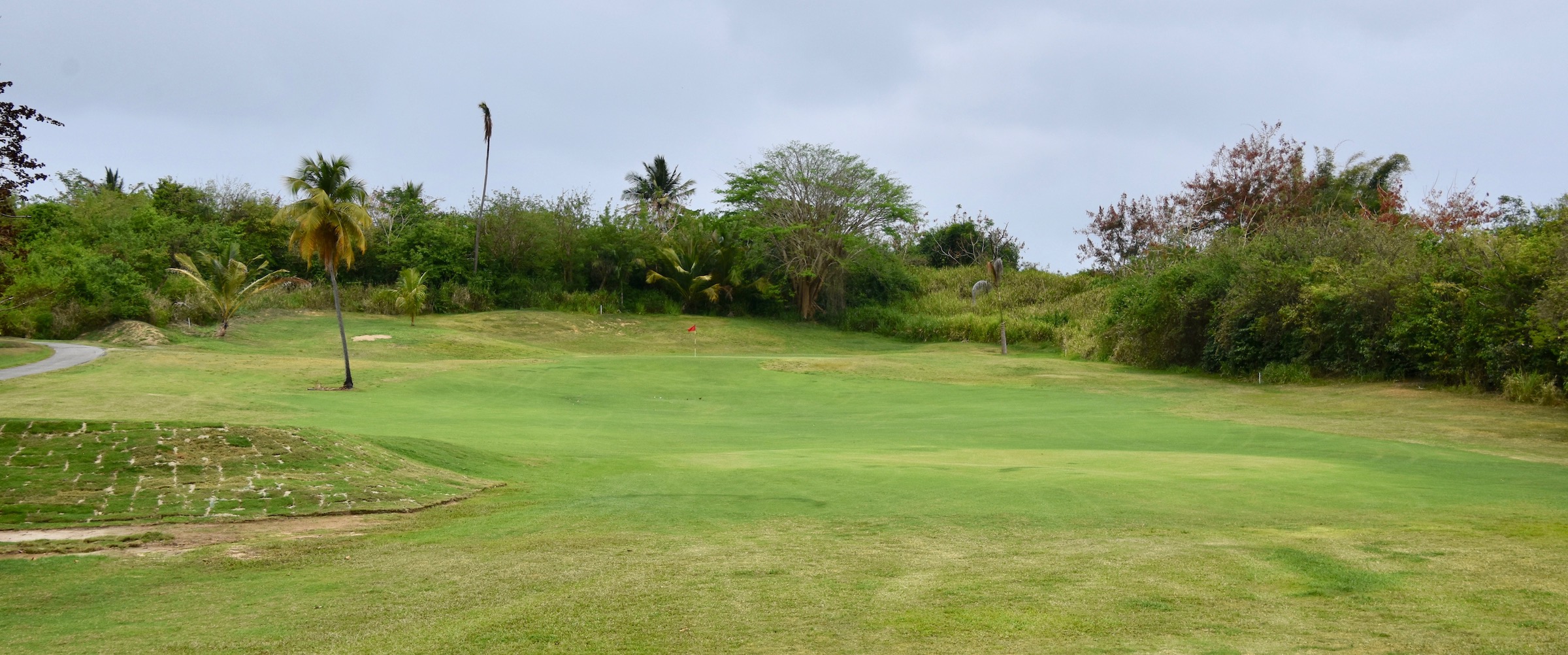 Somewhat unusually for a course with five par threes, the last one is on the 13th hole. The hole plays longer than its stated length to a smallish green. Being short won't hurt, but neither will going long as the bank behind the green will prevent all but the most ridiculous drives from going into the shit. I don't know who sets the handicap ratings, but this par three is nowhere near as difficult as #10.
#14 – 375 Yard Par Four – #6 Handicap Hole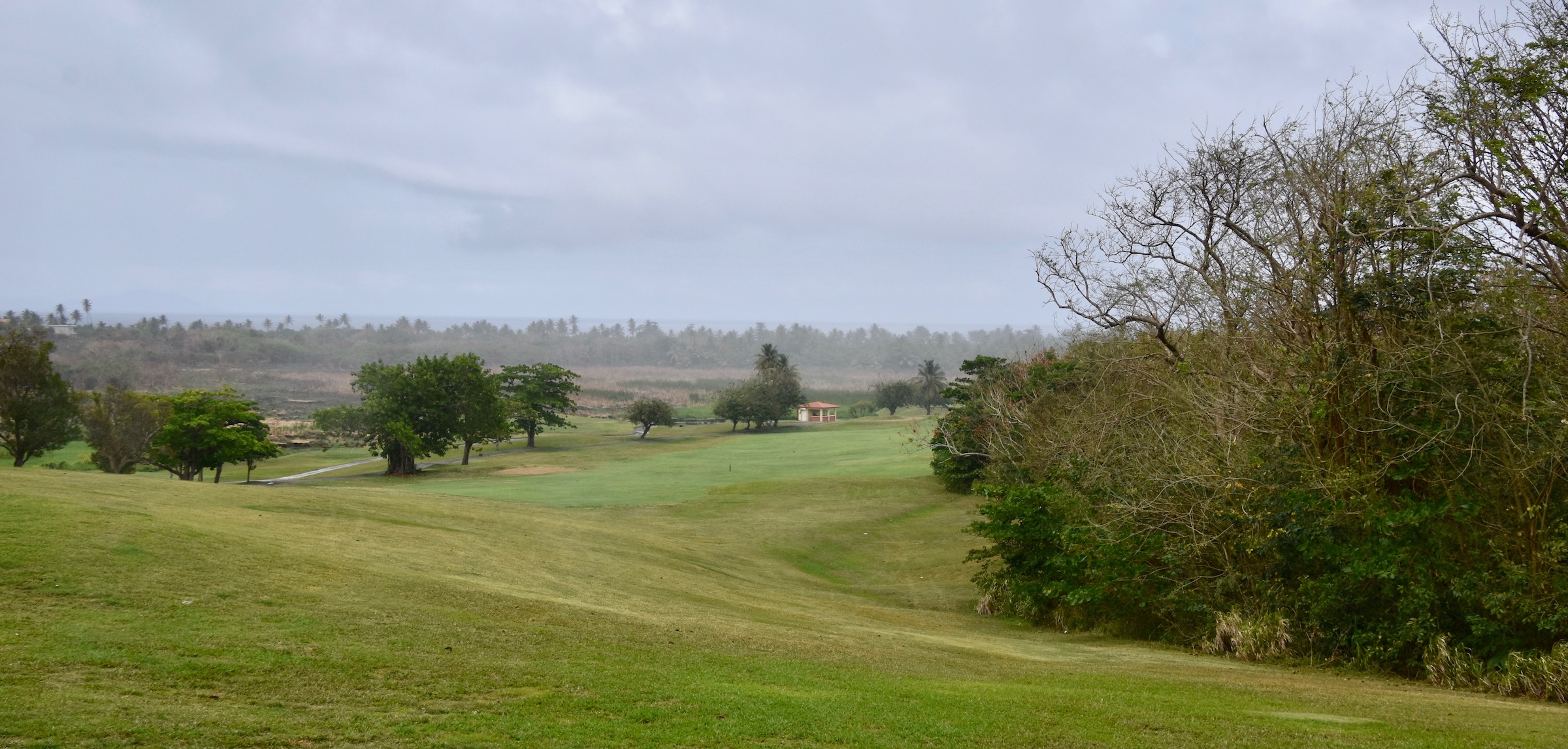 #14 starts a string of holes that was by far my favourite stretch on the Palm Course. There are three consecutive dogleg right par fours which with my right to left ball flight had me hitting away from trouble on all of them. There are also some nice elevated tees. On this hole I got caught in a very brief afternoon rain shower which is common at this time of year. However, they are over as quickly as they begin.
Palm Course #15 – 390 Yard Par Four – #12 Handicap Hole

Despite its ranking this is a tough hole. Not only is it fairly long, but it's uphill so it plays more like 425 yards. To top it off the fairway narrows precipitously on what will surely be a very long second shot. Bogey is a good score on #15.
#16 – 334 Yard Par Four – #16 Handicap Hole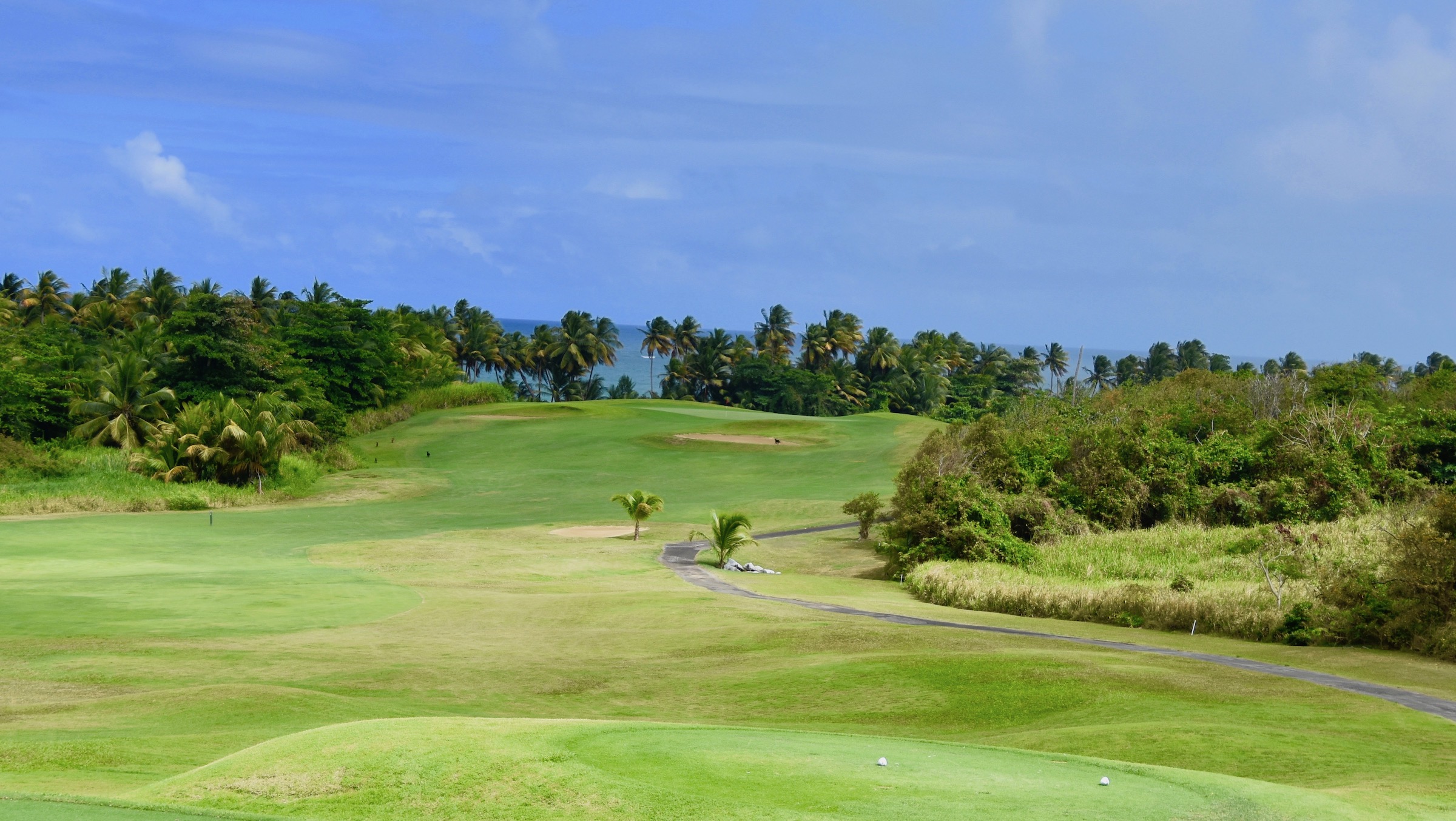 To me #16 is the signature hole on the Palm Course. The combination of the down and up elevation change with the palm trees and water in the background is exceptional. This is a little tighter driving hole than usual with not much space between the fairway bunker cart on the right and the wetland on the left, just about in the area where most drives are going to land. Big hitters can try to simply go over this while others will lay further back. In either case  you are going to have to add a club or two to account for the most uphill shot you will face on the Palm Course.

Palm Course #17 – 400 Yard Par Four – #2 Handicap Hole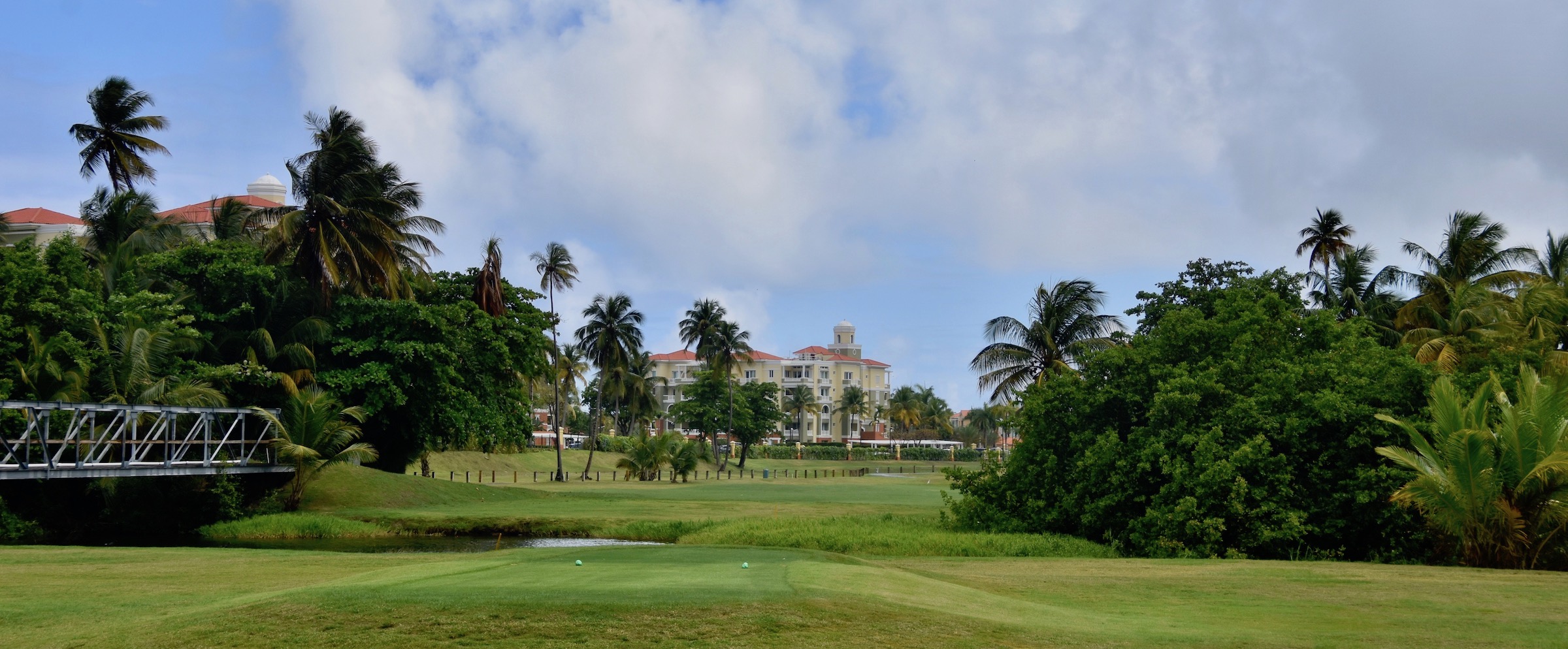 #17 is the longest and hardest of the par fours on the Palm Course. The drive is quite tight as you can see with OB on the left. It is also where the condos return and you say goodbye to much of the greenery that you have been seeing for the last nine holes. Like #15 I suggest playing within yourself and expect a bogey because you can do a lot worse if you try to reach this in two.
One consolation is this view of the Caribbean from the bridge just after the tee box. Notice the contrast between the color of the fresh water and that of the salt water.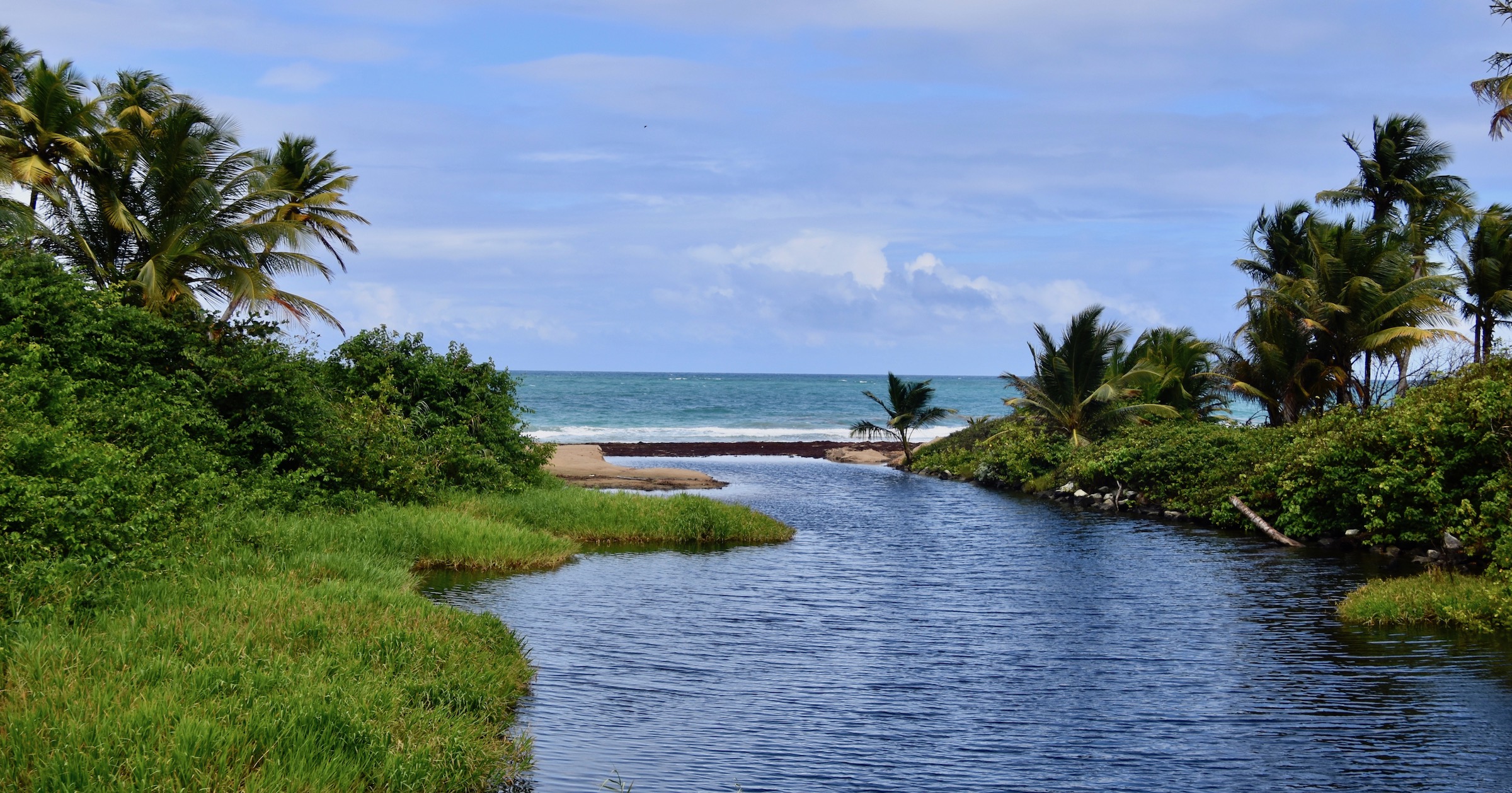 #18 – 475 Yard Par 5 – #18 Handicap Hole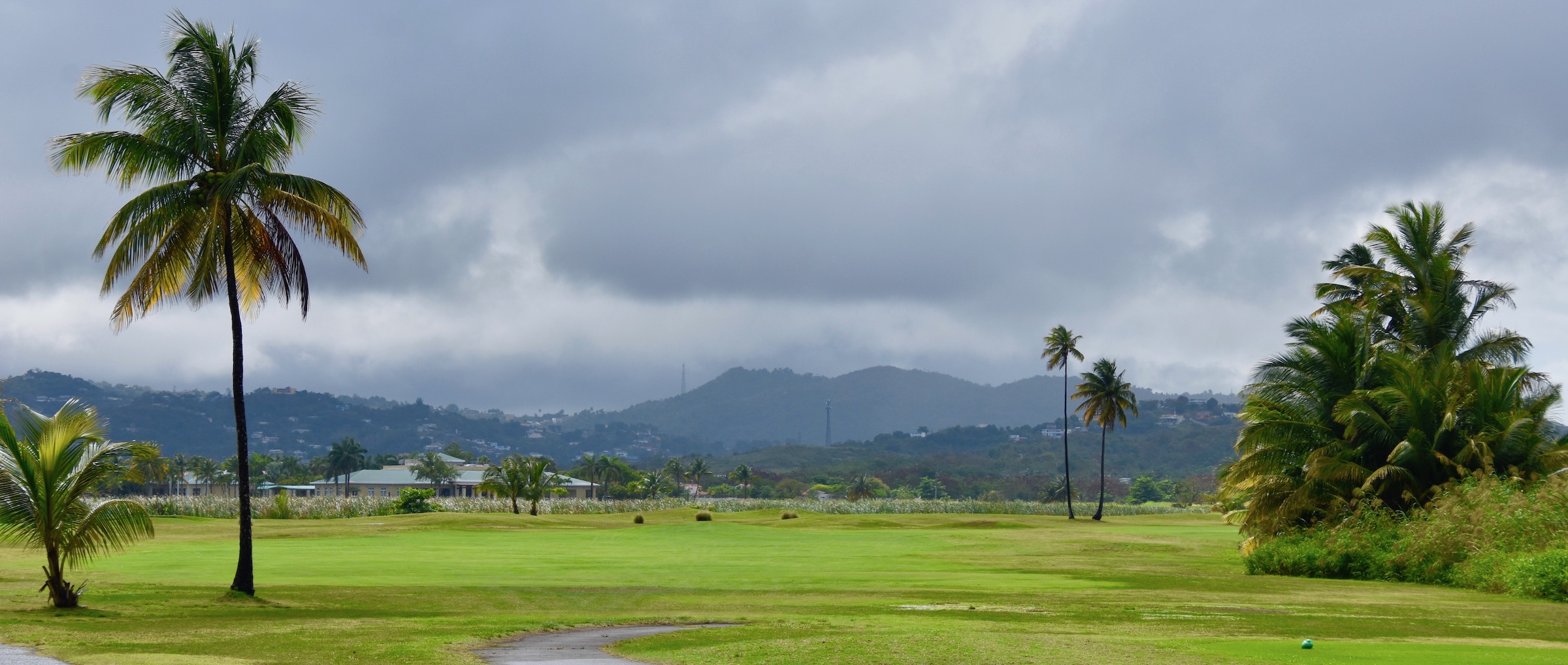 After starting with the hardest hole, the Palm Course ends with the easiest. After the required precise drive on #17 you can go almost anywhere but dead right on this hole. Even though it's a lot longer than the last hole if you've hit a good drive you've got a decent chance of getting close on your second shot.
This is what I faced after hitting two good shots downwind to the fringe of the largest green on the course. No way I was getting close to that pin on my third. I had to settle for a par, but boy did it feel good thinking back on the start to this round.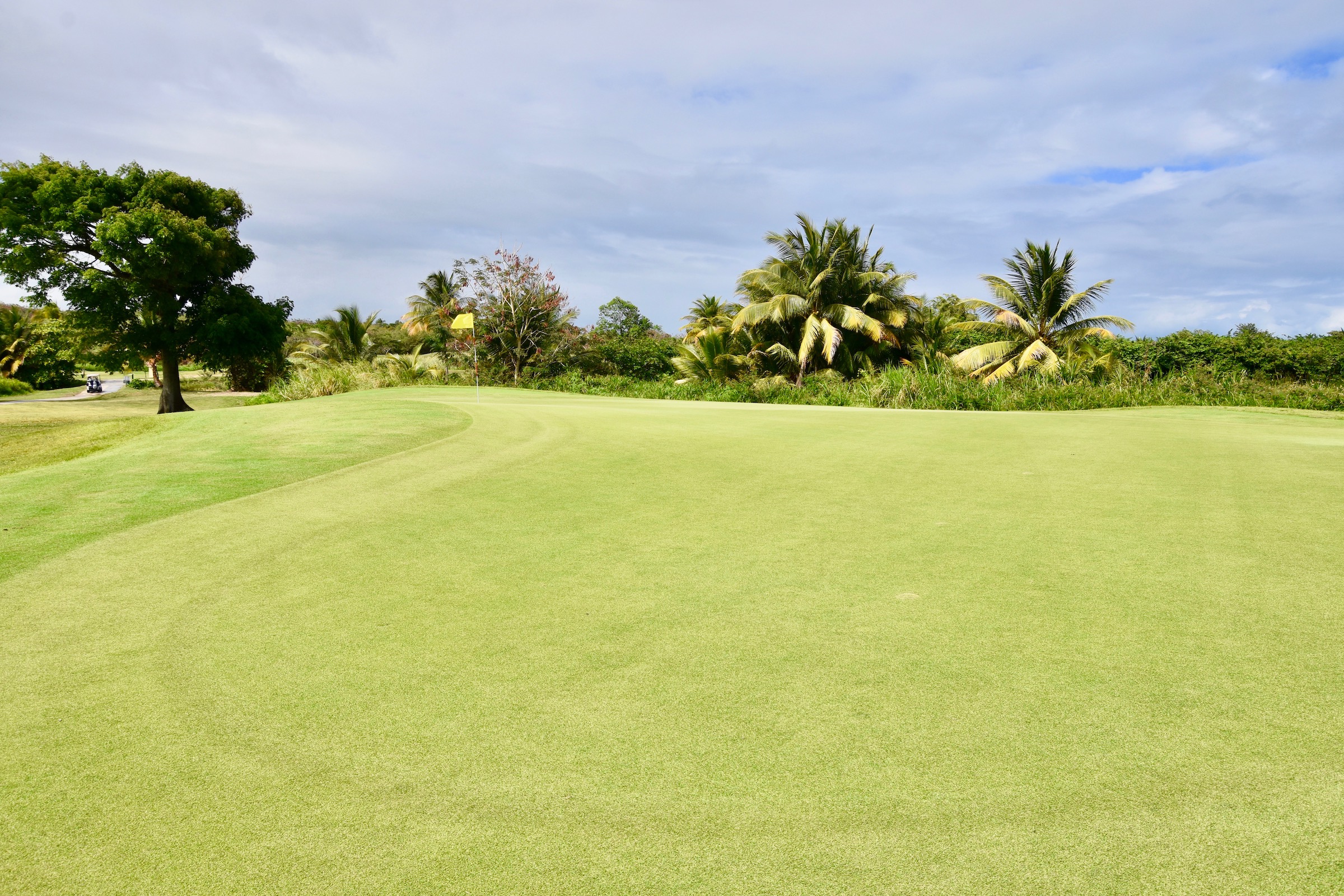 On every website I looked at that rated the golf courses of Puerto Rico, the Flamboyan course comes out as more challenging and interesting than the Palm course. I have to respectfully disagree. Although there are a lot of short par fours and threes, I found the Palm course, presented plenty of challenge and overall was a nicer looking course to play.
In the post post I'll move on to the iconic El Conquistador resort to take on the course Arthur Hills course there. I hope you'll come along.