Haleakala National Park – Maui's Rare and Sacred Landscape
This is one of a continuing series of posts from a visit to the four main islands of Hawaii that Alison and I took a few years ago. It has been updated for accuracy as of 2021. In the last post we played our final round of golf on Maui at the Wailea Gold Course. As Monty Python would say – "Now for something completely different". Driving up to the summit of Mount Haleakala is about as different an experience as you can get from beaches, golf courses and palm trees of Maui. Famed as the best place to watch the sunrise on Hawaii if not the entire country, Mount Haleakala was always on the list of places we would visit – I just wasn't sure how. There were a number of operators offering hiking, sunrise visits or biking down from the summit.
We ruled out a sunrise visit for two reasons – it would basically mean staying up all night to get to the meeting place in time for sunrise and the weather was iffy.  Mount Haleakala is often ringed by clouds below the summit. I couldn't think of anything worse than paying big bucks for a sunrise that you can't see. We also ruled out the bike down, which I was up for, but our travelling companions Rob and Janet respectfully declined. Turns out they were right on that call. So the decision was made to drive up to the summit and see what was there.
From Kaanapali to Mount Haleakala is a two hour drive so we would be spending four hours on the road, the most of any day yet. We left fairly early and followed the highway back to Kahului. The weather to this point was a typical nice Mauian day, but as we turned onto the Mount Haleakala road toward what the locals call the upcountry we could see that the mountain was cloaked by clouds. As we road higher the environment changed completely with the tropical plants replaced by grasses and rolling hills that were home to cattle herds and horses. Shortly after making the turn onto Highway 378 which leads to the summit the road started to get seriously twisty. Have a look at this Google Map projection to get an idea of how many hairpin turns there are on this highway.
This is also where we ran into the first of the persons who had biked down from the summit. They looked cold and wet and miserable. As we climbed higher we ran into more and more of them and not one looked like they were enjoying themselves – for one thing it looked quite dangerous as the road was narrow and they had to really hug the curb on corners. Then we saw something totally insane; a guy was coming down the mountain sitting on something like a giant skateboard with another guy on rollerblades behind him filming it. Here's what it looked like. There is no way they could know what was coming at them or stop in time. I hope they made it OK.
By now we were in the clouds, the temperature was dropping rapidly and the vegetation had all but disappeared. We were driving up the side of a real volcano! Not far from the summit we came through the clouds and were between two cloud bands which was too bad because we had hoped it would be sunny at the top. It was not and it was drizzly and cold. Now I knew why the bikers looked so haggard.
We parked in the designated area and the first thing I noticed were the beautiful and rare silversword plants that grow only on Mount Haleakala and a few other places. They seem to be a cross between a cactus and a sea anemone and I've never seen any other plants remotely similar. It's worth the drive just to see them.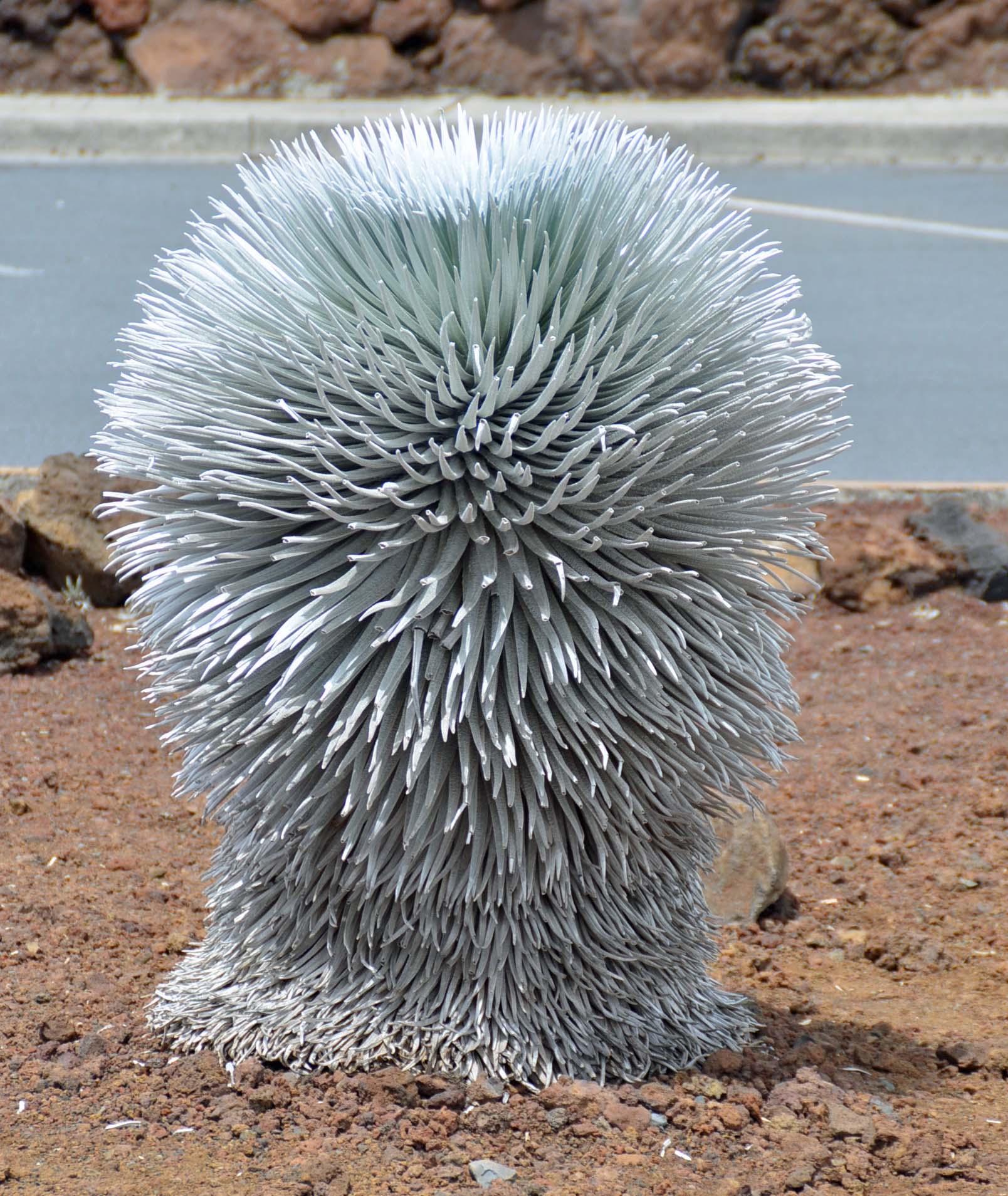 Unfortunately that was about all we saw as the summit was again enshrouded in mist. We walked up to the small visitor center and stayed a while to get warm and look at the map of all the trails we couldn't see.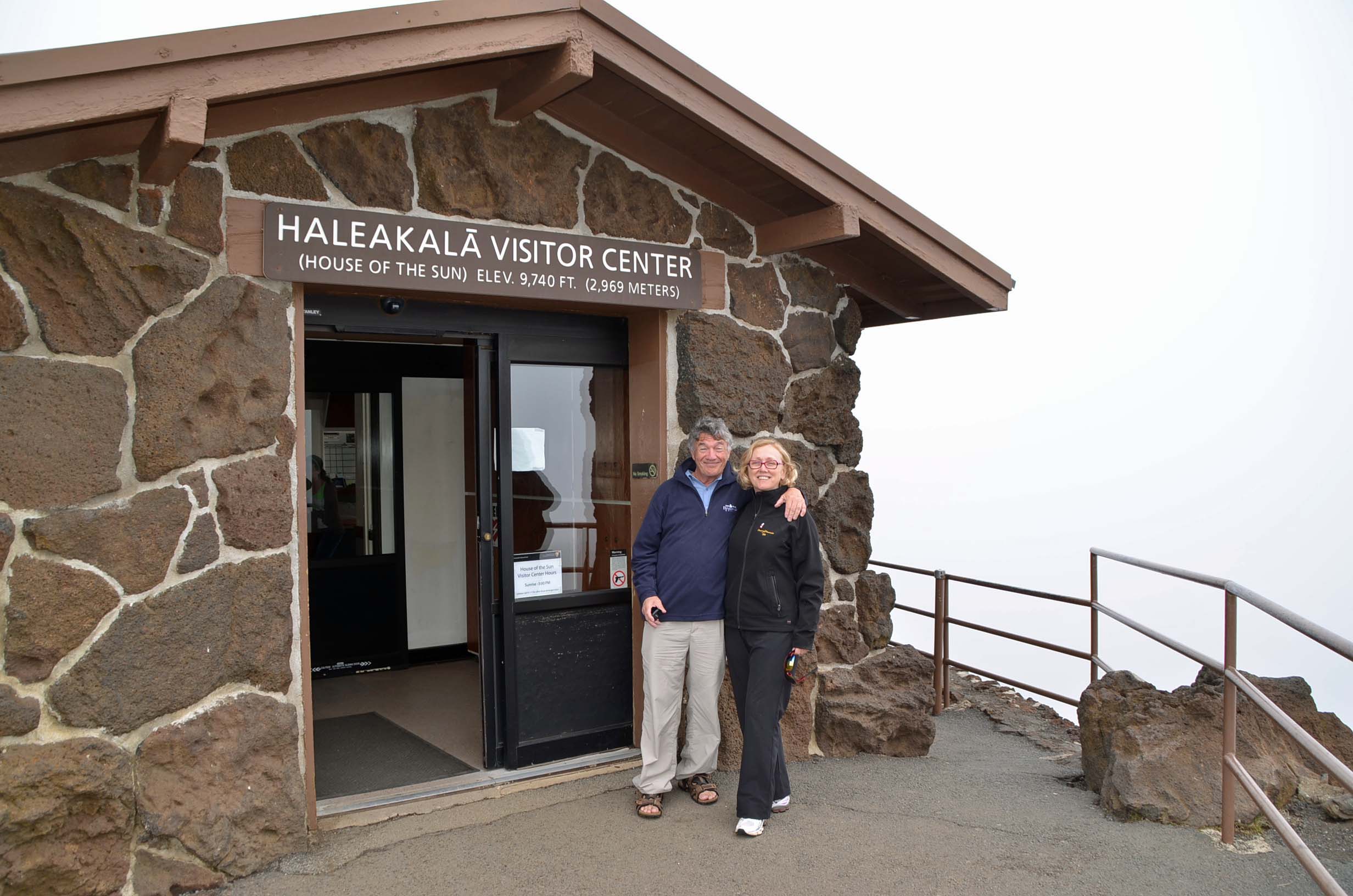 Then we hiked up to the highest point at just over 10,000 feet. We have been at these high elevations a few times while skiing or even driving (over 12,000 feet in Colorado years ago) so none of us was bothered by the thin air, but you wouldn't want to do wind sprints in it. Unfortunately we could see nothing from the summit but clouds everywhere. In this photo of Alison and Janet coming down you can actually see the clouds obscuring part of the view. You can also see the heavy clothing they are wearing – nobody would ever guess this was a Hawaiian vacation shot!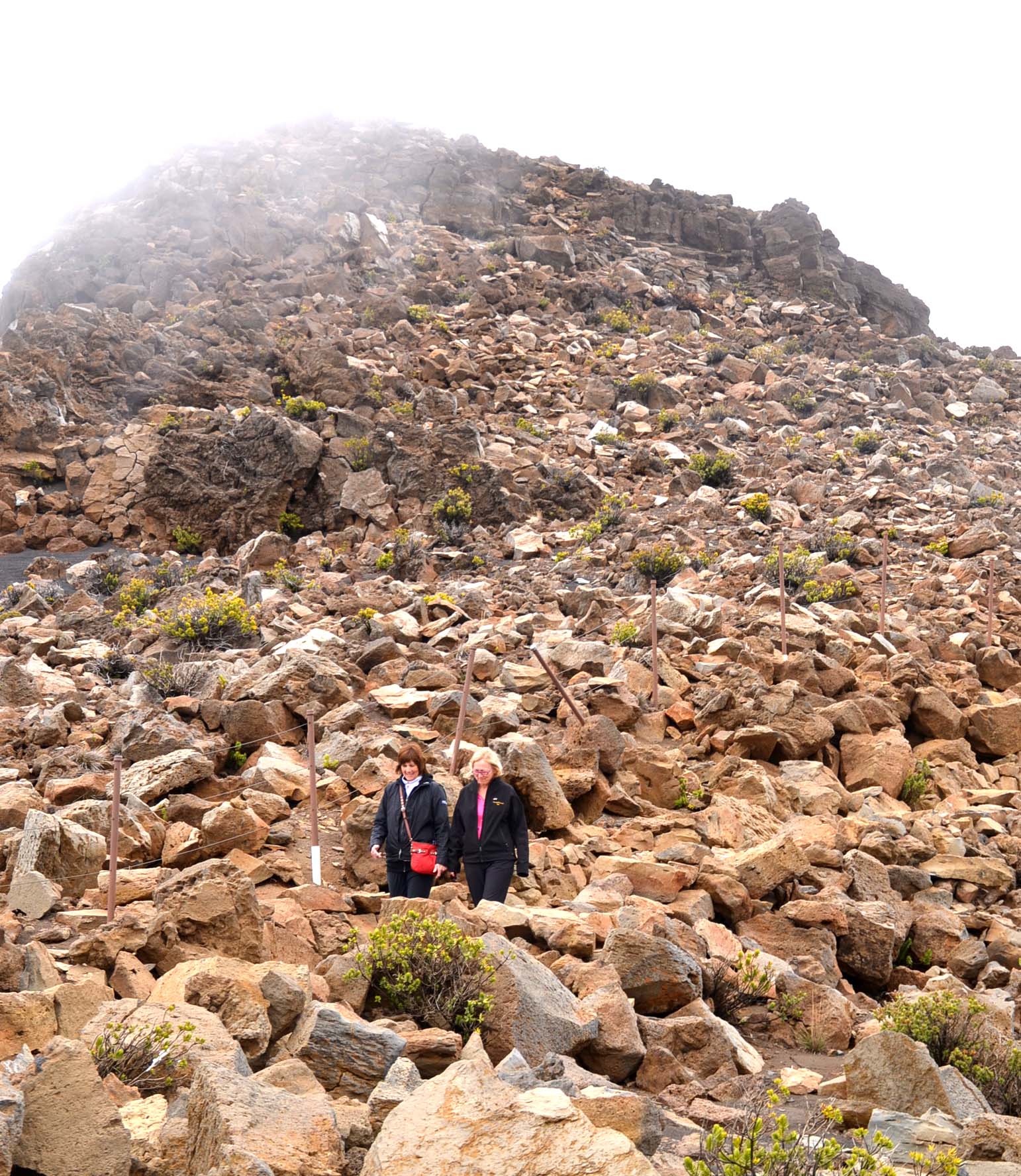 We had one final stop on Mount Haleakala, outside the observatories that are just down from the summit. They are not open to the public, but Alison wanted her picture taken as her nephew Lauchie Scott is an astronomical engineer who often comes to this observatory to do experiments.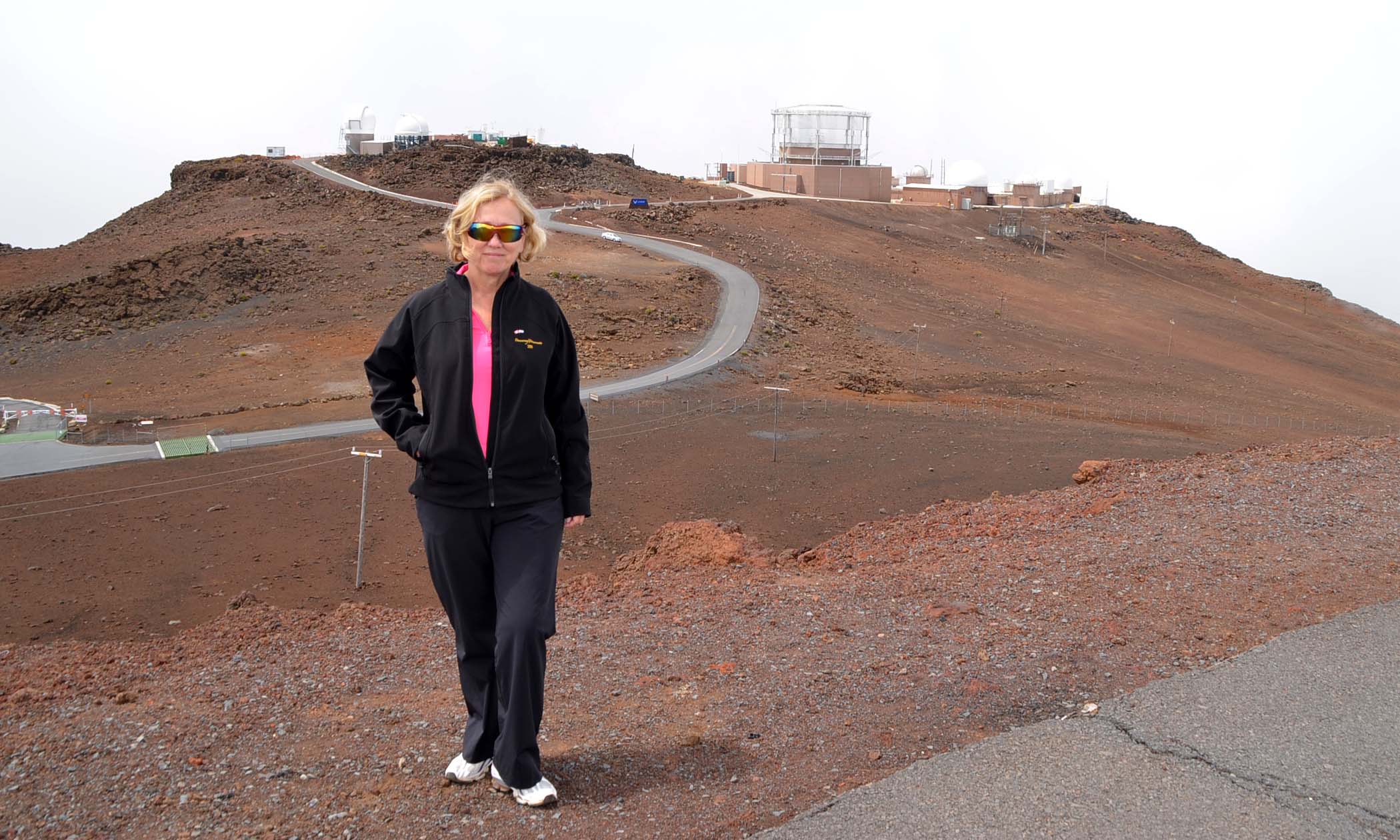 So overall our trip to Mount Haleakala was not a roaring success because of the weather, but I will make sure to try it again on the next trip, just not by bike or skateboard.
Our final meal on Maui was to be a memorable one. Shelley Kekuna who had nailed it with the Hula Grill suggestion, wanted us to go to Japengo at the Hyatt on Kaanapali Beach. She had made reservations and we put on our Hawaiian finest and got there just as the sun was going down over the ocean. The restaurant interior is really quite stunning as you can see from the website – I would put it on a par with Alan Wong's former Honolulu restaurant except it also has a fantastic view.
The overall theme of Japengo is Japanese cuisine and is much more wide ranging than just sushi and sashimi. It is the type of place where you want to experiment with new dishes and new flavours. With a little help from our attentive server we made a variety of choices and they were all superb. House made duck pot stickers and a prawn and mango salad were the starters followed by grilled ahi for me and grilled mahi mahi for Alison. That might not sound too adventuresome, but trust me it was the sauces and side dishes that made the meal. The forbidden rice perhaps should be, because it is to die for. Rob and Janet had the lamb which they rated as excellent. We were so full that we split a molten chocolate cake – only fitting after visiting an extinct volcano. As you can see we were quite satisfied. I would highly recommend this place for a celebratory last meal on Maui.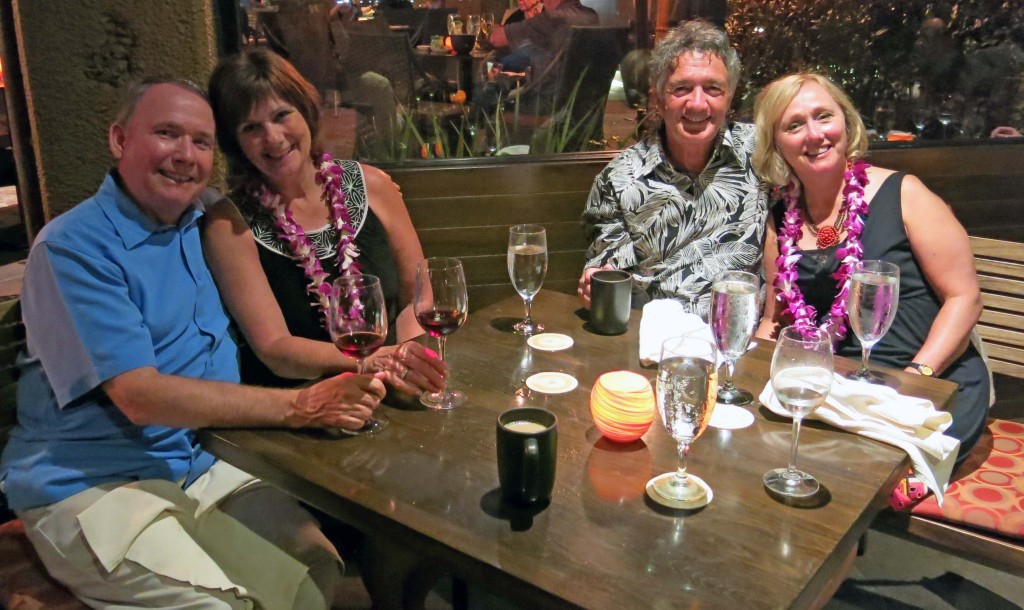 Tomorrow we are off to Hawaii or the Big Island as most people call it, to visit Kilauea Crater in Hawaiian Volcanoes National Park. Please join us on our final Hawaiian isle.