La Seu d'Urgell – Finding Marilyn Monroe in this Ancient Spanish Town
Spain abounds with well preserved small cities and towns that, if they were located anywhere else, would draw a large number of tourists to their unique sites and atmospheres. However, with the irresistible pull of the Toledos, Segovias, Rondas and other better known places, they just get lost in the shuffle. Such a place is the small city of La Seu d'Urgell located on the Segres River in the Pyrenean foothills about 180 kilometres northwest of Barcelona.  After a hiking trip in the Garrontxa National Park I had driven up to France and through Andorra and was now returning to Spain without any definite plans. At about two o'clock in the afternoon I arrived in La Seu d'Urgell, which was the first Spanish place of any size after leaving Andorra, looking for a place to eat. Almost the first thing I noticed was a well positioned and bright information building, so I stopped to check it out. A very helpful person who spoke pretty good English provided me with a plethora of information and maps on things to see and do in and around the city. With these in hand, I headed downtown where there was a shaded boulevard lined with outdoor cafes, most of which had local customers – always a good sign. Stopping, I chose the one that seemed the busiest and had an excellent lunch of eggplant, pepper and anchovies on toast at a very good price.
Reading the information provided, I learned that La Seu d'Urgell was an ancient place famous for its Romanesque cathedral and well preserved medieval quarter. Well that wasn't unusual; in Spain well preserved medieval quarters (even if most date from much later) are a dime a dozen. So are cathedrals. It also had a parador, one of the high quality hostelries operate by the Spanish government, which could be a plus, but the thing that did make it different was the fact that this small place had been the site for the canoeing and kayaking events for the 1992 Barcelona Olympics and the facilities were still in place.
Just for the hell of it, I dropped into the parador to check on what a room would cost. It was a very quiet place that appeared to be a converted monastery with the cloisters covered by a modern roof, which turned out to be the case. It didn't seem too busy and the rate offered confirmed this, which I jumped at. After depositing my things in the modern room and parking on the street nearby after being told by the front desk not to waste 14 euros on parking in the parador garage, I started exploring La Seu d'Urgell.
Immediately across from the parador sat a huge seminary which appeared to be quite active. I had no idea that it was still possible to attract enough people to the Catholic church to support such extravagant complexes. Maybe that explained why they didn't need the monastery over which the parador was built, anymore. The map of the town indicated that about one quarter represented the pedestrianized medieval area, which is actually a high proportion by most standards. Upon entering, it was readily apparent that La Seu d'Urgell was somewhat special in terms of its preserved area. It was clean, lived in, quiet and virtually free of tourists. Most of the shops catered to the residents of the area and not outsiders. There were few bars, fewer restaurants and no accommodation actually within the area other than a couple of pensions.
La Seu d'Urgell was, at one time quite an important place. It became a bishopric as far back as the 5th century and even today, the bishop of La Seu d'Urgell is, theoretically, along with the president of France, a co-prince of the Principality of Andorra. Thus a major cathedral was called for and built. Santa Maria cathedral may not be the most imposing in Spain, in fact far from it, but in terms of offering an enjoyable and understandable visit by the casual tourist, it could teach its more famous brethren a thing or two. The entrance fee of three euros includes an audio guide and admission to the cloisters, library, museum, small Sant Miguel church and the cathedral proper which the tour visits in that order.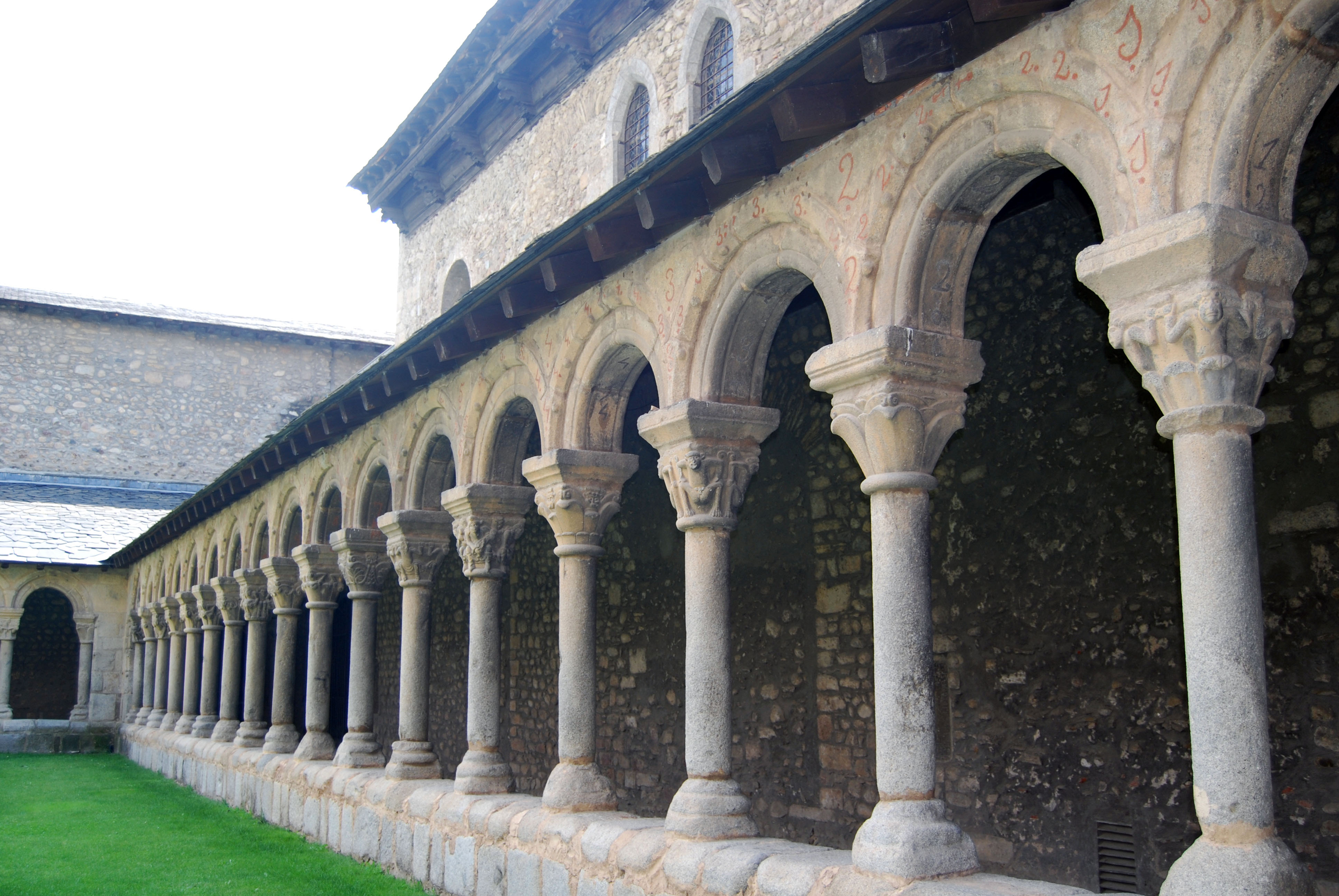 For me, the simplicity embodied in the almost universal geometric design of cloisters and the greenery within them, always brings on a feeling of tranquility, as of course it is intended to and those at Santa Maria are no exception. The capitals of the columns here are carved in a great variety of shapes including grotesques, monkeys and plants. One could easily spend an hour examining them each in detail. After the cloisters the library offers a short audio visual presentation on a sacred text copied and illuminated in La Seu d'Urgell over a thousand years ago. The illustrations are strangely reminiscent of modern day folk art in their naïve lack of perspective. Next is a tour of the museum which has won an award for its architectural presentation and it is easy to see why. Incorporating modern lighting and presentation techniques into the ancient stone walls, the museum features a select number of genuinely outstanding artifacts. It is definitely quality over quantity. One truly stunning piece is a carved wooden recumbent Virgin Mary worth making a visit to the museum just to see.
After a brief duck into the small unrestored Sant Miguel church which predates the rest of the complex, it is on to the cathedral. Dating from the 12th century, Santa Maria is the only preserved Romanesque cathedral in Catalonia and thus important in its own right, but what made the visit this day special was the organ music. Whether it was intentional or coincidental, someone was playing the massive pipe organ, although in a restrained manner so that it was not overwhelming, but complementary. The music seemed to permeate every chapel, the apse and nave and definitely fostered the sense of awe that these cathedrals were designed to create in the parishioners, whether peasant or nobleman.
Next I wandered down through the old quarter, where there are over twenty points of interest according to the map, to the Olympic Park on the Segres River where modernity returns with a bang. The Segres, fast flowing and clear with melt water from the Pyrenees, was a natural choice for the whitewater canoeing and kayaking events at the Barcelona Olympics. The facilities remain largely as built, with portions of the river diverted over a series of rapids and chutes through which competitors must guide their boats. The water level and thus the difficulty level, is strictly controlled so that under the right conditions people of all skill levels can test their abilities. A bewildering variety of watercraft is available for rent. On a hot day, and there are lots of those in Spain, getting out on the Olympic Park is a pretty good option.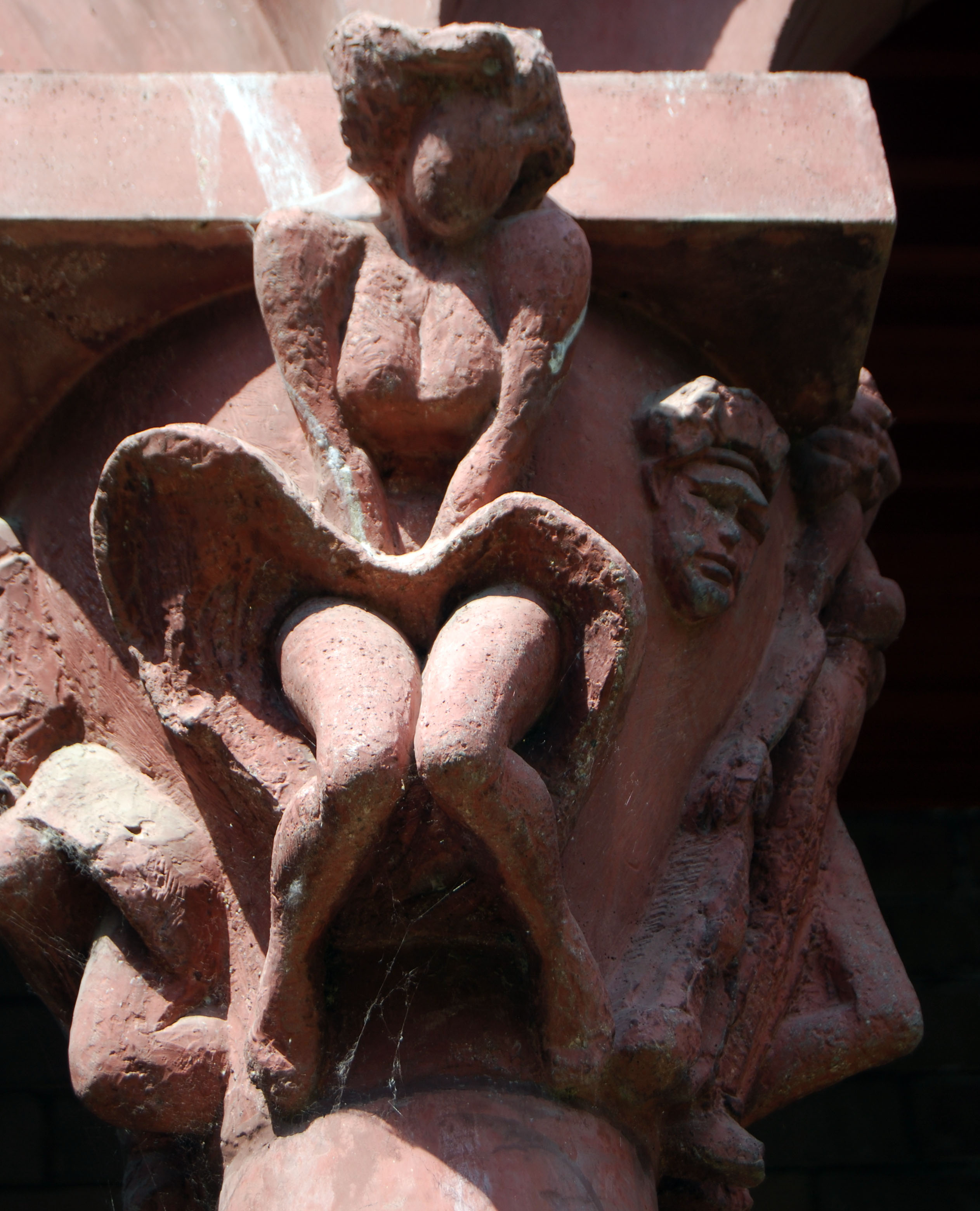 One final place I wanted to see was Valira Park where a recreation of the cathedral's cloisters with modern capitals has been constructed, which was about a fifteen minute walk across town. At first I was disappointed because only a fraction of the capitals had designs on them, but when I looked closely they were delightful. There was Churchill, Einstein, Charlie Chaplin and Laurel and Hardy, but definitely the most interesting was Marilyn Monroe in the famous pose with her skirt blowing in the updraft from the New York subway system. The Catalonians who have produced Dali, Gaudi and Miro are known for their whimsical sense of humour and it was alive and well in La Seu d'Urgell.
In addition to all that the town has to offer there are a great variety of outdoor activities in the nearby Parc Natural del Cadi-Moixero which protects a small mountain range just to the east. There are over a dozen hiking and mountain biking trails to explore. Whitewater rafting is also popular. While La Seu d'Urgell may not be a well known Spanish tourist destination, it certainly deserves more than a quick drive through.
For more adventures in Spain check out these posts on Cordoba, Nerja and the Alhambra.