Kaanapali Plantation – Rent a Reasonable Place in Maui
This is one of a continuing series of posts on a visit to Hawaii's four main islands that Alison and I took a few years ago. It has been updated for accuracy as of 2021. In the last post we spent our final day on Oahu, playing the Palmer course at Turtle Bay Resort. In this post I'll explain why we chose Kaanapali Plantation condos as our place of residence during our week long stay in Maui.
We had a noon flight from Honolulu to Maui so had plenty of time to make the drive back to the city via the coastal road to Haliewa and then inland through the huge Dole pineapple plantations to Schofield Barracks. This is still a big army base and the site of the secondary target for the Pearl Harbor attack on December 7, 1941. I remembered it vividly from the many scenes in From Here to Eternity, especially the aerial assault by the Japanese so pitifully responded to by the unprepared soldiers. After Schofield highway H2 becomes a freeway and it was an easy, if somewhat busy trip to the Hawaiian Airlines terminal where we boarded our packed plane  for the thirty minute flight to Maui.
This inter-island flight was particularly enjoyable as the cliffs and mountains of Molokai and Lanai were clearly visible on the ascent into Kahului Airport which despite its tiny size handles direct flights from North America, including Air Canada and WestJet. As with seemingly all Hawaiian Airlines flights our bags were already out by the time we got to the baggage claim. We picked up our van and headed for Kaanapali and our accommodations at Kaanapali Plantation which was just under fifty kilometres away.
If Kahului was a visitor's first introduction to Hawaii they could be excused for wondering what all the hype was about. The fact is Kahului is the quite ugly industrial centre of Maui. There are warehouses, power plants and container piers along with the attendant WalMarts and fast food chains that make these places so similar and forgettable. I saw nothing that would make one want to tarry in Kahului. The route to Kaanapali was about as easy at you could get. Once out of the airport it was a left turn to cross over to the island to Maalaea Bay and then you follow the coast north to Kaanapali.
The coastal road has some spectacular sections with first the island of Lanai and then Molokai clearly visible off in the not too far distance. At a number of spots cars were stopped to look for humpback whales which were so numerous that they were an actual distraction to driving. I had to force myself to keep my eye on the road whenever Alison, Janet or Rob let out a "wow" or "did you see that one". As it turned out I had my chance to see whales every day in Maui so I didn't really miss anything.
As we approached Lahaina there were more and more people just camped out along the beaches; by the looks of it, some semi-permanently. Passing through Lahaina we could see that it was crowded with tourists, probably mostly from a huge cruise ship anchored just offshore. Now was not the time to visit, besides we were anxious to find our condo and get settled.
I had chosen Kaanapali Plantation condos because it offered three bedroom units which were in very short supply in the area. Originally we thought we might be joined by a third couple in Maui so I had planned for that, but as it turned it was just us and the Purdys. That turned out to be a good thing because there were only two bathrooms and it would have been crowded with six people. Kaanapali Plantation condos are across the main highway from the resort area and thus were quite affordable compared to anything on or near the beach. However, it was a five minute walk to the beach. While the unit was fine, I do regret not ensuring that we had a good view of the ocean and Molokai. I made the incorrect assumption that because the condos were on a hill that there would be views of the ocean. That was entirely my fault because the web photo showed exactly what you would see from the balcony and here it is – not quite what we had at Hanalei Bay, but better than Turtle Bay.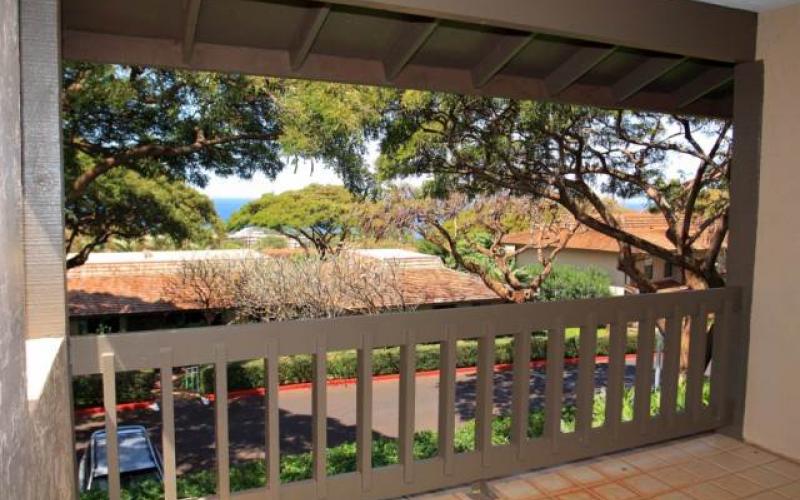 During our stay at Kaanapali Plantation we found it to be very quiet, with well kept grounds although the pool was temporarily out of service. Not being pool people we didn't care, but it might have been a nasty surprise to a family. After unpacking we found a nearby grocery store and stocked up for the week, ate in and looked forward to our first full day in Maui.
Join us tomorrow at the Kaanapali Golf Course where the Legends of Golf play.