Palmer Course at Turtle Bay – Wonderful Golf on Oahu's North Shore
This is one of a continuing series of posts from a trip to Hawaii's four main islands that Alison and I took a few years ago. It has been updated for accuracy as of 2021. In the last post we went swimming with sharks off Oahu's North Shore. The fact that I am able to write about it means we must have survived. This is our last day on Oahu and he only thing that made it any easier to accept was the knowledge that we still had two more weeks to go on two more islands.  The fact that we had a mid-morning tee time on the Arnold Palmer course at Turtle Bay didn't hurt either. However, before going to the course I wanted to show one our traveling companions Rob Purdy how geocaching worked as he had expressed an interest in this fast growing recreational activity that is the modern version of an old-fashioned treasure hunt.
As I often do in preparation for a trip, whether just a few hours or a month or more, I go to geocaching.com and look for potential geocaches to download to my GPS. I had about a dozen for each of the islands we were to visit, but so far had time only to look up a couple. There was one not far from Turtle Bay I had chosen because of its association with the television series Lost. If you've followed my trip so far you will know that Rob and I are Hawaii 5-O nuts – original series only. My research revealed that the series Lost, which was filmed in Oahu from 2004 to 2010 has an equally fanatical following and sites where episodes were shot were highly desirable places to visit for these fans.
While I have never watched an episode of Lost I did have a geocache location that apparently was in or near a huge banyan tree that was featured in many episodes and wasn't far away – less than a mile as the crow flies from our condo. I fired up the GPS and we headed out on foot, first across the Fazio course, followed by some bushwhacking through light forest until we came out on a beach about a mile from Turtle Bay hotel which we could see in the distance. Not actually having seen this location because I didn't watch the show, I assumed the banyan would be somewhere close to the beach so we followed its course a couple of hundred yards until we came across the unmistakeable aroma of Maui Wowie or one of its other Hawaiian derivatives wafting in the air. Soon we heard low voices and Rob and I looked at each other with a little apprehension – ganja growers don't like to be surprised amidst their crop. However, we saw through the trees a Turtle Bay van and then realized it was a group of teenagers who apparently had had a sleepover on the beach and were just packing up, somewhat worse for wear, as they stumbled around like zombies either still stoned or very hungover. We wished them well and soon the GPS was telling us to turn away from the beach and in about 100 yards we found the giant banyan tree. Banyans don't just have a single trunk, but many and the bigger they are, the more places to hide things. After a thorough circumference of the tree I realized the cache had to be inside somewhere. I climbed up about five feet to look in the interior and there it was – a mid-size camouflaged container. Rob was duly impressed when I opened it and he saw all of the items contained in it. The notebook had addresses from all over the world. We duly added our names and placed it back in its hiding spot. Kind of a cool way to start the day.
Arnold Palmer Course at Turtle Bay
The Arnold Palmer course at Turtle Bay had been on my must play list for many years as it was a regular stop on the Senior's tour and looked great on TV. It was also on Golf Digest's list of top 100 Public Courses in the US. We were about to find out if it would live up to its accolades or disappoint me as had the Fazio course. I'm a big fan of Arnold Palmer and I'm glad to say he did not let me down. I was great fun to play and here's why.
Unlike the Fazio course, the Palmer Course at Turtle Bay is a stand alone golf course without any houses or condos along the fairways. Although the highway is close by on a couple of holes that is really the only untoward distraction. It was probably almost a quarter mile drive by cart from the clubhouse to the first tee where it was just the four of us and the starter. The course was ours for the playing and the only other group we saw that day was one with a guy who either was or doing a great imitation of, the eccentric Spanish golfer Miguel Angel Jimenez. We could see his trademark red ponytail and he was puffing on his usual foot long cigar. What convinced me he was the real deal was that he was playing from the Championship tees and struck the ball like a pro.
The course was in much better shape than the Fazio and each tee box had a cairn with a Hawaiian saying on it that characterized that hole. For example No 1 was translated as "With respect to the trees" and there were indeed trees that needed to be avoided off the tee.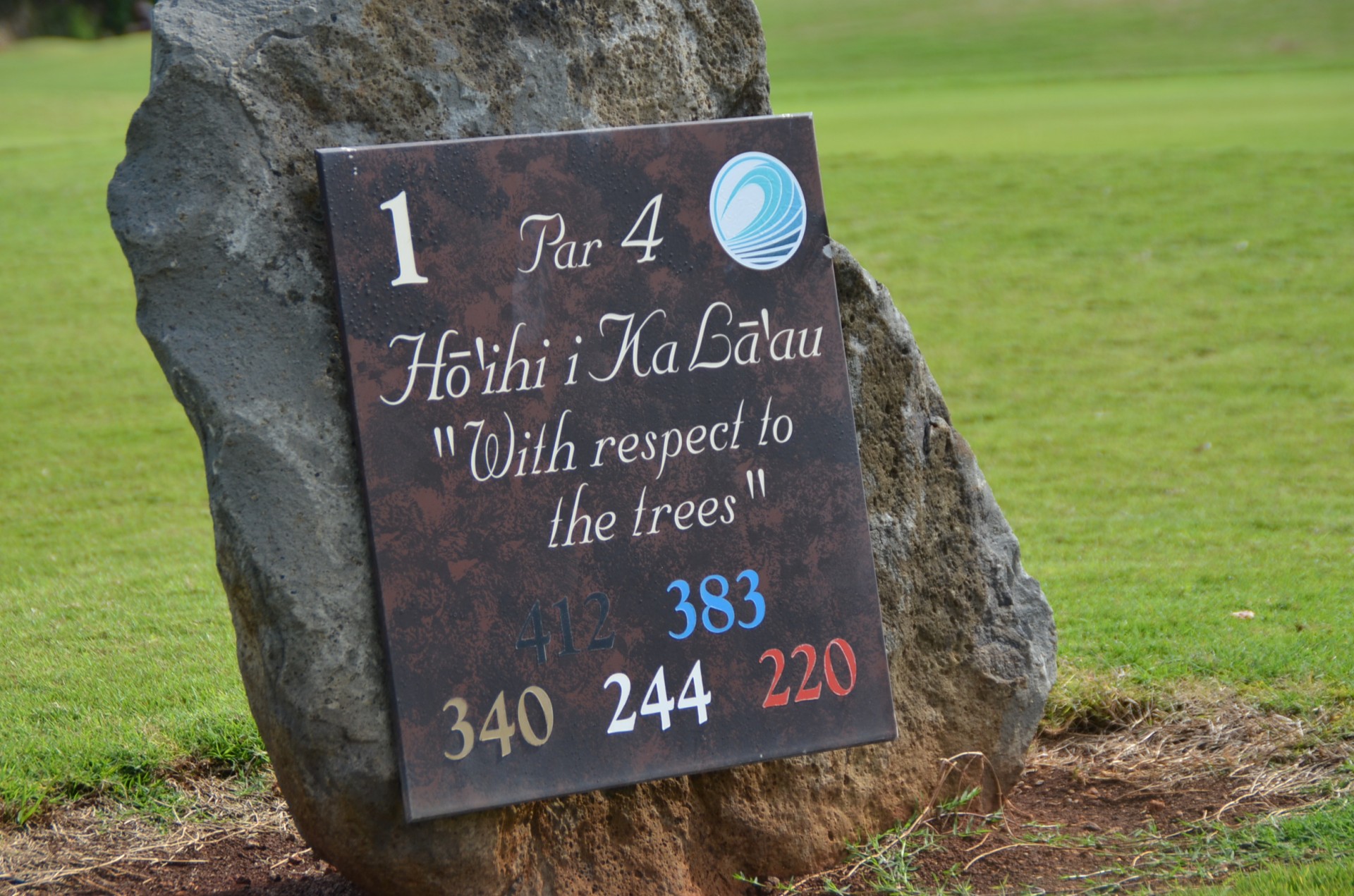 The Palmer course at Turtle Bay was very much friendlier to our scores than any of the courses we played on Kauai, probably because there is very little elevation change. We played a scramble and parred most holes and birdied a few. The par threes were particularly pretty and there was a surprisingly amount of water.
The one thing you will not find on the Palmer Course at Turtle Bay, with one notable exception, are views of the ocean. Only on the signature 17th hole is the ocean in view and man what a view from 17 green. As you can see from this overhead shot taken from the official website, the ocean is only a few yards away.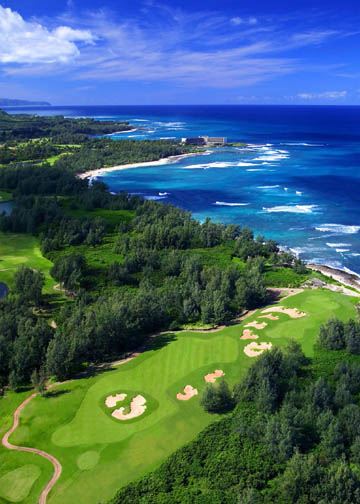 After three days at Turtle Bay, the one thing we really had not done was spend any time at the actual resort. The first morning I had walked the half mile to the hotel and done a quick reconnaissance of the interior and grounds – both were pretty spectacular. Built on a point as it is, there are sensational views of the ocean from just about every part of the hotel and grounds. I did drop into the bar, which was closed and noted that there was going to be a live Hawaiian band on Friday and so we were going to spend our last night at Turtle Bay at the bar, sipping drinks, snacking on pupus, listening to music and maybe doing a little dancing.
The bar at Turtle Bay at the time of our visit was Surfer:the Bar and was a collaboration between the resort and Surfer magazine. The walls were lined with photographs of famous surfing spots, but even better was the view of the surf (and surfers in the daytime) that could be had from the huge windows that make up one entire wall of the bar. Before taking a table we did a quick inspection of the hotel lobby area which has some great Hawaiian artifacts and works of art in the common spaces. We had our picture taken by a volunteer and headed back to the bar. I think I can say without reservation that when we return to Turtle Bay we will stay in the hotel rather than the golf condos, something I would not have expected before actually visiting the resort.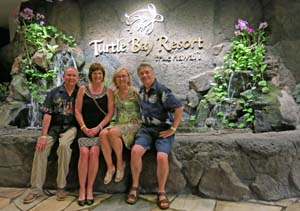 We got a nice table with a great view and the evening went exactly as we hoped. The mai tais were the best I tasted in all of Hawaii, the pupu platter was excellent and the band a pleasant surprise. I had been expecting traditional Hawaiian music such as we had heard at the Royal Hawaiian, but this band played what I can only describe as a Hawaiian style of reggae. It was unique, interesting and very danceable, which we did until past midnight. We walked back to the condo hand in hand very pleased with ourselves and looking forward to heading to Maui tomorrow. Aloha.
UPDATE: Turtle Bay Resort has used the Covid pandemic as a reason to close and completely renovate. It will reopen in July, 2021. I can't wait to revisit.