The Fairmont Orchid – Finding Green Turtles and Green Sand
This is one of a continuing series of posts from a trip Alison and I took a few years ago to the four major Hawaiian islands. It has been updated for accuracy as of 2021. In the last post we toured the Kohala Coast and visited Pu'ukohola, the site of King Kamehameha's rise to power. Today we are going to do some exploring around the Fairmont Orchid where we are staying for the final few days of this fantastic trip. But first let's go fishing.
I was determined that we were not going to leave Hawaii without at least one day of fishing; after all Kona prides itself as being one of the fishing hotspots of the world. I had made arrangements the day before to join in a half day charter that would leave port at 6:30 sharp so we were up at 5:30 and at dockside by 6:15. The fishing charters don't leave from the harbour in Kailua-Kona, but an artificial one that has been blasted out of the lava just south of the airport. We arrived to find there was no sign of the boat and when I asked a neighbouring captain about its whereabouts he said the charter left at 6:00 not 6:30. He must have seen me look as if I was going to piss my pants because he quickly said he was joking and that the boat was just getting gassed up. Wise guy!
Sure enough the boat returned and we, along with a father and son, got aboard and shoved off. I am not going to mention the boat or captain because they get uniformly great reviews on the web from other patrons. Everyone can have an off day and unfortunately I think he might have had something else on his mind because he seem quite distracted and not too focused on the fishing. I guess by now you have figured out that that we didn't catch any fish, didn't get a bite and didn't even see a fish. It may have had something to do with the fact that it was very rough. So we had a very expensive and bumpy four hour ride. The one upside was a beautiful sunrise over Mount Hualalai.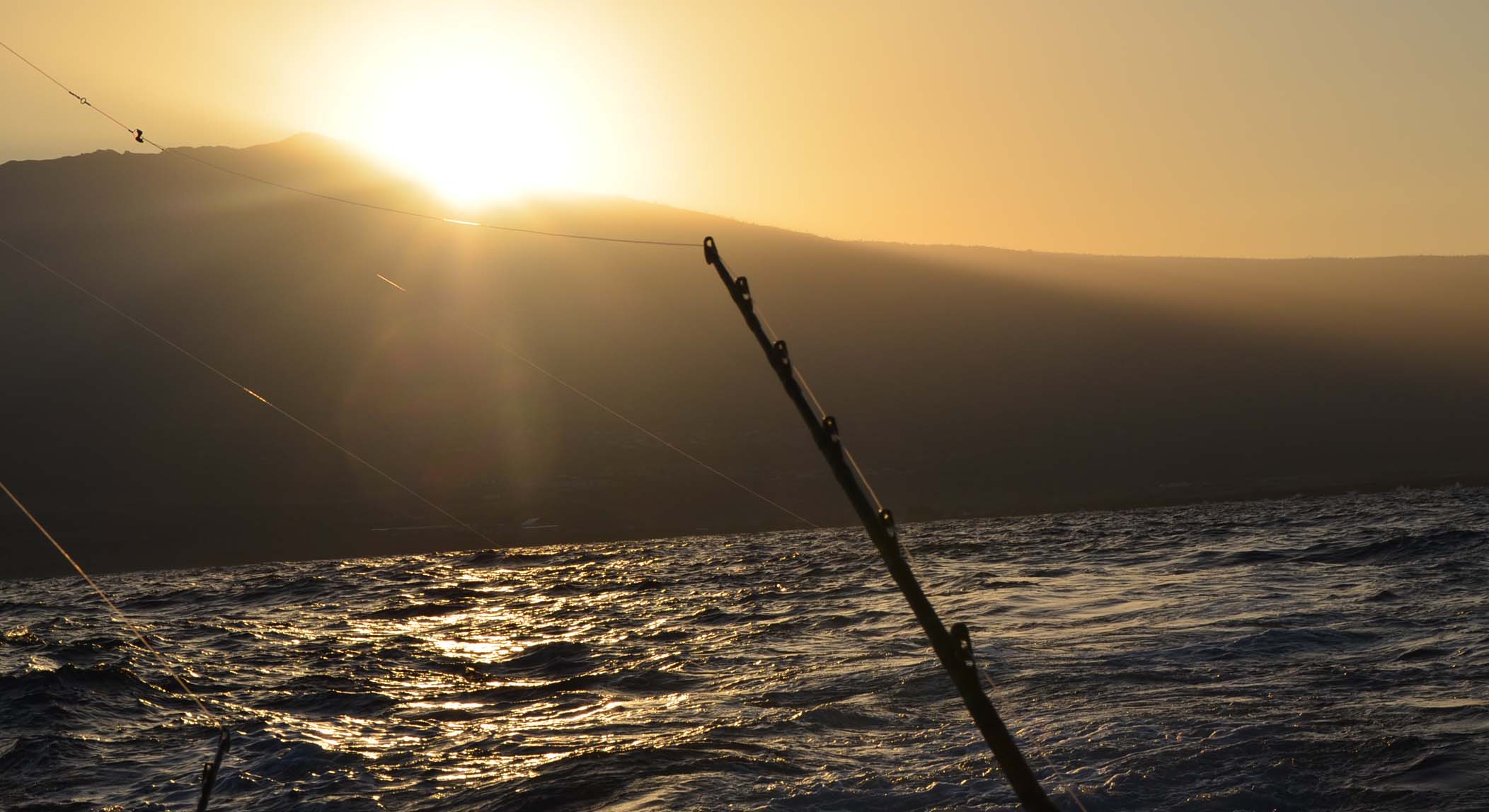 Back at the Fairmont Orchid we changed from our not stinking of fish guts clothes, into shorts and sandals and set out to explore the area around the hotel. We walked to where I had seen the sign for the petroglyphs the day before and learned that it was Puako Petroglyphs Archaelogical Preserve. The petroglyphs were about a half mile walk from the Fairmont Orchid on a well marked path that ended at a roughly circular outcropping of red lava that was covered in well defined petroglyphs. Apparently the meaning of these markings is unknown. Considering that Hawaii was populated relatively late in terms of human existence the unearthly figures of stick men evoke images of prehistoric times that seem far older than these actually are. Once again Hawaii delivered yet another unexpected experience.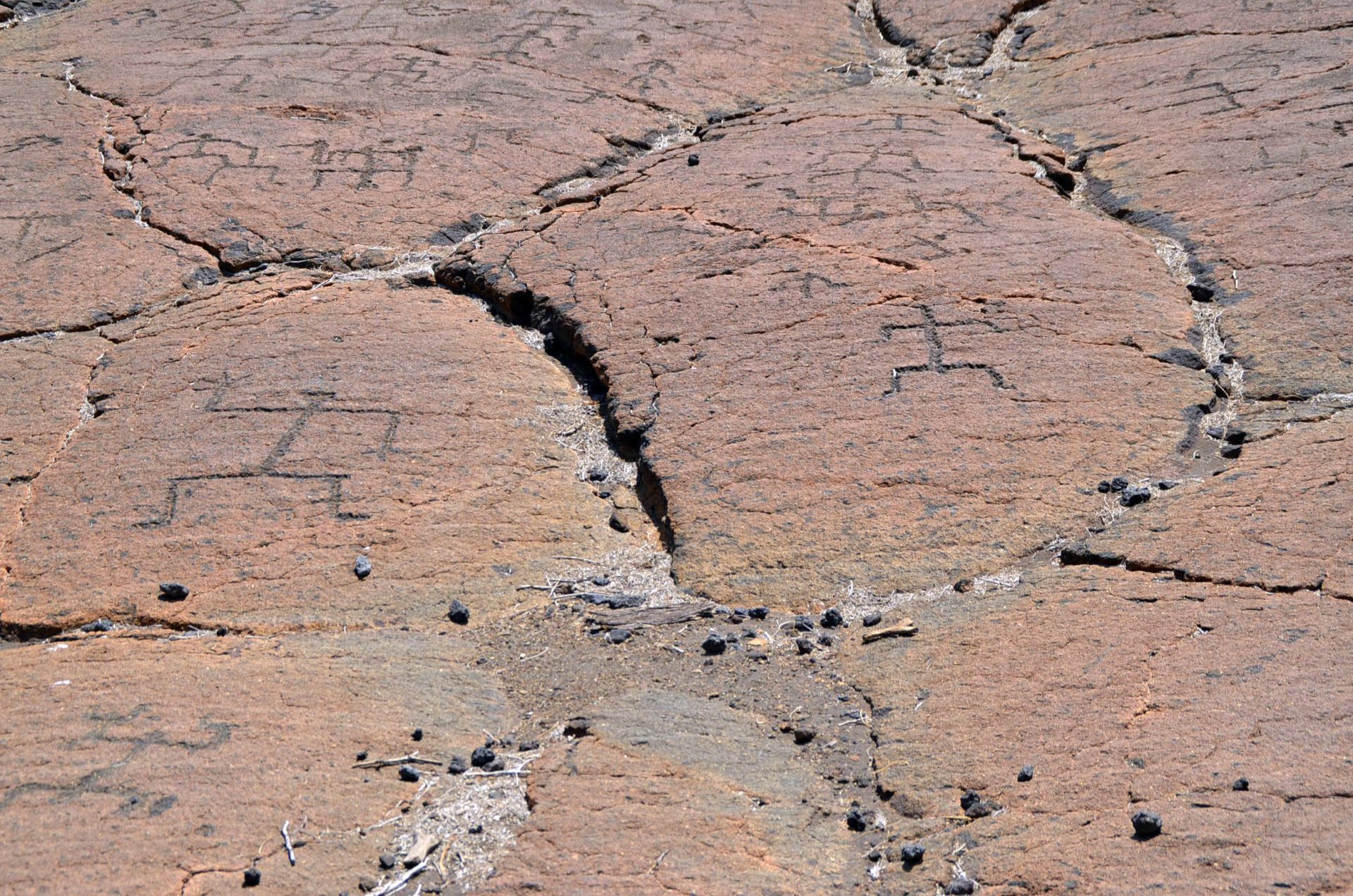 We retraced our steps back to the trail head and walked to the shore at Holoholokai Beach Park which is a marvel. It is not a sandy beach, but a combination of black lava and white coral, making it the first black and white beach I have come across. It is really quite a sight.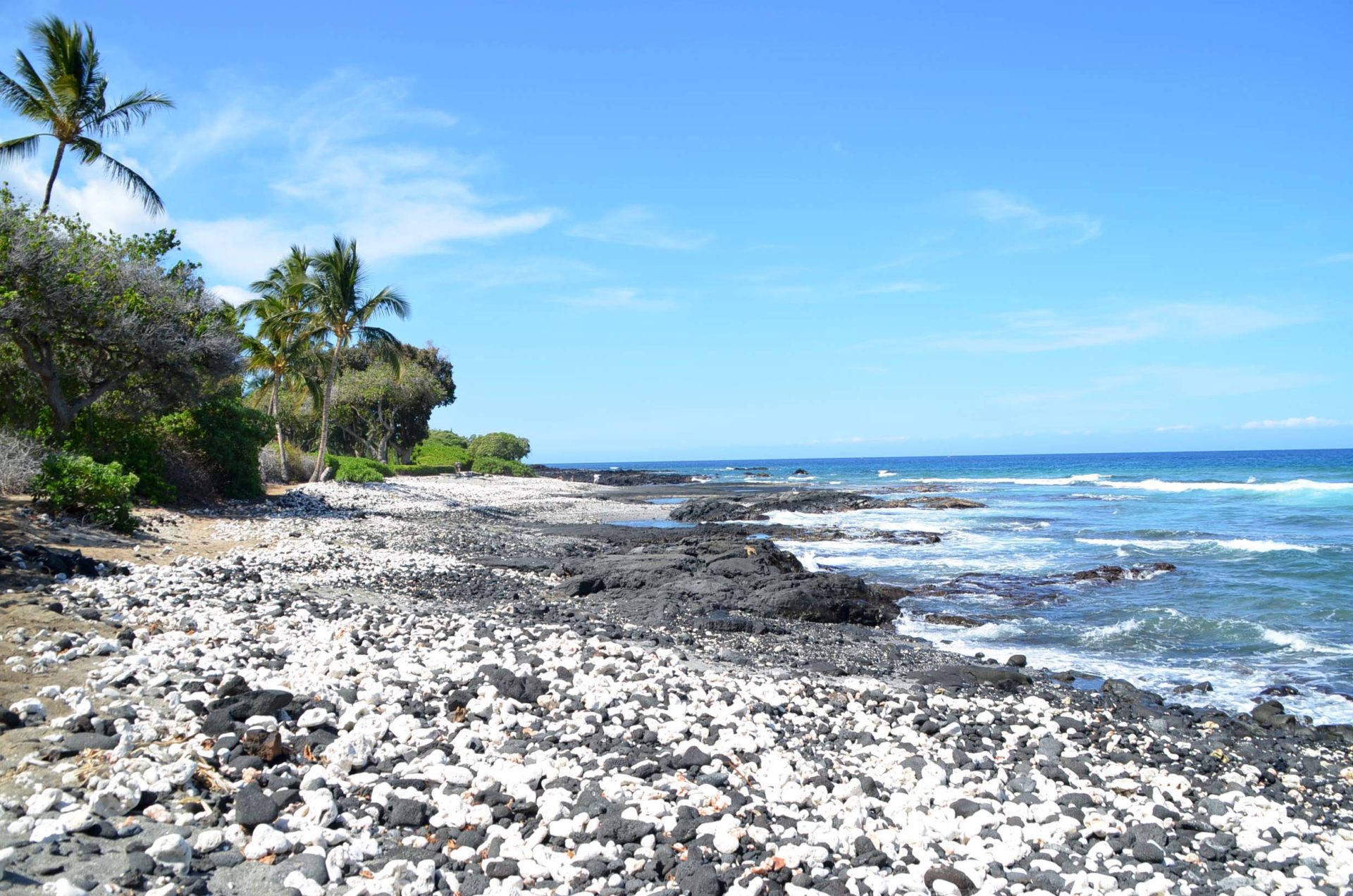 A number of people had cleared out spaces on the black lava to make coral graffiti, including this one with the same name as our oldest son.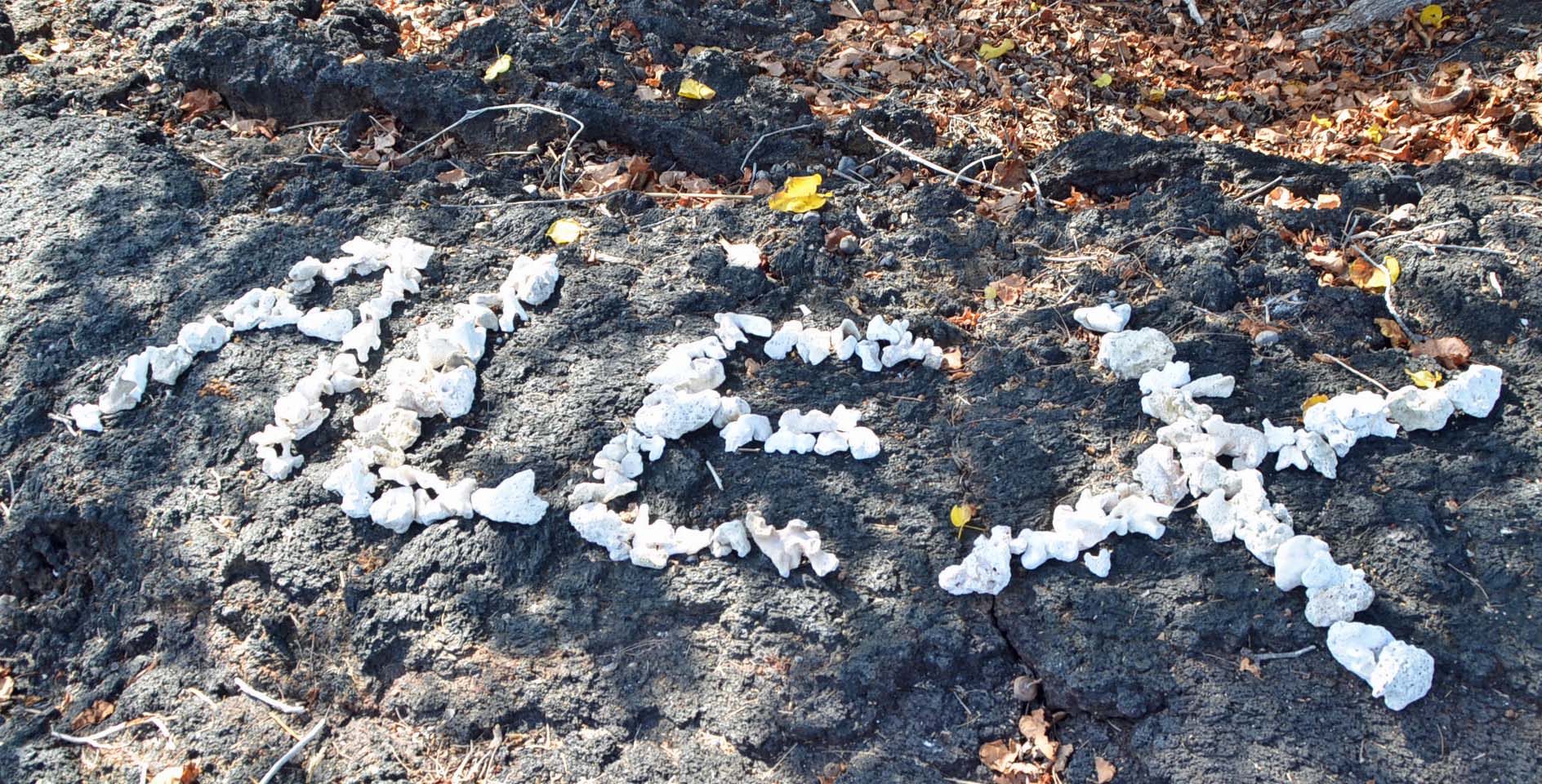 Aside from the uniqueness of a black and white beach Holoholokai has some of the most interesting tide pools you will find anywhere. Some are large enough to snorkel in although with the sharpness of the lava it is probably more advisable to do your tidal pool gazing from the edges. There were an almost infinite variety of tiny and not so tiny colourful fishes, but the most interesting creatures were the octopi that could be spotted with a little patience. We could see them actually changing colour as they moved from one surface to another. The largest denizens of these tidal pools were green sea turtles that appeared to be using the pools as their bedrooms. We came across a number that were clearly sleeping, like this one.
As if all this was not enough there were small lava arches in a number of spots and the sun bleached roots of long dead trees that provided a stark contrast to the black lava.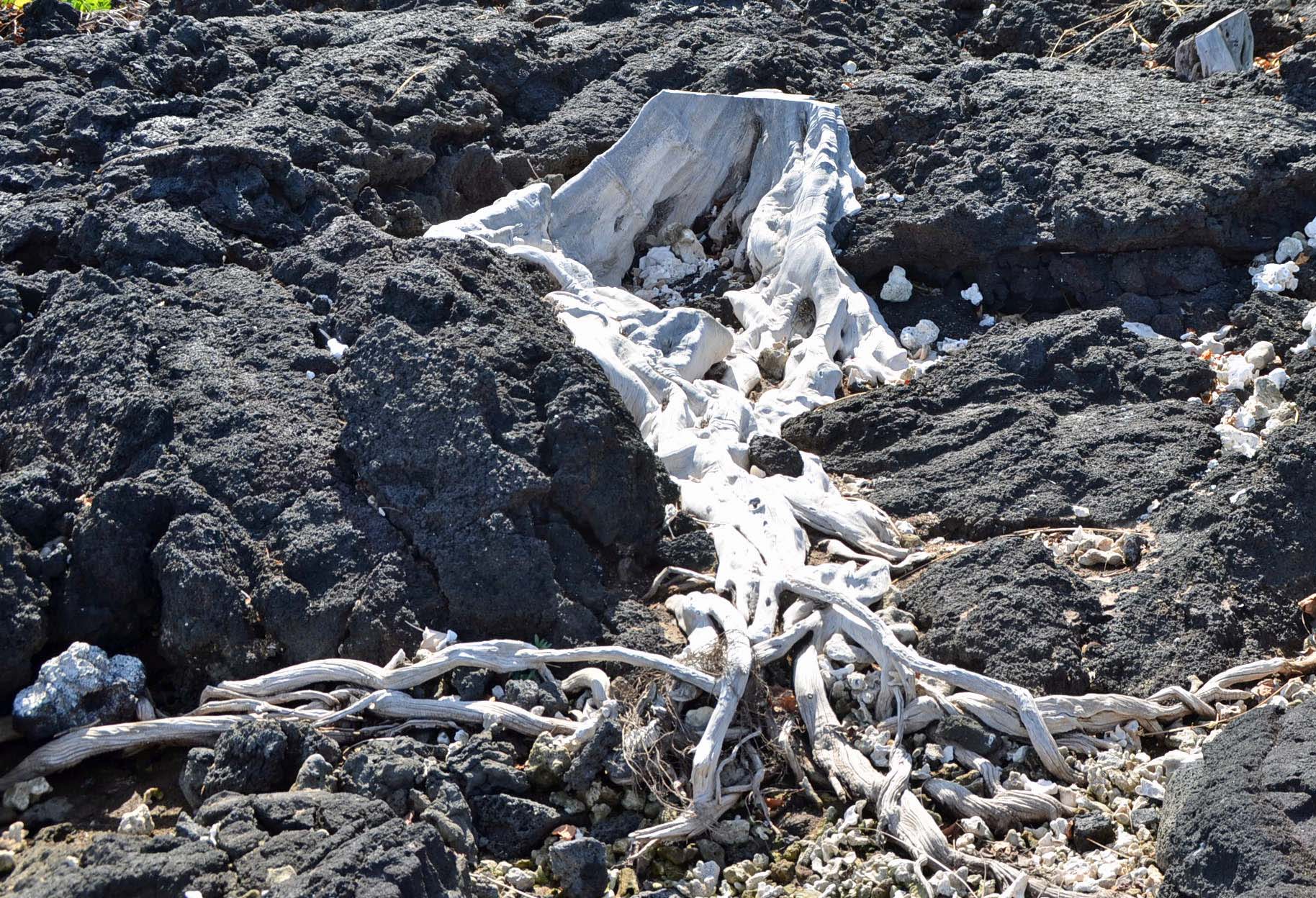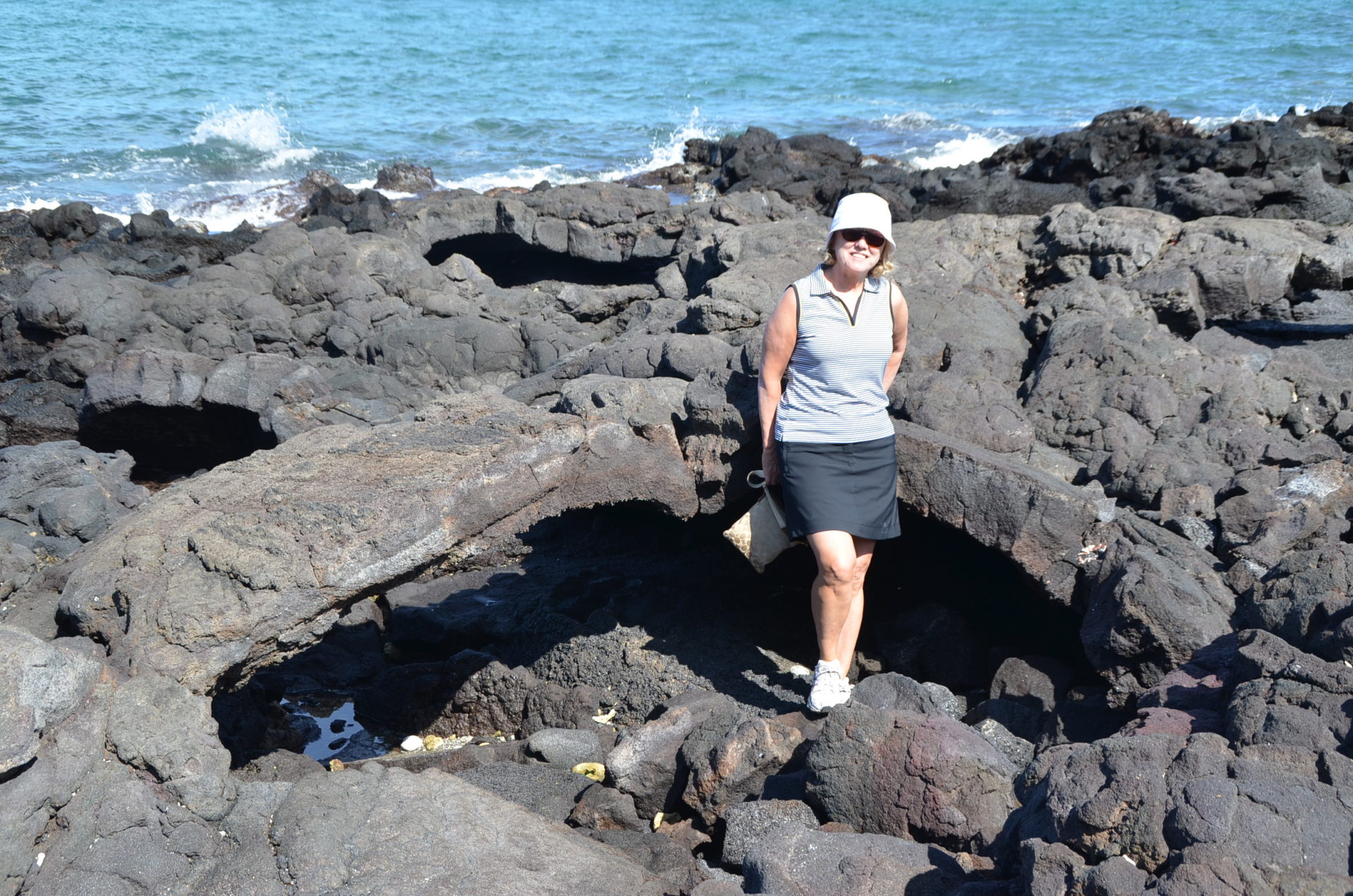 We explored this fascinating beach for well over an hour before returning to the Fairmont Orchid. We decided to have lunch at the Tommy Bahama restaurant in the Mauna Lani shopping center. I had one more fix of ahi in excellent fish tacos while Alison tried the "World Famous" coconut shrimp. To both of our surprise this usually insipid appetizer was really good, although how it could become world famous in the short time these restaurants have been around is curious to say the least.
We had tried to get into the Kaloko-Honokohau National Historic Site twice before, once after dropping off Rob and Janet at the Kona airport and once again when came back from our trip to cattle country. The first time we were too early and the second time we were too late. Now it was the Goldilocks time and we hit it just right. This National Historic Site sits in a monstrous lava field between the city proper and the airport. It preserves the traces of ancient Hawaiian settlement apparently including one the best remaining examples of the ahupua'a system of land management whereby property rights extended in a triangular manner from a point at the top of the highest mountain down to the sea. The idea was that every land holder should have equal access to all the benefits of the land and sea. Looking around at the lava that surrounded the small interpretive center it was hard to imagine what benefits would accrue from owning a lava field.
The park has a circular trail that is roughly four miles long  and leads through the lava to Honokohau Beach and an ancient fishpond and then back to the interpretive center. We had an appointment for and end of trip massage at the Fairmont Orchid in two hours, but I figured we could easily do the trail in that time. We left the interpretive center where a group of seniors were taking ukulele lessons and headed out. There were signs everywhere indicating that it was forbidden to enter the lava fields, not because they were kapu, but simply too unstable to walk on without great danger.
We got to the shore with no problem and found ourselves alone on another stunning Hawaiian beach.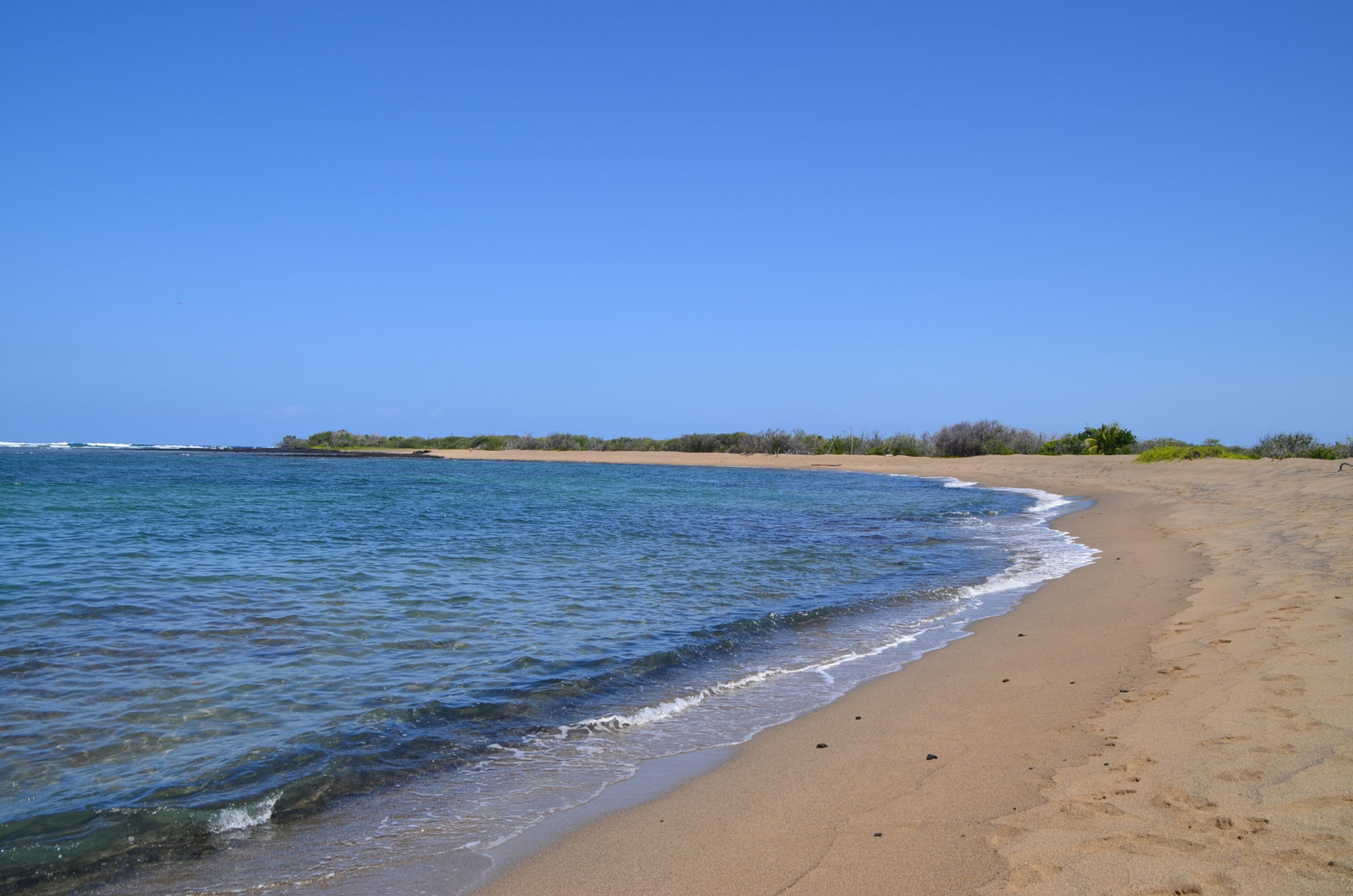 Actually we were not alone, there were green sea turtles everywhere- here's one that looks like it was trying to get away from Alison. In fact, it was already turning and we did not harass the harmless creatures.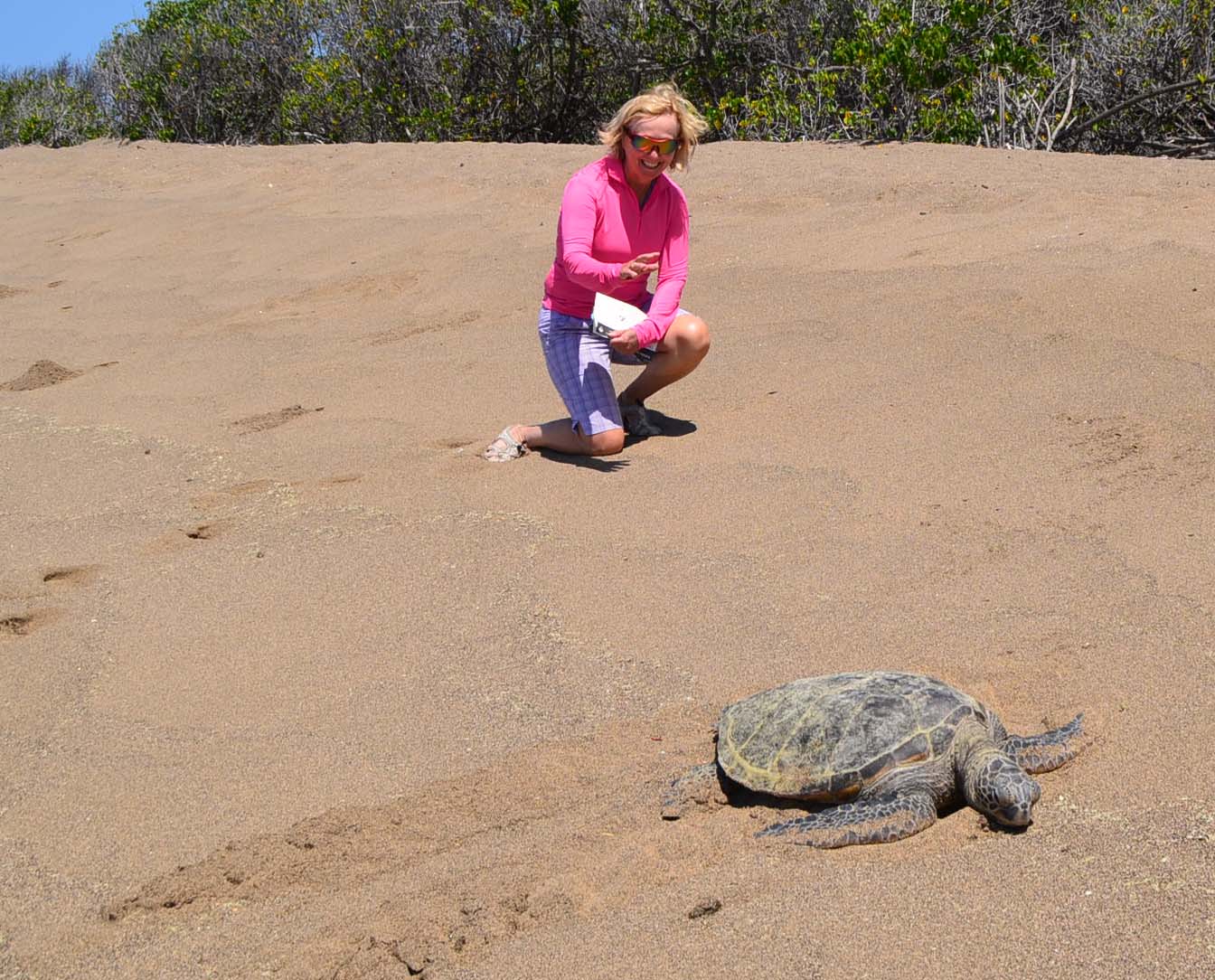 The fishpond was the largest we had seen on Hawaii and was teeming with fish. Who has the right to harvest them I don't know, but this still clearly a sustainable resource in the same manner as it was hundreds of years ago.
We returned to the beach and were greeted with one final Hawaiian seashore surprise – green sand! I had read that there was a green sand beach not far from the southernmost point on the Big Island, but it was remote and hard to get to. Now here at Honokohau we were standing on one. In less than a few hours we had seen a black and white beach and now a green one.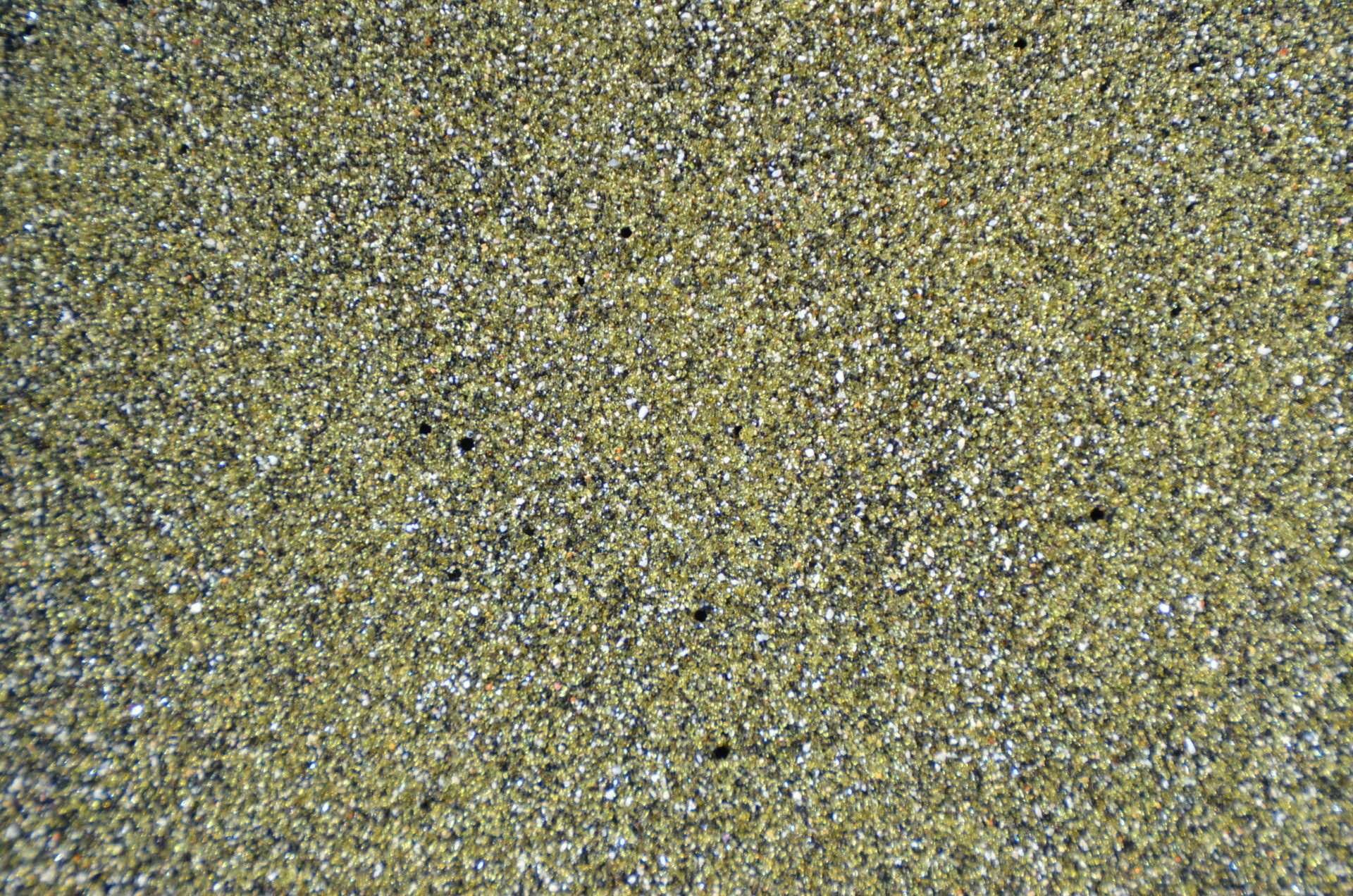 I realized that we had been dallying far too long on the beach and would not have time to complete the entire four mile loop and get back to the Fairmont Orchid in time to make our massage appointment. The trouble was that we were pretty well exactly in the middle of the loop so it was two miles back either way we went. I had noticed what looked like a path that seemed to head straight back to the center through a grove of trees by the fishpond. We followed it for about a half a mile until the trees gave out and we were now at the edge of the lava bed which looked like this.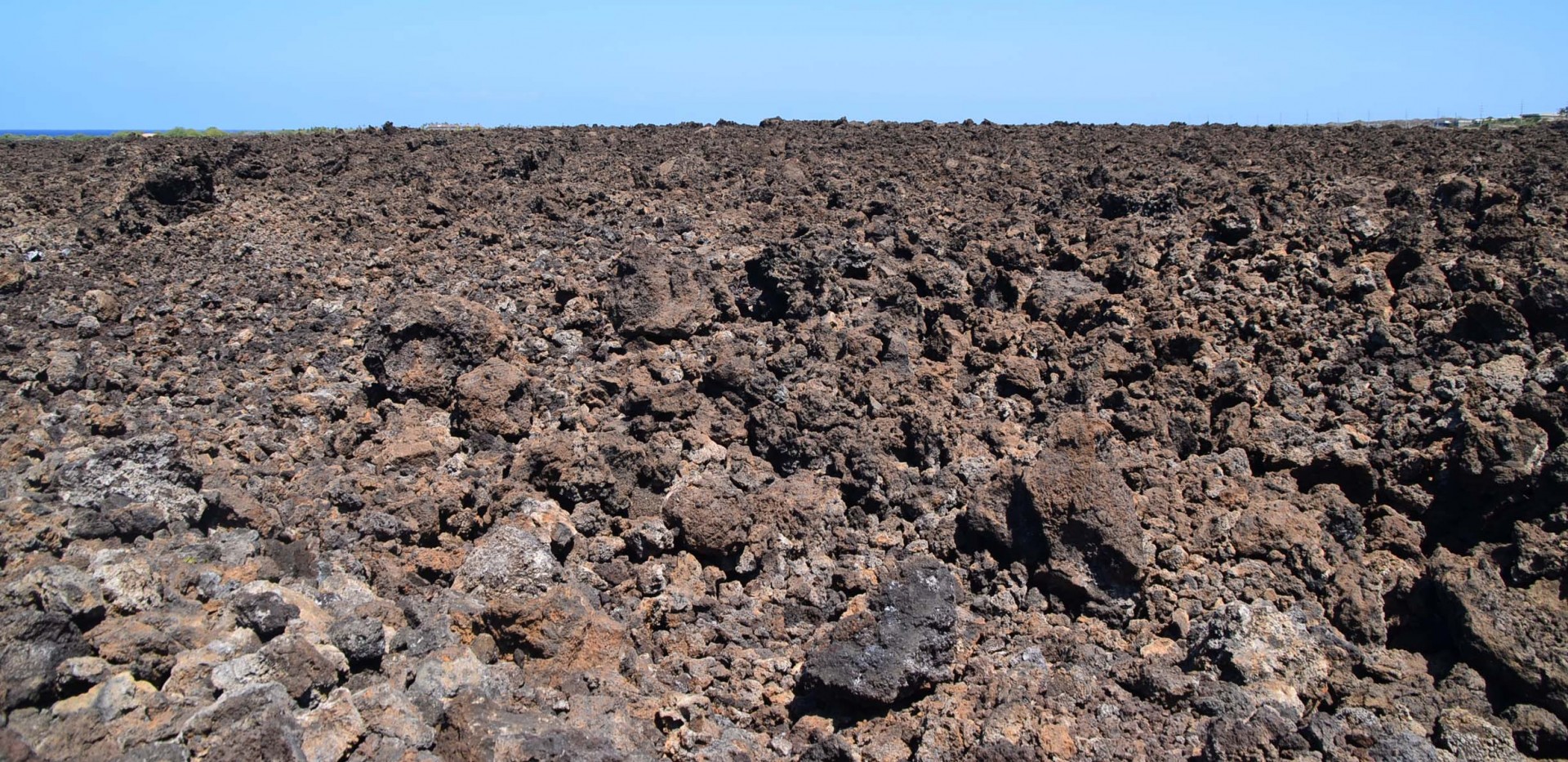 So now it was two and half miles back if we retraced out steps. I reasoned that it could not be more than a half mile as the crow flies to the center and Alison dutifully followed her idiot husband out onto the verboten lava field. I can name a dozen reasons why this was a dumb idea, but one will suffice – it was like walking on shards of glass only worse. In many places the lava had collapsed created deep holes. If one collapsed under our weight and we survived the fall, we probably couldn't climb out. After an hour of wandering like Moses this is all I could do – what me worry?
Obviously we got out or you wouldn't be reading this, but frankly it was an unnecessarily scary ordeal on our last day.
We managed to put back our massage and dinner reservations an hour and just had time to clean up before heading to the spa. The Fairmont Orchid offers a couples massage lying side by side in an oceanside hale looking directly out into the crashing surf. The masseuses were two middle-aged women who really knew their stuff. All of the tension I had built up by getting lost in the lava and catching no fish, was gradually smoothed away. We certainly couldn't afford to do this every day, but it was a great little indulgence to end the trip.
We had our final Hawaiian evening meal at Brown's Beach House which is the most upscale of the restaurants at the Fairmont Orchid. We were seated at an outdoor table facing the ocean which wasn't more than 100 feet away. It was nearing sunset and the tiki torches were dutifully lit. There was a singer performing traditional Hawaiian songs in both Hawaiian and English.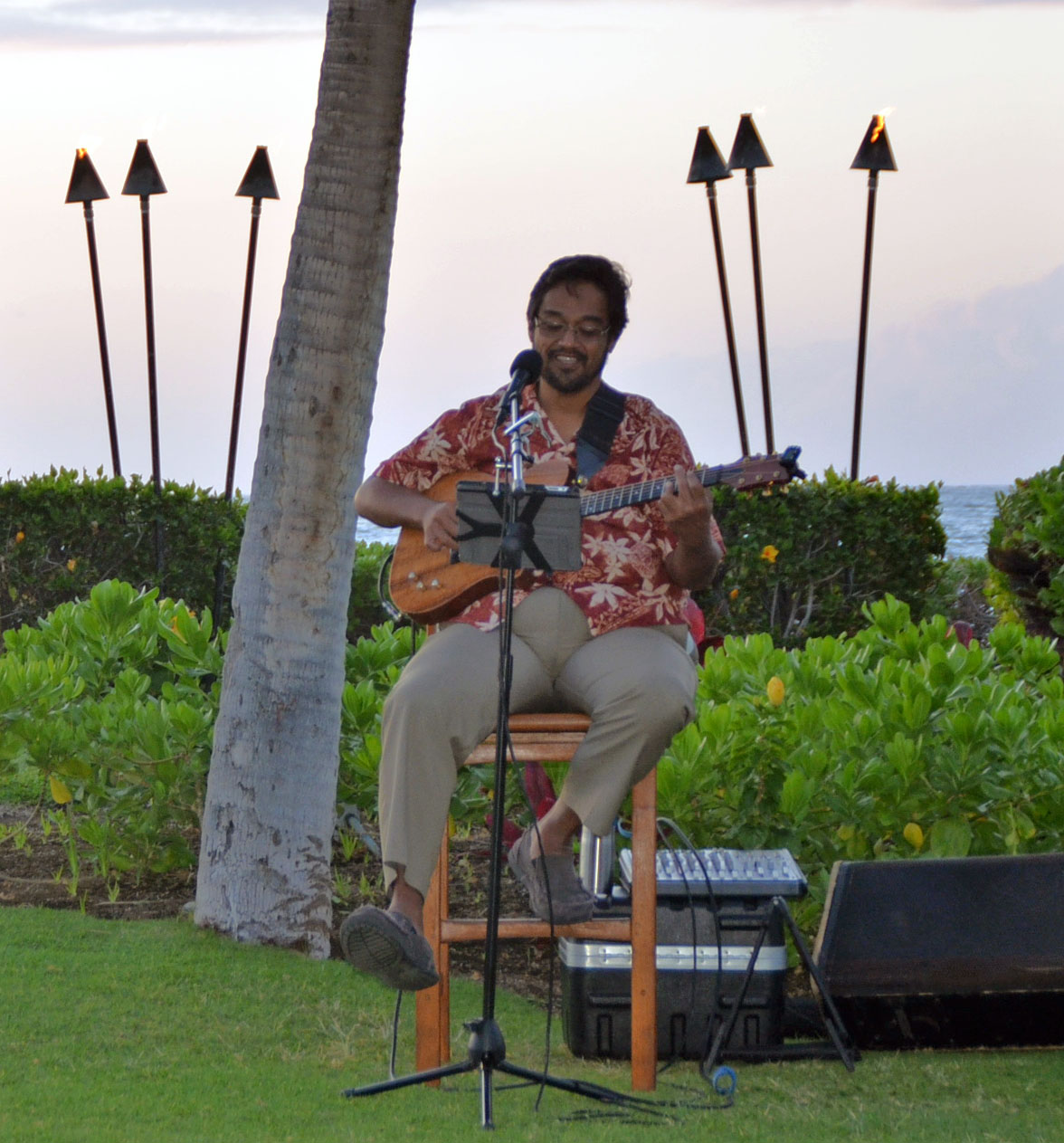 The palm trees were swaying in a gentle breeze.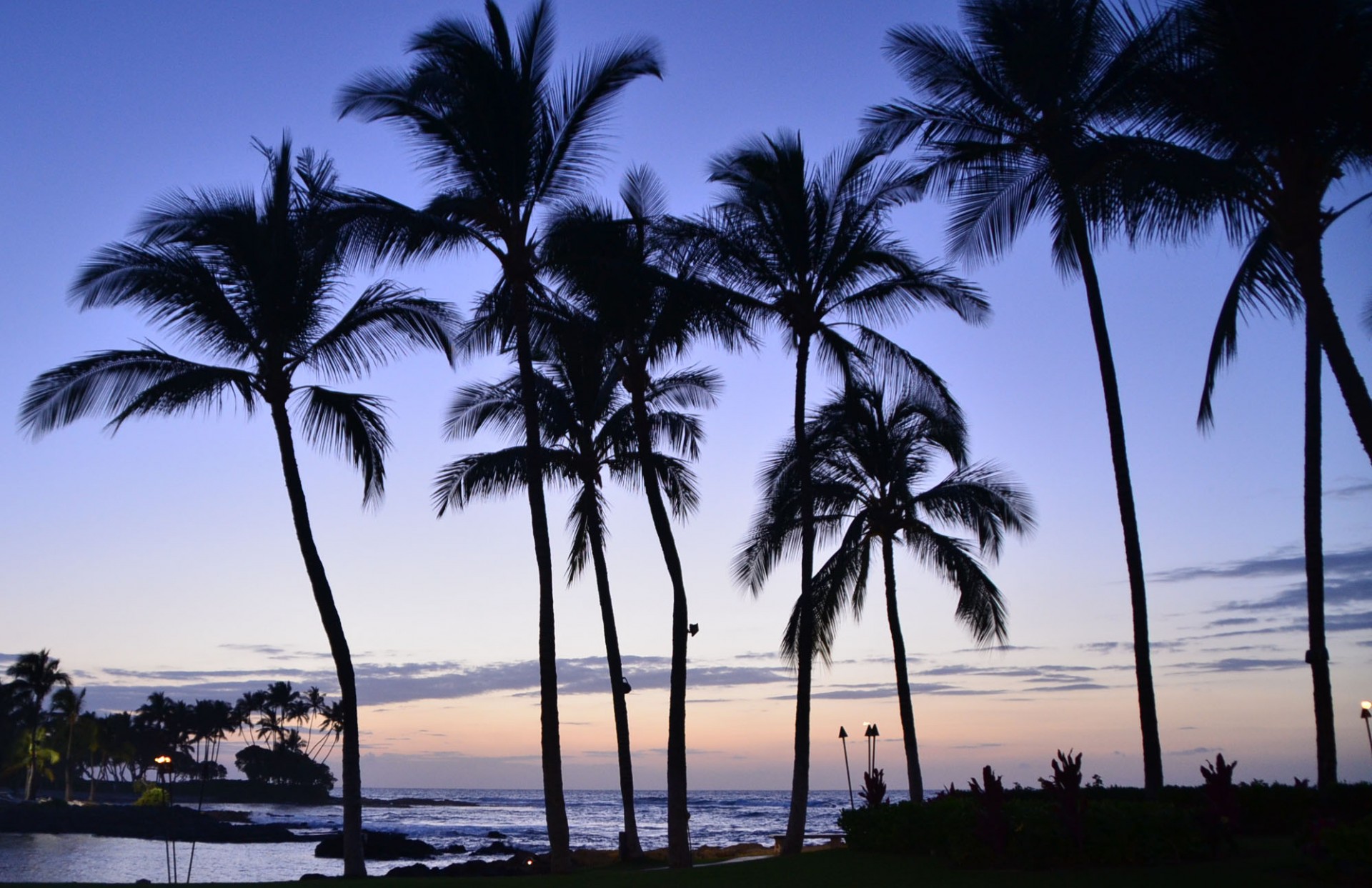 And a solitary paddle boarder was back lit by the setting sun.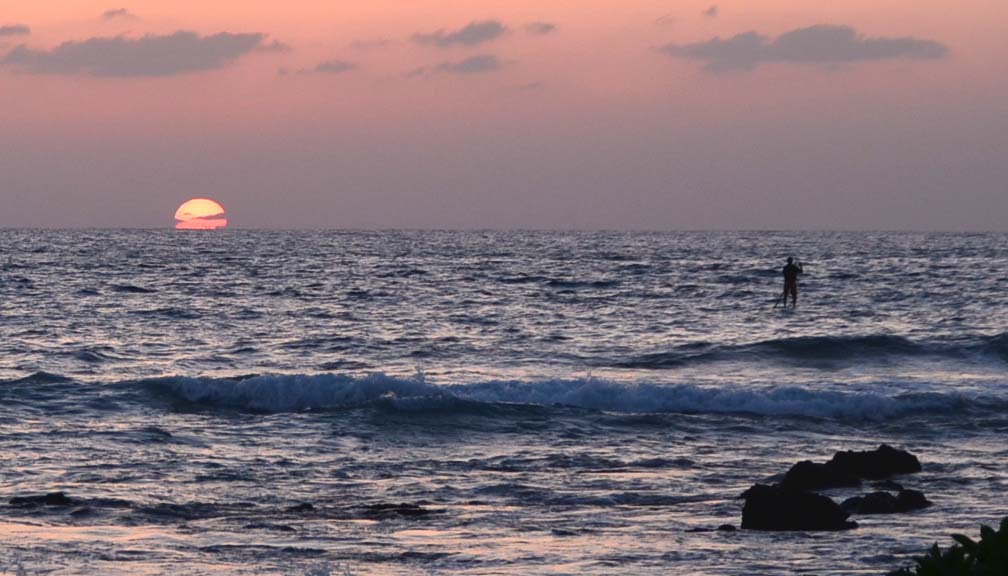 In other words it was romantic as hell.
Brown's is one of the growing trend of high end restaurants that use locally sourced ingredients in all but a few of their offerings. There was no question that we were going to have seafood, but still I was very tempted by the wild boar. For apps I had, no surprise, ahi poke while Alison had the ono ceviche. Both were superb. For the main we switched things up and I had ono while Alison had ahi. Again superb as was the service by a veteran server who knew his stuff. All in all It was a meal that did justice to a last supper on Hawaii.
It was one full day, starting at 5:30 and ending at 10:30, but I wouldn't have missed a single minute of it, even the lava field.
Tomorrow is our last day in Hawaii as we depart for home after flying back to Honolulu, but we still have a full day of exploring to do first. Please join us on a drive up to Mauna Kea via the world famous Saddle Road.
Here is a link to the Big Island photo gallery with pics from every day of our week there.