Leiden – Visiting an Ancient University City and a Game of Boules
Yesterday's first full day of our bike and barge tour of Holland with Cycletours got off to a fantastic start with a visit to the Keukenhof, one of the most famous botanical gardens in the world. However, it was a long day as we pulled into the city of Leiden where we spent the night. I was pleasantly tired and hit the sack early knowing we had a busy itinerary the next day starting with a tour of Leiden, Holland's most important university town.
After a good night's sleep I awoke at six and was pleasantly surprised to find that my legs and knees felt just fine – no delayed reactions from yesterday's exertions. I began what was becoming a daily routine of getting fresh, taking the computer to the common room and going online to remain caught up with the office so that I could approach the day without any niggling worries in the back of my mind – did Ian get that brief filed? Did Marion remember to pay my cell bill?, etc. To some travellers and travel writers staying out of touch is one of the primary reasons for travel. I would agree if one was only going to take one vacation a year, but when you travel as much as I do staying in touch is a necessity. I communicate directly with my clients by email and they often don't even know I'm away. So if you think I'm an idiot for doing this I have proffered my reasons.
Touring Leiden
It was a beautiful morning in Leiden and at seven Alison and I took a stroll through the old city gates which were reflected in the waters of the canal.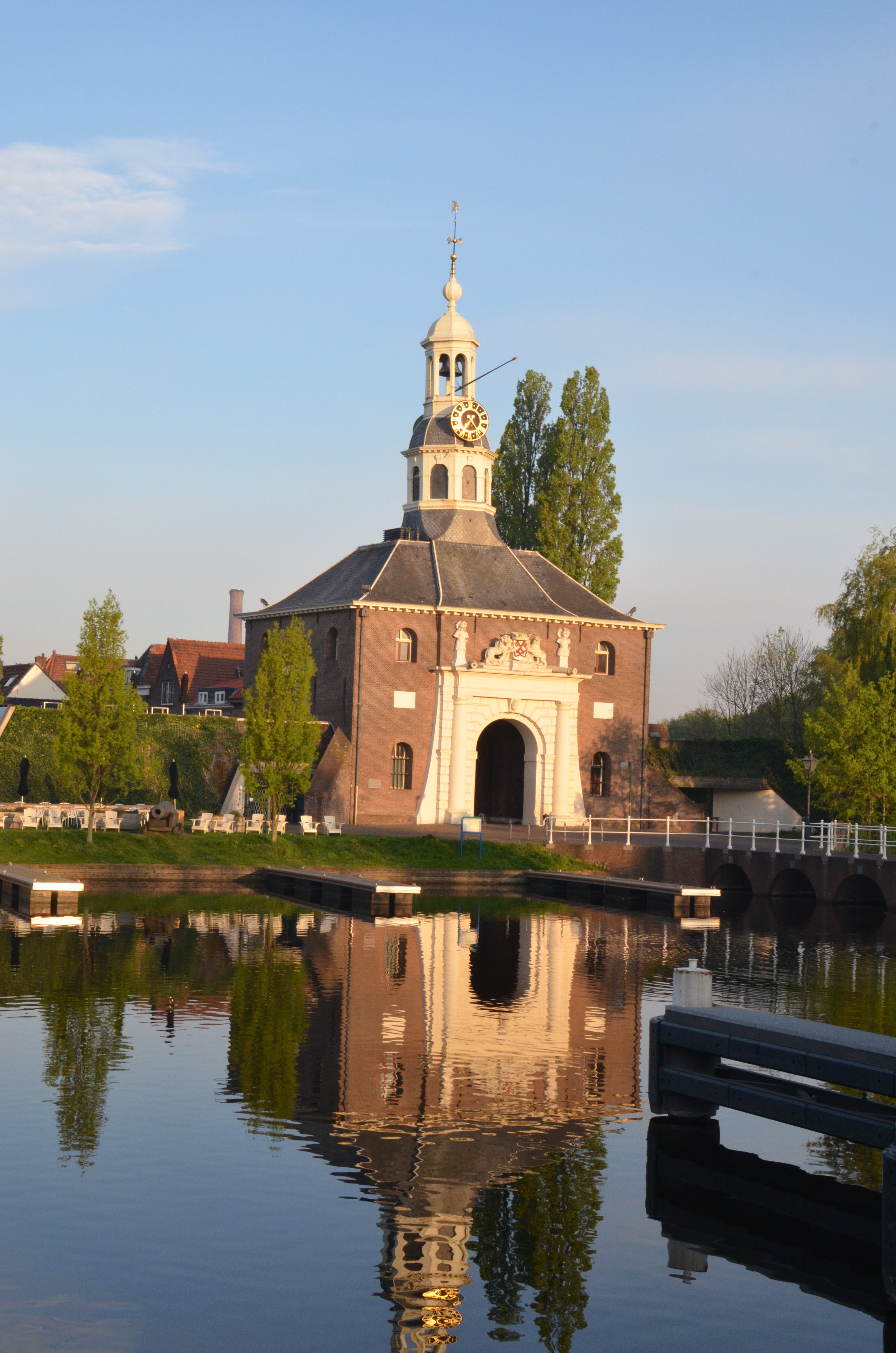 One of the things I love about visiting Europe is the heraldry. Almost every person, every town, every profession, every building seems to have its own coat-of-arms that are not only interesting to photograph, but interesting to try to learn the history behind them. In Holland many of the coats-of-arms contain as a major feature the industry or product that made the place famous. Here is the coat-of-arms of Leiden as it appears on the city gate along with the coats-of-arms of two prominent Leiden families.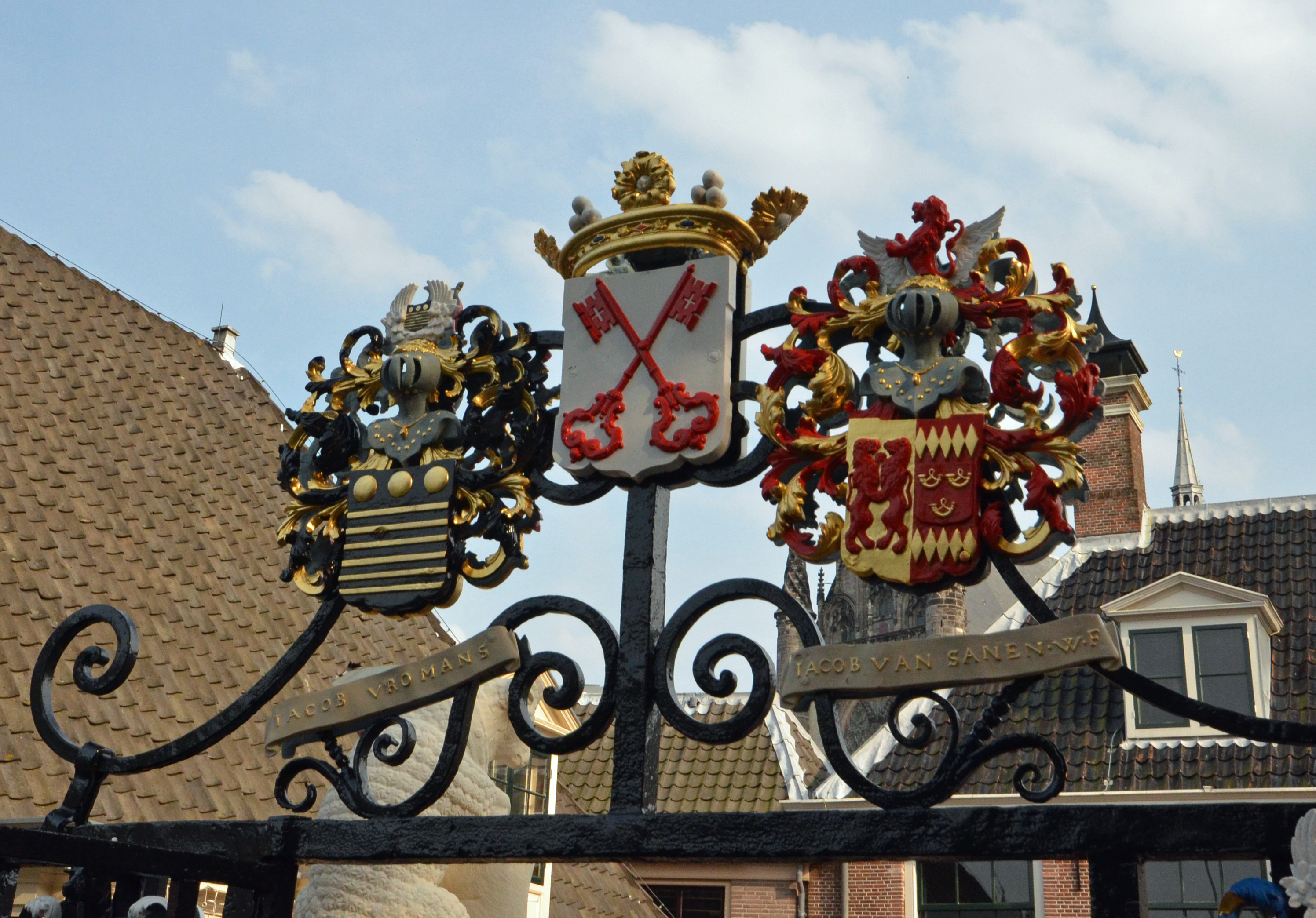 Leiden's motto is haec libertatis ergo which translates as "All in the name of freedom" and explains the red keys which are the symbol that knowledge is the key to understanding and freedom. I couldn't agree more. Holland has a long history of being at the forefront of liberal causes and much of it can be attributed to the universities of which Leiden is the most pre-eminent. When you consider that such revolutionary thinkers as Rene Descartes ( I think therefore I am), Hugo Grotius (father of international law) and Baruch Spinoza (arguably the first modern philosopher) all studied and taught here, then you gain an appreciation that this little city bats well above its weight on the world intellectual scene.
One of the products of liberal thought is the questioning of the place of religion in the human existence and whether it is necessary or not in living a good and productive life. Spinoza, who was raised as a Jew, eventually came to the conclusion that death was the last scene in a person's life and not the opening act for some type of eternal existence. This picture taken at the entrance to an old Leiden cemetery perhaps sums up this philosophy of man as the measure of all things and not God – when you're dead you're dead.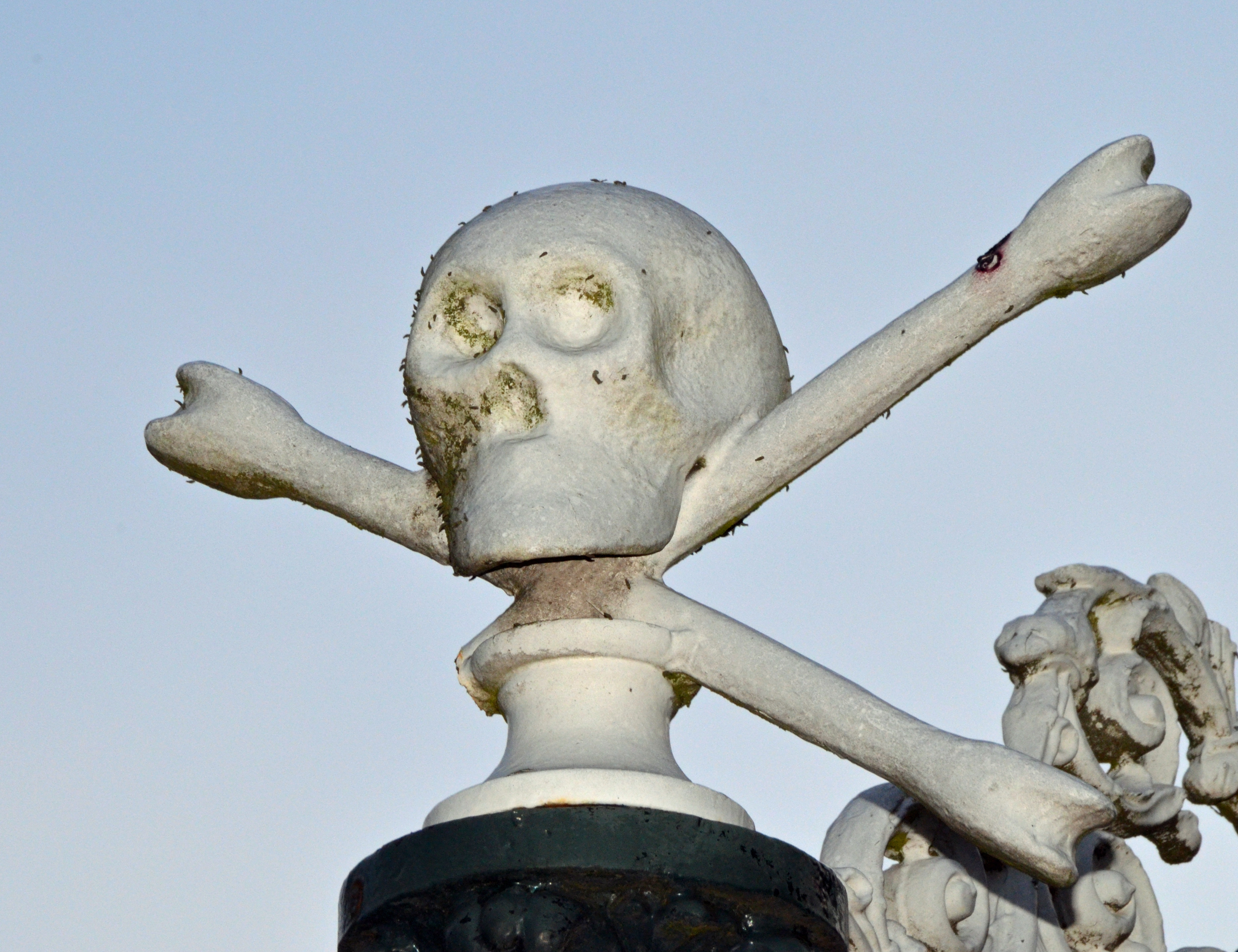 There is however still a place for religion in modern society, for example, creating and preserving beautiful buildings like this one that Alison caught in the morning Leiden light.
As we finished our morning stroll we came across this sign as a reminder that all is not peace, love and understanding in Leiden; there are still disputes which require a member of the world's second oldest profession to resolve.

Back at the Zwaan breakfast was ready and the rest of the inmates were up and about.  Marije plunked down huge plates of paper thin crepes fresh off Dorus' grill that were piping hot and then slathered in butter and syrup, a delicious indulgence to start the day. The French, except Marielle, make a great display of moaning and groaning to emphasize the agony they were going through in recovering from yesterday's ordeal. I have my doubts, particularly about Andre who has a runner's physique – still they are cheery and ready to tackle another day on the rugged bike paths of Holland – that's a joke.
I don't know if Albert spoke to the Frenchmen or not about their disappearing act yesterday, but they were falling over themselves to make sure they all got involved in deboating the bikes. I passed the bikes from the top deck to eager hands. It was almost like a bucket brigade as the bikes were handed from Josee to Andre to Louis to Arnaud and then on to Albert. Once again everybody was ready by nine and Albert explained that today we would traverse the "Green Heart of Holland" by bike and barge. This not a mere expression, but the name given by the Dutch of a large swathe of verdant land that lies between the cities of Amsterdam, The Hague, Rotterdam and Utrecht. Those cities and their outliers contain almost seven million people in what is commonly called the Randstad, while in the middle less than 600,000 dwell in much smaller towns and on farms. Development in this area is strictly controlled and to a large extent forbidden. The Dutch intend to keep the green in the green heart and not replace it with the more traditional North American asphalt grey. Here is a map of the area and as you can see Leiden is right on the western edge.
I was quite excited until Albert said our first stop would be a cheese farm where we would watch cheese being made. Although that sounded as exciting as watching paint dry, I was pretty sure that Cycletours would not include a stop that did not have real value to its customers and it turns out that was right. We started out with a quick ride through Leiden (remember we had traversed it twice the day before in search of the Zwaan) and entered a small courtyard which turned out to be the birthplace of the most famous son of Leiden, Rembrandt. There was a very good representation of the young Rembrandt contemplating a self portrait he would do in later life.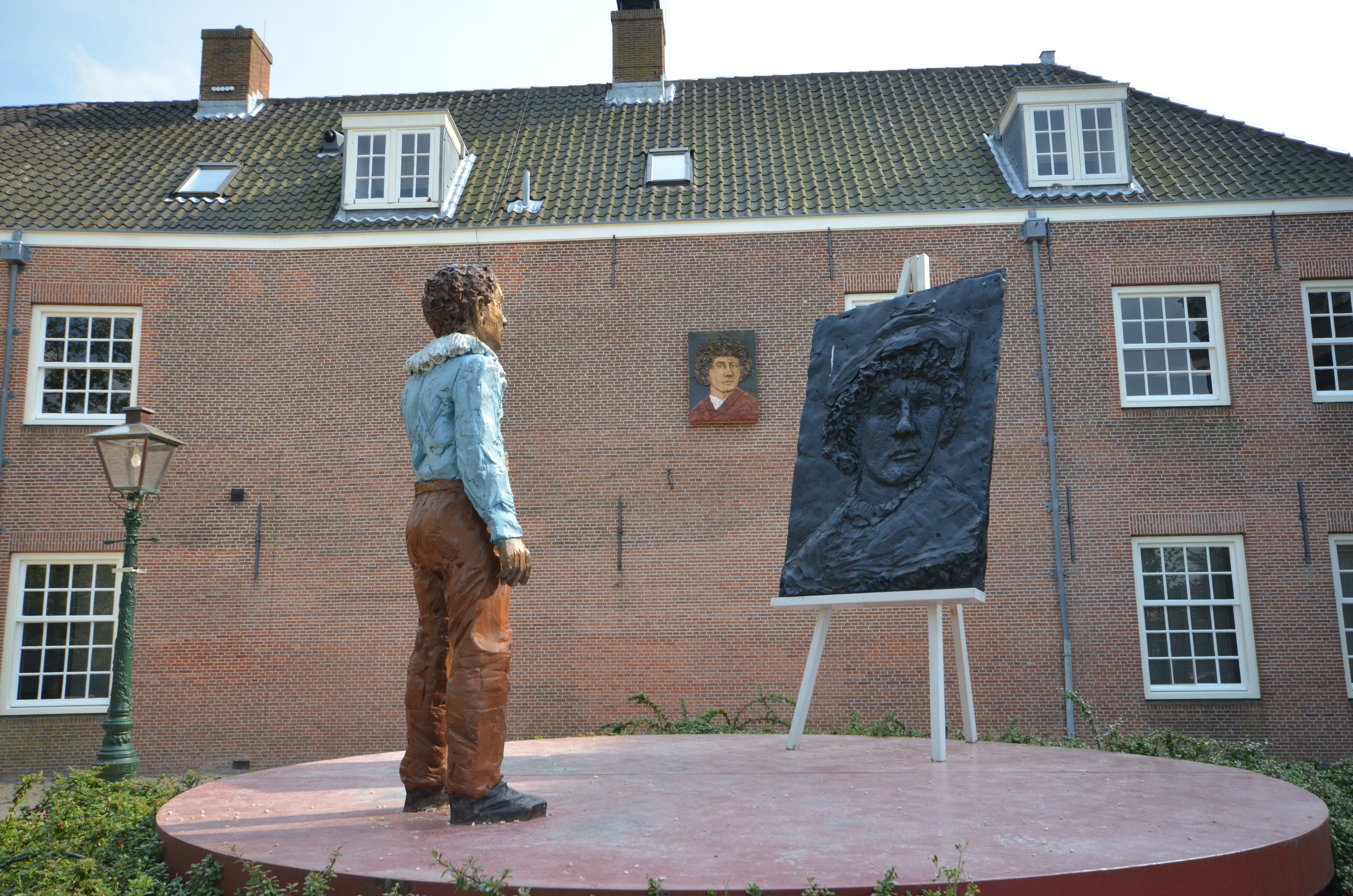 I decided he might need a little painting lesson and proceeded to teach him every thing he needed to know.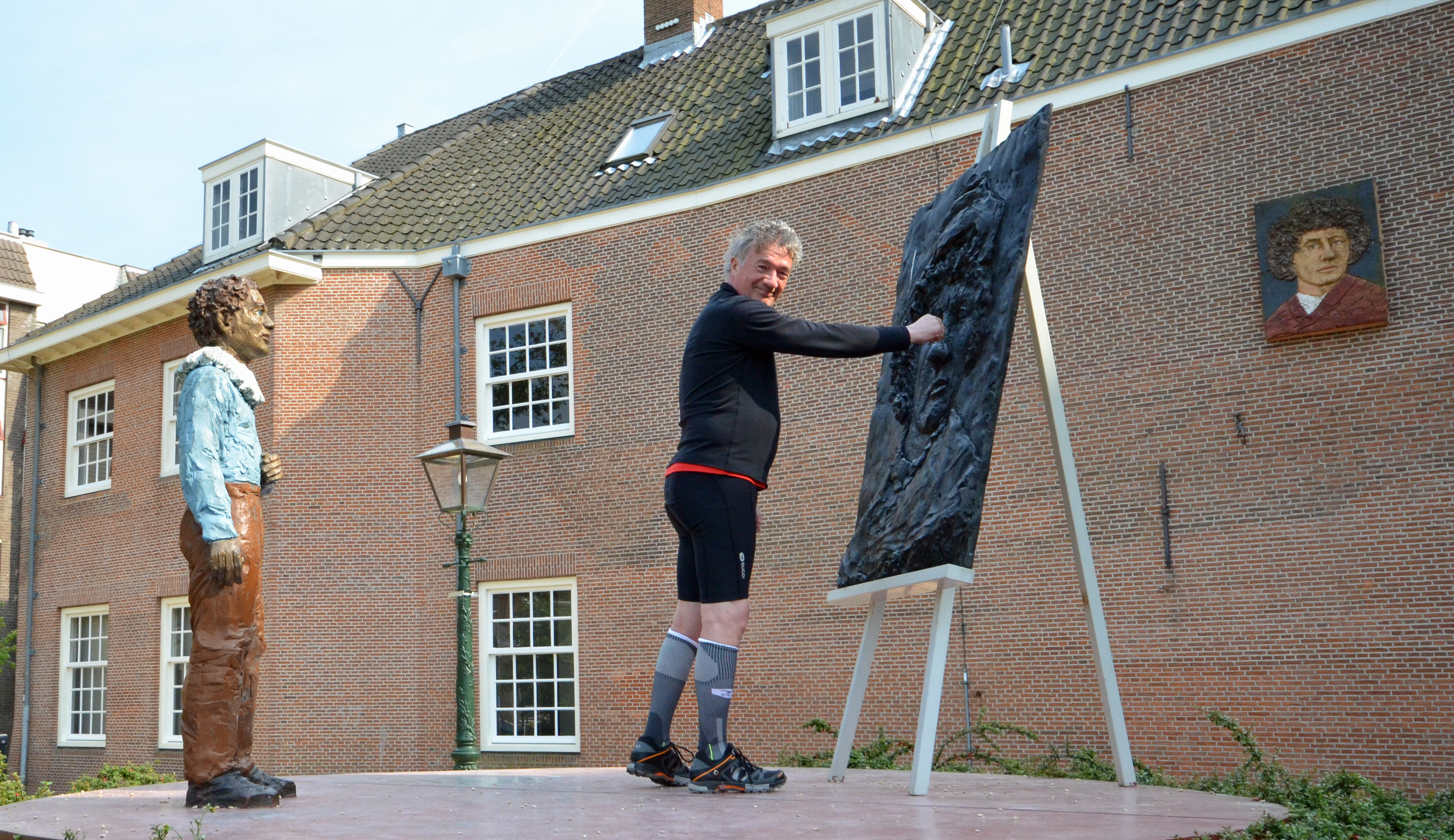 We also stopped at our second town windmill  which like the one in Haarlem was huge at seven stories. Most windmills in Holland have a distinct name and this one was De Valk or The Falcon in English; why I couldn't find out.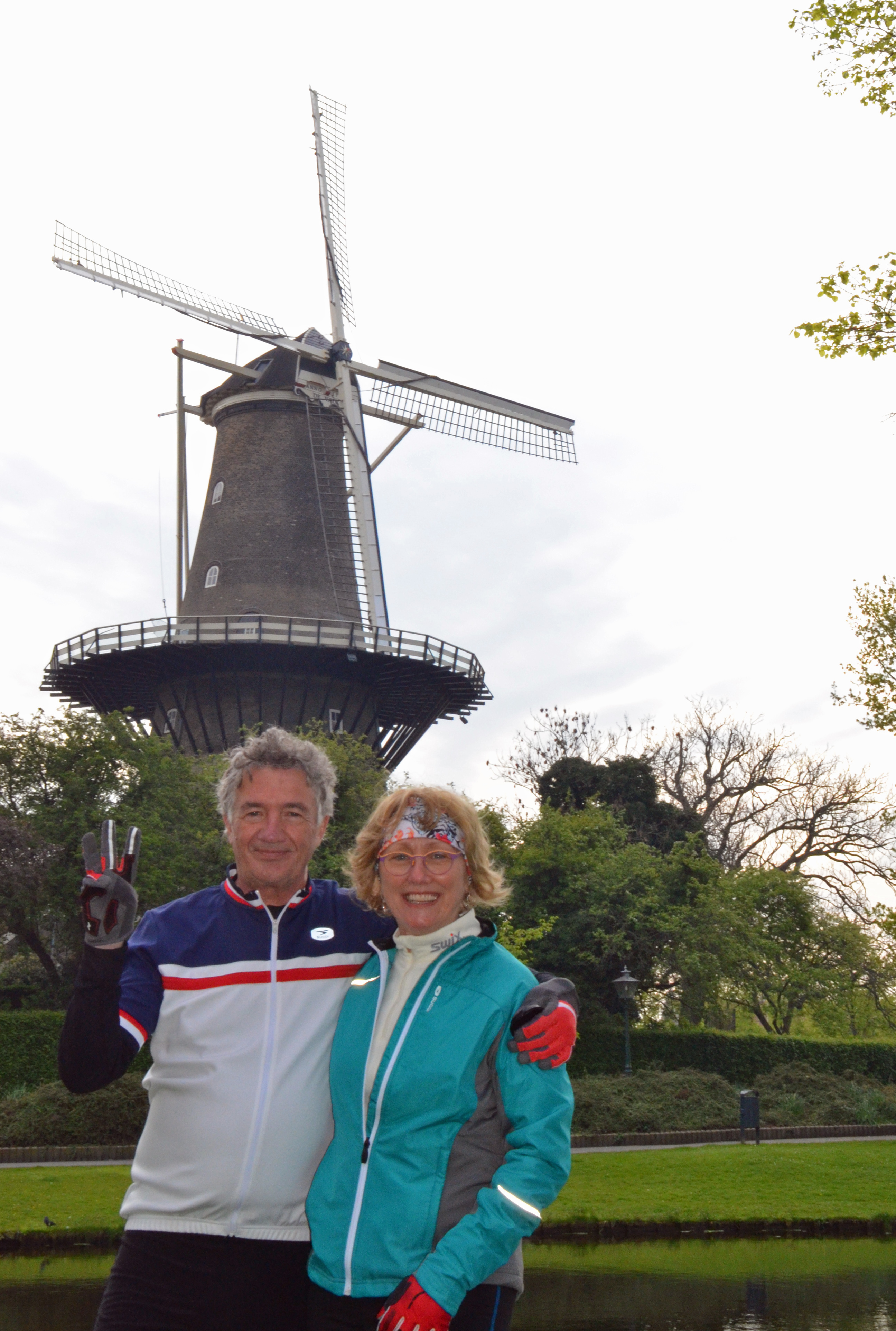 The Cheese Farm
Leaving Leiden we cycled north along the Zijldijk toward a series of interconnected lakes in which is a large island, the Zwanburgerpolder on which the cheese farm was located. We took a short passenger ferry ride over to the island and were soon in  standing in the middle of a real farm of the type I had not visited since I was a kid vacationing at my mother's sister's farms in the Gaspereau Valley, Nova Scotia. I had baled hay and dug potatoes as a teenager, but those weren't Old MacDonald farms like this one. There is something about a farm that prints an indelible impression on the five senses. Undoubtedly the smells of a farm are the most powerfully different as they assail your olfactory sense with both the good and the bad. Is there any nicer scent than that of new mown hay? And I'm not convinced that the smell of manure in the context of a farm is that bad either. Next are the sounds of a farm – the lowing cattle, barking dogs, twittering barn swallows and mewling farm kittens. Your feet feel the squish of mud underneath and possibly a cow flap or two. Your eyes love the green of the pastures, the strong lines of the architecture of the barns and farmhouse and let's face it, cows staring at you with their big doe eyes are always intriguing. Are they as dumb as they look or is there really something going on in there we don't know about? Lastly, there is taste and that comes at the end as the product of the combination of the first four senses.
Well this place had all of that and more. Note the thatched roof on the farmhouse.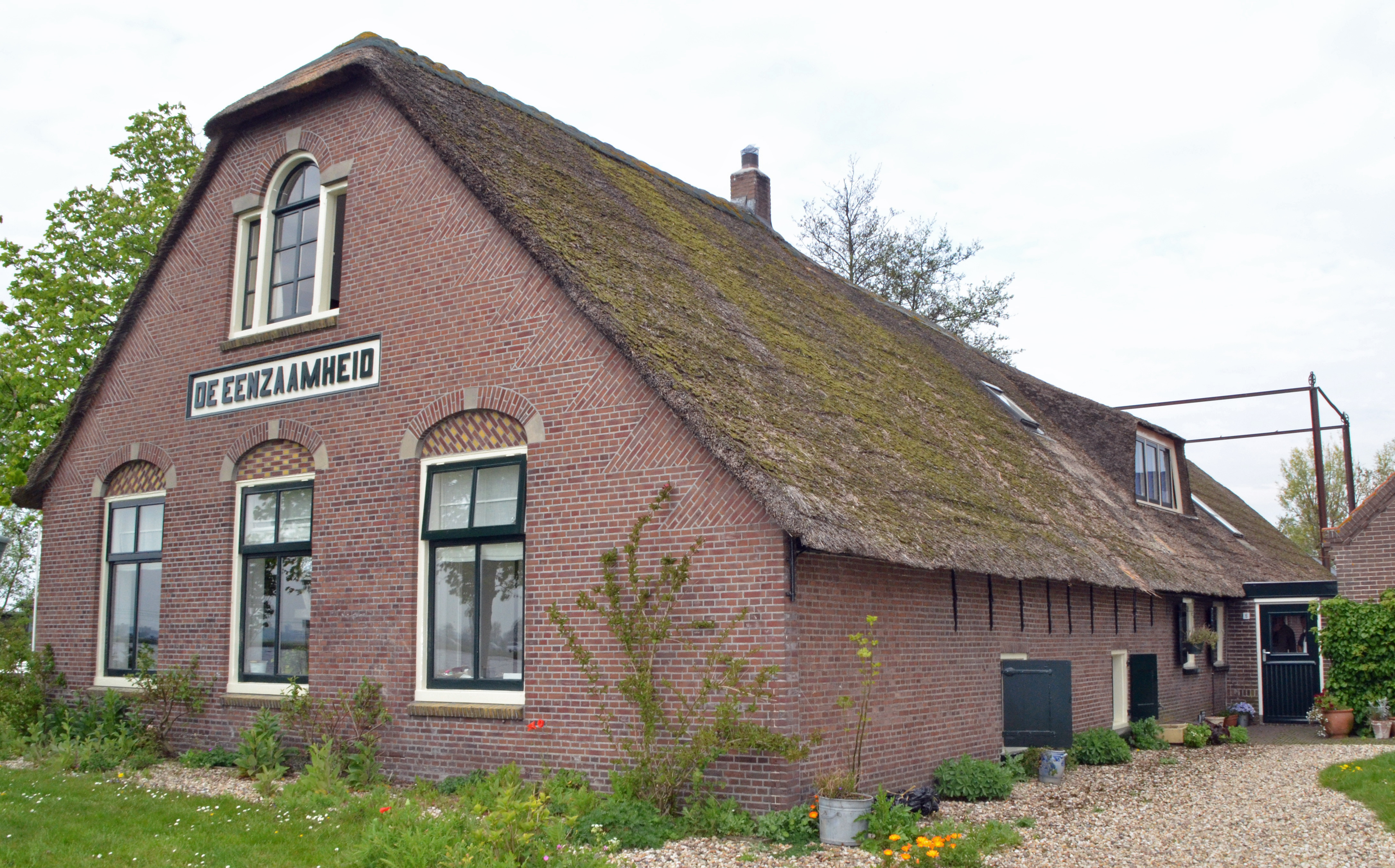 I'm not sure the Frenchmen had ever been on a farm before based on their reaction to the cows, heifers and calves in the barn. I knew they were Parisiens so that could very well be true. Albert had to almost literally drag them away from the cows and into the cheese room where we going to see how organic gouda is made.
Inside we were introduced to a married couple whose life's work was dedicated to making quality, organic gouda cheese and I'm glad to say from the overall prosperous look of the place they seemed to be doing quite well from that enterprise. It turns out that making gouda is quite a fast process from beginning to end and I won't bore you with the details where a few pictures will do. The cows had been milked that morning and the milk combined with water, calcium and the all important rennet soon produced curds which were collected in these circular strainers.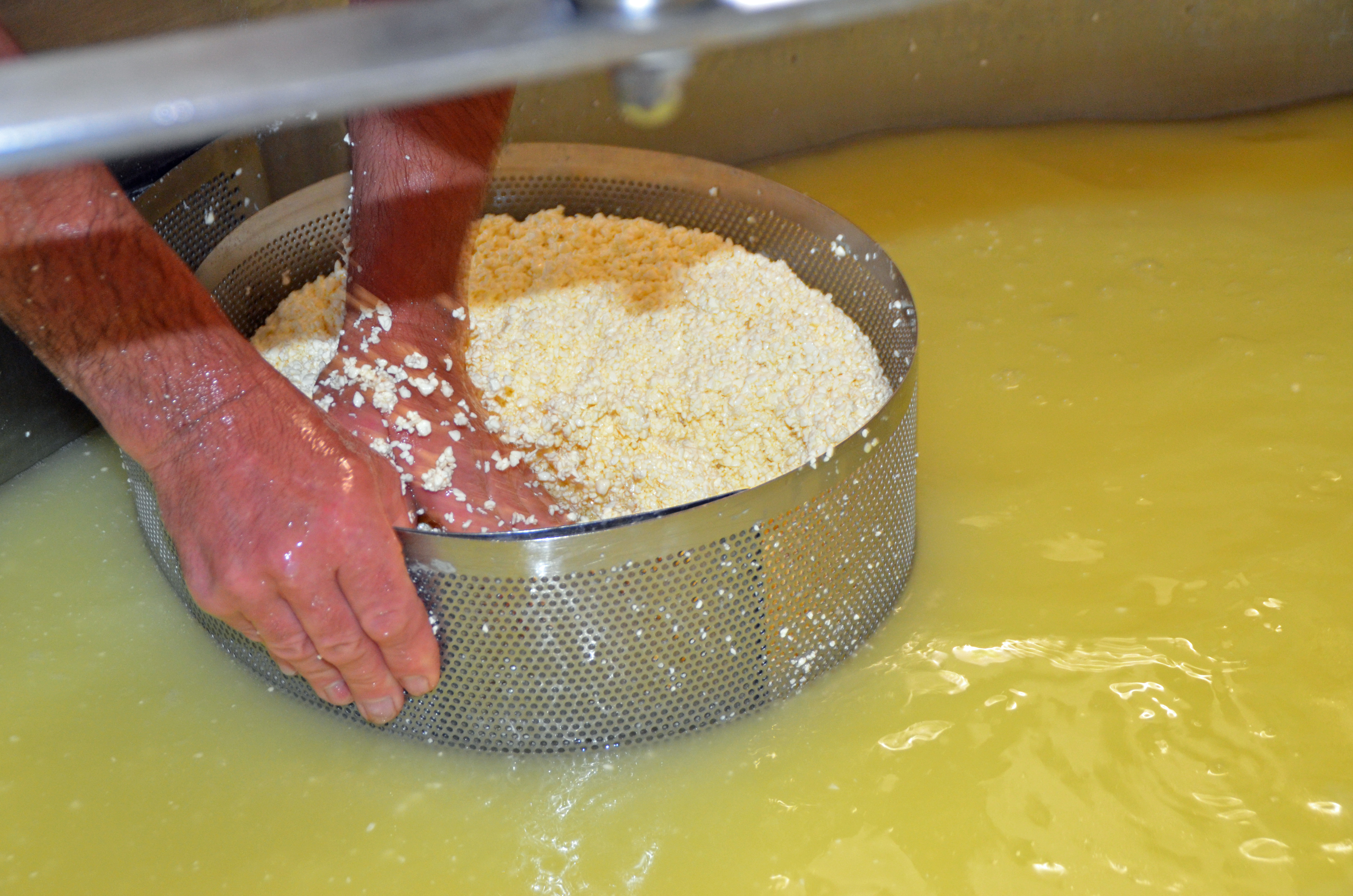 After resisting the temptation to shout "Wait, let's use those curds for poutine!", I watched as the water was pressed out and viola we have rounds of cheese that when covered with the traditional wax magically become gouda cheese.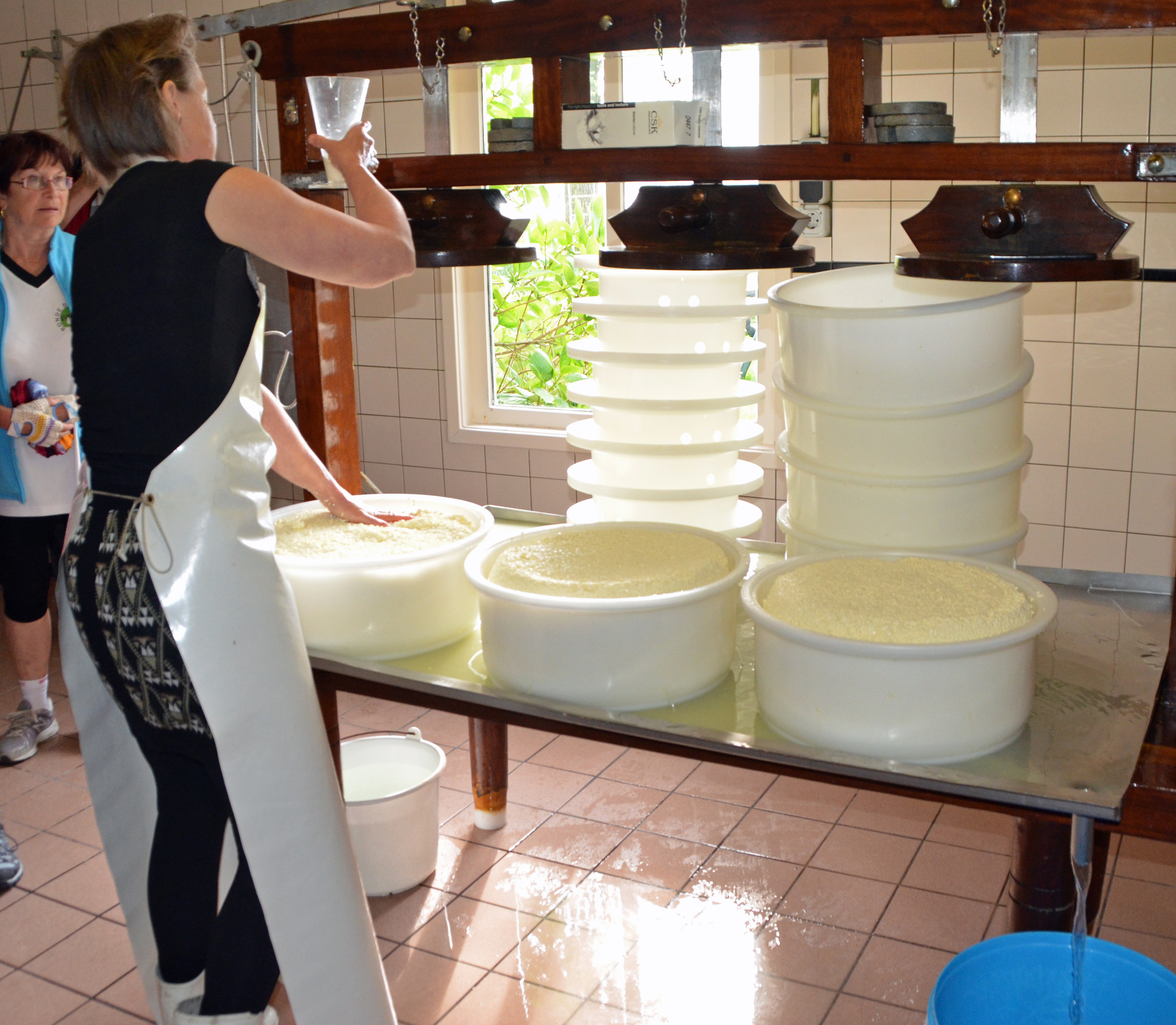 We then went into the storeroom where we were greeted with the sight of dozens of giant cheeses aging for market.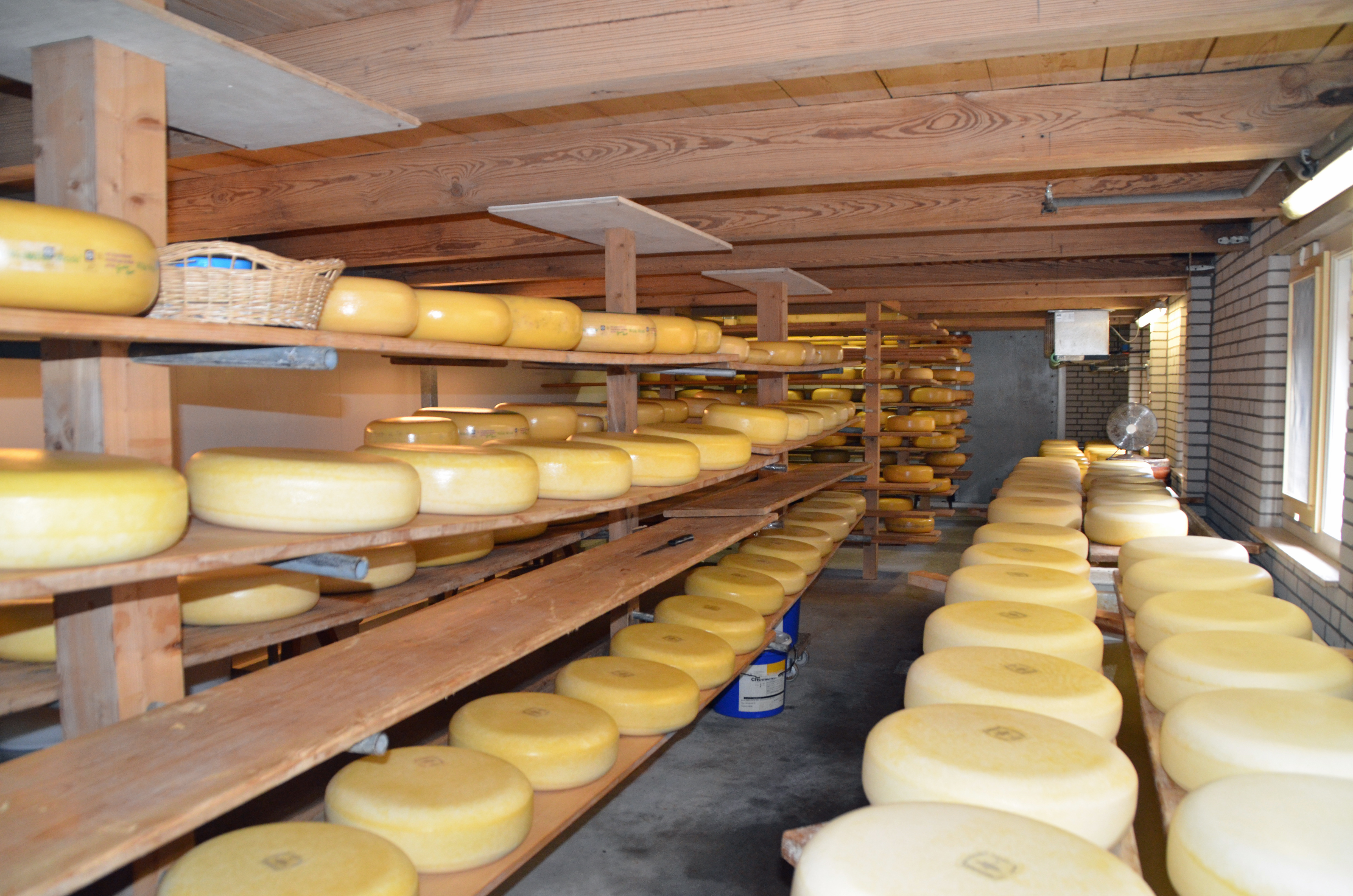 The cheeses are then imprinted with this mark guaranteeing that they have been produced in a traditional, organic matter – literally by hand and not machine in the case of these cheeses.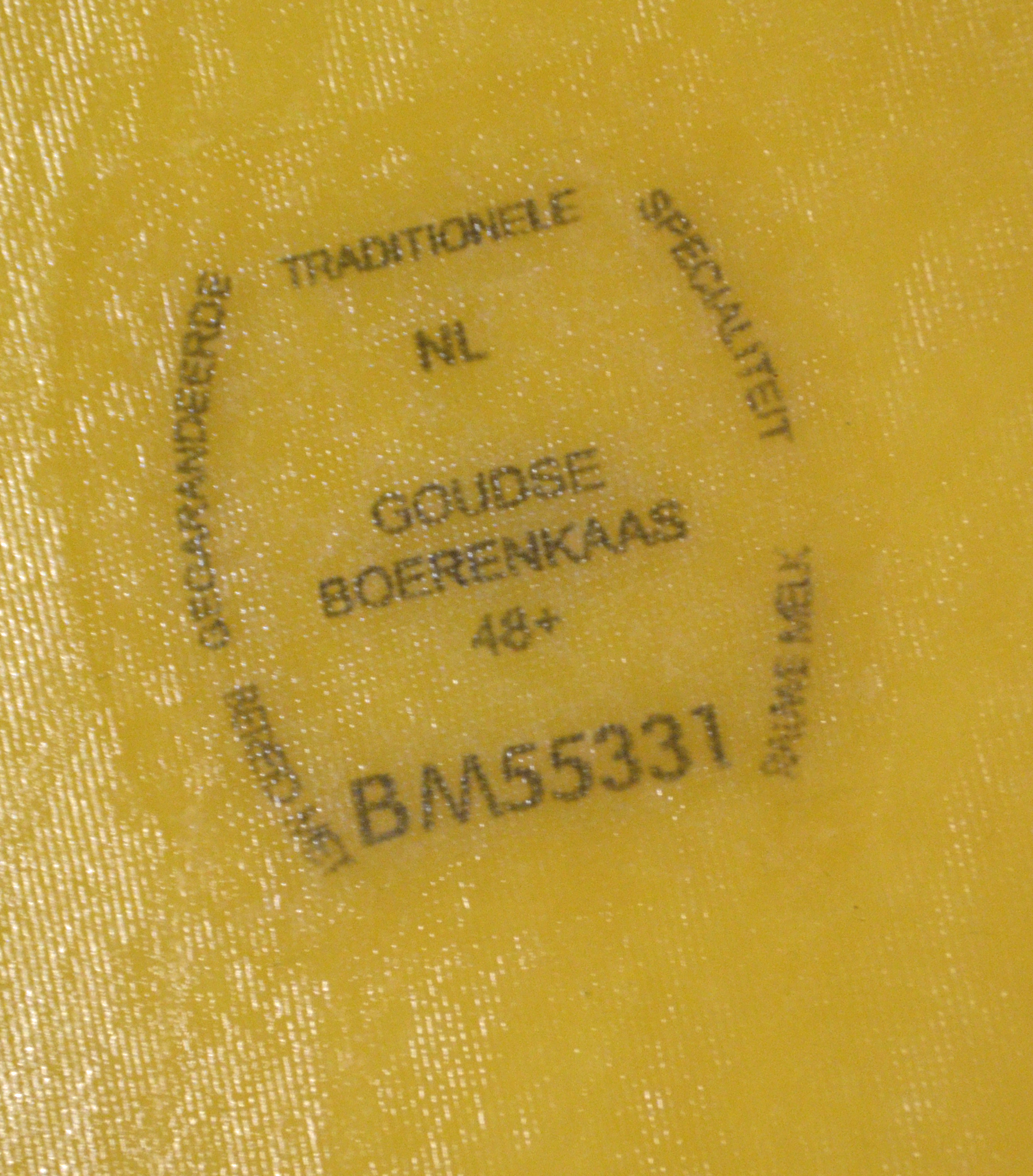 So that was it. As you can see it was an eye opening experience for me.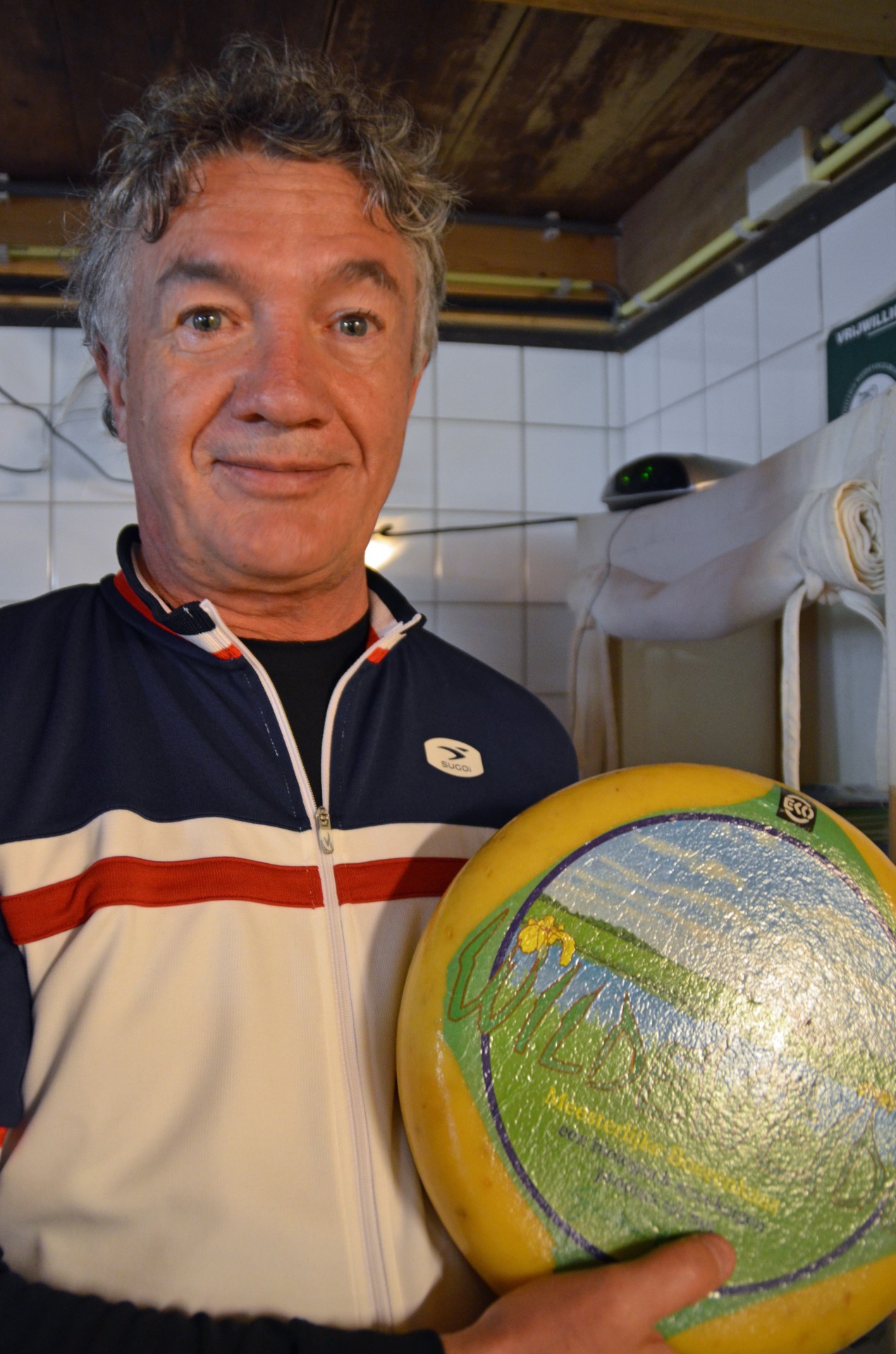 Usually the point of these visits to small industries like the cheese farm is to get to to open your wallet at the end. I definitely did not get that impression here. We were given some wonderfully tasty samples including one with fenugreek which we especially liked. Four 4 euros we bought a piece that would have cost at least five times that much in Canada. I am munching on it as I write this morning – it goes surprisingly well with coffee.
While we waited for the others to finish their purchasing I looked into one of the barns and found two old, but still in service Massey-Harris tractors. I was glad to see there was a Canadian contribution to this operation.
A couple of teenagers had rowed over to the island to buy some cheese and brought with them a young setter puppy that was all feet and ears. They tied him up while in the farmhouse and he was desperate for affection so Alison went over to give him some.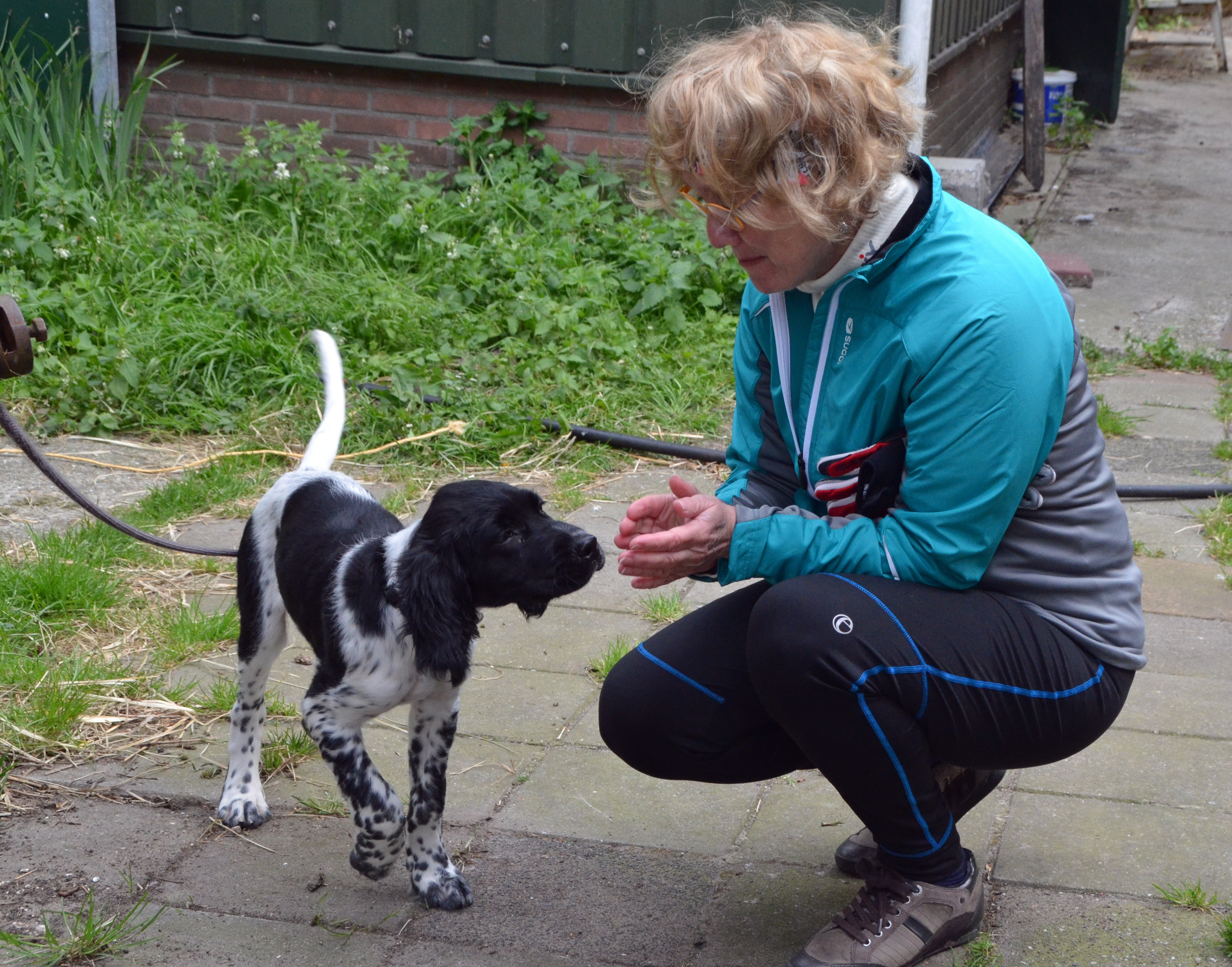 Now's as good a time as any to talk about the Dutch and their love of dogs. I noticed from the first morning in Amsterdam that there were an inordinate number of people out walking their dogs along the canals and parks (and picking up after them). Over the next five days the connection between the Dutch people and their dogs has become patent – almost everybody has a dog. Every barge has at least one. There does not seem to be one typical Dutch breed, although I would say the most common are ones that look like Jippee who in case you forgot looks like this. Certainly there is a lot of Jack Russell in there, but something else as well.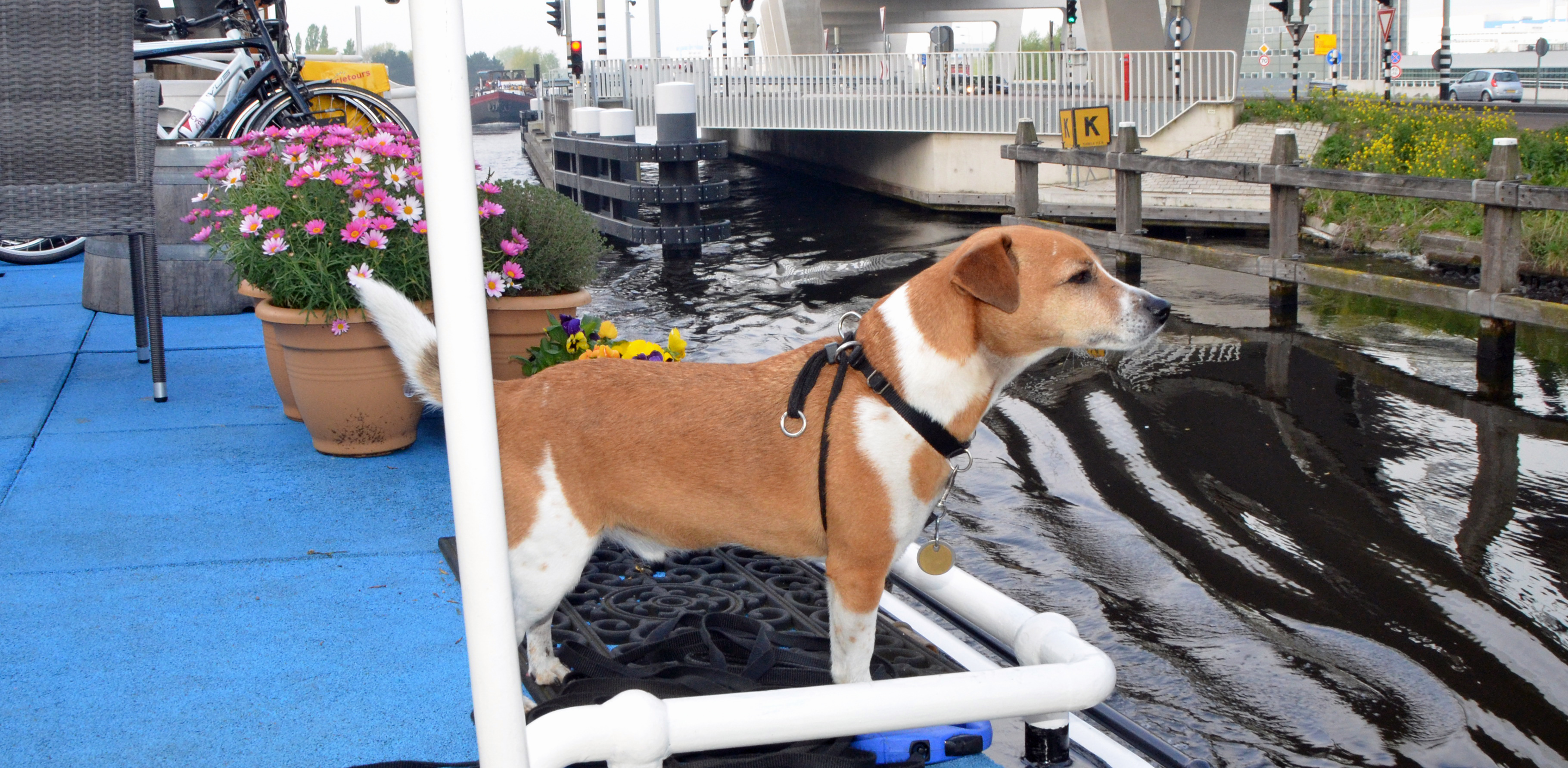 All I can say is that any country that prefers dogs to cats and flowers to power, is my kind of place.
I was surprised to see Marije appear out of nowhere as I thought she was on the barge. She told me the barge had tied up at a small dock just the other side of the farm. Jippee was with her and she explained this was his former home, but that he constantly ran away by swimming across the busy canal onto the mainland. The family was so concerned that he would eventually get run over by one the barges that they decided he belonged on one and so he became Marije and Ilja's barge dog. Whereas most people get exiled to an island a la Napoleon and the Count of Monte Christo, Jippee managed to get himself unexiled – now he's a world traveler.
The story has a happy ending for the farm family as well as they couldn't bear not having a dog and there was a Jippee lookalike running around on the island in his place.
Returning to the barge I came across these wild calendulas.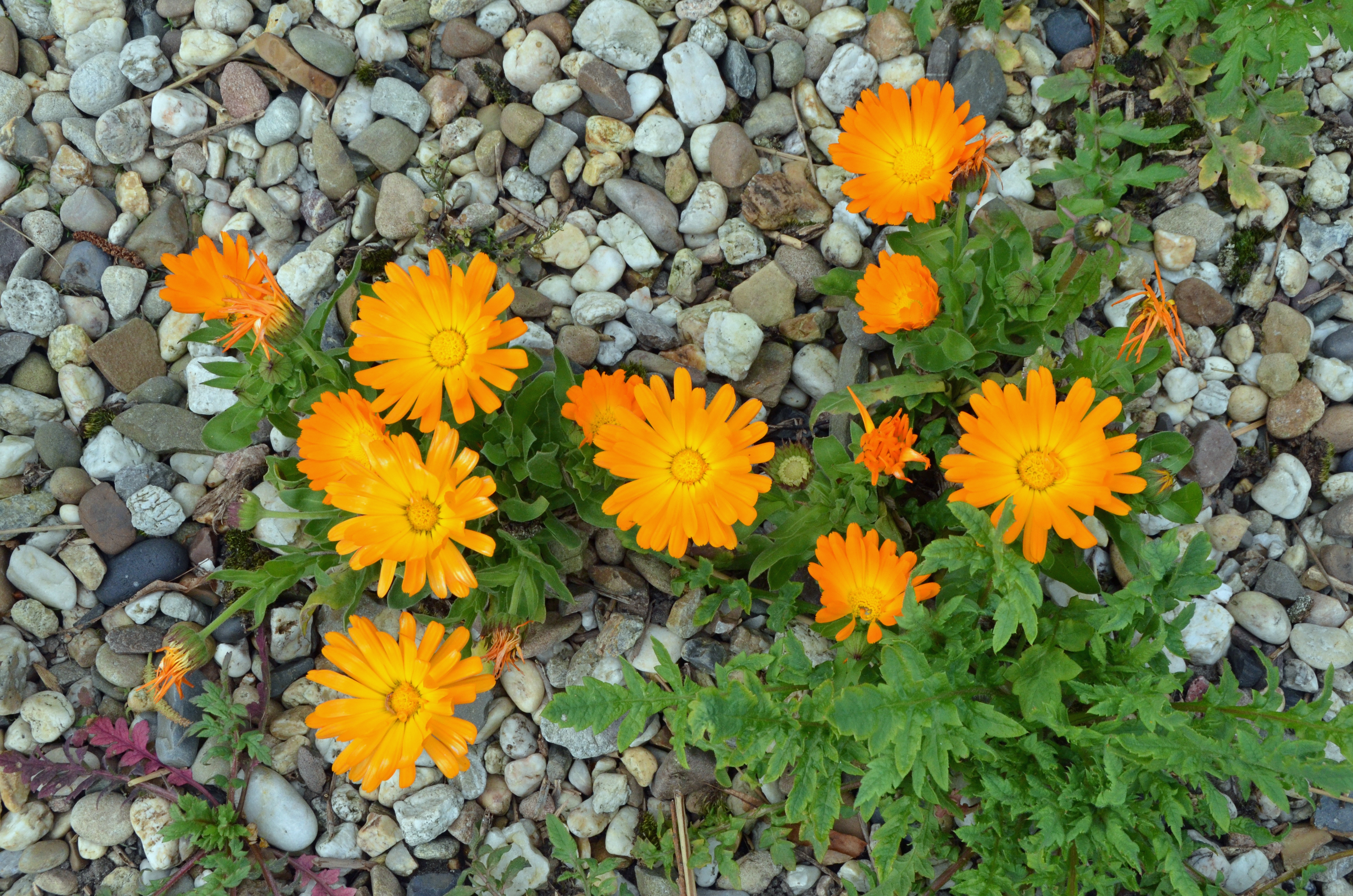 We brought the bikes aboard the Zwaan and motored north and right through a regatta of various classes of small sailboats that like pigeons on the road seemed to get out of the way at the last possible moment. I know that the nautical rule is that motor gives way to sail, but in a collision between a Laser and a barge I know whose going to come out the worst. It was a warm Easter Monday and no doubt the sailors, who seemed to be mostly teenagers, were getting a head start on the sailing season.

We sailed for about an hour through a labyrinth of channels until entering the Huigsloterdijk, which is the canal that separates North and South Holland provinces, heading toward Braassemermeer, a large lake at the centre of the Green Heart. After lunching on the boat we tied up, unloaded the bikes and set out to do a tour around the lake. Ilja explained that our planned destination for that night was a mooring that was used by many barges as the springboard for a visit to the Alsmere flower market the next morning. The problem was that there was only one actual mooring spot and sometimes up to eight barges might have to be tied side to side – not an ideal situation for anyone, particularly if you were barge eight and had to drag your bikes over seven other barges. He said he was going to look for a better spot and he would let Albert know when he found one. This was an example of the on the spot decision making that the crew of the Zwaan made to ensure that our experience was not the same as every other cycling group following roughly the same route.
We spent the next three hours cycling at a moderate pace through a number of small villages that had the by now familiar Dutch tidiness (now I know why they call it Dutch Cleanser) and beautiful gardens. The one thing Holland has going for it, that Canada can't match in terms of gardens is that there are a great more varieties of flowers in bloom at the same time than there would be in Canada. In my garden I am used to a bulb cycle, followed mostly by early perennials and annuals and then later blooming varieties. For example, my poppies, irises and peonies are going to be long gone by the time the dahlias, roses and  glads come along, but in Holland many of these varieties are in bloom at the same time making for some very different looking gardens than what one would see in Canada. Add in the seemingly dozens of varieties of blooming trees and shrubs and it is a visual treat unlike any I have experienced.
However, most of the ride that afternoon was along green fields and pastures where there were more types of sheep, goats, cattle, horses and even llamas and alpacas, than I have ever see. The horses ranged from huge drafts like Percherons to tiny ponies no more than three feet high, while the cows, goats and sheep were white, brown, black and every possible combination of the three. The one thing I didn't see was any pigs.  The birdlife in these fields and canals was also outstanding with lapwings, willetts, at least four species of goose and of course the majestic swans. It reminded me of nothing so much as Edward Hicks' The Peaceable Kingdom sans the lions and leopards.
Near the end of the ride that day we came across windmill after windmill, all much smaller than the large town windmills that were used for industrial purposes like grinding grain. These were strictly used for water control purposes.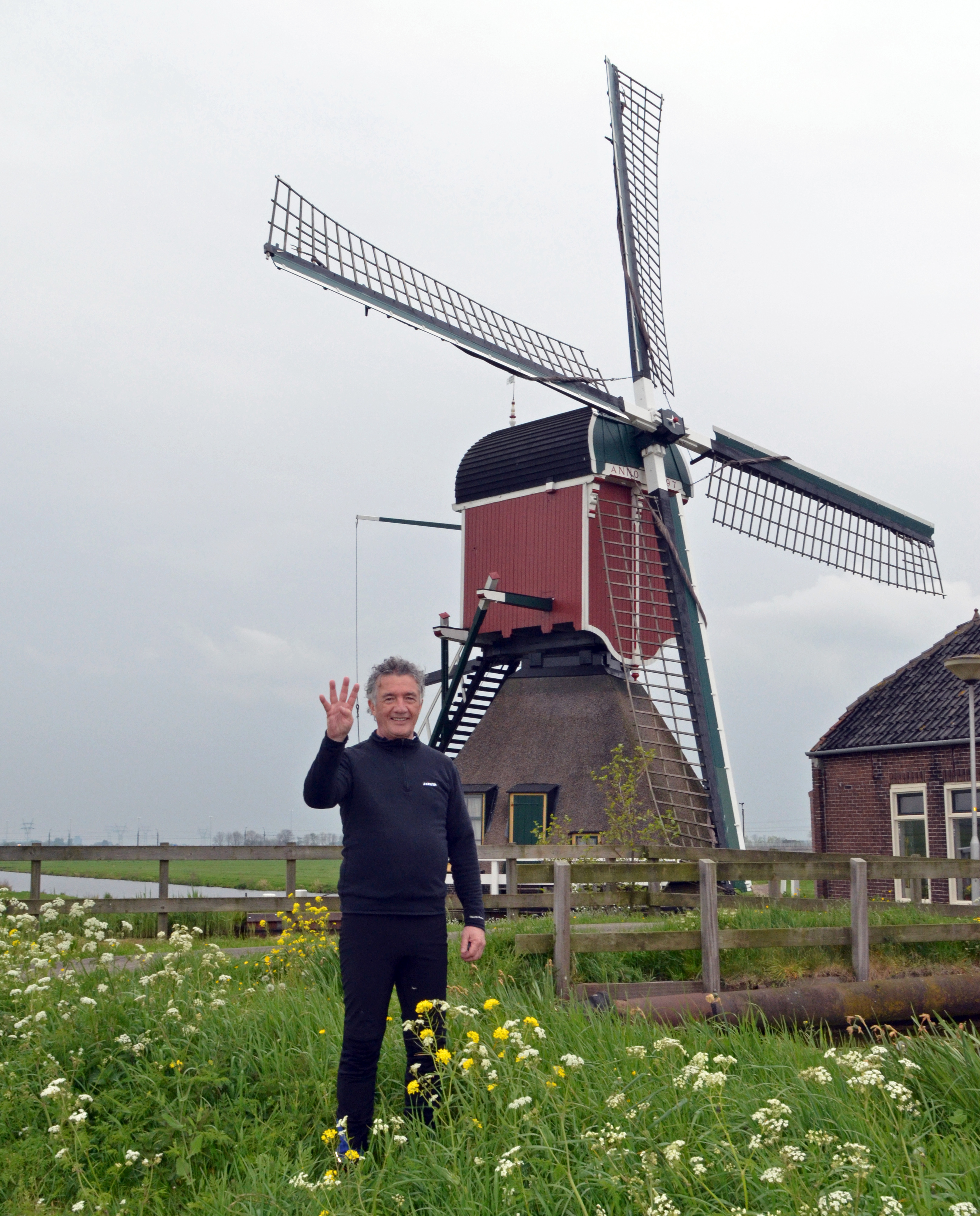 I asked Albert who owned the windmills and who was in charge of making sure the water management was properly administered; a screw up could cause a lot of devastation if these below sea levels polders were inadvertently inundated. He replied that the windmills were privately owned and that each polder had a committee of land owners who were in charge of making sure things ran according to Hoyle. They did it without expectation of payment or other largesse. This made perfect sense – the people who had the most to lose were in charge. I considered how we would do this in Canada. Undoubtedly the civil servants would deem the land owners as incapable of managing their own affairs and set up a bureaucracy to administer the polders. The first order of business would be to set salaries and benefits for the civil servants running the polders. The next would be to commission studies by one of the big five accounting firms to determine the best way to proceed. These studies would be expensive, paid for by taxpayer's dollars and then ignored. In the meantime the polder infrastructure would crumble until the entire system was so mired in debt and disagreement about what to do that the landowners would have to come to the rescue and save the polders themselves. The civil servants would pat themselves on the back for a job well done and award all concerned, except the landowners, a handsome bonus. Call me cynical, but exchange the word polder for say – fishery or forestry and see what you think.
In what was becoming a welcome late afternoon ritual we stopped at a pub alongside a canal and had a drink before departing for the barge. Here is a photo of our bikes tied up alongside a drawbridge that has just opened to let a boat go through in the village of Woubrugge or Woodbridge as it translates in English.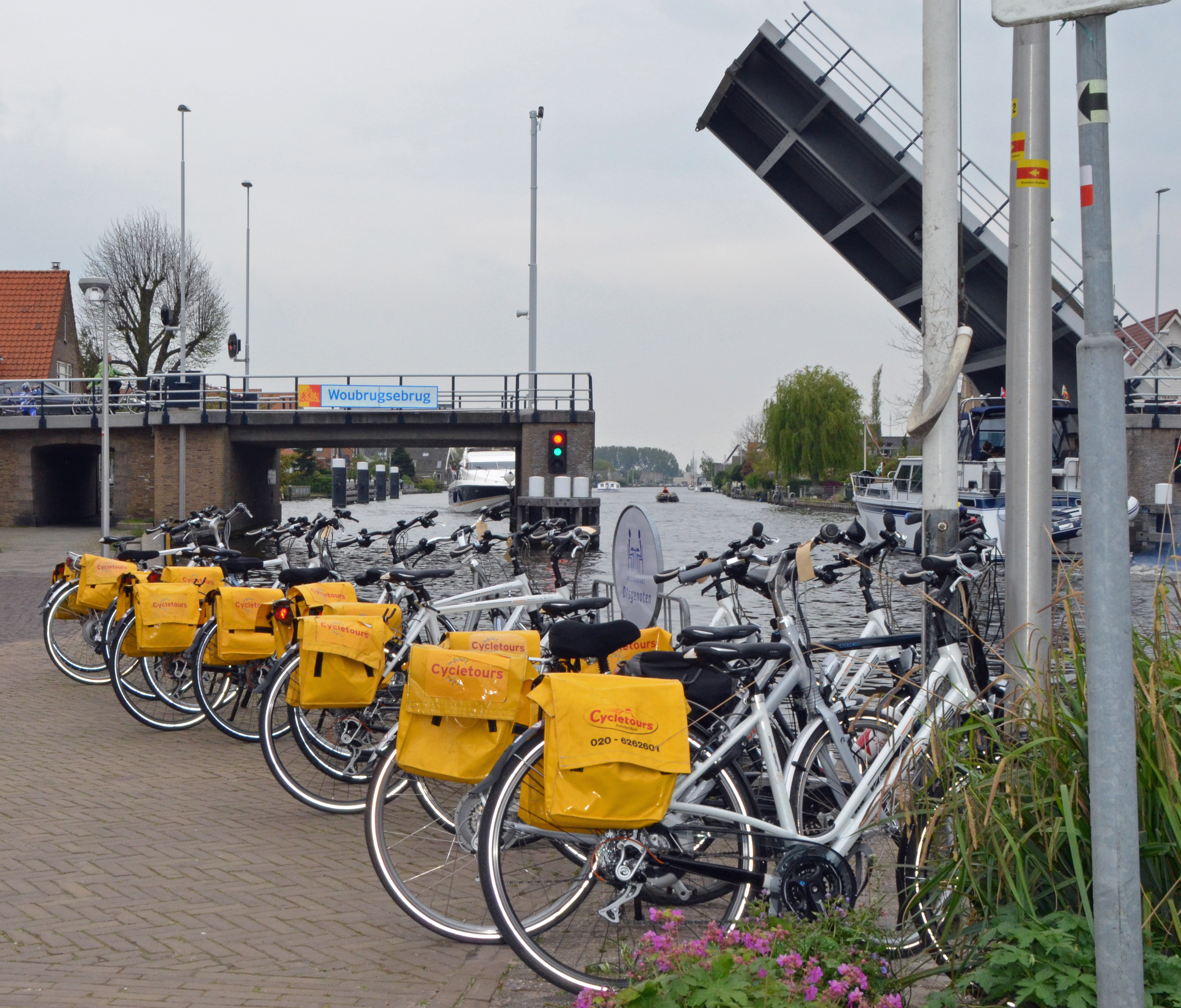 We found the Zwaan moored alongside a canal  in the village of Oude Wetering. This time the Frenchmen couldn't do enough to load the bikes and I'm pretty sure they feel contrite about yesterday. I'm going to give them the benefit of the doubt and assume they simply didn't hear Albert when he asked for two people to help him the day before.
A Game of Boules
Tonight was Italian night with pizza, crostinis, two varieties of lasagna, arugula salad and an amazing amaretto mascarapone concoction. Katherine and Josee supplied the wine. A good time was had by all. After dinner Ilja announced " Zee Captain would like to invite you to play the game of life", or at least that's what it sounded like to me. Albert said, "Dale, we'll need you". I assumed it might be some type of trivia game of which I am pretty good. I agreed as did everybody but Alison, Liz and Emma which made for three teams of four. Ilja brought green, red and blue berets. I was on the blue team with Albert, Ilja and Brigitte and ready for the first question when suddenly everybody got up and trooped off the barge to a vacant lot not far away. Ilja and Albert were carrying heavy wooden boxes which they put down very carefully and proceeded to open them. Inside each box were a number of shiny metal balls with various markings on them. It then dawned on me that I was about to play my first game of boules, a game at which the French excelled. This would be like me asking the Frenchmen to put on skates and play hockey and calling it a fair match. I was about to get humiliated – this was their subtle way of seeking revenge for me helping Albert the day before after they sneaked off.
Then again it was Ilja who had proposed the game, not the French and I knew that it was somewhat similar to curling so maybe there was hope.
The first match was between the reds and the greens and it didn't take long to understand the rules – just like curling except that the button can be moved. The game starts by throwing out a small red ball which is the target. Balls are then thrown or rolled at it. Unlike curling, a team keeps bouling until they have 'shot' boule. Each team has eight boules and each player throws two. The match between team red and green was all French and I could see they took this stuff seriously. There were screams of excitement or despair after every shot. Eventually team red pulled off a narrow victory.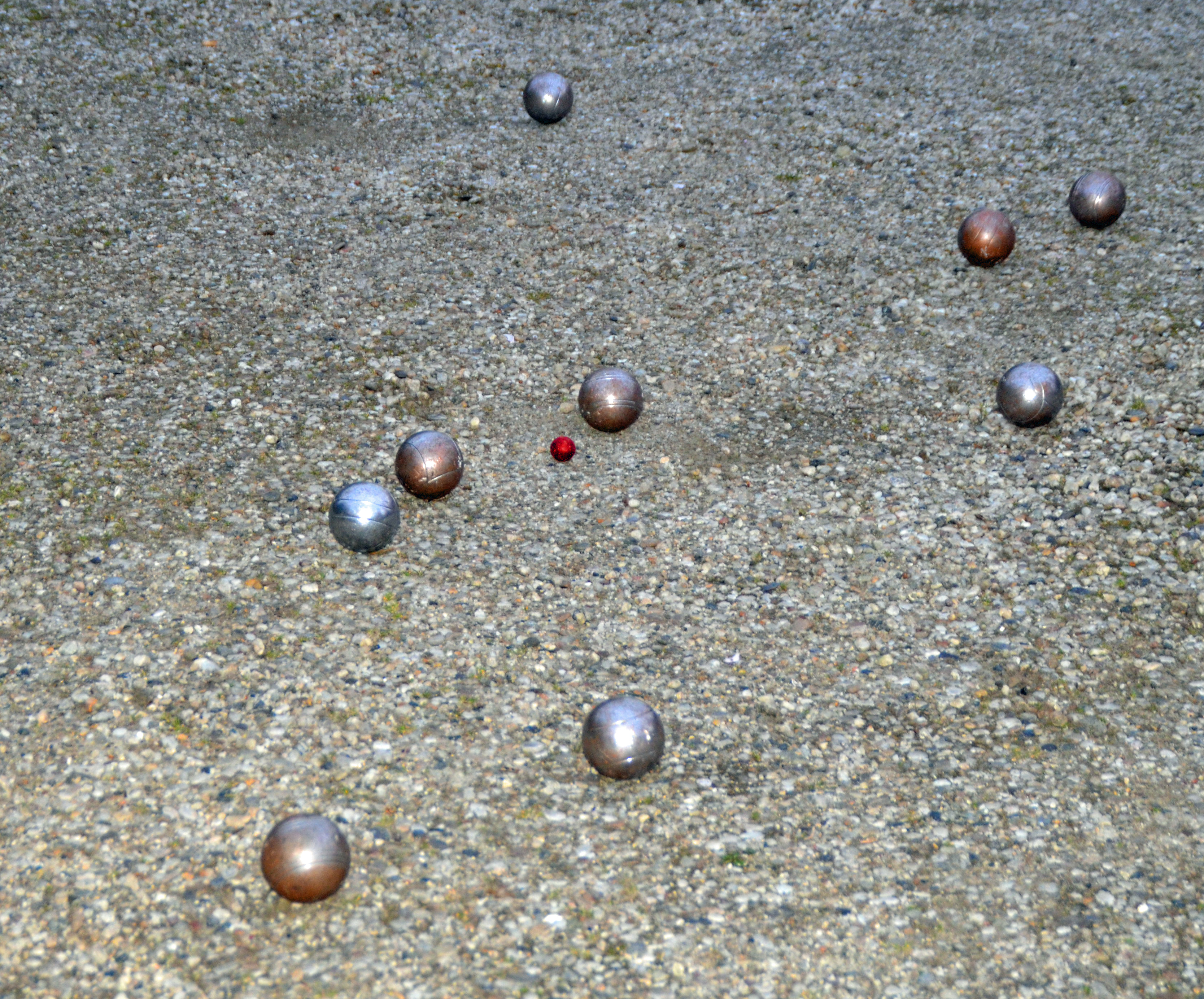 Now it was our turn to play team green. I was incredibly nervous as my turn came to throw my first boule and Ilja and Albert were pretty skeptical, but I actually didn't do too bad, at least not dropping it on my foot.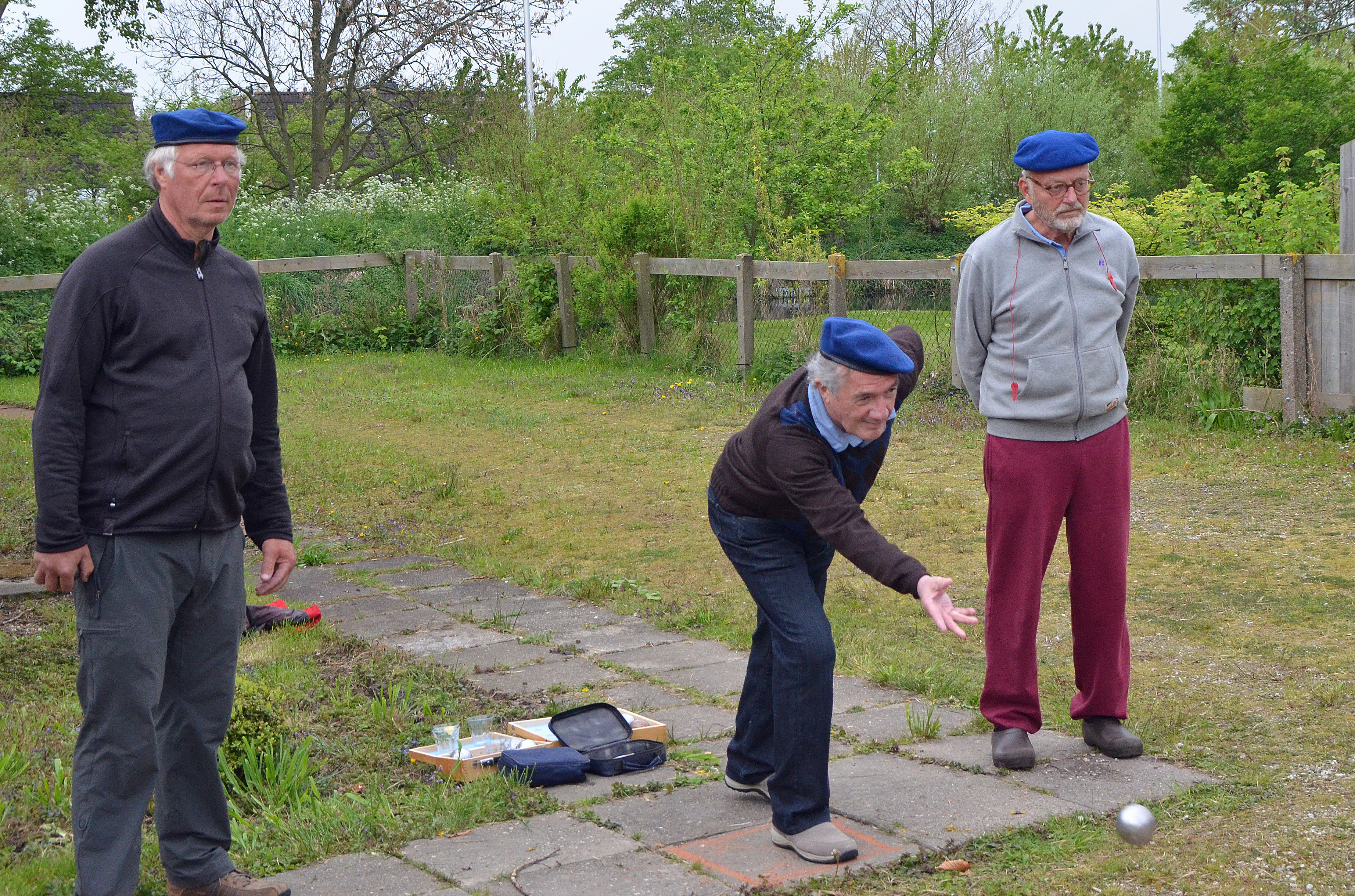 It was a seesaw battle. The fans were entranced as you can see of this photo of Emma, Liz and Katherine.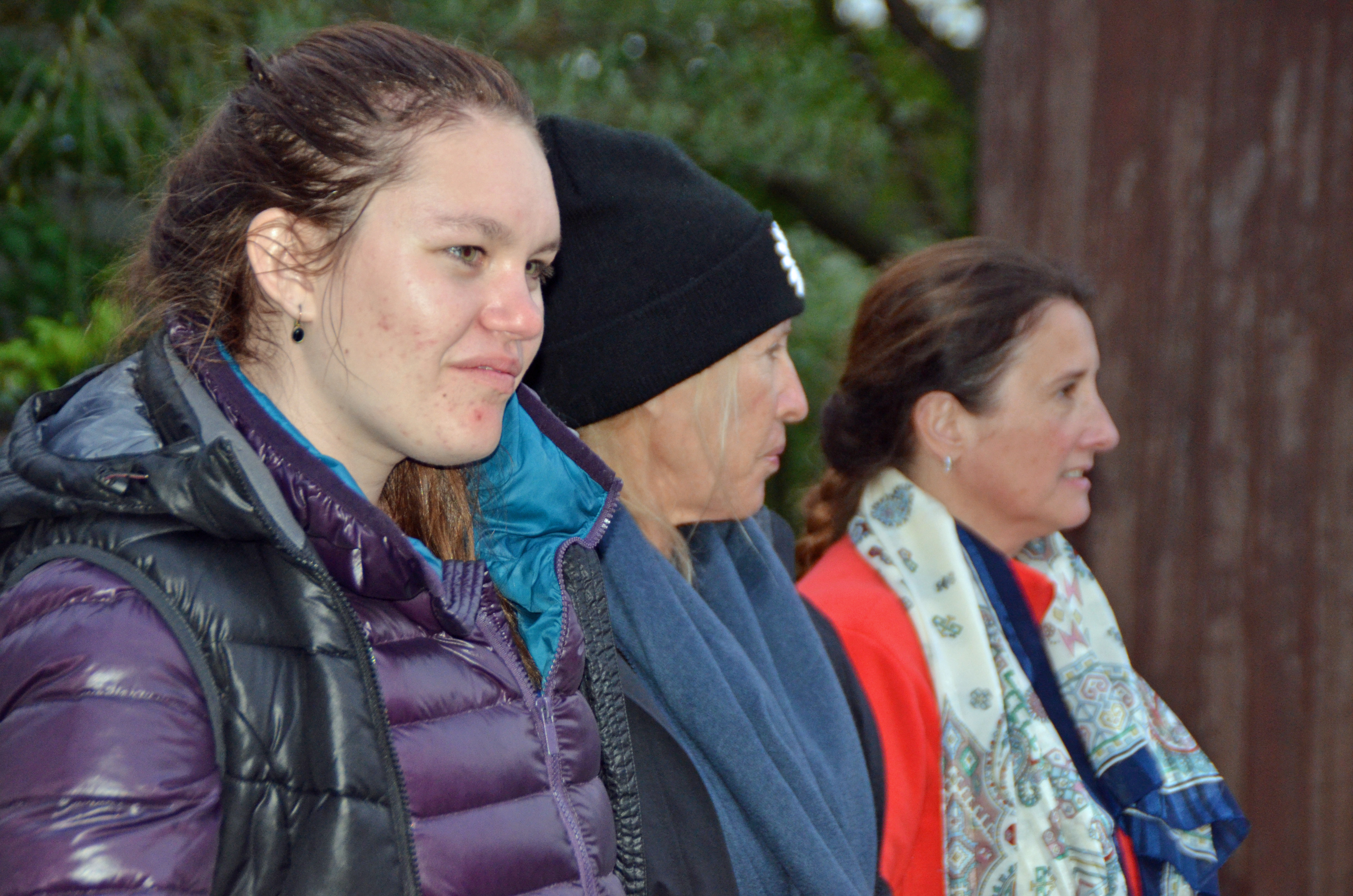 By now I am into this – no way I'm going to lose to these guys – Canada rocks! Here I am tossing a boule – look at the expression on Martine's face as she holds here beret "Oh no, dees Canuck can play!"
By some miracle we pull out a one point victory over team green and advance to the final against team red. That's a tough order as I have seen that Josee and Arnaud have played the game more than once. This game too comes down to the wire and it looks like we've got it until Josee throws a brilliant last boule and scores two for the red team for the win. As you can see from the expression on team blue's faces it was a bitter defeat.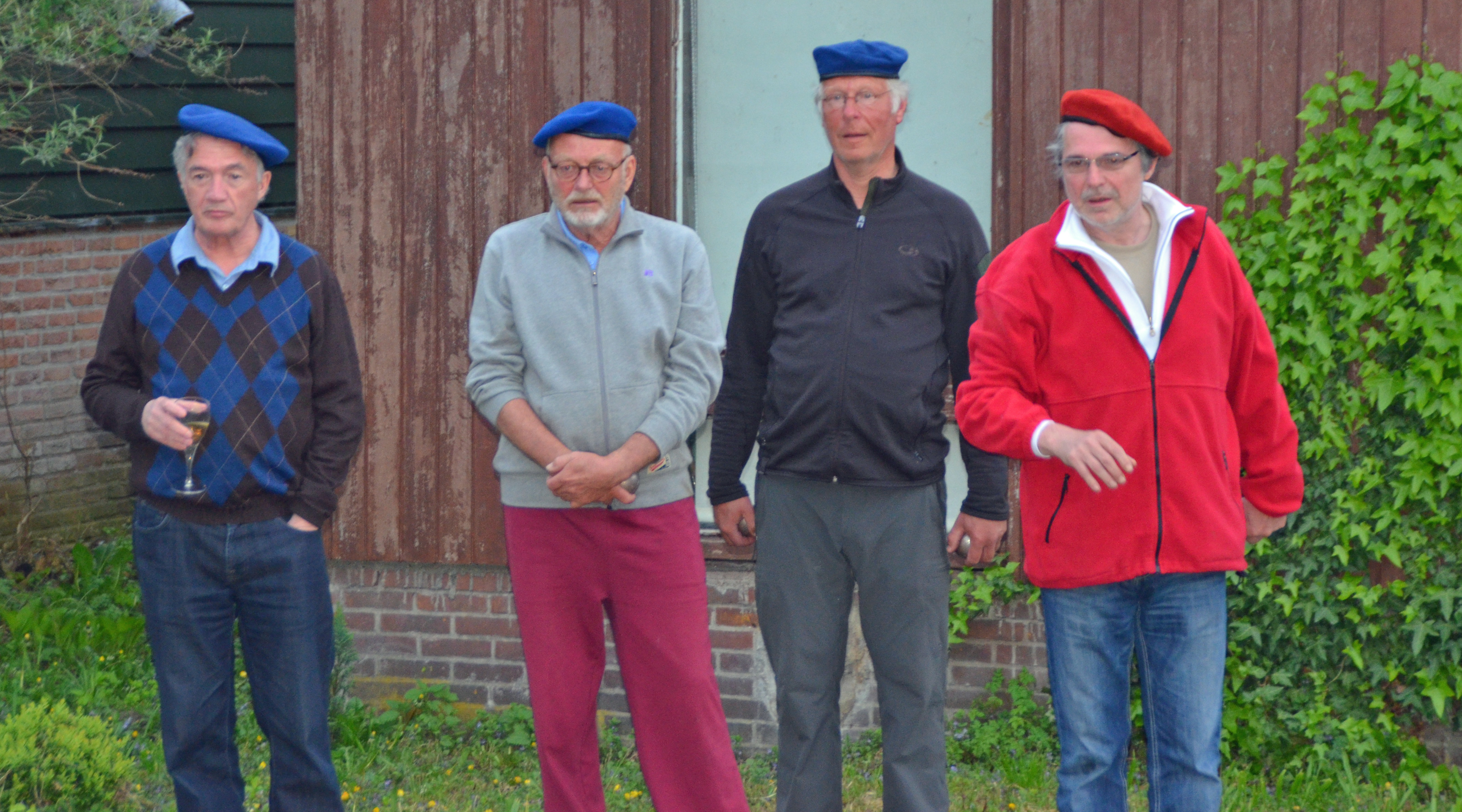 I suddenly realize that we have been out here for over an hour and I have been having a ball with these Frenchmen and that they are a lot of fun. The game of boules has led to a rapprochement and the ice has been broken for the rest of the trip. I only have to wonder what would have happened if team blue had won.
The one person who was not enchante by the boules game was Alison who got this neat picture of a spider on a clematis that grew on the fence beside the vacant lot.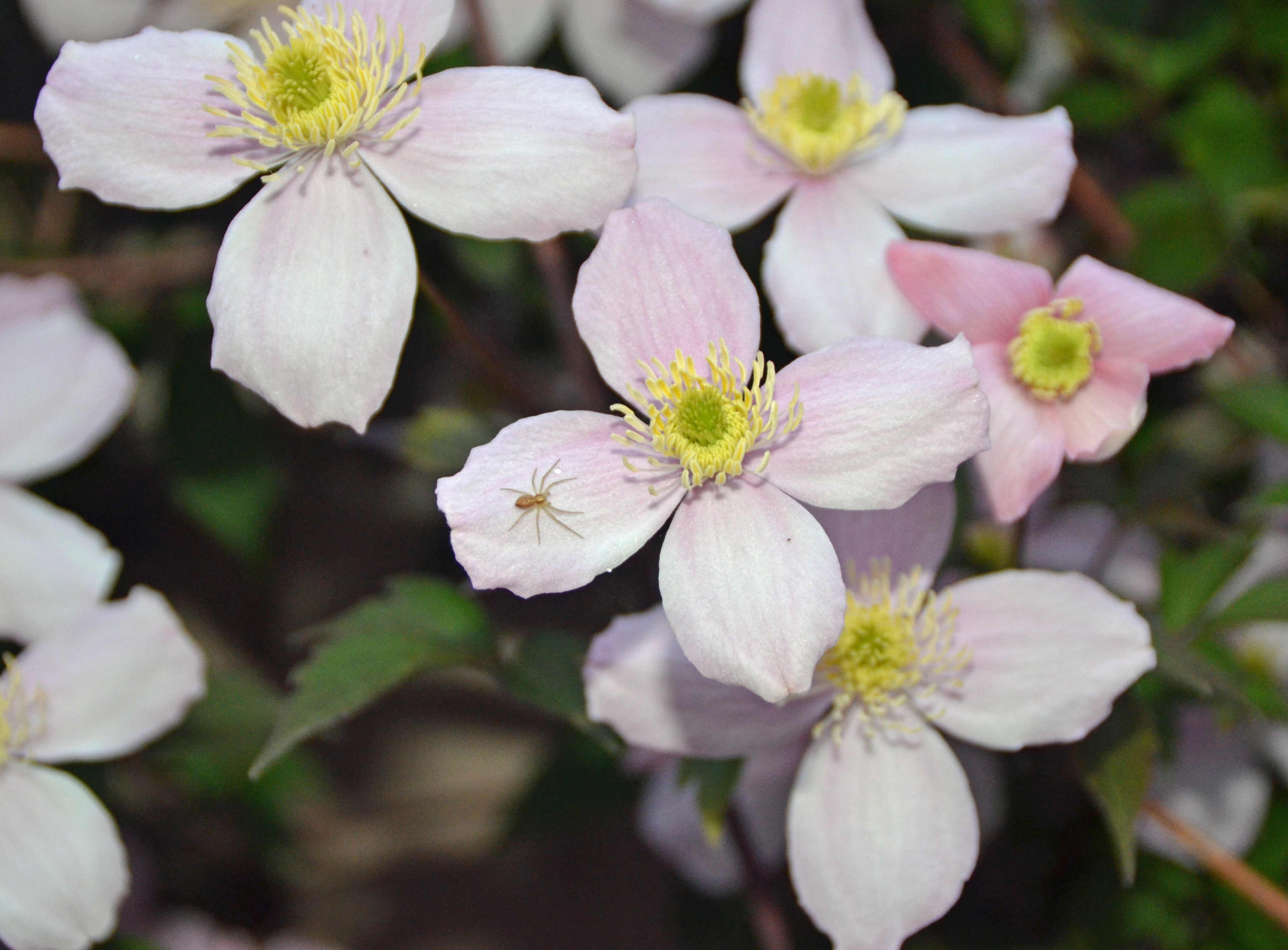 It's been another very full day starting out in Leiden, visiting the cheese farm and ending with a game of boules. This trip is going great.  Tomorrow we are off to Alsmeer to visit the world's largest flower auction. Please join us. Tot ziens.