Santiva Salt Water Fishing – Sharks and Sea Trout on Pine Island Sound
Time for another short break from the Holland cycling saga. We are now in Sanibel, which for the past thirty-five years has been my favourite place on this little planet. I won't try to sell you on Sanibel in this post, but I do want to talk about one of the reasons I love it here – fishing. Fishing has been in my blood since I caught my first trout at age four in Newfoundland and has continued unabated ever since. Last November Alison and I went out on a private charter with Captain Jim Burnsed of the Santiva Salt Water Fishing Team and had a great day, with Alison pulling off the inshore triple crown – a snook, redfish and sea trout in one outing.
I had tried to book Jim again, but he was already taken so I was to go out with his son-in-law, Rob. Santiva Salt Water Fishing operates out of Tween Waters Marina on Captiva and we generally fish the waters off Pine Island Sound which has an incredible variety of species that you might catch. Four is the maximum number of fishers on each trip. Today I was going with my children Lenore and Dale Jr. and my good friend Brian, who had recently lost his wife to cancer and definitely needed a break from home in Nova Scotia.
After three days of perfectly calm weather this morning the wind is very strong and there are large waves breaking on the beach. This is not good. The waves will roil the shallow waters of the sound, making it difficult to find the fish and making it difficult for the fish to find the bait. I don't mention my fears to the other three as we are dropped off at the marina by Alison. Oh well, we all know the old saying that the worst day of fishing is better than the best day at the office. I'm not sure Captain Ahab or Quint from Jaws would agree with that, but I sure do.
The first person I see on the dock is Captain Jim so for some reason I assume we are going with him instead of Rob. He looks like he is expecting us, but I'm pretty sure he doesn't remember me from last fall. We head out into the waters of Pine Island Sound that are quite choppy and Jim makes it clear that the blowing wind won't make the fishing easy today. Visions of a skunking dance in my head. I know Lenore and Dale have been looking forward to this for months and not to catch any fish would be a disaster. On the other hand I know that Jim knows his business.
It's tarpon season and he asks if we want to try for one, but I would like to get some edible fish first if possible. I ask about redfish which is delicious and Jim replies that they won't be biting in this type of water. He holds out the promise of some sea trout which is a pretty good consolation. We motor up to North Captiva and Jim finds a spot that has better clarity than anything we have passed, but is still murky. Brian hasn't fished in 27 years and doesn't even know how to cast a spinning rod, but Jim gets his shrimp out and within seconds Brian has his first fish – a keeper sea trout.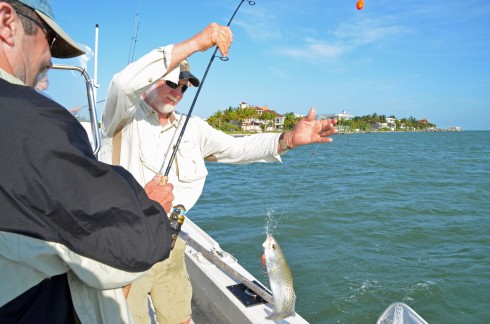 Now here's where it gets weird – Brian catches three more trout before the rest of us get anything but catfish and I land one little jack. Dale Jr. catches the smallest fish ever – a pinfish that is used as bait for other fish – not something you try to catch. See if you can even see it in this photo. All the while we are accompanied by a pair of dolphins hoping to get a snack. They seem to think we are better fishermen than them, and I thought dolphins were smart.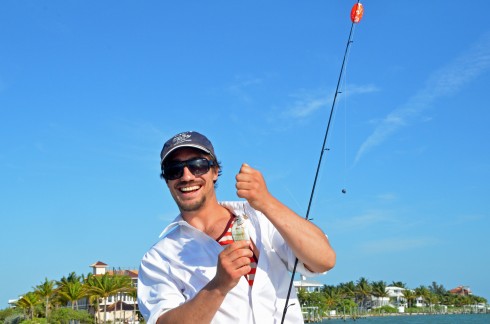 After a while the wind picks up even more and the fish stop biting. We head north looking for clearer water as far as halfway up Cayo Costa, but nothing doing. Jim keeps in touch with the other guides by phone and they're not having any luck either. We finally give up on the trout and decide to go for something bigger, maybe a tarpon, but more likely in this water a shark as they use smell and hearing as well as sight to find prey.
Our first spot is just outside Redfish Pass between Captiva and North Captiva. We anchor not 100 feet from the golf course at South Seas Plantation. Aside from the wind it is a beautiful day and I just could just stay here all day, fish or no fish. It's funny – if I were to sit on the beach back at the condo in these same conditions I wouldn't last five minutes, but put me on a boat and it's a completely different story. The fish might not be biting, but a frigatebird is putting on a show as it shadows a flock of terns hoping to rob them of their catch. They are beautiful birds to look at, but I wouldn't want to be one their avian neighbours.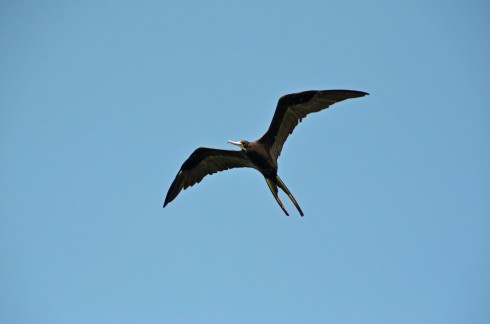 We've been out almost three hours and Jim asks if we want to cut the trip short and save some money. We unanimously respond "No" and I can see this is the answer he wanted. He pulls up anchor and we move back into Pine Island Sound, but still not far from Redfish Pass. Jim cuts up a big mullet and tosses the line out for Brian who soon gets a major hit. Something very big is on the line and he battles it for at least ten minutes before it suddenly gets off the line.
My turn at Santiva Salt Water Fishing is next. I feel the tug on the line, but don't try to set the hook until I give the fish a chance to completely swallow the bait. This time he's hooked for good and after a heroic struggle the fish is pulled to the surface and is identified as a lemon shark.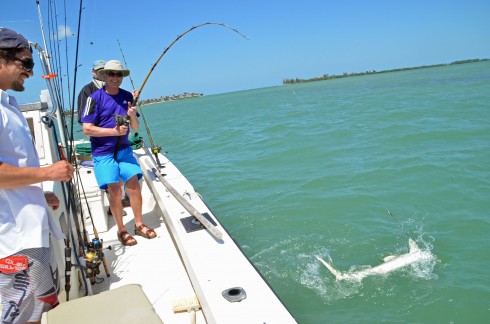 He's none too happy about his predicament and thrashes like hell alongside the boat before Jim and I get him on board. Amazingly the shark has huge teeth marks near his tail where something even bigger tried to take a chunk out of him – and to think, we routinely swim in these waters. Mr. lemon shark is put back into the water and quickly swims away. The trip is now an unqualified success, for me at least.
With only about five minutes of fishing time left it is Dale Jr's. turn as he gets a big hit and reels in a lemon shark that is bigger than the one I caught. It has an extra hook in its mouth which Jim cuts free. Lenore, who has had no luck other than one puny catfish surprises me by wanting to handle the shark – always a dangerous proposition. She picks it up and then gently lowers it back into the water to live for another day.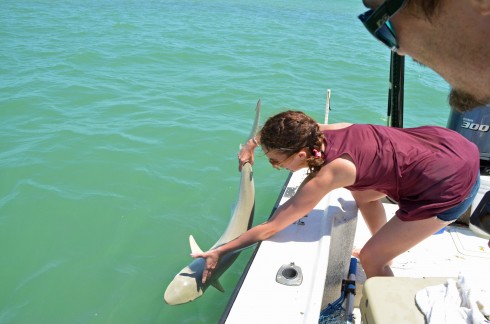 We are soon back at the marina where Brian poses with his catch which Jim cleans.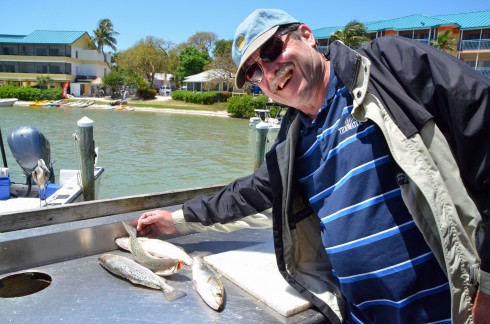 Even against the odds Jim and Santiva Salt Water Fishing have given us a great morning of fishing.
That night we go to the Lazy Flamingo where the fish is weighed (30 ounces) and for $9.95 a person they are grilled to perfection and served with fries and caesar salad. A good day was had by all, except for the sea trout.
If you are not up for fishing on Pine Island Sound, consider a stay on Useppa Island, one of Florida's true hidden gems.
Next up I will visit the Naples Botanical Garden which I have been told is well worth seeing. Please join me there.