Three Sisters – Two Ways to Visit These Amazing Sea Stacks
Cape Chignecto Provincial Park is the largest and wildest in the Nova Scotia park system. It preserves a stretch of rugged coastline that is studded with numerous unique rock formations, many of which have specific Mi'kmaw legends related to the demi-god Glooscap as to how they came to be created. The most famous is without doubt the Three Sisters formation near the abandoned community of Eatonville.  There are different versions according to legend of what the formation represents, although Glooscap figures in all of them. The Wikipedia entry states that it was a pack of dogs pursuing a moose, the moose being Isle Haute. This is not the version told by the interpretive material on site or the guides who lead kayak trips in the area. It also does not explain why it would be called the three sisters and not the three dogs.
The version I prefer is that it represents three of Glooscap's sisters who kept on pestering him and following him around. Finally fed up he decided to retreat from the world and to make sure they didn't follow, in a feat that would be admired by Medusa, he turned them into stone.
Up until very recently getting to the Three Sisters was not easy. You could hike for two days or more from Advocate Harbour over the very rugged Cape Chignecto trail and even then, as you can see from the map,  you would not get that close because the trail stayed on the south side of the Eatonville River and the formation is on the north side.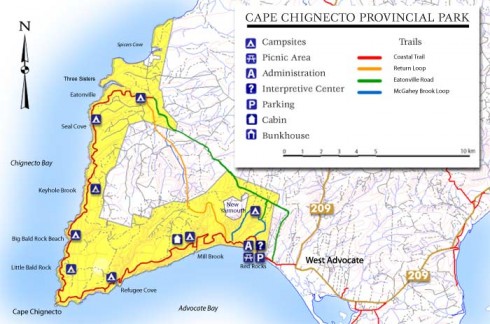 However, with great fanfare and I presume great expense an interpretive centre was opened at Eatonville in 2009 in conjunction with 5.6 kms. (3.5 miles) of day use trails that lead to a number of features on the coastline including the Three Sisters.
Ryan Barry and I had just come ashore from our Expedition to Isle Haute and while the others on that trip had returned to Halifax, we decided to stay on and do some hiking and kayaking in the Eatonville area. Our base was the Driftwood Park Retreat, one of my favourite places to stay in Nova Scotia. Read my TripAdvisor review here.
After dropping our stuff at our cottage we grabbed out hiking gear and headed out to Eatonville. On the way we passed this very colourful display of folk art lighthouses. You never know in Nova Scotia when you turn some rural corner what you might see offered for sale.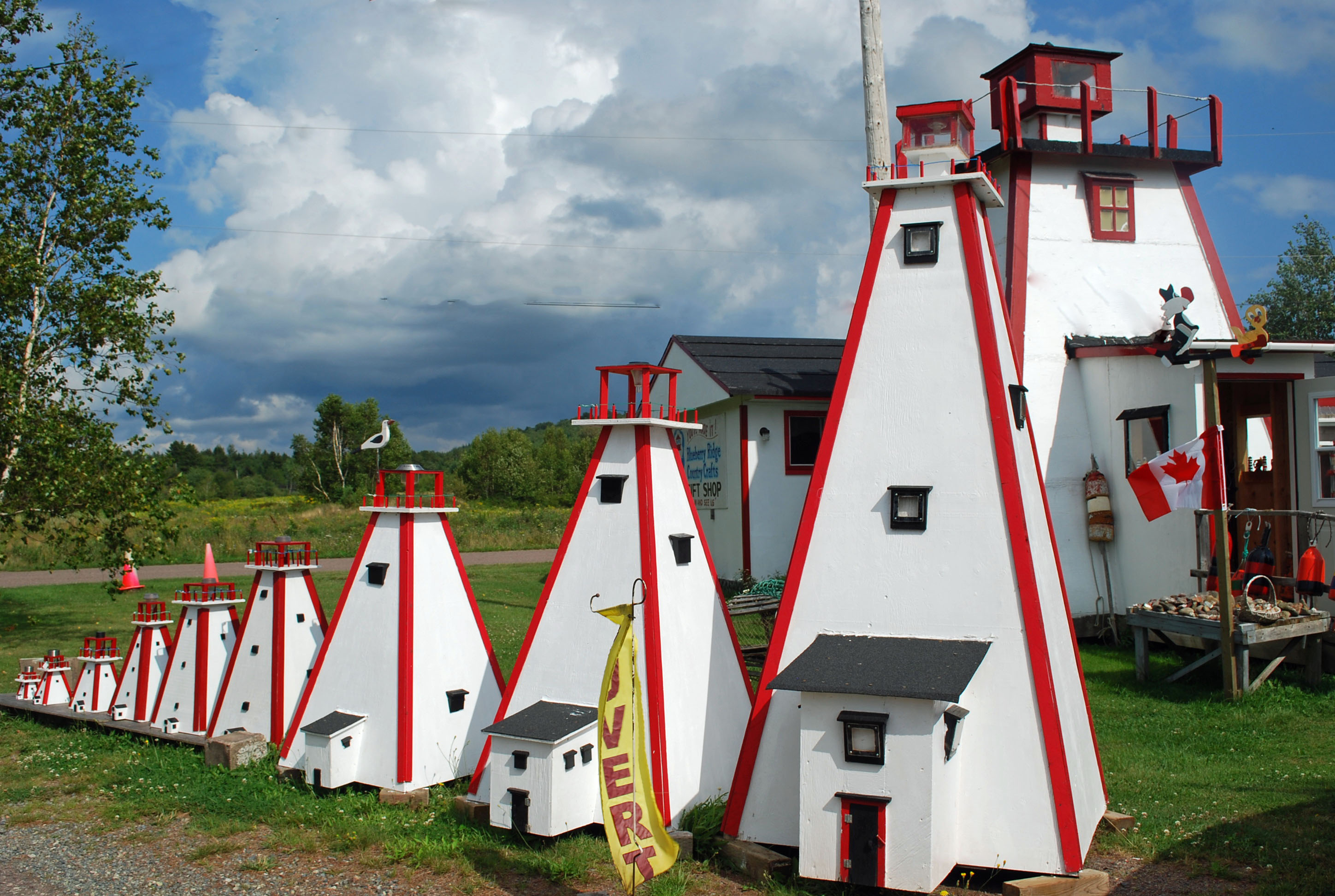 The road was OK as far as the turn off to West Apple River, but then the pavement got bad and finally ended. The signage to Eatonville was pretty small and there was nothing to indicate why one might want to go there. I would suggest replacing the current signage with something that indicates The Three Sisters as the destination.
At West Apple River we saw these interesting looking fishing boats and took a short detour down to the small wharf. The Bay of Fundy is the best place in the world to get those great photos of boats high and dry at low tide.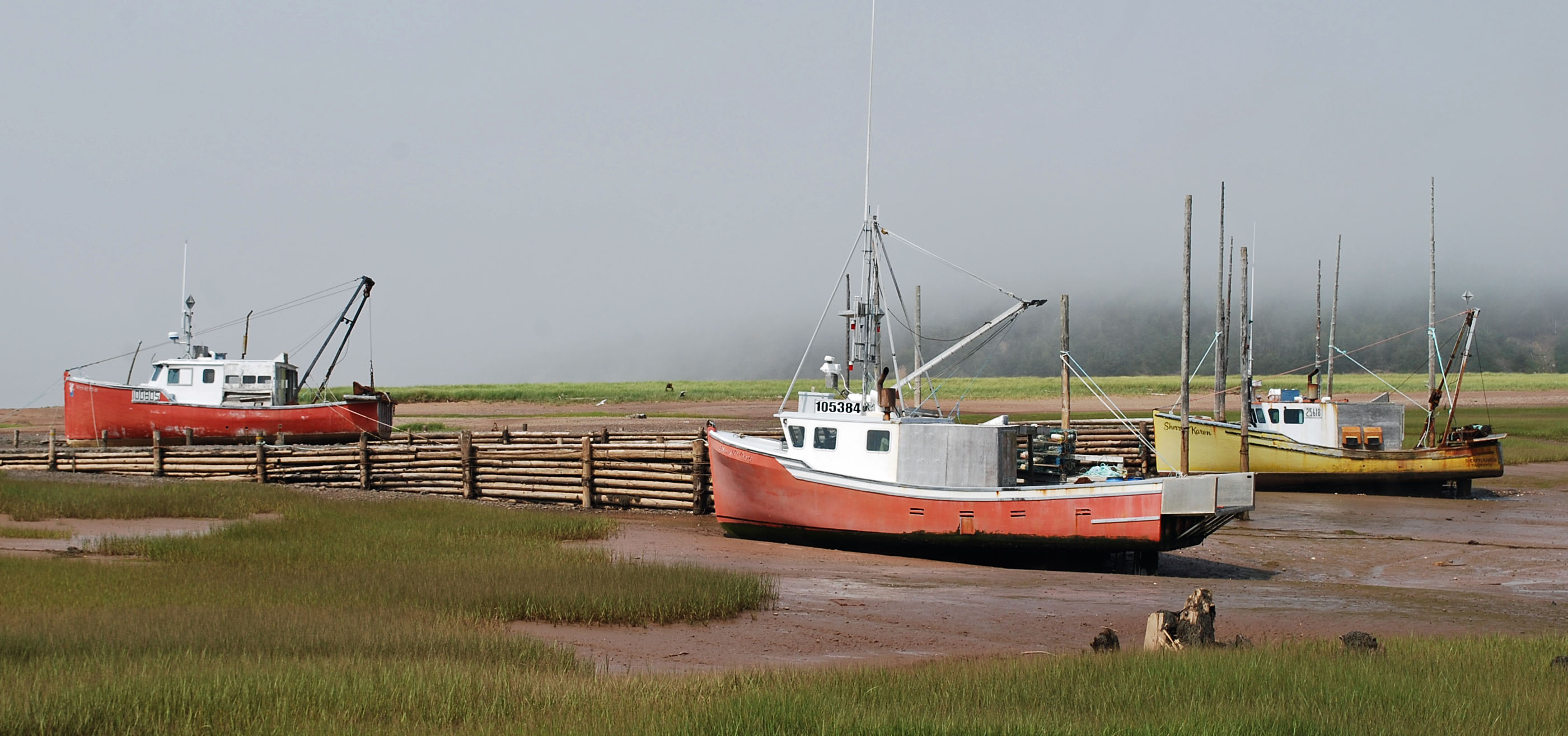 On the way to the wharf we first passed an abandoned Cape Island boat that had in large letters 'LEAVE HERE' painted on the hull. Then we came to a collection of beaten up trailers parked whilly-nilly along the sandy backside of the wharf road. Some of them had people, mostly women, sitting in ratty chairs outside the trailers and the looks they gave us gave me gooseflesh. This was a good old-fashioned Hooverville the like of which I have only seen once before in Nova Scotia, at Louis Head beach on the South Shore many years ago. If there's a more unwelcoming place in the Province I haven't found it. Just glad the car didn't get stuck in the sand. Later back in Advocate Harbour I did confirm that this place was exactly what I thought it was and the townsfolk were none too happy about it.
We had timed our visit for the low tide as the intention was to see this area at both high and low tides and since you can't kayak on dry land or at least mud and sand, that meant our visit on foot had to be at low tide. The area around the mouth of the Apple River is very scenic and looked like this at low tide. We saw several people out digging clams or maybe bloodworms for bass bait.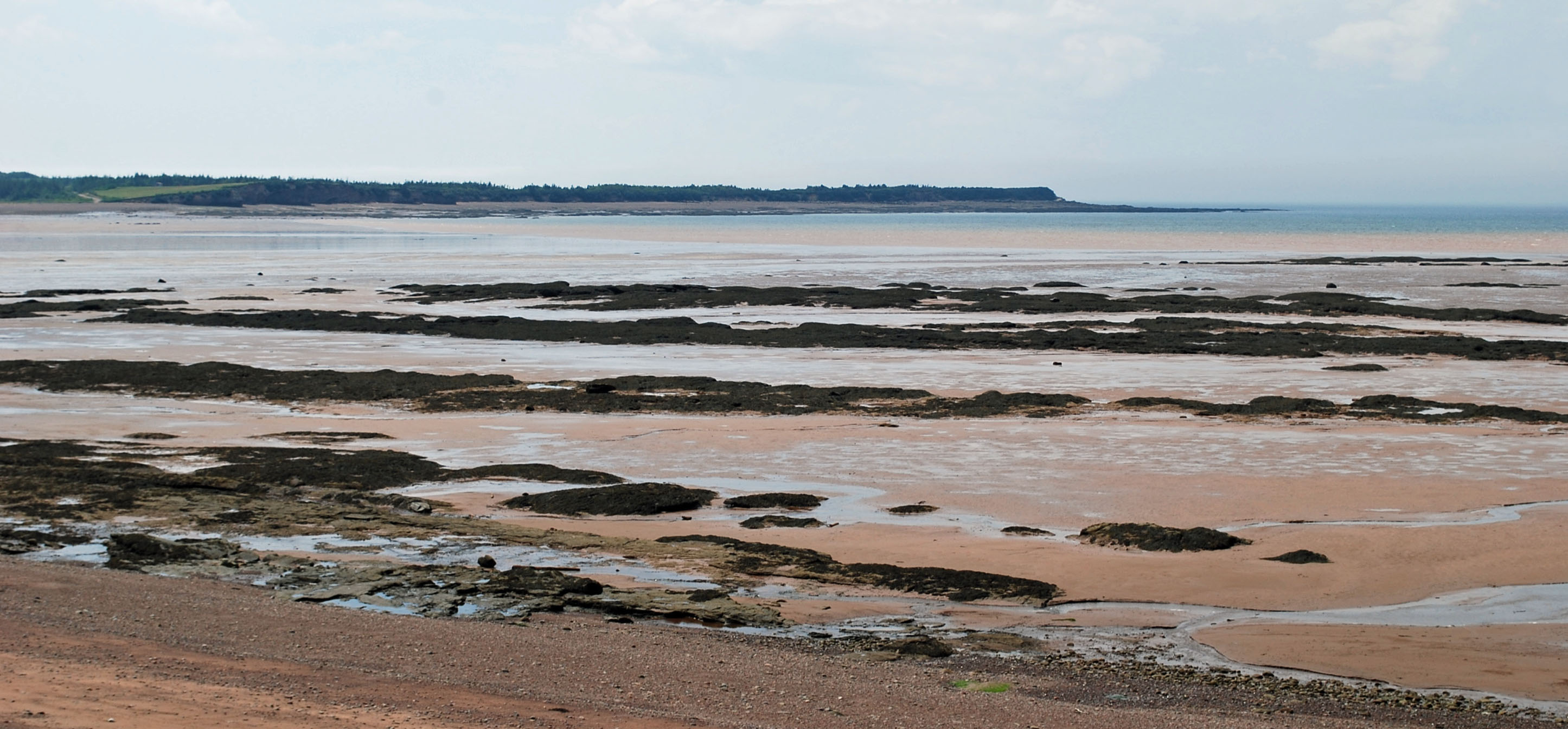 This is Spicer's Cove where we were scheduled to launch our kayaks the next day. It would be a long carry out today.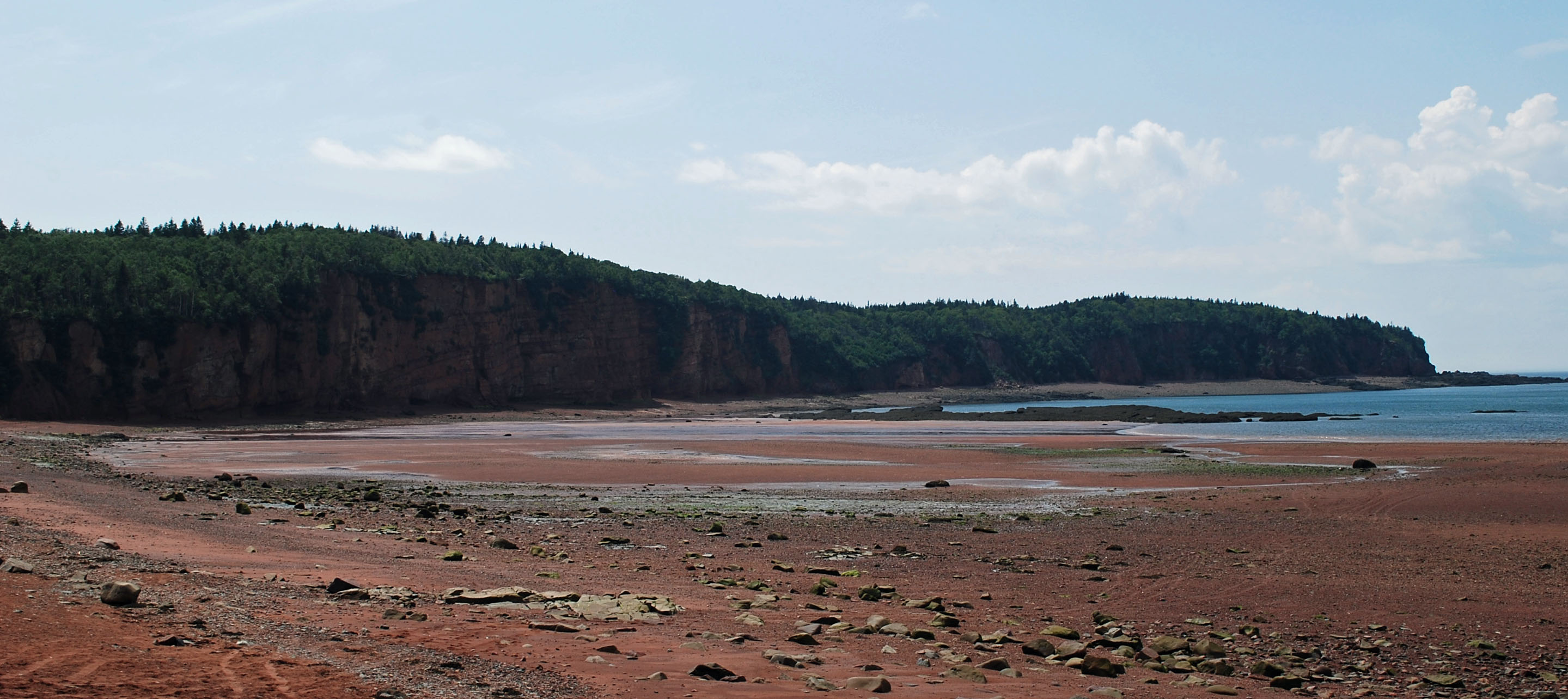 The road continued to get narrower and bumpier until after it seemed like we would never get there, we arrived at the parking lot, only to find it gated, but there was still plenty of place to park outside of it. Beside the gate there was a large sign that read DANGER, but it didn't say what the danger was from; perhaps the hillbillies in the encampment we had passed or maybe Glooscap had re-emerged from his exile and was seeking revenge. We might become the next rock formation – the two amigos.
Seriously though, the government could not have done a better job of making a lot of less intrepid tourists decide to turn back and that would be a real bummer, because the area has staggering beauty and no danger that we could detect as long as you stayed on the trails and the lookoffs. Any fool can manage to get himself killed by climbing over the railings and getting too close to the cliff edge, but most of us are not fools. I suggest changing the sign to DANGER for FOOLS.
We were the only ones about and approached the interpretive centre which had a very good sign of the trails. If you got this far you could at least understand what there was to see on the trails.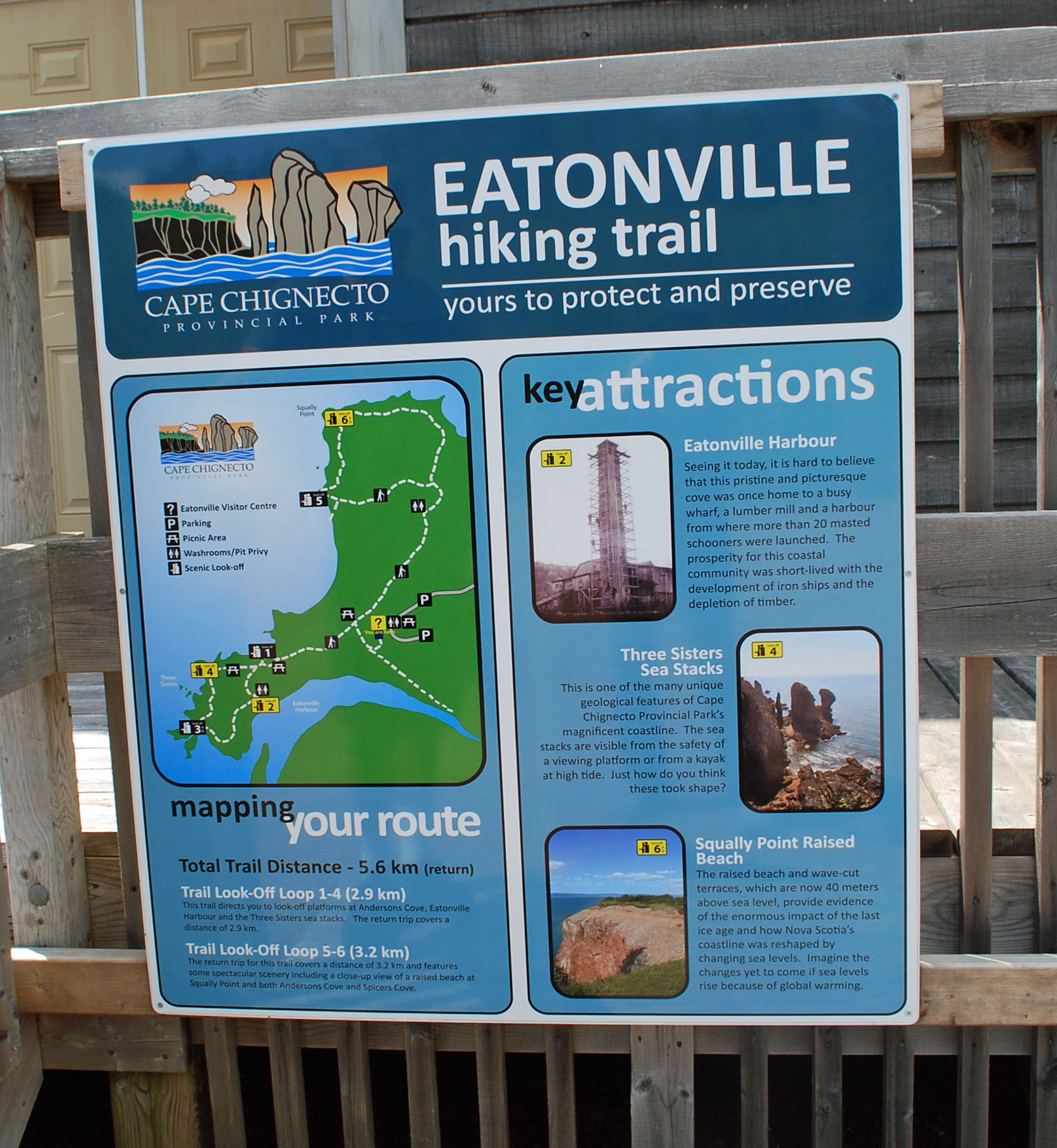 There was also another sign. (This post is starting to sound like that old song Signs,Signs, Everywhere a Sign)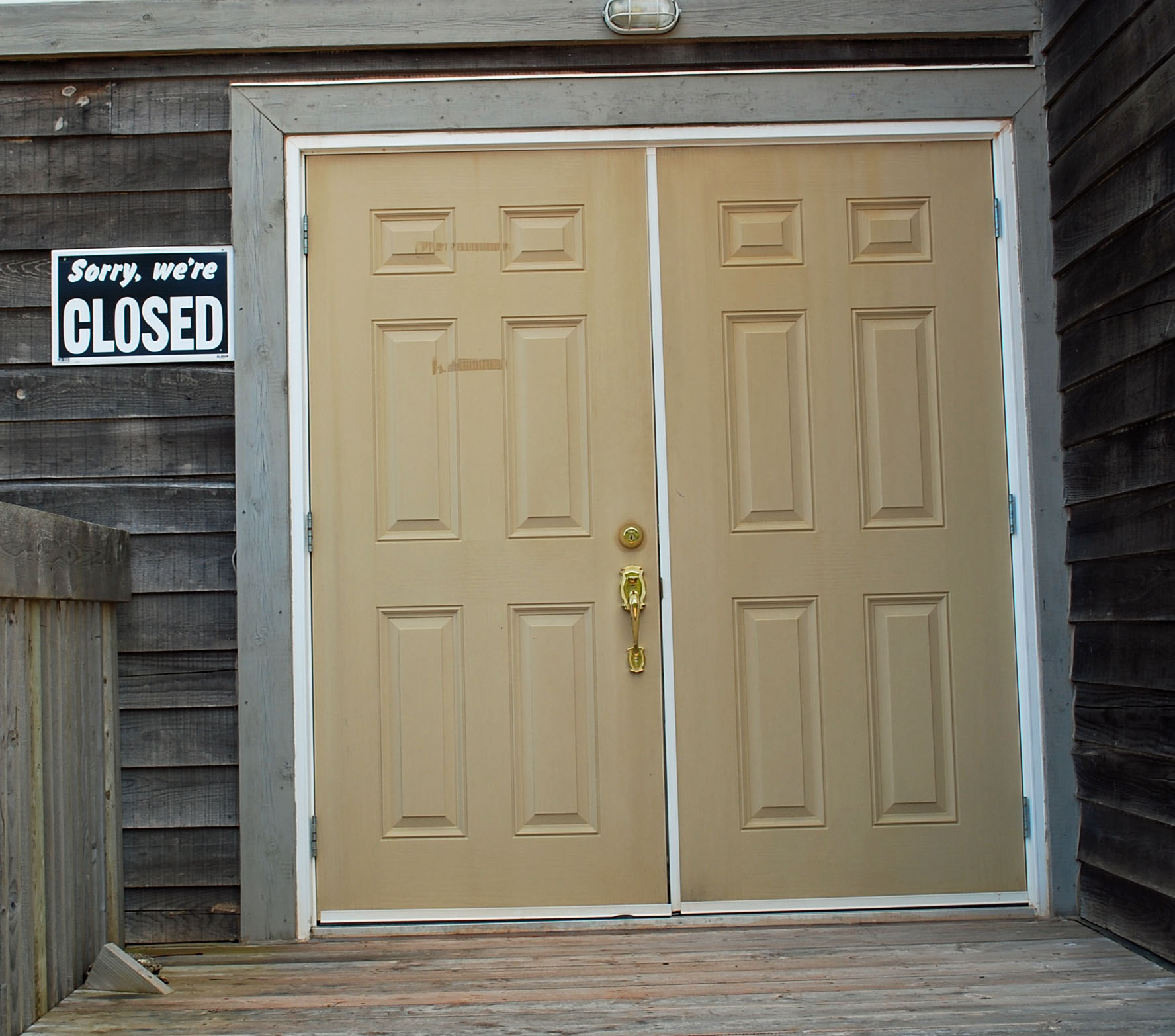 I'm not going to pretend that I didn't know the centre was closed before we came here and that this was a big surprise, but really – wtf? This place only opened five years ago and was supposed to be the most environmentally sustainable building in the province. It created its own power, it was off the grid, it was sustainable blah, blah, blah – and now it's closed? The only thing we could see inside was a gazillion dead flies, so it even worked as a great wooden Venus flytrap.
Try as I might on the internet I can find no explanation for what happened. People we asked in Advocate said they were told it was mold, and they clearly didn't believe it. Mold? Was it made from Chinese drywall? The mold explanation is serious bullshit, because if somehow it was faultily built and required having mold removed that would be covered by either the building's insurer or more likely, the contractor's. You wouldn't just abandon it after all the hoopla, but that's exactly what apparently happened. If anyone knows the truth I'd like to hear it.
Unfortunately it's just one more Nova Scotia boondoggle – not on the scale or notoriety of the Bluenose II rebuild or others, but it is a boondoggle nevertheless.
Now that I have my rant over, here is the fantastic view from the viewing platform at the centre. Remember this, because tomorrow we are going to be on that beach looking up to here.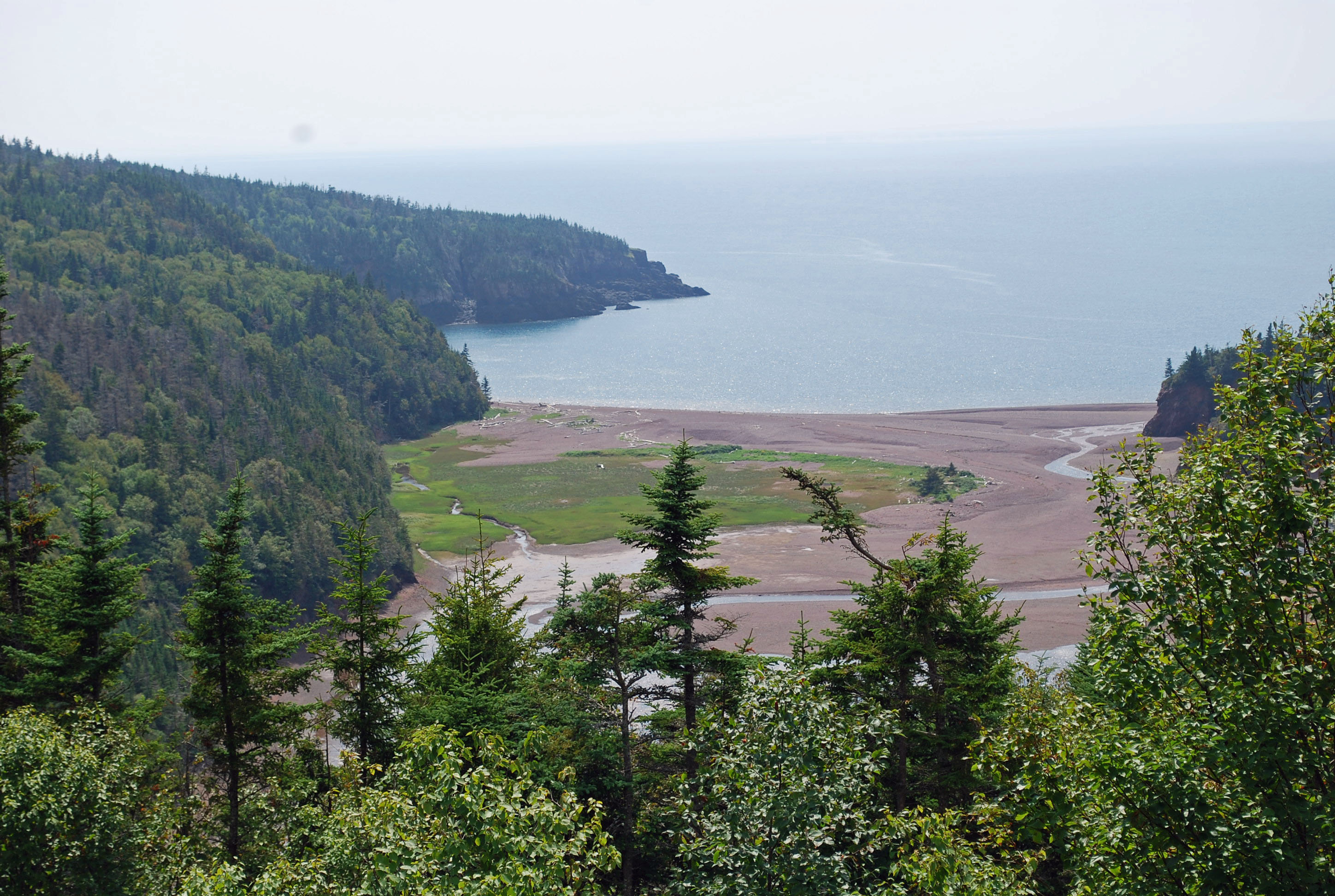 The trails here a very wide with no steep ascents or descents – they are designed for day use by families. Shortly after leaving the centre you have the choice of doing the loop to Three Sisters or the loop to Squally Point. Neither is that long – 2.9 kms (1.8 miles) for Three Sisters and 3.2kms (2 miles) for Squally Point. You don't need hiking boots as the footing is good.
We decided to concentrate on the Three Sisters and headed to the first lookoff at Anderson's Cove. There is not one lookoff on this trail that wouldn't be worth hiking to if it was the only one on the trail. That's Squally Point in the distance and if you look closely you can see a raised beach on top of the cliffs.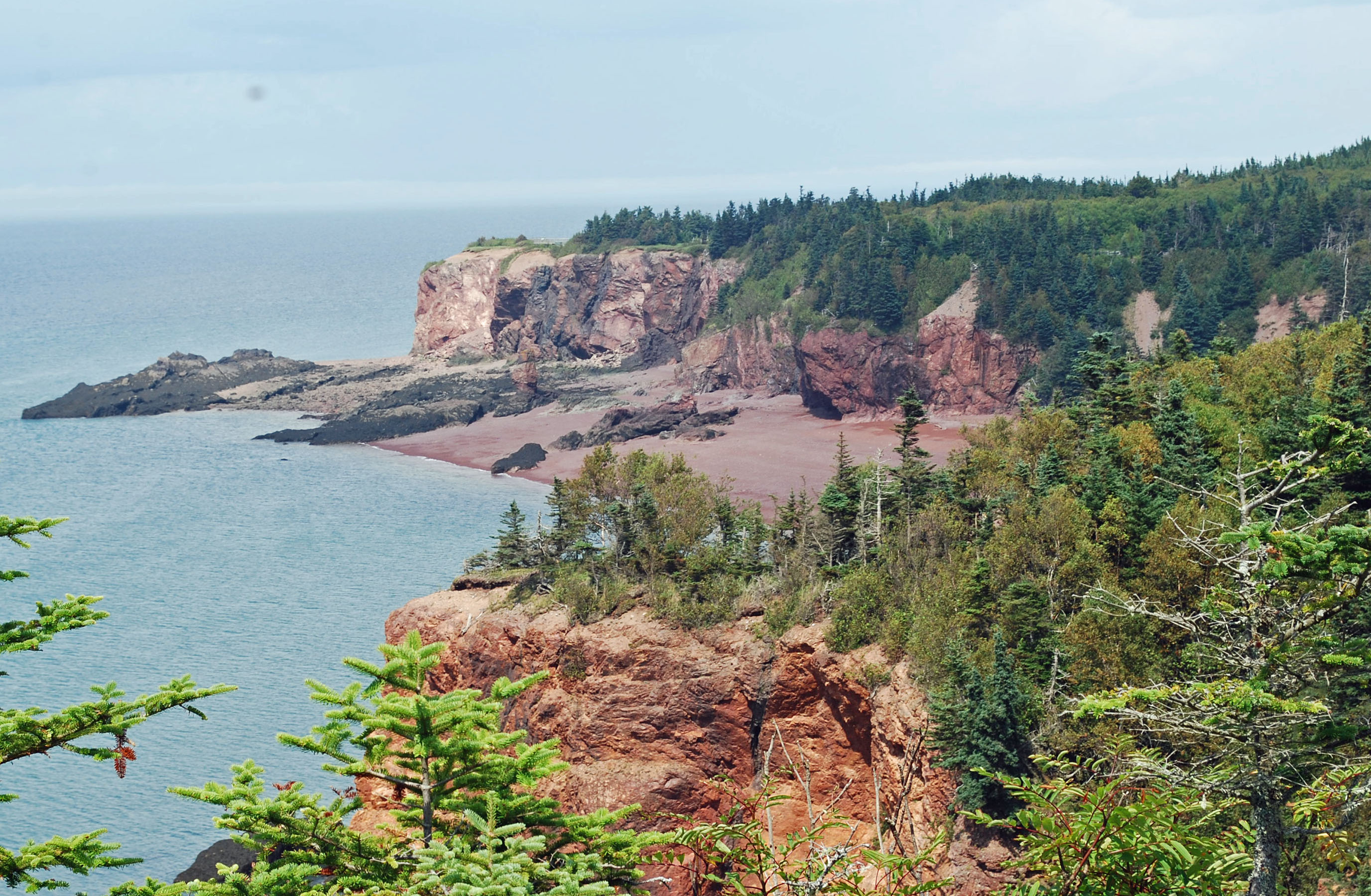 Next up was the view of Eatonville Beach.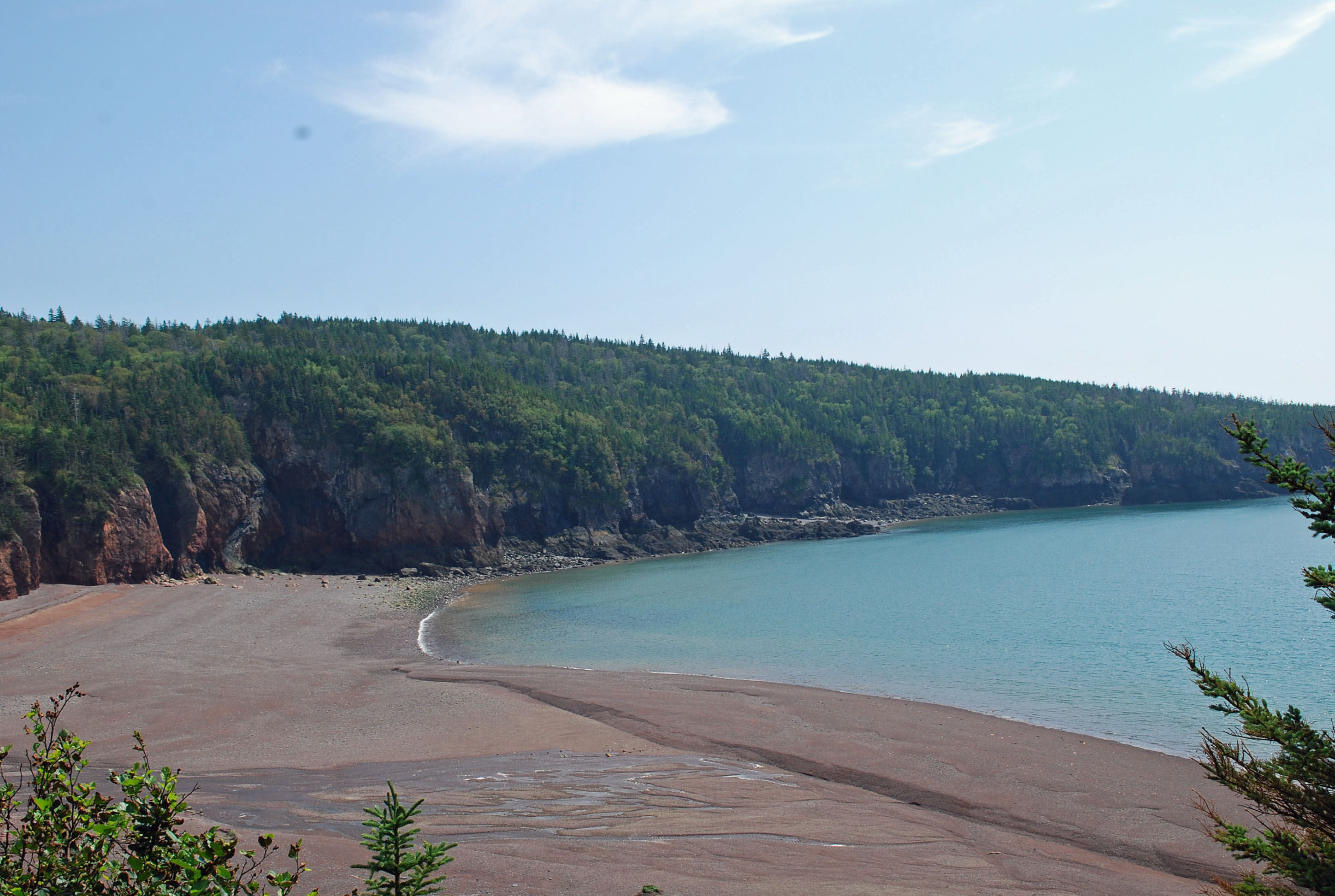 Then this sea stack which didn't seem to have a name. but I suspect it won't take you three guesses to know what it is usually called.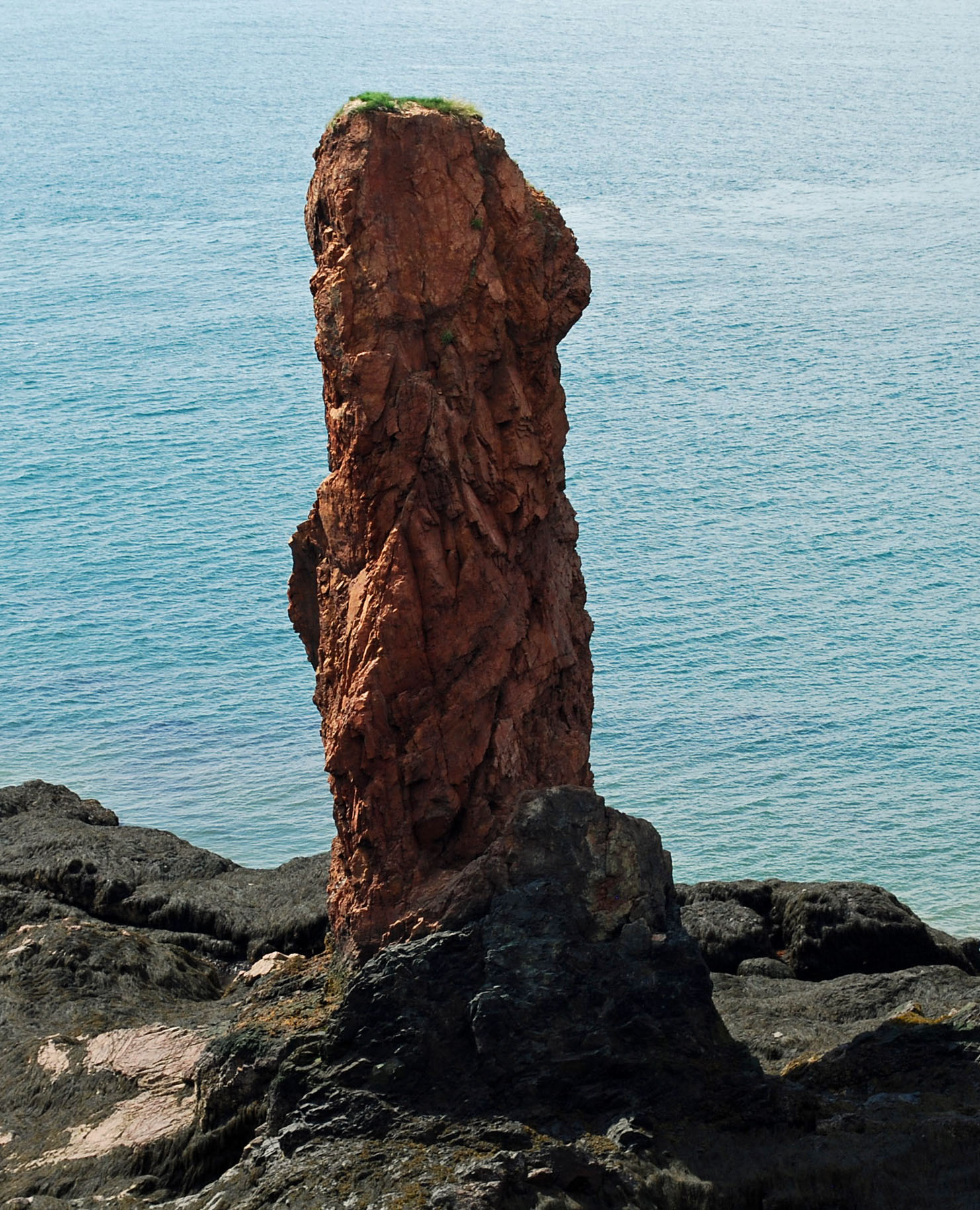 Finally the Three Sisters. All I could say was "WoW!" You can definitely see the faces of two of them, the third one not so much. Remember this view because we are coming back tomorrow to kayak between and around these ladies.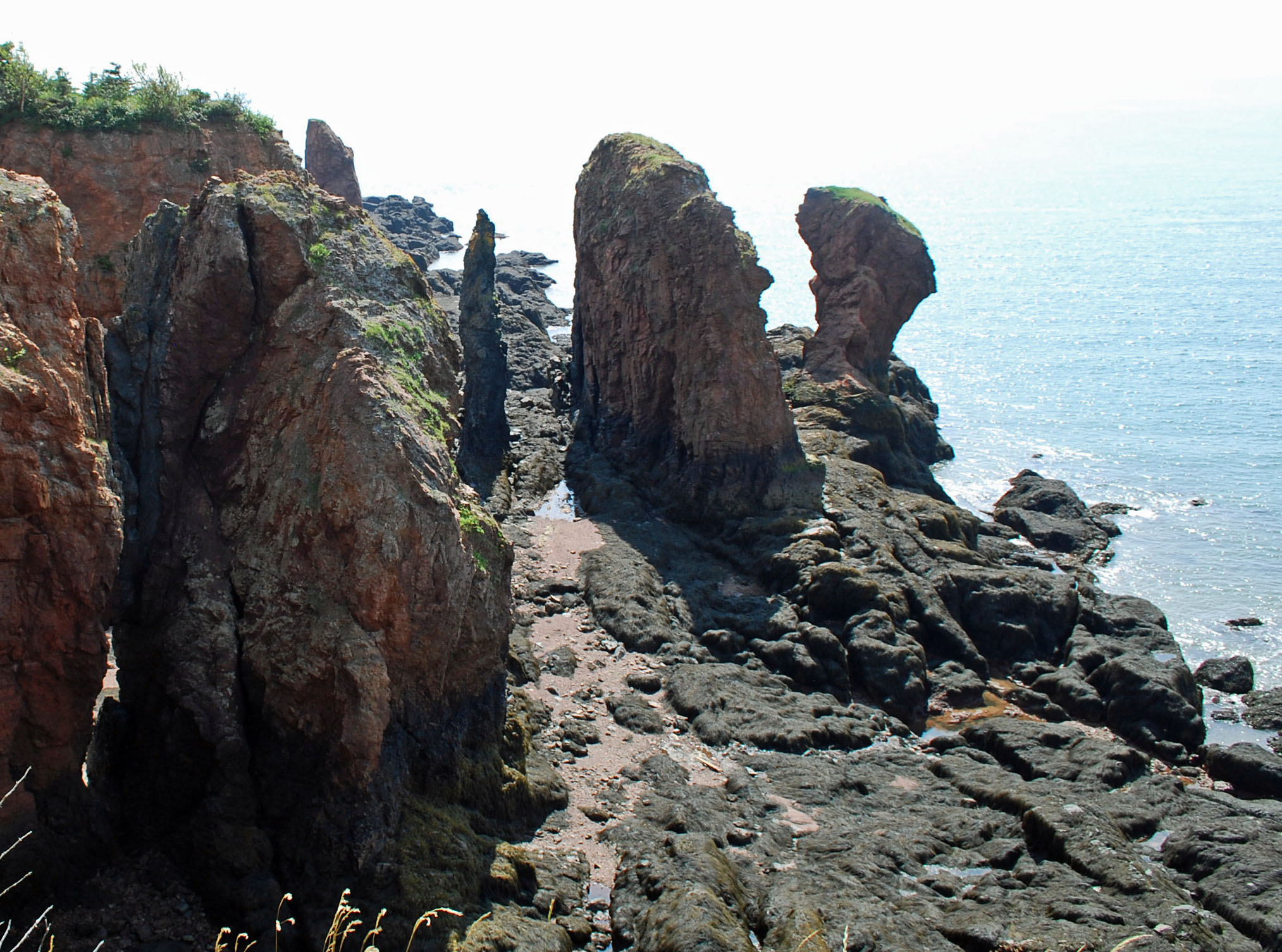 Although the official trail ended here and you were expected to retrace your steps there was a very obvious shortcut leading back to the top part of the trail that would save at least fifteen minutes.
I always like to give myself a reason to go back so we decided to leave the Squally Point loop for another day and I know Alison will want to come here when she sees the pictures. So we made our way back to Advocate Harbour and Isle Haute, which had been hidden in the fog during our visit was now clearly on display.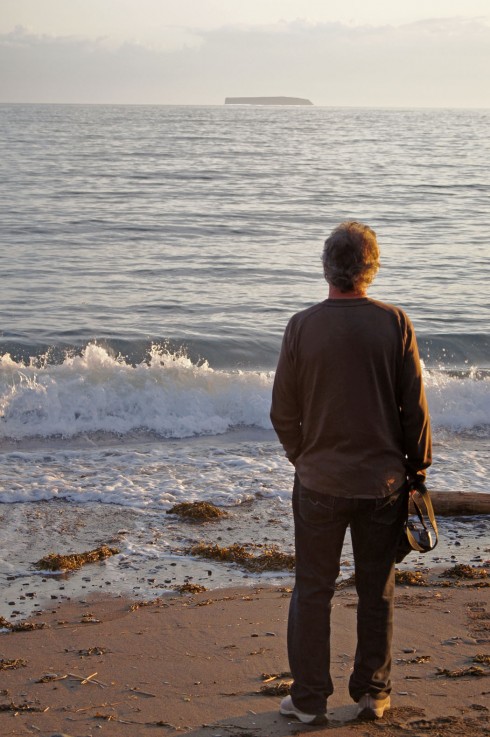 We had an early dinner at Wild Caraway which I described in the previous post as one of the best restaurants in Nova Scotia. This night I had fish and chips which were as good as any I have ever eaten.
The light that evening was particularly good and I got some good shots as the sun slowly set over Cape Chignecto.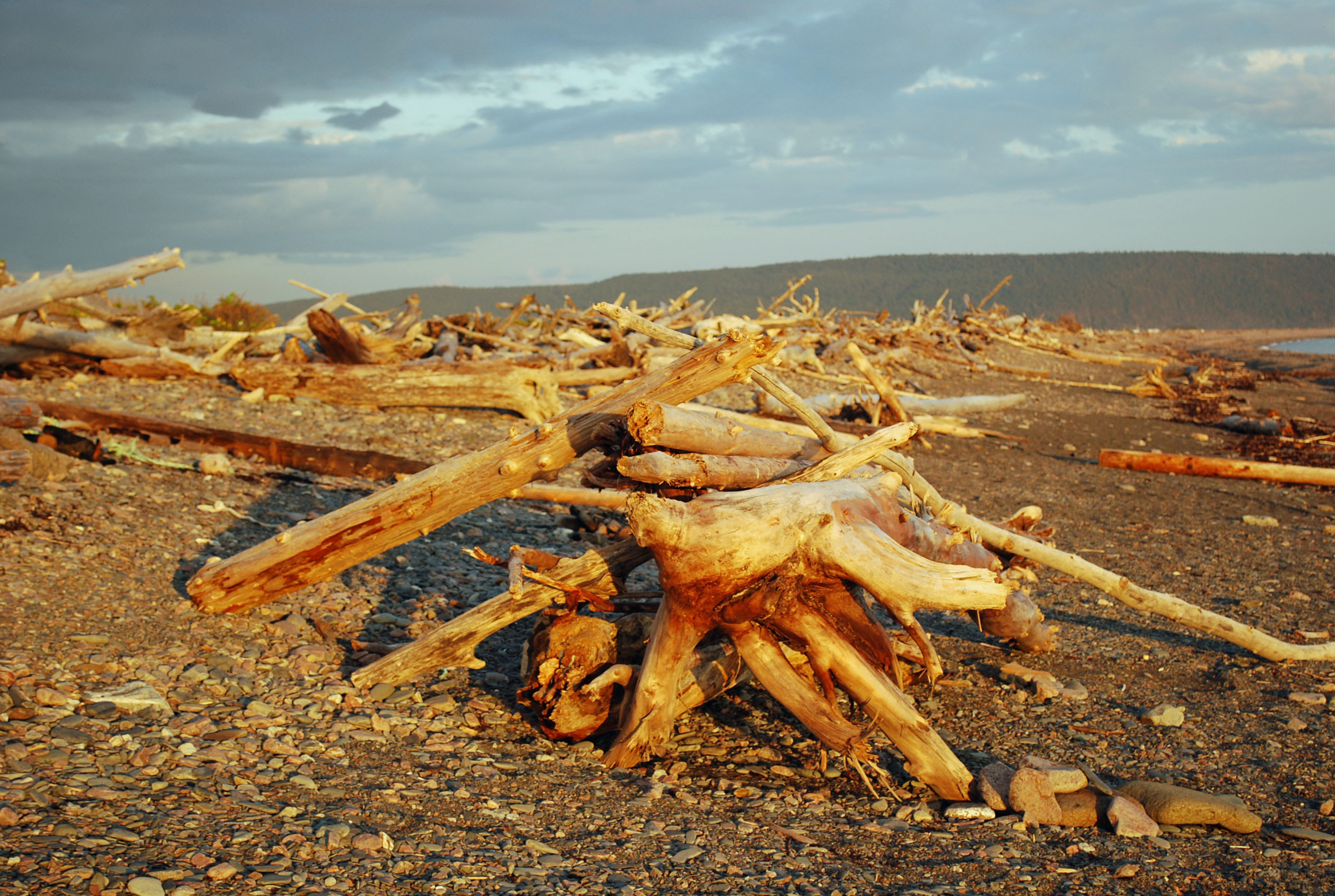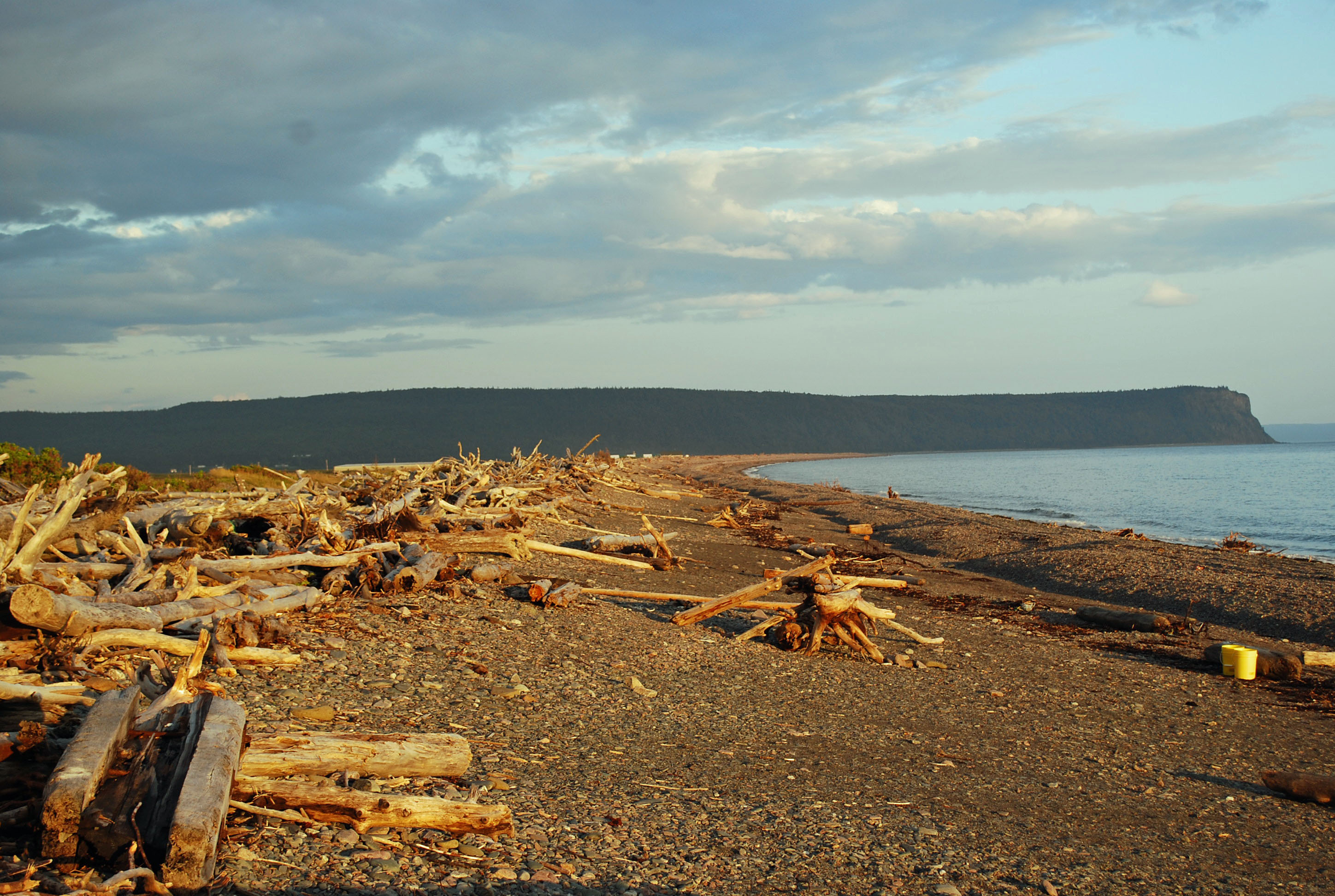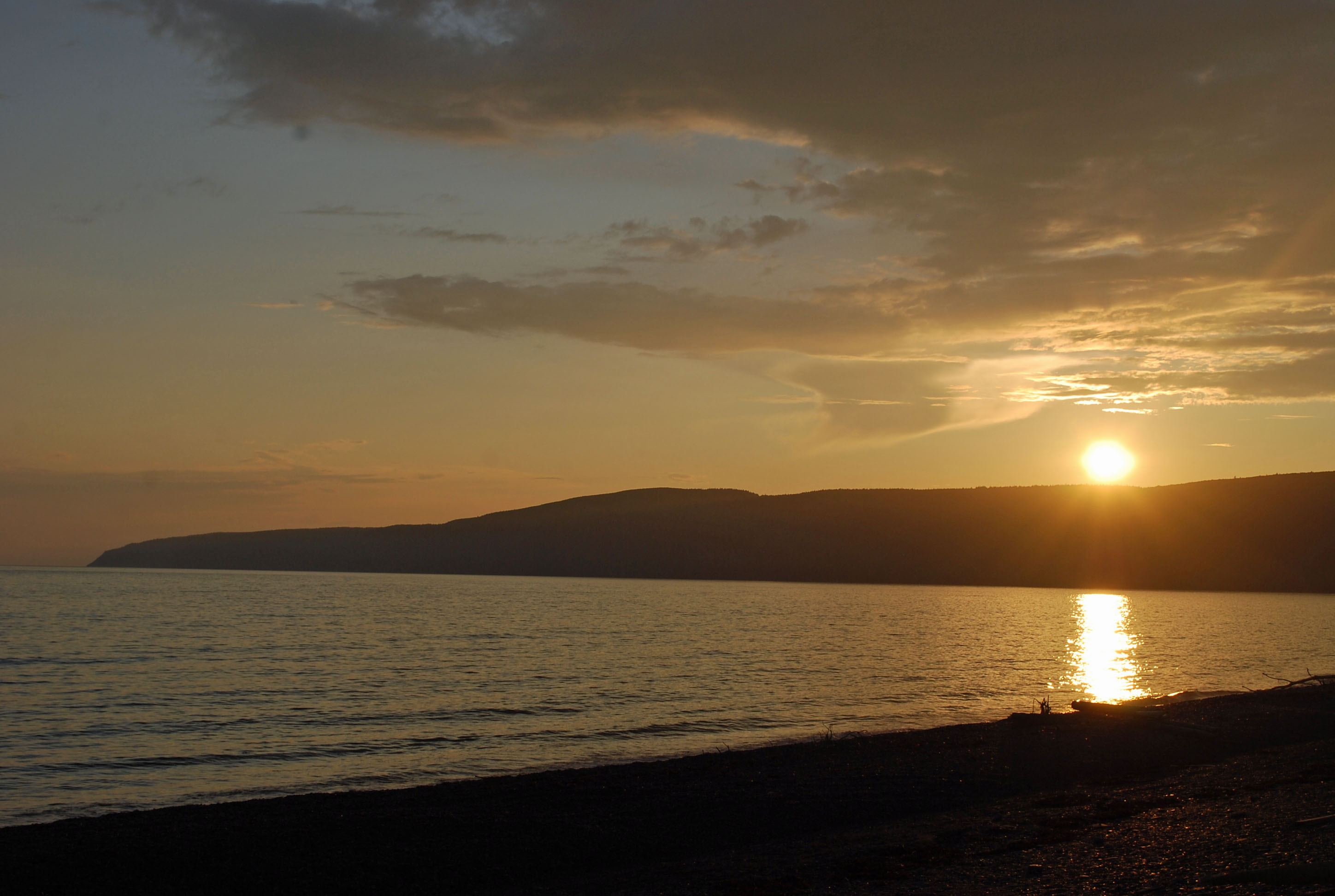 I turned in early as I had been on the go since before six on Isle Haute. It hardly seemed possible that I'd started the day on that island in the fog and now was staring at it from shore through crystal clear skies.
We got up early, packed up our stuff  and headed  to the Advocate Rite Stop. Ordinarily Rite Stops are not high on my list of places to buy things, but this one is very different – it is as close to an old-fashioned general store and community meeting place as you'll find in Nova Scotia. You name it, they got it and this morning it was the Rite Stop's version of a breakfast sandwich along with something for later. Egg and onion sandwich anyone? Delicious. There are always a group of very friendly people sitting on the covered picnic tables just outside the store discussing the world's affairs. I often see tourists sitting among them, sipping a coffee and just enjoying the local ambiance.
Our next stop was Nova Shores just up the road where we were booked for a kayaking group set to head out just after eight. Nova Shores was started by Werner and Else Marie Ostermann, the same people who own Advocate Boat Tours, but they have  spun it off to Anthony, a South African and his Swiss wife. We paid for our trip and were issued life jackets and kayak skirts and then the group of twelve convoyed to Spicer's Cove from where we would launch.
Here is a picture of the Apple River basin taken from the same position as the day before, except that this is high tide.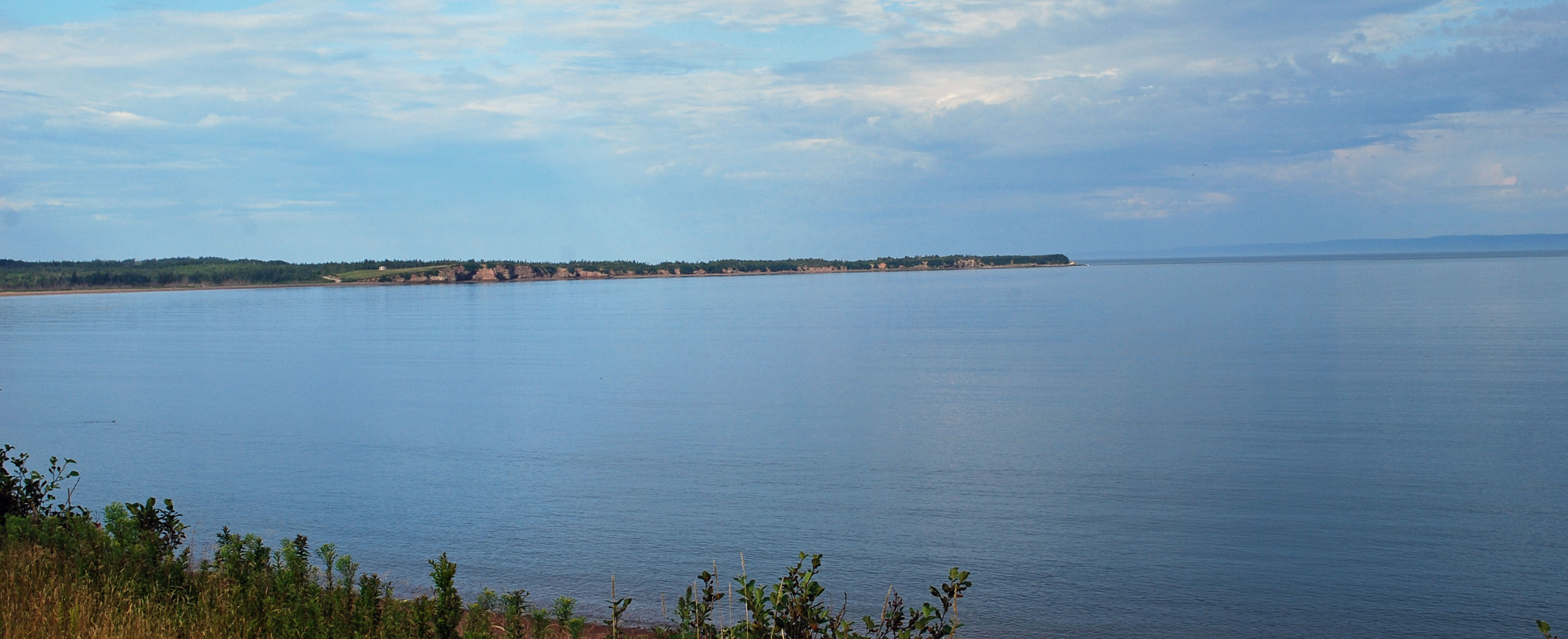 Arriving at Spicer's Cove we saw that the kayaks were already on the beach. Because of the serious currents in the Bay of Fundy Nova Shores uses only tandem kayaks for their tours. They are much more stable than a single, although today the waters were very calm and I don't think a single would have been a problem. There was another couple on the beach who Jon, one of the two guides (Anthony was the other), advised were headed out with a guide for a three day paddle back to Advocate Harbour with stops at Seal Cove and Refugee Cove.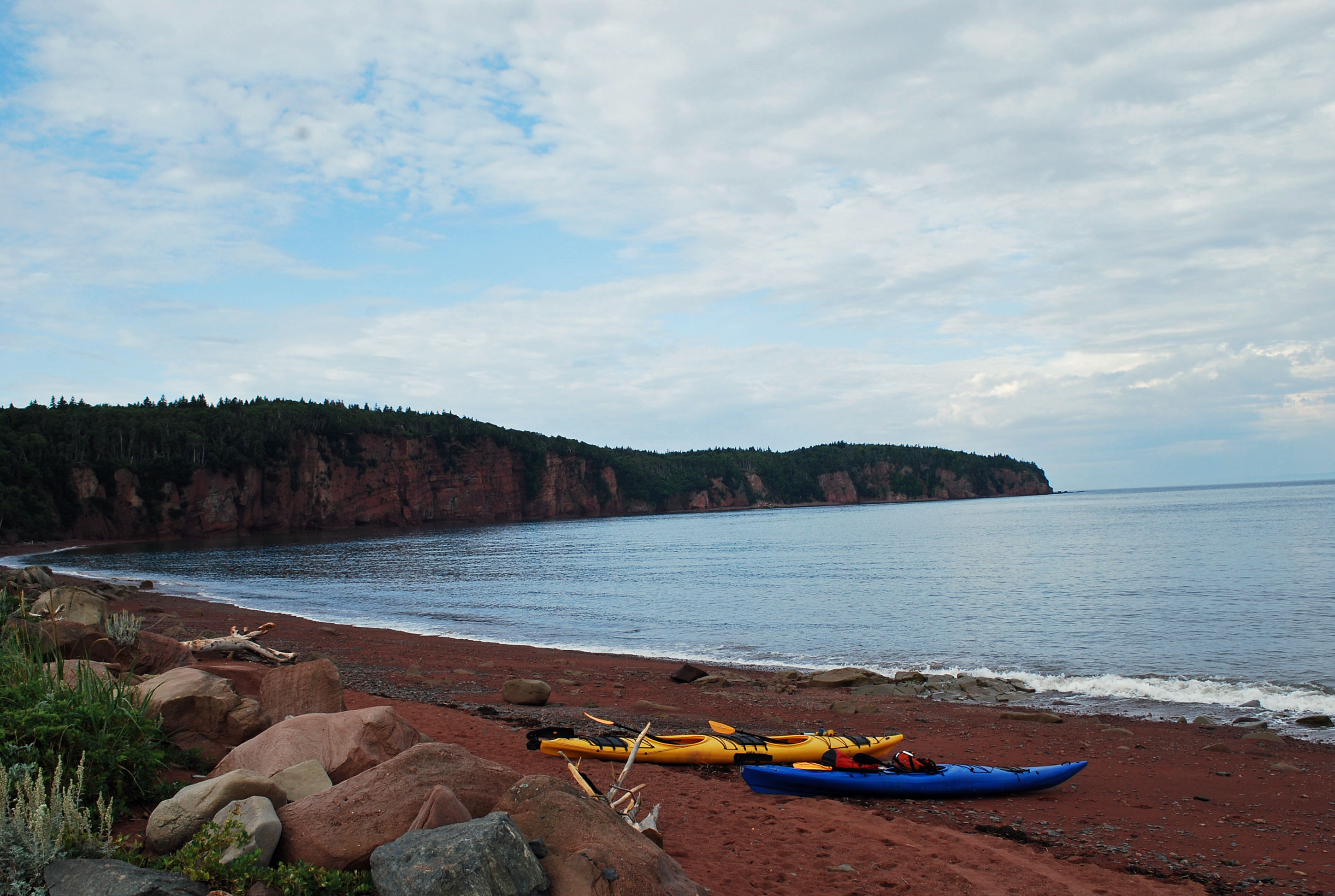 Ryan and I picked a kayak and carried it to water's edge and we were soon on the water. Ryan is a certified kayak guide and I've done my share of kayaking so we had no problems maneuvering the tandem. Ryan had more problems getting the Go-Pro attached to his head to work, but finally got it working. Jon led the group from the front and Anthony in a tandem with a young lady stayed at the rear and we were off for the Three Sisters.

The water was surprisingly clear and not as cold as I thought it would be. As you can see the weather was warm enough to paddle in only a t-shirt. The first thing Jon pointed out as we paddled close to the edge of the cliffs that surround Spicer's Cove was the transition from sedimentary rock to igneous which in turn was divided between reddish rhyolite and black or gray basalt. The basalt erodes much quicker than rhyolite which is the explanation for the creation of the so many unusual geomorphic features in the Cape Chignecto area. Here we are heading toward the cape that separates Spicer's Cove from Anderson's Cove.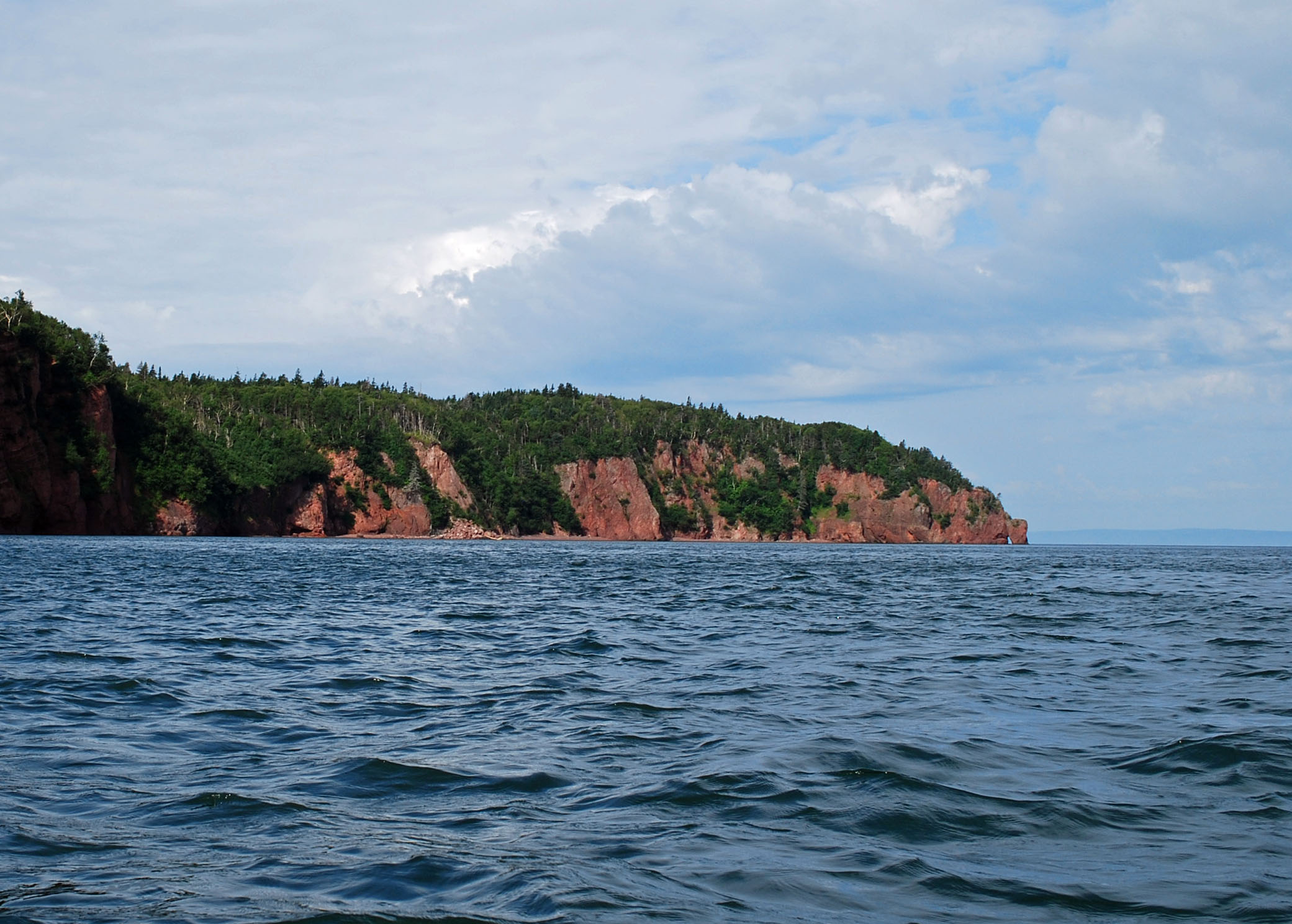 Nearing the cape I could see that there was an inverted vee-shaped opening between the rocks through which you could kayak through.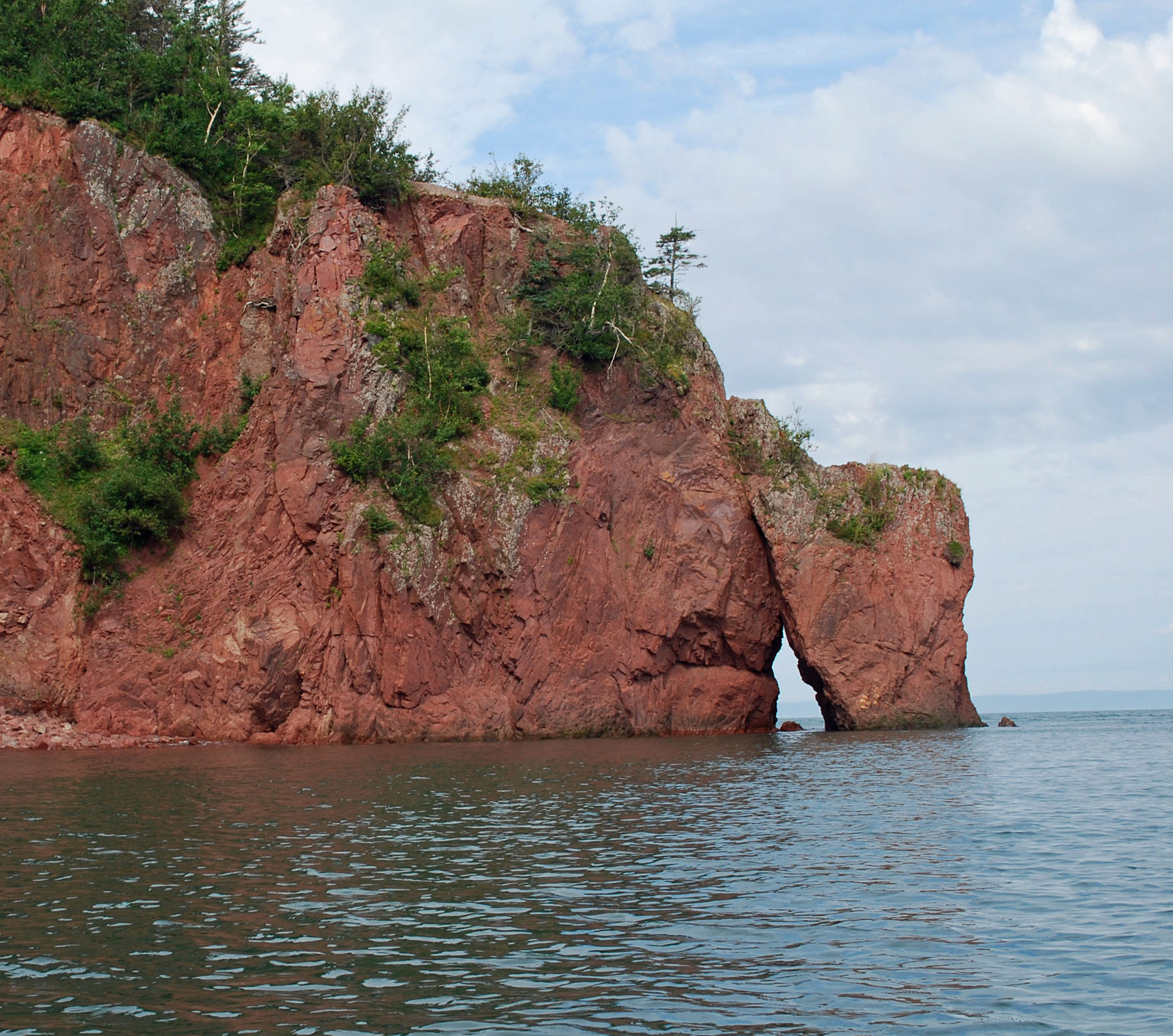 Rounding the point we could clearly see the elevated beach at Squally Point, which was not at all squally this day. Almost every few hundreds yards there was some new phenomenon to be observed including The Amphitheatre where we kayaked into a large dome where our voices were naturally amplified and when Jon asked if anyone could sing Ryan broke out into a rendition of Barrett's Privateers. Notice how aqua coloured the water is here.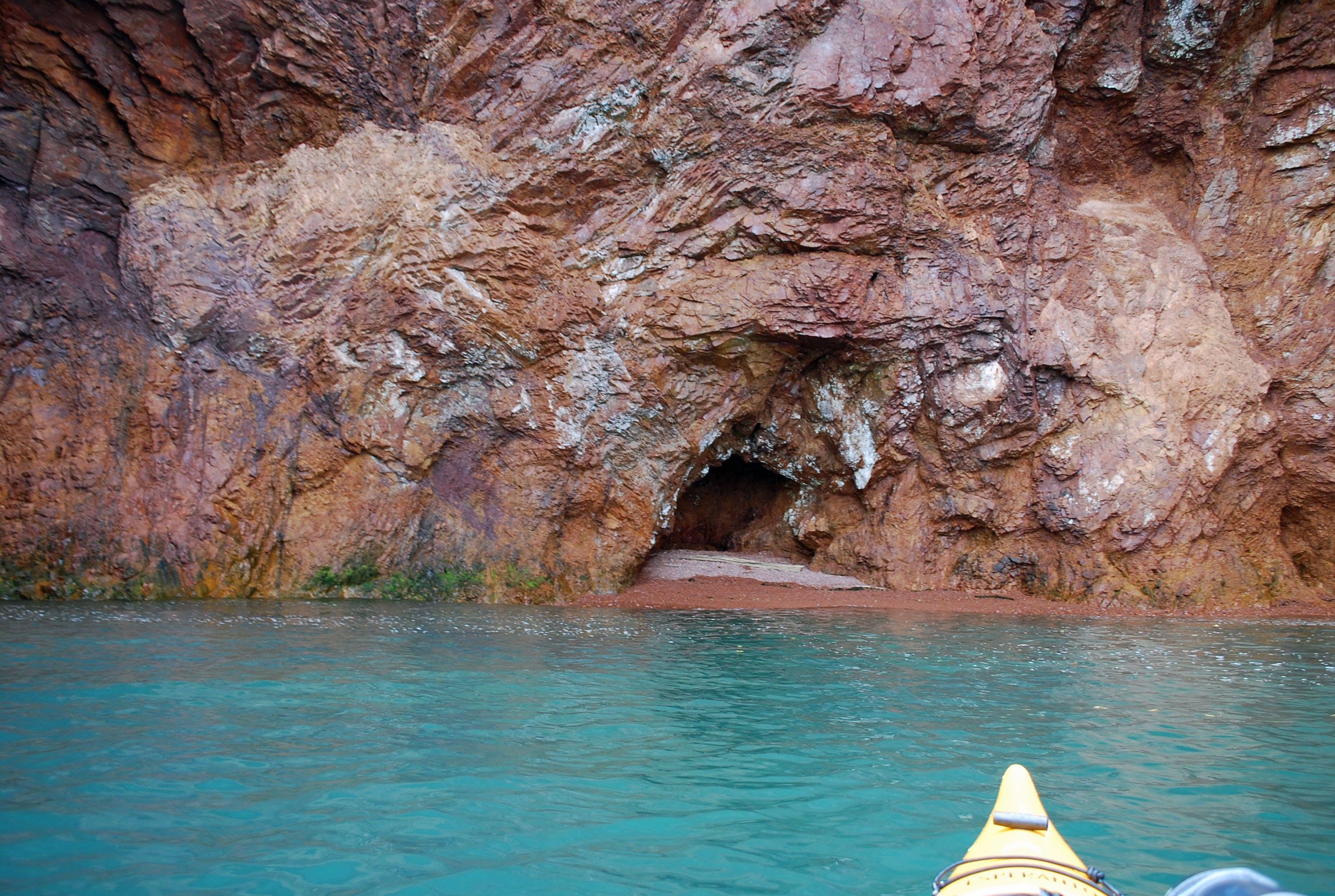 The Owl is pretty well named. In fact you can even tell that it is a great horned one at that.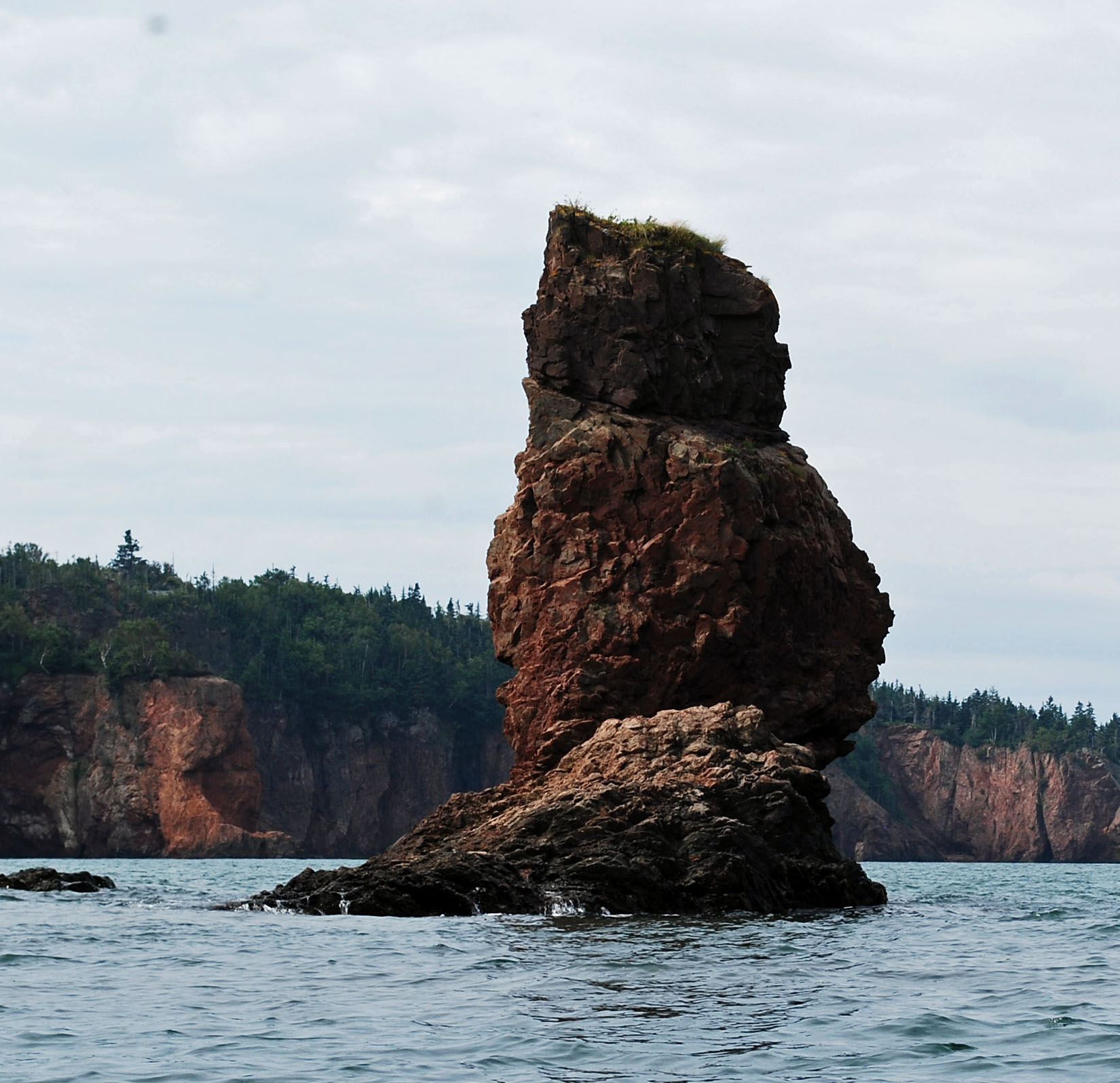 A cave into which only one kayak at a time could enter and then back paddle out.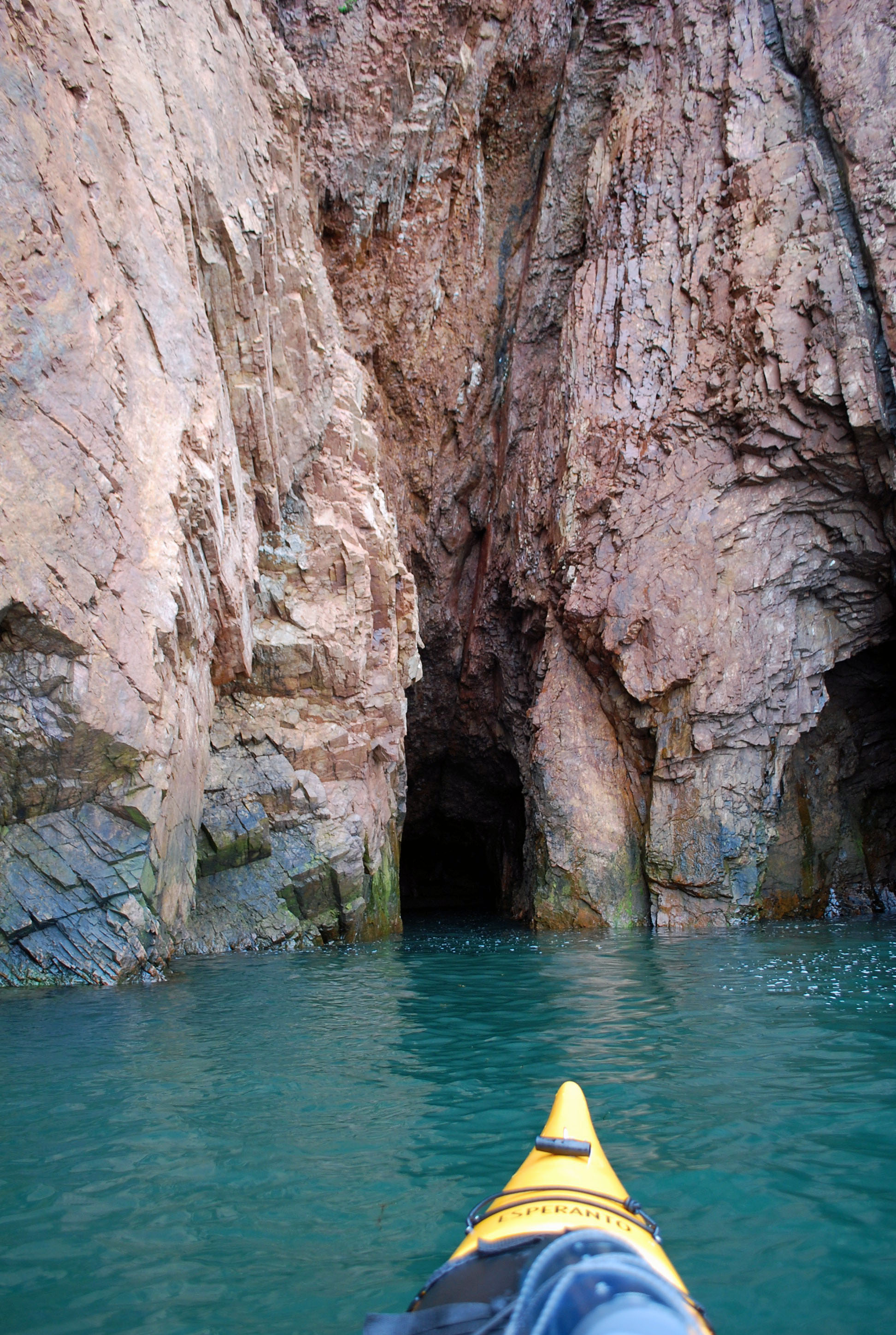 And finally an arch that had a really strong current that popped you through it like a cork. Here's a picture Jon took of us coming through. If you look closely you can see the black basalt has eroded between the rhyolite on both sides.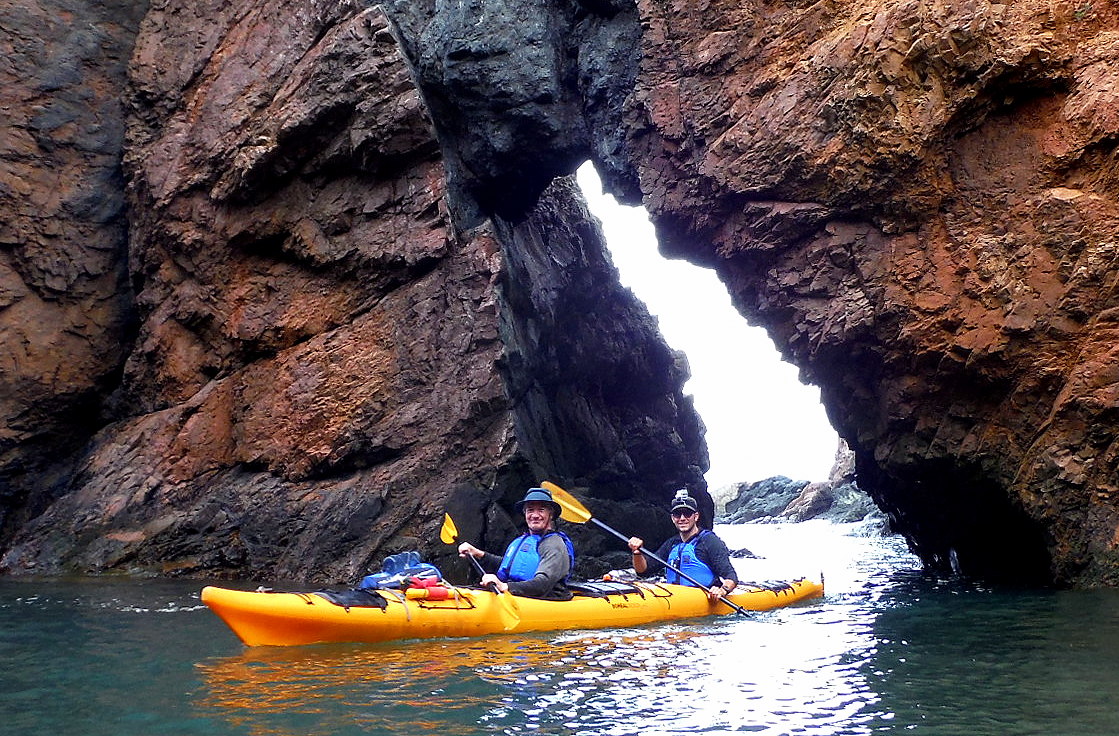 As if this wasn't enough, we were just coming up to the star attraction of this trip, the Three Sisters. They had been visible in the distance for some time and as we approached I felt quite in awe of the fact that the day before I had been looking down on this formation, then completely exposed, now covered in ten feet or more of water.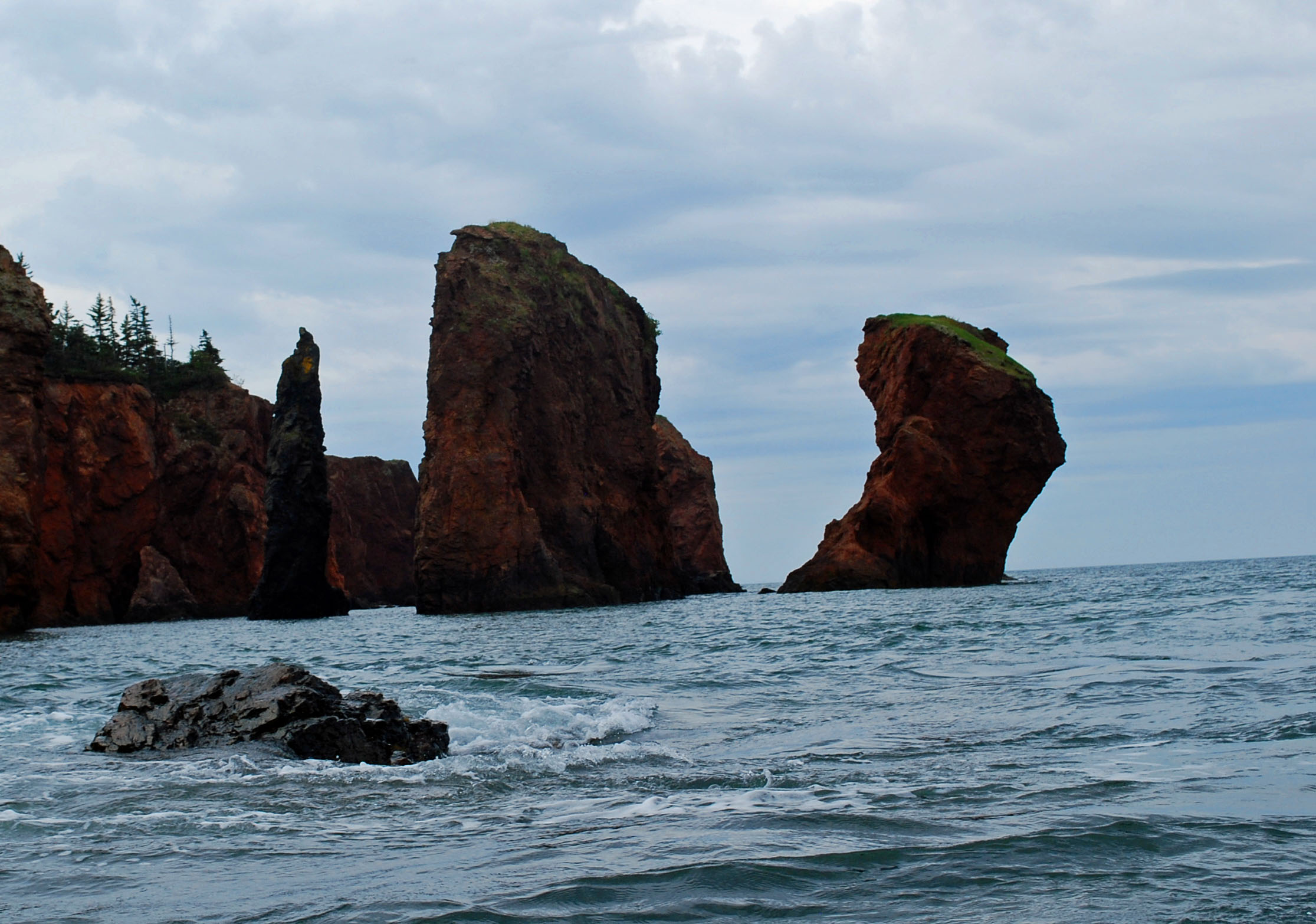 The two larger sisters are rhyolite, while the smaller pinnacle is basalt. As you get closer there are actually four sisters, the fourth lying a little south of the first three and not visible from above.
I call this sister the Old Maid or maybe Queen Victoria – she has a nice head of green hair.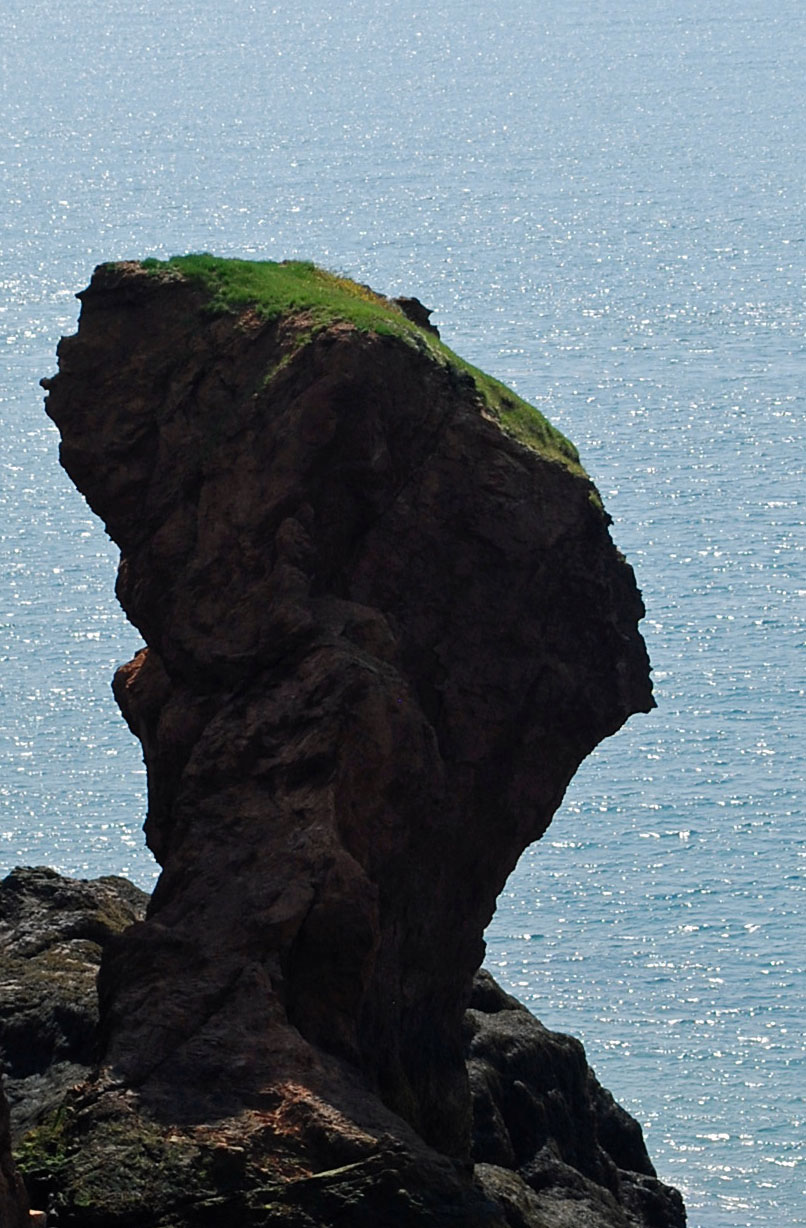 Jon took this photo of Ryan and me with the Three Sisters in the background.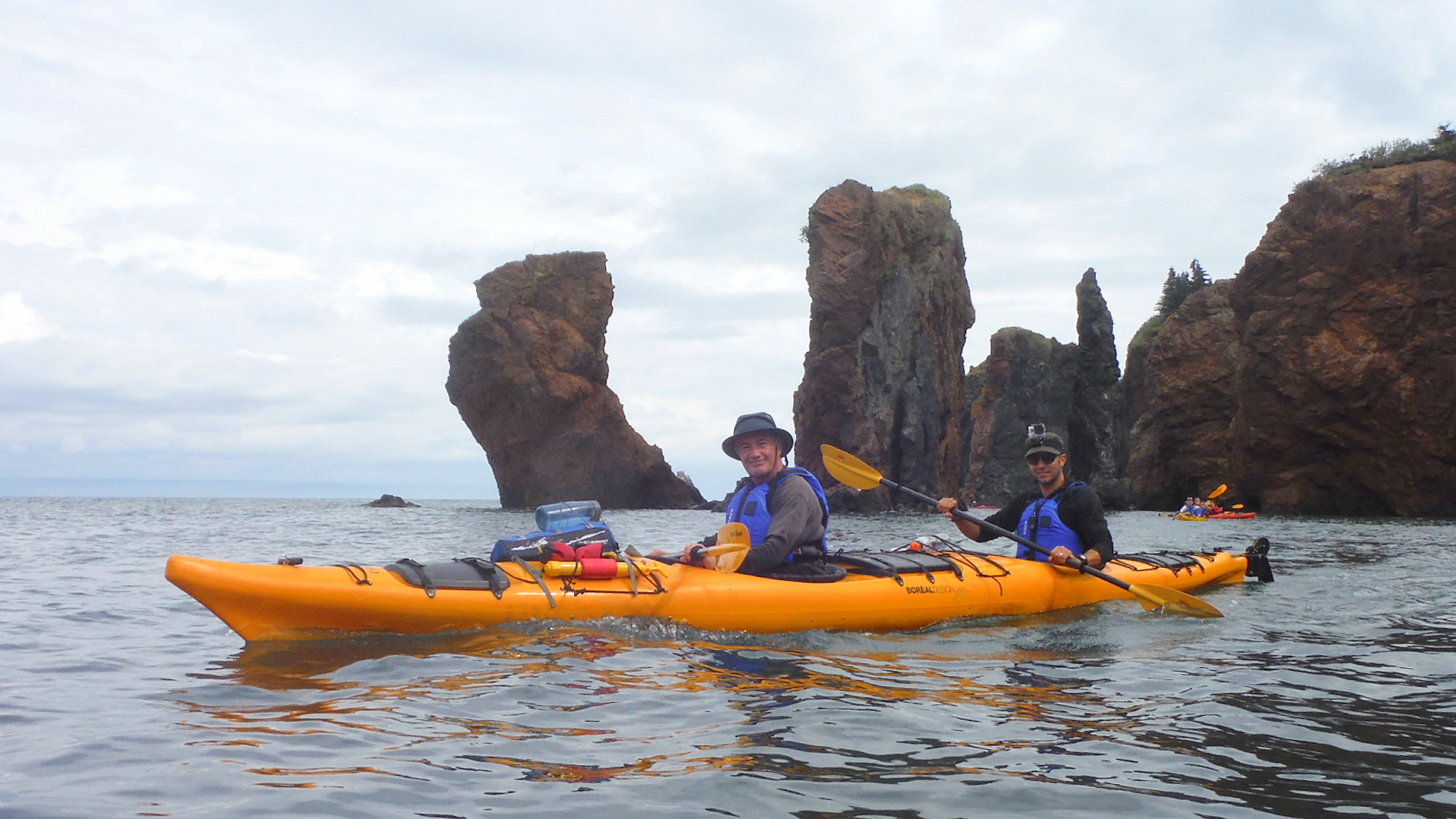 Shortly after passing the Three Sisters we reached Eatonville Beach where we landed for lunch and exploration. While the guides prepared the meal we explored the detritus of Eatonville, a long deserted community that once had 350 souls who prospered building ships from the fine old growth timber found in the area. Today there are the remnants of the wharf, a lot of rusty iron and little else.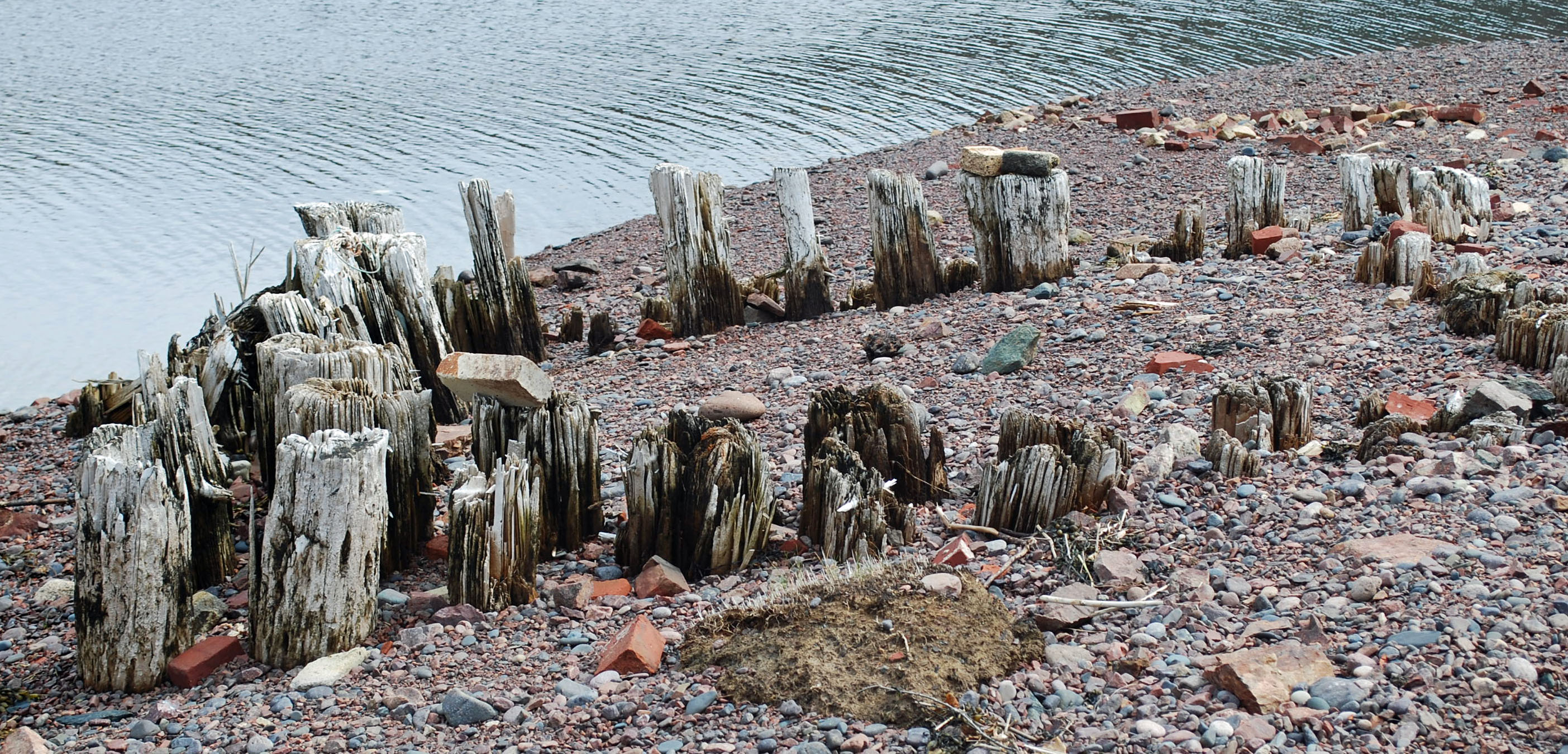 Speaking of deserted, here's a picture of the Interpretive Centre from Eatonville.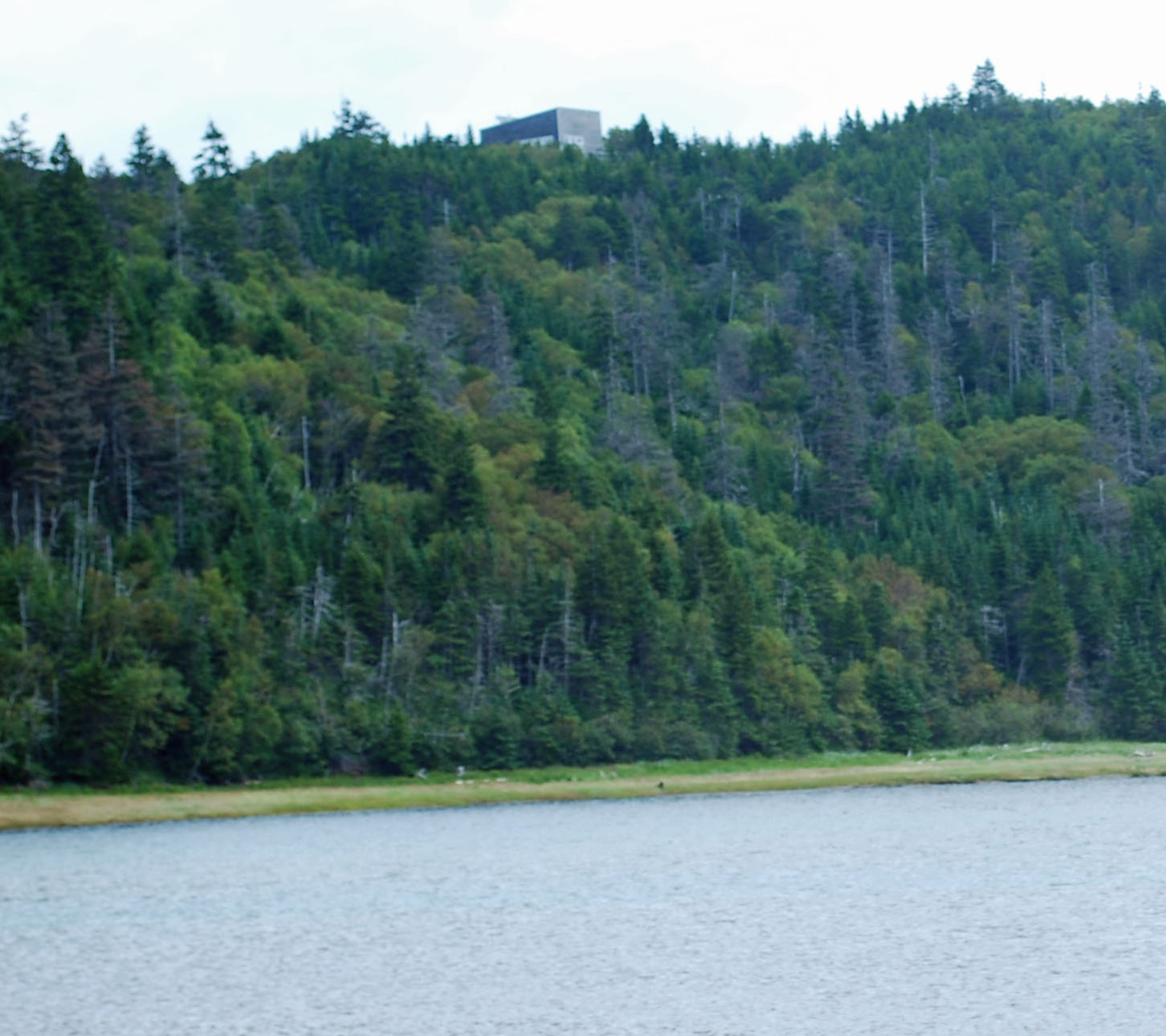 Anthony prepared a really good lunch which featured almost all ingredients from his garden in Advocate and we all had a chance to chat. I learned that Anthony and his wife returned to Africa each fall to conduct safaris in a number of African countries. He may just have picked up a few customers based on the interested questions he was getting asked. Most of the group were Americans from the Washington D.C. area, two were from England, two from Ontario and only Ryan and I from Nova Scotia.  That unfortunately is typical of what you will find at any of Nova Scotia's many great natural attractions. People will travel thousands of miles to do and see things in Nova Scotia that most of us here won't travel fifty miles for.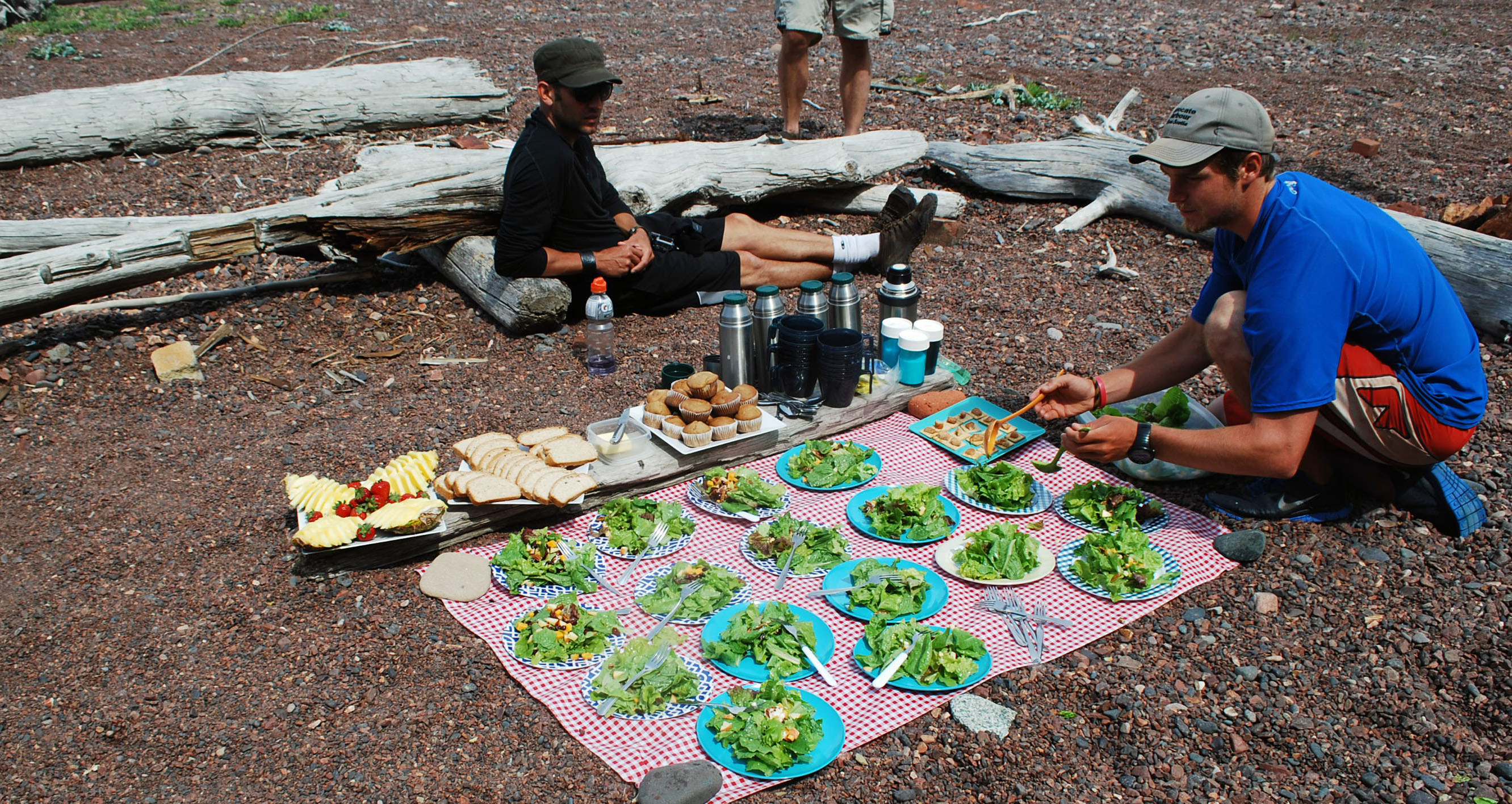 As we lingered in Eatonville the skies to the north west began to get very dark and there was the occasional thunderclap. Heavy rain was falling on the New Brunswick side of the bay. I had been caught in storms before on the water and it ain't no picnic, so to say.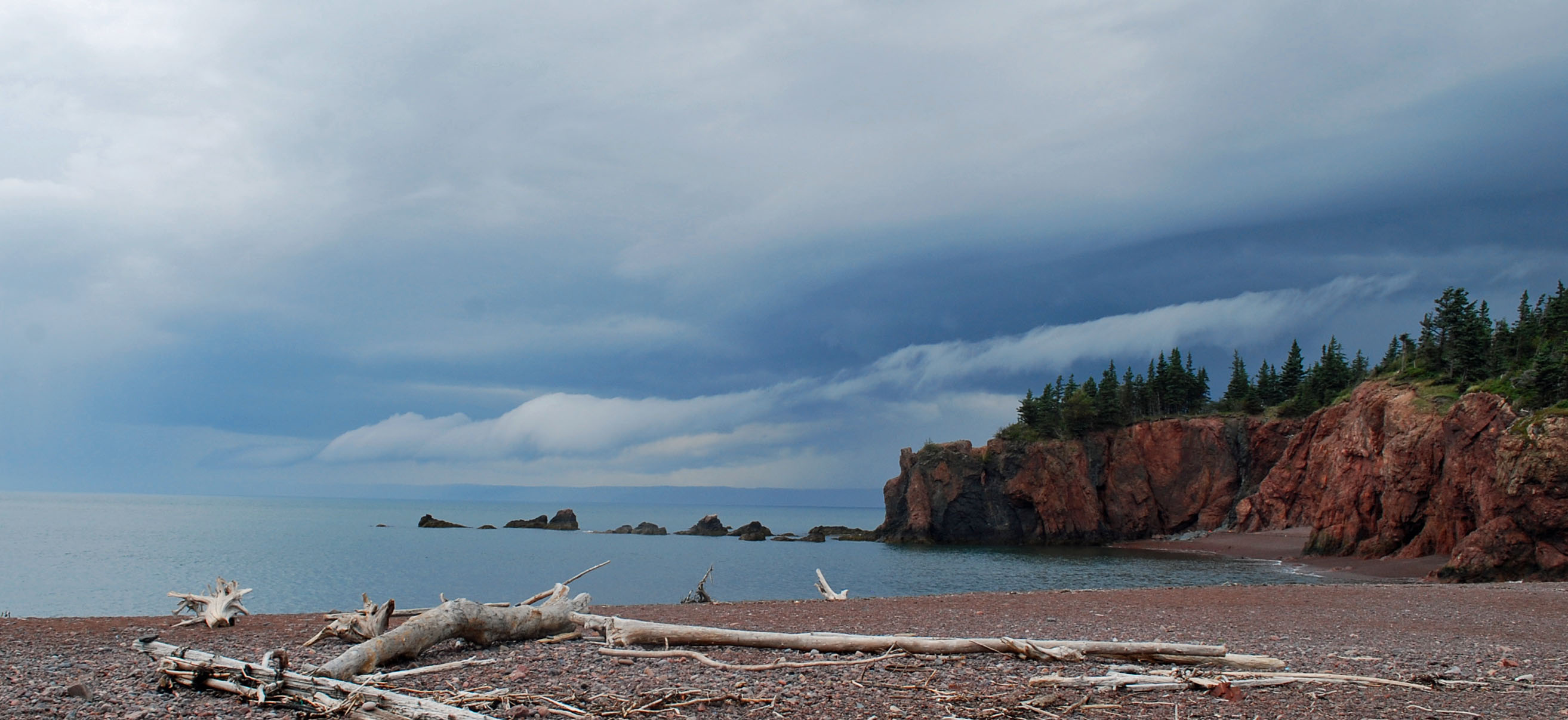 I'm glad to report that while we did experience some heavy rain on the way back, it kept the waters quite calm. The raindrops almost seem to be ricocheting off the surface. The guides did a great job of keeping the group close together and by the time we landed back at Spicer's Cove the rain was over. The tide line had receded quite a bit in the time we were out so we had to use the portable wheels to get the kayaks back to the carriers, but it was not a big deal.
So that's the story of Three Sisters two ways and I apologize to those who thought it was going to be about something completely different.