Horseshoe Bay Beach and a Quick Visit to Hamilton, Bermuda
Day three of the Bermuda trip dawns portentously with this beautiful sunrise as seen from our balcony at the Fairmont Southampton.  The excitement of last night is forgotten, although there is still a manhunt underway for two suspects who shot and killed Bermuda gangster Prince Edness outside the Waterlot Inn.  Yesterday our touring got off with a great start at the Royal Naval Dockyard which is one of Bermuda's prime attractions. Today is going to be a busy day with golf followed by a visit to Horseshoe Bay beach and then on to the capital city, Hamilton for a quick visit. Please join us.

I've described the Turtle Hill Golf Course experience as part of the post on the Southampton Princess, so won't repeat it here.
One of the reasons I chose to stay at the Southampton was its proximity to the fabled beaches of Bermuda's south shore, in particular Horseshoe Bay beach which regularly appears in top ten lists of the world's best beaches. These beaches are part of Bermuda's national park system and protected from development. In season Horseshoe Bay beach has a restaurant, life guards and change facilities, but today I am hoping it has none of these and no people – seems like a tall order for such a famous beach, but let's see what happens.
Getting to Horseshoe Bay beach from the Fairmont could not be easier. We take the shuttle to the Ocean Beach Club and simply walk through a gate to the parking area for the park and viola, not 50 yards from where the Fairmont property ends is this. And it is deserted!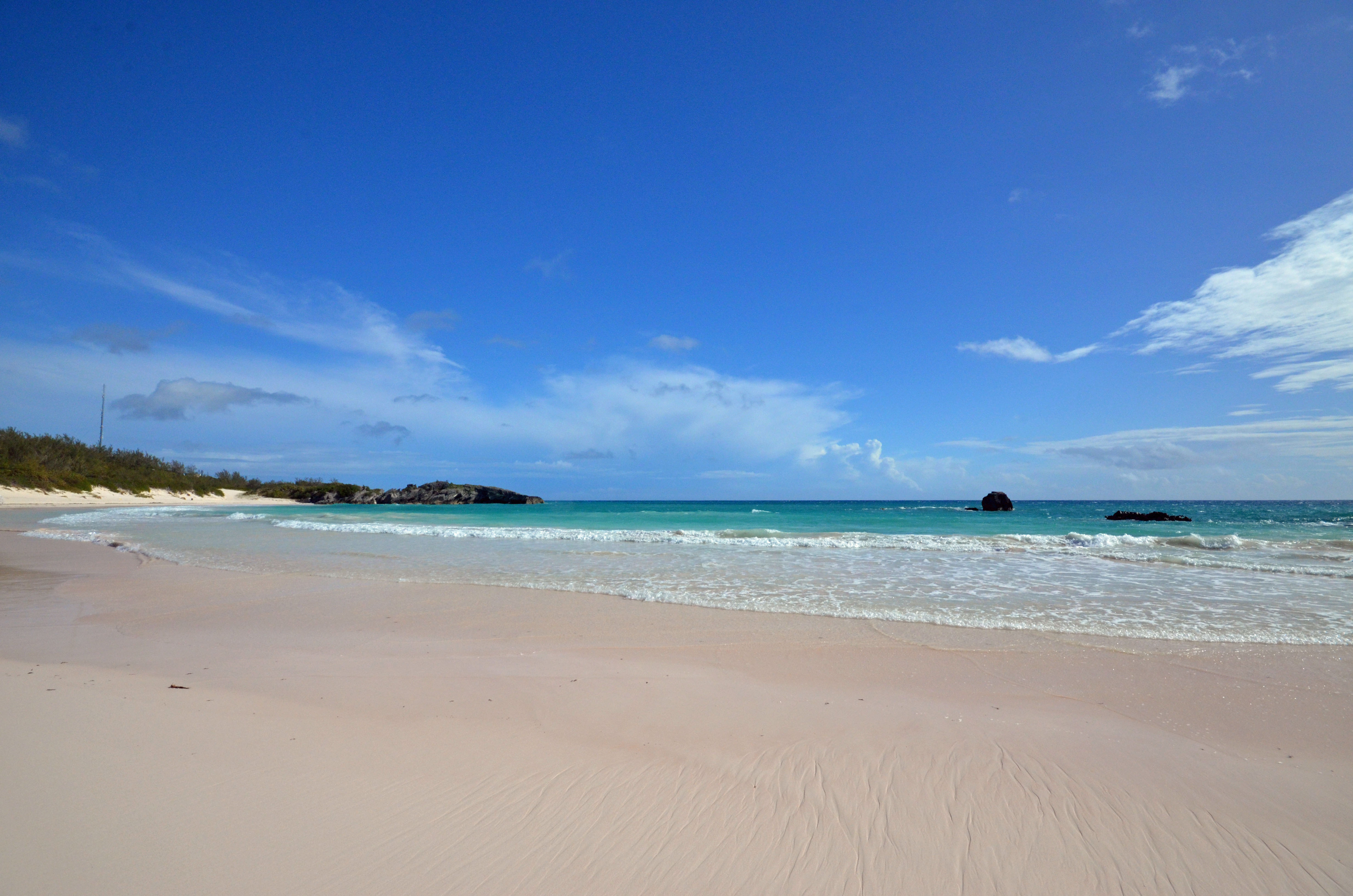 Except for us.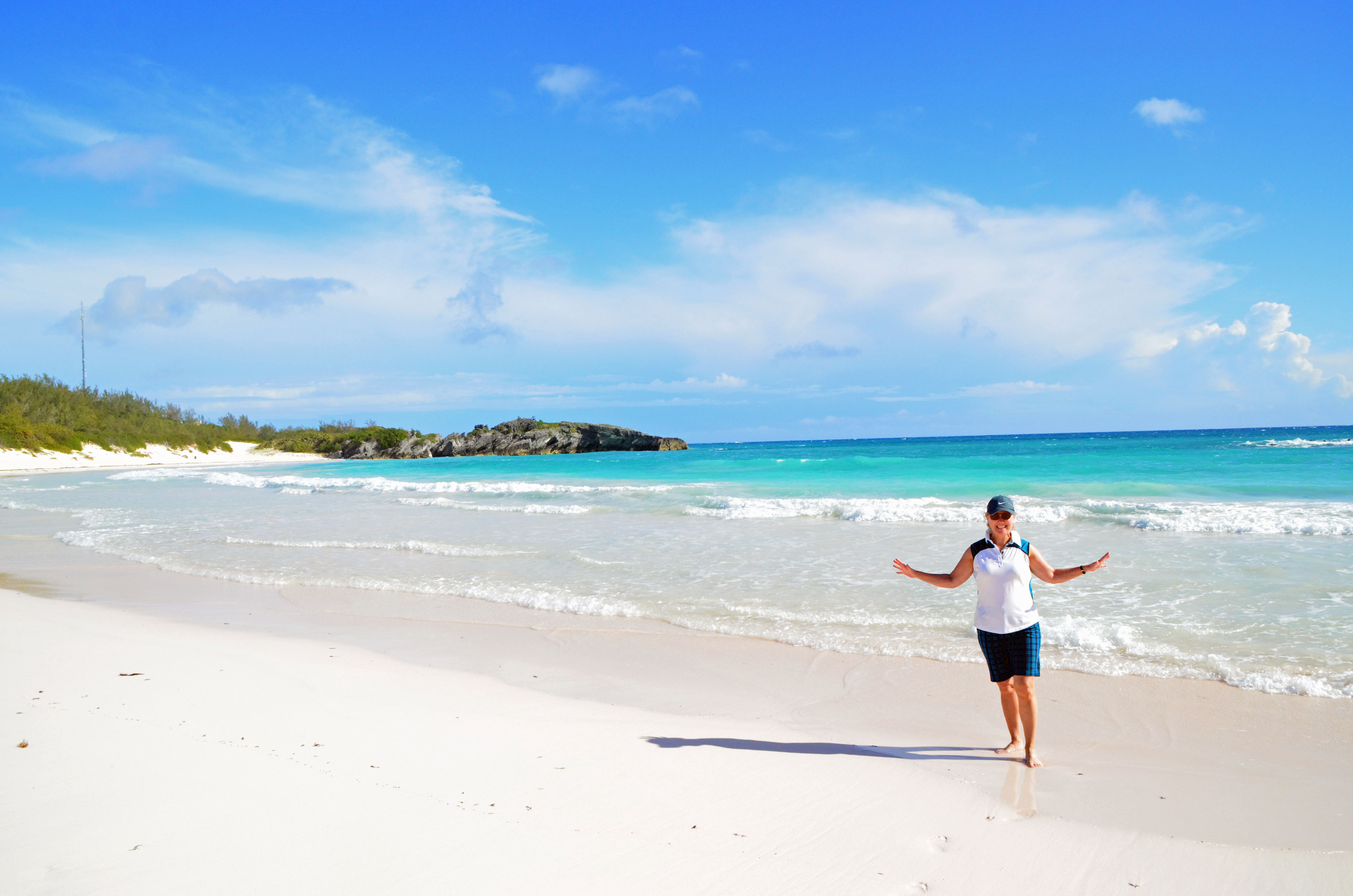 There is a pink hue to the sand and the water colour varies from aqua to azure to turquoise to blue to impossibly beautiful. Walking in the opposite direction from this photograph we come to a secluded cove where we find a young couple with a baby nestled between the rocks out of any wind. Then a pregnant lady in a dress and high heels comes along and we get her to take this picture.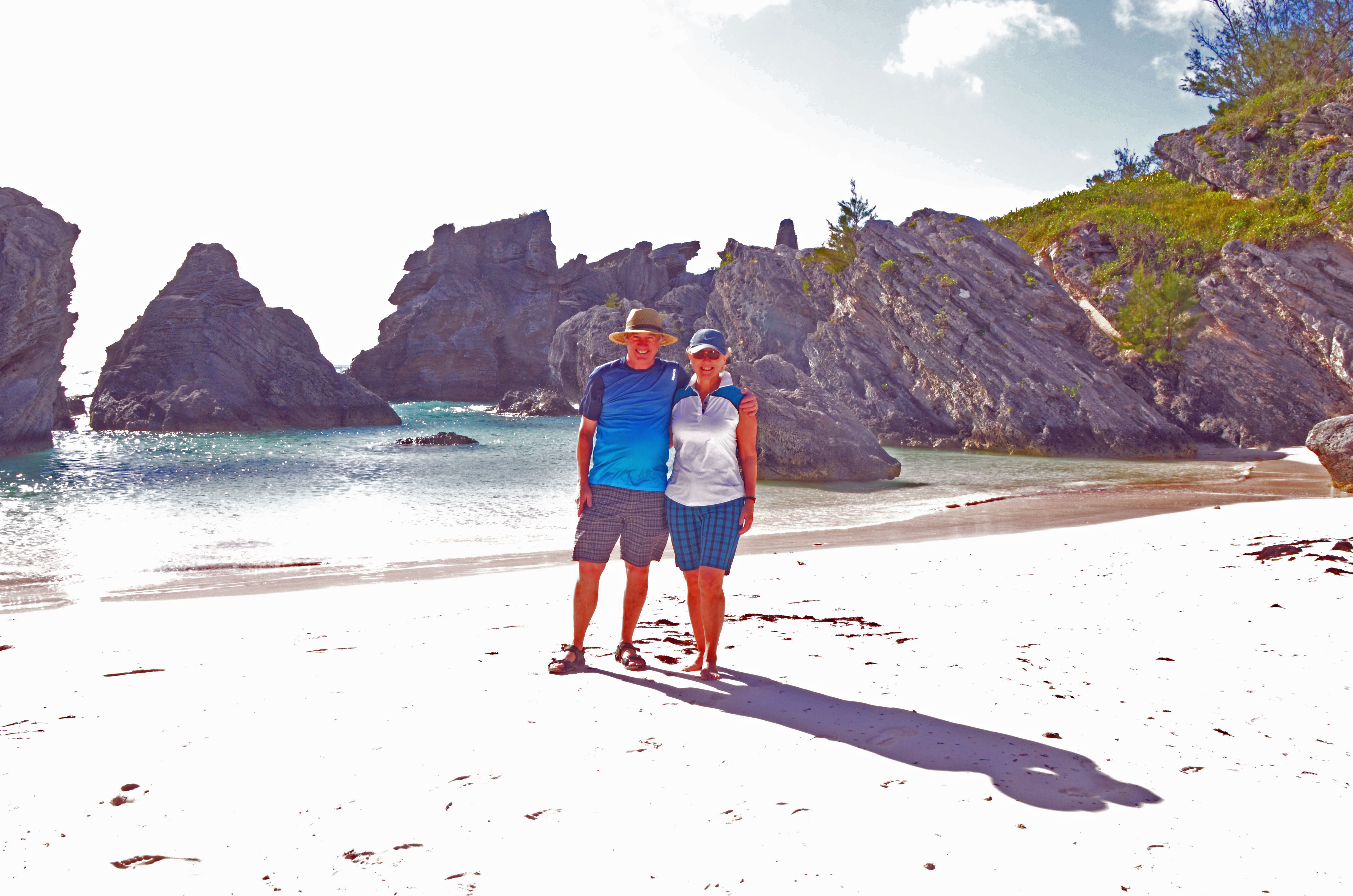 From here we spent the next two hours just exploring, walking from Horseshoe Bay beach to a series of other smaller bays that became increasing difficult to access, but inevitably were worth the effort. We saw only a couple of other people in this entire time. Here are some of the photographs I took.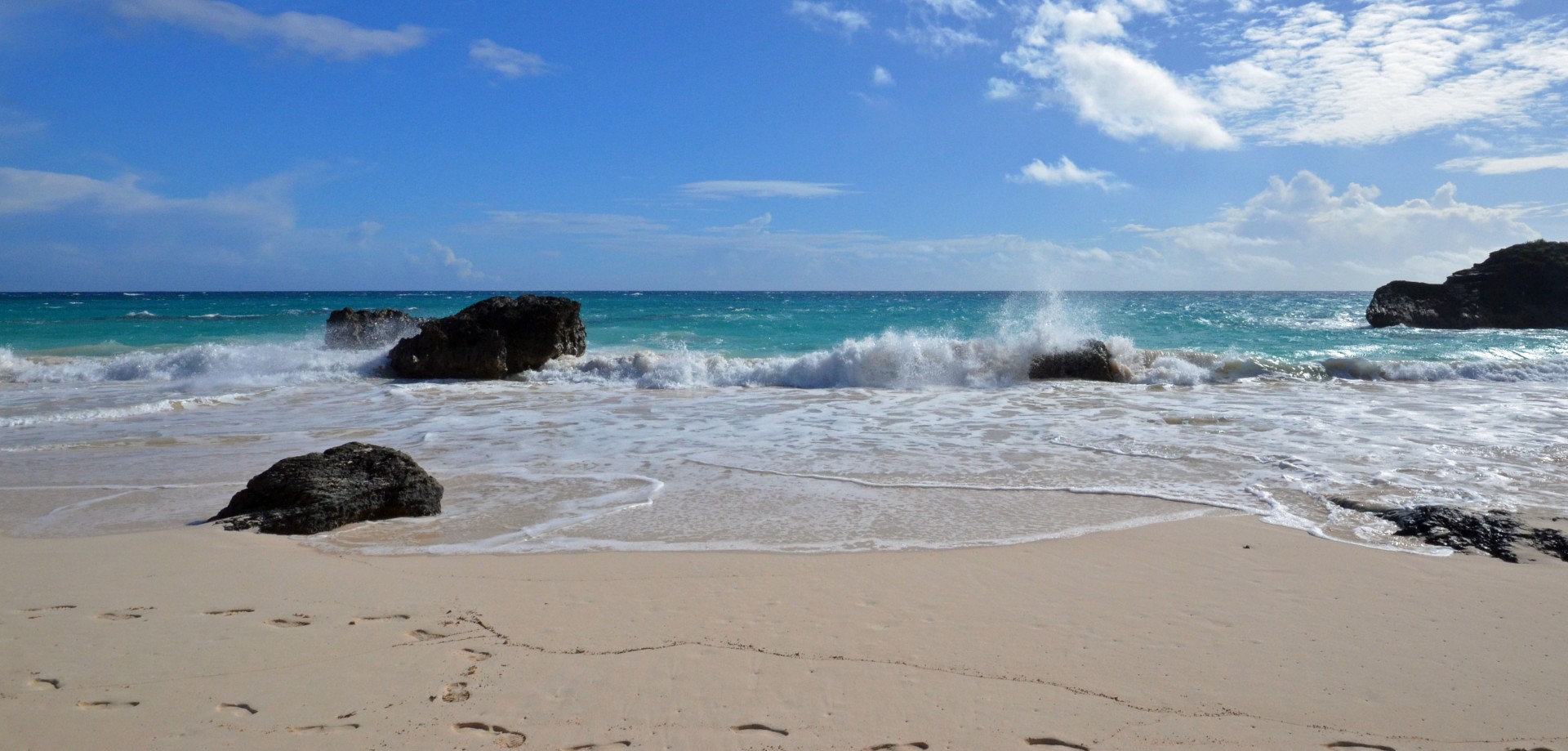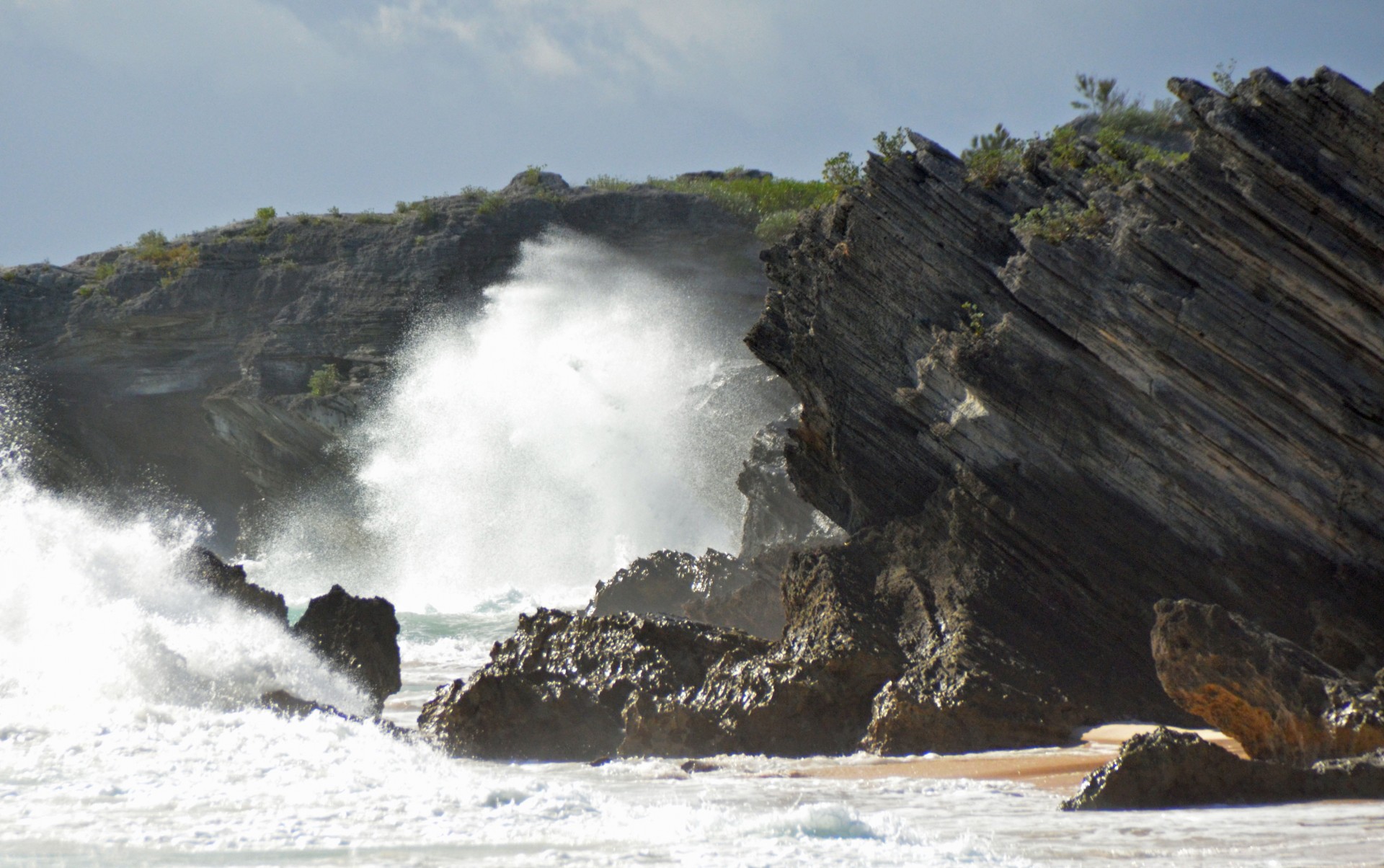 You often see holes in rocks created by erosion, but how often do you see a slit in the rock like this one?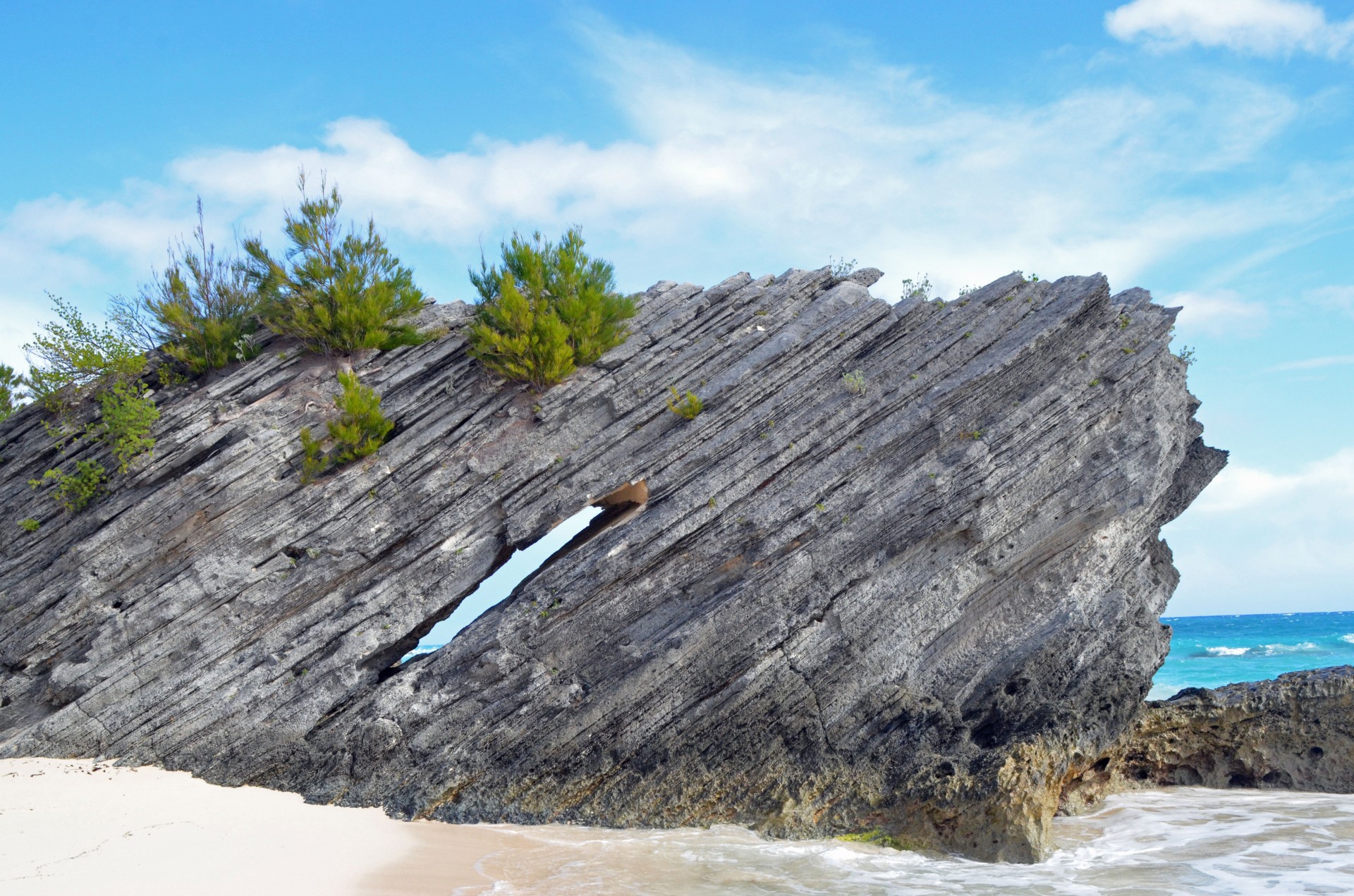 There were some interesting dead trees above Horseshoe Bay beach including these that reminded me of twisted ram's horns.
The sun glistening of this rock made it look like some kind of raging beast.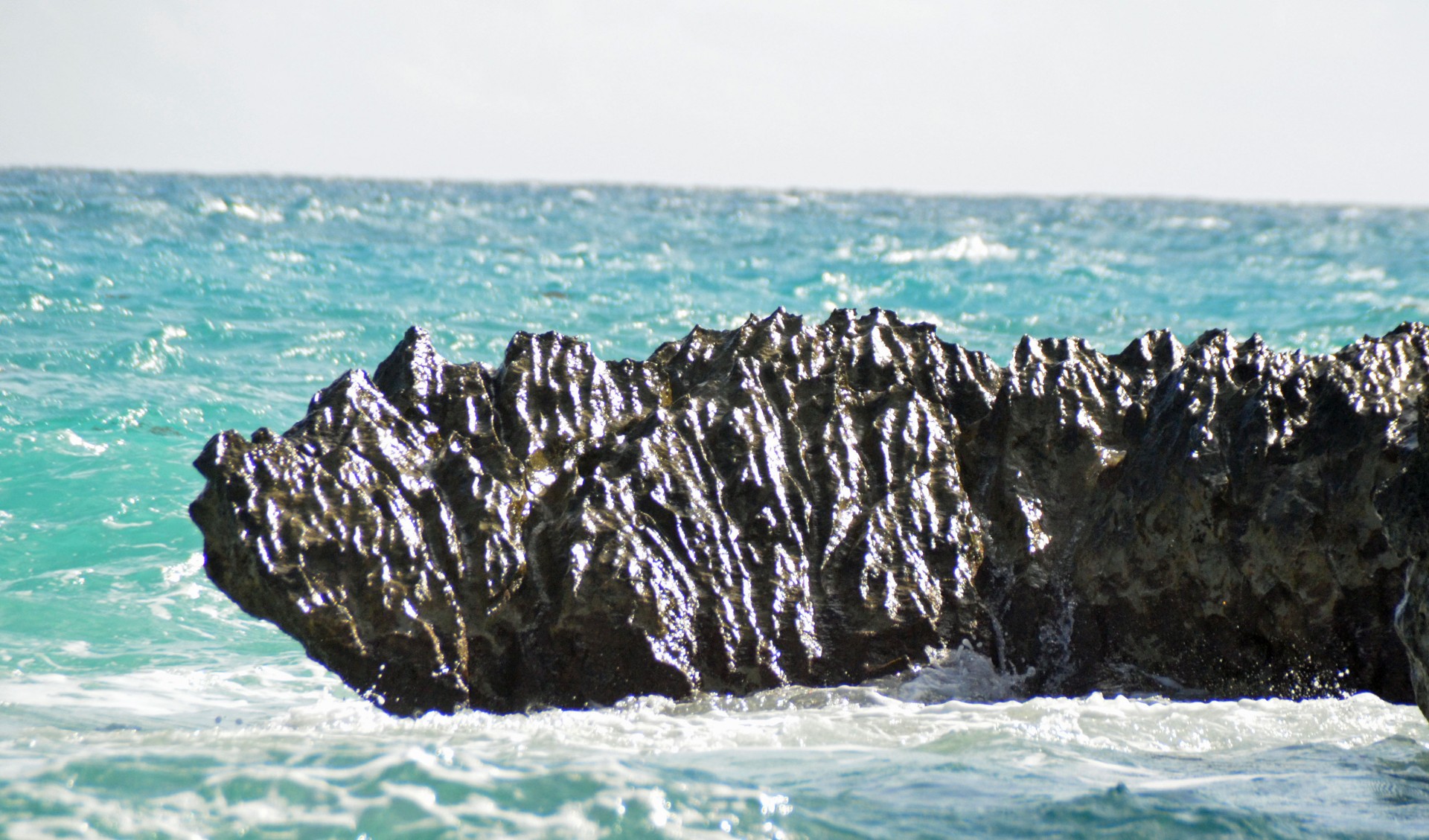 Although it's a bit hard to see, if you look at the right side of this rock you will see a water spout that drained every time the rock was covered by a wave.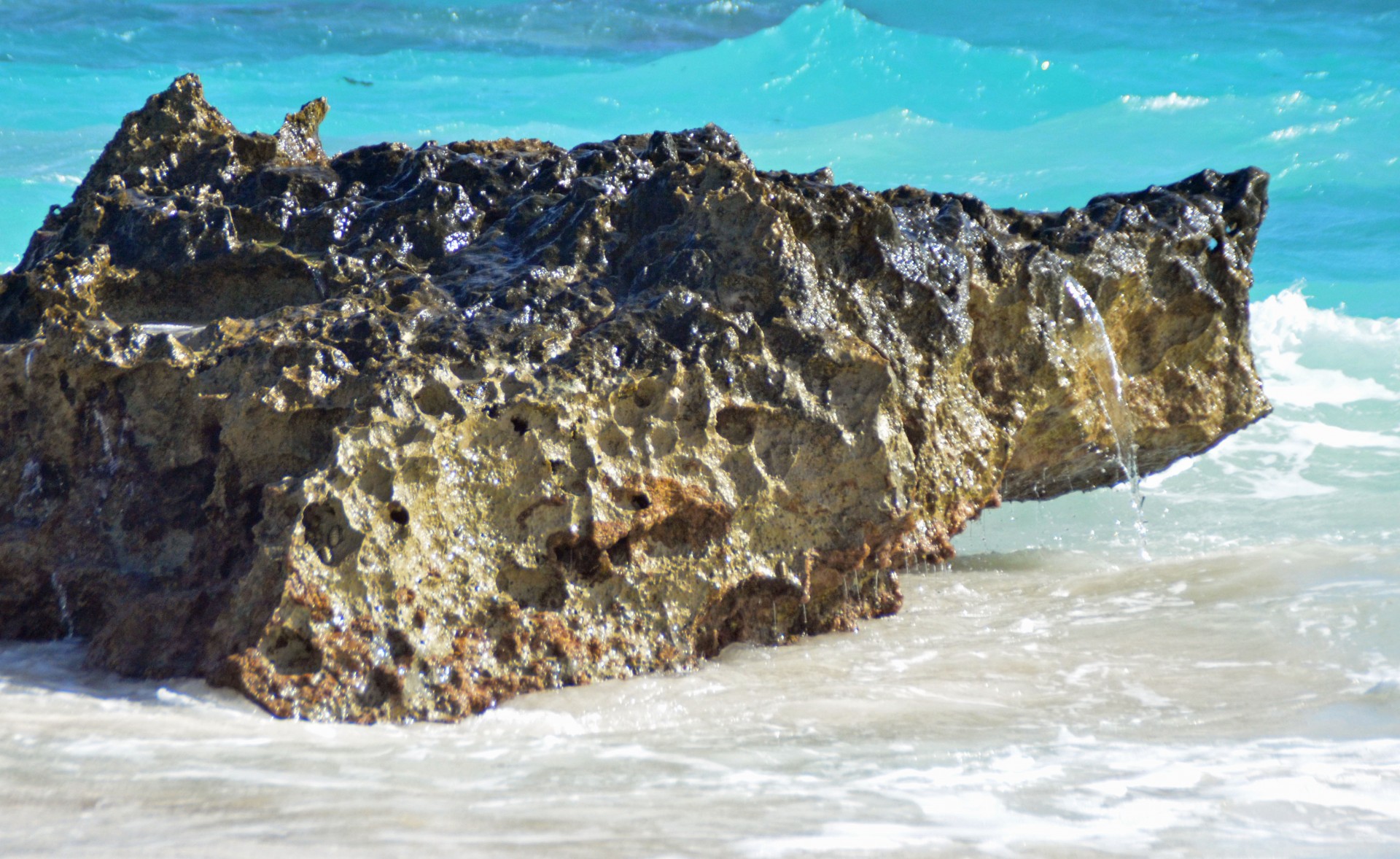 We just didn't want these beaches, waves and rock formations to end.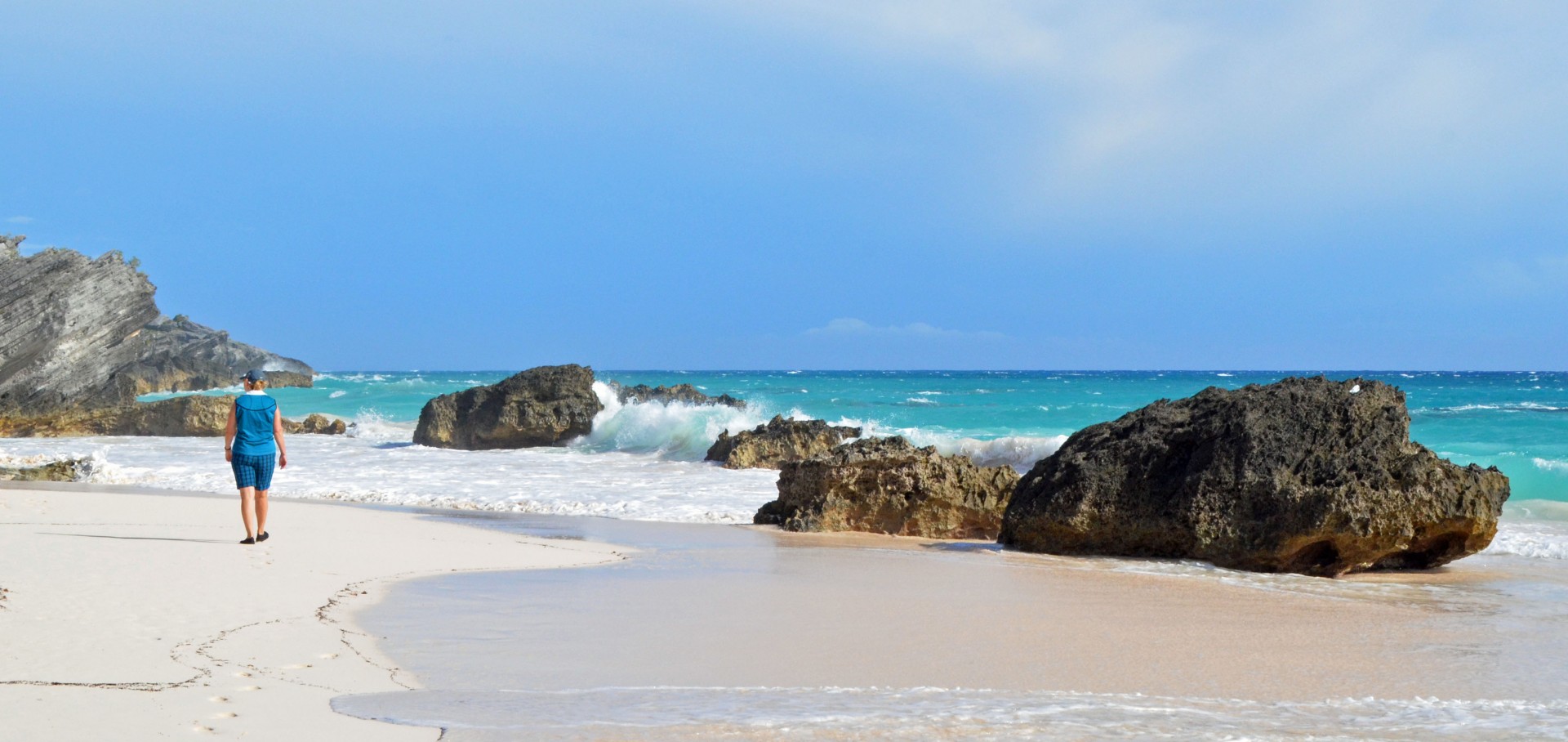 The most unusual and somewhat touching sight we saw at Horseshoe Bay beach was this bouquet of fresh flowers half buried in the sand. Were they a deliberate whimsy on someone's part or a rejected or forgotten present from an unrequited suitor?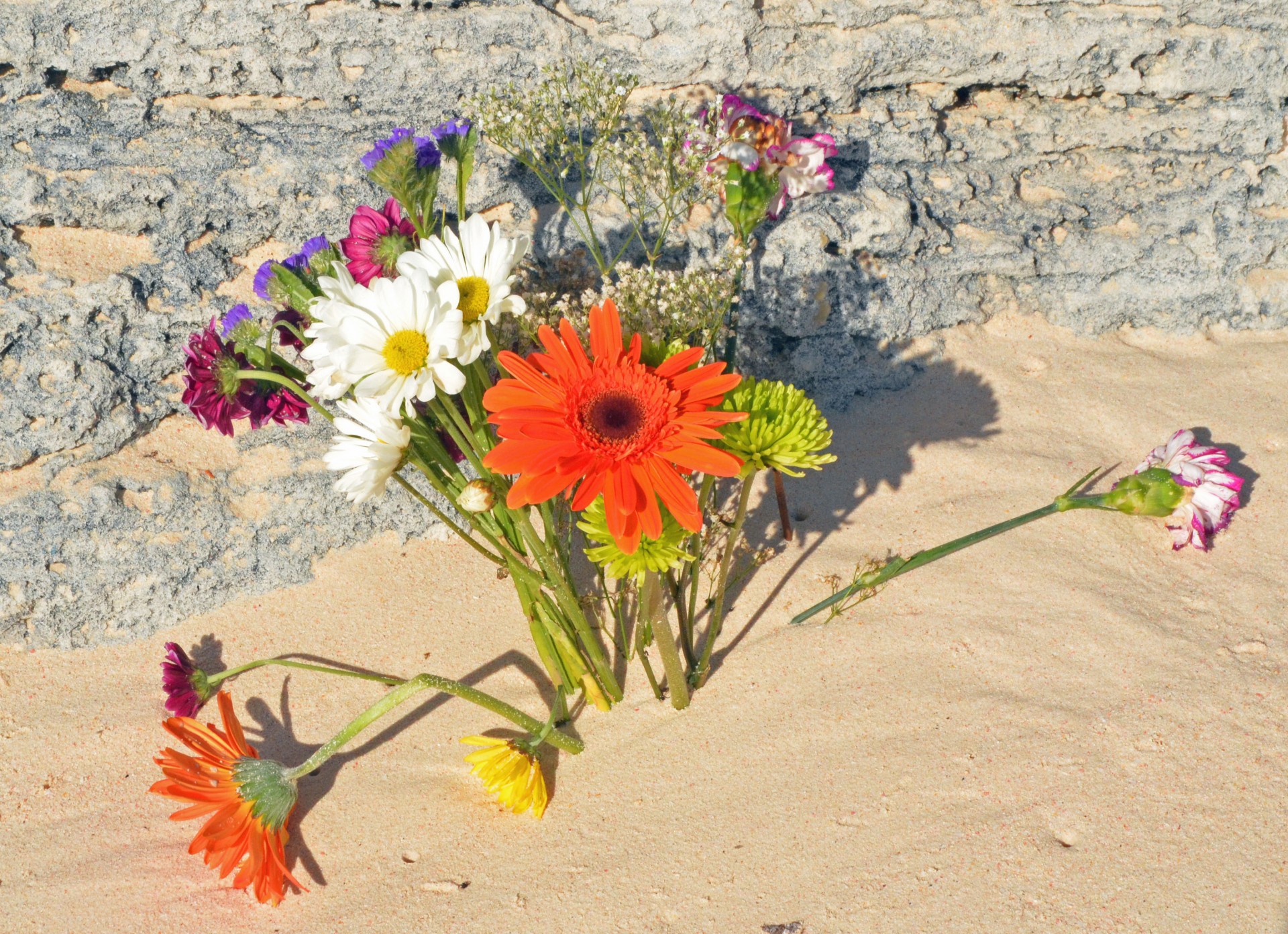 With that in mind I am reminded of how similar Horseshoe Bay beach looks to the one in Kauai where they filmed the famous beach kiss scene between Deborah Kerr and Burt Lancaster in From Here to Eternity. I give a passing thought to lying down in the water and letting the waves wash over us as we kiss, but with our luck it could be the last as we are washed out to sea. Still it's a nice thought.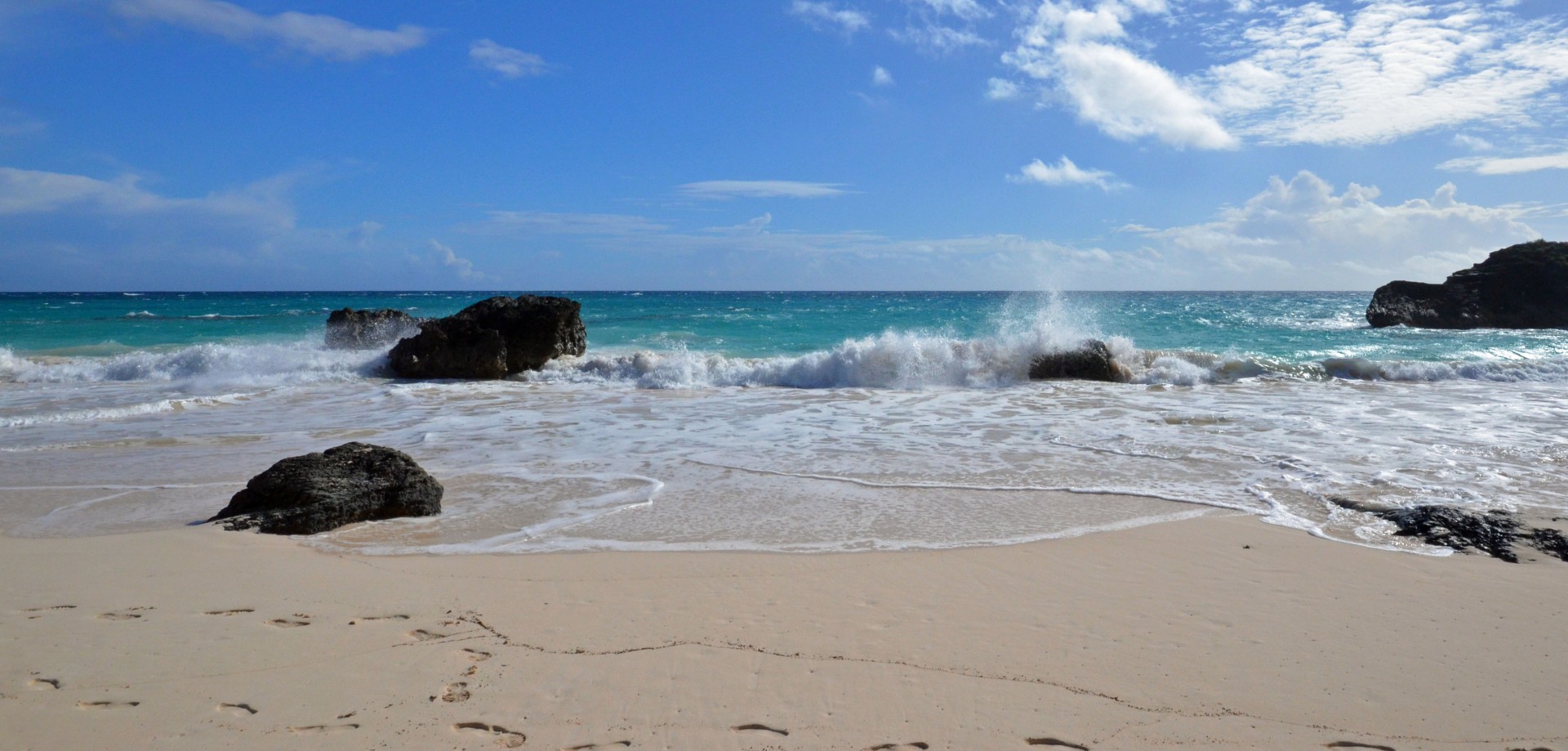 At length we come to Jobson's Cove which marks the end of the park and trundle up to the South Road where, in an eerie forerunner to our planned trip of the European WWI and WWII battlefields in April, we come across the entrance to Warwick Camp Barracks. Alison's uncle John Weir was stationed here for a few months before being sent to Europe and killed outside Boulogne a few days after D-Day. We visited his grave in France a few months after first writing this post.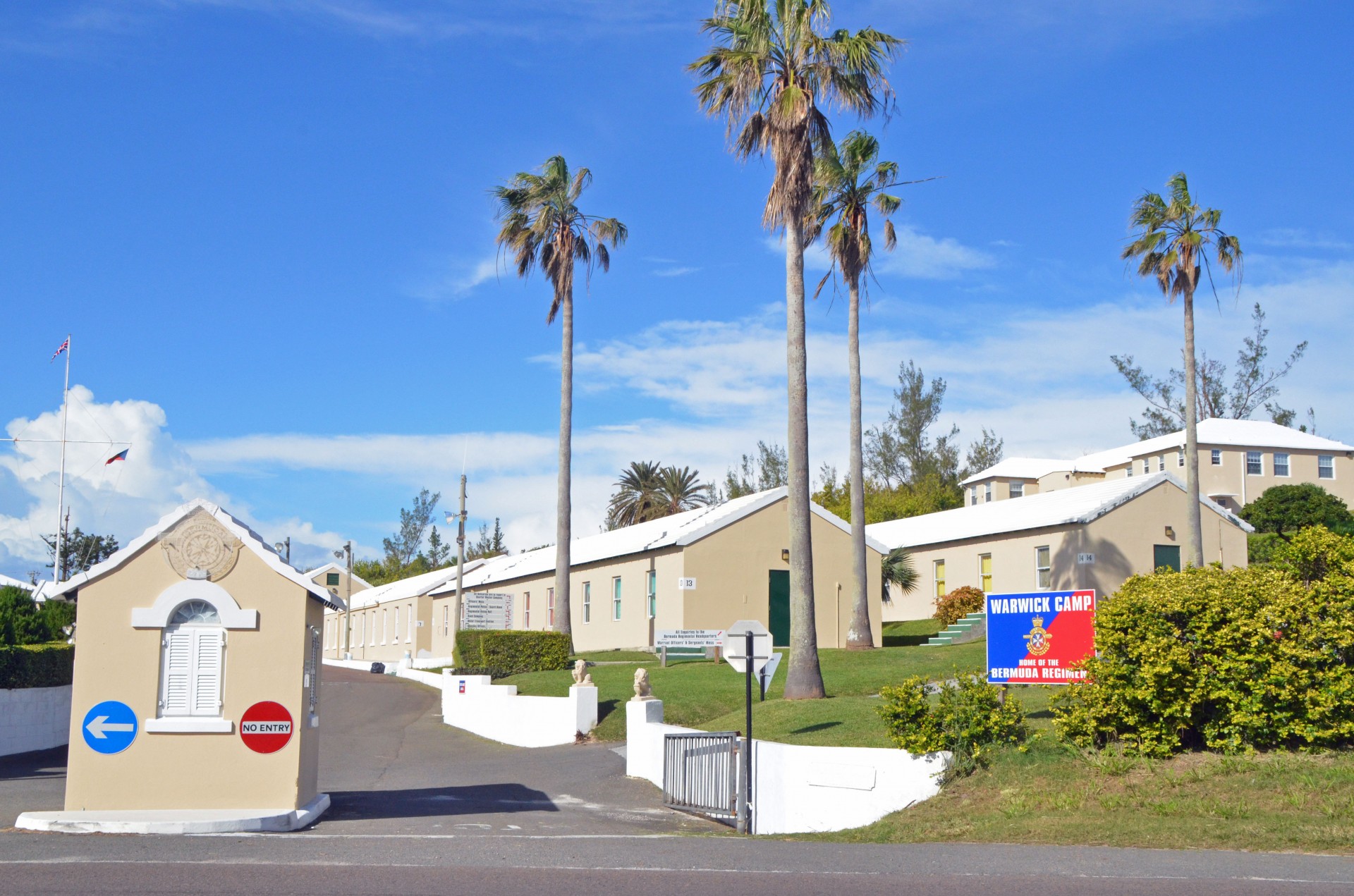 By now we are famished and grab the #7 bus to Hamilton where we alight on Front Street, look for a restaurant and settle on The Pickled Onion  which has a second story balcony overlooking the harbour. Getting a table with a view Alison orders the fish sandwich and I go for the fish tacos. Both are delicious. The Bermudians use a lot of pickled onions in their cuisine and this place lives up to its name.
After lunch we explore Front Street for a while – it's nice with it's colourful buildings in the Bermuda tradition, but not being a shopper its allure is limited.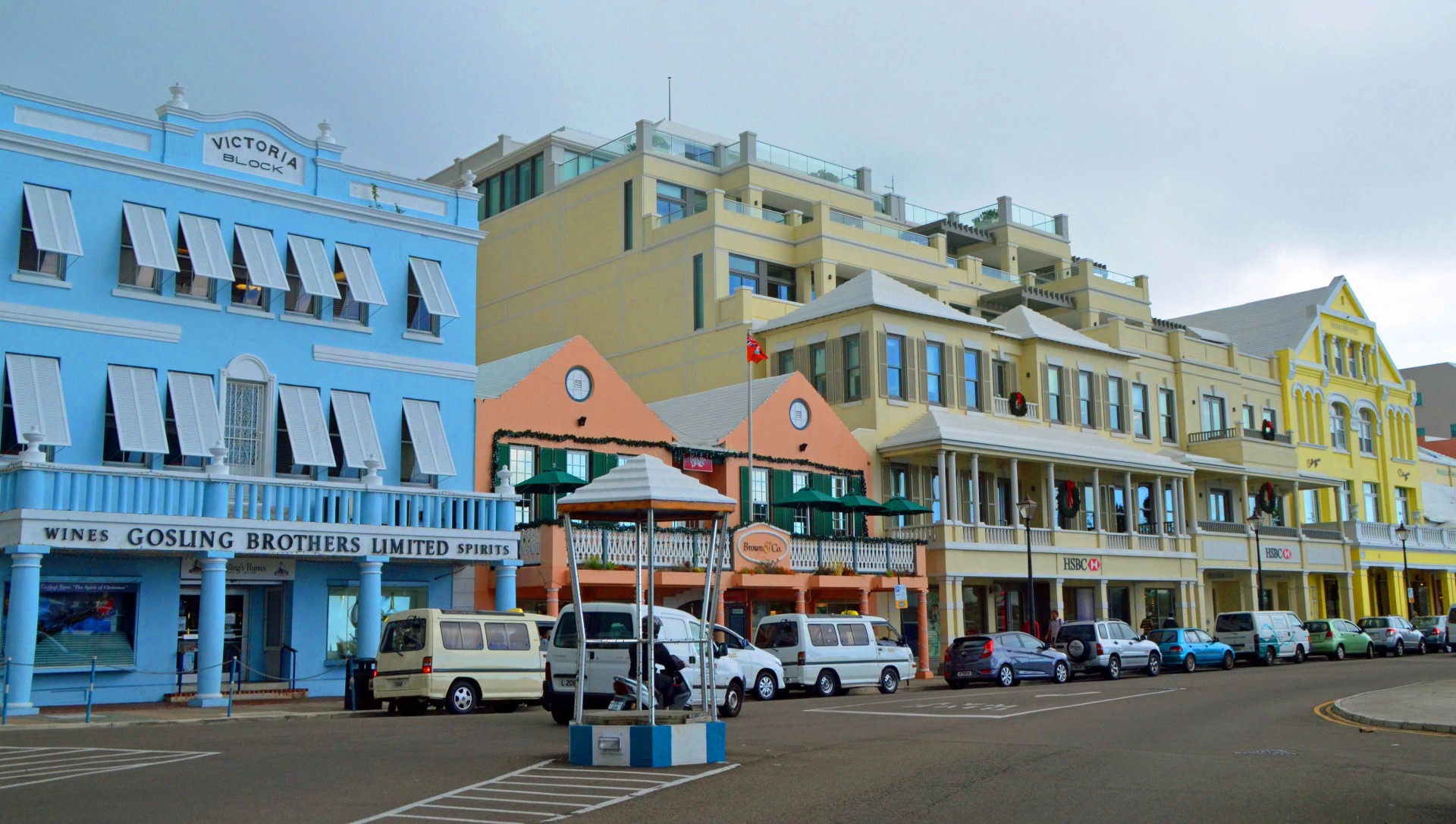 Then we seek out the Fairmont Princess where I stayed many years ago. I cannot help but notice the tremendous changes in Hamilton which has gone from a somewhat sleepy little capital to a bustling place dominated by new office buildings mostly housing insurance and offshore companies that have become the staple of Bermuda's economy along with tourism. Beside the Princess there is the huge Waterfront on Pitts Bay development combining businesses and condos in what is actually a quite tasteful way. As these type of developments go, this one is not out of scale, done on the cheap or architecturally out of sync with the surroundings.
The Princess was undergoing a massive renovation during our visit, but that has long been completed. We dropped into one of art galleries in the Princess and had a chat with the owner who immediately pegged us as Canadians. He proceeded to regale us with stories about his family connections with Canada and the fact that his grandmother was the first black nurse in Bermuda and that she had to go to Waterloo University in the 1920's to get trained, as no place else would accept her. He is not at all perturbed that we don't buy anything.
It is apparent by now that Bermuda is possibly the most successful integration of blacks, whites and other races that we have come across in our travels. Everyone is unfailingly polite and express a genuine interest in all matters Canadian. More than a few have connections to Nova Scotia through Dalhousie and St. Mary's universities. Although the majority population is black, it is not overwhelmingly so and just from observing interactions between blacks and whites there is no obvious underlining tension or subservience on either part. Bermudians seem to be as they say, "Comfortable in their skin" and not concerned about the colour of anyone else's skin. I wish I could bottle this and bring it back to Nova Scotia.
Unfortunately the clouds have opened up and we look for the closest bus stop, along the way coming across this statue to Sarah Bassett,  burned at the stake as a poisoner and a witch.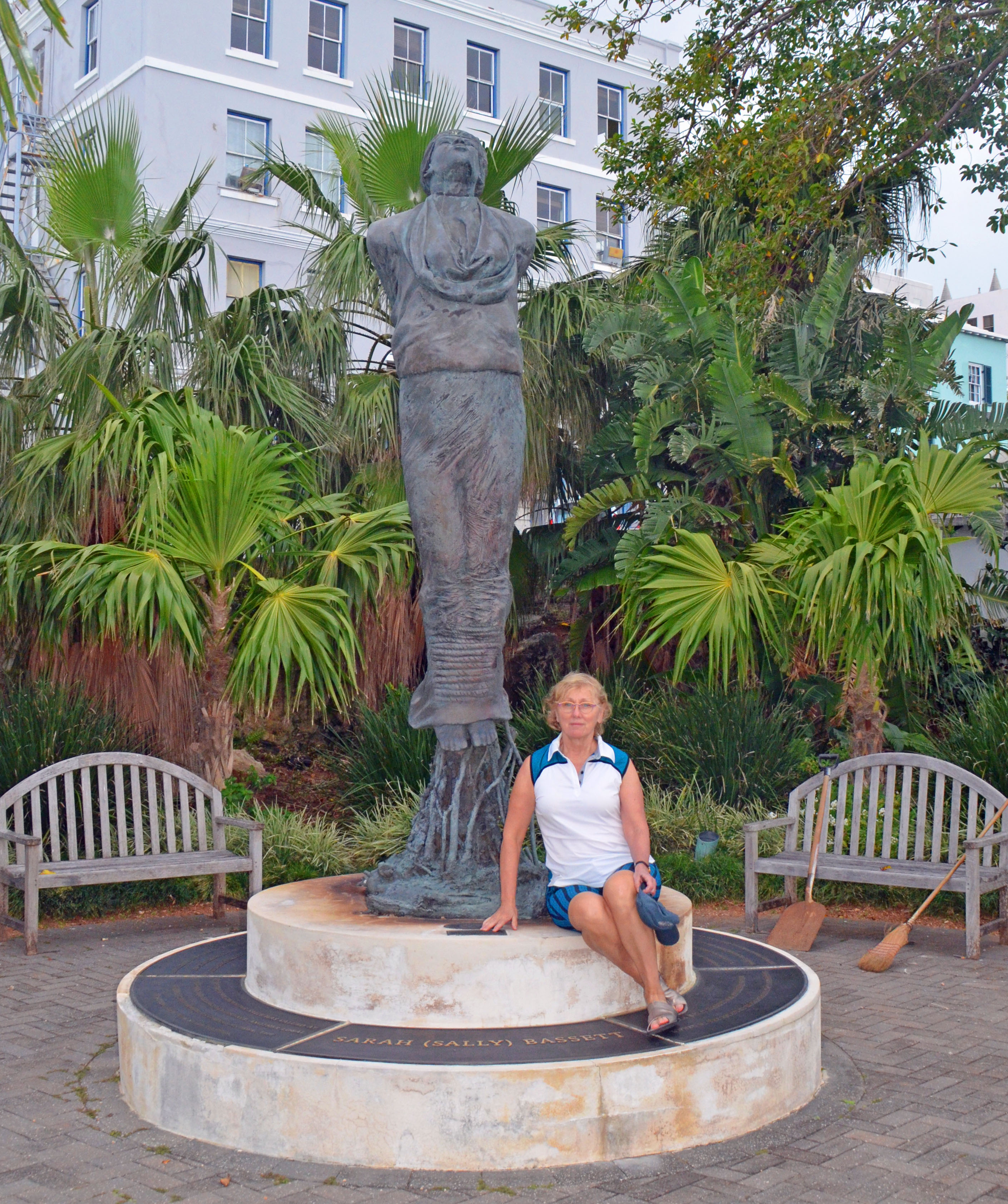 Also, the Bermuda Cabinet House where Alison, apropos her former career as Cabinet Secretary, is invited to enter. The star on the pediment comes from a Christmas decoration and not because Bermuda is turning Communist.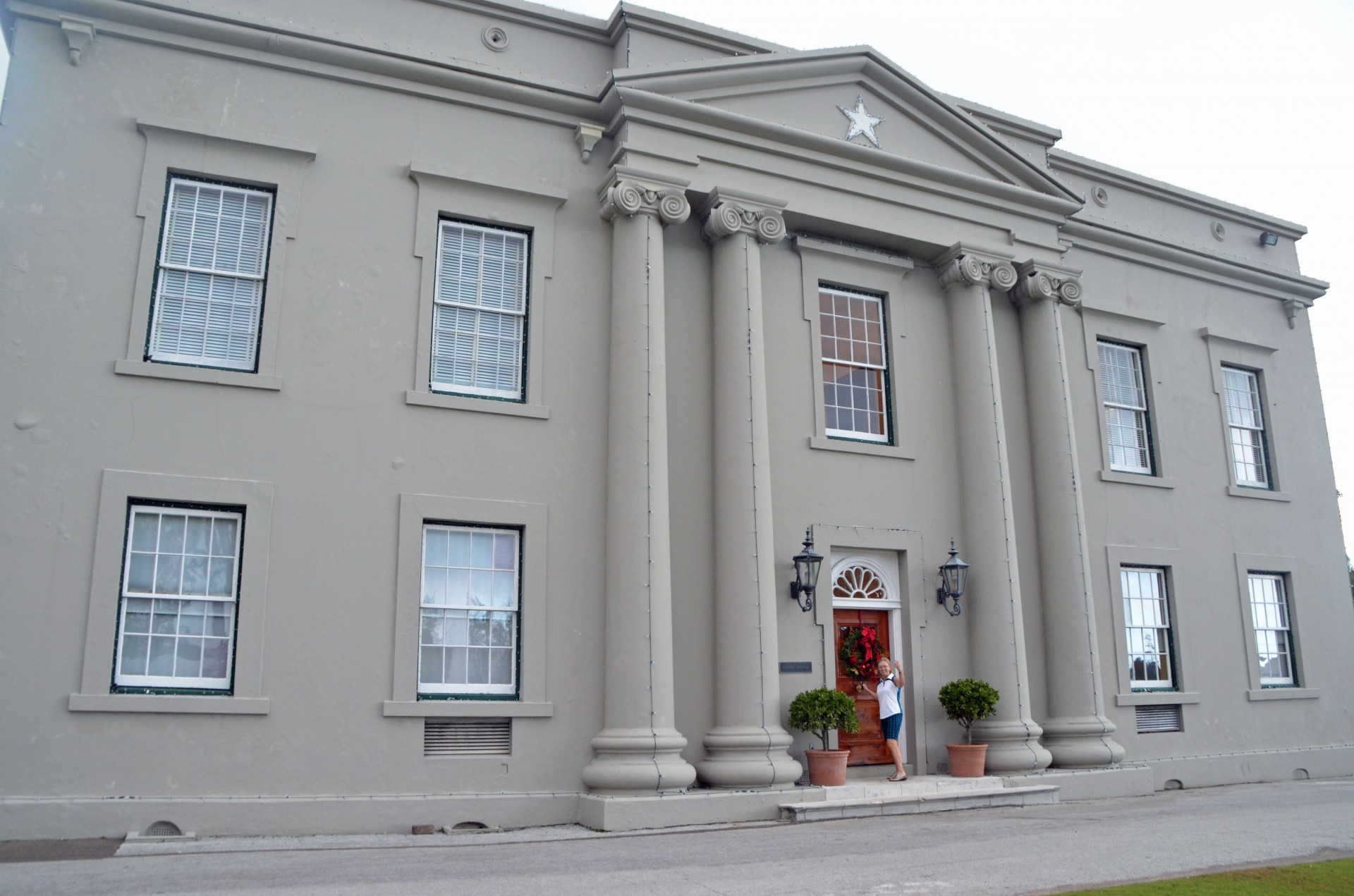 While waiting at the bus stop we listen to a harangue, not threatening in any way, from a gentleman who bemoans the fact that Hamilton city planners have not made better use of the government buildings like the Parliament by renting them out to businesses.
Arriving back outside the Southampton it is still pouring and we get a pretty good soaking slogging up the hill. Despite the turn in the weather it's been a great day at Horseshoe Bay beach and beyond. We decide after our large, late lunch just to share a pizza at the Jasmine Lounge for supper and head to bed early. The two suspects are still on the loose.
Tomorrow we'll hit the links at world famous Port Royal Golf Course and then visit Gibb's Hill Lighthouse. Please join us.