Port Royal Golf Course – Why It's So Difficult and So Beautiful
Yesterday after playing Turtle Hill Golf Course we hit the beach at Horseshoe Bay and then headed for Bermuda's capitol, Hamilton. It's another glorious morning in Bermuda and on our last day on the south coast we are set to golf at one of Bermuda's top courses, Port Royal Golf Club which only two months before played host to the PGA Grand Slam of Golf which pits the four major winners against each other a two day contest. This year Martin Kaymer, winner of the U.S.Open, picked up the coveted Pink Jacket.
As mentioned in  a previous post there were a lot of golfers on the plane from Toronto. It turns out they are part of the Bermuda Goodwill, a week long event that features play at a number of different Bermuda courses with teams from clubs in Canada, the U.S., Ireland and of course, Bermuda. When I called for a tee time at Port Royal Golf Course I was asked if I minded playing a shot gun start starting at 9:00. No problem. We get there early and it's neat to see the pictures of major winners who had been here a few weeks ago, plastered on the clubhouse wall. That's Bubba Watson (Masters), Martin Kaymer (U.S.Open) and Rory McIlroy twice (British Open and PGA).

The course looks absolutely gorgeous from the clubhouse. This photo is looking back at #18 where the greenskeeper is preparing the hole for play.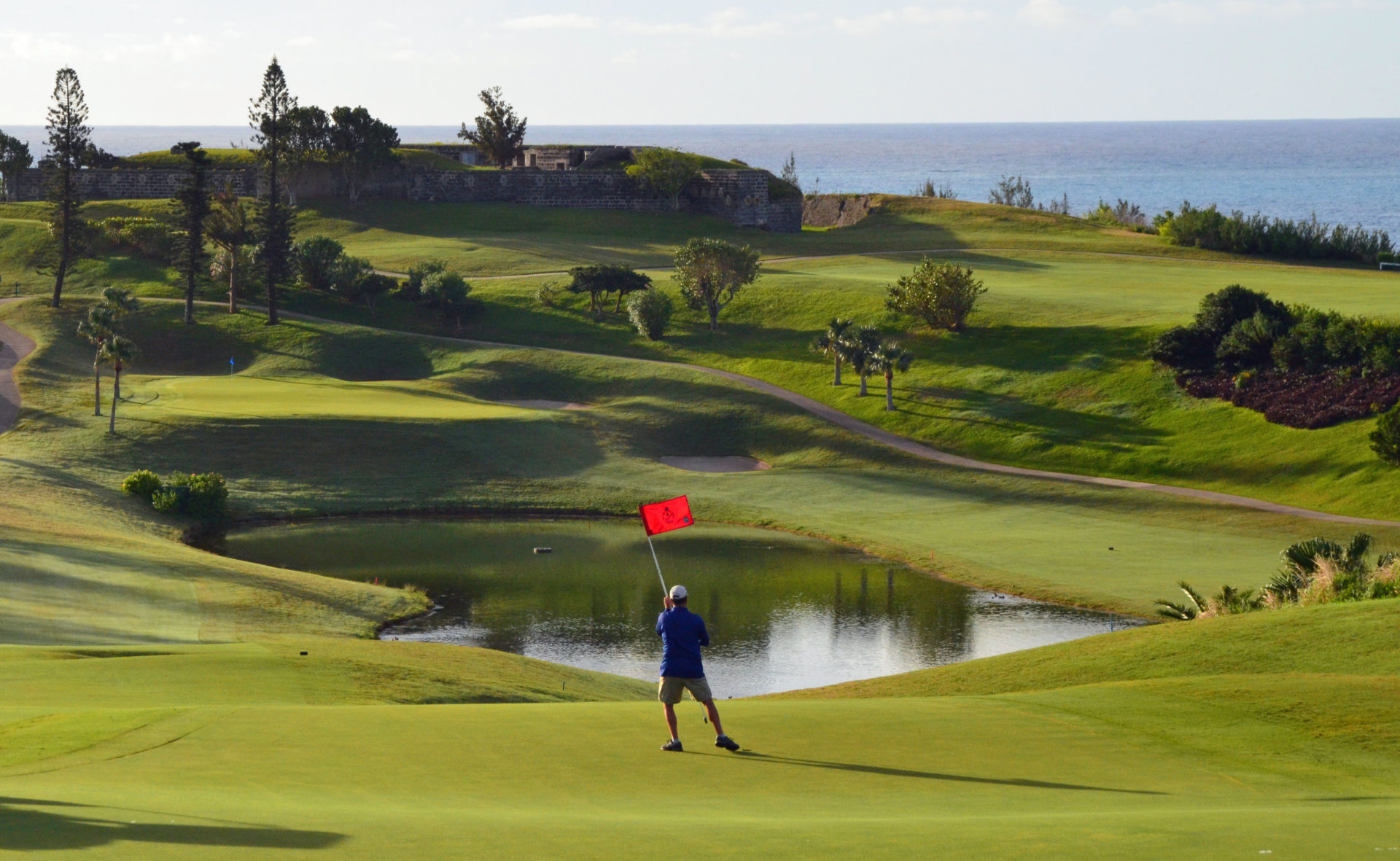 Today the ladies' teams in the Goodwill tournament are playing here as well as us and just a few other guests. We are paired with a father and son team from Tampa who have been coming to Bermuda for years. After a pretty good warm up session on the practice range (never a guarantee of a good game btw ), we head out to #14 which is a very difficult looking dogleg par four. After the great warm up of course I need a mulligan while Alison goes right down the middle. The son of the father/son team plays from the same tees as the pros and still easily out distances all of us.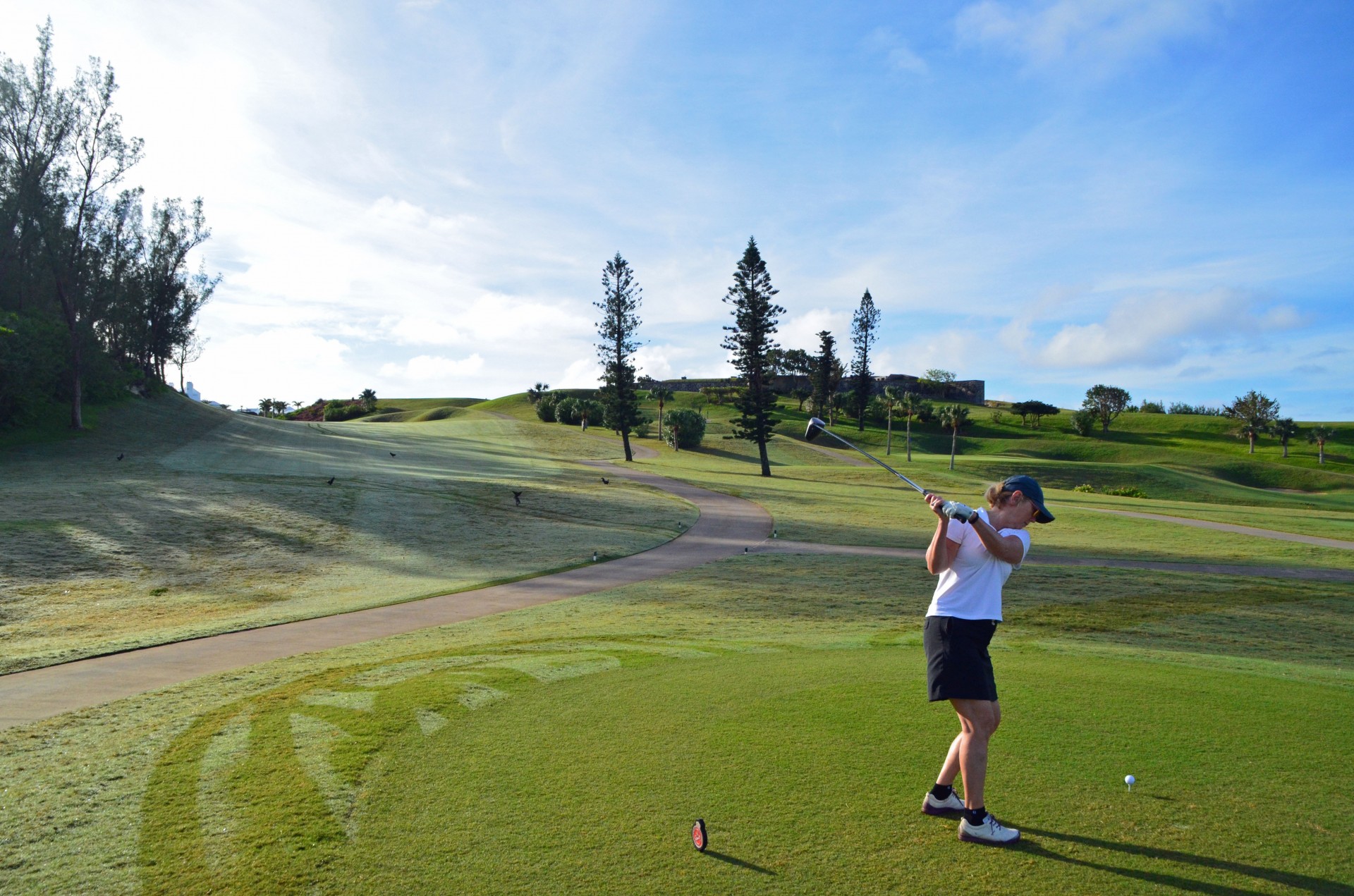 As I am walking up this fairway I am struck by how familiar this course looks to me – I've never played it before so what's up, deja vu? Then it hits me – Princeville, Kauai, Robert Trent Jones. Even though Bermuda is 9,143 kms from Kauai – I looked it up – the Makai and Prince courses at Princeville and this course look remarkably alike. The common factor is Robert Trent Jones, one of the greatest golf architects of the modern era. In both Hawaii and at the Port Royal Golf Course he was given a fantastic piece of land to work with and has created a masterpiece – wait, I'm getting ahead of myself, finish playing the course before you write that.
The holes from 14 to 18 at Port Royal Golf Course are simply awesome and has to be one of the strongest finishing stretches you'll find anywhere. The combination of difficult holes with superb scenery makes for great photos and lousy scores. How often do you have an old fortress to avoid as in this tee shot on #15.

#16 at Port Royal Golf Course is one of the most photographed par 3's in the world and is often featured on brochures and websites expounding the virtues of Bermuda golf. It literally clings to the side of a cliff with nothing but a tee box and a green. Everything else you can see is either ocean on the left or scrub brush on the right. Our playing partners say they have never seen this hole with no wind as it is today. Thank God for that as with my right to left ball flight there is no way I could avoid the drink if it was windy. By some miracle, my shot avoids the water and comes up just short of the green. I can't believe I'm OK. Par is still very much in the equation – until I learn the first of many hard lessons ion this course. There is no such thing as OK if you are not on the green. Everything that misses the green or comes up short is going to end up in a bunker. That's exactly where my ball is and dreams of a par evaporate as I am lucky to get it within 25 feet of the hole. These bunkers are very deep and hitting at the flag is often not an option, but at least the sand is really soft.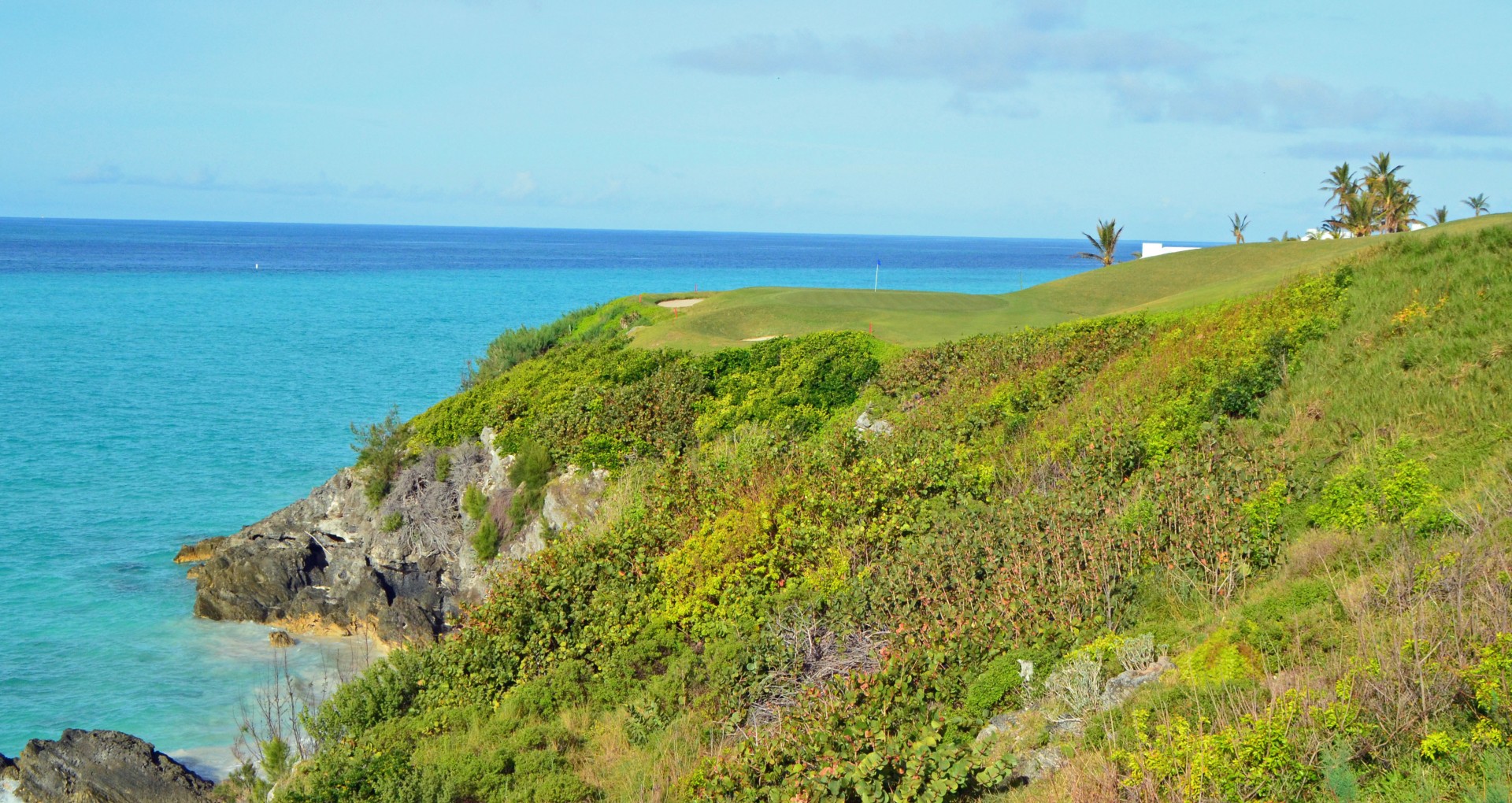 You might not get a par, but you are rewarded with this view from #16 green.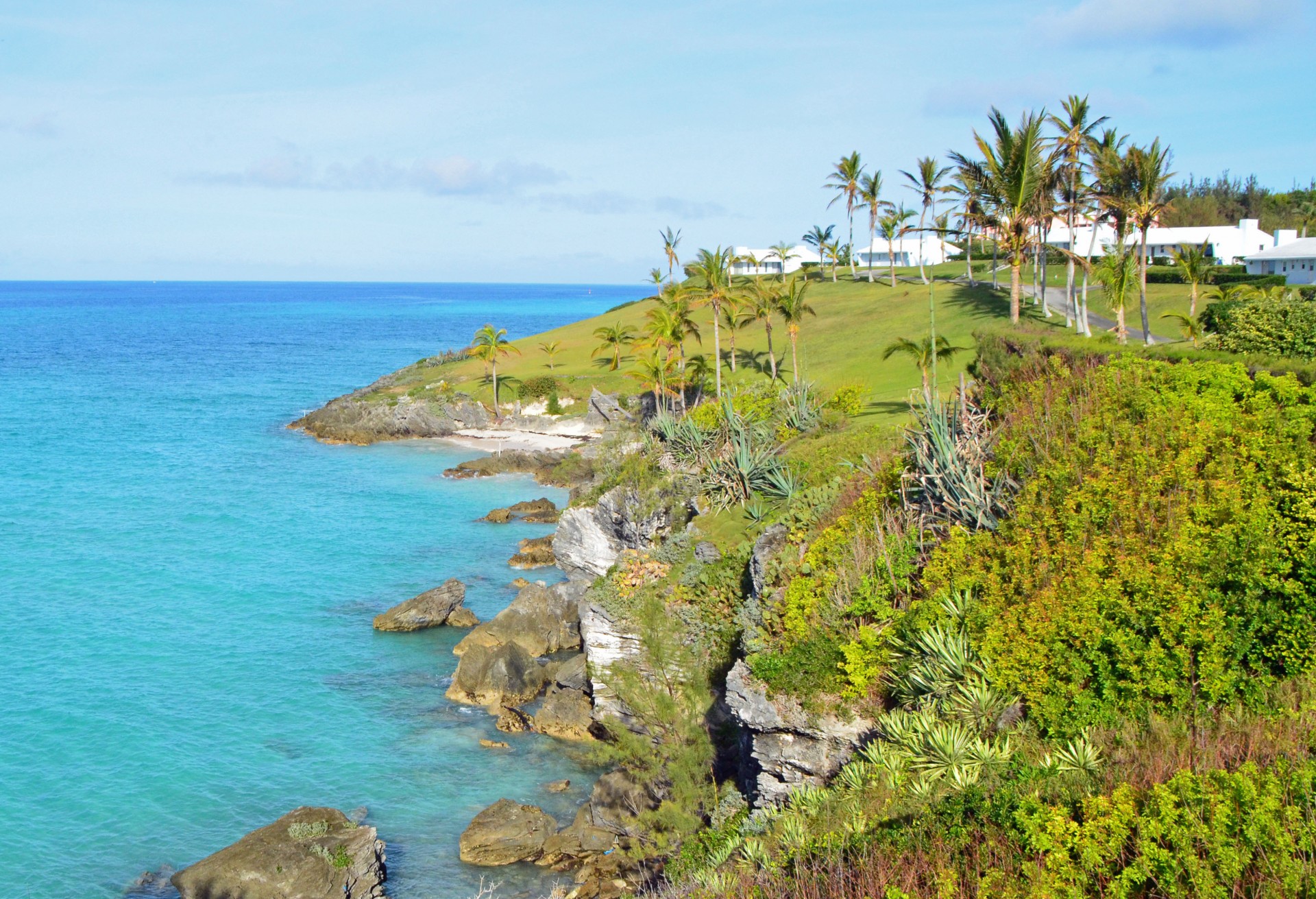 #16 begins a disturbing trend of me thinking I've hit a good shot only to find out that every damn one of them ends up in a bunker. On the other hand my playing partners seem to land just over the bunkers and onto the green from where pars and a few birdies are attained. Frustration, thy name is golf. Here is a classic example on #18 as once again I find the bunkers, but at least Alison had a beautiful view of the ocean in taking this picture.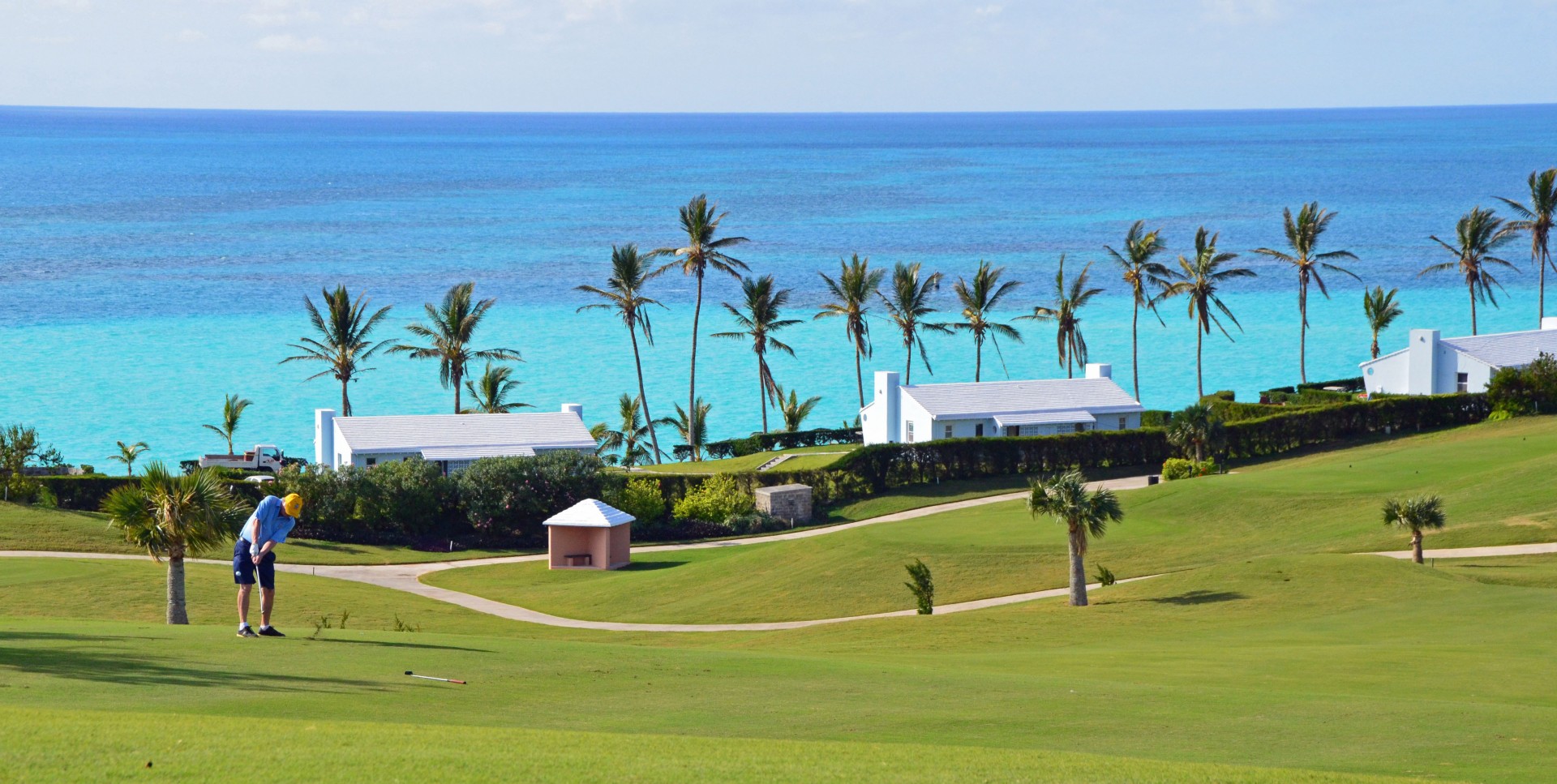 The rest of Port Royal Golf Course is a combination of some great dog legs, a few blind tee shots which I hate and some very tough par 3's. These holes would be memorable in themselves, but pale in comparison to the closing stretch. I'm not proud to report that at the end of the day I was roundly thrashed by the senior of the father and son and quite disheartened to find out that he was 79 years old. The only good thing about it was that he was proof that if I stay in shape I can play the game for a good while yet. Here is a shot of the clubhouse which I was quite happy to head to after playing what must have been at least a dozen or more shots from the sand.

We have a nice lunch at Bella Vista which indeed has a beautiful view overlooking the course and the ocean from its back terrace. Once again the Bermuda fish sandwich turns out to be a good choice.
In summary, the Port Royal Golf Course is a must play in Bermuda (or anywhere for that matter), but don't expect great scores. It's beautiful, but tough.
UPDATE: Little was I too know that the 2014 PGA Grand Slam was to be the last one, thanks in part to an asshole named Donald Trump. The 2015 event was to be held at his course in Palos Verdes, California until he made derogatory comments about Latinos and the PGA cancelled it and could not find a replacement sponsor. Just one more thing this ugly man has ruined in his life.
Returning to the Fairmont by cab I realize I've forgotten the camera bag at the golf course, but not to worry. The ladies at the concierge desk are on the phone to the club where the bag is found and sent back by the same taxi driver who just dropped us off. There seems to be a time on every trip now that I do something stupid and hopefully I've got it out of the way on this trip.
Alison has a two hour conference call which gives me a chance to do some exploring. Grabbing the recently retrieved camera bag I head out on foot for the Gibb's Hill Lighthouse which is a reasonably short walk up some quiet Bermuda lanes.
Gibb's Hill Lighthouse is one of the most auspicious land marks in all of Bermuda, visible from a great distance. Its all white appearance is a contrast to the pastel coloured houses that dot the hillside around it.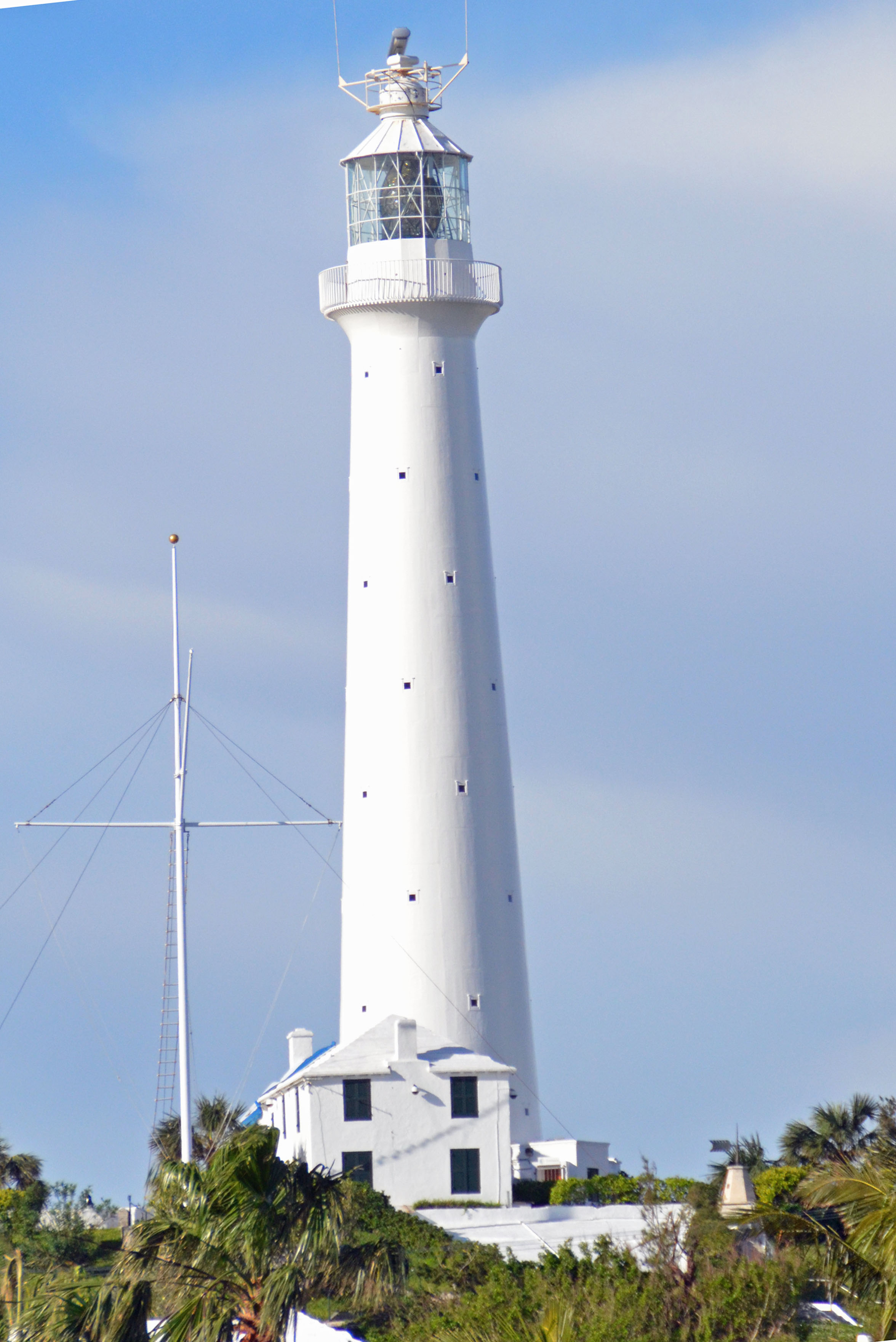 There are very few really magnificent lighthouses that are both in current operation and allow visitors to climb to the very top – in fact this is the only one I can think of. There is a small gift shop where I guess you are supposed to buy a ticket, but today the fellow the fellow in charge says to go right on up.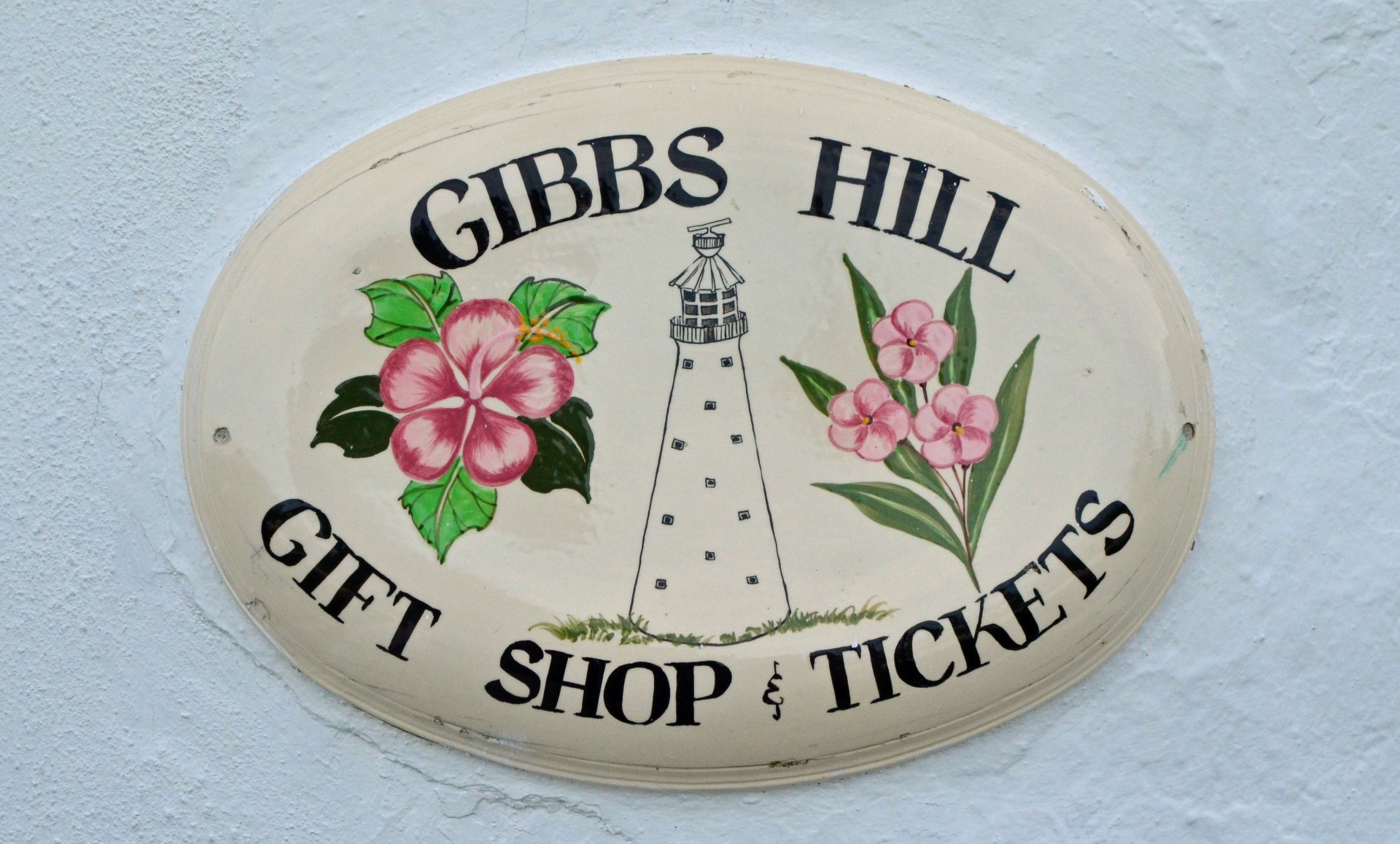 As the Friendly Giant used to say "Look up, look way up."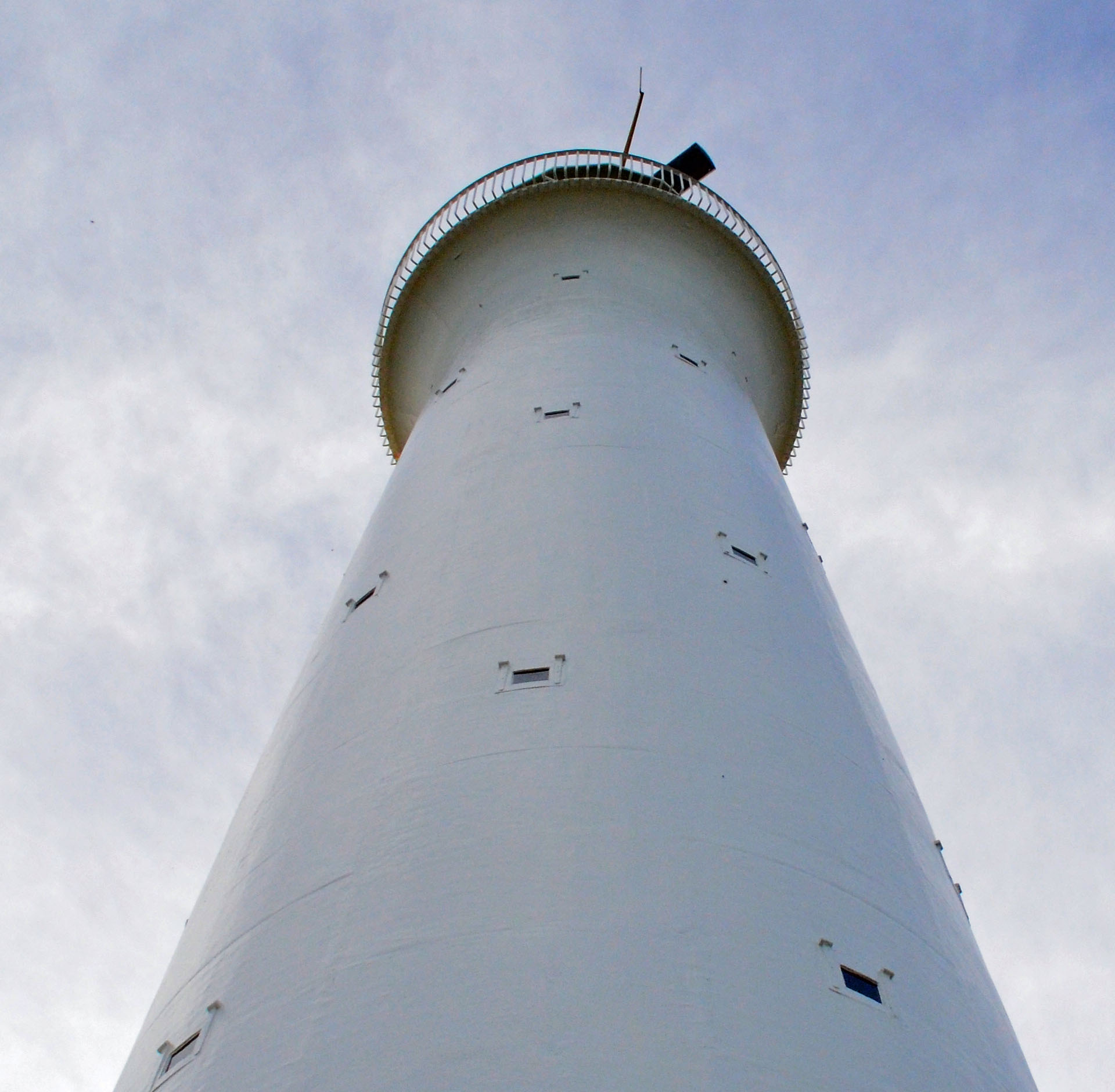 The interior of the lighthouse is quite well lit and wide enough that there is room to pass someone on the stairs. The climb is broken up by stops at every floor to read interpretive panels on the history of the lighthouse, which is only the second cast iron one in the world and still in good working order after over 160 years. The stops make the climb easier and I arrive at the top less winded than if I'd gone straight up. At the top I climb a small iron ladder to actually look inside the huge lantern. The real treat is stepping through the narrow door out onto the walkway and grabbing hold of the railing to get my balance before taking in the view. This is not for those afraid of heights as I am looking straight down as I grab the railing. I can't help thinking that the spaces between the railing bars are wide enough that a little kid probably could  probably worm his way through – yes Charlie, I'm thinking of you.
The climb is rewarded by a panoramic view second to none. Here's looking west toward the Dockyard.

Looking at Great Sound.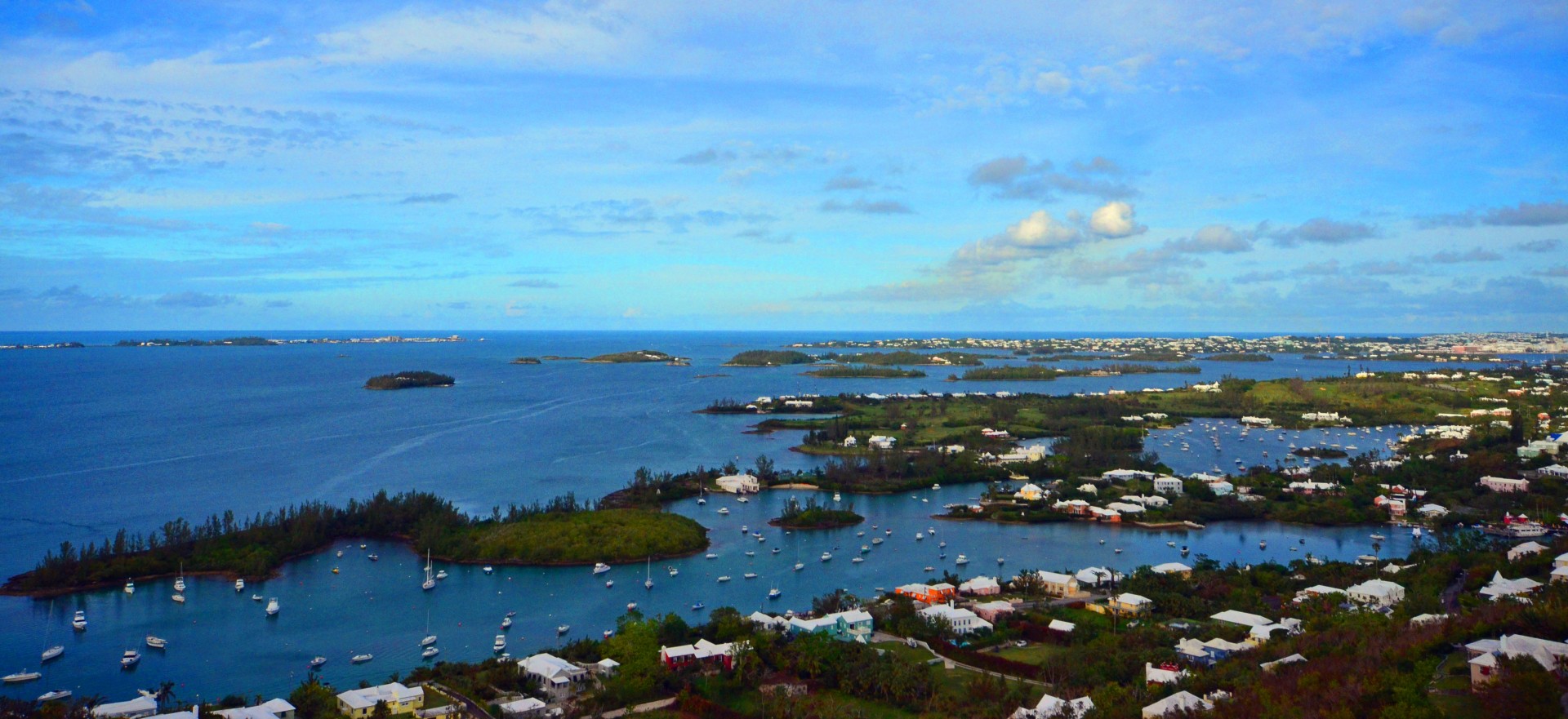 The Fairmont Southampton – gives you an idea how close it is to the lighthouse.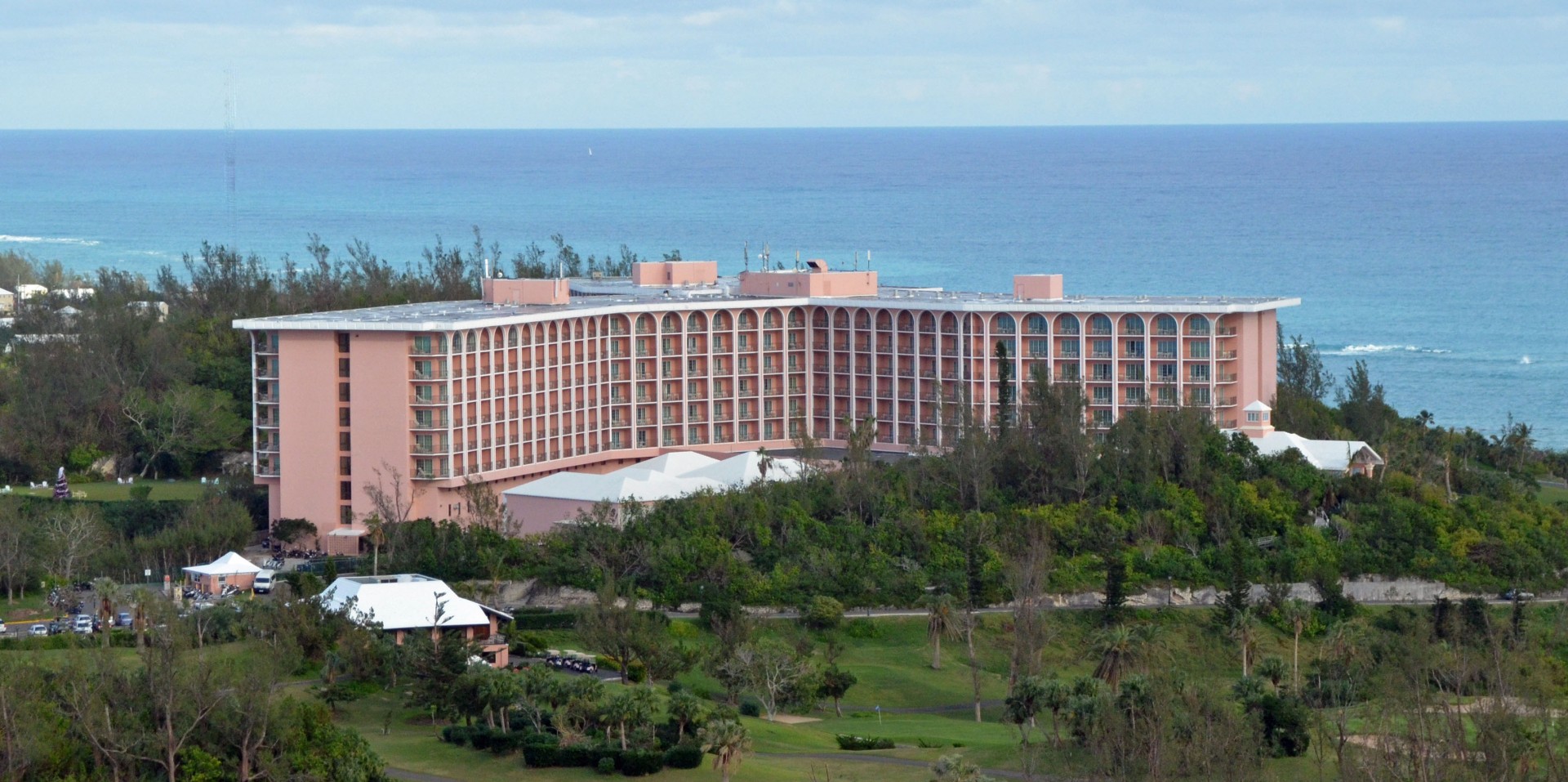 And Riddell Bay Golf Course which we are supposed to play tomorrow.

Bermuda looks pretty cool from this highest point on the island.
This is our last night at the Southampton and we have one more restaurant to try. Bacci was located just off site at the golf course and we get there by talking a nice walk on a pathway surrounded by hibiscus flowers. It's a very romantic approach to what was a pretty romantic Italian restaurant, except for the bawling little brat a few tables over who thankfully is hauled away after our appetizers. The pasta campagna which I order and the risotto for Alison are both excellent and a pleasant change from all the seafood we have been eating. Sadly, Bacci is now permanently closed.
Another early night. I'm getting this eating, drinking, sleeping thing down pat. Tomorrow we head for the eastern side of Bermuda and the Grotto Bay Beach Resort. Please join us there.