Omaha Beach – Making the Most Out of a Visit to this Hallowed Ground
After visiting the U.S. Ranger monument at Pointe du Hoc, Liberation Tour 2015 headed to Omaha Beach, the scene of the largest Allied landing on D-Day and the fiercest fighting. While estimates vary, it seems certain that at least 2,000 young Americans died on the five mile stretch of beach that will forever remain the ultimate icon of the D-Day landings. Most readers will have seen the incredible Omaha Beach landing scene from Saving Private Ryan, but in case you haven't, here it is. Watch the eight minute clip and you'll get a much better understanding of what follows.
Here is a view of Omaha Beach today.

Here is a map of the landings. You can see Dog Green sector which the movie scene depicts, second from the left.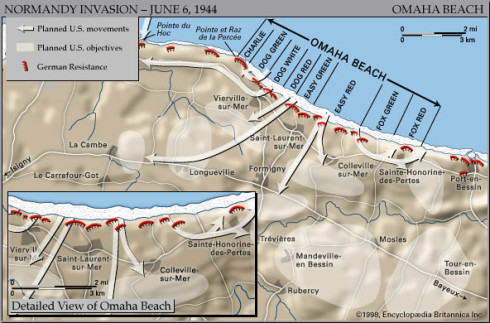 Visiting Omaha Beach
As we exited the bus and walked toward the beach I had a familiar, but unpleasant feeling when I looked down at the beach.

I had seen this type of beach before, although on a much larger scale – at Gallipoli, the disastrous WWI campaign in Turkey that left over 100,000 dead.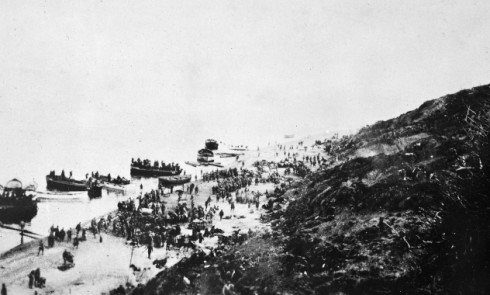 Landing on a beach that is backed by high bluffs and cliffs with only a few ways up is a formula for disaster. And so it was here as well as in Turkey. Standing on Omaha Beach today I looked up and down its long expanse and couldn't help but make the same observations that I made at Juno Beach and at Pointe du Hoc – this is beautiful. The sky is right out of a Rene Magritte painting and I could easily picture Claude Monet setting up his easel here on the beach.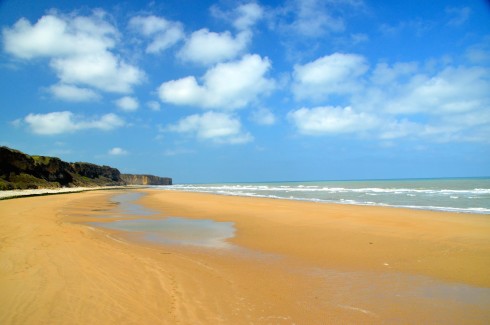 Those are the images I will keep from Omaha Beach, because my mind cannot fathom what happened here on June 6th, 1944. The Omaha Beach monument, Les Braves is a tasteful and appropriate memorial.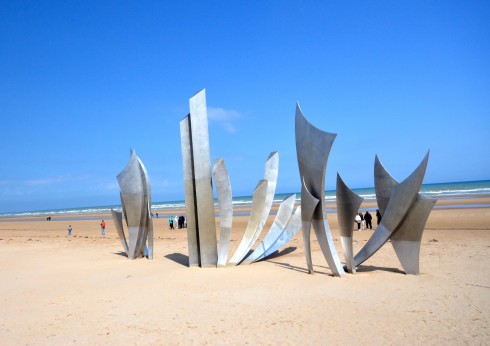 This was also an opportune place for another group photo. That's tour leaders John Cannon and Phil Craig on the far left.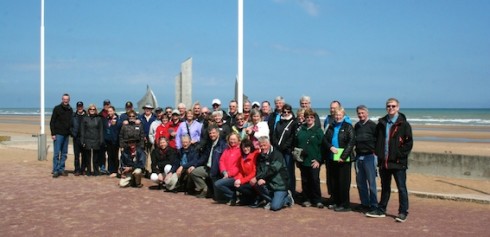 After leaving the beach we had lunch in Vierville-sur-Mer where there is a memorial to the National Guard members who fought here on D-Day which includes this excellent sculpture of one guardsman helping a stricken comrade.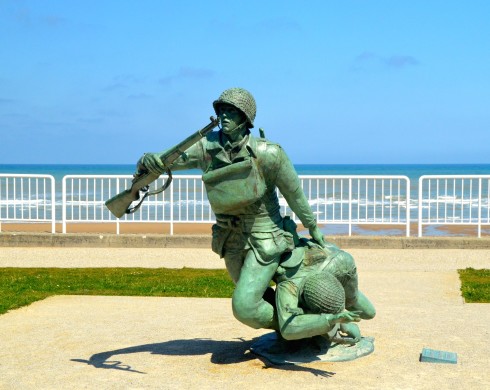 The Cemetery
The Normandy American Cemetery was the next logical stop for the tour. Unlike Beny-sur-Mer Canadian War Cemetery which is well inland from Juno Beach where many of the interred died on D-Day, the American cemetery literally overlooks Omaha Beach. It contains 9,387 burials and commemorates another 1,557 MIAs. The cemetery provided an interesting contrast to the Commonwealth and German cemeteries we had visited previously. All burials, except for those of the Jewish faith are marked by crosses and are widely spaced. That makes for perhaps an even more interesting symmetrical pattern than the stone tablets used in the Commonwealth cemeteries.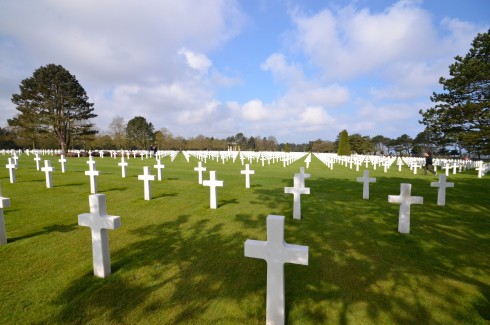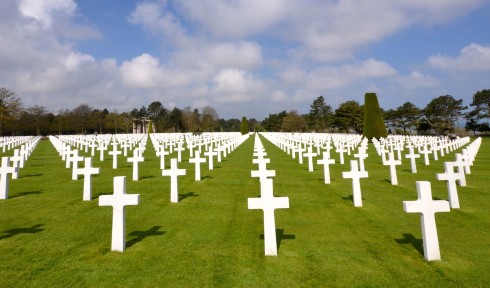 The one thing I really liked about the inscriptions on the graves was that they contained the dead soldier's first name and not just initials, as in the Commonwealth graves. It also identifies what state the person was from. What I didn't like was the fact that the inscriptions were not highlighted and that made them hard to read and they don't indicate the age of the deceased. Here is Thomas E. Reid from Virginia.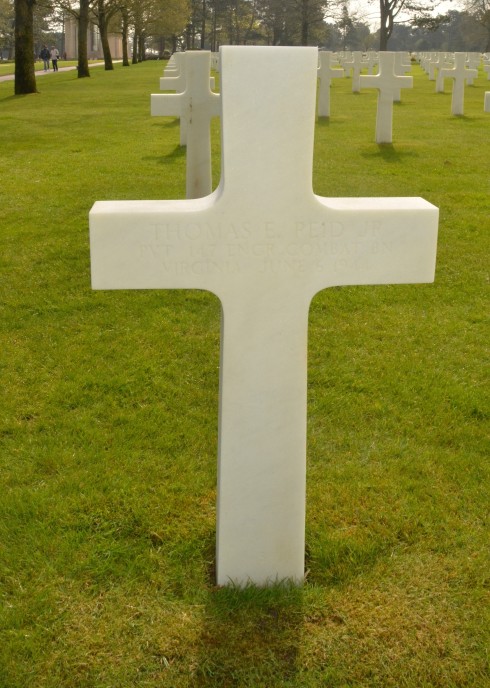 The American war dead cemeteries are administered by the American Battle Monuments Commission and like the CWGC the website provides a search function to look up names of the dead and get more information. In the case of Thomas Reid I learn that he was in the 147th Engineer Combat Battalion which in turn allows me to discover the exact landing vessel Thomas was on and where he landed on Omaha Beach on the last day of his short life. He was one of 49 men in his battalion who landed at Dog Red (see map above) along with a D-7 tractor. Here is an extensive description of the disastrous landings at Omaha Beach in which Private Reid would have taken part.
The cemetery has a very nice reflecting pool.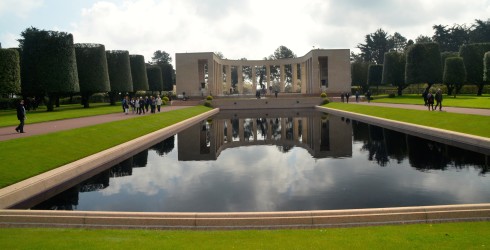 And this statue entitled "American Youth Rising from the Waves", which is quite a mouthful and just a bit too fey to portray the horror that occurred here on D-Day.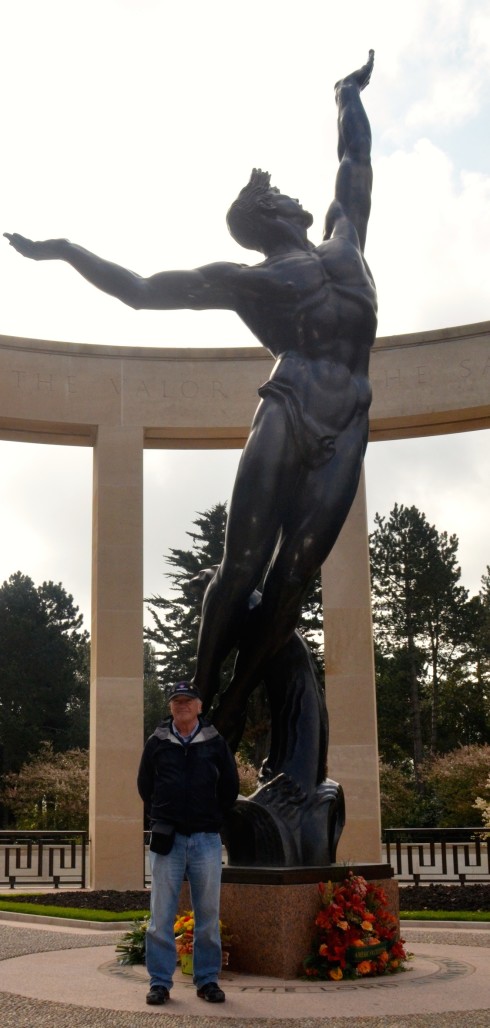 At the far end of the cemetery these two statutes representing United States (Lady Columbia) and France (Marianne) seemed more appropriate to me.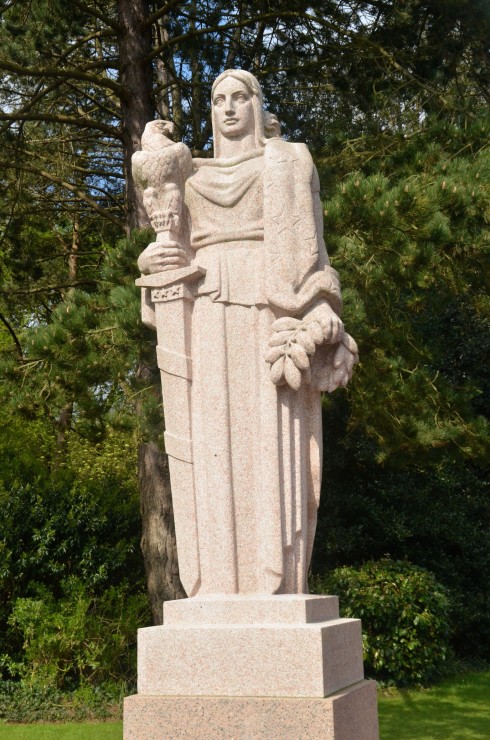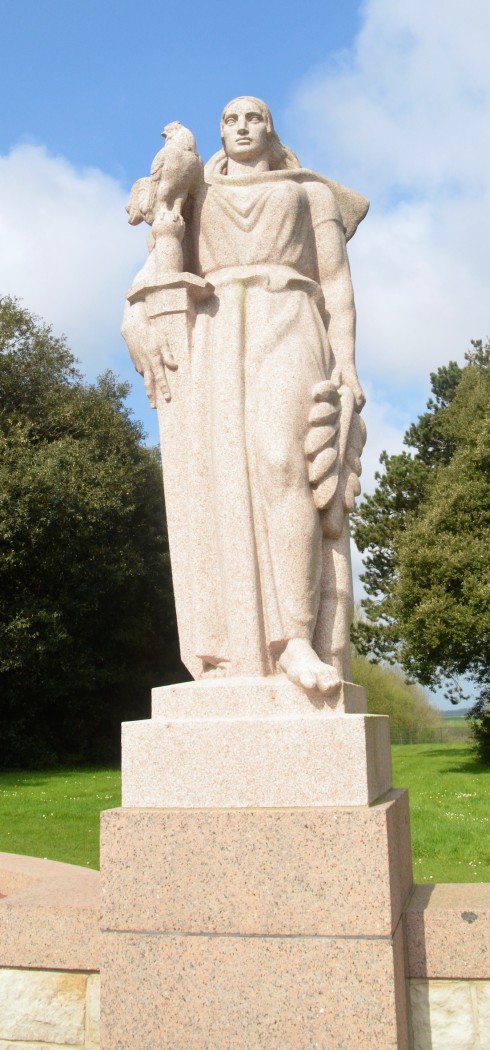 The last place we visited on Omaha Beach was one that I would skip on another visit. As John explained it, in order to get into the Visitor Center we would have to go through American style security conducted by Frenchmen and he was dead on. Why you would need to go through security to get into a visitor center is beyond me and frankly put a real damper on the whole experience. If these thousands of boys and men died to advance the cause of liberty and freedom then something's not right about having to virtually strip to get into the shrine to liberty. Once inside there was absolutely nothing of particular value that would be worth attacking, stealing or vandalizing. If terrorists were going to do anything at Omaha Beach they would have plenty of targets without worrying about getting into the visitor center.
I don't want this post to end on a down note, but we are talking about D-Day which, as glorious as it was to the non-participants, was hell on earth for those who were there.
Next we are off to a site I first visited fifty years ago and still have vivid memories of – Arromanches and Port Winston Churchill. Please join us.