Portstewart Golf Club – A Must Play Course in Northern Ireland
Today is day four of the Irish golf trip I have undertaken with seven other friends and we are headed for Portstewart Golf Club which our driver Barry McGuigan assures us will be a real challenge. If the course is as nice as the drive is then we are in for a treat. It is a beautiful morning in Northern Ireland and the drive along the coast takes us past the ruins of Dunluce Castle and then through the town of Portrush where we will be playing tomorrow.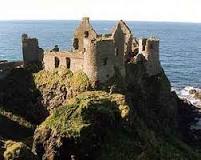 Portstewart is nice little seaside resort town which is dominated by the golf links that stretch out along a peninsula that guards the mouth of the River Bann. Yesterday we played Castlerock Golf Club which lies on the other side of the River Bann and if today's course has views as nice as Castlerock's then the golf might be an afterthought. The best part is that yesterday it was dark and cloudy while today is bright and sunny and just a bit windy, but we'll ignore that for now.
History of Portstewart Golf Club
After dropping our clubs Barry, in what is becoming a familiar scene, is greeted like a long lost brother by the caddie master and the guys in the pro shop. We are likewise given a warm greeting by the eight caddies Barry has arranged for today's outing. I am teamed with Mark Cutler who is more than anxious to make sure I have a good day and appreciate the history of Portstewart Golf Club. While the club dates back to 1894 and has three courses, the real challenge is apparently on the front nine of The Strand course where seven of the nine holes were completely redesigned by an internal committee to fully take advantage of the dramatic dunes landscape found at Portstewart. When Mark finds out I am a golf journalist he is doubly anxious to see how I will handle his home course. I remind him that being a golf journalist is not the same thing as being a good golfer.
Playing the Course
At last it's time to step up to the first tee and while I have been jawing with Mark I haven't really noticed where we are. All I can say as I take a look at #1 tee is "Holy shit!" What a view. That's the Portstewart strand down the right side and those are some serious dunes behind it.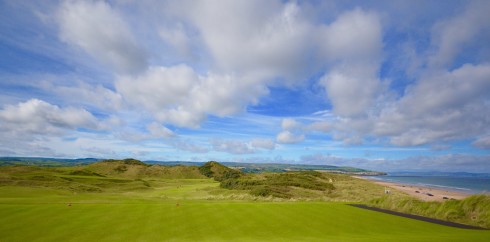 What you can't really see from this picture is the dramatic change in elevation from the tee box to the fairway and the narrow landing area. The white tees are 6606 yards while the reds are 5853. I made inquiries of Mark about maybe, just maybe playing from the reds and he simply replied "But those are for the ladies". Oh well, I tried. The name of the first hole is Tobber Patrick whatever the hell that means. I think a better named, based on the performance of our group, would be "Automatic Mulligan" or "Breakfast Ball" as they call them in Ireland. Who would have thought that the one place a mulligan wouldn't be a mulligan, was Ireland?
Within a few minutes of walking Portstewart I am aware that it is something special. The fairways are immaculate and the greens superb and protected in some cases by dunes rather than traps.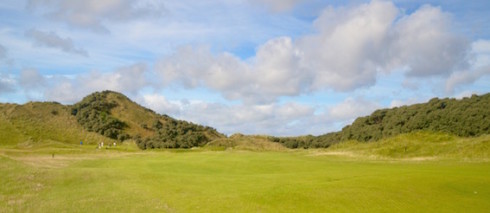 By some miracle I survive #1 with a bogie, but reality sets in on #2, the aptly named Devil's Hill. Here you need to drive your ball through a narrow shoot to what appears to be a nearly non-existent fairway.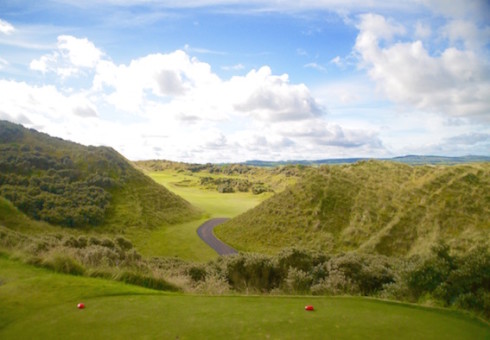 I am struck by how much this hole reminds me of playing in the American West and Brian pipes in and says it's exactly like a hole at Wolf Creek in Mesquite, Nevada. Brian's caddy then says "Yeah, I play it all the time" Really? "On my XBox" he explains. The bottom line is I was not expecting this type of elevation change on a links course. It is quite spectacular to look at. Lying two at the bottom of the hill leading up to the green I learn why this hole is called Devil's Hill. It takes me three tries to get the ball to stay on this bloody green as it has a huge false front. So much for a good score.
Here's another example of the elevation change on #3, The Settlement. As you can see, you either hit the green or are s.o.l. pretty well anywhere else. Did I mention that this course is tough?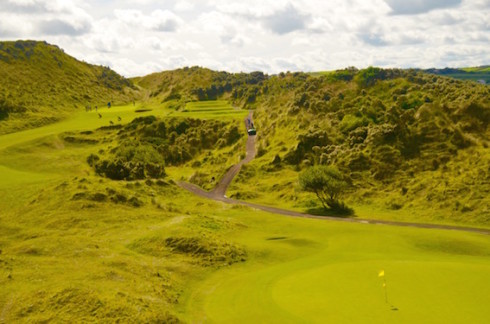 The front nine at Portstewart Golf Club is brutally hard from tee to green and then a three putt awaits all but the best putters. For example on this par 3 Don managed to stay on this crowned green only to putt it off and down in the valley where he took two more shots to get on and had to sink a ten footer for a double bogie.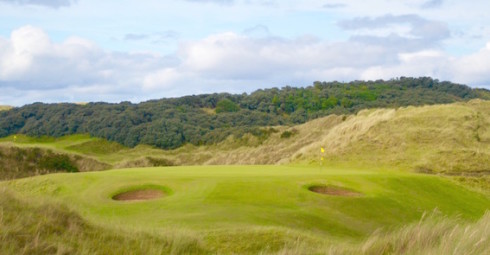 Oh well, at least we can pose for a picture and pretend we are golfers. It's a beautiful place to be.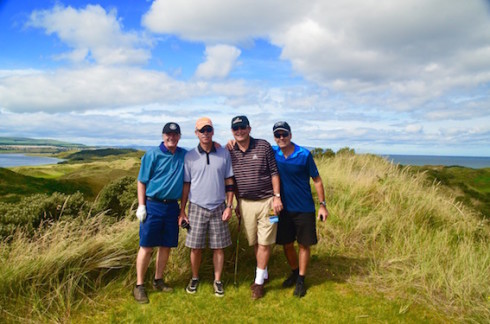 Here is the shoreline along #4.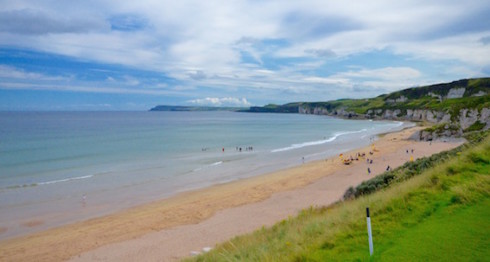 At last we come to the end of what might be the toughest nine holes of golf I've ever played – at least that's what my scorecard indicates. No sweeter words are spoken than Mark's comment that the back nine is much easier and he is true to his word. We are now through the dunes and into pastoral country. That's the River Bann in the background.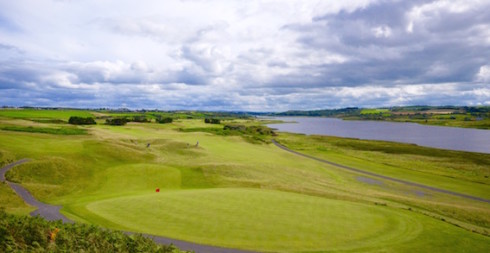 While the back nine can't possibly live up to the challenge of the front nine it is still a good test of golf.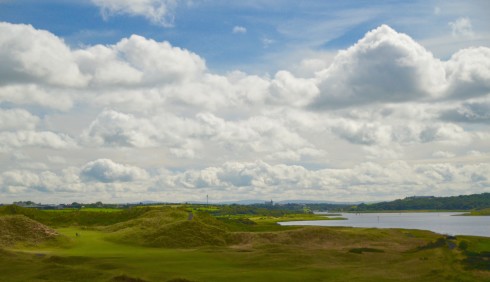 All in all Portstewart Golf Club has more than lived up to Barry's prediction that we would find it challenging. Our foursome has had a great time with our caddies and I have promised to send Mark a copy of this post. I hope you like it Mark.
Beannacht from Portstewart Golf Club. Tomorrow we head to Royal Portrush, host to the British Open the year I was born.