Coaticook Gorge and Oka National Park
I almost hate to write this, but it is the final day of the Quebec RV trip. Our destinations have been the Outaouais and Eastern Townships regions of Quebec and for five straight days we've had phenomenal weather. Last night it rained heavily, but not until we'd had a chance to experience the out-of-this-world Foresta Lumina. This morning it's starting out cloudy, but according to the forecast it will clear up and we plan to take advantage of that by visiting the world famous Coaticook Gorge. Actually, we've already been there as the Foresta Lumina is partly in the gorge, but it was in the dark and I want to see if this babe looks as good in the daylight as she does at night.
 Breakfast in Coaticook
But first we head for downtown Coaticook to look for some breakfast. As it's Sunday morning I'm not overly hopeful of finding anything more than a Tim's, but to our surprise there are a number of local restaurants open and they all seem to be well patronized. We park and start walking back to the Cafe Central which we choose for no particular reason. Coaticook has these really neat decorative lamp posts that I would love to see lit up at night. It fits right in with the Foresta Lumina idea.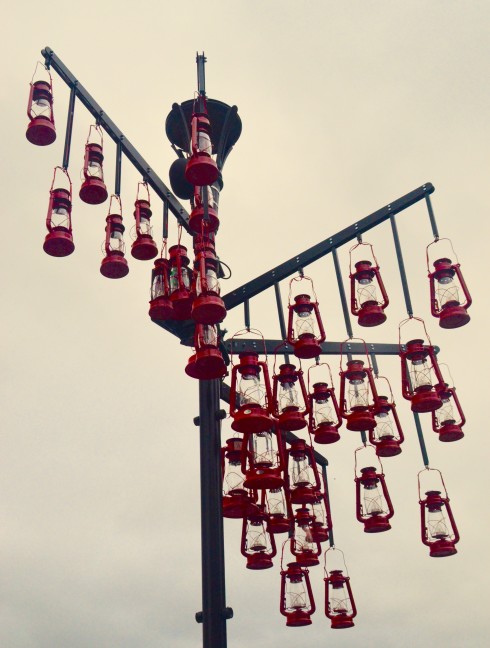 There's only a few booths unoccupied at Cafe Central which apparently has been a family business since 1961. The menu is ridiculously long, but since I always look for something different, I zero in on the breakfast club. Dale agrees, but makes his a super breakfast club. These are basically really good and big club sandwiches with the addition of a fried egg to the usual ingredients. The coffee is great too. The Cafe Central is an example of one of Dale's Rules for Fine Dining. Rule #22 – if a small town has a McD's and and a Tim's (which Coaticook has) and people are still going to a local diner, then it's because it has to be good.
Declining a fourth cup of coffee we get back in the RV and head for the entrance to Coaticook Gorge. There are actually two choices – the first starts at the gorge proper and the second starts on the banks of the Coaticook River and involves a half mile walk into the gorge. We choose the latter because there's a really nice little covered bridge to cross to get there.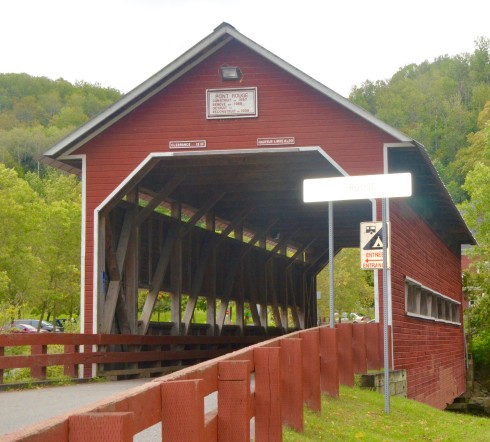 On the other side of the bridge there's a great looking campground which I regret not having stayed at, but then again I regret not staying at a lot of places – gives me a reason to go back.
Coaticook Gorge
The path into the gorge leads along the river to the site of an old mill which I mistakenly assume is now disused, but interpretive panels advise that from 1871-84 clothespins were made here, from 1897-1976 Penman's underwear and from 1976 to the present surgical gloves. Here's Dale on the dam just in front of the mill.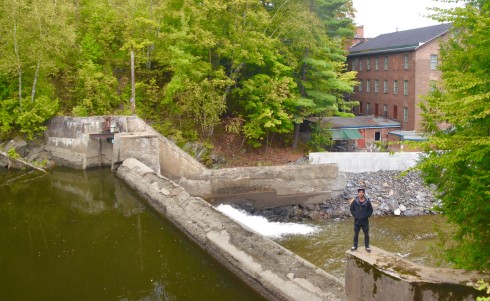 After about a kilometre we arrive at the same spot that we entered Foresta Lumina last night. It looks a lot different during the day with about a thousand less people. Still, it's pretty neat with the hanging lamps and seven iron panels telling the stories of the various denizens that inhabit these woods.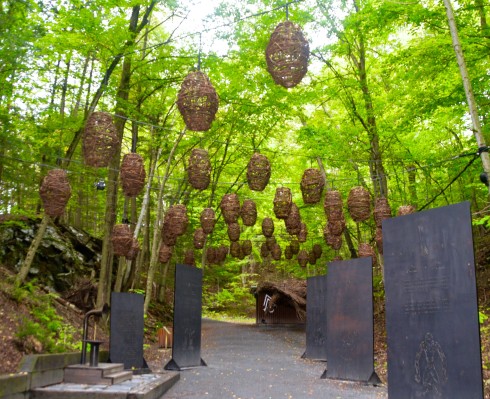 The highlight of Coaticook Gorge is undoubtedly the suspension bridge. Guiness recognizes it as the longest pedestrian suspension bridge in the world – take that Capilano!

Last night there were throngs of people crossing the bridge in the dark – this morning we have it to ourselves.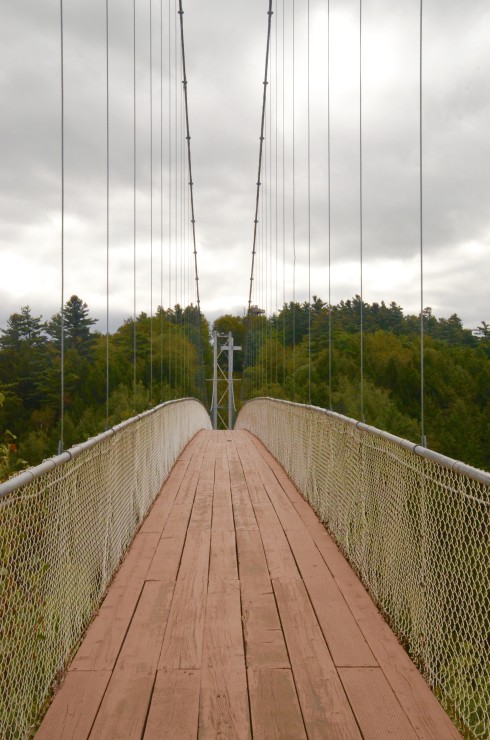 Here are a couple of views looking down – not for acrophobics.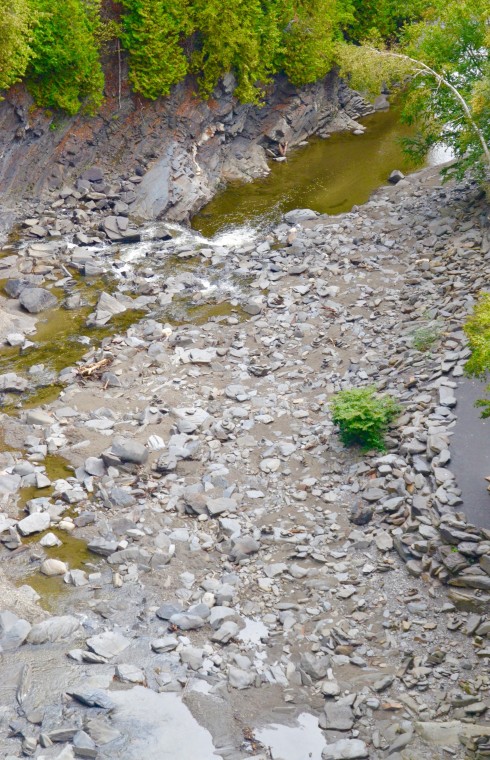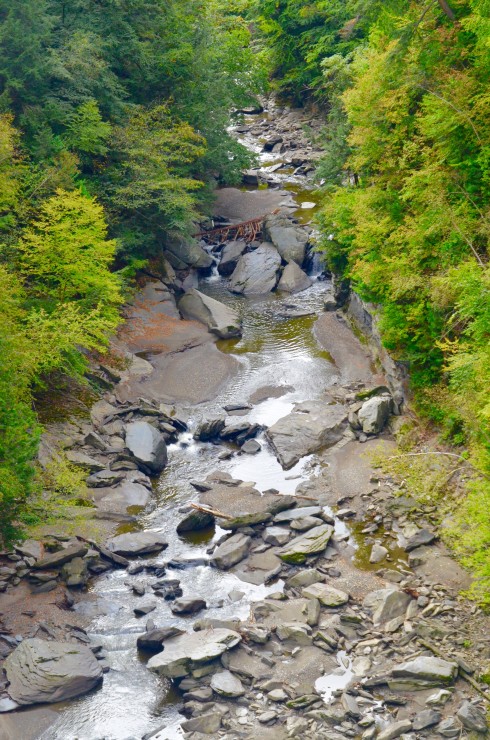 After the bridge there is a tower to climb that that gives you a view of the bridge from above, so now you're pretty high up. Won't this look great in a couple of weeks as the leaves turn?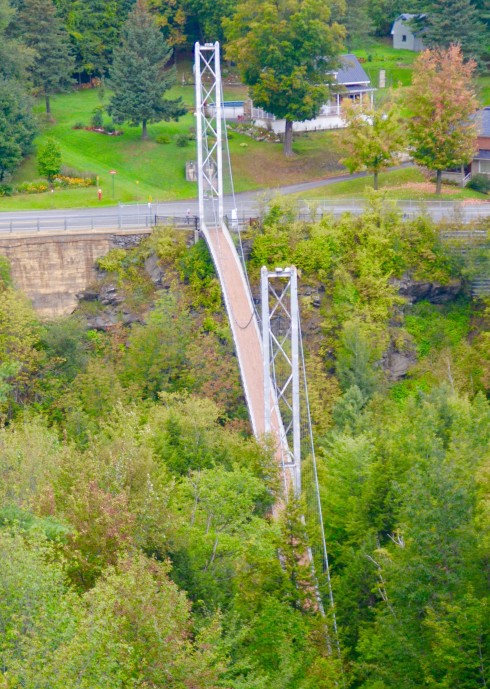 After the tower there is a gradual descent back to the river through a hemlock and then a pine forest to the mixed forest at the river's edge. Returning to the car park area we come across this very stylish inukshuk. Can't go anywhere these days without an inukshuk.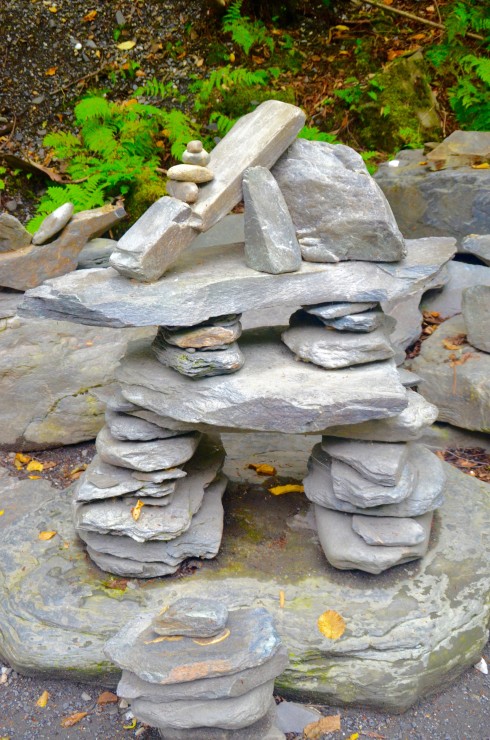 So that's the Coaticook Gorge, by day and by night – a truly, beautiful spot and the best part is that if you come here in the day it's free. Way to go Coaticook.
Oka National Park
Initially we had planned to spend two nights at Camping de Compton, but I have realized that we will never get back to return the RV on time if we don't get closer to Montreal so I have booked us into Oka National Park for the last night. We have a pleasant three hour drive getting there and as it's Sunday night the campground is almost deserted. It's another wonderfully wooded large lot. I have to say I love these SEPAQ campgrounds.
We dine on the cheese we bought yesterday from Le Station Fromagerie and I don't feel a bit guilty about bringing cheese to Oka. This is not a coals to Newcastle situation because I can buy Oka cheese in Nova Scotia, but not the other stuff.
Monday morning is just simply gorgeous. Here's Dale going for an early dip in the positively serene St. Lawrence with the gulls looking on.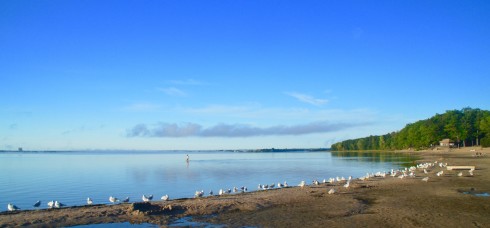 There is definitely a twinge of sadness as we end what has been a fantastic week in Quebec. We have seen great things, done some crazy things, ate some crazy good food and met some really good people. Au revoir La Belle Province.