Dalmatian Islands by Bike and Boat with Pedal and Sea Adventures
In the last post I described how and why Alison and I ended up sailing the Dalmatian islands on the motor yacht Azimut with a crew of seven and only four passengers. This Dalmatian odyssey is organized by the Nova Scotia based Pedal and Sea Adventures which offers six different Croatian itineraries. We dropped our luggage off at noon, met our guide Mario and then toured the medieval city of Trogir for two hours in the rain before returning to the boat for a projected sail to the nearby island of Solta. Back on the boat we met our fellow travelers, Cindy Hooper and her husband Gary McLaughlin who seem to be about our age and in pretty good shape. Gary runs his own accounting firm in Pictou, Nova Scotia and Cindy is a retired nurse and homemaker. I'm pretty sure we are going to get along just fine considering that I've done so with my own Pictou County bride for over twenty years. Here's the four of us with Mario – fresh faced and eager to start the adventure on the Dalmatian islands.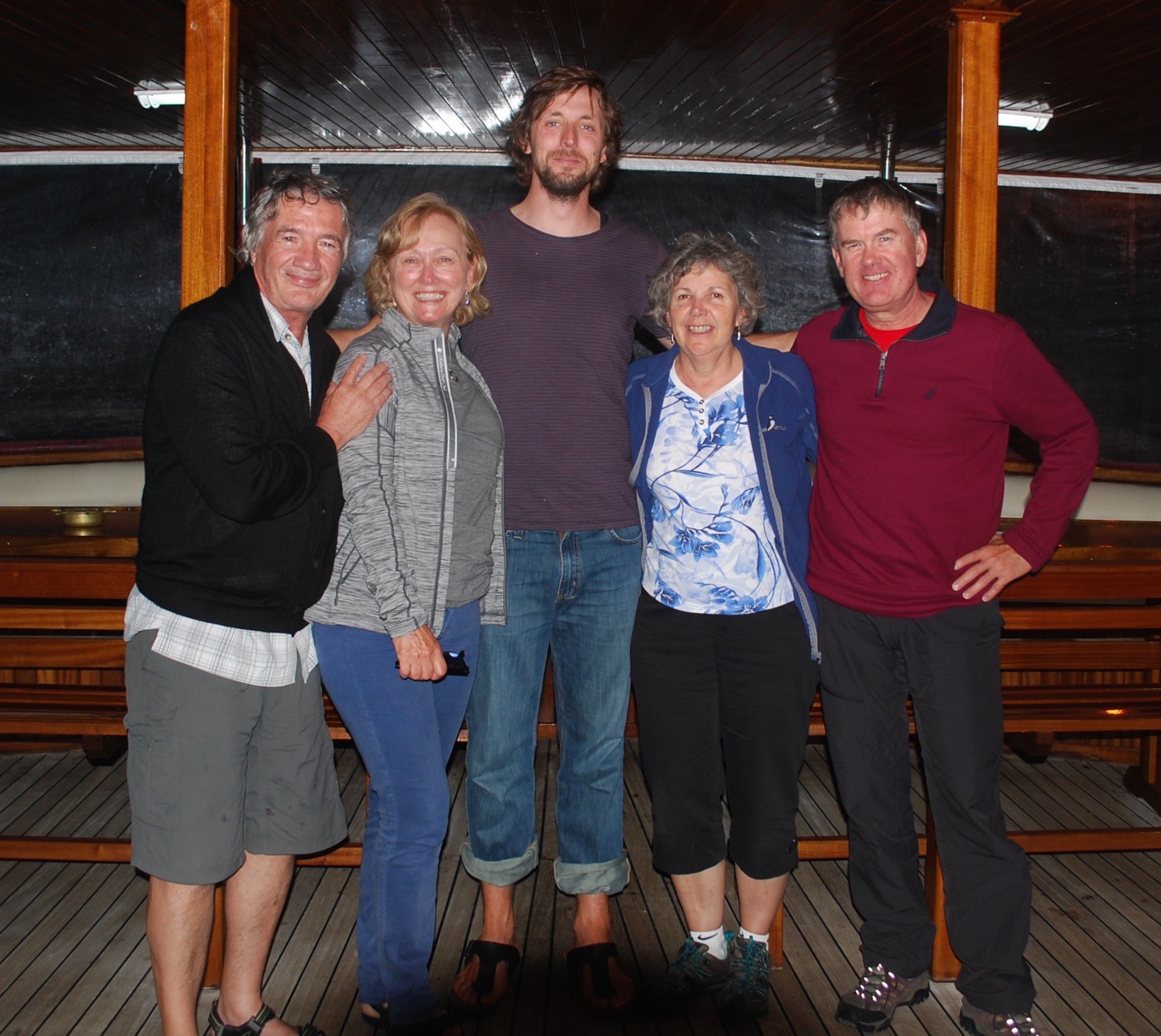 The Azimut, Dalmatian Islands motor yacht
Our luggage has been stowed and Karla, one of the two young ladies serving as hostess/waitress/barkeep/maid shows us to our cabin, #16. It's quite a bit larger than I expected and has a lot of room to store our stuff. You can actually turn around in the bathroom shower which is a rarity on these small boats. Since there's only the four passengers there won't be any worries about things like running out of hot water, a common occurrence on boats that are full.
After freshening up we join Mario, Cindy and Gary for a mid-afternoon meal that features soup, salad, lots of fresh vegetables, cheese and a selection of meats. I have what I expect will be the first of many Ozujsko draft beers from the tap in the bar where Karla performs her magic.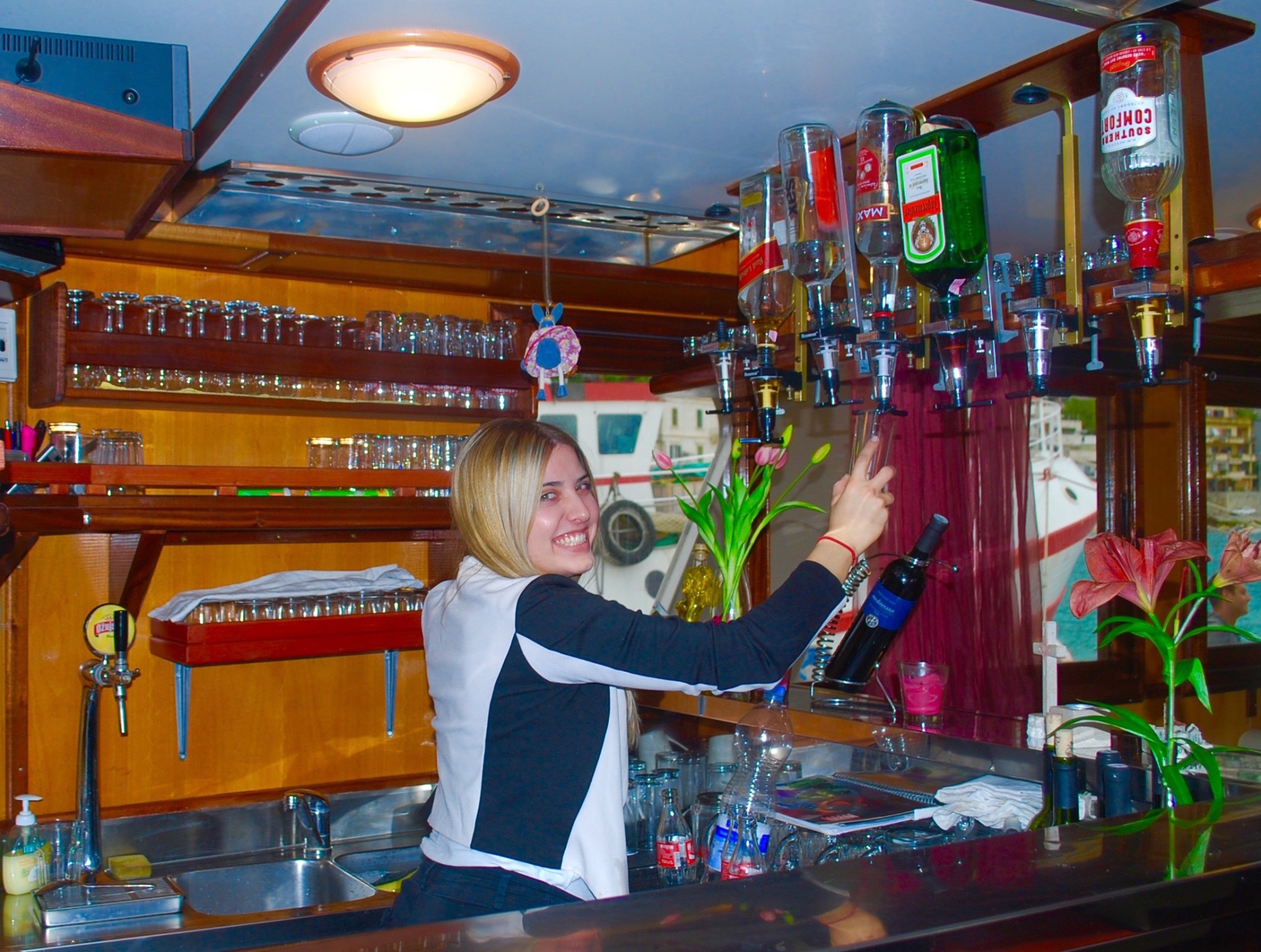 After the dishes are cleared away Mario brings out a battered map of Croatia and points to the various Dalmatian islands that parallel the coast from Trogir to Ploce. According to the itinerary for the cruise we are supposed to visit five of these islands, but Mario is quick to break the bad news – because of high seas we won't be able to get to Solta, but instead will head for the port of Milna on the island of Brac. He also hints that if the wind continues to blow that we probably won't get to the outermost island of Vis either. So even before casting off I have a reason to return to get to those two, for now, unattainable Dalmatian islands. After berthing at Milna for the night we will then cross over to the island of Hvar and start our cycling there. Mario assures us that whether the weather is good or bad we will get in all the cycling we could possibly want.
So here we go, off to Milna on the not so sunny Adriatic Sea. In fact it's raining like a bastard now and as much as I would like to have pictures of the spires of Trogir fading in the distance, I opt instead for another Ozujsko. As we leave the sheltered waters of Trogir harbour and get into the open sea lane between the mainland and the islands it becomes really rough. I've been in rough seas before. I remember one in particular on a crossing to the Aran Islands in Ireland on a tiny ferry that was rolling around like a bottle with a cork in it. One poor Polish guy was so sick that he hung off the back rail the entire way despite being nearly washed overboard every ten seconds by huge waves of freezing cold Atlantic water that washed over the back deck. This wasn't as bad, but it did bring to mind the fact that Ulysses was constantly getting blown this way and that in these very Dalmatian islands waters and never got back to Ithaca for over ten years after leaving Troy. Mind you Ulysses had Poisedon, the sea god, pissed off at him and I'm praying that the captain of this vessel, whose name is Mate incidentally, hasn't done anything to get the old guy upset. I haven't got ten years to spare.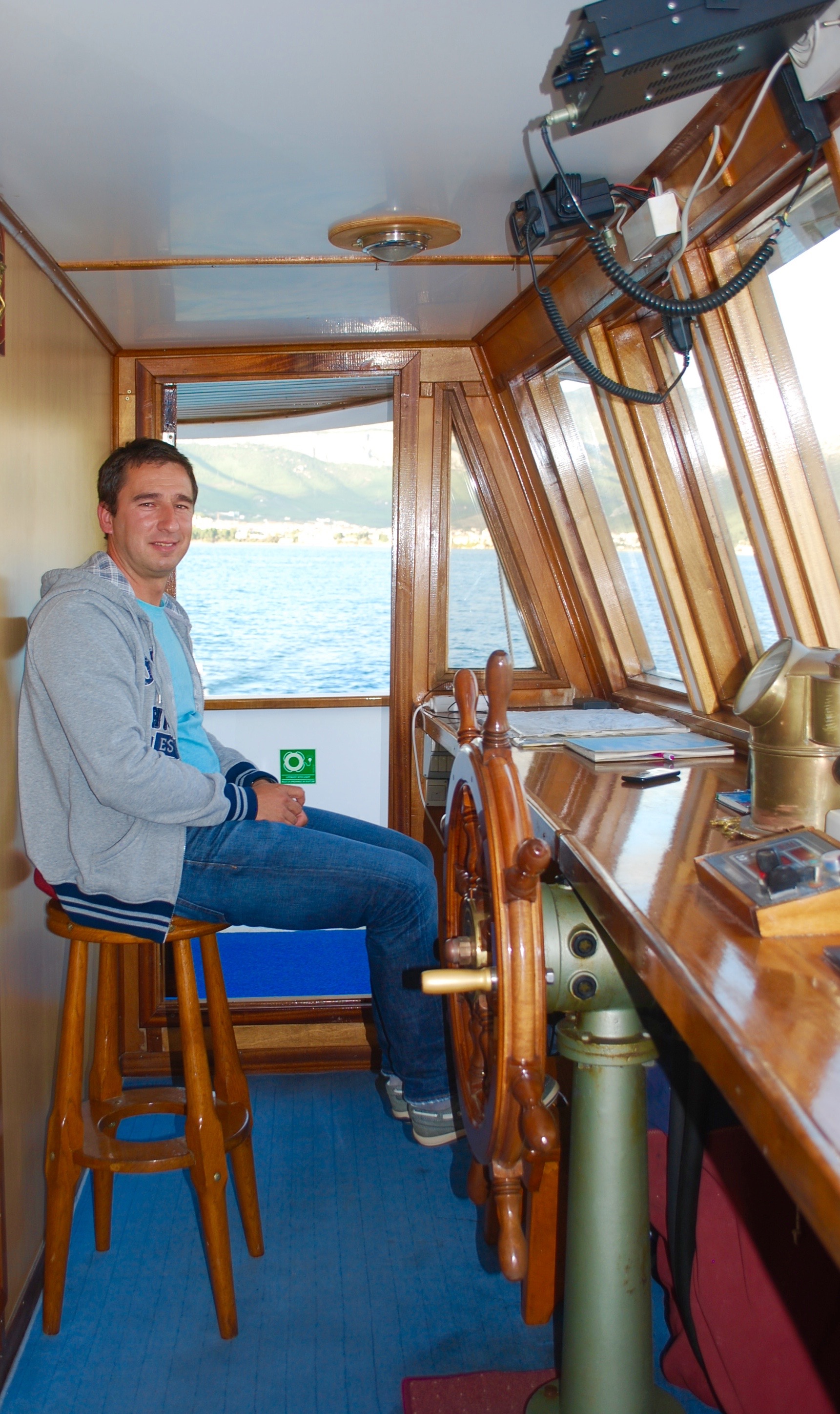 After what seems like a long time, at least two hours, the Azimut  rounds a point where this Austrian-built lighthouse protects the entrance to the bay on which the small town of Milna is located.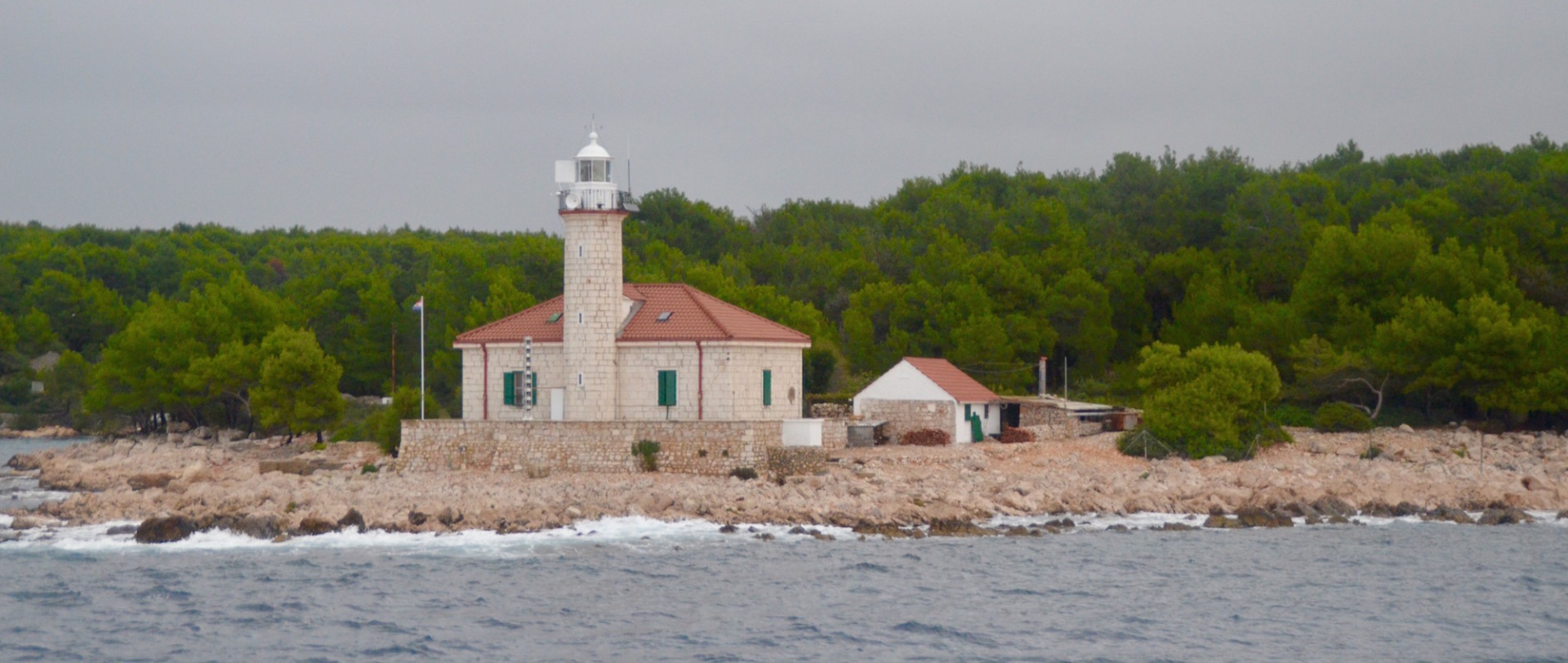 Milna, Brac Croatia
I did get out into what is now just a shower to get a shot of Milna as we approached.
If I had a helicopter and the weather was nice, this is what Milna would look like.  Since it's late in the season there are not many pleasure boats and only one other small motor yacht.

After docking we set out with Cindy and Gary to explore Milna, but in truth it's pretty dreary in the drizzle. The waters are incredibly clear and there are lots of fish to be seen, but few townspeople. Just across from the Azimut is a taverna that is full of young people from the other motor yacht. Having enough of walking in the rain hoping to find something unexpectedly interesting, I decide to drop in where I know I'll definitely find something interesting – another pint or two of Ozujsko. The kids, and that's what most of them are, appear to be mostly Australians and have clearly been doing nothing to damage Australia's reputation as a country of prodigious drinkers. By now some of them are on to tequila and ouzo shots. Don't envy them tomorrow morning.
Back on the boat there is a football match in progress between Croatia and Bulgaria on the large TV screen which the crew is following intently. It is being played in Zagreb and I can't help but notice that the stands are empty. When I ask Mario about this he answers that the fans have been banned for this match for some terrible transgression in a previous encounter. And I thought England fans were the only lager louts. Even without the fans, Croatia wins and it's time to sack out.
Despite being moored, the boat is moving back and forth pretty steadily and we are literally rocked to sleep in our own oversized cradle. Tomorrow we finally get to cycle! Join us as we explore the Dalmatian islands starting with Brac.
Here is a link to the Croatia photo gallery with pics from Split to Dubrovnik and all places in between.