Hvar Island Croatia – Cycling from Jelsa to Sucuraj
This is the second full day of cycling on a Dalmatian odyssey with Canadian travel company Pedal and Sea Adventures. After yesterday's debacle whereby I managed to accidentally extend the first full day of cycling by an extra 22 kms. (14 miles) because I wasn't listening to our guide Mario's instructions, I fully expected to be as stiff as a barrel stave. By some miracle of rapid regeneration I wasn't and arose with a firm determination to 'listen up' as they say and not cause any more grief for the rest of the group. Yesterday's lousy weather has dissipated and today promises to be very pleasant cycling along the spine of the island of Hvar. After breakfast the Azimut motors out from the town of Stari Grad where we have spent the night, down the long bay leading into Stari Grad and around the peninsula to the town of Jelsa which we visited yesterday. The plan is then to get the bikes out and cycle all the way down to the eastern tip of Hvar and the town of Sucuraj where we will meet the Azimut and cross over to the island of Korcula. If you look at the map below you can see Jelsa and Sucuraj. All told it's 51 kms. (31.6 miles) from one to the other. Just like yesterday afternoon's ride, it will involve a steep ascent of up to 400 metres (1300 feet) then a ride along the top of Hvar and finally a steep descent into Sucuraj.

On this second day Mario gives me only one firm order. Wait for him and our other two trip mates Cindy and Gary at the village of Bogomolje. By now he knows that Alison and I will move at a much faster pace than Cindy and Gary because we are using electronic assist or ebikes and they are on ordinary hybrids. These ebikes are absolutely the only reason I'm still standing this morning and they prove their worth right off the bat today as we head up into the hills on Route 116, the only road down the centre of the island. Still traffic is quite light although we are passed by a couple of buses full of the Japanese women I saw yesterday in Hvar town.
It is a steady climb up to the top of Hvar Croatia on a very good road which provides great views of the Dalmatian mainland which I stupidly forget to photograph. Although the map Mario has provided us with shows that we should be coming to the village of Humac there is nothing until we get to the very small hamlet of Poljica which has a lovely Romanesque style church that almost looks new, but given the fact that there's very people around, I doubt it. It is in fact the Sv. Ivan Krstitelj (John the Baptist) church.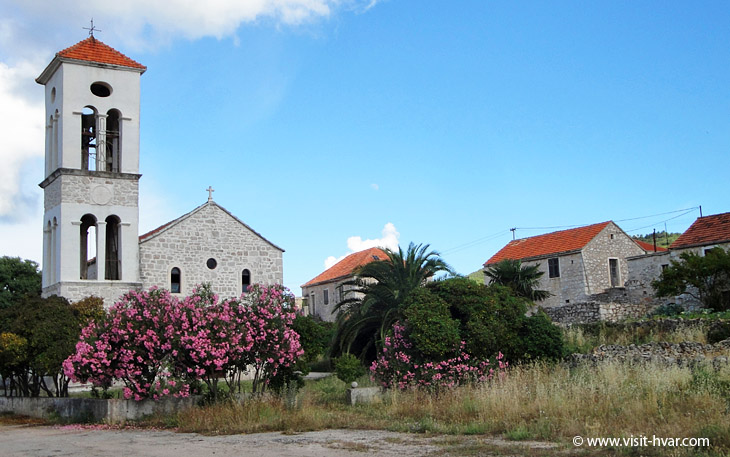 One thing I have noticed in this part of Hvar Croatia is that the old profession of woodcutter is alive and well. I remember as a kid that the children of woodcutter's figured prominently in the fairy tales of the Grimm brothers and were always getting into some sort of trouble, Hansel and Gretel being the most notable among them. Here we can be pedalling along in the middle of nowhere and there will be an old, usually stooped, man cutting up branches that aren't much bigger than twigs. It looks like a hard existence and I sure as heck think it would be lonely for kids who are raised by woodcutters. No wonder they go looking for gingerbread houses.
Bogomolje, Hvar
After a couple of hours at a pretty good pace we arrive at the outskirts of Bogomolje which is just big enough to be called a village and not a hamlet. It appears to be a crossroads where you can take a side road down to either side of the island where there are apparently hidden little coastal resorts. I notice the town cemetery and we decide to stop for a look around. In my experience you can learn a lot about a people by visiting their cemeteries and this is the first one I've actually seen in Croatia except for the two thousand year old tombs at Salona. These graves are a little more modern. The cemetery is clearly divided into an older and a new section. The older section has your traditional plots where people are buried six feet under and their bodies gradually return to ashes and dust.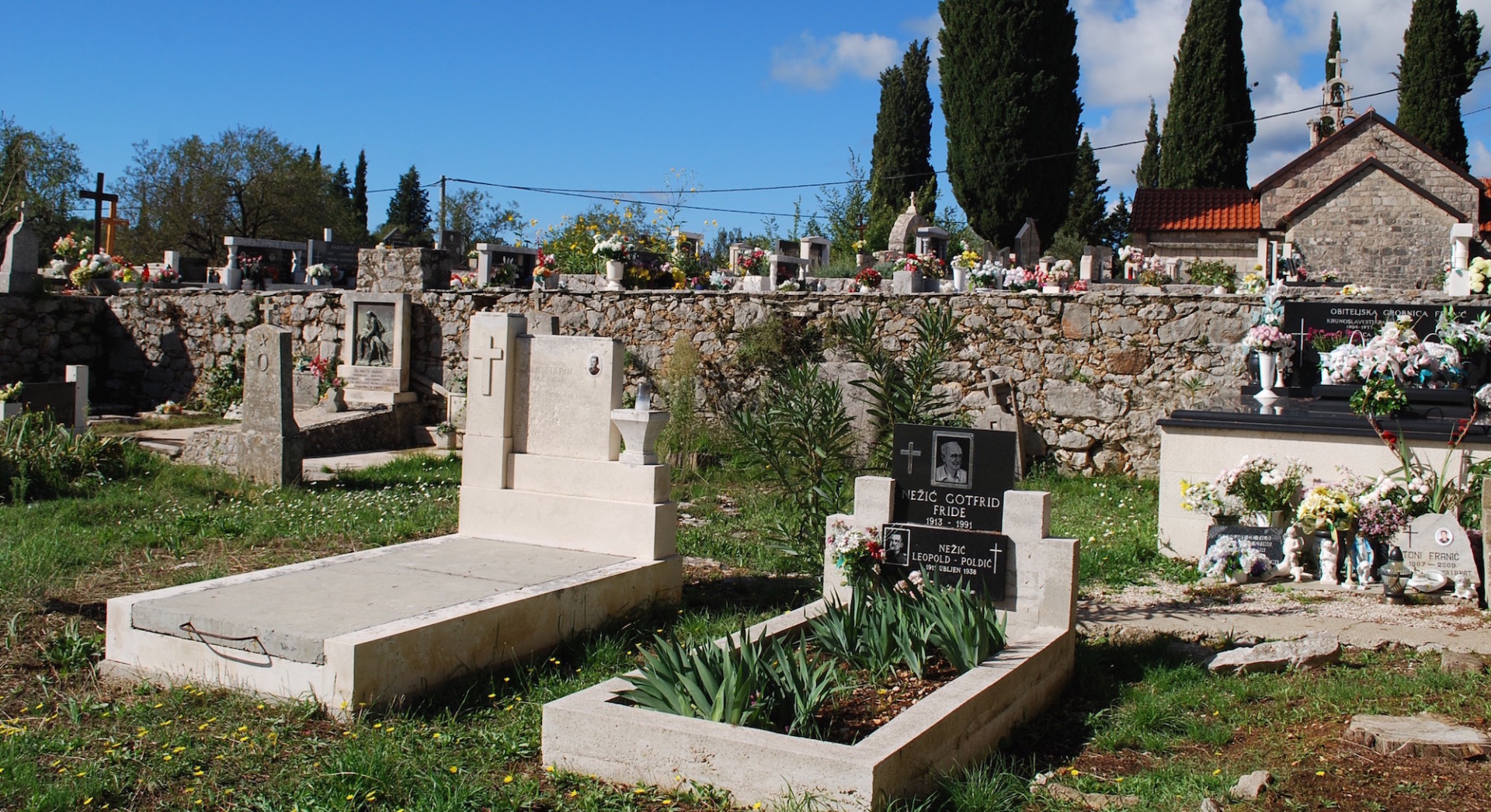 In the newer section they have a different idea. Here the coffins are placed on elevated slabs of concrete which I suppose is something like a crypt. So underneath these headstones is not earth, but air.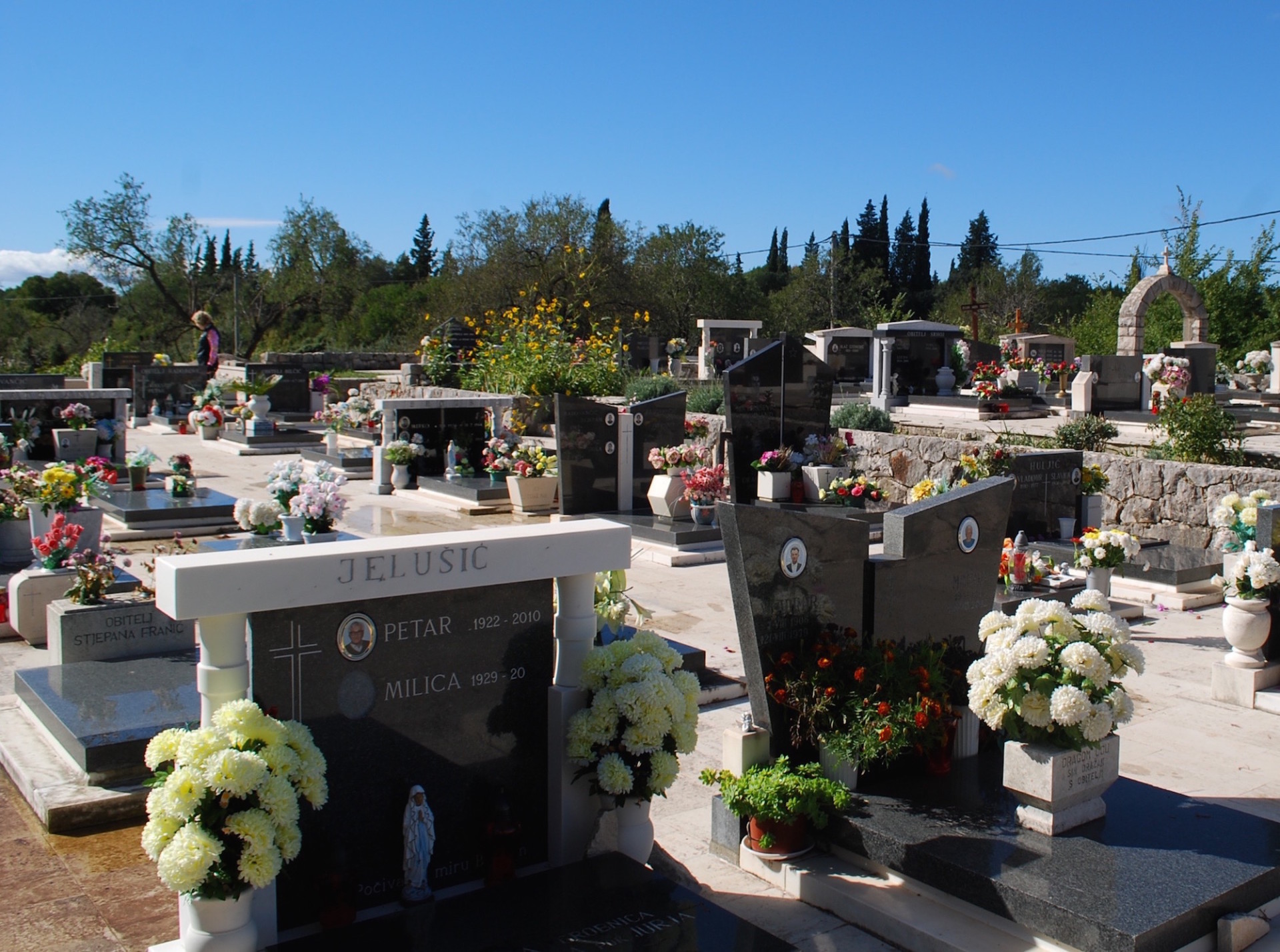 Here is what one looks like that has not been used yet. Your coffin would be placed on one of those concrete slabs and then the lid is put on and a headstone erected on top of it. I can't say I've run across this type of above ground body storage before and can't think of why it has apparently replaced interment in Bogomolje.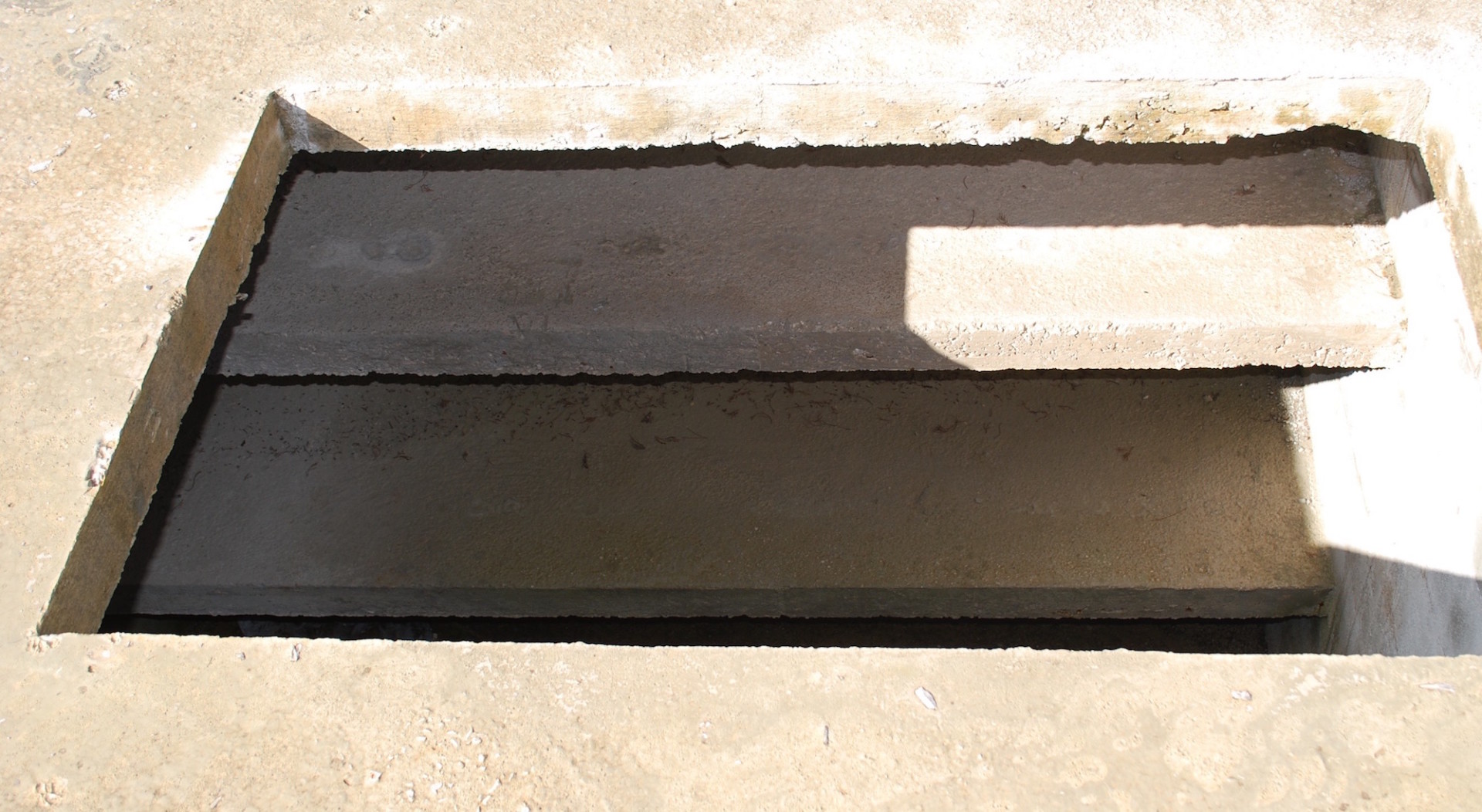 Our visit to the cemetery occupies about twenty minutes after which we look for the store where Mario said to wait. We find it, but it's closed and there's not another one in town, in fact, there's barely a soul anywhere. It's like a ghost town. Alison lies down for a rest on a bench outside the store and I look wistfully at the cases of empty Ozujsko beer.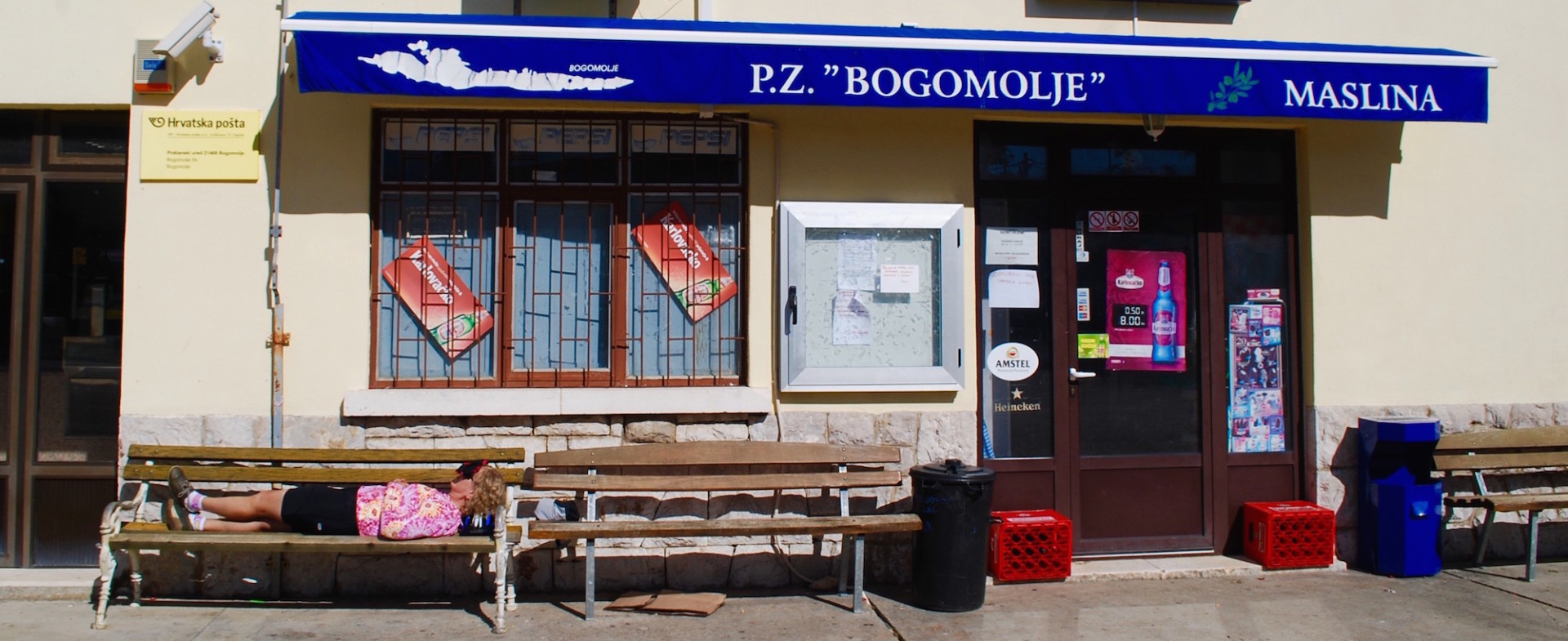 After what seems like a very long time Mario, Cindy and Gary arrive. Mario looks at the sign on the store door and says "There was a death in the family." I guess one of those crypts is going to get a new tenant shortly. Given the fact we have seen nobody but two old men, in over an hour here, I suspect that most of Bogomolje resides in the cemetery.
From Bogomolje it is a long and for me, fast trip down to Sucuraj where the Azimut is literally just tieing up. The others arrive shortly and after barely being in port for more than twenty minutes we are all back on board and off to the town of Korcula on the island of the same name. We say a fond, well mostly fond, farewell to Hvar as we sit down to a well earned late lunch.
I'll see you in Korcula where we'll walk in the footsteps of Marco Polo.
Here is a link to the Croatia photo gallery with pics from Split to Dubrovnik and all places in between.