Harry Potter Studio Tour – Make Sure to Take It in London
It's a brisk morning in February and my daughter Lenore and I are headed out from central London to the Harry Potter Studio Tour in Watford Junction about twenty miles away. Even though she is an accomplished world traveler she has never been to London before and the absolute must see attraction on her list is not the Tower of London, Westminster Abbey or Buckingham Palace. It's the Harry Potter Studio Tour, which frankly I had never heard of before this trip and I visit London quite regularly.
This is not so surprising considering that Harry Potter did not even exist twenty years ago. Even though it might seem like Harry Potter has been ubiquitous for ages, the first book, Harry Potter and the Philosopher's Stone was only published in 1997 and the first movie released in 2001. Since then there have been six more books, and seven more movies, the last book, Harry Potter and the Deathly Hallows, being divided into two parts. So essentially Harry Potter has come and gone in the space of just over a decade, but the legacy remains at the Harry Potter Studio Tour, the place where the great majority of all filming was done. It's where we will find many of the phantasmagorical sets and creatures that made the movies so popular. But first, a few practical suggestions that should make the visit more enjoyable.
First of all don't even think of showing up without a ticket or a confirmation number for a ticket. You can buy tickets on line here and either have them mailed to you or you can get an email confirmation which lets you print out the ticket when you get there. Without one of these two things you will not get on to the property. Even though the tickets have a specified entrance time on them it does not matter if you are late. This is not a guided tour. After a short film at the entrance you will be free to explore the studio at your own pace.
Getting to the Harry Potter Studio
Getting to the studio from London is really not that difficult. Trains leave Euston Station on a regular basis, but you should be aware that there are two types of trains going to Watford Junction. The one you don't want is the one that stops at every station between Euston and Watford. That takes about 45 minutes and it's why I know it does not matter if you  make it to the studio at the designated ticket time. I was so damn impatient to get going that I couldn't wait an extra five minutes for the express train that takes only fifteen minutes and had the pleasure of watching it zip by us when we were less than half way there.
Once at Watford Junction station there is a shuttle bus which takes you there and back for 2£ or you can grab a cab for about 8£.
Once you get to the studio, if you don't have a ticket, but just a confirmation number then you can retrieve the tickets from a machine by just punching in your name and the number. Sounds simple, but for some reason all the Asian people in the lineup ahead of us didn't seem to be able to figure it out. They kept pressing and entering numbers and looking at each other with incomprehensible looks. I couldn't figure out what the hell was going on until a studio employee came up and looked at their tickets. Apparently in this age of amazing technology, the machines were not able to process a name that had a hyphen in it, and many Chinese names contain hyphens. Mystery solved as the relieved tourists were escorted to a nearby booth to get their admission tickets.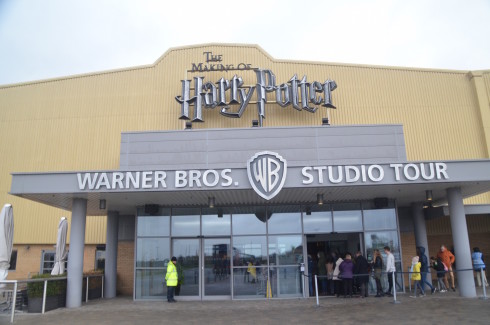 So we've got our tickets and are inside and ready to go.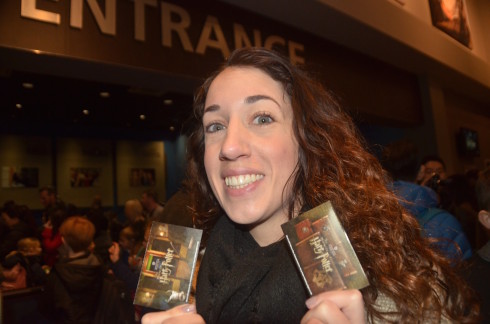 A couple of more things to know. This is a working studio and not a theme park. They are still making movies here ( Mission Impossible – Rogue Nation for one), although that is on another part of the studio that you won't see. There are no thrill rides. Also, I have to presume that if you've come to the Harry Potter Studio Tour that you've at least seen the first movie or read the book to which it is very faithful. If you have not, do yourself a favour and watch at least one of the movies. It will make what you see a lot more understandable.
After getting through security which is pretty perfunctory, you enter a large open area where huge pictures of the various Harry Potter heroes and villains line the walls.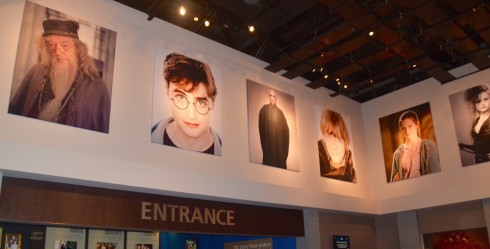 As you head toward the actual entrance there is definitely a buzz of excitement from the Harry Potter fans that is almost reminiscent of Beatlemania. They are psyched and so is Lenore. I'm here to document her journey through the world of Harry Potter. What follows is not the sequence in which the visitor will tour the studio, but rather a sequence put together in a semi-chronological following of the first book. Let's start off at 4 Privet Lane, Little Whinging, Surrey, just outside London.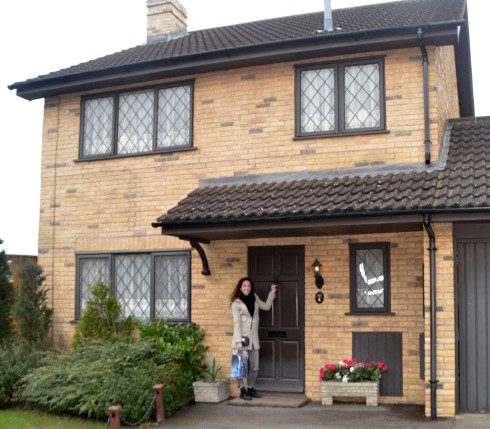 That's where Harry's only known relatives, the Dursley's, live.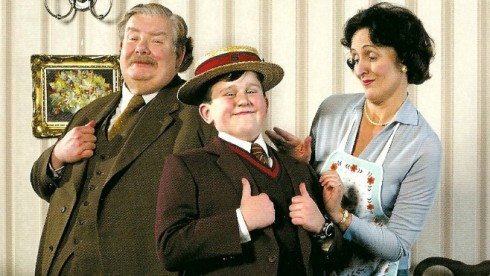 This is where Harry lives at 4 Privet Lane.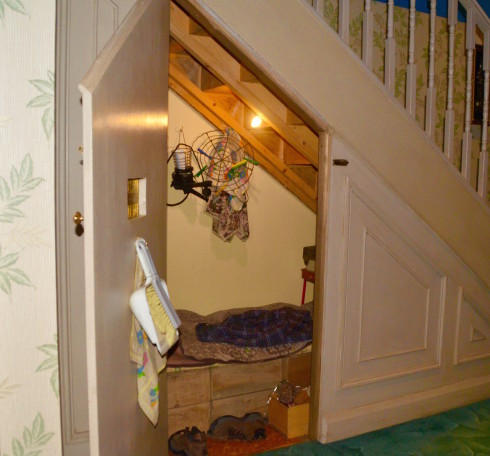 So Harry gets a visit from Hagrid.
And before long it's off to Hogwarts by catching the Hogwarts Express at track 9¾ Paddington Station.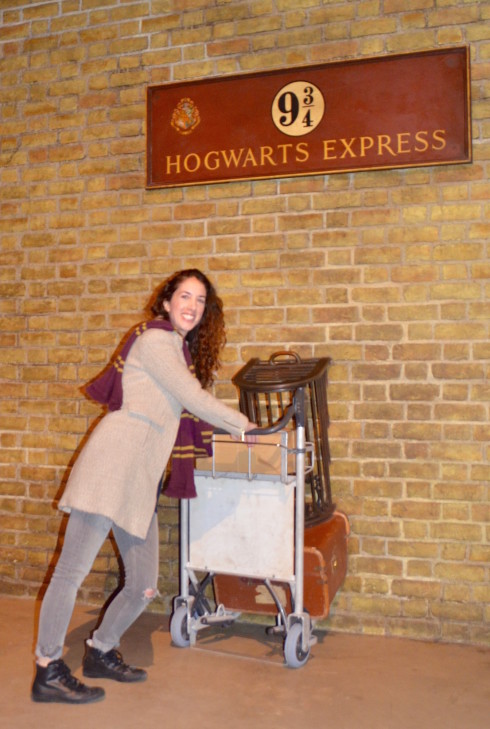 The train is here to meet Lenore.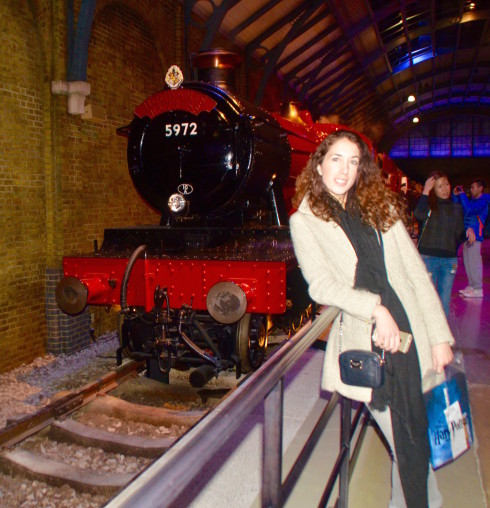 And along with Harry, Ron and Hermione, she's off.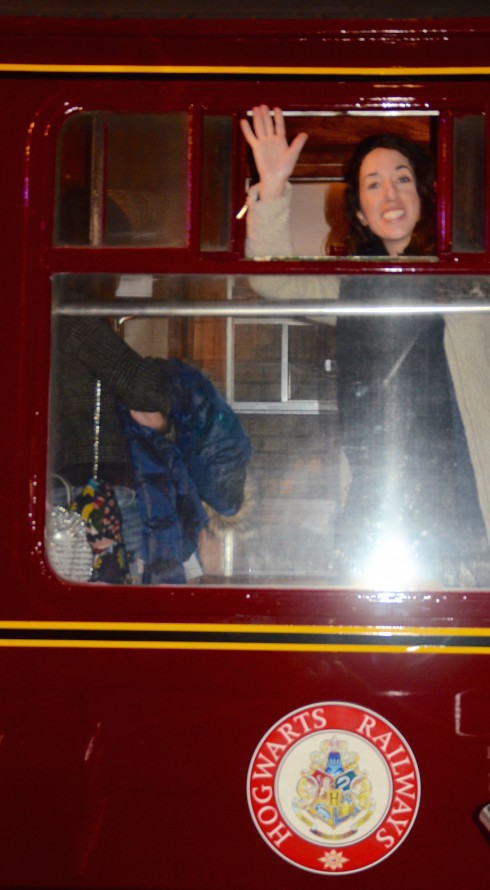 And there it is!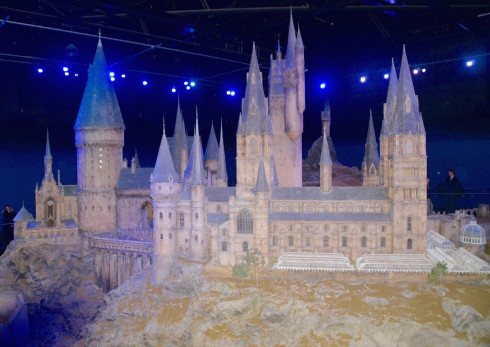 Actually this is a huge detailed model of Hogwarts that you don't see until the very end of the tour. It's a lot more impressive in person.
All she needs to do now is get through the gate.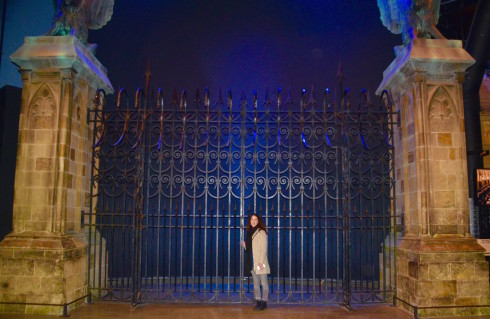 Once inside the new students are led to the great hall.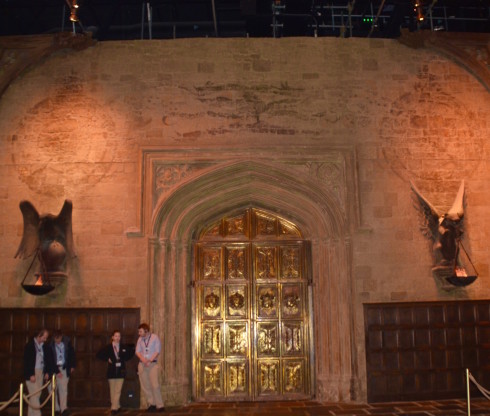 Once inside Lenore is lucky enough to be assigned to Gryffindor house.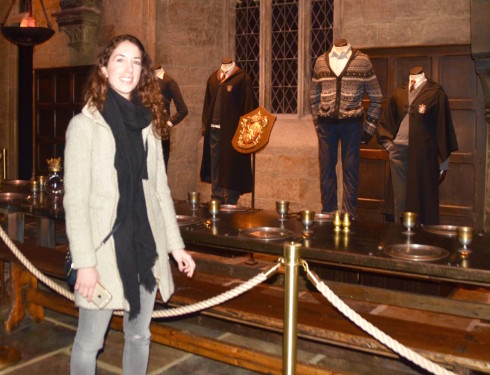 And she gets to room with Harry.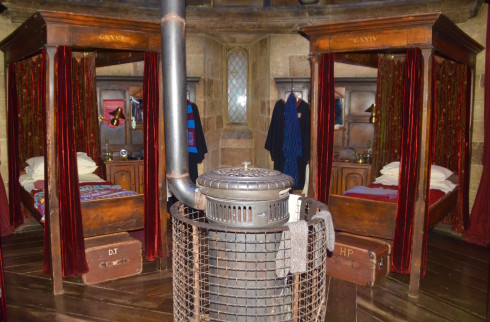 There'll be lots of mischief to be dreamed up in the Gryffindor Common Room.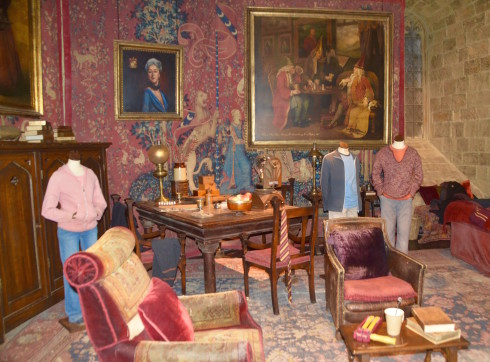 Time to meet some of the staff.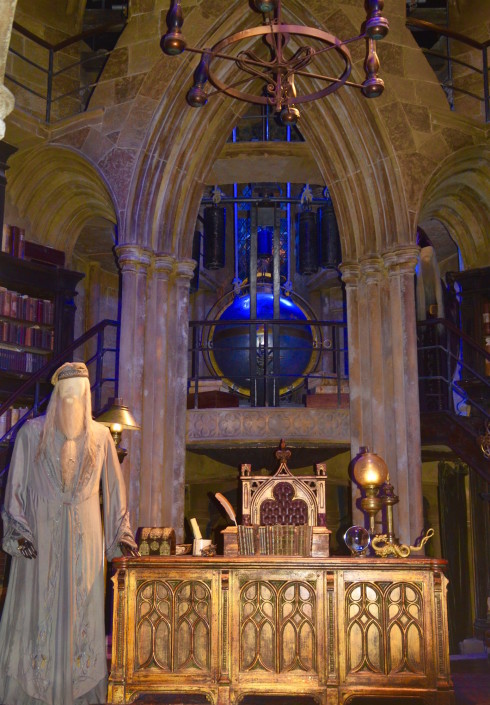 As is the alchemy shop of Severus Snape where I ask a few questions of this most interesting of characters. Friend or fiend?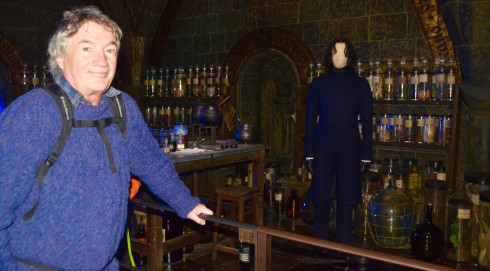 Where can I get one of those self stirring cauldrons? They would be great for making risotto.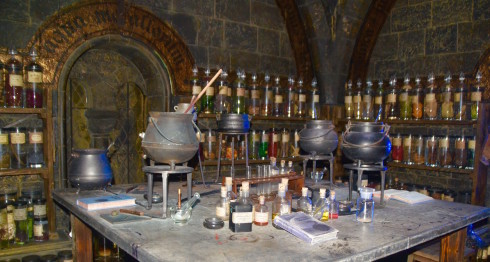 And here's Hagrid's modest abode with his dog Fang.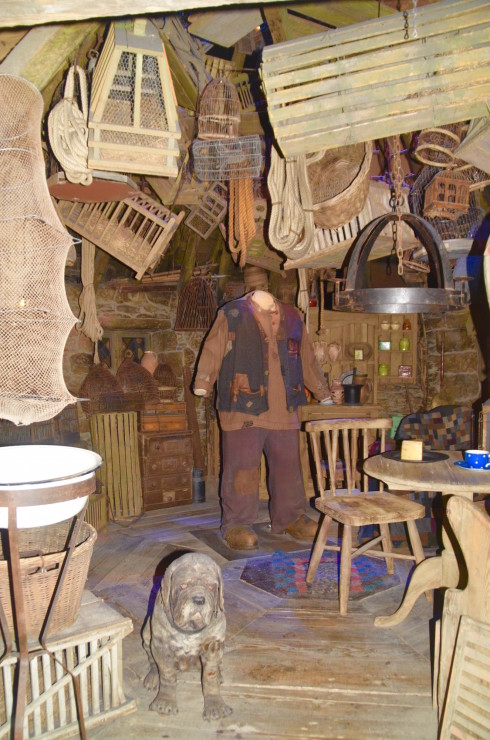 Time to do a little shopping at Diagon Alley.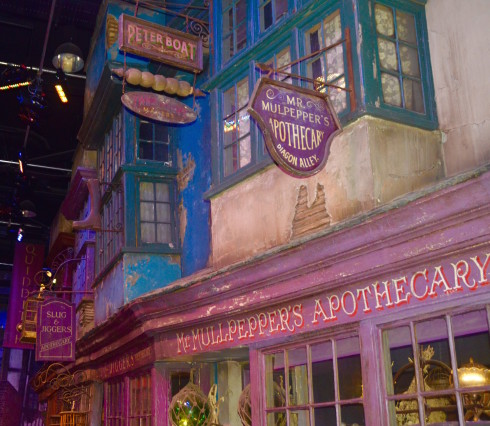 Lenore passes on the Puking Pastilles.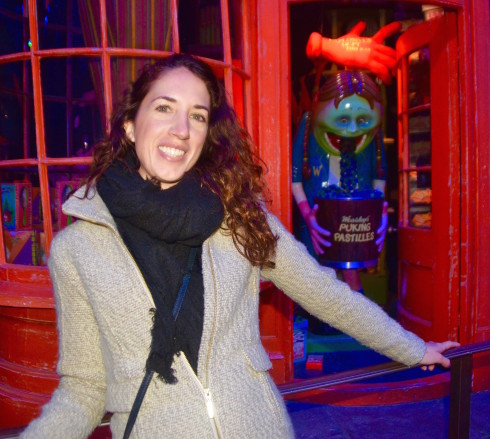 But she definitely needs to pick up a wand and boy there are lots to choose from.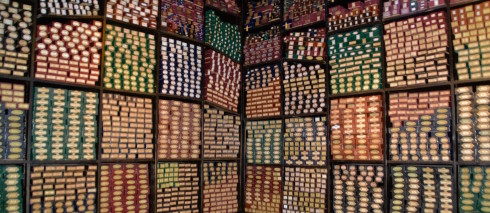 The Broomstick Ride
One more thing. Lenore needs to learn to fly a broomstick and it appears that she is a natural as she zooms around Hogwarts like she's being doing this all her life.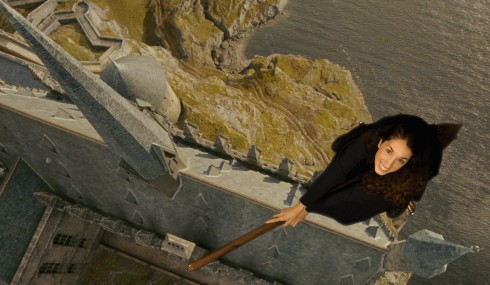 I decide to give it a try as well.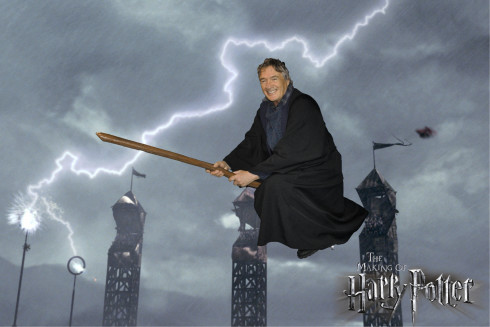 OK, it's time to relax with a refreshing butter beer.
There is a whole lot more I could show including the fantastic animatronics, exceptional make up room, countless recognizable props etc. etc. The bottom line is you can star in your own Harry Potter adventure on the Harry Potter Studio Tour.
Lenore is prepared to return for her second semester the same way Harry and Ron did in the second book – via flying Ford Anglia.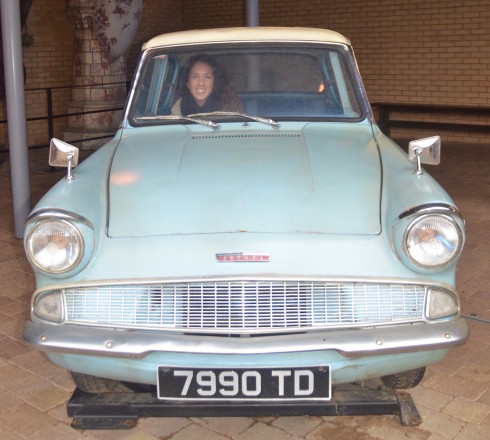 And here's to Hogwarts latest little witch with her magic wand.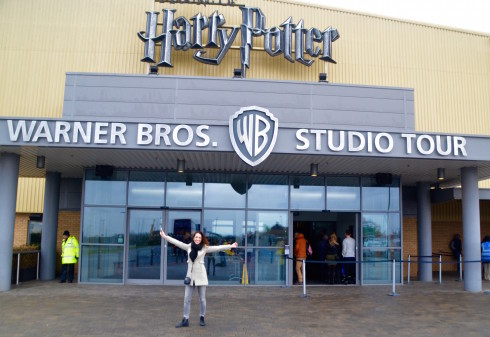 OK, now that we've gone on the Harry Potter Studio Tour we can visit some of the more conventional London sights like St. Paul's Cathedral and the Tower of London. Or one of the more unconventional ones – the Churchill War Rooms. Please join us.