Latin Quarter Paris – A Walking Tour
Whenever I go to Paris I like to try to stay in a different district each time to get a better feel for the city – the whole is greater than the sum of the parts you might say. Last spring it was Montmartre which I wrote about extensively at the time. This winter, it's the Latin Quarter Paris or the Left Bank as it is often called, although that actually refers to a much larger area that includes the Montparnasse and St. Germain areas. The name Latin Quarter derives from the fact that this is the area of Paris where the institutions of higher learning such as the Sorbonne are located. Well into the 15th century Latin was the language of instruction, not French and thus the name.
As wonderful a city as Paris is, it has been going through some very difficult times lately and that might tempt the ordinary traveler to be leery about visiting. On the visit last spring there were "Je suis Charlie" signs plastered everywhere in commemoration of the Charlie Hebdo massacre on January 7, 2015. During that visit Alison, I and my sister Anne ventured out to St. Denis to see the great basilica there and I wrote about The Other Paris where we felt like we were in a North African city and not in Europe. Unfortunately my reservations about the inhabitants of St. Denis were well-founded as on November 13, 2015 terrorists, many from that area, unleashed multiple attacks on innocent Parisians and tourists alike. Aside from cracking down as hard as possible on preachers of fanatical Islam, how does a city respond to such attacks. Well I'm about to find out.
On this trip I'm with my adult daughter Lenore and we've rented a two bedroom apartment on Rue St. Jacques which is right in the heart of the Latin Quarter Paris. We're here for five days and this morning, while Lenore is spending her hard earned euros somewhere on the other side of the Seine, I'm going to stroll around this neighbourhood to find out why it has long been both a hotbed of activism and a birthplace of great ideas in science, philosophy and medicine. I don't have a strictly planned itinerary, but I do have a list of places I want to see and hopefully will come across some pleasant surprises. Please join me.

Exploring the Latin Quarter Paris
The starting point is 75 Rue St. Jacques where that street intersects Rue des Ecoles. This is our apartment building.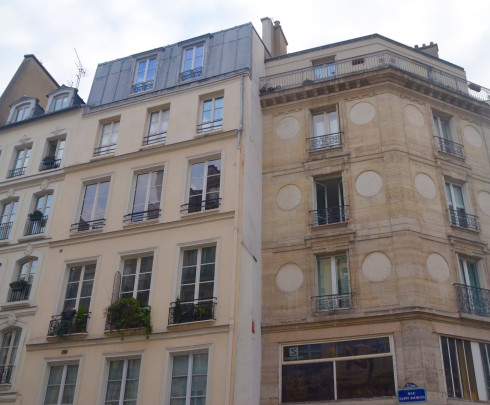 The Rue St. Jacques is an incredibly straight and wide street by European standards and that's because it was originally a Roman road leading to what was once the outpost of Lutetia. That's the facade of the massive Sorbonne complex that takes up an entire big city block.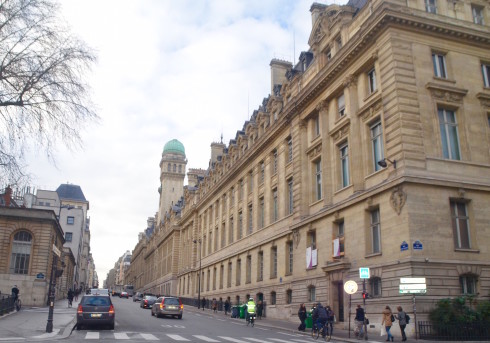 The Sorbonne is actually the commonly used word for the University of Paris which is one of the world's great institutions of higher learning and one of the oldest, tracing its roots back to 1150. It's size is pretty damn impressive and stands in marked contrast to places like Oxford and Cambridge where the learning takes place in a much smaller colleges spread out over a large green area. Some of the Sorbonne's most famous graduates are fairly obvious such as Marie Curie, Simone de Beauvoir and Charles Boyer, but others are quite surprising such as John Foster Dulles, Elie Wiesel, Ruth Westheimer (Dr. Ruth) and my all time least favourite actor, the bombastic Sam Waterston.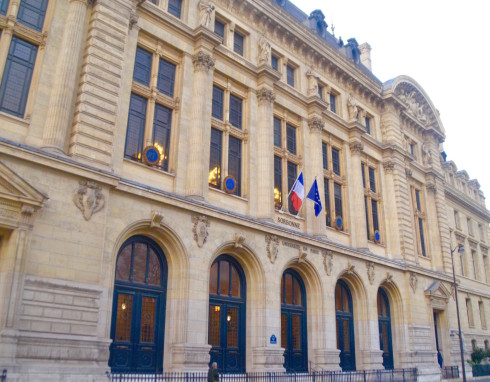 Directly across from the Sorbonne is Square Paul Painleve a delightful tiny little park which has a number of features worth noting including this statue which you might think has been placed in the wrong city. Yes that's Romulus and Remus being suckled by the famous Roman she wolf. That's quite an octet of tits.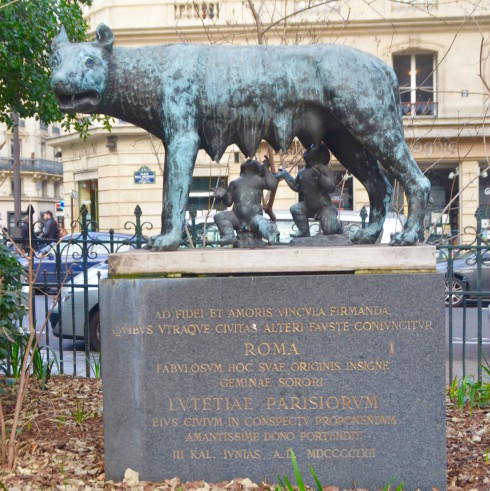 This reminds us that we are near the heart of Roman Paris. On the opposite side is this fountain dedicated to Octave Greard, a noted French educator interested in advancing the cause of women's education. It unfortunately brings up one of the detriments to visiting Paris in the winter – the fountains are all turned off.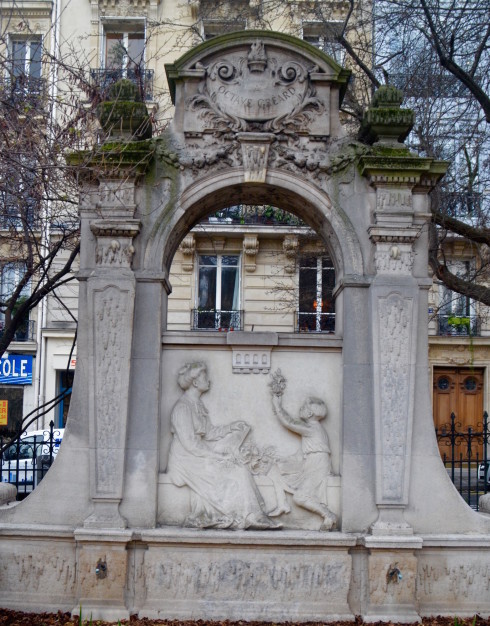 On the side of the park opposite the Sorbonne is the entrance to the Musée de Cluny, Paris' museum dedicated to the Middle Ages. It's located on a site that combines the remaining elements of a former Cluny Abbey and the much older Roman baths. I will be making a separate visit to this museum in the next few days. For now I'm just content to look at the exterior and wander on. Here is a link to that post on the Cluny Museum.
Continuing along Rue de Sommerard I come to another of Paris' famed streets, Boulevard Saint Michel, and turn right heading toward the Seine. Unfortunately the remains of the Roman baths are undergoing restoration as is the original entrance to the Cluny Abbey and they are blocked by a wire fence.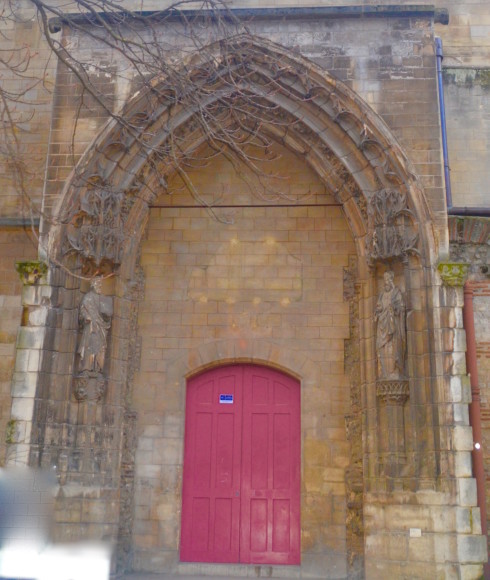 I then cross wide and also famous Boulevard St. Germain just as these vehicles filled with what seem to be armed commandos,  come careening around the corner. This is the first sign I have seen of heightened security and they move on rapidly, headed for God knows what potential mayhem. The people around seem nonplussed so I mosey on toward the Seine.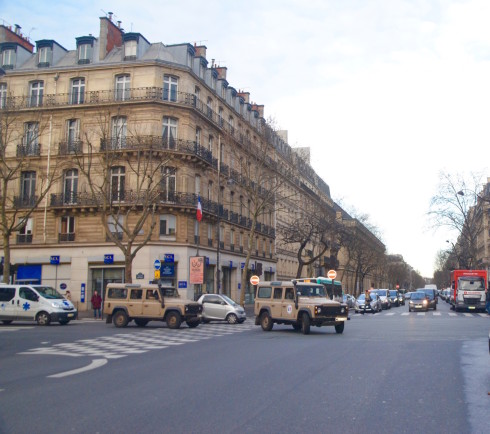 Place St. Michel, Latin Quarter Paris
Place St. Michel is one of Paris' most popular gathering places and it's no wonder why. At the one end is the great Fontaine St. Michel which is worth looking at close up.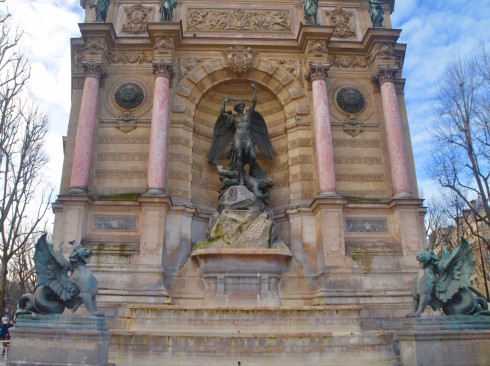 It depicts the archangel Michael defeating Satan himself in the great battle that is laid out in that most horrific of Biblical books, The Revelations and it does look like he's got the upper hand on Old Nick. Notice the wings, tail and horns on the snarling bugger. Originally this was supposed to be a statue of Napoleon, but that proved too controversial and they settled for the age old theme of the battle between good and evil. Now which side of that equation would Napoleon fall? Don't ask the Russians.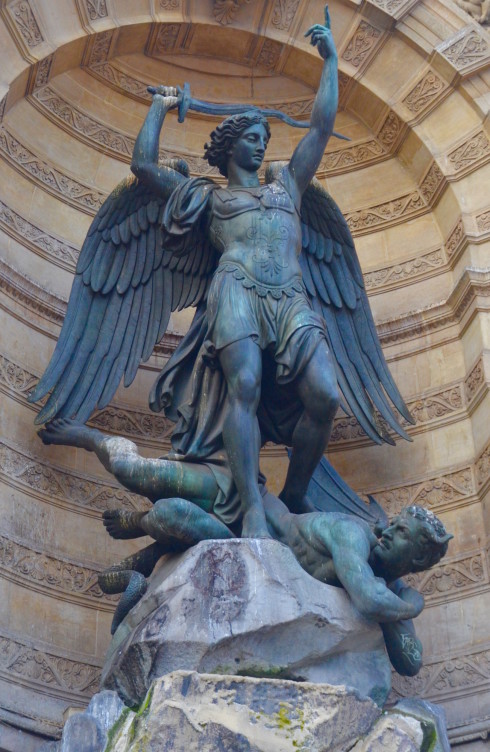 The two dragons on either side of the main statue are also impressive, if you like your dragons lionized.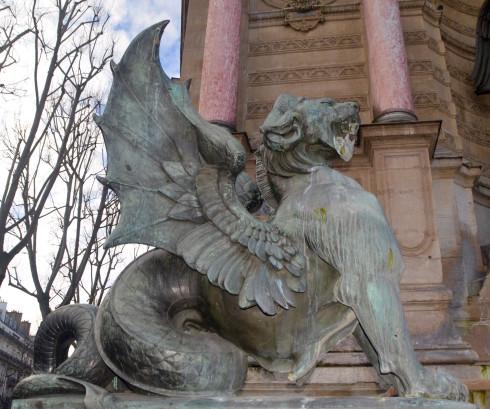 Even though it's winter the Place is full of people, mostly students from the look of them although there is no shortage of tourists. This has traditionally been the scene of radical student gatherings, most notably the May 1968 uprising that still reverberates through the world today in the form of movements like Occupy Wall Street and Anonymous. Today everyone seems to be quite content to sip their espressos and smoke their Gauloises or Gitanes. After the events of a few weeks ago, I'm sure the last thing most Parisians have on their mind is starting a revolution. Time to move on.
If you have any preconceptions about the Latin Quarter Paris, it's probably that it's an area of narrow winding medieval streets lined with quaint cafés and bookstores with a bit of a seamy air to it. Well so far I've just been walking on wide boulevards and seen nothing remotely close to seamy or even risqué. So what's the deal? The truth is that the Latin Quarter Paris does have a medieval side to it, although nowhere near as large as it once was.
I'm crossing Boulevard St. Michel and entering Rue St. Severin which as you can see fits the bill for narrow, winding and medieval looking.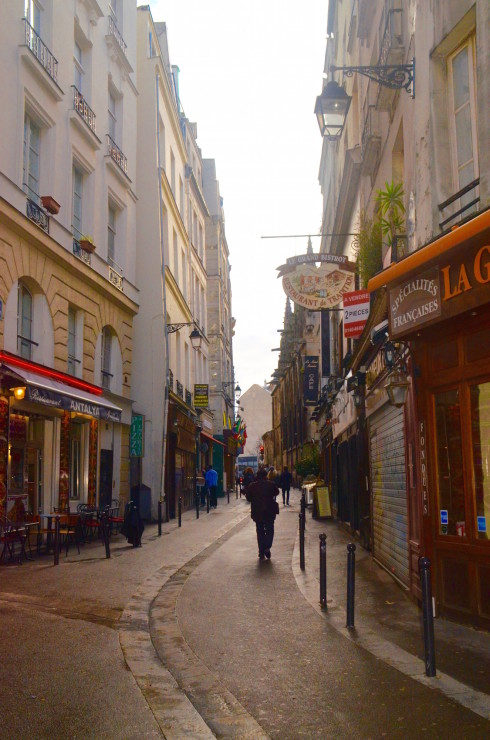 Things get even narrower at Rue Xavier Privat, but they also get quite touristy as well. The restaurants turn from real Parisienne cafés to ripoff joints that sell just about every type of food in the world except French cuisine. It's quite depressing really, but it seems to be confined to just a few streets like this one.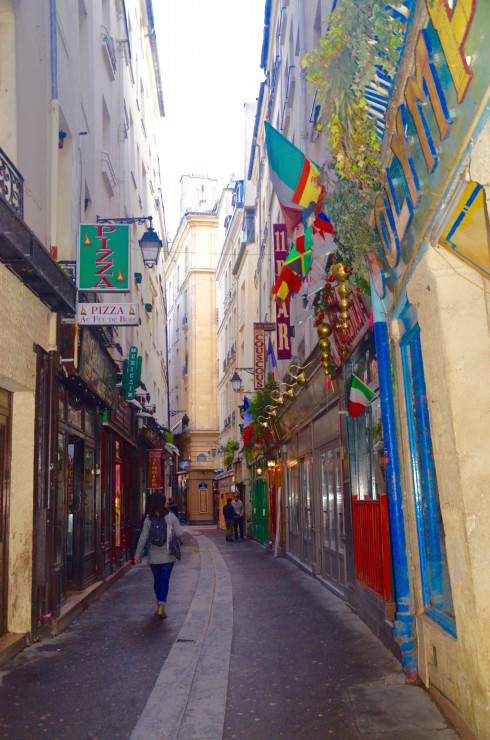 Rue de la Hutchette, aka Bacteria Alley, because of it's crappy restaurants according to one website, seems to be the worst offender. I wonder how many people patronize this place? What's with the winter sporting equipment?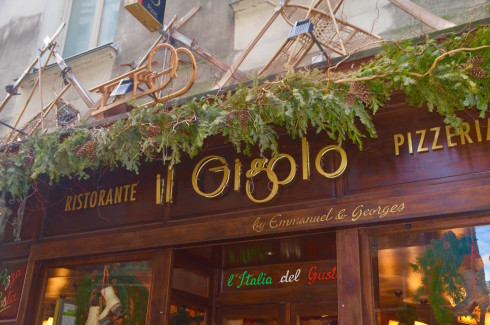 Fortunately there is one bastion of French cuisine holding out on Rue de la Hutchette. These macarons for sale at Amorino remind me that I have not had my daily sugar fix and that is soon remedied. One of the first things you must do on arriving in France is buy some macarons (not to be confused with the cloyingly sweet coconut macaroons). Made with egg whites, sugar and almonds they are a little sphere of heaven in your mouth.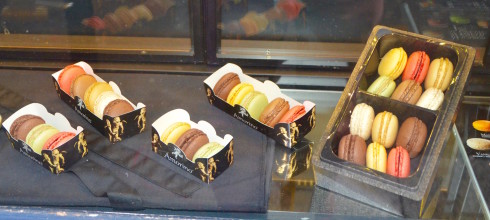 Shakespeare and Co.
At the end of Rue de la Hutchette I cross Rue de Petit Pont which is an extension of Rue St. Jacques and continue on Rue de la Bûcherie at the end of which is one of the world's most famous bookstores, Shakespeare and Co. It's not the original which was owned by Sylvia Beach and operated until 1941 when she had to shut it down to avoid having the Nazis loot the most valuable books. This bookstore was a popular haunt for Hemingway, Ezra Pound, T.S.Eliot, James Joyce, Gertrude Stein and F. Scott Fitzgerald as well as André Gide and other French notables. She is most famous for being the first publisher of Joyce's epic work Ulysses after everyone else rejected it as being too obscure and radical.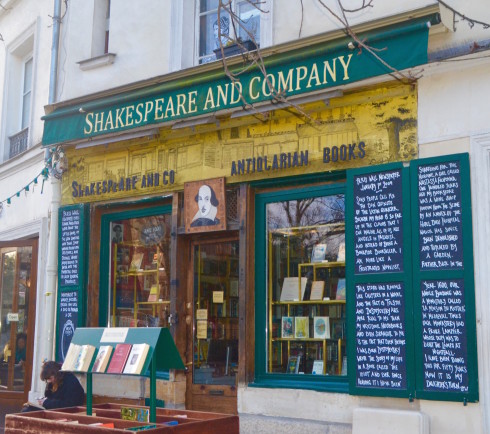 The current bookstore dates from 1951 and has had its share of illustrious writers as patrons including Allen Ginsberg, William Burroughs, Anais Nin, Henry Miller, Lawrence Durell and James Baldwin among many others. So for the literati and I, somewhat presumptuously, consider myself as one, this is a holy place. I am almost trembling as I cross the threshold, but soon calm down enough to ask where I can find the travel book section. After about twenty minutes I emerge with three books, all on Paris and each stamped with the distinctive Shakespeare and Co. logo on the inside.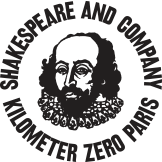 Coming out of the bookstore I look up and can't help but exclaiming "Holy Shit" at what I am looking at. It's Notre Dame cathedral in all its splendor just across the way. Little did I think it possible that this most famous Paris landmark would be destroyed by fire a few years hence of writing this post. I hope to see it again once it has been restored.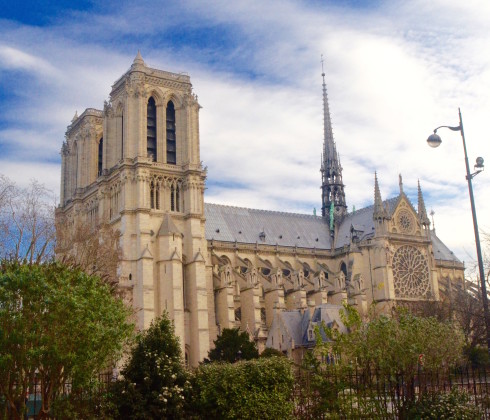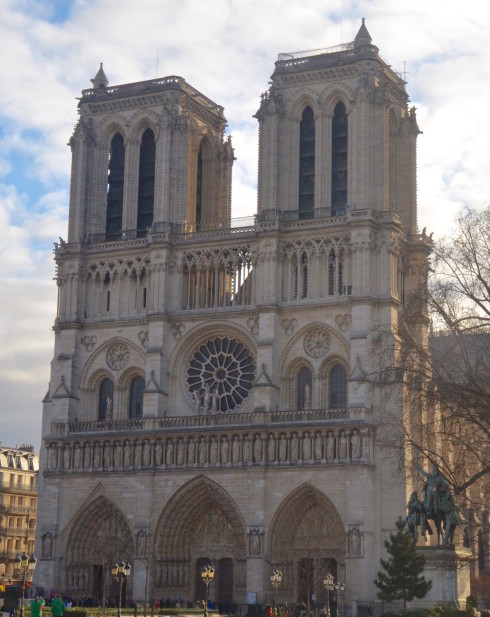 It's worth a second photograph, but I'm not going any closer today. As tempting as it is just to cross over to the Ile de la Cité, I'm going to avoid that temptation and continue my Latin Quarter Paris walking tour. I do, however, sit down in another tiny Latin Quarter Paris park, Square Rene Viviani which has a modern fountain that I can't really make heads or tails of. It apparently has to do with the legend of St. Julien le Pauvre for whom the church on the other side of the square is named.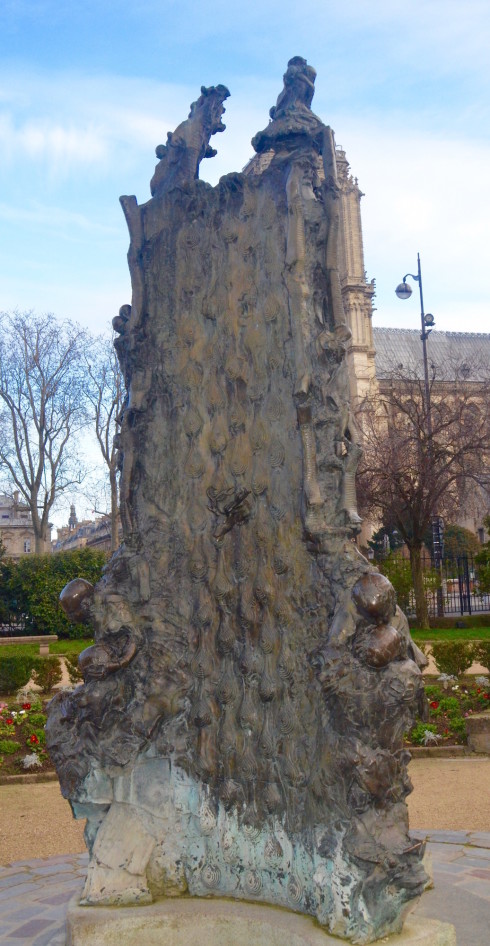 The church of St. Julien le Pauvre is one of the oldest in Paris and speaking of old, as I head to the church there is a rather woebegone looking tree being held up by props, that is apparently the oldest in Paris. It's a locust tree that records indicate was planted in 1601. No wonder it needs its own set of crutches.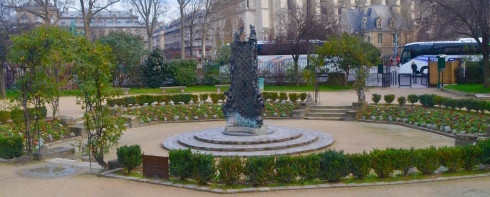 Leaving the park I look back and notice the hordes of people leaving the tour buses, headed for Notre Dame. Not one bothers to come this way even though it's a wonderful spot from which to view the cathedral.
St. Julien le Pauvre is now run by the Melkites, a branch of eastern Christianity with ties to the various Byzantine sects. Over the lintel there are reminders of the French Revolution.

Church of Saint Severin
Just because I'm not going to Notre Dame does not mean I won't be visiting the inside of a church today. I reenter Rue Saint Severin from its other side and walk to Rue des Pretres Saint-Severin from where I can see the entrance to Saint Severin church. It's a very large church allegedly built on the site of the tomb of Saint Severin, a famous hermit. Unfortunately it's very difficult to get a good exterior shot because the area around it is so built up. This is the best I could do.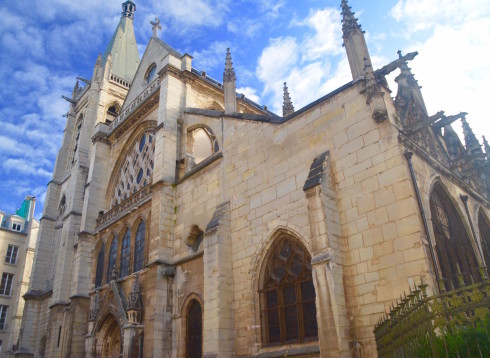 This is the entrance.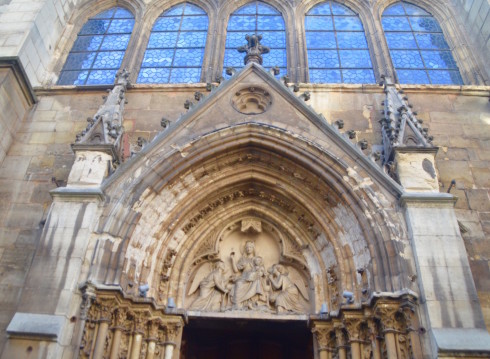 Outside there are some gargoyles that would give Notre Dame a run for its money including this guy who seems to be in pure agony.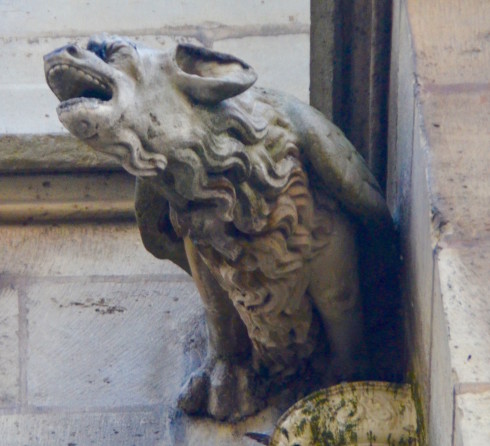 Inside the place is almost completely deserted except for one person praying. I can't help but think of the hundreds of people, if not thousands, who will be inside Notre Dame which is barely a hundred yards away. As gothic churches go St. Severin is pretty nice. It has five naves of which this is the central one.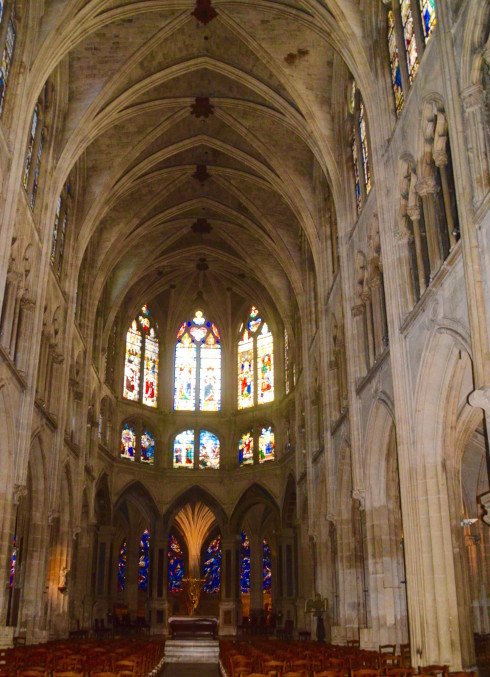 Some decent stained glass.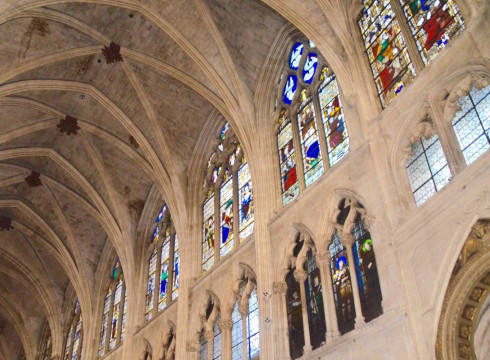 And some modern ones I don't really care for.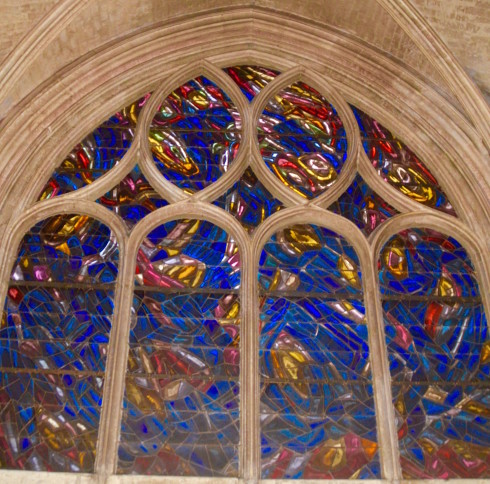 Off the the side of the apse there is the small chapel of St. Sacrement in which I am totally alone. It has an elliptical roof designed by the architect Jules Hardouin-Mansart. You might be familiar with one of his other little projects – the palace at Versailles.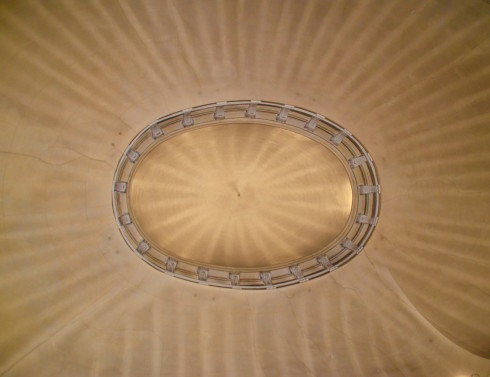 Inside there is this modern, what appears to be a crucifixion, but on closer inspection appears to depict Jesus' ascent into heaven.  He appears to be floating upward, completely independent of the wall to which it must be attached. It is quite moving, even if you're not a Christian and that would include me.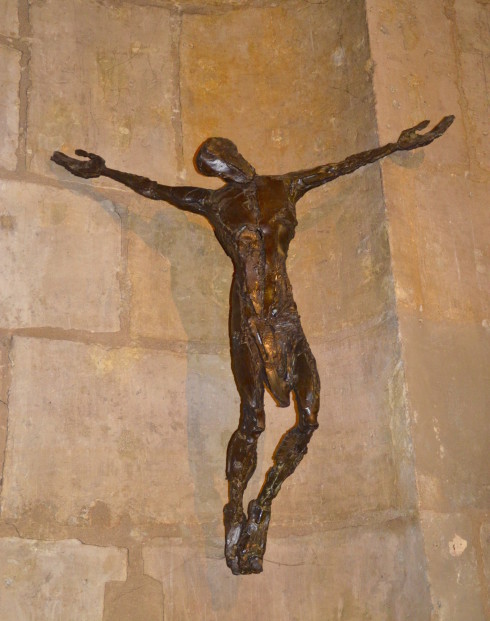 Also inside this chapel with nobody but me looking at them, are a series of woodcuts by the great French artist Georges Rouault depicting various religious themes, for which he was very well known including this one.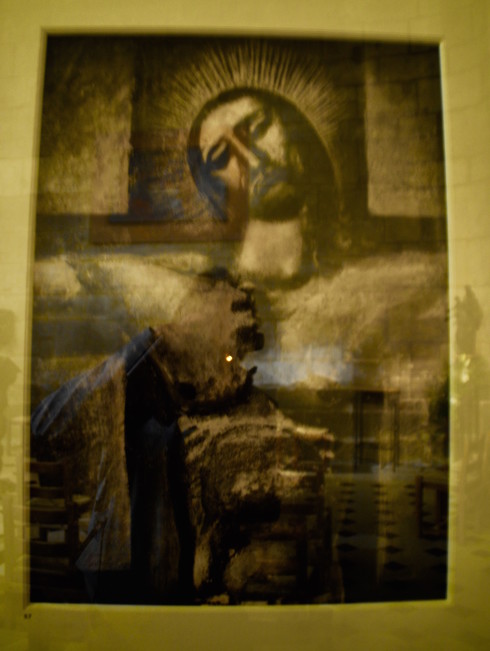 Leaving Saint Severin I walked to Rue de la Parcheminerie and then turned right back onto Rue St. Jacques towards the apartment. Along this stretch there are dozens of stores catering to the huge student population of the area, most notable sporting goods and games.
Arriving back at the apartment I couldn't help but reflect on a morning well spent. There's too many in life that are just the opposite. Join me on more Latin Quarter Paris ramblings over the next few days as I discover that the best way for the city of Paris to put the terrorist attacks behind it is to be careful, but by no means let the bastards win by changing the way things have been done here for centuries.