Balcon de Cordoba – A Must Stay in Cordoba
This is the first of three posts on the wonderful city of Cordoba, Spain which we visited, almost on a whim in November 2015. Posts will follow on a walk around the historic city and the almost unbelievable Mezquita, but this one will focus on one of the best hotels we have stayed at anywhere, the Balcon de Cordoba. I will also describe its amazing restaurant Pairi Daeza and the nearby Taverna Luque which is a completely different experience, but equally excellent. If it sounds like I'm laying on the superlatives, which I am, read on and find out why.
We drove to Cordoba from Marbella, stopping on the way at Ronda about which I wrote this post on the many reasons to stray off the beaten path a bit to visit it. From Ronda it was mostly secondary roads through some very nice country with a lot of farms, until reaching the A-45 outside Antequera. It was then an easy drive north to the modern outskirts of the city.
The reasons for choosing to make Cordoba our last sight seeing stop in Andalusia were manyfold – the famous mosque turned cathedral, the Mezquita, the Roman bridge over the Guadalquivir River, the largely intact old quarter (the second largest in Europe) and of course, more great Spanish food and drink. The reasons for choosing the Balcon de Cordoba as our hotel were also numerous. It is located in an historic 17th century building in the middle of the old quarter, it apparently has great views of Cordoba and in particular the Mezquita (hence the name) and it was very highly rated on TripAdvisor, which we have found to be a reliable indicator. While rates at the Balcon de Cordoba are not cheap, neither are they out of whack with other historic hotels.
Booking the Balcon de Cordoba and finding it are two different matters as we quickly found out. I had it plugged in the GPS and knew from the map it was on a side street just up from the Mezquita. The was only one problem, – once we entered the old quarter the streets became so narrow that they were all one way and the GPS had trouble picking up the satellites. I'm not going to repeat the language I used as we passed the Mezquita for the third time, knowing that the Balcon de Cordoba was only a block away. In fact I knew exactly where it was, but couldn't figure out how to navigate the one way streets to get there. Finally I found about the only place you could park a car in the area and got out on foot and walked to the top of the street it was on. From there I returned to the car and asked Alison to go to the hotel and have someone come back and show us the way we could drive there, which is exactly what happened. It was an inglorious arrival and I was never so glad to hand over the keys and get rid of the damn car and its traitorous GPS unit.
Balcon de Cordoba
Just walking through the tall wooden doors into the courtyard of the Balcon de Cordoba immediately lowered my blood pressure back into the almost normal range.  This is the sight that greeted us. The staff were just in the process of finishing up the holiday decorating and there were flowers and fresh fruit everywhere. Also note the elegant mosaic floor which was in keeping with the fact that Cordoba dates back to Roman times.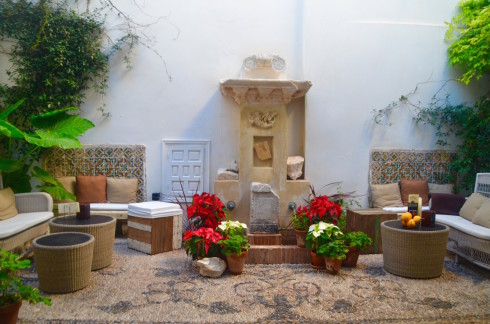 We were greeted by a young man who bade us take a seat at a desk as he retrieved our reservation while giving us a rundown on the hotel. Once he found it using an old-fashioned alphabetical card index, I took out my credit card and he waved his hand in a manner to indicate, "Don't be silly." Another indication that this was not your typical hotel, luxury or not.
After signing the registration form he insisted that he give us a personal tour of the hotel and grounds. The place is absolutely loaded with valuable antiquities which according to the hotel website were conserved with help from the Andalusian Archaeology Department. Some date back to the time of the Romans who conquered the city from the Carthaginians in 206 B.C., so we are talking about items created up to two millennia ago. You don't see that everyday in a hotel. The best thing is that the items are on open display and not behind glass. One could easily spend a few hours just studying the artifacts in Balcon de Cordoba.
However, the antiquities are not the only attraction. There are a number of small courtyards, some with fountains and then there are the balconies. The view from them just blew us away. At the highest level of the Balcon de Cordoba there is a rooftop bar with this view.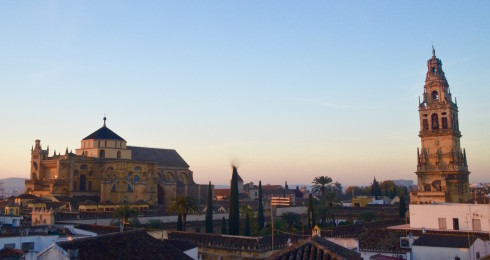 Yes that's the Mezquita or Grand Mosque and the adjacent bell tower. The top balcony has plush cushions, ottomans and divans very much in what I think of the height of luxury in Moorish Spain. It was hard for our guide to get us to leave this view as the sun was setting and it was approaching the 'magic hour', but we did descend to the next level and were shown into our room which looked like this.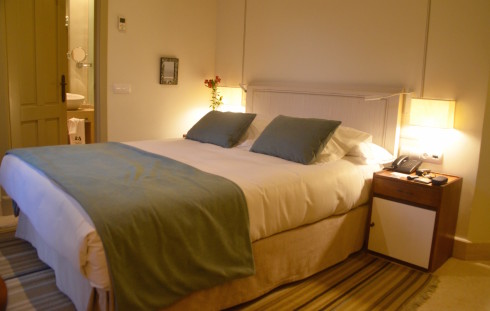 While the common areas reflected the Roman and Moorish influence on Cordoba the rooms were the height of modernity and comfort. Here is the bathroom with his and her sinks and a great soaking tub with shower.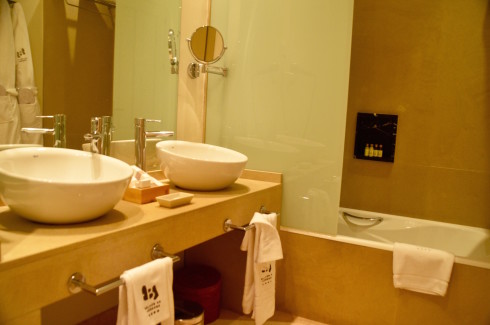 The hotel had one more unexpected surprise and that was our own private balcony which was up a private stairway. Here is the view of the Mezquita from our balcony.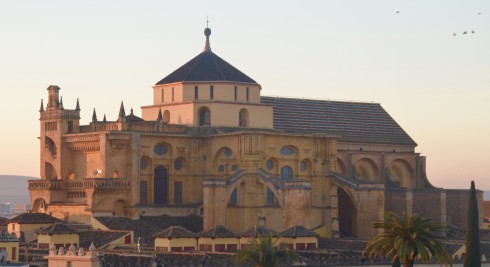 To top it off there was another bed up here and we could sleep under the stars if we so chose. As it was November and there was a bit of a cold spell, we didn't, but for anyone coming to Cordoba in warmer months this would be a great option.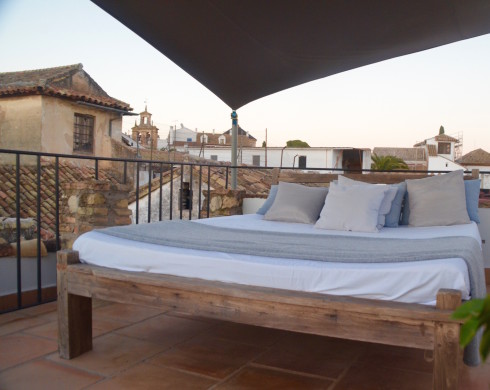 As he handed us the key, which was a real key, our guide asked if it was okay if we had breakfast served in our room as we were one of only two rooms occupied that night. Who turns down breakfast in bed? Finally, he wanted to know if we would be eating at the hotel restaurant tonight and we said we'd be down after freshening up. I could tell from his demeanor that he did not expect or want a tip, even though he had spent a good half an hour showing us around. Another sign that the Balcon de Cordoba is not your average or even above average hotel.
Pairi Daeza, Balcon de Cordoba
The restaurant in the Balcon de Europa is called Pairi Daeza – say it out loud and you'll get the meaning. It is small, intimate and stylish. Here is the view from the stairway coming down from our room. Alison is already seated.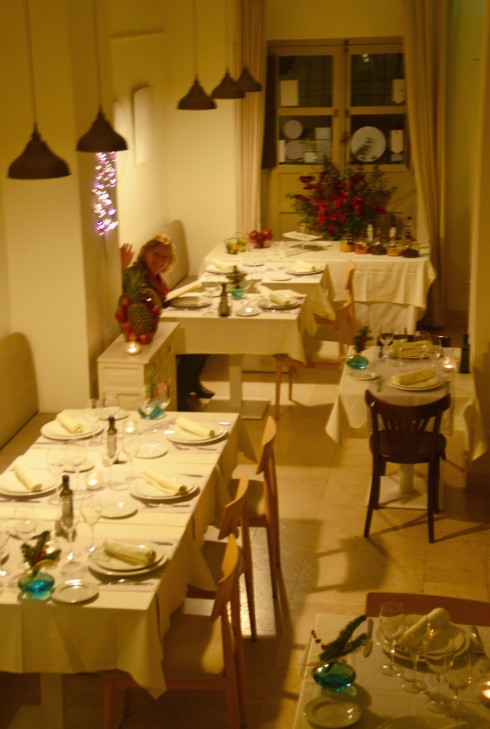 As you can see there are few tables and we were the only diners until one other couple came in halfway through the meal. Since the Spanish generally don't eat the evening meal until about 10:00 or later, that is not unusual. Here is the wall decoration behind our table.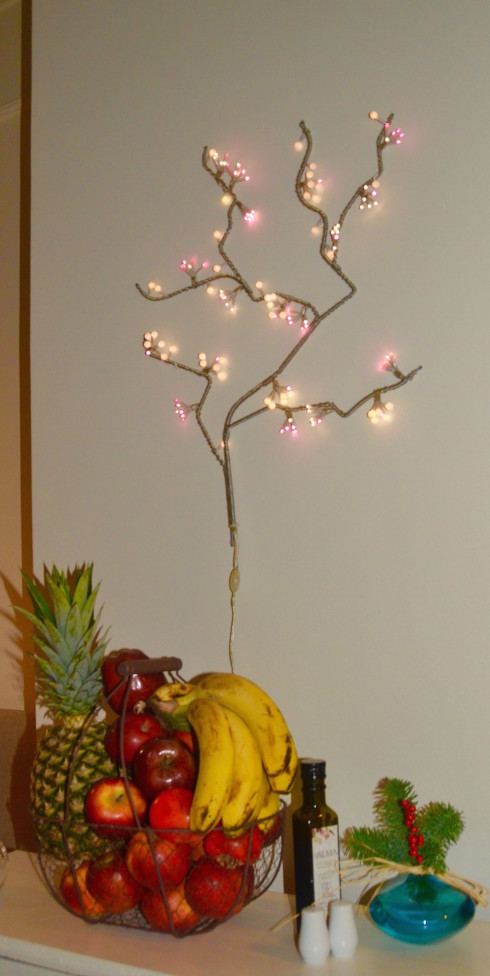 As we studied the menu, I ordered a gin and tonic made with Bombay Sapphire and it arrived looking exactly like the colour of the bottle. I usually view blue drinks with suspicion, but this g&t was among the best I've ever tasted.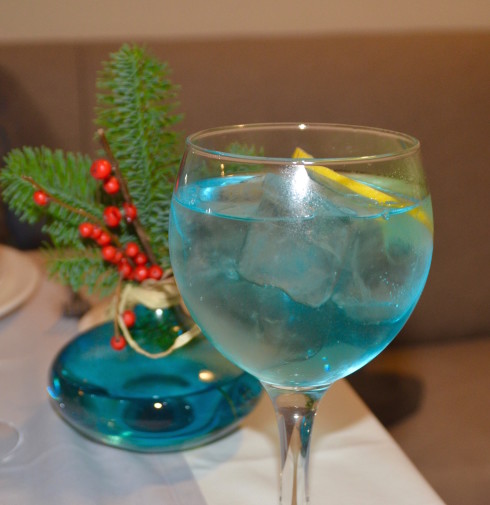 The menu at Pairi Daeza is fairly small with five appetizers, eight entrees and six desserts, most of which were completely original recipes. How often do you open a menu and discover that there's not a single item you can say you've had before? According to the website, the emphasis is on local products prepared Al Andalus which is a mixture of mid-eastern and Mediterranean cuisines. We knew this was going to be an adventuresome meal.
Our waiter spoke good English and was very helpful in making suggestions. We started with a selection of local cheeses; unusual as you generally think of cheese as a last course. However, these were delicious and paired well with the gin and tonic and crusty rolls. Great start!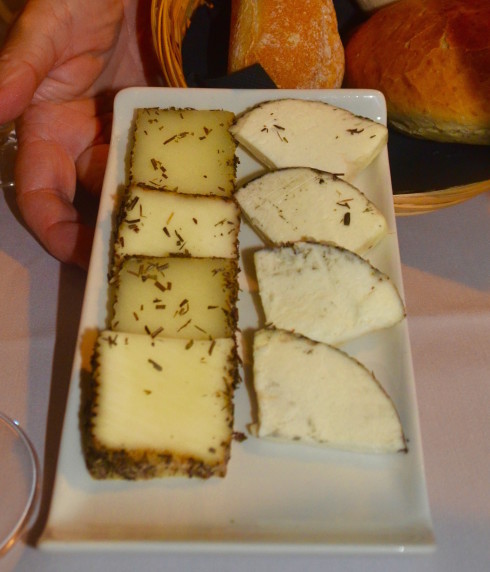 The cheese was followed by another unusual choice – pea soup. Nothing unusual about pea soup you might think, but not if made the way this one was with peas, cream, vegetables and anchovies. Yes, you read that right, anchovies.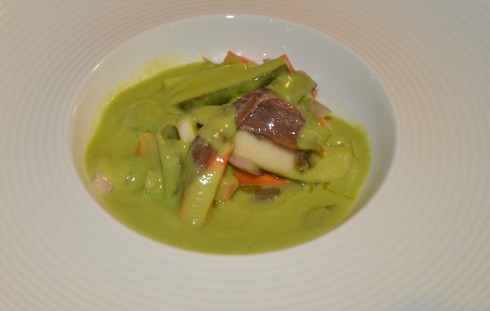 This might not look all that appetizing, but trust me it worked and was an outstanding taste combination.
For her main course Alison had chicken with flowers.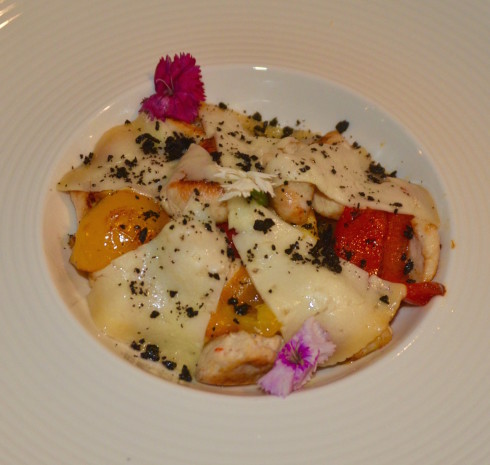 Alison ate it all, including the flowers, with a little help from yours truly. Another surprising dish that was unlike anything we have ever tasted and in a good way.
My main was Iberian pork marinated in lime and truffle oil.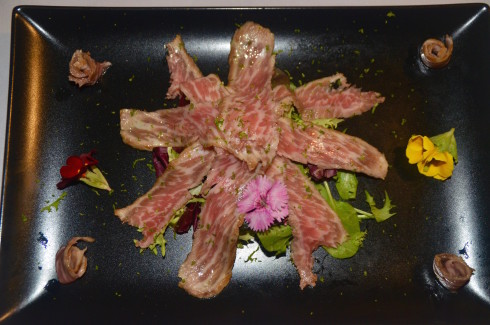 Not exactly what I was expecting to see, but after the first bite, I knew the waiter had been doing me a favour in recommending this dish. The Spanish do pork in so many different ways and I love them all, but I would put this Iberian pork up against the best of the serrano hams. What makes Iberian pork unique is that the pigs are fed a diet of acorns to fatten them up and that imparts an undeniable nutty taste to the meat.
Time for dessert. Can it possibly live up to the first two courses? In a word, yes.
Alison opted for something completely simple – orange salad. Now that might sound a little hohum, but what most North Americans never get to taste are the 'sweet oranges' that are grown in Spain, particularly around Valencia. They are so popular that few ever get exported to the New World. So this was no ordinary orange salad, but rather a new way to experience the flavour of orange.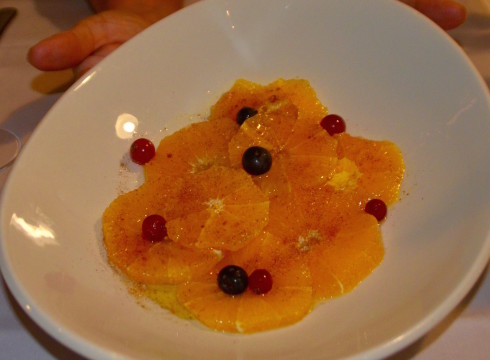 I opted for the opposite of simple or run of the mill with white chocolate soup with berries. It was a true soup made from melted white chocolate that I poured over the fresh berries. Another thing North Americans seldom see at home is true melted chocolate. Our hot chocolate is a pale imitation of the real thing served in some European countries. Alison first tasted it in Russia, but it's popular in Germany and Spain (as well as Mexico). Now I'm not going to get into an argument about whether or not white chocolate is actually chocolate or not, but I will say this. The white chocolate soup at Pairi Daeza is the best chocolate (or not), I've ever tasted! What a way to end a meal.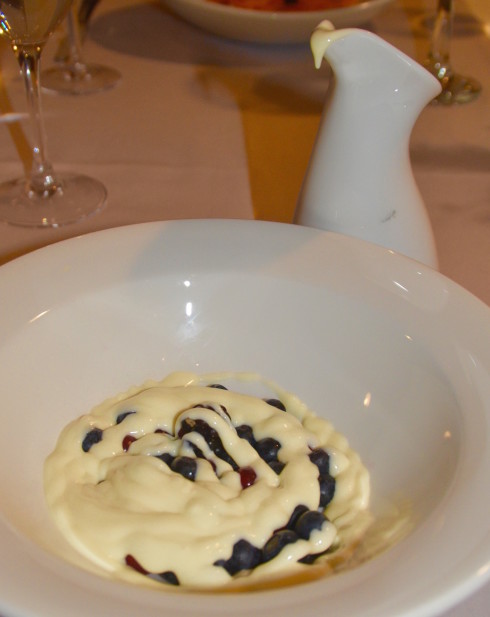 So a meal that started with cheese ends with soup and salad. That's what Pairi Daeza does; turns your dining expectations completely upside down.
What else can I say about Pairi Daeza? They have a nice wine list, the prices for food and drink are very modest in relation to what you get (the most expensive item was 22€) and the service was excellent.  Can't do much better than that. We returned to our private balcony with a glass of wine and enjoyed the sounds and sounds of the old quarter of Cordoba at night. I was very happy to see a great number of bats and night hawks on the wing. They have pretty well been extirpated in my native Nova Scotia, but I won't dwell on unhappy thoughts. Tomorrow we get to tour one of the most famous cities in world history.
Breakfast at Balcon de Cordoba
Precisely at the requested time we got a knock on the door and a waiter came in with a tray, and then another tray and then another. In effect, he set up the entirety of items from the breakfast buffet in our room.  How's this for breakfast in bed? In addition to what you there were a selection of fresh squeezed juices and coffee and tea.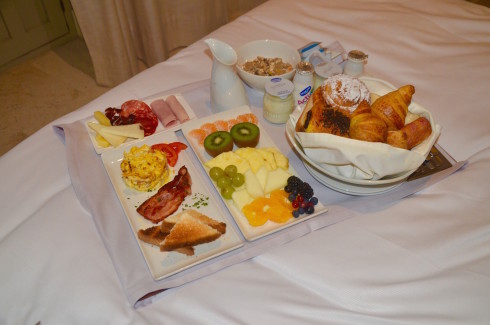 Fast forward to the next morning and we got to see the real deal which was unbelievable considering the place was still only half full. Have a look at these choices.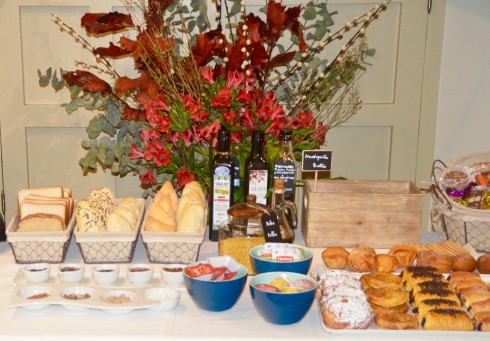 And these.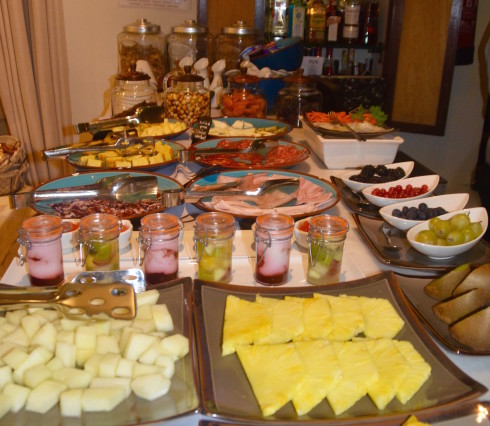 Those little glass jars contained wonderful fruit and cream parfaits. In addition you could order eggs, bacon or anything else hot that might strike your fancy. I wish more places would learn how to put on a breakfast buffet like this one at Balcon de Cordoba.
Taberna Luque
After a full day of exploring the wonders of Cordoba, including a rather ordinary lunch near the Mezquita, we were ready for one last great Andalusian meal and found it just at the end of the street where the Balcon de Cordoba is located.
Taberna Luque is listed as #2 out of 739 restaurants that are reviewed on TripAdvisor so we were pretty lucky to have it so close and to be able to get a table. The inside tables were all taken, but there were two available outside so we took one. There was a gas heater giving off a lovely warm glow and it was a nice evening. Besides, in two days we would be back in Nova Scotia where dining al fresco would be impossible for six months or more.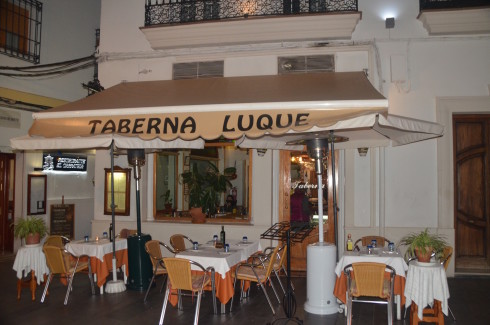 Sitting outside turned out to have another benefit. The Spanish tradition of the paseo was on full display with entire families of up to four generations, walking slowly through the old quarter, young men and women in separate groups eyeing each other and giggling while little boys and girls chased each other up and down the narrow streets. It's something you just don't see in North America where the vaunted automobile has almost deprived many of the ability to walk more than a block. These people were fit and happy and so were we, well happy anyway.
Taberna Luque is run, not surprisingly, by a man named Luque who didn't speak a word of English, but was very evident in his desire to make sure we had a great meal. Here's Luque opening a very fine bottle of Ramon Bilbao rioja. It is one of the best bodegas in Spain and from previous visits we have come to appreciate just how good rioja can be.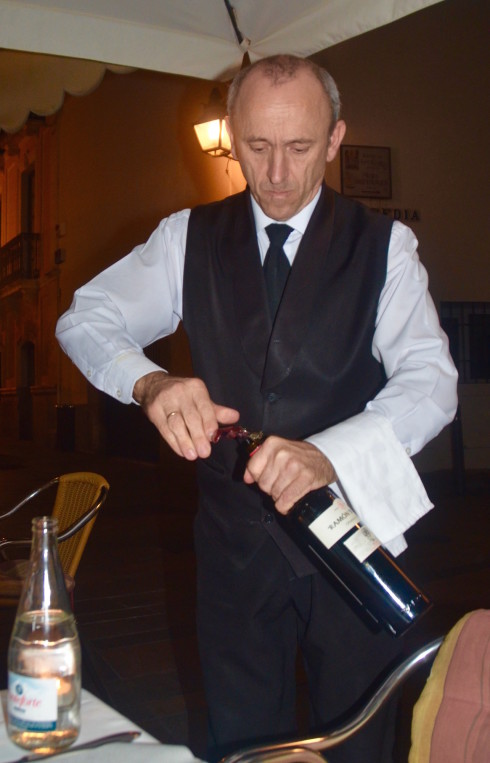 We sipped our wine and noshed on a plate of olives, cheese and tomatoes and dipping excellent bread in olive oil. We both agree that Spanish olives are the best we have tasted anywhere and these were among the best of the best. Don't ever pass up a chance to eat Spanish olives.
Taberna Luque has no website so we didn't have a chance to look at the menu in advance. It was pasted right beside us and Alison gave it the twice over as there were some great choices.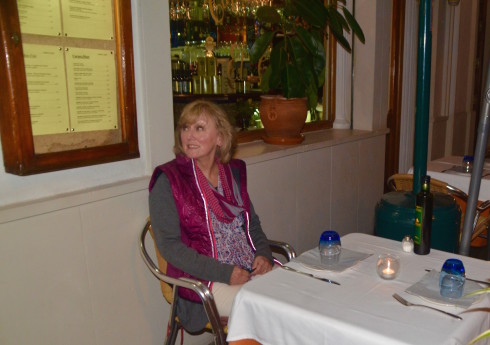 She settled on rabbit stew, rather bravely I thought, as few women I know will eat rabbit. It turned out to be a great choice – a fabulous medley of tastes with the rabbit not the least bit gamey.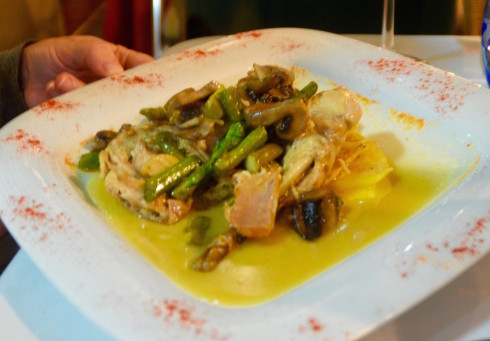 I too took a risk and ordered a steak, something I almost never do in Europe because I usually get a tough, over cooked piece of beef that is very expensive. However, Luque through hand signals was determined that I should try his and I bought it. Thank you Luque. This was easily the best steak I've ever had in Europe and one of the best ever. It was topped with melted butter, cooked exactly medium rare and properly marbled with fat that burst in my mouth while chewing. The vegetables were delicious too, but I could never forego the meat and just exist on them.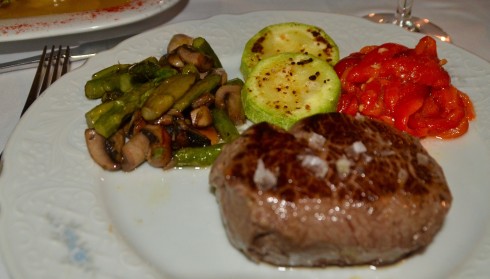 We were too full for dessert, but Luque brought us a complimentary liqueur which he got us to understand was a Cordoban specialty. I couldn't get the name, but it was a date liqueur and although dates are not my favourite fruit, the flavour of date is actually very nice.
Once again the price was more than reasonable.
So those are my reasons for staying at the Balcon de Cordoba. Please follow my next two posts and I'll give you even more. Adios from Cordoba.