Disney Magnolia Course – Not Mickey Mouse
I first played the Disney Magnolia Golf Course almost forty-two years ago to the day when I returned to play it last week. On the first occasion I was there with three other friends celebrating our graduation from law school. When I returned it was to celebrate my retirement from active practice. Won't you join me and fellow graduate Brian MacLellan as we play the Disney Magnolia course with a hole-by-hole description?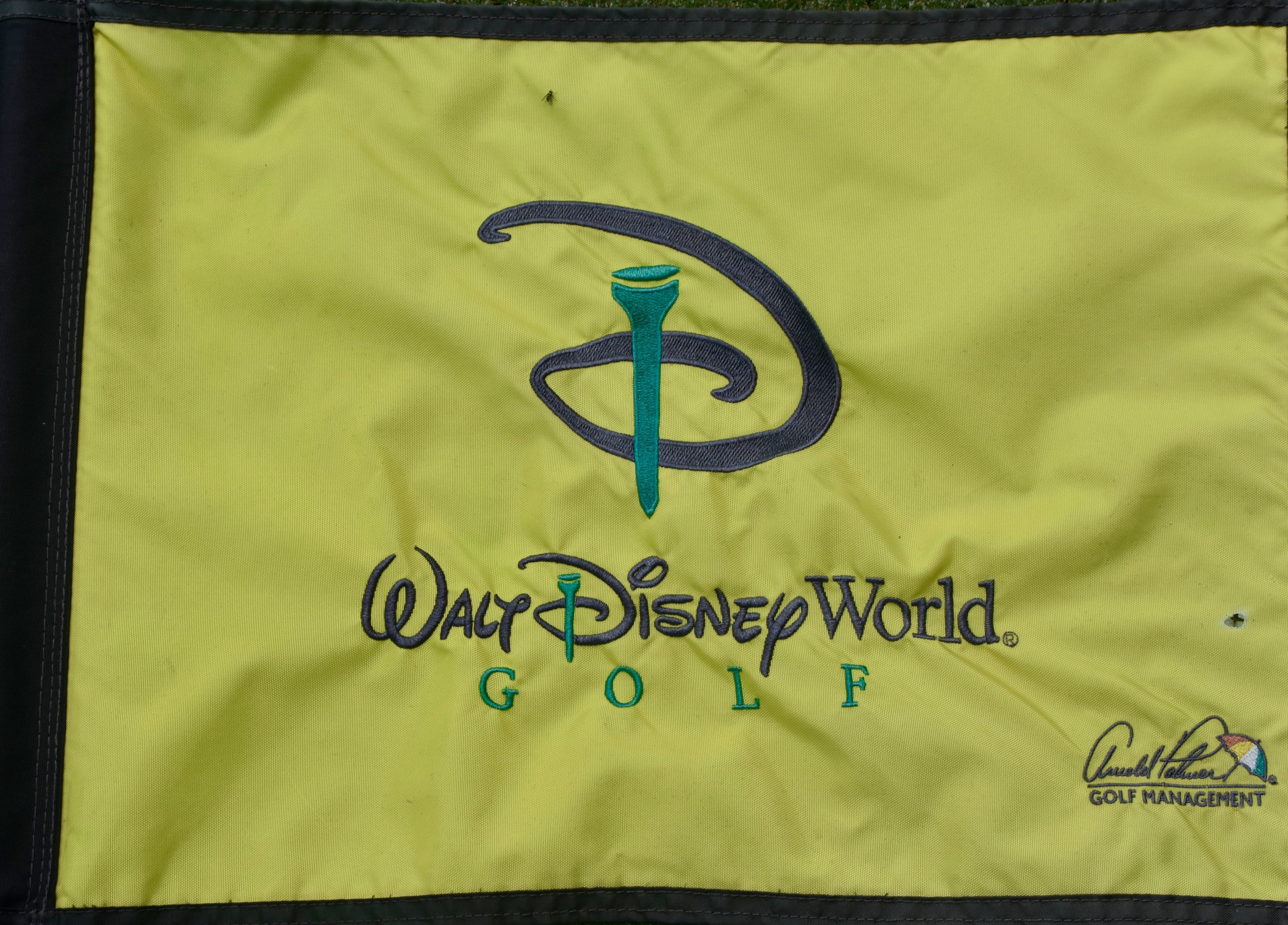 History of the Disney Magnolia Golf Course
The Joe Lee designed Disney Magnolia Course opened in 1971 and from then until 2012 it was a fixture on the PGA Tour attracting the biggest names in golf. Jack Nicklaus won the first three tournaments and other golf majors winners in chronological order include Hubert Green, Hal Sutton, Payne Stewart, Larry Nelson(twice), Lanny Wadkins, Ray Floyd, Tim Simpson (twice), Mark O'Meara, Tiger Woods (twice), David Duval, Vijay Singh, Davis Love III and Luke Donald.   The names of the winners are up on flags near the putting green.
So when you tee it up at Walt Disney World you are playing in the footsteps of the greats of the late 20th and early 21st centuries. The tournament was played on all three of the Disney 18 hole courses, but the final Sunday was always at the Disney Magnolia Course. The players loved to come here because so many of them live in the Orlando area or close by and it was like a home event for many of them. Unfortunately, after a run of forty-two years the tournament fell victim to the ridiculous split season which sees the PGA Tour 'start' in the fall and not with the much more logical Tournament of Champions the first week in January. Still, the Disney Magnolia course is one that has a lot of history and I have watched many final rounds played on it on tv, wishing I was there. Now I am, so let's play.
Green fees for Disney Magnolia were $99.00 on the day we played, which is not out of line with the quality and fame of the course. There are certainly more expensive courses in Orlando and of course, cheaper ones. I booked it through GolfNow, so you don't have to be a Disney guest to play. With the green fees you get a small bucket of balls, but the day I played you could only hit off matts on what was a very nondescript driving range. You also get a cart with GPS which is always helpful, although the number of ads was annoying. The putting green is large with one of those nice clocks you find at better courses, but it took me a while to realize it was not working – not very Disneylike.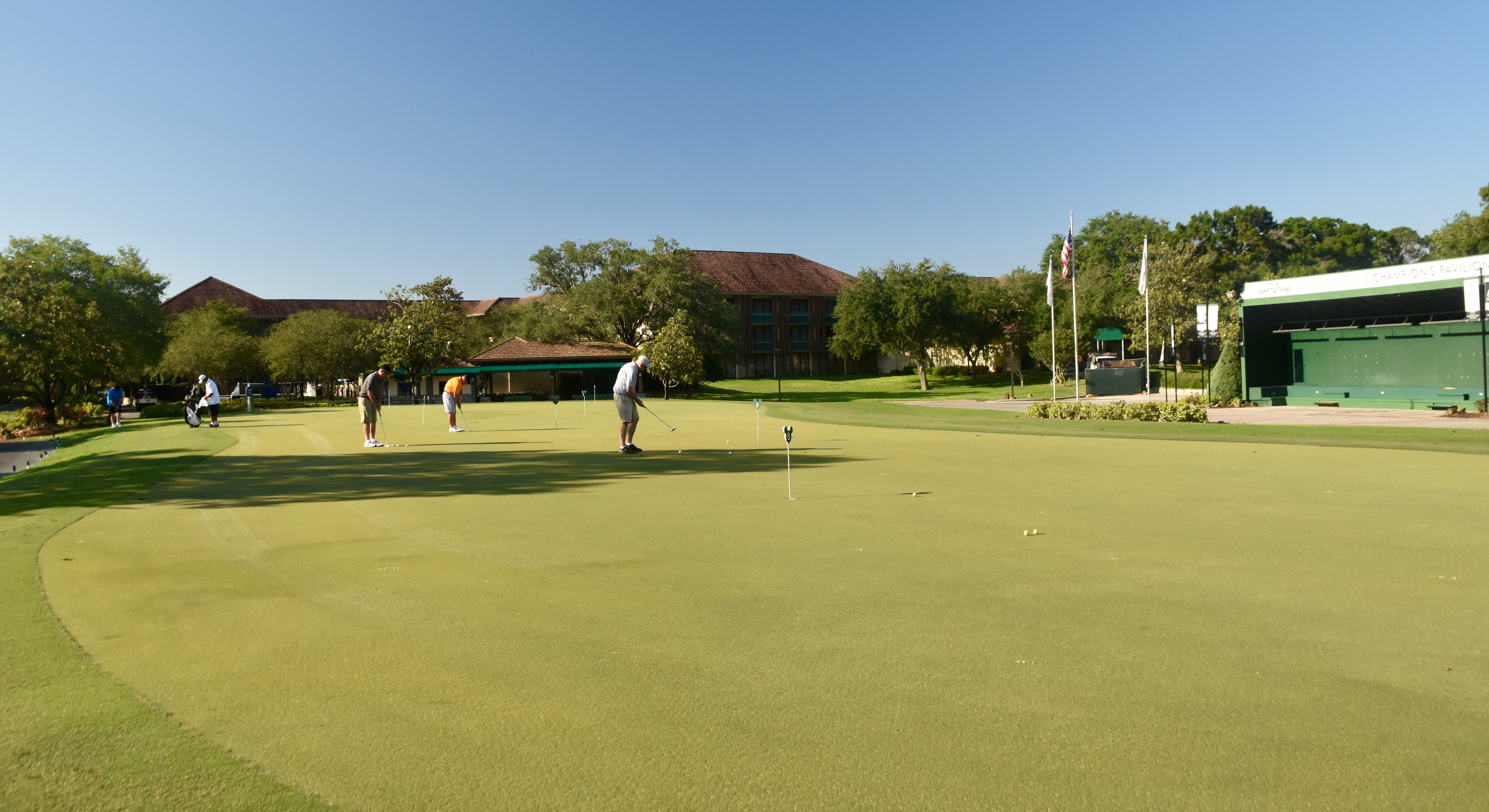 Mother nature didn't hand Joe Lee much to work with in this part of Orlando. It's flat, dry and the natural forest is a mix of pine and other scrub trees. In order to make the course appealing to the eye Lee added a lot of water which in turn attracts a lot of wildlife, including alligators. The Disney Magnolia course is an Audubon Certified Cooperative Wildlife Sanctuary. On top of that, Lee added hundreds of magnolia trees which were just coming into bloom when I played in late April. The course's defence is essentially its length – over 7,500 yards from the pro tees, its 97 bunkers and of course, the water which is in play on eleven holes. I'll be played from the gold tees at 6,027 so the length will not be an issue, but the sand and water, definitely.
No. 1 – Disney Magnolia
One thing I think every golfer who has followed the PGA tour will appreciate at Disney Magnolia are the signs on each hole setting out some historical fact related to the tournaments held here. The first one, not surprisingly, features Tiger Woods.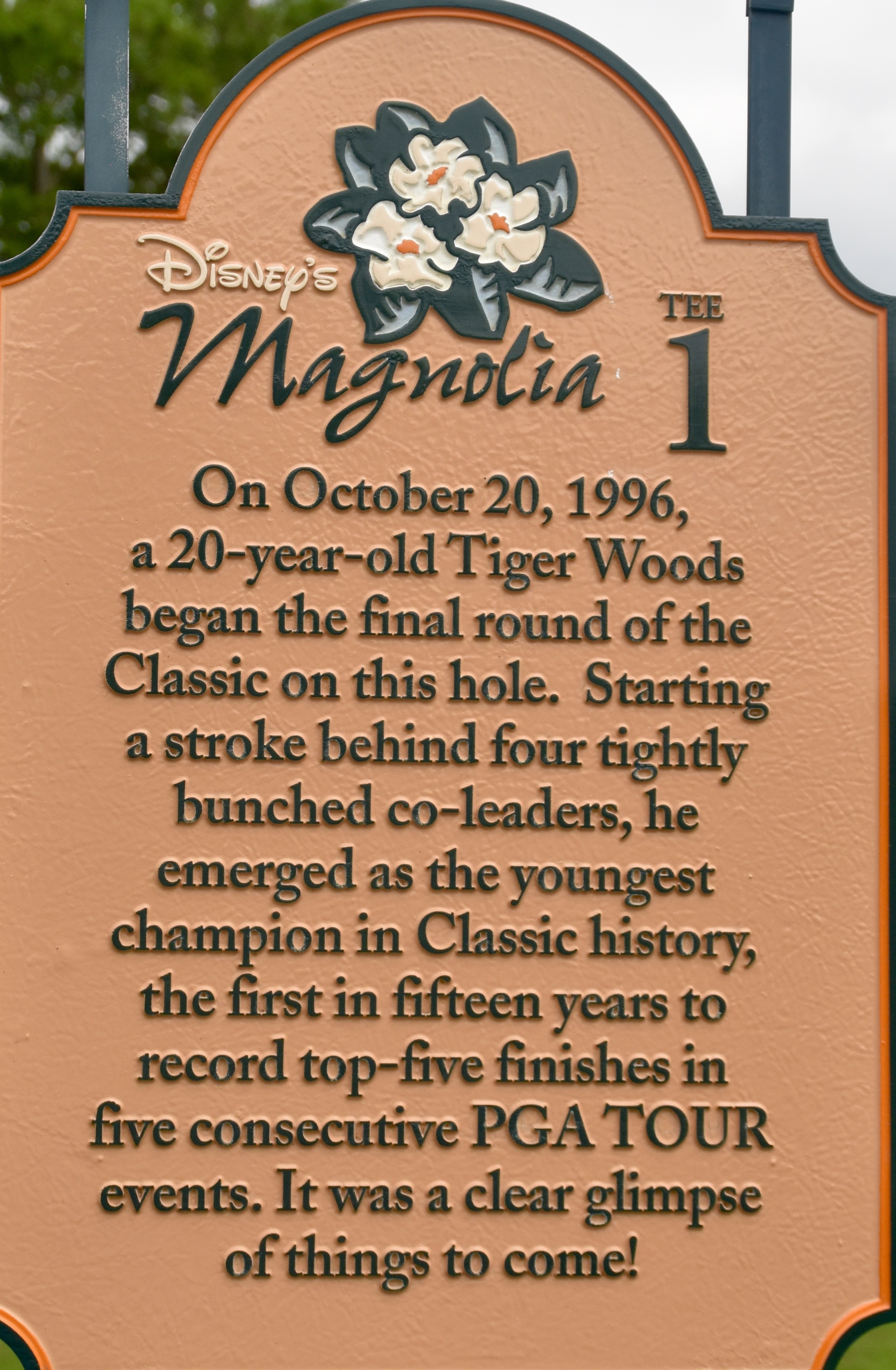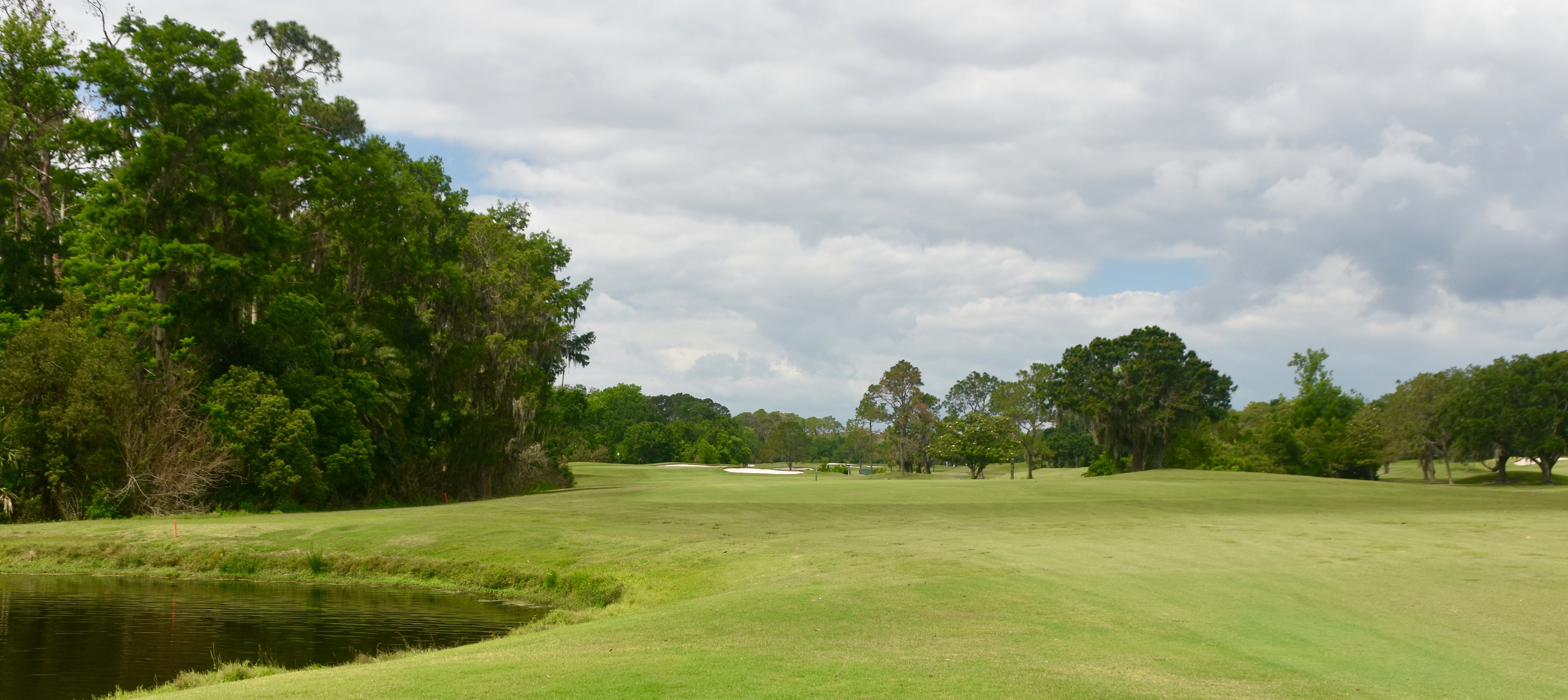 The first hole is a 384 yard par four that is the second longest from the gold tees and the #3 handicap hole. It requires two good shots to reach, however, the fairway is generously wide and that water on the left is not really in play. The real problem is three strategically placed bunkers that almost surround the green. I would put the odds of the average golfer finding one at 50/50. The sand at Disney Magnolia is very fine and relatively easy to play out of. The biggest concern I found was taking too much sand, not too little.
On reaching the green on No. 1, I was a bit disappointed to find that the greens had a fine topdressing of sand. I know this is necessary for course maintenance, but it made the greens very difficult to read and hard for me to comment on them. It also made them very fast.
No. 2
The second hole sign has nothing to with golf and everything to do with fishing!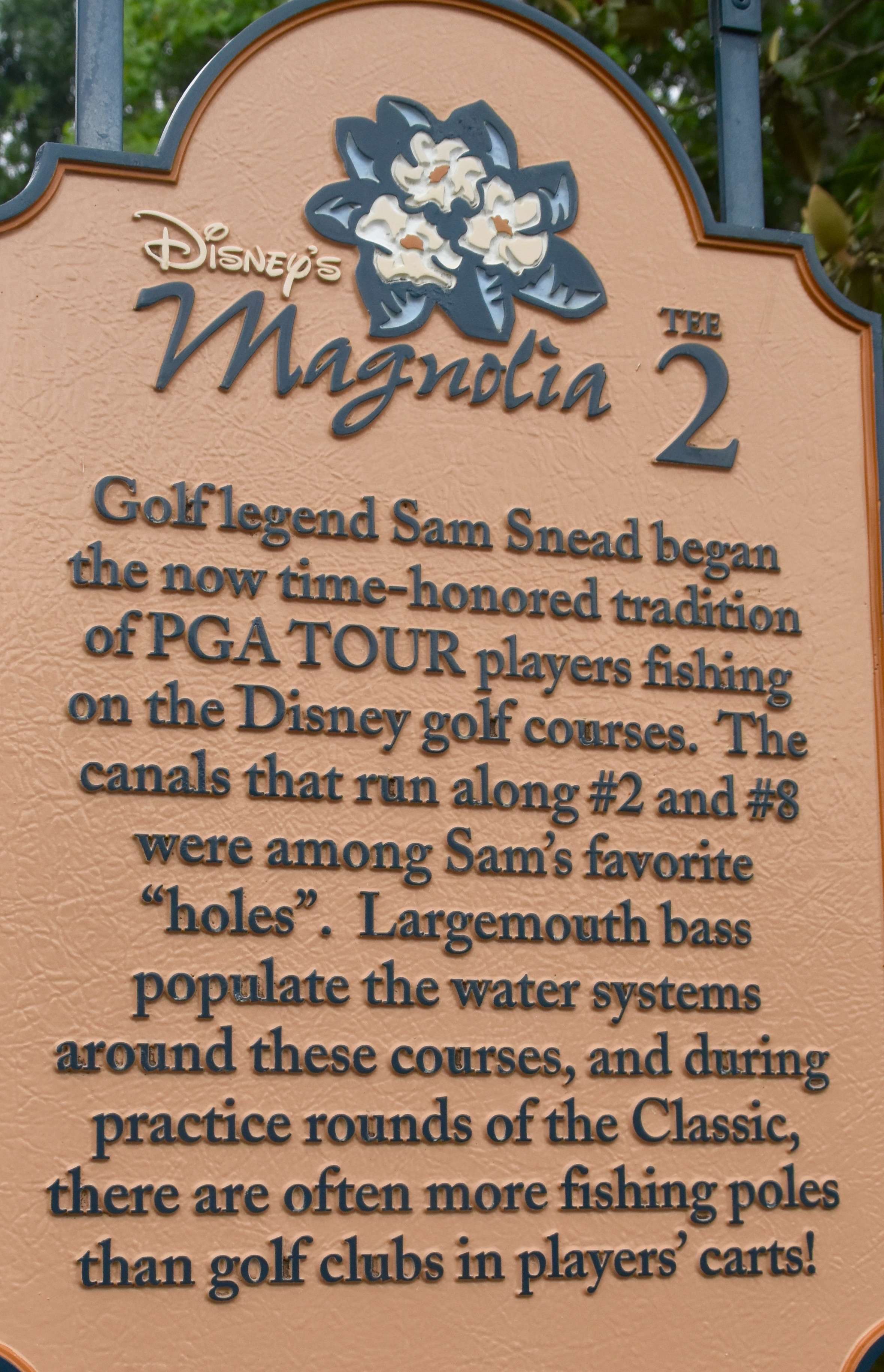 For some reason my photo of #2 won't load properly so I am using this one from BlueGolf.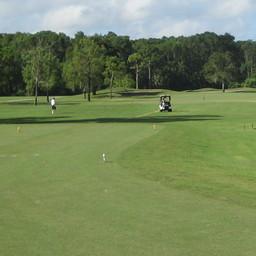 This is a quite short 315 yard dogleg right that is considerably tighter than #1. Probably best to hit a wood and not a driver off the tee. If you thought #1 was well guarded, then #2 with five traps surrounding the green and only approachable with a good pitch shot, is a fortress.
#3 – Disney Magnolia
If you're going to get a hole in one on Disney Magnolia, then, as the sign makes clear, this is the most likely victim.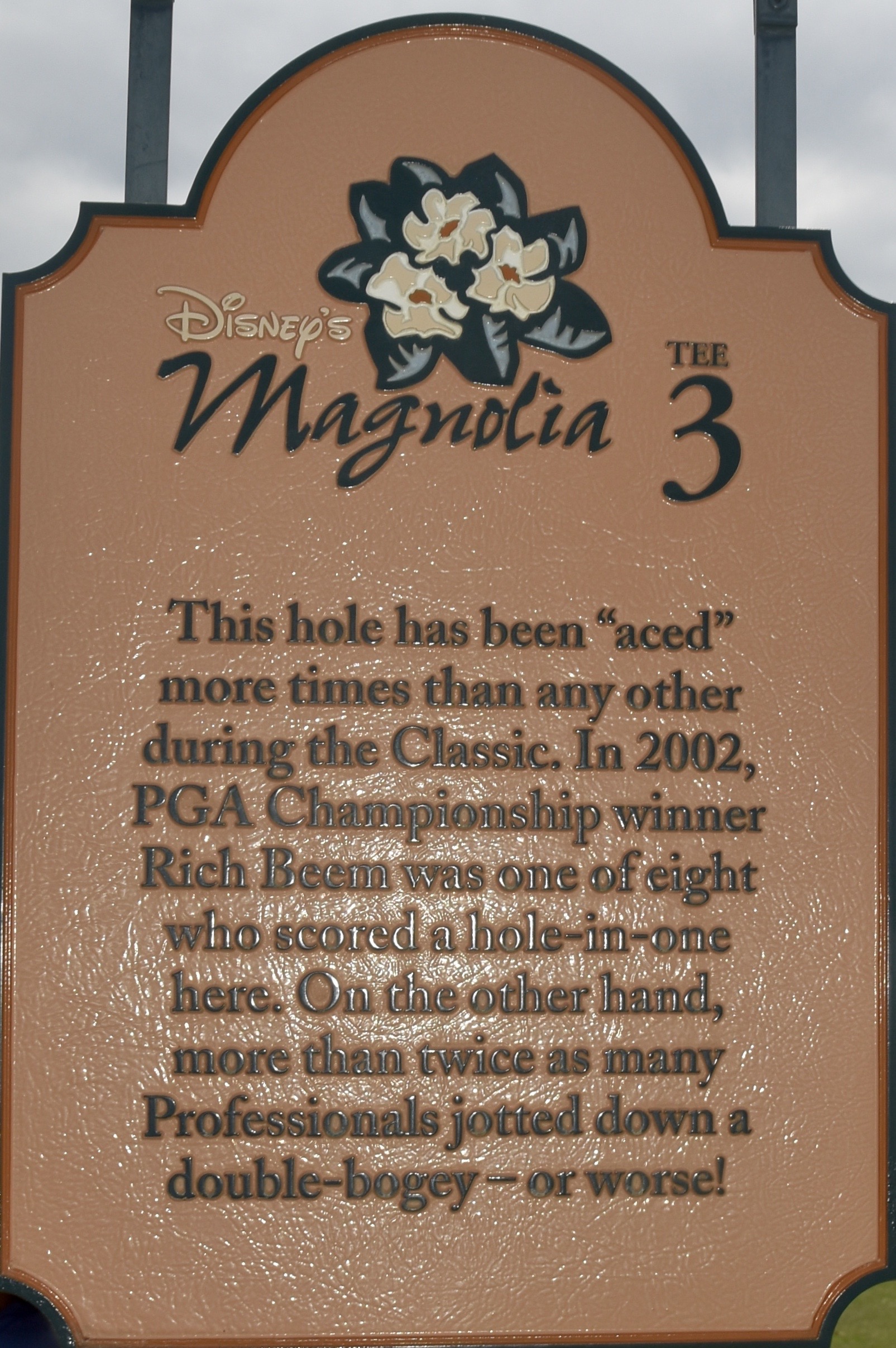 This hole is only 134 yards and you can see the magnolias just coming into bloom back of the green.  The second easiest hole on the course should be an easy par for most if you avoid one of the four bunkers.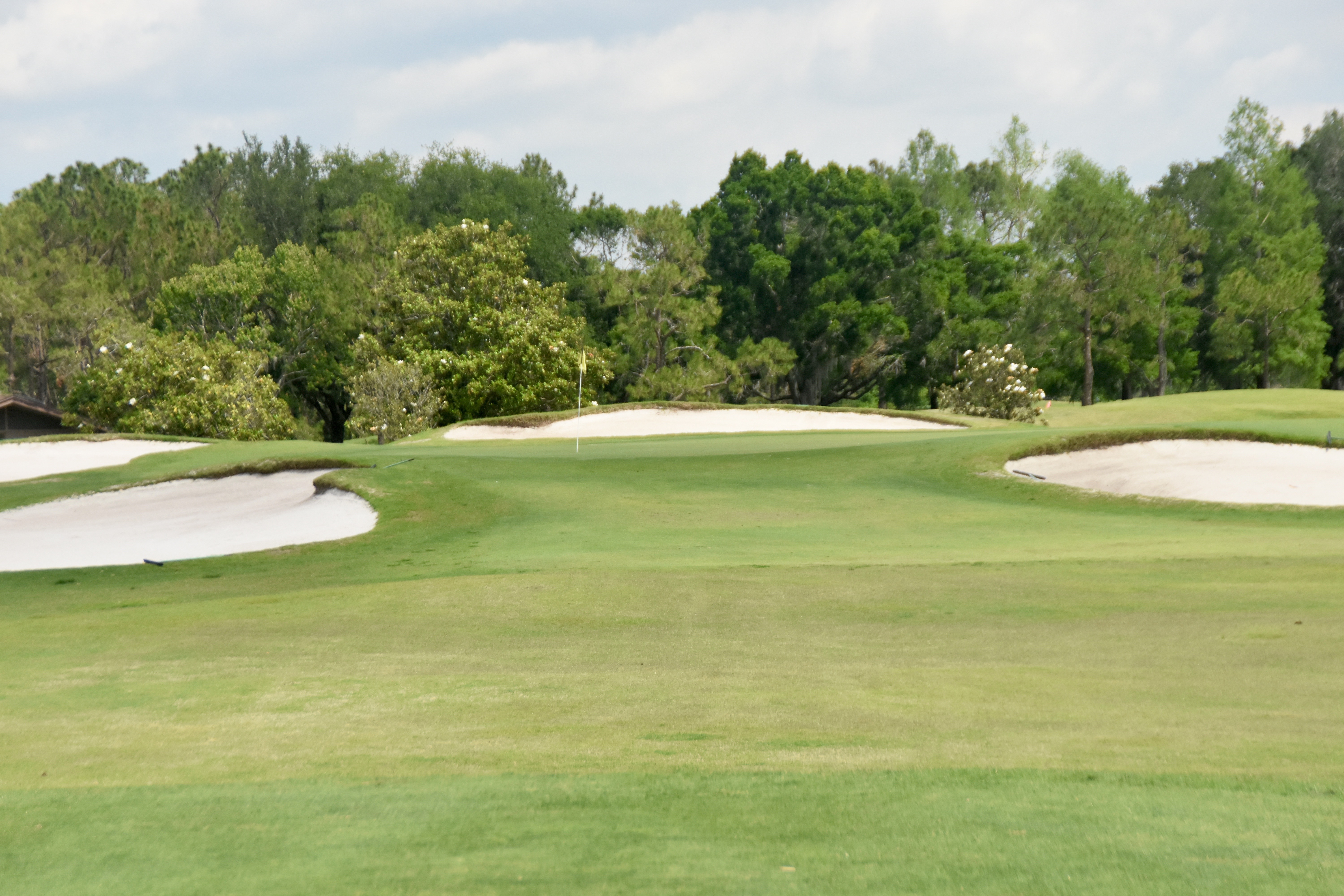 #4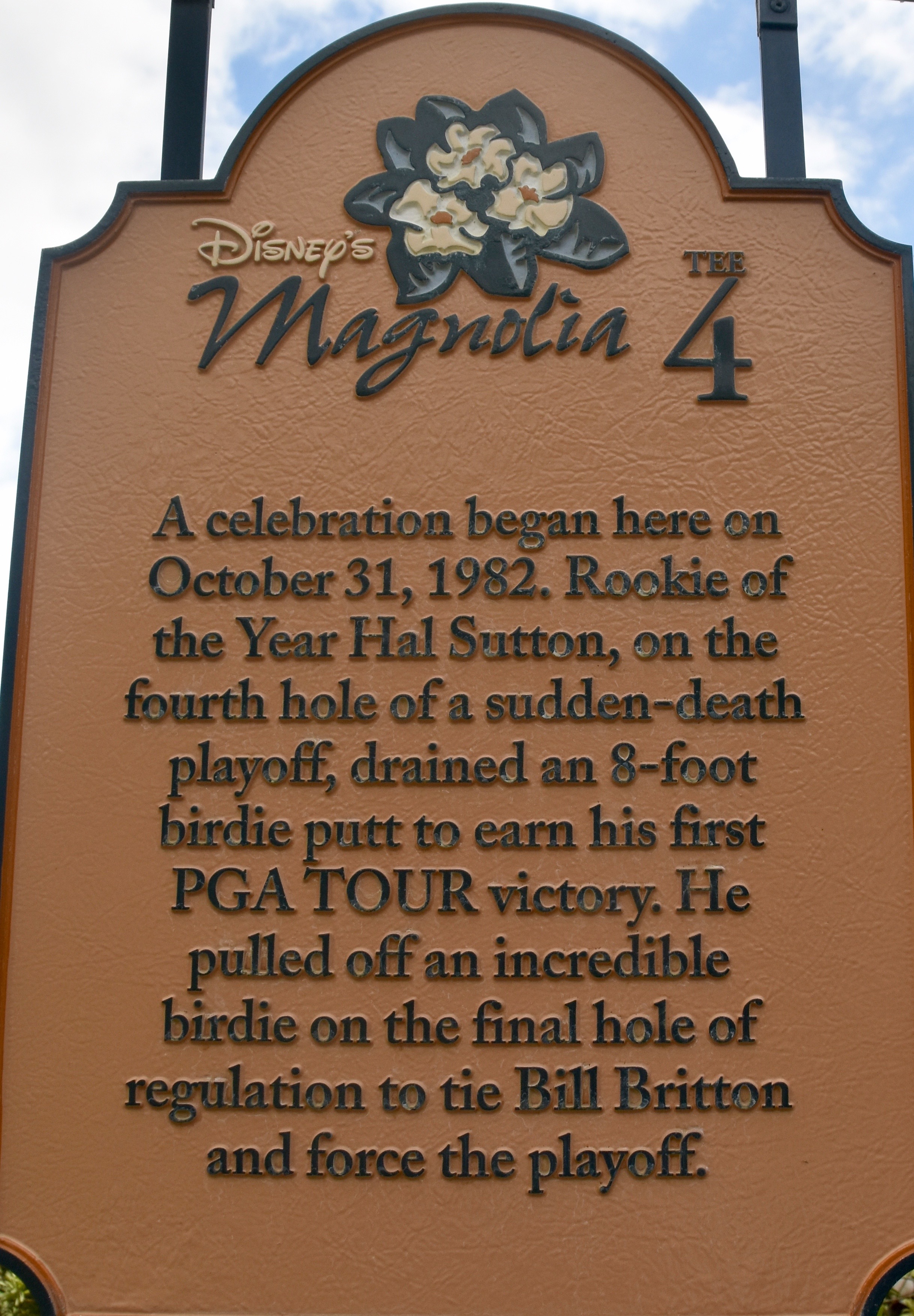 Hal Sutton had an incredible early career once he got his first win right here on this hole, but never lived up to his early promise.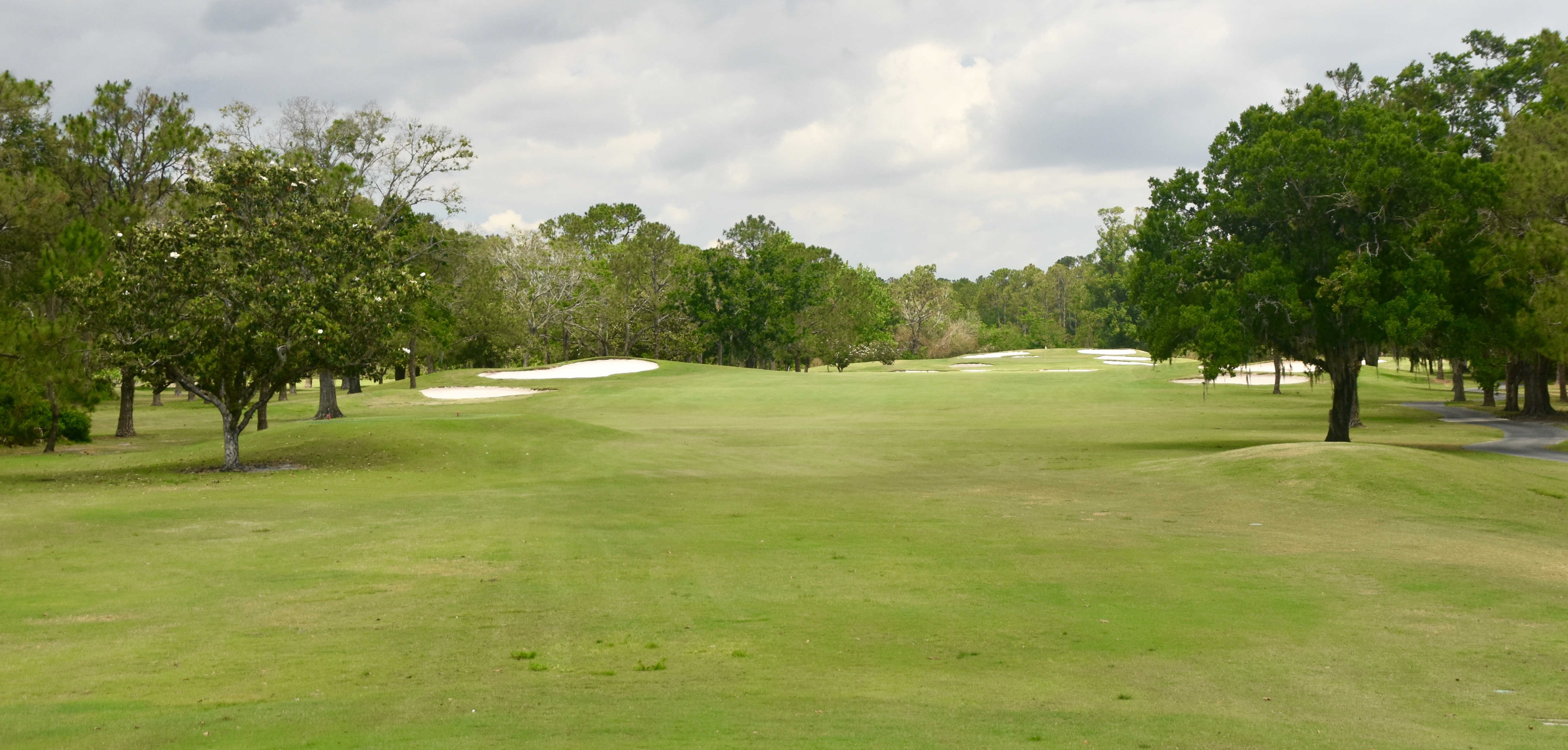 The first of the par fives is a quite manageable 477 yards, but extremely tight. The good news is that there is no water on this hole and if you can't hit the fairway it's a pretty easy way back from all but an unlucky lie. However, the problems are compounded as you near the green with sand seemingly everywhere. This is definitely a thinking man's hole and will reward a conservative approach.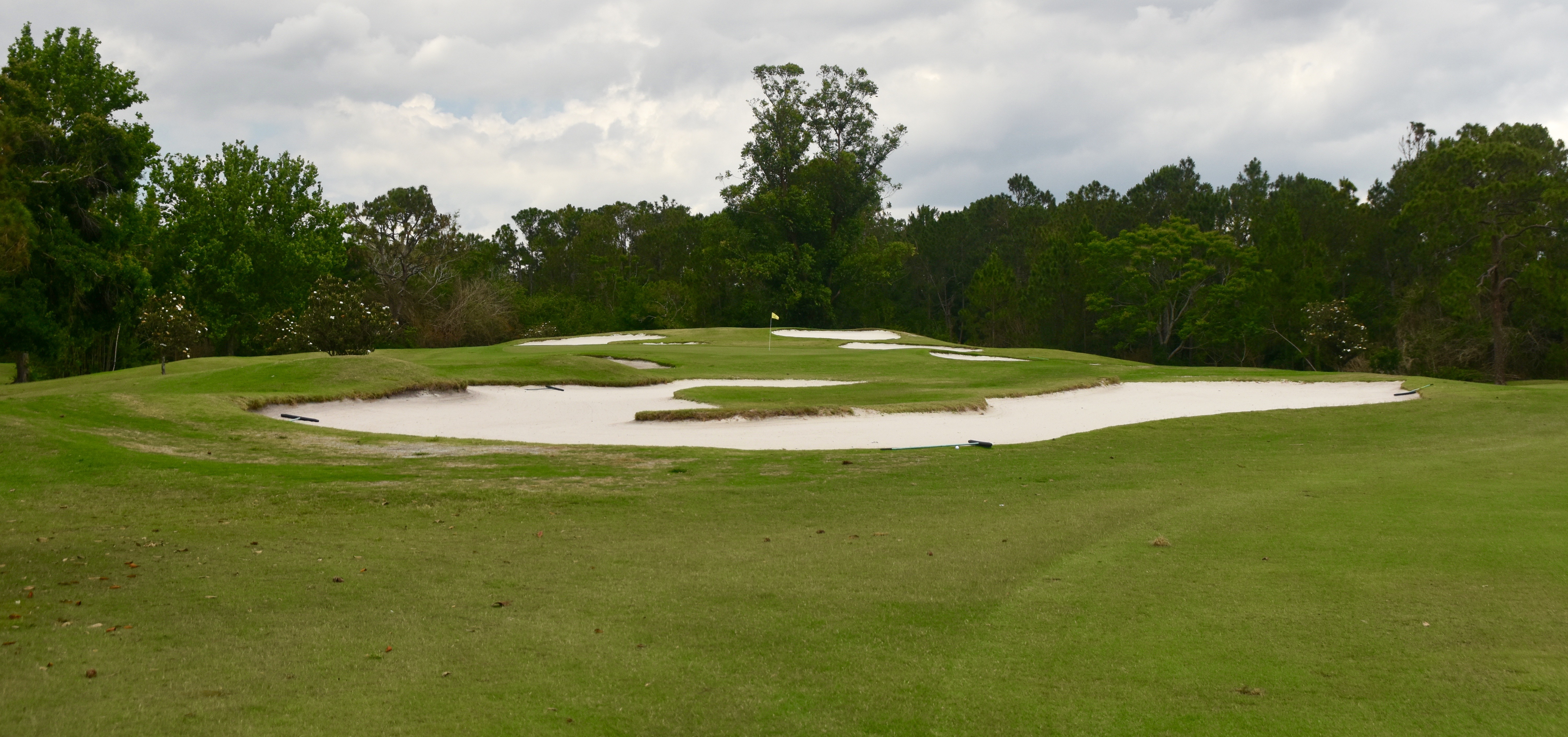 #5 – Disney Magnolia
The hardest hole on the course proves to be a winner for Jack Nicklaus.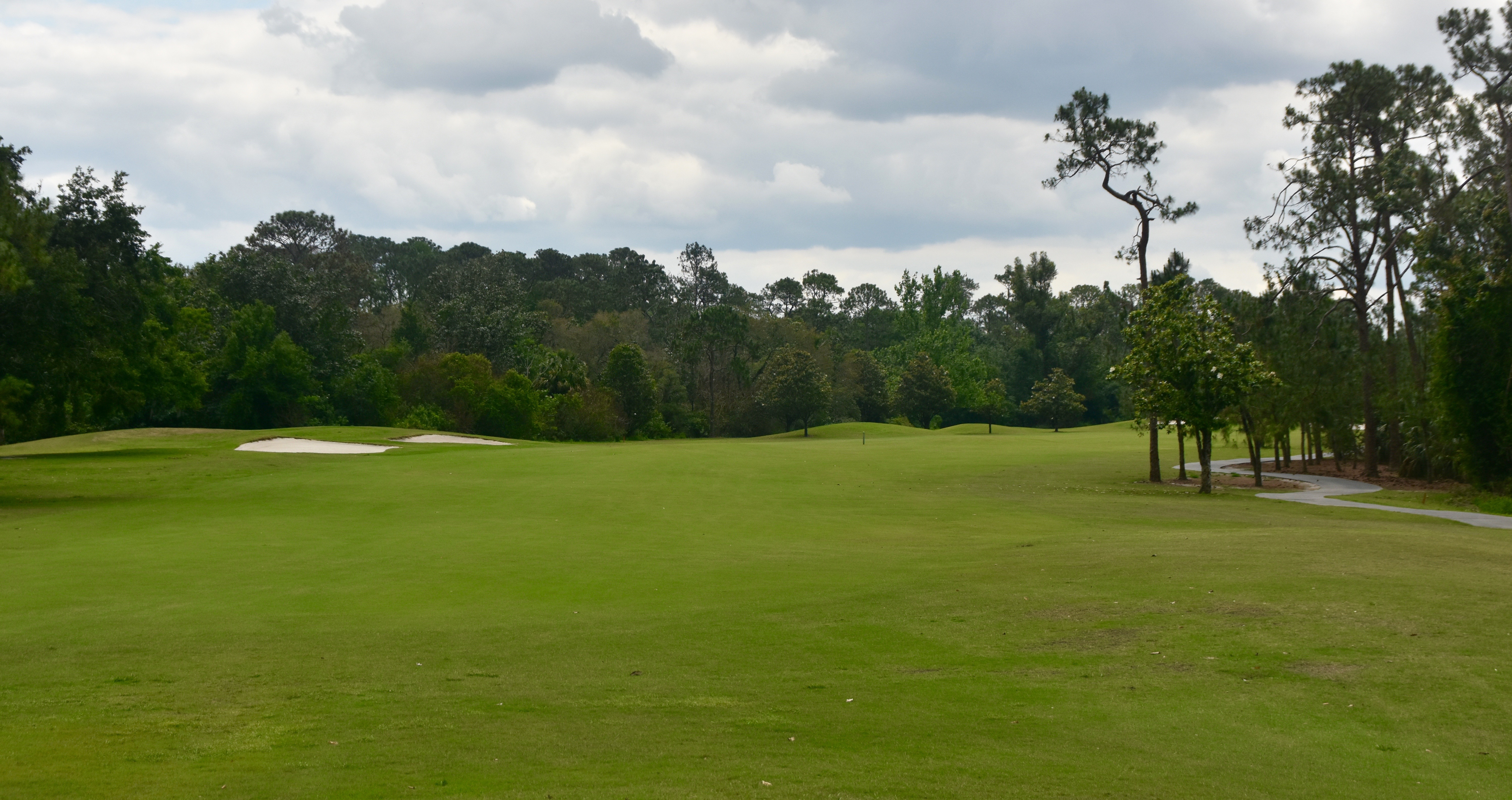 #5 is a dogleg right par 356 yard par four which challenges you to try to cut off as much as possible by going down the right side. However, if you fail, as my playing partner Brian did, the woods are thick and a lost ball is very likely the result. My advice would be to respect the handicap rating and play it safe. A bogey is just fine on this hole.
#6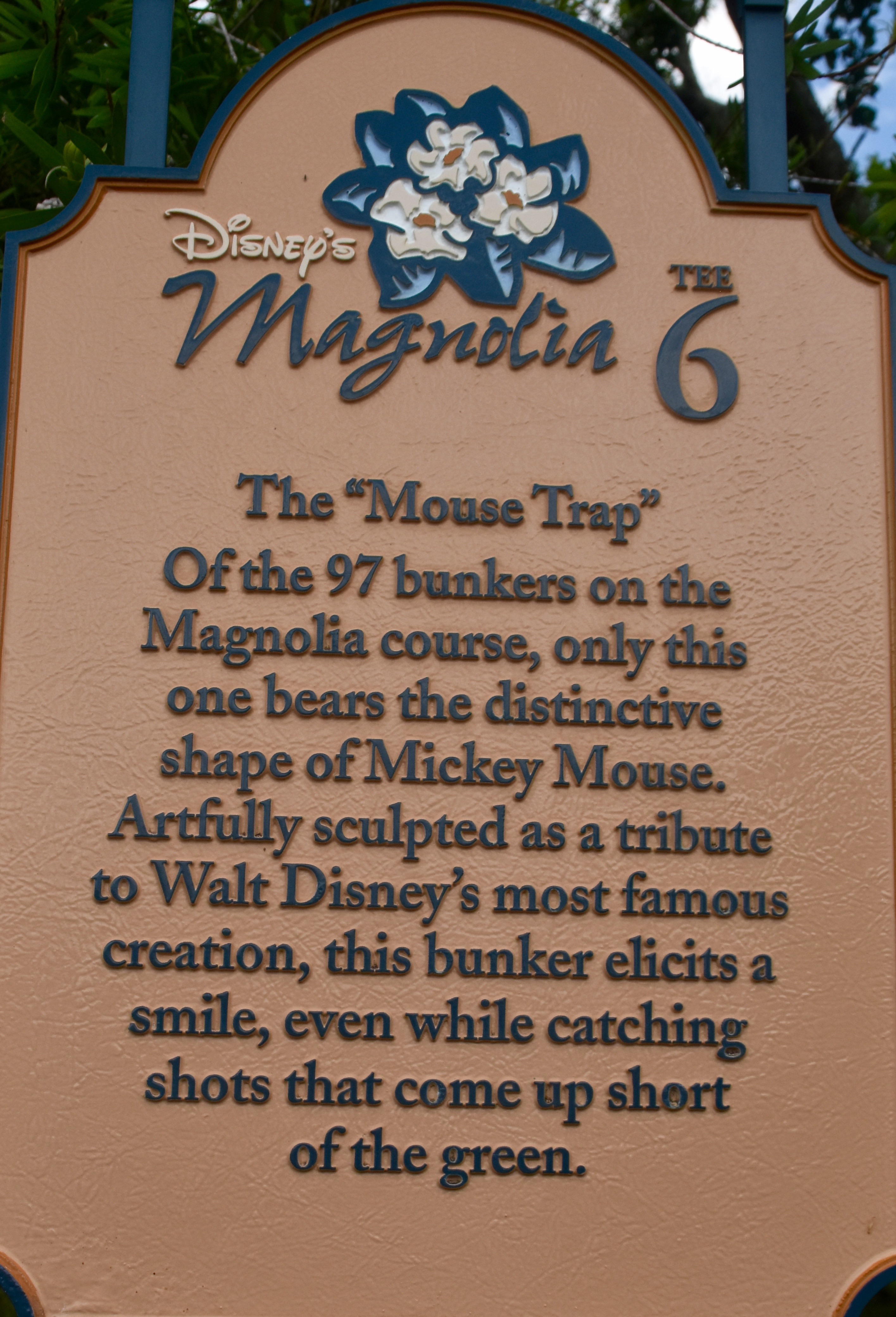 #6 is the signature hole at Disney Magnolia which becomes obvious the moment you step onto the tee. The Mouse Trap makes this one of the most famous par threes in golf.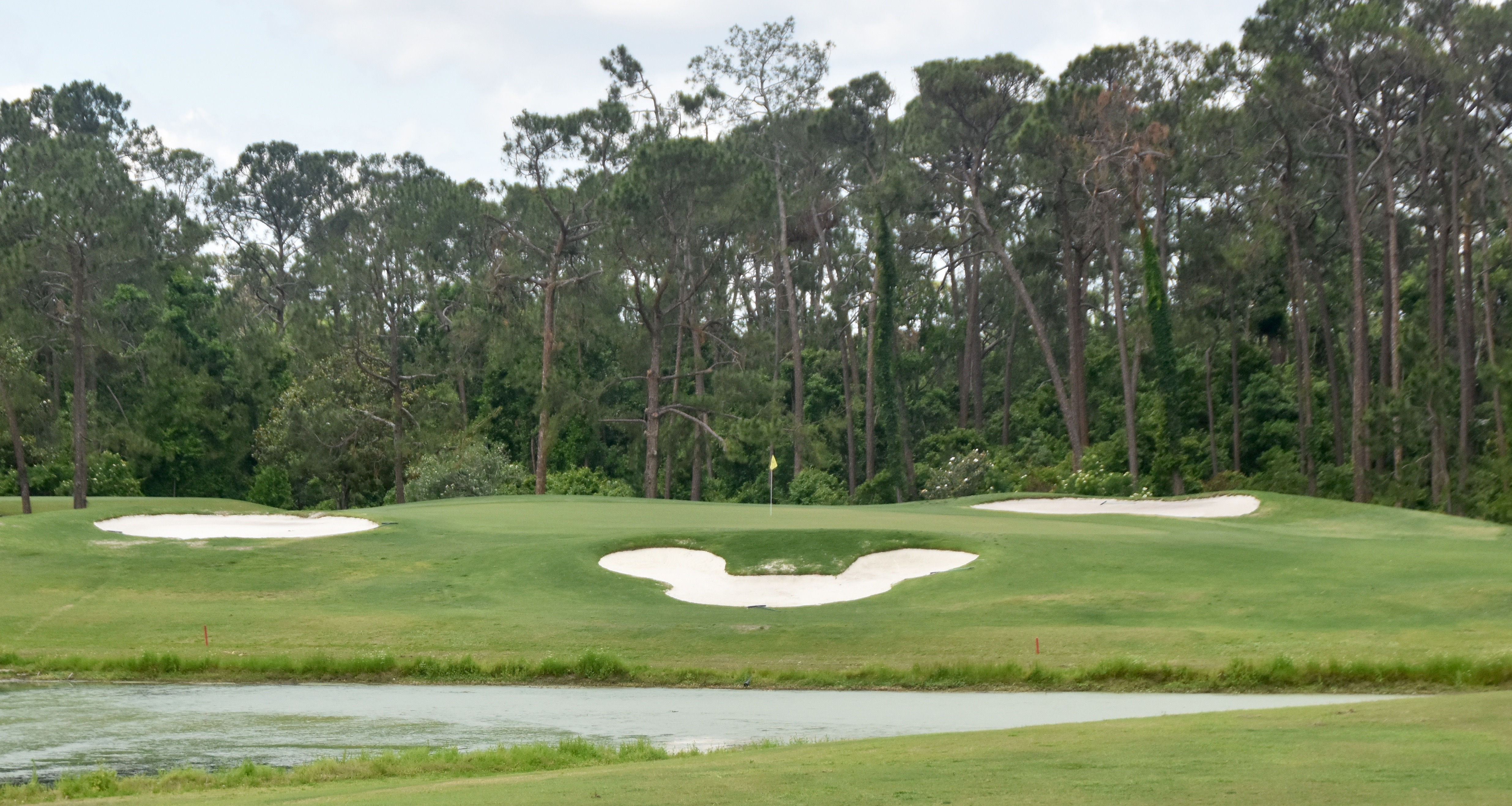 At just 119 yards this is just a wedge, but there is something about those ears that just seems to attract my ball. Actually, it was fun hitting out of this trap and if I could sink a four foot putt I would have made par with a sand save.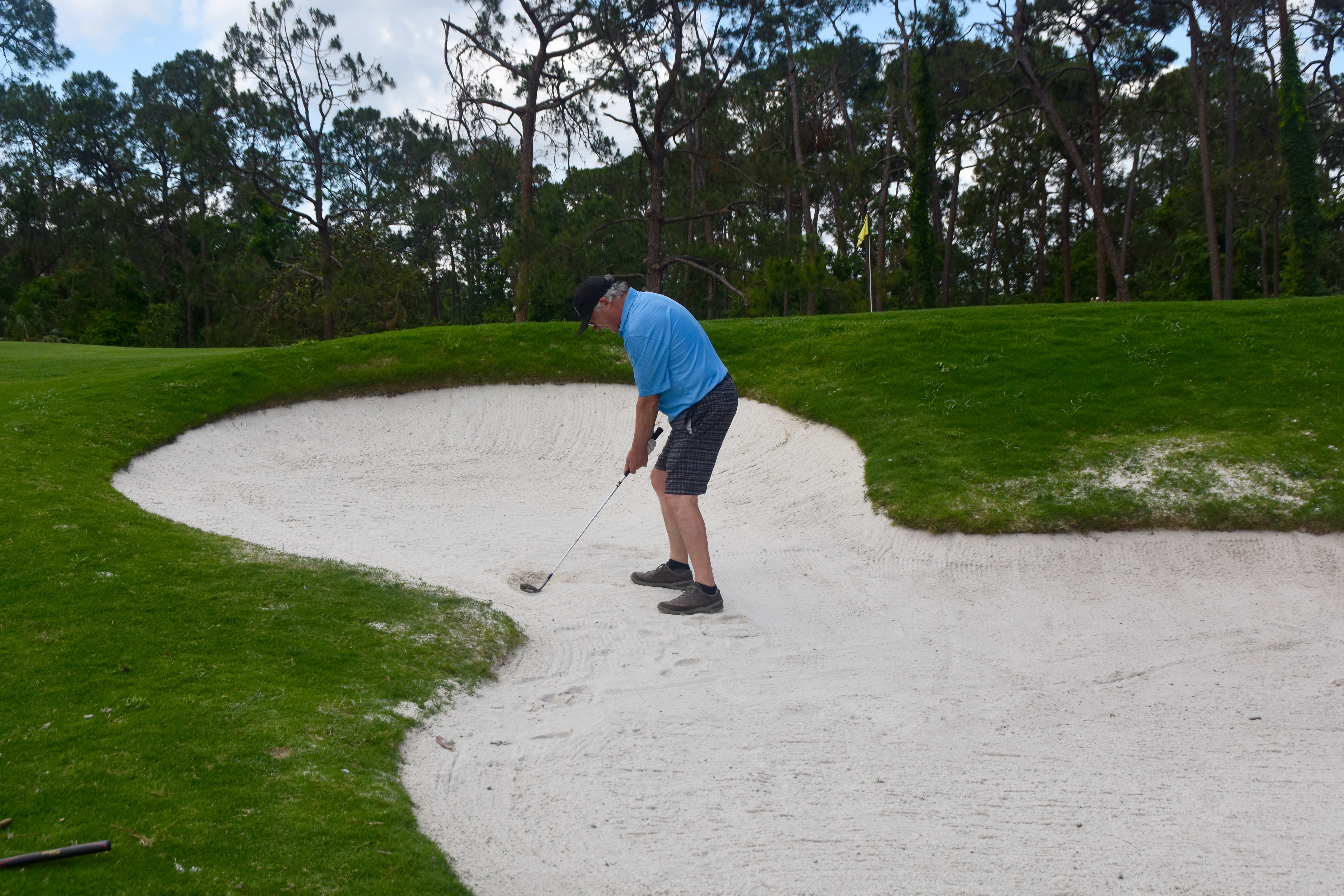 #7 – Disney Magnolia
This sign illustrates the heights of ridiculousness Tigermania could reach.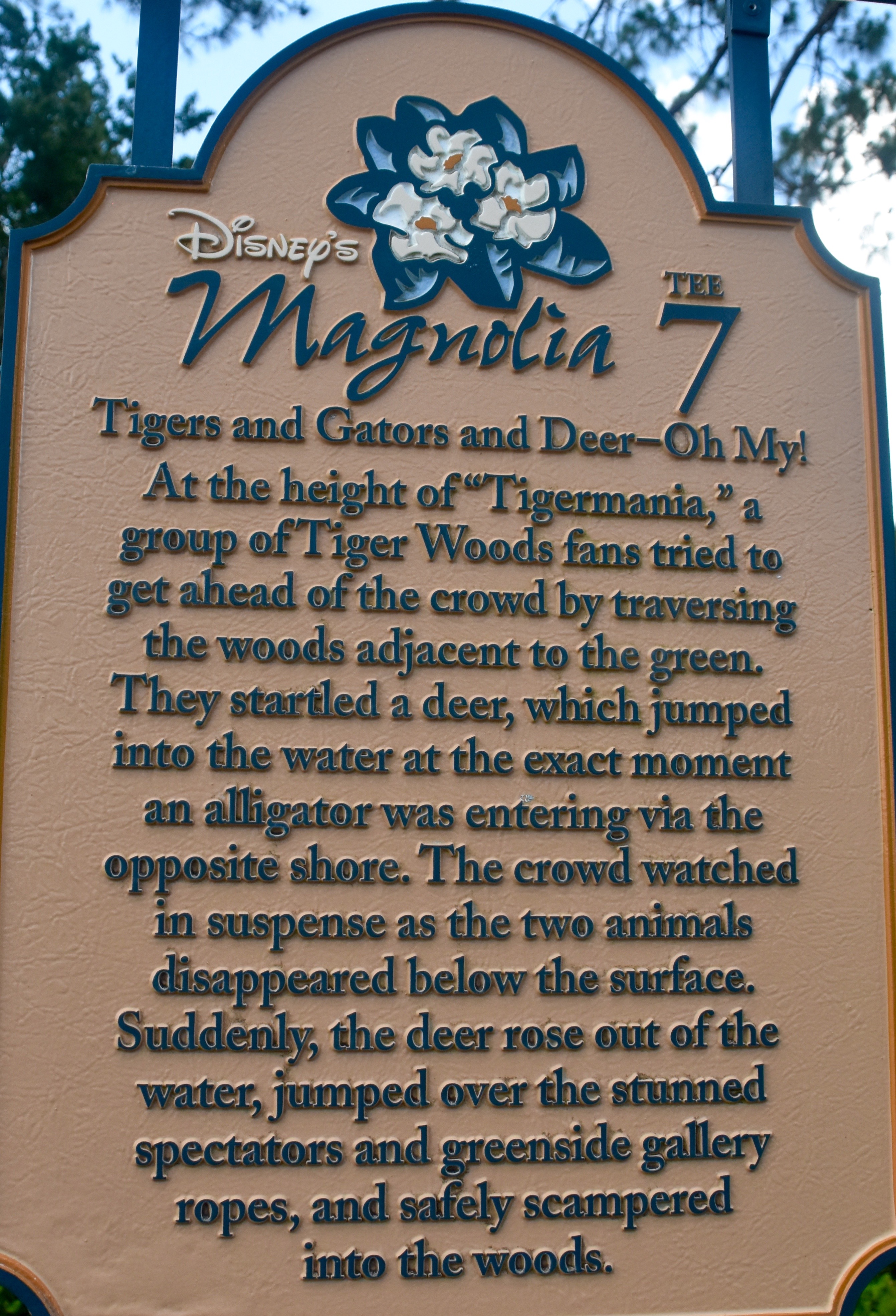 #7 is very pretty medium length par four that has a generous landing area from the tee allowing  one to let loose with a driver. The longer you are off the tee, the more likely to take the three bunkers guarding the front of the green out of play. Like much of the water on Disney Magnolia, it is more for looks than a real hazard.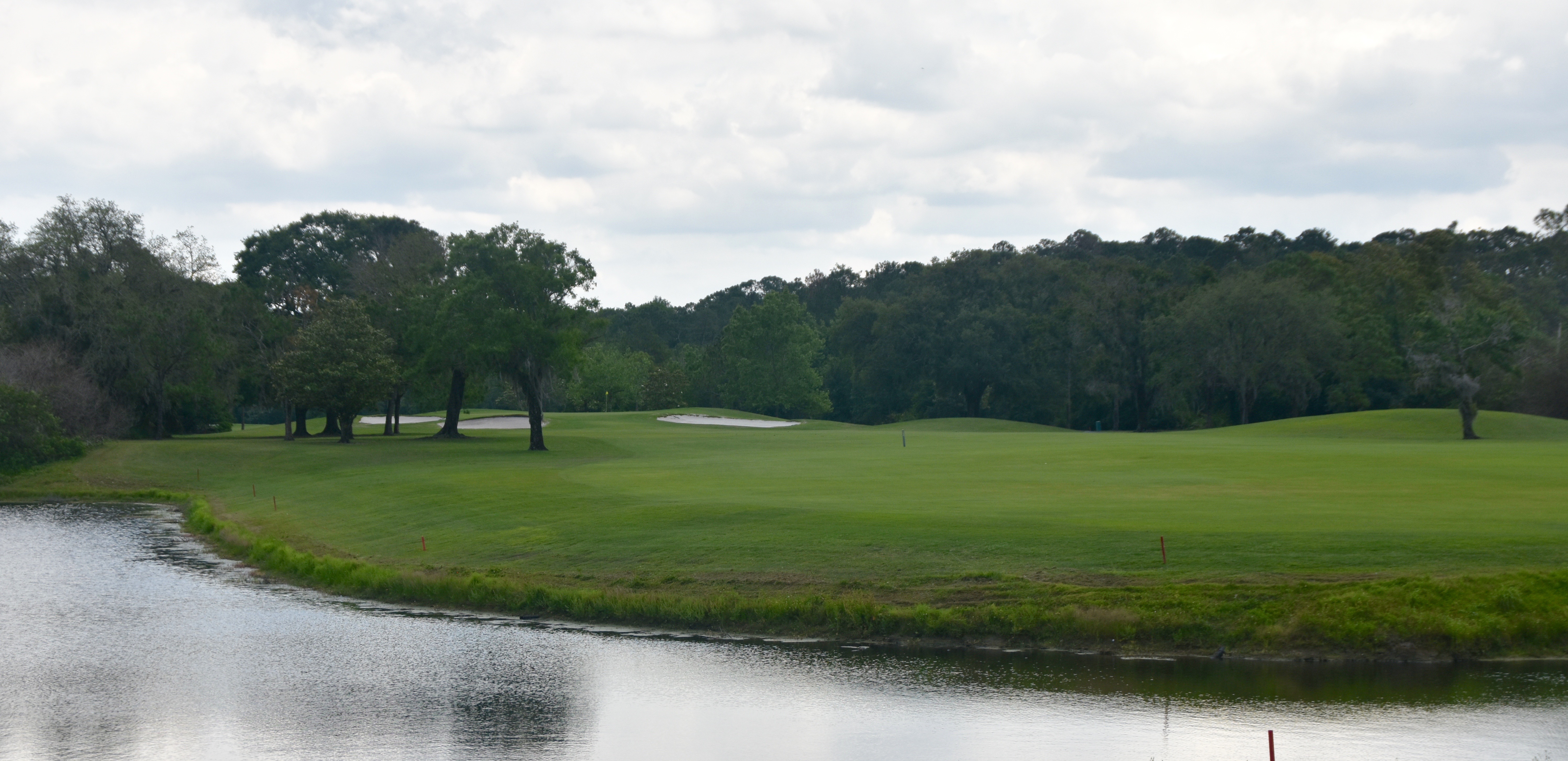 #8
I loved this hole. For some reason known only to the gods, I played it perfectly and got the birdie that eluded Davis Love III four days in a row.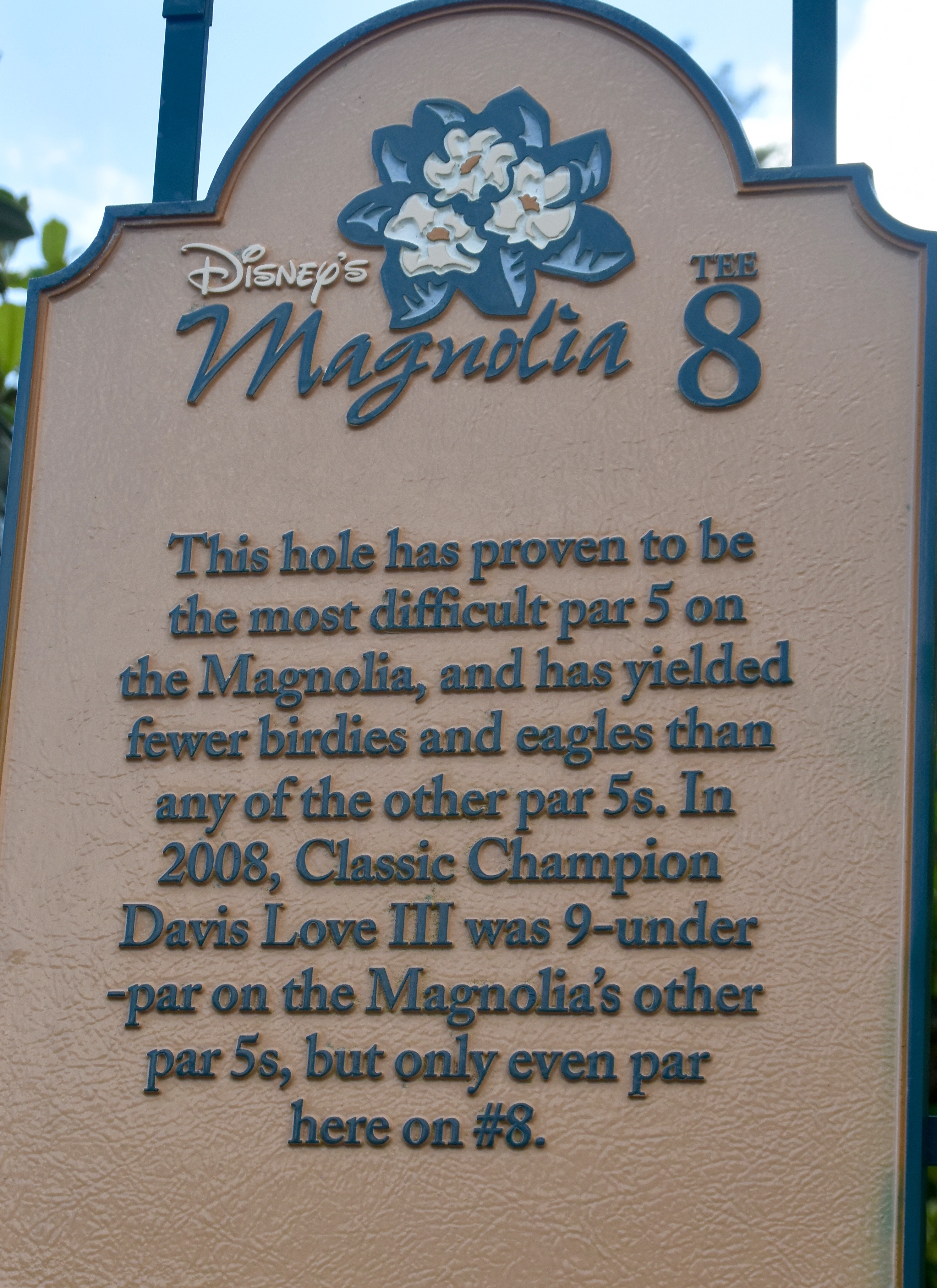 Mind you, I didn't have to play it at 614 yards like Davis, but a more manageable 517 yards. The way to play this is to stay as far right as possible as almost all the traps are on the left. It's a three shot hole to the green for the ordinary golfer, but as I found out, a good third shot leaves a decent birdie chance.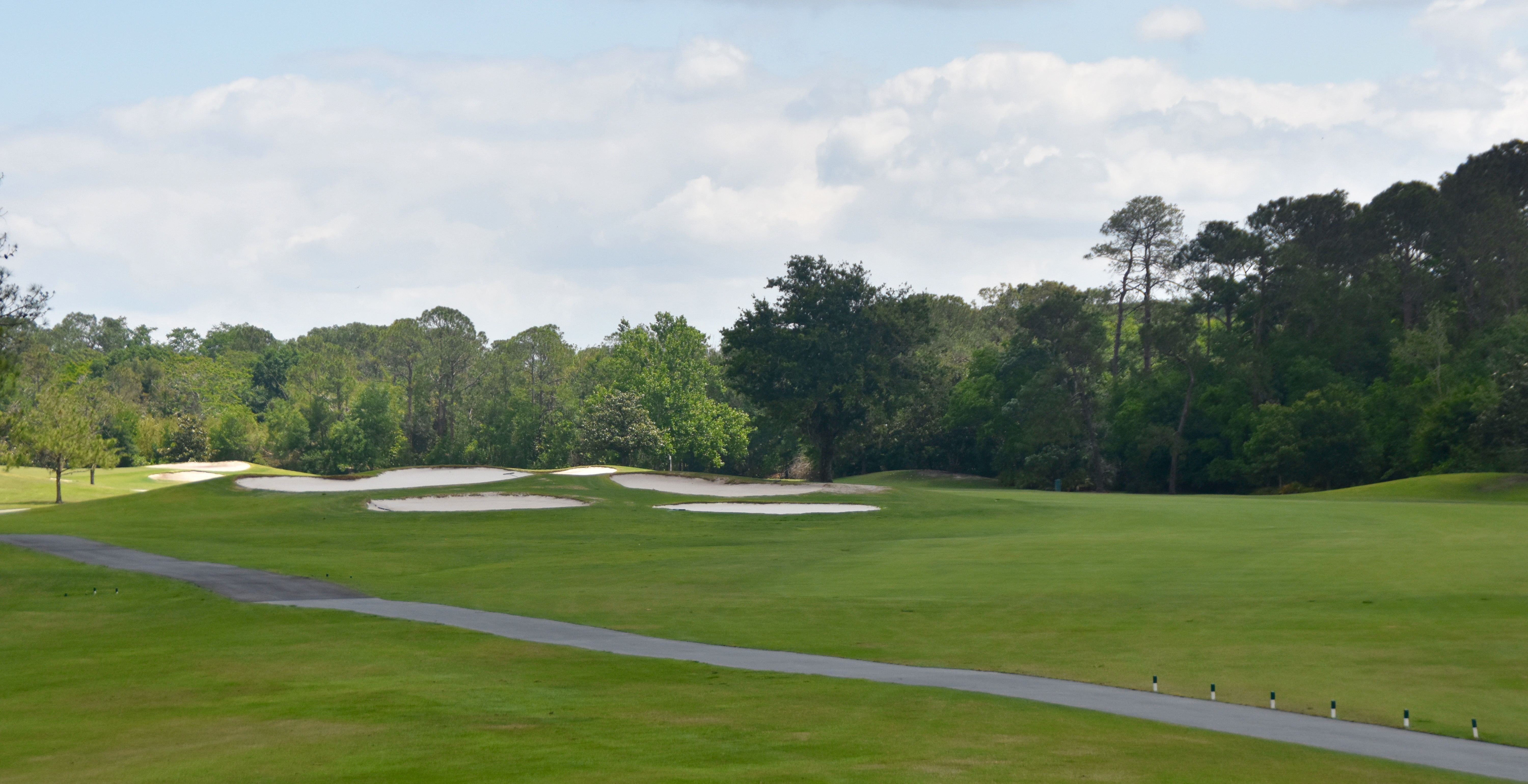 #9 – Disney Magnolia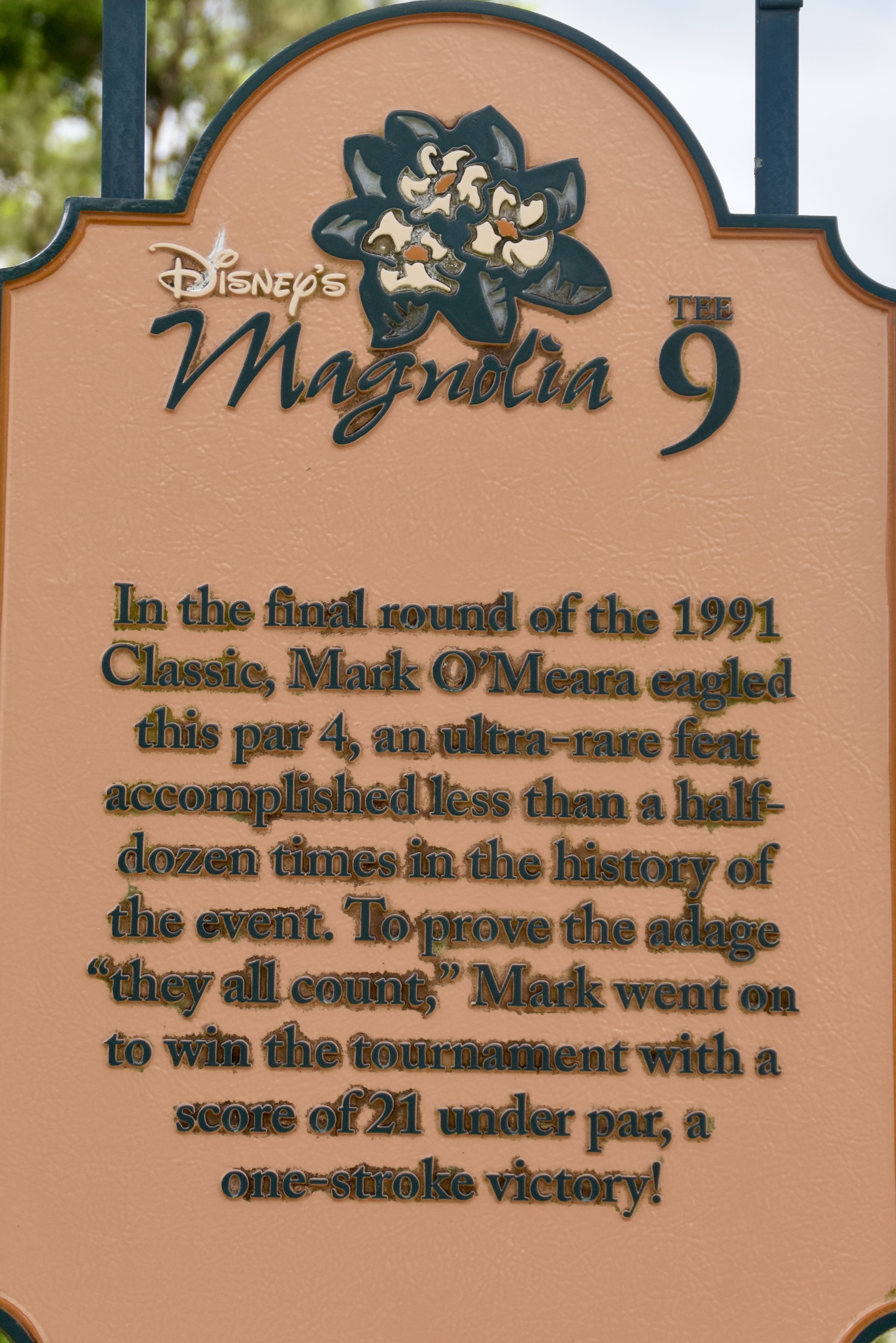 This is a short 335 yard par four where the water along with five traps around the green brings the fear factor into play. The fairway narrows right where that fairway bunker on the right comes into play. Hitting a driver on this hole is a recipe for disaster. A nice finishing hole for the front nine.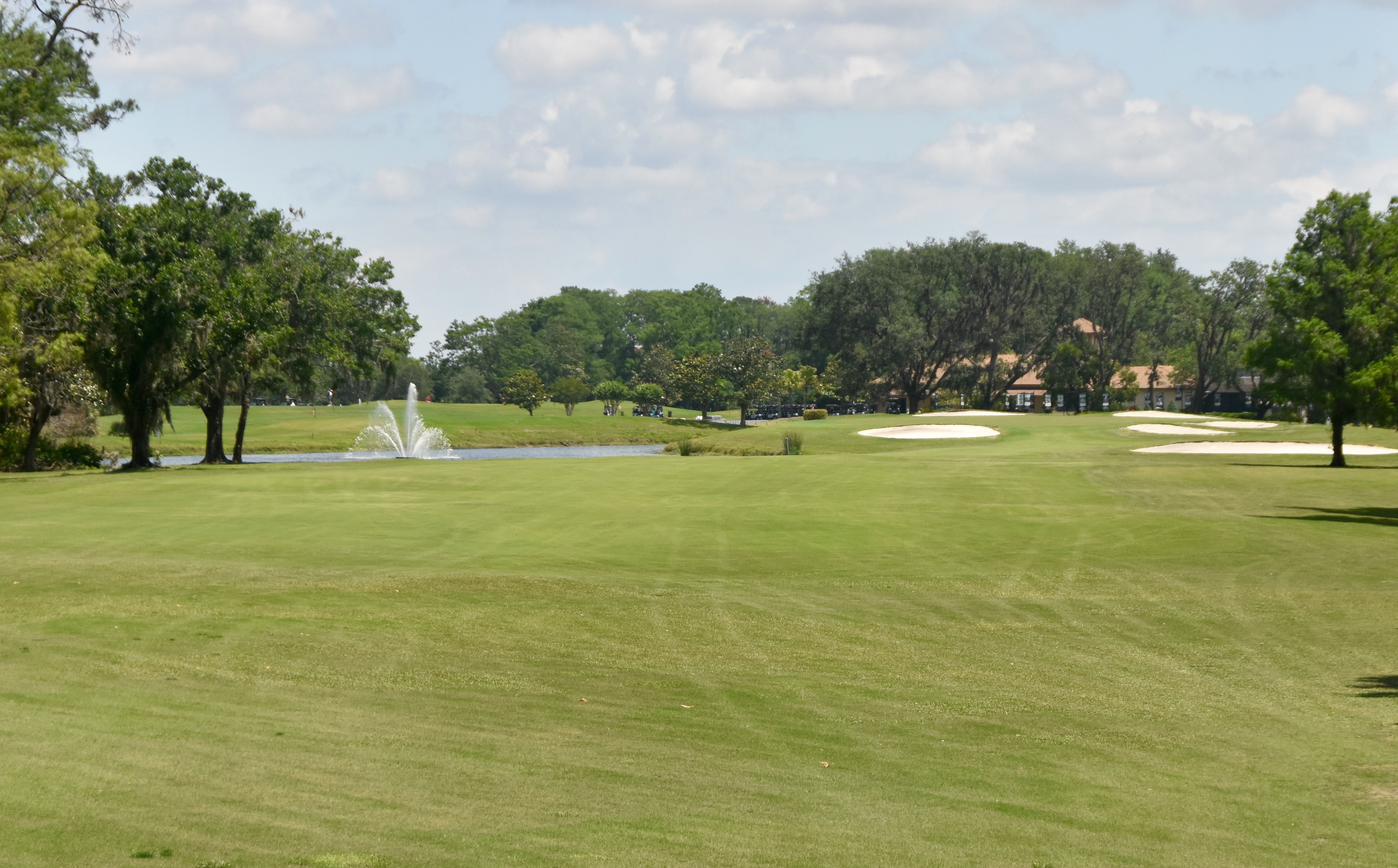 #10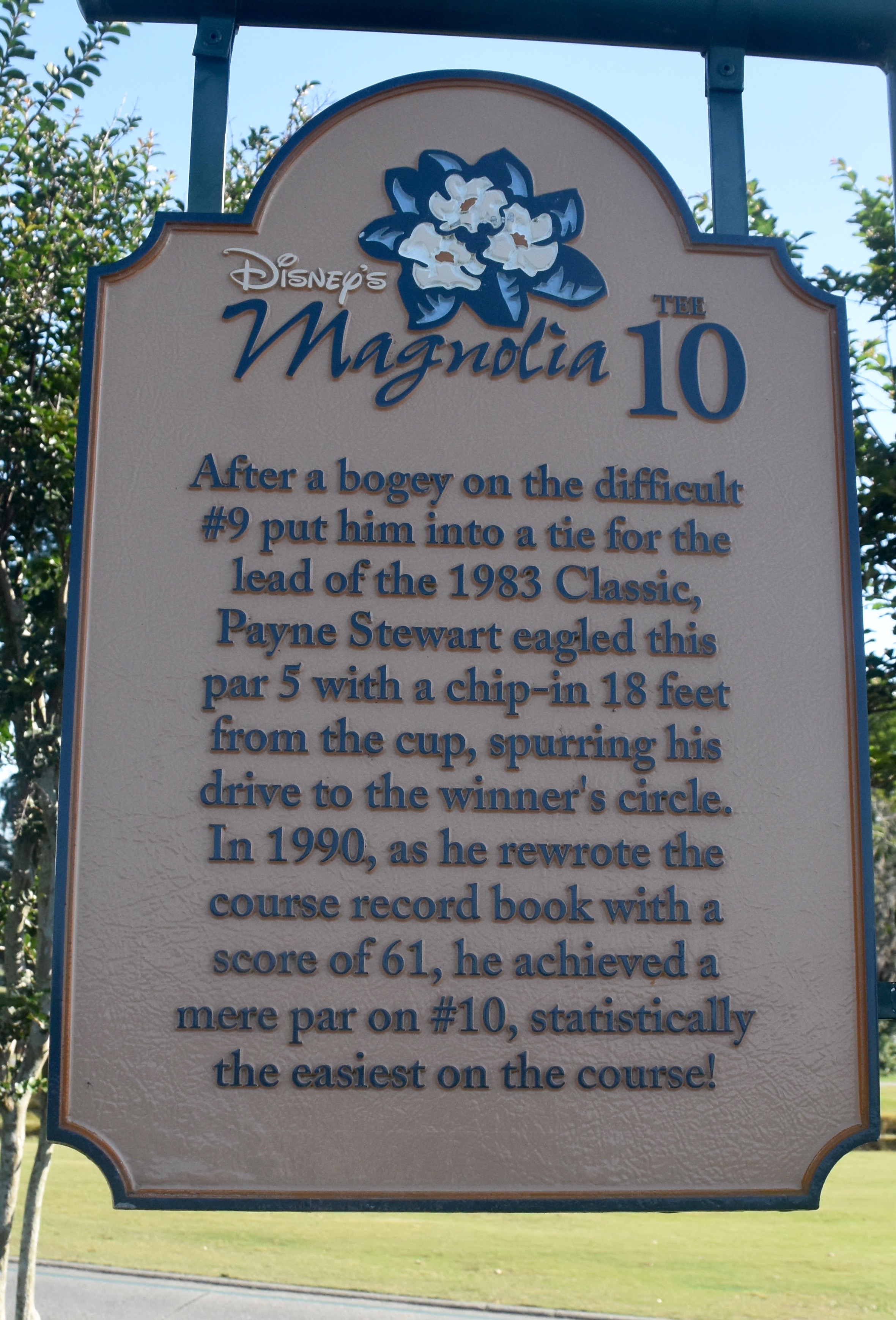 At 526 yards this is a dead easy par five for the pros, but at 504 yards from the golds it's a challenge for medium handicapper like me. As a lefty, water all down the left side is a bothersome feature which naturally means putting it into the trees on the right. Unlike Payne Stewart, my chip to the green was for a par after battling the trees all the way down.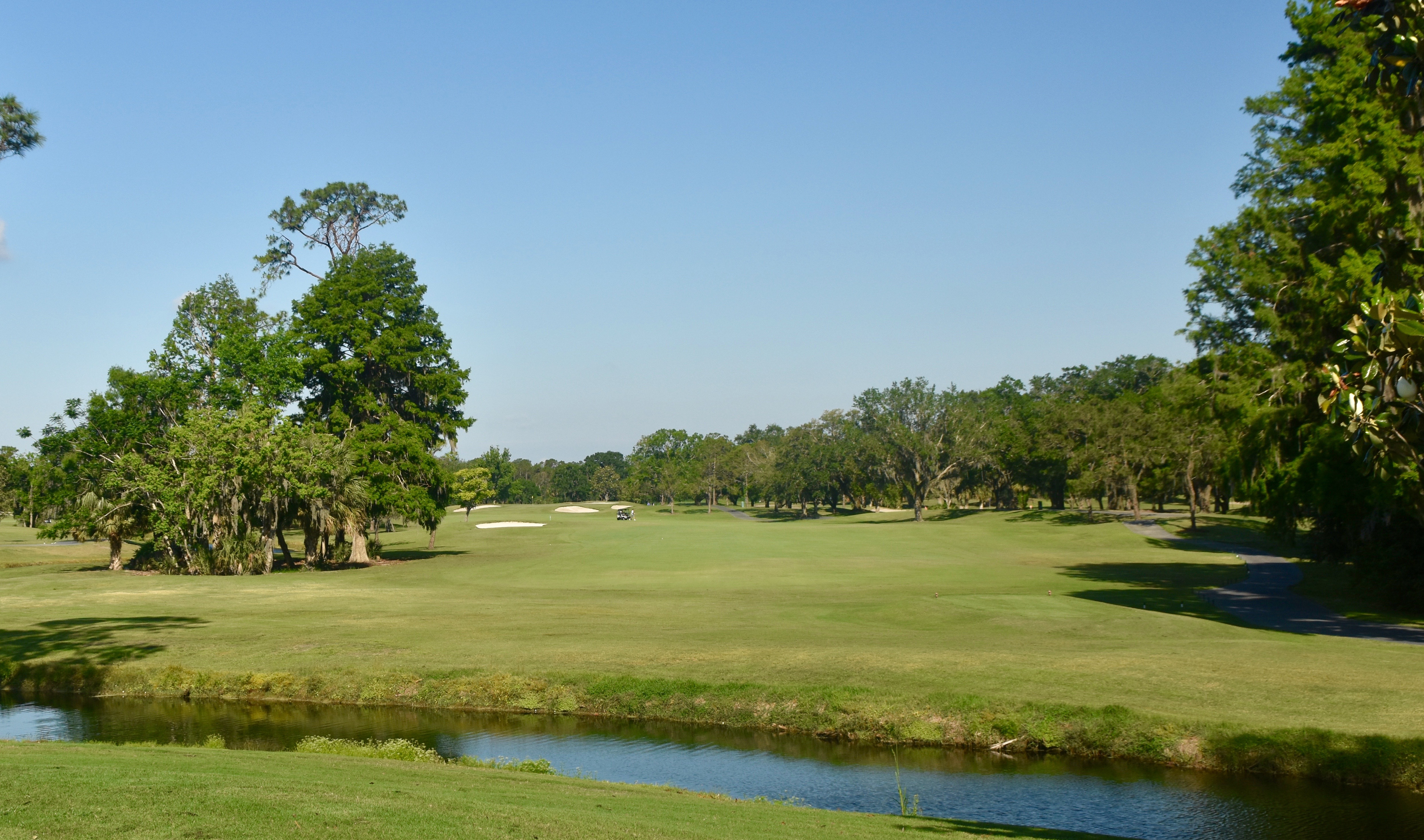 #11 – Disney Magnolia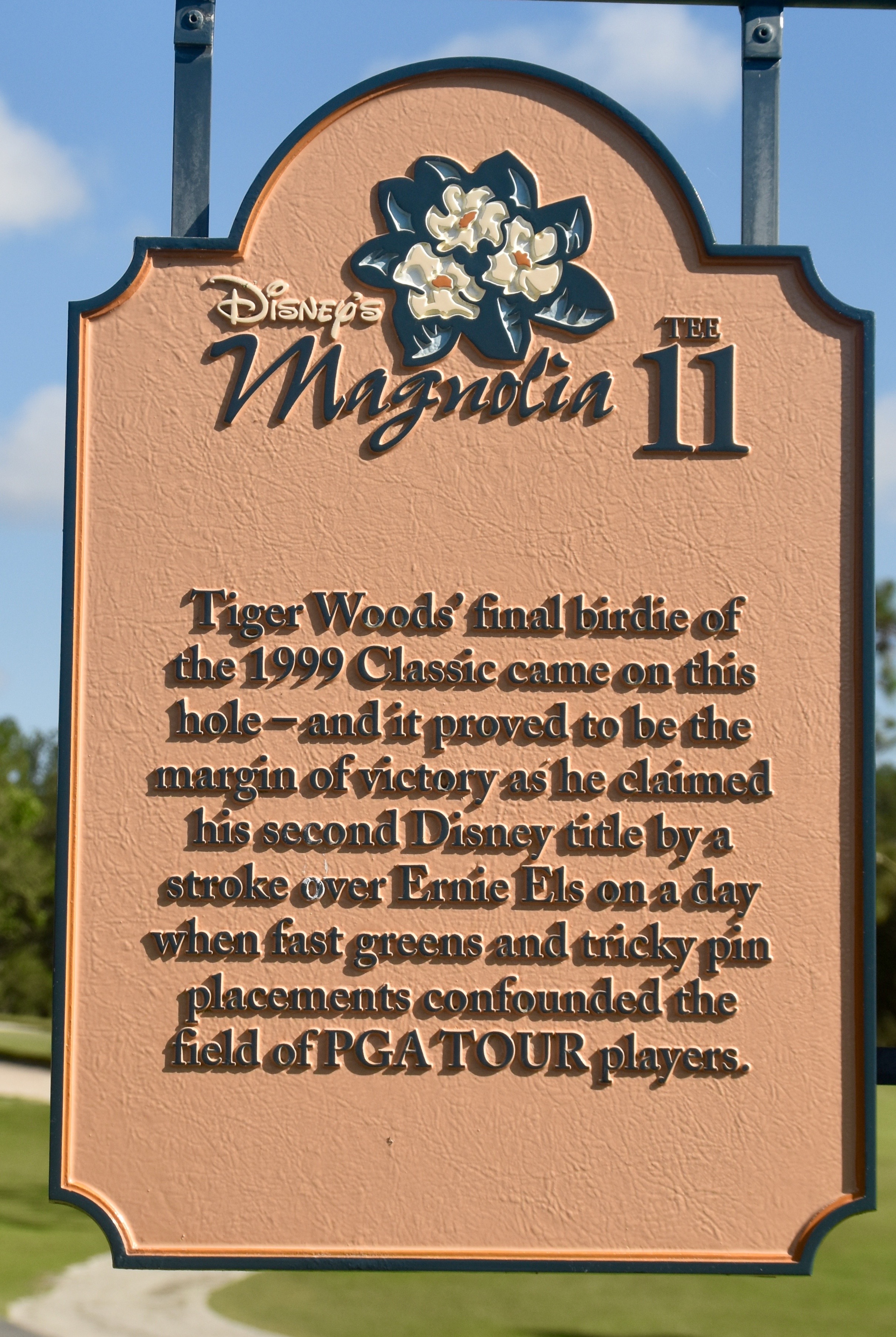 #11 is a very short par four that has water down both sides although you can't see that from the tee. In trying to avoid the obvious water on the left it's easy to fly the trees on the right and land in the narrow pond that lies just behind them. Don't ask me how I know this. Definitely keep the driver in the bag and remember to look at the GPS before playing the hole. That way you'll know there's water on the right.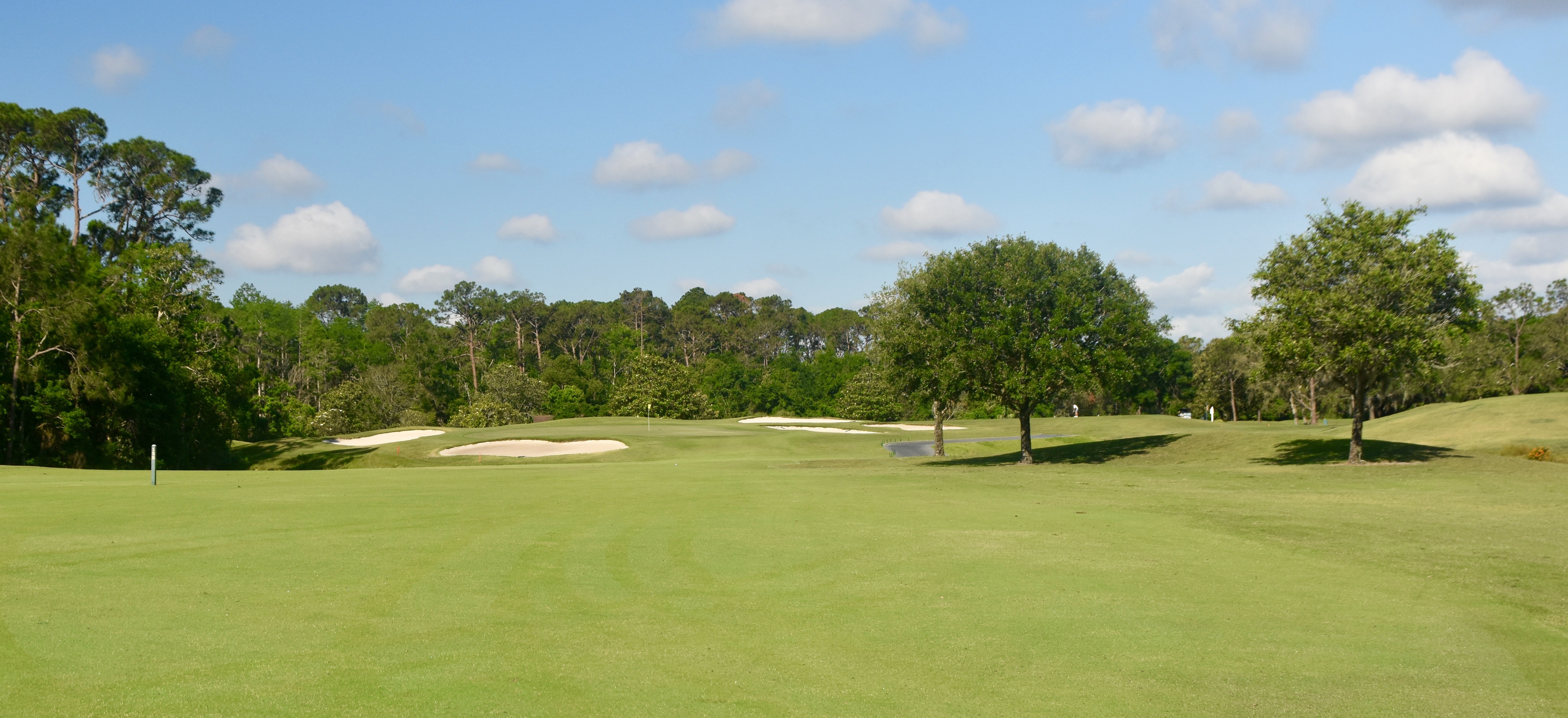 #12
Duffy Waldorf birdied this and the other par threes to come from six shots back to win here in 2000. It is a 151 yard par three that plays way longer than that due to the elevated green. All the trouble is in front of you on this hole so taking at least one extra club is not going to hurt your chances of getting par.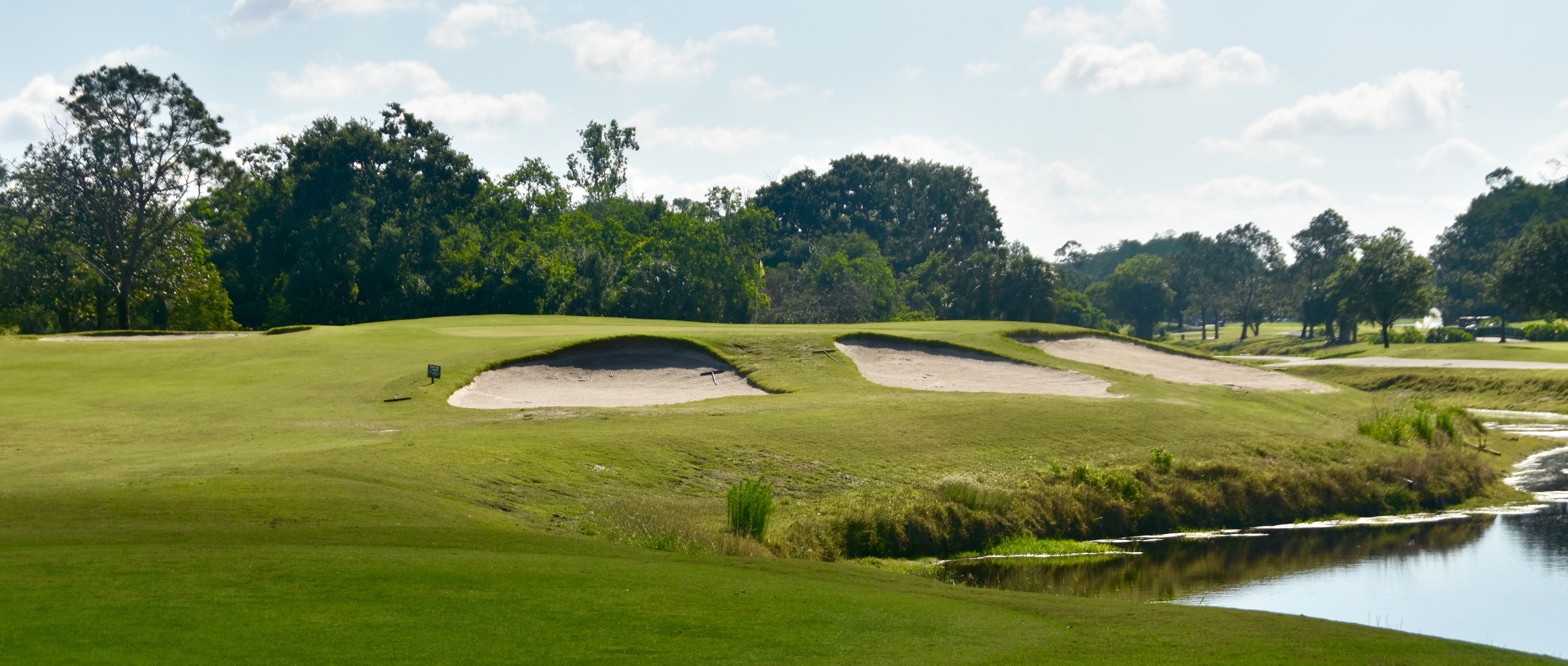 #13 – Disney Magnolia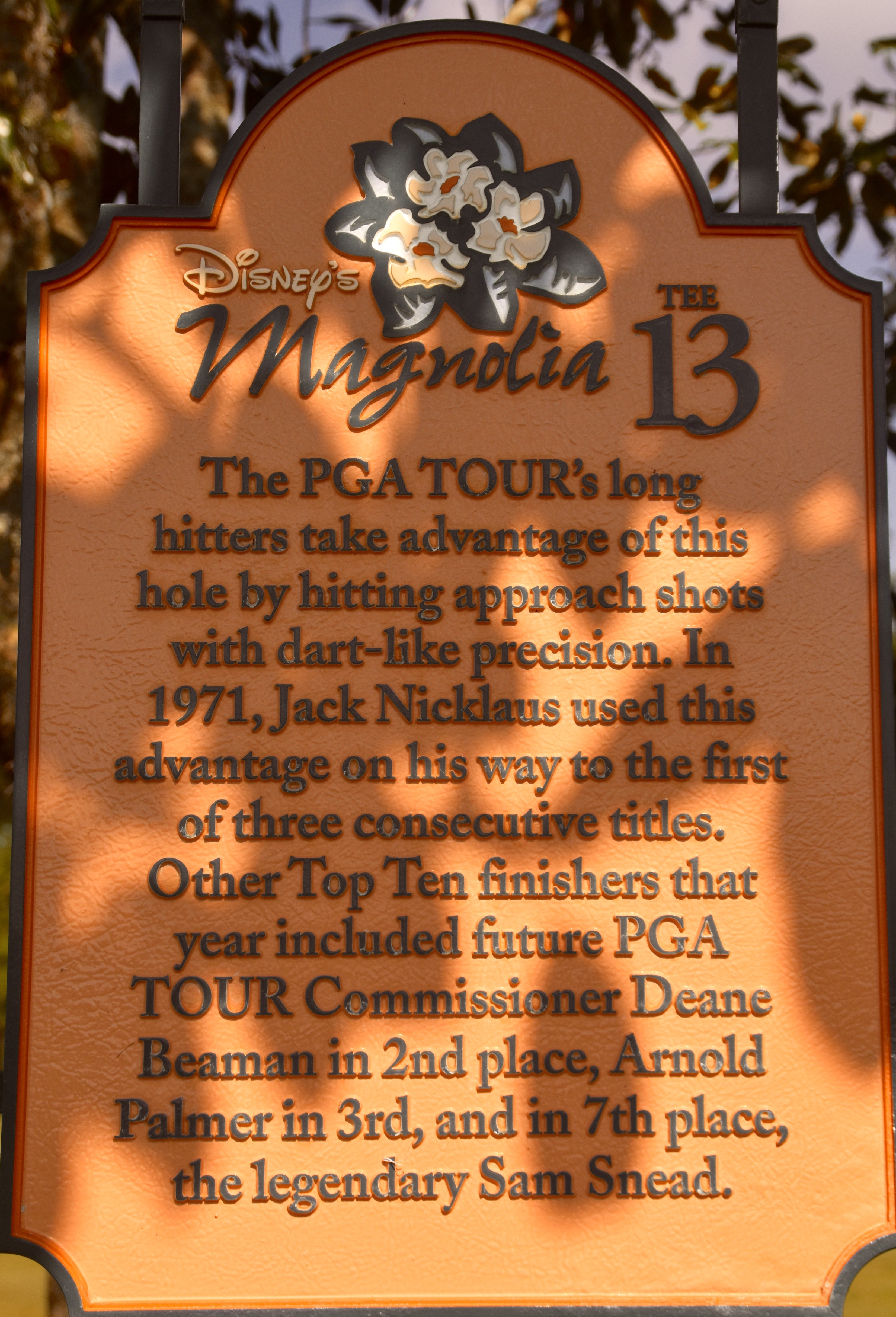 This is the shortest par four on Disney Magnolia and should be the easiest if you hit the right club off the tee. It is an acute left turn that long hitters, like Nicklaus, can just ignore by going directly over the oak tree on the middle left. Normal golfers should just hit maybe a four hybrid to set up a wedge to the green. I really liked this hole because it made you think of the best way to take advantage of its short length – crush it or crap out.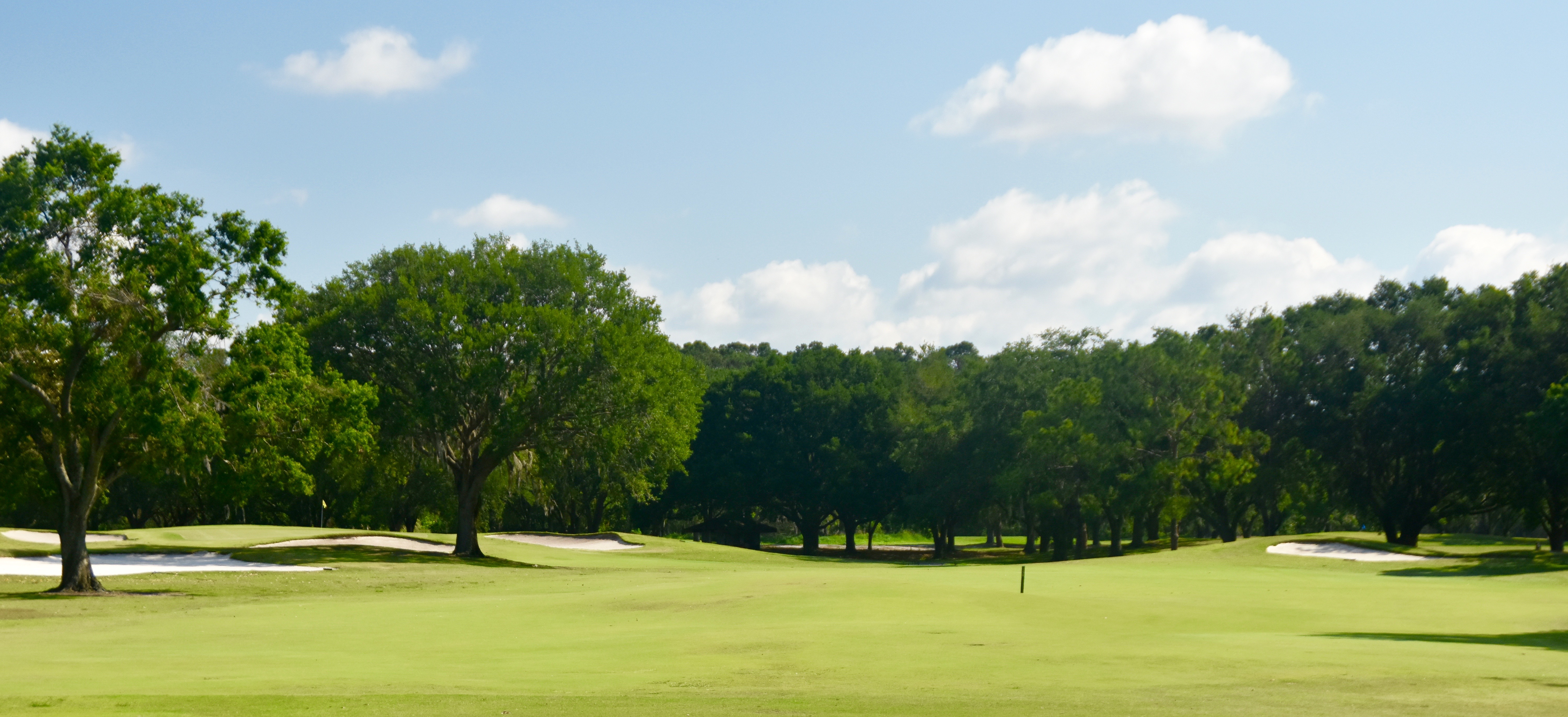 #14 – Disney Magnolia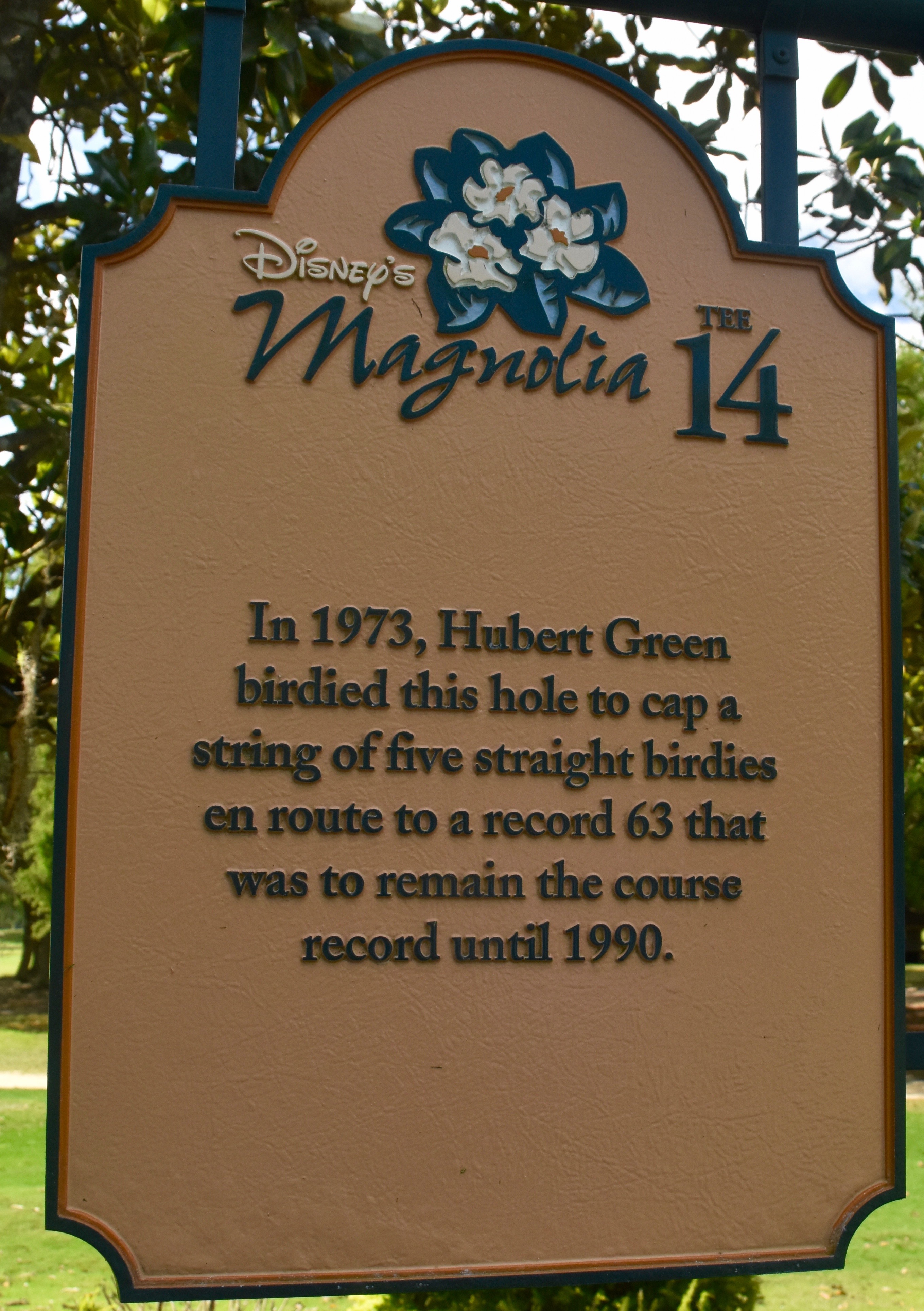 #14 is another monster par 5 for the pros and still plays over 500 yards for the average player. It's a double dogleg that has ten traps and two big water hazards. Oh, and the fairway is among the narrowest on the course. If you get to where this photo was taken in two shots you have a good chance of beating the odds and getting par. As for a Hubert Green type birdie, that's asking for too much. This is a real challenging par 5 that's fun to play if you can avoid the myriad of places to go down in flames.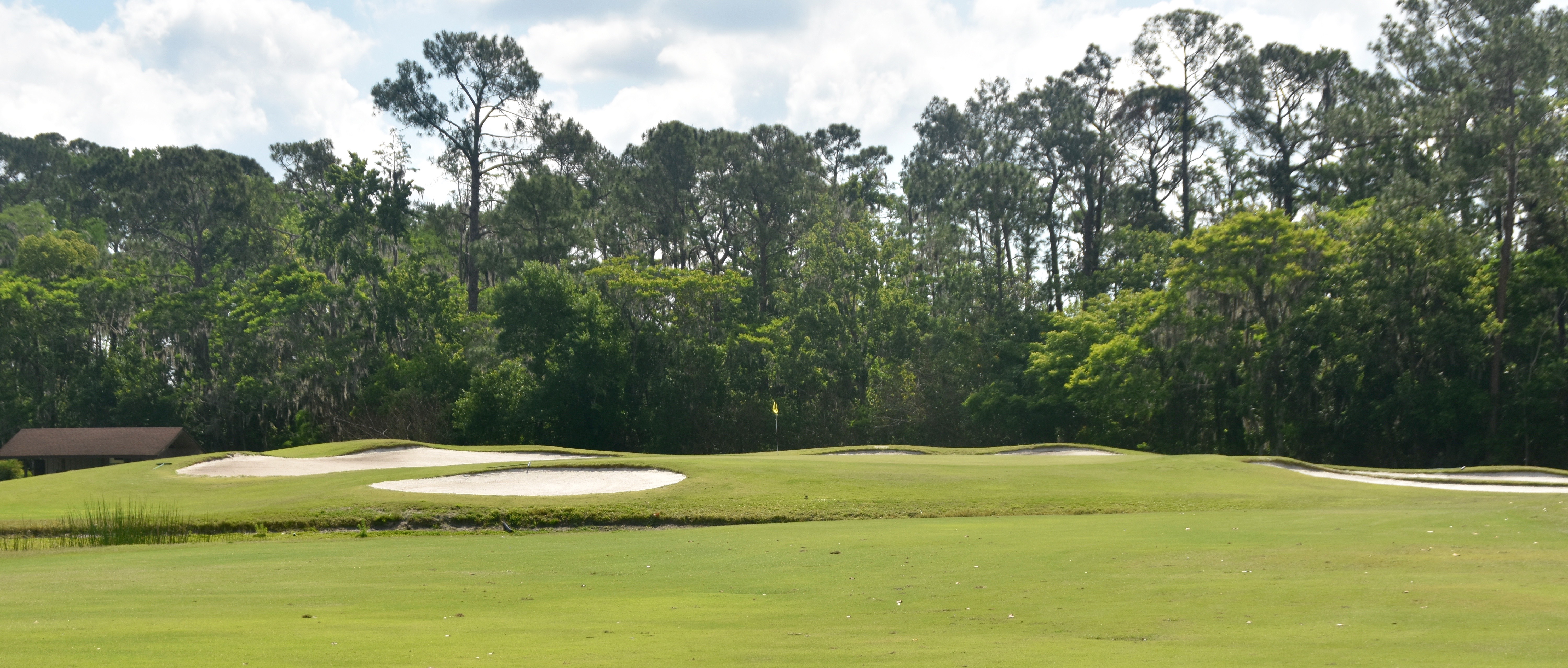 #15 – Disney Magnolia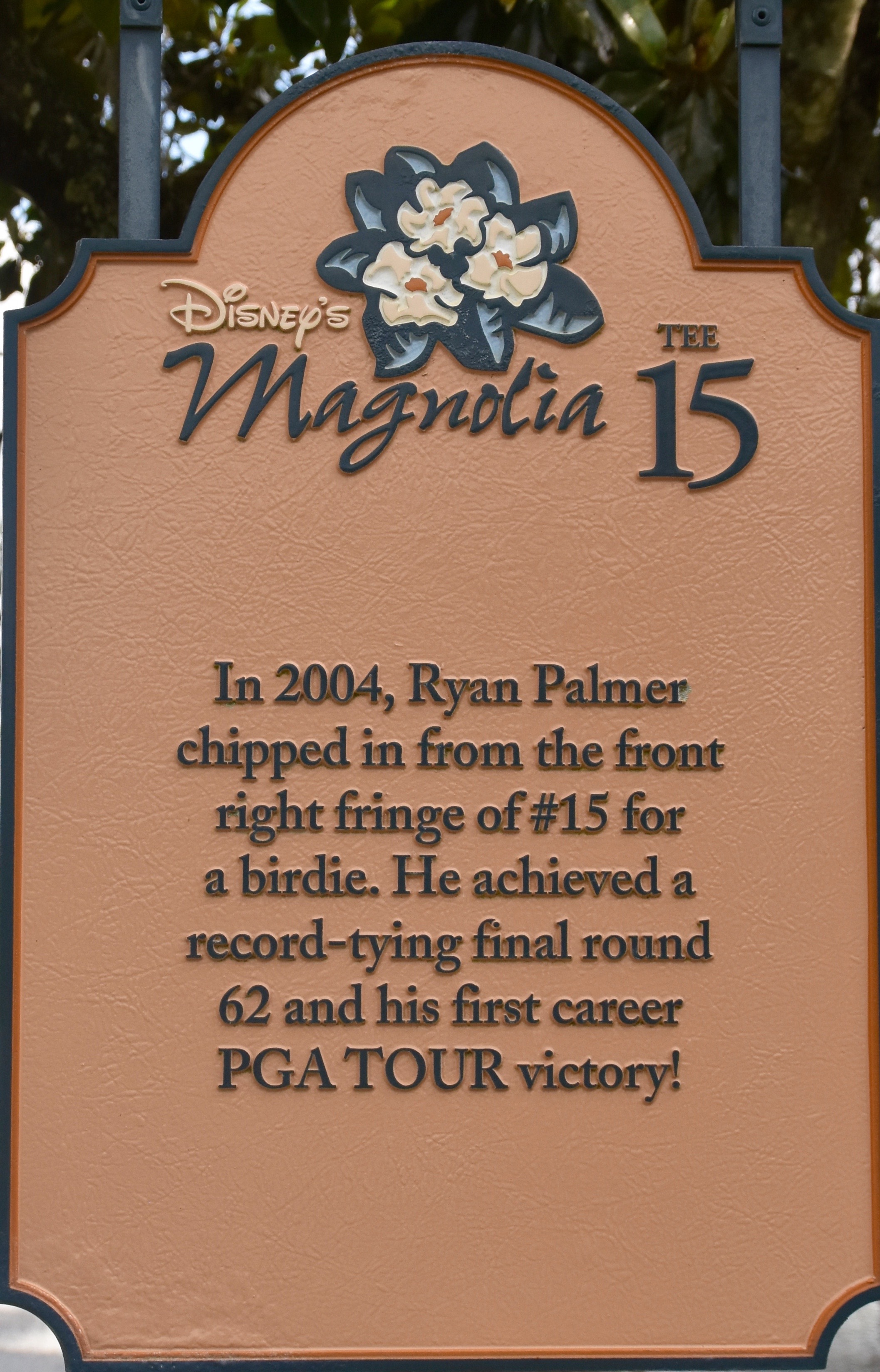 A Palmer did win the Disney Classic, but it wasn't Arnold. I wasn't cracked about this last par three as it seemed just to be about length – 180 yards from the gold. Probably the weakest hole on a course with very few less than great holes. I was so underwhelmed I forgot to take a photo and used this one from BlueGolf.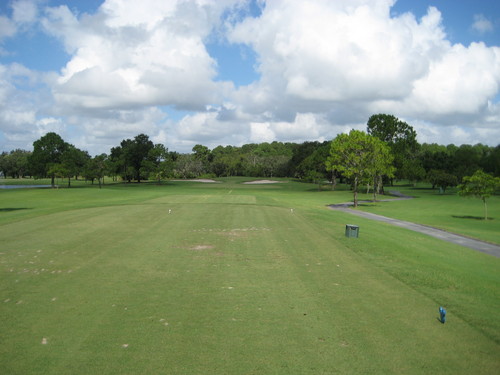 #16 – Disney Magnolia
This was my favourite hole on the Disney Magnolia. First of all you get this great few of the iconic Grand Floridian Hotel in the background as you can see from this photo of Brian teeing off.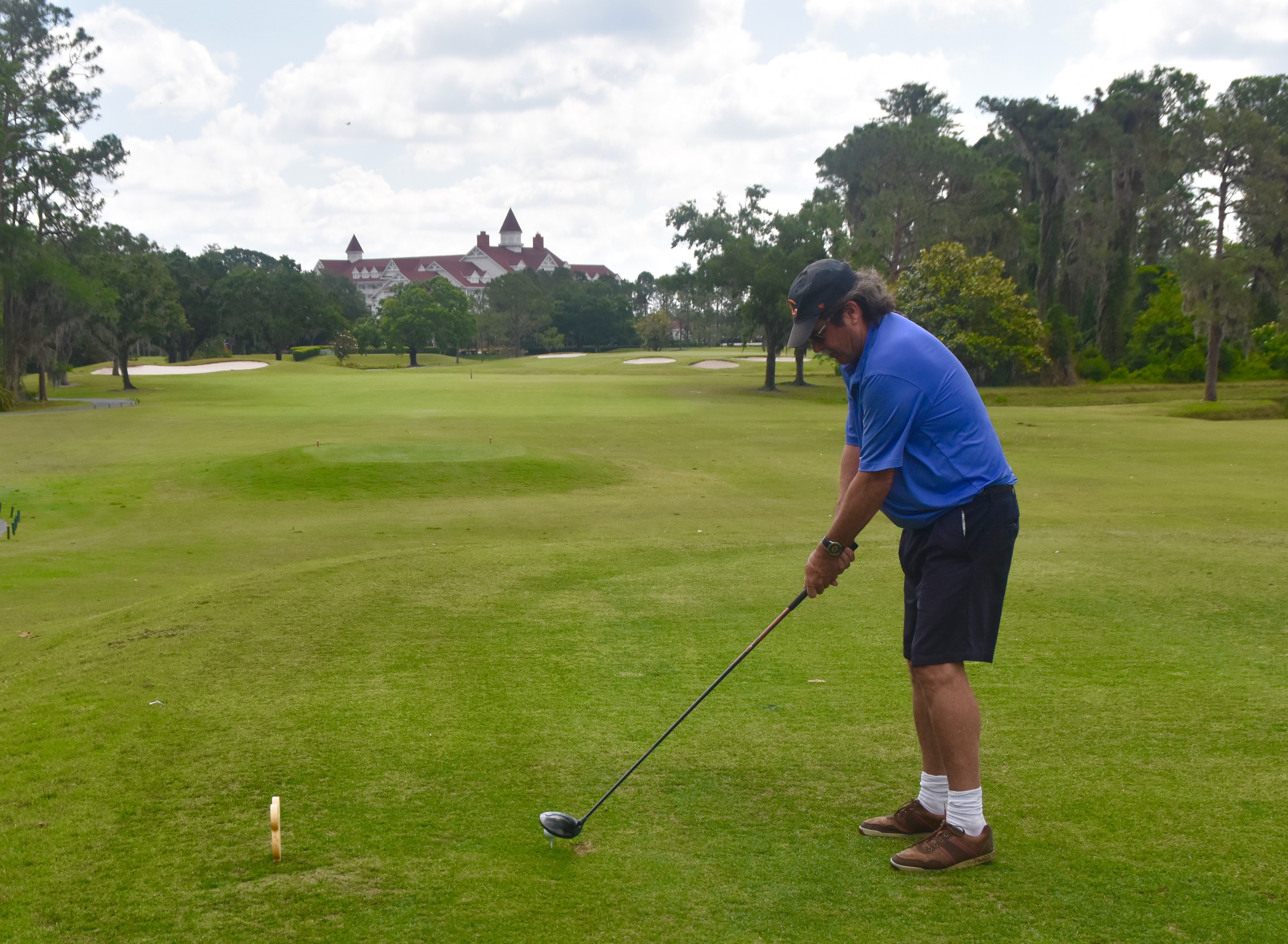 Second, you get a really great par four that requires a very well struck second shot over water to an elevated green with four traps ready to grab anything short. At 343 yards its definitely doable for the average golfer, but will require two good shots. In the way that only golfers can understand, a retired USAF pilot we were playing with, who was having a terrible game up to this point, hit two perfect shots and made a ten foot putt for birdie. That's what keeps us coming back for more punishment.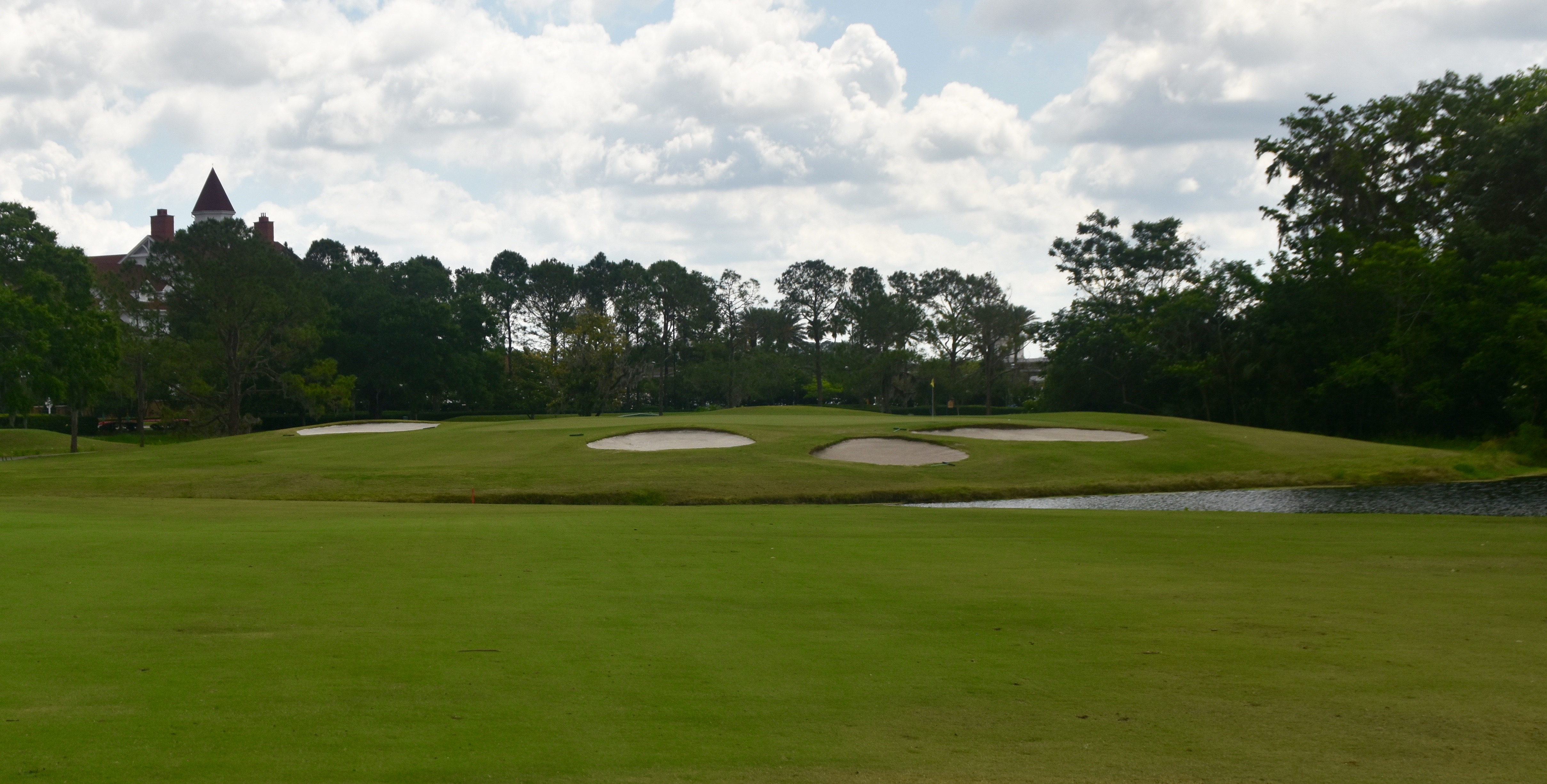 #17 – Disney Magnolia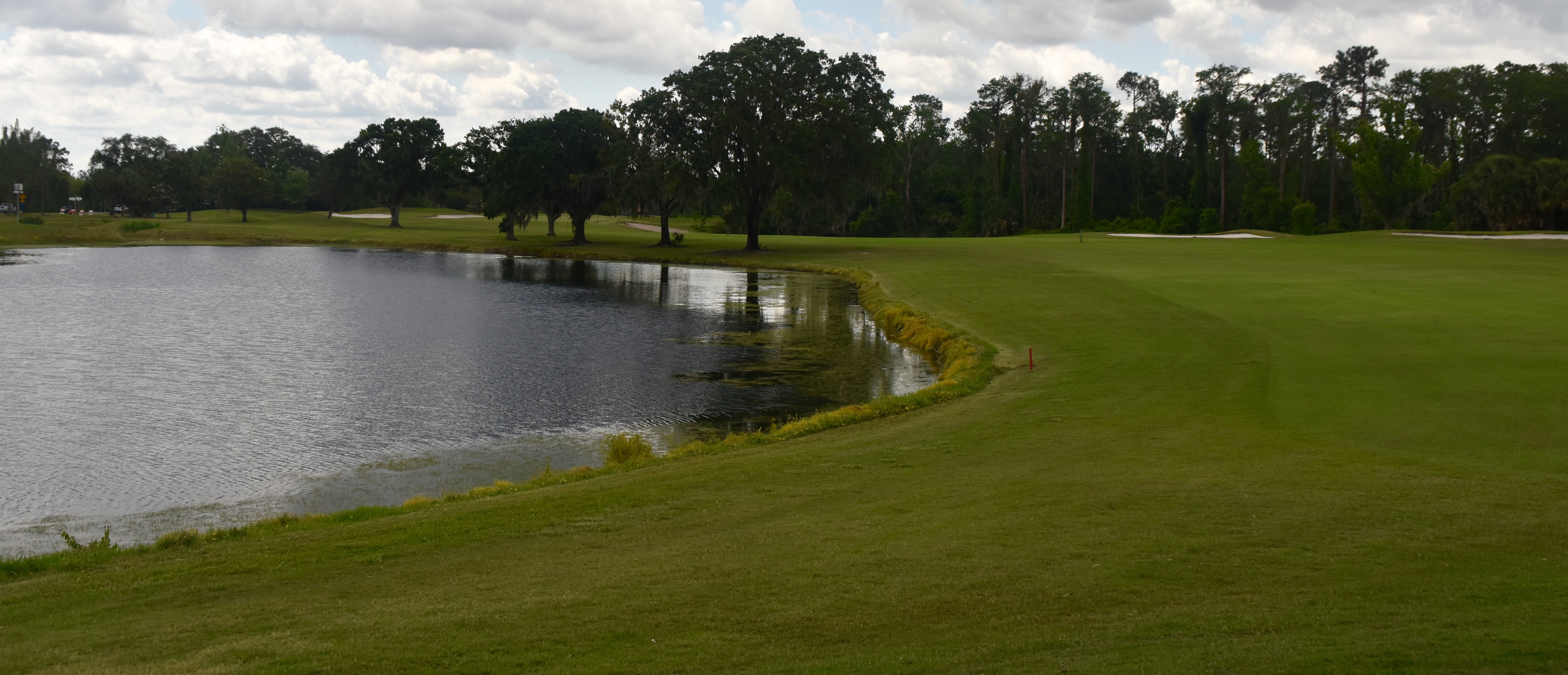 After the delight in playing #16 you are faced with the agony of #17 which at 394 yards with water all down the left is just plain sadistic. Add to that water now on the right for the second shot and the ordinary golfer has almost no chance of avoiding trouble somewhere on this hole.
It's a pretty hole and if I played it again I would do it with two hybrid fives and then a wedge.
#18 – Disney Magnolia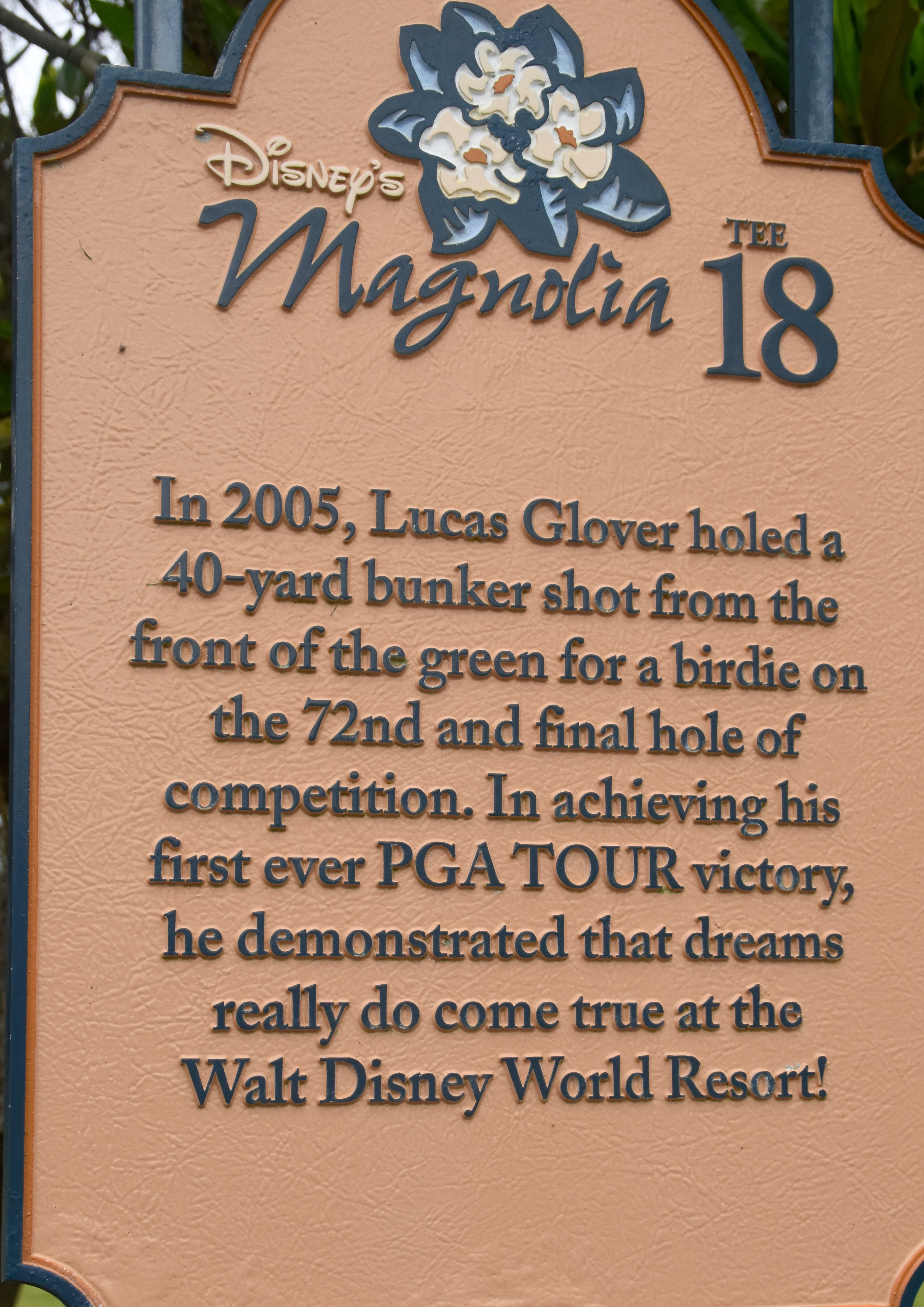 #18 is a brutally long par four which plays almost 500 yards for the pros and 429 for the oldsters like me. No way I'm reaching this in two so take advantage of the wide landing area by using a three wood off the tee.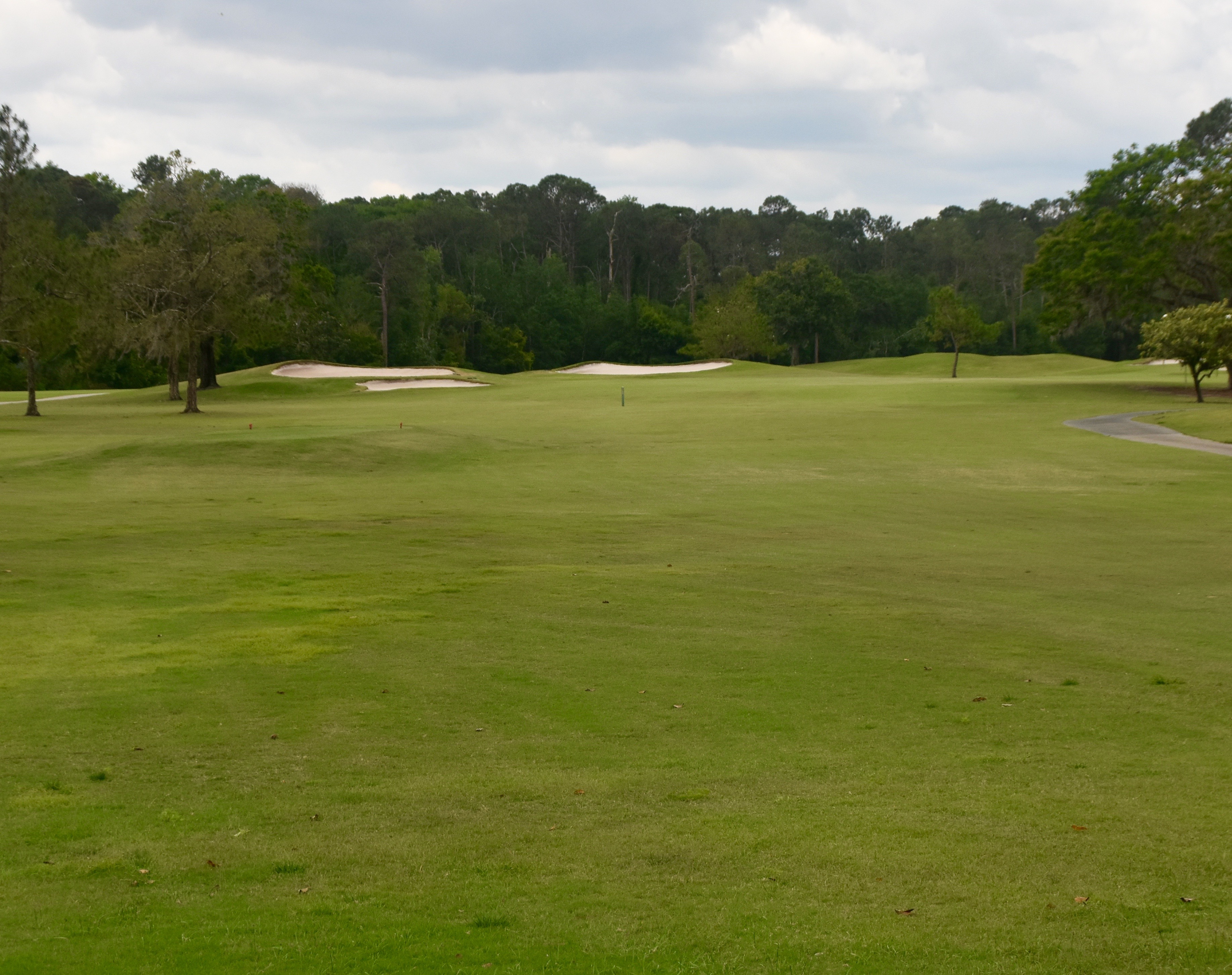 The two tough finishing holes at Disney Magnolia could really put a dent into what could be a good round up until then, but hey, we play this game for fun, right? Yeah, sure.
Returning after four decades, I hope I don't have to wait that long before playing Disney Magnolia again.
Next I'm off to Kissimmee Prairie Preserve State Park on the way to Miami Beach. Please join me there for a completely different Florida experience.