Huntington Beach State Park
When most people think of going to Myrtle Beach, they are planning to play golf, sun bathe and swim on the Strand and enjoy some great seafood or barbecue. But let's face it, at the height of tourist season Myrtle Beach can be pretty crowded, hectic and to be honest, a bit over commercialized. There is a very nice alternative just a bit further south on Highway 17, Georgetown County, aka the Hammock Coast which is the beginning of South Carolina's legendary Low Country. Huntington Beach State Park is a great example of what the Hammock Coast has to offer – great beaches, marshes and estuaries that are great for wildlife viewing as well as fishing and with some real interesting history thrown in for good measure. Alison and I had a chance to drop by the park on the way to Brookgreen Gardens which is a highlight of the area. Even though it was a cool spring day we saw enough to know we'll be back on our next visit to the Myrtle Beach area.
History of Huntington Beach State Park
Archer Huntington was the scion of railroad magnate Collis P. Huntington, and when the wealth he inherited was matched with the artistic talent of his second wife Anna Hyatt Huntington, the pair became a dynamic duo that created a lasting legacy in Georgetown County. They bought up four plantations and combined them into one massive property that subsequently became Brookgreen Gardens on the west side of Highway 17 and Huntington Beach State Park on the east side. Natives of New York City, the Huntingtons spent much of their winters in Atalaya, the Moorish styled demi-castle that was specifically designed as a sculpture studio for the extremely talented Anna. She was no amateur pretending to be an artist, but one of America's foremost sculptors as will be seen on my post on Brookgreen  Gardens.
After Archer's death, the land was leased to the state and in 1960 became Huntington Beach State Park, named in honour of the Huntington's, without whose generosity it might just have become another condo lined stretch of sand indistinguishable from hundreds of others on the east coast. Here is a link to a map of the park.
Exploring Huntington Beach State Park
As you can see from the map, Huntington Beach State Park is pretty straightforward. After paying the entry fee you cross over a causeway which has great birding opportunities on both sides. At the end of this road, we turned left and followed it to our first stop which was a boardwalk which leads to a viewing platform and is a great place to enjoy a typical Low Country landscape.
Great efforts are being made to restore the oyster beds that are a crucial to cleansing the brackish waters that are the essence of these marine estuarial environments. There is something timeless and nerve calming about these salt marshes that can only be experienced and not described. They also provide great habitat for fish. Huntington Beach State Park is known both for its inland fishery on Oaks Creek which you are looking at in this picture and for its surf fishing from the beach.
Returning to our vehicle we then drove the short distance to the end of the road where there is another viewing platform overlooking the aptly named Sandpiper Pond which was alive with birdlife. Unfortunately I didn't have my telephoto lens or I would have been able to get some great shots of nesting short-billed dowitchers which are a rarity for me, but common in Huntington Beach State Park. Also, if it had been warmer, you can be sure Sandpiper Pond would be a guaranteed place to spot alligators.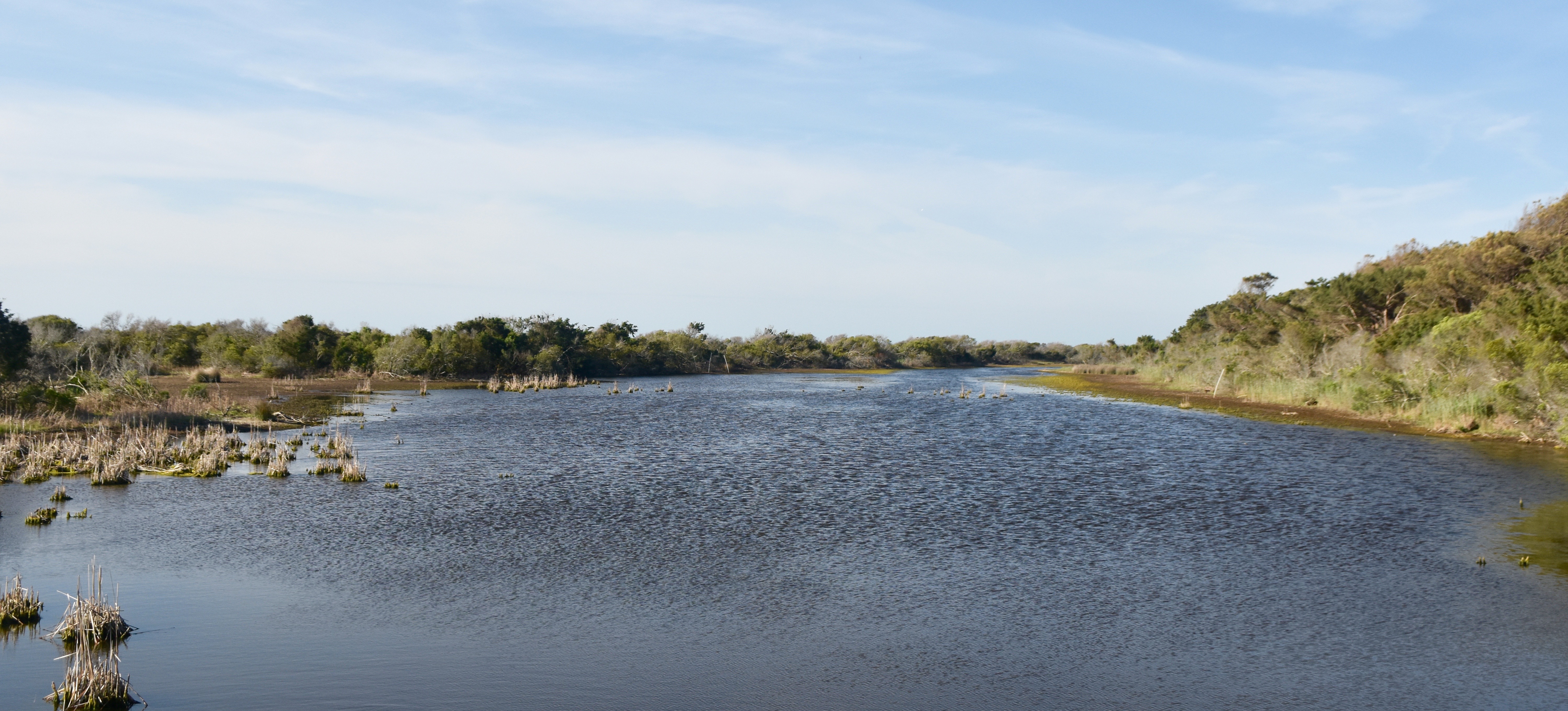 This is also the place to access the beach at Huntington Beach State Park and what a beach it is. Miles of beautiful white sand with nary a soul on it and not one single condo! If it had been warmer we would have walked the extra mile or so to the end of the beach where there is a jetty. Making that walk is why we promise to return next year.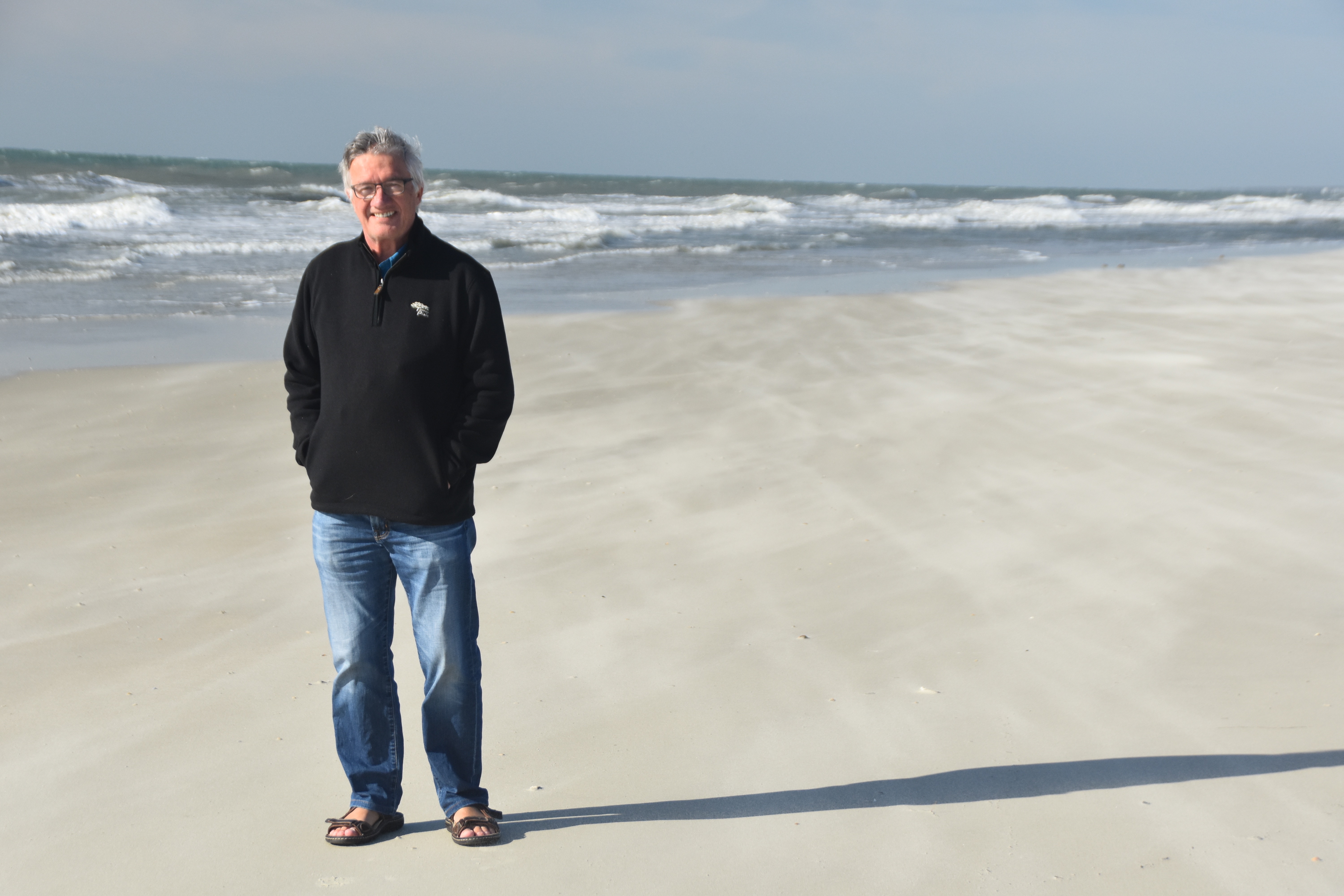 Retracing our steps I checked out both the north and south campgrounds that have everything an RVer would need to settle in. I write travel stories for a Canadian RVing magazine and would definitely like to bring our RV here for an extended stay to explore all there is to do on the Hammock Coast.
So that's the natural side of Huntington Beach State Park and now for the historical side.
Atalaya
You don't expect to find a castle in a state park in South Carolina, and while the word 'castle' is stretching things a bit Atalaya Castle is a unique National Historic Monument that is definitely worth exploring on a self-guided tour.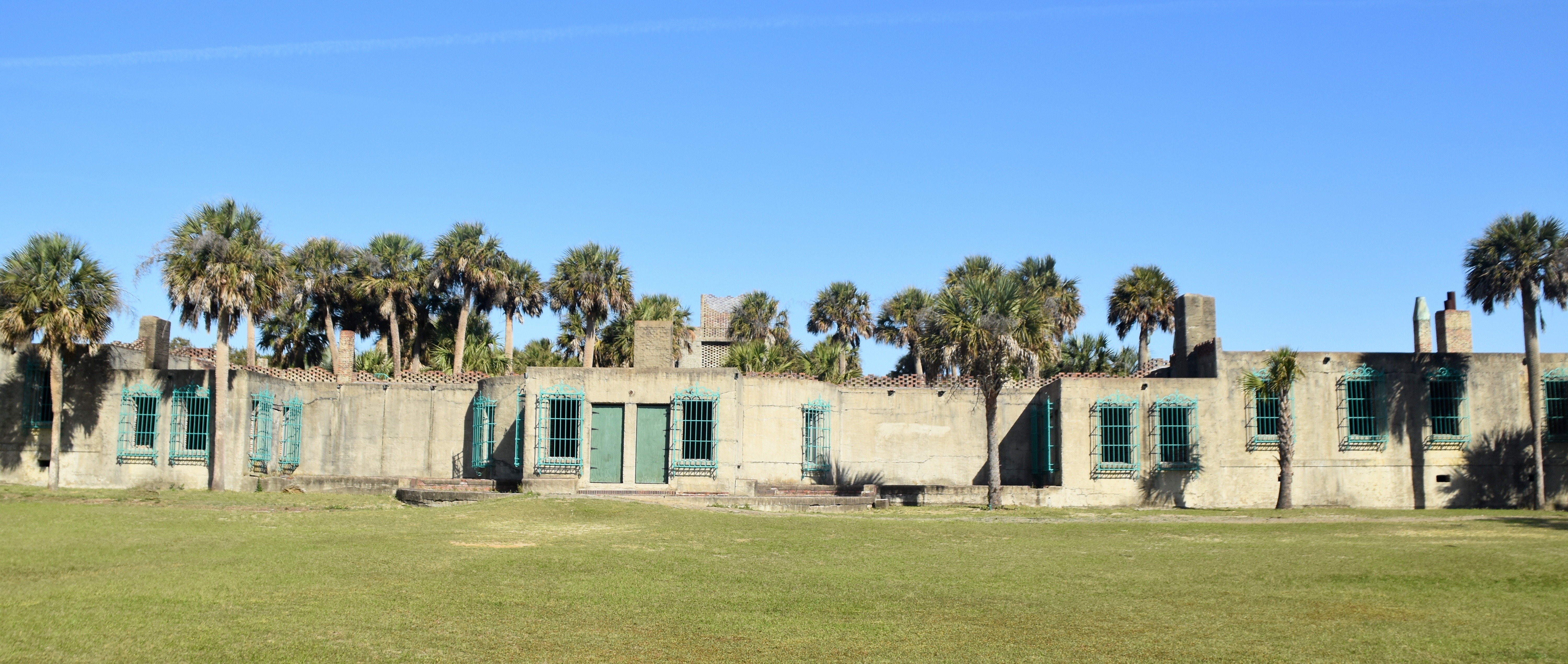 Archer Huntington was one of the 1% (actually more like .001 %), who really did care about the circumstances of those less fortunate than himself. When the Great Depression hit, he decided to build a winter home and would only employ local workers to build and thus provide much needed employment to dozens of Georgetown County men and women. He designed it himself based on a Moorish motif with a large tower in the middle that certainly has overtones of Morocco. Atalaya is the Spanish word for watchtower.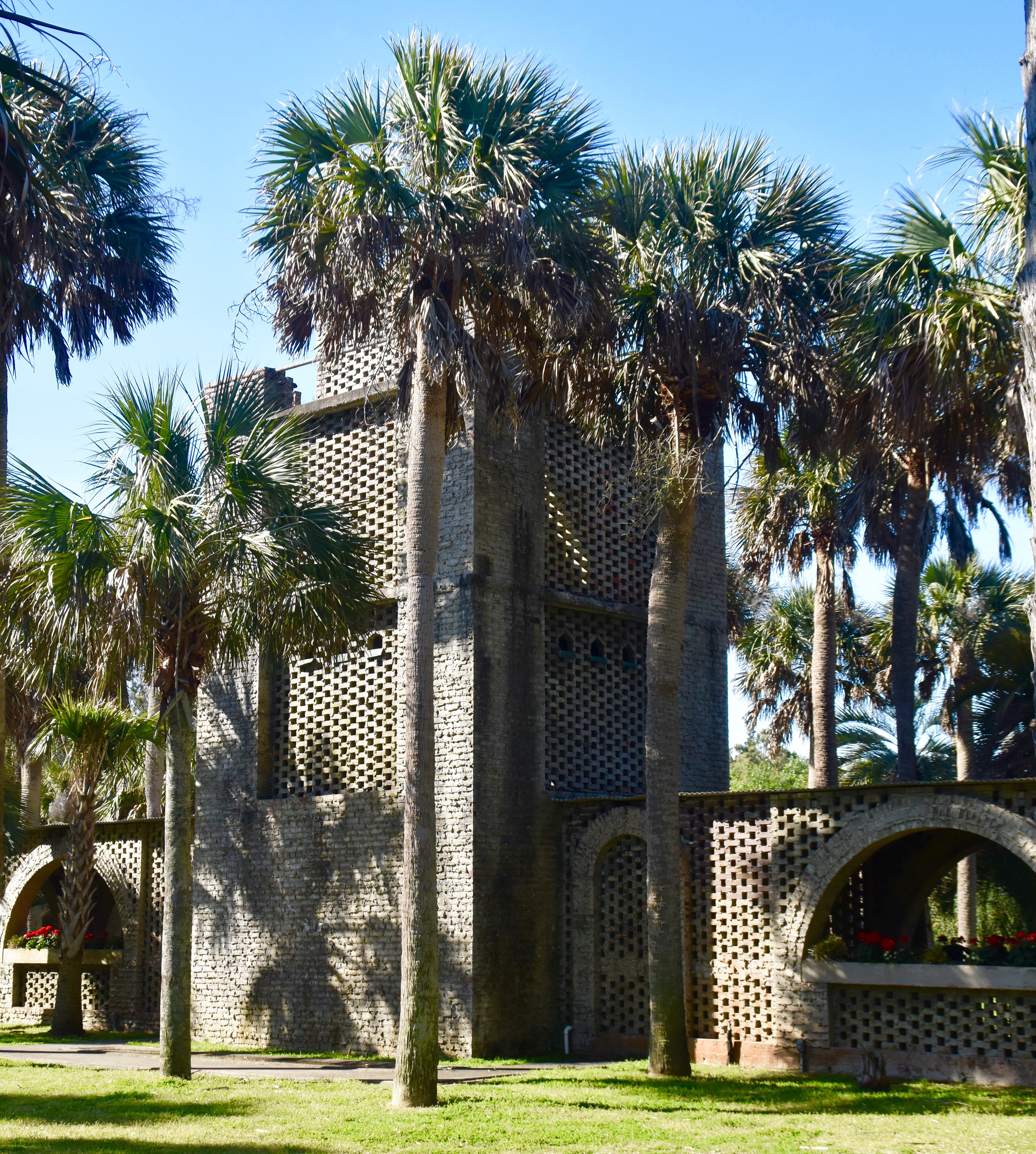 There is a small separate entrance fee to take a self-guided tour through the thirty room 'castle' which is actually anything but palatial inside, but rather spartan in appearance.
Here is the old shower room.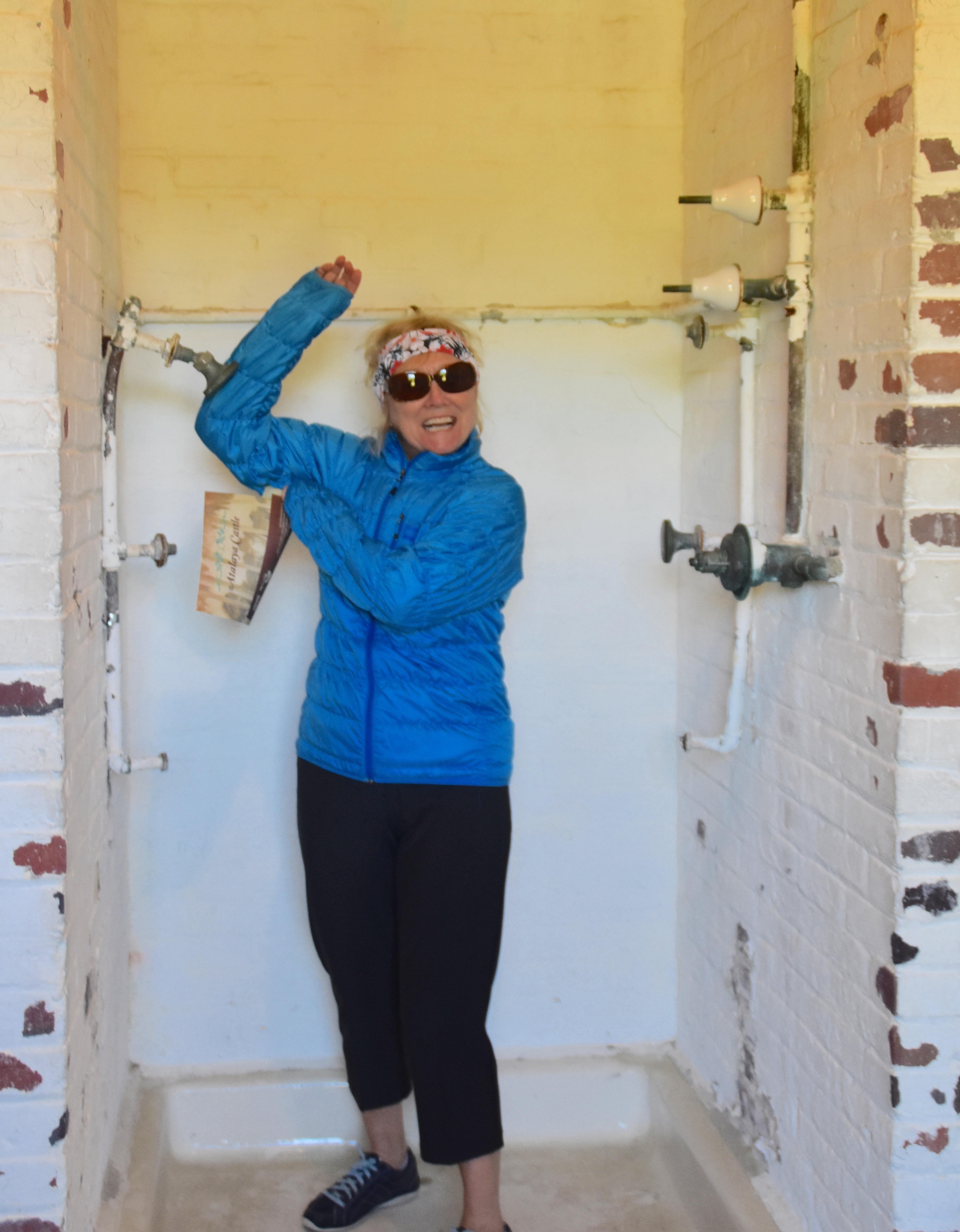 I found these pens quite interesting as they once held live bears. Anna always used live models, animal or human.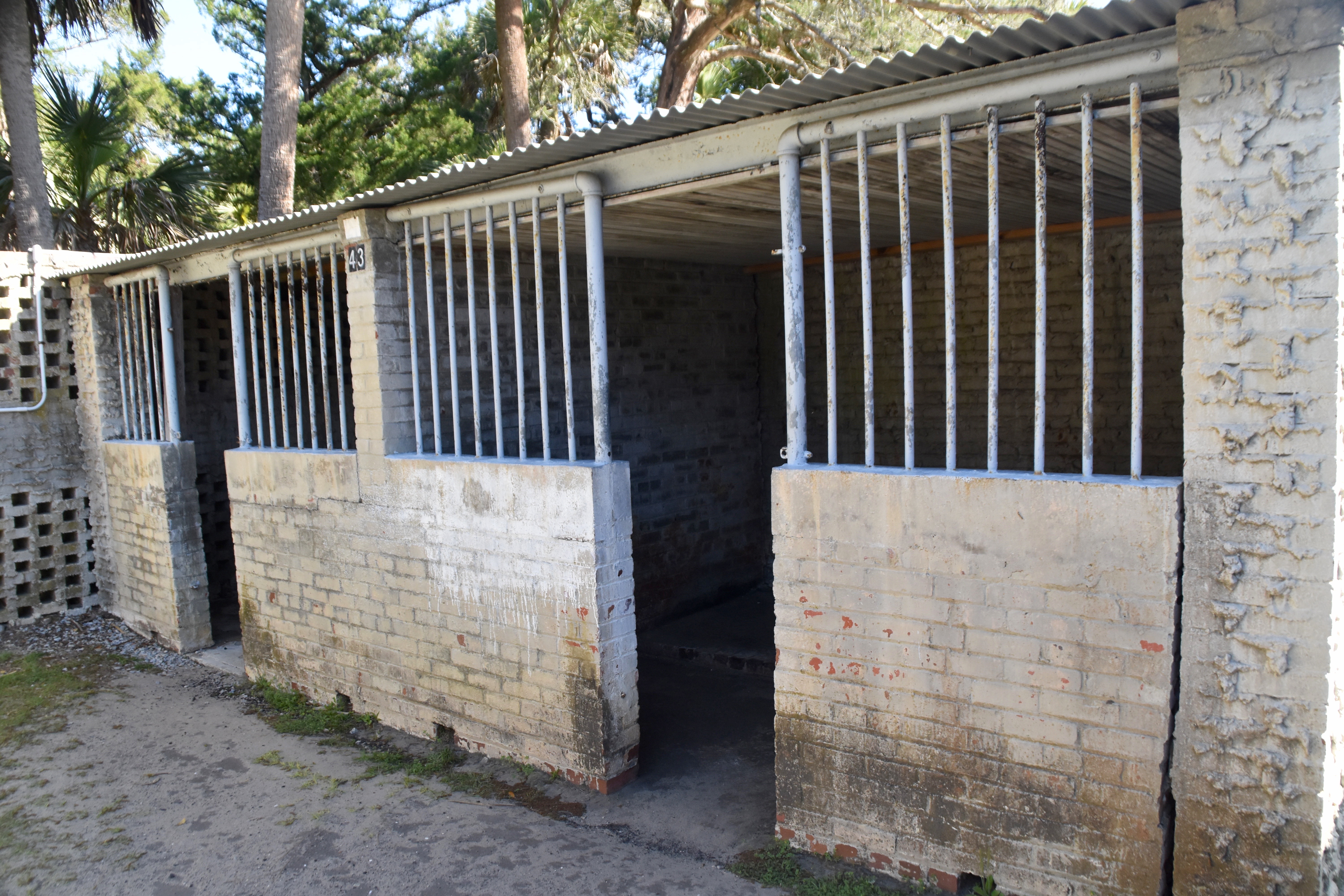 While Brookgreen Gardens is the better known of the Huntington legacies to the people of South Carolina, don't pass up the opportunity to visit Huntington Beach State Park on your way to or from Brookgreen. Better yet, bring your tent or RV and make it your Hammock Coast headquarters.