Quinta Real – An Oasis in Oaxaca
I rarely write entire posts on one hotel, but once in a while one comes along that is so exceptional that it warrants a post on its own; such is the Quinta Real in Oaxaca. Our group stayed there for four nights on a recent trip to Central Mexico with Canadian tour company Adventures Abroad, led by travel guide extraordinaire Victor Romagnoli. My wife and I have travelled with Adventures Abroad many times before and know that while the accommodations are always more than adequate, they are not marketed as upscale or luxury as some other companies do. In my experience going the luxe route means paying a hell of a lot more. Our stay in Oaxaca was coordinated to coincide with the Day of the Dead festivities for which the city is justly famous. Thousands of tourists flock here every year to watch and participate in the parades and cemetery visits that take place in and around Oaxaca. Not surprisingly this is when hotel prices are at their highest. Victor told me that good rooms need not only to be booked a year or more in advance, but substantial upfront deposits paid as well. Thus, I really was not expecting anything special and in fact would have been perfectly acceptable with accommodations that were at bit lower on the scale than Adventure's Abroad usually provides. Instead, the Quinta Real came as a double surprise – not only was it definitely upscale, but we got excellent rooms at the busiest and most expensive time of the year. Here are five reasons we loved the Quinta Real Oaxaca.
1. Location, Location, Location
The Quinta Real has one of the best locations in the historic centro district of Oaxaca just a stone's throw from the Templo de Santo Domingo which is the principal tourist attraction in the city and a gathering point for tourists and locals alike. You can get a view of the templo from many of the rooms in the hotel including the one we had.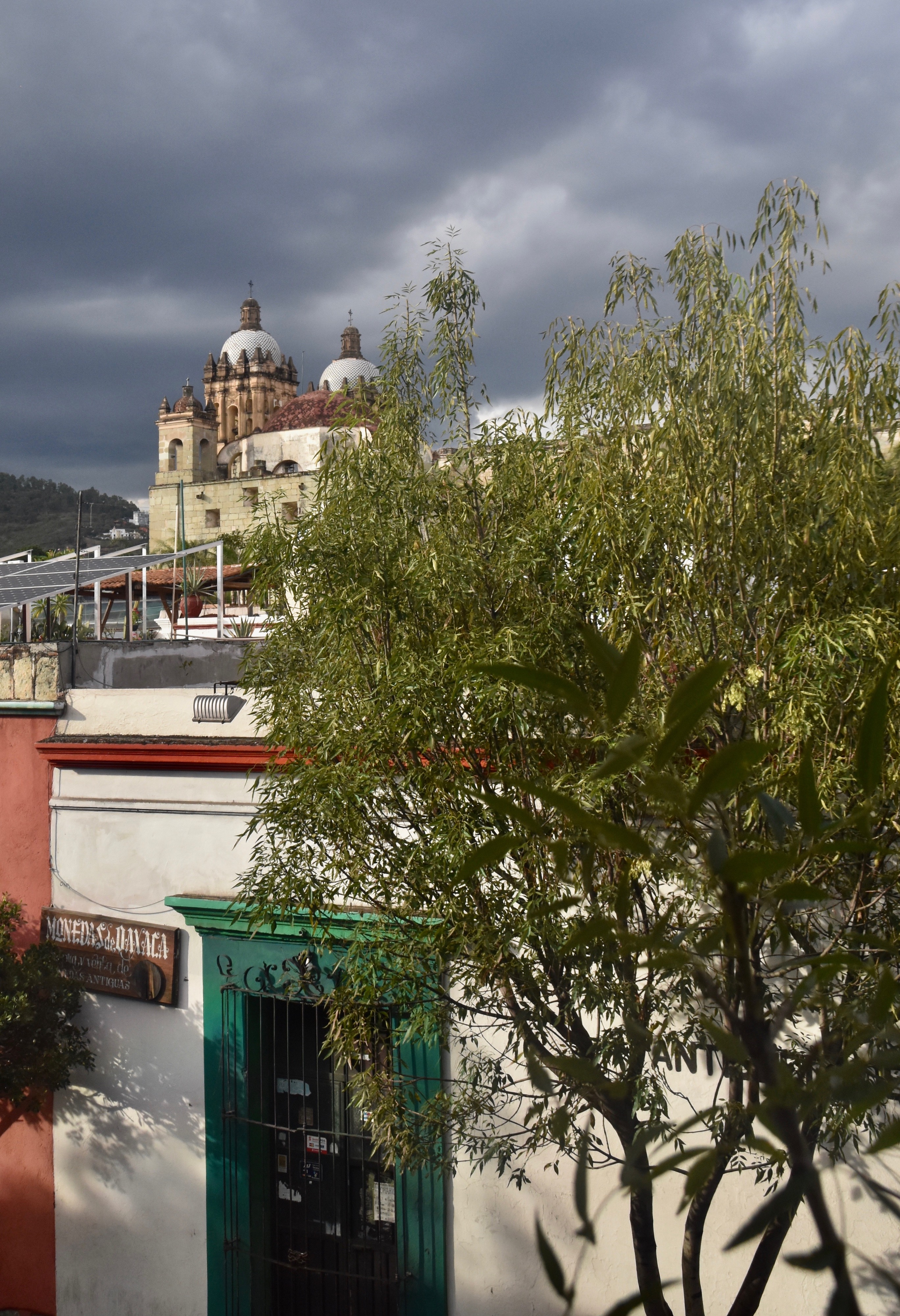 It's also only a block off the pedestrianized Calle Macedonio Alcalá that connects the templo to the Zócalo and contains tons of interesting shops, museums and restaurants. Once you've gotten settled in your room you can literally walk everywhere you need to in this most interesting of Mexican colonial cities.
2. Get Thee to a Nunnery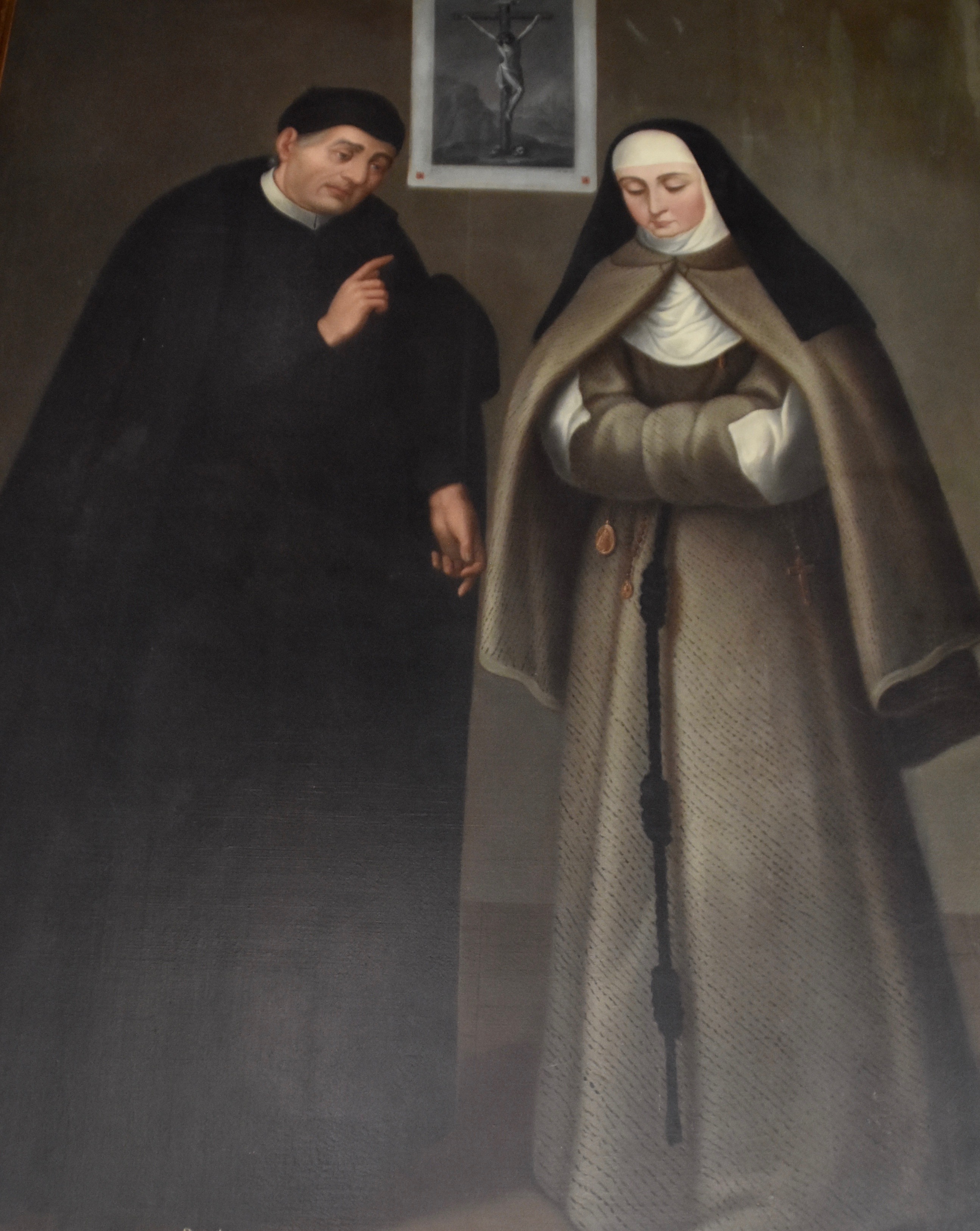 The Quinta Real takes up part of an entire city block that was once the convent of Santa Catalina de Siena. The history of the building is set out on a plaque in Spanish and English outside the entrance. It started out as a place for secular women (aka not virgins), usually destitute widows, to take refuge and was designated as a House of the Devout way back in 1559. The construction of a true convent began in 1577 and by 1590 had 38 nuns. Building continued off and on for the next two hundred years until the structure contained a large church, cloisters and many cells for the nuns. Life appears to have not changed much for the nuns until 1862 when Mexico, after bitter struggles between the conservative Catholic church and the liberal government of Benito Juarez enacted the Reform Laws that essentially nationalized the property of the church. The nuns were out and Santa Catalina did a 180° turn as the saints were replaced with sinners, and it became a prison. This didn't last long and various parts of the ex-convent were used as the Municipal Palace, a cinema, a Masonic lodge and finally in 1976, a hotel. It is now a designated National Historic Property managed by the Quinta Real hotel group.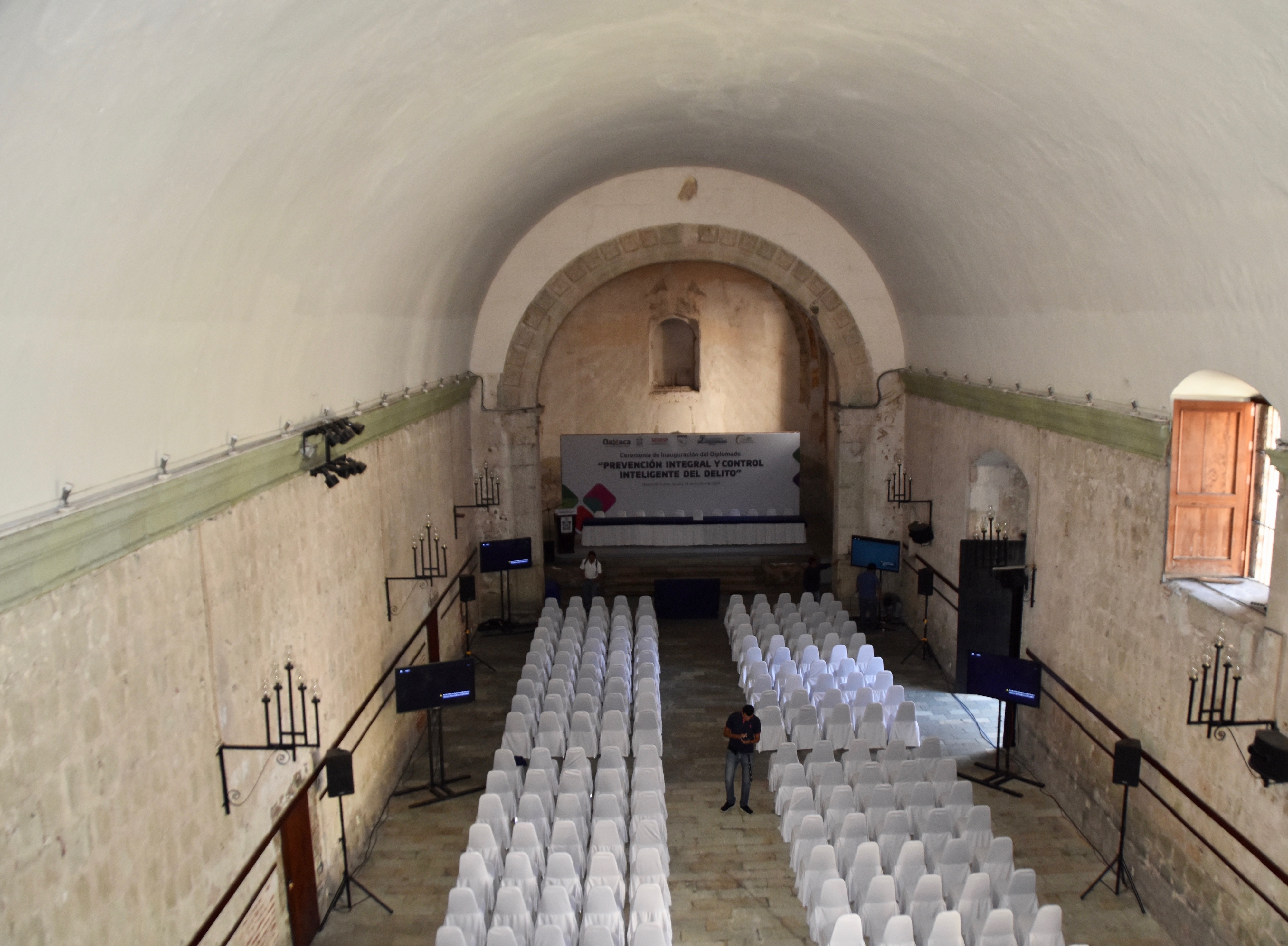 As a designated historic site it is a tourist attraction in its own right and non-guests are permitted to visit and check out things like the convent hall, which I presume from the shape must have been a church at one time.
In the four days we stayed at Quinta Real I kept on stumbling across new and interesting little corners that I hadn't noticed before.
This is a photo of stairs you need to take to get to the rooms. You can see from the pillars, tiled floor, frescoed walls and curving archway that this is no ordinary hotel.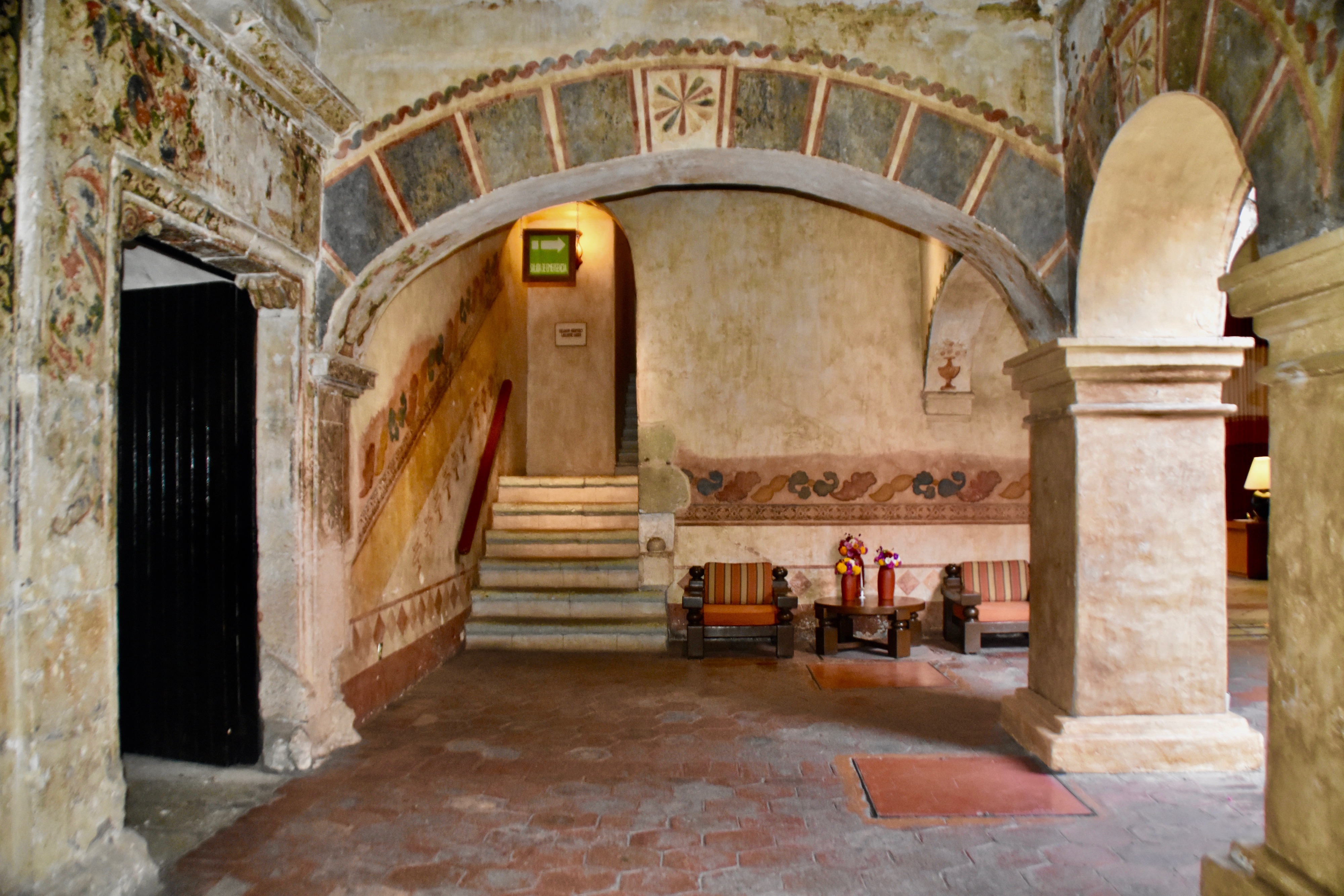 This is a view of the front desk from the stairs.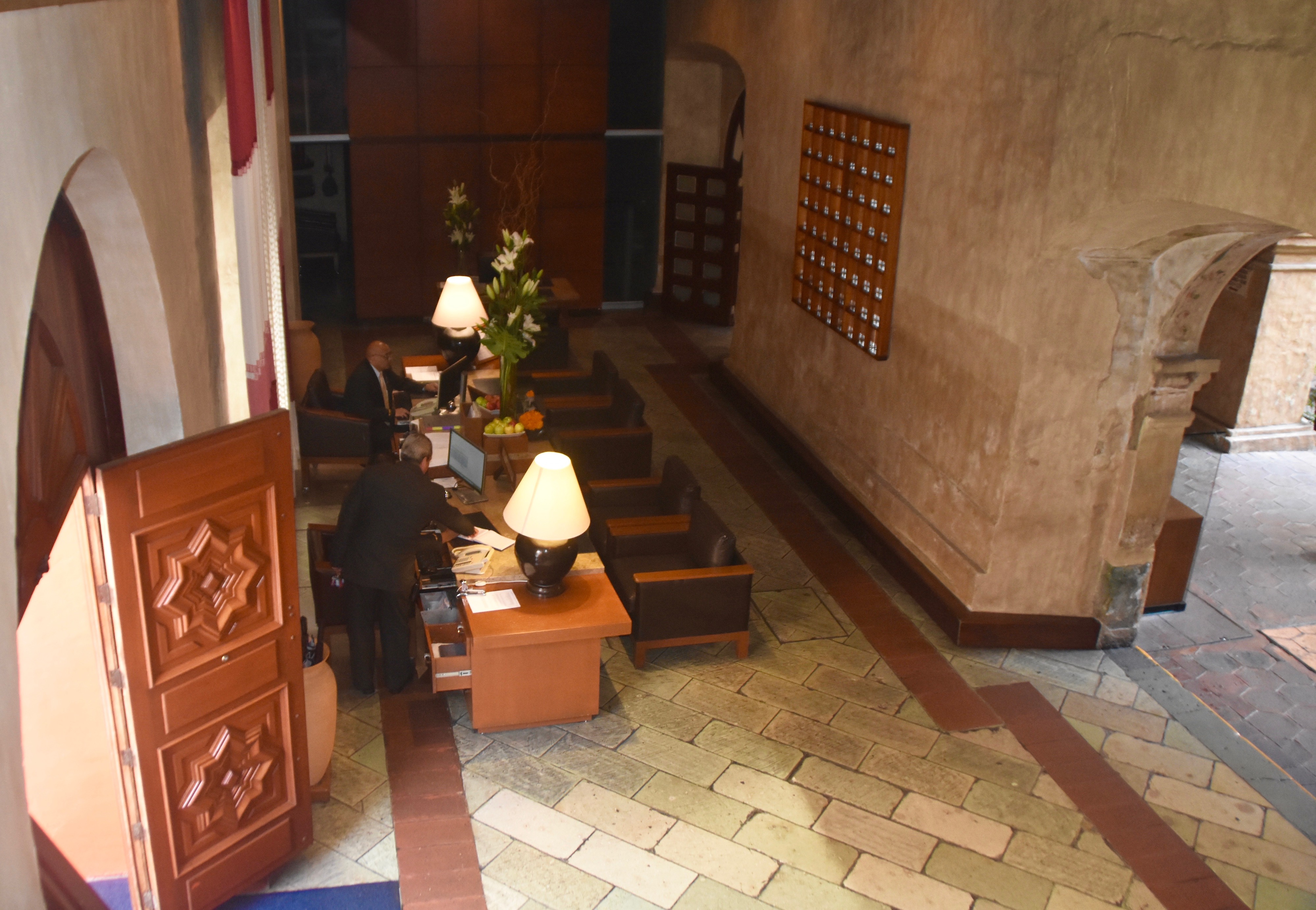 3. Quinta Real Really is an Oasis in Oaxaca
During the Day of the Dead festivals Oaxaca becomes a madhouse of tourists. The streets, plazas, restaurants and bars are jam packed which is great. We all came here for the same reason so no one has any right to complain about the crowds. However, crowds, particularly exuberant ones like those in Oaxaca at this time of year, are LOUD. Then there's the bands, some good, some not so much, the firecrackers, some fun to watch, others more like cannons – you get the picture. Sometimes you just need to get away from it all and find tranquility and what could be more quiet than a convent.
Once you pass through the heavy wooden doors of Quinta Real you are in a different world. The soothing green of the foliage, the trickling sound of water and the utter quiet recharge one's inner psyche and prepare you to once again enter the fray.
There are any number of places within Quinta Real to relax. This is the Jardin Las Bugambilias just off the lobby entrance.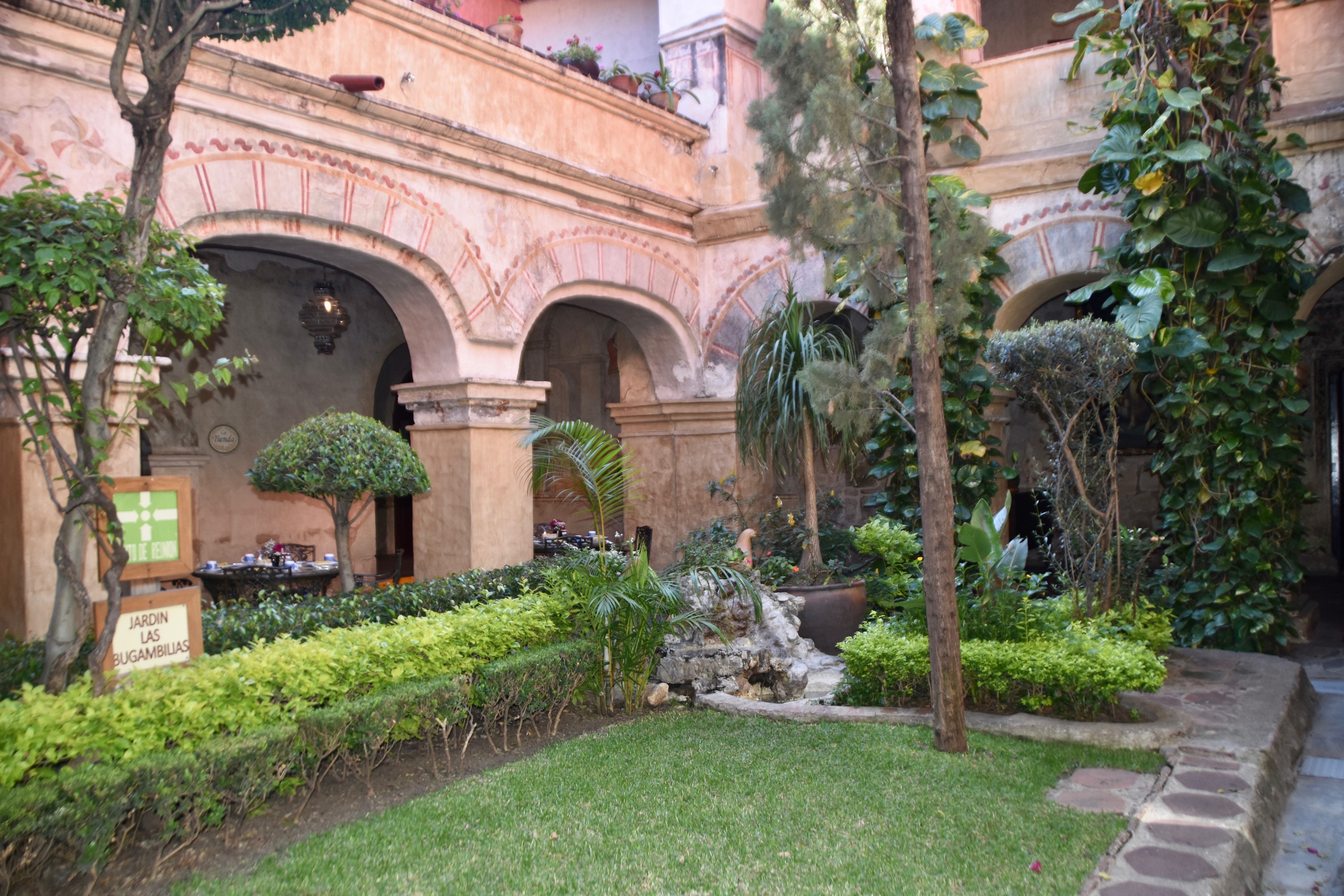 This is a garden on the second floor on which many of the rooms front so you can just sit in the chairs provided outside each room and enjoy your favourite libation.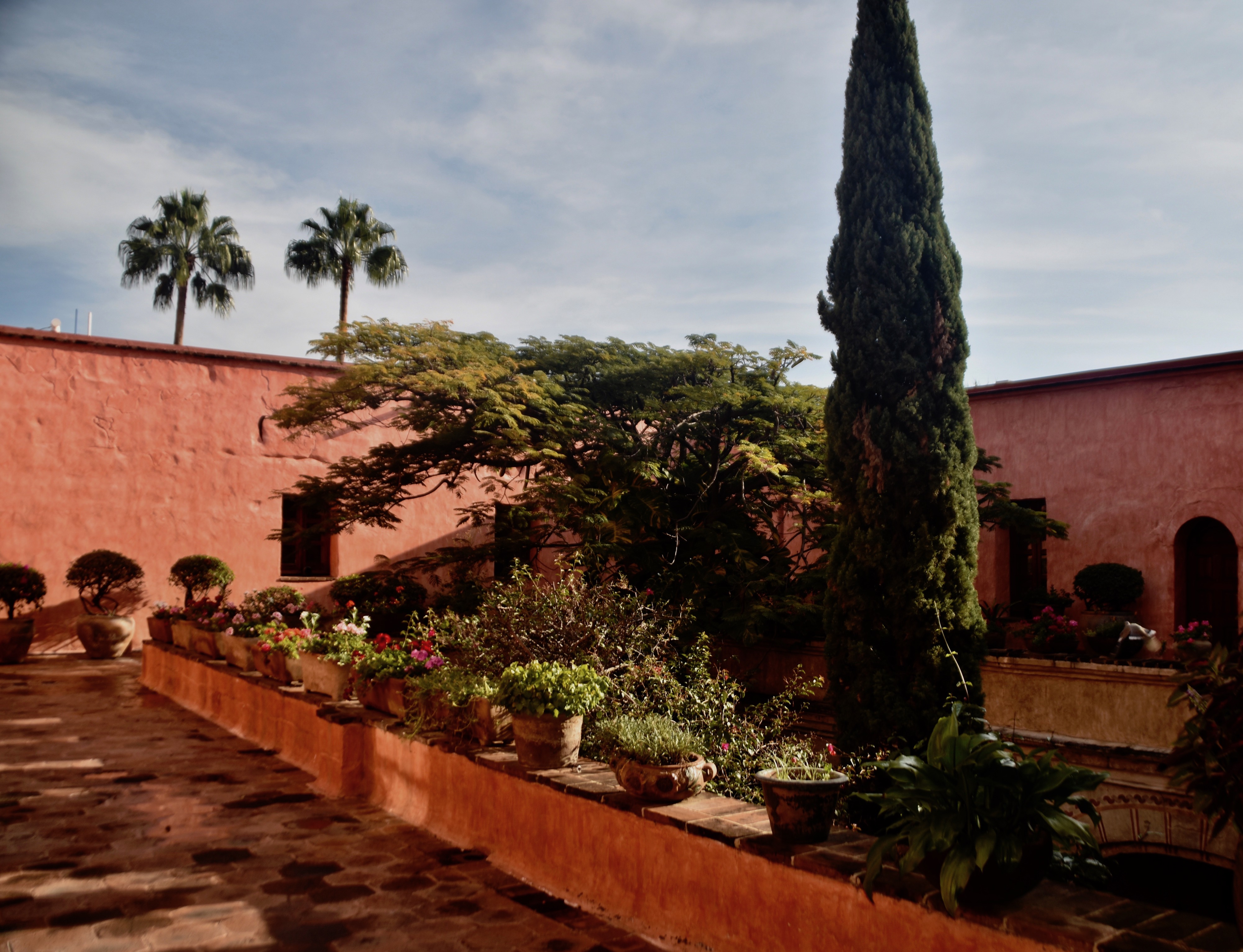 Or if you remembered to pack a swim suit you can cool off in the pool.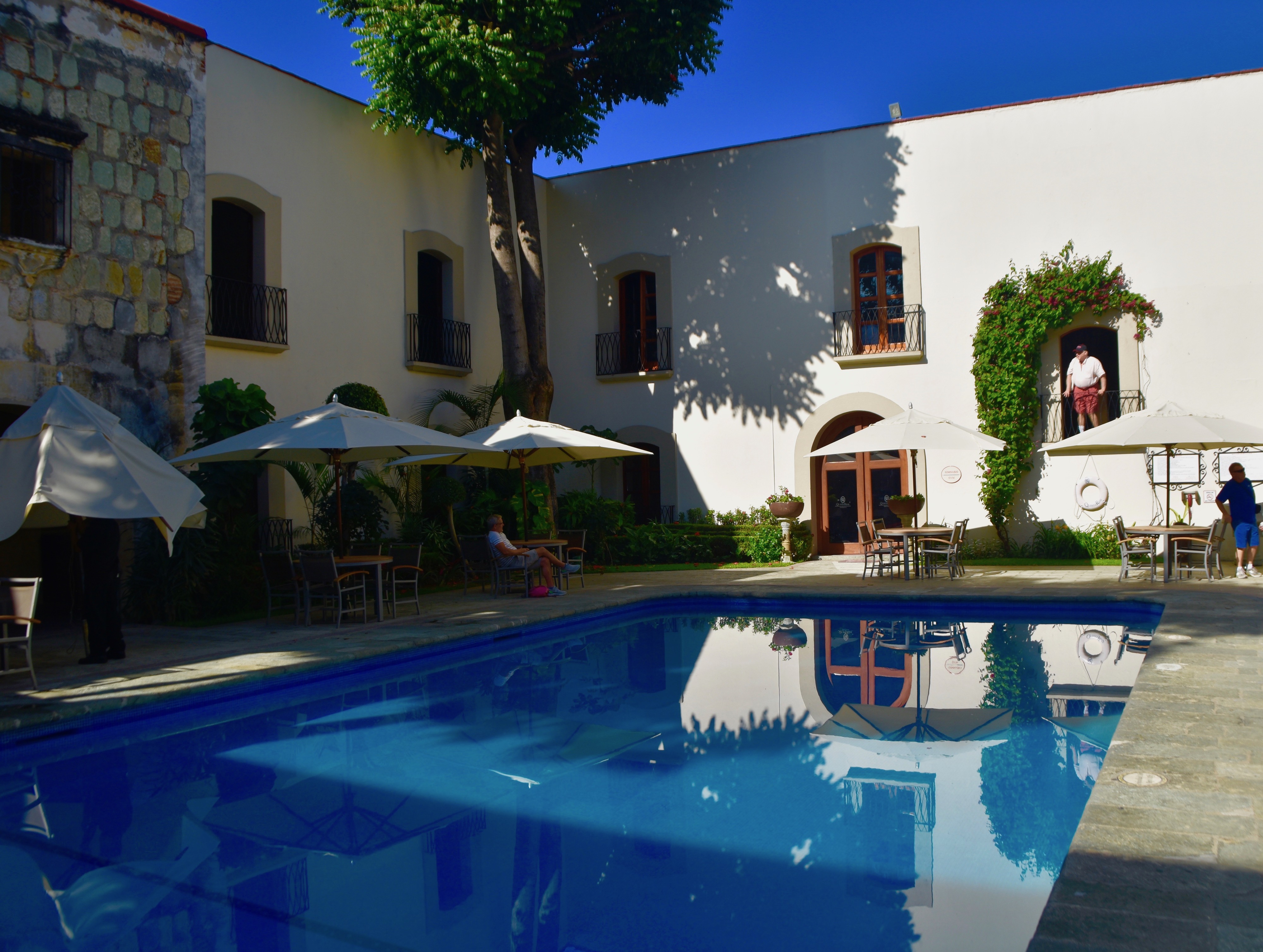 4.  Quinta Real Rooms are Very Nice
While the rooms at Quinta Real vary considerably in size and configuration, any of the ones I saw during our stay by peeking in when the maids were cleaning, looked just fine. This is the king bed we had in Room 215.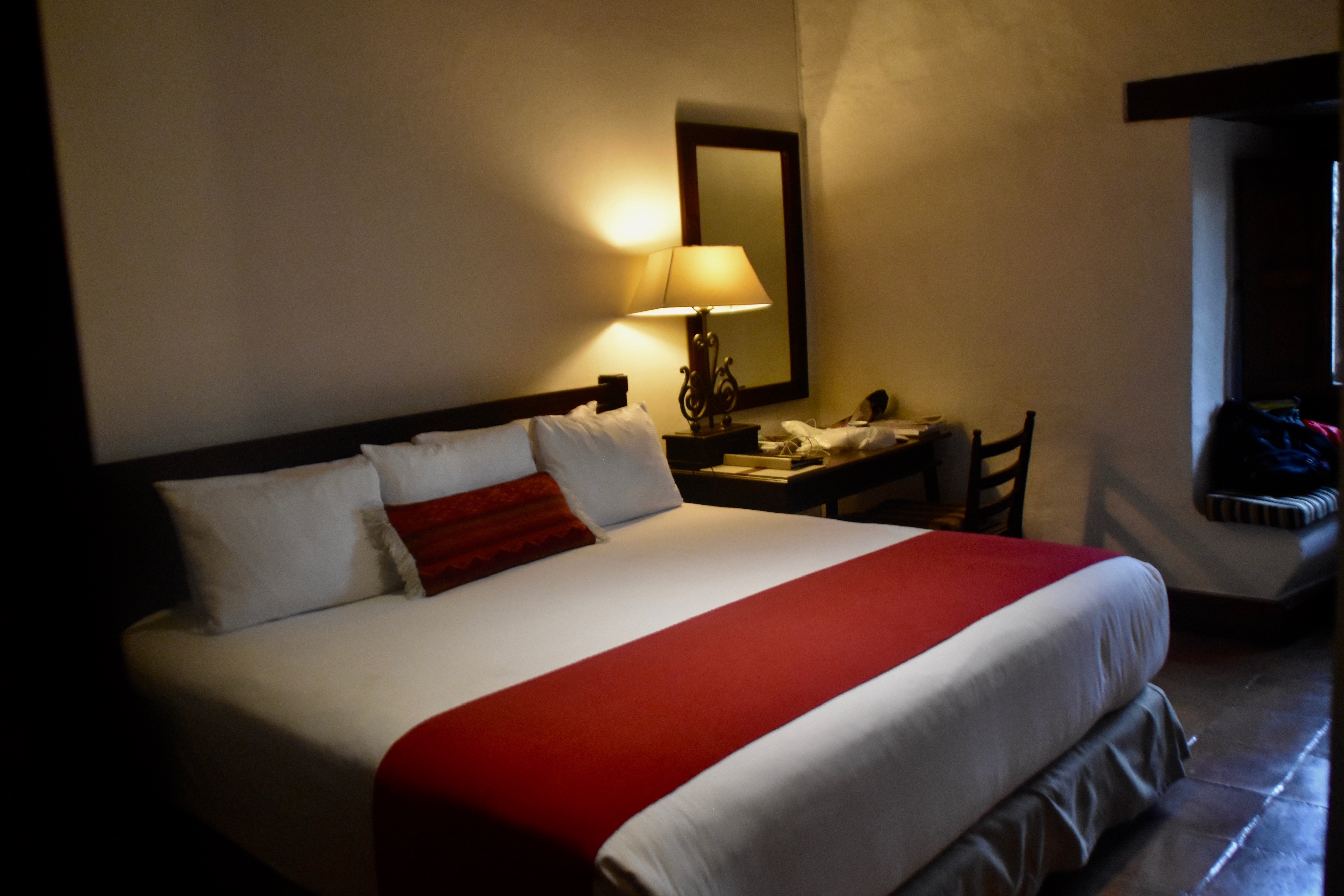 The bathroom was modern, clean and the plumbing worked properly i.e. the shower didn't take an hour to heat up and the toilet flushed when requested.
5. Breakfast at Quinta Real
Breakfast is always included at Adventures Abroad hotels and on this trip most were very good – no bad coffee,  diluted orange juice and a stale donuts masquerading as a Continental breakfast. However, the breakfast at Quinta Real was truly exceptional, for a number of reasons. The first was the setting. You could sit outside in this cloistered setting.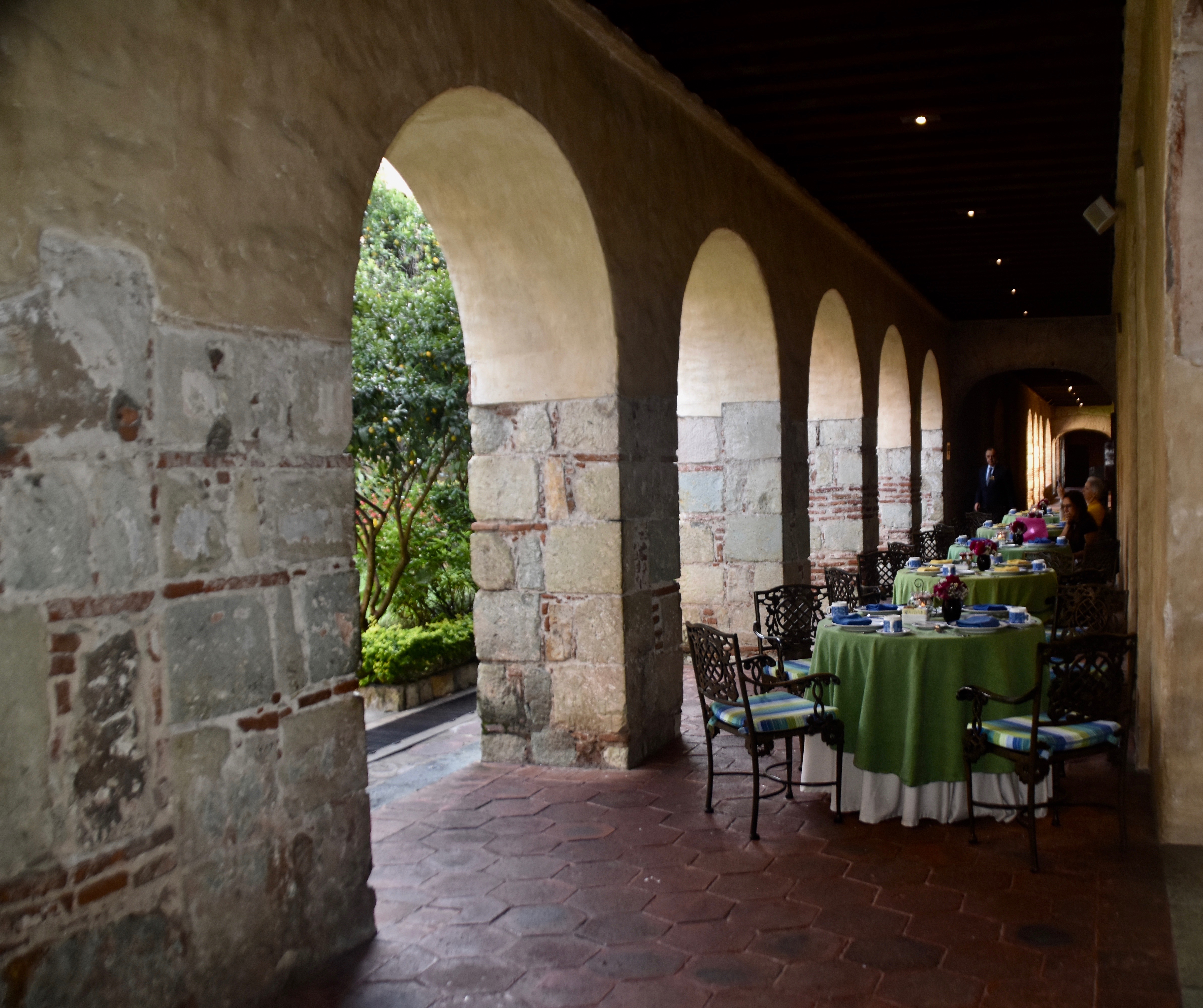 Or inside in the breakfast room amidst the saints and guardian angel.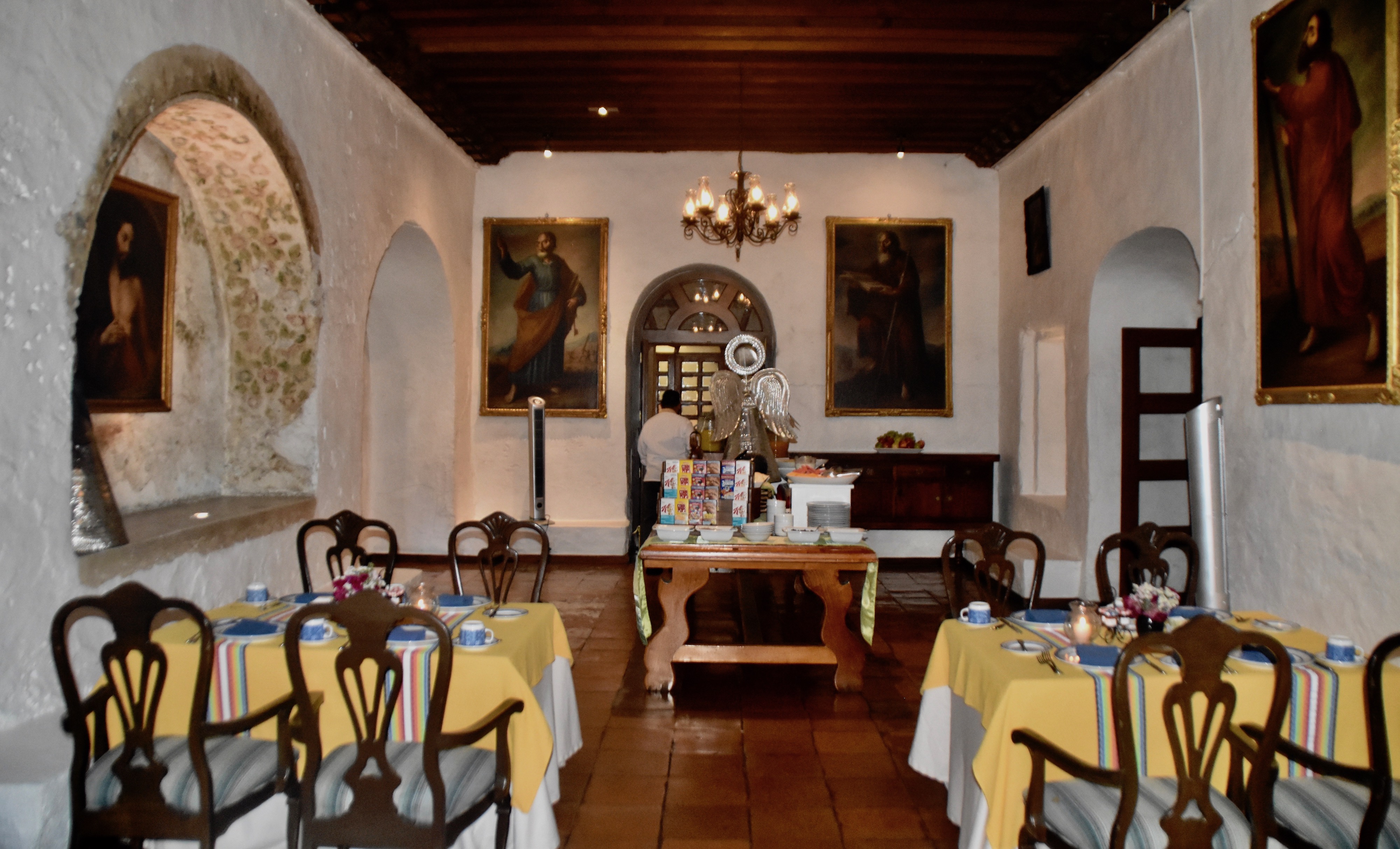 This is the back wall of the breakfast room – a wall of earthenware jugs.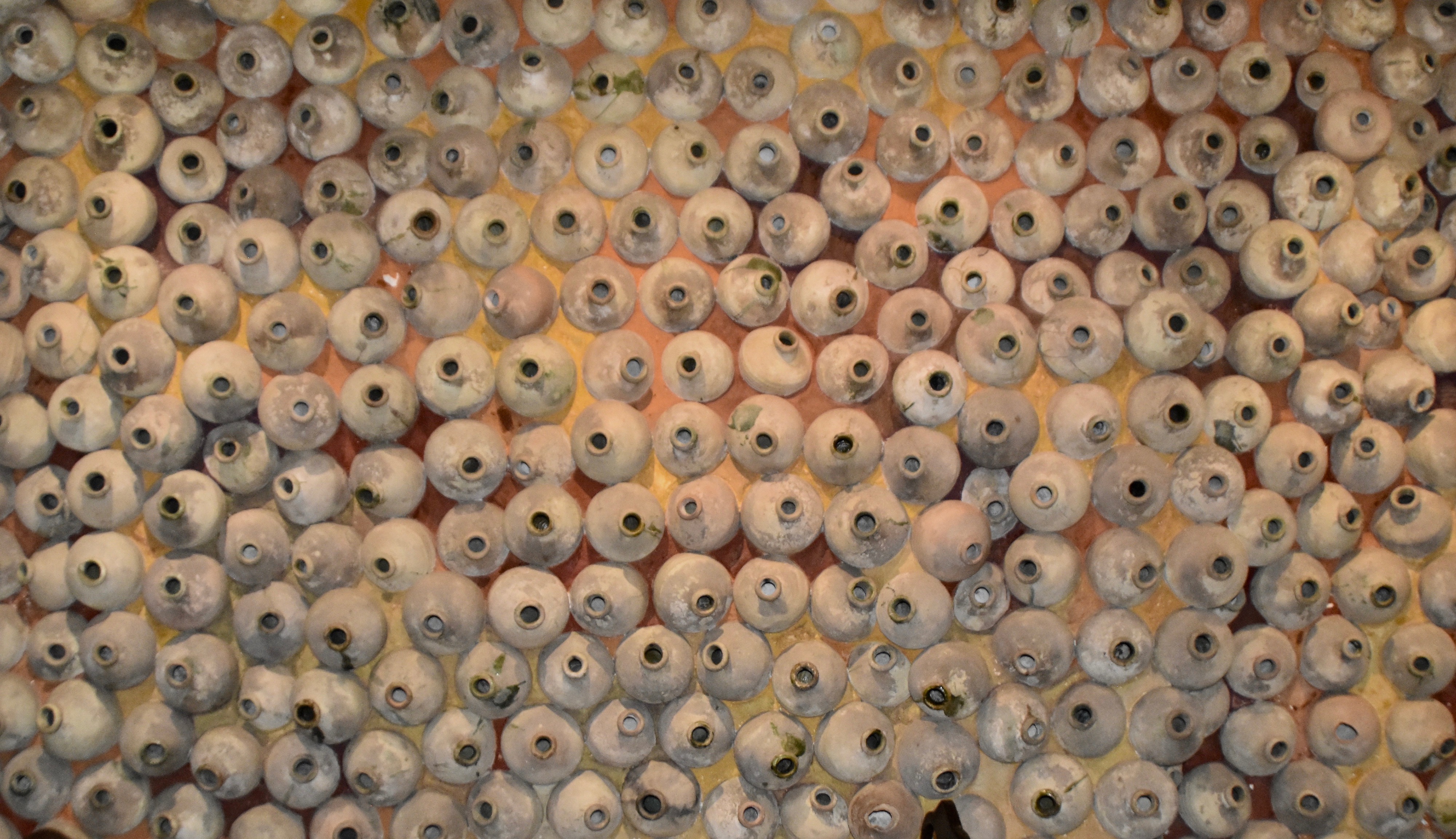 Sitting inside you would be gently serenaded by this trio who played each morning.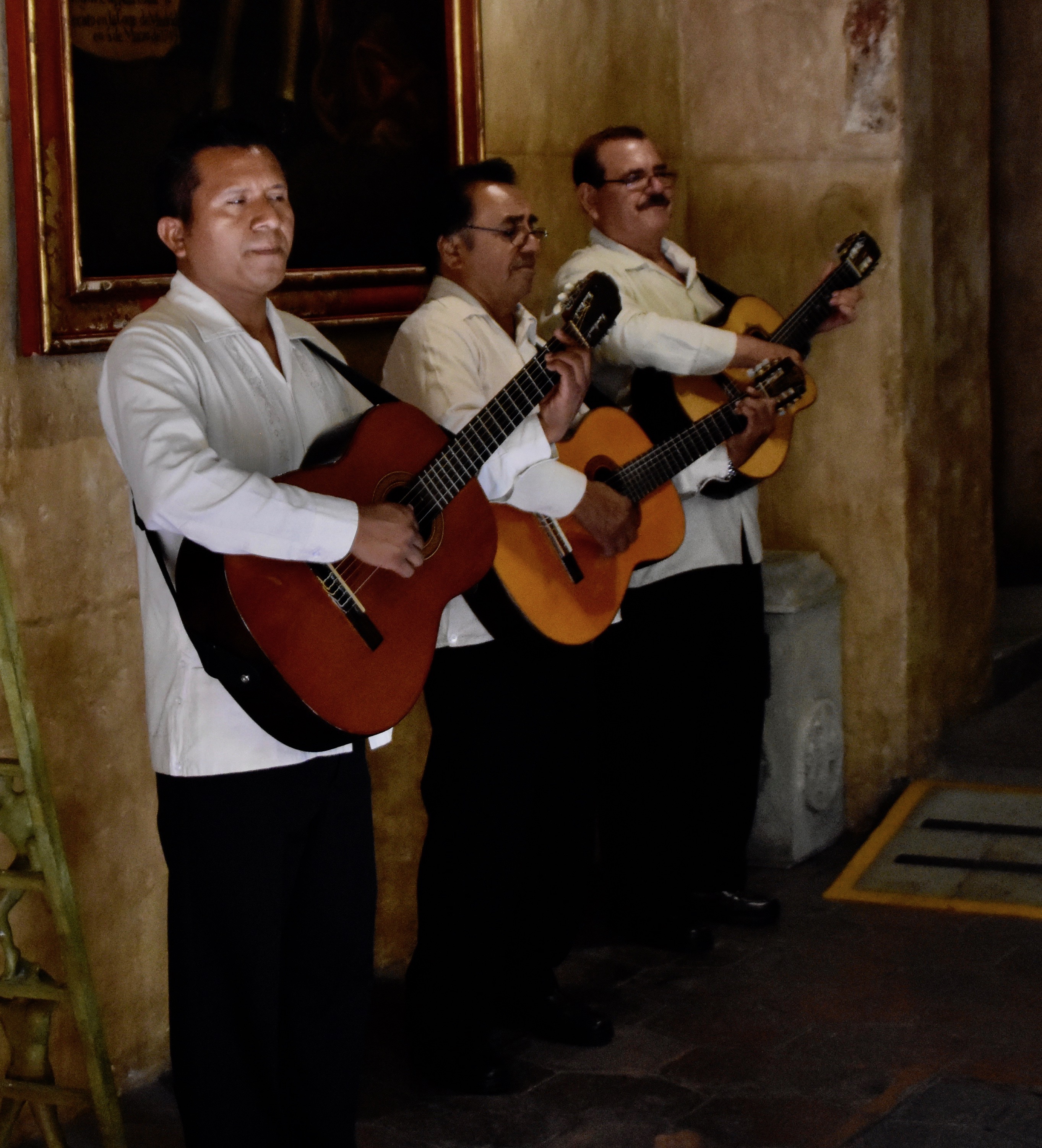 So even before your first sip of coffee, the breakfast area of Quinta Real puts you in the right mood to start the day, but it wouldn't last long if the food was crappy. The good news is that not only does it have a huge selection of items that you would find at a North American breakfast buffet, including an omelet station, but it also has a great selection of Mexican breakfast dishes. I often don't eat a big breakfast, but at Quinta Real I could not stay away from the hot Mexican dishes which differed each morning.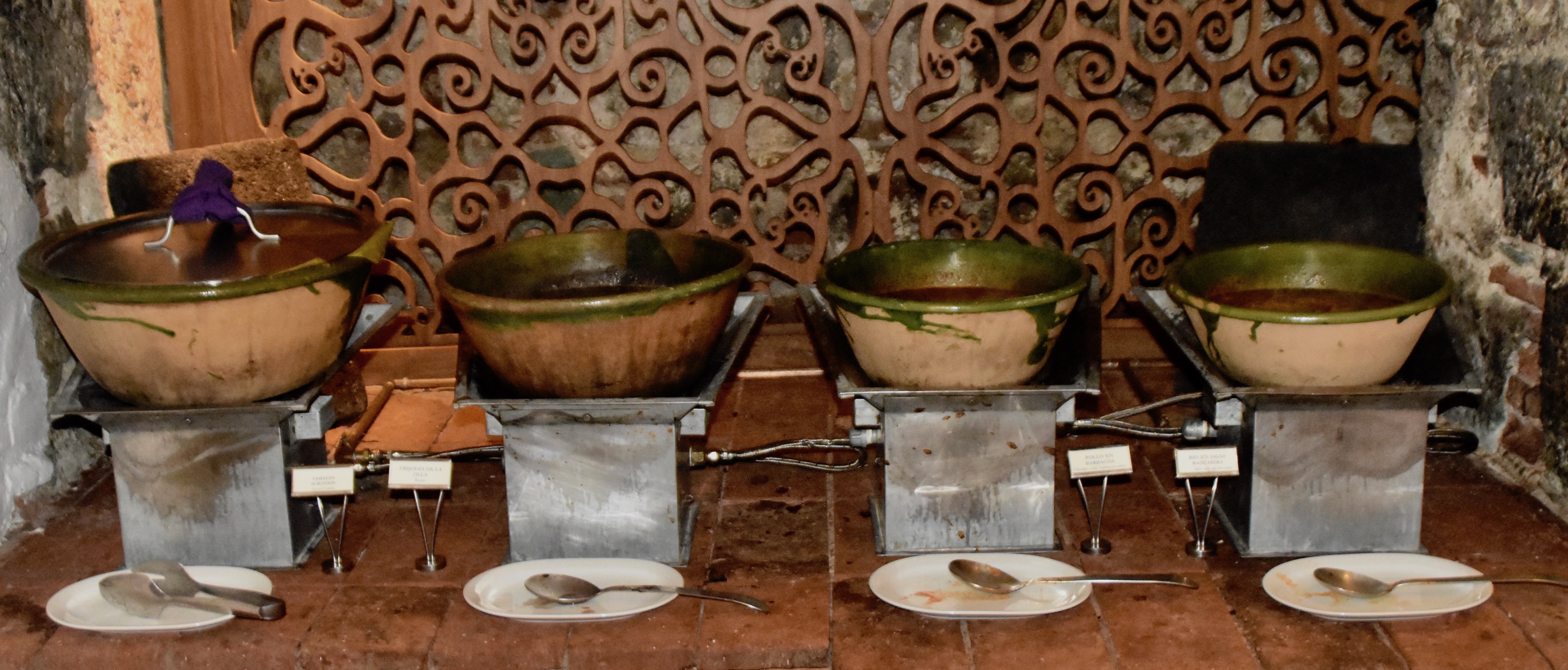 There was also smoked salmon and a good selection of cheeses, something not that common at home, but always welcome when you find it. That's the guardian angel presiding over the outer breakfast buffet. The one inside the next room is much larger.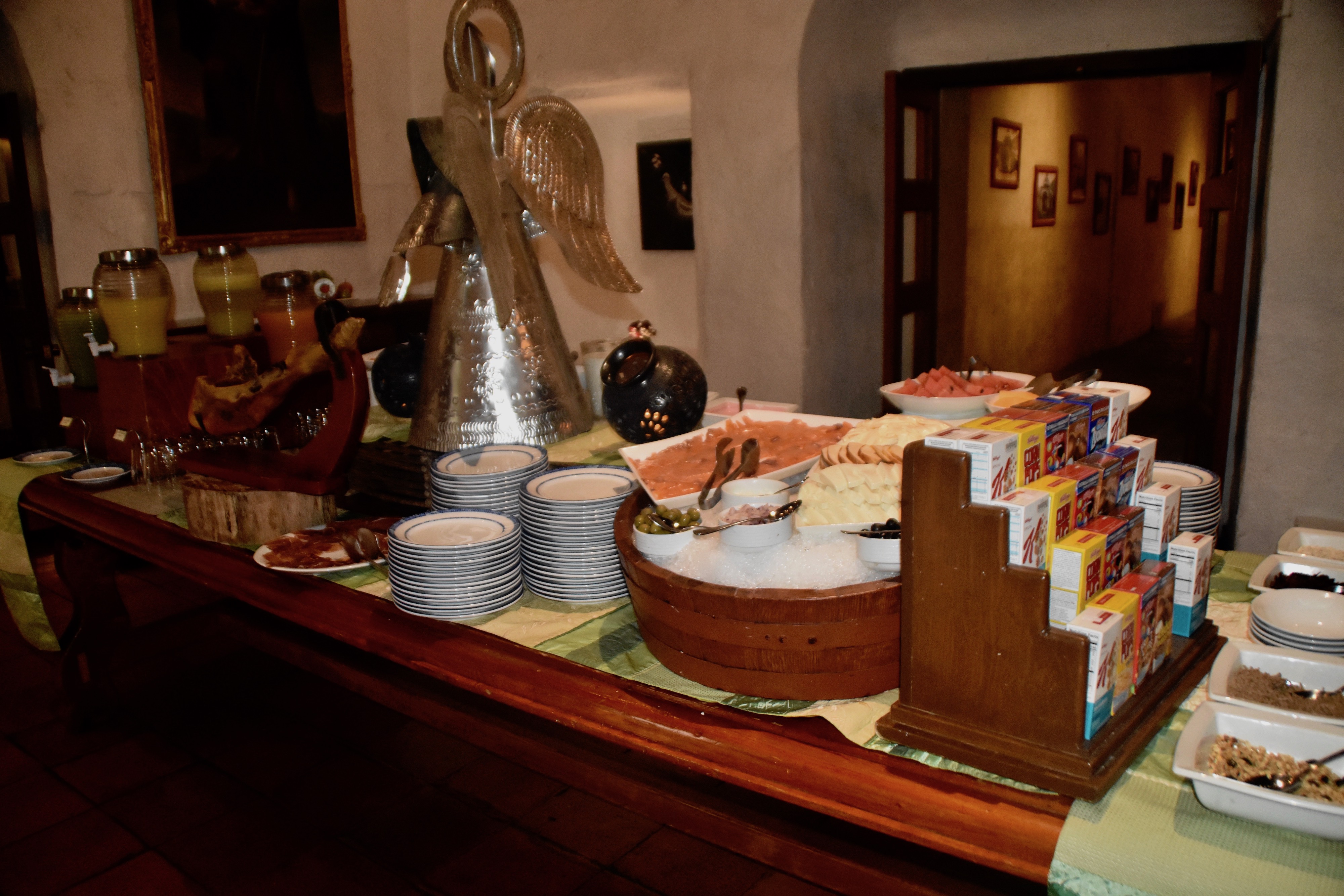 And one last unusual breakfast item, unless you are in Spain, Iberian style ham. This is seriously good eating.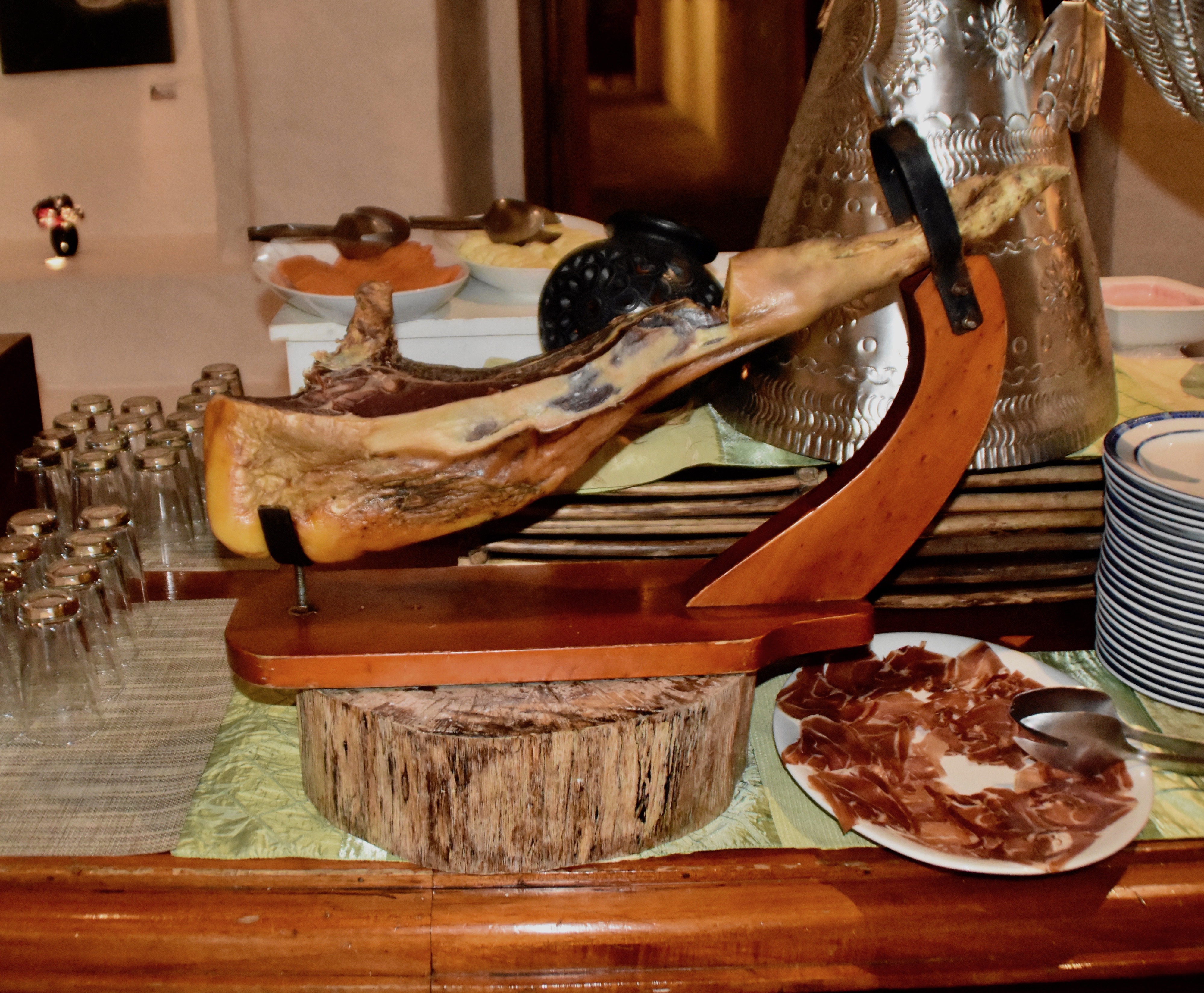 I'm presuming future trips on the Central Mexico tour by Adventurers Abroad will include the Quinta Real on the accommodations list for Oaxaca as it was an unexpected delight and made our stay in that beautiful city that much more enjoyable.