Ballybunion – Why Tom Watson Loves It
This the third post from last fall's amazing golf trip to southwest Ireland with Barry McGuigan's Golf Travel NI. The first post featured the one and only Old Head of Kinsale and the second, Arnold Palmer's Irish masterpiece, Tralee. In between we played Waterville, but the weather was so nasty that I couldn't get a fair appraisal of the course. Today we are headed for Ballybunion, a course that Tom Watson almost single handedly revived from relative obscurity and helped create the golfing stampede to southwest Ireland that exists today. It's hard to believe that a course that is currently ranked #16 in the world by Golf Digest could ever have been 'obscure', but until Tom Watson's friend and former USGA President Sandy Tatum convinced him to come here in 1981, it was not on the worldwide golf radar.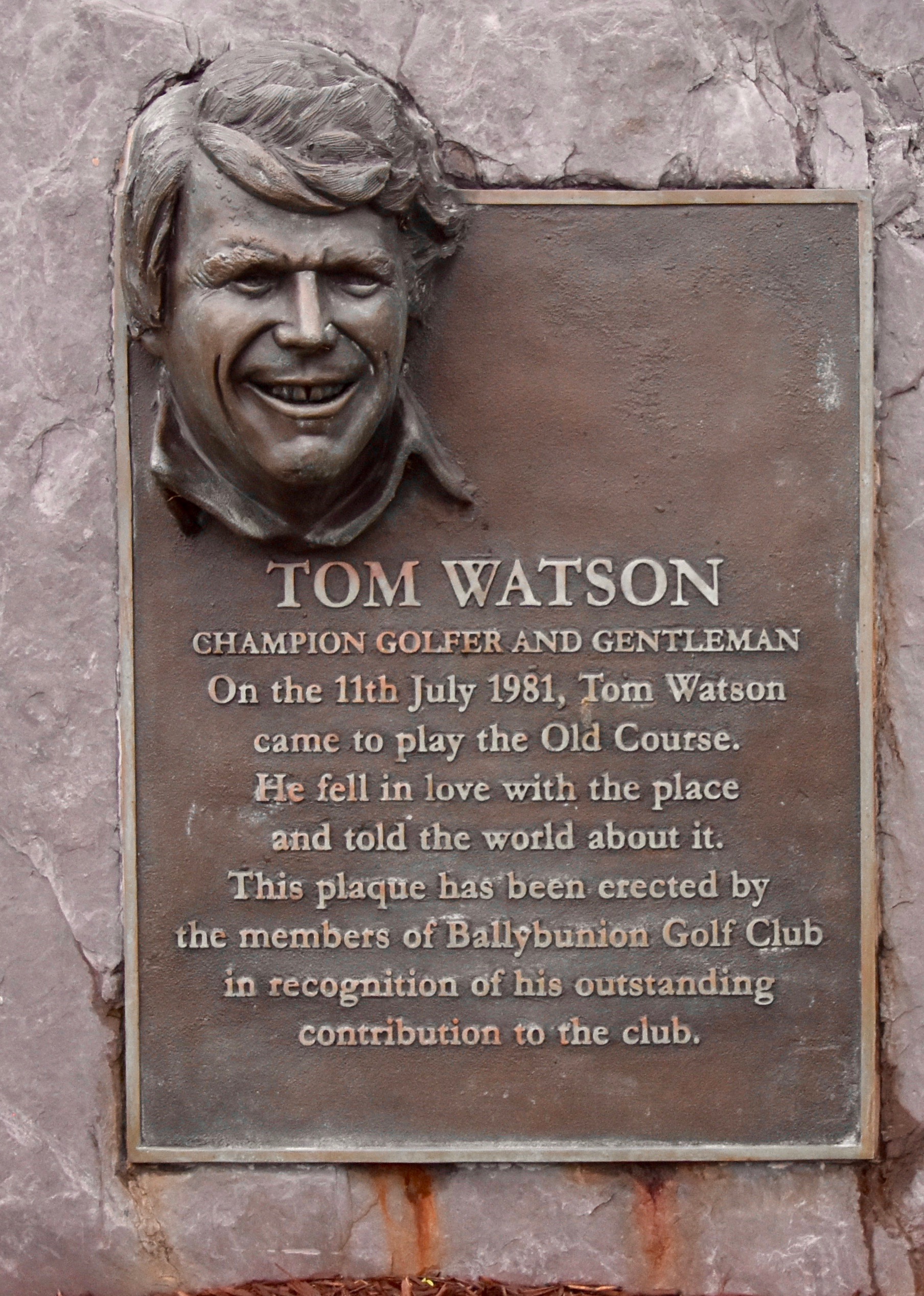 After playing here several times Watson firmly declared that Ballybunion was, in his opinion, the best golf course in the world. Considering that no American has won more British Opens than Tom Watson, five to be precise, that is high praise indeed. He continued to visit on a regular basis, using it as a tune up to the links courses on which the Open is always played and in 2000 even acted as Club Captain, a position taken very seriously at courses in Ireland and Great Britain.
History of Ballybunion
Until the Tom Watson shout out in 1981, Ballybunion was not played a lot by golf tourists to the Emerald Isle, largely due to its remote location and the fact that it does not have the pedigree of many other Irish courses. No Old Tom Morris, Harry Vardon or Harry Colt were commissioned  to work on the design of the first or any subsequent revision of the layout. Instead, it seems have been designed by committee, starting with nine holes in 1893 and after several flirtations with bankruptcy, expanded to eighteen in 1927 by Carter and  Sons of London of which I can find no information. The course did not hold its first important golf championship until 1957 when the Irish Professional Championship (Irish PGA) was held here with Harry Bradshaw  winning his 10th and last PGA title. It returned once more in 1967, but has not been back since. Ballybunion hit the big time in 2000 when its one and only Irish Open was contested here with the rather unknown Swedish golfer Patrick Sjöland hoisting the trophy.
So if it's clearly neither the fame of the golf architects or the championship history of the course that draws people to Ballybunion, what is it? Well, it actually started before Tom Watson's lionized 1981 visit, when the doyen of American golf writers, Herbert Warren Wind declared it to be one of the ten best courses on the planet. This was from the guy who termed the phrase 'Amen Corner' at Augusta, was the original writer on Shell's Wonderful World of Golf , collaborated with Ben Hogan, Gene Sarazen and Jack Nicklaus and wrote the definite The Story of American Golf.  Just like in the old E.F.Hutton ads, when this guy spoke, people listened. And came to play.
By the time of Watson's visit, the course had already retained Robert Trent Jones Sr. to design a second course, The Cashen which opened in 1984. Regretfully we do not have time to play that course on this visit and will limit our round to the Old Course.
So clearly, Ballybunion's laurels come simply from the quality of the golf experience it has to offer. Let's go find out if those accolades are deserved.
The first thing you will notice on approaching Ballybunion is the enormous modern clubhouse and in all likelihood the lower parking lot full of mini buses like ours with group of golfers from four to forty. Like it or not, this is golf on an industrial scale, but in fairness the debarkation process runs smoothly and there's more an air of excitement than resentment that the place is not the quaint little backwater that it is often portrayed as, and perhaps once was. The posted green fees of €230 also make it clear that this is not just another Irish country course that you can play a round on for for a few euros, if any of those still exist.
This is a photo of the clubhouse from the 18th tee.
The check in process goes smoothly and the staff are very friendly despite the throngs of people checking in and dropping big bucks on high end clothing and accoutrements from designers like Peter Millar and Galvin Green. Like most links courses power carts (aka buggies) are not permitted, but you can take a pull cart (aka trolley), which I opt to do. For some reason we forgot to book caddies for our round today, so we'll be hoofing it on our own. This is despite the fact that the course web site states that every group must at least have a forecaddie.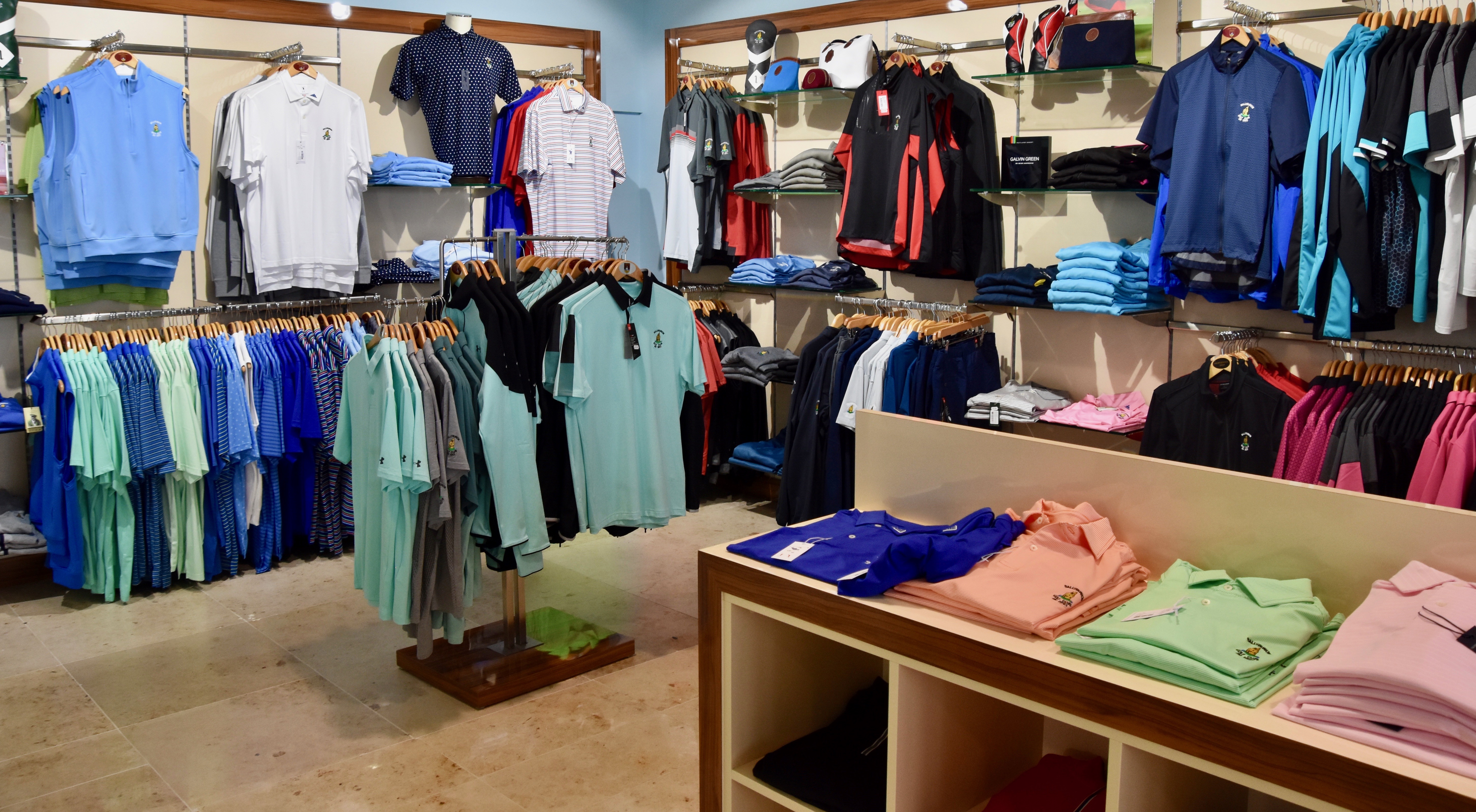 The practice facility at Ballybunion is a ways from the first tee so they shuttle you there and back. As such facilities go I would rate it about average for a course of this magnitude, but we're here to golf not practice.
Hole # 1 – Tombstones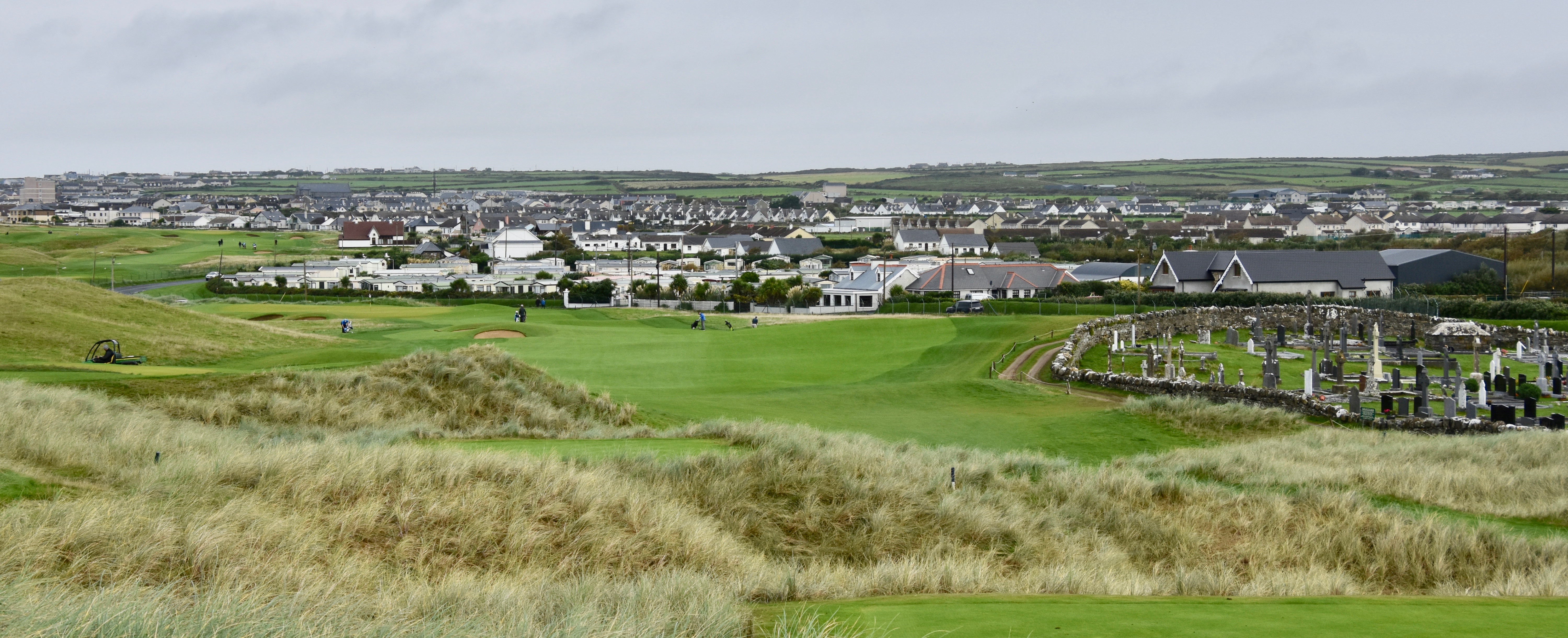 At last we arrive at the first tee where the starter gives us our instructions, some of which I like – no cell phones on the course, and some I don't – no booze on the course. Seriously? Aren't we in Ireland and not Saudi Arabia?
Ballybunion is not a long course by today's professional standards; only, 6739 yards from the tips, but a challenging 6,383 yards from the whites. There also a green tee option of 6,020 yards which is what we select. The ball rolls a long way on links courses so distances are not necessarily as long as the card might suggest. However, if the wind is in your face all the rules about distance go out the window. Luckily we're here in pretty benign conditions with the wind blowing a nice breeze and not a gale as it was at Waterville. But we still wimp out and opt for the green tees.
The first hole is a 348 yard par four that plays considerably downhill. It has to be one of the most interesting starting holes in golf, because as the name suggests, there's a cemetery on the right which is very much in play. However, my ball flight is right to left so that's not a problem, but what is a problem is the 14th green that is literally right beside the #1 fairway.
This is the map of the Old Course and you can see that the course occupies quite as small piece of land with next to no room between the holes. If I had one complaint about Ballybunion, it would be the fact that it would very easy to either hit someone or get hit on more than a few holes.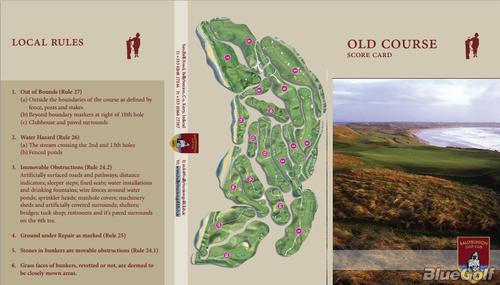 In terms of conditioning, both the greens and fairways were in superb condition.  The traps are numerous, but not nearly as punishing as those on some links courses. One thing I've only seen at Ballybunion is the use of brushes to clean the traps and not rakes. I'm not sure if this is an affection or a cherished tradition, but they seemed to work as well as the traditional rakes.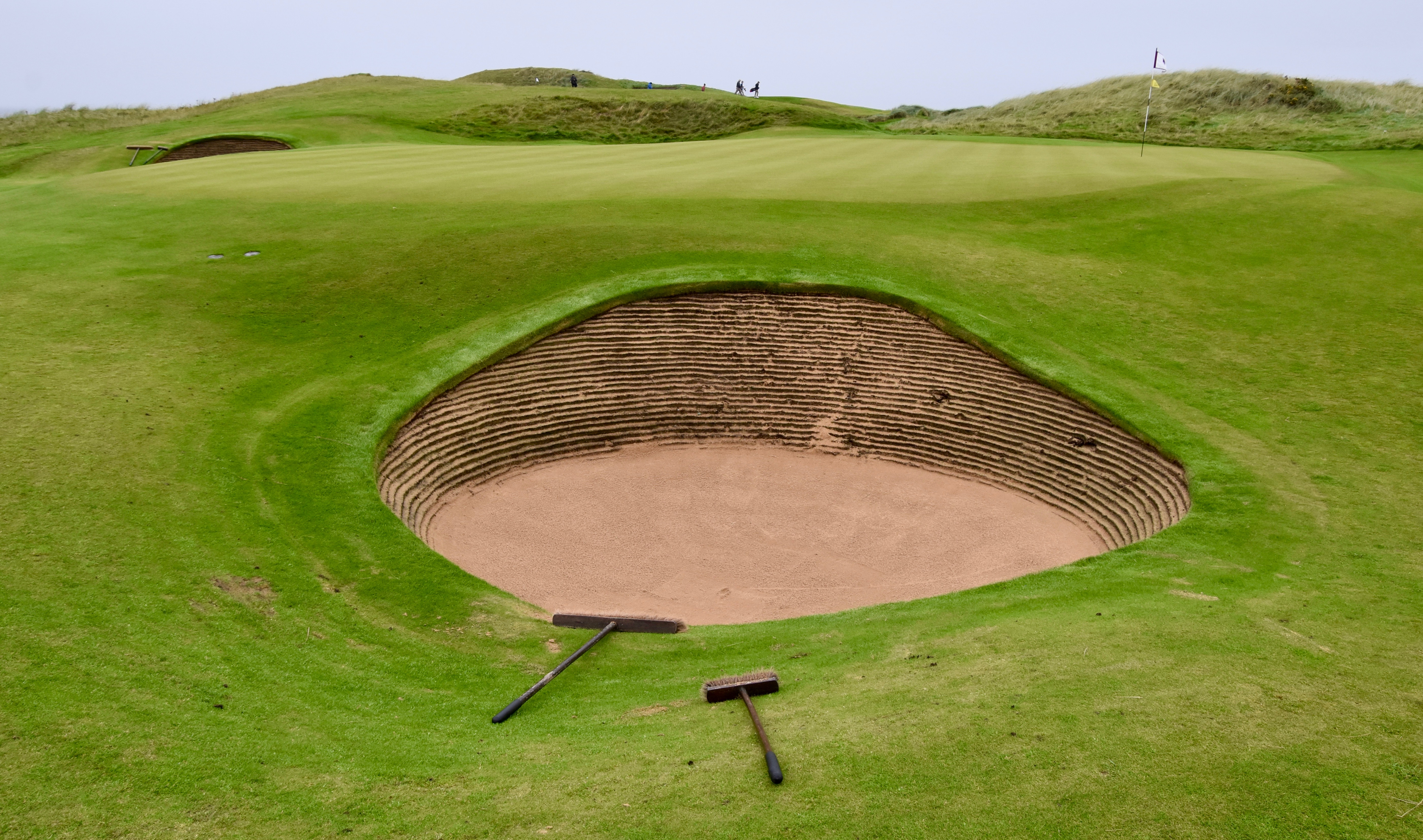 No 1. turned out to be a fairly easy par four and a good starting hole, if only because you have hundreds of dead people watching you play.
No. 2 – Kennels

If No. 1 was an easy par four, No. 2 was a bastard of a hole. This is the view of the fairway from the green tee. What you can't see is Kitty's Creek which lurks just on the other side of the mound and while not as bad as the Burn at Carnoustie, still manages to devour a surprising number of balls on a number of holes.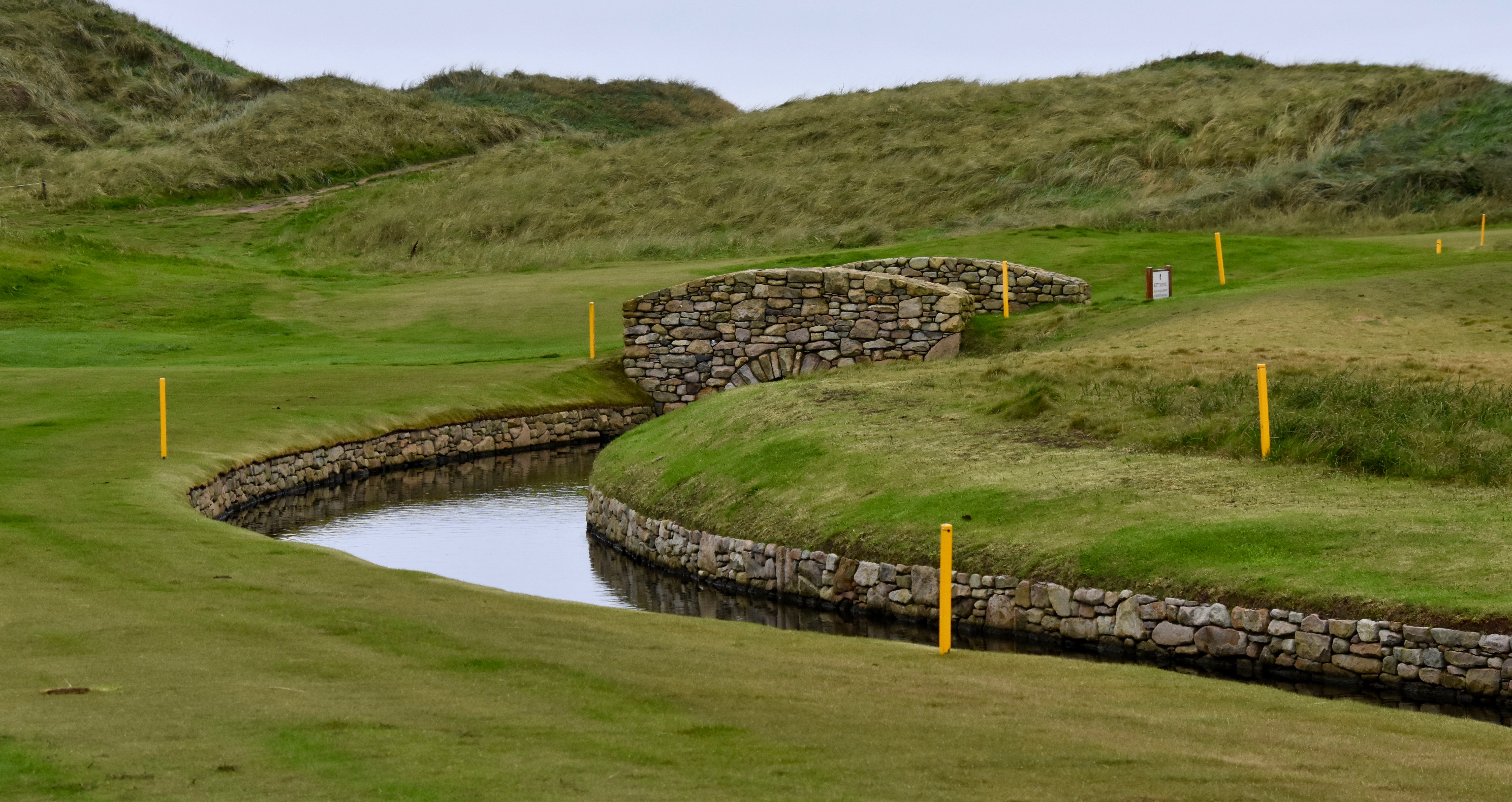 Number 2 is almost 400 yards from the greens and is the No. 1 handicap hole. From the first picture you get your first glimpse of the dozens of small hillocks around which the course winds its way on most of the holes.
Even if you do manage to get a great drive in here it's still a long way to this uphill green. This is a tough, tough, tough hole.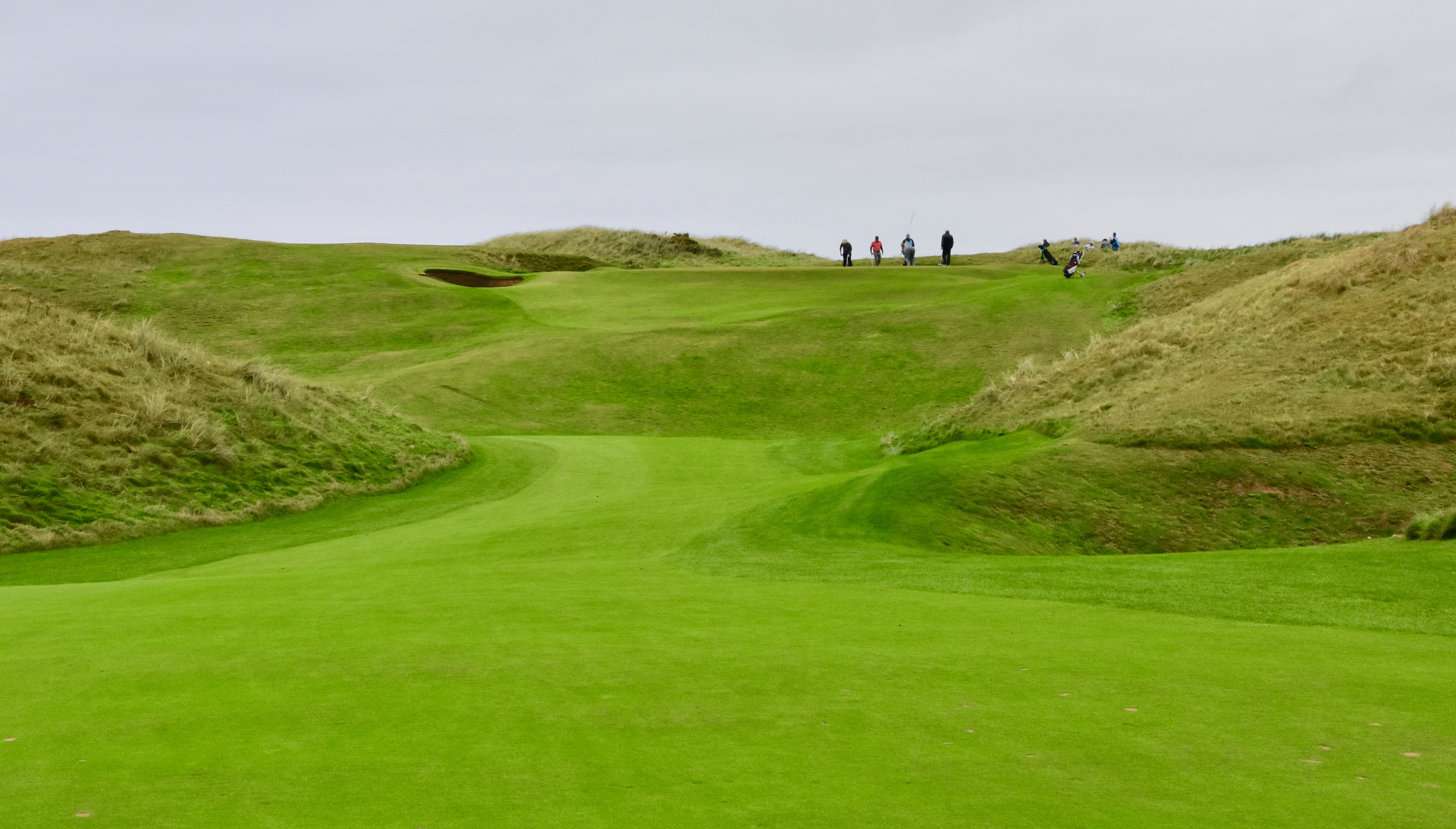 No. 3 – Stile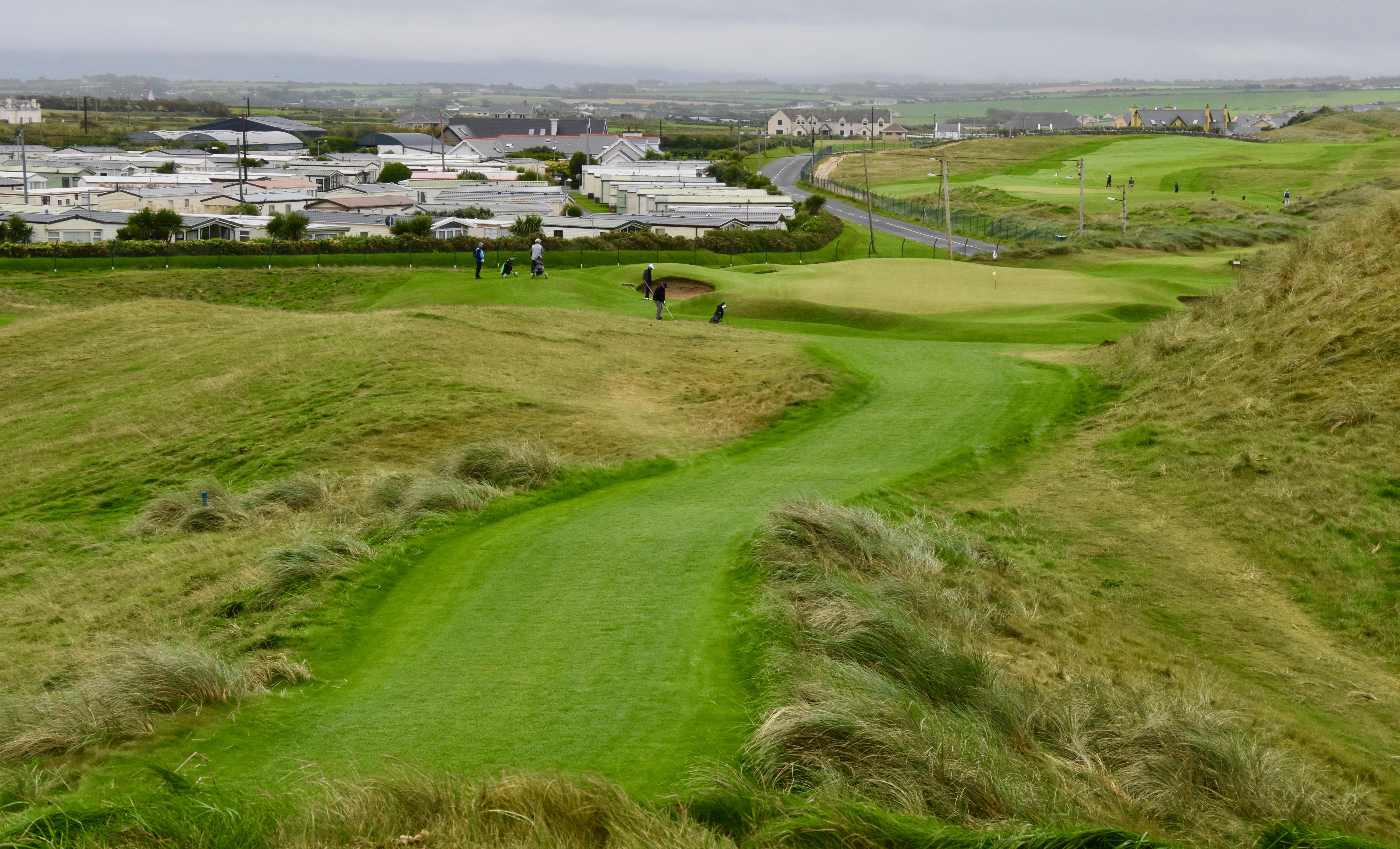 For those who are not Irish country walkers, a stile is a small ladder like contraption used by them to cross over fences during their rambles. I saw no sign of one on this extremely long par 3. It doesn't look it from the picture, but this hole is 199 yards from the green tees. Not the prettiest of holes with that trailer park in the background, it's the middle of five that play alongside the highway and the town on the other side. I don't know if it is wise or not to get your most unscenic holes out of the way early on in the round, but Ballybunion has definitely opted for that approach.
To take your mind off that, this plaque commemorates the late great Payne Stewart's ace on this hole.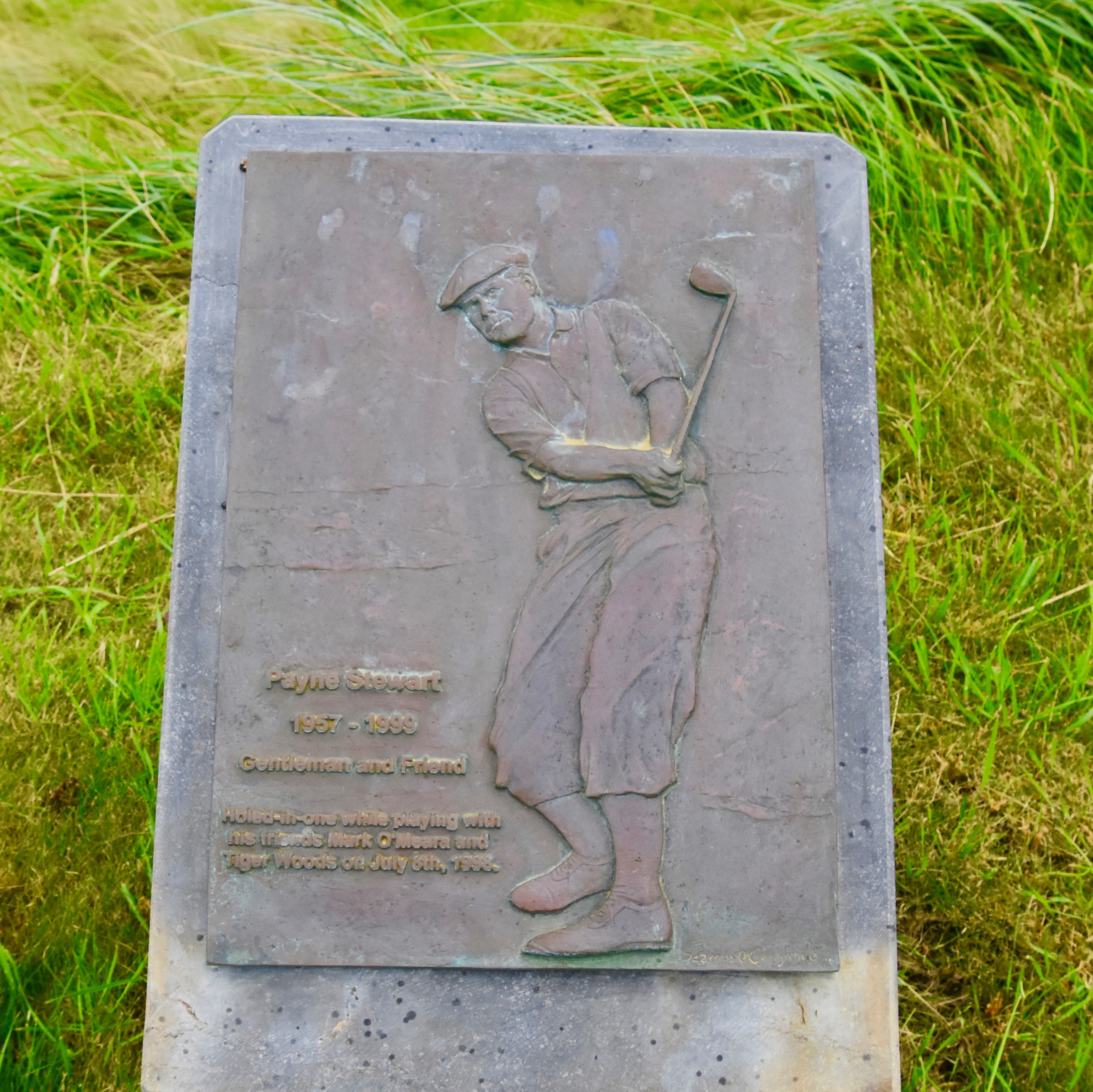 No. 4 – Cottage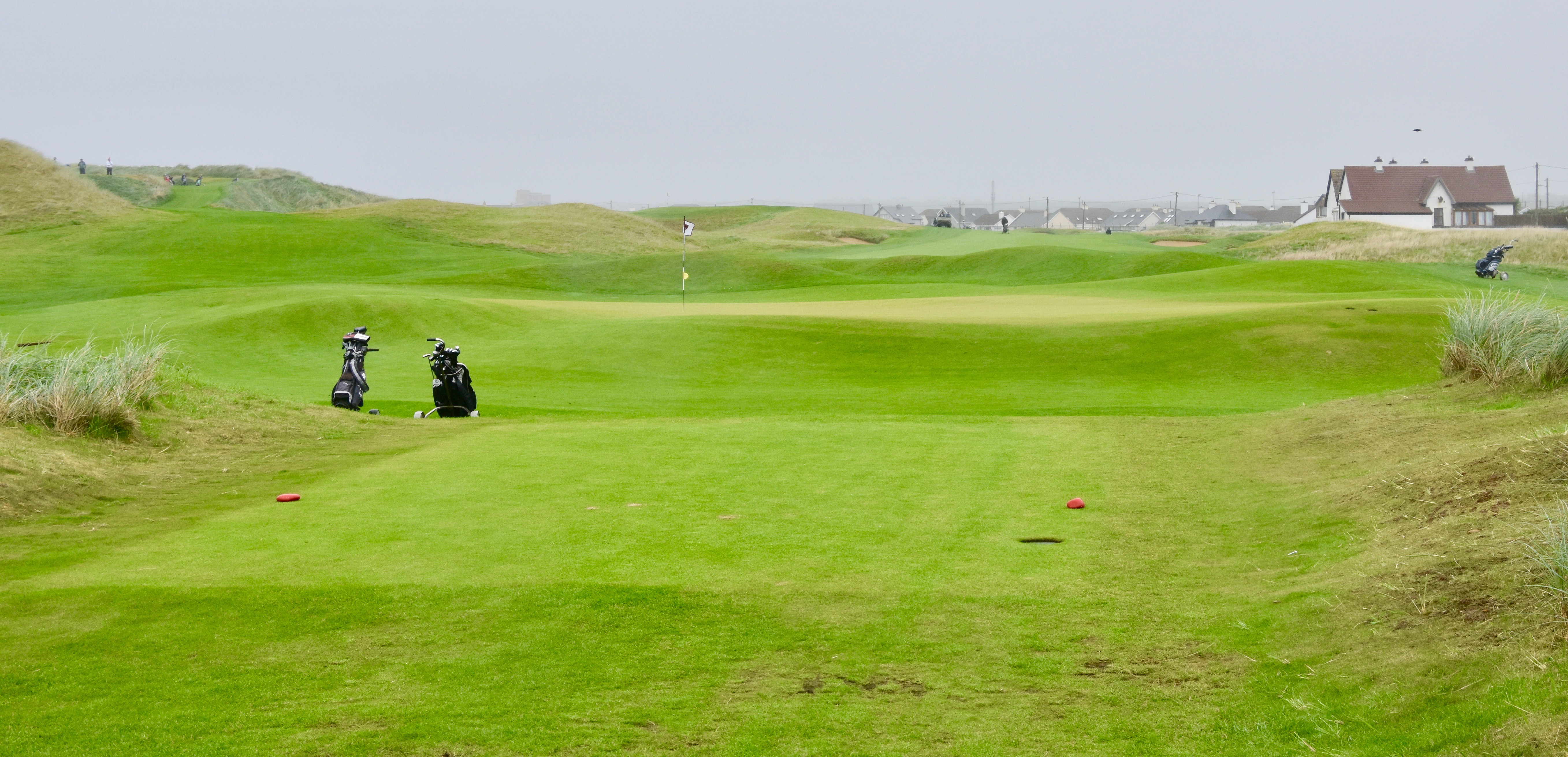 No, this isn't the world's shortest par three. In fact it's a par five that continues the play alongside the road. What you see here is the 9th green which is almost literally right in front of the tee box. Otherwise it's a pretty pedestrian hole.
No. 5 – Marconi

I did a little research and found that there is a direct connection between Ballybunion and my home province of Nova Scotia. For a brief period of time between 1914 and 1922 there was a Marconi wireless station in Ballybunion and in 1919 the first Trans-Atlantic telephone call to North America was made from here to the Marconi station on Cape Breton Island.
It's another par 5, coming in at 501 yards to #4's 480 yards. If you can avoid the out of bounds that is all the way down the right side of these two holes you should be able to score two easy pars.
You can see that it's beginning to get quite foggy and I can only hope that this will be temporary as it often is on links courses.
#6 – Kiln

This is a 355 yard par four dogleg left that finally leads toward the ocean and away from the roadway and the town. Still the netting down the right side takes away from much of the ambience this hole might have. The fog persists.
No. 7 – Castle Green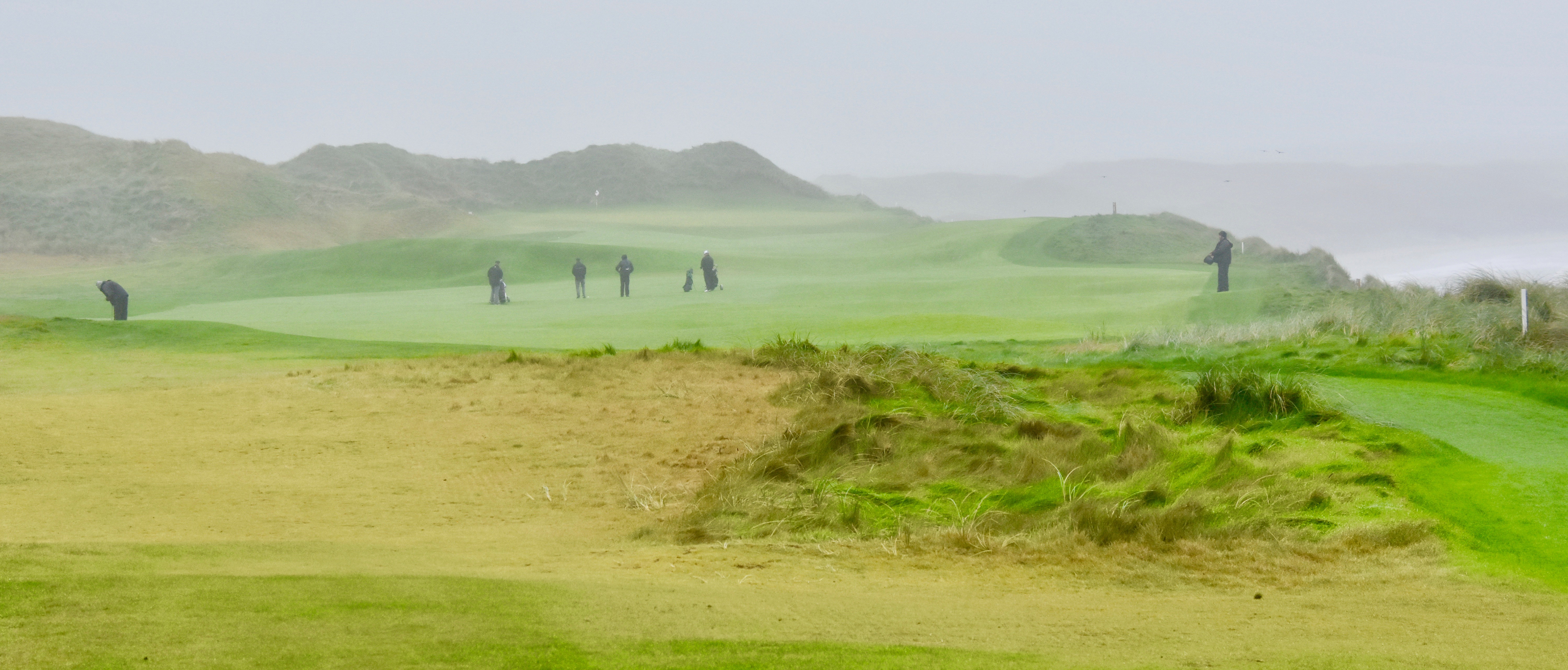 The 390 yard par four 7th is the first of the many great holes at Ballybunion and fully utilizes the ocean setting. By now those whose misses are consistently left to right will be tearing their hair out as this is the seventh straight hole where the trouble is on the right. I truly wish the fog had lifted as this is a stunning hole to play. Oh, and did I mention it's really hard as well.
No. 8 – Lartigue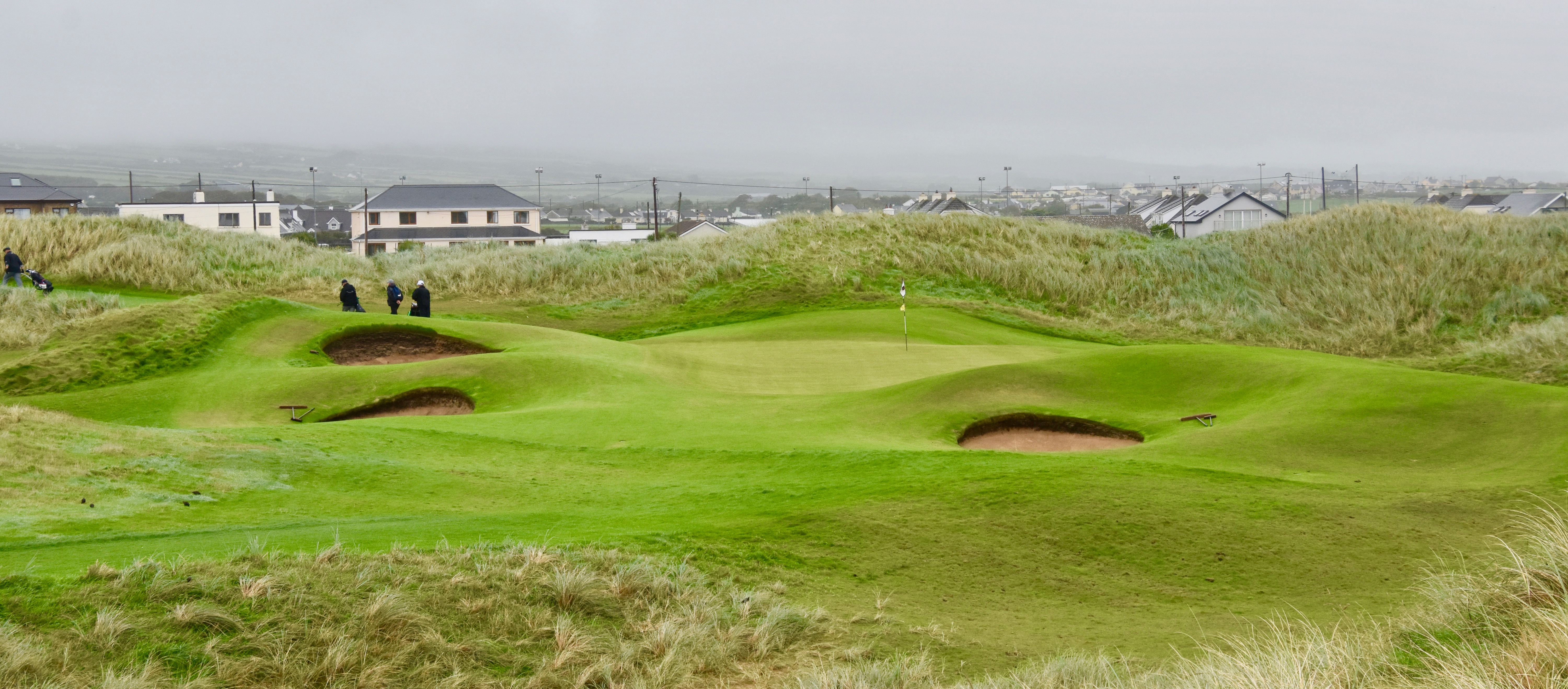 This is the second par three on the front nine and at just 139 yards it's much more forgiving than #3. Also notice that in a matter of minutes the fog has lifted and the hole is clearly visible. The biggest problem here is avoiding the bunkers and the swails that will inevitably kick your ball away from the green. Still a good chance for par. Also, the first hole where there is no more significant trouble on the right than the left.
BTW, what the hell is a 'Lartigue'? Well it's actually a unique monorail system developed by Frenchman Charles Lartigue that ran between the town of Listowel and Ballybunion between 1888 and 1924. Nowadays you can take the same ride on a replica that looks like this. Why wasn't this on the itinerary Barry?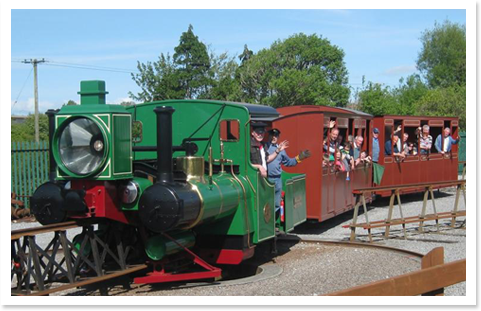 No. 9 – Sailor's Grave

After the respite of #8, things get very tough with this 413 yard par four that requires two really good shots to reach. Doubtful that most people playing from the greens will even be able to get their tee shot for enough down the fairway to get a clear shot due to the substantial dogleg right. On top of that it's an elevated green making it even longer.
Instead of being called Sailor's Grave this hole might have instead been called Golfer's Decent Nine grave because I suspect many a good front nine has gone down the toilet on this hole.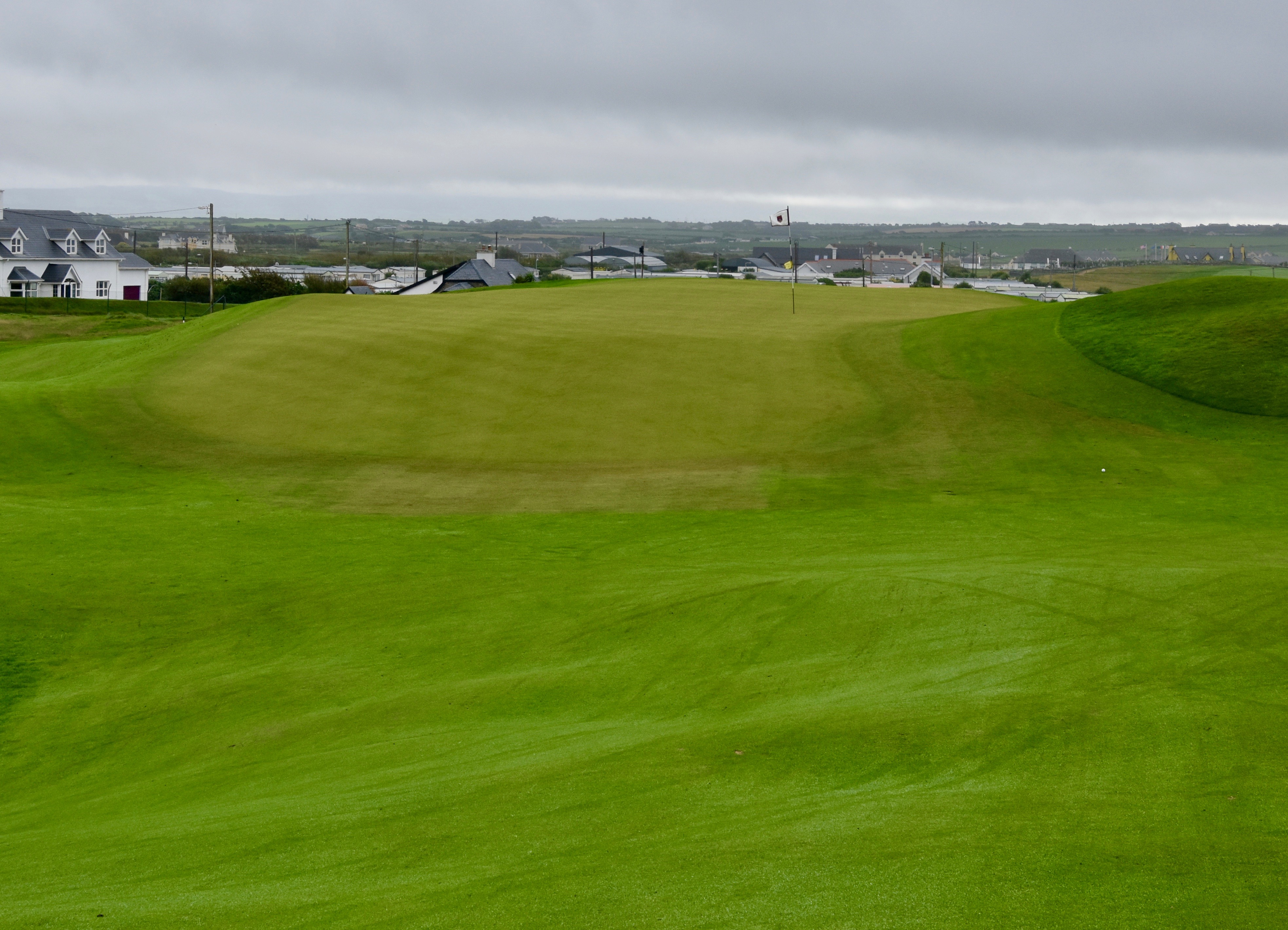 No. 10 – Killasheen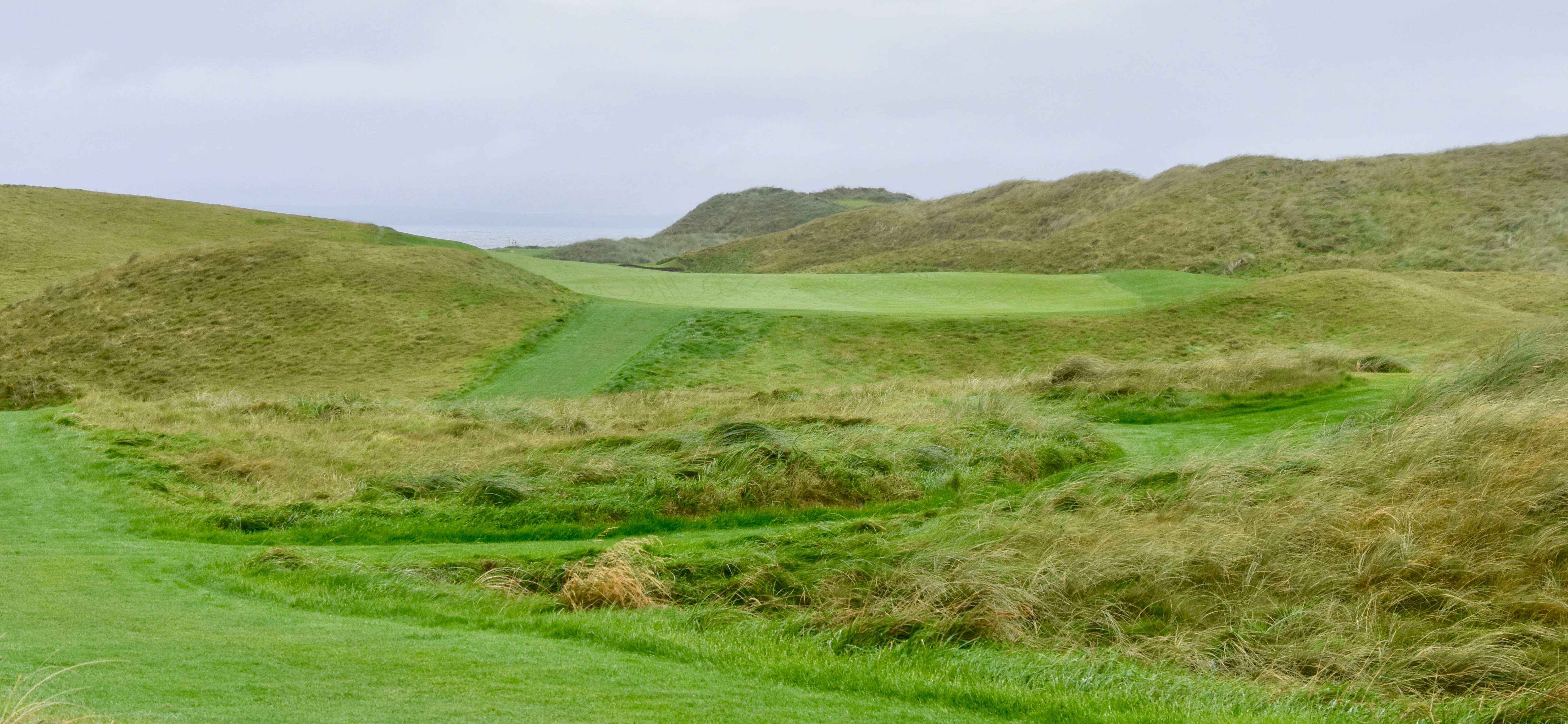 As with almost all links courses there is no return to the clubhouse after nine. Since you can't buy a beer here that's no big deal. What is a bit concerning is that only one hole on the front nine played along the water and most of the views were really not that great. Let's hope it picks up on the back nine. However, the name of this hole does not bode well. A killasheen is similar to the famous Irish wailing ghost called a banshee and anyone who's old enough to remember Disney's Darby O'Gill and the Little People will still have nightmares about it. The problem is that if you see a banshee and presumably a killasheen as well, then you are going to die very soon. Let's not keep our eyes open for one.
No. 10 is a short 319 yard par four that features a blind tee shot. This is definitely the type of hole that the knowledge of a caddy would be invaluable as it's anyone's guess as to what the proper line on this hole should be. As it turns out, if you keep the ball out of the deep rough it's a pretty forgiving hole with a view of the ocean from the green and no killasheens in sight.
No. 11 – Watson's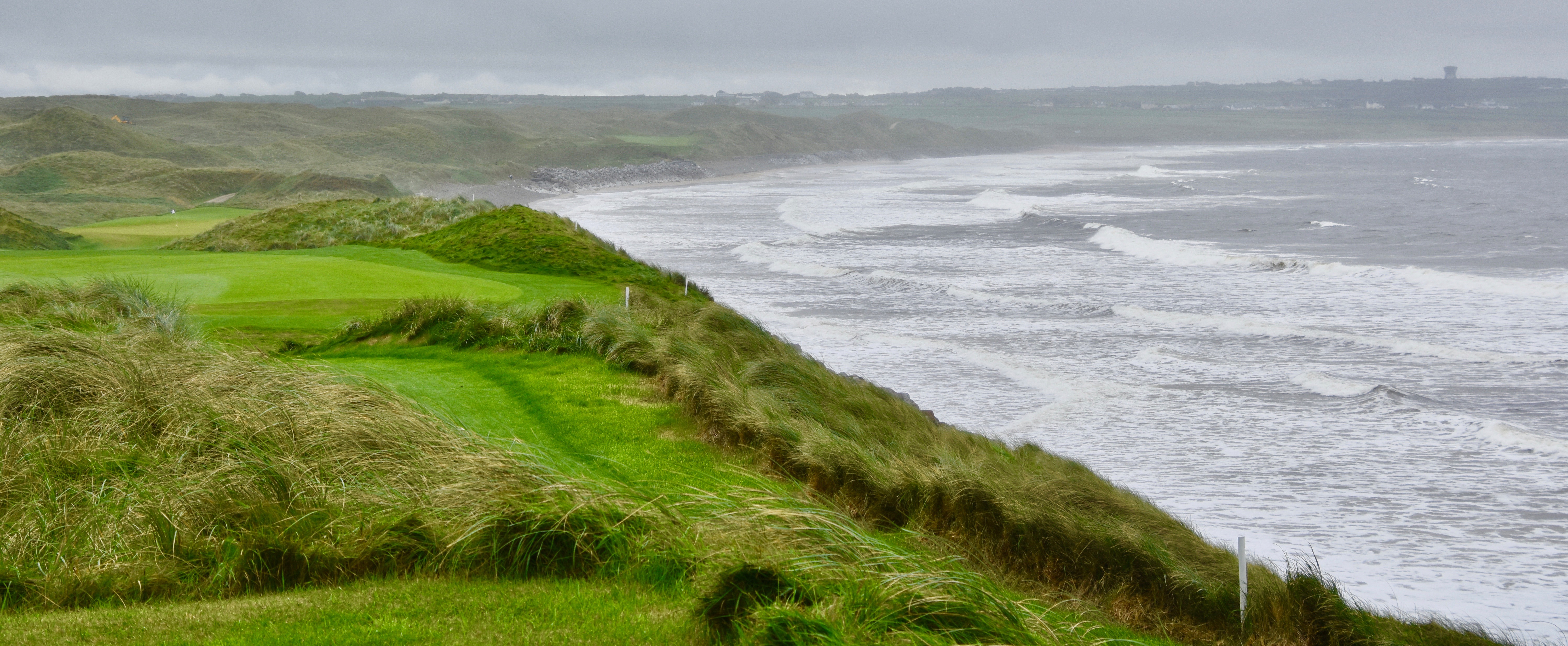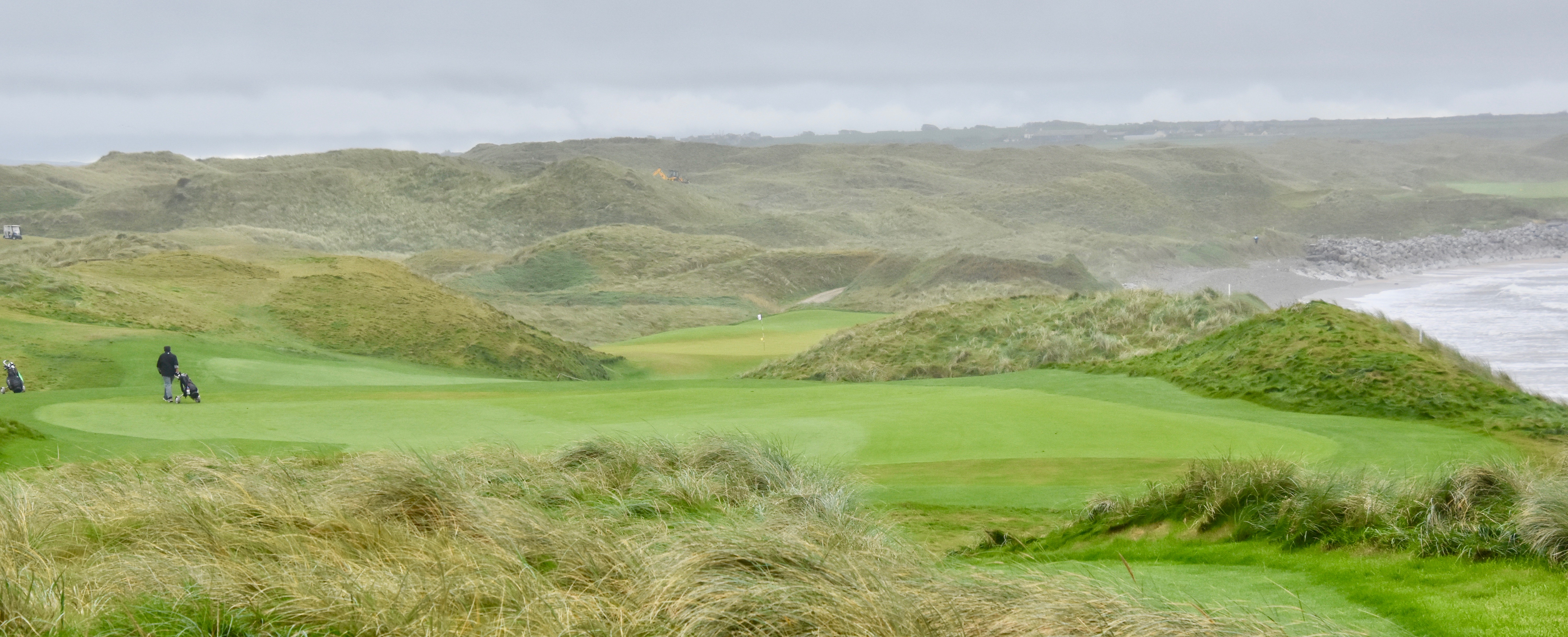 Finally we reach what every golf writer and most player's revere as one of the greatest golf holes in the world. It is an amazing 385 yard par four that plays as difficult as any hole of that length could. The views are stunning and from the tee it doesn't look too bad – just hit it out straight and see what happens.
What happens is this. Everything looks fine, but it's still a long way in.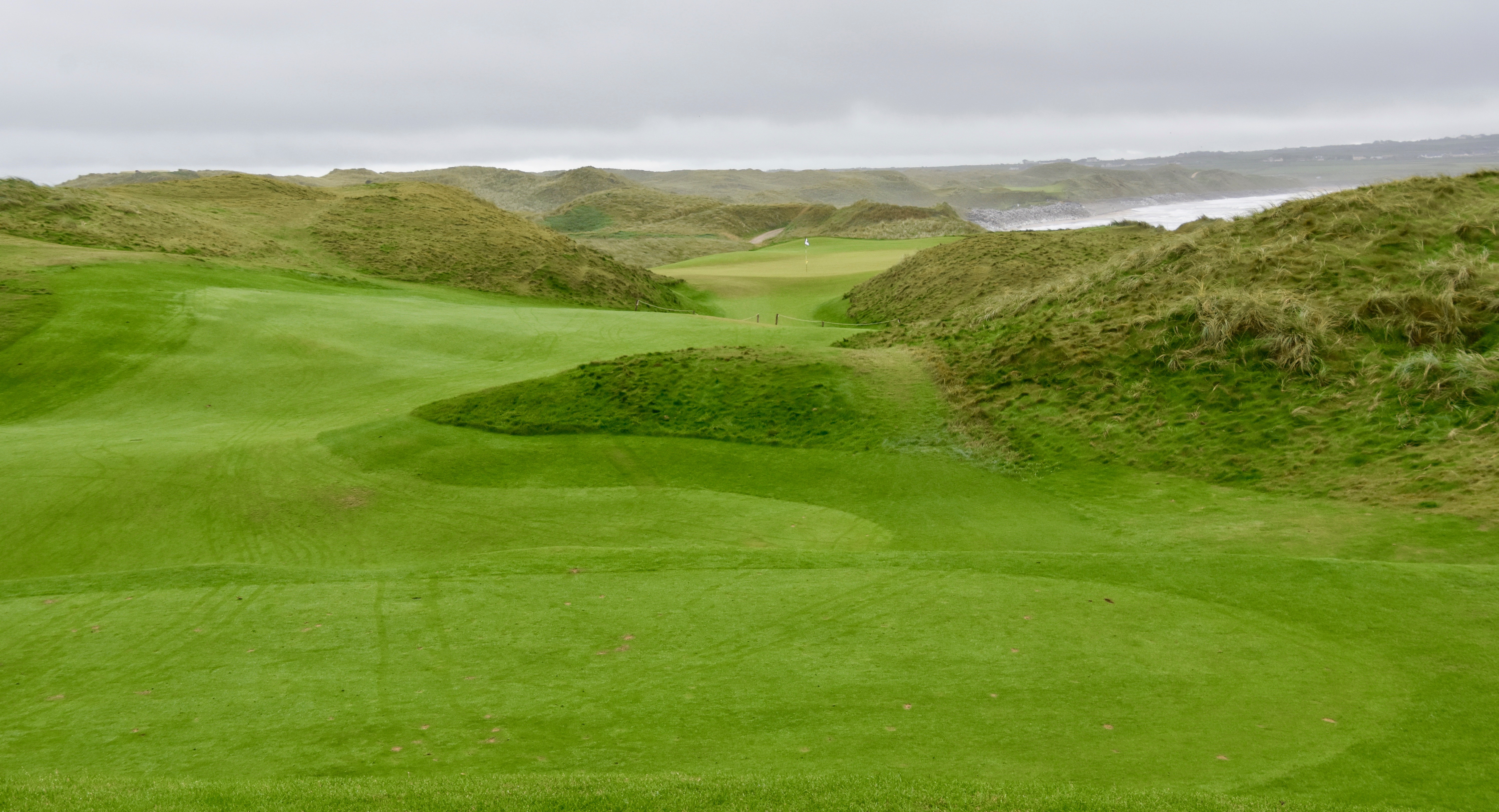 But then you come to this. These are what I called the steps – three distinct plateaus that are unlike anything I've seen in golf. You can't see the dip from the fairway and it creates a temporary sense of confusion. That's our best golfer Frankie in red whose looking for his ball and I can distinctly hear his WTF? comments.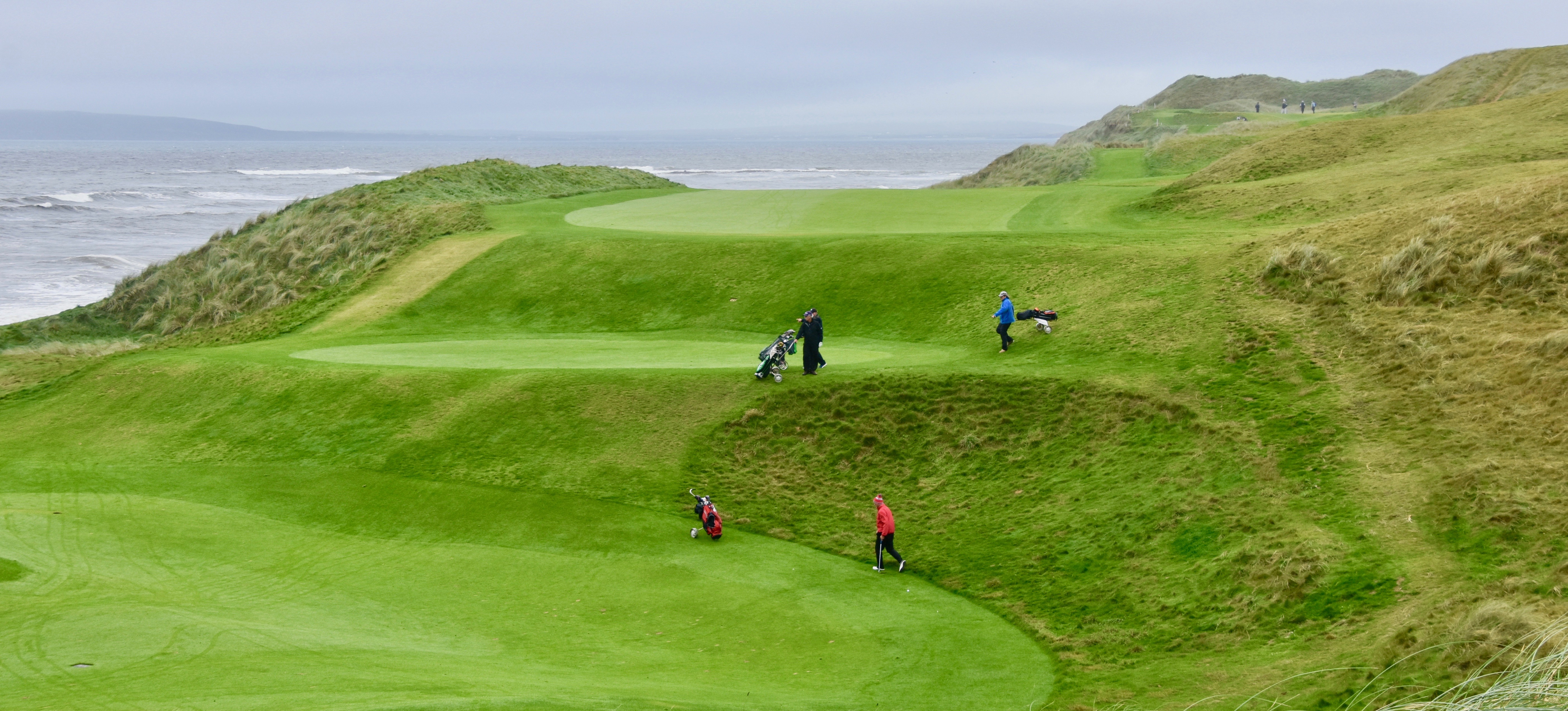 Tom Watson loved this hole so much that they named it after him.
No. 12 – Citadel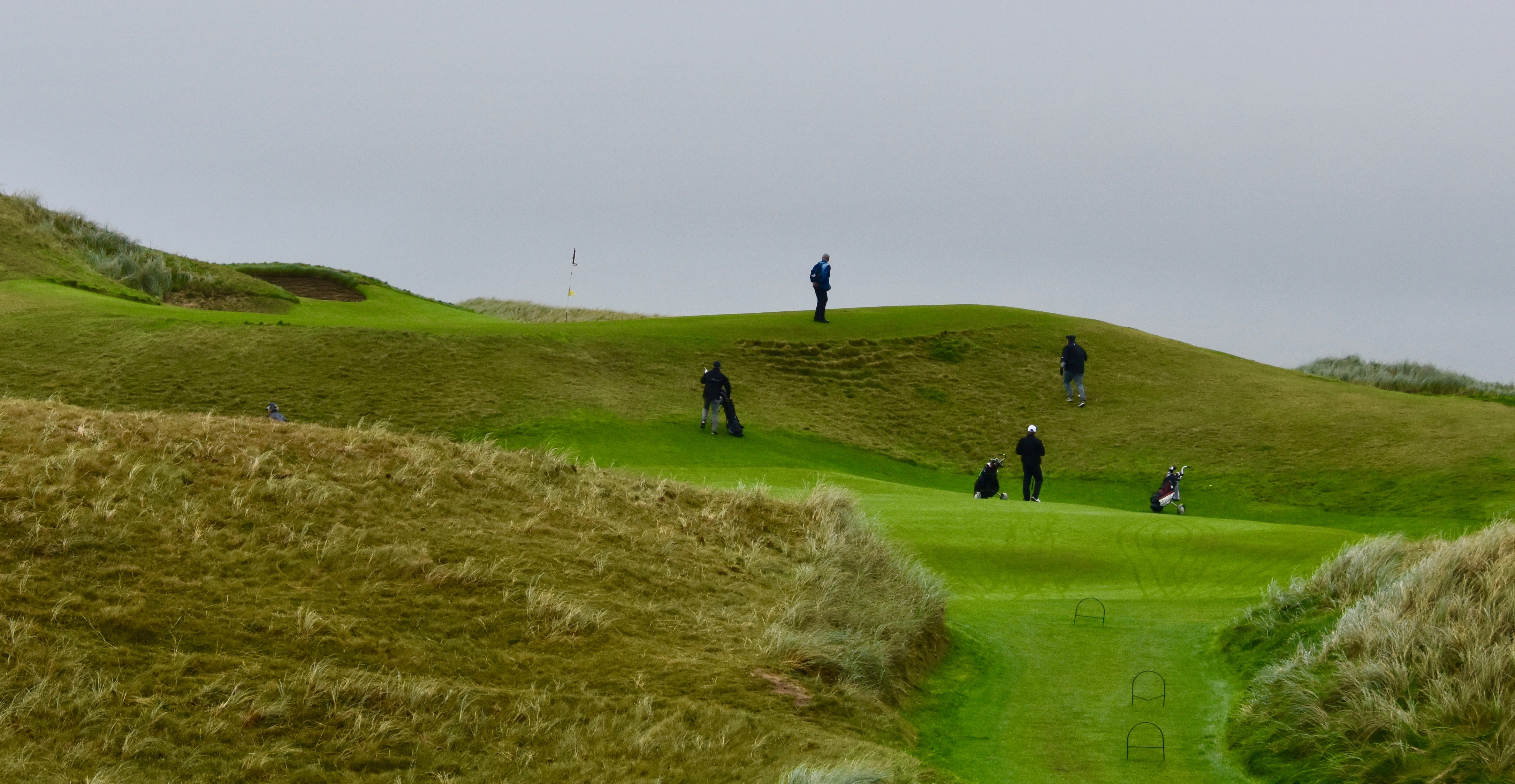 This is the most aptly named hole on the course. It is a 174 yard par three that plays so much uphill that the green is like an unbreachable fortress. Trying to guess what club to use here without a caddy was next to impossible. This is the group in front of us who all came up woefully short. Even seeing this foursome of failure we didn't learn the lesson and we all did the same thing. Don't be embarrassed to hit a driver on this hole, especially if the wind is in your face. You still might come up short.
The reward for making this climb to the top of this Everest of golf is the best view of the course. However, I was so out of breath I forgot to take a picture. Next time I'll remember.
No. 13 – Kitty's River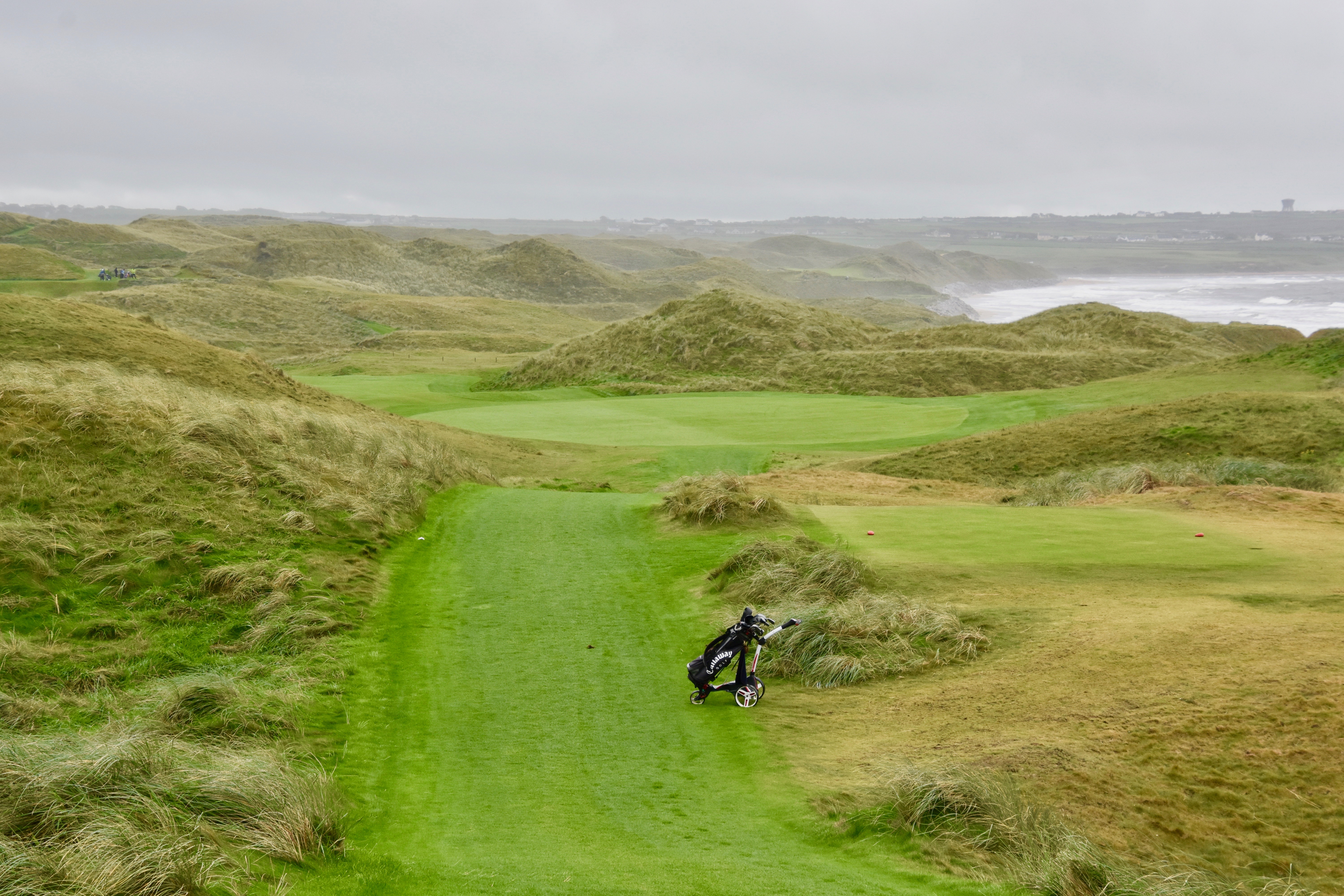 This is the view from the tee box on the short 468 yard par five 13th. Looking out you would think the course is nothing but tall grass and hills with very little fairway in between. But actually the fairway on this hole is quite wide. The problem is the damned Kittty's Creek ( I refuse to call anything this small a river). It winds its way through the fairway at such an angle that shorter hitters like me are almost certainly going to find it at some point. If you do clear the creek then you are liable to be in one of the huge mounds that protect both sides of the green. I managed to both find the creek and then lose a second ball in the deep grass on the left side mound. I hate that cat!
No. 14 – Camel's Back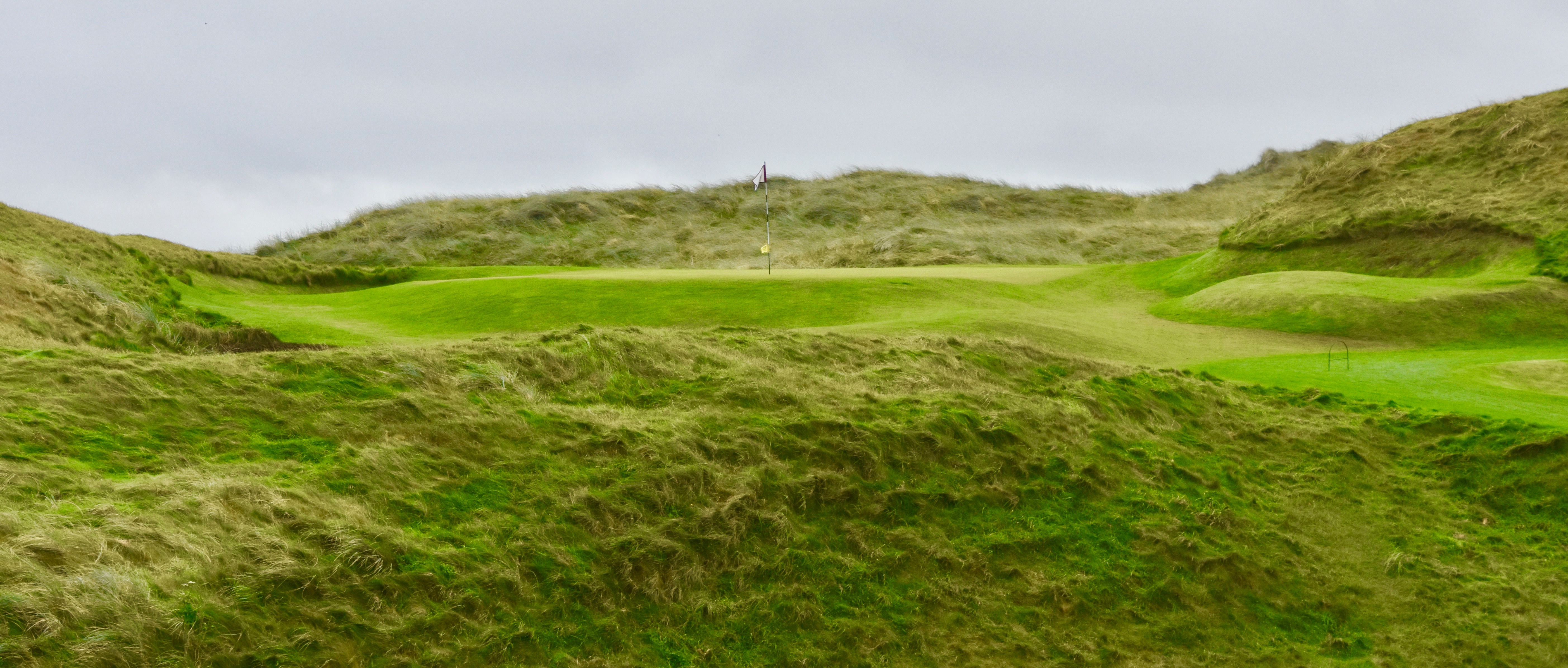 This is the shortest and allegedly easiest hole at Ballybunion at only 127 yards from the green tees. But then the last hole that I tripled was supposed to be the third easiest. Not as daunting as The Citadel, club selection is everything here as it plays much longer than its yardage. Still by the standards of this course it's a pretty forgiving hole.
No. 15 – Black Rocks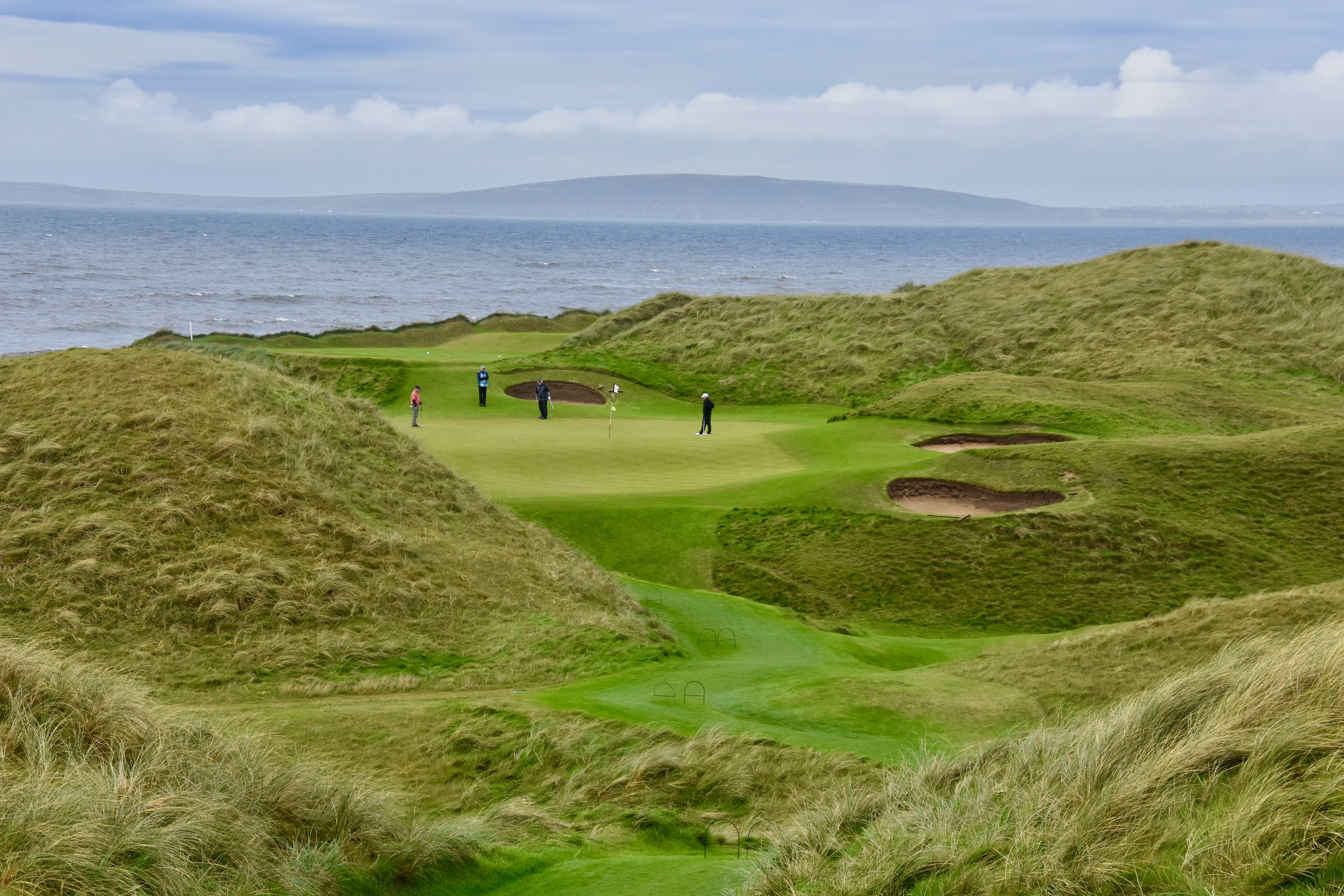 The third par three in four holes, Black Rocks is easily the best of the five at Ballybunion. At 192 yards and usually into a wind coming off the Atlantic, it's also the toughest, although Citadel certainly gives it a run for the money. This is an absolutely gorgeous hole, at least from the tee. Most golfers don't take enough club and end up in a gully well below the green where things don't look as rosy, but still this hole was a joy to see and play.
No. 16 – Windy Gap

The final par five at Ballybunion features another beautifil view from the tee and at only 466 yards from the green tee should be quite doable for most golfers if you can hit the fairway with your drive. That's a lot easier said than done with absolutely zero room on the right and plenty of tall grass on the left.
If you do land in the fairway you still have to contend with the most severe dogleg on the course and a very narrow blind approach shot. But hey – the sun's coming out and there's only two holes to the 19th where I do expect they sell beer, so all is well.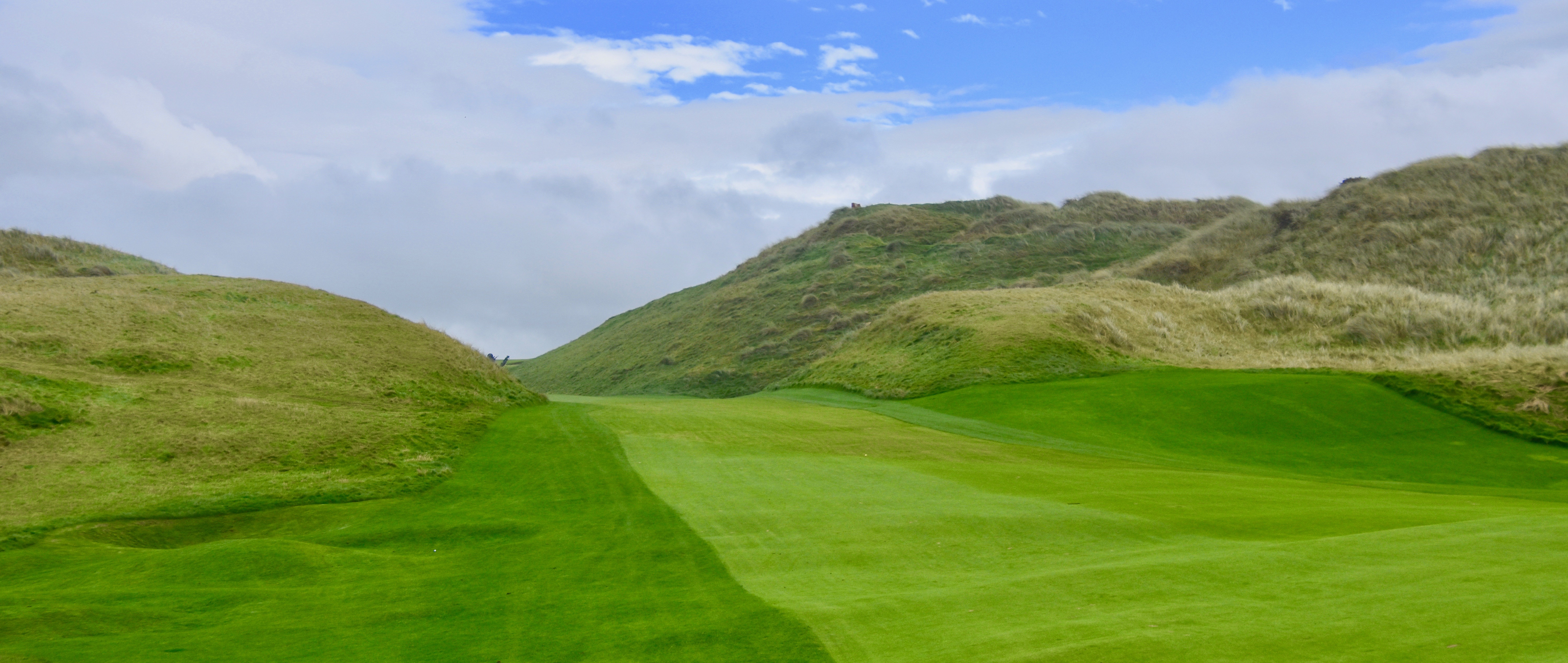 No. 17 – Devil's Elbow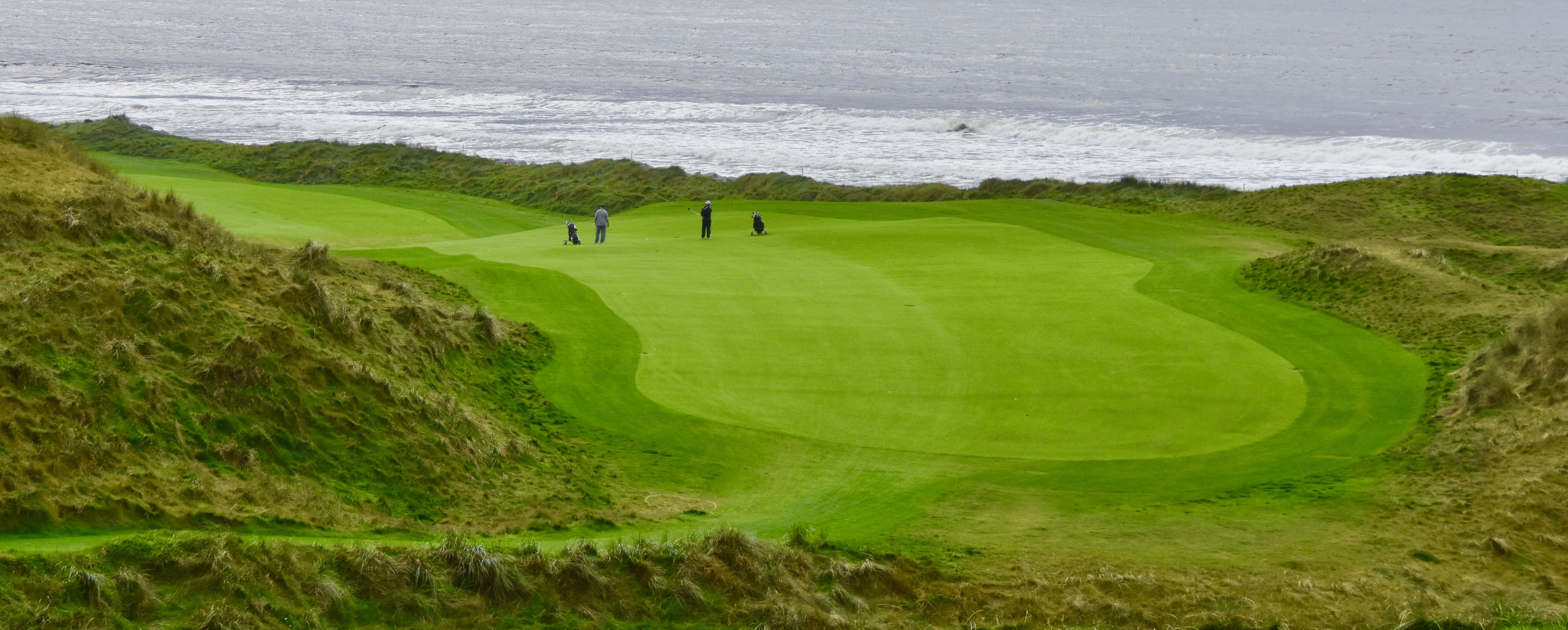 I had to do some digging to get the name of this hole as bizarrely the hole described as being #17 on the Ballybunion website is from the Cashen course and not the Old Course. This is another beautiful seaside hole with a lot of character. At 350 yards it doesn't seem too long and there's a generous landing area. This photo gives you an idea of why Ireland is called the Emerald Isle. Isn't that an absolutely green as green can be fairway?
The problem is the second shot. This is a view looking back to the tee from the green. There is indeed a devilish elbow to be negotiated with very little room for error.
No. 18 – Sahara
The 18th at Ballybunion is a great finishing hole and caps off what has been a spectacular back nine. It plays much longer than its length of 369 yards with a very unconventional bunker that runs a good fifty yards along the left side almost up to the green – hence the name Sahara. Your legs will feel weary by the time you reach the multi-tiered green and all will be more than ready for a Guiness or whatever your favourite potable might be.
So, is Ballybunion really as great as Tom Watson declares? Well, first of all who am I to disagree with Tom who's played a lot more golf courses than me? However, I do think much of the front nine is not great, but by the time you play the back nine you won't be thinking about that. Yes, it is a great course, just not the greatest.