Tralee – Arnie's Irish Coastal Masterpiece
Tralee Golf Club was the third of eight courses I and a group of friends played in Ireland in a trip arranged through our friend Barry McGuigan of Golf Travel NI. The first course was the magnificent and frankly on this trip, incomparable Old Head which I described hole by hole in this post. The second course was Waterville which we played mostly in a driving rain. Although certainly a great course, conditions were such that I really got few decent pictures and am not writing a post on it. Here's a shot of Brian carrying his bag to probably the most famous hole on the course, No. 12 the Mass Hole. In the 1700's local Catholics would gather here to celebrate the Mass which was outlawed on pain of death.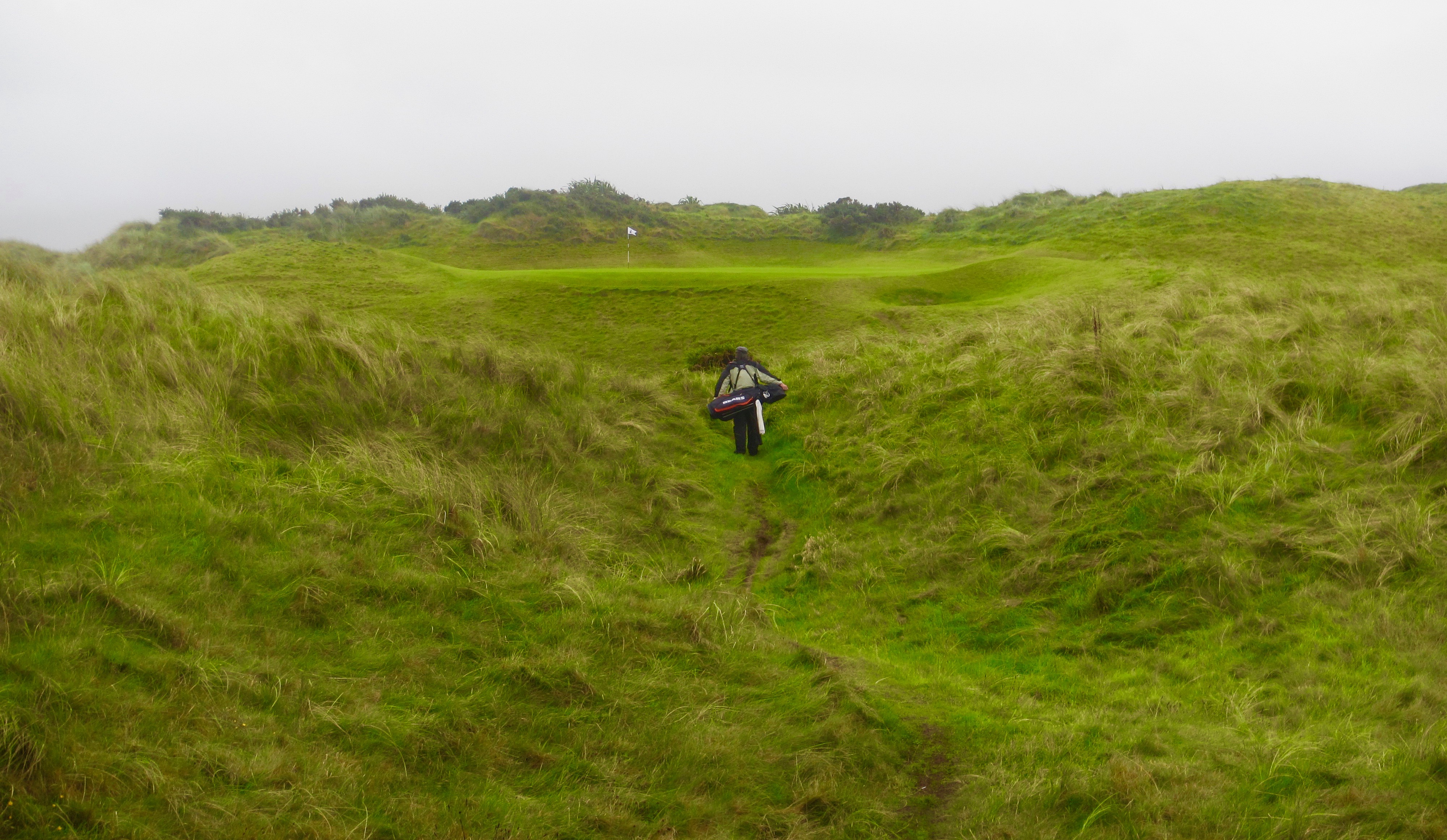 Brian must have felt the religious fervour for golf go out of him and his foursome as they packed it an after this hole. Too bad because they missed the great finishing holes, particularly 18.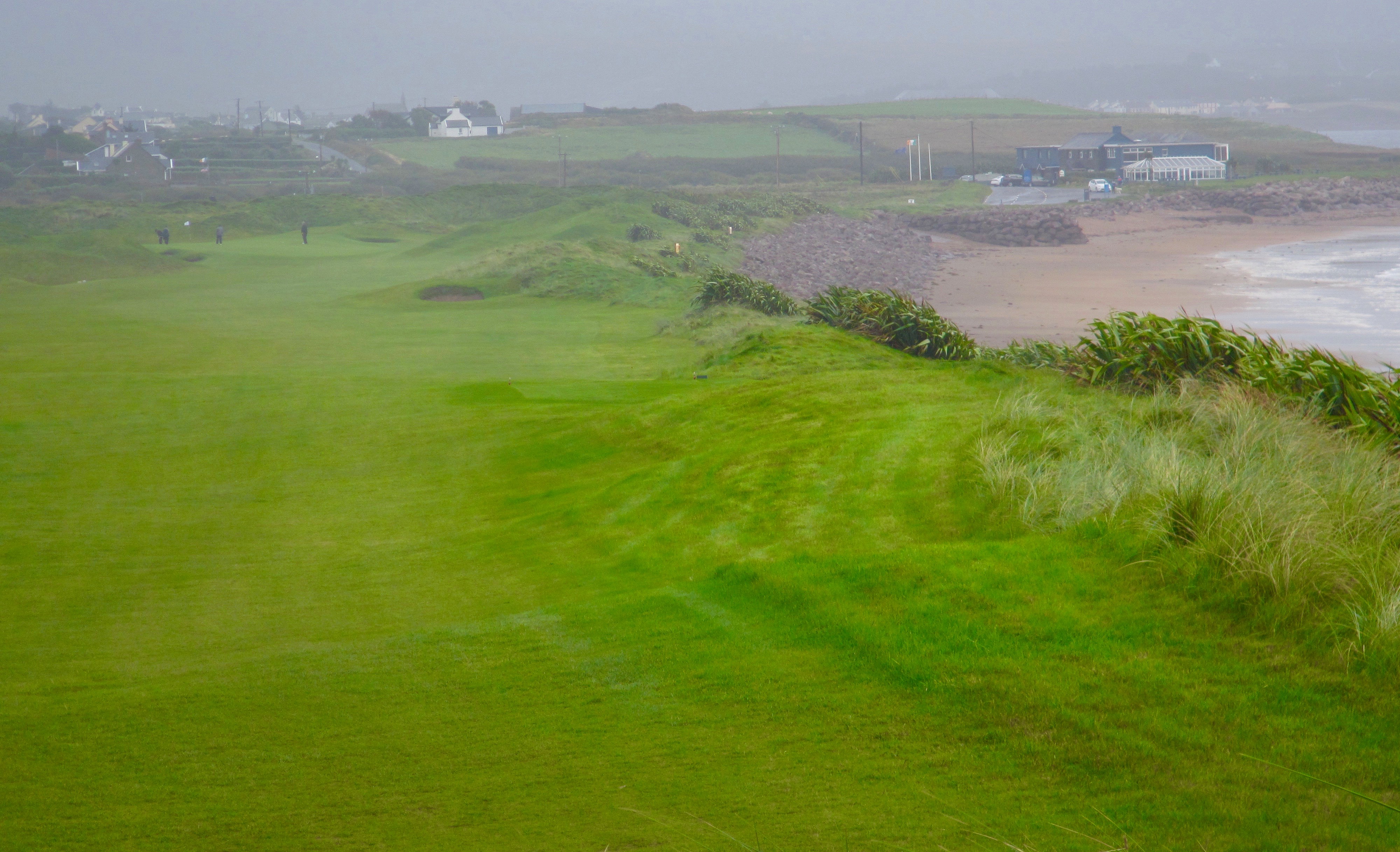 History of Tralee Golf Club
I suspect that most people who travel to Britain and Ireland to play the links courses expect that the courses will have a pedigree of at least a century if not much more than that. In Ireland think Royal Dublin – 1885, Portrush – 1888, Royal County Down – 1889 and two we'll play on this trip, Lahinch – 1892 and Ballybunion – 1893. However, not all links courses have the patina of age and history. Tralee does have a pedigree – the first course opened in 1896 and has been followed by several more in different locations. But the course we'll play today was opened only in 1984 after the members acquired an absolutely gorgeous piece of property just to the north of the city. This in turn attracted the attention of Arnold Palmer, two time winner of The Open and one of the first of the great professional golfers to turn his hand to course design. His first design was a nine holer just outside his home town of Latrobe, Pa. in 1967 and was followed by 300 more by Arnold Palmer Design before his death.
According to the course's website Arnie said "I have never come across a piece of land so ideally suited for the building of a golf course".
The course is located on a spit of land that is bordered on three sides by water including the narrow mouth of Cuan Bhearrūin bay. The most prominent feature is the huge sand dunes that come into play on many holes, particularly on the back nine. Arnie didn't have to move a lot of earth to create this golf course, Mother Nature took care of that on her own.
The clubhouse is modern looking and not overly ostentatious. I found the staff very friendly and in fact I bought a pair of Sketcher's golf shoes which were 40% off plus I get the VAT back so it was a very good deal indeed.
This is the driving range with the boys warming up. I honestly don't remember it being as cold as the clothes they are wearing would suggest.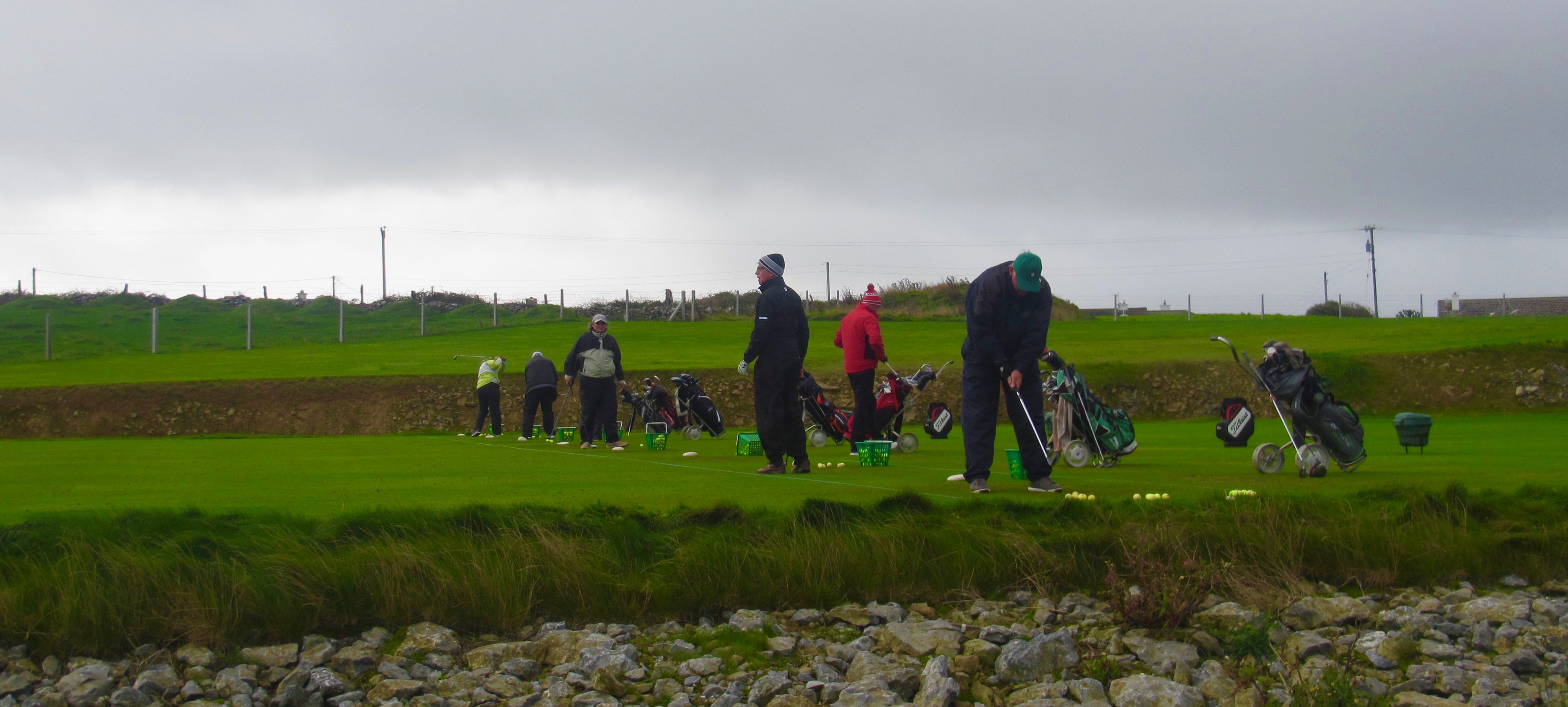 Arnie, looking larger than life, is there to greet you as you head to the first tee.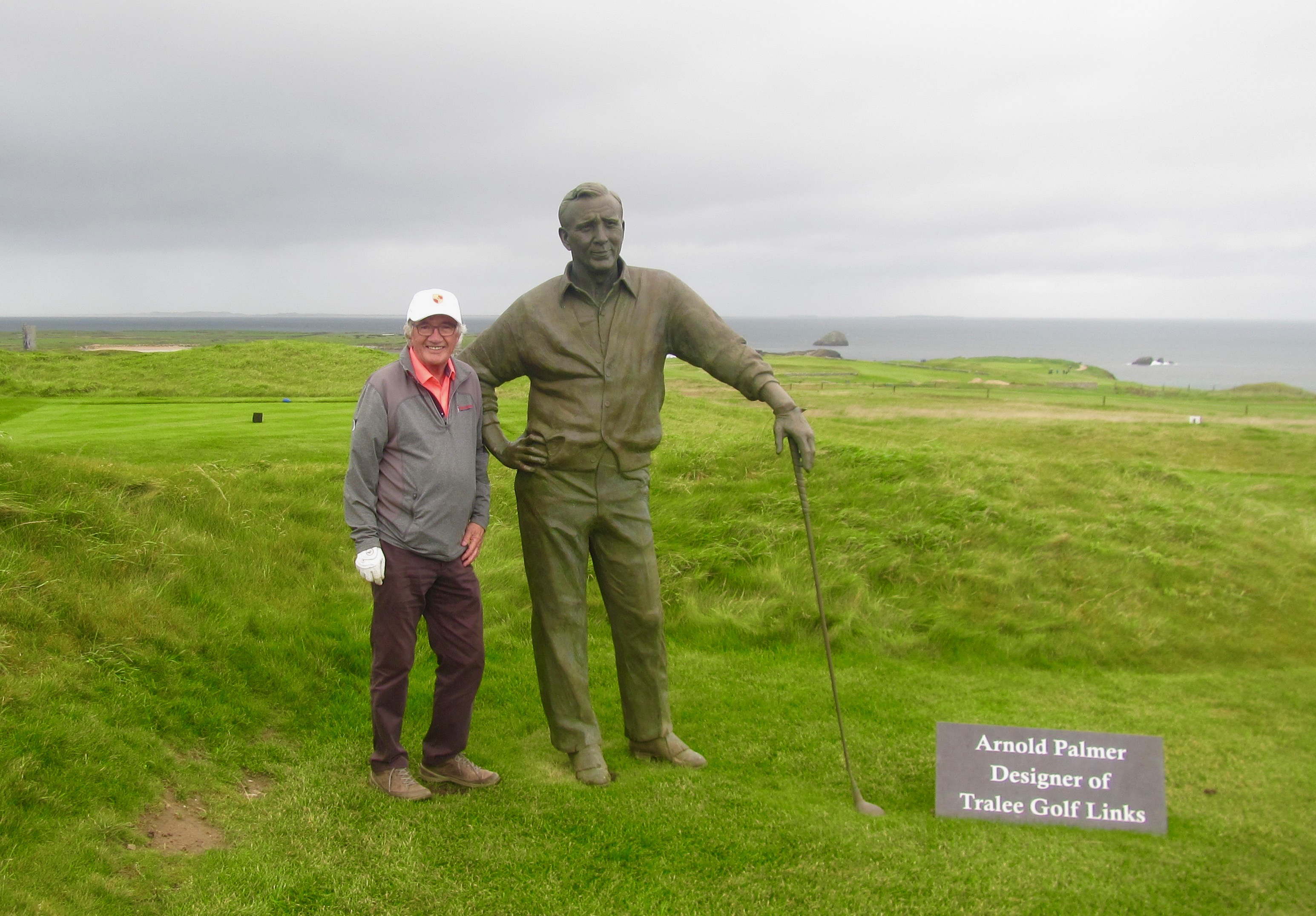 For this round we have decided to got it alone with just trolleys (pullcarts) and a single forecaddie per foursome and play the greens at 6,247 yards.
Tralee No. 1 – Mucklough
This is a 369 yard par 4 that has a very generous landing area. About the only way you can screw up is to hit one of those four bunkers.

As you can see it's a pretty misty day so I've opted to add in a few photos from the website to give a better idea of the holes. This is the approach to No. 1. where there are a number of swales and dry bunkers, but no real trouble.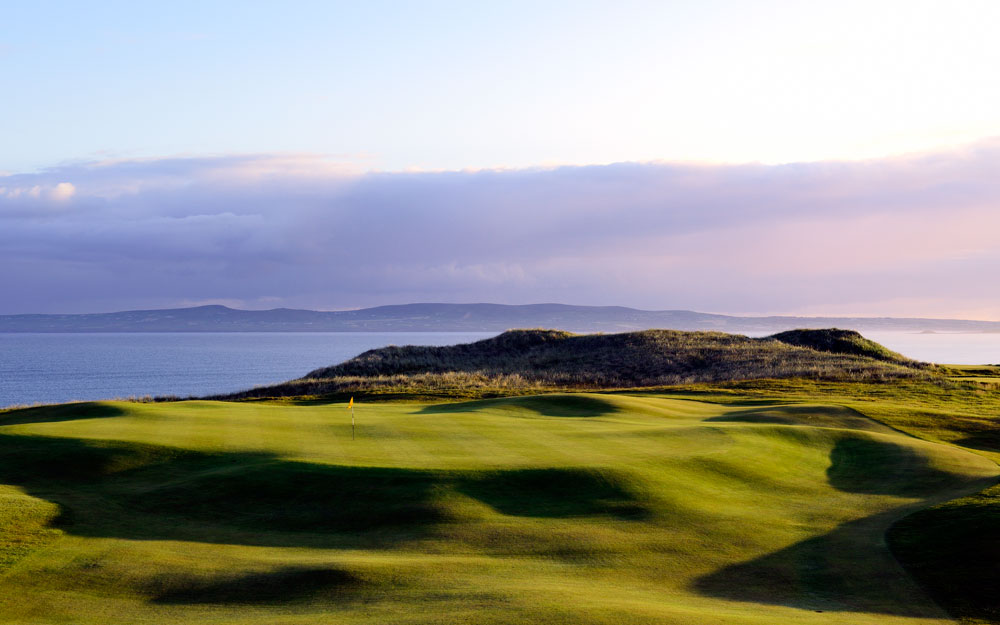 No. 2 – The Cuilin
Not sure what The Cuilin refers to, but there is Cuillin on the Isle of Skye that is a large mountain ridge similar to what is in the background of this hole. It's a devilishly long par 5 of 544 yards with quite a carry just to reach the fairway and there is a hidden area where the stone beach cuts into the fairway a lot further than you would think from the tee. It's also the first hole where you see the ruins of both a round and a square tower and you know you are playing on venerable ground.

When you get to the green you get this first of many great views of the Irish coast. This looked like a perfect beach for surfers and our forecaddie, Dom Lyne confirmed that it and other beaches in Southwest Ireland were becoming very popular surfing destinations. So if you are a golfer and a surfer you know where to go – Hawaii actually, but I'm sure Ireland is a respectable second choice.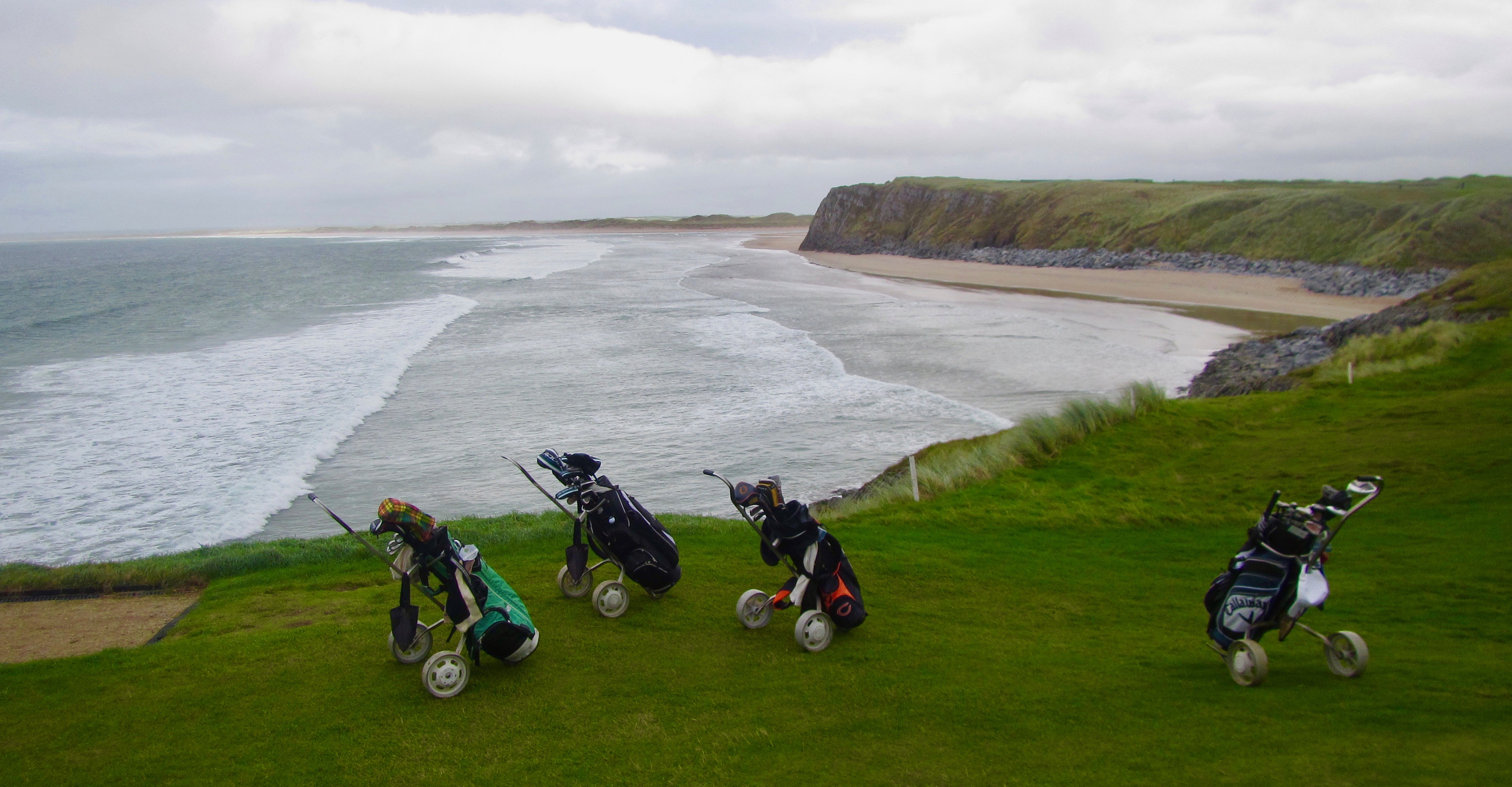 Tralee No. 3 – The Castle
Not too hard to figure out where this hole got its name. These ruins date from the 1190's and were built to protect the entrance to the bay from roving marauders and other neer-do-wells. It's a pleasant distraction from what is just a 145 yard punch downhill to a large green. Nice let up after No. 2.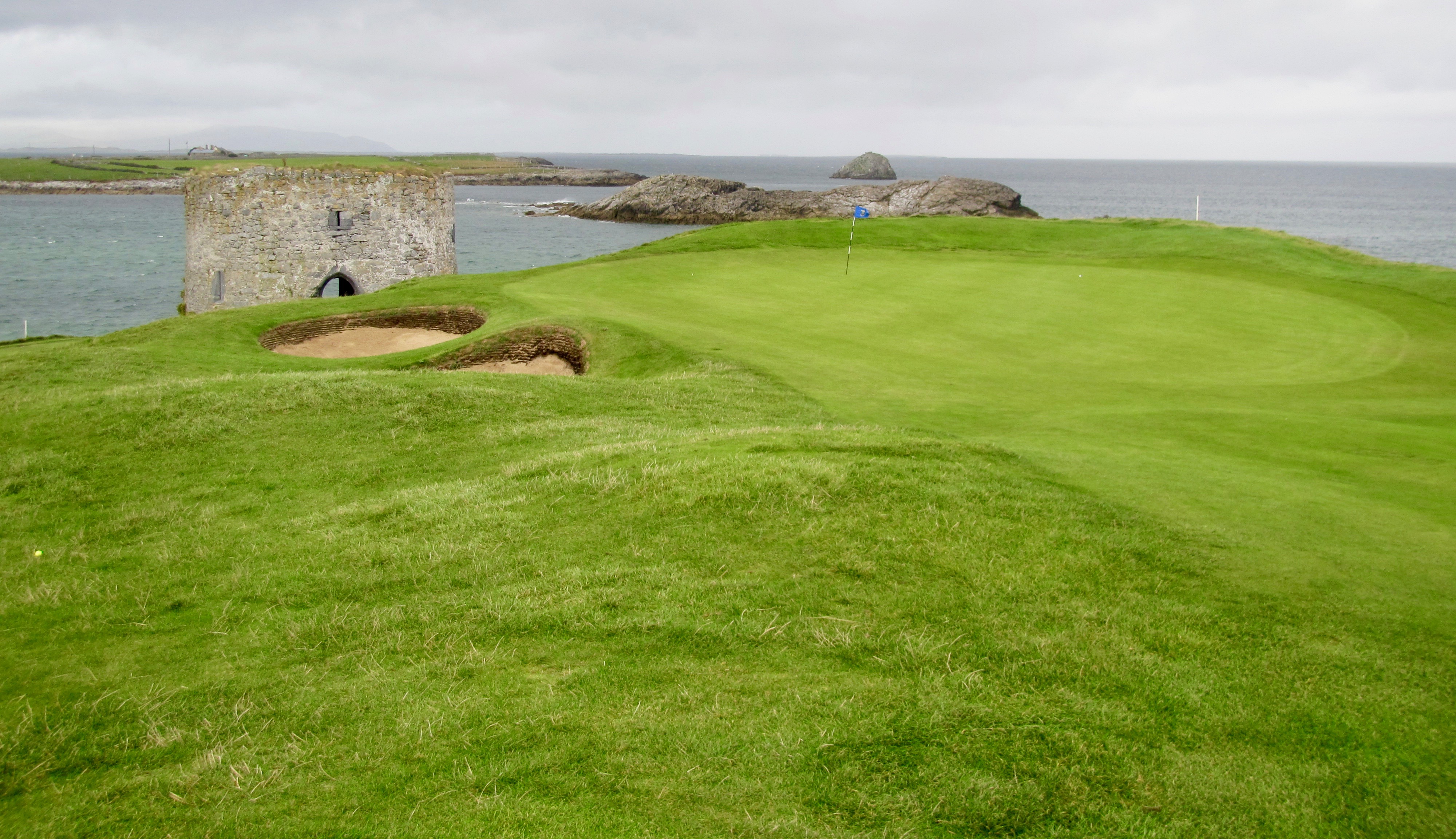 The front nine at Tralee is very forgiving compared to the back with far less of the fescue, gorse and other shit that survive on a diet of golf balls. The rough is mild compared to most courses we played. As you would expect in a rainy climate, the greens are in great shape and being built upon a layer of hard packed sand, very firm. There were also quite a number of holes where you could play bump and run approaches, something not as common as you would think on links courses.
No. 4 – Cuchullain's Table
This is the view from the area between #3 green and #4 tee.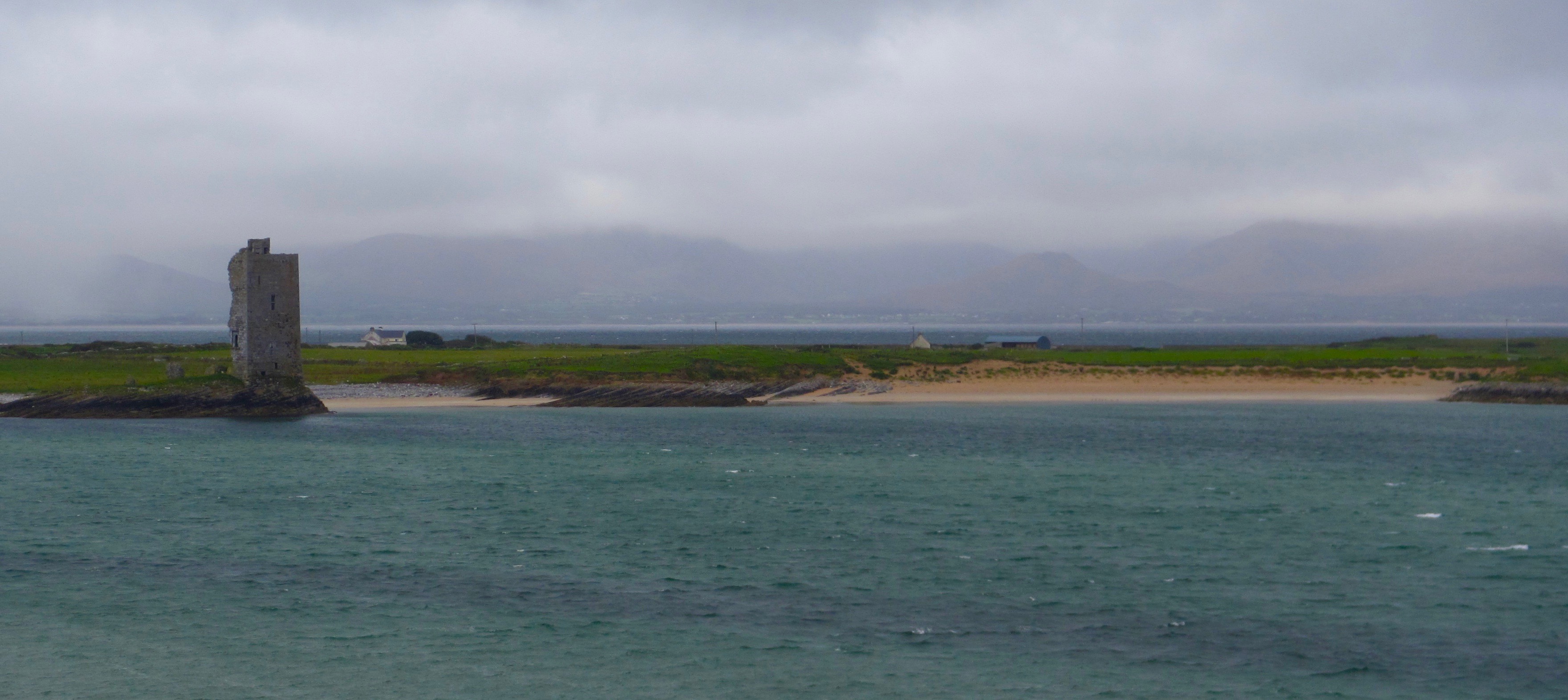 This 379 yard par 4 plays all uphill and today, the first one into the wind. We get our first, actually second, inkling that Tralee is not going to be a cakewalk.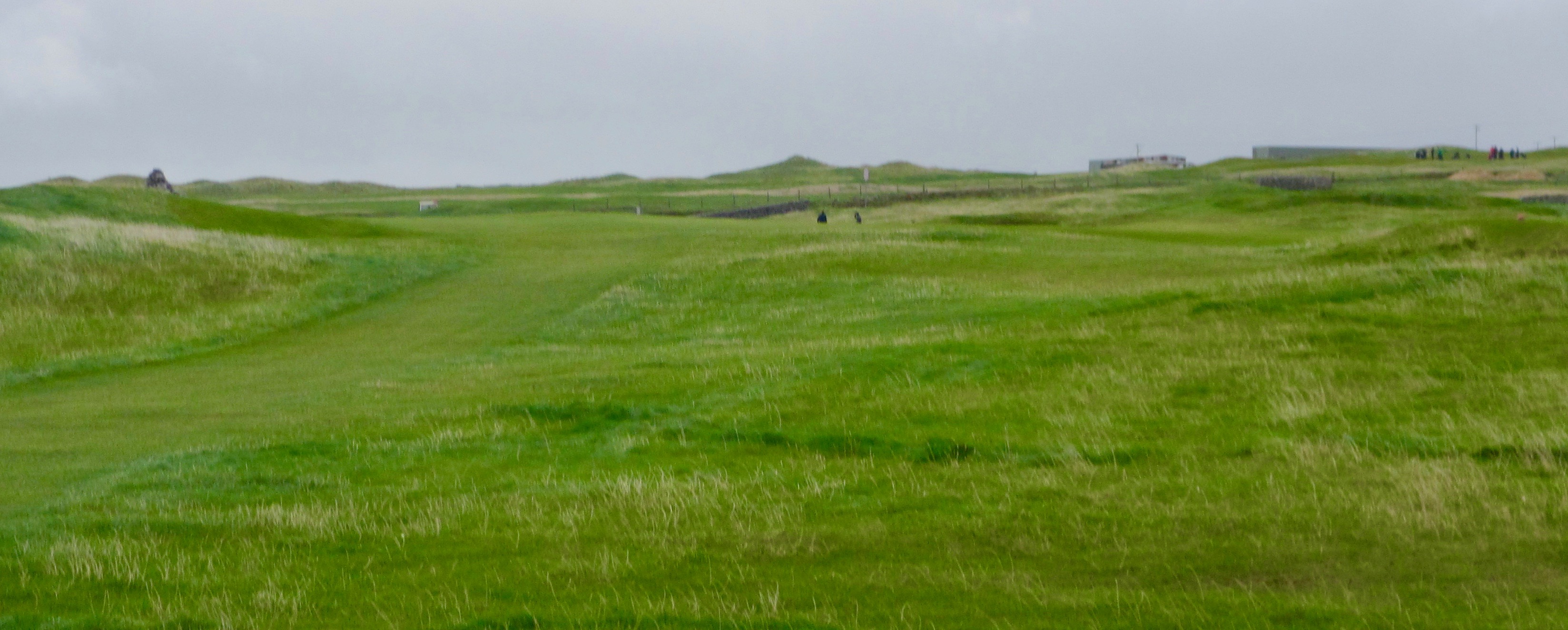 Cuchullain is a fabled Irish demi-god, sort of the Hercules of the Celts and I'm presuming that this photo of the green with the old walls, is his table.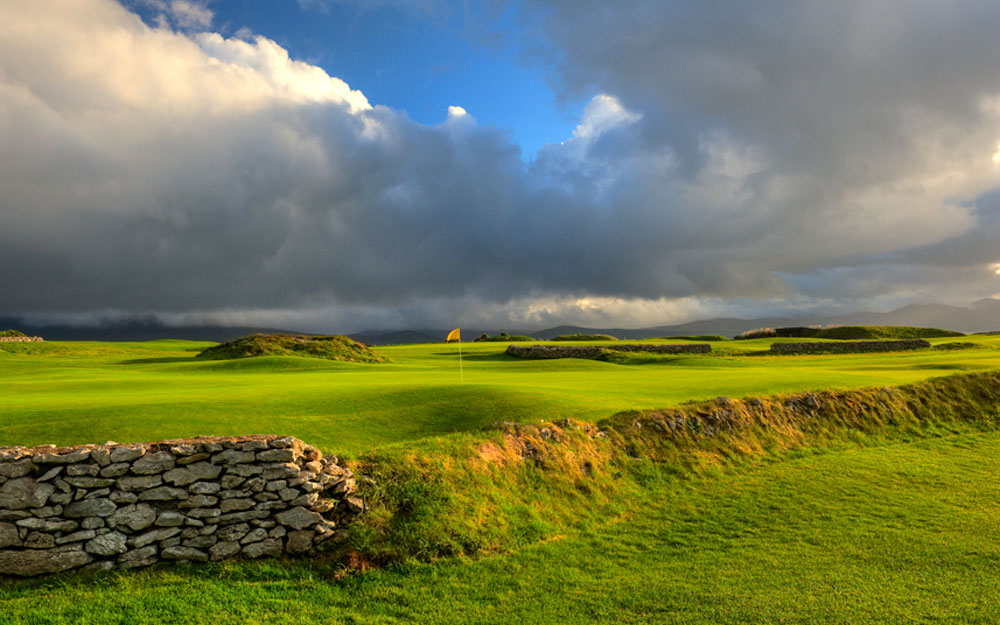 Tralee No. 5 – Brandon
On No. 5 you do a u-turn and head back downwind on this 388 par 4 which is very wide open dogleg right. Big hitters can try to cut the distance by going right over the traps on the right, but there's nobody in our group who could even reach them – maybe in two. A fun hole with great scenery that the photo does not do justice to.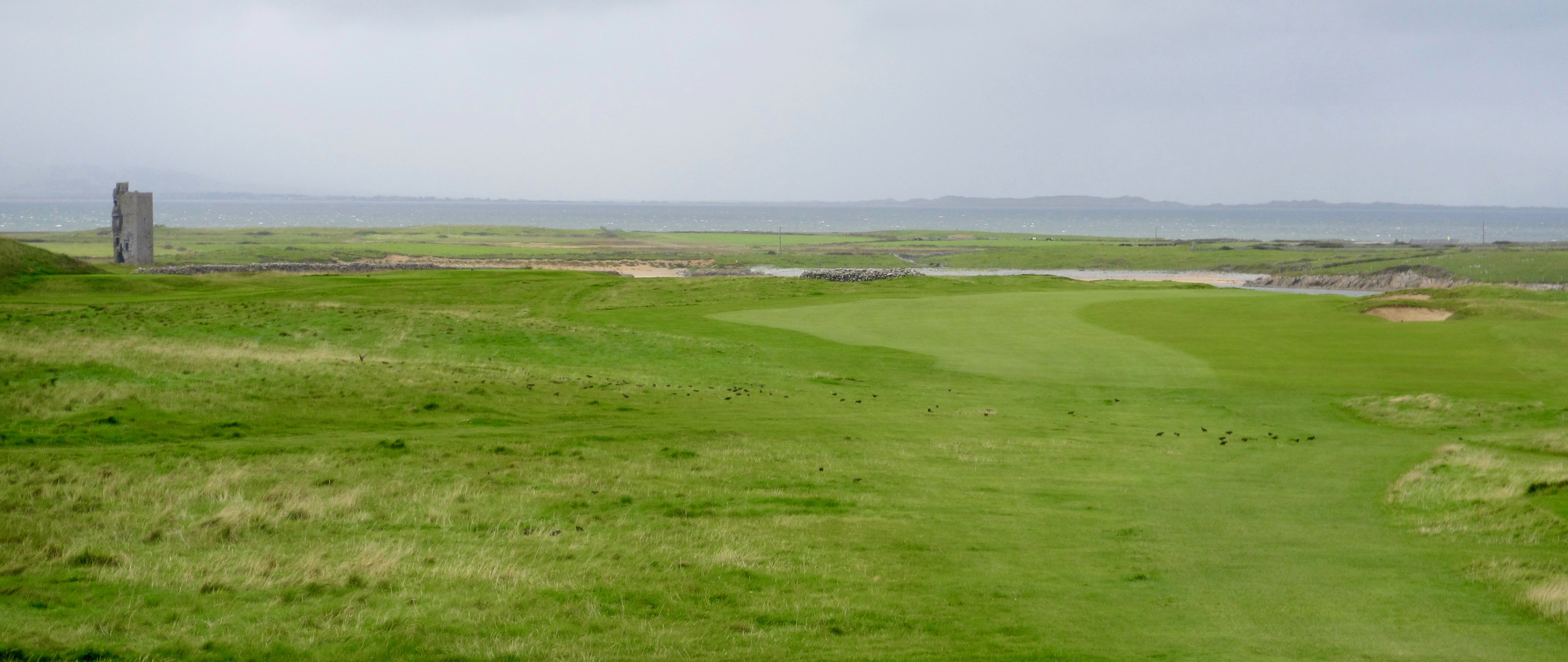 Don and I were playing a match against Peter and Brian and weren't off to a great start as you can tell from this look of bewilderment on Don's countenance. Cheer up Don. It's only a golf game and you only have to have me as a partner once.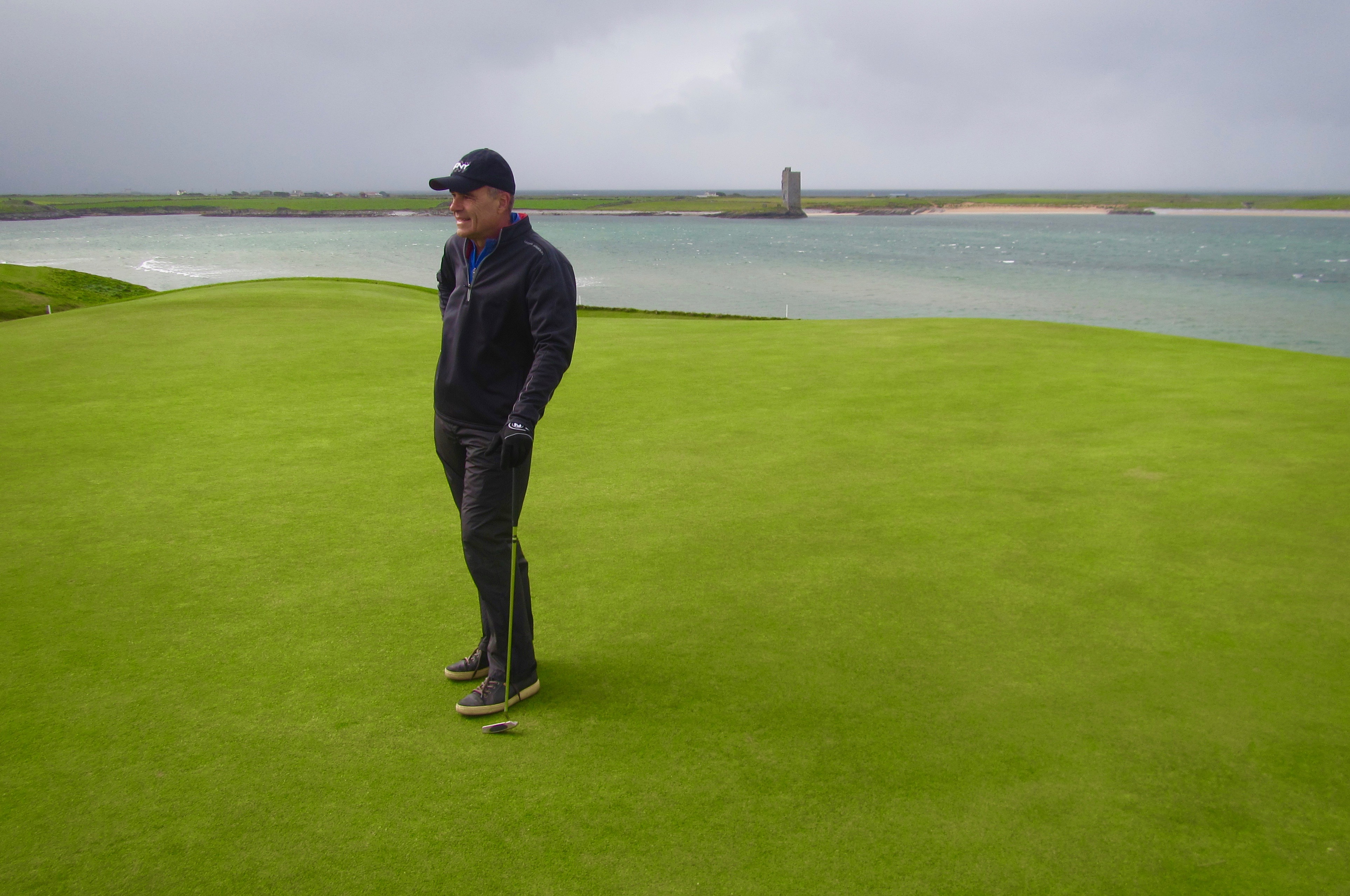 No. 6 – Chough's Corner
A chough is a type of blackbird that is quite common in Ireland. If you look closely you can see them on the ground on No. 5 fairway above. This is a 390 yard par 4 uphill and into the wind. This is starting to feel like a teeter totter – up, down, up, down.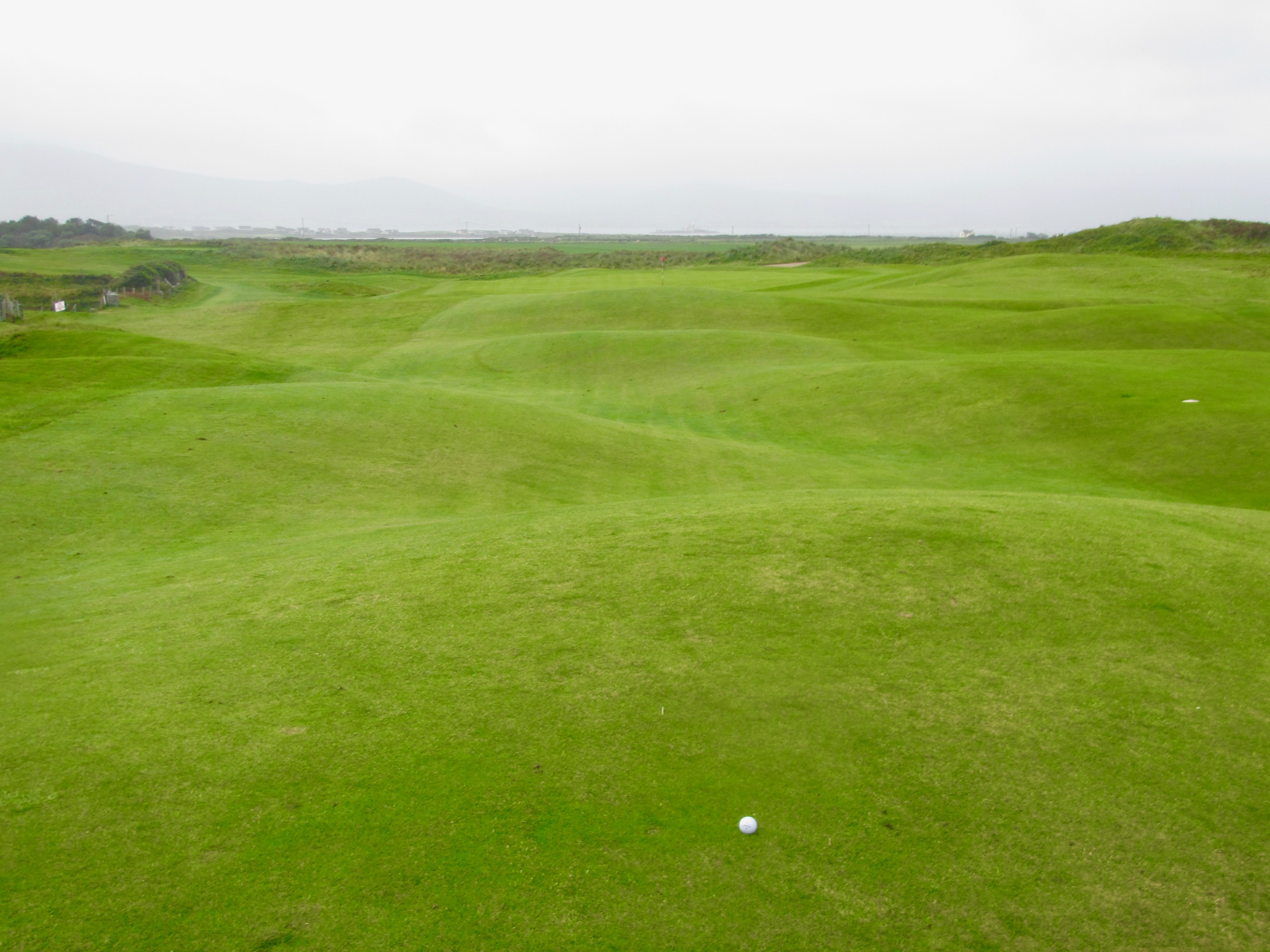 To break the series of washed out photos I'll through in this one of No. 6 from the website. Ah, that's better.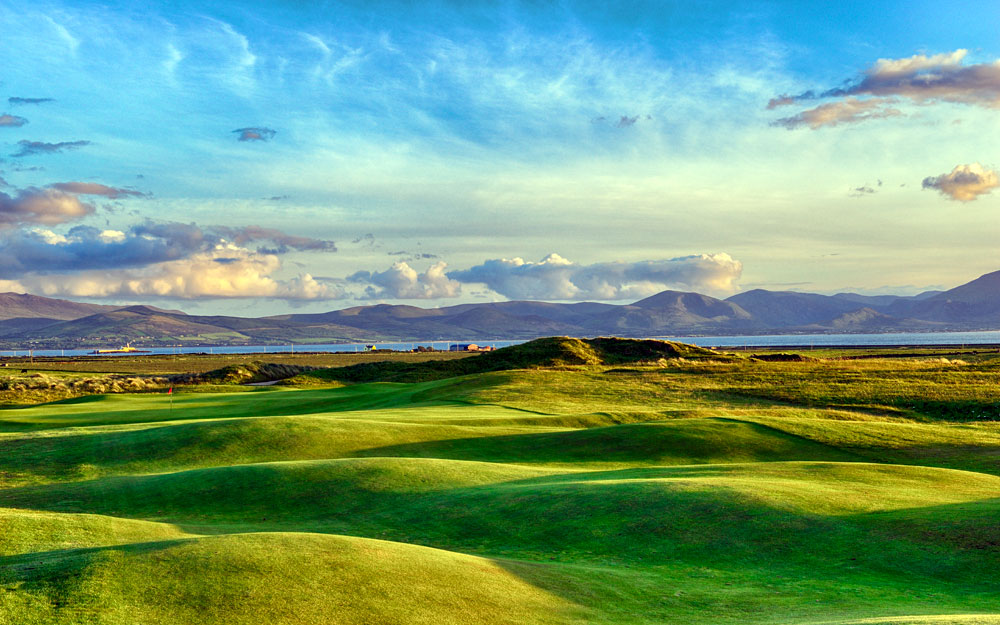 Tralee No. 7 – The Randy
I never expected to find a hole in Ireland named for one of The Trailer Park Boys characters, but what the heck. This is another feel good par three of only 126 yards. If you do worse than bogey on this hole you need get a lesson asap.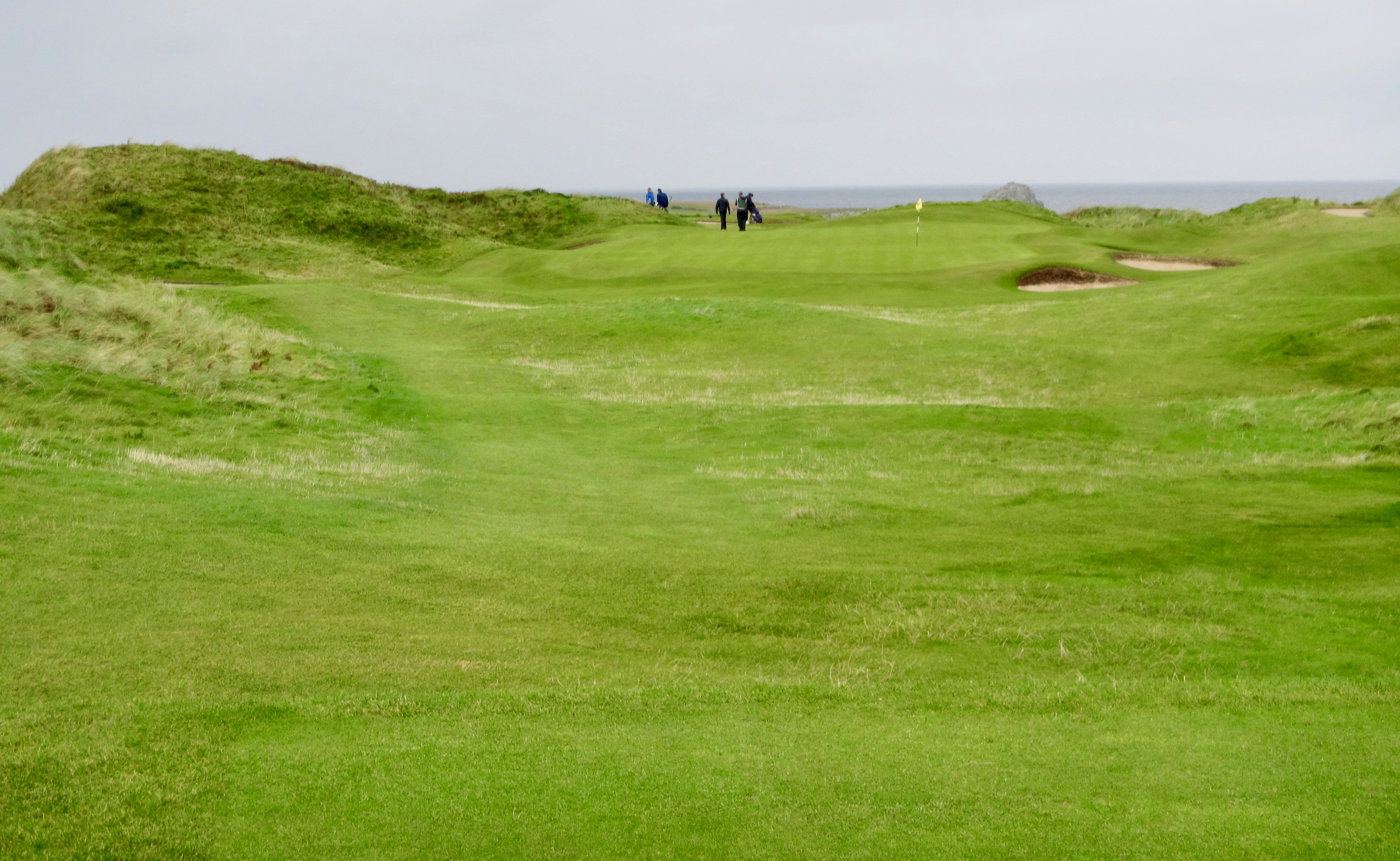 More great views from the green.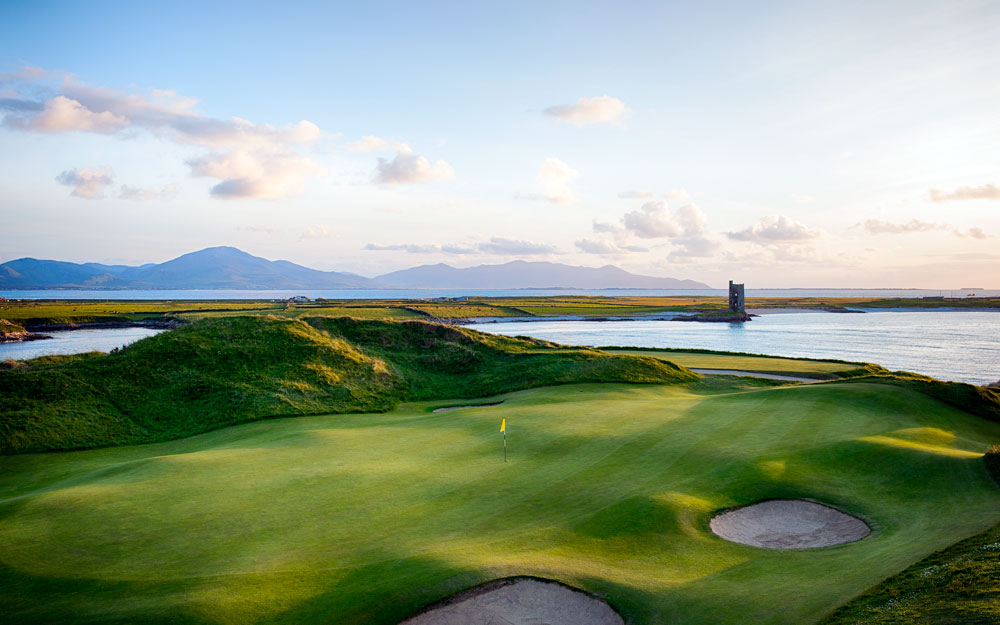 No. 8 – The Creek
For some reason I forgot to take a picture of this hole which is a 359 yard par 4 where Arnie again brought that castle into play.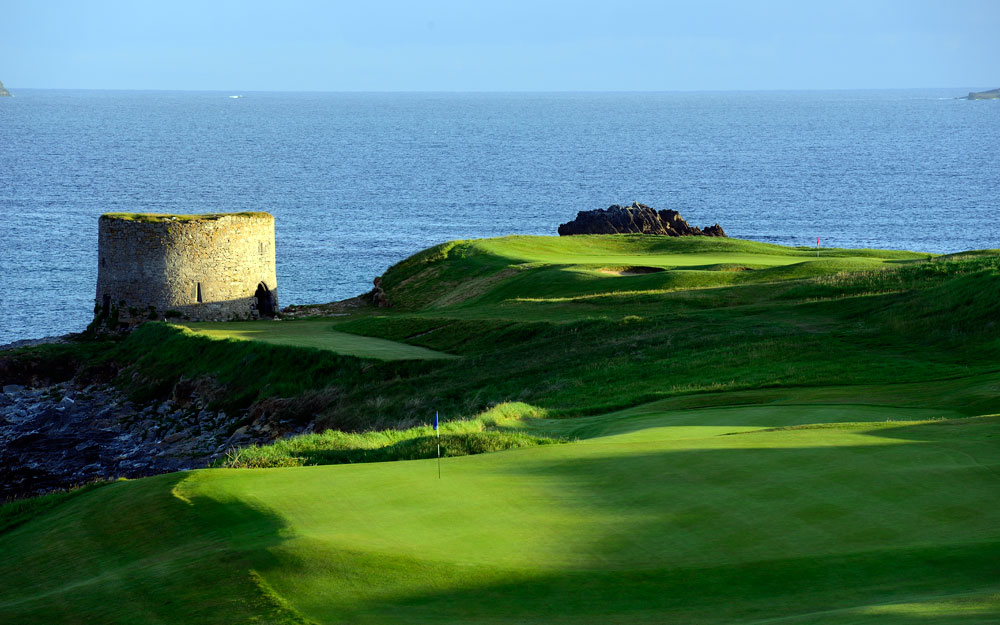 Tralee No. 9 – Hare's Lair
No. 9 is a short par five at 462 yards, albeit uphill and into the wind. The only problem is the multitude of sand traps pockmarking the hole like a bunch of acne scars. Dom said he really didn't like this hole which also had a very tricked up green. Naturally it was the only hole I parred on the front nine.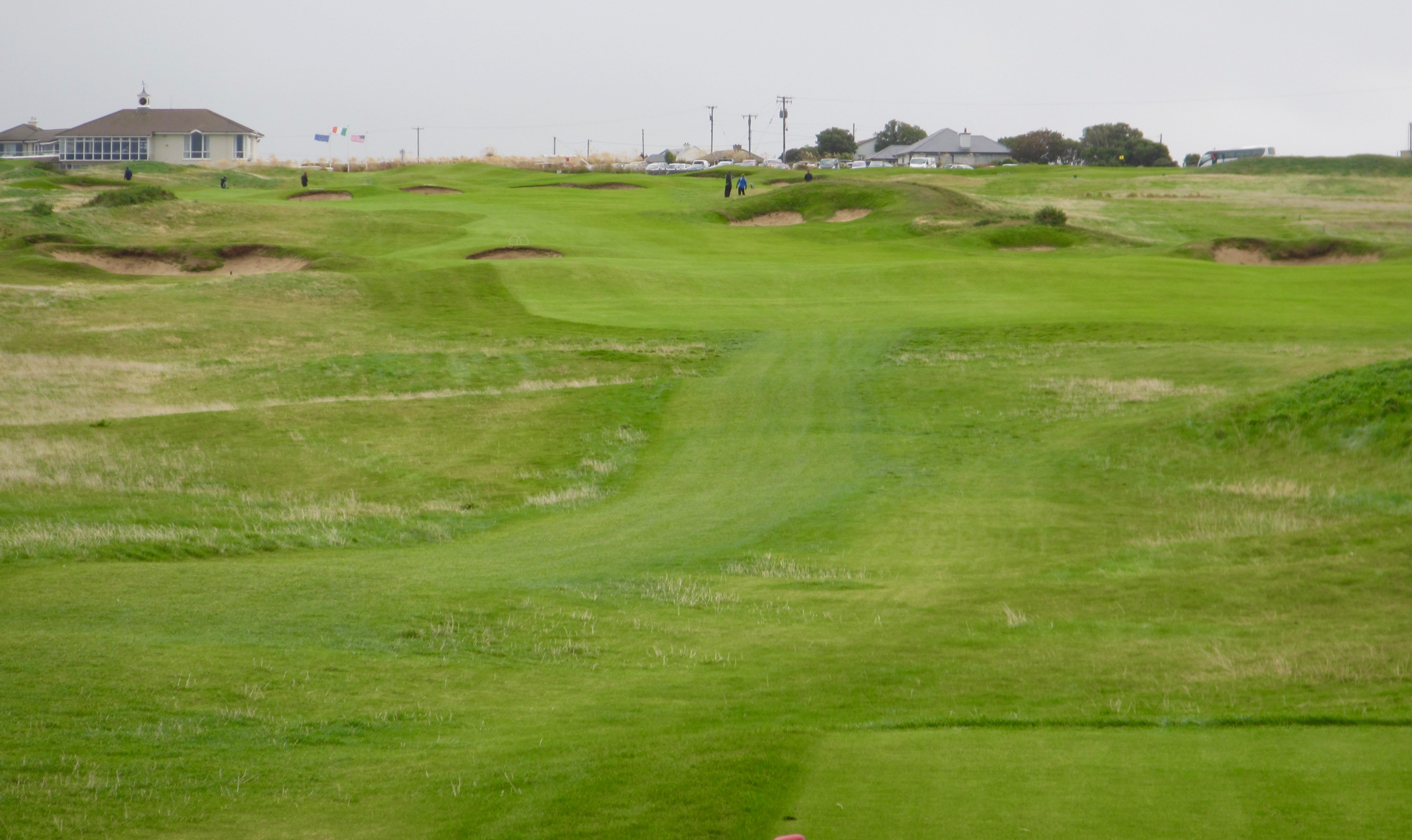 No. 10 – The Warren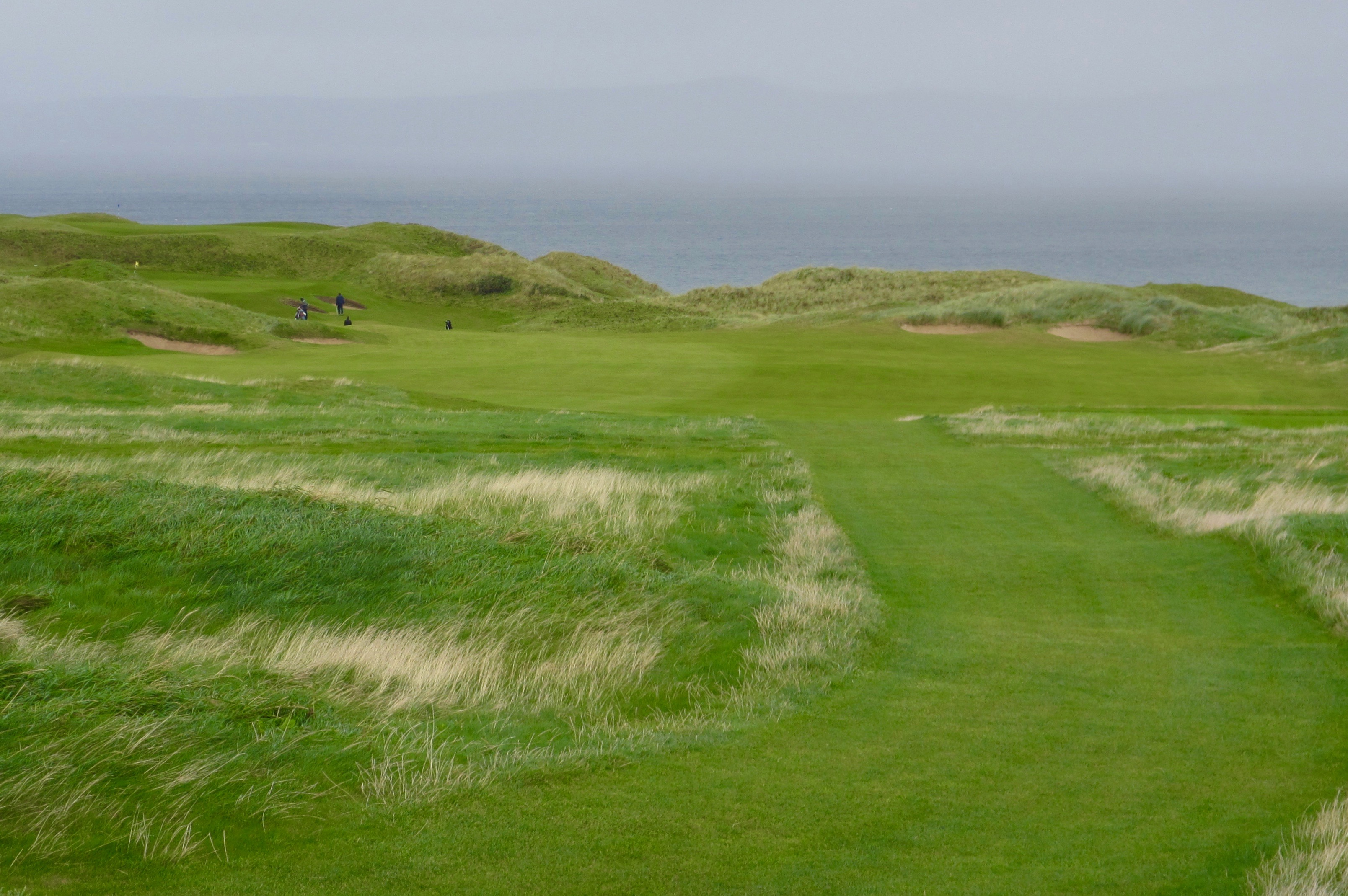 This is a 403 par 4 that sits beside and virtually mirrors #1, but you'll notice that the rough is starting to get higher. #10 marks the start of one of the most memorable back nines in all of golf, with this perhaps the weakest hole.
Tralee No. 11 – Palmer's Peak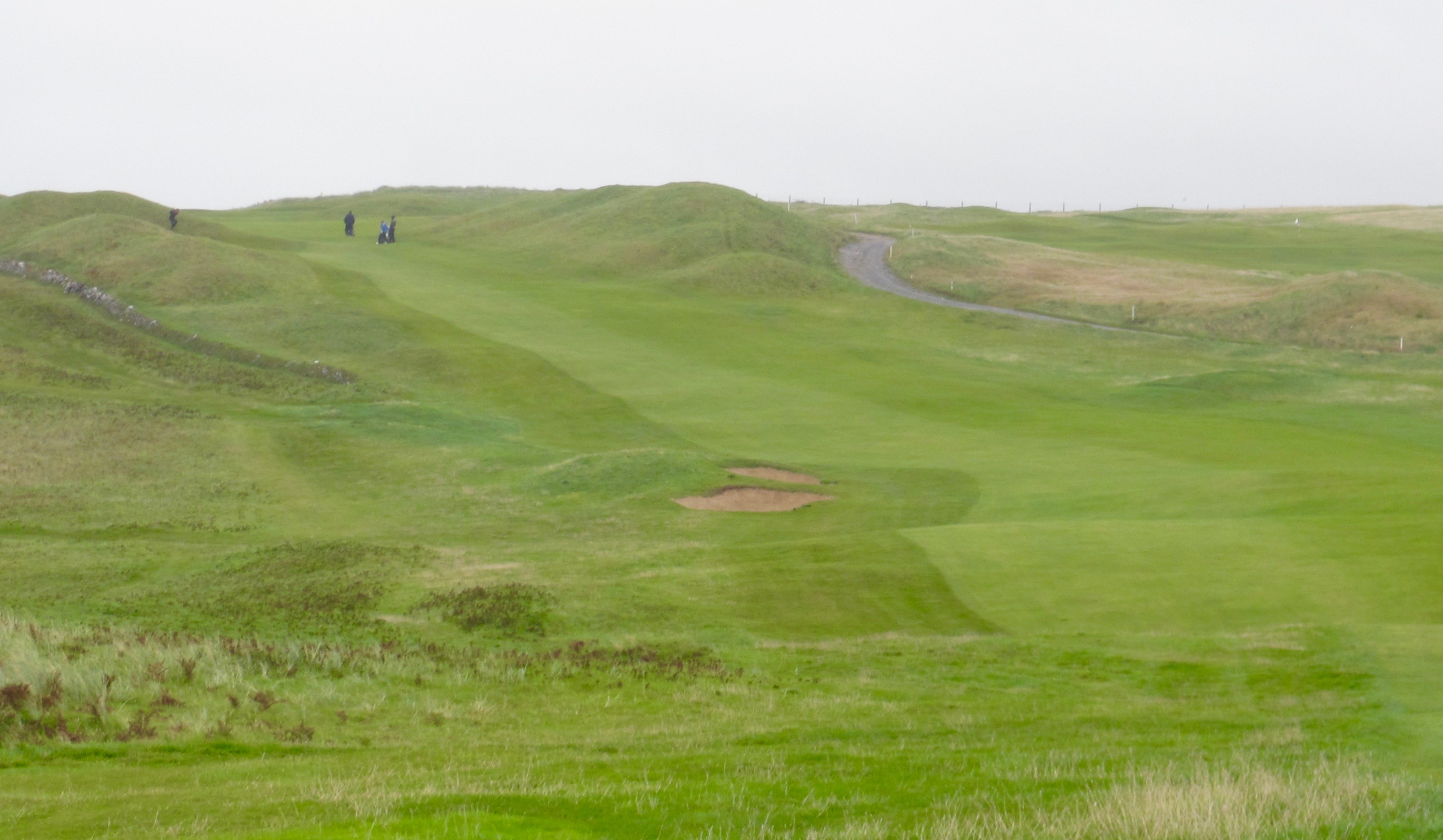 No. 11 is a brute of a par 5 at 548 yards all uphill. The only consolation is the stunning view of the coastal dunes and beaches from the 11th green.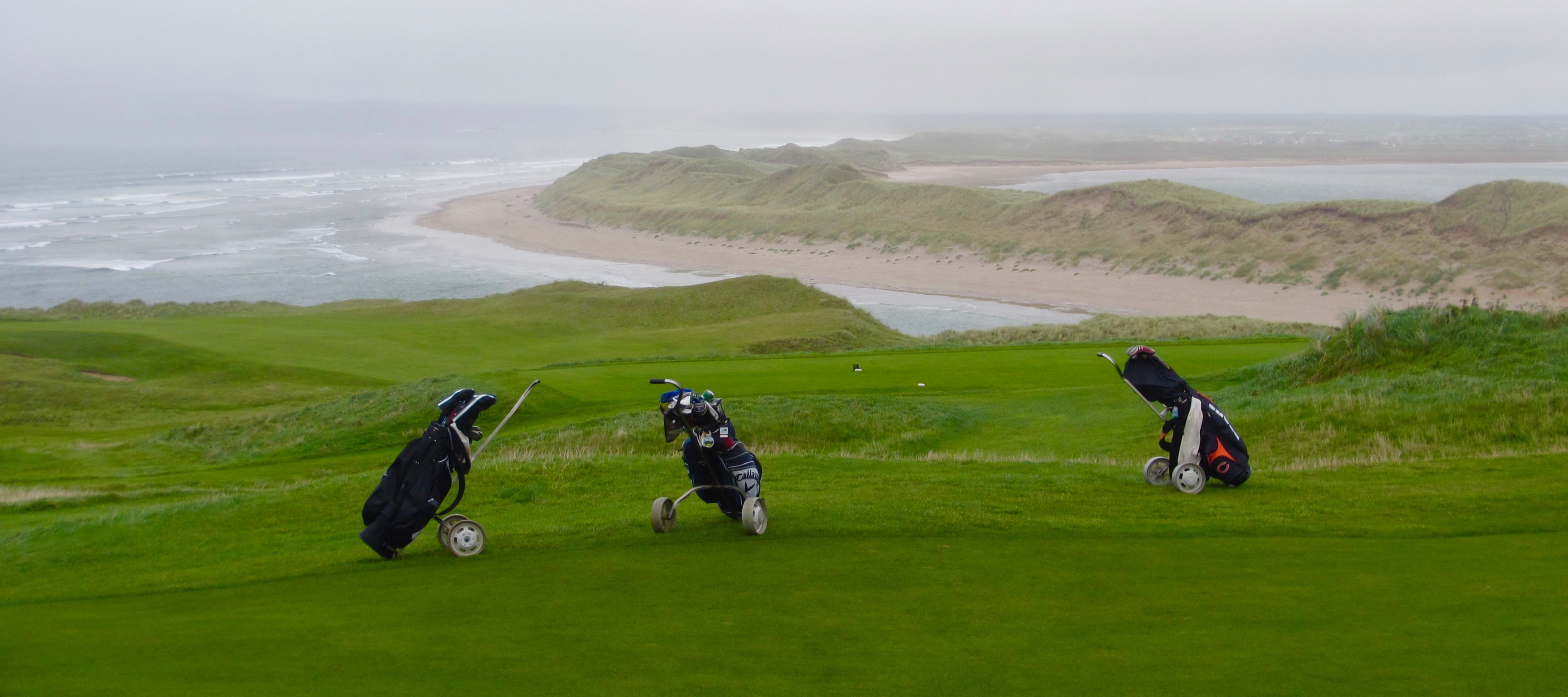 No. 12 – Bracken
If there's one spot on the course that you will want a group photo it's on no. 12 tee. It's near the highest point on the course and has spectacular views in all directions although photographer Dom didn't really capture that here.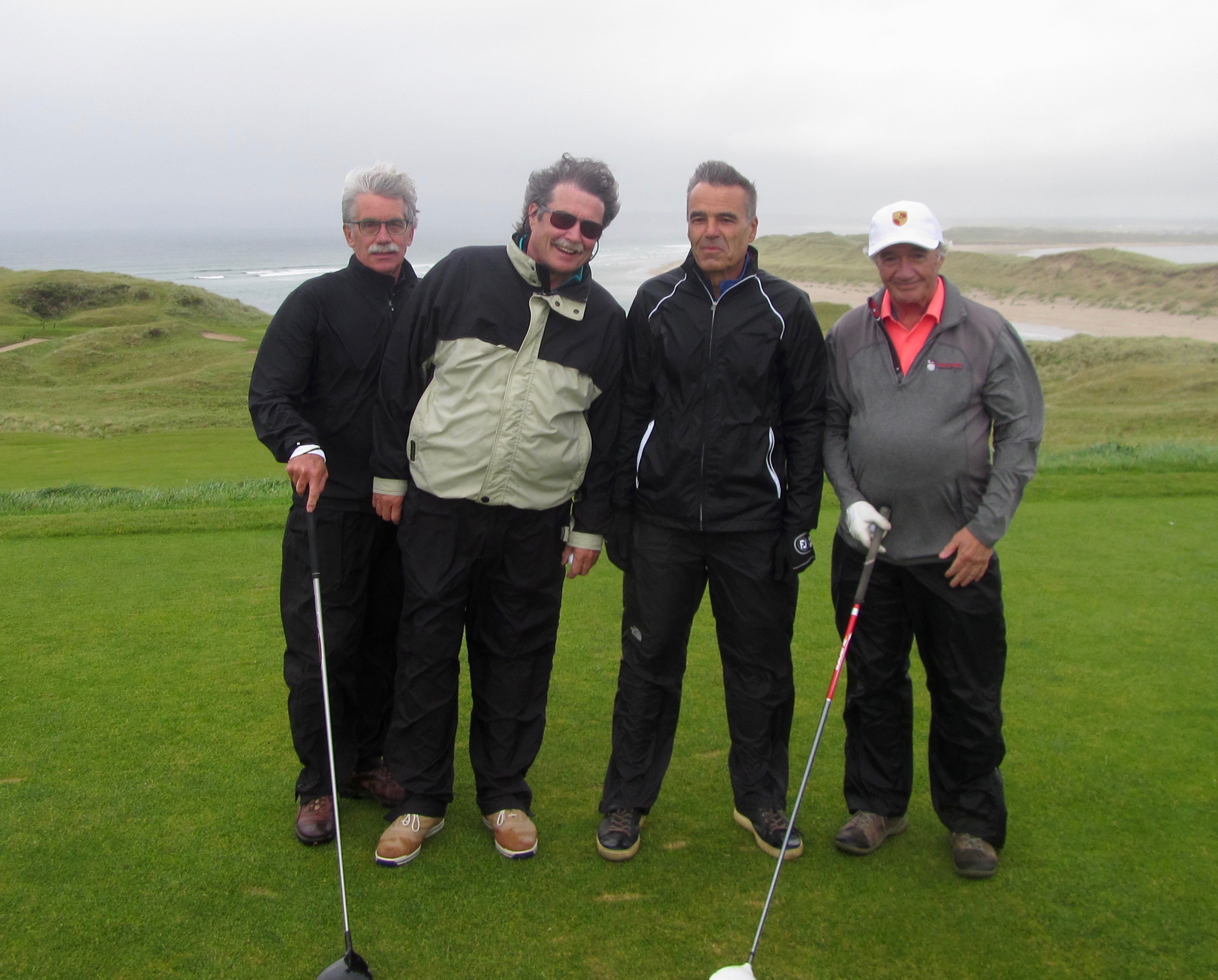 The hole itself is another Palmer brute – a 422 yard par four that is the number one stroke hole, not only on this course, but in the entire country. There is an impossibly narrow serpentine fairway with a colossal drop off to the left. Both Brian and Peter hit their second shots into it and were prepared to take a penalty stroke when Dom, like a mountain goat, disappeared over the edge, found both balls and to their credit both players reached the green with their third shots. It was a turning point in the match.
While devilishly hard to play, No. 12 nonetheless is one great golf hole.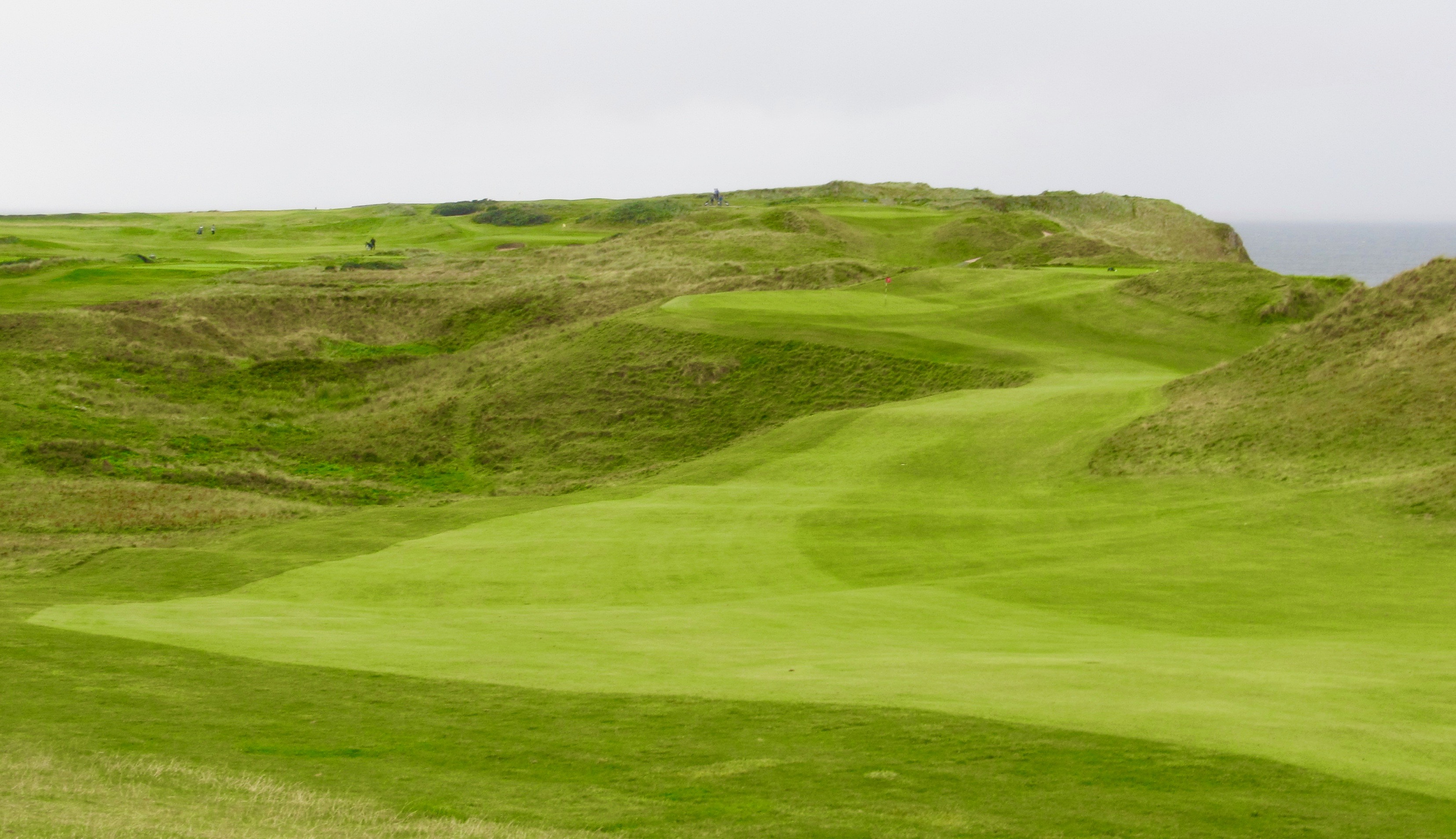 Tralee No. 13 – Brock's Hollow
At only 130 yards, but all carry, No. 13 is a very fitting par three to follow No. 12. It's all about club selection here and Dom advised taking two more clubs than you normally would for a shot like this. He was right as some of us who didn't listen found out. If your ball goes deep into the hollow it becomes so steep that you simply can't get down to it without risking serious injury. If you go long the bank on the other side is also quite steep and it's very easy to hit your second shot over the green and into the hollow. No. 12 and 13 are great examples of Arnie using the natural terrain to create a golf hole that almost seems to be naturally there already.
No. 14 – Crosty
More great views from the tee on No. 14. Those dunes are on the other side of inlet from the course and give a bit of an idea of the type of ground Arnie was presented with when asked to build this golf course.
This 388 yard par 4 is a bit of a respite. Despite its medium length it plays all downhill and is quite reachable in two.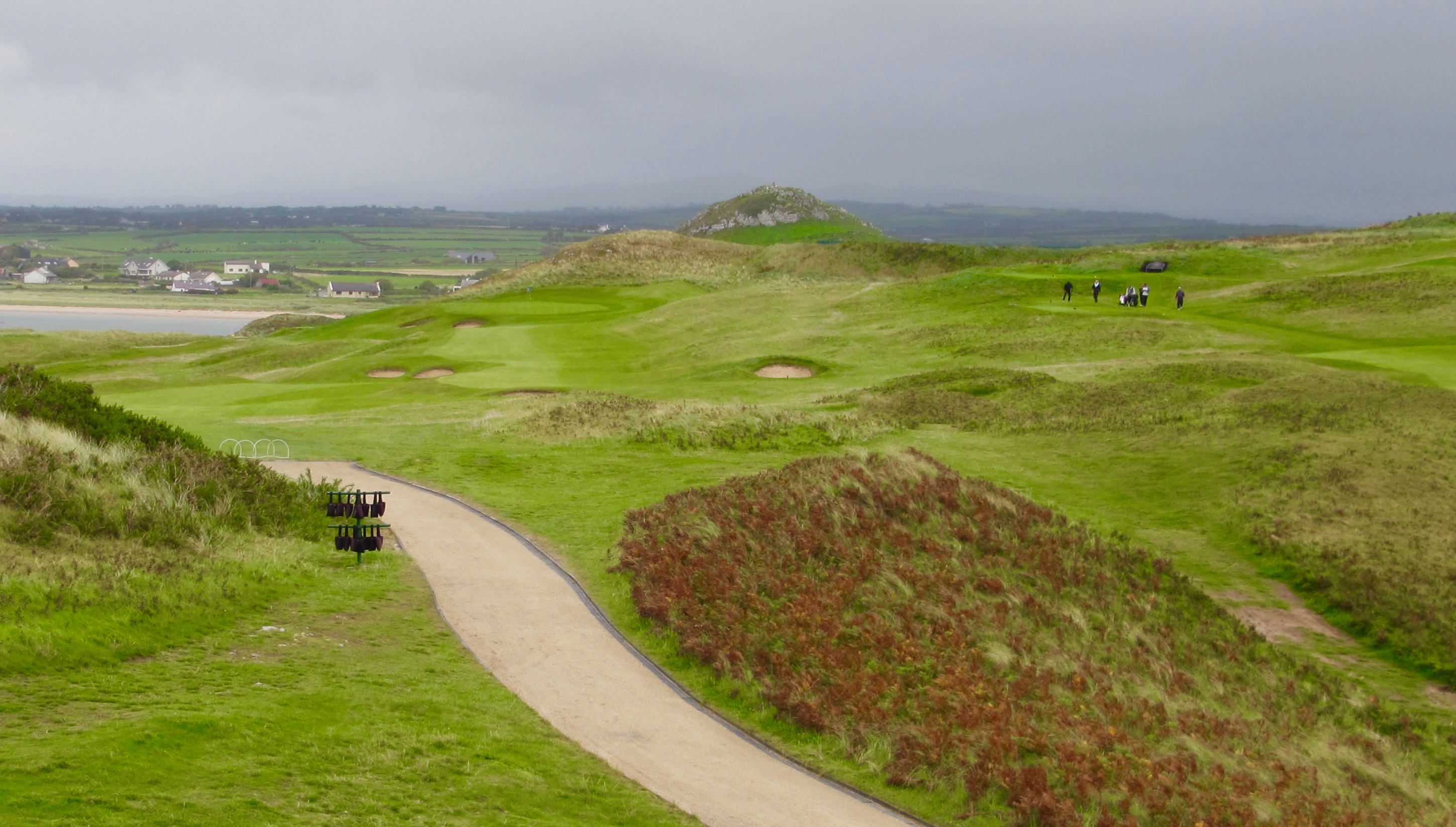 This is the approach shot on 14 which is kind of daunting for lefties who slice like me.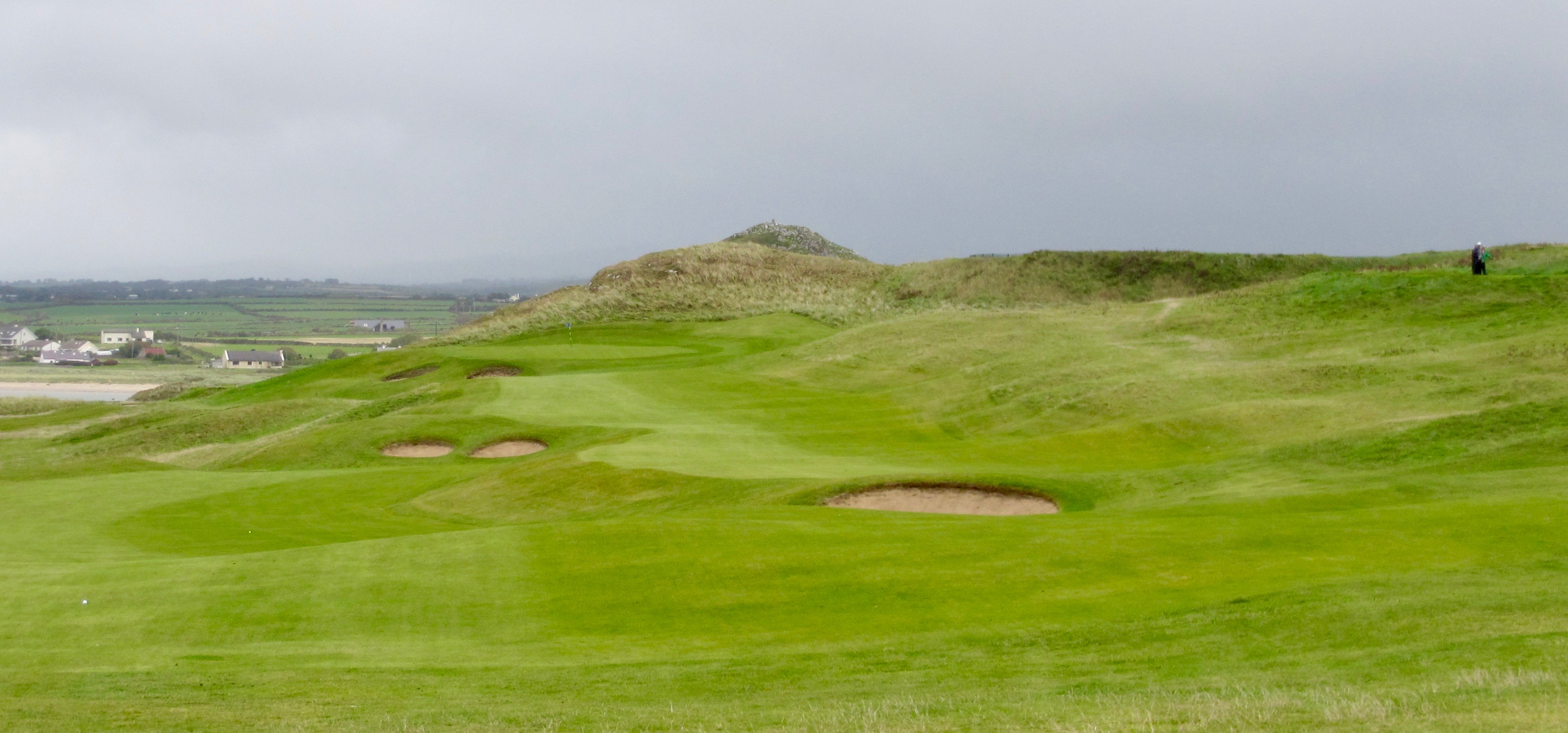 Tralee No. 15 – Poulgorm
This is the risk/reward short par 4 that I think every course should have. It deserves to be seen from above to appreciate this 267 yard hole.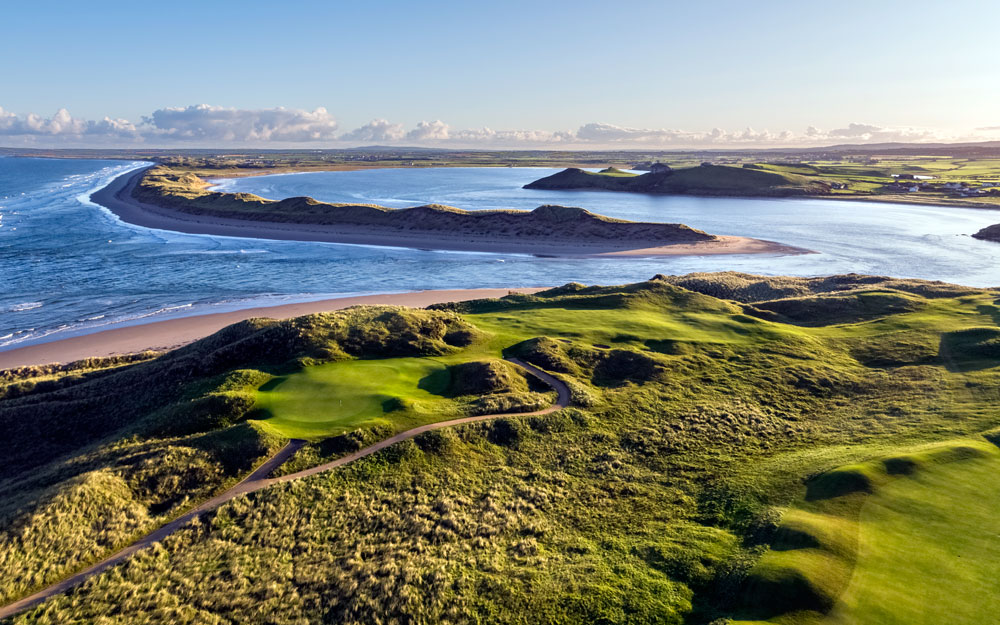 This is what you see from the tee. The green is somewhere out there to the left well above the two bunkers. Dom advised hitting just a mid iron out about 150 yards and then there is just a wedge in. Sounds easy, but only one of us managed to get the Goldilocks shot required. Pete went too long and was blocked out by the huge mound. I went too short and still couldn't see the green. Brian went too far right and had a long iron in. Only Don landed it in the right spot which is an area only about thirty yards wide, if that.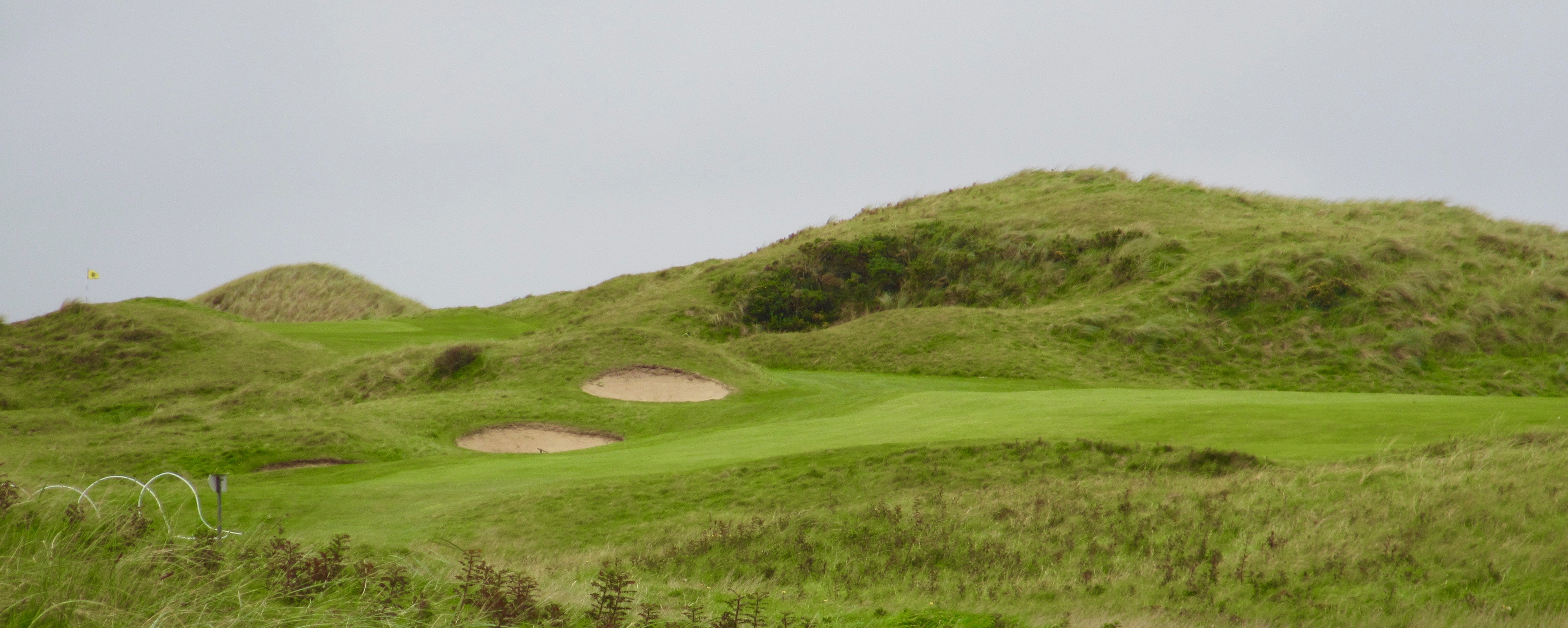 No. 16 – Shipwreck
The final par three is short, 138 yards and sweet and again all carry, but to a very large green.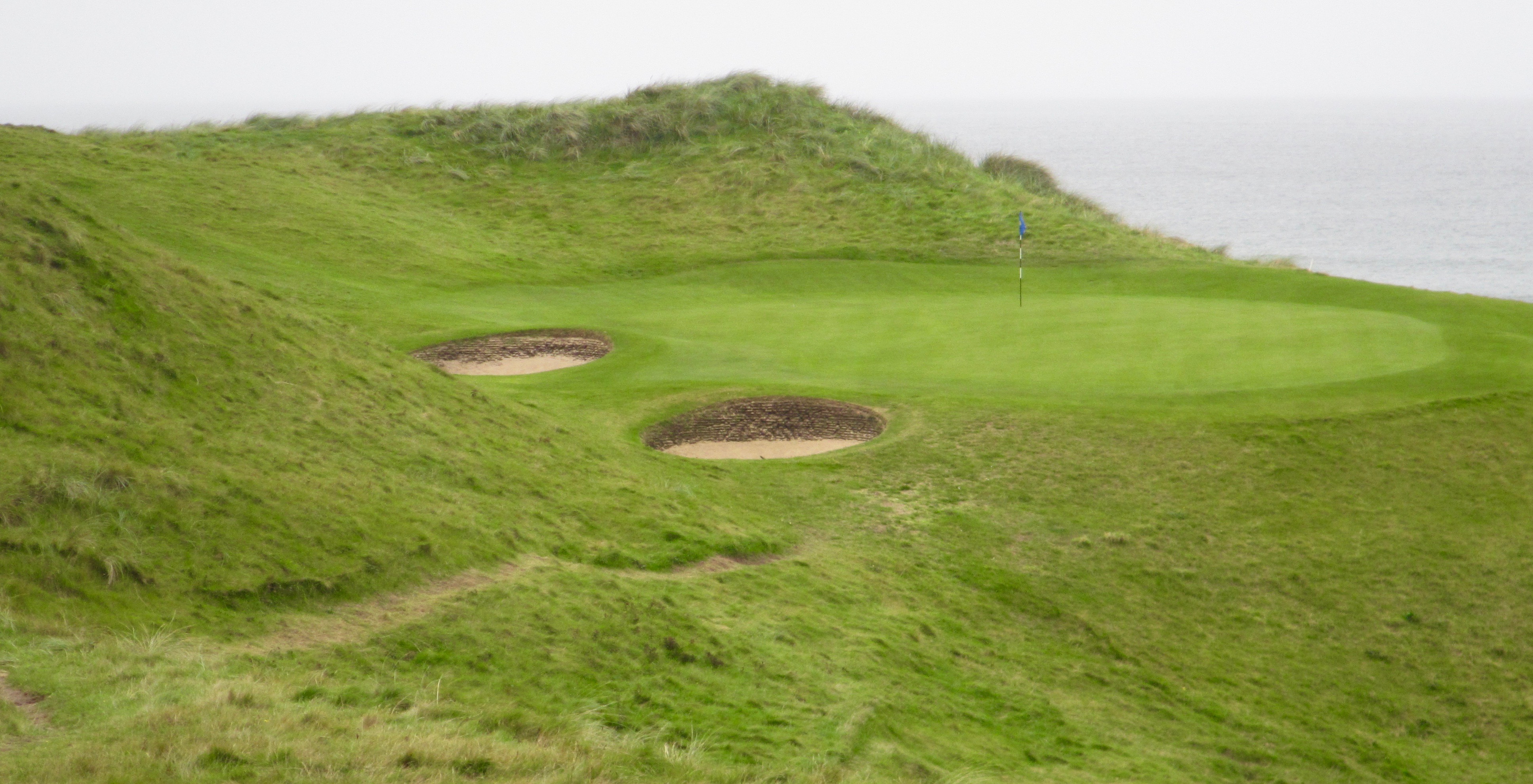 Tralee No. 17 – Ryan's Daughter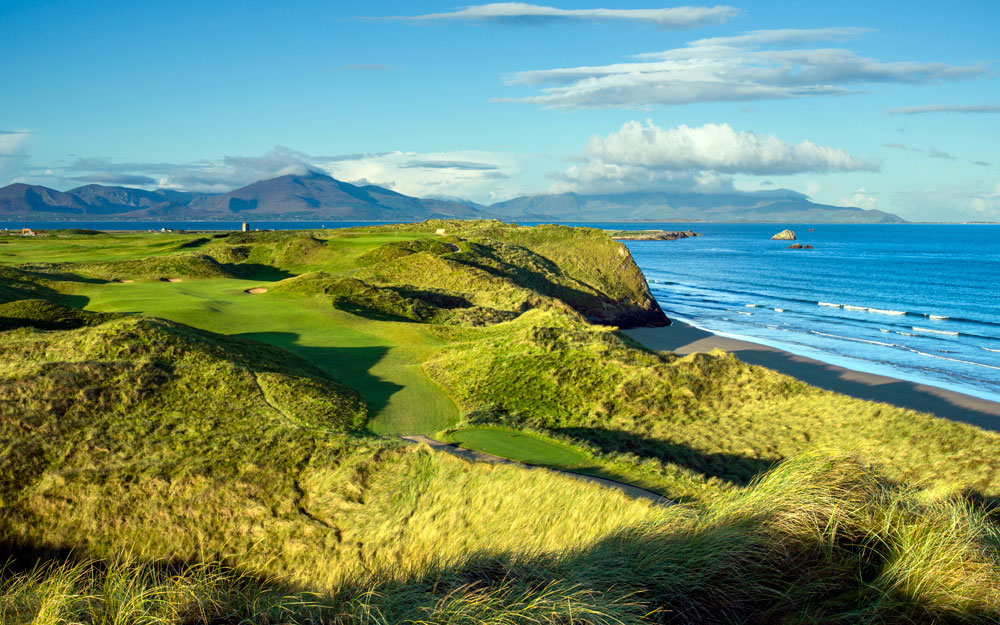 A simply spectacular looking par 4. Not long at 337 yards, but very tight. This is the last hole where the ocean is in view and you'll want to look back along the strand and know that memories of playing this course will linger for a long time.
This is the view from the tee box.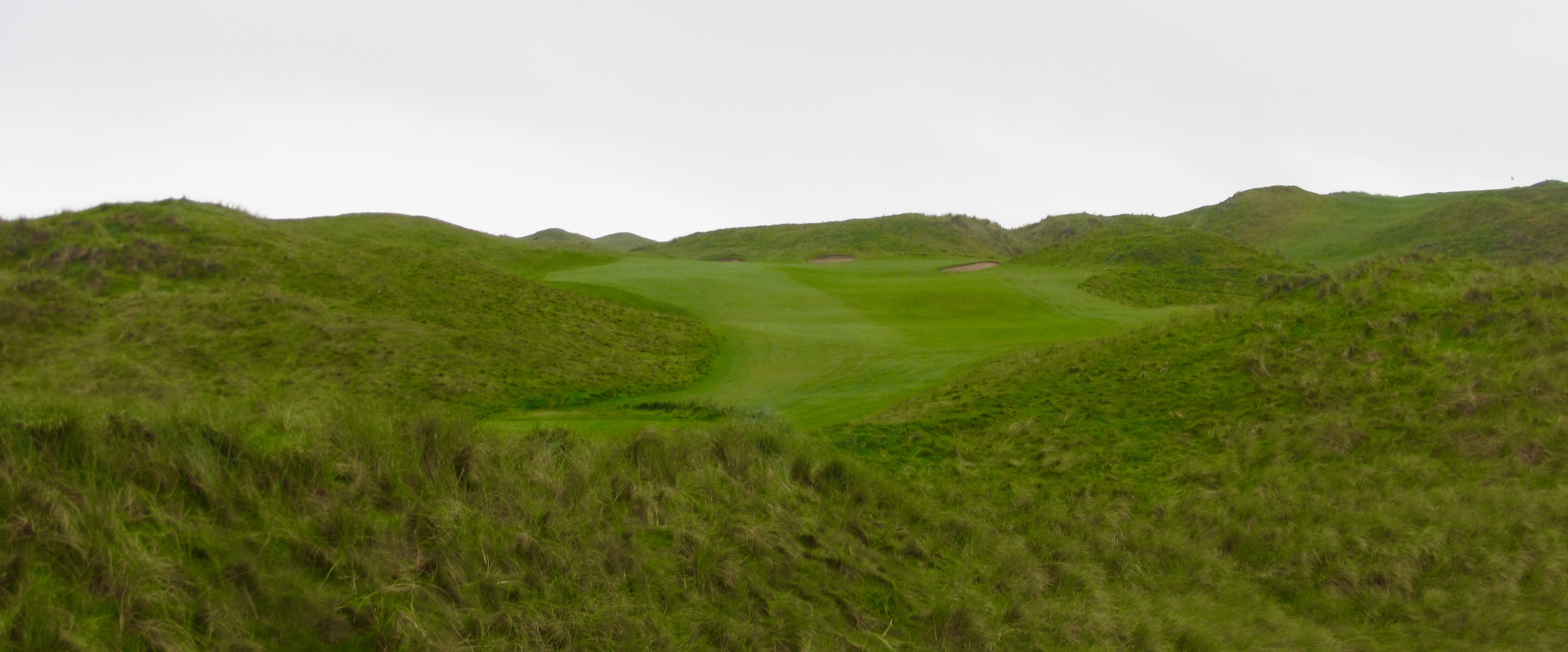 No. 18 – The Goat's Hole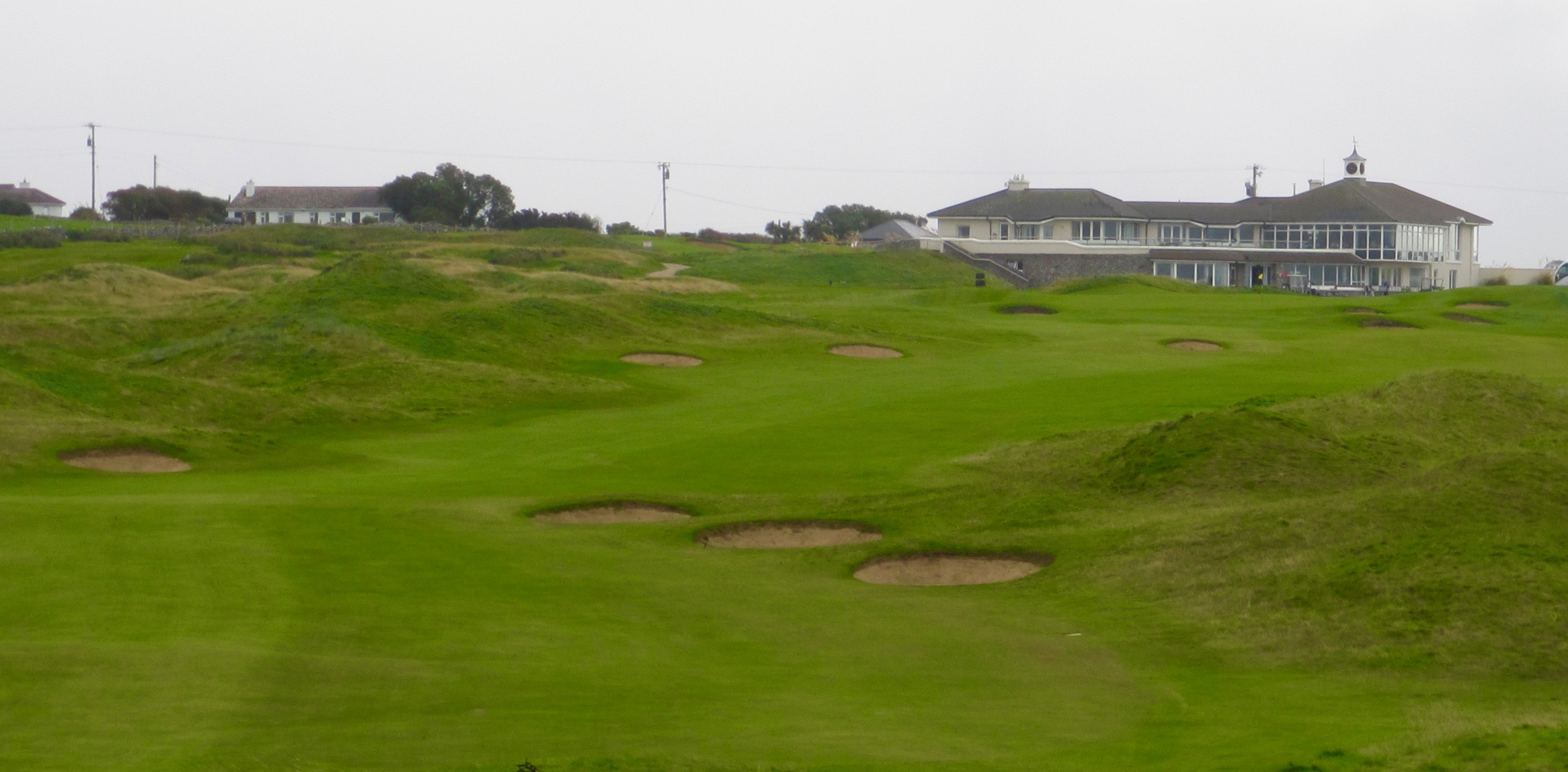 Arnie ends the course with this quite tame and short double dogleg 452 yard par five. Just avoid the traps and par is very doable.
I mentioned we had a match going – well here are the victors with Dom Lyne and I'm the one taking the photo. Congrats to Peter and Brian. I'm sure they never thought I'd say that in print.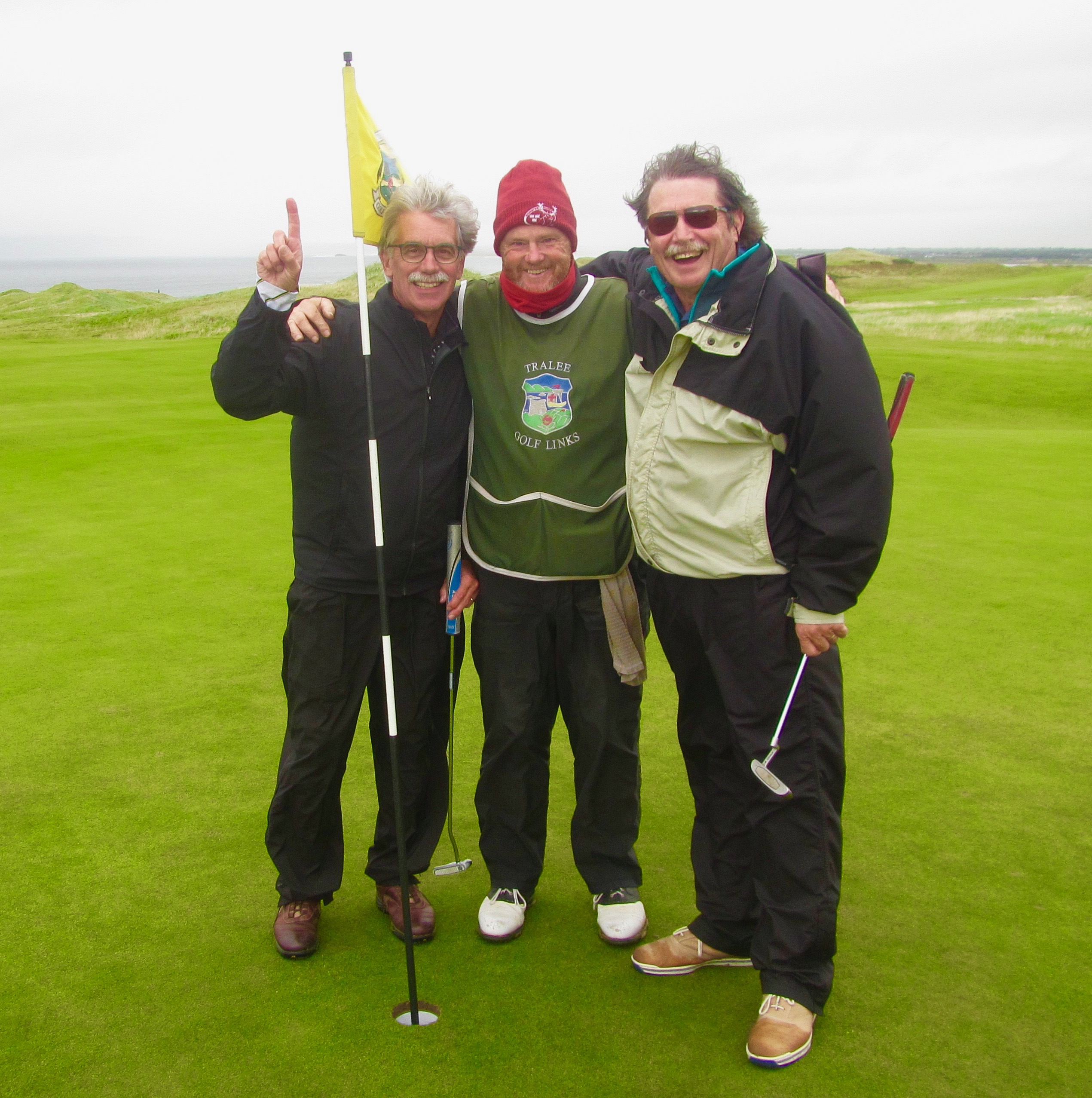 However, nobody feels like a loser after playing Tralee. Thank you Arnold for designing this great gift to golf.