Tazumal & the Ruta de las Flores
This is my third and final post on the tiny country of El Salvador which Alison and I visited with Victor Romagnoli on his definitive trip through Central America for Adventures Abroad in February, 2020. In the first post I gave my general impressions of El Salvador and why, once again, I was surprised to find that a country's negative reputation isn't necessarily deserved once you actually visit the place. In the second post we left the city of San Salvador and visited an extinct volcano, our first Mayan ruins and tie-dyed at one of only two organic indigo farms in the world. It was a very interesting day to say the least. Today we head for the Mayan ruins of Tazumal by way of Santa Ana, the country's second largest city and then follow the Ruta de las Flores through a number of towns to our eventual destination in the mountain town of Concepción de Ataco. It promises to be another day of eye-opening firsts in this seldom visited part of the world. Why not join us?
Santa Ana

We checked out of the Barcelo San Salvador and headed north on the Pan-American Highway towards El Salvador's second largest city, Santa Ana only 64 kms. (40 miles) away. The traffic was light, the road good and by 10:00 am we were driving past this roundabout with the Santa Ana welcome sign and headed for the historic centre of the city. Now comparing Santa Ana to San Salvador would be like comparing the proverbial apples to oranges. At around 250,000 residents it's a fraction of the size of the capital and feels more like an overgrown town than a big city.
We got off the bus at the Parque Libertad which is flanked on three sides by the main cathedral, the Teatro de Santa Ana and the municipal building in the photo below with its distinctive ionic columns.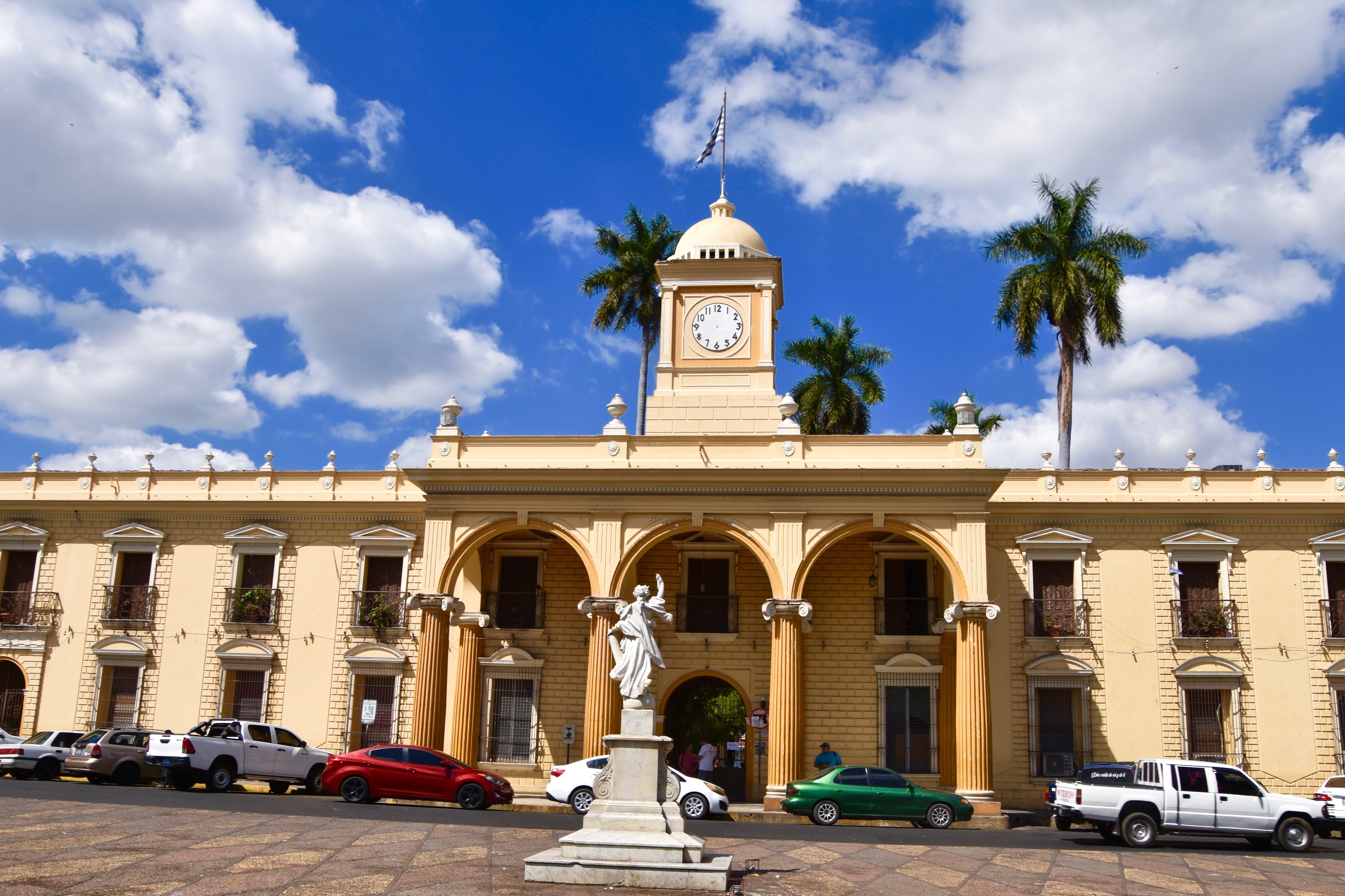 I was quite surprised at how many people were out just enjoying themselves in the plaza as it was a weekday, but it added to the general feeling of bonhomie that seemed to pervade the plaza. And this in spite of the armed security guards and policemen that are ever present in El Salvadorean cities.
This is the Teatro de Santa Ana with a lovely neo-Baroque facade that dates from 1910 when Santa Ana was the wealthiest city in the country and the home of El Salvador's coffee barons.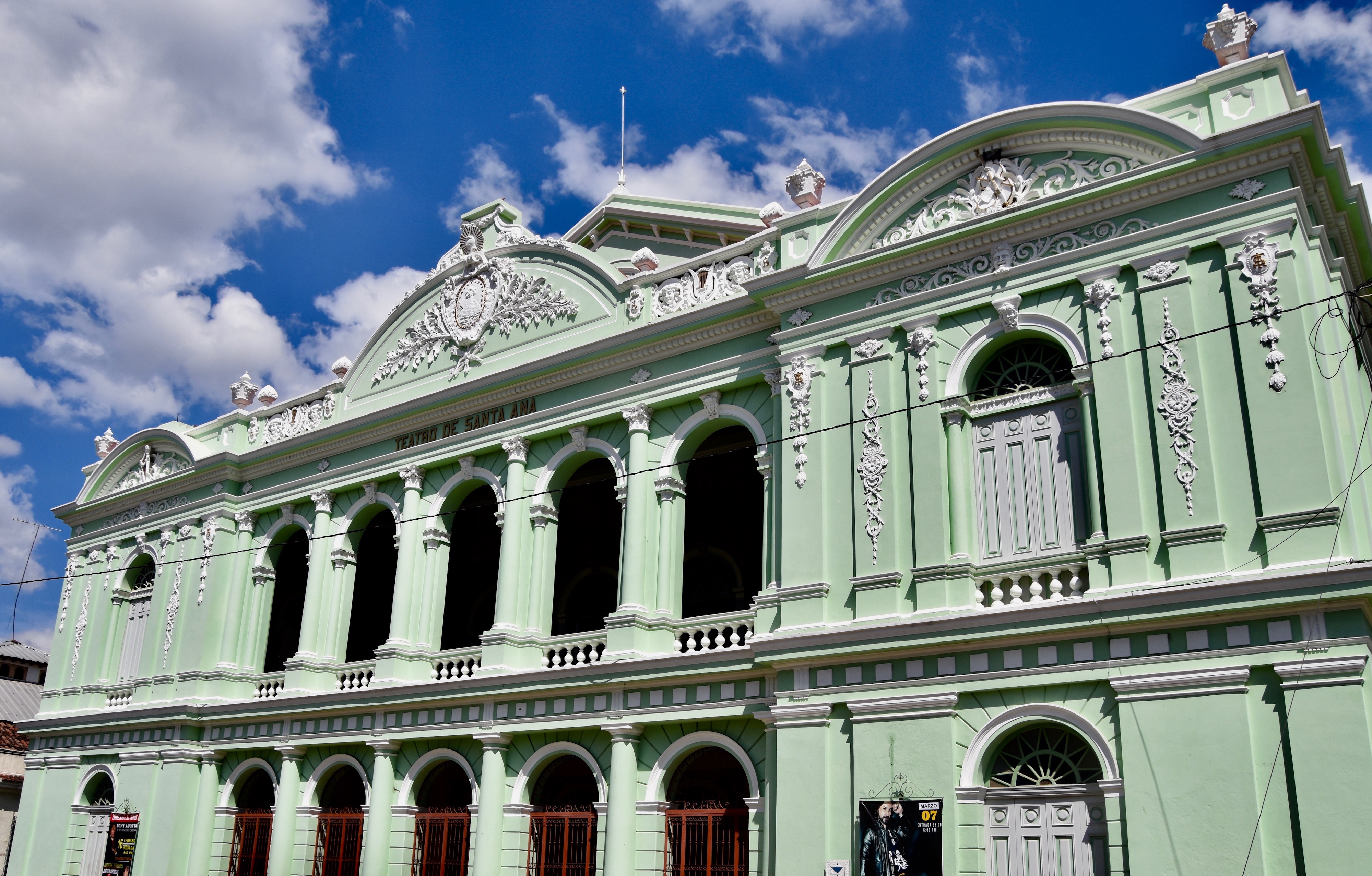 For some reason I did not take a picture of the fine looking Santa Ana cathedral, but it's definitely worth seeing so here's a photo from Wikipedia taken by Yessica Guerra.
So all around the Parque Libertad we have a neo-classical city hall, a Baroque theatre and a Gothic revival cathedral. My mind says this mishmash of styles should not work, but in fact it does. The main plaza of Santa Ana was one of the most pleasant we visited in all of Central America.
I don't know if every day is like this in Santa Ana or if this was a market day because the streets around the Parque Libertad were packed with shoppers and as is usual, each street seemed to specialize in one type of item, in this case clothing. Since these are not tourist markets, the prices were ridiculously low. The quality might not be the best, but when you can get a pair of decent jeans for less than $10.00, who cares?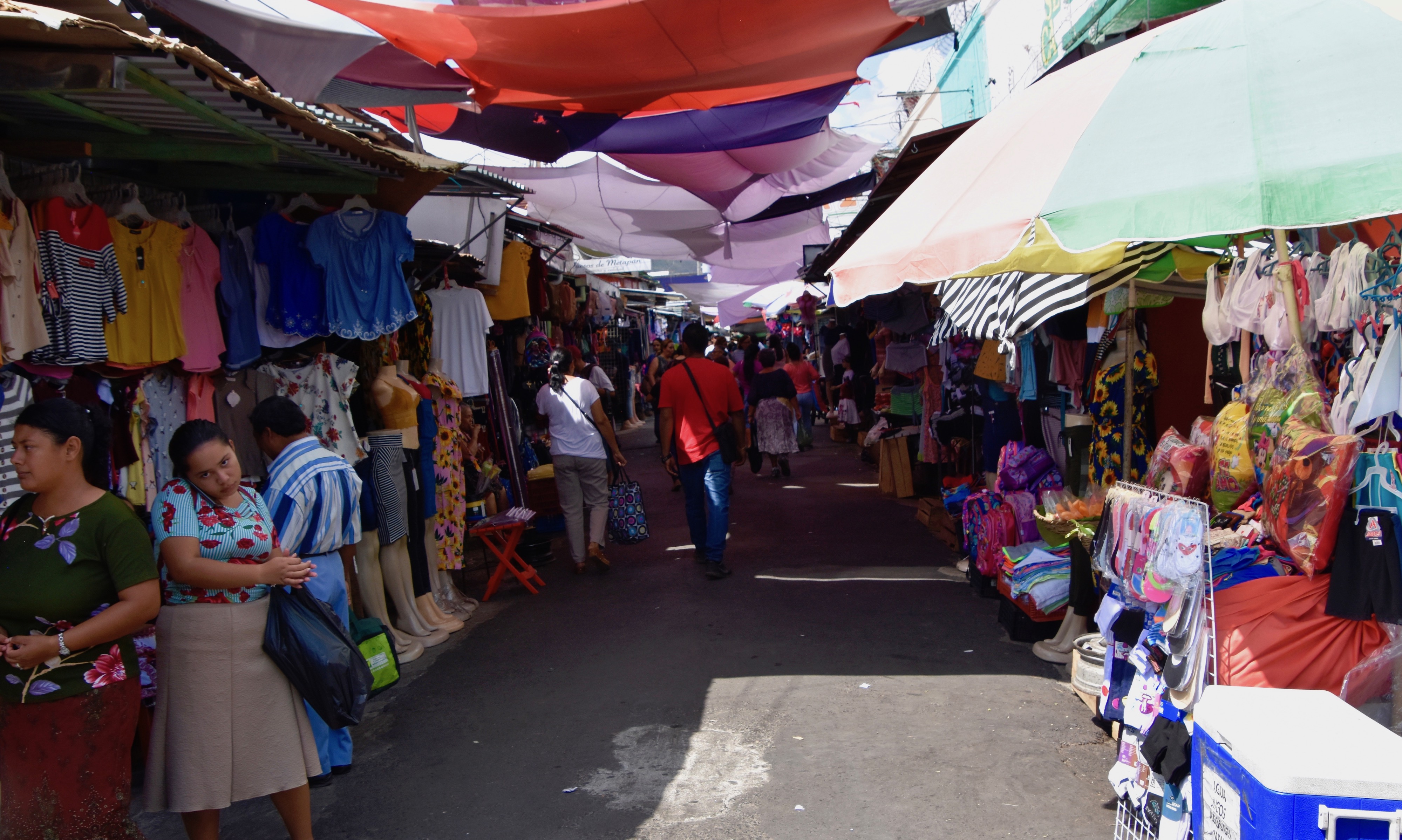 Santa Ana has a reputation for being the safest city in El Salvador, or at least that's what the internet would have you believe. However, the feeling of not feeling unsafe if that makes any sense, was definitely in the air as Alison and I explored some of the streets and lanes running off the Parque Libertad.
We even came across a Bank of Nova Scotia branch where we were able to get direct access to our accounts back home and get some US dollars before heading to Honduras and Guatemala. I don't know if we'll need them or not, but better to have them than not in my experience.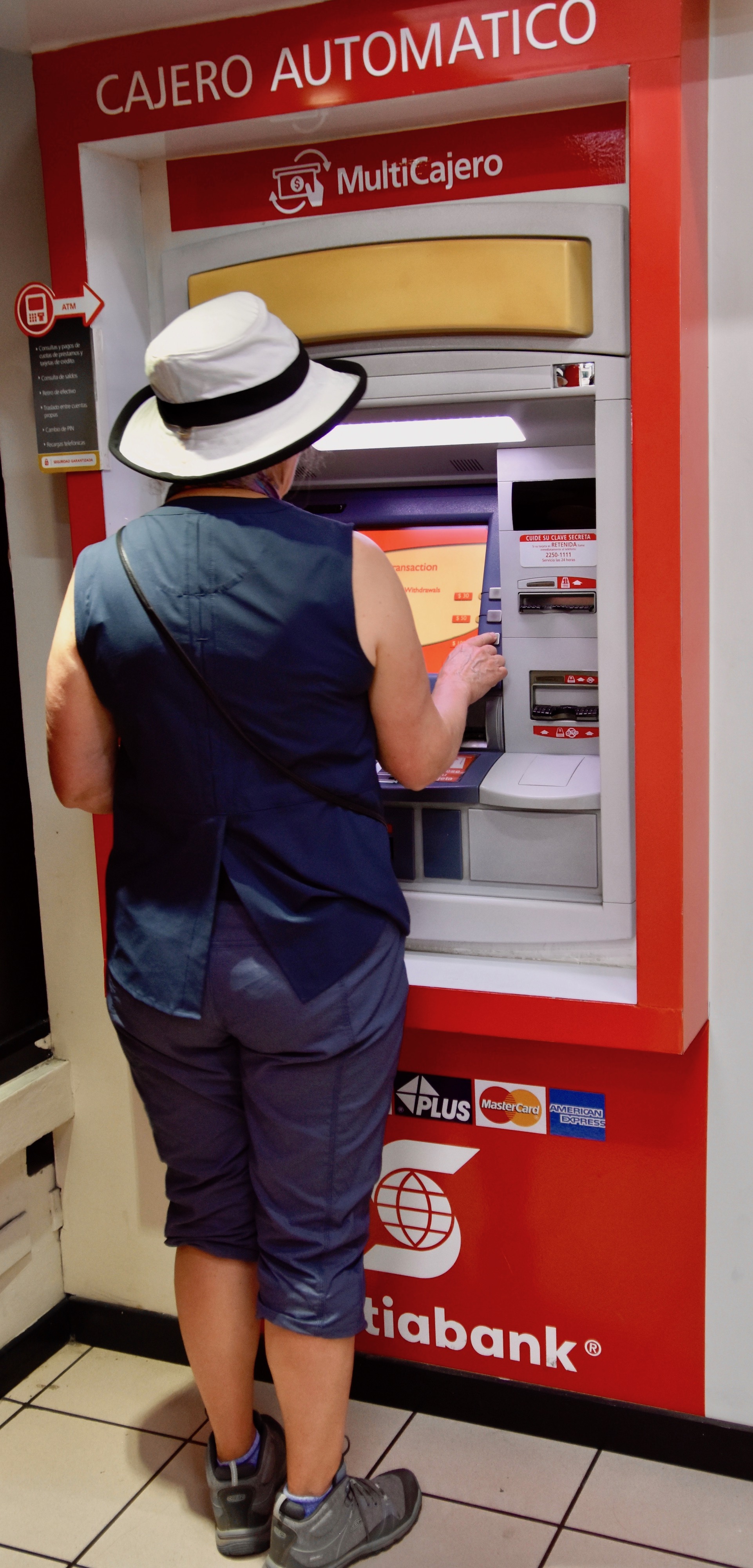 Tazumal
Not far from Santa Ana are the ruins of the Mayan city of Tazumal which are literally surrounded by the present day city of Chalchuapa, a Nahuatl word meaning 'river of jade'. Our bus drives down a narrow street with vendors on one side and open air restaurants on the other until it can go no further. How he is going to turn around I have no idea, but we get out and walk the short distance to the entrance.
Tazumal, like San Andres which we visited yesterday, had two distinct growth periods. One before the eruption of Ilopango and one after with a significant gap in between. The earliest settlement here dates as far back as 1000 B.C. and apparently had a definite Olmec influence, based upon a carving found on a boulder at the site. The period immediately preceding the Ilopango eruption was the city's heyday and there were structures much larger and over an area much greater than what you see today. Although construction resumed in the 5th century and what we will visit today dates from that time, the city never regained its former prominence. By 1200 Tazumal was abandoned.
The visit to Tazumal starts with a walk through a small museum where the most interesting item is this recreation of a Mayan cacique complete with jade and feather ornamentation. Shakespeare is wrongly attributed to have written "Vanity, thy name is woman.", but he might have written it about this guy.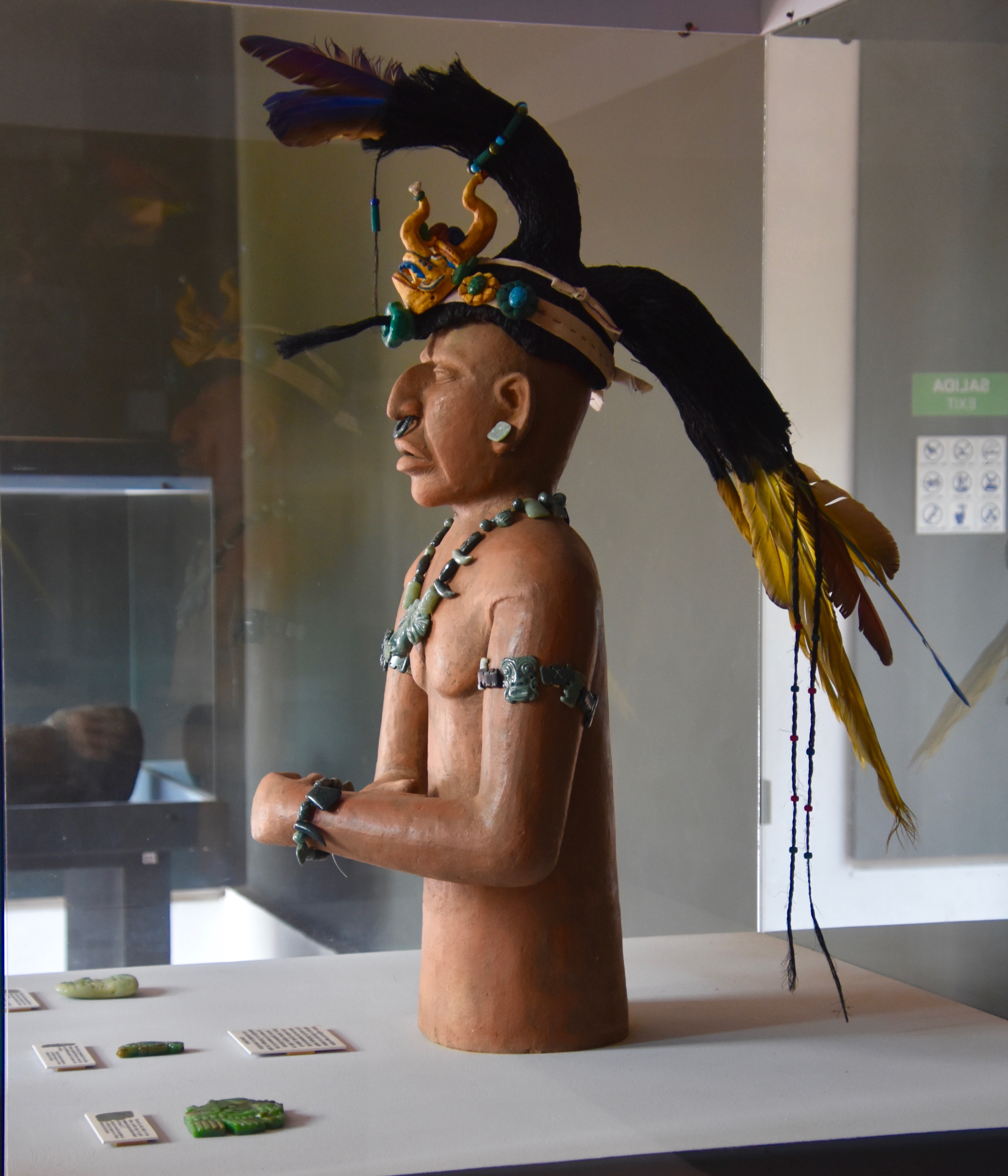 Tazumal is essentially one large plaza dominated by a pyramid that is much larger than that at Santa Ana and although you can't climb it, there is a path to follow around its base.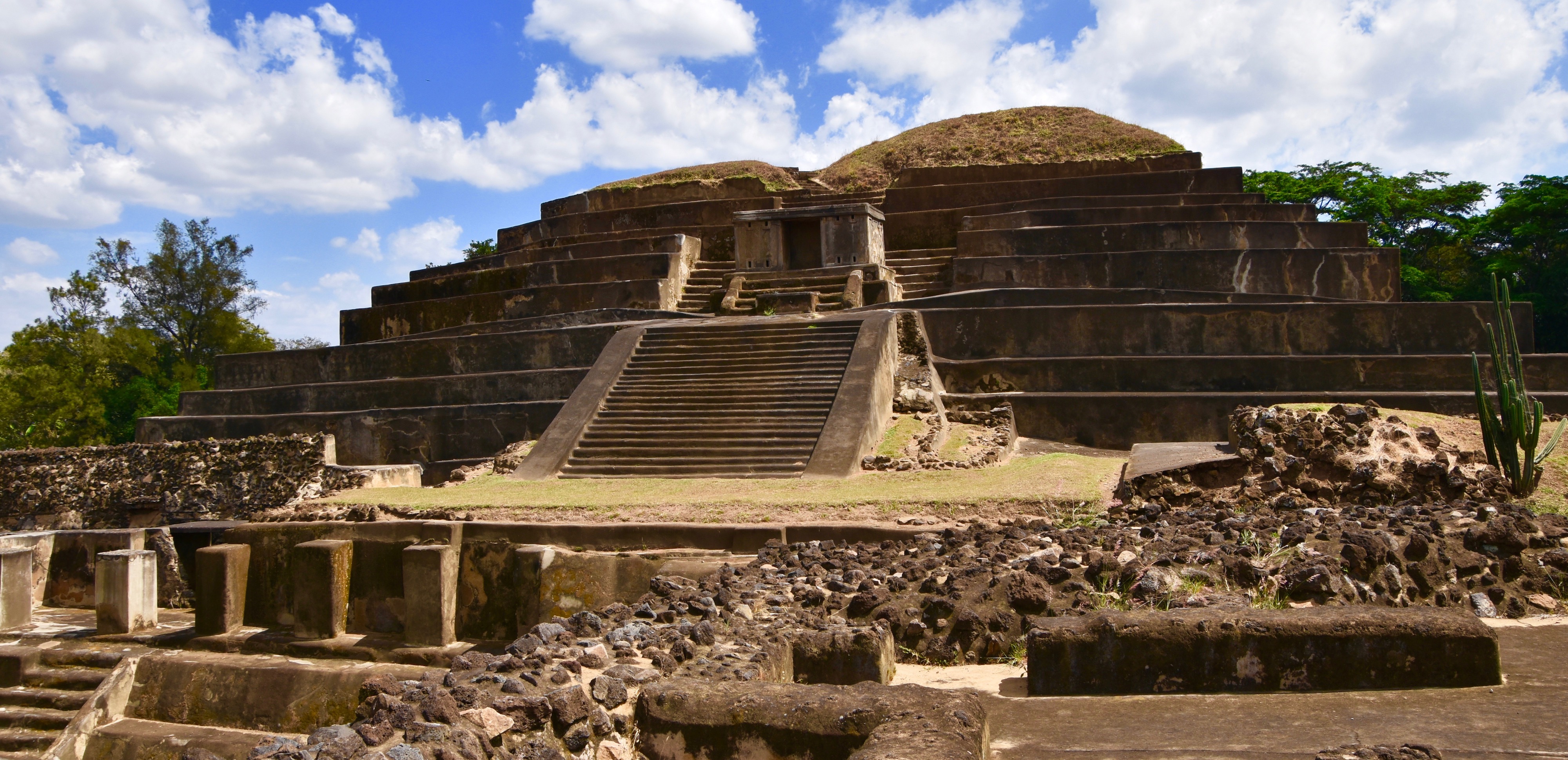 This is the view from the back which looks amazingly like a Babylonian ziggurat.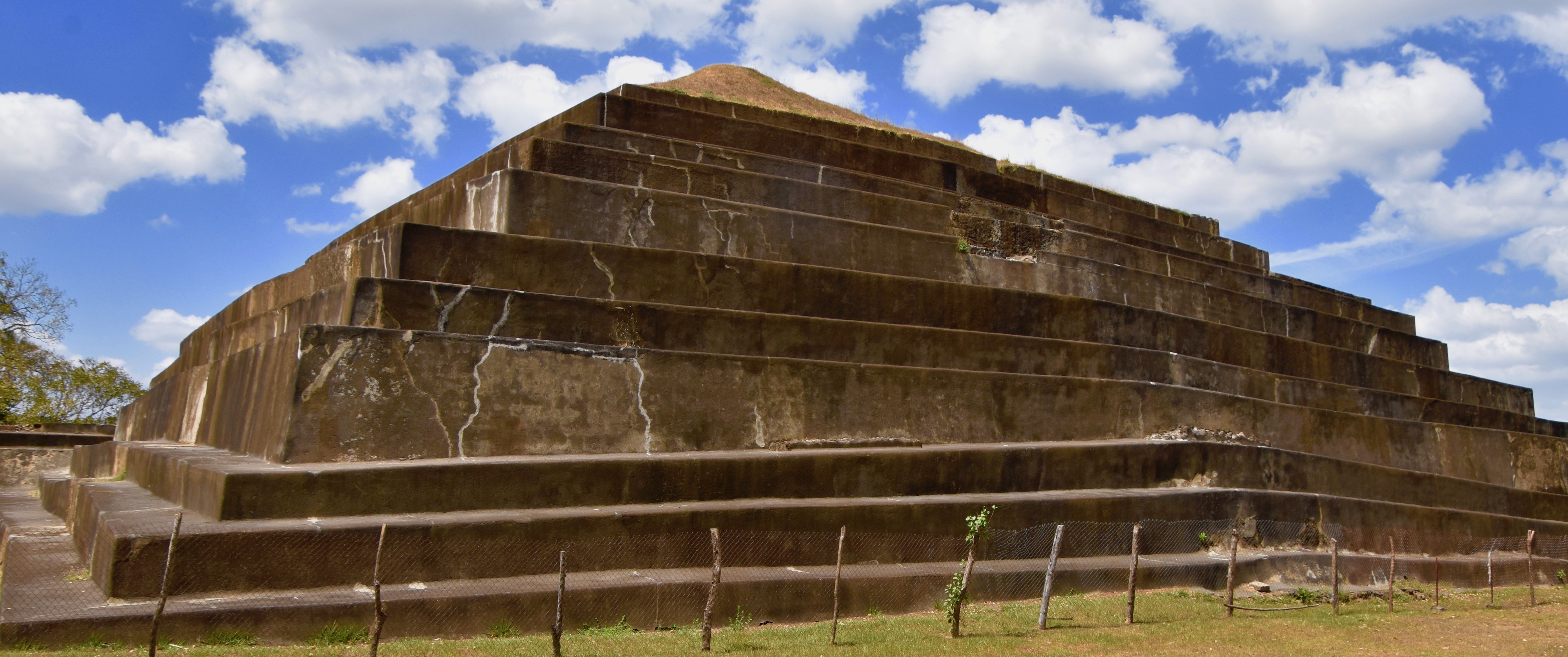 We also come across the first of the many ball courts we will see on this trip. One of the most fascinating things about pre-Columbian Mayan culture was the obsession with 'the ball game'. A Mayan wife would never say to her husband, "Honey, it's only a game.", because to the Mayans it was much, much more. The playing of the game was not a sport as we know it, but a ritual which could actually see the losers executed. Talk about 'sudden death overtime'! Every major Mayan city had at least one of these ball courts and they always had a viewing area which in the case of Tazumal would have been on the tiers of the pyramid beside the court.
Whenever Alison says I take the results of a football or hockey game too seriously, I think of these Mayan ball courts and wonder if maybe the Leafs should have been shot for blowing that last series with the Bruins.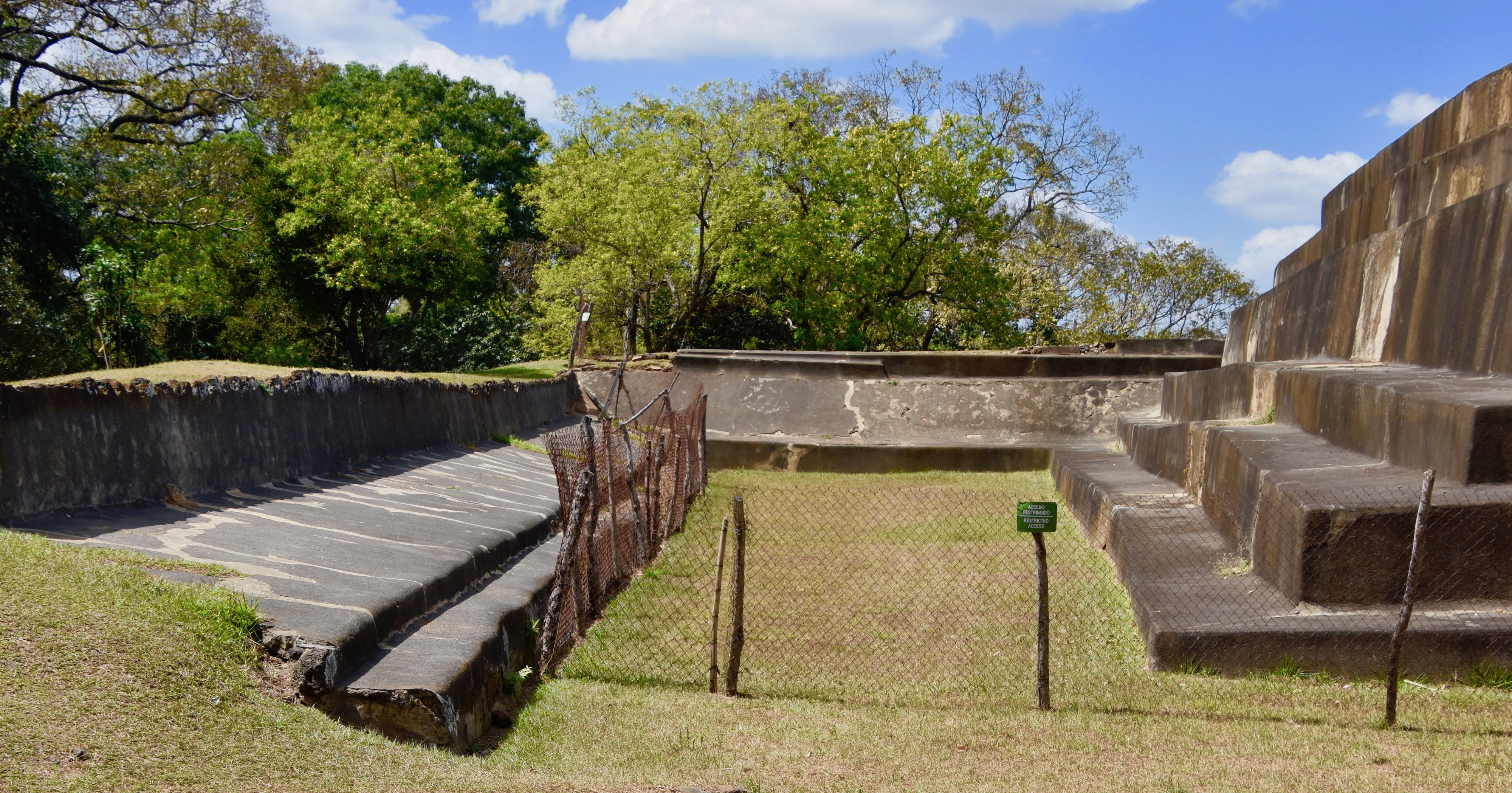 After our visit to Tazumal, Victor gives us time for lunch on our own and while most people in the group look for the fried chicken places that abound in Central America, I look for where the locals are eating. Don't get me wrong, the locals love the fried chicken places, but there are other choices as well, usually involving big pots of something or other. As long as it's been cooked you can be pretty sure it's not going to give you Montezuma's revenge.
This afternoon it's fried yucca with chicharonnes. Washed down with an El Salvador Pilsener it's absolutely delicious and way cheaper than the fried chicken joints. Alison loves it too and how here hair turned blue, I have no idea.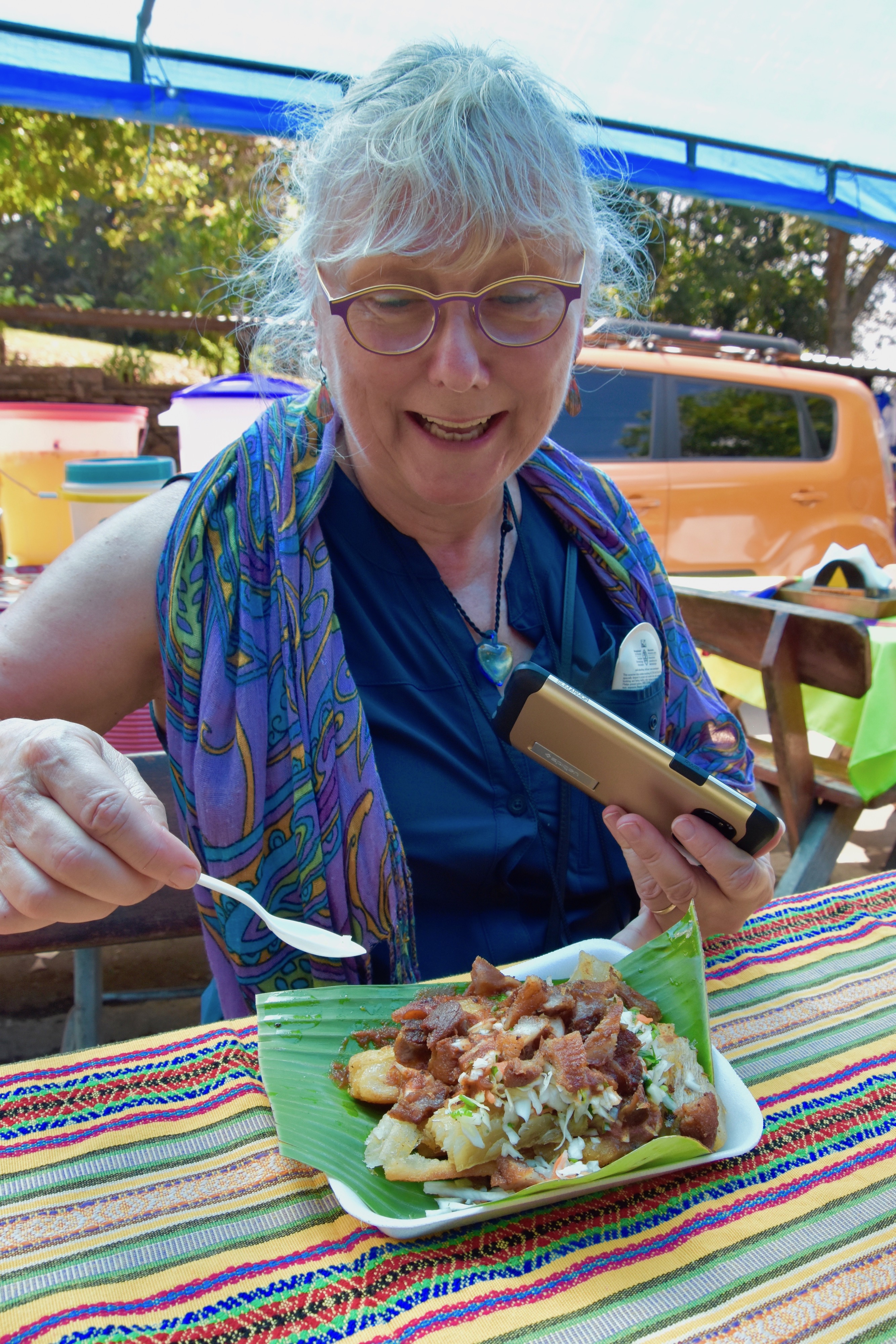 Back on the bus which the driver has somehow miraculously extricated from this narrow lane without running anyone over we are headed for the Ruta de las Flores which is a mountainous road that connects a number of interesting villages and as you can guess by the name, is festooned with flowers. It's also the centre of El Salvadorean coffee production.
Nahuizalco
This small city was a pre-Hispanic community of the Pipil Indigenous people who inhabited El Salvador after the Mayans and whose presence is still very apparent in the people today.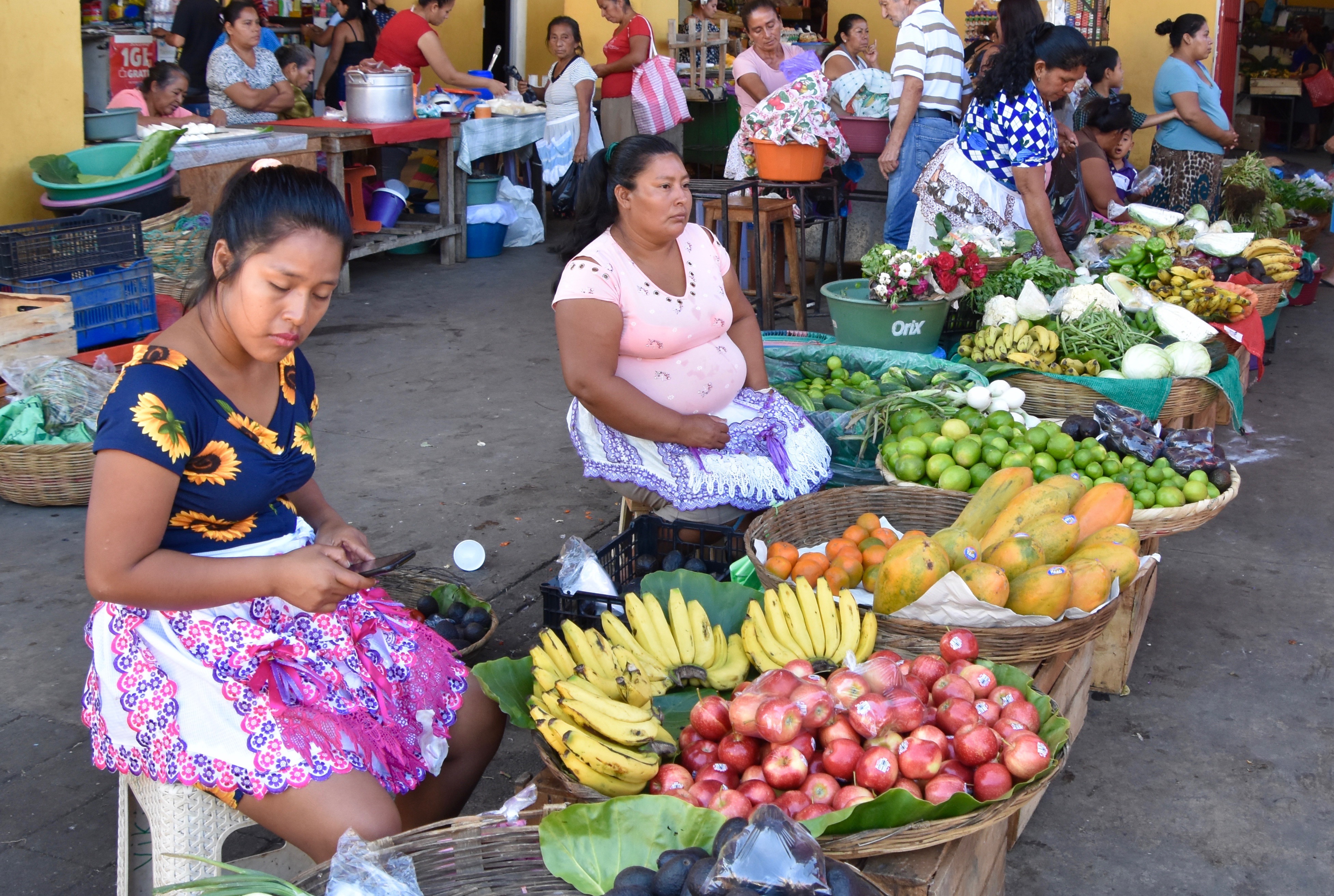 We stopped at the local market and Victor bought a bunch of bananas which are quite different from those that make their way to North American food stores. They are thicker and shorter, but taste just like bananas.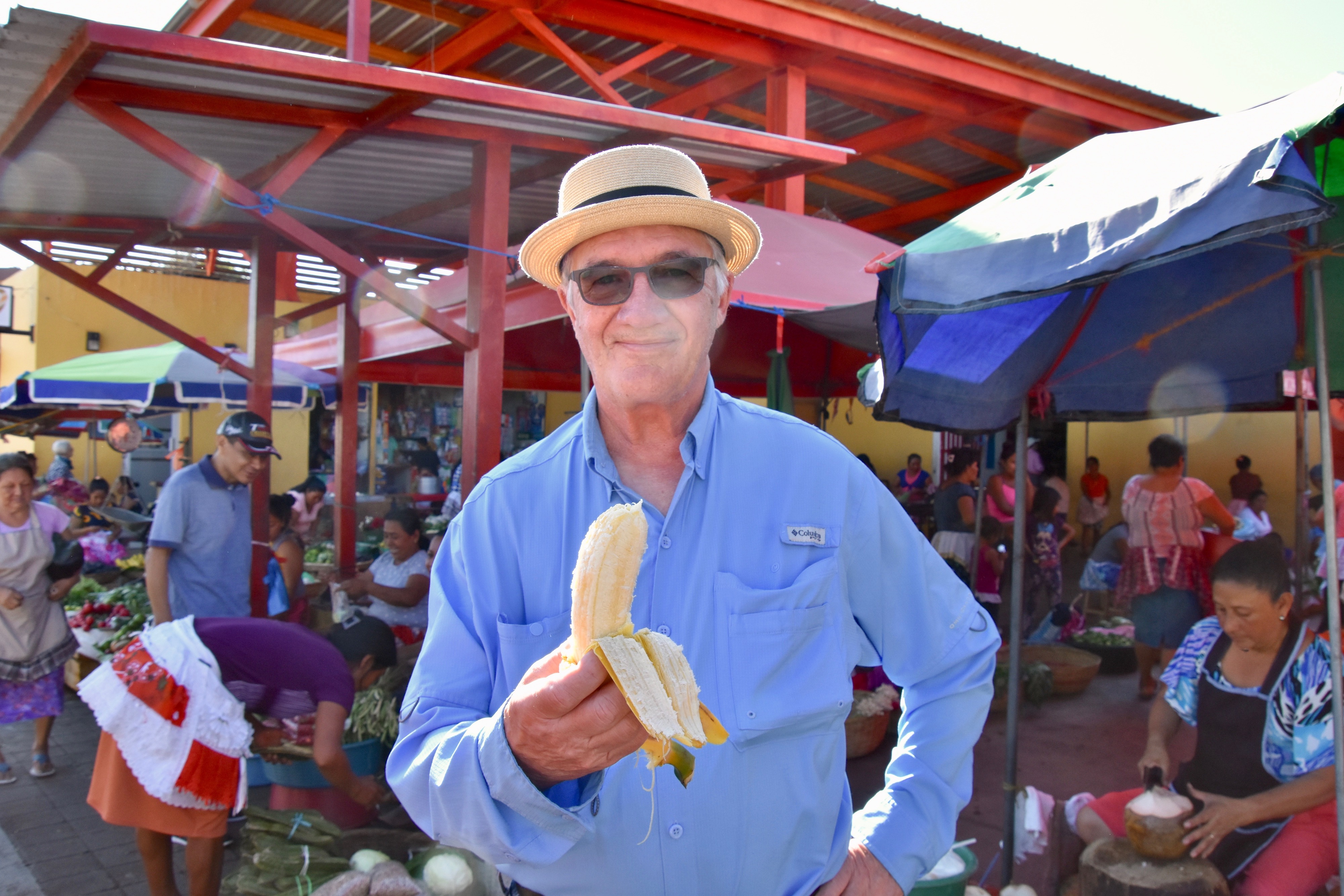 Across the street from the market there is a small plaza where you'll find this monument to Oscar Romero who is literally a modern day saint and venerated everywhere in El Salvador and much of Latin America. He was an outspoken archbishop of San Salvador who took the side of the poor and downtrodden, something the Catholic church was not particularly known for at the time. For his efforts on their behalf he was assassinated by a right wing death squad in 1980. He was canonized by Pope Francis in 2018 and almost every city and town we visited in El Salvador has some kind of monument to him.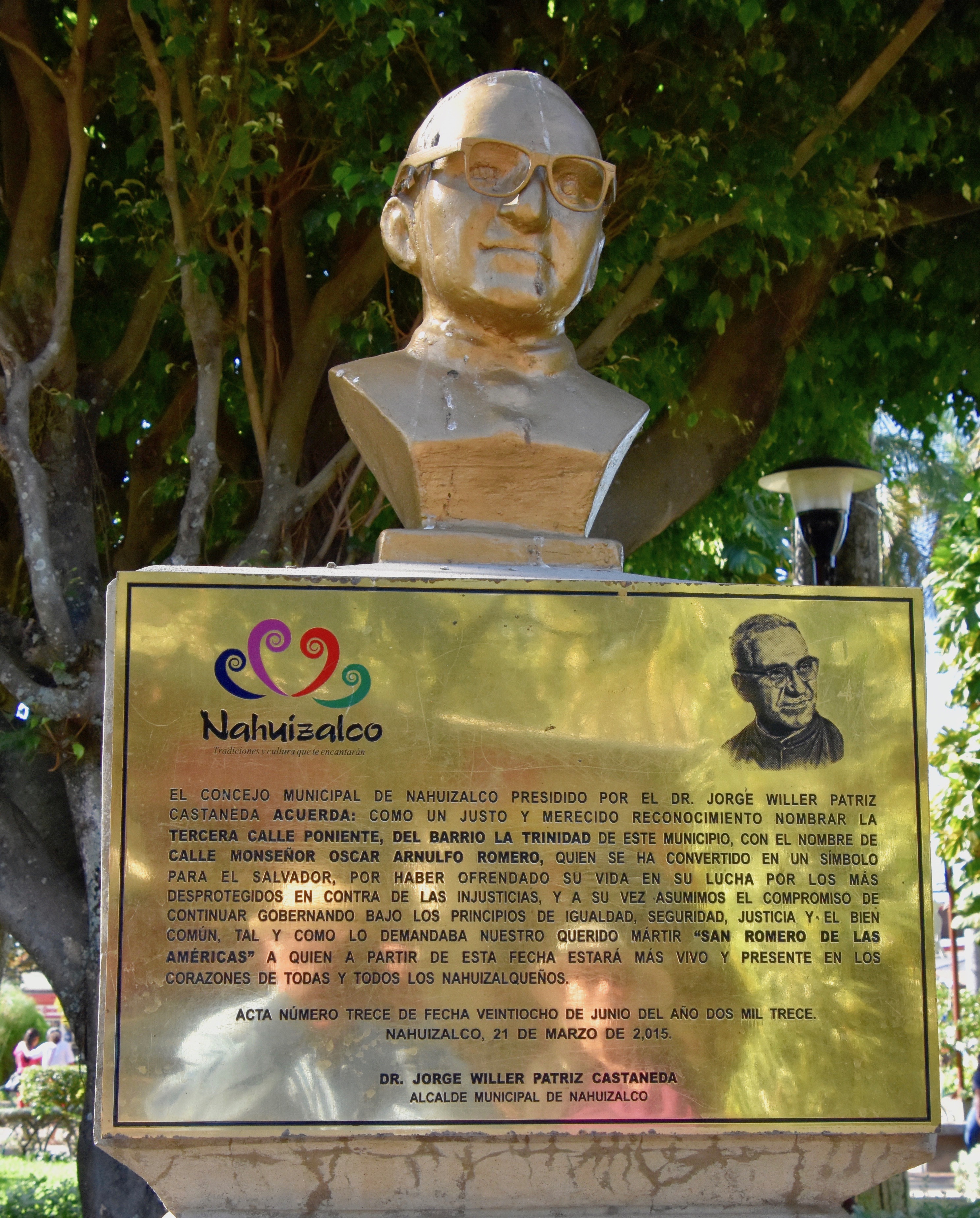 On the other side of the plaza there was a temporary monument inspired by another saint. Valentine's Day was fast approaching. Brian Palardy took this picture of us in the heart of Nahuizalco, just as he had done three year's earlier when we shared the day with he and his wife Lynn on an Adventures Abroad trip in Kenya. We reciprocated.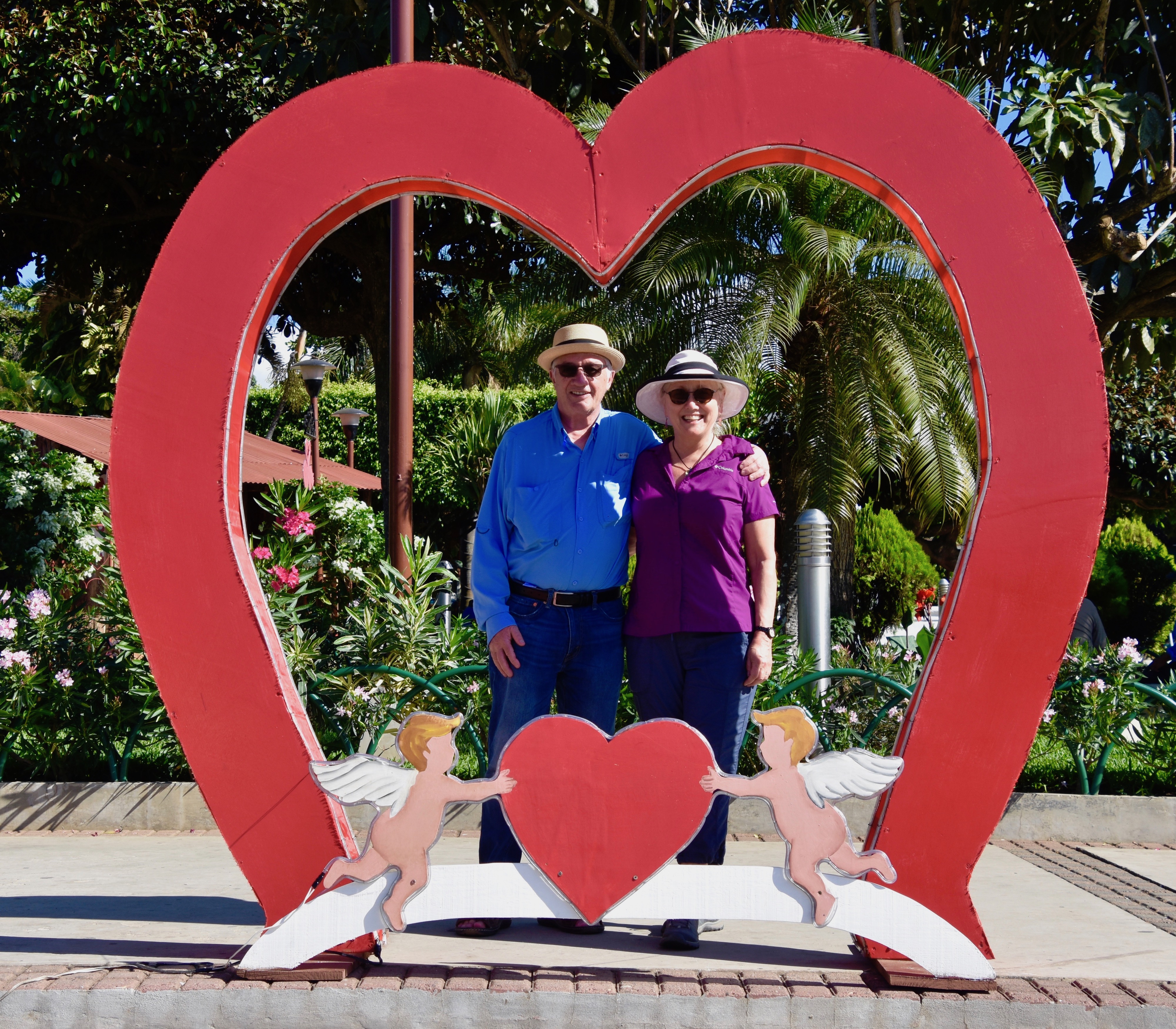 Salcoatitán
This place is the coffee capital of El Salvador and we walked up to a coffee plantation that had a small cafe amid a beautiful garden, but I left the camera on the bus so you'll have to take my word for it. While most of the women had one version of a coffee drink or another, most of the men settled for beer, but I did buy a pound of their best coffee and have enjoyed it at home in the morning. For me any time after noon is too late for coffee, but not too early for beer.
This is our local guide Dio standing before a huge ceibo tree in Salcoatitán that is the source of a legend. According to Atlas Obscura one of my favourite sources for arcane lore, if you hug the tree and thank it in Nahuatl you will receive a favourable gift. And here I thought tree huggers were wasting their time.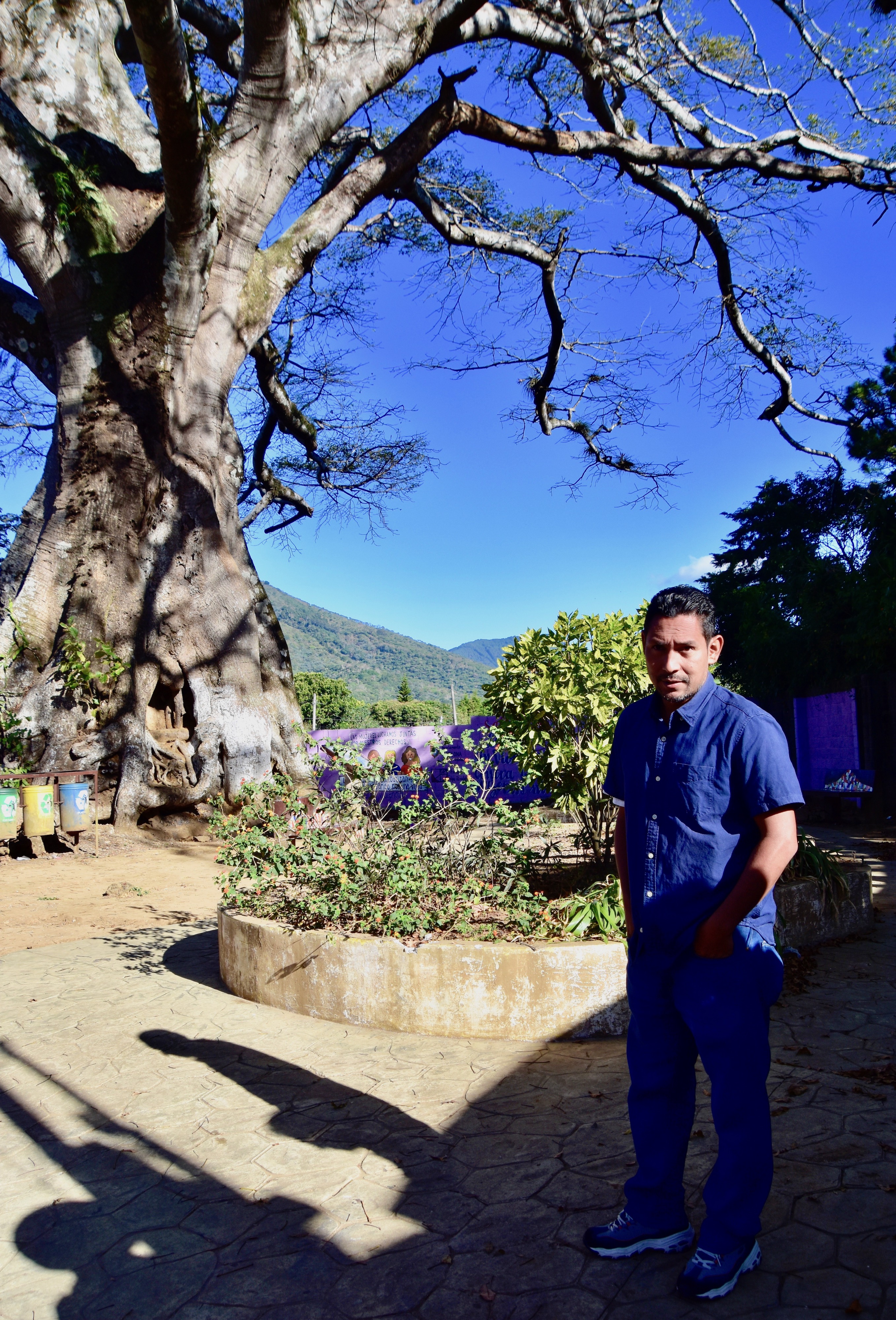 Actually this tree, also known as a kapok in other parts of the world, is over 300 years old and has been a landmark for centuries. Near the tree there is this mosaic of the Mayan demi-god Quetzalcoatl, portrayed as the Feathered Serpent.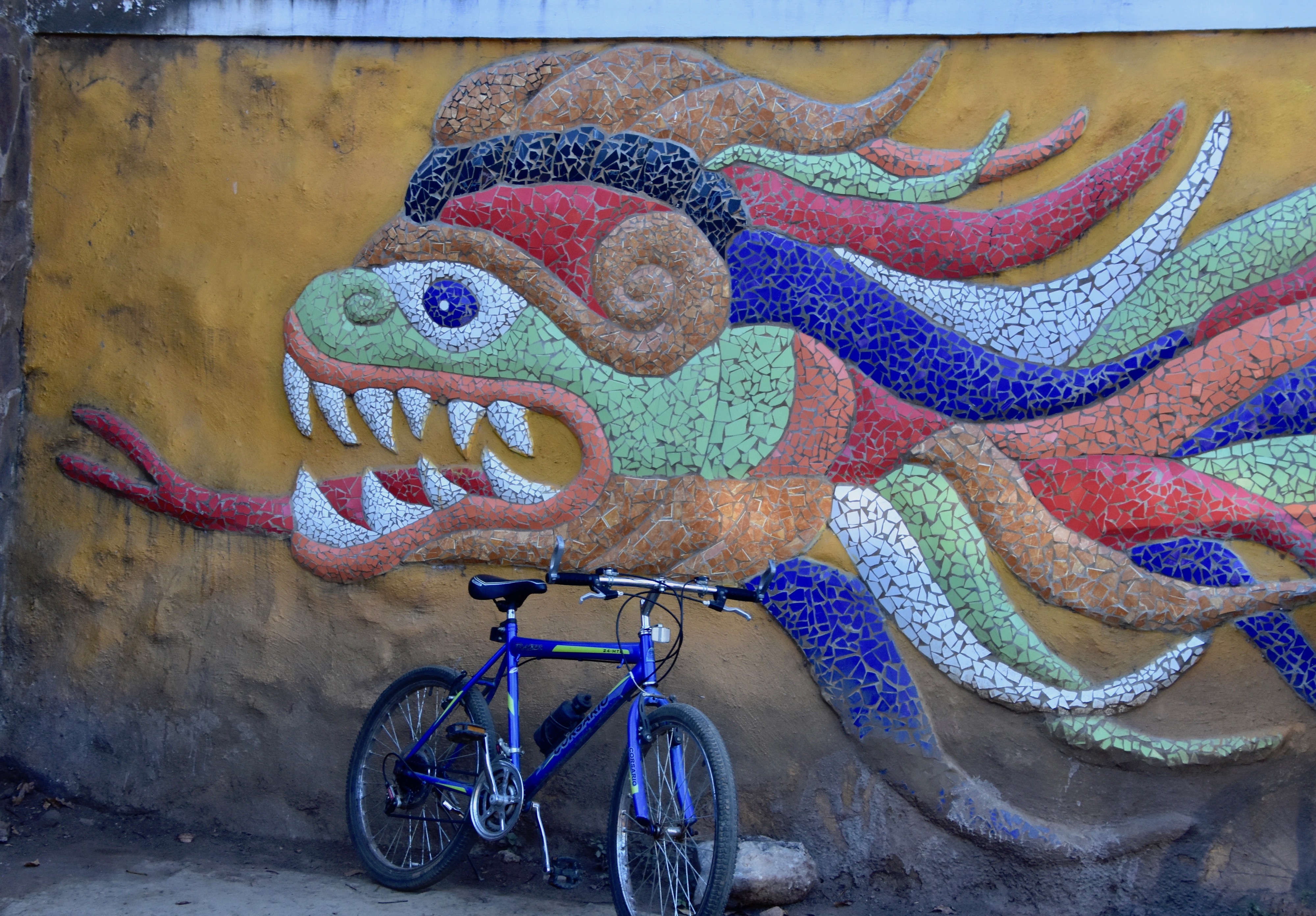 Across the street I couldn't help but notice this young boy carrying a large pottery jug and thought that, but for the clothing, this could be a scene from a thousand or more years ago on this very spot.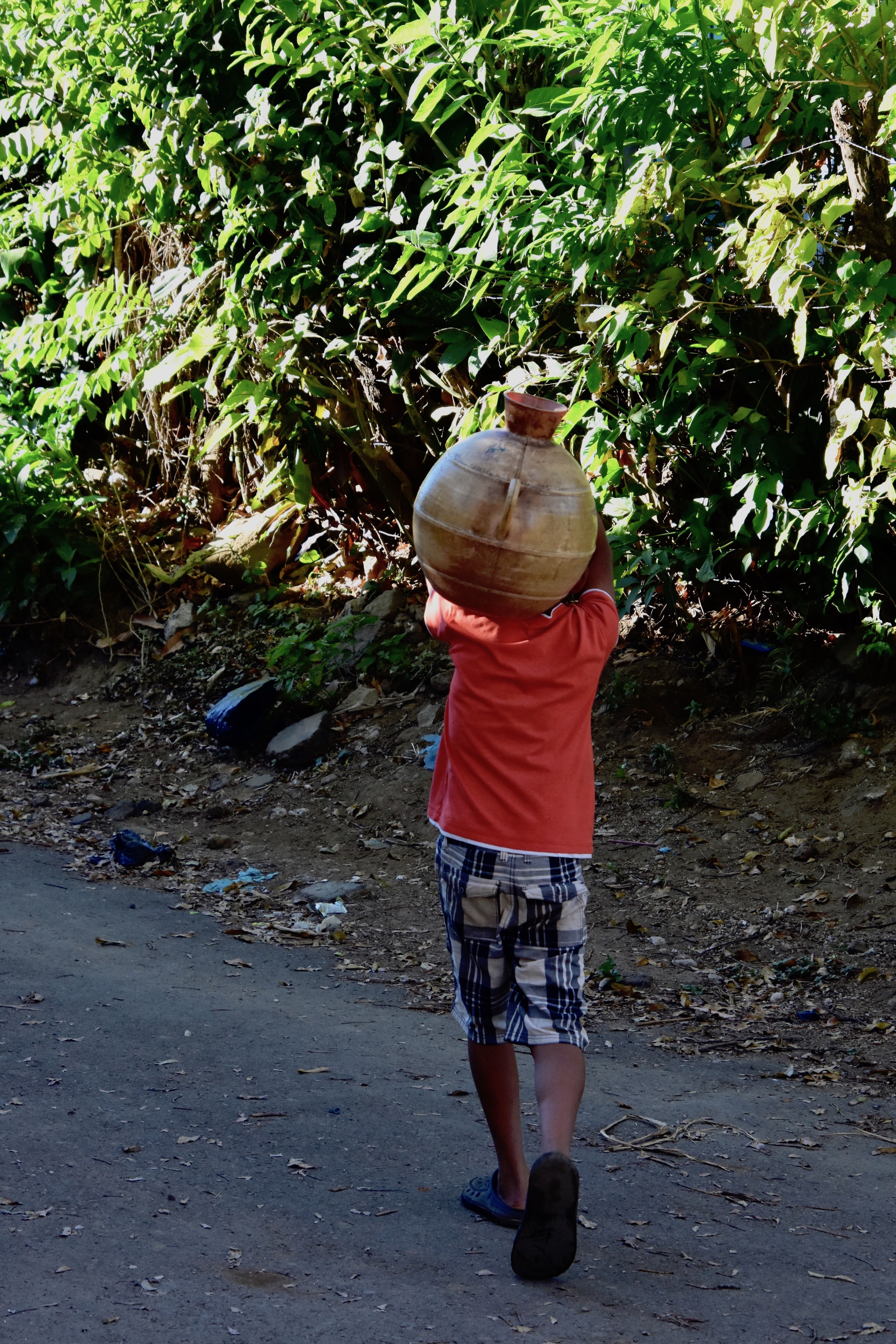 Apaneca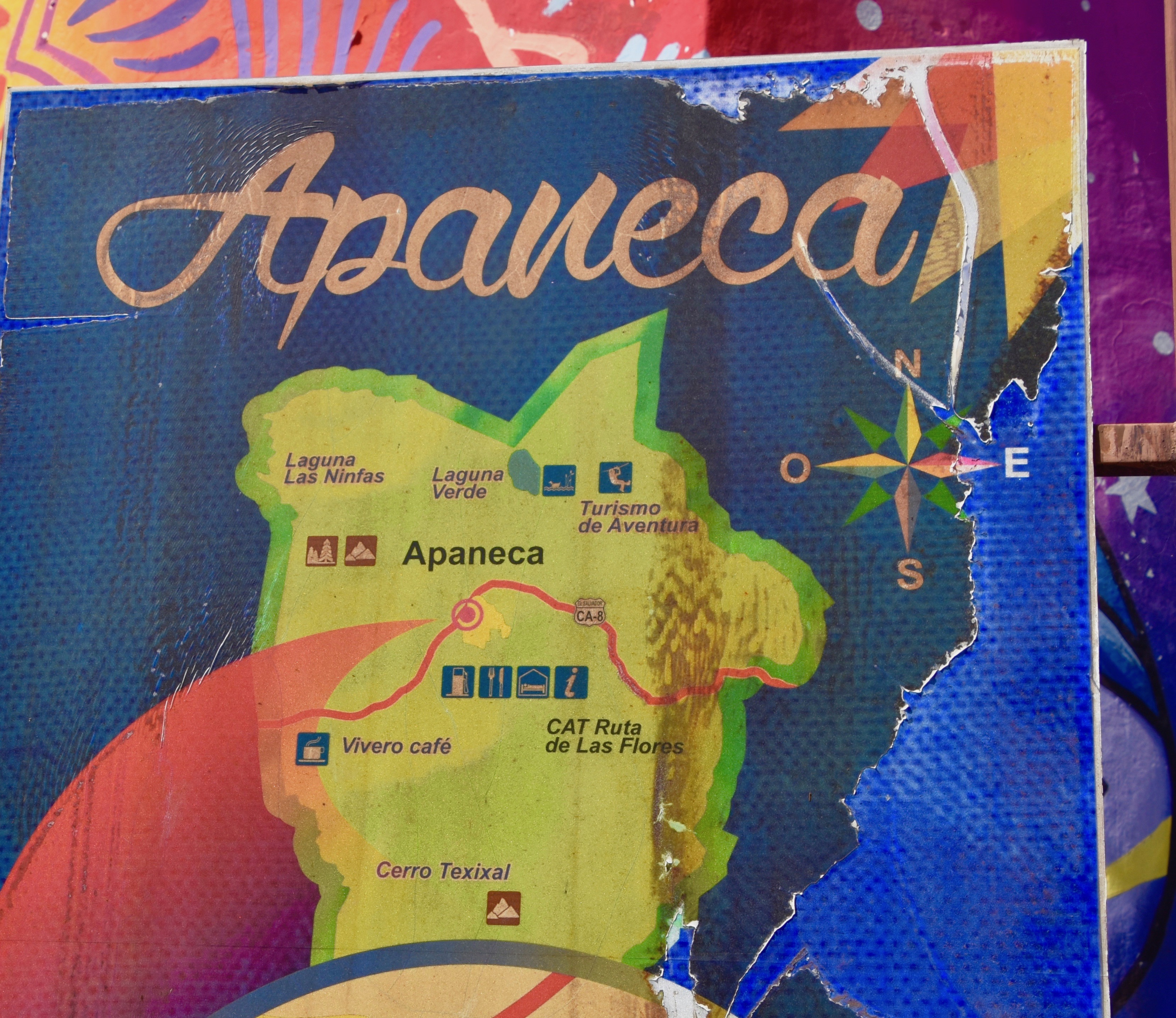 From Salcoatitán the road rises steadily to the town of Apaneca which is 1450 metres (4757 feet) above sea level, the second highest in El Salvador. It was also probably the prettiest town we visited in that country with cobble stone streets, colourful murals and coffee plantations on the hills surrounding the town.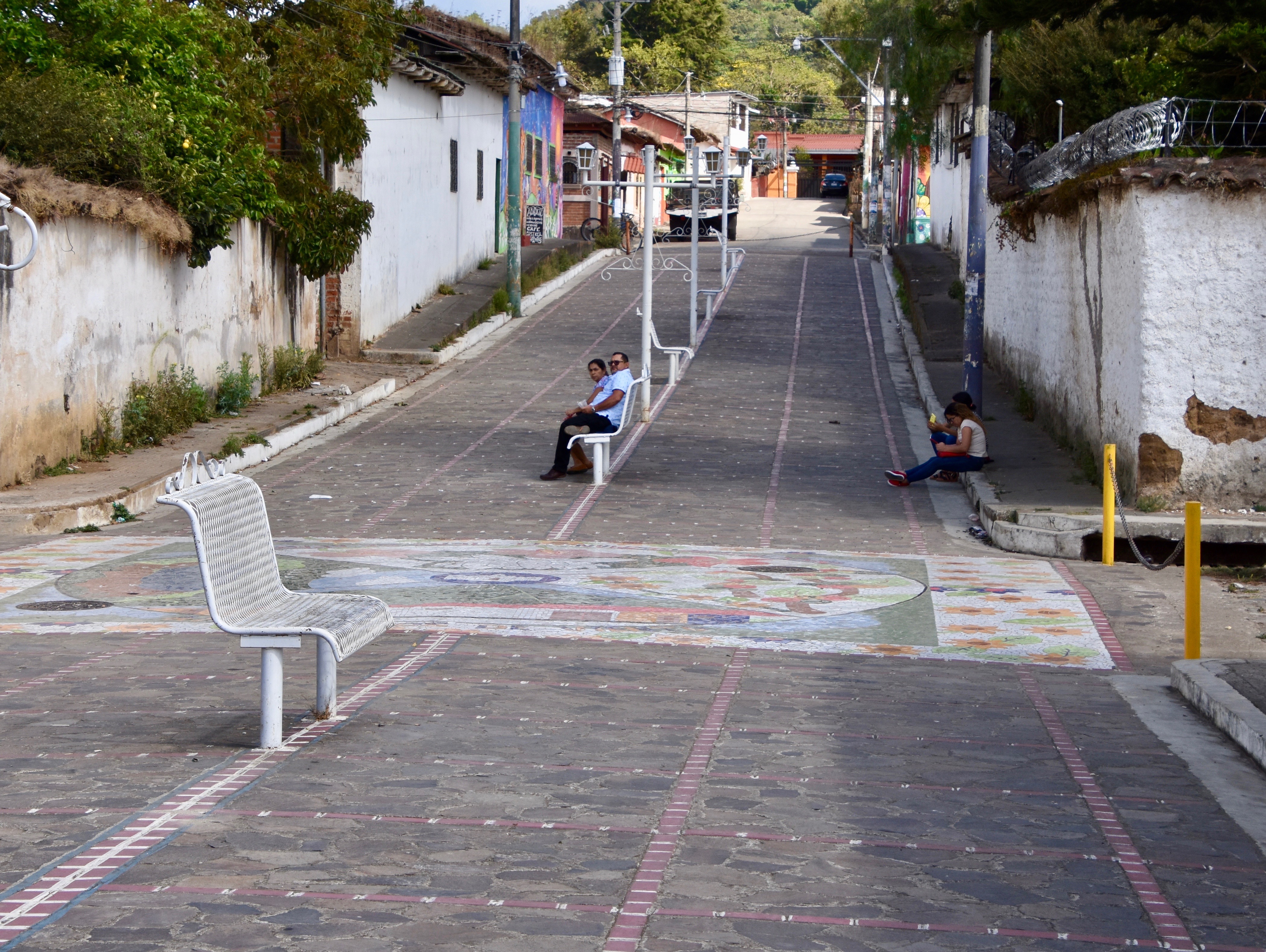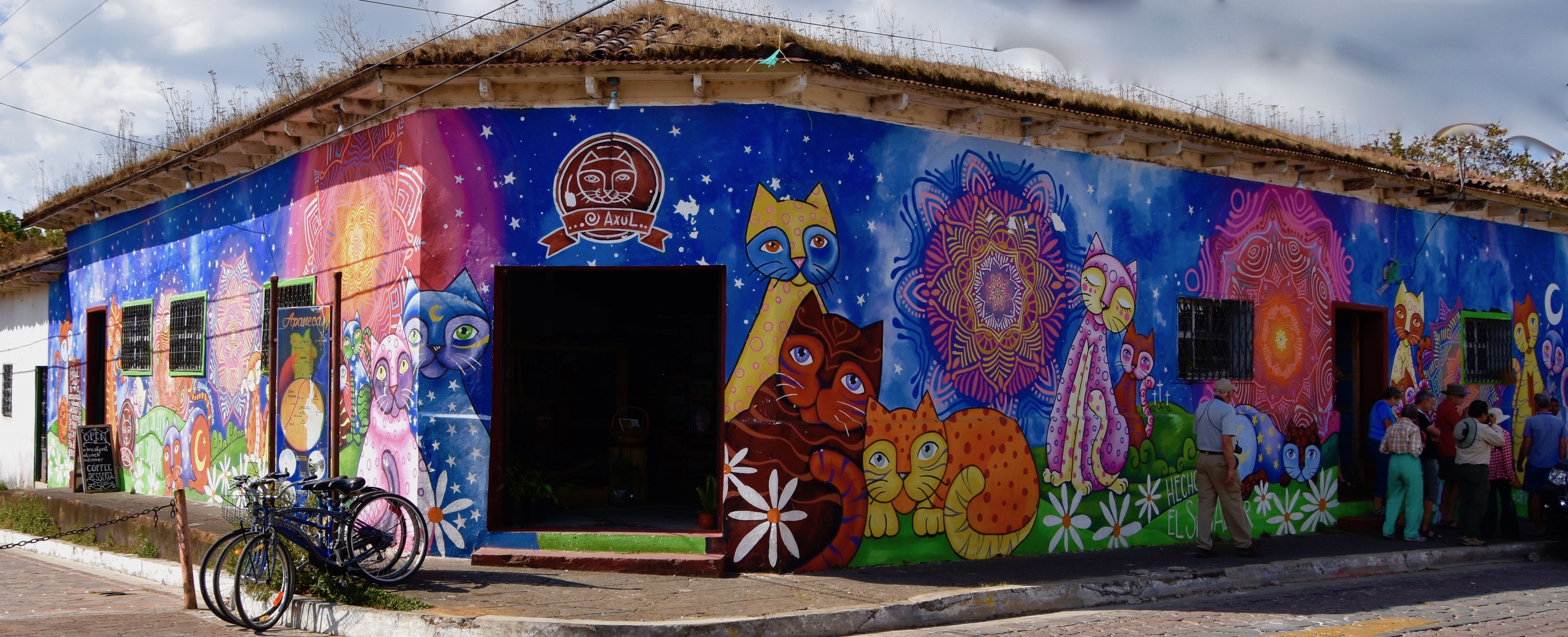 Overlooking the town are three crosses at the top of a coffee plantation which in this part of El Salvador are laid out in a distinct latticework pattern.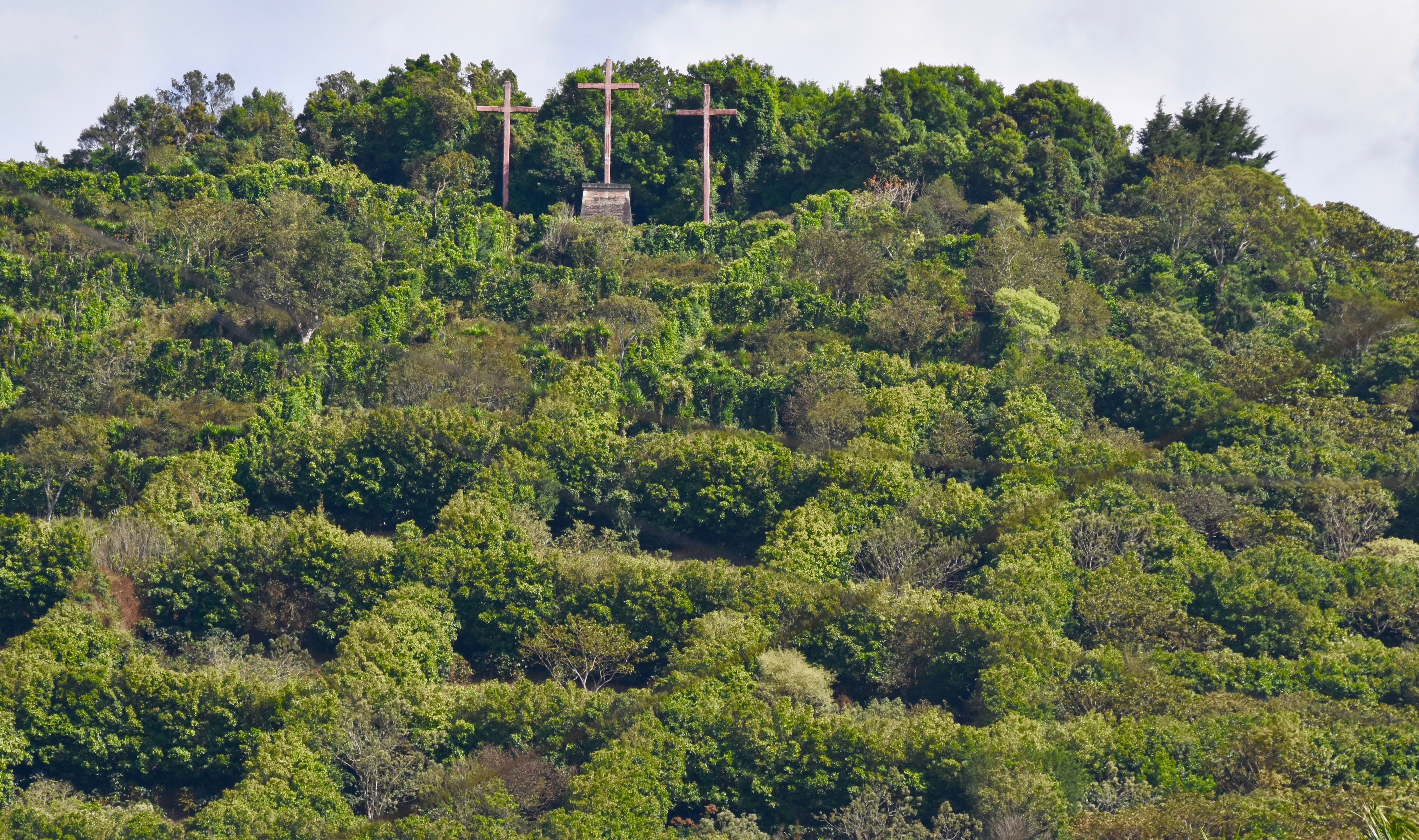 Ever wonder where those clothes and shoes you drop off at donation bins everywhere in North America actually end up? Only about one quarter of donated goods actually gets resold in thrift shops in Canada or United States. Much of what doesn't sell is sold in bulk to third world countries where it ends up in places like this, advertised as 'ropas Americana'. I particularly noticed a lot of them in Nicaragua where in 2017, Canada exported almost $8 million worth. It is one of the rare win-win situations with Canadian charities getting money from Canadians who throw out perfectly good clothing on a fashion whim and people in countries like El Salvador able to get decent clothing at a price they can afford. However, the real irony is that most of these clothes were made in third world countries in the first place and are simple being repatriated.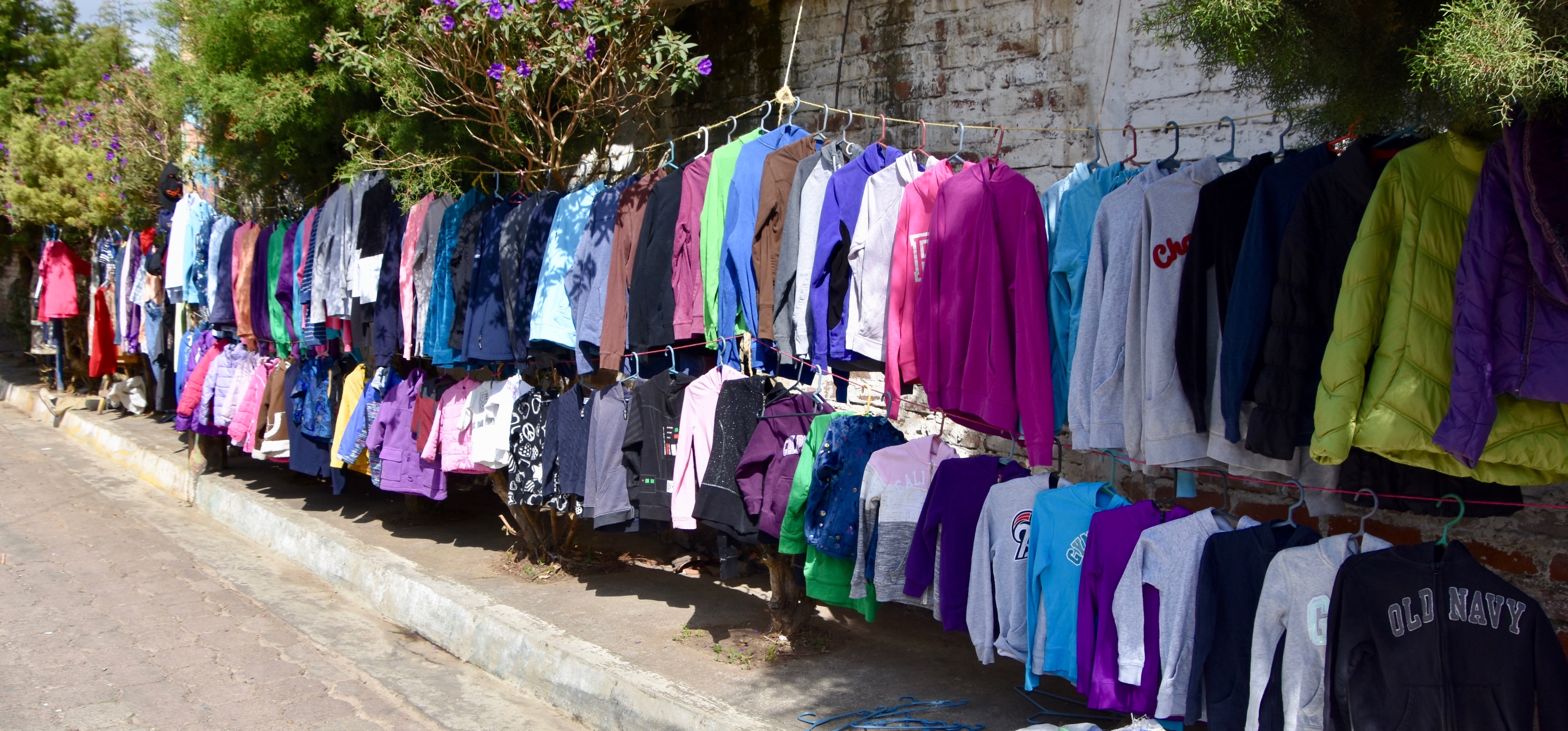 While the clothing store looks well run, I couldn't say the same for the shoe salesman. Do you have that in a size 9?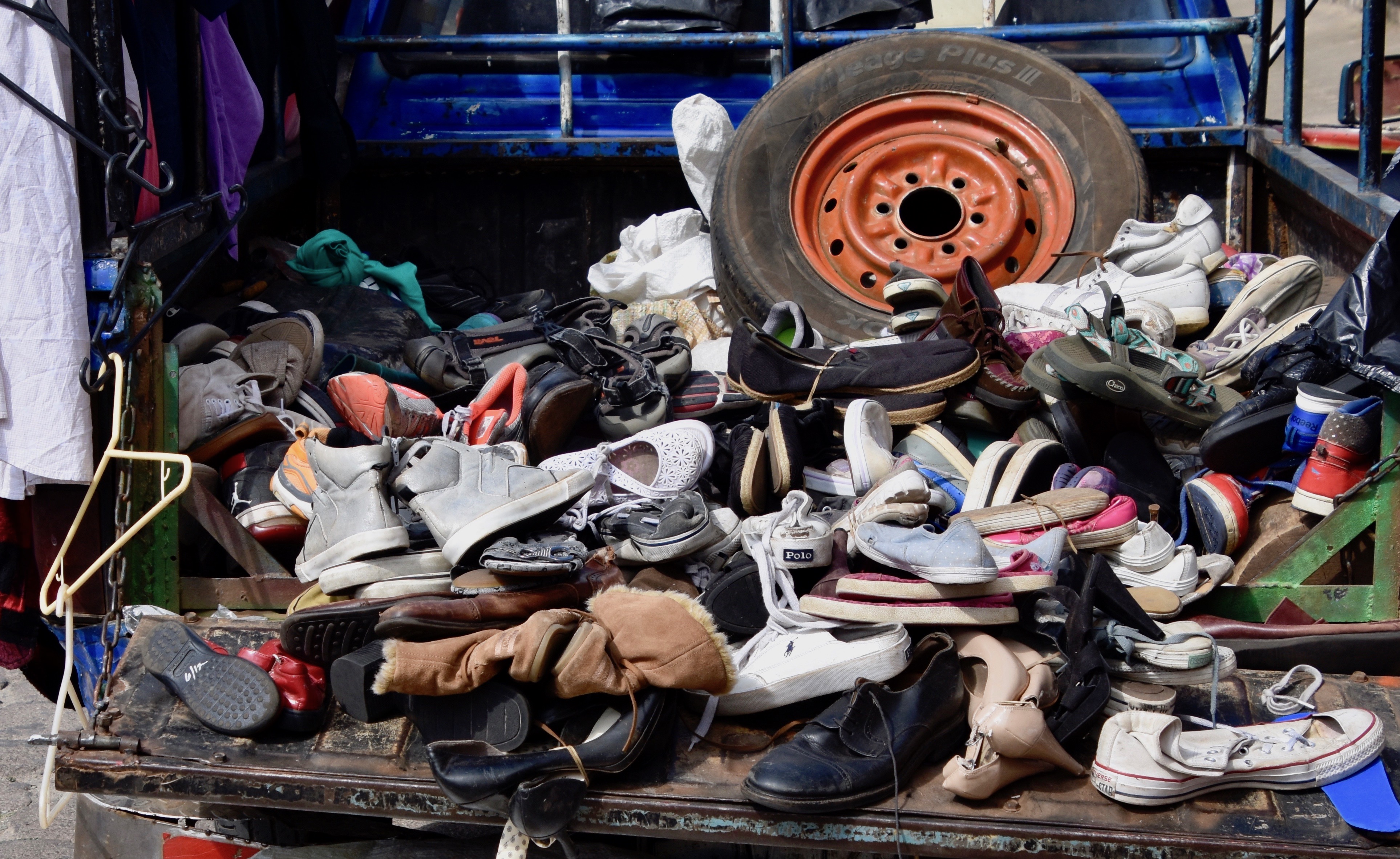 Apaneca has one of the nicest churches we came across in Central America. Iglesia San Andrés was originally built in 1798, but destroyed in the 2001 earthquake. It has been completely rebuilt and is one of the most photographed in the country.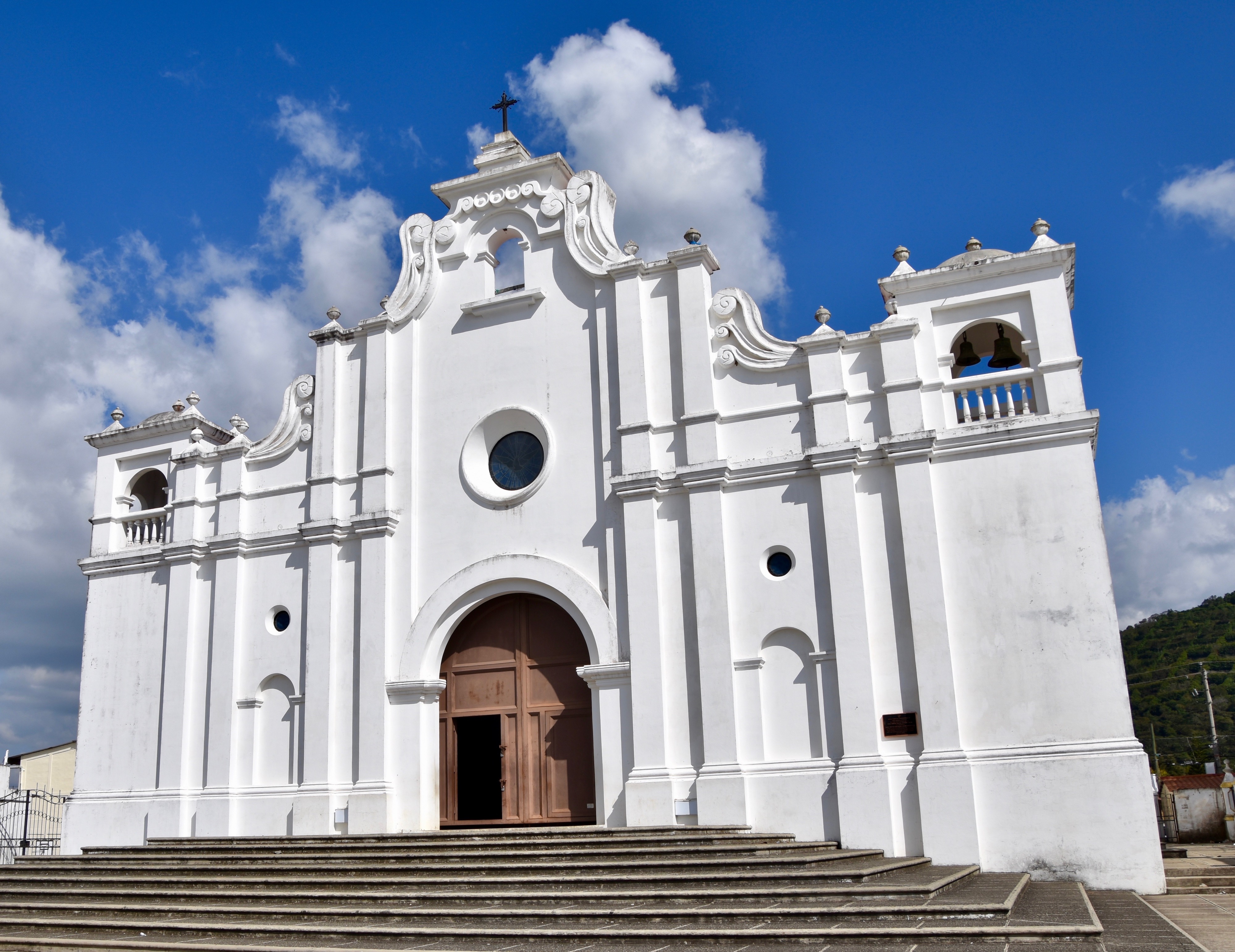 It's been a long jam packed day and our last stop is the mountain town of Concepción de Ataco and the lovely boutique hotel Misión de Angeles where we will spend the night and share a great meal.
This is the view from Room M-10. Sitting on the balcony with a g&t in hand, I am amazed to think back on the day and realize how much I have come to like El Salvador in such a short period of time and how completely different it is from what I anticipated. Thank you Adventures Abroad for once again opening my eyes to the unexpected.

Tomorrow we cross two borders to get to one of the places I have wanted to see for decades – the Mayan city of Copan in Honduras. Hope to see you there.