Fundy Trail Parkway – Drive It In 2021!
New Brunswick's Fundy Trail Parkway joins Nova Scotia's Cabot Trail and Newfoundland and Labrador's Viking Trail as one of the great scenic drives, not just in Atlantic Canada, but in all of North America. Here's why you must drive it, bike it or hike it soon.
It was late September, 2020 and Alison I were looking to do some late season golfing and chose New Brunswick as our destination, wanting especially to play a few of the courses we had never set foot on such as Fredericton's Kingswood and the nine hole Stanley Thompson course at Fundy National Park. In planning the trip I learned of the relatively new and as it turned out, excellent West Hills Golf Club across the Saint John River from downtown Fredericton. We also got the opportunity to visit Kings Landing, New Brunswick's great living history museum just north of the city. It was already a mini vacation jam packed with things to do as we left the Fredericton area and headed for the town of Alma at the entrance to Fundy National Park where we would spend the night before playing the golf course the next morning. We had plenty of time to get there and decided to drive the Fundy Trail Parkway as part of our journey. This had not initially been part of the itinerary as I believed it was still a one way drive, meaning we would have to start and end at St. Martins which wouldn't really facilitate getting to Alma. That had been the case when Alison and I first drove the parkway in an RV way back in 2013. Check out this story I wrote for Canadian RVing which has some great photos of the RV in one of St. Martins famous covered bridges plus the pedestrian suspension bridge at Big Salmon River.
I knew that the plans were to eventually make the Fundy Trail Parkway a through route from St. Martins to just outside Fundy National Park, but was not aware that in 2020 the parkway had opened an eastern entrance which was connected by an almost entirely new route to the town of Sussex. This is not to be confused with the final completion to Fundy National Park which is slated to open in 2021 and will provide another reason to return to experience this world class drive.
History of the Fundy Trail Parkway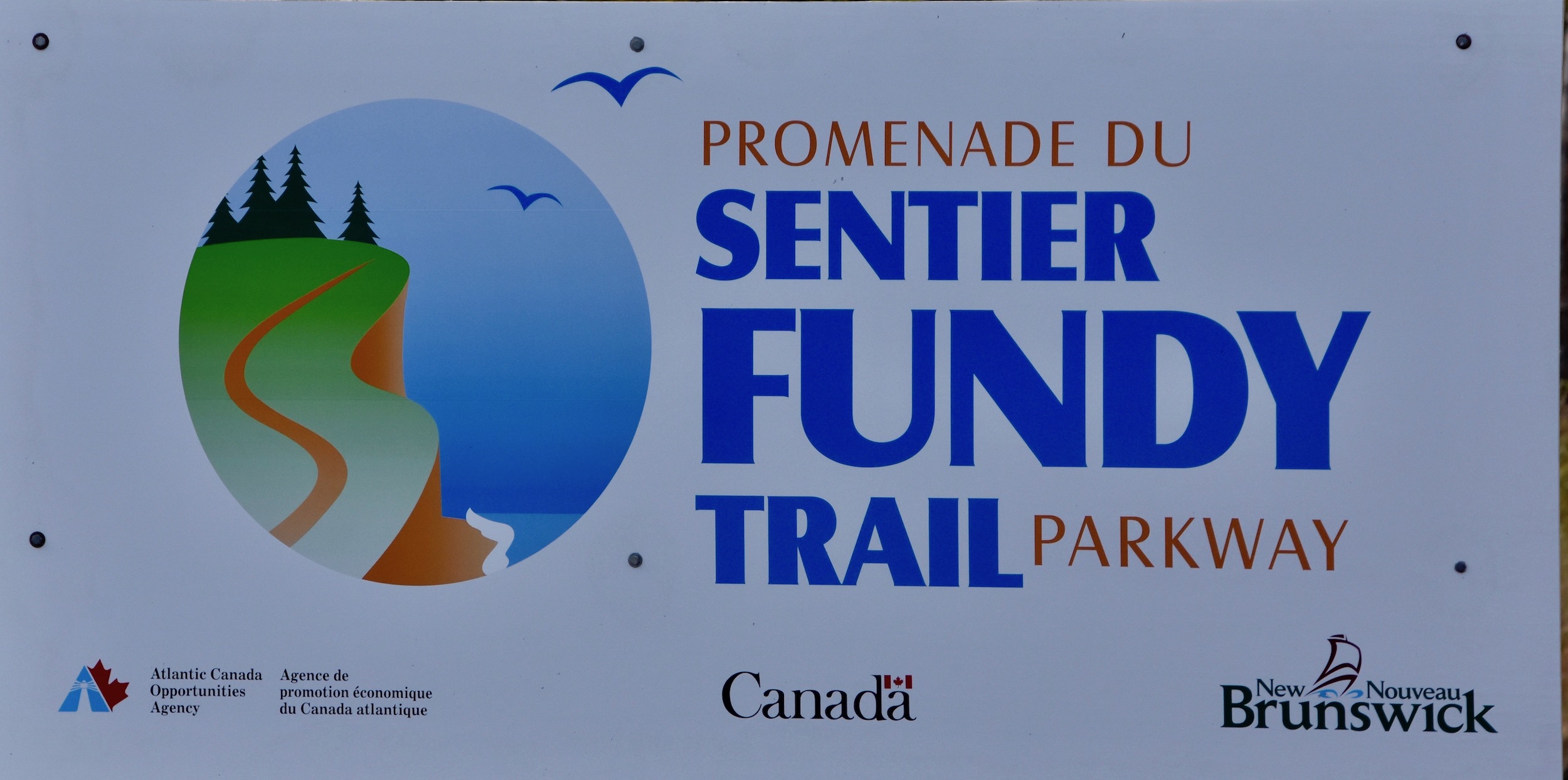 Often what everyone, in retrospect, sees as a great idea, turns out to have been the brain child of one individual and that is the case with Mitchell Franklin, a New Brunswick businessman who truly can be called the 'father of the Fundy Trail Parkway'. A transplanted Montrealer and friend of the late Prime Minister John Diefenbaker, the two of them toured the Bay of Fundy by helicopter and fished for salmon on a number of occasions. Mitchell became obsessed with not only preserving that portion of the coastline from St. Martins to Fundy National Park, but one day building a corridor that would connect the two. Back in the 1970's and 1980's that was easier said than done, with much of New Brunswick's lands under the control of several forestry conglomerates. Fortunately in 1987 New Brunswick elected a man now considered to be one the best premiers the province has ever had in Frank  Mckenna who bought into Franklin's dream and got the project off the ground. Phase I opened in 1998 with incremental additions in 2010,2013, 2016 and lastly the connection to Sussex in 2020.
It is important to know exactly what a parkway is in contrast to other types of highways. Essentially parkways are routes from which commercial traffic is prohibited, maximum speeds are limited and which are meant to provide an enjoyable experience traversing them by looking at great scenery. Many also include numerous lookoffs, trailheads and interpretation centres. They predate the automobile, but really came into prominence during the Depression when a number of famous parkways such as the Blue Ridge Parkway, Skyline Drive and Natchez Trace were constructed as part of the infrastructure programs of the New Deal. Parkways are expensive to build and have their critics who always think the money could be better spent on more 'practical things' like public housing. It took political courage and foresight for Frank McKenna to press ahead with the Fundy Trail Parkway and now that it is a reality almost everyone agrees it was a great idea.
Driving the Parkway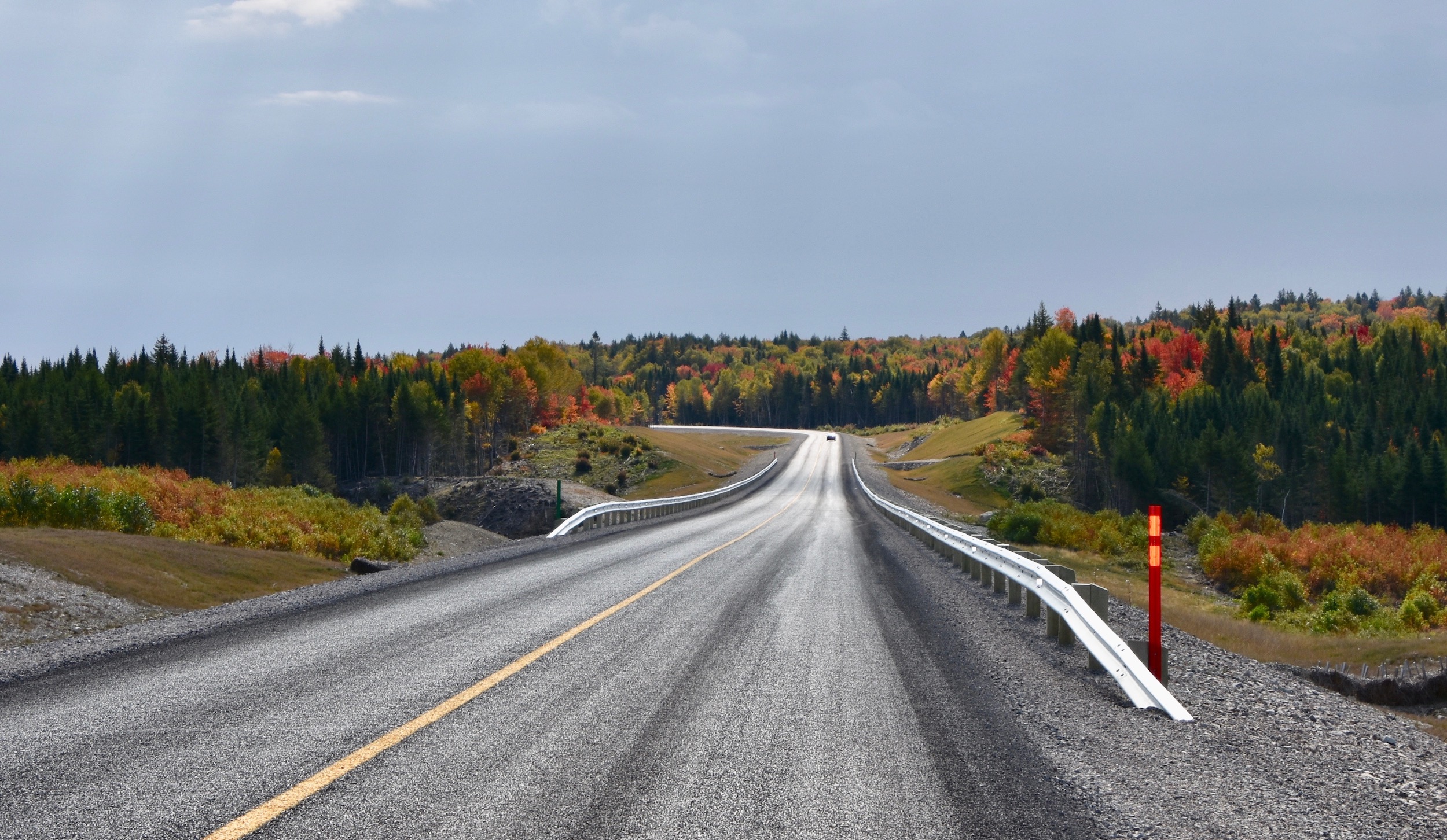 We decided to drive the Fundy Trail Parkway from the eastern end to the western. Starting in Sussex would make for an approximately 110 km. (68 mile) circular loop from where we could then reach Alma in another half hour or so. From Sussex the signage to the parkway is quite good, taking you past Poley Mountain Ski Resort and the road into Adair's Wilderness Lodge which used to be as far as you could go. Now you'll find this brand spanking new blacktop that at this time of year is flanked by fall colours and a prelude of what is to come.
There is a kiosk at the eastern entrance where you buy your entry pass – $10.00 for adults, $9.00 for seniors, $32.00 for a family. Considering what this gives you access to, it is a bargain.
This post is not meant to be more than a quick introduction to the myriad of activities you can do along the Fundy Trail Parkway. Take a look at this map and you'll soon realize that this a vacation destination and not something you take a couple of hours to drive through. The Fundy Trail Parkway website is excellent and provides further information on every aspect of the drive.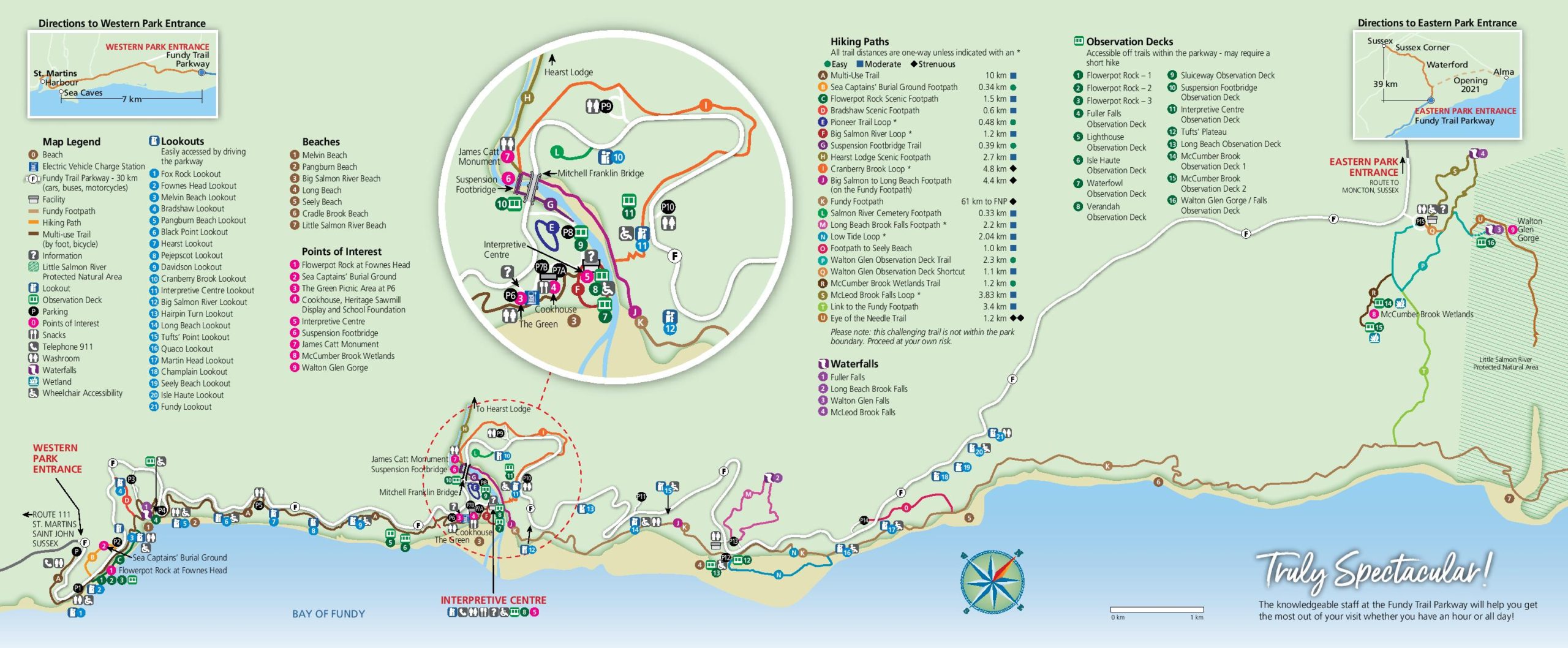 There are twenty-one lookouts, seven beaches, nine special points of interest, sixteen observation decks, four waterfalls and no less than twenty hiking trails including the rugged multi-day Fundy Footpath which connects Fundy National Park to the Interpretive Centre at Big Salmon River.
The newly opened eastern section of the Fundy Trail Parkway starts off well away from the coastline, but offers instead of ocean views, easy to moderate trails overlooking Walton Glen Gorge aka The Grand Canyon of New Brunswick, McLeod Brook Falls and McCumber Brook wetlands. There are observation decks at Walton Glen and McCumber Brook. If you actually want to descend into Walton Glen Gorge rather than just see it from the observation deck, be prepared for a very tough slog on the only trail in the system that is marked as a double black diamond. These trails are all accessed from the parking lot at the small interpretive centre near the eastern gate. Not even knowing these trails existed until this visit, Alison and I did not have the time to hike them, but many other people were taking the opportunity and the parking lot was almost full with license plates from all four provinces in the Atlantic bubble. We will definitely return next season to hike all three and hopefully get some great photos to post.
The interpretive centre at the eastern entrance offers multiple displays about the many biosystems that are found within the Fundy Trail Parkway boundaries and stokes enthusiasm for getting out and exploring them.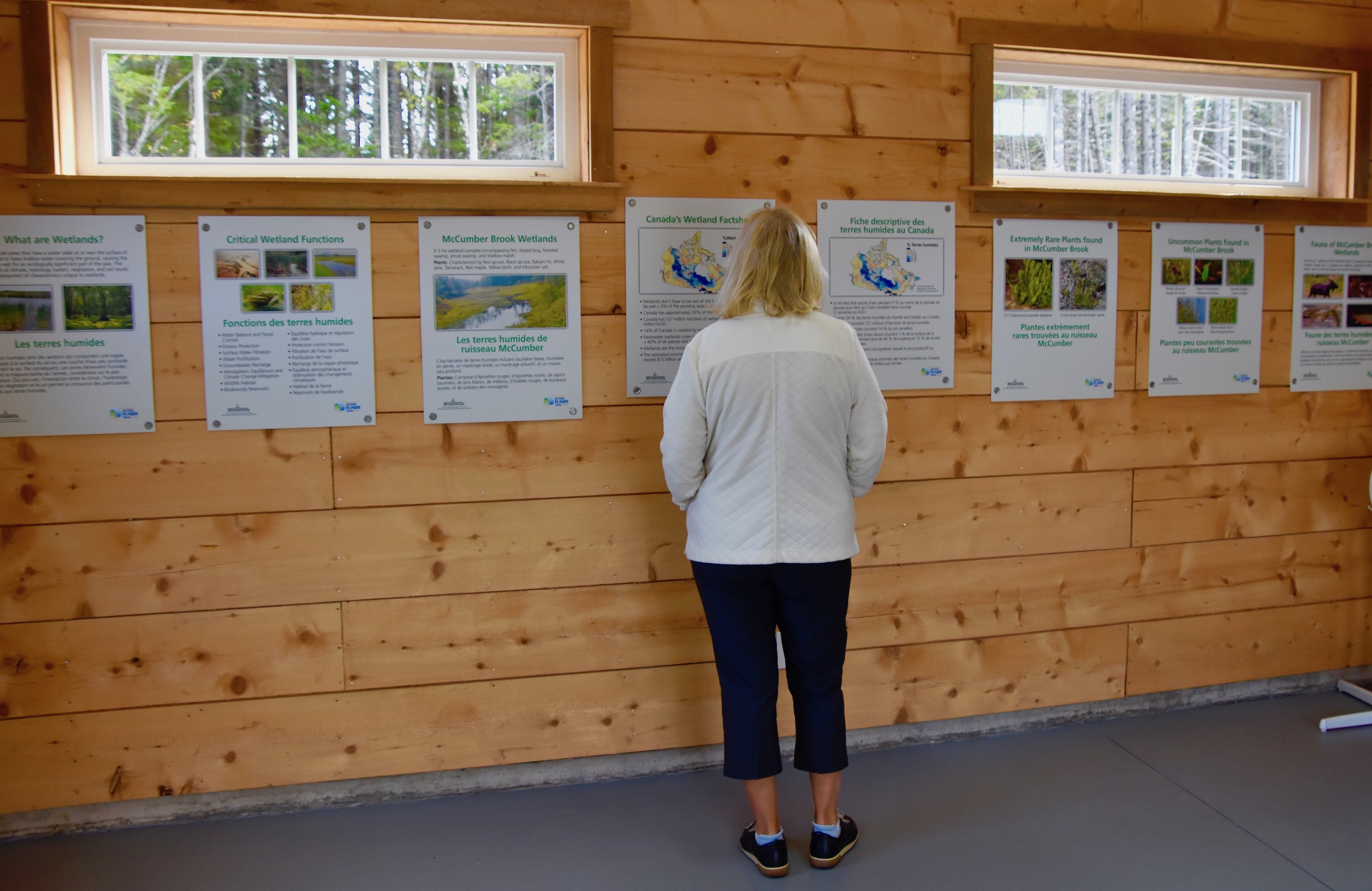 From the eastern entrance it is about ten kilometres to the first of the twenty-one lookouts, each seemingly more spectacular than the last. One could easily do a photo essay just using pictures taken from these lookouts, but for now I'll settle on just a few.
This is the Isle Haute lookout, the second one coming from east to west, and it has special meaning for Alison and me. It is the island you see on the right side of the photo with Cape Chignecto on the left. Very few people ever get to Isle Haute which was a traditional meeting spot for the Indigenous people, but a few years ago I did organize an overnight trip there departing from Advocate Harbour. It was an amazing experience which I documented in this post. For decades I was used to viewing Isle Haute from the Nova Scotia side, but up until today, had never seen it from the New Brunswick side.

This is the view looking north from Martin Head lookout, which is as fine a marine vista as I've ever scene and despite being a native Nova Scotian I have to say that this may be better than any view on the Cabot Trail, but please don't tell anyone I admitted this. The Bay of Fundy is one of the great natural wonders of the world and it is incredible and praiseworthy that New Brunswick has preserved a huge swath of it from St. Martins to Alma for future generations to enjoy and appreciate.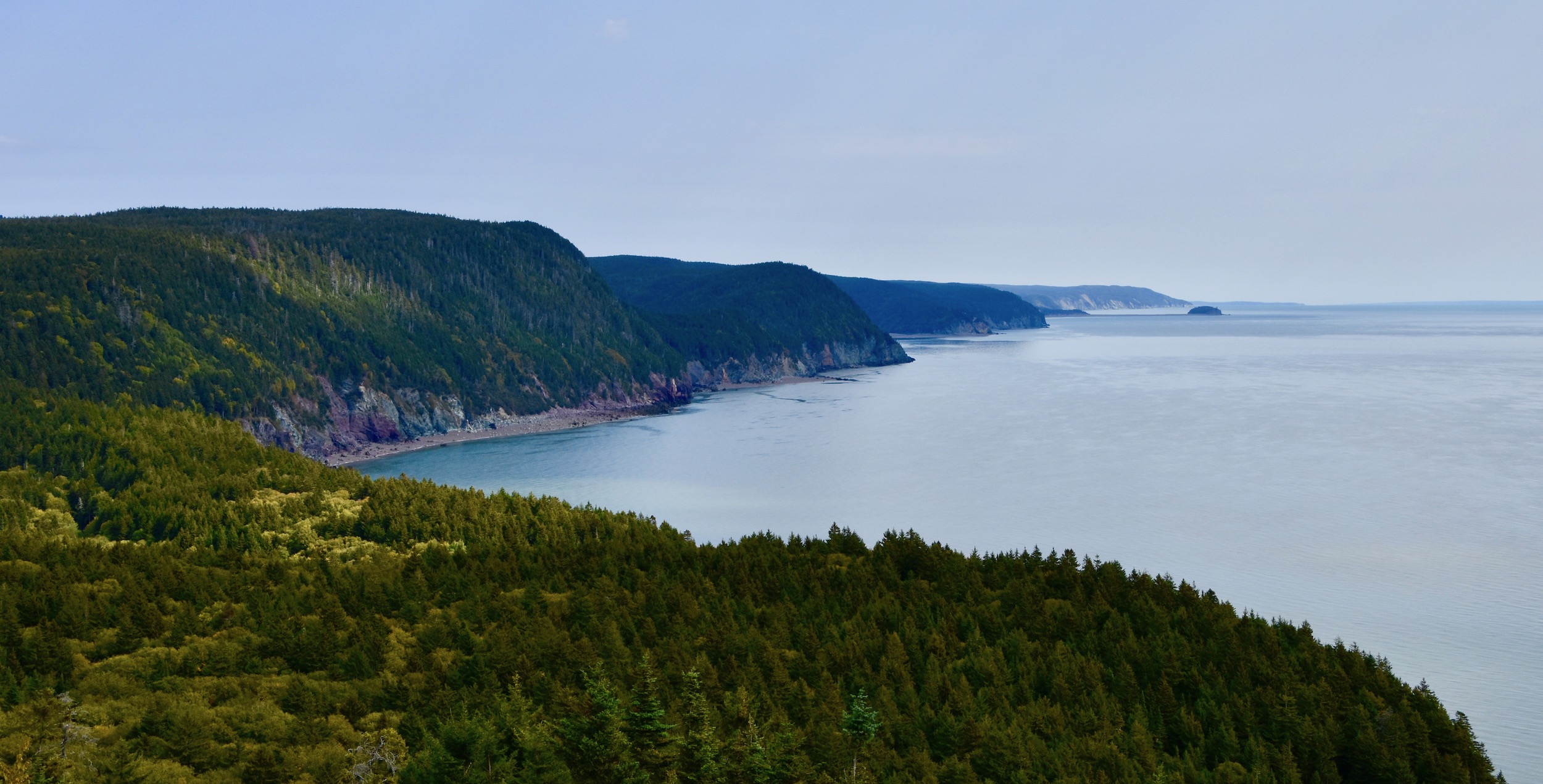 From the parking lot near this lookout you can take a one kilometre trail down to Seely Beach and find yourself, probably alone, in this vast stretch of cliffs and forest, which while not primeval, is the next best thing.
A little further along you get another spectacular view, this time looking south from the Quaco lookout. Here too you can access a trail that will take you in a loop down to the beach and back up again.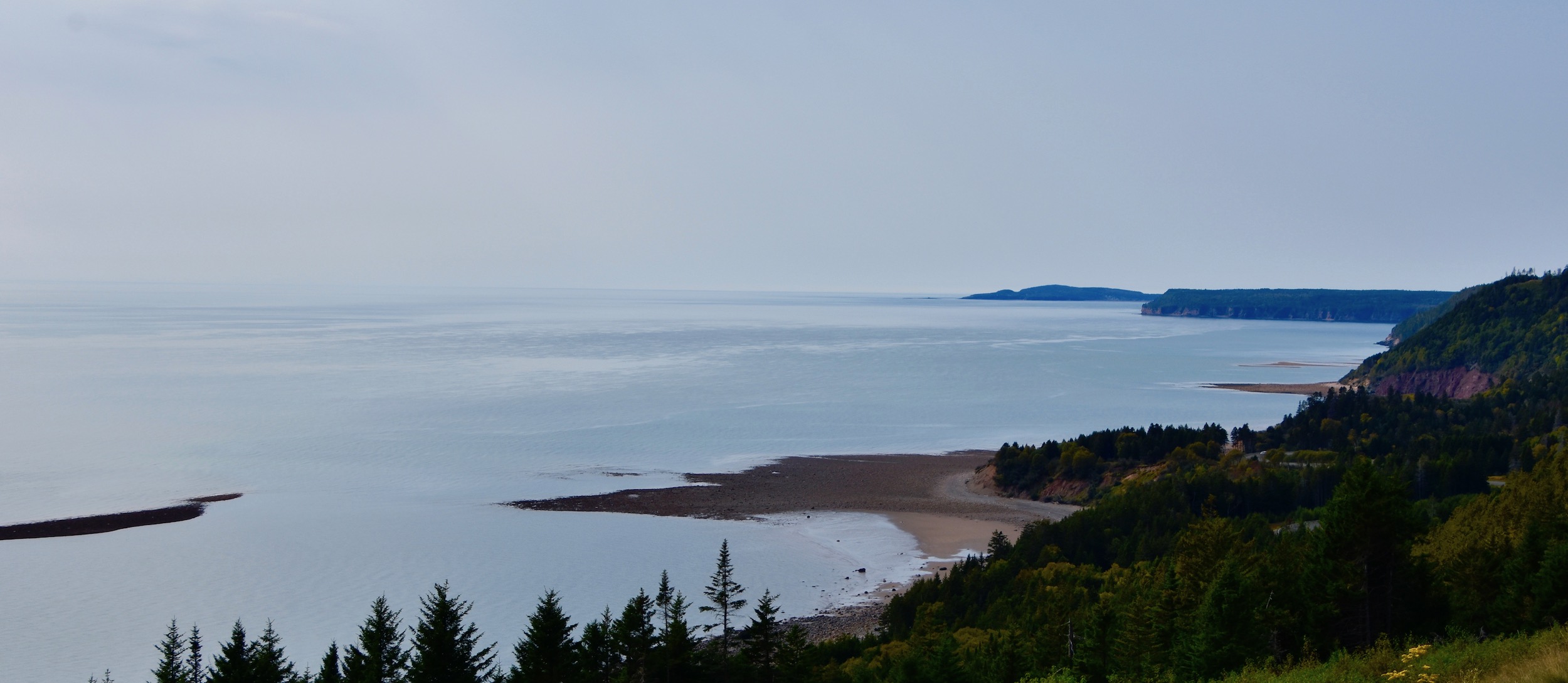 It is about at this point that the Fundy Trail Parkway takes on another perspective as it becomes a spectacularly winding road that to makes its way up and down to the shoreline a number of times with any number of hairpin turns and some of the most interesting road cuts you'll ever drive through – just look at the map above to get an idea of how the parkway goes crazy from here to St. Martins. The geology of this area of the Bay of Fundy is tremendously complicated and the variety of rocks and minerals you'll see is reason enough to drive this road. This accounts for the huge numbers of motorcyclists you will encounter on the Fundy Trail Parkway as it has rapidly become famous as one of the 'must drive' routes in North America. It's also a lot of fun in a sports car as well and there was no shortage of these on the trail either.
If you don't have the time or maybe the energy to hike down to the shore from one of the lookouts, don't worry as the Fundy Trail Parkway will take you there at Long Beach where you can park at sea level and walk the beach or just enjoy the salt air.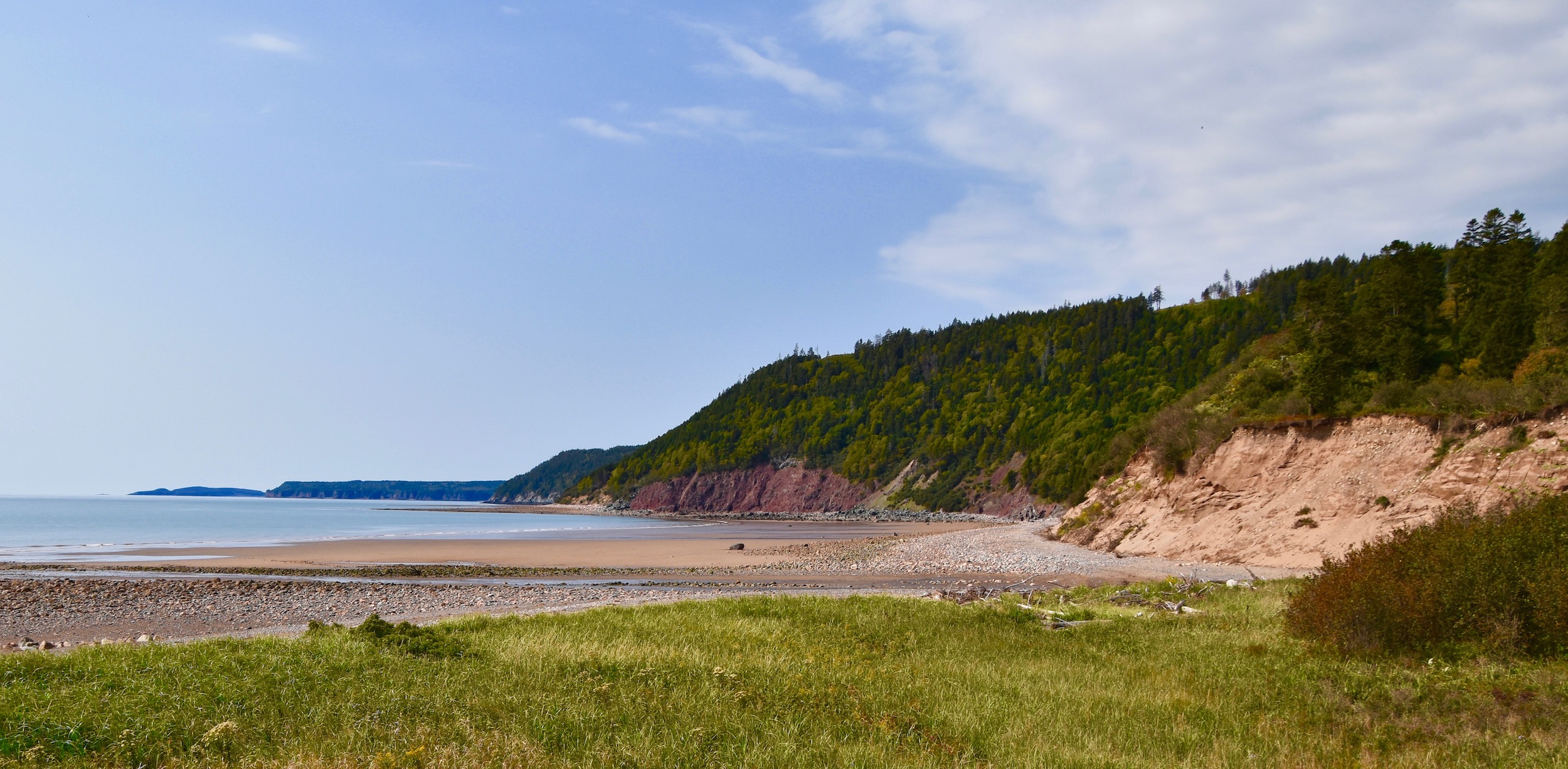 From Long Beach the parkway rises again and twists and turns until you get to another one of the great viewpoints which overlooks Big Salmon River Beach.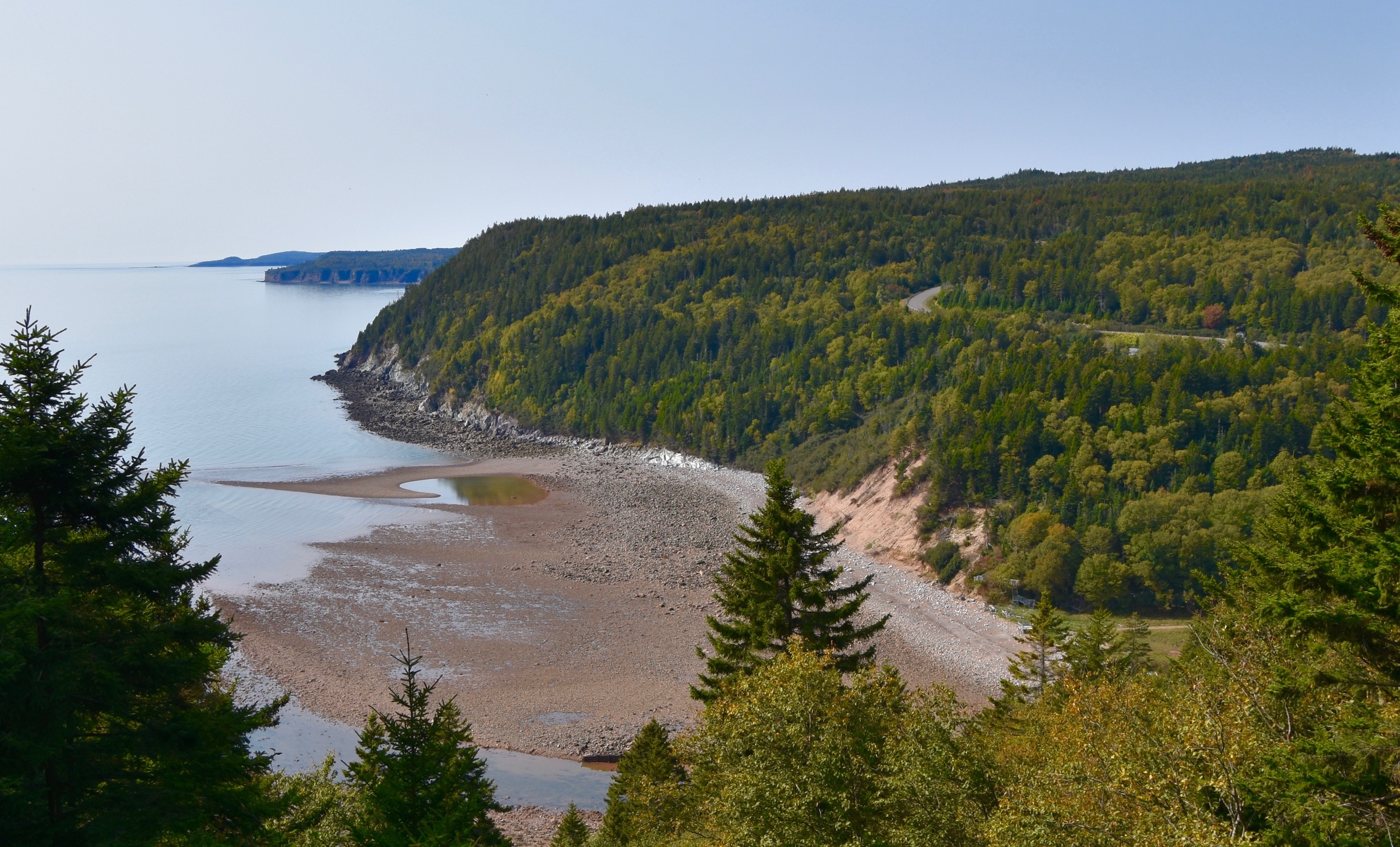 From here the Fundy Trail Parkway makes its way down to the Big Salmon River and the Mitchell Franklin Bridge that crosses it. Here you will find the principal interpretation centre which is a reconstruction of the bunkhouse that once existed here when Big Salmon River was a thriving lumbering and fishing community. There is also a Heritage Sawmill display, replica cookhouse and the foundations of the one room schoolhouse that a former premier of New Brunswick, Walter Foster once attended. However, the one thing you can't miss is walking over the pedestrian suspension bridge that crosses the river and leads to several interesting hiking paths including one that leads to a lodge once owned by the father of yellow journalism and inspiration for Citizen Kane, William Randolph Hearst.
From Big Salmon River to St. Martins the Fundy Trail Parkway still has many don't miss attractions including Flowerpot Rock which you can observe from three different decks or, at low tide walk down to. The Sea Captain's Burial Ground is pretty unique in containing the final resting place of forty-five sea captains and ship builders from the 19th century who once roamed the world from St. Martins, many in ships that were built in that small town.
Even after exiting the Fundy Trail Parkway there is much to see as, in my opinion, St. Martins is one of prettiest towns in Canada with its combination of covered bridges, sea captain's mansions and the sea caves just on the edge of town. The day we were here there were dozens of cars parked on Mac's beach with people taking the short walk to the caves. However, we were hungry and after making inquiries were told that on the other side of town Spinney's Seafood Market was the place to go for lobster rolls.
The person who told us that deserves a medal because these were among the best lobster rolls we've ever tasted and I'd swear there was at least a whole lobster in each one..
Well, I've barely scratched the surface on the many reasons why the Fundy Trail Parkway is a must visit for everyone and if the Atlantic bubble persists through 2021 and it looks like it might, what better excuse for heading to New Brunswick than this? Oh, and one final reason – to get a picture you'll never forget.