Kingswood Golf Course Hole by Hole
Kingswood Golf Course on the outskirts of Fredericton opened in 2003 to accolades including being named Canada's best new course and I have wanted to play it ever since. The course was originally named The Lynx at Kingswood Park, but thankfully that overly artsy named was dropped in favour of the more properly descriptive Kingswood. It was designed by legendary Canadian golf architect Graham Cooke in collaboration with Darrell Huxham who at that time was part of his team. Darrell has since struck out on his own and I will be playing his new course West Hills across the Saint John River tomorrow. However, today it's Kingswood which I will describe hole by hole as I have done for quite a few Maritime courses during this pandemic summer of 2020, including the most recent from Highlands Links in Cape Breton. Please join Alison and I as we tee it up at Kingswood Golf Course.
Kingswood can play long if you like it that way – over 7000 yards from the tips. I will be playing the whites which is a much more sensible 6068 yards and a slope rating of 124 which is just a tad above average. I have been advised that the greens have recently been aerated so this probably won't be the day to properly assess their speed or condition. As with every course we've played this summer, playing out of the traps is optional as they cannot provide rakes due to Covid 19. Well, I hadn't planned to visit them in the first place. OK, let's play.
Kingswood # 1 – 373 Yard Par Four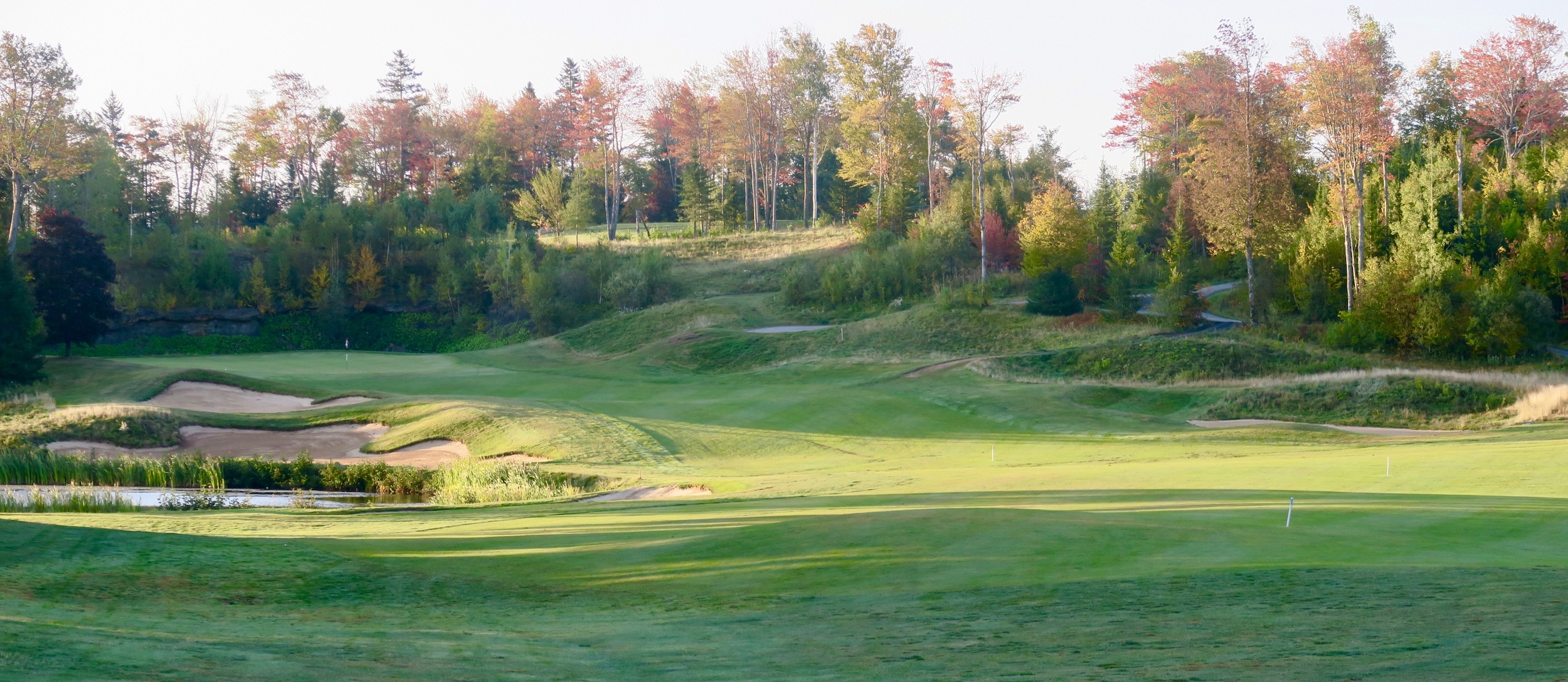 We have the first tee time of the day and it's a gorgeous late September morning in Fredericton. I did not realize that the trees get their fall colours in this area much earlier than Cape Breton where we played only a week or so before and saw no fall colours. The reason is that the frosts come much earlier to the upper Saint John Valley than to coastal areas and so you get this already great looking starting hole, looking even better at this time of year.
This is the perfect starting hole for a leftie like me with a natural right to left ball flight. It also has just about everything you could ask for or not ask for in a golf hole – water, multiple sand traps, elevation change, scenic curvature, you name it. I had a really hard time seeing the green for the approach shot because the sun was just coming up over the trees and basically just guessed at the proper yardage. I knew I hit it well, but had no idea where it went until I got to the green and saw this. Sometimes the golf gods smile on you at the most unexpected times. Needless to say I love this hole.
Also, you can see that despite aeration the greens are in very good condition.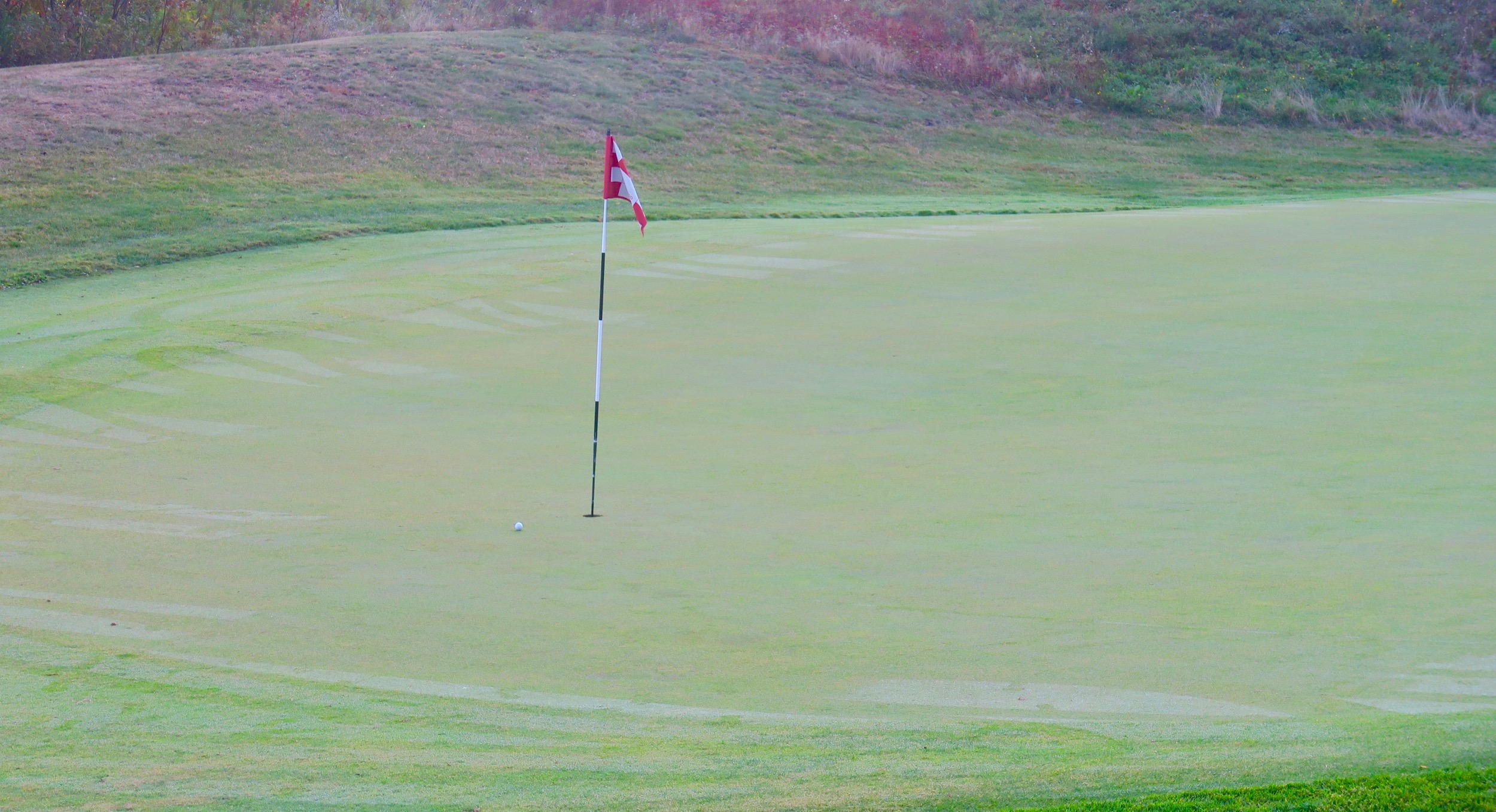 #2 – 478 Yard Par Five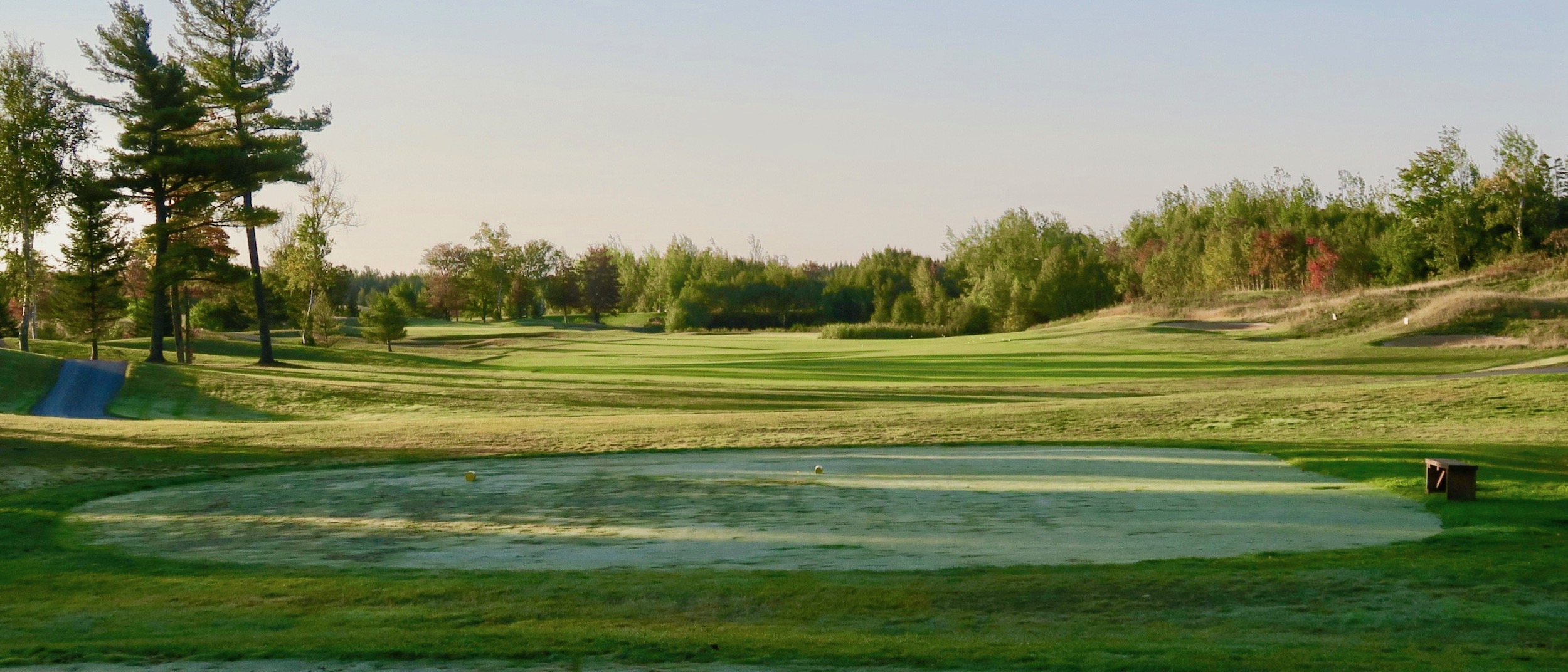 The first par five has little trouble for the first two shots, but the approach is tricky to a two-tiered green that is well trapped and has water to the right. Even though it's relatively short for a par five it is designed as a three shot hole for all but the biggest hitters with a subtle double dogleg over the last 100 yards. You want to be facing the green straight on for your approach shot otherwise it will be very difficult to stay on this narrow green, especially if the pin is at the back. Definitely a thinking golfer's hole.
Kingswood # 3 – 384 Yard Par Four

This is a very difficult driving hole and it's long enough with a slightly elevated green that you want good distance from your drive. The problem is where exactly to aim from the tee box. It's probably more of an optical illusion than reality, but it really feels like both water hazards are in play. The foreshortening of the photo doesn't make it look like the water on the right is in play, but from the white tees it's about 160 yards to clear it with a trap awaiting on the other side while the hazard on the left comes into play at about 180 yards. If the drive is safe the shot in is no easier as there are multiple traps guarding the front, left and back with only a narrow opening to the green on the right. If the pin is behind the trap on the left side it will be almost impossible to get close to. This is the #4 ranked hole and it plays like it.
#4 – 150 Yard Par Three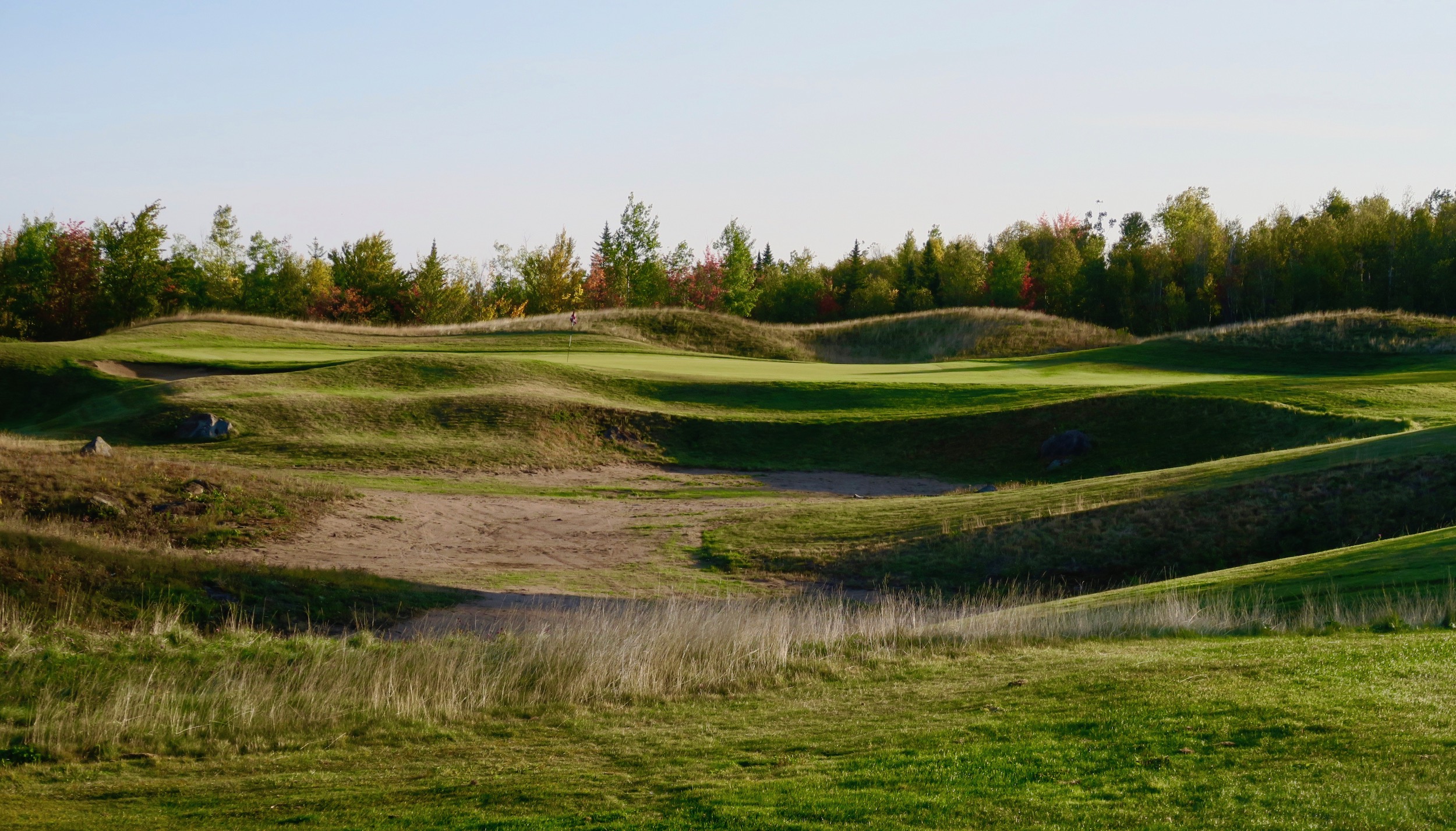 The first par three is 100% carry as there is virtually no fairway, just this massive waste bunker than runs the entire length of the hole. Since it is slightly uphill and you need to land either on or just short of the green, it requires a lot more club than most 150 yard shots. The goods news is, even though it doesn't look like it from the tee, there is plenty of room to stop any ball that is properly struck. This is a good start to the four par threes at Kingswood.
Kingswood #5 – 378 Yard Par Four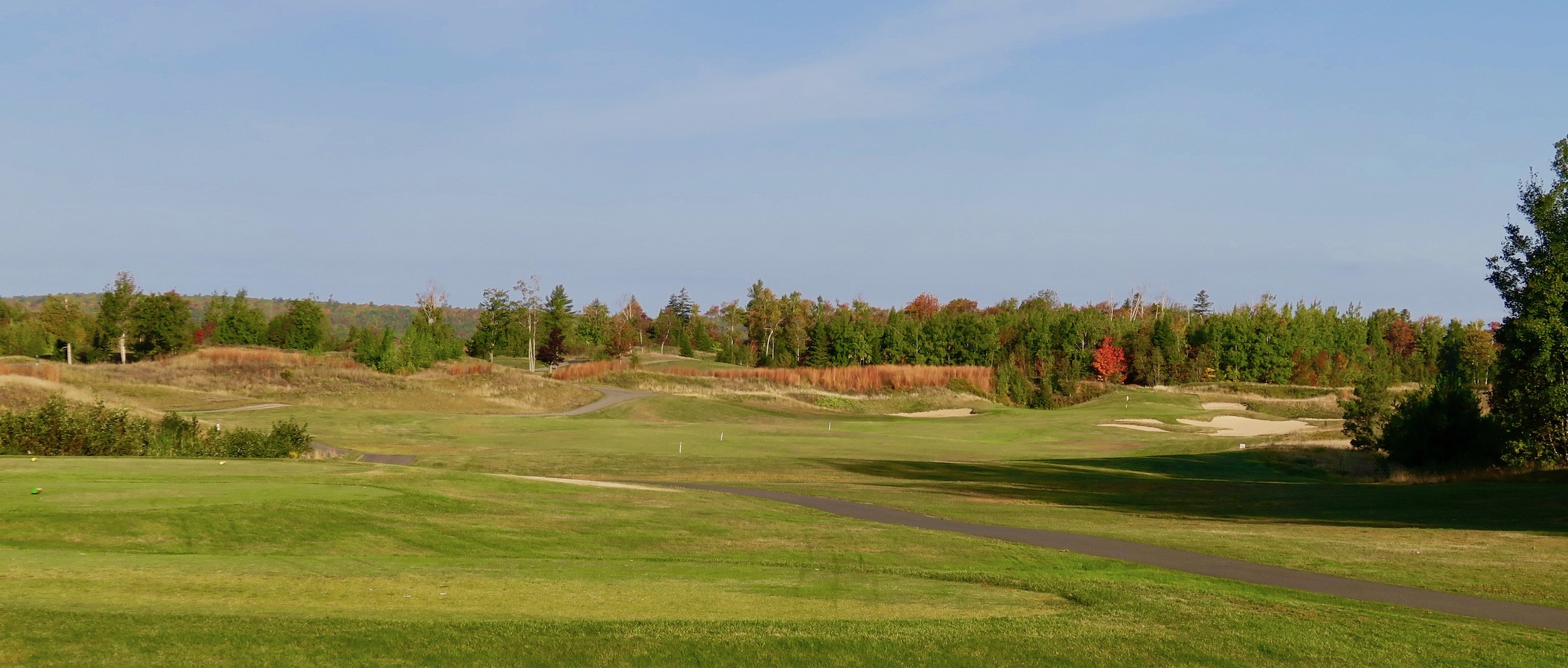 By now I'm beginning to realize that there are very few straight holes at Kingswood, almost all dogleg in one direction or another, but not severely. I am not a fan of doglegs that make almost 90° turns which if you don't reach on your drive you're usually screwed. I much prefer gentler curves like this one where you can see the green, but are going to have to change the angle of the second shot to approach the green. By contrast if you hit it straight at the green from the tee box you will have to clear a ton of bunkers on the second shot. There's also something eye pleasing about C curves as any knowledgable photographer will tell you.
#6 Kingswood – 474 Yard Par Five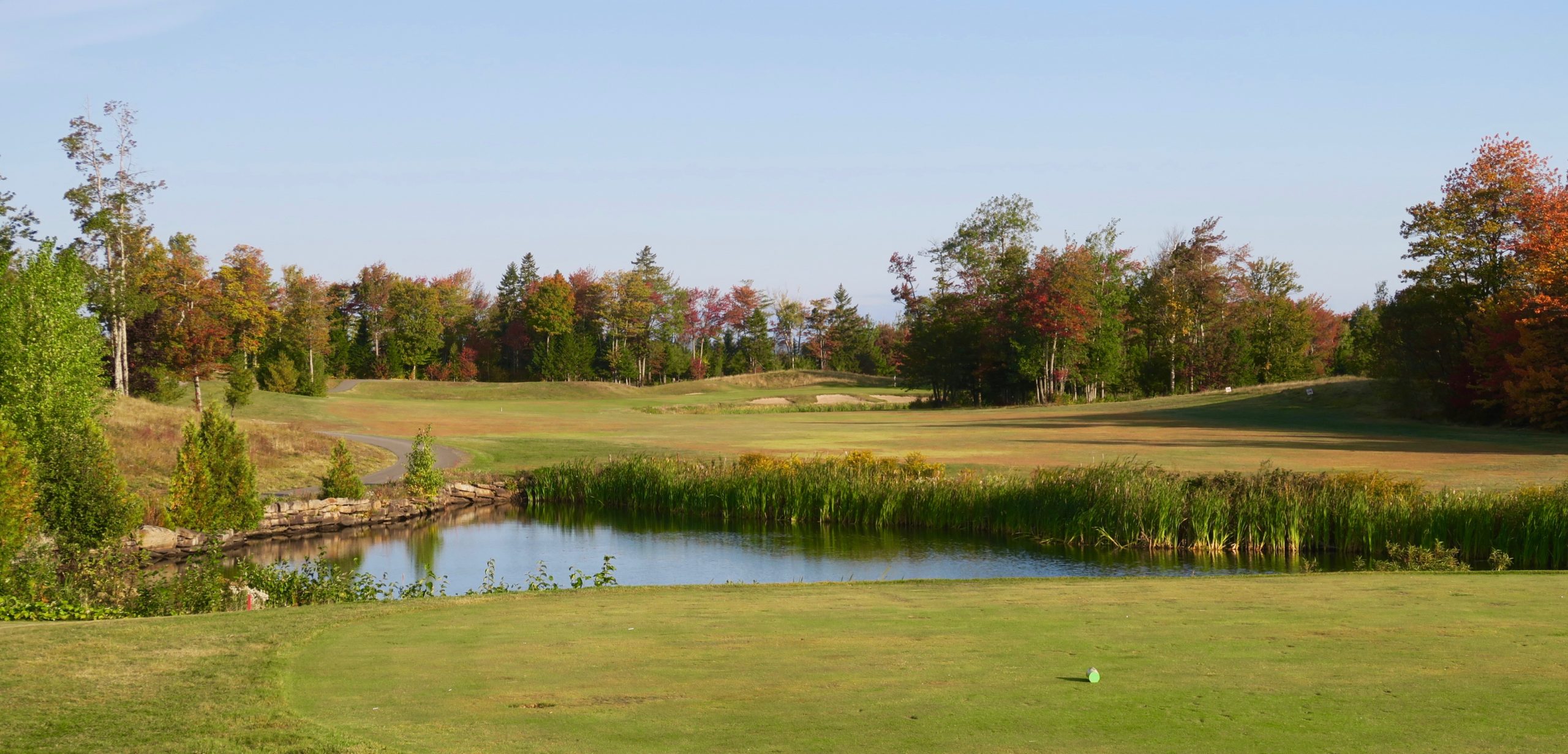 Another very scenic hole that is definitely risk reward. Big hitters can try to reach it in two, but that will require a precision second shot over a considerable water carry followed by traps guarding a green that is very narrow. For guys like me playing from the whites the first pond is in play especially with a right to left ball flight. The smart thing to do here is not be a hero and just position a drive pretty well anywhere on the fairway and then try to place it somewhere past the water hazard for a straight third shot into the green which will not have to fly any hazards.
Well as you can see from the photo, I'm not a particularly smart guy leaving this for my third shot. Still, shots like this get the adrenalin flowing and after all, it's pretty as hell.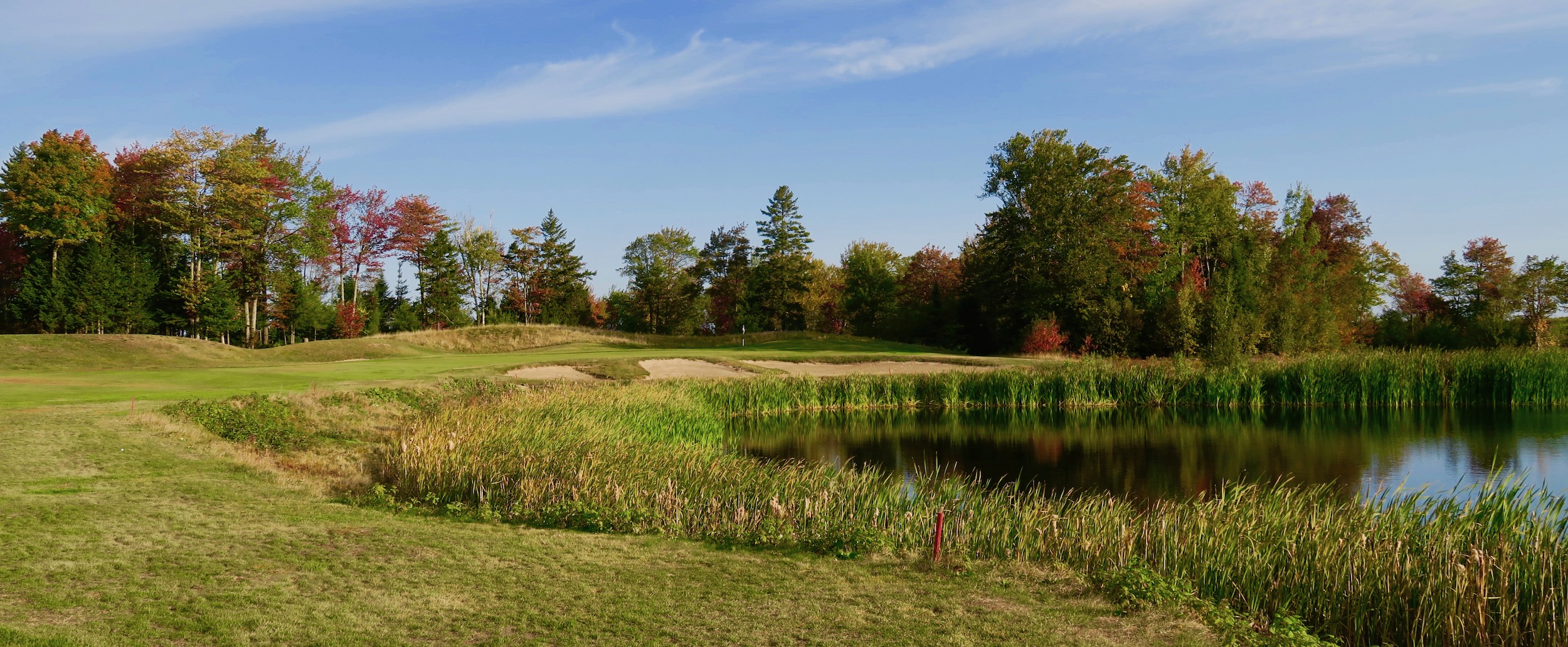 Kingswood #7 – 144 Yard Par Three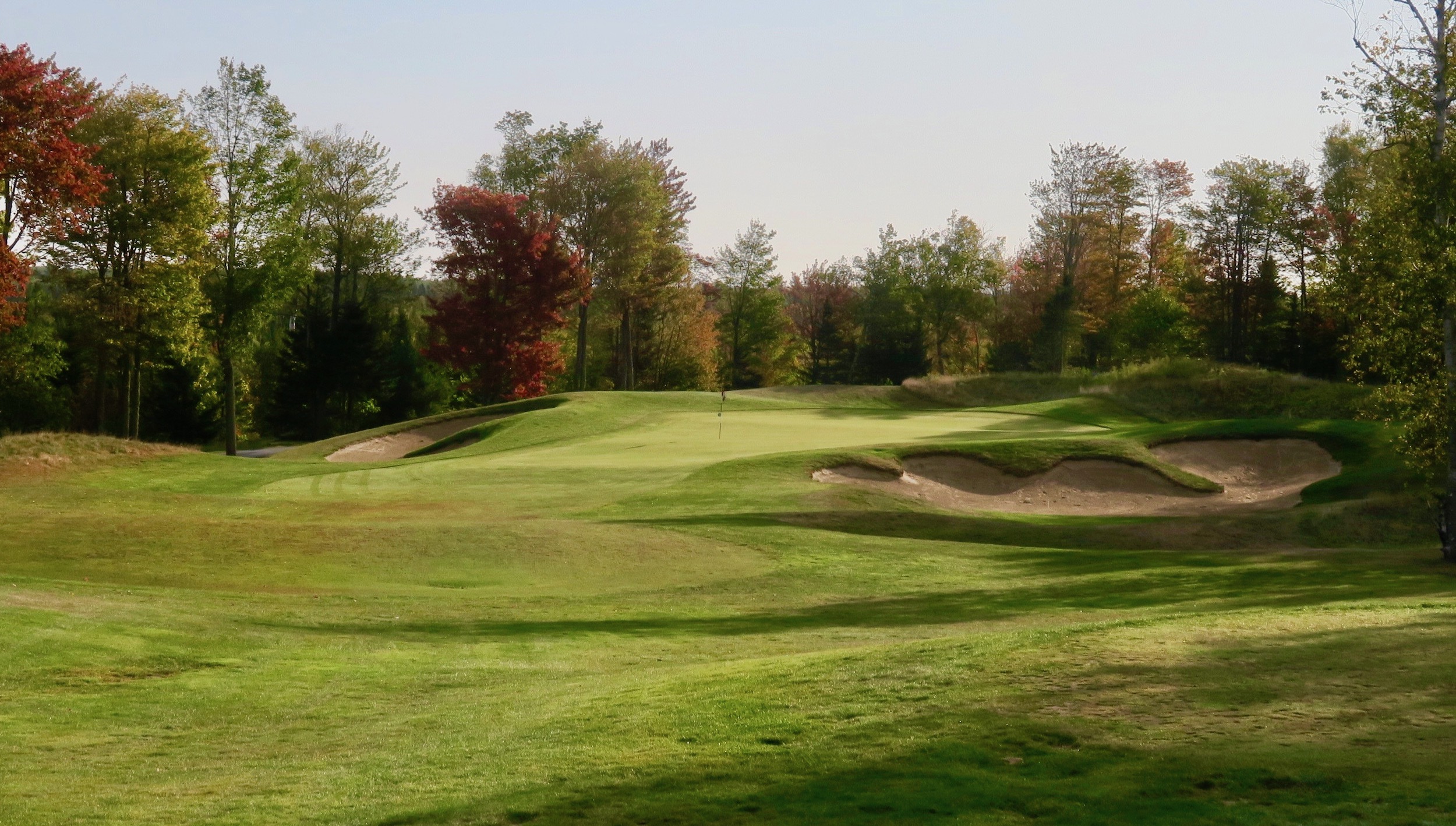 # 7 is a reasonably short uphill par three guarded by an enormous bunker on the right. However, with this pin placement there is plenty of room to take the tee shot onto the green. This is the easiest hole at Kingswood and it plays like it.
#8 – 373 Yard Par Four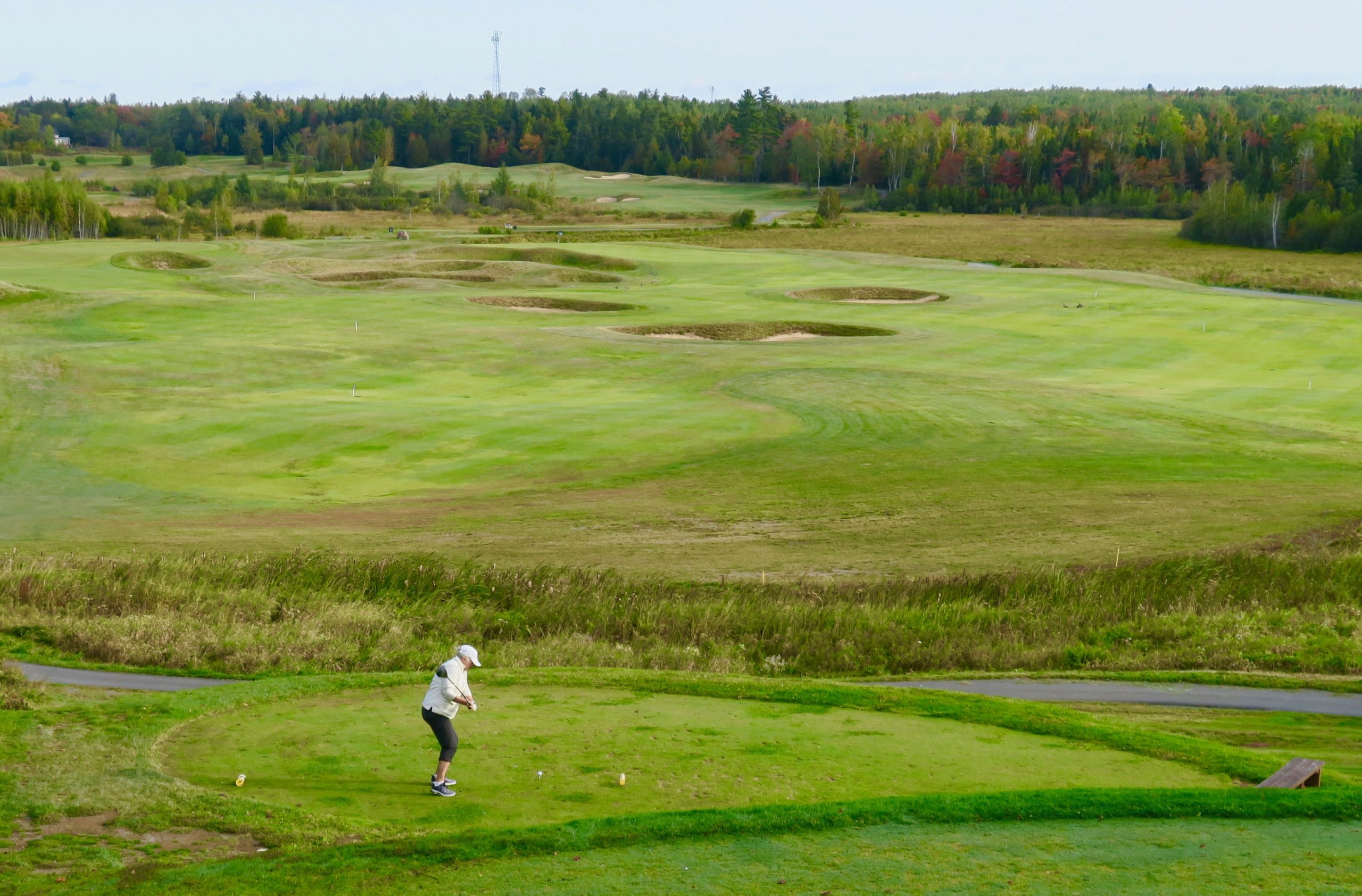 This is one of the great holes at Kingswood with five sets of tee boxes arranged in descending order down the side of a fairly steep hill which you climb to after #7 green. It has the distinctive links style look with few trees and plenty of traps and waste areas. However, the fairway is generous and you can even get away with an errant drive to the right that will land on #15. The problem comes with the second shot to a two tiered green that has nothing but trouble all down the right side. You definitely want to play this hole as much to the left side as possible to avoid having to cross the hazards and have a clear look at the pin. Because of the elevation drop this hole does play shorter than its yardage.
Kingswood # 9 – 337 Yard Par Four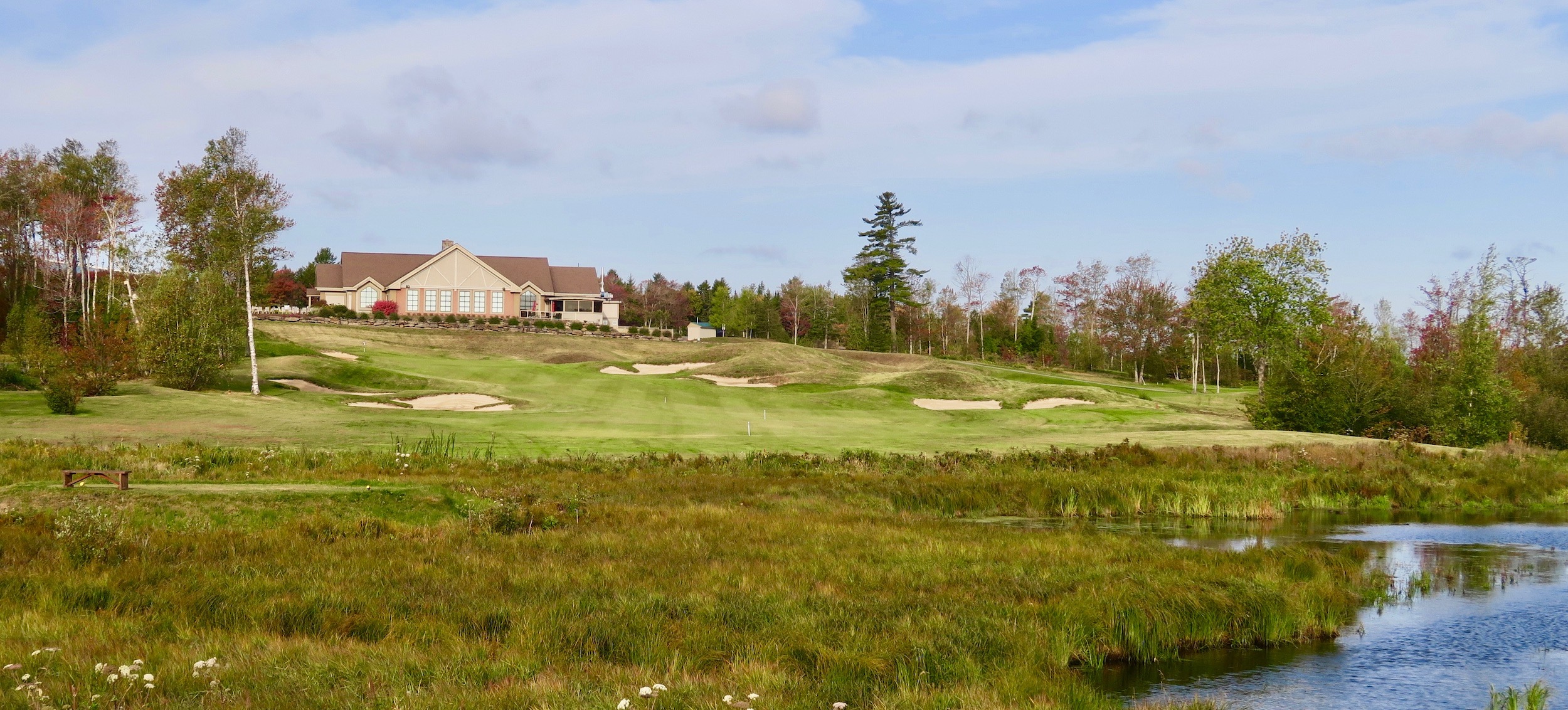 The problem on this very up hill closing hole on the front nine is the drive which must clear a considerable marsh to reach dry land. Once you do find the fairway it requires a precise shot to a green that runs severely uphill front to back. You want your second shot to be below the hole like the one in this photo taken from Sam Snead's in the clubhouse.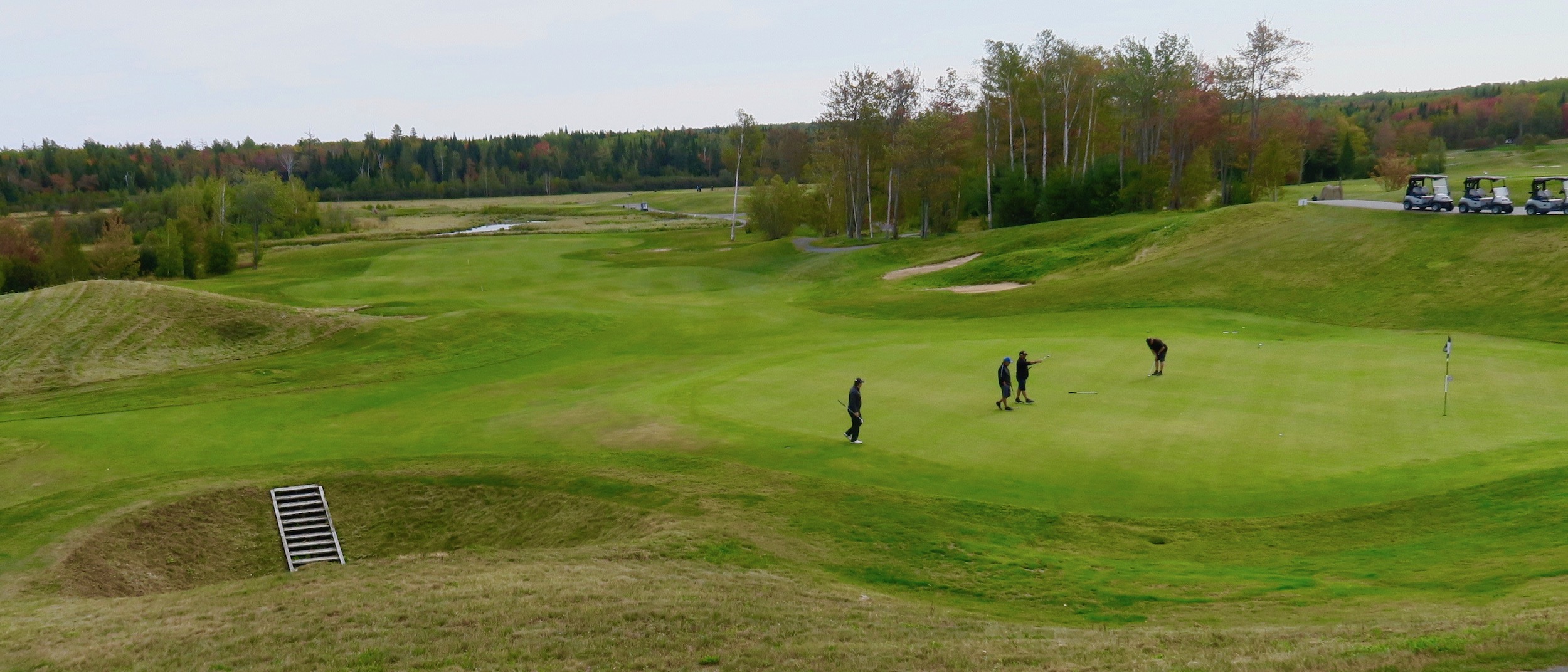 #10 – 447 Yard Par Five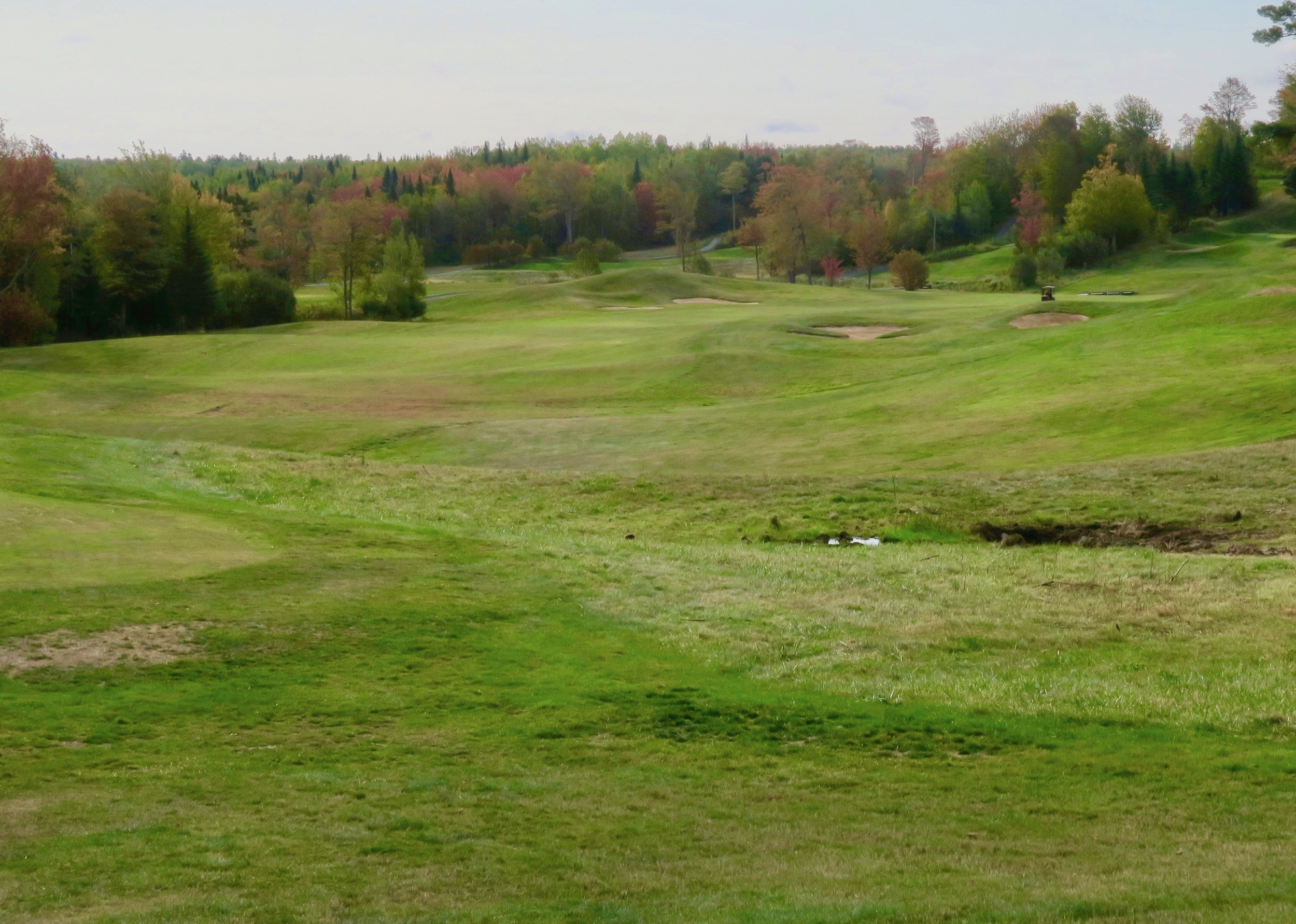 Despite its very short length for a par five #10 plays as the fifth hardest hole at Kingswood. The reason is a small stream that crosses the fairway at about 380 yards making the second shot either a lay up or a wood to try and clear it. The green is very elevated which doesn't provide much incentive for the heroic second shot. The smart thing is to lay up and have a short iron in to one of the smallest greens on the course. No reason not to get off to a good start on the back nine by playing within your limits.
Kingswood #11 – 148 Yard Par Three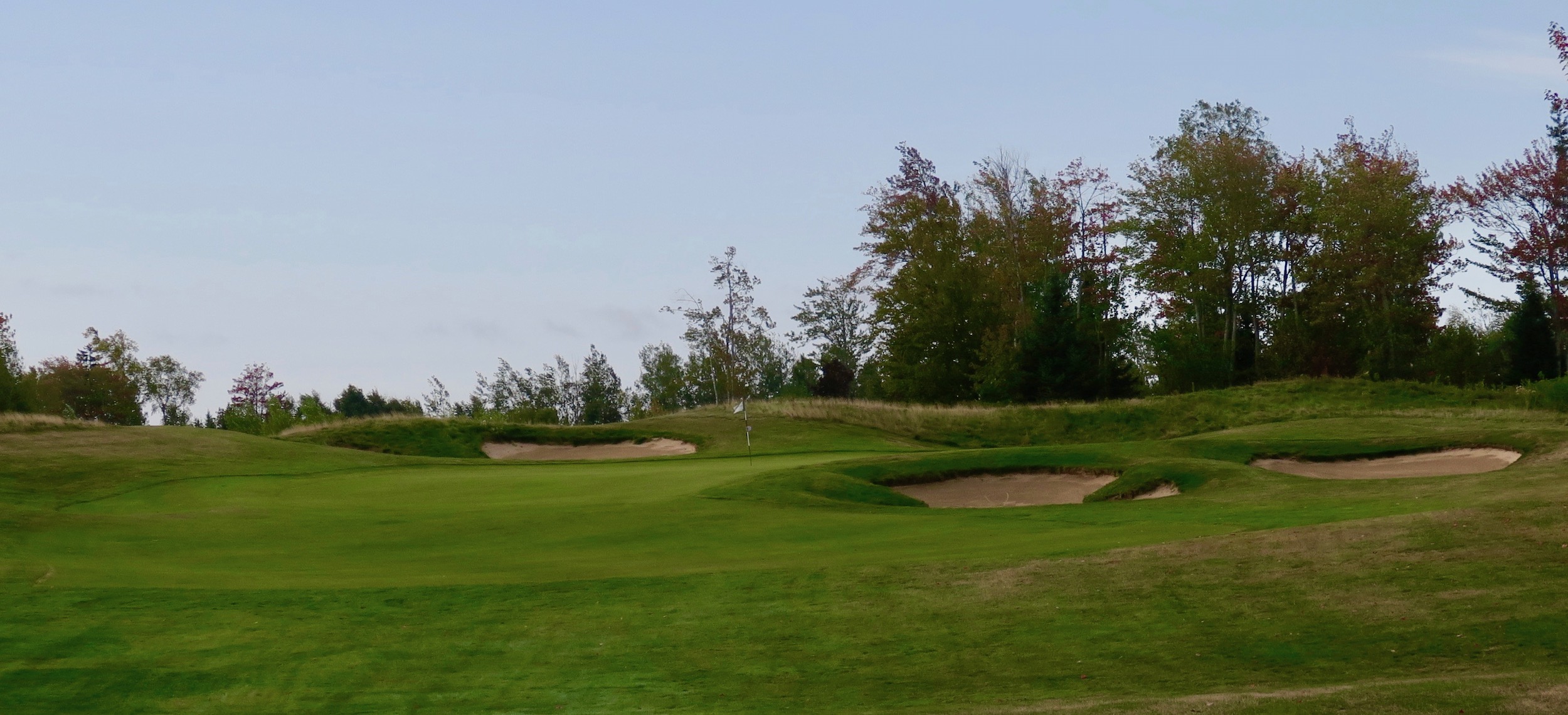 The easiest hole on the back nine is only easy if you pick the right club, as the green is quite narrow and runs perpendicular to the fairway, a favourite trick of course architects on short par threes. It plays considerably uphill and in order to get close to a pin anywhere but the very front you will need to challenge those bunkers, clearing the front ones, but stopping short of the back one that is strategically place to collect almost anything too long.
#12 – 371 Yard Par Four
This left to right arcing hole is unusual in that from about the halfway to the green both sides have a berm running down to meet up and almost completely surround another small green. The berms can be helpful in bumping an errant second shot back into play or hurtful of your ball stays in the rough that covers them. This is another hole at Kingswood that has more the feel of a links course than a parkland one.
Kingswood #13 – 333 Yard Par Four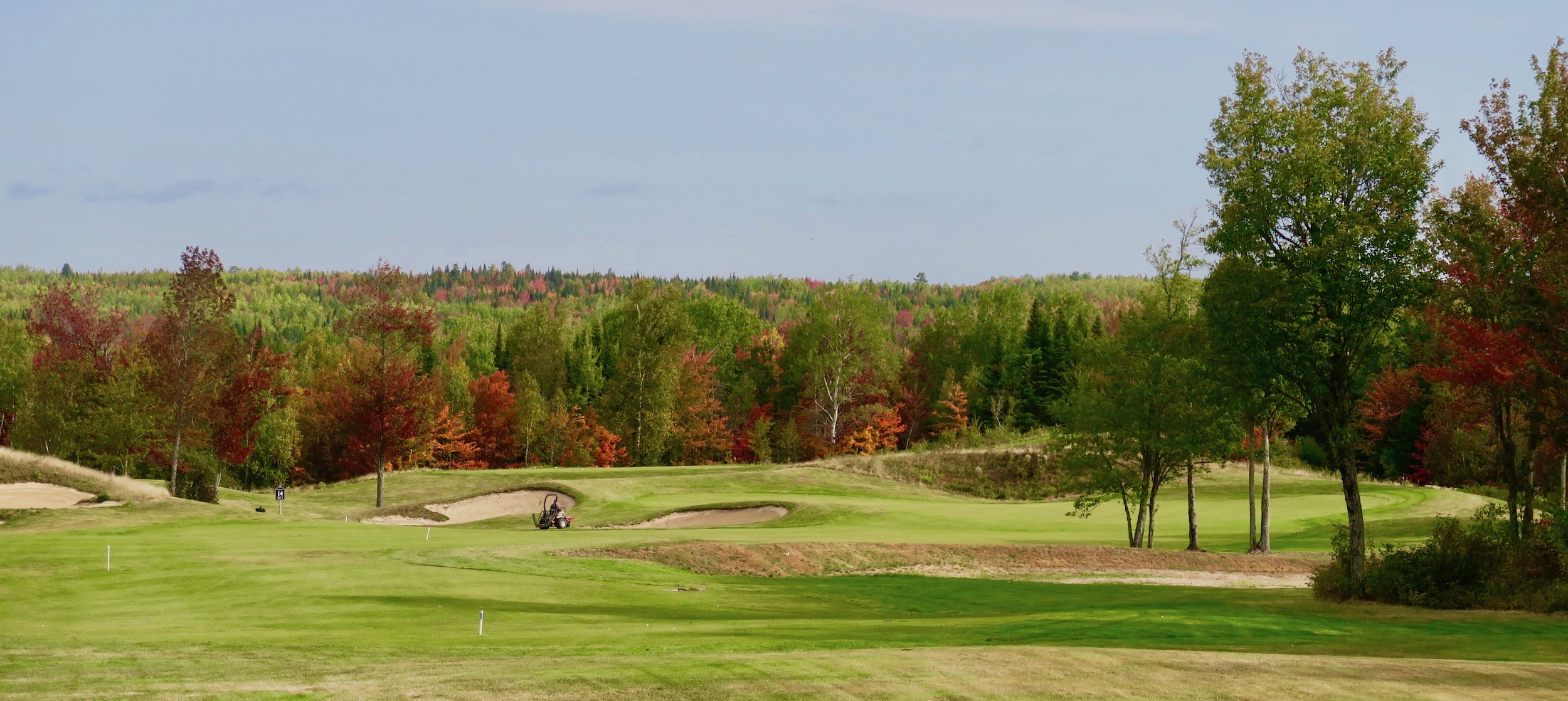 This is a very pretty little par four that is dramatically different than its predecessor with tree trouble on both sides of the narrow fairway. There is a huge waste bunker which you can see on the right which cuts into the fairway right about where most drives need to land in order to get a clear shot to a dumbbell shaped green. A fun hole to play and an easy par if you land the drive properly.
#14 – 350 Yard Par Four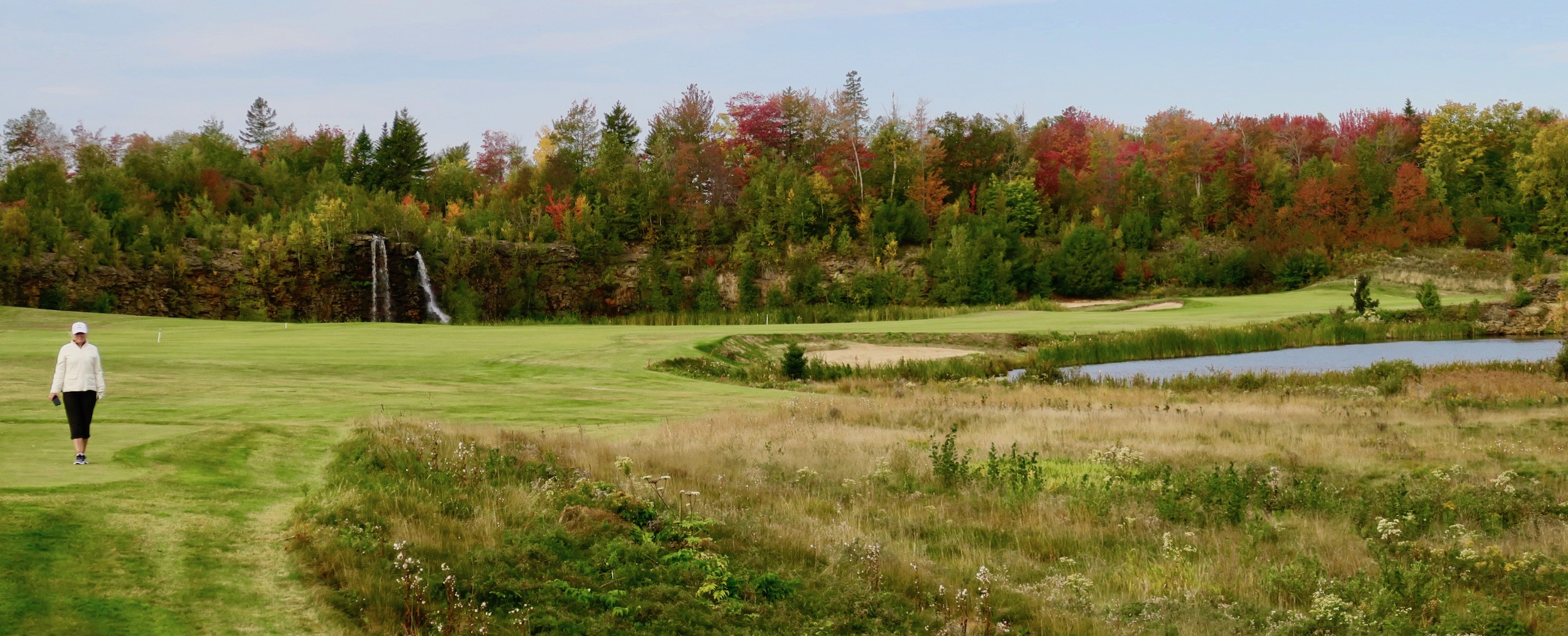 We now come to the signature hole at Kingswood and it is definitely a unique hole with a waterfall pouring over a sedimentary stone cliff into a pond. You can see it just to the right of Alison. There is also water all down the right side almost to the green. This is the third dogleg right in a row and ordinarily not my favourite type of hole, but if you aim your drive right at the waterfall there is plenty of fairway leaving about a 150 yard approach shot. When you get to your ball you will almost certainly want a picture with the waterfall in the background. Well, at least I did.
Kingswood #15 – 365 Yard Par Four
#15 is very similar to #8 with both playing off very elevated tees to a links looking hole below. For some reason I forgot to get a photo and borrowed the one above from the Kingswood website where you can do a hole by hole fly over. As you can see there are traps everywhere.
Up until this point I found Kingswood to be very amenable to getting a decent score, with nothing worse than a bogey. However, I found the closing four holes much tougher and doubled three of them, oddly parring only #16 which is the #1 handicap hole on the course. On this hole I did find the traps, twice as a matter of fact, and my dreams of a great score started to go up in smoke.
#16 – 392 Yard Par Five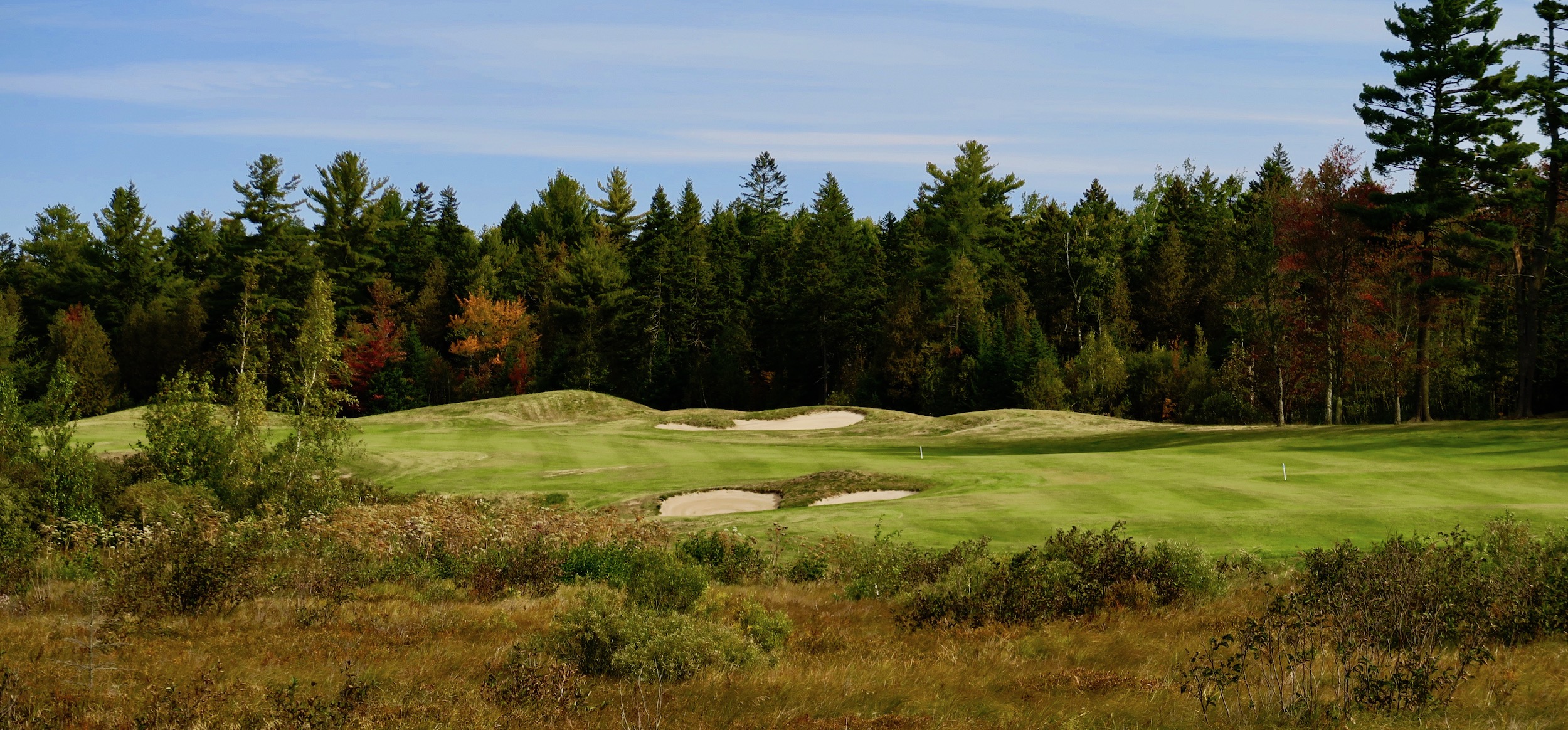 That's not a misprint – this hole really is a par five and as noted is the supposed hardest hole on the course. I beg to differ. You definitely need a great tee shot as the carry to the fairway is the longest on the course and the fairway is narrow. Once there, the hole turns dramatically to the left down to a green that juts abruptly even further to the left. As the crow flies, the distance from the fairway to the green is not all that far, but it's a tiny green and the way it is positioned the ball will have to land on the green or be lost in the scrubland to the left.
This is definitely the ultimate risk/reward hole at Kingswood with the reward being an eagle putt and the risk being bogey or worse if you don't make the second shot. I preferred to play it safe with a drive, lay up iron and short pitch for a two putt par on what may be the world's shortest par five. Despite my disagreeing with this being the hardest I hole, I do agree that it is a very interestingly designed hole of the like I do not recall playing anywhere before. That's the amazing thing about golf – despite playing literally thousands of different holes around the world there's always another one waiting for you that is unlike any you have played before.
Here's the view from #16 looking back up the hill at #8 and #15.
Kingswood #17 – 177 Yard Par Three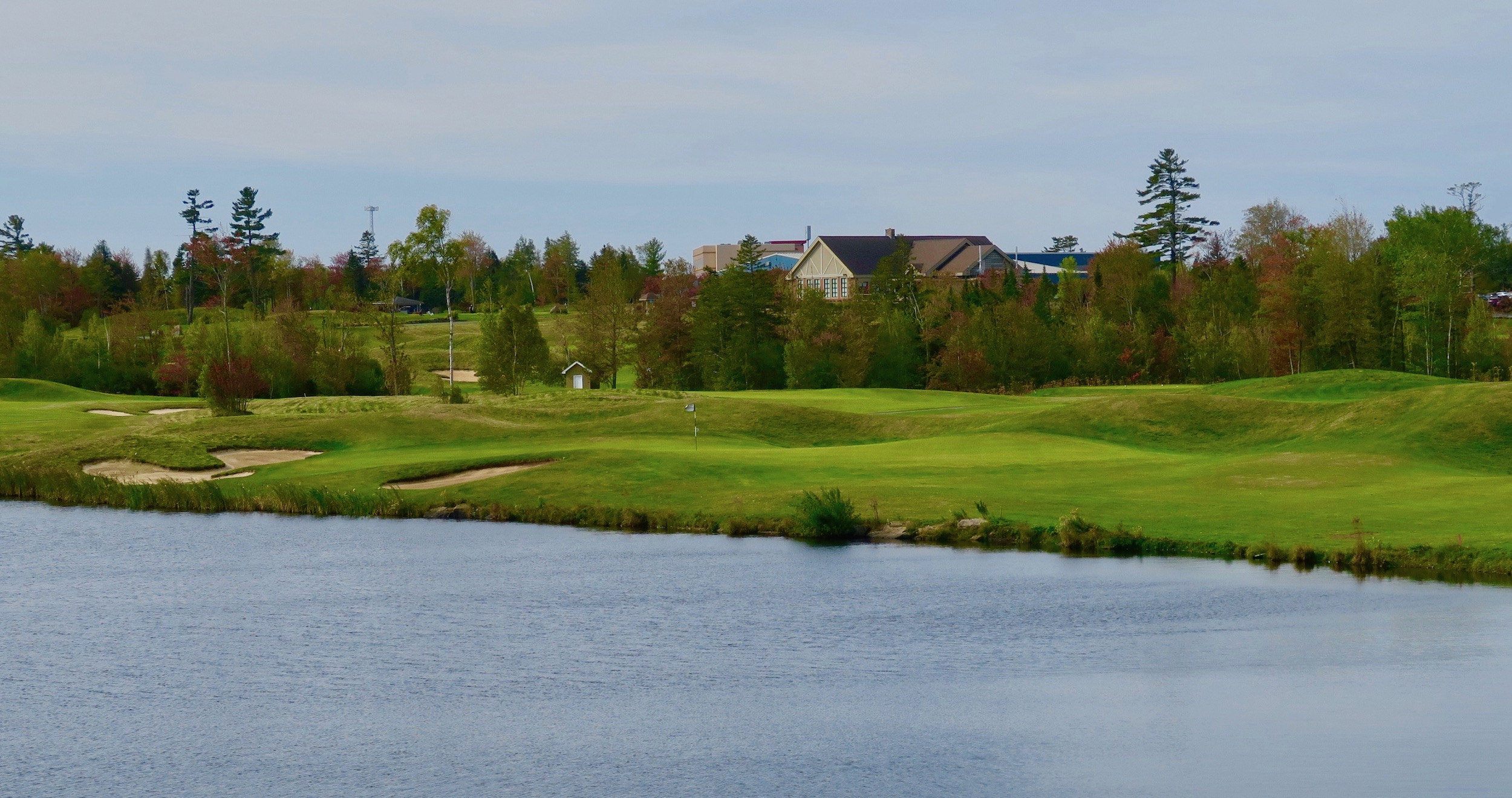 This par three is all about how much water you want to carry – go straight at the pin or aim for the front of the green and let the natural contour run the ball to the pin. Unfortunately, I did neither and hit a stupid slice into the drink for a second double in three holes. Still, it's a nice looking hole and should not be as difficult as I made it.
#18 – 394 Yard Par Four

This is a brutal finishing hole that requires a really long second shot up hill which is best appreciated by looking at it from the green to the tee box well below. Almost every one I saw who played this hole as we watched from Sam Snead's came up woefully short and when they did get on usually had a long up hill putt. I saw more three putts here than two putts and sadly one of them was mine.
OK, time for some lunch.
Sam Snead's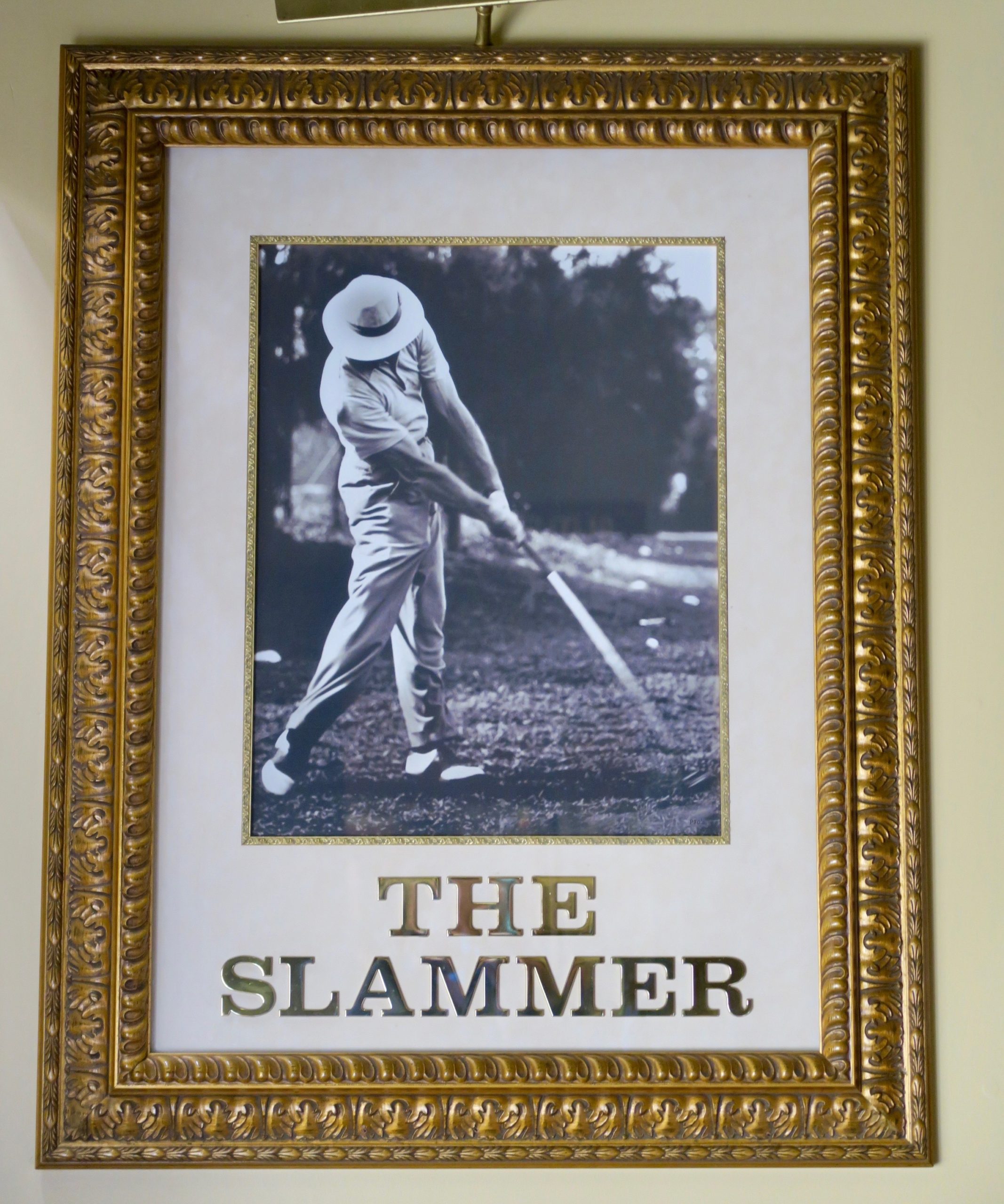 Sam Snead's is a small American restaurant chain found in a number of golf resorts, most notably the fabled Homestead Resort in Hot Springs, Virginia which was a favourite haunt of the man known as The Slammer. Kingswood Resort has the only Canadian location and it's loaded with golf memorabilia that has been personally selected for the location by the Snead family. In other words, the stuff here on display is the real deal and it gives the restaurant an authentic feel that many similar golf resort places can only hope for. And the food's good too.
The $11.00 lunch which featured soup and two grilled fish tacos has to be about the best deal in Fredericton. The beer from local Grimross Brewing was as fresh as it gets and the perfect accompaniment to the tacos.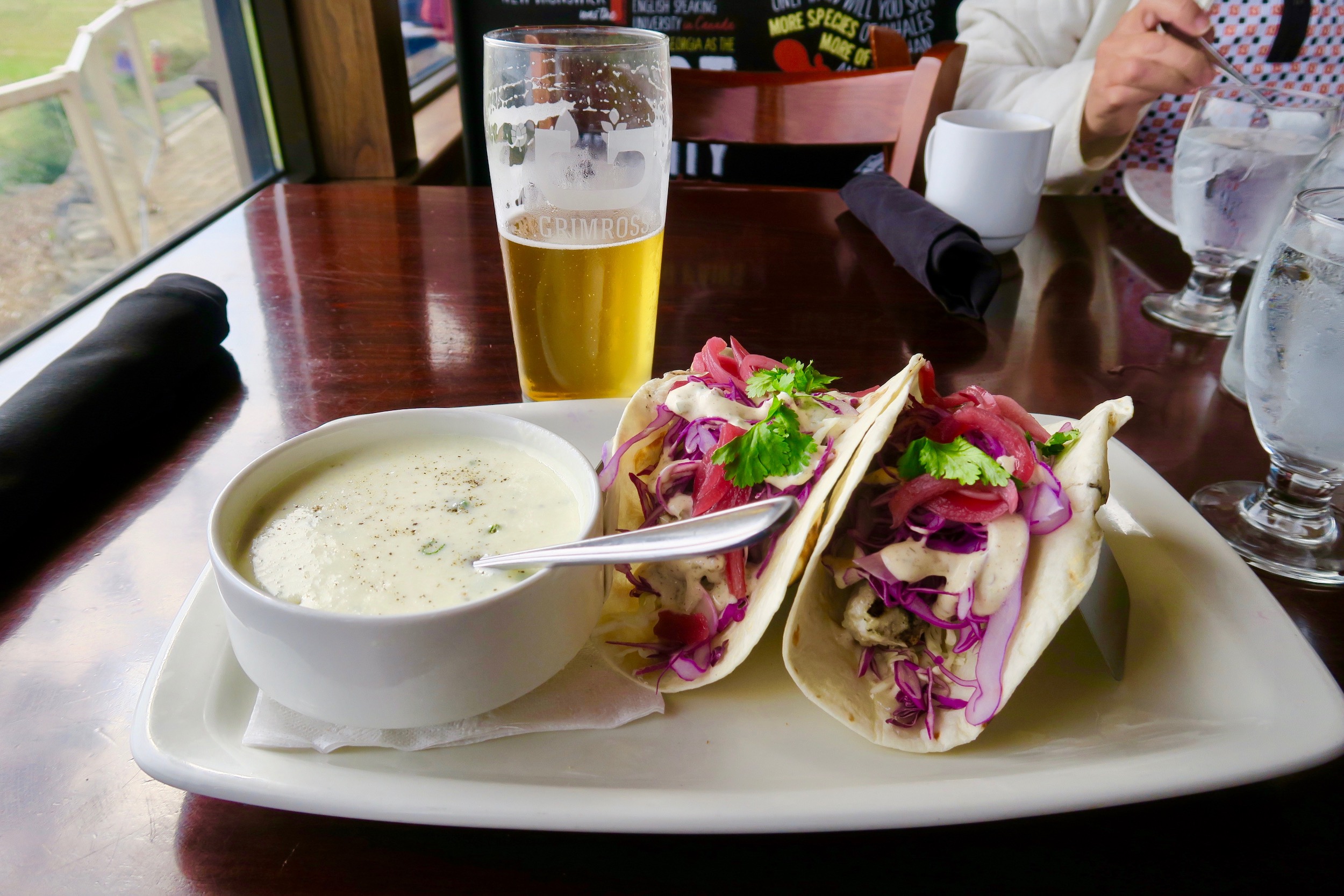 While you are waiting for your meal you can entertain yourself by reading the trivia on the partitions separating the tables and find out things about New Brunswick you never dreamed of.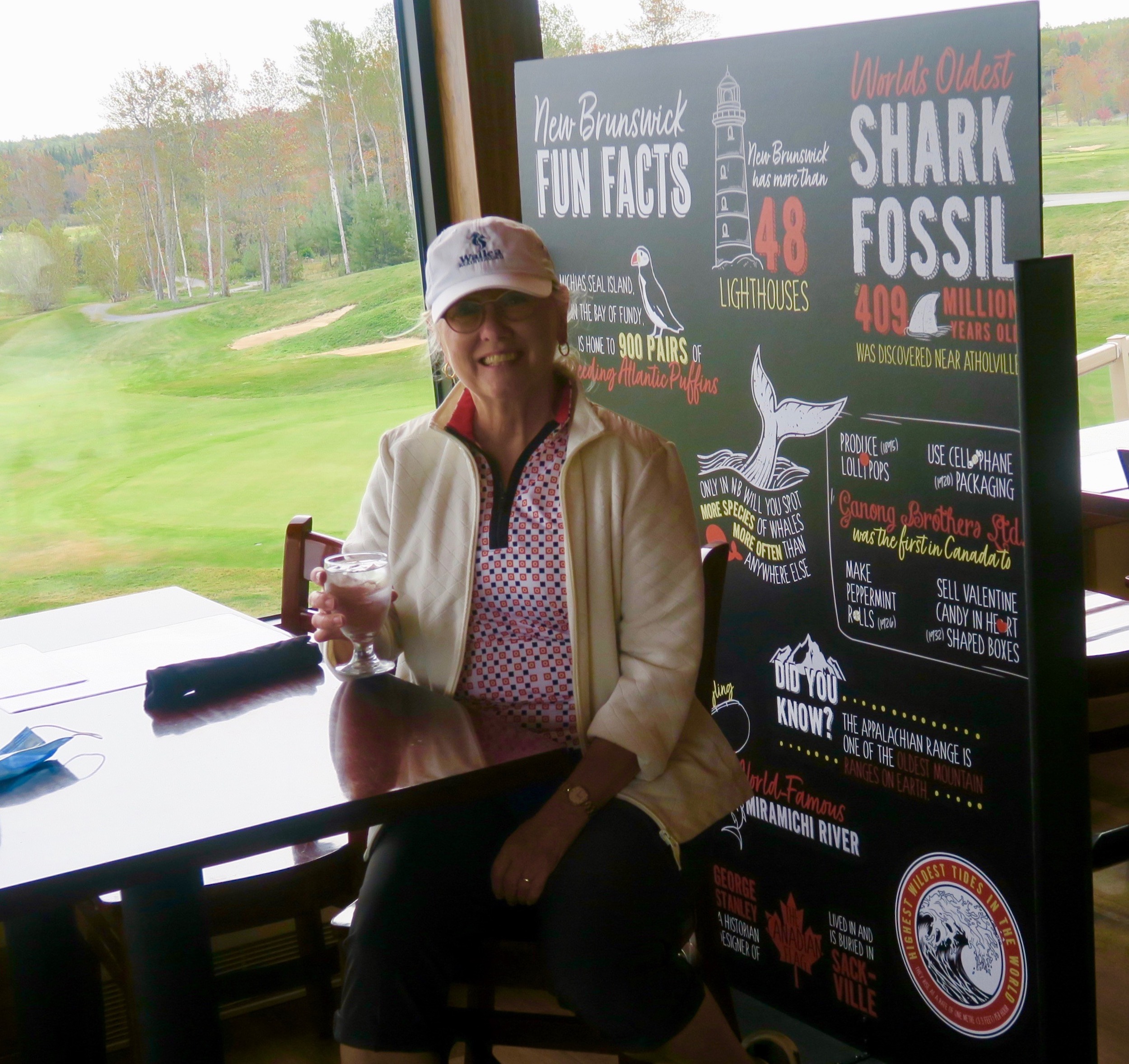 There's a lot more to do at Kingswood than just golf with an entertainment centre, gym, laser tag and a bowling alley. Also there is a Radisson Hotel on site.
While many Canadians may think of Prince Edward Island and Nova Scotia as potential golf vacation destinations before they think of New Brunswick, that would be a mistake as my visit to Kingswood and three other courses proved this past September.