Grand Manan Museum – A Small Town Treasure
This is my third post from the wonderful island of Grand Manan, one of New Brunswick's Fundy Isles. In the first post I went sea kayaking in the fog and loved it. In the second, Alison and I went whale watching with Sea Watch and although we didn't spot any whales, saw more than enough to call it a successful trip. Today I am going to change gears a bit and visit the Grand Manan Museum which started out as a Centennial project over fifty years ago and has evolved into one of the best small town museums Alison and I have ever visited. Join us on our tour and find out why this is a must visit attraction on Grand Manan.
Over the many years that I have been travelling I have visited countless small town museums in every Canadian province. In preparing our first edition of Exploring Nova Scotia Alison and I visited over fifty in Nova Scotia alone. From these experiences I think I learned a thing or two about what makes someone from outside the community enjoy a museum or conversely take a cursory look around and get the hell out. First and foremost, the museum should tell the visitor what is unique about this place. What events took place in this community that are notable? Secondly it should be curated in a professional manner. More is not the merrier in museum displays. The exhibits should be clearly identified and placed in logical groupings. Thirdly, it should be bright and airy as opposed to the mustiness that is so often the case in many small town museums. I am pleased to report that the Grand Manan Museum hits the mark with all three categories and is a great place to spend an hour or more learning about the natural and human history of the Grand Manan area.
With that into, let's proceed inside.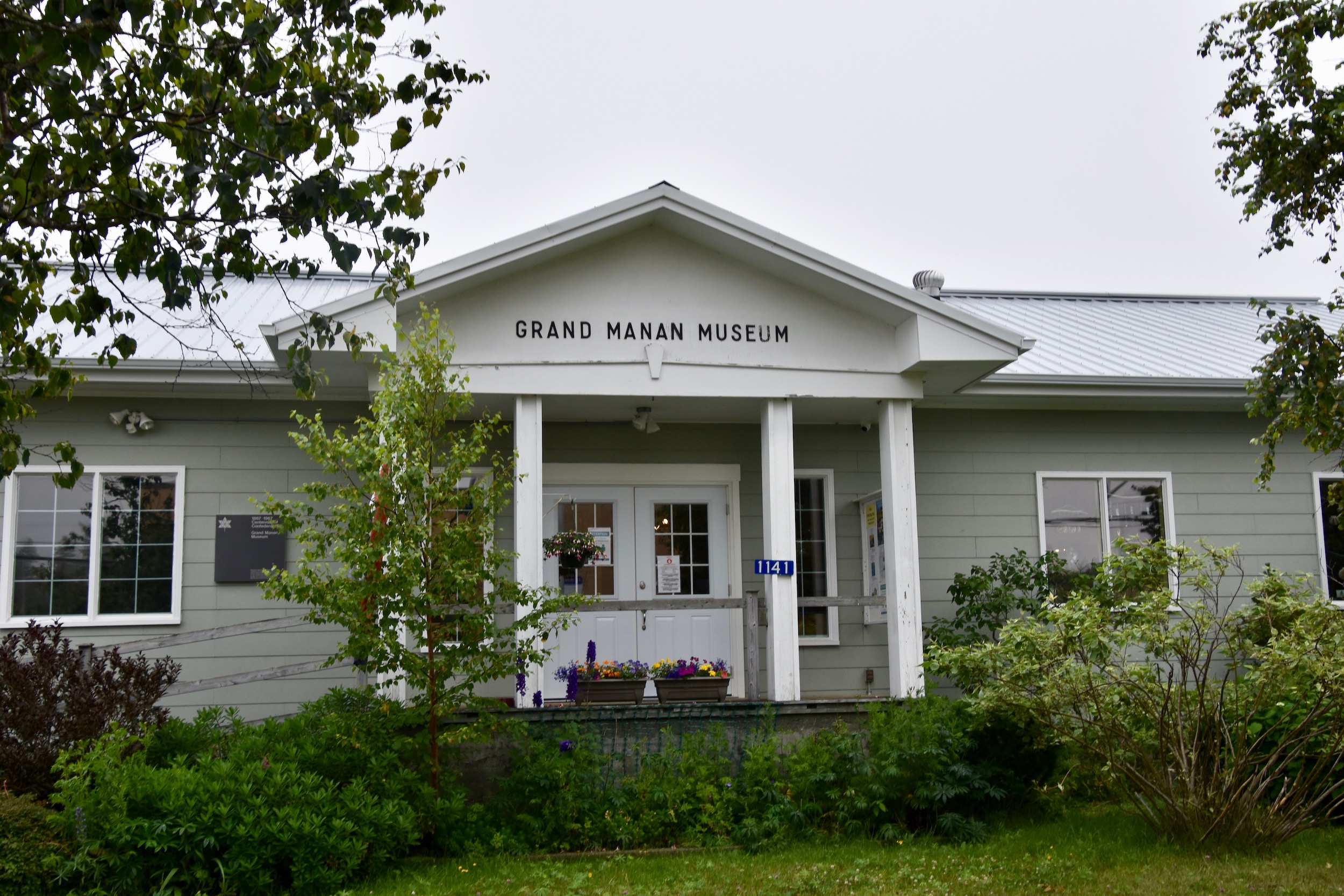 From the front view of the exterior the Grand Manan Museum doesn't look that big, but behind this original building is a newer two story extension that actually doubles the original museum in size. The admission fee is $10.00 for adults, $8.00 for seniors and $5.00 for students. That might seem a bit steep for a small town museum, but trust me, it's worth it.
After paying your admission fee there is a very clearly marked one way path that will guide you through all the exhibits.
The first thing you can't help but noticing is this horse drawn hearse complete with coffin. It belonged to the Graham family who provided funeral services to the island for three generations ending with John Virgil Graham who well into his eighties was Canada's oldest funeral director. I've seen lots of horse drawn carriages and carts in small town museums, but never a hearse.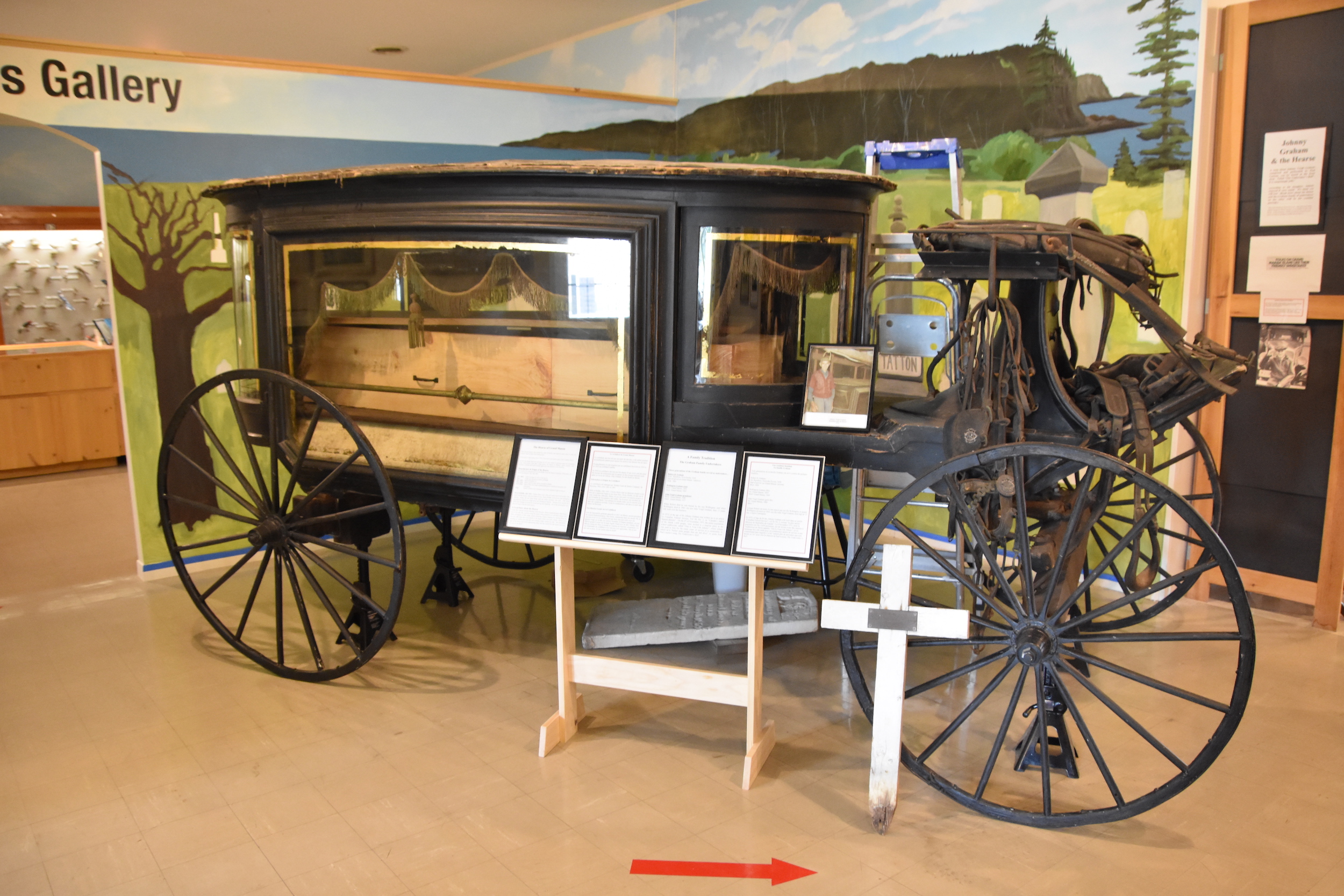 Next you might notice a small display in a corner across from the hearse relating the story of Willa Cather on Grand Manan. Remember I said that a small town museum should highlight unique events that happened in that community that would be of interest to anyone. local or not. Well this exhibit does it in spades.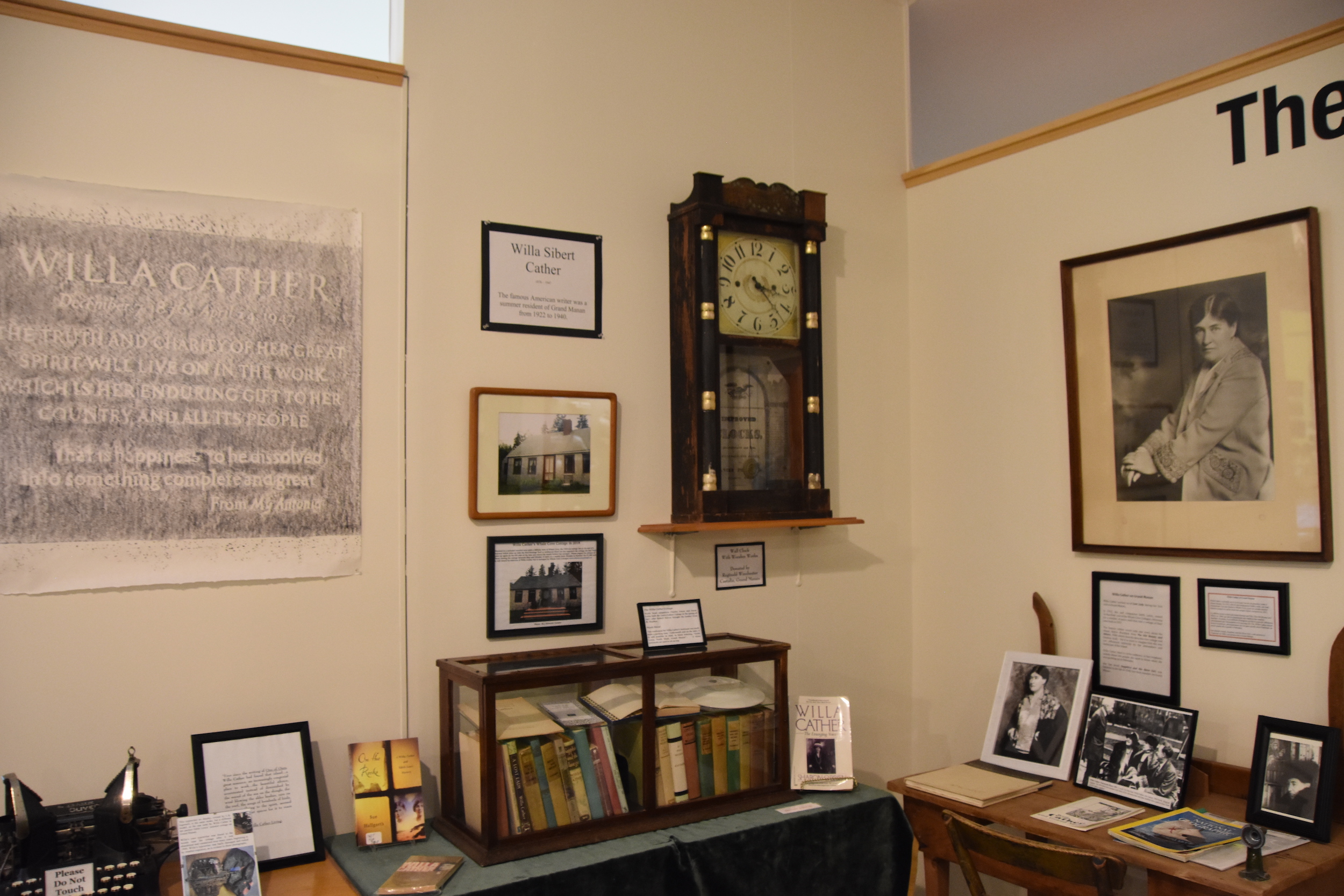 Willa Cather was one of the most famous American novelists of her time. Her novels O Pioneers! and My Antonia describing pioneer life on the Great Plains are considered American classics. F. Scott Fitzgerald lamented that his novel The Great Gatsby paled in comparison to Cather's writing. So I was blown away to find out that Willa Cather considered Grand Manan her second home and summered here for decades, often writing some of her best known novels while on the island. Here's the other part of the story that is unique for its time. For the last 39 years of her life, Cather lived with her 'companion' Edith Lewis in a relationship that can only be compared to that of Gertrude Stein and Alice B. Toklas. The fact that the Grand Manan folk had no problem with this then traditionally taboo relationship, speaks volumes about their open mindedness, well before most other much larger places came to the same view.
Next up is a room for the birds.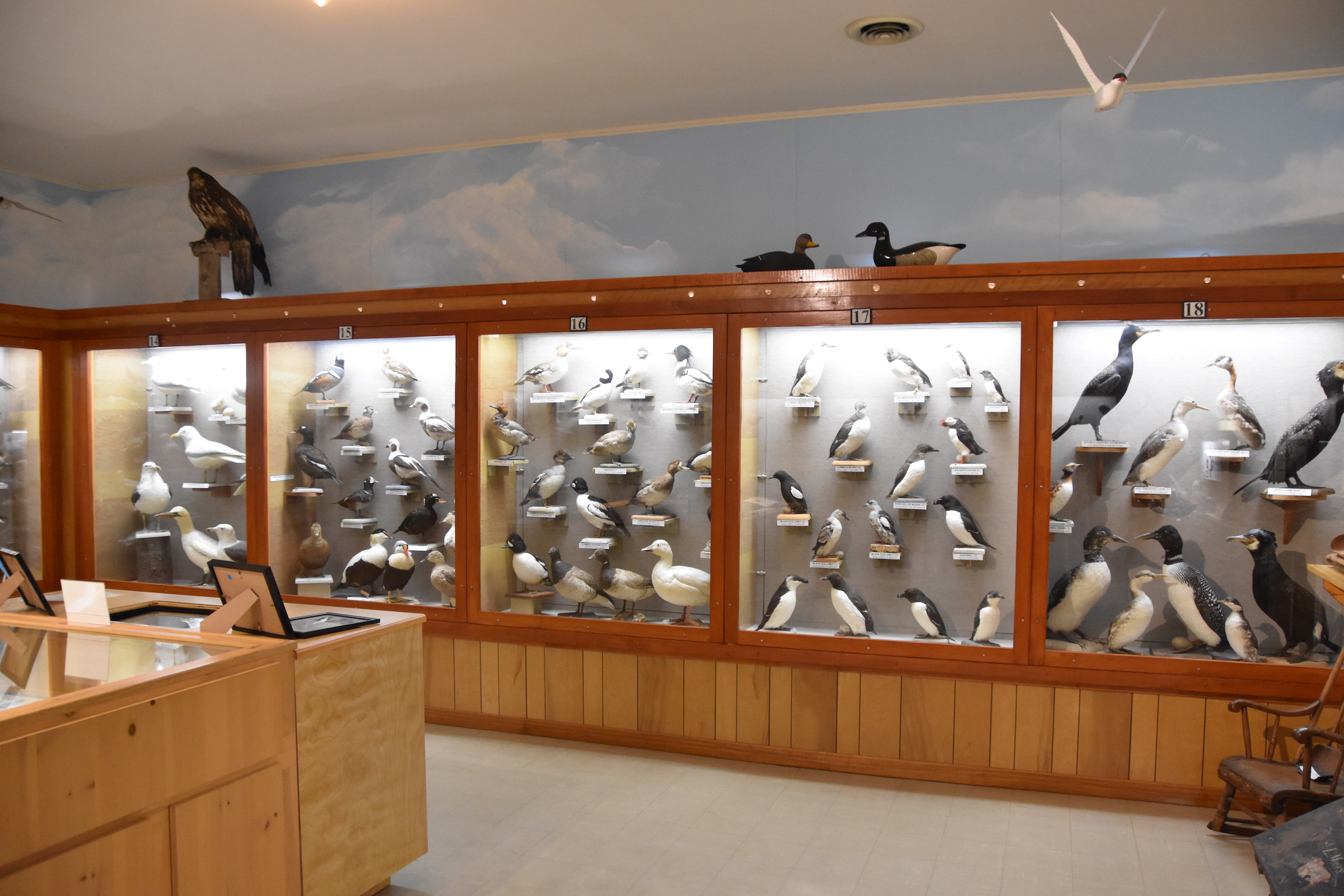 Many small town museums have mounted taxidermy exhibits, but never have I seen one as well done as this collection. Just as the Grahams were funeral directors, the Moses family were taxidermists and this collection of over three hundred specimens was amassed over three generations. Almost all of the birds were collected on Grand Manan. Most of the small songbirds were found at the base of lighthouses on the island, striking them in the night while migrating. The specimens are sorted by type, much as you would see in a field Guide like Peterson's. Unlike many small town specimens, the ones in the Grand Manan Museum are in pristine condition. Also on display in this room is the excellent Lincoln Harvey collection of bird carvings. As a birder, I found this room reason alone to visit the museum.
Another story unique to Grand Manan is that of the Dark Harbour Hermits.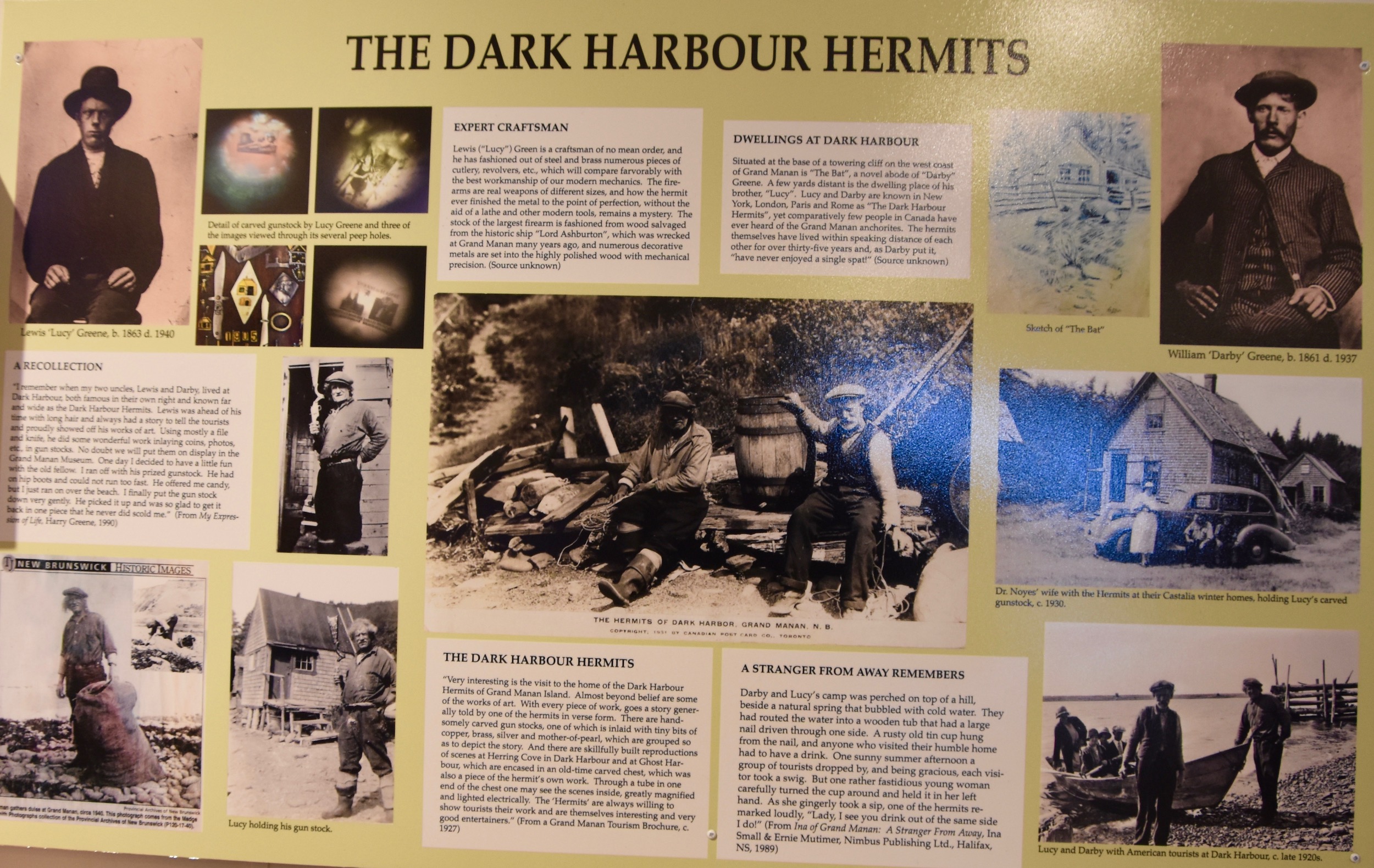 Bachelor brothers Lewis "Lucy" and William "Darby" Greene spent the summers in a camp they called "The Bat" in Dark Harbour gathering dulse from the early 1900's through the 1930's. But they were no ordinary dulse collectors. Lucy was a prolific folk artist and both brothers were poets and story tellers. Contrary to their designation as hermits, they actually became very well known and by the 1920's people were coming from all over the Eastern Seaboard to meet with the brothers who were glad to regale them with poetry and tall tales. The display features a very elaborate gun stock made from wood salvaged from the wreck of the Lord Ashburton, another Grand Manan Museum story.
The newer section of the museum features a winding staircase down to a lower level with a very well done mural to inspect while going down. The creature with the gaping maw is a basking shark, the second largest fish in the world after the whale shark. Despite its huge size, it is a plankton feeder and harmless to humans. On the ferry ride over one of the crewmen told me that they had seen a basking shark the day before.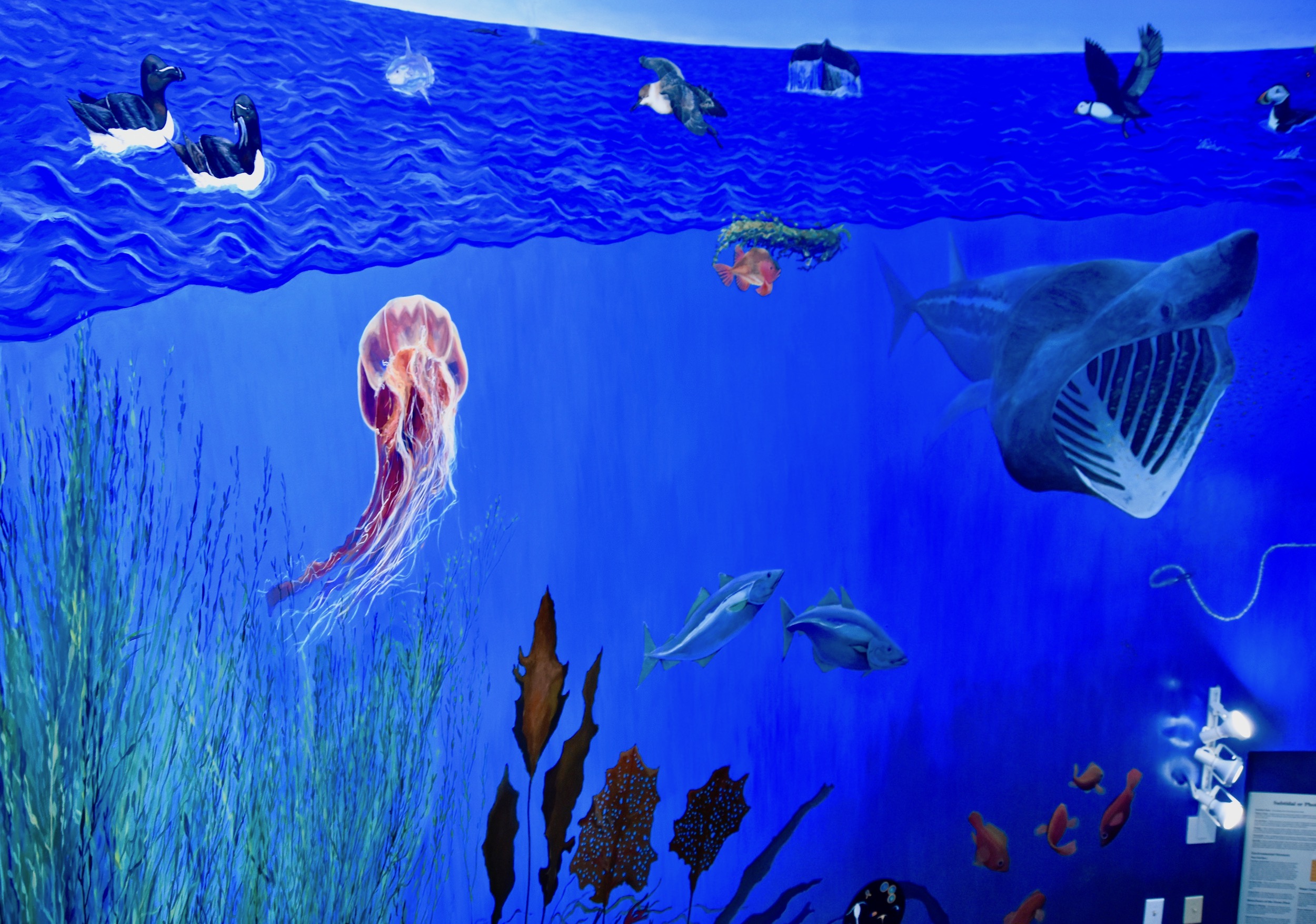 The lower level of the Grand Manan Museum is devoted mainly to the island's dependence on the sea and the many and ever evolving ways that it has provided a living to the islanders. Today the premiere activity is lobster fishing and this collection of lobster trap buoys shows how they have changed over time from the ever collectable wooden buoys to the styrofoam and rubber ones used today.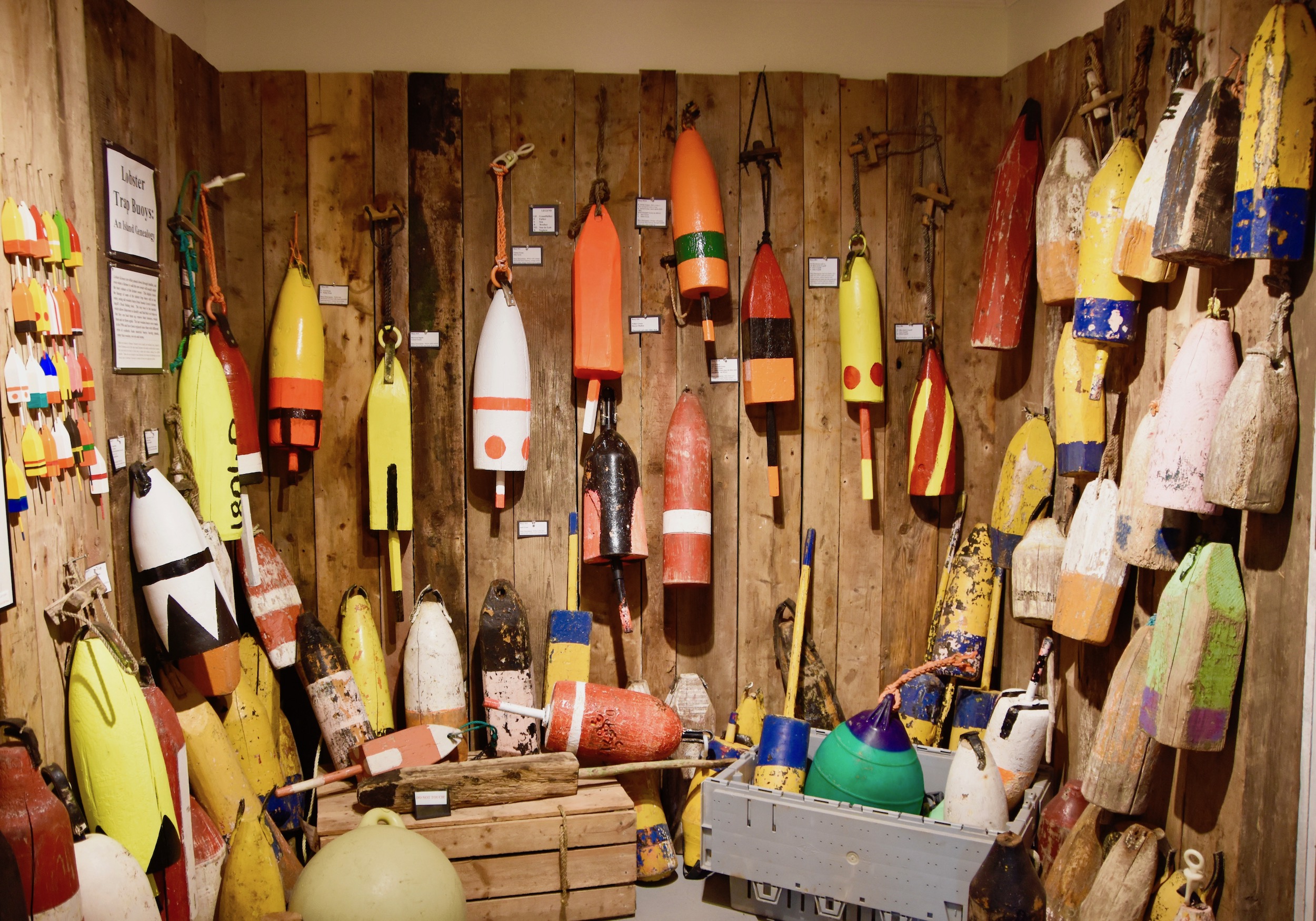 There is also an exhibit on the history of dulse collecting on the island on the upper level. In case you don't know, dulse is a type of seaweed that is dried and then sold as is for human consumption. Dark Harbour dulse is considered to be the best in the world by connoisseurs It is one of those type of foods you either love or hate the taste of. I fall into the latter camp, but many in my father's family couldn't get enough of it. I also learned that these days six other sea vegetables are harvested on Grand Manan including the wildly popular nori which is a staple of sushi making. That I do like.
However, if lobster and sea vegetables are still an important part of Grand Manan's economy, at one time the sardine was king. As I noted in the last post, the Seal Harbour waterfront is lined with abandoned sardine plants, a reminder of what a huge industry it once was.
So what exactly is a sardine? Nothing more than an immature herring, which in turn has more aliases than Jesse James. Kipper, sprat, Digby chick, kipperine, bloater and of the course the infamous red herring are all the same fish. This display of Grand Manan herring products shows the wide variety of ways that the fish was preserved and shipped around the world. Although sardines are still available in a great number of different flavoured preservatives, they are nowhere near as popular as they once were. I remember as a kid having sardines on toast at least once a week and I actually really liked them.

No respectable small town museum in a Maritime community would be caught without at least a few ship models and the Grand Manan Museum does not fail in this regard. This is the model of the ferry currently in service.

Another common item in small town museums are quilts of all patterns and sizes. There are a number on display in the Grand Manan Museum , but this one is special. Each of the sixty small patterns features some aspect of life on Grand Manan.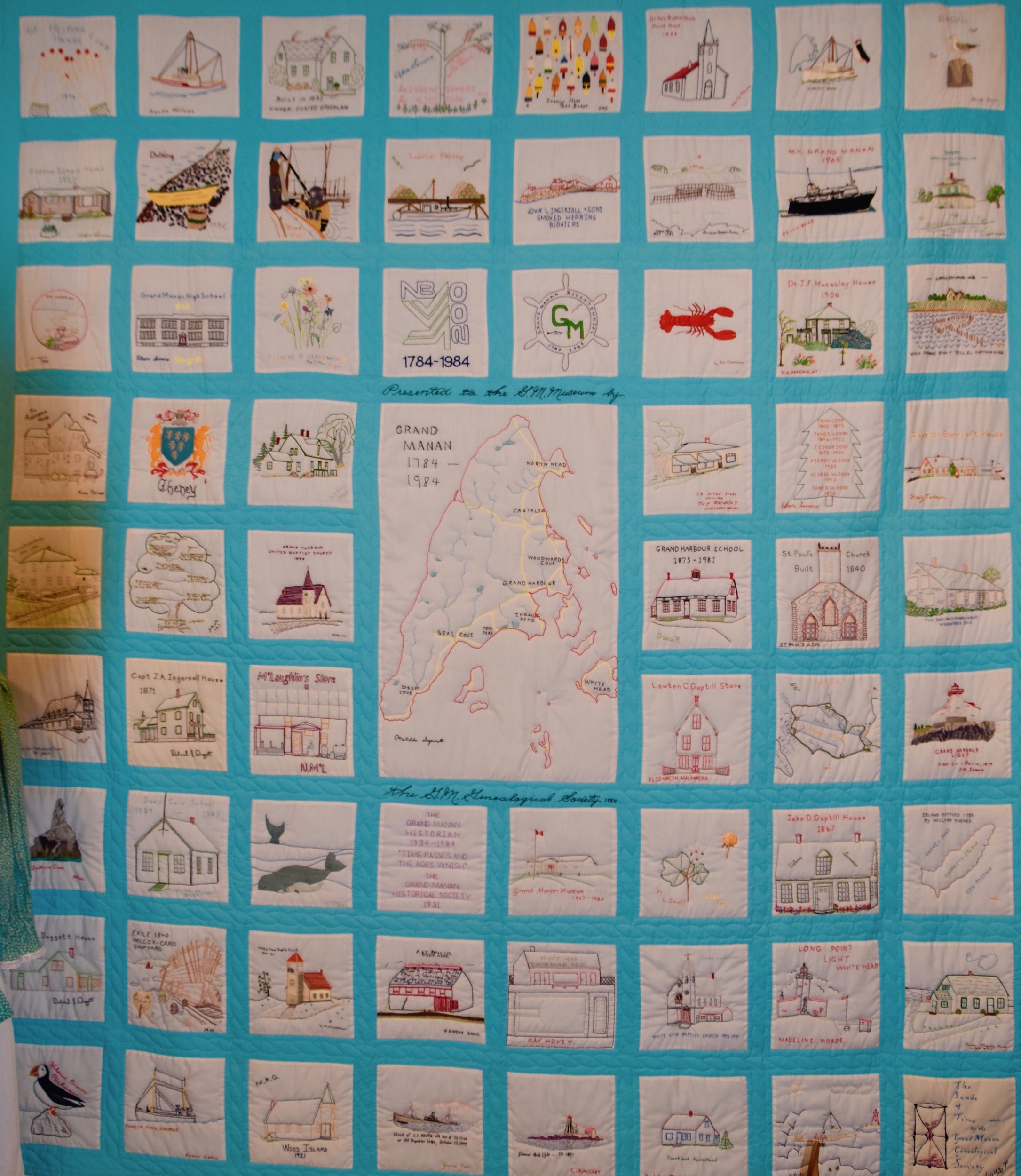 Once you have completed touring the interior of the museum be sure to step around back to see a number of interesting things such as this mosaic which tells the story of Grand Manan in tessera tiles, just as the quilt does in stitch work.

You can also see just about the tiniest one room schoolhouse anywhere. The former Deep Cove school could accommodate only 19 students and over its 58 years in existence had 51 different teachers. Do you suppose the Deep Cove kids were brats?
There is a small, but very well tended garden.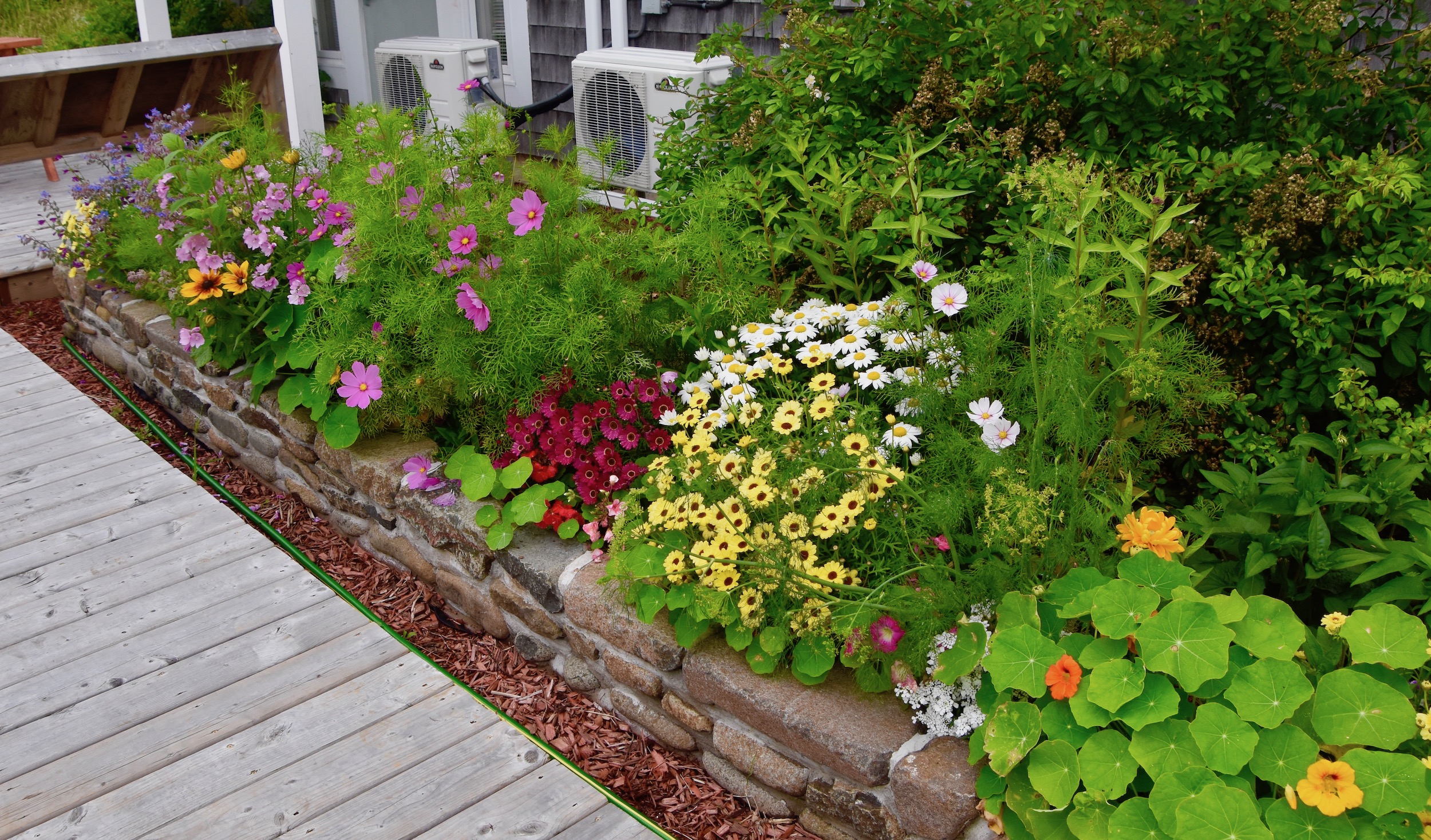 Finally, before leaving make sure to stop in the gift shop which features the works of many Grand Manan artisans, most of which are very high quality. No made in China crap here.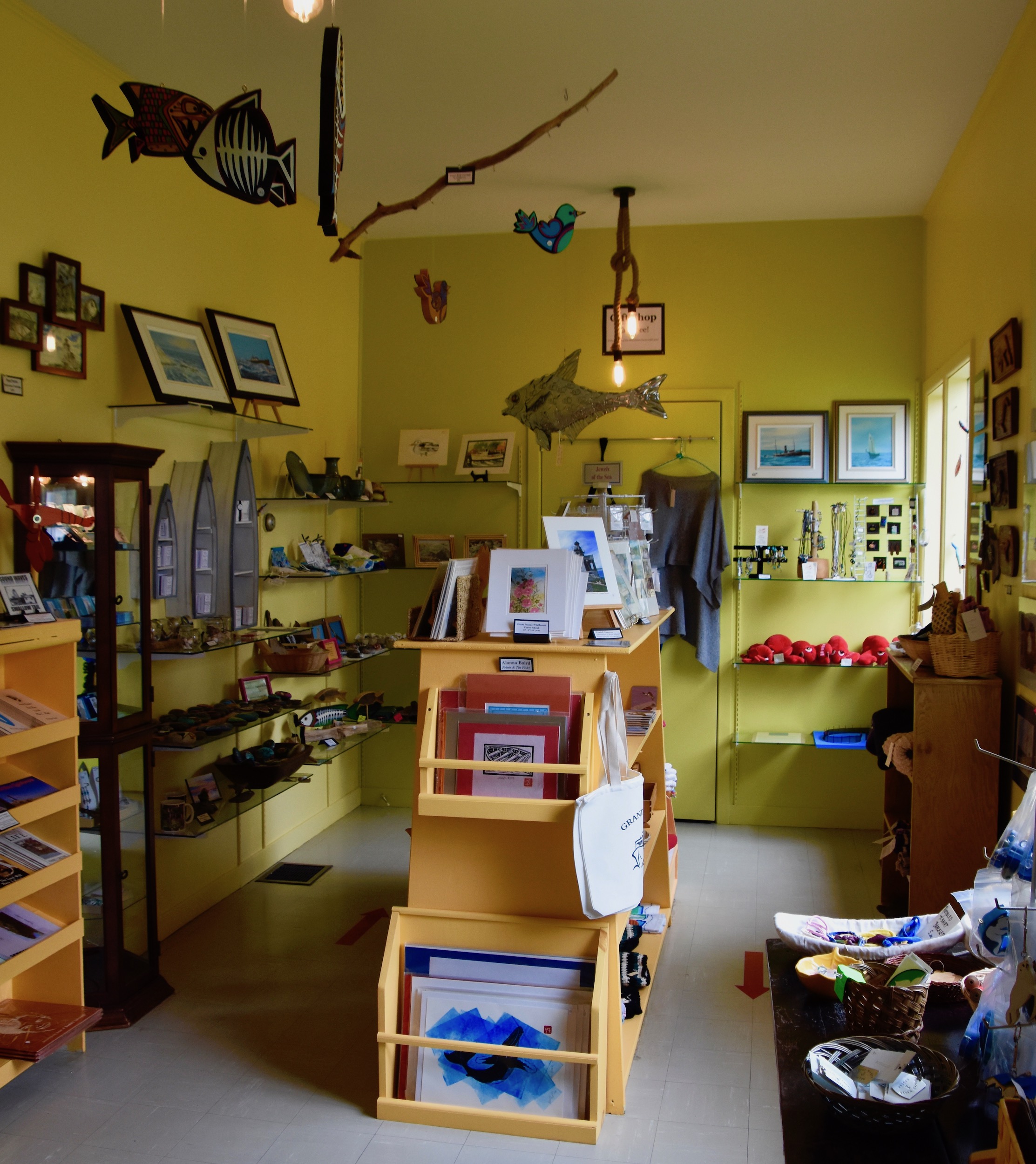 Alison and I thoroughly enjoyed our visit to the Grand Manan Museum and trust you will too.